There are so many things to do in LA that you'll never get bored.
Spending a weekend in Los Angeles is definitely nowhere near enough time, but this LA itinerary will help you see as much as possible within a short amount of time.
This is a guest post from LA native, Marika, at Clumsy Girl Travels.
The Perfect Los Angeles Itinerary
Los Angeles is a huge city that unsurprisingly attracts millions of visitors a year.
I mean, it makes sense with the non-stop summer weather, gorgeous beaches, hip and happening neighborhoods, iconic landmarks (Hollywood Sign and Santa Monica Pier), and of course, the glitz and glam of the entertainment industry.
I have lived in LA my entire life and it's a city that never ceases to surprise me.
There is always something going on and although two days isn't enough to explore all LA has to offer, it's enough to get a taste of this exciting city, and hopefully, you will enjoy it enough to visit again!
Without further ado, here is my itinerary for spending a glorious 2 days in Los Angeles (plus many tips)!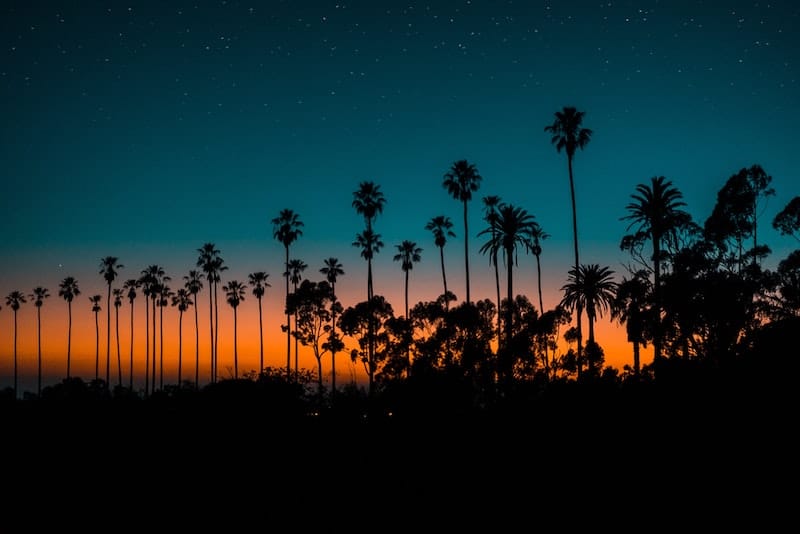 How to Get Around
First off, you need to decide how to get around. There are three ways and you can pick one or do a mix.
Metro: Unfortunately when it comes to public transport, LA is the worst! We have a pretty big network of buses and a light rail, but reliability is a different story.
There aren't nearly enough busses on the street, they rarely arrive on time and they are pretty slow. But for those of us who don't drive, it's the cheapest way to get around.
💥 INSIDER TIP: Get a TAP card. You can purchase one at a machine located at any light rail stop. You can use this card for all the buses in LA and of course, the light rail.
Car: Many people who live in LA will tell you getting around without a car is impossible! I'll admit, it is difficult, but definitely not impossible.
I don't drive and have been able to get around the city just fine. It just depends on how much time you want to spend getting around. I realize less time is ideal, but it's important to understand that there is no "quick" way to get around LA.
If you drive, there will be traffic and unfortunately, there is no escaping that.
Luxury Car Service: If you're not comfortable driving the roads of Los Angeles (like me!), but still want the autonomy of being in a car and on your own, this is definitely the way to go. This is also a fantastic airport pick-up option!
One reliable LAX car service is DCAcar® as they offer high-end transportation whether you're looking to head out on a wine tour, to explore Hollywood, or (as mentioned above) to get picked up from LAX Airport.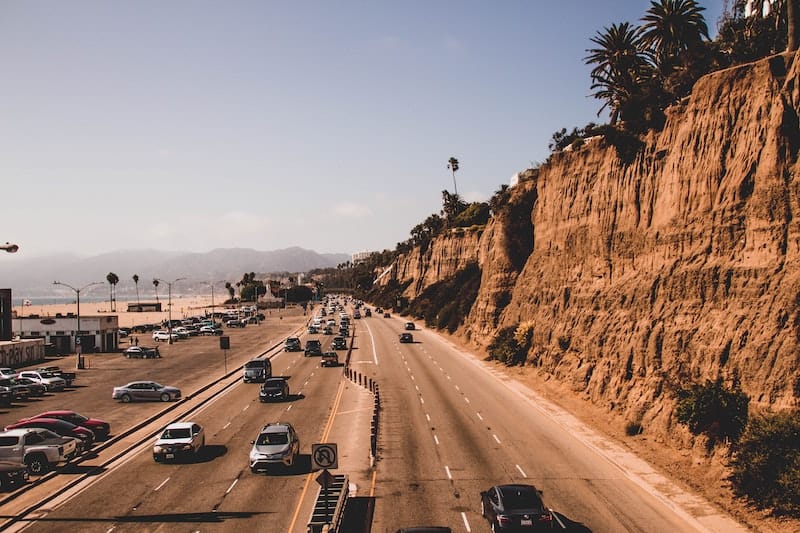 Uber/Lyft: Ridesharing can be a convenient and sometimes affordable way to get around LA. If you don't drive and don't want to rely solely on public transportation Uber and Lyft are great options.
LA is not walkable so if you want to get some steps in, I suggest picking a neighborhood you want to explore and walking around that neighborhood.
Charter bus: Are you traveling in a group and looking for an easy way to get around the city (and its surroundings) for a large number of people? Champion Charter Bus LA is a company that specializes in renting larger vehicles for groups and is a good consideration!
If you're pressed for time and looking for tours that will help you see a lot of sights in LA at a quick pace, please check out the following, top-rated Los Angeles tours from our partner, Get Your Guide:
Where to Stay in Los Angeles
LA is massive and each area is so different. For this itinerary, I recommend either staying in Downtown Los Angeles or Santa Monica.
If you are looking to be close to the beach and catch some rays and a killer sunset, stay in Santa Monica.
Shutters is one of the cutest hotels in Santa Monica right on the beach. They have a restaurant with a fantastic happy hour and pool that has a lovely beach view.
Hosteling International is a hostel in downtown Santa Monica and if you are on a budget, it's not a bad place to stay. There's a really nice courtyard and an open kitchen that makes meeting other travelers super easy.
Shore Hotel is just steps away from the iconic Santa Monica Pier. It's right in the center of Santa Monica making it a perfect base to explore the area.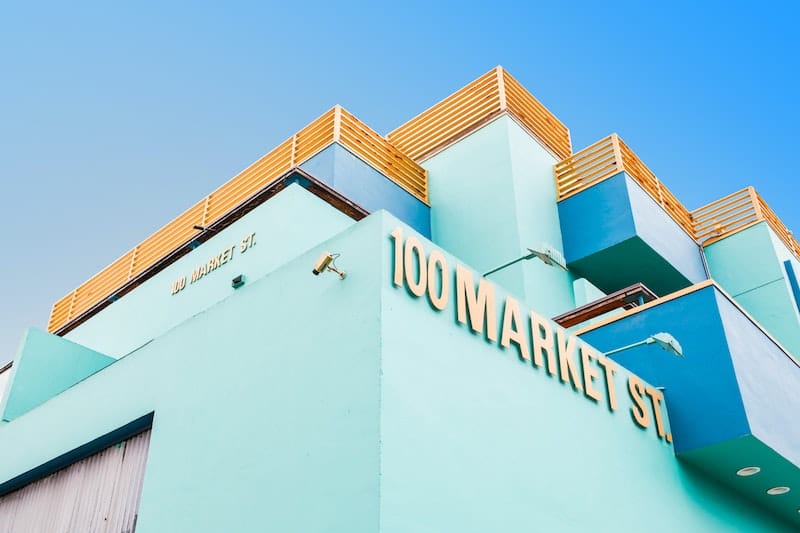 Downtown LA has more variety when it comes to restaurants, bars, clubs, and museums. This is personally one of my favorite areas in LA.
Free Hand is a new hostel located in a vibrant part of downtown. There is a rooftop pool, bar, restaurant, fitness center and it's within walking distance of tons of restaurants, bars, and attractions.
Biltmore is a historically iconic hotel built-in 1923. Along with the countless Movie & TV Show features, it has also housed notable guests like president Roosevelt, Judy Garland, and Bing Crosby! Even if you don't stay here, it's worth a peek inside.
Day One: Downtown Los Angeles
Coffee and Breakfast at Philz Coffee
Founded in San Fransisco, Philz is a chain that has a great selection of drinks. They are known for their Iced Mint Mojito (don't worry, no alcohol!) Just trust me when I say, it's really good!
They also serve pretty good pastries, but seriously, try the mint mojito! You won't be disappointed.
Visit the Grammy Live Museum
No trip to Downtown LA is complete without a visit to the Grammy museum! Here you will learn about the history of LA's music industry through interactive exhibits. It's a pretty big museum so plan to spend a few hours wandering around.
Lunch at Bottega Louie
After the museum, you have probably gained quite an appetite. Bottega Louie is one of the BEST places to get lunch in Los Angeles.
They have great pizzas and pasta, but honestly, anything you order will be good.
But my favorite favorite FAVORITE thing to order is their Italian Cream Sodas dolloped with the thickest and creamiest whipped cream. You can thank me later!
They also have an in-house bakery that you will want to save room for.
Explore Downtown LA's Landmarks
It's time to explore the sites of Downtown LA! Although LA isn't as old as many other cities around the world, it still has a unique charm and it's the birthplace of the film industry which is pretty freaking cool!
If you want to explore downtown LA with a local check out Downtown LA Walking Tours.
They have two tours a day: a history tour and a haunted tour, but if you want to wander on your own follow the itinerary below!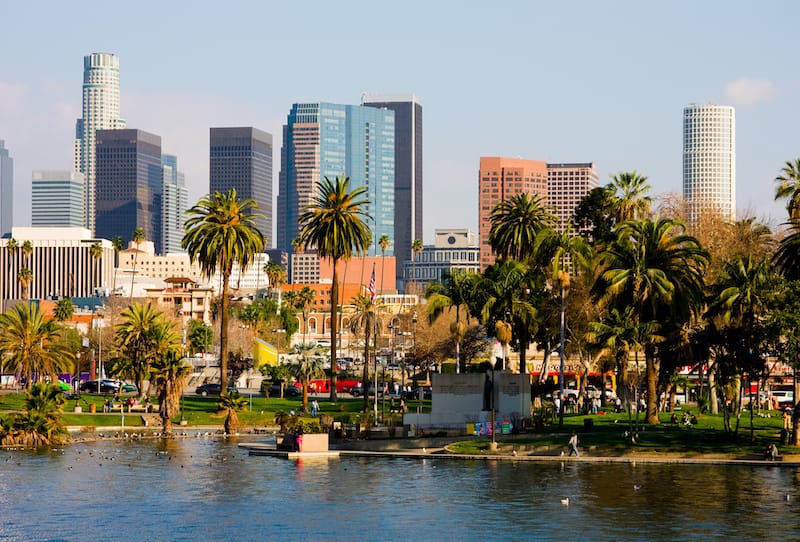 Walt Disney Concert Hall
This is the first stop and is about a 15-minute walk from Bottega Louie. It's an architectural beauty, with its unique curved stainless steel exterior. No wonder it's one of the most popular buildings to visit in LA.
There are concerts held almost every night. I recommend checking their website to see if there is a performance you are interested in while you are in LA.
It's worth attending one if you can. The interior of the building is just as breathtaking as the exterior, and I recommend if you can't attend a concert, to take a tour.
The Last Bookstore
If you love books and exploring unique bookstores, you have to check out The Last Bookstore.
It's been listed on countless sites as one of the most beautiful bookstores in the world and one that should be on every book lover's bucket list.
It has California's largest used book and record selection, but also sells new books. It has rows and rows of colorful bookshelves you can get lost exploring.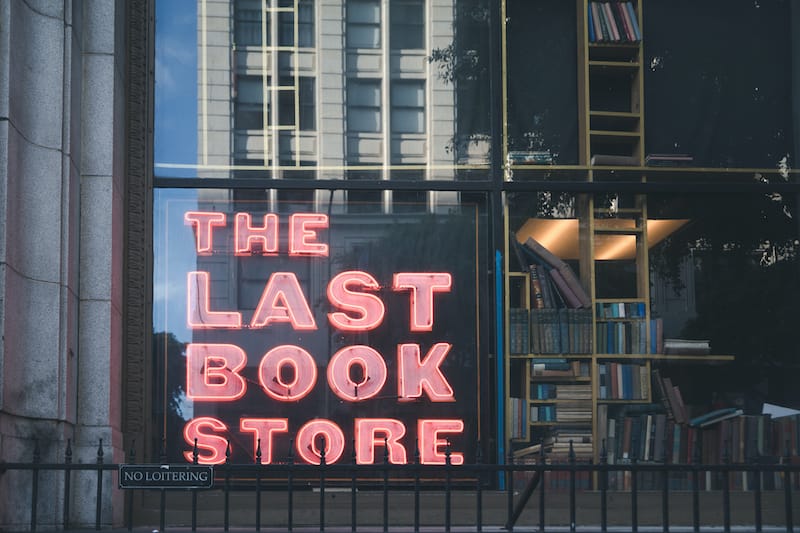 Perch Rooftop Bar
Perch Rooftop Bar is one of my favorite rooftop bars in LA. It's a great place to take a break and grab a drink after a busy morning of sightseeing. The view of Downtown LA is so worth it.
Little Tokyo
This area doesn't get nearly as much love as it should. Most tourists visit Chinatown over Little Tokyo, which is unfortunate because Little Tokyo is adorable!
There is Little Tokyo Plaza which has tons of cute restaurants and shops and lanterns hanging overhead
There is the Japanese American National Museum which has fascinating history exhibits.
If you are hungry it's an excellent spot to grab some ramen. Daikokuya particularly is my favorite place. Their Ramen and salad are ah-mazzzzzing!
Arts District
If you are into seeing some of the best street art in LA and some amazing independent coffee shops, there's a lot to explore in the Arts District.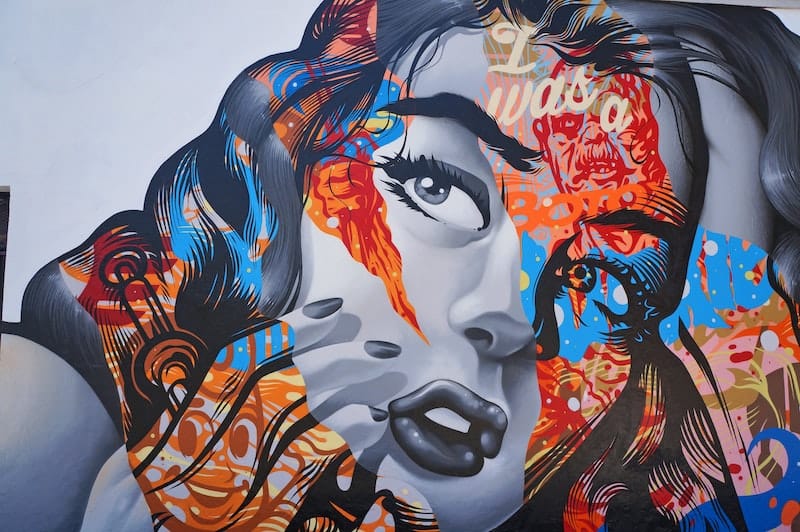 This area once provided low-income housing to artists but within the last few years, it has come to life with colorful murals, sustainable boutique shops, and trendy cafes.
One place I recommend checking out is The Springs. The inside looks like a hipster jungle with wide wooden tables, plants scattered around and in the back, they have a couple of awesome murals that make great photo ops.
They serve tasty (but pricey) smoothies and it's just a great place to take a break.
The Escape Game LA (Option 1)
Looking for a fun and interactive activity? Head over to The Escape Game LA in Century City, where you'll enter into a highly immersive, multi-room set to crack codes, uncover clues, and solve puzzles in order to escape before time runs out.
There are 4 adventures to choose from, including The Depths, Special Ops: Mysterious Market, The Heist, and Prison Break.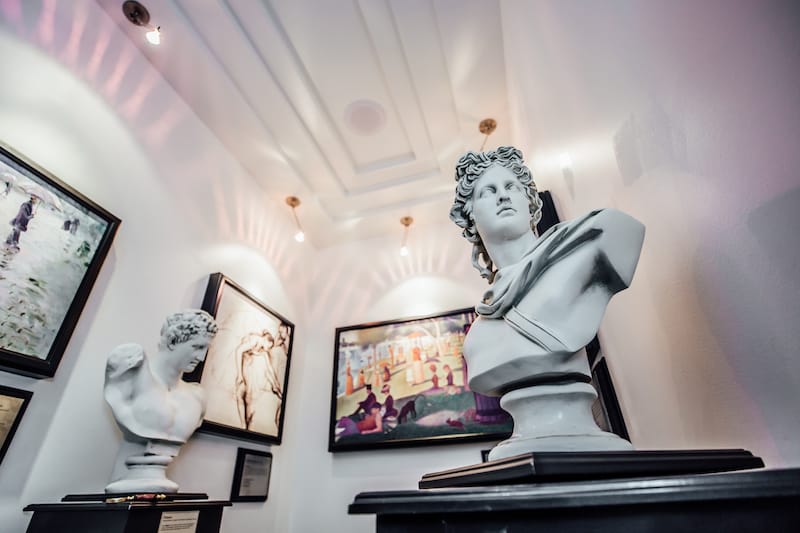 Each is an action-packed 60-minute adventure that will be sure to be a memorable experience for everyone.
If escape rooms aren't your think, we have given another fun option below as an alternative!
Two-Bit Circus (Option 2)
Virtual reality is the theme of this place. It's like an amusement park, but instead of rides, you get to experience different worlds through one of their many virtual reality games.
There are different sections in Two-Bit Circus offering completely different gaming experiences.
There is the Arena, which is a virtual reality playground with the latest virtual games available.
If you are traveling with more than one person, there are private game rooms you can rent. You'll get a good laugh at how silly you all look playing.
There are story rooms that are virtual reality escape rooms, which are fun to do with a group of friends.
They also have live interactive tech-enhanced performances where the audience gets to participate in the show.
Make sure you get a drink at the bar that serves up delicious cocktail concoctions.
Dinner at Everson Royce Bar
The burgers at Everson Royce Bar were made famous by the well-known LA food critic, Jonathon Gold. It's right down the street from Two-Bit Circus and a perfect place to end your day.
Keep in mind, the burgers are small, so I would recommend ordering two and a side dish.
Other Things to do in Downtown LA
Chinatown
If you are spending a few more days in LA, check out Chinatown, one of LA's most colorful neighborhoods.
First off, I could never forgive myself if I didn't mention Howlin Rays. The best fried chicken sandwich in LA. People start lining up at 10 am to order, so be prepared to wait for 1 – 1 ½ hours, but it's so worth it.
Or if you want Chinese food, there are loads of restaurants housed in beautiful pagoda-style buildings that serve up a selection of yummy food! It's also a great area to go shopping.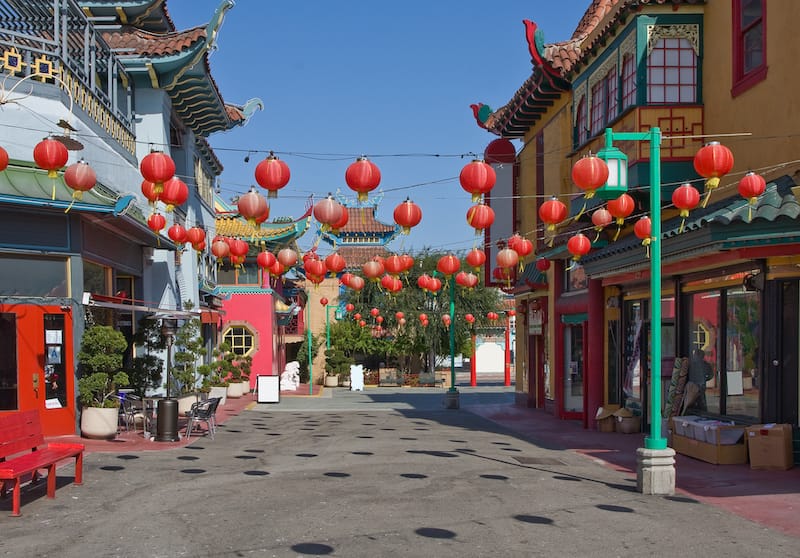 Union Station
You may recognize Union Station from movies such as Bladerunner, Pearl Harbour, The Italian Job, and many more! It's an iconic part of Downtown LA and if you are a history or movie nerd, it's worth stopping in.
You can also take an Art & Architecture tour of the station if that interests you.
Grand Central Market
New York City isn't the only place with markets. Because it's in the business district of LA, it's a popular market for those on their lunch break. The food at Grand Central Market is good, generally cheap and there is a ton of variety.
Olvera Street
Known as the birthplace of Los Angeles, Olvera Street was created to preserve the Mexican culture of the early settlers of Los Angeles.
Walk the small street taking in the aroma of tacos and taquitos from the outdoor cafes, listen to mariachi bands, and browse the colorful stalls selling handmade souvenirs.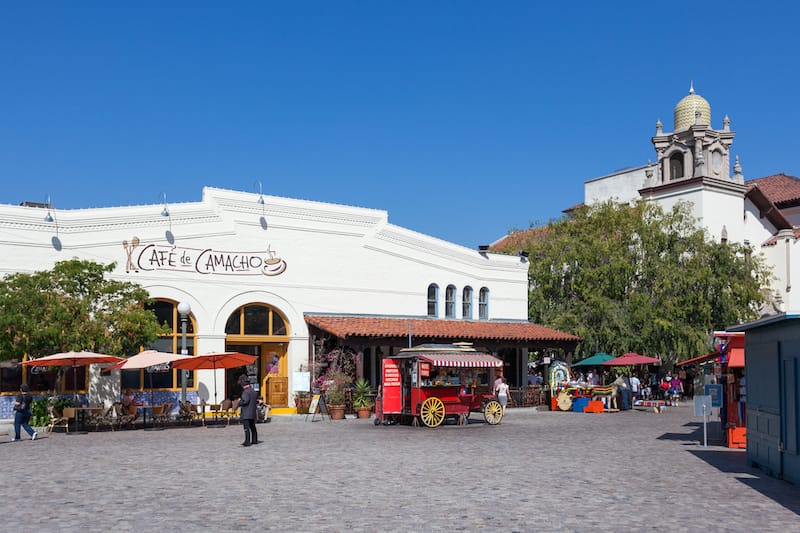 Day Two: Santa Monica & Venice
I hope you enjoyed your first day in LA. Day 2 will be just as busy. Get those walking shoes on and get ready to explore the west side!
Brunch at Jimmy's Famous American Tavern
Angelos love brunch! Whether the reason is catching up with a friend, having a celebration, or gossiping about an ex there is nothing that brings us locals together more than brunch.
That being said, Santa Monica has tons of choices when it comes to brunch but personally one of my favorites is Jimmy's!
It's located a block from the beach and has a great brunch menu. Their Buttermilk Free Range Fried Chicken and Malt Ale Waffles are to die for.
Santa Monica Pier
The iconic Santa Monica Pier is best explored in the morning because trust me when I say, it gets packed. It's one of the most popular landmarks in California and attracts thousands of people daily.
If you head to the end of the pier it's less crowded and sometimes there will even be seals swimming around.
Check out the funfair to play some games, ride some rides (ride the Ferris wheel!) and stuff yourself silly with funnel cake.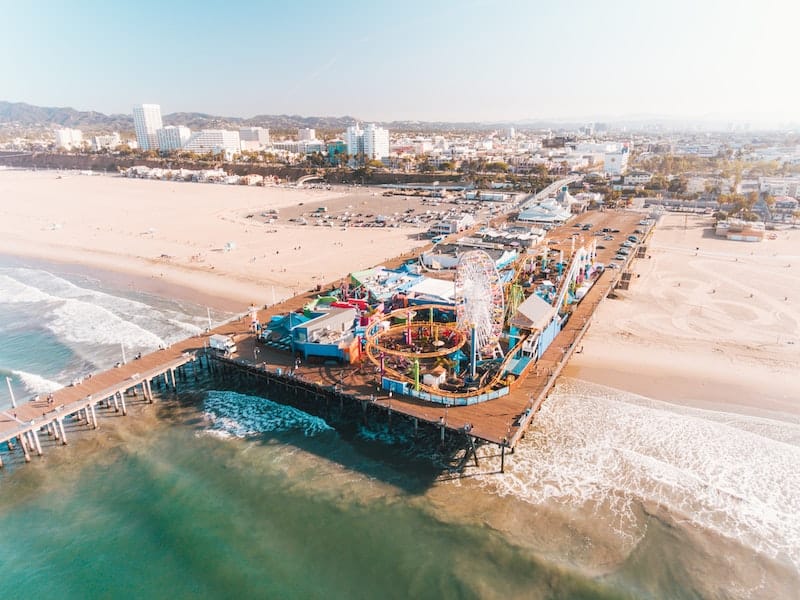 Promenade
People come from all over the world to experience Santa Monica's famed shopping street. If you are looking to do some souvenir shopping, this is a great place to do that.
There are incredibly talented street musicians performing every single day and you have to explore our amazing outdoor mall. Head up to the rooftop for a stunning view of the beach.
Main Street
I absolutely love Main Street! It's packed full of cute boutique shops, cafes, and coffee shops.
One of my favorite stores is Buffalo Exchange. It's like a second-hand shop for stylish people. They are really selective about the clothes they sell. My cousin bought a $400 jacket for $20!
Sunny Blue
The only thing served here is Onigiri Rice Balls (Japanese Fast Food). Sunny Blue has a wide selection of fillings such as chicken curry, miso beef, ginger pork curry, and more.
If you haven't tried Onigiri Rice Balls before, you will want to stop in for some. Whenever I have people visit me, this is the first place I take them to and it never disappoints (or so I am told).
Venice Beach
Don't be surprised if you openly see people smoking weed or laying on the beach topless. This is Venice Beach after all and it can get pretty crazy.
Venice is a buzzing, bohemian California beach town filled with unique shops, vibrant murals, street performers, and a chill vibe you won't find anywhere else.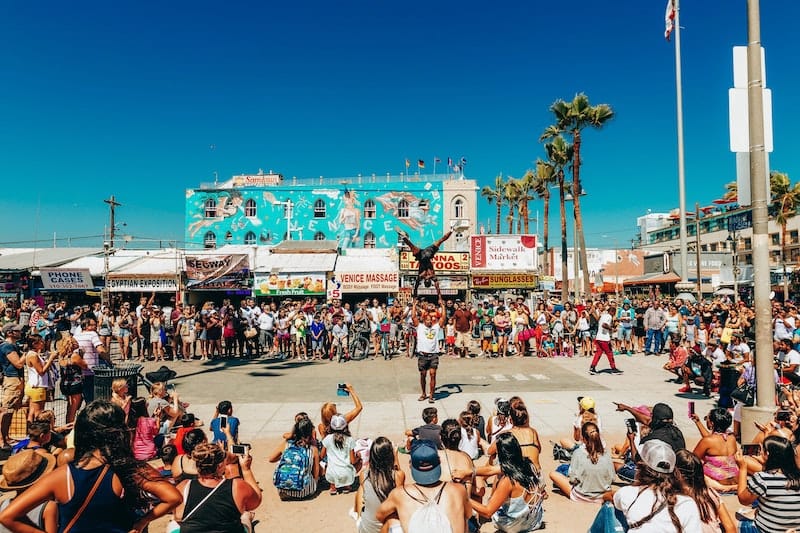 There is a lot to explore on Venice beach so take your time and enjoy the atmosphere because Venice beach is a one-of-a-kind experience (yes, I am calling it an experience)! At least I haven't visited anywhere else quite like it.
One of my favorite shops is B.U.L.K Beef Jerky. They sell a big variety of jerkies from regular beef to turkey and even ostrich and gator jerky. Grab a few to snack on as you keep exploring Venice.
Dinner at Venice Ale House
Venice Ale House is a popular place for beachgoers to grab a craft beer and lunch, but it's a great spot for dinner as well.
Everything they serve on their menu is locally sourced and organic. It's right on the beach, so grab a table outside and enjoy some people watching.
High Rooftop Lounge (Hotel Irwin)
For a killer beach sunset, head to High Rooftop Lounge for a drink. It's one of the best views in Venice and an excellent way to end your time in Los Angeles.
Whaler
Now that the sun has set why not head to the Whaler for one last drink. Celebrities used to go here such as the Beatles and the Beach Boys (and the locals love it too!).
They make really good margaritas and fish tacos if you want an after-dinner snack.
More than 2 days in Los Angeles
Are you spending more than 2 days in LA? I got you covered!
Malibu
You have definitely heard of Malibu whether it's been featured in a movie or show you watched or one of the celebrities you read about lives there. If you are looking for a day of escape from LA, you should check out Malibu!
I recommend renting a car for the day. Busses do run, but they aren't very frequent and the stops are limited.
A few places I recommend are:
Paradise Cove – An outdoor beach cafe right on the sand (keep a lookout for celebrities).

Moonshadows – a nice restaurant with stunning beach views.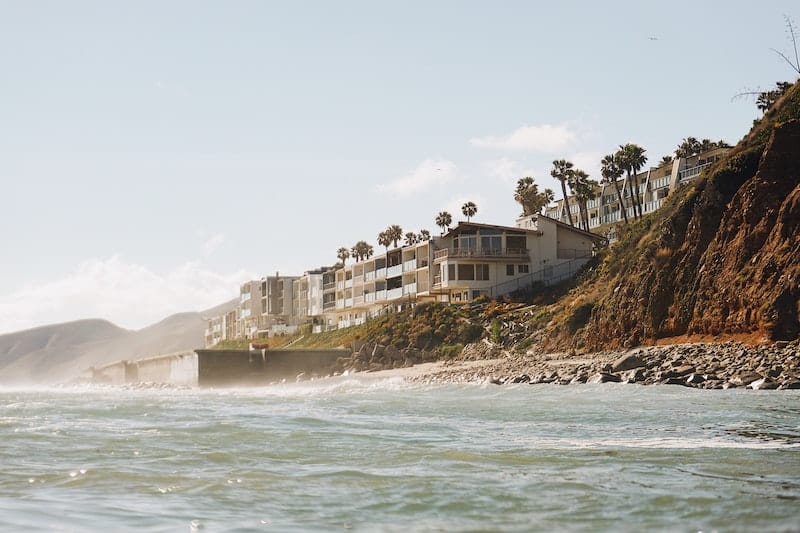 Hollywood
I know I know. I didn't mention Hollywood in my itinerary because there is only so much that can be done in 2 days, but if you have time, Hollywood is a fun place to explore.
Here are a few of my favorite places in Hollywood:
Hollywood Museum – A museum that houses a collection of historical memorabilia from the Television and Movie industry.

Chinese Theater – A famous theater where many premieres are held.

Kodak – The theatre where the academy awards take place (you can book a tour!).

No Vacancy – a 20's themed club/bar.

El Capitan – A theatre owned by Disney that shows children/Disney movies (the interior is gorgeous).

Pantages – A beautiful theater that puts on incredible Broadway musicals.

The Comedy Store – A famous Comedy club.

Hollywood Forever Cemetery – A cemetery that often holds events and movie screenings.
Beverly Hills
Head to Beverly Hills If you are looking to do some high-end shopping or just walk down the ever-famous Rodeo Drive.
Along with shopping, fancy spas and fine dining here are some fun things to do in Beverly Hills:
Cupcake ATM – You read this right! A machine that dispenses cupcakes. Located right in front of Sprinkles Cupcakes. I sometimes make a trip to Beverly Hills just for this.

Academy of Motion Picture Arts and Academy – A museum dedicated to the art, business, and history of the film industry.

Greystone Mansion – A once Tudor mansion turned public park that has been featured countless times in Movies and TV Shows.

The Witch's House – You can't go inside, but its storybook theme with a dilapidated exterior makes it a fun spot to take pictures.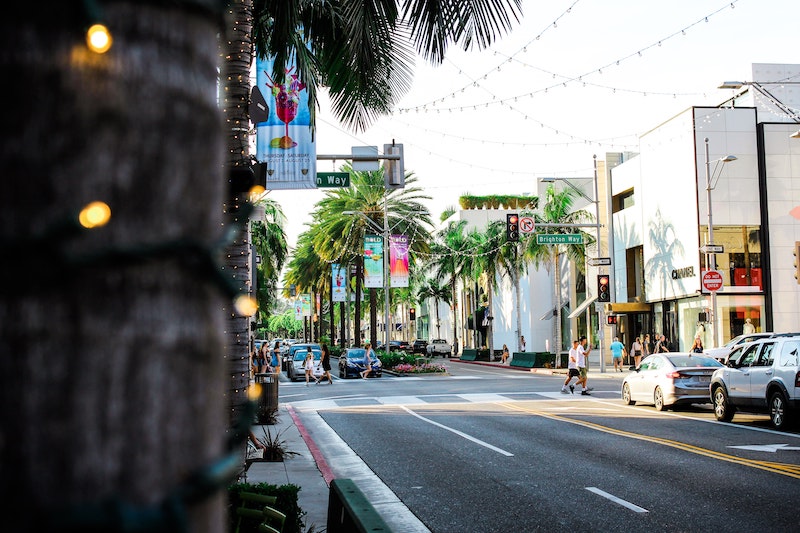 The Getty
A well-known art museum with stunning architecture, beautiful gardens, and incredible views of Los Angeles.
Amusement Parks
People travel from all over just to visit our many amusement parks and if you are visiting LA for several days, you definitely have to visit one.
Disneyland – (45 min drive) if you don't drive, there are busses from LAX that go straight to Disneyland.

Universal Studios – (25 – 45 min drive) or it's accessible by light rail if you don't drive.

Six Flags – (45 min – 1-hour drive).
Day Trips from LA
Long Beach – (45 min drive) home to the famous (and haunted) Queen Mary Ship Museum, Long Beach is a California coastal town with lots to do.

Catalina Island – Did you know Los Angeles has several islands you can visit? Well, it's true! Catalina is one of them. You can get there by ferry that leaves from Long Beach. There is a lot to do once you arrive on the island such as swimming, diving, hiking, and you can rent a golf cart and drive around the island yourself.

Santa Barbara – About a 1 ½ hour drive from LA is Santa Barbra! A cute town with Spanish-inspired architecture and a lovely downtown area. It is one of the most popular day trips from Los Angeles!

Palm Springs – (1 ½ – 2 hours driving) is a popular spa town in the desert that used to be a popular weekend destination for the rich and famous.

Joshua Tree – If you want some good hiking or camping I recommend Joshua Tree. They are known for (no surprise) the Joshua Trees that grow there. They take 1000 years to grow so they are truly special to see. It's very close to Palm Springs and if you decide to stay overnight, you can visit both places!

Laguna Beach – a small coastal town in Orange county known for its beautiful beaches.

Oxnard – A cute spa town with a lovely array of cafes and boutiques.
Where to stay in LA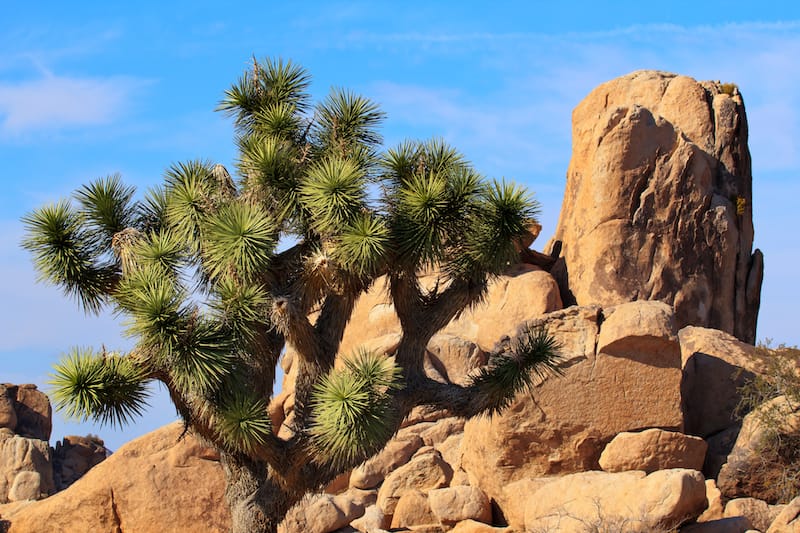 What I love about LA is how ethnically diverse it is and how every neighborhood is significantly different. Two days isn't enough for a visit, but hopefully, it's enough to convince you to come back and discover more!
AUTHOR BIO:
Marika Devan is the writer behind Clumsy Girl Travels. A travel blog where she writes about her solo adventures and unique experiences around the world all while overcoming the difficulties of traveling with a hidden disability called Ataxia.
Her goal is to inspire people who may also have limitations to go out and see the world. For more, check out her Instagram.
More Southern California Travel Guides
Pin this LA Weekend Itinerary for Later