There is nothing more stressful (for me) than arriving at a destination and having no clue how to get from the airport to the city. This is a guide detailing how to get from Vagar Airport to Torshavn and Klaksvik.
Planning your trip to the Faroe Islands last minute?
Below are some of the top tours, hotels, etc to help plan your Faroe Islands trip!
Getting around the Faroe Islands:
Cheapest car rental options (and with most availability!)
Vagar airport to Torshavn (a quick transfer service!)
Top Experiences and Tours in the Faroes:
Top Lodging and Hotels in the Faroes:
The guide will discuss 4 options for getting from the Faroe Islands Airport to Torshavn and beyond – transfers, taxi, rental car, and public transportation.
If you are simply looking for a credible Vagar Airport transfer option, click is my top recommendation:
⇒ Faroe Islands Airport private transfer to Torshavn (or anywhere!)
How to Get to the Faroe Islands
Up until the early 2000s, the airport serviced a few destinations in Norway, Denmark, and the UK. However, over the years, work has been done to improve the airport in order to allow larger aircraft to land.
Today, the airport only serves a few international destinations year-round, although in high season there are a few flights that head to Southern European holiday destinations such as Spain.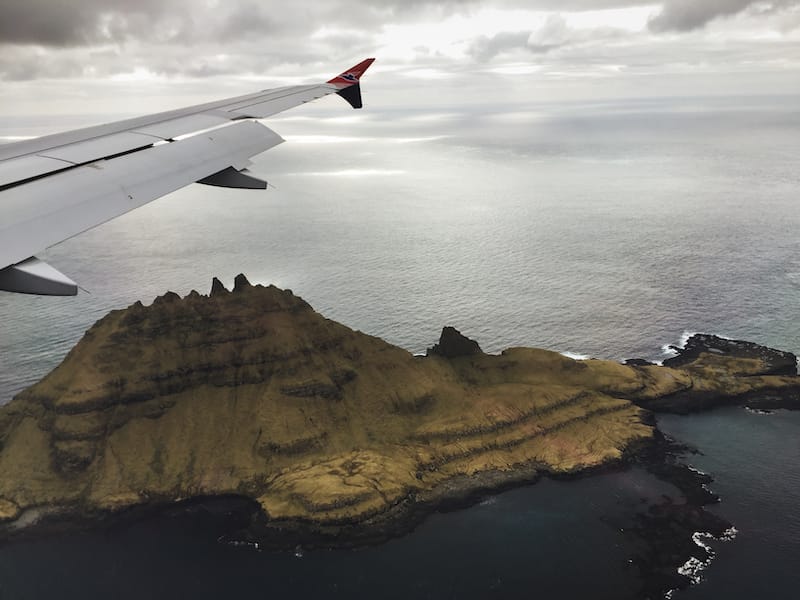 I flew there from Copenhagen Airport both times I have visited the Faroe Islands. I have flown on both Atlantic Airways, the national airline of the Faroe Islands, and SAS (Scandinavian Airlines).
About Vagar Airport (Faroe Islands Airport)
The only way to describe landing in the Faroe Islands is that it is spectacular… and purely magical. As the plane starts to make its approach, it's impossible not to let the excitement overwhelm you as you scramble to look out of the window.
When the plane starts to descend and you dip below any cloud coverage, you will see the islands come into focus as dramatic islets like Draganir and Tindholmur and sea stacks rise up from the volcanic bedrock and the waves swirl around their bases.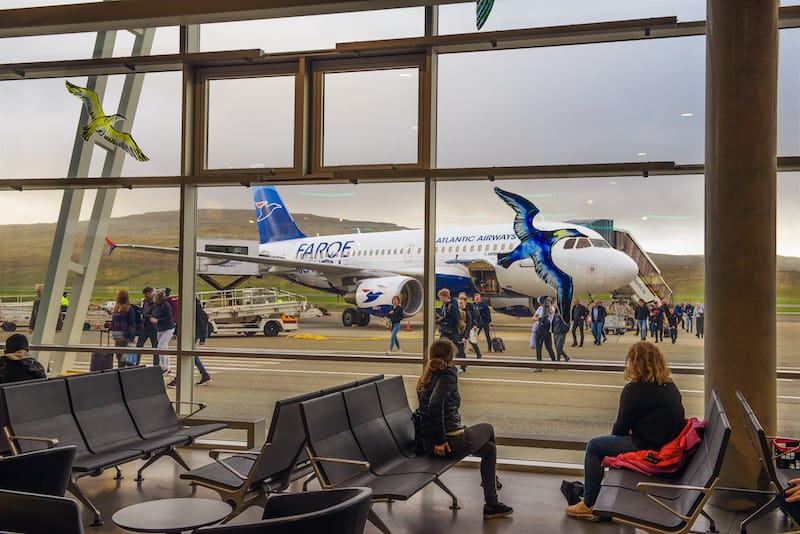 As the plane bumps down into Vagar airport, the remoteness of these islands becomes even more apparent.
Much like the Faroe Islands, Vagar Airport is tiny. Located in the village of Sørvágur on Vagar island, it is a fair distance from the island's capital Torshavn.
The original airport was built by the British during WWII when they briefly took over control of the islands from occupied Denmark. The location was chosen as it was hidden out of sight and could easily be defended.
Once WWII finished and the Faroes were handed back to Denmark, the airport was abandoned until the 1960s when it was redeveloped for civilian use and it eventually became the hub for Atlantic Airways, the Faroese national airline.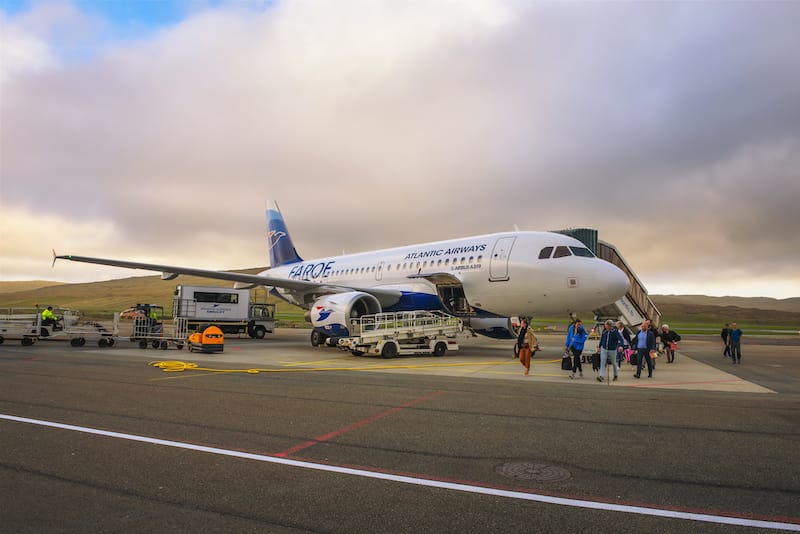 Arrivals
The terminal is very small and unlike pretty much any other international airport; it is easy to navigate.
As you make your way through the airport to baggage claim, you will pass through a duty-free shop and a small cafe.
An inside tip for visiting pretty much any Nordic or Scandinavian country is to pick up any alcohol you may want in the duty-free shop before exiting the airport (I'll reiterate this at the end of the post).
Alcohol sales in the Faroes are extremely regulated and there are only a few shops on the islands that sell alcohol to drink at home and the prices in the airport tend to be slightly more reasonable.
There is little else in the terminal but those looking to rent a car in the Faroe Islands will find several companies represented at the airport. Book these ahead- I will explain more below.
Vagar Airport to Klaksvik and Torshavn – 4 Options
There are several ways to make your way from the airport to the main cities of Torshavn and Klaksvik, including a private airport transfer, bus, and rental cars.
This guide will take you through each of the options to reach the main Faroe Islands landmarks. I will also list how to reach the main sites on Vagar.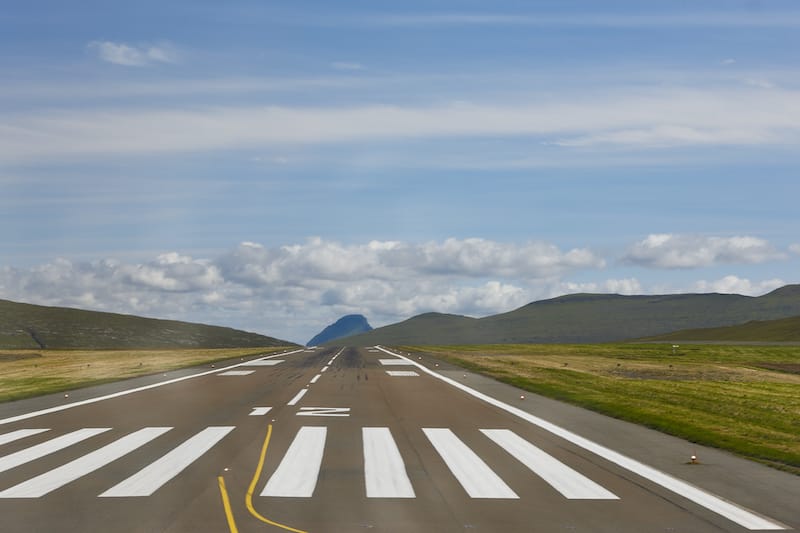 Private Transfer
I love stress-free travel but I have to admit, arriving at a new and unknown airport stresses me out. Even in a place as small as the Faroe Islands.
I tend to travel with an overwhelming amount of luggage as a travel blogger (mostly equipment) and the thought of having to take it on public transport or try and hail a taxi fills me with extreme anxiety.
I have found the perfect solution is to order an airport transfer before arriving so that I know someone will be there waiting for me. The beauty of pre-organized airport transport is they will track your flight and time their arrival based on yours which is great for the Faroe Islands as the weather can delay flights fairly easily.
You can book your private airport transfer here. Prices start at 800DKK for one car which includes you and up to 5 additional passengers to travel to Torshavn.
For larger groups, you can request additional seating or book multiple cars. The booking process is very easy and once completed your transfer will be confirmed.
For those not planning to stay in Torshavn, you will need to speak to the company directly to find out the cost to travel to different towns around the islands.
>> Book your private airport transfer: Vagar Airport to your hotel or destination in the Faroe Islands
Vagar Airport Car Rental
There are quite a few rental car companies represented at Vagar Airport. I have used two services previously: Unicar and 62N. I had two very different experiences, but both great.
Unicar is located on Vagar and is a family-owned business. They don't have a location at the airport, but they dropped the car off and left it there. We found a key inside and it was unlocked. It was the most Faroese experience, to say the least.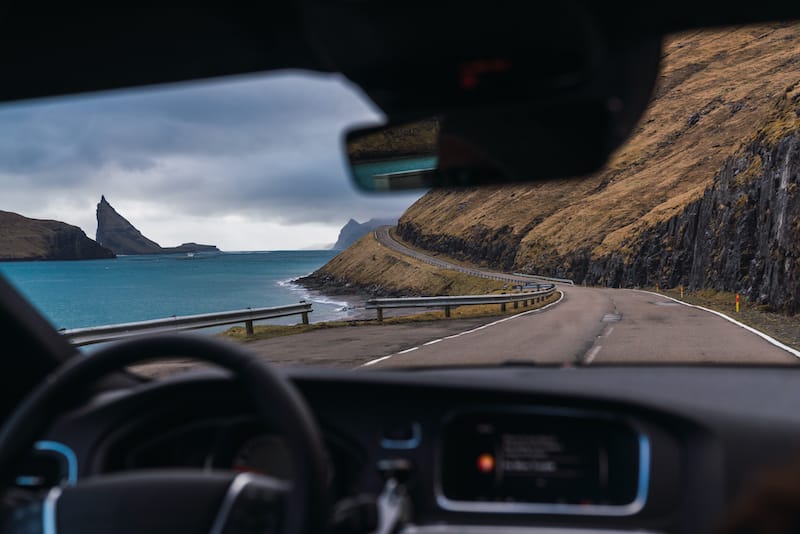 We wrecked the car in a tunnel. It was a bit of a messy experience regarding the insurance but basically, we had to pay $1000.
The second rental car we used was by 62N. They had an actual office at the Vagar Airport and the process was easy to pick it up. We signed an agreement and everything went seamlessly. We didn't wreck this one, thank goodness.
While I had good experiences with both companies, I definitely felt like having an official pickup at the airport and interaction with customer service from the beginning was more favorable for me.
But, I am definitely keen on supporting a small family business and it was my fault that I wrecked the car and didn't discuss insurance properly beforehand. So, I recommend both companies, just be sure to have your driver's license as one of the first things you pack for the Faroes!
>> Book your Faroe Islands rental car: Unicar | 62N
Click here if you find that both Vagar Airport car rental companies are booked up or you want to explore other options.
At the bottom of this post, I give you additional information to know before booking a rental car in the Faroe Islands. Please read it if this is the option you choose for getting from Vagar Airport to Torshavn and beyond. It is important!
Vagar Airport Taxi Options
There are several taxi firms that operate on the islands, however, unlike many other countries, there are not many and in almost all cases you will need to book them in advance.
The price from the airport is a set standard price of around $30 per person in the car, with taxis taking a maximum of three people.
The taxi driver will be waiting for you at the airport and will drop you off directly at your hotel.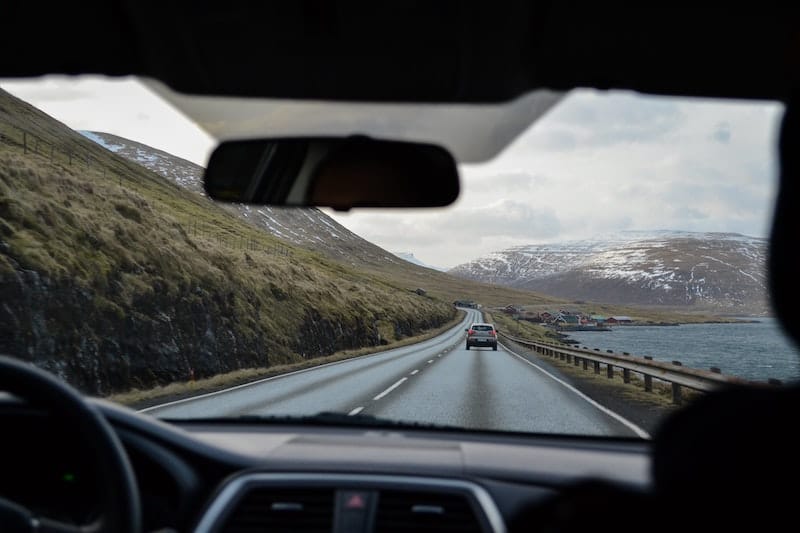 To return to Vagar Airport, the price will be the same and your hotel should be able to order one for you before you leave.
>> Book your Faroe Islands Airport taxi: Vagar Airport to your hotel in the Faroe Islands
Public Transportation
Given their small size, it would be easy to think that traveling around the Faroe Islands by public transport would be a breeze.
Sadly, as most people own a car and gas is relatively affordable, public transport is somewhat lacking. However, there is a small network of buses that will transport you between the main towns and villages dotted around the road-connected islands.
From the airport, you can take Bus 300 to Torshavn that runs sporadically throughout the day, all week. However, on the weekends, there is drastically reduced service with just a few buses a day.
The cost of the bus is around $15 dollars for an adult with the journey taking just under an hour. The bus departs from the main terminal building and takes you directly to the Torshavn bus terminal which is located close to the main port.
From Torshavn, you will be able to make further connections to towns such as Klaksvik. You can find the timetable for the bus here.
Arrival and Departure Tips
There are several options for getting from Faroe Islands Airport to Torshavn and beyond. Here are some FAQ and extra tips that I think you may find useful!
What is the Cheapest Way to Torshavn?
The cheapest way to Torshavn really depends on what your plan in the Faroe Islands is. If you're hitchhiking or using public transportation, as noted above the bus ticket to Torshavn from the airport is only $15.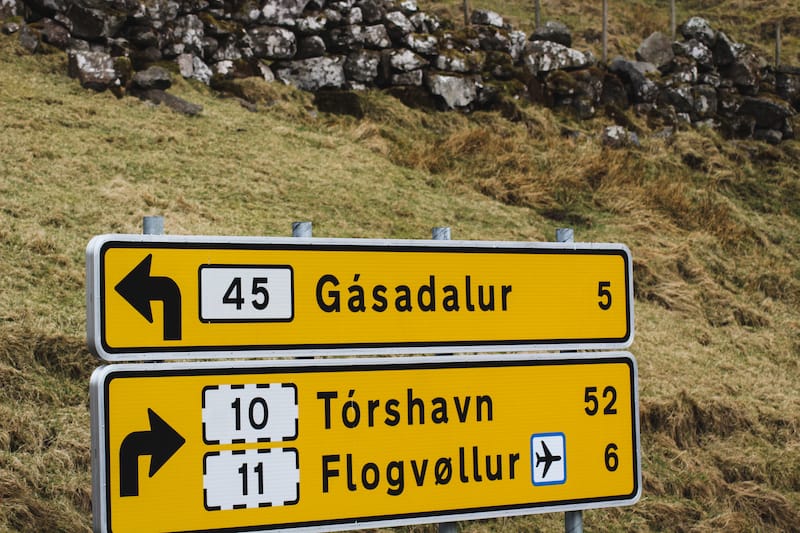 If you're looking for a transfer, a taxi is cheap if you're just a single person or a couple. A private transfer is also a viable option if your group is bigger as you'll pay for the car. Here are the prices broken down:
Vagar Airport to Torshavn Prices:
Public transportation (Bus 300): from $15pp
Vagar Airport taxi: from $31pp
Vagar Airport private transfer: from $120 per car (fits 5 people)
Rental car: varies… and is likely the best and cheapest option in the end
Duty-Free
Alcohol in the Faroe Islands is expensive! But, that is pretty much typical of anywhere in the Nordics and the Faroes is certainly no exception.
Before you leave the airport, stock up on booze if you're looking to try it while in the Faroes. At Vagar Airport, you'll find a Duty-Free shop and it does not have high taxes on beer, wine, and spirits and it will be open.
Depending on your Faroes Island itinerary, you may end up in a place where there are no alcohol shops or you may be there when those few shops are closed (it is in government-regulated shops called Rúsdrekkasøla Landsins).
The main beer in the Faroe Islands is Føroyar Bjór. There is also Okkara beer, a small brewery, but they were just bought out by Føroyar Bjor last week, so I am not sure if production will cease or stick around with some financial backing. Either way, both were fine.
Visit Vagar Right Away
Depending on what time your flight arrives, I recommend visiting Vagar right away. If you are traveling to the Faroe Islands in winter, you may hit short daylight and might need to plan your itinerary accordingly, but if you're there in summer, you will have a lot of daylight and exploring Vagar right away is a totally viable option!
On Vagar, you will find Sorvagsvatn, the optical illusion lake, and Mulafossur in Gasadalur village (waterfall that drops into the ocean). You will need to prebook your Sorvagsvatn hike as it now requires a fee.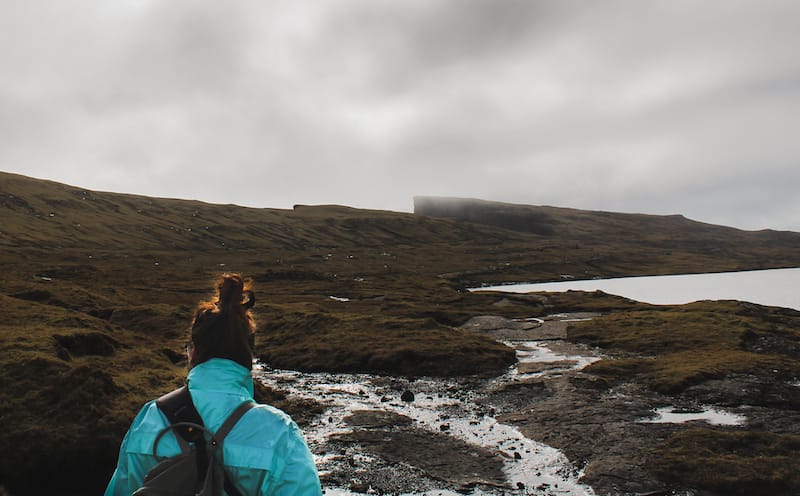 But, depending on when your plane arrives, you should have enough time to do it. I would slot 3-4 hours for Sorvagsvatn if you're slower and want to photograph a bit.
You have a few options for visiting Sorvagsvatn:
You can organize a hike ahead of time with a local guide. Click here to check rates and availability.
You can show up at one of the slotted times (9am, 12pm, and 3pm) and join one of the tours with a local guide. This price. is 450DKK per person (children are 150DKK).
You can pay 200DKK and hike independently. To be honest, it is an extremely easy hike and requires little to no effort if the weather cooperates. I would go this route if you're on a budget and feel comfortable walking on your own.
There are currently no fees for visiting Gasadalur and the famous Mulafossur waterfall.
Insider tip:
Visiting both sites is easily done in just over half a day and means you do not need to travel back to Vagar during your trip and incur additional tunnel charges.
Weather Delays are Imminent
When I visited the Faroe Islands in late winter / early spring, the weather was temperamental, to put things mildly. We had a 2-3 hour delay leaving the Faroe Islands on our flight to Copenhagen.
If you're planning your itinerary for the Faroe Islands to start the moment you leave that airport, have a Plan B. While I think visiting Vagar is a great idea as soon as you arrive, you may not arrive at the expected hour if weather conditions are unfortunate.
One thing to learn about the Faroe Islands is that nothing ever goes as planned! That is, after all, the beauty of visiting!
Faroe Islands Rental Car + Quick Driving Tips
As noted above, there are some things to know before renting a car in the Faroe Islands. I will have an entire guide coming soon regarding this, but here are some quick tips for now.
The cost of Faroes rental cars depends on several factors, such as the season, the type of car, and how far in advance you book.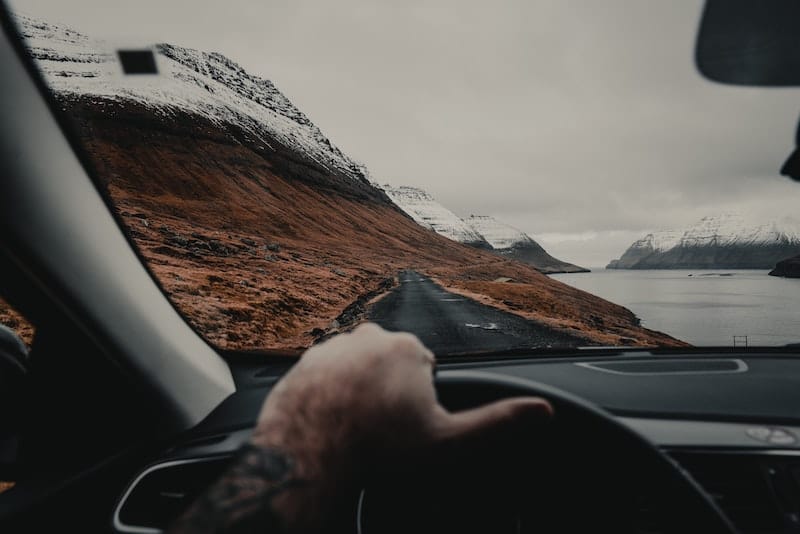 Prices during the peak season are generally much higher due to the high demand for cars and the finite number of vehicles available. When choosing a type of car, I recommend selecting one that fits your needs and comfort levels.
The roads on the islands are decent and there is no need to go overboard with a 4 by 4 when you can easily get by with a much smaller, more affordable car. I highly recommend booking your car the second your flights are confirmed in order to get the best deal possible!
>> Click here to book your Faroe Islands rental car
During the booking process, you need to ensure you select an option that either includes unlimited toll tunnel uses or one where the toll chip is activated.
Alternatively, you will need to visit a gas station each time you use a toll tunnel. These are the large undersea tunnels that connect the islands of Vagar and Streymoy, as well as Borðoy and Eysturoy.
Driving to your Faroe Islands accommodation from the airport is incredibly easy. The small islands have a brilliant road network and the journey from the airport to Torshavn takes less than 40 minutes, while you can reach Klaksvik in about an hour and 20 minutes.
If you don't feel comfortable renting a car in the Faroe Islands (especially after my tunnel horror story), I don't blame you! There are plenty of tours in the Faroe Islands that can help you see the best sights without a vehicle!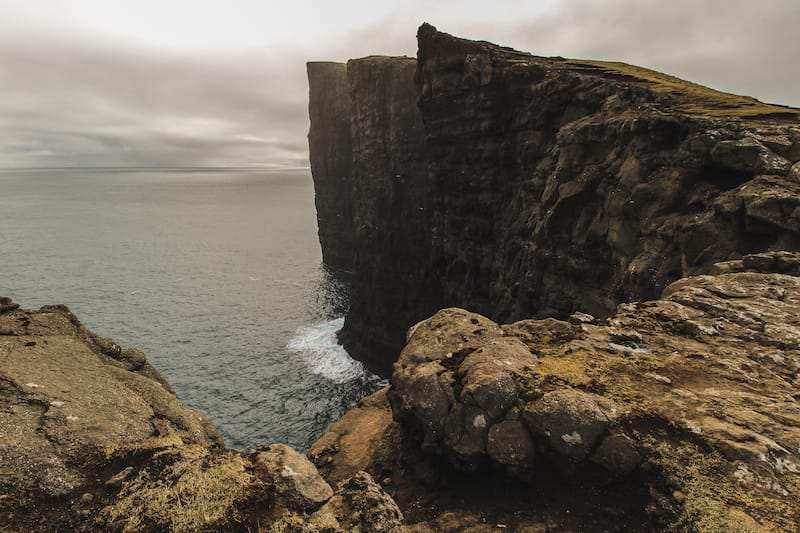 Where to Stay in the Faroe Islands
There are so many amazing options for where to stay in the Faroe Islands and we have written about a few of them. You can see our top hotel recommendations in the Faroe Islands here.
If you're a nature lover and want to be outside as much as possible, be sure to read our guide for camping in the Faroe Islands – it will contain everything you need to know, including every single place in the Faroe Island where you can go camping.
Lastly, we definitely think the Faroe Islands lends itself to Airbnb and guesthouses. You can check out our guide to our top picks for Airbnbs in the Faroe Islands. We give island-by-island recommendations and tips that will help you plan your Faroes trip accordingly!
We hope that this guide helps you plan your journey from the Vagar Airport to Torshavn, Klaksvik, or wherever the first part of your trip takes you! Please let us know if you have any questions or concerns. Thanks!
More Faroe Islands Travel Guides
PIN IT FOR LATER!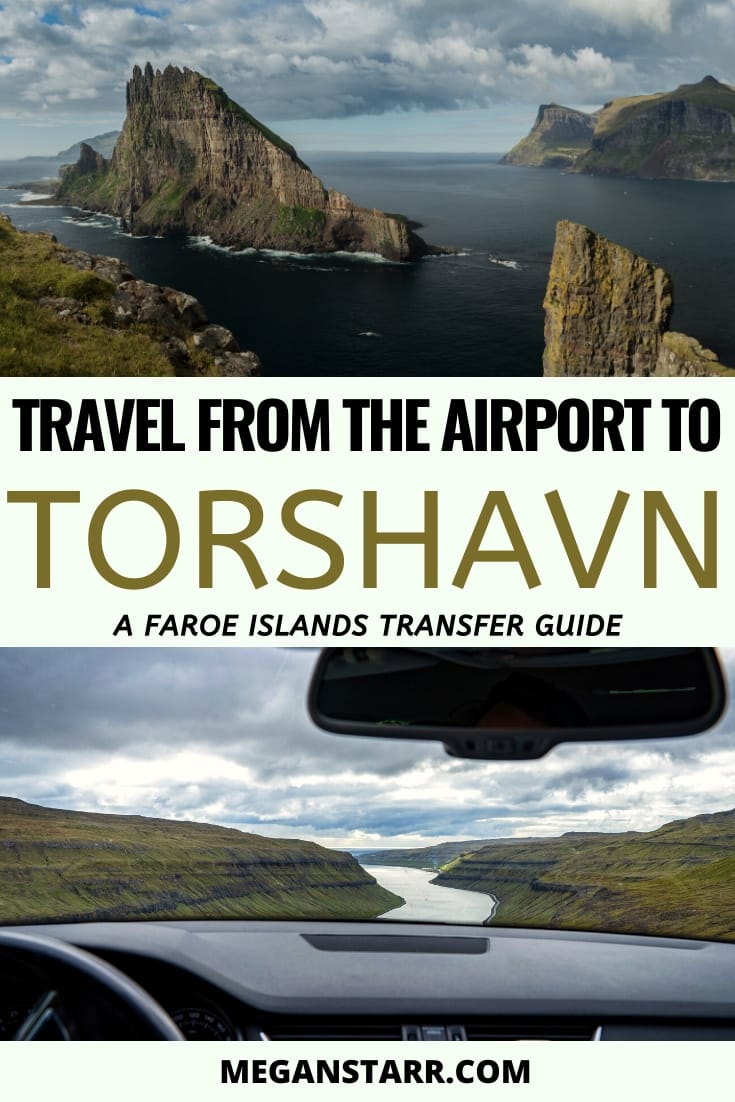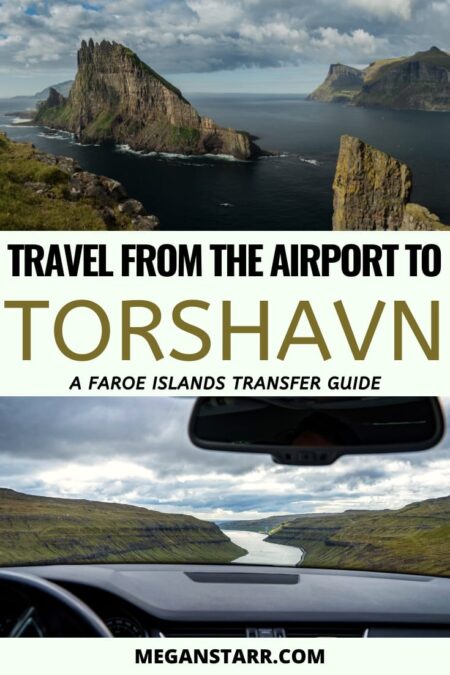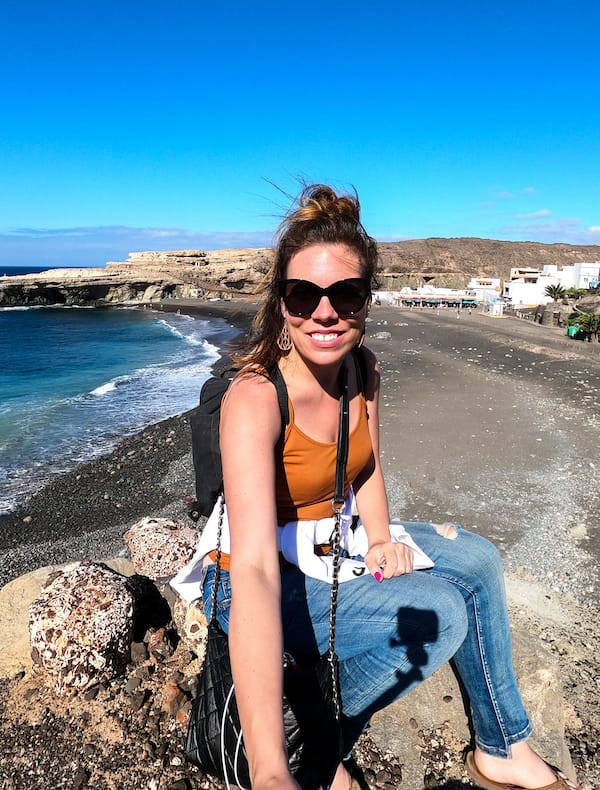 Megan is a travel blogger and writer with a background in digital marketing. Originally from Richmond, VA, she now splits her time between Frankfurt, Germany and Arctic Finland after also living in Norway, Armenia, and Kazakhstan. She has a passion for winter travel, as well as the Nordic countries, but you can also find her eating her way through Italy, perusing perfume stores in Paris, or taking road trips through the USA. Megan has written for or been featured by National Geographic, Forbes, Lonely Planet, the New York Times, and more. She co-authored Fodor's Travel 'Essential Norway' and has visited 45 US states and 100+ countries.