Arriving in a new city can be daunting! This is a guide on how to get from Copenhagen Airport to the city center (and back).
Are you planning your trip to Copenhagen last minute?
If youʻre booking your trip to Copenhagen last minute, we have you covered. Below are some of the top tours, hotels, and more!
🇩🇰 Top Experiences and Tours in Copenhagen:
🛌 Top Hotels in Copenhagen:
71 Nyhavn Hotel (Lux)
K10 Apartments (Mid)
Wakeup Copenhagen (Budget)
🚗 Looking for the best way to get around Denmark? Click here to check rental car rates for Denmark!
There are options for the metro, bus, and taxi pickups. Let us know if we missed anything on this guide in the comments. Thanks!
Copenhagen Airport to the City Center (Train and Bus Options)
I arrived at Copenhagen Airport, Scandinavia's biggest airport, for the first time in June 2019 from Oslo, and immediately, my first impressions were that the Danes built great infrastructure.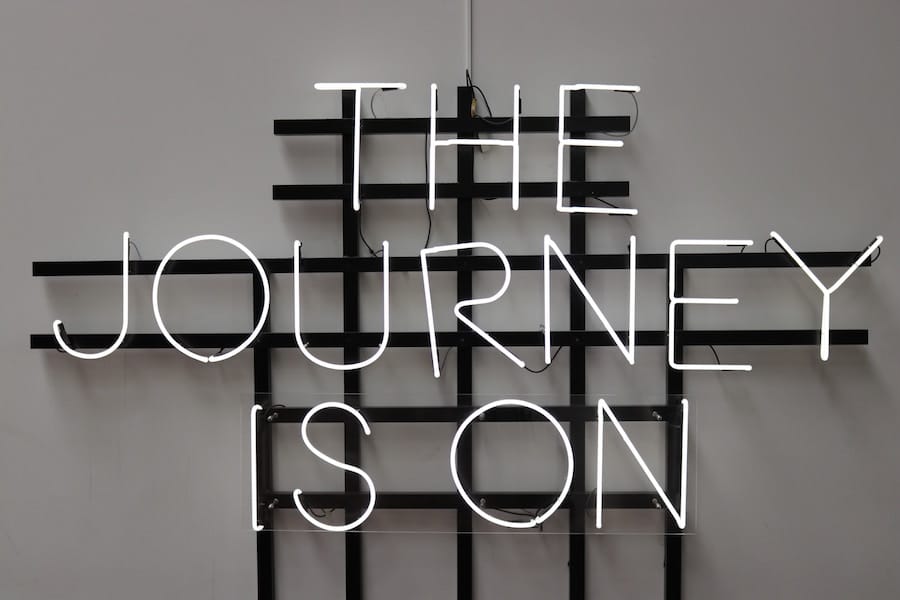 Not only did they build great airports, but they also made sure they were well-connected. Buses and the Copenhagen metro covered the city well and even made their way to the airport.
The prices can be a bit biting at first but such is life in Scandinavia, the land of high living standards.
This is a quick guide to explaining how to get from Copenhagen Airport to the city center and it covers multiple options for all types of travelers.
We cover how to get there by bus or metro… and we also discuss the option of booking a Copenhagen Airport transfer with a reputable company called Airport Transfer that will give you the flexibility of cancelation 48 hours before (if things don't pan out the way you plan on your trip!).
How to Get from Copenhagen Airport to the City Center by Metro
It can be continuously difficult to orientate when you are arriving in a new country (especially if this is your first trip to Copenhagen!) and are unsure of how the public transportation works and which terminals connect to the city center to the airport and whatnot.
Like many other well-developed urban areas, the Copenhagen metro works exceptionally well and is extremely easy for travelers to navigate because there are many signs, helpful workers, and short distances between places.
Not only is Copenhagen renowned for being one of the best shopping cities in the world, but it also is a whole other level of ingenuity!
After arriving at Copenhagen Airport and dealing with grabbing my bags at the baggage claim, I thought I would get lost since the airport is larger than my airport back home in Armenia.
I quickly realized that despite the airport's size, it was manageable and I was able to find where I needed to be with ease.
The metro arrives and leaves from Terminal 3 and to get there, you will need to take a right after exiting from the arrival hall's doors. Just follow the signs.
The workers were also cordial and helpful and will surely point you in the right direction if you need help. The metro runs 24 hours a day.
You can check ticket prices a bit further down in this post.
How to Get Back from the City Center to Copenhagen Airport by Metro
If you're looking to get from the Copenhagen city center to the airport, it is still pretty easy. Generally, the ride takes about 15 minutes from Nørreport Station to Kastrup Airport.
If you happen to be in another part of the city, the ride will take anywhere from 15-30 minutes.
There are many metro maps posted around and always a face that is ready to help you make sure you hop on the right train to Copenhagen airport.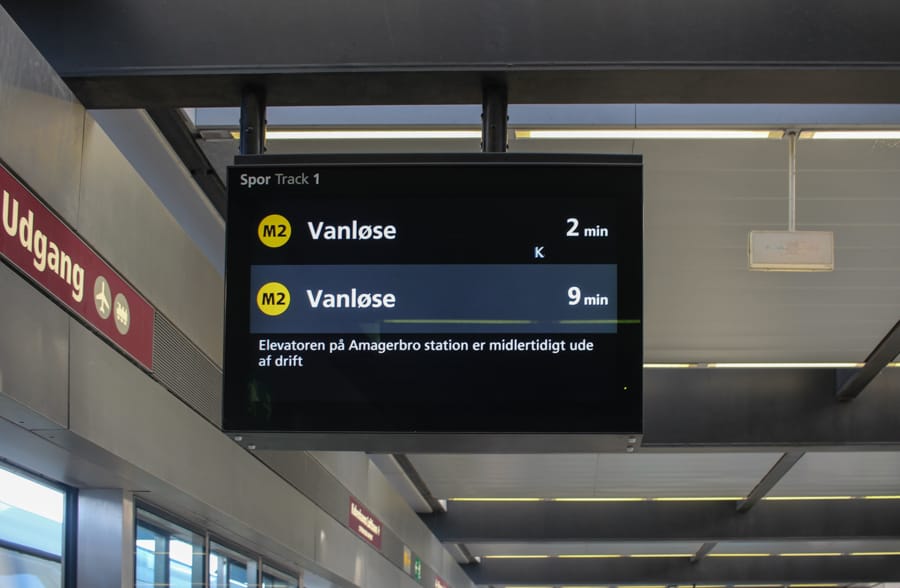 When I made this journey, the closest metro station to me was Kongens Nytorv and it took 20 minutes from the city center to Copenhagen Airport.
As you enter the metro station that is the most convenient to your location, you will need to find the M2 yellow line. This is the line that goes to Copenhagen Airport.
Ticket Prices from Copenhagen Airport to City
As you enter the arrivals hall, there are many varieties of tickets you can buy at the DSB ticket machines.
Please remember that these machines are only taking coins and credit cards- no notes!
So, before purchasing your ticket, you will need to ensure you have a card on you or the correct amount of coins.
Once you get to the machine, you will need to choose your preferred language, your age (if you would qualify for a specially priced ticket), the ticket type (city center), and then pay with the card or coins.
The ticket will then be dispersed to you.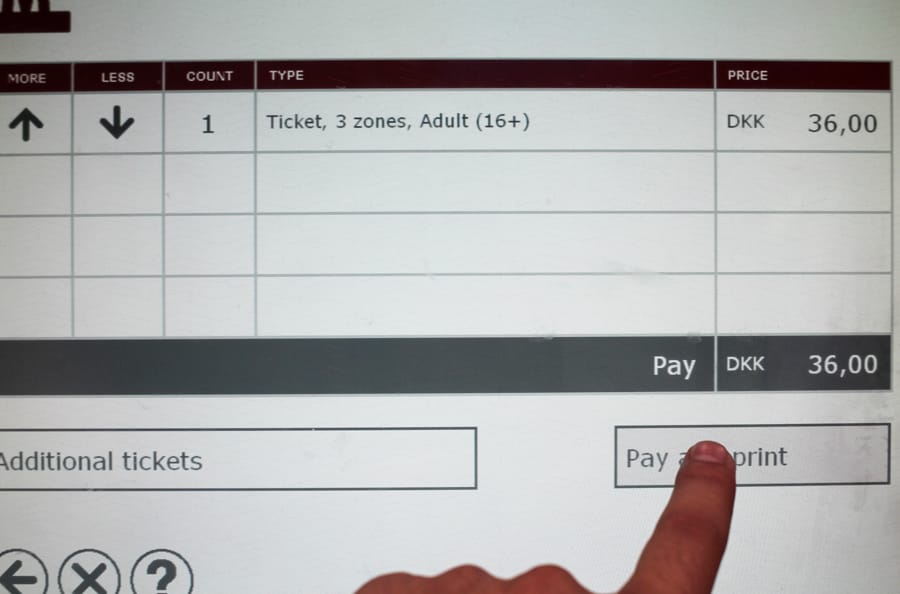 The price of the ticket from Copenhagen Airport to the city is 36 DKK (approximately $4.75).
This is a really good price considering what I paid to get from Oslo Airport to the city center.
The ticket is valid for 90 minutes and you can use it for both the metro and bus that will take you to the Copenhagen city center.
The metro times and directions will be posted accordingly on the signs heading down there. The process is extremely simple.
Airport Bus to Copenhagen City Center
Another viable option to reach the city center from Copenhagen Airport is the bus.
The bus Line 5A is a great option to achieve this and it connects the airport with the Copenhagen Central Station, City Hall Square, and Nørreport.
Line 5A passes several hotels on the way and it is an incredibly useful option to take.
The buses typically go from Terminal 3 where you can purchase a ticket from the machines (making it easier for the bus drivers not having to issue tickets).
Please do note that they only take coins and credit cards- no bills!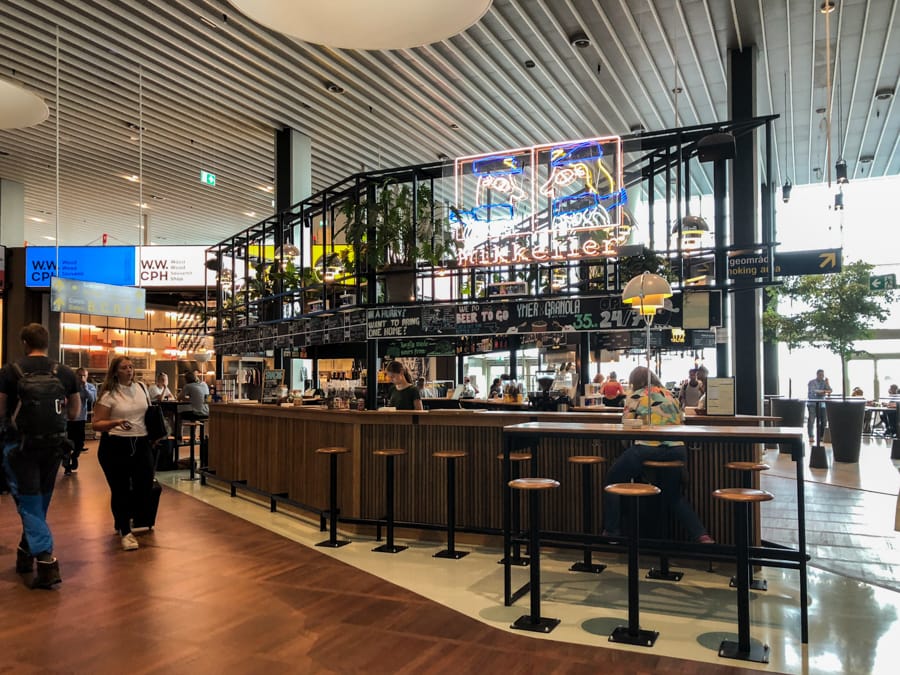 The ticket is valid for 90 minutes, just like the metro, and it is the same price of 36 DKK (around $4.70).
The buses go about every 10 minutes and they work throughout the night, albeit more infrequently.
Luggage Storage at Copenhagen Airport
Once you arrive at Copenhagen Airport, you have the option to use their luggage storage facilities to store your stuff, which is particularly amazing if you are on an extended layover.
The luggage storage is located in the parking garage P4 and you will see deposit boxes and lockers ranging from small sizes to large ones. These are priced accordingly.

Prices for Luggage Storage at Copenhagen Airport
Depending on the size of your luggage and the length of time you need to keep it stored, you will pay the following prices:
Small luggage with a size of approximately 36x44x57 cm: 60 DKK for 4 hours and 80 DKK for 24 hours
Large luggage with a size of approximately 46x60x82 cm: 80 DKK for 4 hours and 100 DKK for 24 hours
Ski/golf bags with a size of approximately 32x186x57 cm: 100 DKK for 4 hours and 120 DKK for 24 hours
You can also purchase storage for up to 7 days if it's needed.
After purchasing the luggage storage, you will receive a receipt with a locker number on it and a code that you can use to reopen it later.
Do not lose this! If you do, the Danes will collect another 400 DKK to assist you in opening the lock. You can only pay for these Copenhagen Airport luggage lockers with a credit card.

Copenhagen Airport Transfer Services
If you're not down to take a bus or metro to the city center from the CPH Airport- no worries.
There are plenty of transfer options that can help you out. This one can book you either a one-way transfer or a round-trip one.
The service will also monitor flight details and delays to ensure they grab you when you arrive, regardless of the time.
Click here to see rates for a Copenhagen Airport Transfer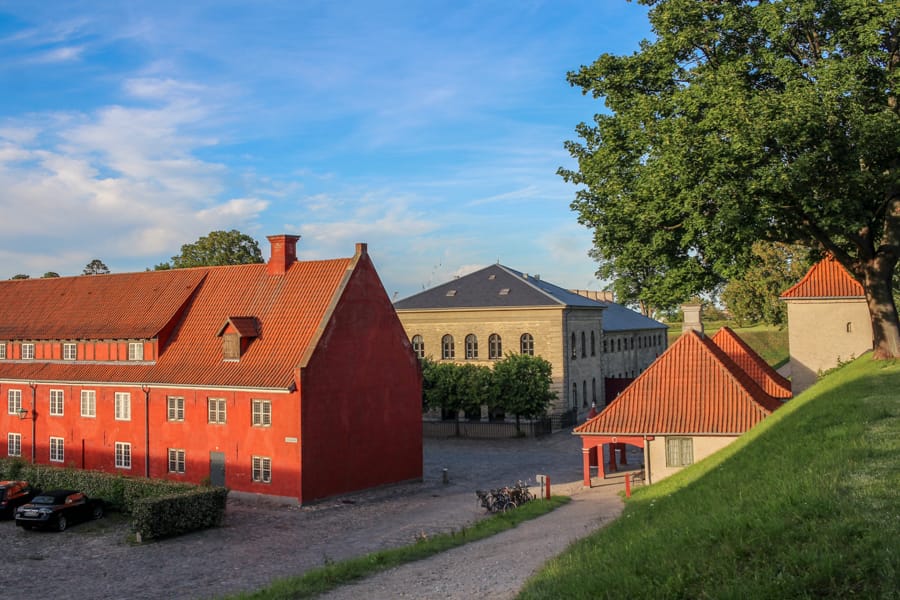 There are quite a few ways to get from the Copenhagen Airport to the city center and this guide has detailed the bus, metro, and private transfer options.
Where to Stay in Copenhagen
If you're looking for the best places to stay in Copenhagen, check out these options below!
If you have any suggestions or questions, please leave them in the comments, and Megan or I will reply as we have both made this journey in winter and in summer.
More Denmark Travel Guides