One of the questions that has been asked a lot on my blog and in my inbox in the past year has been 'What do I pack for the Faroe Islands?" I have had it on my mind for a while to create a Faroe Islands packing list, but I haven't actually taken the time to publish it until now.
So, without further ado, this is my Faroe Islands packing list that will include what to pack for the Faroe Islands for all seasons and for both men and women.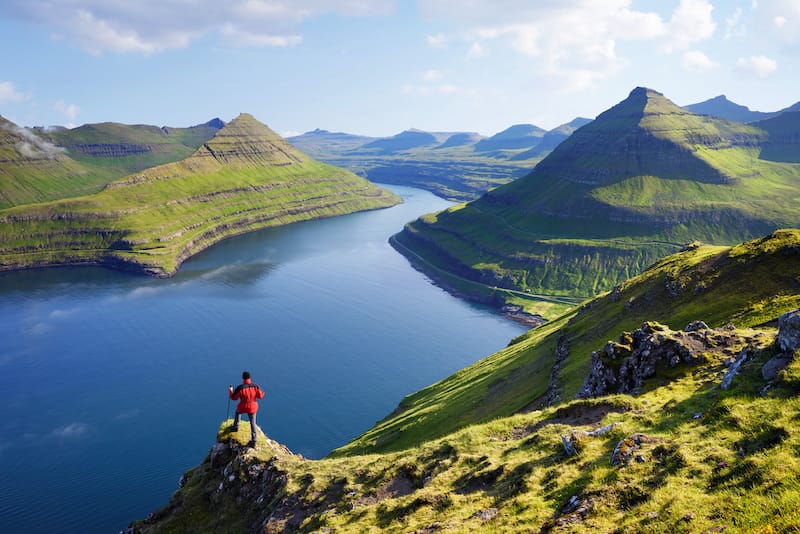 Faroe Islands Packing List: What to Pack for the Faroe Islands (All Seasons)
I have been to the Faroe Islands in both summer and the end of winter (early spring). For both trips, I packed the stuff I needed and the stuff I didn't need. I traveled with a male companion on the first trip and with a girlfriend and fellow blogger on the second one.
This packing guide for the Faroe Islands will highlight what to bring for both women and men, regardless of the season and it will also highlight some season specifics to bring.
The weather in the Faroe Islands is always unpredictable- I can assure you that! And it is never really that 'hot', so creating a packing list that covers all seasons is strangely easier than expected.
Snow isn't as common as it is in Norway, for example, but it definitely happens during the winter months. Sun isn't as prevalent as say… in Florida, but it happens, too.
I will soon be coming out with a guide that gives you information on when is the best time to visit the Faroe Islands… but until then, hopefully, this guide gives you a good idea of what to bring!
Faroe Islands Packing List for Women
I traveled with both a carry-on and a check-in suitcase for the Faroe Islands. I usually just travel carry-on, but I was toting around heaps of camera equipment both times and it is just not practical to travel carry-on only.
It also helps that no budget airlines fly to the Faroes, so I don't have to worry about strict Ryanair luggage policies or anything like that.
I was able to leave stuff in my hotel in the Faroe Islands during the day, anyway, so it wasn't too much of a burden hauling extra gear around. This section will be broken into all-season essentials (broken down into my check-in, carry-on, and toiletry bag) and then some suggestions for each season.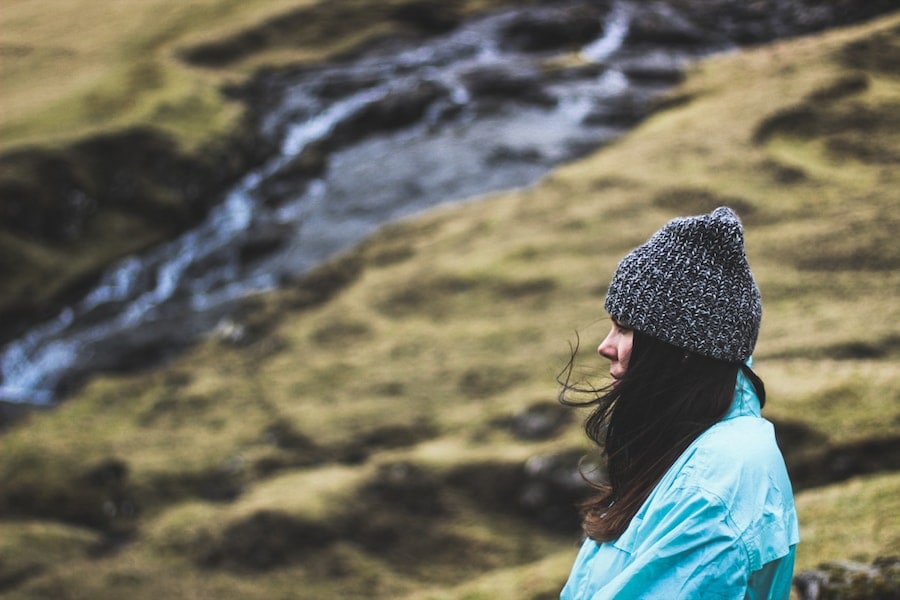 What's in My Check-in Bag (Backpack or Suitcase)
The older I get, the more I like an actual suitcase. But, to be honest, I change it up. Sometimes I travel with a suitcase and sometimes I travel with a backpack. I traveled with my Osprey Farpoint 40L on my first trip and with my Delsey Lightweight Sky 2.0 on my second trip.
My Mom bought me my Osprey Farpoint 40L a couple of years back for Christmas and given she spent double the amount of money on it because she shipped it to me in Europe (thanks, Mom!), I always enjoy using it and it has never failed me. I have a crappy back and it balances and distributes weight really well.
I bought my Delsey Lightweight suitcase in New York City around 7 years ago and it has held up like a champ with the exception of replacing a wheel here and there (the graveled 'roads' of Central Asia were not kind to the poor thing one harsh winter).
It is the most lightweight piece of luggage I have ever owned and actually is certified to be a carry-on, I just often check it in.
Both bags are well-suited to the Faroe Islands as you will most likely be renting a car and can just throw them in the trunk. The bag I would be more careful about would be your carry-on as it is likely going to be your daypack.
As for clothing, I recommend bringing mostly outdoorsy stuff with a few versatile pieces included if you're going to have dinner out in Torshavn or something. But, much like Iceland or other places in Scandinavia and the Nordics, you can wear hiking clothes to nice restaurants and no one will judge you.
● Hiking boots (I highly recommend my Keen Targhees as I have had them for nearly a decade)
● Thick, wool socks (I bought mine at a grocery store in Norway years ago and they have held up fine)
● Long johns or wool
● 1 sweater
● 1 waterproof jacket (I used this exact one while in the Faroes and it layers over everything)
● A warm fleece (North Face fleeces are always reliable)
● Underwear and bras (I like these everyday sporty bras from Weekday, a Swedish brand)
● Pajamas
● Mittens or gloves
● A warm beanie (I use the ones from Finnish brand, Superyellow or my favorite mustard one from Libertine-Libertine)
● Scarf or neck gaiter (I love this one from Norwegian brand, Kari Traa)
● Multiple pairs of comfortable black leggings
● 4-5 comfortable tops
● 1 pair of waterproof pants
● The Friendly Swede dry bags for those rainy days… which will exist
● Seasickness wristbands
● Travel first-aid kit
● A pair of trekking poles (these are great for those afraid of heights and you can see some highly rated ones here)
● Klean Kanteen because plastic sucks
● Another pair of shoes (optional). I like to travel with my black, vegan Dr. Martens but whatever is most comfortable for you works the best!
Note: If you're traveling with young kids and are worried about crib availability, my traveling friends suggest this lightweight travel crib. It takes up a fair amount of space (about the same as a thick yoga mat), but it is only 6lbs. Depending on your situation, it might be worthwhile.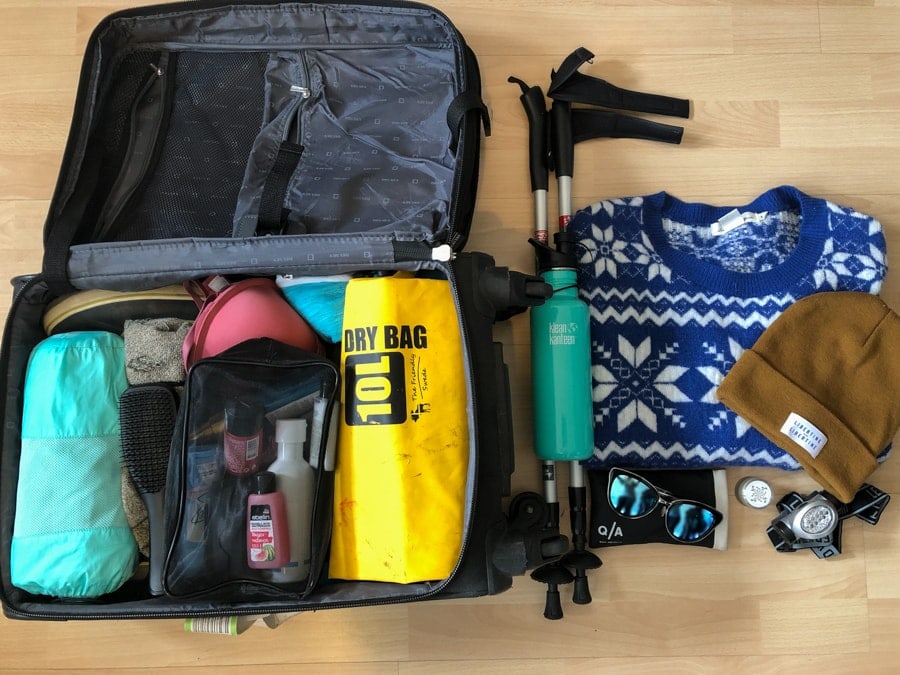 What's in My Carry-on
As a travel blogger, I have to haul around a lot of equipment in order to bring you guys the content and footage that I have displayed on this blog over the years. This, in turn, means that my carry-on is filled with electronics instead of fun stuff, like books for the plane, etc.
My recommended carry-on is my WANDRD 31L bag. This is absolutely the most amazing daypack and travel bag I have ever used. I use it for weekend trips around Europe and I also use it as my daypack when traveling. It fits all of my camera equipment, drone, gimbal, etc. It is waterproof and has enough compartments that I can separate things yet few enough that I don't get overwhelmed.
I am truly obsessed with this bag and it was really made for travelers with similar habits as mine. It is perfect for long days whether you're on a Faroe Islands tour or driving around solo throughout the eighteen gorgeous islands.
If you're looking for something a bit lighter and practical for a daypack, I can also recommend my 'I'm probably a hipster at heart' Fjallraven Kånken. I have it in black and use it on a daily basis when I am home and out in the city, etc.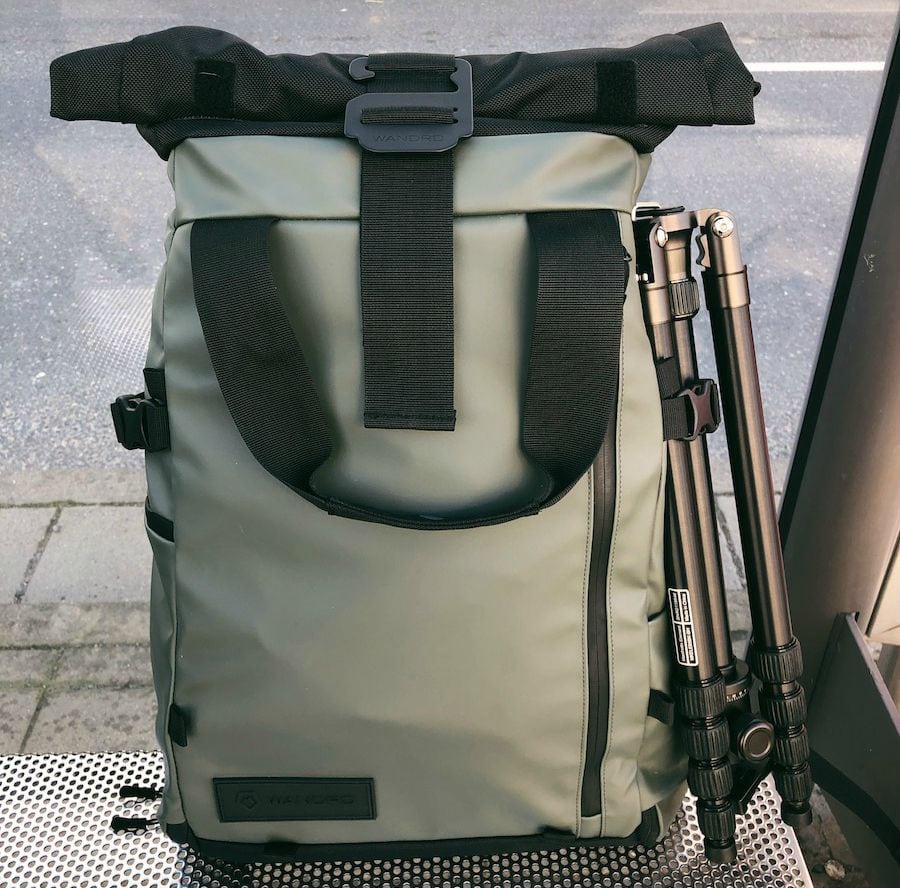 In my WANDRD 31L bag is the following:
● MacBook Air
● A camera that you know how to use (I am an amateur photographer and this is the one I use)
● A wide-angle lens (I can recommend this Canon 10-18mm and it is essential for landscape photography in the Faroe Islands)
● My Manfrotto tripod (needed for long exposures and stability)
● My GoPro Hero 7 (I wish I had taken more videos when there… there is always next time)
● Mobile power banks (these are crucial in cold weather… I bring multiple and I love these ones by Anker)
● Neutral Density filters that will help with long exposure photography (I recommend these affordable ones by Gobe)
● Electrical plug adapters or converters
● All chargers (Macbook, phone, extra Apple cables)
● External hard drive like this Seagate 2TB to backup photos daily
● Power strip (I never travel without one!)
● A notebook or book… just something to do for downtime
● Headphones
● Zoom lens (optional, but great for bird photography… I use this Tamron 70-300mm)
● Drone (optional, but I recommend either the DJI Mavic Air or DJI Spark because they take up less space in your carry-on)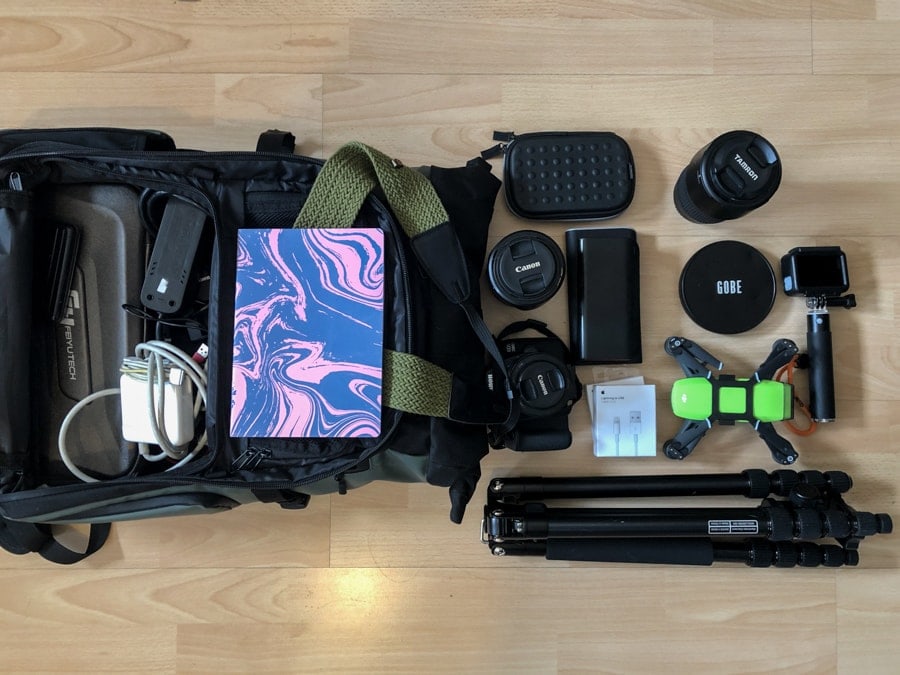 Because of this blog, I do travel with a lot more photo equipment than I perhaps should. I only listed the ones I think are essential above. I will soon be creating a Faroe Islands photography packing list and I will link it here once it is done so you can see exactly what I packed for my trip (all lenses and gear).
Regarding drones, it is best to always ensure you know the laws before using them. While I traveled with a Mavic to Northern Norway, I only took a DJI Spark to the Faroes on my last trip.
I don't use my drone for selling photos or creating high-quality videos, so it sufficed and did its job. But, if you're looking at higher-quality footage, I would recommend a DJI Mavic Pro or Air for the job.
Also, take into consideration that the wind in the Faroe Islands can be strong, and flying a drone can be more trouble than it is worth.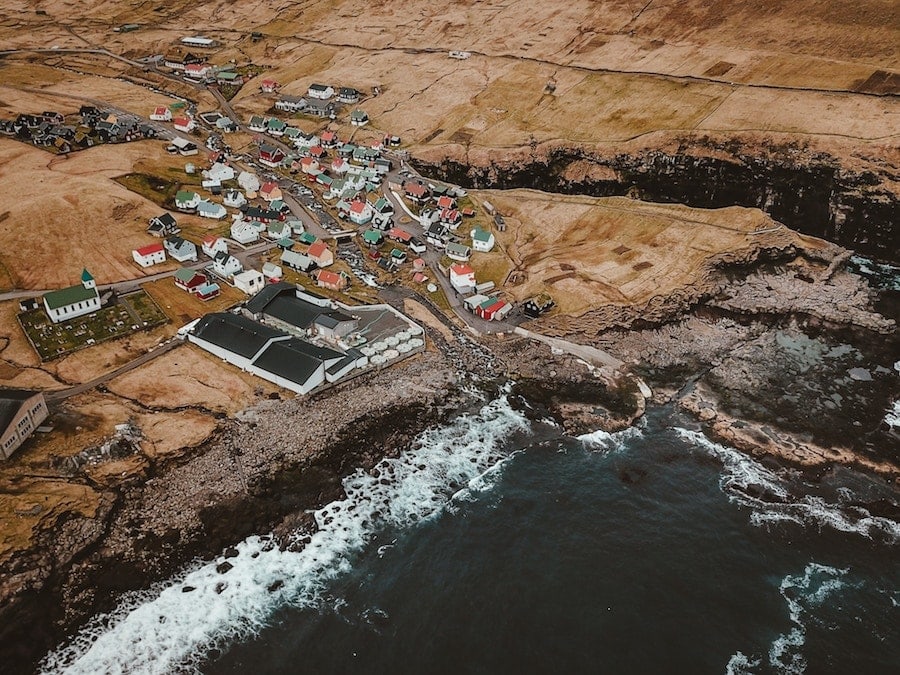 What's In My Toiletry Bag
I am not going to go too deep into this as we all have our essentials for traveling, but here are some of the things I included when I packed for the Faroe Islands:
● Cuticle balm (I use this one by Nairian and it is great for cracking skin in cold weather)
● Lip balm (I use only natural lip balms like this one by Nairian because they contain no alcohol and don't dry lips out further)
● All medications you require (the Faroe Islands is not the place you want to run out of medication)
● One kickass lipstick … the easiest way to dress up any outfit if you want to go out for a nice meal in Torshavn or Klaksvik
What Am I Happy I Packed for the Faroe Islands?
Wide Angle Lens – If there is any landscape that lends itself so beautifully to a wide-angle lens, it is the Faroe Islands. It is really hard to depict in photographs just how massive and otherworldly the Faroe Islands' scenery truly is, but a wide-angle lens is your best bet.
It is magical and I really would invest in a wide-angle before going there. Here is the wide-angle lens I use to capture photos like the one below.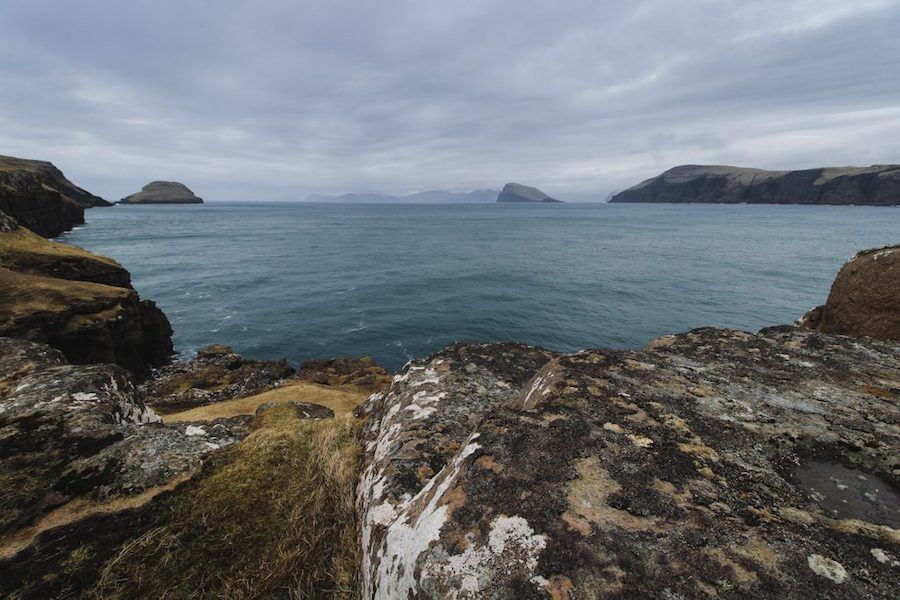 Hiking Boots – This is kind of common sense, but these were my saving grace in the Faroes. Be sure to have waterproof hiking boots with you as you will be stepping in mud and sheep shit everywhere.
I have had these Keen Targhees since like 2010 (almost a decade!) and they are still going strong. I have used them everywhere from the Faroe Islands to Southeast Asia to South America and they are incredibly reliable and I highly recommend them. Shop my Keen Targhees hikers here.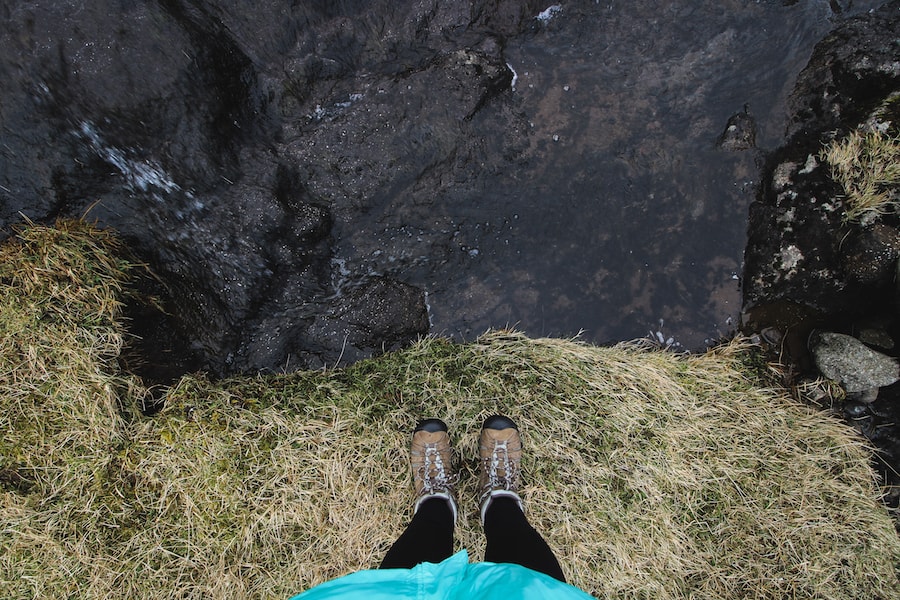 Trekking Poles – I am afraid of heights and bringing trekking poles was such a key thing for me on my second trip to the Faroes. I went to Kalsoy without trekking poles on my first trip and I just didn't have the confidence to make the trip as I didn't trust my own gait.
On my second trip, I made sure I had them and I successfully made the hike to the Kallur Lighthouse. Woohoo! If you're afraid of heights or just want that extra support, bring them! Here are some highly-rated ones.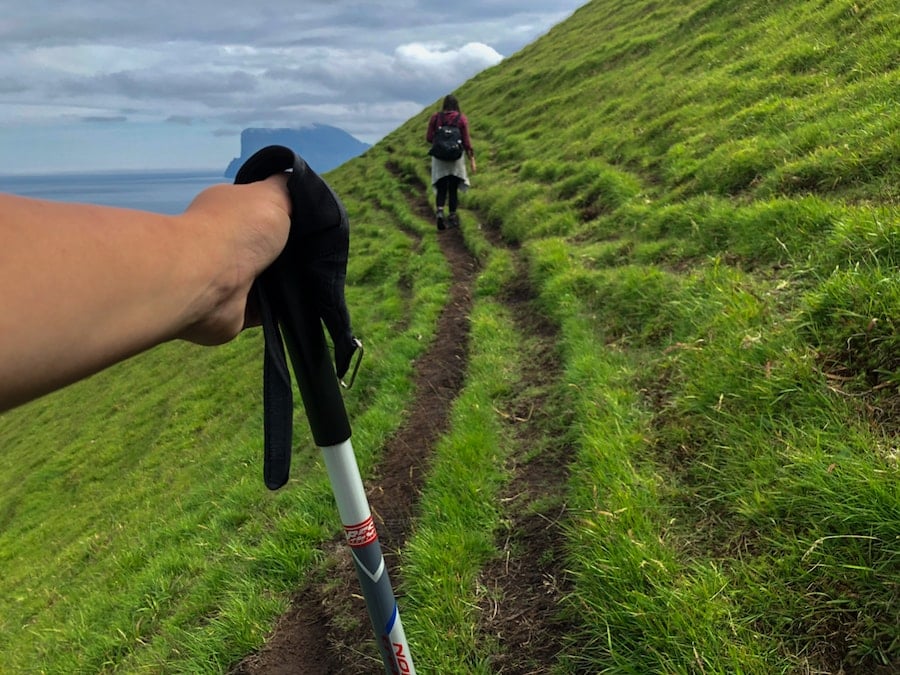 Oversized Waterproof Jacket – Why oversized? Well, it fit even over my bag on my first trip which it turns out, had holes in it (whoops). This waterproof rain jacket rolls up into a small bag and packs easily and was one of my biggest must-haves for my first trip to the Faroes in early March. You can check out the exact one I wore here.
What Should I Have Left Behind?
Extra Sweaters – To be honest, if you're not looking to turn your Faroe Islands trip into an Instagram photo shoot, you can get by with one sweater with no problems.
I made the mistake of bringing too many and I only ended up wearing one the entire time. And because I had brought other thick gear, I didn't really even need the one… but I am glad I did bring it. Pack a couple of undershirts or tank tops to wear under the sweater and just bring one with you.
Packing for the Faroe Islands by Season
The seasons in the Faroes differ but not perhaps as much as other places in the world. Here are some things I think you should consider adding to your Faroe Islands packing list depending on which season you will be traveling there:
Winter in the Faroe Islands
The weather in the Faroe Islands is never that extreme in the winter, but the islands do see some snow in different parts. There are also Atlantic storms that can thrash the islands with extreme winds. Do pack appropriately for these events! Also, consider that daylight hours will be much shorter.
● Headlamp (daylight is short and you never know what may happen)
● Clothing reflectors
● Snow boots (I am a huge fan of Sorel snow boots and own these ones in army green)
● Winter parka (like my Helly Hansen Svalbard parka) or down jacket
● Any other snow or cold weather gear you like to travel with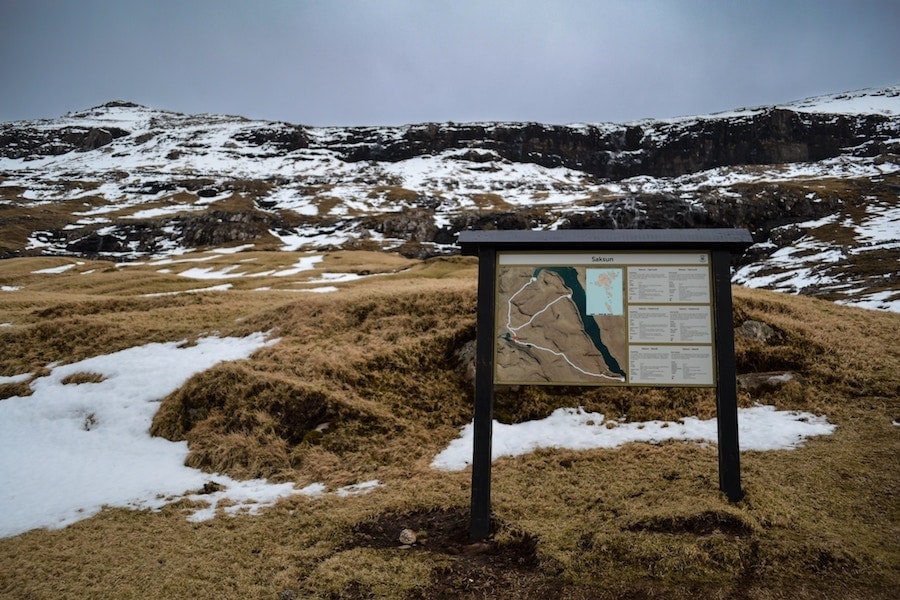 Why travel with a headlamp to the Faroe Islands? To be honest, most people don't think to take a headlamp when traveling and I think it is a huge help to have one with you at all times, especially in Scandinavia and the Nordics. Daylight hours are short in the winter.
The tunnels in the Faroes are extremely dark. If you happen to wreck in a tunnel (ahem… sheepishly raises a hand), it could come in handy. If you get stuck somewhere after dark, it could come in handy. And if the elusive northern lights decide to grace you with their presence, it will also come in handy. Find a quality headlamp here.
Summer in the Faroe Islands
Long hours, puffins, and greenery everywhere… summer in the Faroe Islands is spectacular. But, it is not always sunshine and rainbows. The isolated islands are still subject to Atlantic storms, rain, and extreme weather. In addition to the things I suggested above, this is what I think you should pack for the Faroe Islands during the summer months.
● Sunglasses (I own a bajillion pairs from Quay Australia and can recommend their shades full-heartedly)
● Sleeping mask like this one (daylight hours are LONG in summers in the Faroes)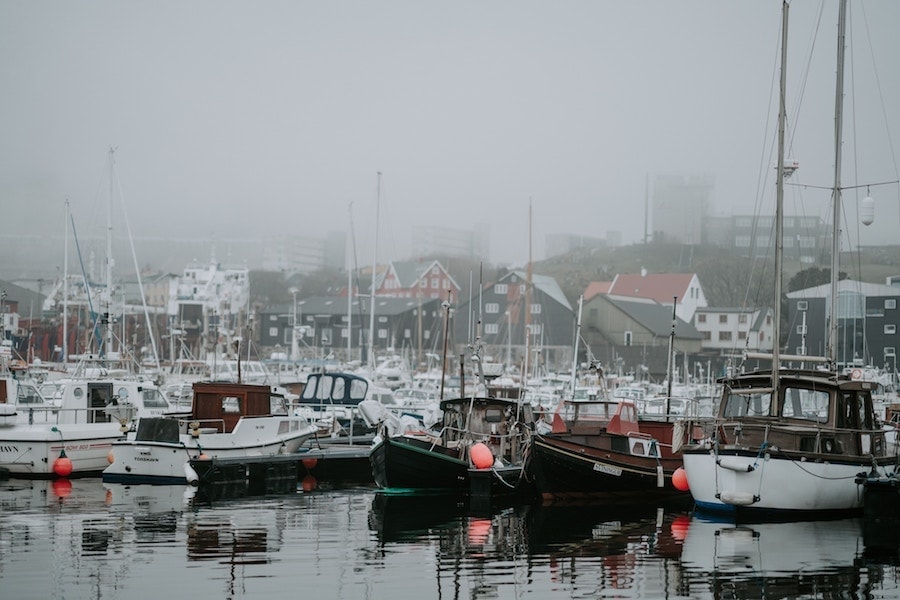 What to Pack for the Faroe Islands (Men)
I traveled with a male companion to the Faroe Islands when I went and some things he was glad he had packed are as follows:
● A waterproof jacket like this one from Helly Hansen
● Waterproof hiking boots
● Thermal, or wool, socks like these
● A backpack that was waterproof and lightweight for day trips like the WANDRD 21L (a smaller version of my carry-on)
● A pair of sneakers to walk around the city after days of being stuck in hiking boots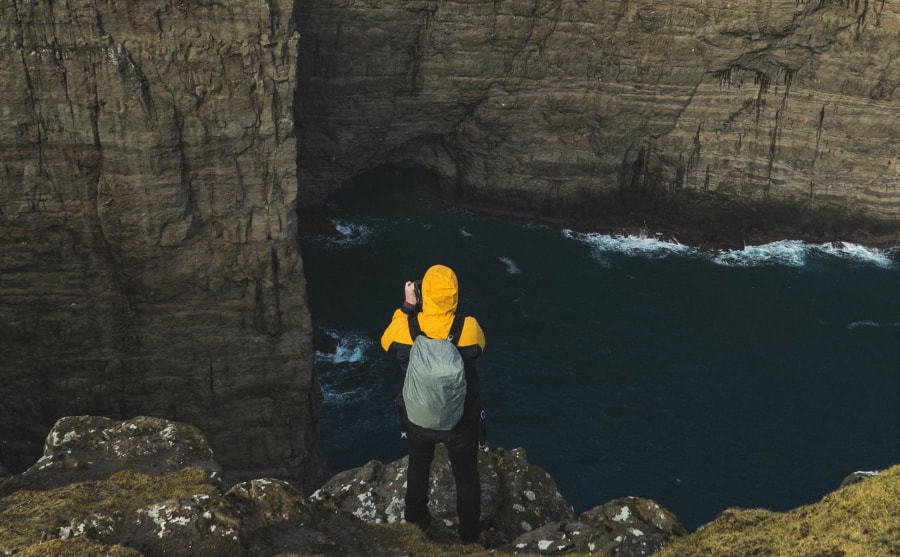 I usually overdo it when I pack for places… but not necessarily with clothing. I tend to overpack my electronics and things I don't necessarily need when traveling.
When I am packing for a destination, I usually just pack heaps of black tights that can be used for hiking, walking around cities, or even going out for a nice meal. I also tend to pack all the same colors or things that can be worn in several different ways.
Travel Insurance for the Faroe Islands
I definitely would not recommend traveling to the Faroe Islands without travel insurance. I have been in two car accidents and mishaps in the Faroes (met a tunnel wall one time and a ditch the other time… fun stuff) and I felt more secure knowing I had travel insurance just in case it had been worse.
I recommend World Nomads insurance and have used them all around the world from India to Colombia to the Faroe Islands. You can get your quote here.
Have you been to the Faroe Islands? What was something on your Faroe Islands packing list? Please drop me a comment and let me know what was essential for your trip!
More Faroe Islands Travel Guides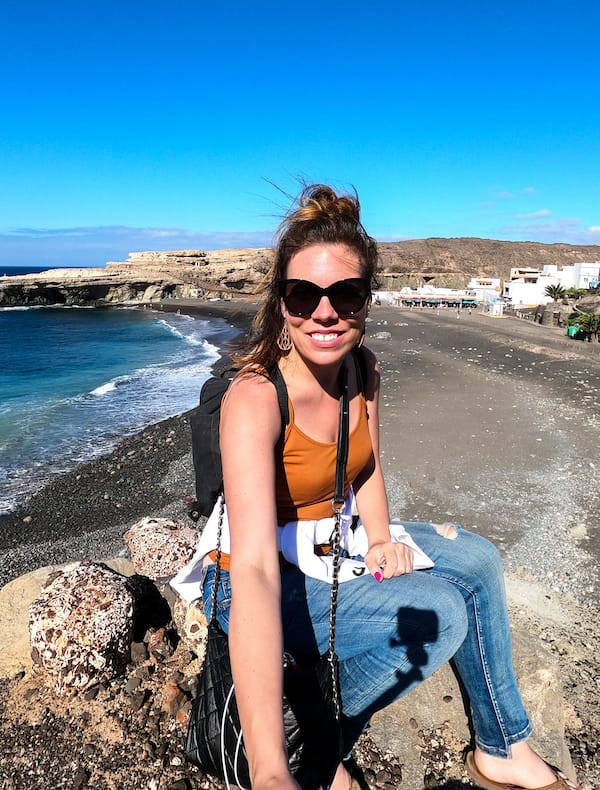 Megan is a travel blogger and writer with a background in digital marketing. Originally from Richmond, VA, she now splits her time between Frankfurt, Germany and Arctic Finland after also living in Norway, Armenia, and Kazakhstan. She has a passion for winter travel, as well as the Nordic countries, but you can also find her eating her way through Italy, perusing perfume stores in Paris, or taking road trips through the USA. Megan has written for or been featured by National Geographic, Forbes, Lonely Planet, the New York Times, and more. She co-authored Fodor's Travel 'Essential Norway' and has visited 45 US states and 100+ countries.