Are you planning a trip to the Faroe Islands soon? This guide discusses all the wonderful things to do in Suduroy and why you should add it to your Faroe Islands itinerary!
Planning your trip to the Faroe Islands last minute?
Below are some of the top tours, hotels, etc to help plan your Faroe Islands trip!
Getting around the Faroe Islands:
Cheapest car rental options (and with most availability!)
Vagar airport to Torshavn (a quick transfer service!)
Top Experiences and Tours in the Faroes:
Top Lodging and Hotels in the Faroes:
Suduroy is the southernmost island in the Faroe Islands and one that always caught my eye. It's large. Much larger than many of the other eighteen islands that make up the Faroes.
I had already visited Sandoy, another southern island, and really loved how different it was compared to the well-trodden tourist path up north, but I didn't really know too much about Suduroy aside from having a desire to visit the island.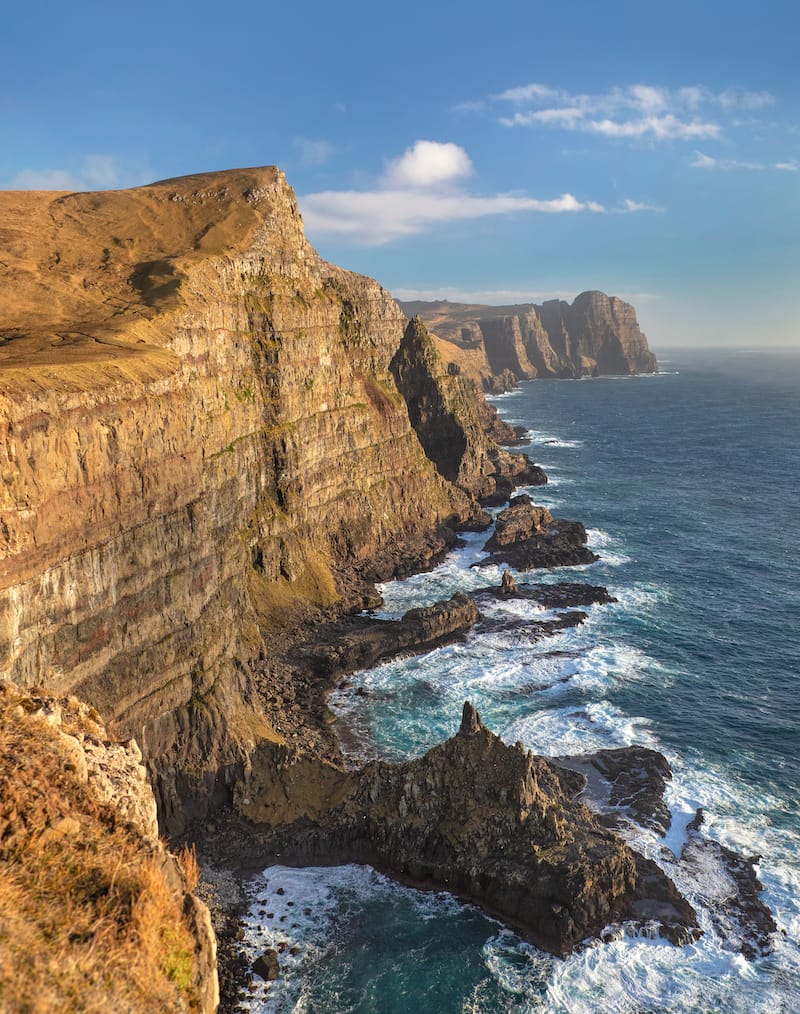 And, I had heard that there were many things to do in Suduroy, which made it compelling!
Fortunately, I had the chance to explore it and fall in love with it on my last trip to the Faroe Islands. Here are some tips to know before visiting Suduroy, including what to do in Suduroy and how to get there!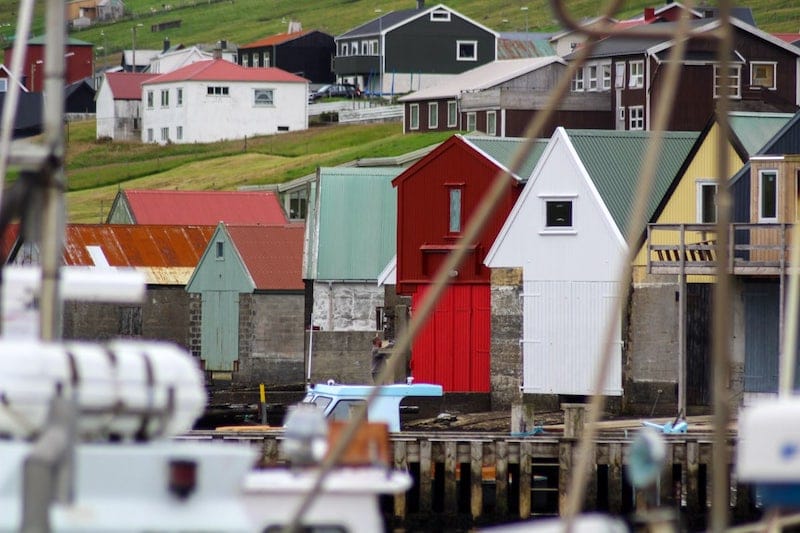 How to Travel to Suduroy From Torshavn
Getting to Suduroy from Torshavn is actually pretty easy if you're okay with traveling by boat.
There are ferries that leave Torshavn three times daily and the ride lasts for 2 hours. Do be sure to arrive early… the suggested arrival time is fifteen minutes before departure.
This is a large ferry that takes on several cars so you shouldn't worry about not having a space if you arrive on time.
On the ferry, you will find several seating areas as well as a small shop to purchase snacks and drinks. It was a pretty comfortable ride but, naturally, the best views in the Faroe Islands can be found outside… so be sure to pop out to witness them!
To see the Torshavn – Tvøroyri ferry schedule, click here.
Alternatively, you can check out the top-rated tours in the Faroe Islands to see if any of them fit your needs and are heading down south! You will still need to hop on a boat, but the organization of the tour will put your mind at ease for the rest of the trip.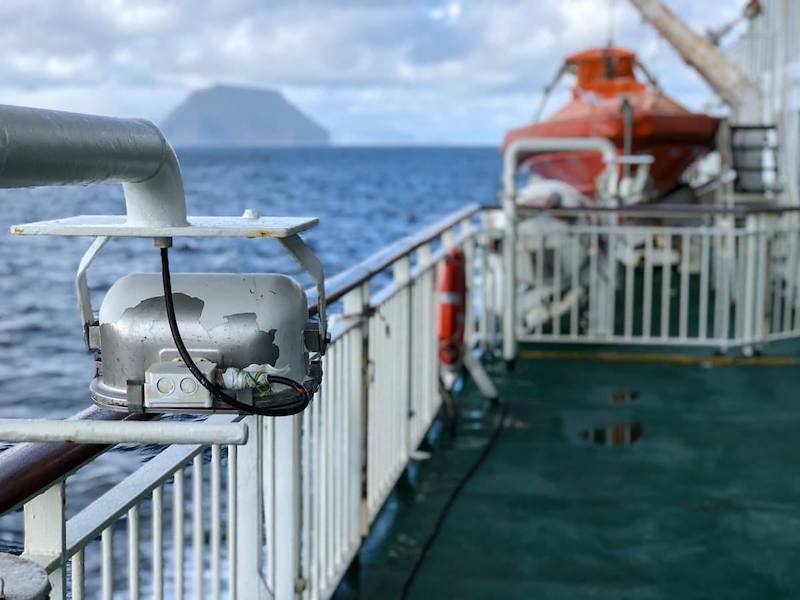 Best Time to Visit Suduroy
I assume that the best time to visit Suduroy is when you are actually in the Faroe Islands since it requires effort to get there! And, ideally, the best time to visit the Faroe Islands is in summer although I think it is pretty spectacular year-round.
If you're visiting Suduroy in summer, you will be able to take advantage of the many hiking opportunities there with ease whereas winter in Suduroy and the shoulder seasons will present more difficulties in terms of weather and fog.
Top Things to Do in Suduroy
Visit Hvalba
The village of Hvalba was actually my favorite one on the island of Suduroy. Something about where it was situated and the view it offered of Litla Dimun just spoke to me.
It also had an array of wildlife… in the form of seagulls, cats, dogs, and cows (beggars can't be choosers). The locals were extremely friendly and the history of the town is rather fascinating.
Hvalba Municipality has just over 700 residents and the village of Hvalba has 600 + people (combined with nearby Nes).
There are a few shops in the village and the first tunnel built in the Faroe Islands links Hvalba to the rest of Suduroy to the south.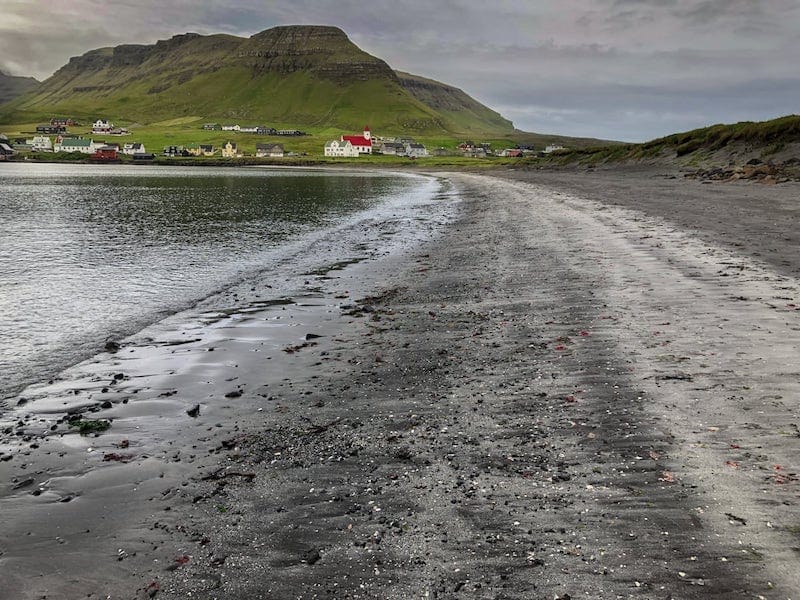 In the 17th-century, North African pirates careened toward the village and some 300 bodies washed ashore and 30 women and children were taken away to Africa, sold as slaves, and never returned to Suduroy. The bodies of those washed ashore were all buried nearby at a place called Turkargravir.
There are some hikes on Suduroy that can keep the active traveler occupied. There are also places to go rappelling and climbing.
I definitely recommend checking out Hvalba when you visit the Faroe Islands; it quickly became one of my favorite villages in all of the Faroes.
View of Litla Dimun from Suduroy
I think the reason I loved Hvalba so much was the incredible view you have of Litla Dimun from the village and nearby Nes at Hvalba.
Litla Dimun is an uninhabited island in the Faroes and is the smallest one of the eighteen islands. You can see Litla Dimun from Hvalba as well as Sandvik, another village in Hvalba Municipality.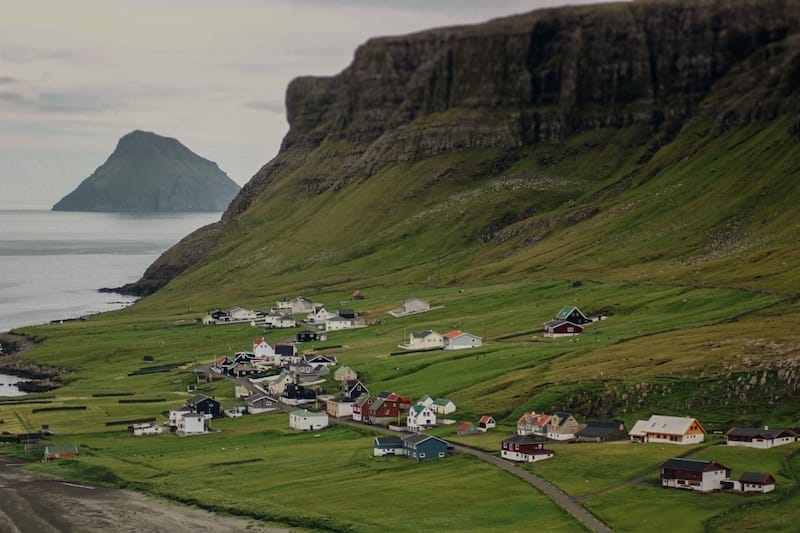 Hiking in Hvalbiareiði
Before leaving Hvalba, be sure to make a stop at Hvalbiareiði. We drove up toward the area on the other side of the island and parked and walked to the coast.
The atmosphere was raw and there was a small lake where locals were fishing. Hvalbiareiði is separated from another area called Norðbergseiði by Grimsfjall, a green mountain. Norðbergseiði is where the rappelling takes place.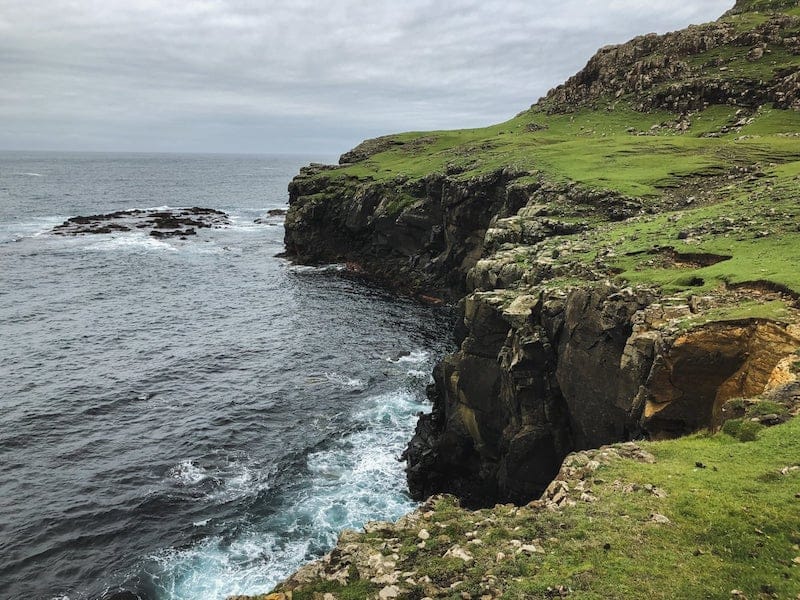 See the Village of Sandvik
Another place worthy of visiting in Hvalba Municipality is Sandvik. It is located to the north of the village of Hvalba and can be reached by going through one of the island's many tunnels.
You have a view of Litla Dimun from Sandvik and the village seemed far more remote and off-the-path than anywhere else we visited on Suduroy. It is one of the best places to visit in Suduroy!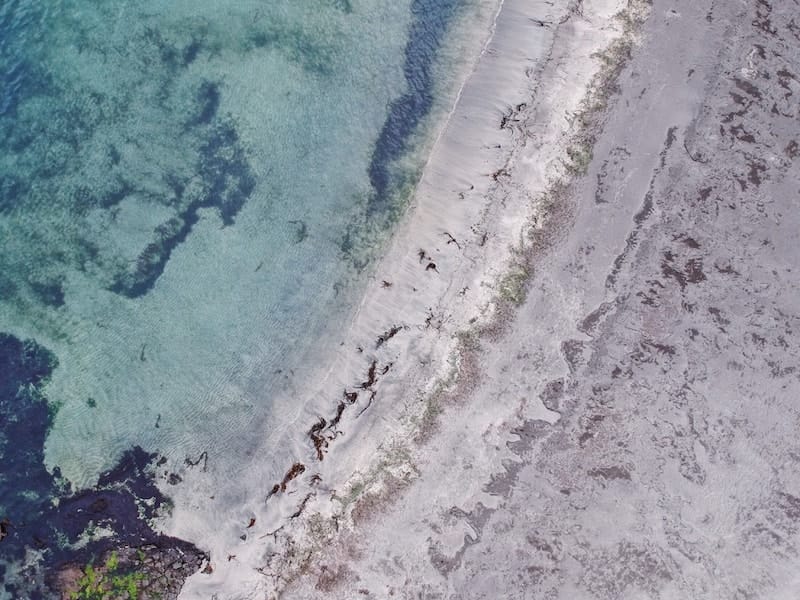 We didn't stick around for long as we wanted to be able to explore the rest of the island that day, but Sandvik is where some of the more well-known hikes take place (which I will embark on next time I am in the Faroes and in better shape!)
Drive Down to Sumba
The village of Sumba is pretty much as far south as you can go in the Faroe Islands and it is officially the southernmost village in all of the Faroes.
The weather started to become a bit temperamental when we arrived in Sumba, but it didn't stop us from photographing the place, talking to a lot of sheep, and navigating our way through the fog.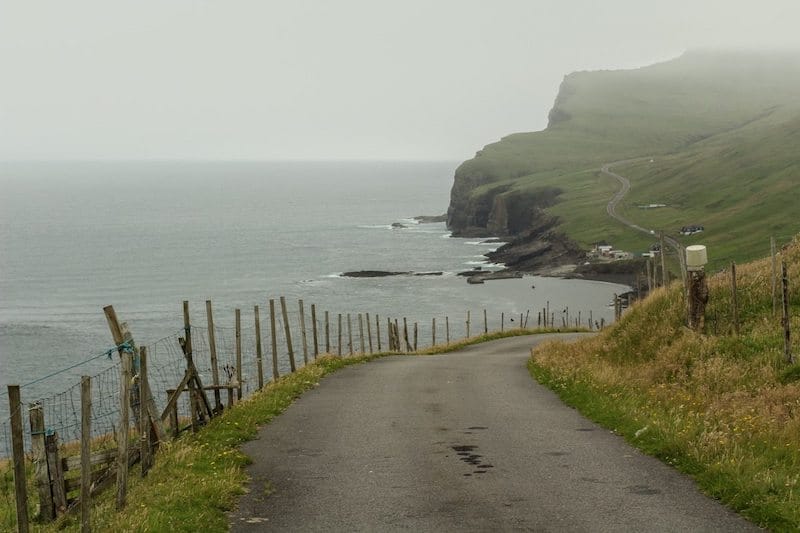 Sumba has had several names throughout history, but it ended up what it is today because everyone was spelling its various names incorrectly.
Located in close proximity to Sumba is the highest sea cliff on Suduroy, Beinisvørð. This sea cliff is an important bird nesting area and some locals have died over the years trying to harvest seabird eggs from the cliff.
You can catch a view of Beinisvørð from a few places on the island and notably, you can see it from the other famous sea cliffs, Eggjarnar.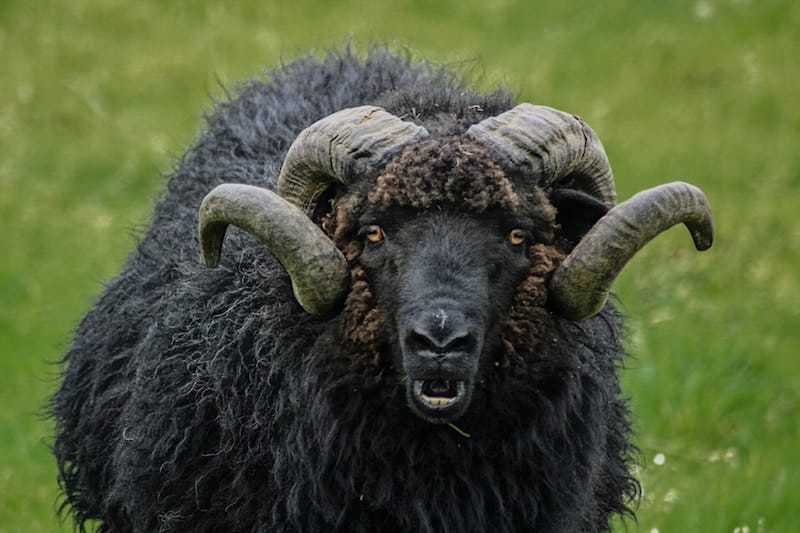 Head to the Akraberg Lighthouse
At the very southern tip of Suduroy, five kilometers south of Sumba, you will find Akraberg. Akraberg is home to the Akraberg Lighthouse, which was a place we had on our list to see when on the Faroe Islands' southernmost island.
From Akraberg, you can wander the area and check out the dramatic cliffs… it is truly one of the essential things to do in Suduroy.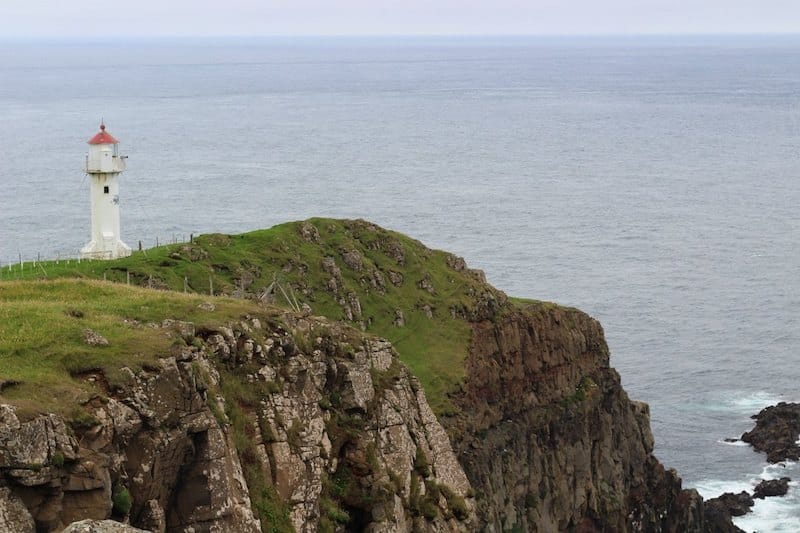 A few kilometers south of Akraberg is a group of six rocks called Flesjarnar- this officially makes up the southernmost point in the Faroe Islands.
Stand on the Edge of the Eggjarnar Cliffs near Vagur
Another thing we were keen to check out when on Suduroy were the Eggjarnar Cliffs. These daring sea cliffs are known for their WW2 history, tantalizing beauty, and views of other spectacular parts of Suduroy, such as Vágseiði and Gjógvaráfjall to the north and Beinisvørð to the south.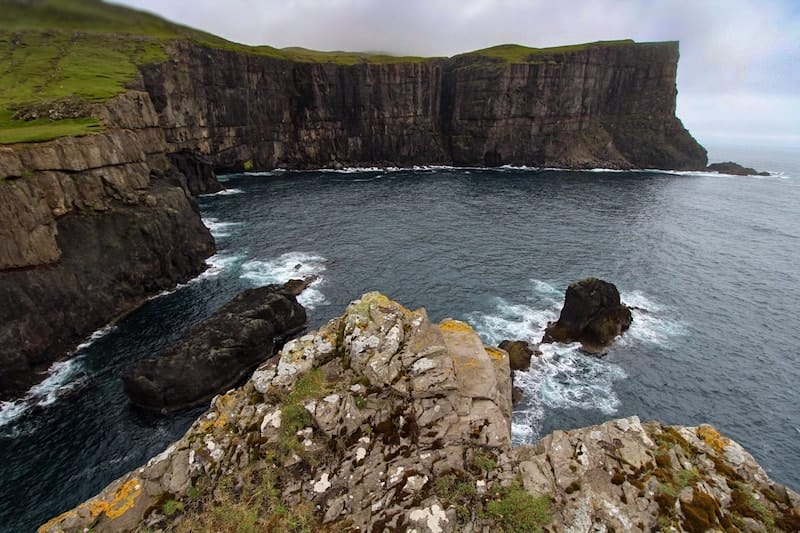 During WW2, this area was home to a LORAN station built by Americans and utilized by the British as they were in the Faroe Islands during the time Germany occupied Denmark. The station is currently abandoned, but its remnants can still be seen at Eggjarnar.
I think this area is one of the best for camping in the Faroe Islands as it is close to the sea but also has some essential amenities close by.
Photograph the Basalt Columns at Froðba
Very close to the main port city on Suduroy, Tvøroyri, lies a small village called Froðba. In Froðba, there are different spots where you will find basalt columns.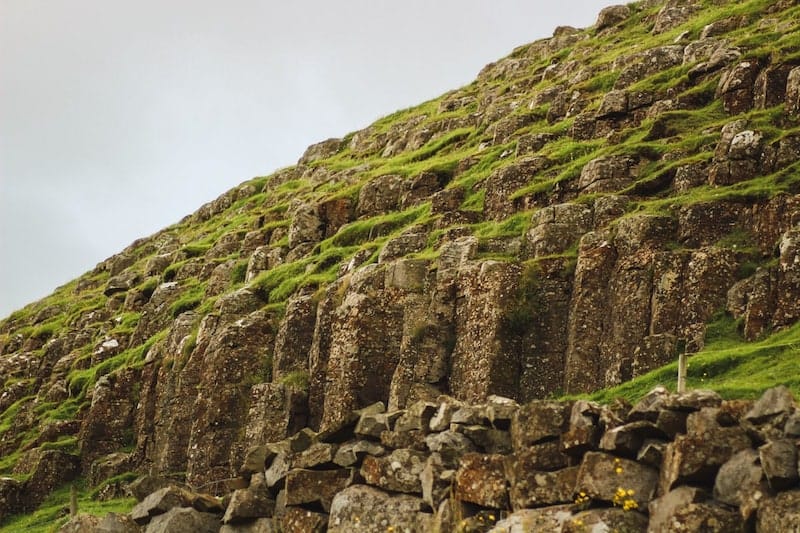 We didn't take too much time to explore them as dinner was calling and we had a long day of traveling from Torshavn to Suduroy, but we did catch some from the road. While the scenery in the Faroe Islands is extremely breathtaking and alluring, these columns also prove just how diverse it really is from island to island.
Hang out in Tvøroyri
If you arrive at Suduroy via ferry, you will find yourself in Tvøroyri, the most economically important city on Suduroy. Tvøroyri is a port city and it receives in a lot of the shipping that is sent to the Faroes. I actually really liked the place a lot. It was sleepy but seemed to have the most 'life' of anywhere we visited on Suduroy.
Tvøroyri has a vibrant church, a colorful harbor, and a couple of cafes and grocery stores. You're not going to find active nightlife there, but it is a good starting point and introduction to the southernmost island, and it is where many of the Suduroy hotels and places to stay are located. This is also where Allison and I crashed for the night that we were in Suduroy (you can read more about that at the end of the post).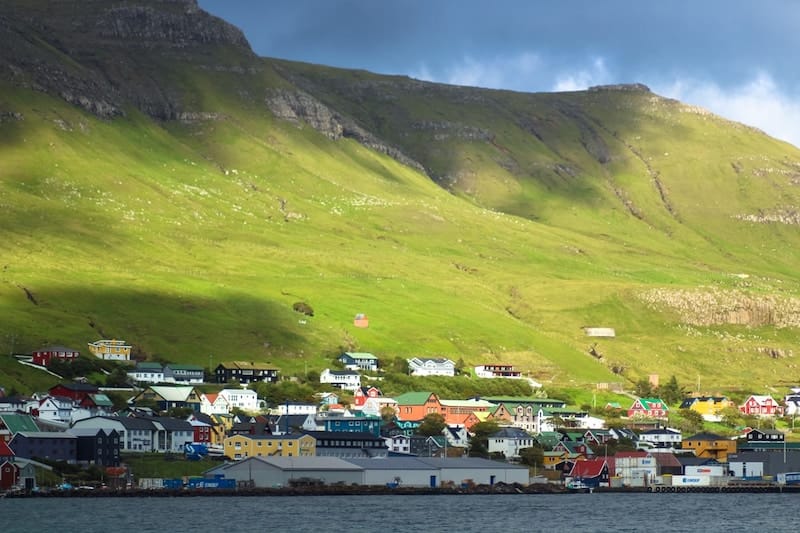 Trongisvágsfjørður is the body of water that has brought Tvøroyri to life and made it the place it is today, allowing ships and the ferry to enter Suduroy. The views from the village are jaw-dropping and be sure to hang around the harbor and admire the boats coming in and out of the place that around 850 people call home.
While we were in Tvøroyri, we had the chance to have dinner with a local family at an experience the Faroes calls 'heimablídni'. The food and conversation were absolutely delicious and we had the opportunity to hear about the local life on Suduroy as well as the local's point of view on the controversial topic of the grindadráp, or whaling, in the Faroe Islands.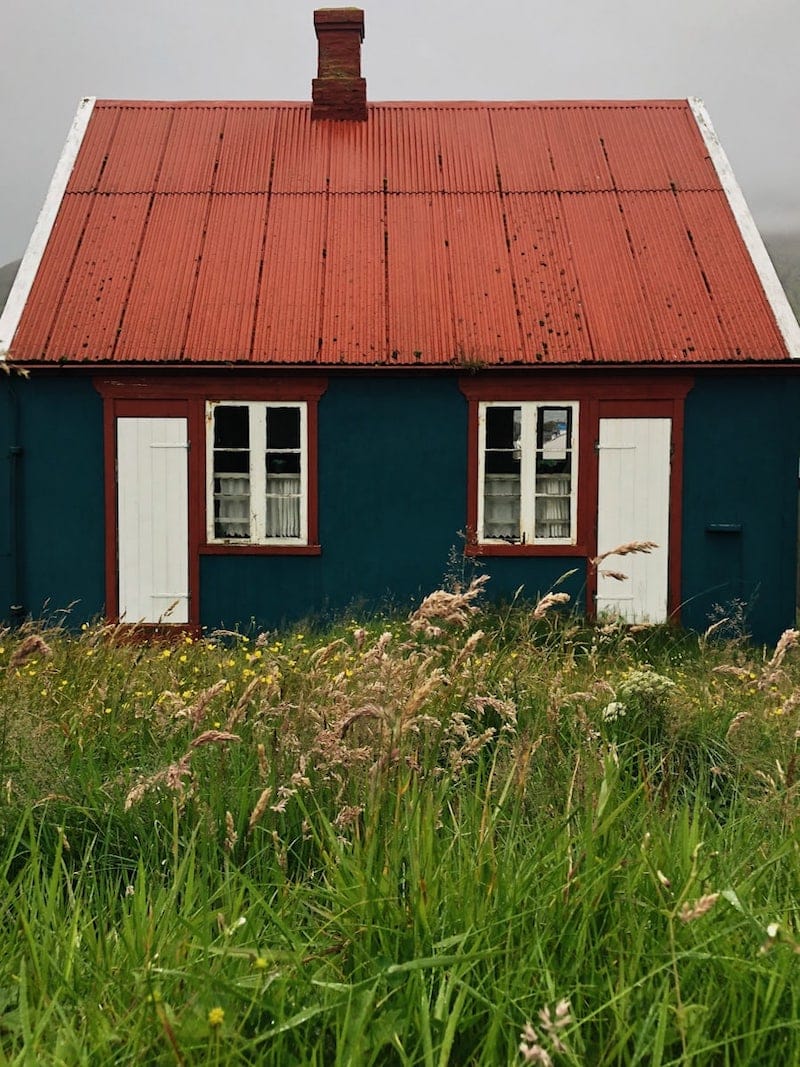 I have always had an open mind to hear about the history and traditions of every country I am in and the Faroe Islands is no exception despite what the media portrays and how they leave out a lot of the details regarding the whaling.
With that said, I am okay if I never have to try whale blubber again as it was a taste I don't think I'll ever truly 'acquire'.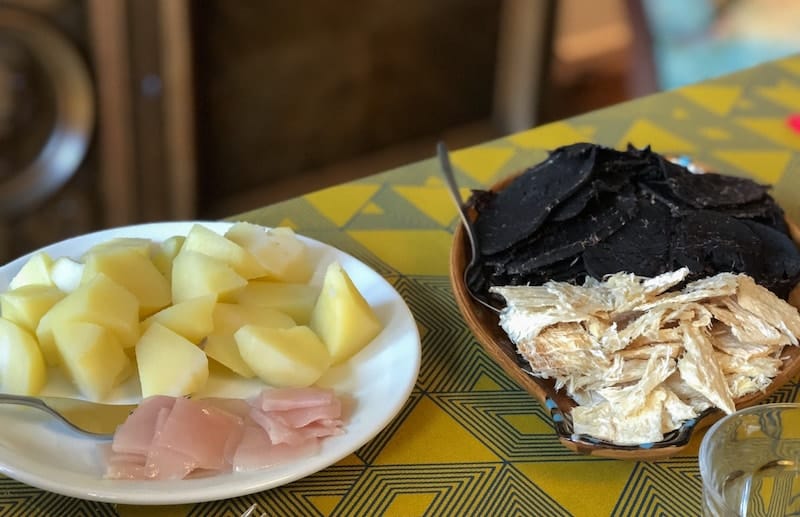 If you're interested in participating in a heimablídni while in the Faroe Islands, click here for additional information. And no, no one is going to force you to eat whale and if you're uncomfortable with it even being present, let them know and they will not have it at dinner.
No one is barbaric in the Faroe Islands- they simply are keen to share their traditions and culture with those who are interested.
What to Pack for a Suduroy Trip
To be honest, the weather is fairly similar to that of the other islands, so you don't really need to pack anything too different. You can check out our Faroe Islands packing list to see more.
Where to Stay on Suduroy
We stayed at the loveliest B&B in Tvøroyri called Bed and Breakfast Suduroy. Bindi is a wonderful host and the place is newer and offers views over the fjord as well as pretty much every amenity you could ever wish a B&B to have. The kitchen was fully stocked with all appliances and dishes and the breakfast was exceptional.
I was actually really gutted to leave and not be able to stay there for a couple more nights. The decor inside was the perfect combination of minimalistic and cozy. B&B Suduroy was one of my highlights from this trip to the Faroe Islands, hands-down, and a fantastic Airbnb in the Faroe Islands!
>> Click here to book a stay at B&B Suduroy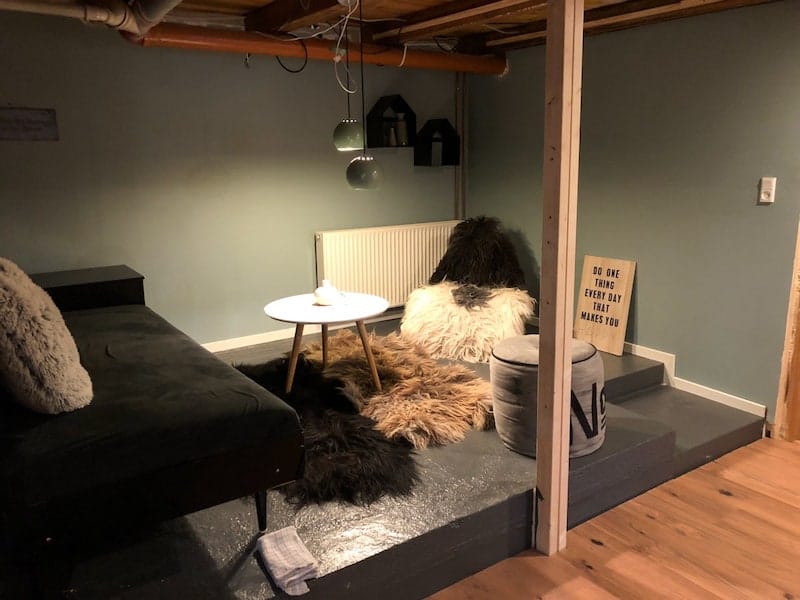 Suduroy was such a pleasant surprise in the Faroe Islands and I can't wrap my head around the fact that not many people are taking the time to head down there and explore something a little different.
We hope you enjoyed this guide to all the best things to do in Suduroy … including reasons that you should not miss visiting the southern island!
More Faroe Islands Travel Guides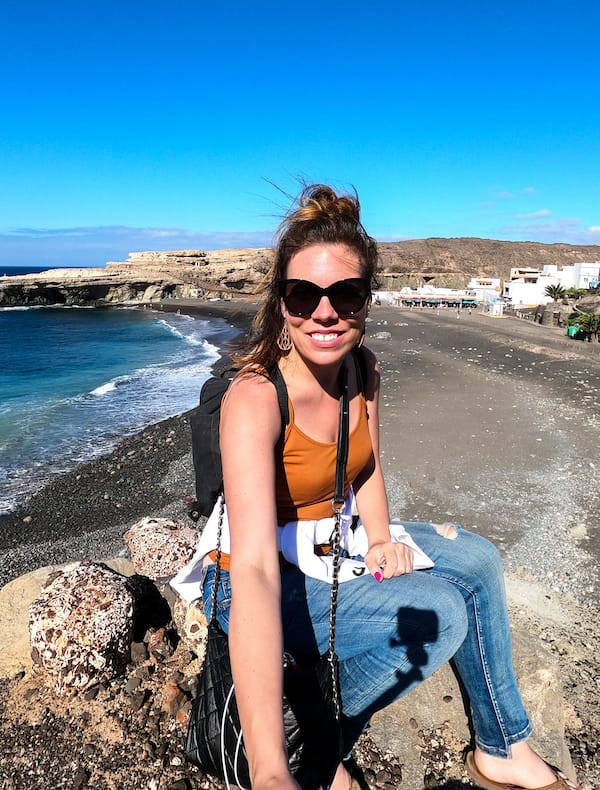 Megan is a travel blogger and writer with a background in digital marketing. Originally from Richmond, VA, she now splits her time between Frankfurt, Germany and Arctic Finland after also living in Norway, Armenia, and Kazakhstan. She has a passion for winter travel, as well as the Nordic countries, but you can also find her eating her way through Italy, perusing perfume stores in Paris, or taking road trips through the USA. Megan has written for or been featured by National Geographic, Forbes, Lonely Planet, the New York Times, and more. She co-authored Fodor's Travel 'Essential Norway' and has visited 45 US states and 100+ countries.