One of the best experiences an outdoor enthusiast can have when traveling to the Faroe Islands is a camping adventure. This post tells you fourteen useful things to know before you go camping in the Faroe Islands.
Planning your trip to the Faroe Islands last minute?
Below are some of the top tours, hotels, etc to help plan your Faroe Islands trip!
Getting around the Faroe Islands:
Cheapest car rental options (and with most availability!)
Vagar airport to Torshavn (a quick transfer service!)
Top Experiences and Tours in the Faroes:
Top Lodging and Hotels in the Faroes:
It will detail the rules, what to bring, and whether or not one is permitted to wild camp there.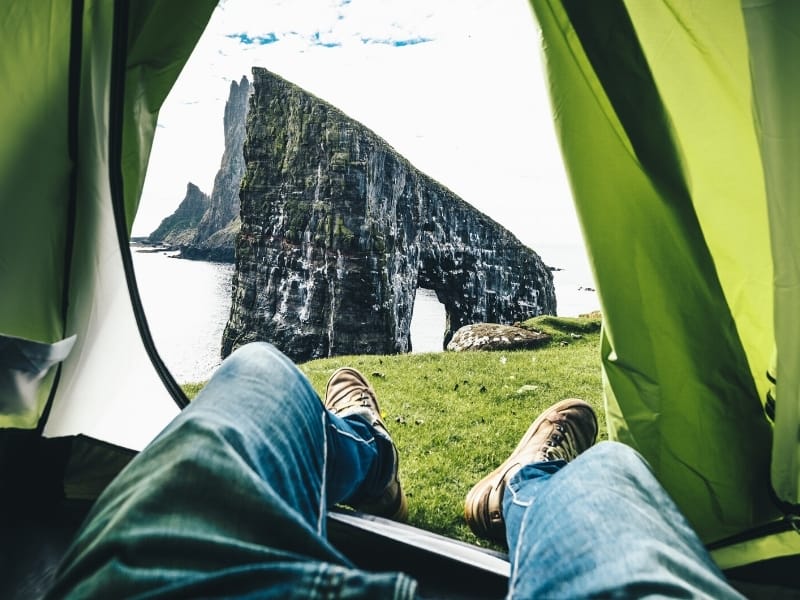 If you have any additional tips for Faroe Islands camping, please leave them in the comments to help future travelers! Thanks!
Camping in the Faroe Islands – Practical Tips
There are few places on Earth I love more than the Faroe Islands. The cluster of islands is located in the Atlantic, north of Scotland, and between Iceland and Norway.
The eighteen islands rise sharply out of the ocean, where the elements have shaped and formed them further. The windswept islands punch you in the face with their extreme beauty and one of the best ways to experience them is by getting up close and personal with the land while you camp.
I have been to the Faroe Islands twice. One trip was in summer and the other was in winter. Both times, the Faroe Islands wowed me beyond belief and I took the opportunity to explore slightly different areas each time.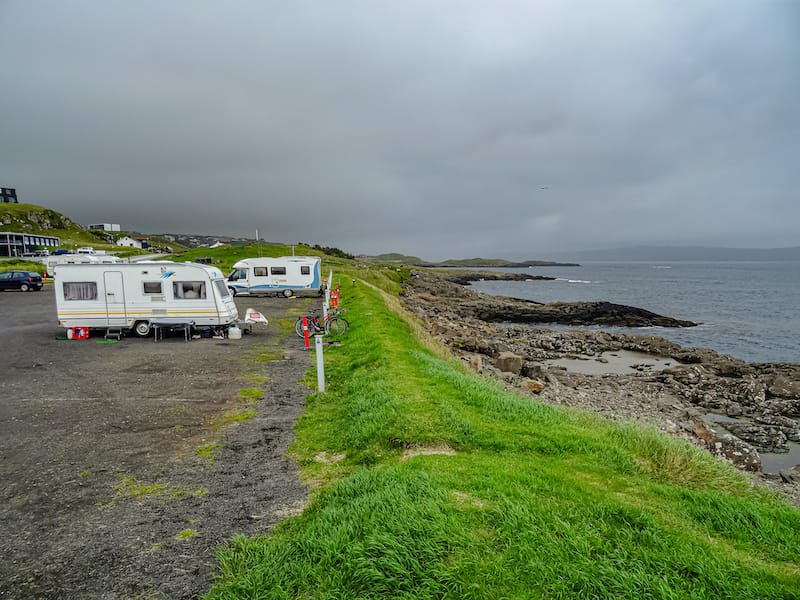 The moment I landed at Vagar on my first visit, I knew that I had found a place on this earth that would keep me coming back and infiltrate my dreams forevermore.
There are so many stunning sites dotted throughout the Faroe Islands it's almost impossible to see them all in one trip.
Since there are so many amazing places to visit, take your time to explore the islands and fully appreciate the true beauty of each spot.
There are a few spots that you will want to visit on your first trip, such as the quaint village of Saksun or the lighthouse at the tip of Kalsoy, but some of the small sites can be visited when you return, which I have no doubt you will.
Between some of the sites, you can enjoy beautiful hikes which have been walked for centuries and were the main thoroughfare of the islands.
However, all of this beauty comes at a price and the Faroes Islands isn't known to be one of the cheapest countries in the world to visit.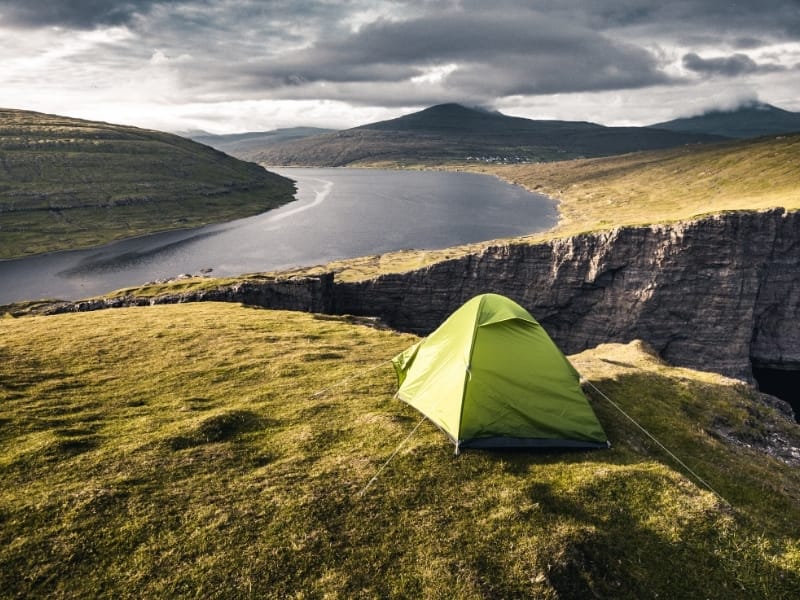 Why Should You Consider a Faroe Islands Camping Experience?
Hotels in the Faroe Islands are somewhat limited and the prices match those of the rest of Scandinavia. So, if you are looking to travel around on a budget, you can explore your adventurous side by packing your tent and checking out the campsites throughout the islands.
Camping in the Faroe Islands is an amazing way to experience the incredible nature and try your hand at a bit more extreme style of camping. It also can allow you to save a bit of money so you can spend more on excursions in the Faroe Islands (and bringing home some cool souvenirs!)
This guide will take you through some of the most important information about camping in the Faroes, along with my own tips and tricks for a successful camping trip in the Faroe Islands.
Wild Camping Faroe Islands – Is it Permitted?
The simple answer is no. It is, in fact, illegal to wild camp in the Faroe Islands regardless of which island or place you're visiting.
All land in the Faroe Islands is privately owned and largely used as grazing land for the many sheep that inhabit the islands. Since wild camping is illegal on the islands, you will need to stay at one of the campsites dotted around the islands.
The campsites vary in quality, with some only being for tents and a few only for those with caravans. Some of the smaller campsites have very limited space, so you will need to book in advance or plan your trip around where you secure camping spots.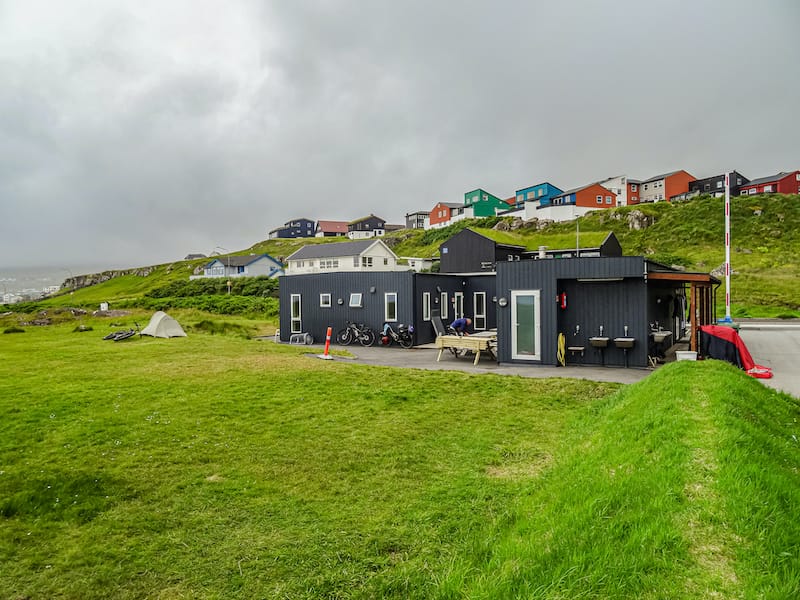 If you are traveling around the Faroe Islands in a campervan, you will still need to stay in a campsite as you are not allowed to just park up on the roadside and sleep.
Each of the campsites charges a similar price of around 100DKK a night, although some of them charge per person or per tent.
The advantage of having to stay in actual campsites in the Faroe Islands is that there are some facilities that will make your stay a little more comfortable compared to if you were to wild camp. Some of these amenities include things like showers, places to charge electronics, and indoor spaces to escape the weather.
Faroe Islands Campsites
There are pre-designated campsites in the Faroe Islands. Some are okay for RVs and some merely for tents. If you're looking for how to rent an RV in the Faroe Islands, you may not have much luck and will have to consider doing it in mainland Europe and taking the ferry over.
Here is the list of the locations with some quick information. To see all info, click the link below the info (dates are listed as month/day).
| | | | | |
| --- | --- | --- | --- | --- |
| Campsite | Island | Dates | Tent Price | Info Online?* |
| Svinoya | Svinoy | 4/1-10/1 | 100 DKK | Y |
| Vagur | Suduroy | 4/1-10/1 | 100 DKK | Y |
| Sumba | Suduroy | 4/1-10/1 | 100 DKK | Y |
| Fishing & Leisure | Streymoy | 4/1-10/1 | 100 DKK | N |
| Famjin | Suduroy | 4/1-10/1 | * | N |
| Gjogv | Eysturoy | 5/1-8/31 | * | Y |
| Eid | Eysturoy | 4/1-10/1 | 100 DKK | Y |
| Dalur | Sandoy | All year | 100 DKK | Y |
| Mikladalur | Kalsoy | 4/1-10/1 | 100 DKK | Y |
| Torshavn | Streymoy | 4/1-10/18 | * | Y |
| Giljanes | Vagar | All year | * | Y |
| Elduvik | Eysturoy | 4/1-10/1 | Free | Y |
| Sandur | Sandoy | All year | 50 DKK | Y |
| Hvalba | Suduroy | 4/1-10/1 | 100 DKK | Y |
| Aeduvik | Eysturoy | All year | 100 DKK | Y |
| Nolsoy | Nolsoy | 4/1-10/1 | Free | Y |
| Fuglafjordur | Eysturoy | 3/1-10/1 | * | Y |
| Selatrad | Eysturoy | All year | 125 DKK | Y |
| Mykines | Mykines | 4/1-9/30 | * | N |
| Klaksvik | Bordoy | temp closed | | N |
| Vestmanna | Streymoy | 5/1-8/31 | 100 DKK | Y |
*The price is listed per caravan, adult, or child. Please see the link below for additional pricing information and booking online.
>> To see additional information about the campsites in the Faroe Islands, click here.
Camping Seasons In The Faroe Islands
Camping is available year-round in the Faroe Islands, although depending on your experience, you may want to consider camping in the warmer months of the year.
Winter in the Faroe Islands is not as extreme as those in countries like Norway, with Atlantic winds having a warming effect on the islands. In addition, if you have solar panels installed on your campervan, they may not be too useful during the winter months.
However, winters are still cold with short daylight and the occasional snowfall. The weather during the period tends to be more unpredictable and storms batter the islands which can make for a more hair-raising camping experience.
From spring to autumn, the weather warms up and the days become longer. This is the most popular time for people to visit the Faroe Islands and campsites will quickly fill up.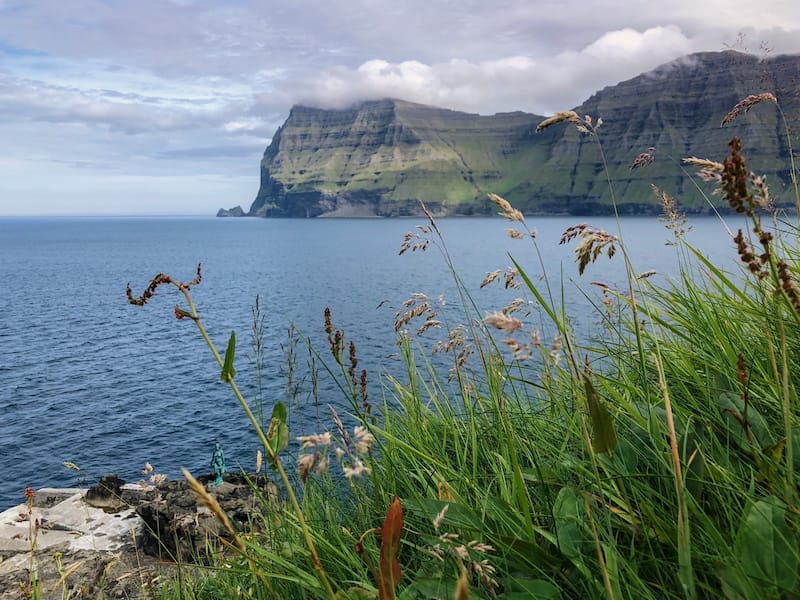 Weather-wise, the islands are temperate and you won't experience baking hot days often, but the weather is temperamental and within minutes, the wind can pick up and a sunny day can turn into a windy rainy one.
Summer nights are incredibly short, although unlike the Arctic, the sun does set. While long days do present the opportunity to explore more, you might find yourself struggling to get enough sleep in a tent as the early morning light shines in.
Whenever you choose to camp in the Faroe Islands, you will have to face the elements, but this makes the experience so much more rewarding.
To aid you in your battle, I have come up with some helpful tips to enjoy your time camping in the Faroe Islands. If you have any additional tips, feel free to leave them below.
Faroe Islands Camping Tips
Make Sure You Have the Right Equipment
Camping in the Faroes is no walk in the park. The elements will battle against you constantly as Atlantics winds blow in various weather systems.
You will need to bring gear with you that will hold up to the weather, especially when it comes to being water and windproof.
First of all, your tent will have to hold up in the weather which means you may need to sacrifice a few comforts when choosing the perfect tent. The wind in the Faroes blows in hard and you will want to have a tent with a low ceiling to avoid the possibility of it collapsing on you during the night.
In addition to a low ceiling, you will want to ensure you have only one entrance to avoid the tent becoming a wind tunnel. Double-walled tents, although heavier, will provide additional protection from rain and also provide a much-needed extra layer of insulation.
Tents with an outer shell tend to keep cool when the sun starts to shine on them while also locking in the warmth during colder nights.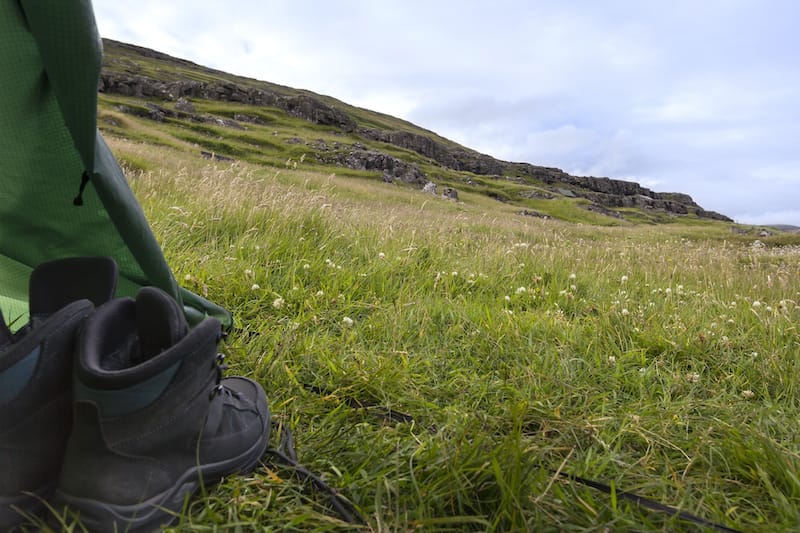 You should also invest in a decent ground mat since the ground below will get very cold and uncomfortable during the night, especially in the winter.
Finally, invest heavily in a sleeping bag because the nighttime temperatures will drop significantly, especially if it rains heavily for an extended period of time.
If you're particularly sensitive to the cold or your sleeping bag is too light for the weather conditions, you can also layer it up with a good sleeping bag liner. Fleece and insulated liners (such as Thermolite models) are especially great choices to add several degrees of heat to your sleeping bag and keep you warm and cozy.
I noted what I think you will need to successfully camp in the Faroe Islands, but here are some quick links to products and equipment that I think will help you on your journey:
Wear Layers
I am someone who often doesn't heed their own advice and I often overpack for trips through a mixture of last-minute packing and indecisiveness.
I try though to pack some practical layers for my trip which I can easily remove and put on as needed. Given the archipelagos famously inconsistent weather, you will find yourself stripping down and piling on clothes quicker than the weather changes.
The most important layer is a light wind and waterproof jacket that will help protect you from the elements as the countryside is void of natural shelters with trees rarely able to grow on the islands.
Thankfully, you don't need to consider mosquitos in your clothing choices as the Faroes are one of the few places in the world where mosquitos do not inhabit.
A pair of sturdy waterproof shoes are also a must as the ground often gets fairly waterlogged or can be relatively slippy.
For more information on what to pack for the Faroe Islands check out my packing guide.
Pack Power Banks
Power banks are my secret obsession, I have strangely in-depth knowledge about them due to spending far too much time in electronic stores.
In this modern age when everything needs to be charged, power banks are incredibly useful. I tend to take around four with me when I camp since there is nothing worse than your phone or camera running out of battery when you have the opportunity to capture some of the most beautiful scenery in the world.
I look for power banks that have the power to charge a phone fully around four to five times, as that way I don't need to constantly charge them since I have other things to charge up. For camera batteries, you can get USB charging ports that you can use with your power banks.
Here is the power bank I recommend for your trip to the Faroe Islands.
Buy Directly from Fishermen
There is something beautiful about sitting outside of your tent and filling the air with the smell of grilled food as you cook on a small camping stove.
Eating out in the Faroe Islands is fairly expensive and if you are looking to cook on a budget, I recommend purchasing food to cook.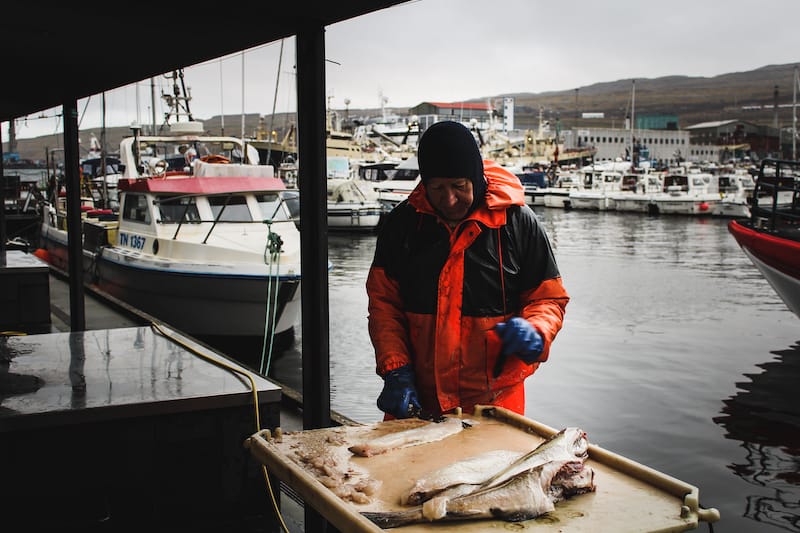 During my first trip to the Faroes, I discovered that if you purchase fish directly from the fisherman, you normally get it for a far better price than from the supermarket.
Some of the larger sites have indoor cooking facilities as well as places to grill so you don't need to use your own in some campsites. If you need to purchase more gas while in the islands, there are a few places licensed to sell it around the larger towns.
Try To Practice Before You Leave
I find one of the most stressful things about camping is setting up a tent (I'm so shamefully bad at it). In fact, I try to avoid it where possible with pop-up tents.
Since the Faroes requires a bit more of a sturdy tent that is double-walled, setting up for the night can be a little more frustrating. Not only will the tent provide you a challenge but the weather will also throw everything it has at you, adding extra stress.
Before heading to the islands, I recommend practicing setting up your tent in various weather conditions as you do not want to be stuck trying to put a tent up during the high wind and lashing down rain.
Providing you have the space, plenty of practice will remove potentially trip ruining stressful situations.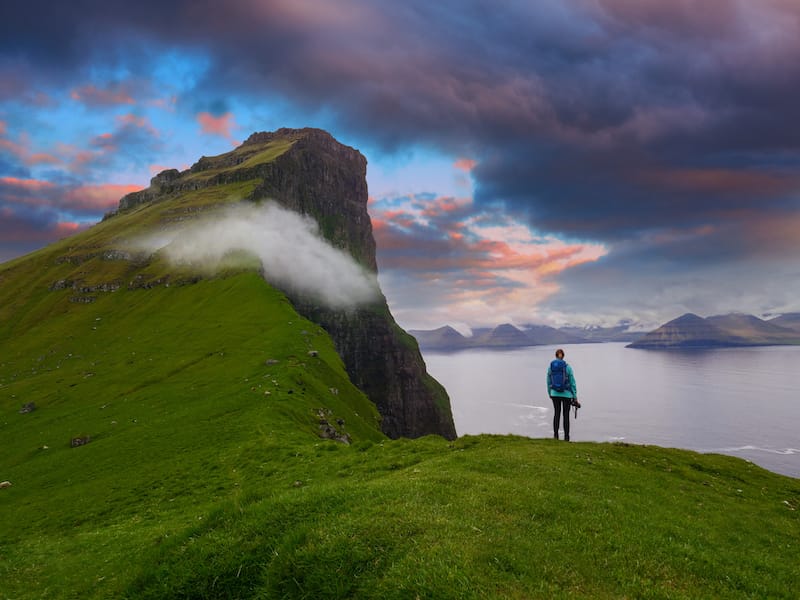 Bring Sunscreen
While the temperatures in the islands are relatively low throughout the year and the sun isn't particularly prevalent, you can still easily suffer from sunburn.
Spending all day out in nature hiking incredible coastal paths or up reaching the summits of the peaks means you will be subtly exposed to high levels of UV rays which will slowly inflict an uncomfortable sunburn.
This is even more important if you are planning to complete hikes close to bodies of water such as the Sørvágsvatn hike where the effect of the sun's rays are doubled as they reflect off of the water.
There is nothing worse than trying to get a comfortable night's sleep with sunburn when you are in a regular comfortable bed, let alone when you are camping and having to sleep on the hard, cold floor.
Moral of this story is: bring sunscreen! I like this vegan, reef-friendly sunscreen from Sunbum.
Plan Ahead for Everything!
The Faroes Islands are a small nation with limited space and travel infrastructure. During the peak season, campsites can book up quickly. In addition, the ferries between the islands fill up.
I recommend booking a place at Faroe Islands campsites as early as possible with a whole day dedicated between them for travel just in case you can not get an early enough ferry on your desired travel day.
A day dedicated to travel factored into your planning will mean you will not need to miss out on any of the sites when you reach your destination. Most of the ferries operate on a first-come, first-served basis, especially those to the larger island.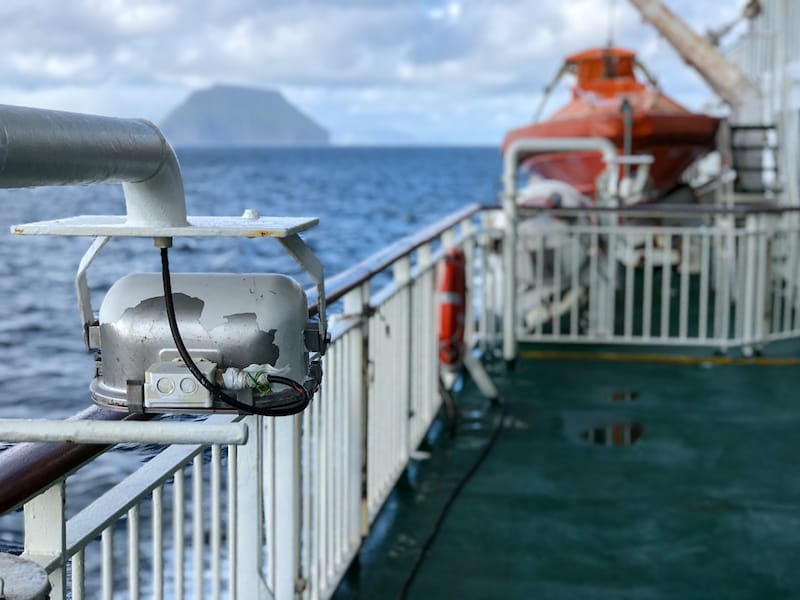 However, there a few exceptions. If you are planning to camp on Mykines to see the puffins, you will need to book your place on the ferry in advance as the island only allows a set number of people on it at a time in order to cause minimal disturbance to the birds.
And with some ferries to the small islands, you will need to call in advance. This is especially important in the low season to ensure that the ferries are running, I learned this the hard way when I waited hours for a ferry to Skuvoy that never turned up during my first trip.
Keep an Eye on the Weather
Weather in the Faroes is probably the least predictable thing in the world.
However, you should keep an eye on the forecasts to try and avoid having to set up or dismantle your tent in the worst conditions.
Keeping an eye on the forecasts is also practical because if high winds are predicted during the day, you can do extra checks on your camp to ensure that the tent and all the items inside are fully secured to survive battering from the wind.
A thick layer of fog can coat the islands regularly, making visibility incredibly poor. But, you can normally wait a short amount of time and it will pass, meaning it's better to just stop what you are doing and wait it out.
Bring Coffee Making Equipment
When traveling to remote places, I always bring my Aeropress with me so I can make cups of coffee in the morning as I take in the morning sun by my camping stove.
Since the islands are sparsely populated, there are only a few cafes dotted around so having your own equipment is fairly imperative if you are a coffee addict like myself.
I also generally fill up a flask with coffee that I can enjoy throughout the day while I take in the exceptional beauty of the islands.
I recommend purchasing an Aeropress before heading to the islands. It makes incredible coffee and is lightweight and super easy to use.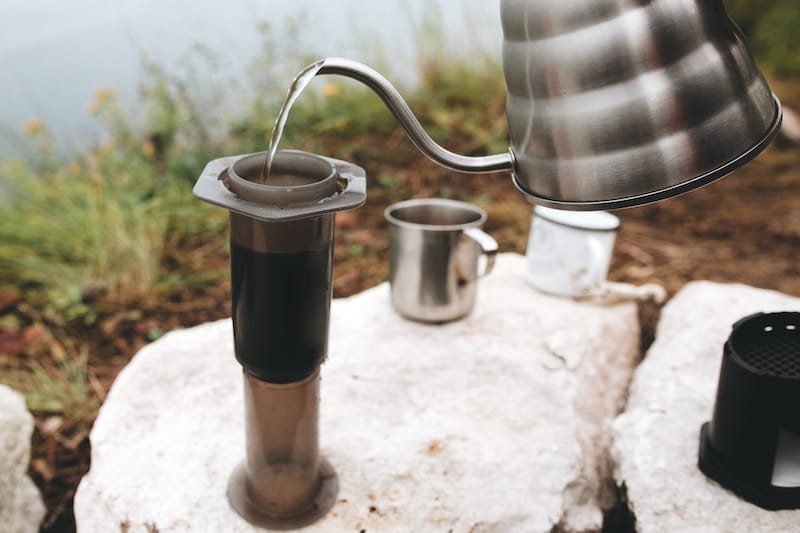 In addition to bringing an Aeropress, also consider bringing a reusable cup. I travel with my Keep Cup (I linked the exact one!) and it keeps me fueled on the road without having to use throwaway plastic (most 'disposable' coffee cups that appear to be paper actually have plastic in them).
Watch Out for the Local Sheep
While many of the campsites have fences, it is not uncommon for a few of the many sheep that call the island home to wander into the camp.
The sheep will also often block the roads and cause small traffic jams as drivers must wait for them to make their way off of the roads.
There are also many seafaring birds that call the islands home and that will welcome an easy meal. Therefore, it's important to keep your camp clean of food debris and trash as the birds will quickly descend on you to feast on any remains.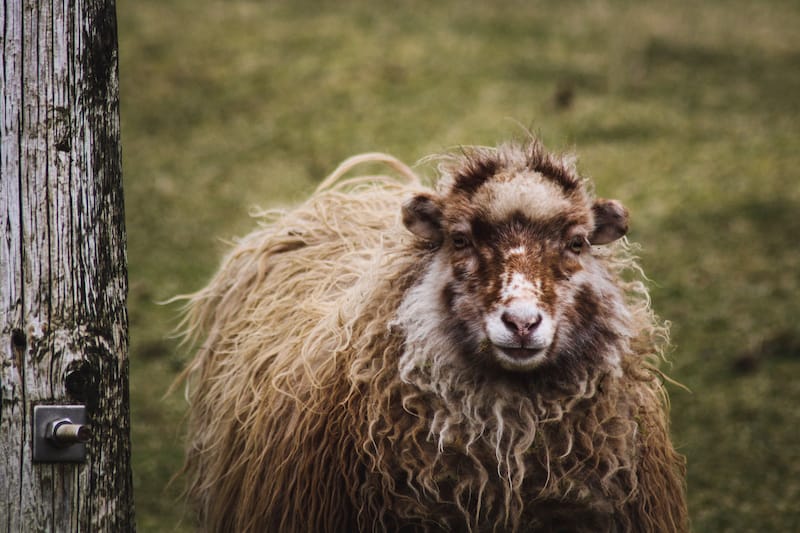 It is important to ensure the wildlife doesn't associate human activity with food or they will lose their fear of people and harass future campers.
Bring a Water Jug With You
Stores are sparse in the islands and I recommend bringing a few water jugs with you to fill up at the campsite and take on your hikes.
I love traveling with my water jugs as they are a great way of cutting down your plastic use and can easily be filled up when you find a drinkable water source.
Bringing your own water is imperative on hikes like the Kalsoy lighthouse as there are not many opportunities to purchase drinks on the sparsely populated island.
The water in the Faroes is some of the best in the world and is drinkable straight from the tap, so there should be no need to purchase any bottled water at all during your trip. Here is the exact water jug I travel with by Klean Kanteen.
Wet Wipes for the Win
While at the Faroes campsites you'll find showers, sometimes you may discover that they are busy or you simply do not have time to shower that day. For these days, I recommend bringing some wet wipes with you so you can freshen up and wipe any sweat or dirt off of you from the previous day.
Since the ground can be very slippery, falling over is a common occurrence and wet wipes are a great way to wipe off the dirt that will quickly stick to any bare skin, along with any other unsavory things you may have fallen into (sheep poop).
The downside of wet wipes is they are not particularly environmentally friendly and after use, you should take them with you until you can dispose of them properly.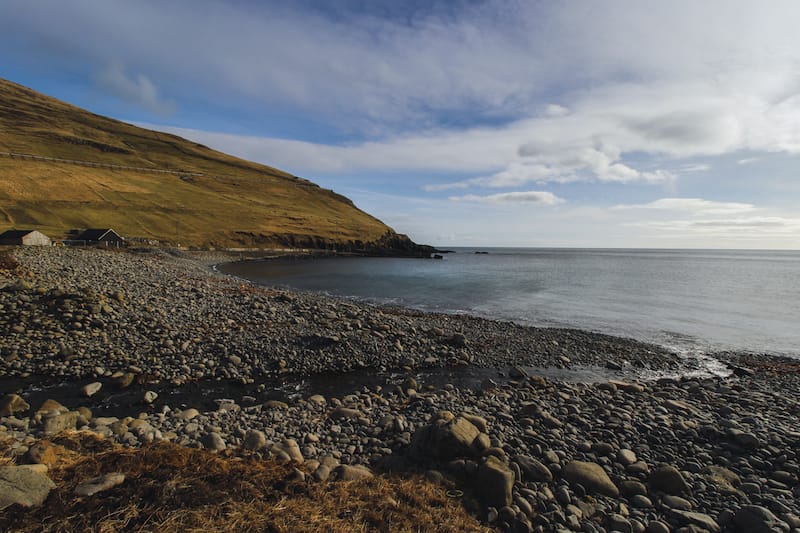 Pack a Flashlight or Headlamp
I highly recommend bringing a flashlight with you to the islands because there is nothing worse than being stuck in the dark trying to navigate your way through a campsite.
Campsites are a tripping hazard, with securing ropes stretching out from the body of the tent creating difficult-to-see obstacles.
Tripping on one of these ropes is not only painful if you fall hard, but they also can put other campers at risk if the wind flares up and their tents are not properly secured to the ground.
A flashlight or a headlamp will easily light up your path and help you to get to and from your tent. The nights from late autumn to early spring are long and during the summer months, even though the days are long, the night does fall and it gets pretty dark, especially if a cloud covers the faint light of the moons and stars.
Here is the exact headlamp I travel with when I am in Scandinavia and the Nordics… and other super dark places!
Don't Feel Bad If You Want a Break
While camping is a great way to explore the Faroes on a budget, sometimes you need a bit of comfort and that is nothing to be ashamed of.
I, personally, know I have my limits when it comes to camping and I always budget it in a few nights in a hotel or guest house.
This time allows me to fully charge my electronics and have a decent shower. Even if it is just for one night, it will feel amazingly refreshing and help you enjoy your trip just that little bit more.
You should factor in this night of comfort while exploring islands that do not have a campsite or where the campsite has already been fully booked.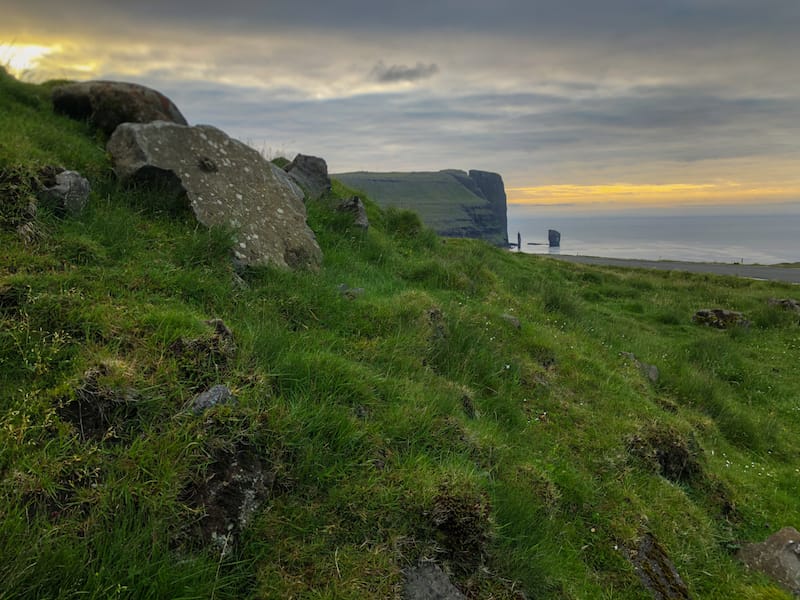 Renting a Car in the Faroe Islands
If you're heading to the Faroe Islands and want to visit at your own pace (and camp!), you will want to rent a car.
The one main tip we give for car rental in the Faroes is to BOOK AHEAD. I have had people continuously email me saying they waited too long and the prices were astronomically high as a result.
We recommend using Discovercars.com and you can get some good rates if you plan ahead with them. Click here to check rates and availability for a rental car in the Faroe Islands.
We hope that this guide to camping in the Faroe Islands was useful and that you will be able to plan your trip a bit better as a result of reading it!
If you have any tips or information that was not listed on this guide, please drop it in the comments or shoot us an email so we can update it! Thanks!
More Faroe Islands Travel Guides
PIN IT FOR LATER!