Are you looking for a cozy getaway and in search of the best small towns in Minnesota? This guide has you covered!
These Minnesota small towns are the perfect spots for weekend getaways in the state and all offer something for nature lovers, history buffs, and more!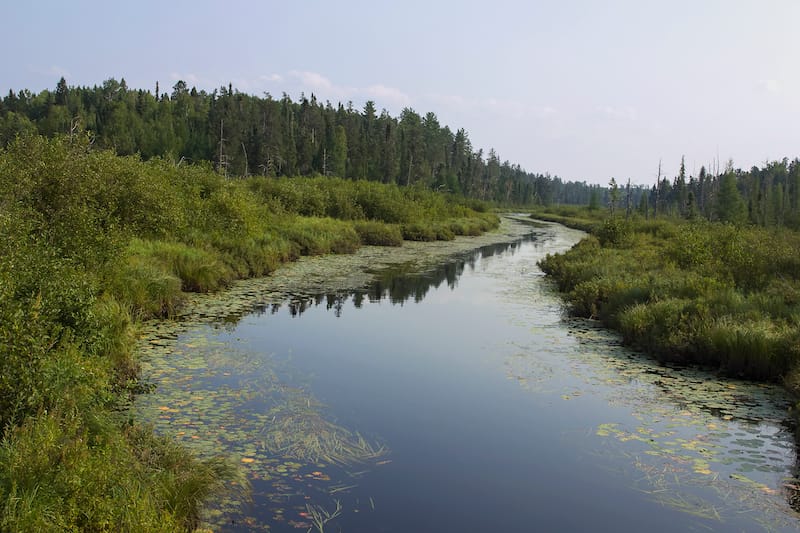 Did we miss any of your favorite small towns in MN? Let us know in the comments! Thanks!
Best Small Towns in Minnesota
Ely
An unparalleled waterfront experience awaits you in stunning Ely, nestled at the edge of Boundary Waters. Immerse yourself in undisturbed natural beauty by hiking, camping, and canoeing in the Boundary Waters Canoe Area.
Dig deep into the Native history at the Bois Forte Heritage Center and Cultural Museum or explore Northwoods culture at the International Wolf Center, Dorothy Molter Museum, or American Bear Center.
Be sure to also challenge yourself with an unforgettable round of golf on northern Minnesota golf courses while you're visiting Ely.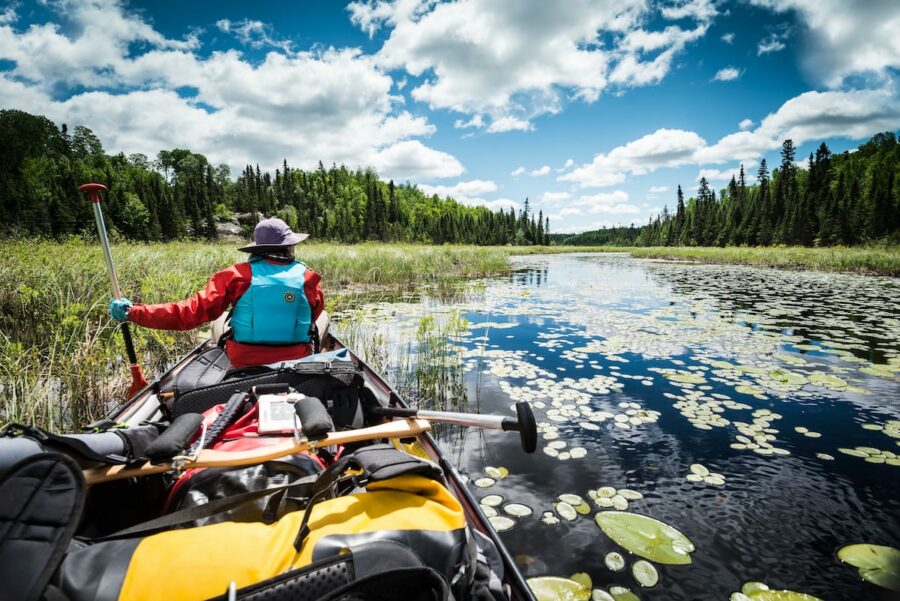 From vibrant autumn colors and brisk hikes in the fall to dog sledding, snowmobiling, snowshoeing, and cross-country skiing in the winter, each season brings a unique character to the Minnesota town.
The quaint destination also offers plenty of shopping and dining options, such as Wintergreen Northern Wear, Piragis Northwoods, Rock Wood Eatery, Boathouse Brewpub & Restaurant, Northern Grounds, etc.
Before leaving, visit The Cabin, a Northwoods-themed gift shop, to bring home a piece of Ely with you.
New Ulm
Founded in 1854, New Ulm is located about 90 minutes southwest of the Twin Cities. Named after a community in Germany's Bavaria state, this town has a little something for every American traveler!
Dig deep into the last major conflict of the American Indian Wars of the 1860s at the Brown County Historical Museum or walk through music history at the Minnesota Music Hall of Fame.
When in the mood for beer, head to August Schell Brewing Company, America's second-oldest brewery, where you can taste signature German beer.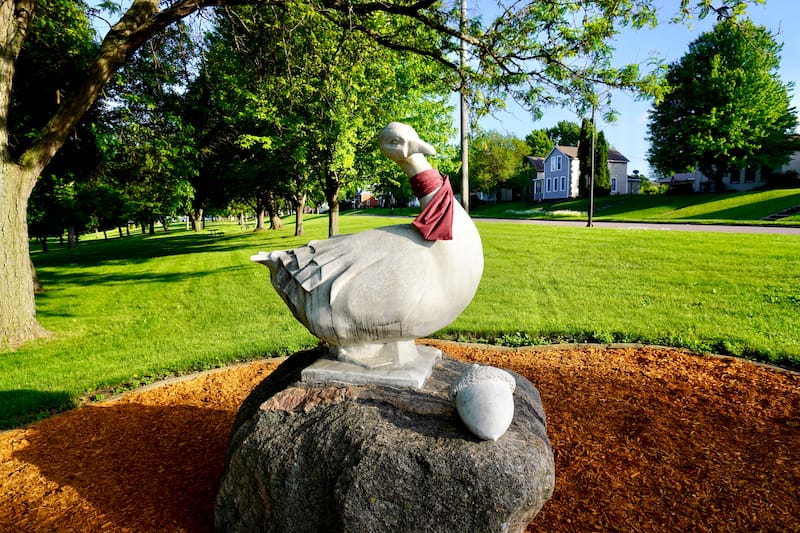 The city's must-visit monuments are the 45-foot-tall Glockenspiel, 102-foot Hermann Monument, and German-Bohemian Immigrant Monument.
History buffs shouldn't miss visiting the Kiesling House and the historic homes of John Lind and Wanda Wag.
Admire the city's rich flora and fauna in Flandrau State Park or indulge in a completely German-themed atmosphere at German Park, where you can enjoy live musical performances in the summer months during their free concert series.
Grand Rapids
Grand Rapids is a picturesque town that stands out with its diverse cultural and recreational opportunities.
If you're visiting Grand Rapids with your family, you are going to want to make a stop at the Forest History Center, which features an immersive 1900s-era logging camp, a 100-foot fire tower, five miles of interpretive trails, and many other exhibits to help you learn about the history of the forest.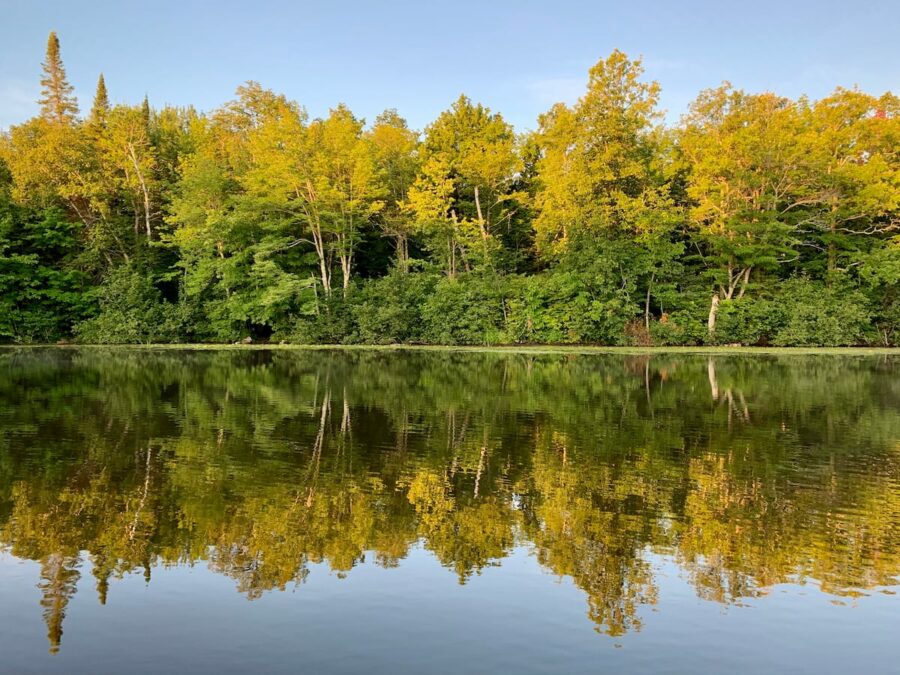 The Edge of the Wilderness Scenic Byway has you covered in case you want the ultimate scenic drive to admire the surrounding vibrant scenery (which is especially epic during the fall).
Along the road, you can stop at the North Star Lake Resort to do a little fishing or explore Chippewa National Forest.
Quench your thirst for art at the Myles Reif Performing Arts Center, which offers cultural seminars, live performances, and community workshops.
Alternatively, head to the Macrostie Art Center to pay some respects to the local creative art scene!
Red Wing
Historic Red Wing is a red-brick river port town set on the banks of the Mississippi River.
Get a glimpse into Red Wing's rich heritage by visiting the Red Wing Marine Museum, where you can witness restored Red Wing Thorobred engines, outboard motors, and other river memorabilia.
The Pottery Museum of Red Wing houses the most extensive collection of the world's Red Wing clay products, including more than 6,000 vintage dinnerware, art, stoneware, etc.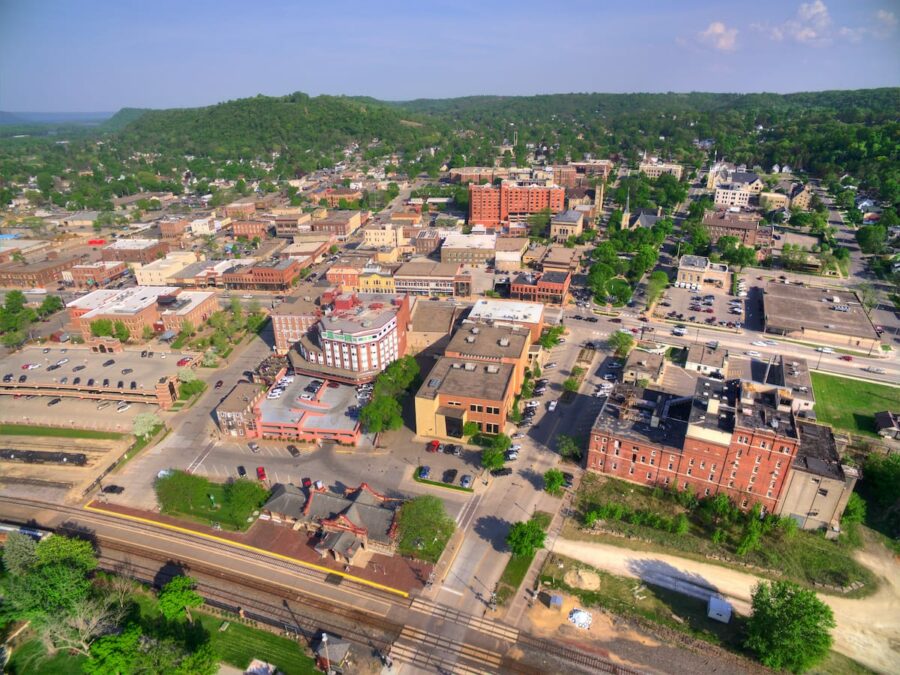 Anderson Center at Tower View, Red Wing Shoe Museum, and Hobgoblin Museum & Stoney End Harps are a few of the must-visit sites to completely immerse yourself in the town's impressive history.
Red Wing is an art lover's dream destination as it is home to the Sheldon Theater, Black Dirt Theater, and Red Wing Arts.
Adventure seekers can head to Frontenac State Park for hiking and eagle watching, cruise Lake Pepin with Sail Pepin, or play a good round of golf at the Mississippi National Golf Links or Red Wing Golf Course.
Stillwater
Stillwater, situated on the banks of the St. Croix River, is one of the most picturesque towns in America known to be the birthplace of 'Minnesota'.
Your first stop should be the Historic Lift Bridge linking Houlton to Minnesota.
Get out into nature while hiking and biking along St. Croix River Crossing Loop Trail or Browns Creek State Trail and enjoying a scenic drive along the St. Croix Scenic Byway (it becomes even more magical during the fall season).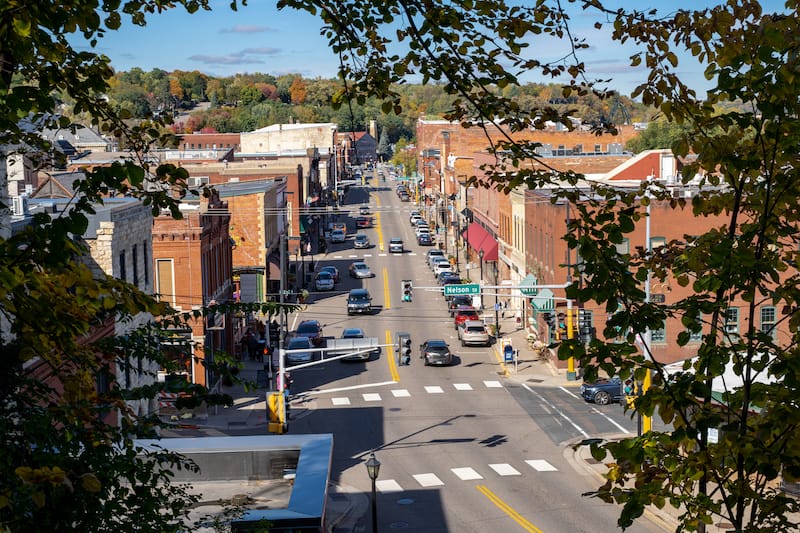 Explore the small town in Minnesota from the water by cruising down the St. Croix River with Stillwater Riverboats or visit Stillwater Art Guild Gallery to browse the masterpieces of talented artists.
To delve deep into the history of Stillwater, take part in self-guided historic walking tours, while fans of paranormal events can check out Stillwater Ghost Walks, which tells real ghost stories and urban legends.
Henderson
Plan your next trip to Henderson, one of the oldest communities in Minnesota. The 260-acre Rush River State Wayside offers plenty of opportunities for the whole family, including fishing, hiking trails, campsites, and a picnic area with shelter.
Learn about the area's diverse flora and fauna at the 446-acre Ney Nature Center, which is open to the public for hiking, birdwatching, and cross-country skiing.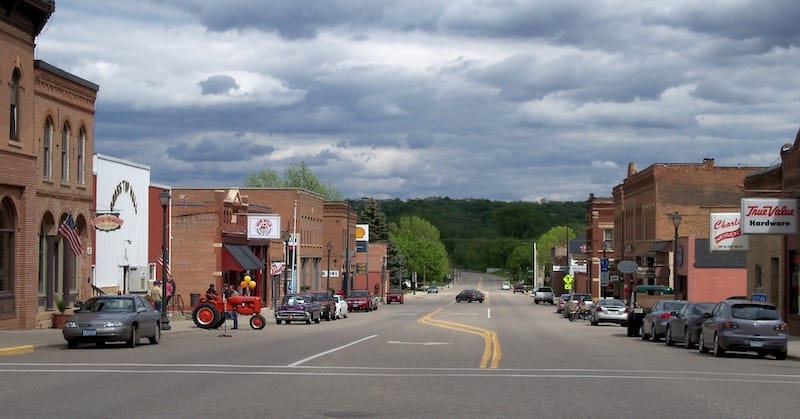 Sibley County Historical Museum is a must for history buffs to learn about the history of Sibley County.
Allanson's Park is another local's favorite, featuring a picnic shelter with restrooms and shower facilities, 15 developed campsites, a playground, and a walking trail.
Everyone can appreciate and learn about lovely ruby-throated hummingbirds at The Henderson Hummingbird Hurrah, which offers book signing sessions, garden tours, children's activities, and a Hummingbird Mall.
Don't forget to bring your camera with you to capture these cute little creatures.
Excelsior
Treat yourself to a magical lakeside getaway in historic Excelsior, set alongside picturesque Lake Minnetonka.
Rent your own private charter boats and celebrate important milestones in style with AI and Alma's Charter or Paradise Charter Cruises, or travel back in time while aboard the Steamboat Minnehaha, which once sat on the bottom of the lake.
If you're visiting Excelsior with the kids, taking a ride on the Excelsior Trolley to the train museum is the best way to spend the day. Antique enthusiasts should check out postcard selection, miniatures, and other treasures at Leipold's for some nostalgia.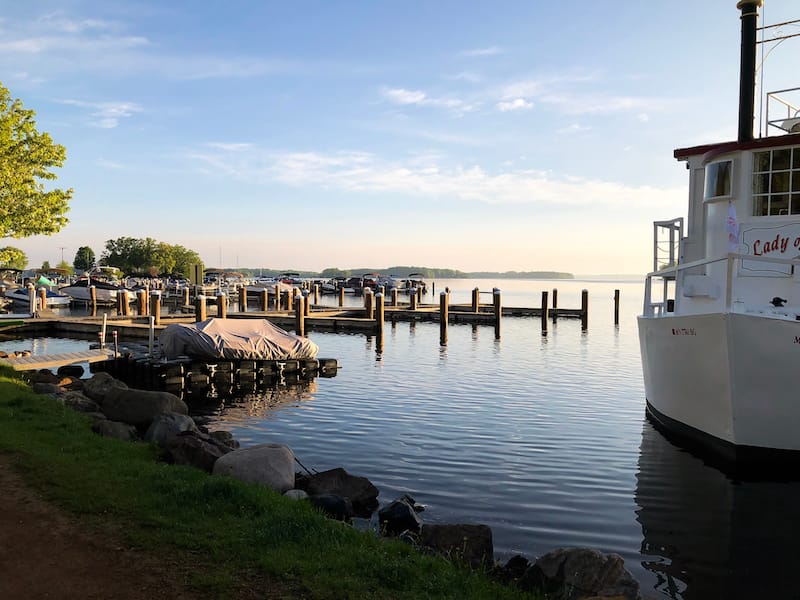 For laid-back vibes, soak up the sun at one of the Lake Minnetonka Beaches. Stop for drinks at the Excelsior Brewing Company and fuel up for adventures in Lago Tacos or Red Sauce Rebellion.
Satisfy your sweet tooth at Lick's Unlimited or Adele's Custard, and then bike along the Lake Minnetonka LRT Regional Trail to cycle off those (well-deserved) calories!
Pipestone
Outdoor enthusiasts can head to Split Rock Creek State Park, where they can fish, swim, or boat in the calm waters of Split Rock Lake. Rock Island Depot is the last one in Pipestone which was closed in the 1960s due to the decrease in railroad use.
Split Rock Bridge, made of local quarried blue-pink Sioux quartzite, is one of the main attractions in the city, which is an excellent example of an ornamental park bridge.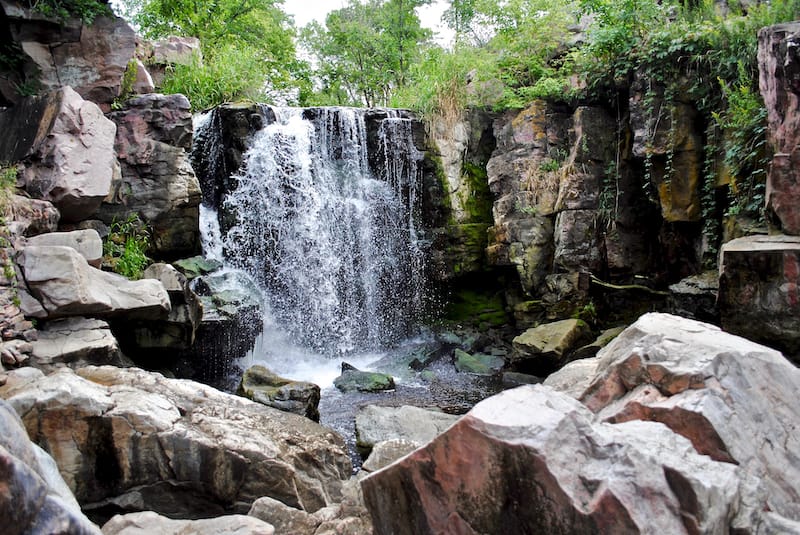 Catch a show at the Pipestone Performing Arts Center which also hosts comedy shows, traveling theater groups, dance troupes, cultural speakers, various community events, and documentary films.
Alternatively, you can dive into the Minnesota town's history at the Pipestone County Museum.
Your Pipestone trip won't be complete without seeing the Pipestone National Monument created in 1937 to protect the Pipestone quarries, once used by the Plains Natives to craft unique pipes for ceremonies.
Taylors Falls
If you are looking for a visit to one of Minnesota's historic river towns, then Taylor Falls is the place to go.
Set off to explore Interstate State Park which is home to glacial potholes and other interesting rock formations and features many outdoor recreation activities for the whole family (canoeing, river viewing, rock climbing, fishing, etc.).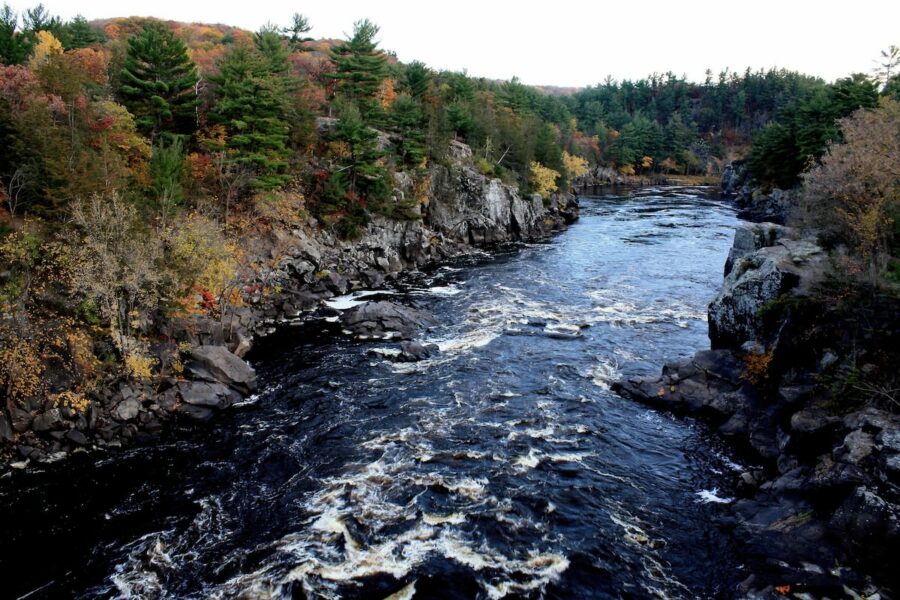 Get wet and wild at Wild Mountain Taylors Falls, take a riverboat tour with The Taylor Falls Scenic Boat Tour, and learn more about the city's history at the 19th-century Folsom House, former home of the city's well-known lumber baron W.H.C. Folsom.
Water junkies can enjoy the calm waters of the St. Croix River while kayaking or canoeing down the river with Taylors Falls Canoes.
Get to discover the other side of Taylor Falls in Franconia Sculpture Park, which is a 50-acre outdoor art museum showcasing extraordinary masterpieces.
Taylors Falls is easily one of the best weekend getaways in Minnesota!
Lanesboro
Plenty of exciting adventures await you in charming Lanesboro, located in the bluffs of the Root River Valley.
Lanesboro History Museum is one of the must-visit places in the MN town where you can explore Norwegian culture by witnessing many farm tools, rosemaling, local history, etc.
Pop over to the Little River General Store to rent a canoe, kayak, or bicycle and experience the great outdoors.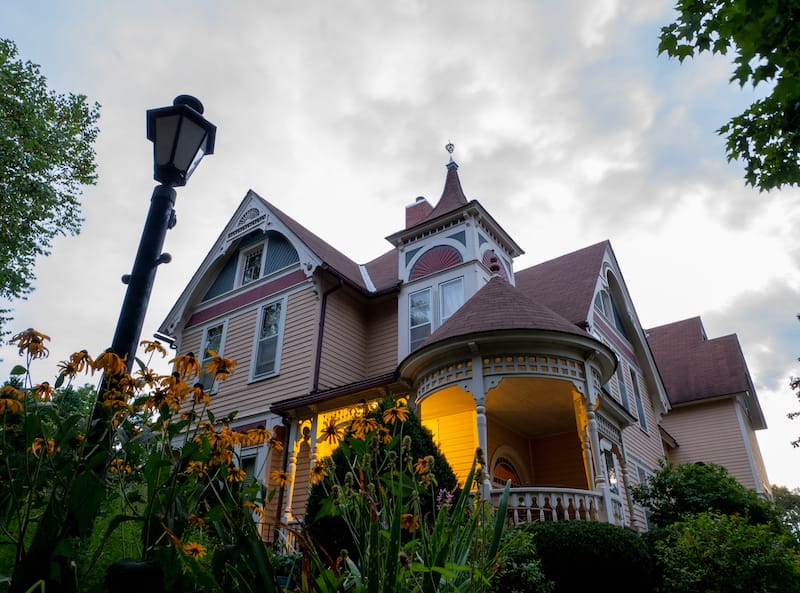 Satisfy your sweet tooth at Lanesboro Pastry Shoppe, where you can savor mouth-watering waffles, pancakes, and blueberry scones.
Appreciate the art in and around Lanesboro with Lanesboro Art Tours or explore the backroads with Amish Backroad Tours.
The 42-mile scenic Root River State Trail passing through the hills in the Root River Valley is the perfect route for both novice and experienced bicyclists to take in the breathtaking scenery!
Lindstrom
Lindstrom, America's Little Sweden, is known for its rich cultural heritage. If you are a fan of extraordinary art, then Franconia Sculpture Park is the place to enjoy a bit of creative wandering through contemporary structures.
Get a glimpse into Lindstrom's rich heritage at the Chisago County Historical Society or enjoy a 1.5-mile scenic train ride and explore 100,000 railroad artifacts at Ironhorse Central Railroad Park.
Immerse yourself in the real Swedish atmosphere by taking part in Karl Oscar Days, a Swedish summer festival filled with many fun activities.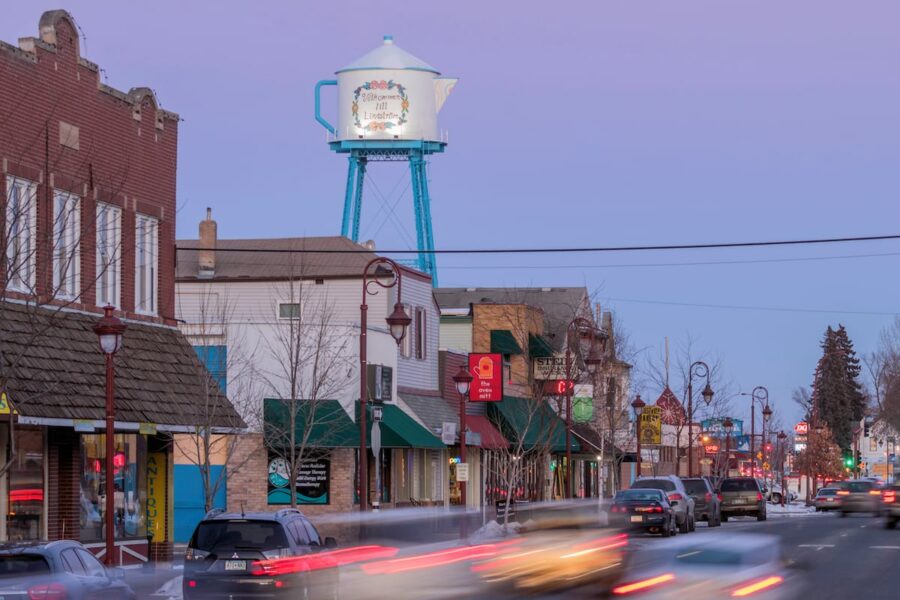 As the city is surrounded by lakes, you can take in stunning lake views while canoeing, kayaking, paddle boarding, and camping along the 10-mile Chisago Lakes Water Trail.
Catch a great performance at the Festival Theater or sip a glass of signature wine at the beloved Winehaven Winery.
Hike or bike the Swedish Immigrant Trail or visit the 130-acre Allemansrätt Wilderness Park to appreciate the area's breathtaking natural beauty.
Harmony
Harmony is a charming small town near the border of Iowa that lives up to its name.
Niagara Cave is a must-see for adventure lovers, with 1-hour guided tours taking you through natural canyon-like tunnels sculpted by water from an underground stream and a subterranean waterfall.
Here you can discover the wonders of the famous Minnesota cave. Take part in 2.5-hour Amish Tours through the Old Order Amish settlement to learn about the Amish people and then head to the Amish Farmers Market to buy some of the goods they produce.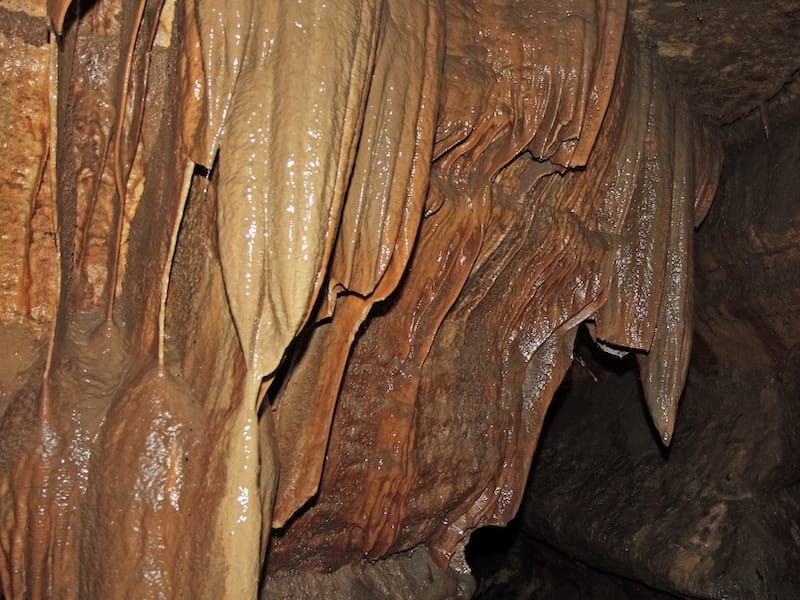 You can go riding along 60 miles of the paved Root River Trail System to take in the unparalleled beauty of the area.
For an antique treasure hunt, visit New Generations of Harmony, a 10,000 sq feet antique mall, and round off your day with an impressive round of disc golf on an award-winning 9-hole golf course.
Grand Marais
Tucked away between the Sawtooth Mountains and Lake Superior, Grand Marais has been nicknamed America's Coolest Small Town.
This North Shore harbor village has a lot to offer, from shops and galleries to eateries and lake attractions.
Along Lake Superior, you can explore the Artist's Point Trail, which allows you to take in magnificent views of the lake, surrounding vivid colors, and jagged rock formations.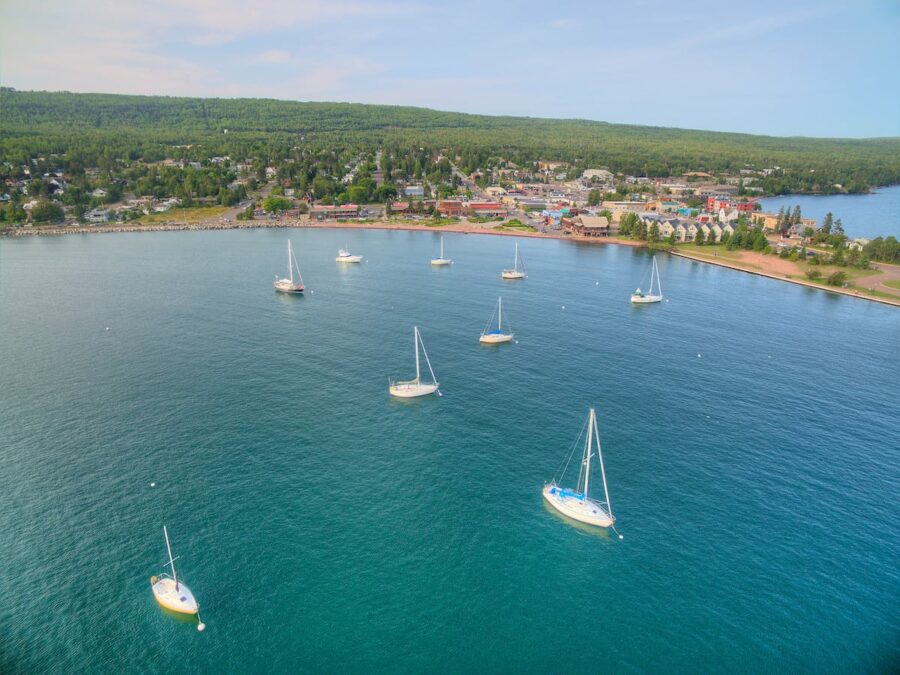 Then, walk to the historic Grand Marais Lighthouse which dates back to 1922 and is still used for boaters on Lake Superior. Go hiking on the Superior Trail to admire the undisturbed Minnesota wilderness.
To explore the local art scene, visit Joy & Company or North House Folk School and delve deep into the area's history at the Historic Cook County Museum, which houses various artifacts of Minnesota's musical heritage, Lake Superior history, Cook County military history, etc.
Biwabik
One of the cutest small towns in Minnesota is Biwabik and it makes for a wonderful day or weekend trip from Minneapolis.
Reconnect with nature in Giants Ridge Recreation Area, which serves as a great golf and ski destination.
In summer, you can go golfing, hiking, biking, fishing, canoeing, and kayaking, while the winter season provides visitors with more than 37 miles of cross-country ski trails, 35 alpine ski runs, 2 snowboarding terrain parks, and a snow-tubing park.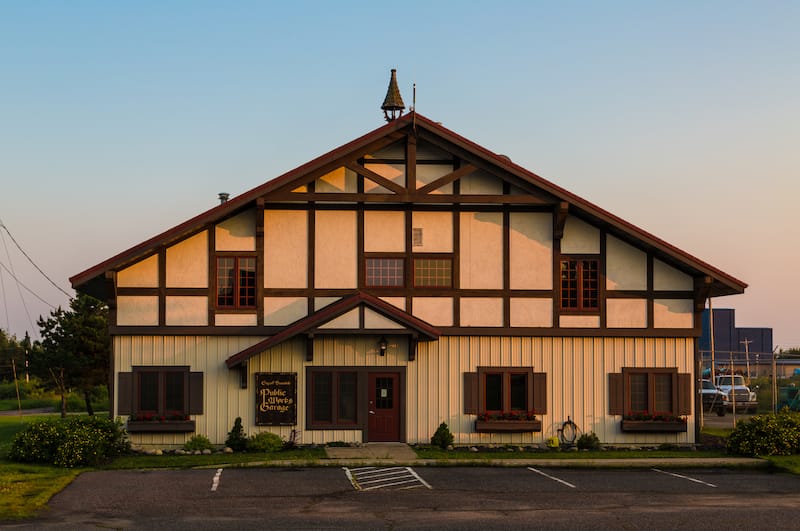 Another one of the best things to do in Biwabik is to take a picture with the iconic Honk the Moose Statue, which symbolizes an actual moose that visited Biwabik in 1915.
Those looking for a serene getaway can relax in the peaceful setting of the Vermilion Trail Campground. Make sure not to miss the Northern Lights Music Festival, one of Minnesota's largest music festivals, to enjoy the magical world of classical music.
Lake City
This historic Minnesota town is located at the bank of Lake Pepin and is a real paradise for outdoor enthusiasts.
One of the best things to do in Lake City is to hop on board the Pearl of the Lake Paddleboat, a modern-day replica of the 1800s Mississippi cruisers that allows you to take in the surrounding mesmerizing scenery.
Another fun way to explore the town from the water is by taking a ride on the S.V. Quintessent Sailboat. In addition, 250-acre Hok-Si-La Park is a great spot for hiking, tent camping, picnicking, and dining.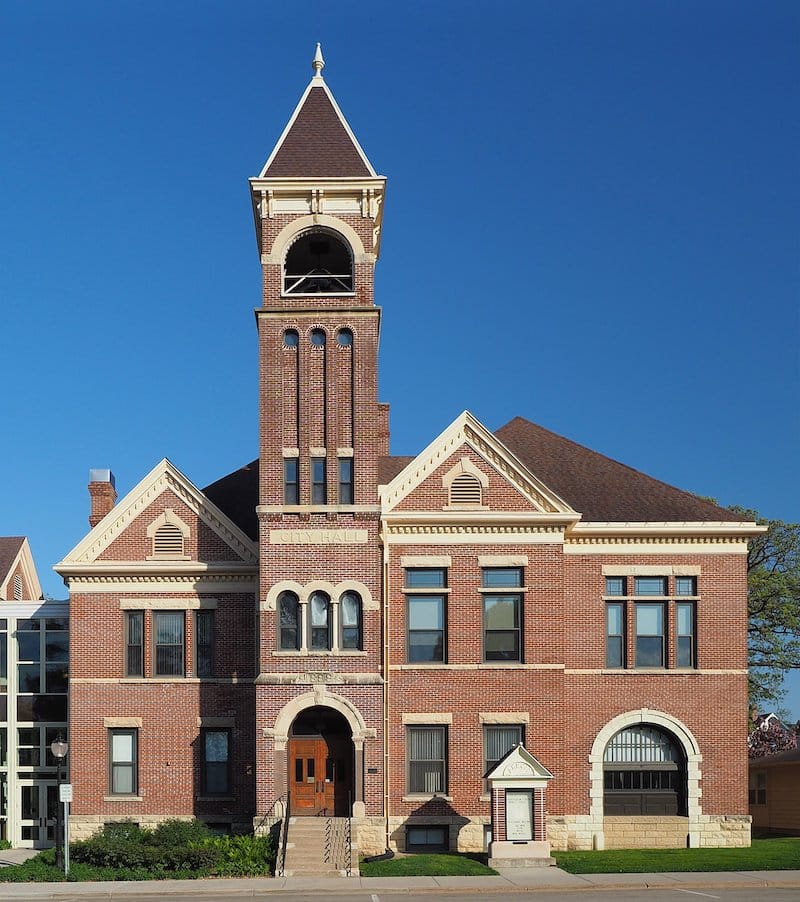 Enjoy the great outdoors while hiking in Frontenac State Park or biking the Cannon Valley Trail, and get a bird's eye view of the city while parasailing or paragliding with Eagle Hang Gliding.
Discover the city's historical heritage at the Laura Ingalls Wilder Historical Museum or simply take in the breathtaking natural beauty by driving across Lake Pepin or relaxing on the shore.
What are the best small towns in Minnesota, in your opinion? Let us know your top Minnesota small towns in the comments. Thanks!
More Great Lakes Guides
Pin this Minnesota Small Towns Guide