There are so many reasons to make a trip to the northern US and this guide details the best places to visit in Minnesota for a weekend getaway!
Are you planning your trip to Minnesota last minute?
🚗 Renting a car in the USA: Discover Cars is our top pick for rental cars in the USA and abroad! They have several add-ons and also offer full-coverage insurance as an option. They also have a huge inventory of cars to choose from – something suitable for every traveler!
🇺🇸 Visiting any US National Parks along the way? Get your National Parks Pass for only $79.99 here!
🛌 Booking a hotel in the USA: We use Booking.com for all hotels in the US – many also offer last-minute cancelation.
This Midwestern state borders Lake Superior and Canada, making it among the coldest in the nation and a paradise for winter sports lovers.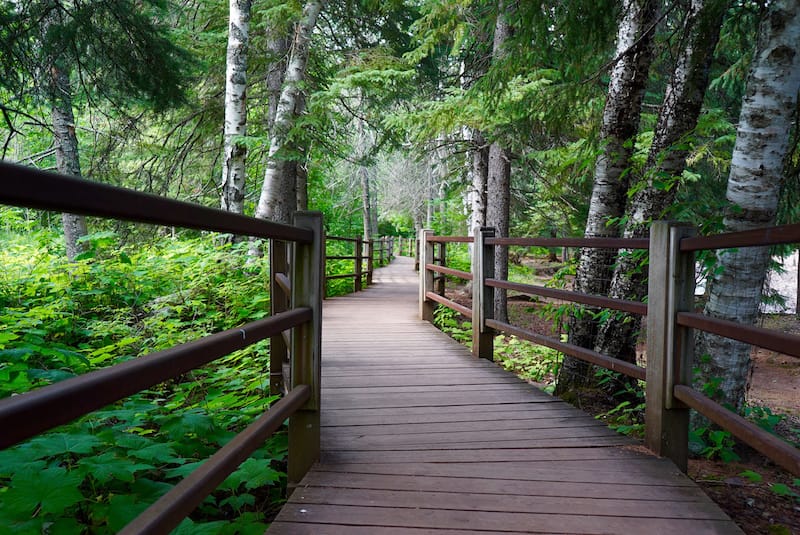 Known for its 10,000 lakes, Twin Cities, and sites like the Mall of America and the Science Museum of Minnesota, the state certainly offers something for everyone and it's worth taking a couple of days to visit.
In this article, we've compiled a list of some of the best destinations to visit in Minnesota, with everything from natural attractions and historic sites to wineries and restaurants.
Did we miss any amazing Minnesota destinations? Let us know in the comments. Thanks!
Best Places to Visit in Minnesota
1. Voyageurs National Park
Accessible only via boat, Voyageurs National Park is one of the most incredible and unique places worth visiting in Minnesota.
With the unspoiled beauty of woods and pristine lakes, the park calls for adventures on 218,000 acres of land.
Voyageurs National Park is known for its lush forests, breathtaking views, and a natural phenomenon that can become one of your favorite vacation memories.
On clear nights, you can see the most spectacular northern lights show starting as a faint glow and dancing in the sky.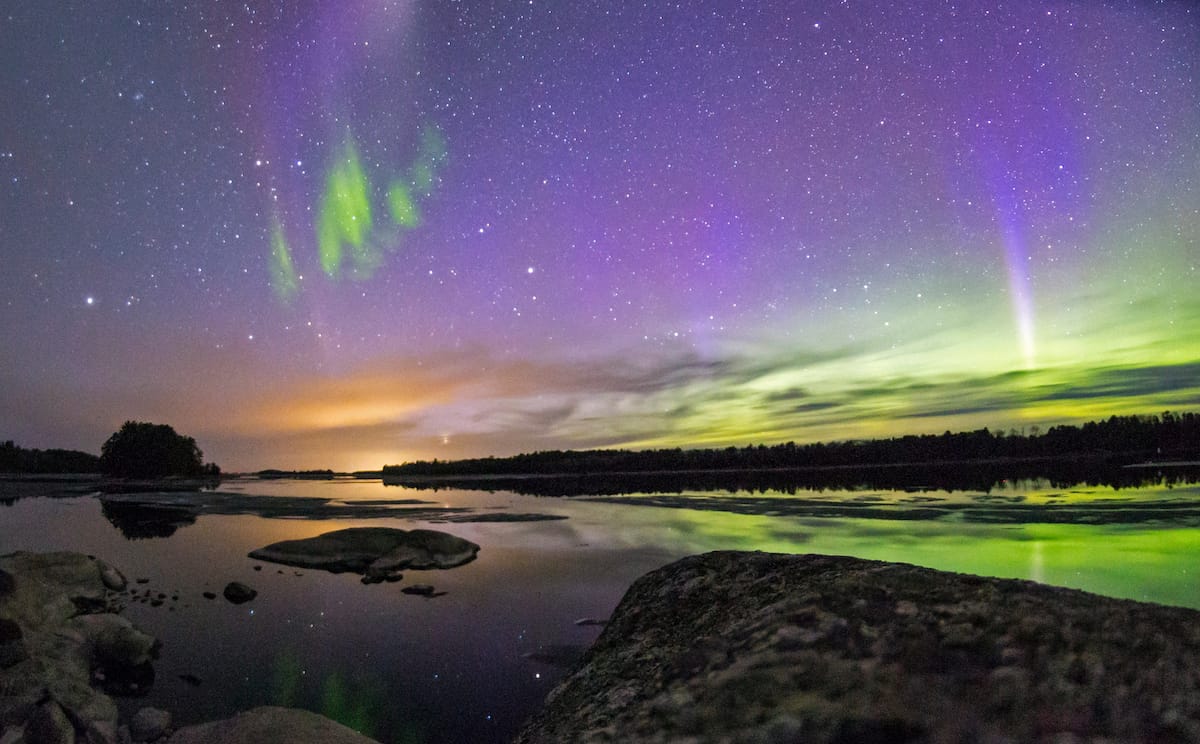 The best time to see the Northern lights in all their beauty is fall and winter.
Other sites in the park that you must make it a point to visit include Ellsworth Rock Garden on Lake Kabetogama with natural stone art of massive monoliths and Sand Point Lake, where you can admire sheer granite cliffs rising from the waters.
Spend at least two days in the park to enjoy all the wonders of the vast territory.
Go fishing to try your luck in catching native fish, set up a campsite on the lakeshore, and embrace the surrounding serenity.
2. Stillwater
Stillwater, the birthplace of Minnesota and one of America's most spectacular towns, is a place to admire traditional paddlewheel riverboats and gondolas riding along the waters, shop along the Historic Main Street, enjoy soirée at wineries, and more.
To experience the natural beauty of Stillwater and the St. Croix River, take the 4.7-mile loop trail that connects the Minnesota and Wisconsin sides of the river.
You will explore the magnificent valley views and cross the St. Croix Crossing Bridge and historic lift bridge.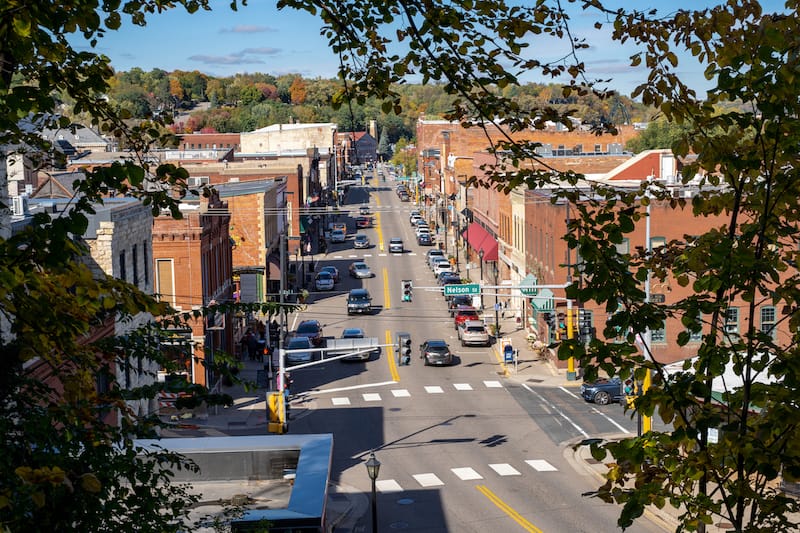 Want to see some more spectacular views?
Discover the beautiful sceneries of Stillwater from a bird's-eye view on a hot air balloon ride, take a cruise on the river, or enjoy your afternoon hiking in Pioneer Park.
Back in the city, head to Main Street to taste some good local wine in restaurants, such as Brick & Bourbon, LoLo's, Lolito, and others.
Don't miss out on the local breweries, Maple Island and Velveteen Bar, if you prefer beer.
3. Grand Portage
The community of Grand Portage, located at the tip of Minnesota's Arrowhead, is home to the earliest Ojibwe settlements with enduring traditions and culture.
Today, you can visit the centuries-old meeting place and an excellent destination for adventure tours.
The generous nature of Grand Portage State Park provides a fantastic view of the 120-foot High Falls waterfall, the largest waterfall in Minnesota.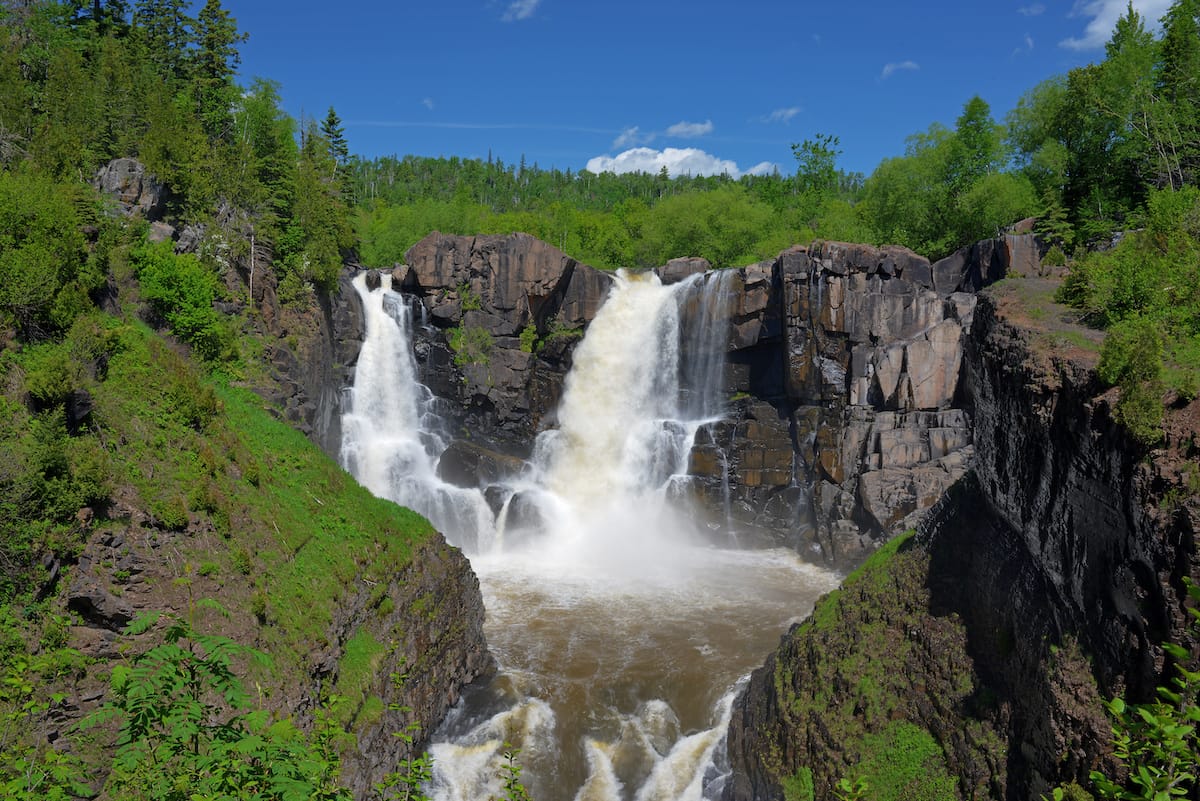 Climb to the summit of Mount Josephine to find a panoramic view of Lake Superior, Susie Islands, and Grand Portage Bay.
Visit the basecamp with the flawless snowmobile trail network or check out one of the 12 snowshoeing trails for active sports.
Finally, you can try your luck at the Grand Portage Lodge & Casino and finish the day drinking cocktails in the lounge bar.
4. Itasca State Park
The oldest state park in Minnesota, Itasca State Park, welcomes over half a million visitors every year who come to see the untouched wilderness stretching across 32,000 acres.
But mostly, the park is visited by the Mississippi headwaters, taking their 2,552-mile journey to the Gulf of Mexico.
The natural and historical landmark offers year-round recreational opportunities.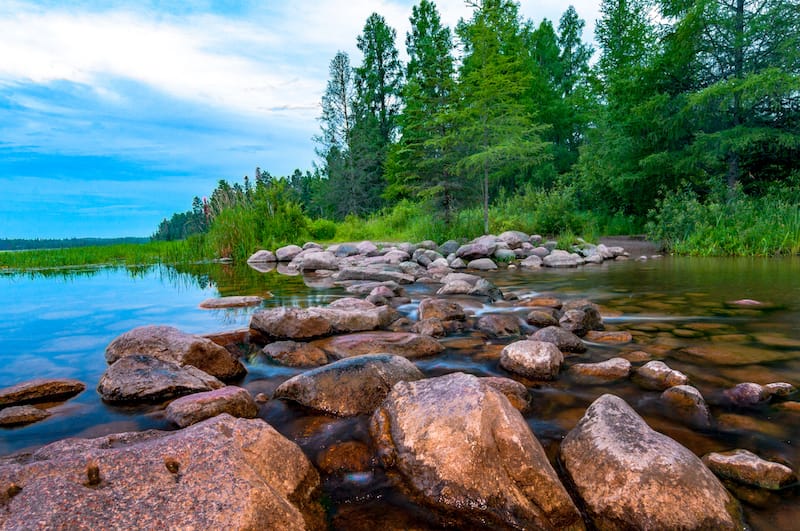 Spend a day or two going hiking, canoeing, fishing, snowmobiling, or camping to enjoy the starry night.
Start your tour to Itasca State Park from the Brower Visitor's Center and continue to Wilderness Drive, circling the park to the Itasca Wilderness Sanctuary to watch birds and wildlife.
In the end, don't forget to walk across the source of the Mississippi; it is said those who cross the river will have a long, happy life.
5. Lutsen
Discover a wide range of winter activities available in the Lutsen Mountains ski area, featuring four interconnected mountains with 95 runs occupying over 1,000 acres.
Whether you want to go kayaking, fishing, swimming, or skiing down the slopes, Lutsen Mountains will become your perfect escape from the city.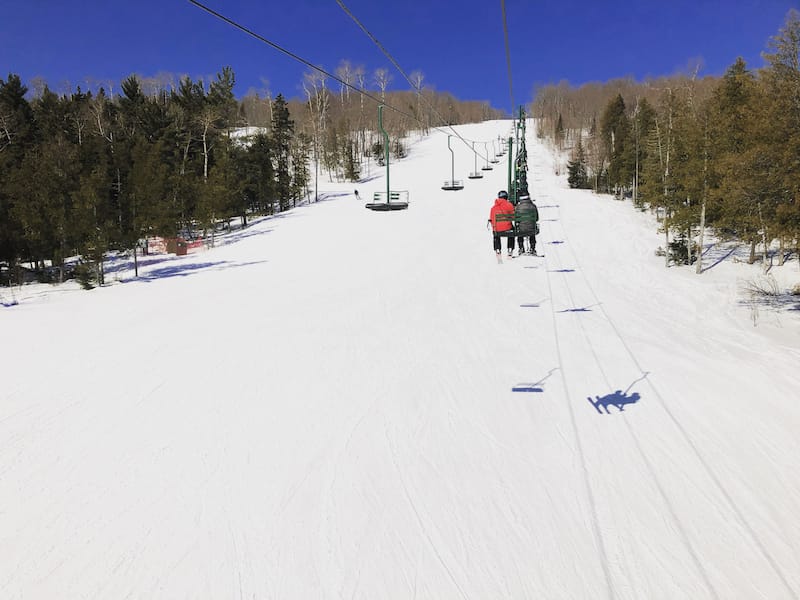 Your first stop is Summit Express Gondola, the newest attraction in the Lutsen Mountains and one of the most popular experiences during summer and fall.
Your scenic ride to the summit of Moose Mountain will lead you to Summit Chalet with a massive terrace overlooking Lake Superior where you can enjoy your meal and embrace the beauty of the surrounding mountains.
6. Mankato
Nestled in the emerald-green valley of Southern Minnesota, Mankato is a remote destination with so many wonders that you'll want to visit again and again.
Warm and cozy throughout the year, Mankato is a great escape from the summer heat and winter colds.
The scenic river valley stretching over 50 miles has multiple paved trails perfect for hiking, biking, and leisurely walking.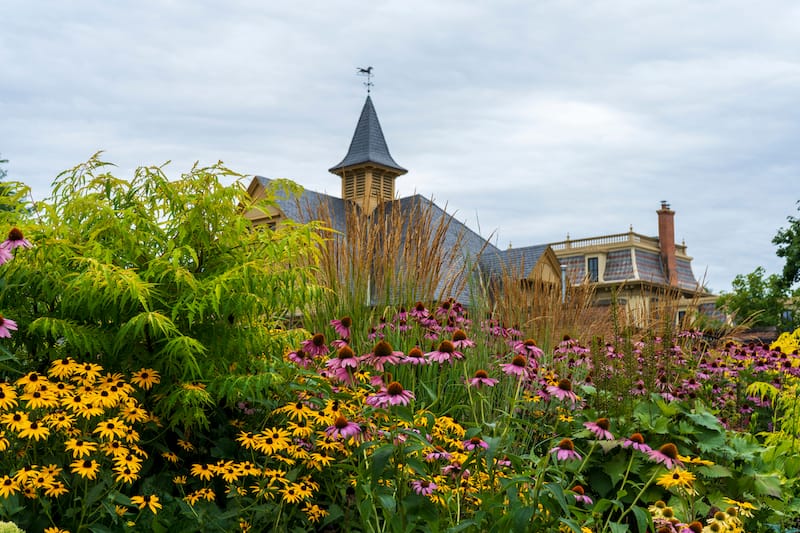 You can try your hands at fishing, take adventure rafting down the river, or conquer the rock climbing wall at Myers Field House for more active sports.
After a long day full of activities, you can have a great meal and local wine at the Chankaska Creek Ranch and Winery.
Back in the town, go shopping to find some local delicacies and specialty items in Old Town along Riverfront Drive and Belgrade Avenue.
7. Brainerd
Located along the Mississippi River, Brainerd is known as Minnesota's vacationland.
With over 500 lakes, multiple rivers, gorgeous forests, and pristine parks, Brainerd and its surrounding area can be considered an outdoor paradise.
This town is your top choice for both winter and summer activities.
If you are more of a summer person, be ready to enjoy boating, jet skiing, biking, wakeboarding, kayaking, and golfing.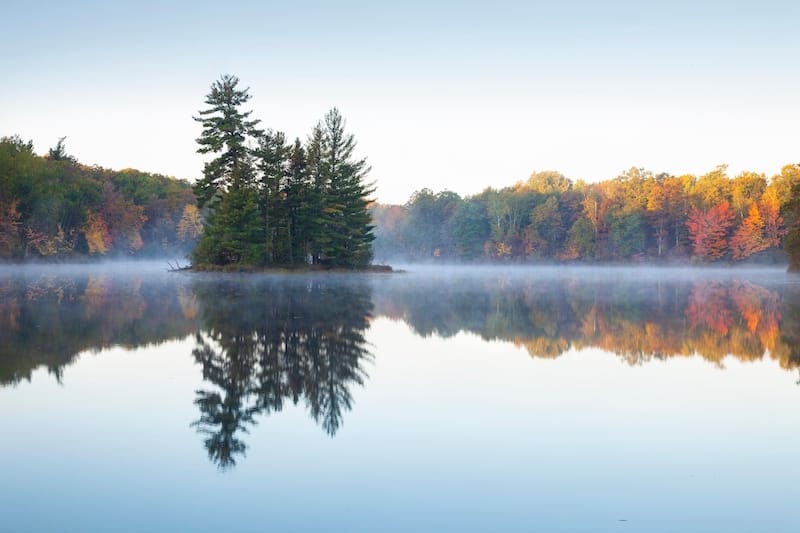 Once the snow starts to fall, you can grab your equipment for snowmobiling, snowboarding, skiing, tubing, and snowshoeing.
Regardless of the season, there is always something to do in Brainerd.
For example, you can take Minnesota's largest Paul Bunyan Stay hiking trail, visit Safari North Wildlife Park with hundreds of animals, or make a hot lap on the Upper Midwest's biggest race track, Brainerd International Raceway.
Want some good food and drinks? Find all sorts of craft beer, including an award-winning pepper beer in Jack Pine Brewery, or finish your day in 5Rocks Distilling Co. with craft cocktails.
8. Mississippi National River and Recreation Area
Start exploring the Mississippi River and its magnificence in the National River and Recreation Area Minnesota, a 72-mile river park that has so much to offer.
As one of the world's most unique floodplain ecosystems, it is a major contributor to the culture, ecology, and economy of the United States.
The park offers all kinds of year-round activities, making you closer to nature and wildlife.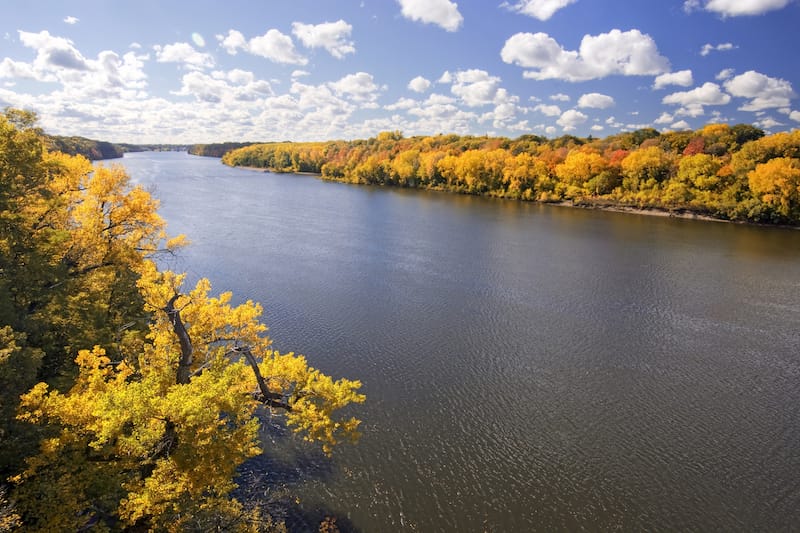 Start exploring the history of the river and the region from the visitor center, and continue hiking or kayaking through the park.
Another visitor center is located on the Upper St. Anthony Falls Lock and Dam with a panoramic view.
If you visit the park with your kids, they would love to be part of Junior Rangers and get rewards while exploring the park.
9. Saint Paul
The capital of Minnesota, sitting on the east bank of the Mississippi River, offers all the big city attractions and activities with small-town manageability.
The scenic city mixes modern lifestyles and old mansions, boutiques, and natural wonders.
One of the best ways to explore the surroundings is to take a hiking tour of the Bruce Vento Regional Trail, which includes White Bear Lake and the Bruce Vento Wildlife Sanctuary.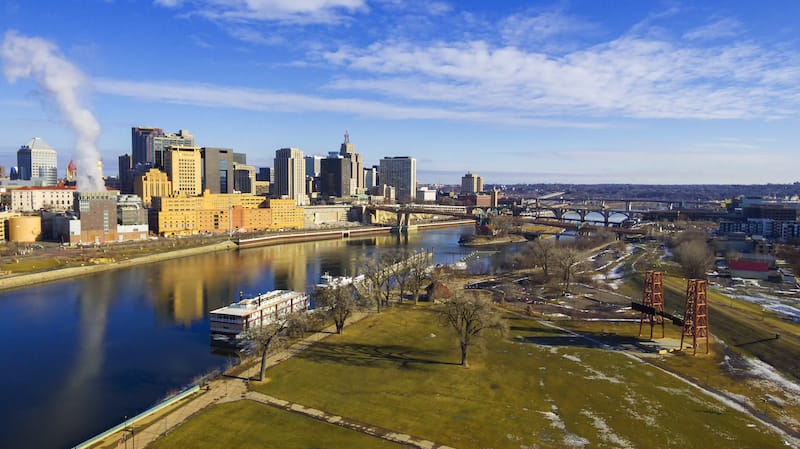 To learn more about the history of Minnesota, you can visit the Minnesota History Center, the Minnesota Transportation Museum with the first locomotives and Pullman coaches, the Jamel J. Hill House- the mansion of the Northwest's "Empire Builder," and the Fitzgerald Theater.
Back downtown, have a delightful dinner with locally-sourced seasonal ingredients at the Meritage restaurant, taste the award-winning Izzy's Ice Cream, and finish your day in Wabasha Street Caves, a former speakeasy that holds regular live concerts.
10. New Ulm
Named after a German community, New Ulm is an attractive city with a mix of cultures, centuries full of history, and attractions.
Spend a weekend and take your time to visit top popular attractions and enjoy a laid-back vibe.
Take a walk through the history of music in the Minnesota Music Hall of Fame which honors great names such as Prince, Bob Dylan, the Andrews Sisters, and other lesser-known artists.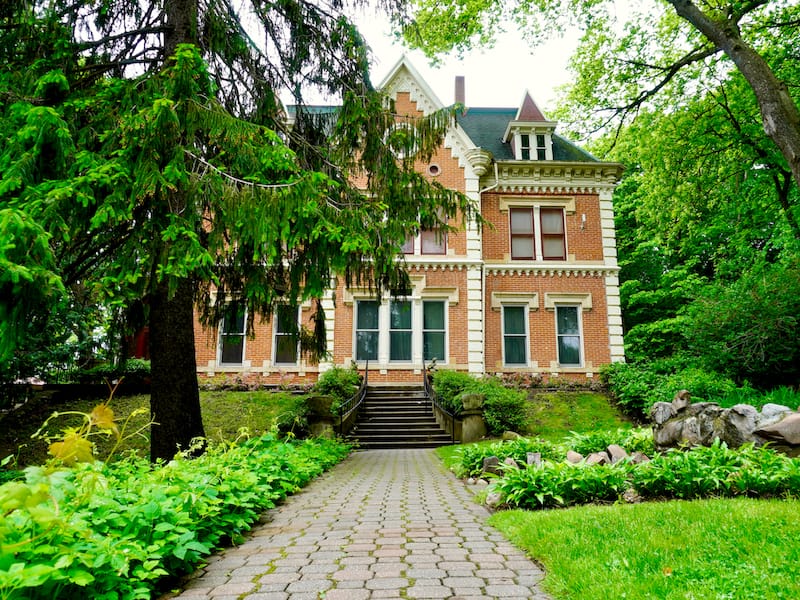 Immerse yourself in the history of New Ulm, walking about the streets of the downtown with 19th-century buildings and the historical houses of John Lind and Kiesling.
As part of your cultural program, take a tour of the August Schell Brewing Company, America's second-oldest family brewery, and taste traditional dark lager.
If you are more of a wine person, visit Morgan Creek Vineyards to taste over 15 varieties of local wine.
11. Lake Minnetonka
Located in western Minnesota, Lake Minnetonka is the 10th largest lake in Minnesota, boasting more than 14,000 acres of water (roughly 22 square miles) and more than 100 miles of shoreline.
The natural attraction offers something for everyone. The summer season is undoubtedly one of the best times to visit Lake Minnetonka.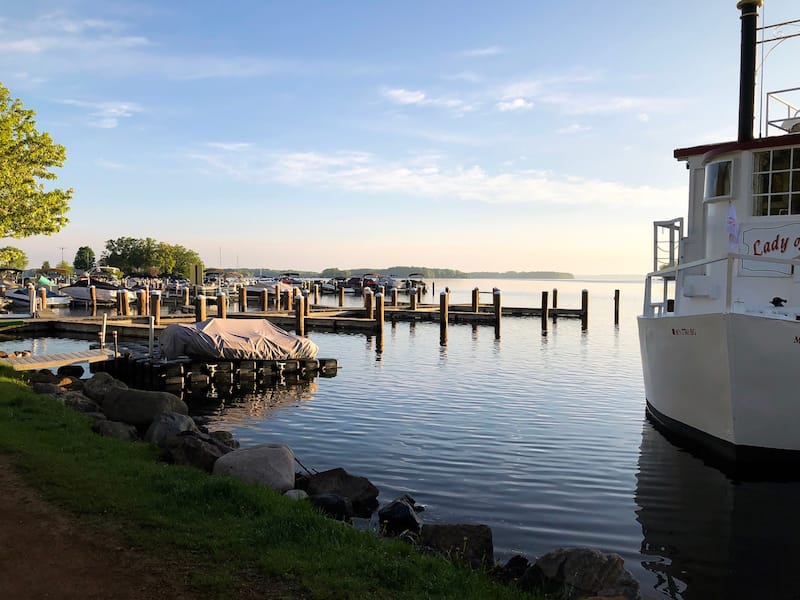 However, if you want to embrace the tranquility and serenity of nature, consider visiting the lake in the spring and fall.
Cold weather is celebrated here with lots of winter activities: snowmobiling, snowshoeing, or ice fishing.
12. Minneapolis
Whether you're looking for outdoor activities or some of the country's most renowned museums and theaters, Minneapolis has something to please everyone.
For families, the best things to do in Minneapolis are the Minnesota Zoo, the Sea Life Minnesota Aquarium, farmers' markets, and the children's theater.
If you are planning your visit, make sure to stay here for a couple of days so you can truly explore the city.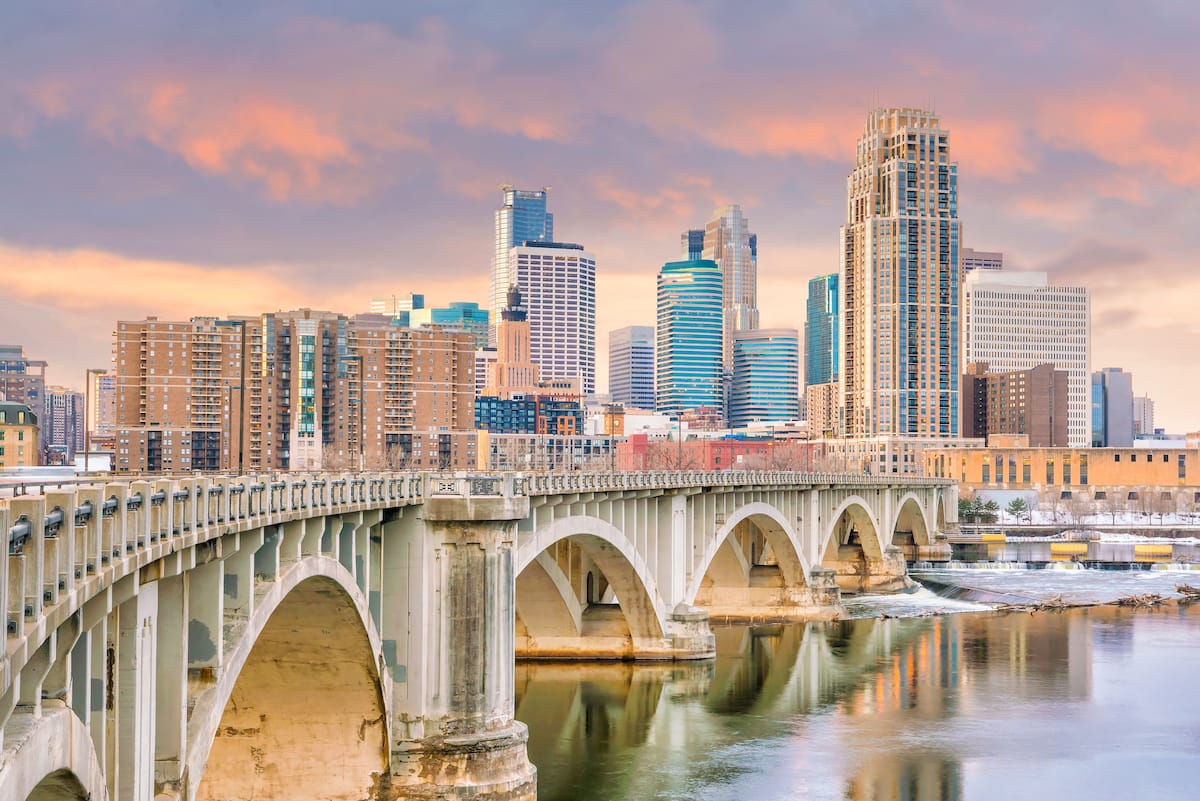 Don't miss out on the beautiful scene of Minnehaha Falls in the Regional Park, or explore the nature of the Richardson Nature Center with reptiles, raptors, and eagles.
Chain of Lakes offers beautiful scenery, including the Lake of the Isles, Bde Maka Ska, and Lake Harriet.
Don't miss out on snowboarding and snowshoeing at Theodore Wirth Park or explore the 3,700-year-old Quaking Bog loop hiking trail.
In fact, there are hundreds of things to do with the active nightlife and culture that you will love in Minneapolis (and its amazing day trips!).
13. Boundary Waters Canoe Area and Wilderness
Visit one of America's most remote and beautiful places where the horizons are clear and nature is pure.
On the wilderness of 1,098,000 acres, you will find over 1,100 lakes and 1,500 miles of canoe routes, a classic adventure through the most exciting places of Boundary Waters.
There are no roads or buildings nearby- just nature and vast waters for paddling.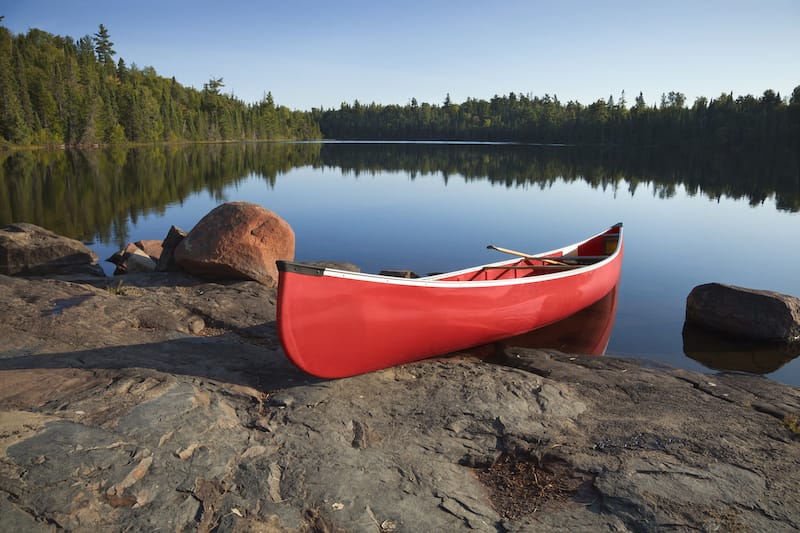 You can create your own adventure trail or follow a loop trip canoeing from one lake to lake, making stops for fishing, or settling a camp.
The best season for canoeing in the Boundary Waters is from May to September, with open fishing season up to early June.
14. Pipestone National Monument
A sacred site for Native American tribes, the Pipestone National Monument offers a unique opportunity to explore the culture and natural resources of the tallgrass prairie.
The best way to explore the territory is to take the 1.4-mile-long loop trail, which is open year-round.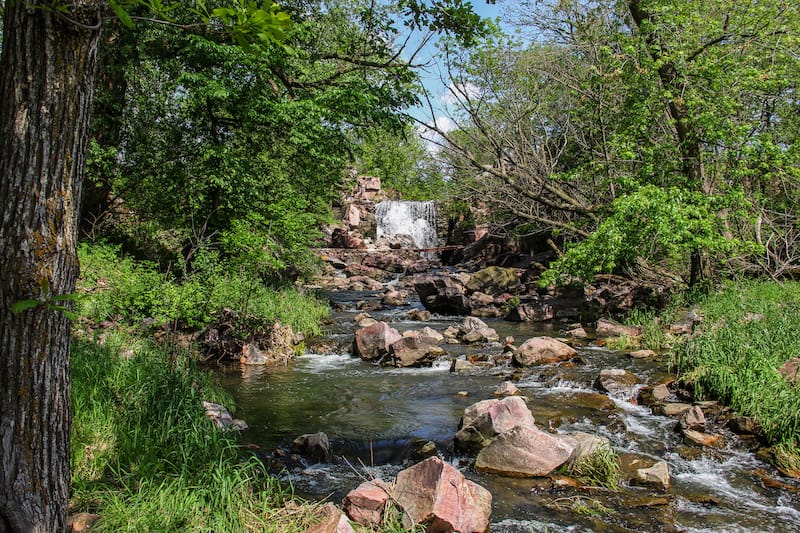 Your tour at the Pipestone National Monument starts at the visitor center, where you can learn more information about the facilities, rules, and working hours.
If you have planned your visit from May to October, you will have a chance to take part in pipestone carving demonstrations by Native Americans.
You will discover the tallgrass prairie remnants, the pipestone quarry, a picturesque waterfall, and natural rock formations during your tour.
15. Red Wing
Red Wing is an authentic representation of the Midwest with a blend of charming landscapes, small-town vibes, and part of the beautiful nature of Minnesota.
Sitting on the sharpest bend of the Mississippi River, the town and Frontenac State Park are wonderful places for hiking, golf courses, cross-country skiing trails, and observing wildlife.
More places not to miss in Red Wing are Lake Pepin, Barn Bluff, and Cannon Valley Trail.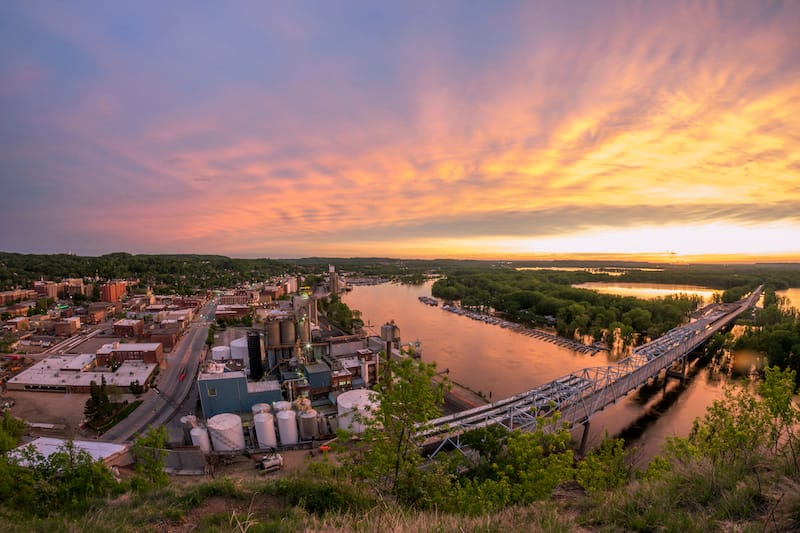 The nature aspect is what makes this one of the best day trips from Minneapolis!
Head back to the town to explore the historic pottery district with shops and the famous Red Wing Shoes.
A hub of unique dining experiences, Red Wing invites you to take a culinary adventure with craft cocktails and flavorful dishes in restaurants like Scarlet Kitchen & Bar or The Port.
16. Rochester
Minnesota's third-largest city, Rochester, is a dynamic city home to historical sites, hiking trails, and a friendly atmosphere.
With over 100 parks and trails, you may start exploring Rochester from Silver Lake for wildlife watching, hiking, or canoeing.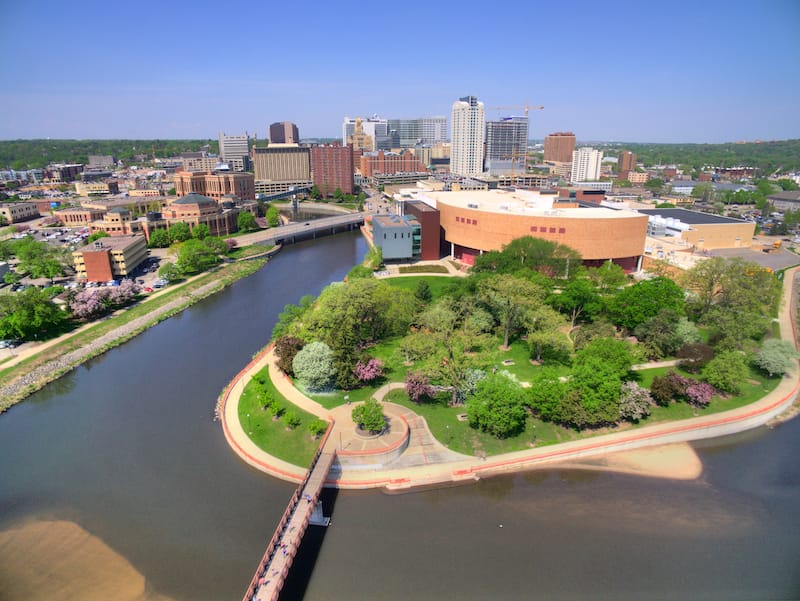 Take a historic trolley tour of Rochester's top sites if you are looking for more to see in the town.
Then, you can head to downtown Rochester for shopping and dining.
When planning your trip from July to August, be sure to take part in an all-day block party on Thursdays that brings culture, arts, music, and food to Rochester Downtown.
17. St. Cloud
Officially established in 1956, St. Cloud is rapidly becoming one of Minnesota's most prominent and fast-developing cities.
It attracts guests with a unique flair of hometown and an easy-going feel.
As part of a Minnesota trip, St. Cloud may turn out to be a hidden gem in your travel experience.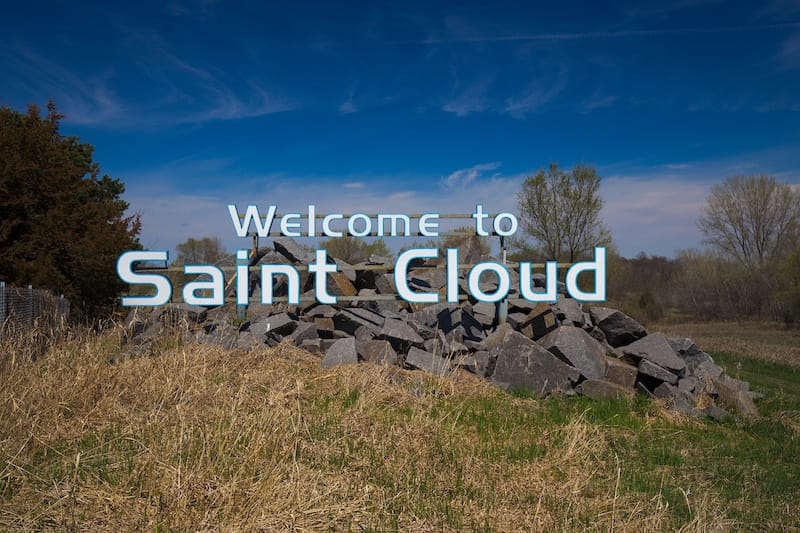 Start your day with a morning visit to the Paramount Theater of Visual Arts to check out the exhibitions and gift shop.
Spend an afternoon exploring one of the many picturesque golf courses, take a bike ride along the Wobegon Trail, or stroll through Quarry Park and Nature Preserve to breathe in the clear air of St. Cloud.
Lastly, finish your day at Pioneer Place, enjoying your dinner and city vibes.
18. Bloomington
Bloomington is home to the world-famous Mall of America with hundreds of things to do in one place that will keep you busy for hours and hours.
However, the city will surprise you with the Minnesota Valley National Wildlife Refuge, which includes 46 trails to enjoy hiking, fishing, and viewing wildlife.
The Mall of America is the top tourist destination in the state. It is a world-class shopping destination hosting over 400 events annually.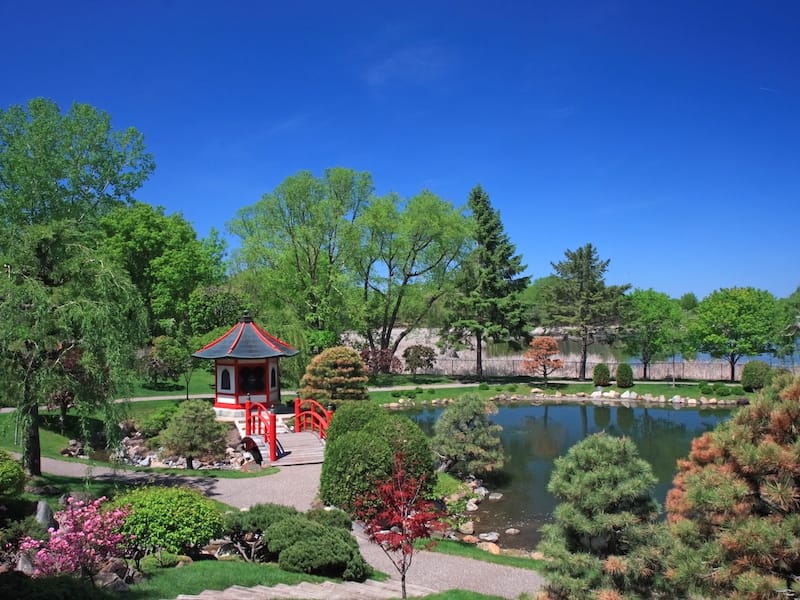 Just imagine, over 40 million people visit its entertainment centers every year.
Here you will explore a theme park, family-friendly attraction, Sea Life aquarium, and restaurants with signature food.
The Mall of America is like a small town of its own.
19. Taylors Falls
Taylor Falls, one of Minnesota's most historic river towns, is your top choice for outdoor adventure, filled with history and the wonders of nature.
Start exploring the town in Interstate State Park, an excellent place for kids and adults to explore glacial potholes, which are mystic holes in rocks formed over 10,000 years ago.
Then, check out the River Trail to discover incredible views of the St. Croix River and finish your trip on the Sandstone Bluffs Trail, conquering steep inclines.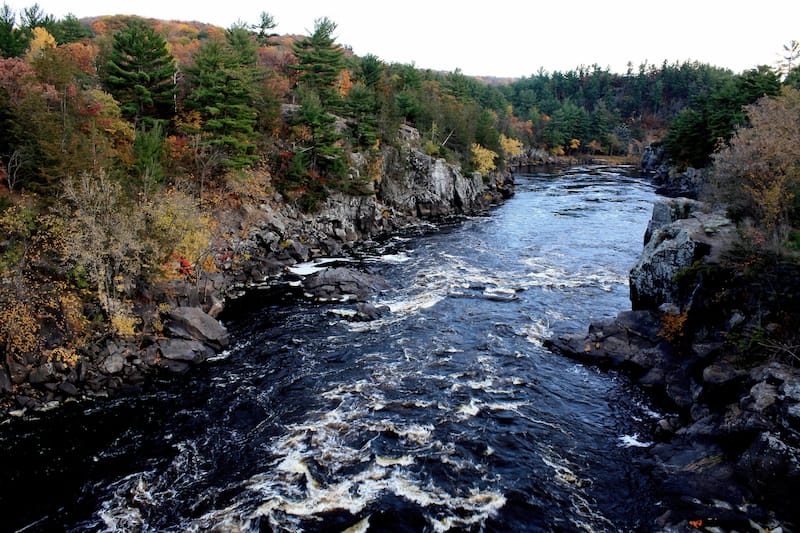 After a long and tiresome hike, grab a bite to eat at Duke Burger, making sure to try out its signature burger and root beer.
Don't forget about a cup of coffee from Coffee Talk, a unique coffee shop in an old Victorian-style house.
Finally, stay in a cabin in the woods to savor the atmosphere of Tailor Falls.
20. Banning State Park
Known for its recreational activities and unique nature, Banning State Park is one of the best places to visit in Minnesota.
With seven hiking trails, the park attracts thousands of outdoor adventure lovers.
If you want to take a short trail and experience the beautiful nature in Banning State Park, choose Wolf Creek Falls Trail, a hidden gem looping near Sandstone.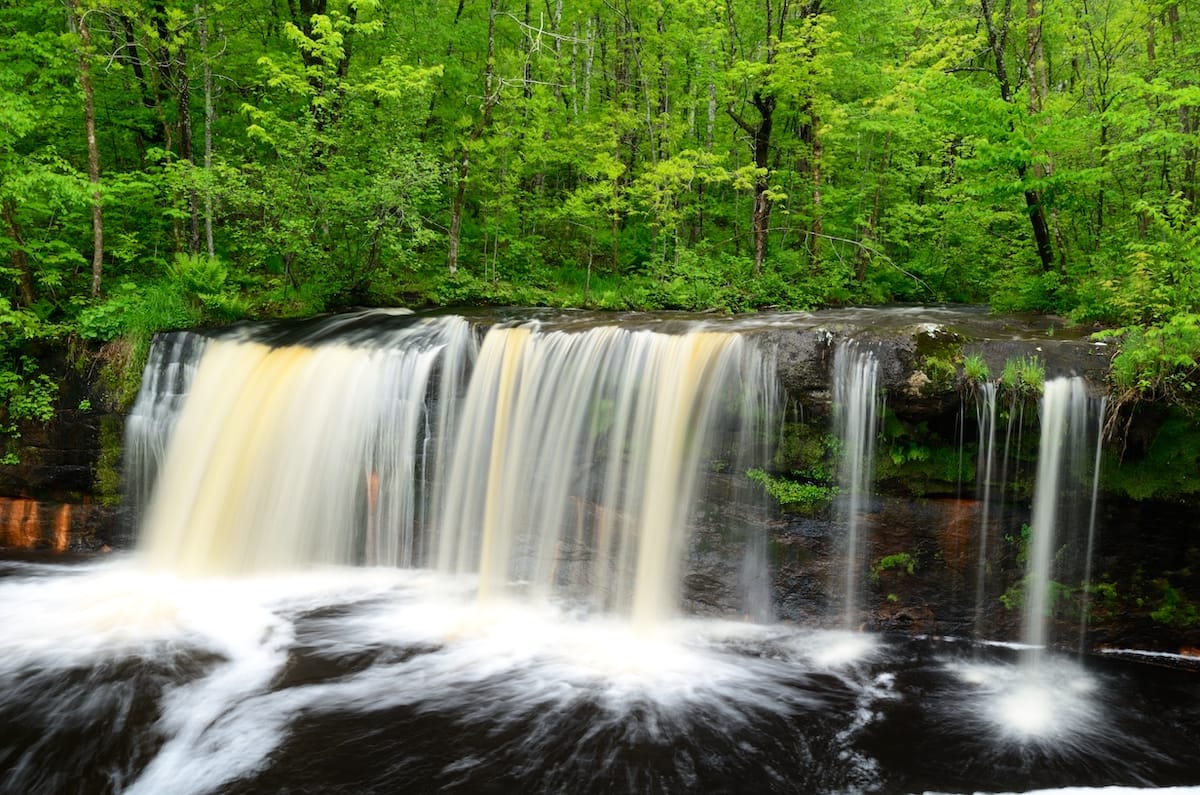 This 1.5-mile trail will take you about 40 minutes to explore with rocky areas closer to the falls, challenging your hiking skills.
The trail and the sign markings will lead you to the waterfall, starting at the parking lot.
Late spring and early summer are ideal for witnessing the waterfall in all its glory.
21. Duluth
The natural beauty of Duluth is hard to beat with any other city's views, so if you are an adventure lover, you will find diverse all-season attractions in this seaport city.
Start discovering Duluth with the dramatic vistas of Lake Superior at the waterfront Canal Park with waterfalls, Sawtooth Mountains, cliffs, and beaches.
Next, check out the 39-room Glensheen Mansion, considered to be the most visited home in Minnesota, which features authentic furnishings, gardens, and bridges from 20th-century Duluth.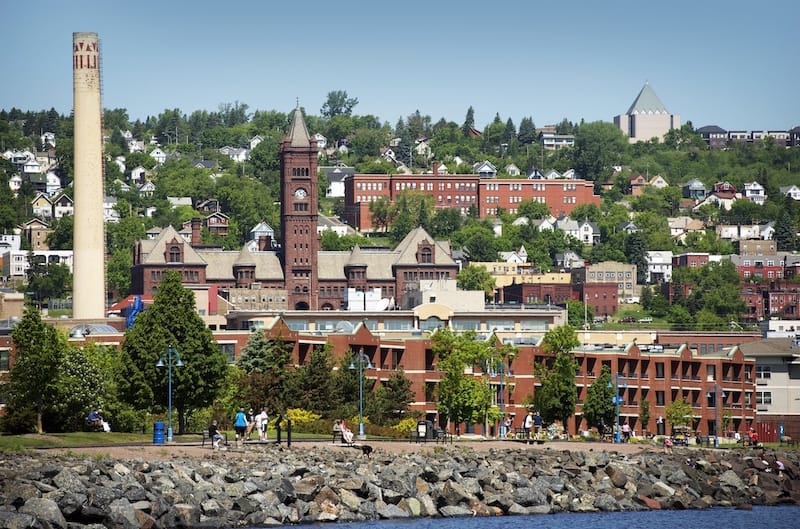 Dog lovers are invited to the Positive Energy Outdoors with animal-powered exploration to experience dog sledding, sleigh rides, rock climbing, ice climbing, and so much more.
Being the birthplace of the iconic Bob Dylan, most attractions in the town are based on his name, such as the Duluth Dylan Fest or the two-mile-long Bob Dylan Way with landmarks and cultural attractions.
22. Two Harbors
The beautiful lakeside town nestled along Lake Superior boasting a rich history is a true vacationing goldmine of Minnesota.
Your journey across the attractions of Two Harbors should start from the historic Split Rock Lighthouse, where you can have a truly impressive photoshoot, enjoy picnicking, or hike through 14 miles of trails to discover Gooseberry Falls.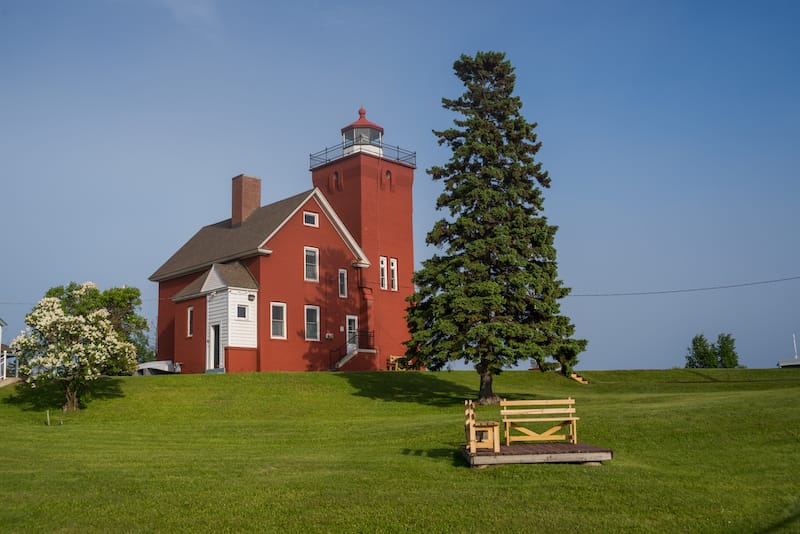 Out of energy? Grab a cup of coffee at the Cedar Coffee Company, featuring an array of coffee and snacks.
For traditional American cuisine, visit Betty's Pies, serving all your favorite dishes and over a dozen pies.
23. Grand Marais
Named America's Coolest Small Town, Grand Marais is a beautiful seaside village in the Northeast or Pacific Northeast.
Whether you're looking for quirky, artsy activities or adventures outdoors, Grand Marais offers it all.
Start exploring the town from Artist's Point, a peninsula with vivid watercolors and views of Lake Superior.
Be sure to wear comfortable walking shoes to walk along the breakwater wall.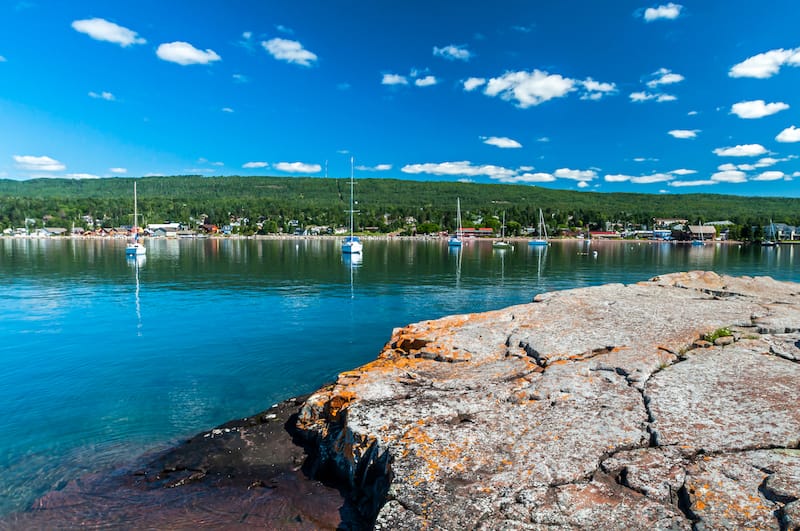 World's Best Donuts is neither a historic site nor a natural attraction, but it is a worthy place to visit and taste some of the best donuts around.
Make sure to get there in the morning hours, because when the donuts are gone, they're gone.
Finally, don't miss out on the Grand Marais shops to find unique handicrafts, retro candies, antiques, and artwork.
24. Winona
Being in the most tropical part of the state, Winona is often called the Miami of Minnesota, loaded with attractions and activities to enjoy.
Embrace nature in the parks of Winona, starting with Lake Park with its winter ice rink and fishing experience.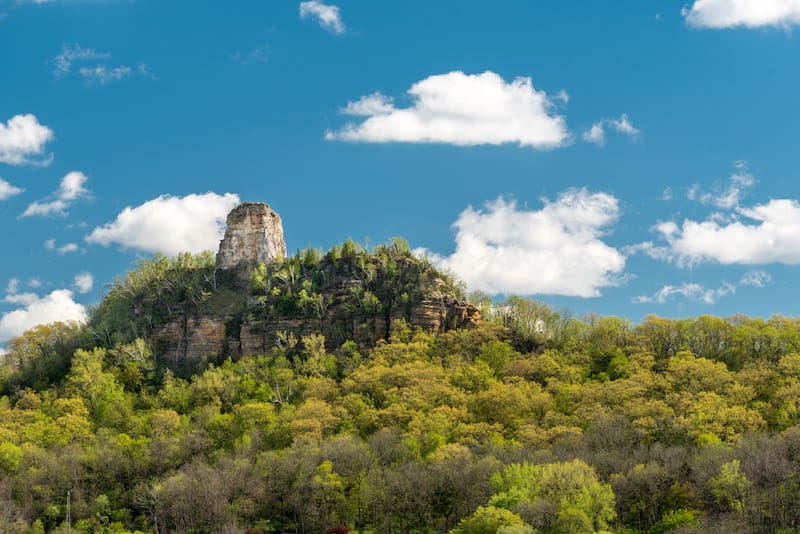 Visit Garvin Heights Park for hiking or choose Prairie Island Campground to stay overnight in nature and start the morning with yoga.
Looking for a good dining spot in Winona? Lakeview Drive-In, the oldest restaurant in Winona, is a perfect spot to enjoy delicious food with homemade root beer.
And, many visitors agree that the restaurant serves the best ice cream in Minnesota.
25. St. Croix River
The St. Croix River, a national riverway running across Wisconsin and Minnesota, offers one of the most picturesque views with tons of outdoor activities and attractions to explore.
As an outdoor enthusiast, start your adventure canoeing or kayaking across the St. Croix and Namekagon rivers with fun rapids and slow stretches.
Also, explore four Minnesota State Parks across the St. Croix to test your hiking skills. If you have never practiced geocaching, there St. Croix Valley will give you an unforgettable outdoor treasure-hunting experience on its vast lands.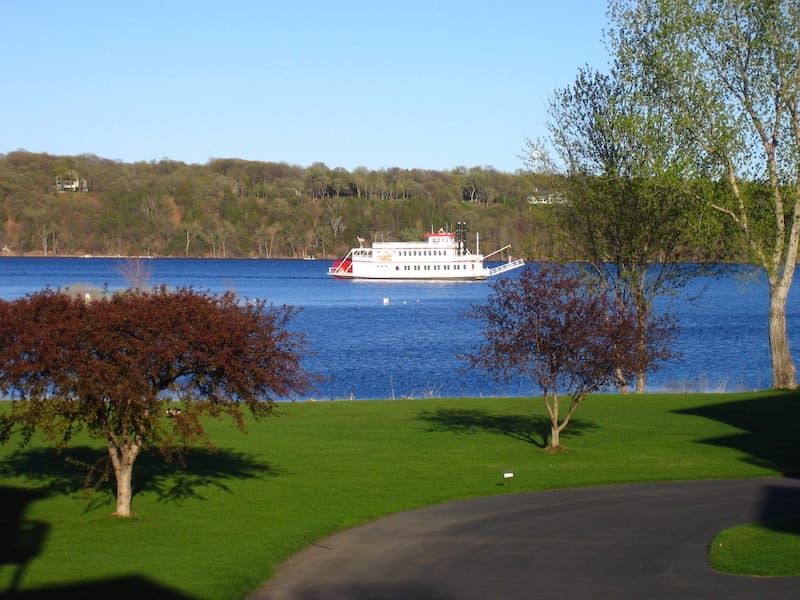 Make a stop at Osceola Landing, the busiest spot for a lunch break on a sandy beach.
Or, you can even stay overnight at Sandrock Cliffs campsite to enjoy river activities and night talks by a big campfire.
Did we miss any of the best places to visit in Minnesota in this guide? Let us know which destinations should be on every Minnesota bucket list in the comments!
More Minnesota Travel Guides
Pin This Minnesota Destinations Guide