Are you searching for the most beautiful waterfalls in Minnesota? We have you covered!
Are you planning your Minnesota trip last minute?
🚗 Renting a car in the USA: Discover Cars is our top pick for rental cars in the USA and abroad! They have several add-ons and also offer full-coverage insurance as an option. They also have a huge inventory of cars to choose from – something suitable for every traveler!
🇺🇸 Visiting any US National Parks along the way? Get your National Parks Pass for only $79.99 here!
🛌 Booking a hotel in the USA: We use Booking.com for all hotels in the US – many also offer last-minute cancelation.
This guide details some of the best Minnesota waterfalls that are musts for any state itinerary!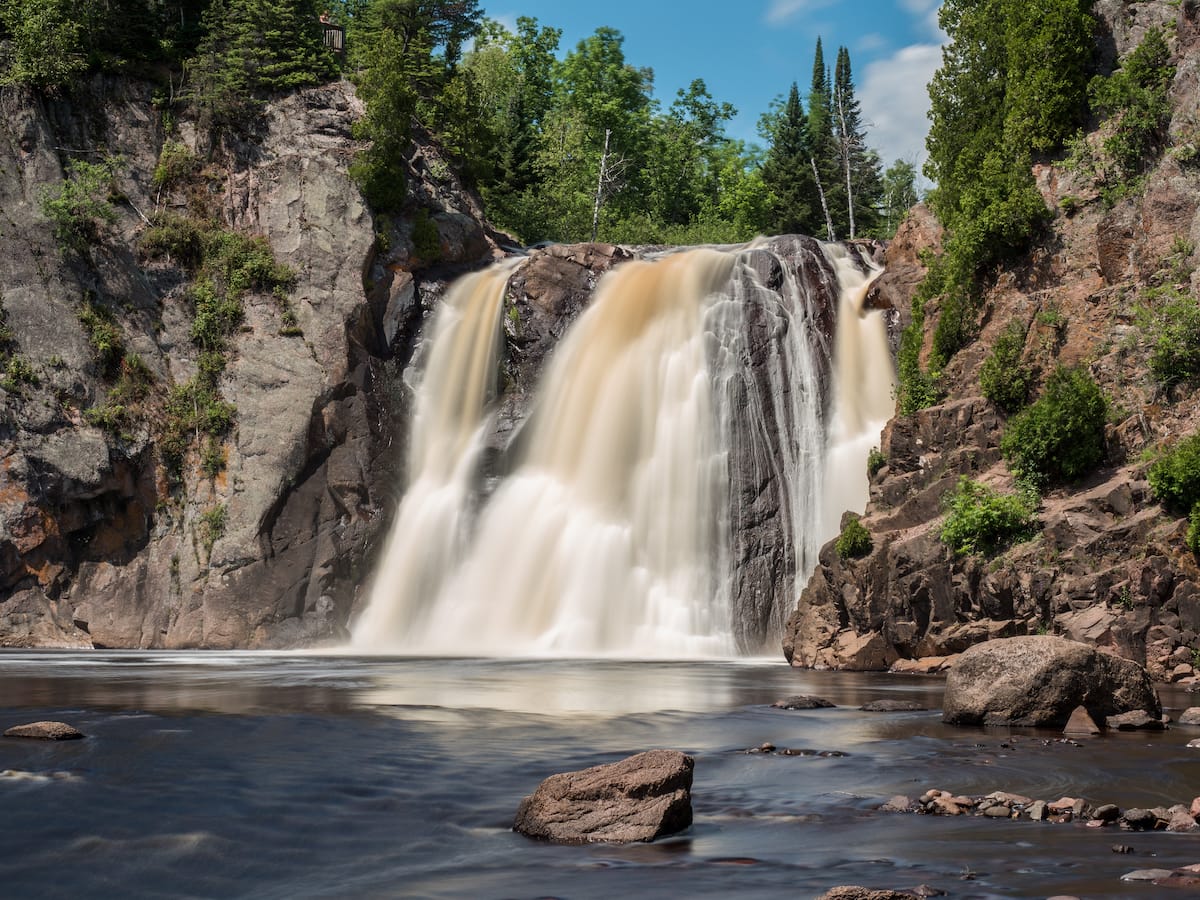 Many of these waterfall hikes in Minnesota are popular spots and others are a little lesser-known!
One thing to note is that these waterfalls are among some of the best places to visit in Minnesota and we hope you get a chance to visit a few (or all!) of them.
Let us know if we missed any of the best waterfalls in Minnesota in the comments. Thanks!
Best Waterfalls in Minnesota
1. High Falls
Location: Tettegouche State Park
If you want to see a waterfall but don't want to spend hours hiking in questionable terrain, visit High Falls in Tettegouche State Park.
By taking a short hike, you can easily reach the waterfall and enjoy the view.
Once close to High Falls, you can stand on the wooden platform and enjoy the view from up above.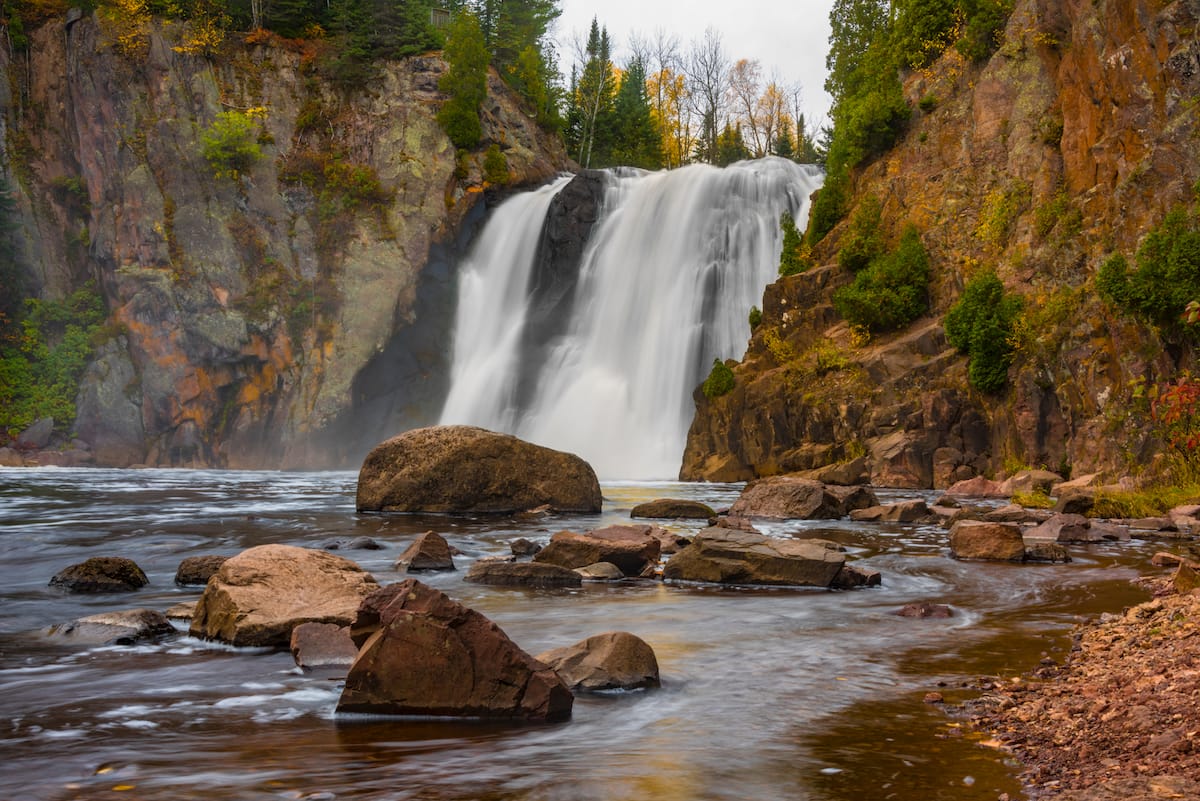 Then, you can continue the trail where you'll come across hundreds of stairs, and then you'll reach the suspension bridge where you'll cross and end up in Two Step Falls.
There, you'll see little sets of waterfalls.
High Falls is also a great place to go camping as well.
For a day of relaxation and time in nature, make sure to check out High Falls and its little waterfalls.
2. Gooseberry Falls
Location: Gooseberry Falls State Park
Since 1933, efforts in preserving the area surrounding Gooseberry Falls have been taking place.
The place has a real rustic feel as the buildings all have very "New England" vibes.
They portray the rich historic background of the area and are a reminder to all to preserve both nature and architecture as they both tell incredible stories about mankind and the human brain.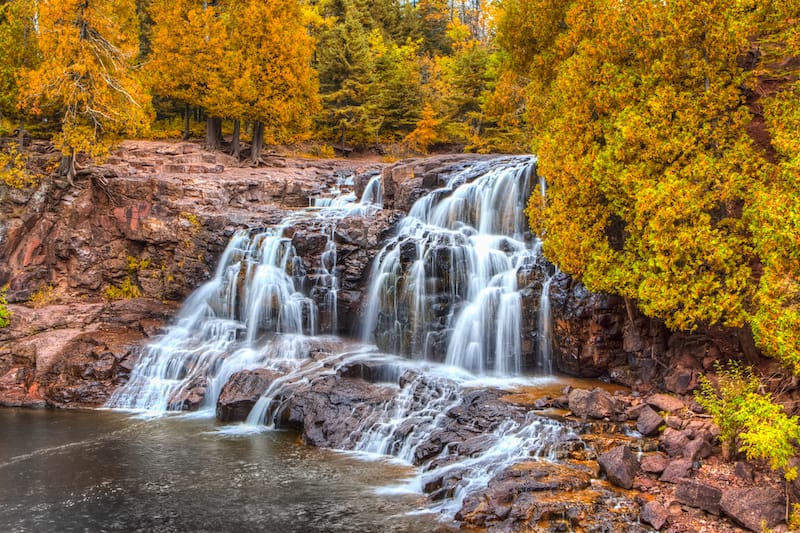 The park is also home to an abundant amount of wildlife so don't be alarmed if you have a run-in!
When admiring the beauty of the place, make sure to not miss the most interesting part, the waterfalls!
They are absolutely beautiful and truly a sight for sore eyes.
Come and stop at this old-timey park where the architecture with a glimpse of the past is portrayed and also the environmentalism and ecological issues are widely spread and acknowledged.
3. Minnehaha Falls
Down by Minnehaha Falls, you can experience a once-in-a-lifetime experience as it is one of the most popular places to visit.
It has many attractions as well as some other things that locals, as well as visitors, can take part in.
They have various outdoor activities like biking, swimming, and golf. If you want to spend some time relaxing in nature, brace yourself for a time of excitement and intrigue!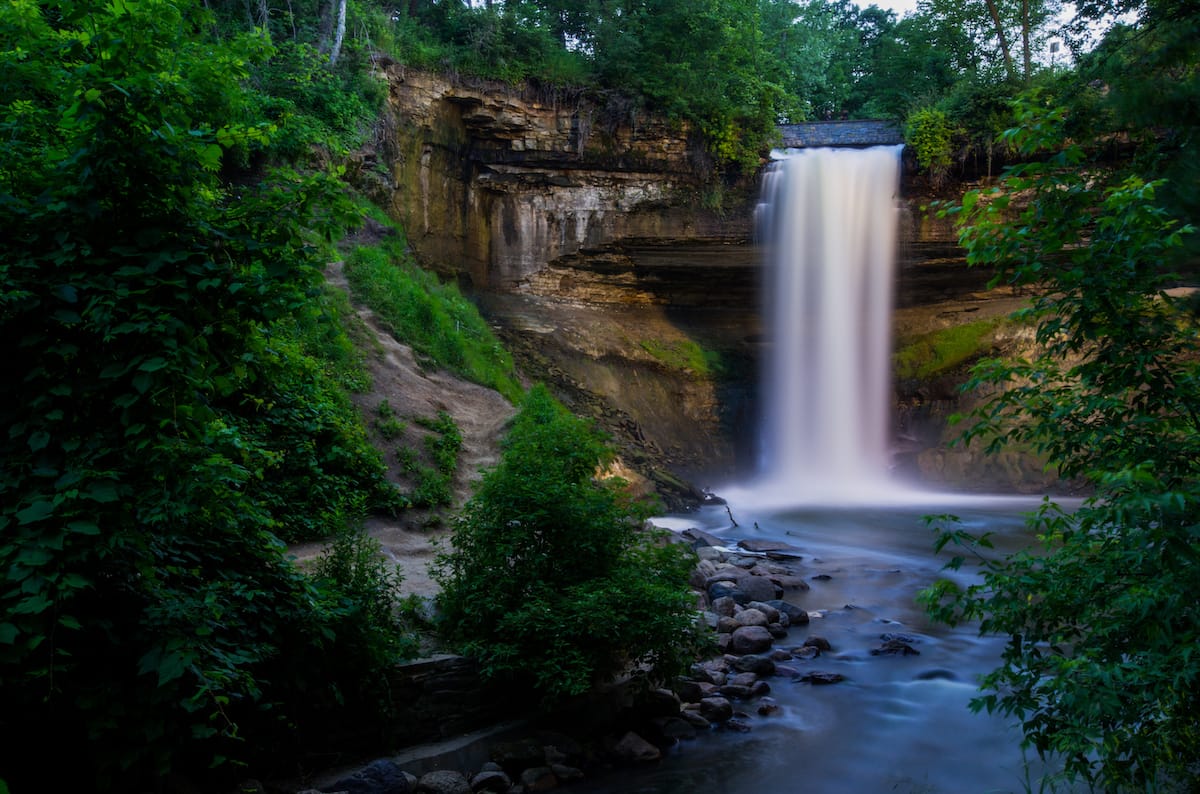 Head on down to Minnehaha if you want to disconnect from all the chaos we all have daily.
Make sure to check out their website for more information as well.
There is also a playground for children so you can come with the entire family and there would be something to do for everyone!
4. Hidden Falls
Location: Big Woods State Park
Down by Big Woods State Park, you can hike to the Hidden Falls waterfall which is unique and truly relaxing.
Spend a day helping your body by hiking and being outdoors where you will be one with your surroundings.
The Big Woods State Park offers more than the waterfall, however. There are many environmental as well as educational programs offered to both children and adults.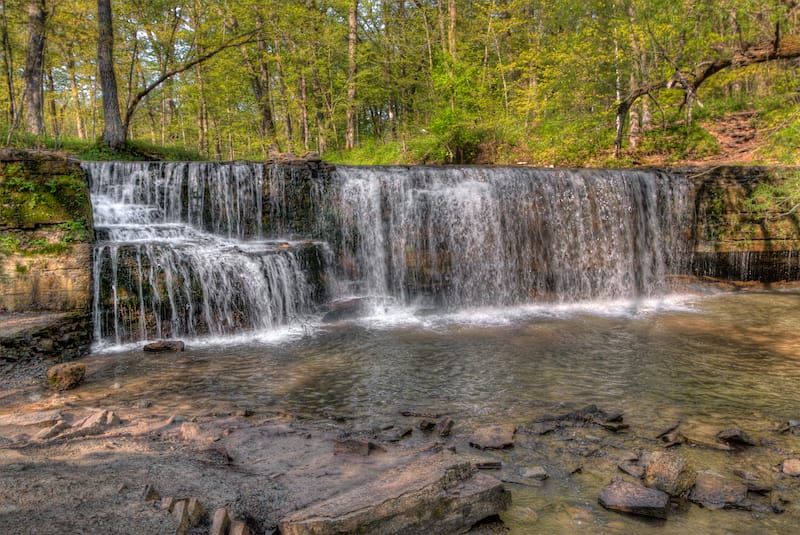 Many events take place as well such as scavenger hunts! Keep up to date with their website for more information.
They are open daily from 8 am to 10 pm. One of the things that make Big Woods State Park stand out is the Dwarf Trout Lilies which are endangered today.
When in the park, please make sure you only use approved firewood if you want to start a fire, and take all the necessary precautions.
5. Willow Falls
Location: Willow River State Park
In Willow River State Park, visitors have a variety of activities to choose from as the over 2,800 acres of the countryside are ideal for any type of fun thing to do!
For example, you can feel free to indulge yourself in fishing, paddling, and swimming at Little Falls Lake.
There are also miles of hiking trails along with campgrounds for families and other groups. Take a hike and spend a couple of days in the great outdoors, camping.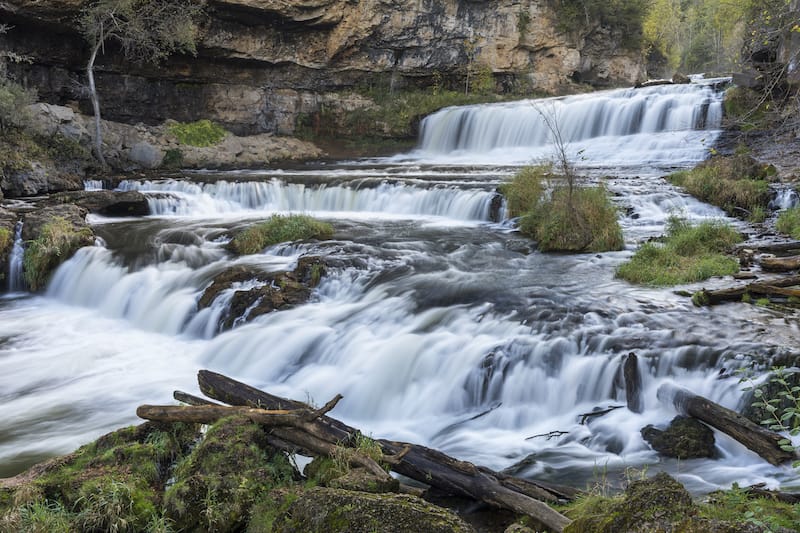 As always, please make sure to take all the necessary precautions when starting fires, having the proper equipment for whatever your activity of choice is, etc.
And, of course, don't forget to visit the Willow Falls waterfall and enjoy the spectacular view! Their hours are from 6:00 AM to 11:00 PM year-round.
For admissions, you don't need to buy a ticket but your vehicle does need a vehicle admission sticker.
6. Devil's Kettle
Now the Devil's Kettle is definitely one of the most interesting waterfalls in Minnesota. Scientists have been coming up with theories as to where the water flows to.
Locals have theorized that it splits and goes to Canada.
Some say that the water ends up in Lake Superior and others say that it re-enters the river from underground.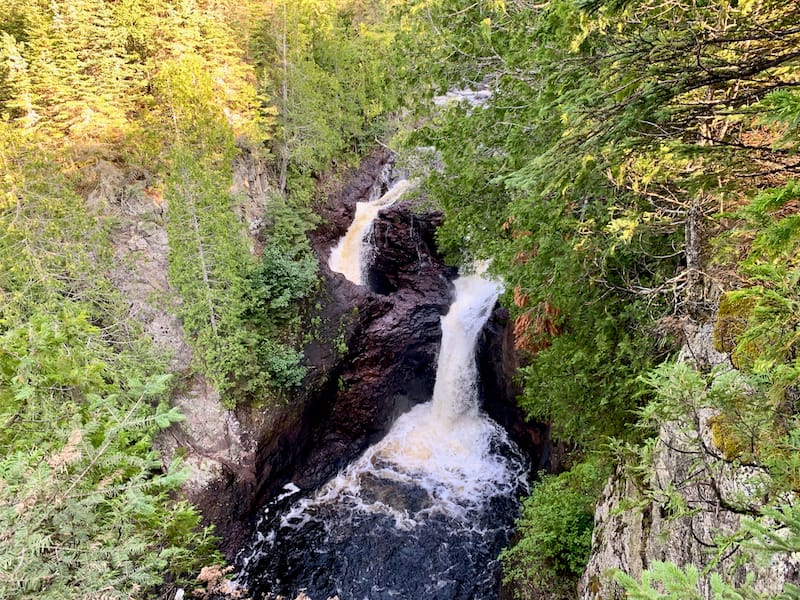 Whatever the case may be, the Devil's Kettle has been a mystery for all for a very long time.
The DNR now has a final theory which is that the water re-enters the river from underground. Some may disagree and consider that not to be the final answer.
The question will always remain for the locals. Come on down the waterfall to see the wonder that is this waterfall for yourself!
7. Ramsey Falls
In Ramsey Park, Ramsey Falls is one of the main attractions which lures people in! It is the largest municipal park in Minnesota and has a very wide range of things to do for all its visitors.
It serves as a focal point for festivals, community events, and summer activities.
There are also campgrounds where families and friends come together to spend a couple of days apart from civilization!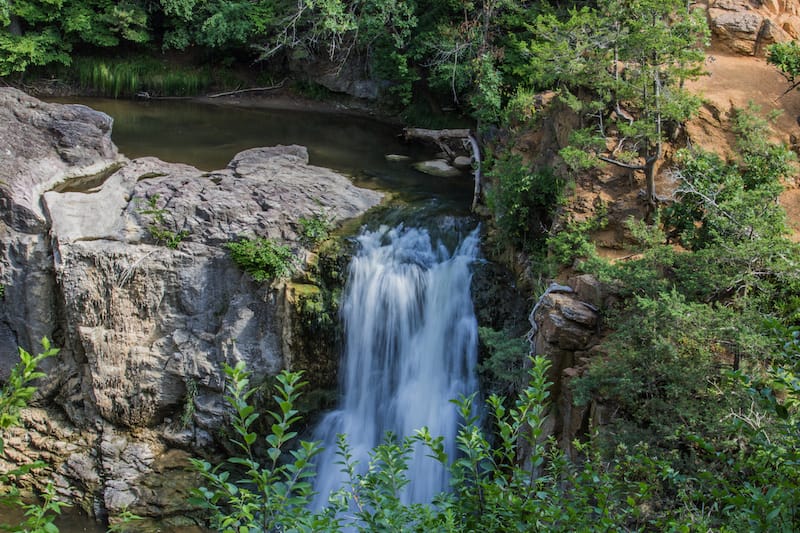 There are also four miles of paved hiking grounds where you can safely travel through the park and blow off some steam as well as have some fun!
They also offer park shelters that have five picnic areas you can use!
The park's picnic areas have been carved out of the natural woodlands and it gives the place a very authentic woodsy and rustic feel. And of course, the Ramsey Falls waterfall is located in the park.
8. Minnemishinona Falls
Minnemishinona Falls is an absolutely beautiful 42-foot-long waterfall located just outside of North Mankato.
It has an absolutely amazing overlook and is extremely accessible to reach.
With some not-too-crazy terrain, the Minnemishinona Falls waterfall is ideal if you want to reach somewhere to clear your mind and enjoy a nice view simply.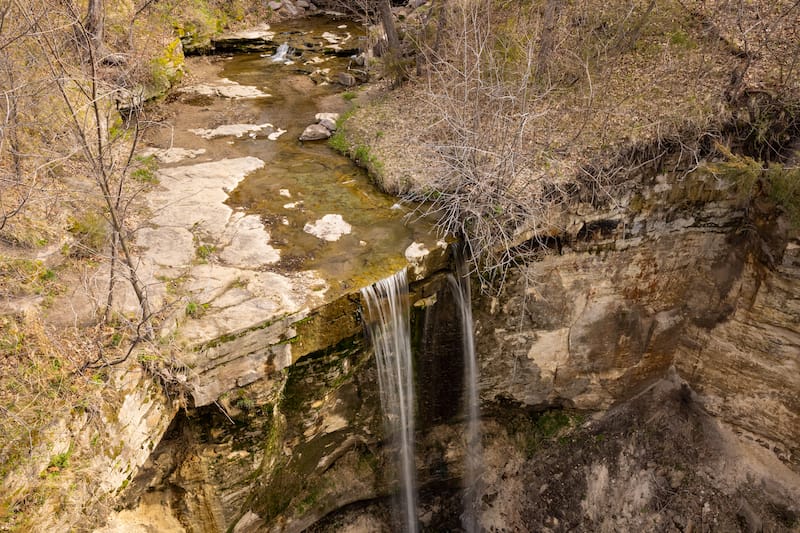 If you're planning on visiting, make sure to plan your visit when it isn't dry outside as the waterfall will only give you a little trickle to see and it's really not worth it.
If you want to visit, it's better to go right after it has rained or during wetter seasons. Enjoy yourself in the loudness of a waterfall.
Sitting by a waterfall really does feel like space and time are irrelevant, you are one with the earth.
9. Hidden Falls
Location: St. Paul
Hidden Falls is the perfect place to go to spend a weekend in Minnesota with some friends or family.
With a BBQ grill available along with shelters, picnic areas, and benches, have some great food and enjoy the company of one another in the coziness of nature.
If you're looking for things to do, you can take advantage of the biking and hiking trails they offer. Of course, there is also the waterfall you can enjoy after your hike!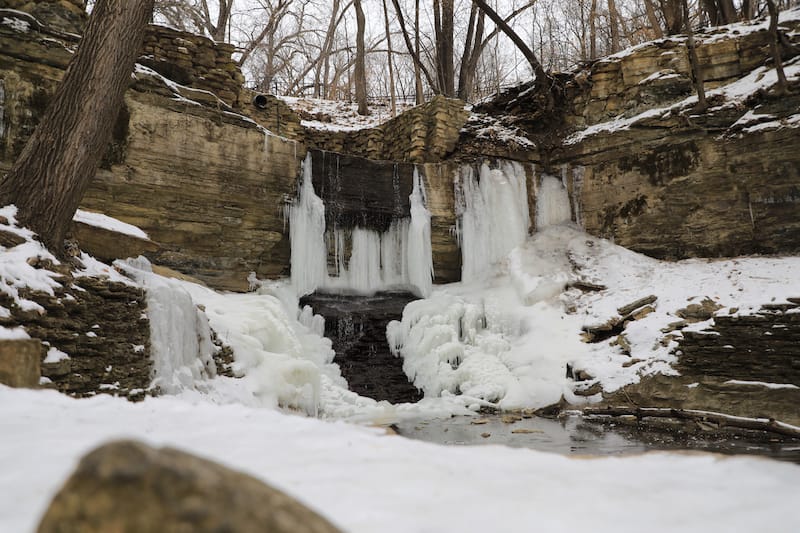 Before you visit, however, please remember that all and any alcohol is prohibited on park grounds.
When it comes to our furry friends, they're truly a part of our families but the same rules apply to them at the Hidden Falls Regional Park like any other given park.
They have to be on a leash six feet or less and have to be licensed. Please take all the necessary precautions and read their site thoroughly before planning your visit.
10. Cascade Falls
Location: Cascade River State Park
In the Cascade River State Park, you can access not one, not two, but four different waterfalls!
On the trail, you'll come across four different waterfalls in the form of a cascade, hence its name: Cascade Falls.
For the best feel and the best photos, make sure you go on a day when it's not too foggy or rainy.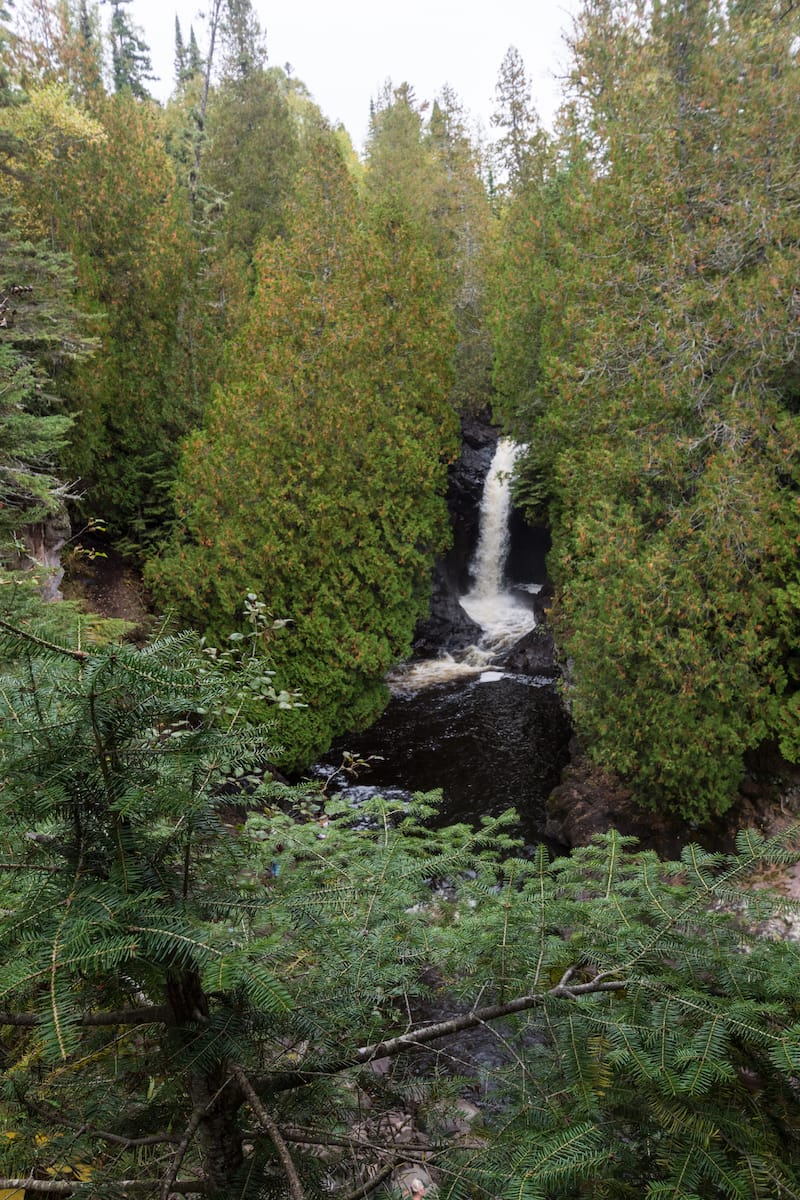 These waterfalls aren't hard to reach and they are the last quarter mile before the water reaches Lake Superior.
By going on a short hike, you can access one of the most beautiful sights to see in the area!
The Cascade is the biggest attraction of the park as well as one of the biggest in the area. Make sure to come on down to see the cascade waterfalls and enjoy the scenic views.
11. High Falls
Location: Grand Portage State Park
Being the only state park in Minnesota located on Tribally-owned land, the Grand Portage State Park celebrates its heritage right from the start as the Visitor Center or the Welcome Center introduces its visitors to the culture of the Ojibwe tribe.
Right when you enter, you can see a turtle on the floor which portrays the migration and stories of the Ojibwe people.
Throughout the park, you will see the depiction of the Ojibwe people's lifestyle, culture, and history shown greatly.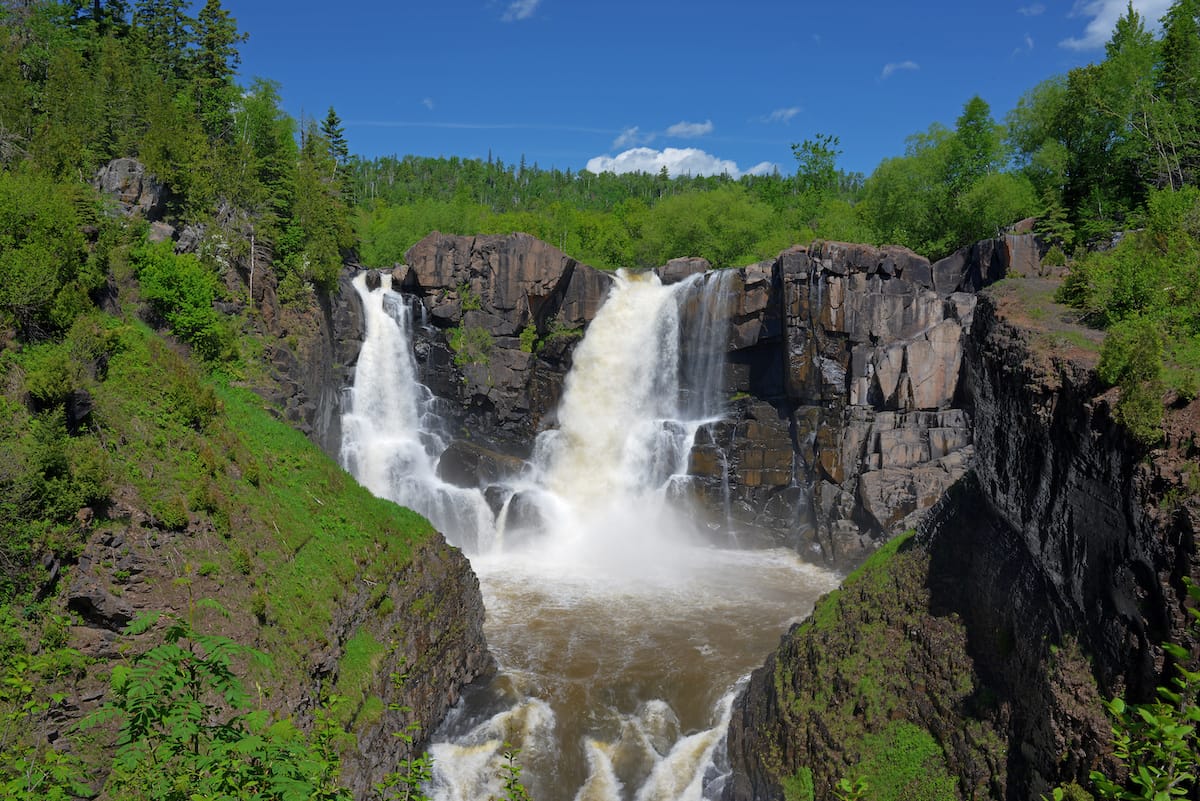 Grand Portage State Park is also home to the tallest waterfall in all of Minnesota, High Falls.
By going on a hike that doesn't take too long, you'll be able to see the beautiful, tall United States waterfall!
It's amazing because of, of course, how it looks, but also because it is located right on the Canadian border. Who knows?
Maybe you'll get lucky and get to see some Canadians there to see the waterfall just on the other side as well!
12. Vermillion Falls
Location: Vermillion Falls Park
By going on a simple and fast ten-minute walk, you can see the beauty and intensity of nature, a cascading torrent sprung out of a 10-foot wide gap in the granite.
When visiting, make sure to not stand too close to the waterfall as this one can be fairly more dangerous than some of the other ones.
The waterfall's water opens into different rivers.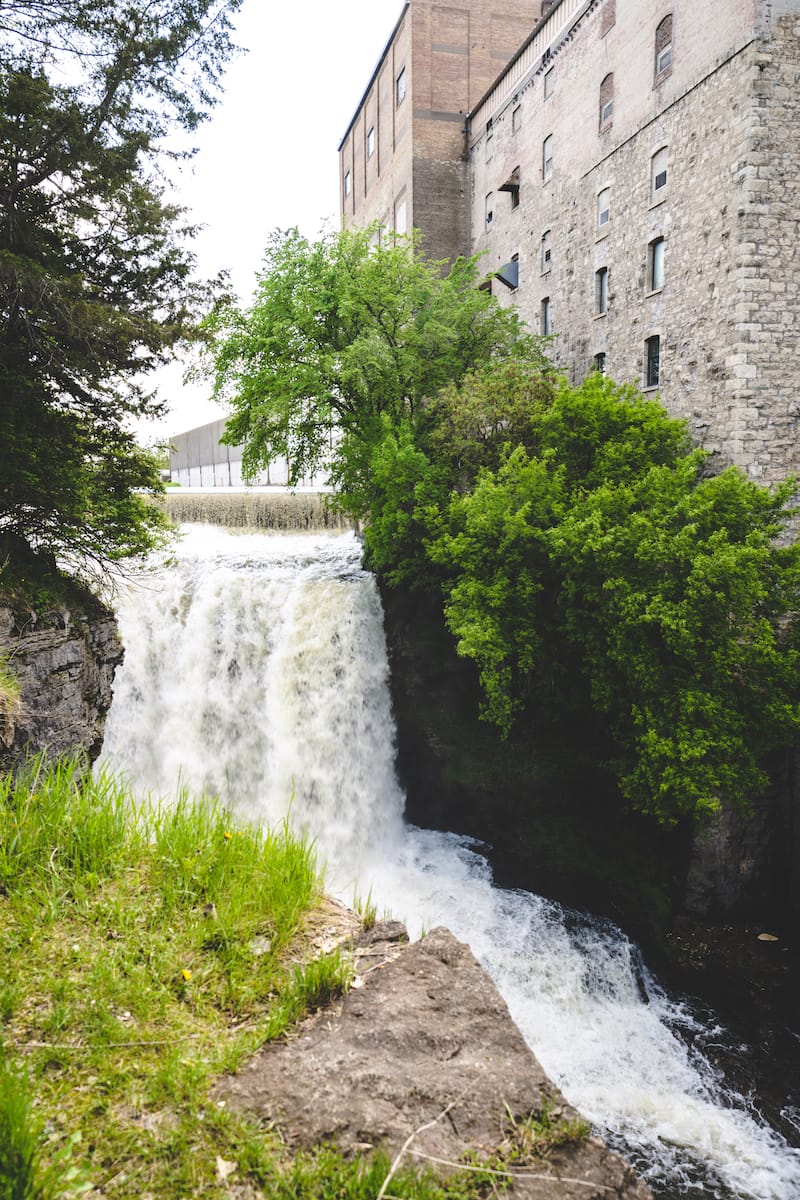 You can come down to see the waterfall and simply enjoy the view, but you can also take advantage of its fishing opportunities.
Although there aren't too many fish, there are some and it's definitely a good idea to try and catch some if you have the chance!
Enjoy the scenery and definitely take advantage of the uniqueness!
13. Wolf Creek Falls
Both Wolf Creek Falls itself and the process of getting there is a great idea for a family adventure! Some of the activities you can do include: canoeing, hiking, and whitewater rafting!
The best route to take is to start from Robinson Park. You first start out heading upriver under a train bridge. Then, you continue for three-quarters of a mile on an unmarked trail.
This can be a little tricky but can be so much fun if you're with family and/or friends!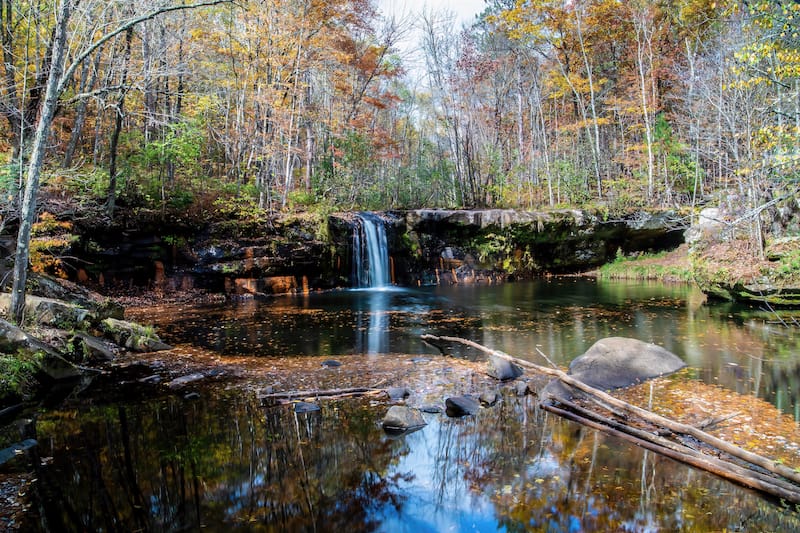 Make sure to come prepared on a day when the weather conditions are good.
You don't want your plans to be canceled because of bad weather or because someone forgot whatever equipment you needed!
Wolf Creek Falls is waiting for you and your loved ones for a day of fun and adventure!
14. Winnewissa Falls
This waterfall definitely stands out from the rest given its rich history. The Native Americans were always a people that valued the earth and all it had to give to mankind.
Their religions as well as their lifestyle had to do with nature. Their day-to-day routine consisted of showing great appreciation for the earth in everything they did.
There is a legend that goes with this specific waterfall. Even to this day, the story remains and Native Americans preserve the sayings and stories.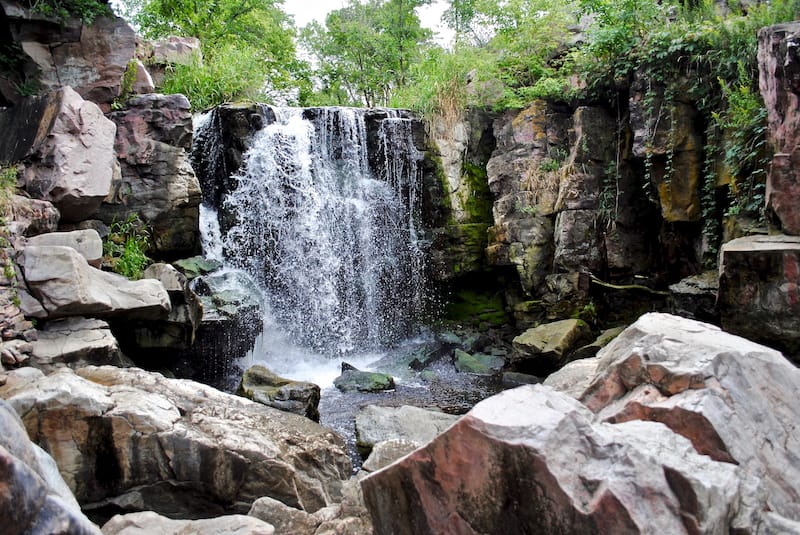 The story goes that, in the valley of the pipestone, The Great Spirit called together the nations of war and took a piece of pipestone from the earth.
He then made a pipe out of it and told the people that this was the flesh and blood of their ancestors and they laid down their arms.
He then smoked the pie and, while he did, a waterfall came from the rocks.
15. Fairy Falls
Note: This waterfall is currently closed to the public due to safety. We will update you if it is reopened!
If you want a quick family or friends outing, visiting Fairy Falls is ideal. What's great is that you can walk under the falls freely and it's one of a kind feeling that is absolutely amazing.
All you have to do is go on a quick hike and you'll be there in no time! Just like any other waterfall, Fairy Falls waterfall is best to visit right after a storm as the peacefulness and the overall aura surrounding it is a spectacular feeling!
The waterfall is both easily accessible and beautiful, and, if you'd like, there's plenty of space where you can just walk around and explore the waterfall, so that's definitely an option.
You can also set up a nice picnicking area where you just sit there with some loved ones and enjoy the scenery.
Did we miss any amazing waterfalls in Minnesota? Let us know your top Minnesota waterfalls in the comments. Thanks!
More Minnesota Travel Guides
Pin this Minnesota Waterfalls Guide