Are you looking to escape the city this weekend? These are the best weekend trips from Cincinnati, Ohio.
Are you planning your trip to Cincinnati last minute?
If youʻre booking your trip to Cincinnati last minute, we have you covered. Below are some of the top tours, hotels, and more!
🇺🇸 Top Experiences and Tours in Cincinnati:
🛌 Top Hotels in Cincinnati:
🚗 Looking for the best way to get around Cincinnati? Click here to check rental car rates for Ohio!
I actually used to live in Southwest Ohio for 10 years. I lived in various places around Dayton and northern Cincinnati and there was nothing I loved more than a good weekend escape from the city.
While there are the obvious weekend getaways from Cincinnati, like Columbus and Cleveland, I tried to select a few unsuspecting places for this guide (but I couldn't help myself with some of the places on here that are a bit obvious).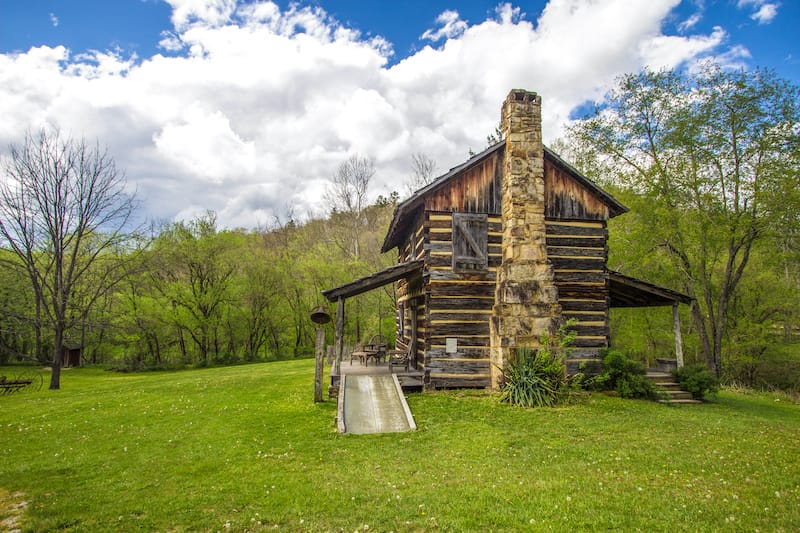 We mixed it up with city options as well as nature options but really tried to push the nature and parks as I know from my experience living in the area that I was always keen to escape for something different.
These Cincinnati weekend getaways are all within 5 hours of the city and some can actually be done as a day trip (although we definitely recommend an overnighter)!
Let us know your favorite Cincinnati weekend trips in the comments!
Weekend Getaways near Cincinnati – Map
To add this map to your Google Maps account, click the 'Star' icon next to the map name. You can then view it on your cell phone or computer by heading to your Google Maps account, click the menu and add it to 'Your Places'.
Best Cincinnati Weekend Trips
Below, you will find some incredible weekend trips from Cincinnati, including reasons to visit the destination, how long it takes to get there, and some top things to do in the place.
Hocking Hills State Park (Ohio)
Distance: 136 miles
Driving Time: 2 hours 13 minutes
Everyone in Ohio knows that there is really no place like Hocking Hills State Park and it is definitely one of my favorite weekend trips from Cincinnati.
Located around Logan, Ohio, it is an epic place for hiking, waterfalls, dense forest, and unique rock formations. The trails are open year-round and there are over 25 miles of them within the park.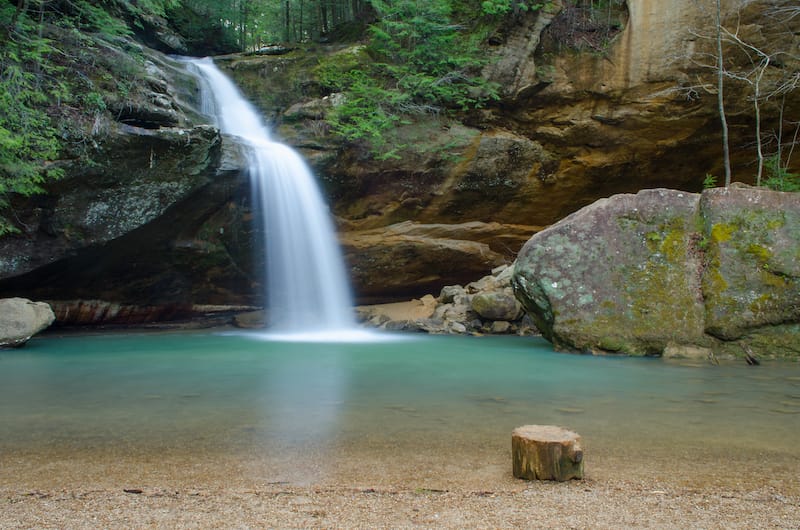 There are seven areas within the park for hiking – Ash Cave, Cantwell Cliffs, Cedar Falls, Conkle's Hollow, Old Man's Cave, Rock House, and Hemlock Bridge Trail to Whispering Cave.
One of the best things to do in Hocking Hills State Park is to go camping! There are about 200 campsites inside of the park (most have electricity hookups) and there are several other places around it where you can find cabins and accommodation.
Mammoth Cave National Park (Kentucky)
Distance: 191 miles
Driving Time: 2 hours 54 minutes
One of the most underrated national parks in the US is Mammoth Cave National Park in Kentucky. It is a fantastic weekend getaway from Cincy and it is also a UNESCO World Heritage Site!
Mammoth Cave has a diverse array of fauna and flora and it is an International Biosphere Reserve. It is the world's longest known cave system and the area surrounding it has plenty of trails and nature to keep you occupied for an entire weekend.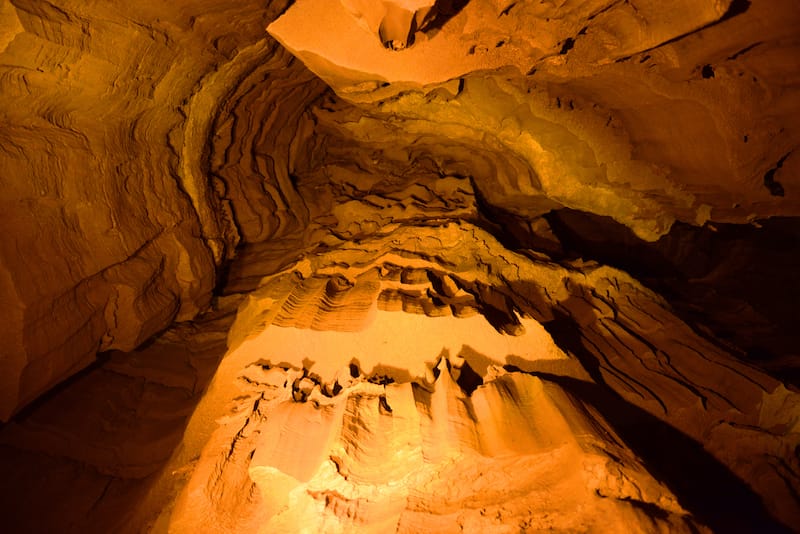 There are over 80 miles of trails in Mammoth Cave National Park and some of the things you can do in the area are camping, canoeing, kayaking, horseback riding, biking, and more.
There are ranger-led programs available and you can take cave tours to learn more about the Kentucky site.
Pittsburgh (Pennsylvania)
Distance: 288 miles
Driving Time: 4 hours 17 minutes
Pittsburgh is one of my favorite weekend trips from Cincinnati and it is not just because my extended family is from the area… but because it truly is an incredible destination! There are many things to do in Pittsburgh with kids, as a solo traveler, or for couples!
The city has undergone a major transformation in recent years and I find something new every time I go there.
If you've never been, you definitely will want to see the skyline at night, take the Duquense Incline to Mt. Washington, visit the Strip District, go to the Andy Warhol Museum, see Station Square, visit the Carnegie Library, and more.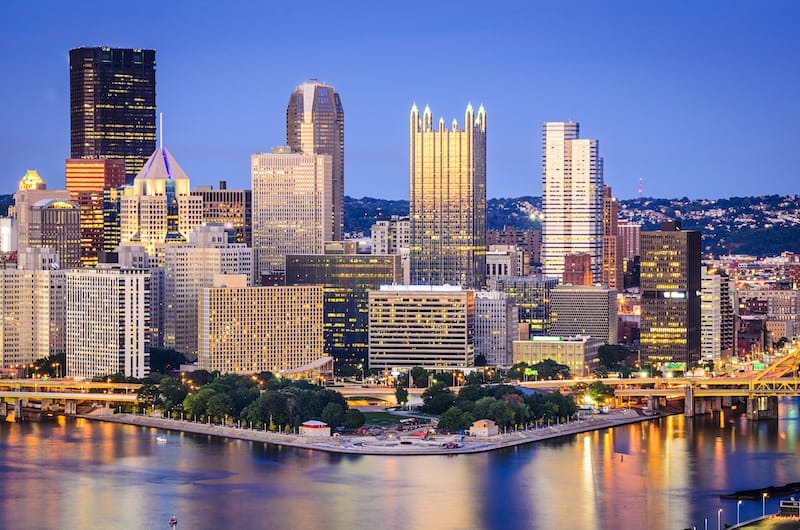 Pittsburgh's food scene is extremely diverse and you'll find fare from all over the world there.
While Pittsburgh sports fans (me!) and Cincinnati sports fans (not me…) may not love each other, the cities are both insanely cool and each can have an appreciation for the other.
If you happen to be in the city for a longer duration of time, check out our guide to the best weekend trips from Pittsburgh.
Red River Gorge Geological Area (Kentucky)
Distance: 133 miles
Driving Time: 1 hour 57 minutes
Located inside of Daniel Boone National Forest, the Red River Gorge Geological Area is one of the best getaways from Cincinnati as it transports you into a magical forest setting and offers a lot of peace and quiet!
A designated National Natural Landmark, the canyon system in Eastern Kentucky consists of sandstone cliffs, waterfalls, natural bridges, and more. There are even over 100 natural sandstone arches there!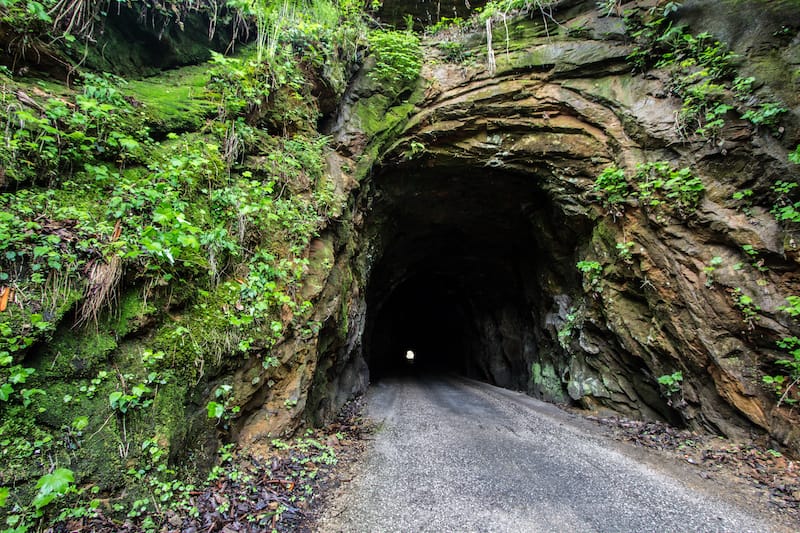 As a result of the unique formations inside of the area, it has become an adventurer's playground and has come to be considered one of the top rock climbing destinations in the world. Be sure not to miss the Nada Tunnel when there!
Louisville (Kentucky)
Distance: 100 miles
Driving Time: 1 hour 34 minutes
Not too far from Cincinnati, you will find the largest city in Kentucky, Louisville. While this city is quite an obvious choice for a getaway, I still think it deserves a place on this list!
The Kentucky city is home to Muhammad Ali, Louisville Slugger Baseball Bats, the Kentucky Derby, and much more.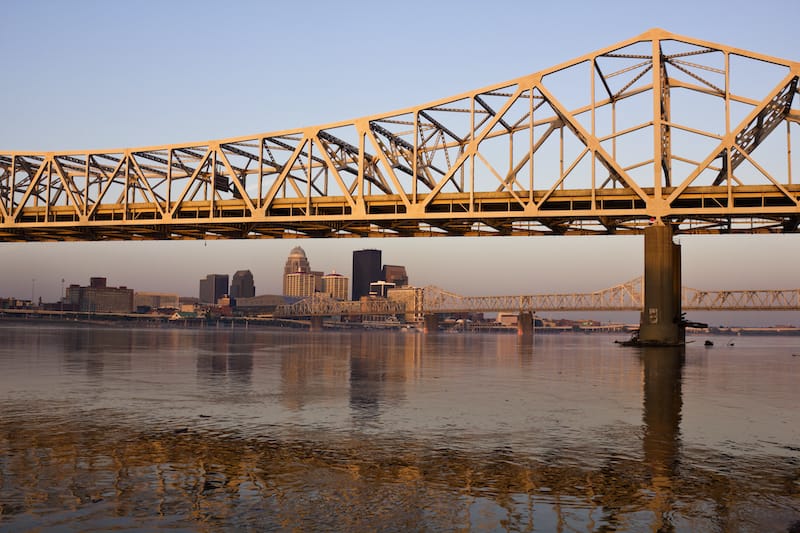 However, one of my favorite reasons for visiting Louisville is to eat and drink! I find the food scene there so up-and-coming and worthy of international recognition for its unique mix of southern flavors with modern cuisine.
There are also some great breweries and distilleries in the city.
Be sure to check out Old Louisville, a historic district with many Victorian homes. If you're there before the Kentucky Derby, don't miss Thunder over Louisville, North America's largest annual fireworks display.
You will find many amazing things to do in Louisville that it definitely warrants a trip there for a long weekend!
Bass Islands (Ohio and Ontario)
Distance: 231 miles
Driving Time: 3 hours 36 minutes
Another one of my favorite weekend trips from Cincinnati is up north to the Bass Islands. While I never actually knew that these were collectively called the Bass Islands (whoops), I always referred to them by their individual names.
There are many in Canada but there are plenty on the Ohio side that are easier to visit coming from the southwest. Kelleys Island is a fantastic choice (and they have some of Ohio's best wine!).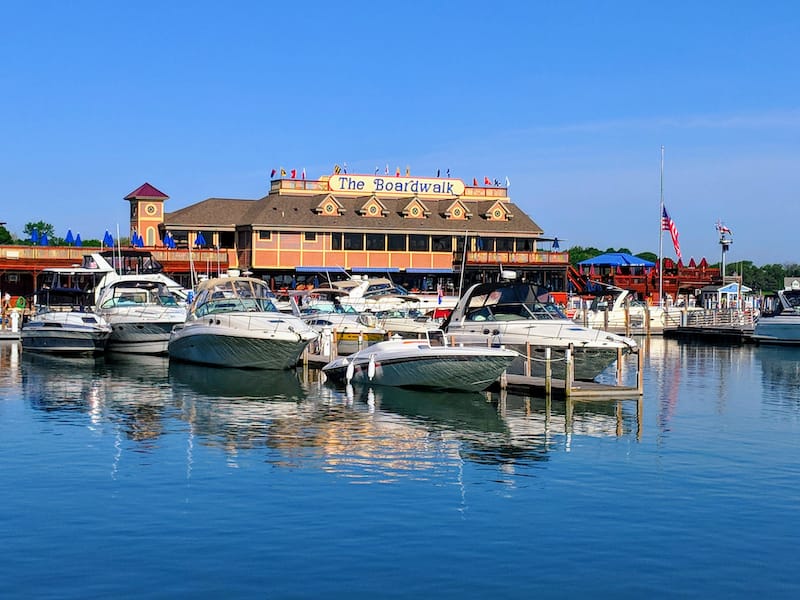 You can also head to Put-in-Bay on South Bass Island which is a party destination in the summers. I always heard that the longest bar in the United States was there and when I went, it was pretty long although I don't know if it holds that title.
Nevertheless, these islands offer a different type of Ohio setting for those wanting to be near the water with a lot of fun activities for kids (and adults).
Hoosier National Forest (Indiana)
Distance: 125 miles
Driving Time: 2 hours 33 minutes
For the longest time, I didn't realize that there was more to Indiana than cornfields and farming. I am sorry to anyone here that may be rolling their eyes right now!
It turns out… I was merely in the wrong part of Indiana! I later learned that when I had a chance to visit the Hoosier National Forest in the southern part of the midwestern state.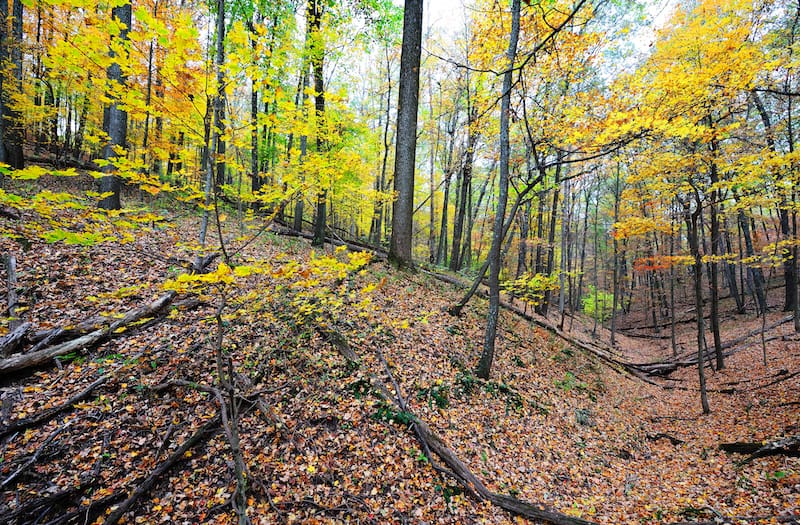 Covering over 202,814 acres, the national forest has its headquarters in the town of Bedford. Some of the main attractions in Hoosier National Forest are the Potts Creek Rockshelter Archaeological Site and the Jacob Rickenbaugh House.
Another worthy place to visit inside is Lake Tarzian, named after Sarkes Tarzian.
Chicago (Illinois)
Distance: 295 miles
Driving Time: 4 hours 19 minutes
I have visited Chicago too many times to count and it was almost always a weekend trip from Cincinnati and Dayton.
While it is a long weekend trip, I always loved driving there straight from work and arriving in the city after dark so I could see all of the lights (and avoid traffic on the expressway).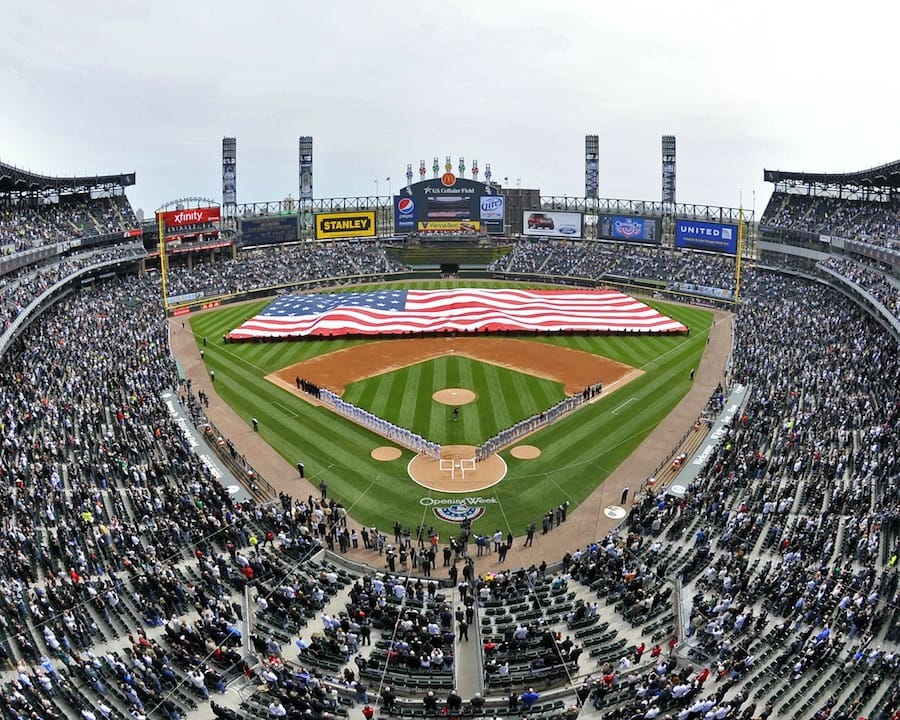 Chicago is the 3rd largest city in the United States and the unofficial capital of the Midwest. It is home to some of the best kayaking and canoeing in IL, street food festivals, and more!
I can't even begin to name the things to do there as there are so many but pretty much… it is a fantastic weekend getaway from St. Louis, Cincinnati, Dayton, and more!.
Walnut Creek and Sugarcreek (Ohio)
Distance: 209 miles
Driving Time: 3 hours 18 minutes
Walnut Creek is a popular tourist destination as it's in the middle of Ohio Amish country and is one of the cutest Ohio small towns!
In Walnut Creek, you can take an Amish tour, check out the antique stores in the old town, get some cheese at a specialty cheese shop, see the Farm at Walnut Creek, and visit the German Culture Museum.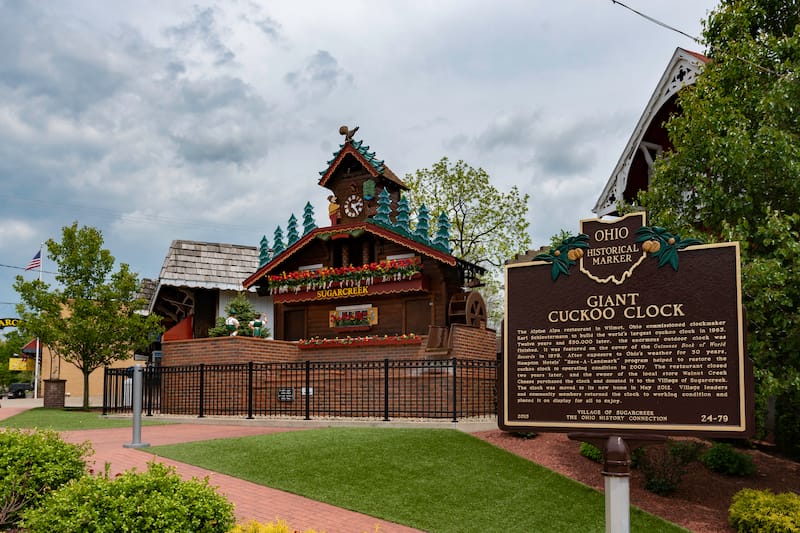 Sugarcreek is also in Amish country and boasts one of the world's largest cuckoo clocks in its town center. The town has a strong Swiss heritage, and most of the tourism is based on the town's Swiss and Amish connections.
Some points of interest to visit in Sugarcreek besides the cuckoo clock are the Alpine Hills Historical Museum, the Amish Flea Market, and the Brick Wall Sculpture. I first visited here with my grandma when I was growing up and I really enjoyed the trip!
Lake Cumberland (Kentucky)
Distance: 202 miles
Driving Time: 3 hours 12 minutes
Another place I thoroughly enjoyed visiting as a weekend trip was Lake Cumberland, Kentucky. The large reservoir covers over 65,000 acres and is the 9th largest in the US.
Located in southern Kentucky, I visited with a group of friends, rented a pontoon boat with them, and had a full weekend on the lake enjoy BBQs and a lot of drinking.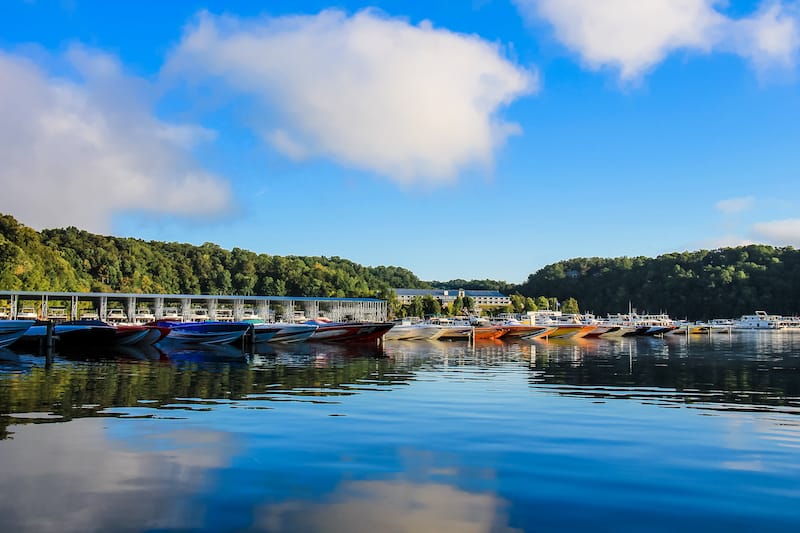 One of the most popular things to do at Lake Cumberland is to go fishing. Many of the record fish in the state have been caught at this lake throughout the years.
Another perk of visiting is that the lake is home to two state parks – Lake Cumberland State Resort Park and General Burnside State Park (an island in the middle of the lake).
Cuyahoga Valley National Park (Ohio)
Distance: 235 miles
Driving Time: 3 hours 22 minutes
You can hike or bike on one of the many trails that wind through Cuyahoga Valley National Park. In the winter, visit Kendall Hills for skiing and sledding.
A special attraction in this park is the Cuyahoga Valley Scenic Railroad that runs through the park, on which you can take a special railroad tour.
Sometimes there are themed tours, such as the Polar Express tour in the wintertime. Another option is the Bike Aboard trip, where you ride the train one way and bike back the other.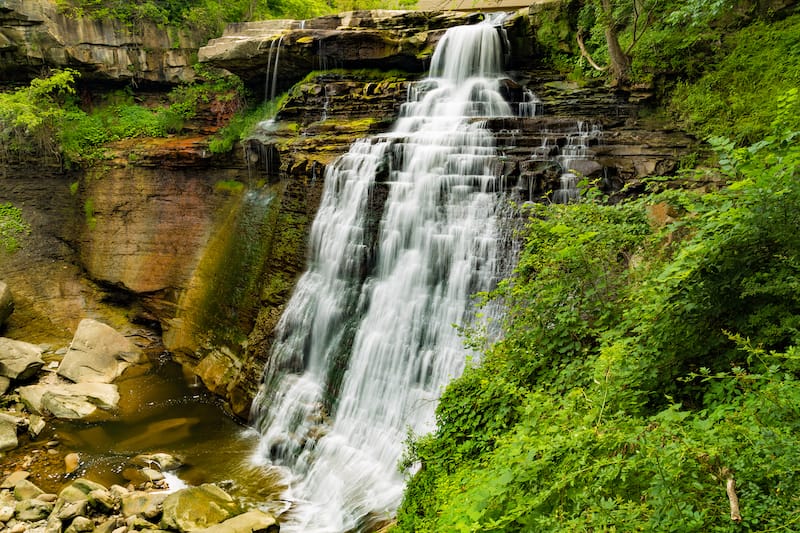 The park also has the Hale Farm and Village, which showcases how farming and rural life was lived in the 19th and early 20th centuries.
A popular site to visit at the park is Brandywine Falls, a beautiful cascading waterfall at the end of a wooden boardwalk. Surrounded by trees, it is especially beautiful in the autumn when the leaves are changing color. This is definitely a cool weekend trip from Cincy!
Knoxville (Tennessee)
Distance: 252 miles
Driving Time: 3 hours 40 minutes
If you're looking for a city more than nature, you will love Knoxville as a weekend trip. Tennessee's 3rd largest city is situated in the eastern part of the state and is surrounded by nature, so you can kind of get the best of both worlds when visiting!
Today, Knoxville is famous for being the home to the University of Tennessee but there are more reasons to visit than just that. One of the most popular fairs in the US takes place there annually.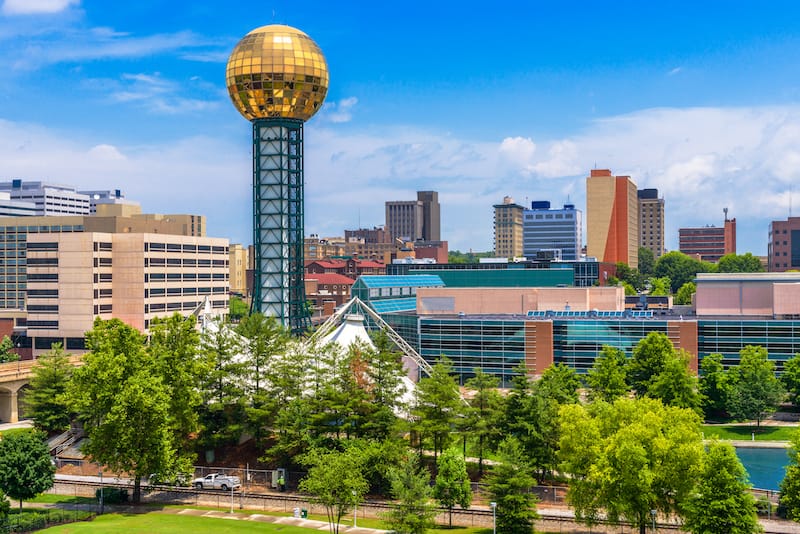 There is also the iconic Sunsphere, a 266-foot giant gold color glass sphere that sits along the skyline. You can also visit the Women's Basketball Hall of Fame and Market Square.
Cumberland Gap National Historical Park (VA, TN, KY)
Distance: 211 miles (to Middlesboro, KY)
Driving Time: 3 hours 21 minutes
Cumberland Gap National Historical Park is a weekend trip that is a bit further away than the rest but well worth the drive if you love nature and adventure!
A historical park shared by Virginia, Tennessee, and Kentucky, it spans over 24,000 acres and is one of the largest national parks in the eastern part of the US.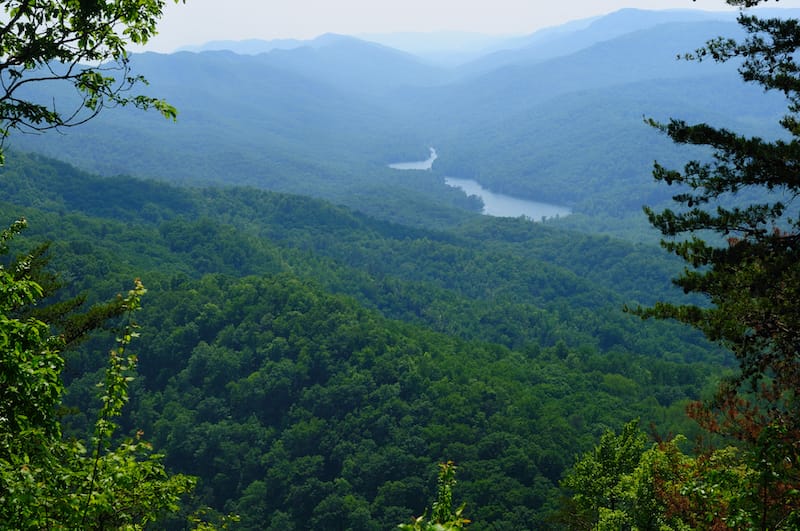 Most people associate the park with the Cumberland Gap, an important thoroughfare for settlers and Natives, as well as the dense forest surrounding it. At Tri-State Peak, you can stand at the point where the three states meet and have a wicked view over the landscapes.
There are plenty of places to stay nearby and 85 miles of hiking trails within the park.
We hope you were inspired by this guide to plans some of these weekend trips from Cincinnati!
What are your favorite weekend getaways from Cincinnati? What did we miss on this list? Let us know in the comments!
More Ohio Travel Guides
Pin this Weekend Trips from Cincinnati Guide