Are you looking for the best things to do in Lanzarote? This guide has you covered – read on!
Are you planning your trip to Lanzarote last minute?
If youʻre booking your trip to Lanzarote last minute, we have you covered. Below are some of the top tours, hotels, and more!
🌊 Top Activities and Tours in Lanzarote:
🛌 Top Hotels in Lanzarote:
Casa Salinas Playa (Orzola apartment I stayed at)
Hostal San Ginas (hostel and hotel I stayed at – budget option!)
Playa Blanca Marcastell (my Playa Blanca apartment)
🚗 Looking for the best way to get around Lanzarote? Click here to check rental car rates for the Canary Islands!
We detail some of the most popular Lanzarote landmarks, museums, beaches, and more!
From the city of Arrecife to the quiet village on La Graciosa Island (and beyond!) – there is something for everyone in Lanzarote.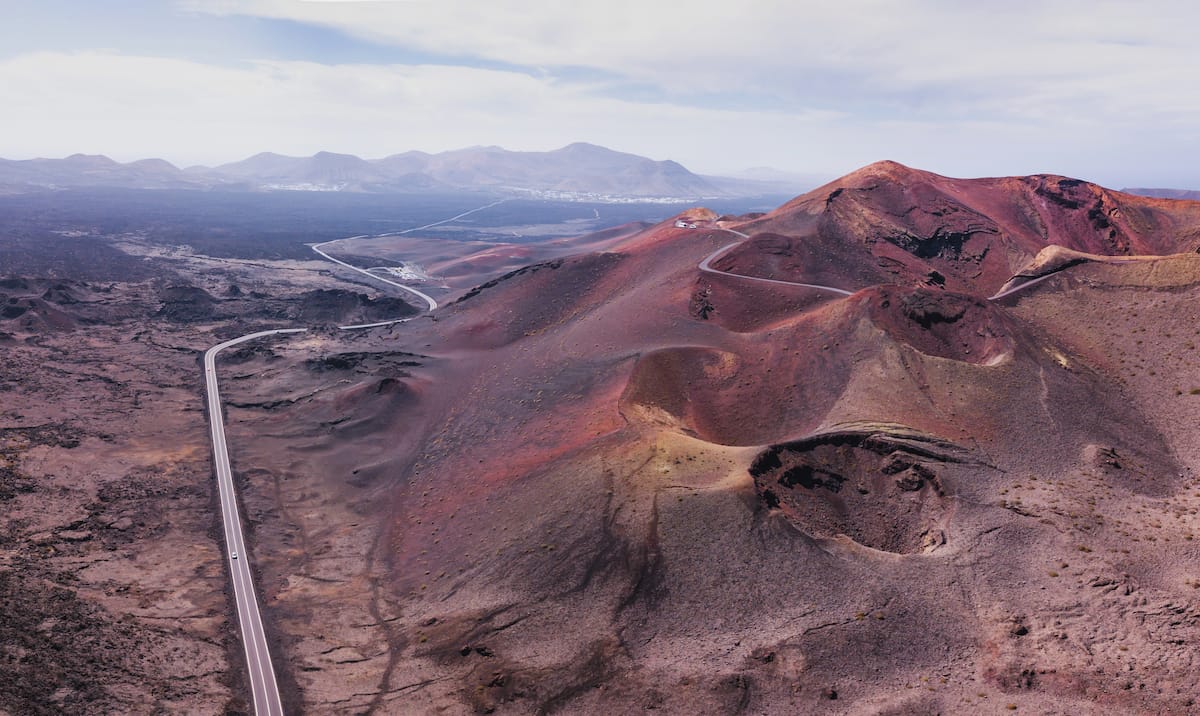 Did we miss any of the best attractions on Lanzarote? Let us know in the comments. Thanks!
Best Things to Do in Lanzarote
1. Visit Timanfaya National Park
For a truly unique hiking and visually pleasing experience, you must visit the Timanfaya National Park.
Known for being the only one like it in the Spanish network due to several Volcanic eruptions, colors of red and orange, and crater-like mounds make up this seemingly otherworldly landscape.
You can visit the visitor center located in Mancha Blanca which has many exhibits and audiovisual learning tools to give you a historical overview of this beautiful park.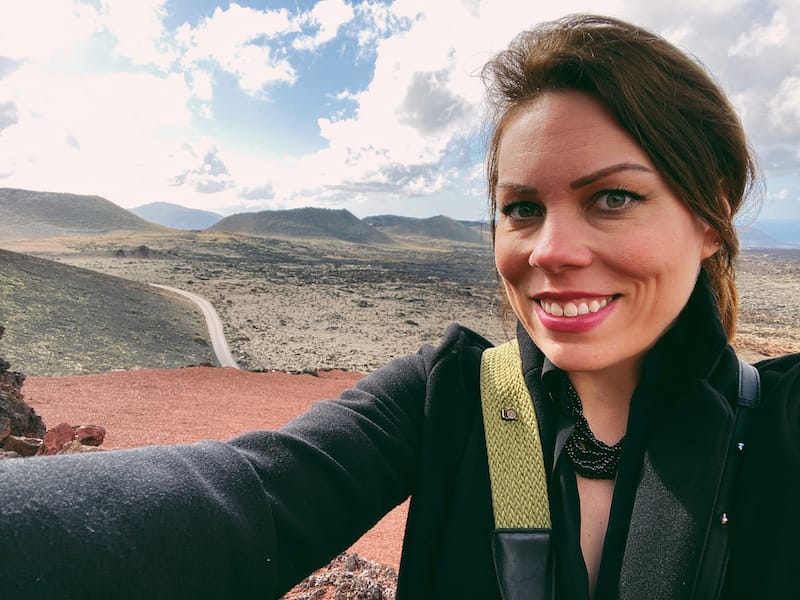 In Montanas de Fuego (Mountains of fire) you can take a bus tour on the Ruta de los Volcanos (Volcano route) and observe the distinct volcanic grounds.
There is a restaurant and shop where you can grab a meal and pick up a souvenir. Ride a camel through the desert with the Echadero de Camellos and check out the museum.
There are also several walking routes where you can go with a guide to trails such as the coastal route and get an amazing view of the coastline!
>> Click here to check tour rates and availability
2. Take a Day Trip to Fuerteventura (and Corralejo)
Take a day trip to the charming fishing village of El Cotillo and the town of Corralejo and enjoy the white sandy beaches, nature reserve, and sand dunes.
Take a guided tour from a ferry leaving the harbor of Playa Blanca and sail to Corralejo.
You will get to stop at the village of El Cotillo where you can walk the beaches or visit the Castillo El Teston, a castle built in the 15th century.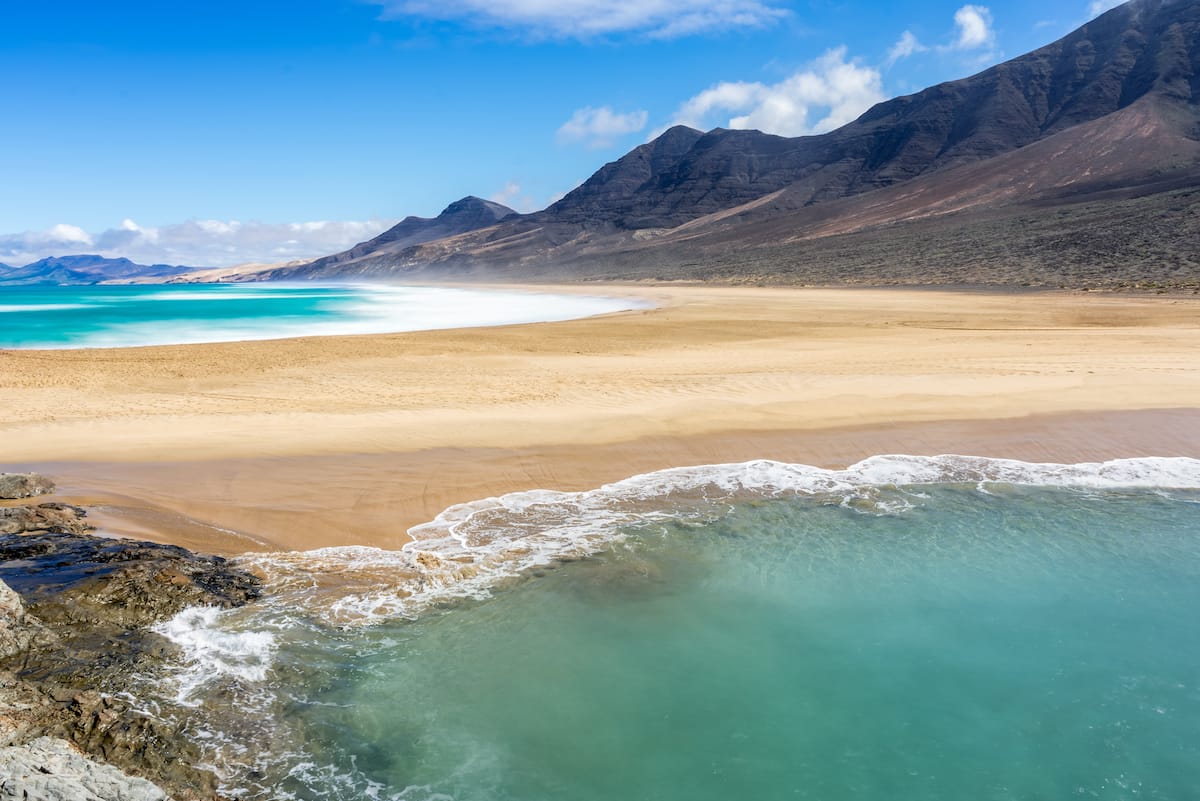 Next, you can visit the old town of Corralejo and do some shopping or eat at a local seafood restaurant. It is one of my favorite things to do in Fuerteventura (I really love Corralejo!).
The dunes of Corralejo Natural Park are a beautiful landscape and you will have ample time to explore this and the sandy beaches.
It is a great way to spend the day exploring a few gems of Lanzarote and Fuerteventura!
>> Click here to check tour rates and availability
3. Enjoy a Catamaran Day Trip to the Papagayo Beaches
Spend a day sailing to the Papagayo beaches on a relaxing catamaran boat trip from Lanzarote Island.
You can enjoy lunch on board and drink at an open bar while sailing to the golden beaches of Costa de Papagayo!
You can try some fun watersports such as kayaking after dropping anchor. Pickup from your resort or hotel is provided and lunch along with commentary from the crew on board.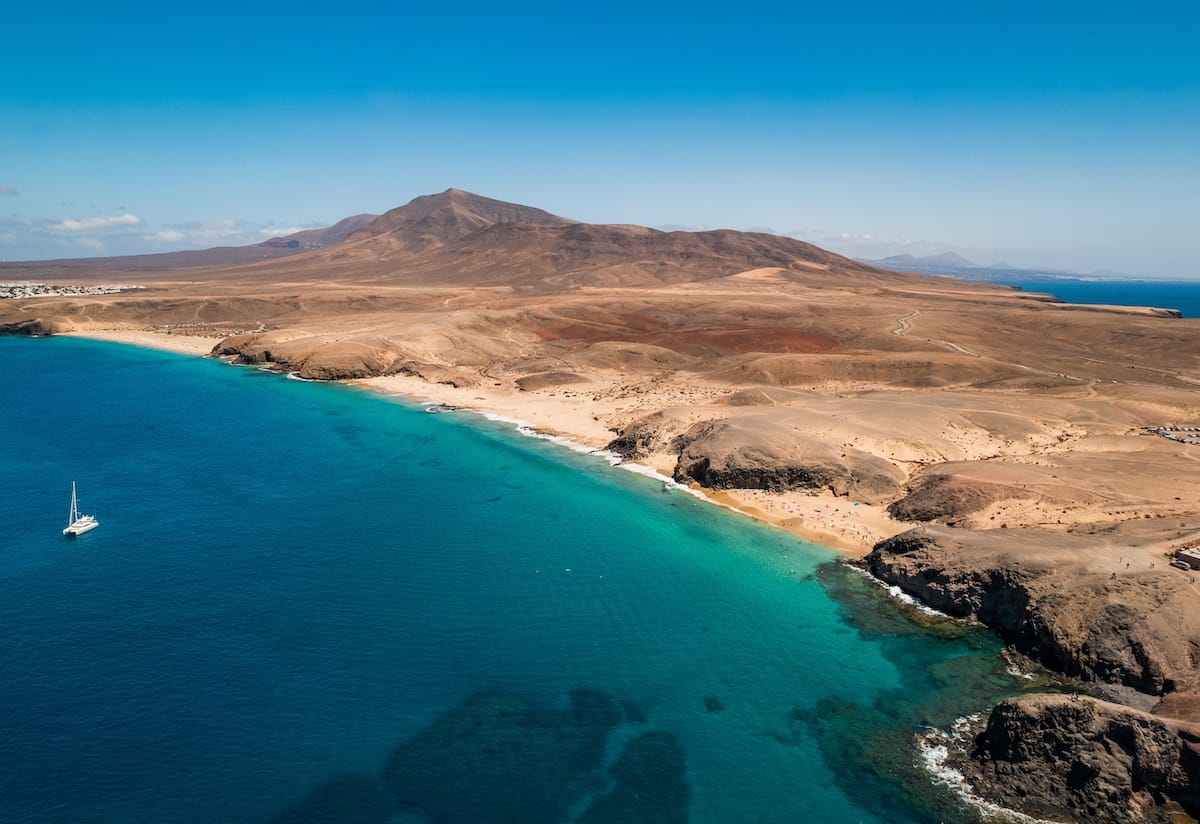 The total tour is 4 hours, giving you ample time to swim, snorkel or participate in a watersport.
The lunch on board will be a traditional Spanish meal and drinks such as beer, sangria, soft drinks, and water are unlimited.
So set sail on this relaxing boat trip and enjoy some beverages and activities!
>> Click here to check tour rates and availability
4. Go on a Sunset Cruise
The Sunset cruise is an exciting way to see dolphins and discover the beauty of the Atlantic Ocean.
This 2.5-hour-long cruise is on a Biosphera Jet boat, which goes high speed off the coast of Lanzarote to give you a unique boat tour and amazing views of Lanzarote.
This is also a fantastic way to watch the sunset over the Atlantic Ocean as you watch for dolphins, whales, and other marine life.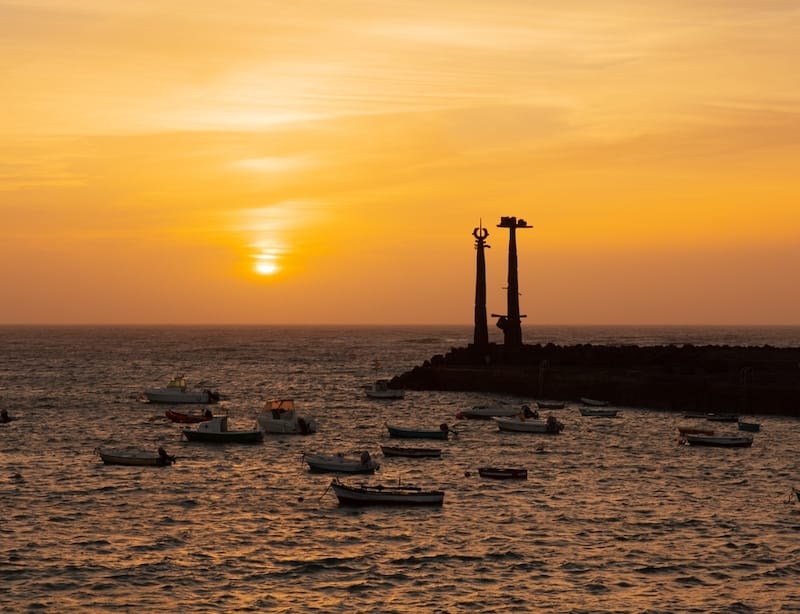 This trip provides complimentary champagne and pastries while the professional crew gives you a commentary on the sea life.
Hotel pick up/drop off can be arranged and times vary depending on the season. This is an amazing way to spot dolphins and whales in the Ocean and get some amazing views!
>> Click here to check tour rates and availability
5. Take a Cruise to La Graciosa Island
Enjoy an afternoon on board a sailboat and visit a local village on the La Graciosa Island cruise.
You get to cruise along the island's south coast on the El Rio strait, eat a traditional Spanish lunch, and stop at the village of Caleta del Sebo.
You can enjoy swimming, snorkeling, kayaking at the beach, or walking around the village where you can visit one of the bars or restaurants in town.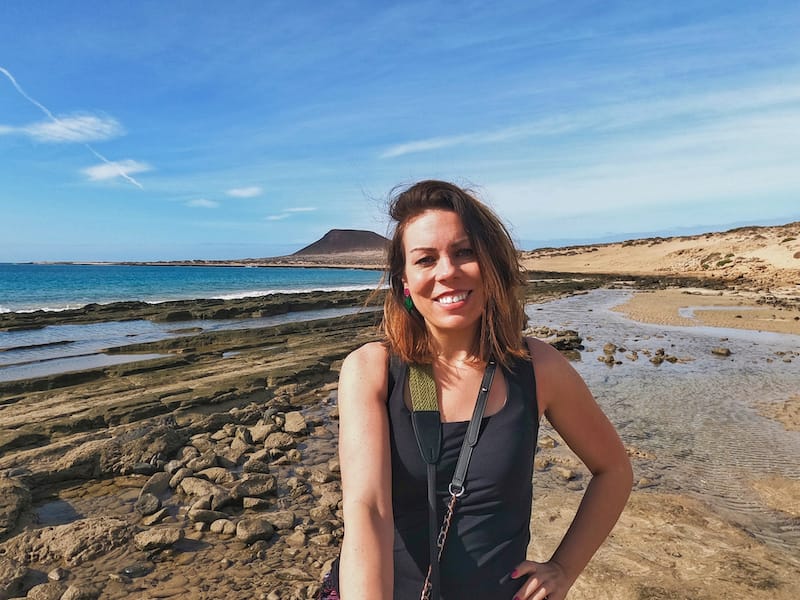 The tour includes pick up from your hotel, food, and beverage, and use of kayaks!
Your traditional Spanish paella lunch will be accompanied by traditional Spanish sangria, before docking at the village where you get an hour to explore.
Take this half-day cruise for an all-inclusive way to experience the food, beach and discover a small Spanish village!
>> Click here to check tour rates and availability
6. Explore Los Ajaches
Hike or bike through the magical landscapes and mountains of Los Ajaches in the Southwestern region of Lanzarote.
Visit Yaiza, the oldest municipality on the island which is home to caves, etchings and remains of former farming.
Trek on this 6-kilometer route that starts in the village of Femes and takes you on pedestrian walkways past the coastline where you can stop for a swim.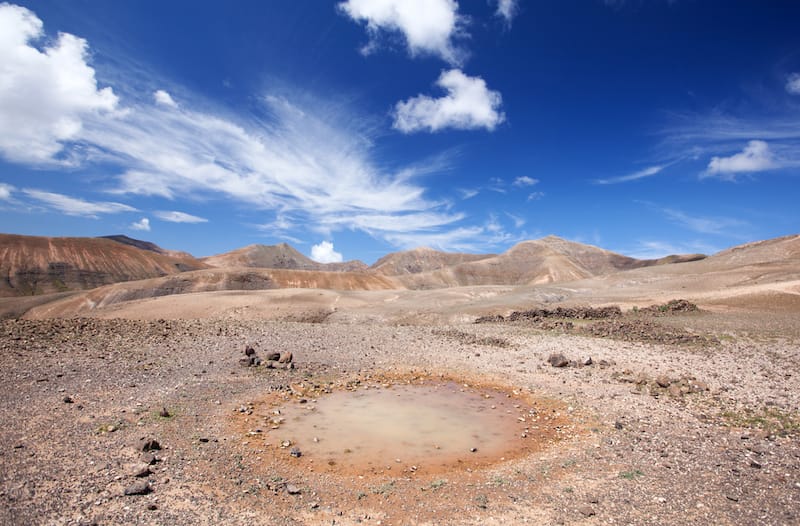 You can head to the lookout point of Barranco de la Higuera and get a spectacular view of the ravine and mountains.
Discover the largest ravine in the massif, called Juan Perdomo, and the Las Pilas Ravine, which is a raised beach.
The beaches have white sand and coves and there are bars available to stop and have a drink at! So enjoy a hike, dip at the beach, and a drink in this volcanic region of Lanzarote!
>> Click here to check tour rates and availability
7. Marvel at Cueva de los Verdes
To see some truly remarkable underground caverns and caves you have to check out Cueva de los Verdes!
La Corona Volcano formed a tunnel that is the longest in the world! It has at least 16 lava caves and more than 6 kilometers of underground passage.
The tunnel goes from the Volcano's crater all the way to the sea, with a 1.5-kilometer underwater section called "Tunel de la Atlantida" (Tunnel of Atlantis).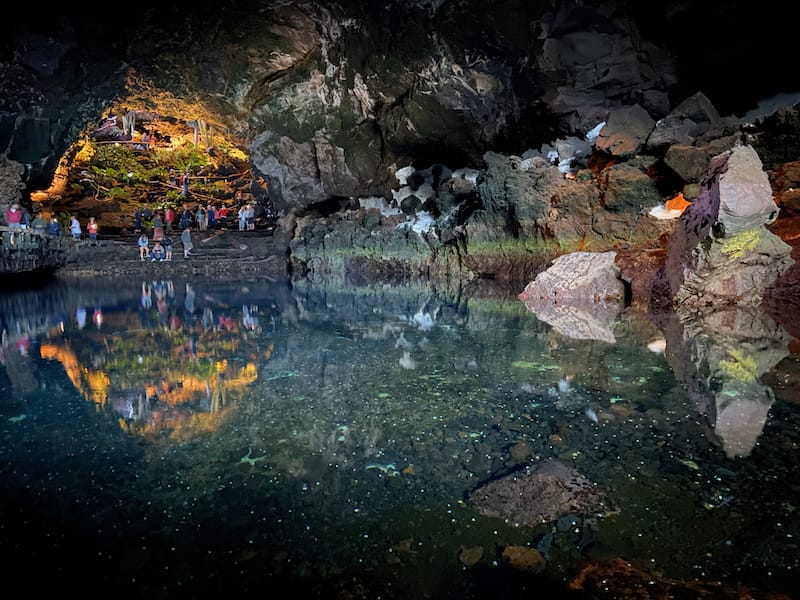 The guided tour takes about an hour and you will encounter an auditorium within the cave that hosts flamenco performances and live music performances for a magical underground show.
You can explore this beautiful underground paradise with spacious areas and incredible lagoons.
There's a reason people and scientists from around the world come to see this incredible collection of underground caves!
>> Book Lanzarote Amazing Caves Tour Here
8. Catch the Views at Mirador del Rio
El Mirador del Rio is a fantastic viewpoint at 500 meters above a cliff where you can see Lanzarote and the Chinijo Archipelago, a small group of mountains, volcanic landscapes, and the largest marine reserve in Europe.
You can see the artwork from artist Cesar Manrique, who created several sculptures and integrated his work with nature in decorative details throughout the Mirador.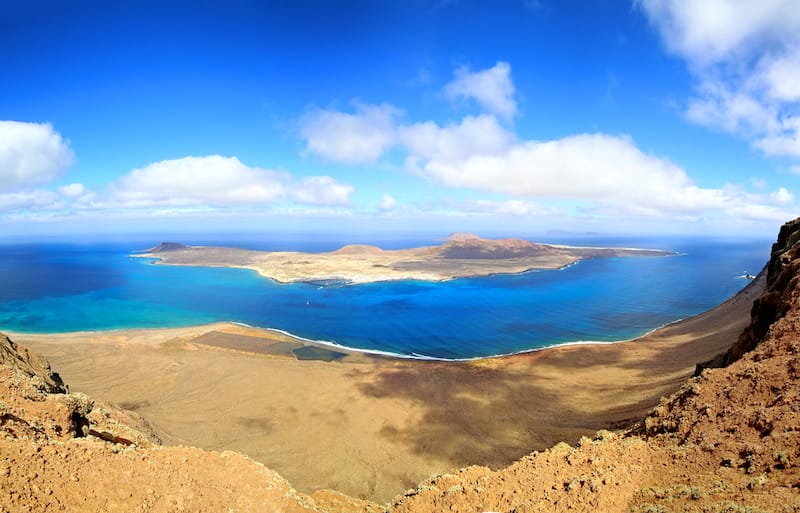 There's a bar-cafeteria where you can try the Barraquito, which is a local coffee drink with liqueur or enjoy the wines of Lanzarote.
You can walk up to the spectacular upper terrace that has a skylight made of stone and glass.
El Mirador del Rio is a perfect place to enjoy art and nature with some fantastic views!
9. Go on a Guided Volcano Buggy Tour
Explore the northern part of Lanzarote with a Guided Volcano Buggy Tour, the only company of its kind on the island.
In a small group that has a maximum of 5 buggies, you will take a tour through the volcanic lands on a track that passes through the old quarries of Guatiza.
The tour is around 3 hours long and takes you to the highest point of the island, Penas del Chache.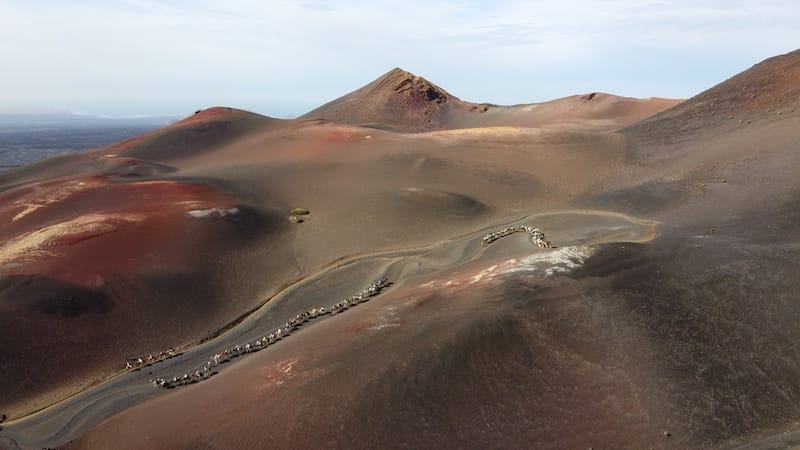 Ride through the cactus area of Mala to the Mala Dam, the only dam in Lanzarote.
The company does provide hotel pick up/drop off and includes dust glasses, windbreakers, and water clothes.
This is a thrilling way to see the unique landscape and scenic views in Lanzarote!
>> Click here to check tour rates and availability
10. Visit the Sunday Market in Teguise
Teguise is the former capital of Lanzarote and on Sundays hosts the Teguise Market, which is the biggest market in the Canary Islands.
This is a great place to get your hands on some unique handmade souvenirs! There are hundreds of stalls providing homemade jewelry, trinkets, clothing, and food!
You can also find goods such as bags and sunglasses, haggling is considered normal so don't be afraid to talk that price down.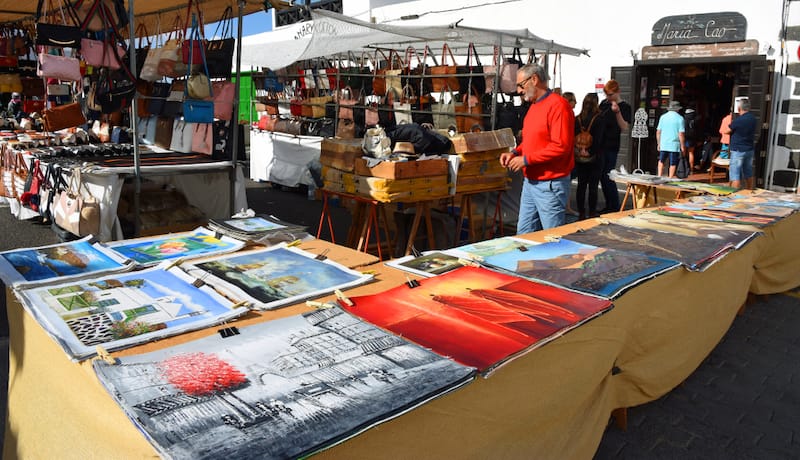 You can enjoy shows such as dancing and live music within the market and all the bars and restaurants in Teguise stay open on Sundays for the market visitors.
The market is open all day long and is a great way to buy some souvenirs, eat some authentic local food, and watch a show!
11. Check Out the Cesar Manrique Foundation
The Cesar Manrique Foundation is headquartered in a volcano house designed by the famous artist himself.
This beautiful home sits in the midst of a lava coulee, formed during the volcanic eruptions that happened on the island in the 1700s.
The architecture in the 3,000 sq meter building was inspired by traditional Lanzarote designs and volcanic rock.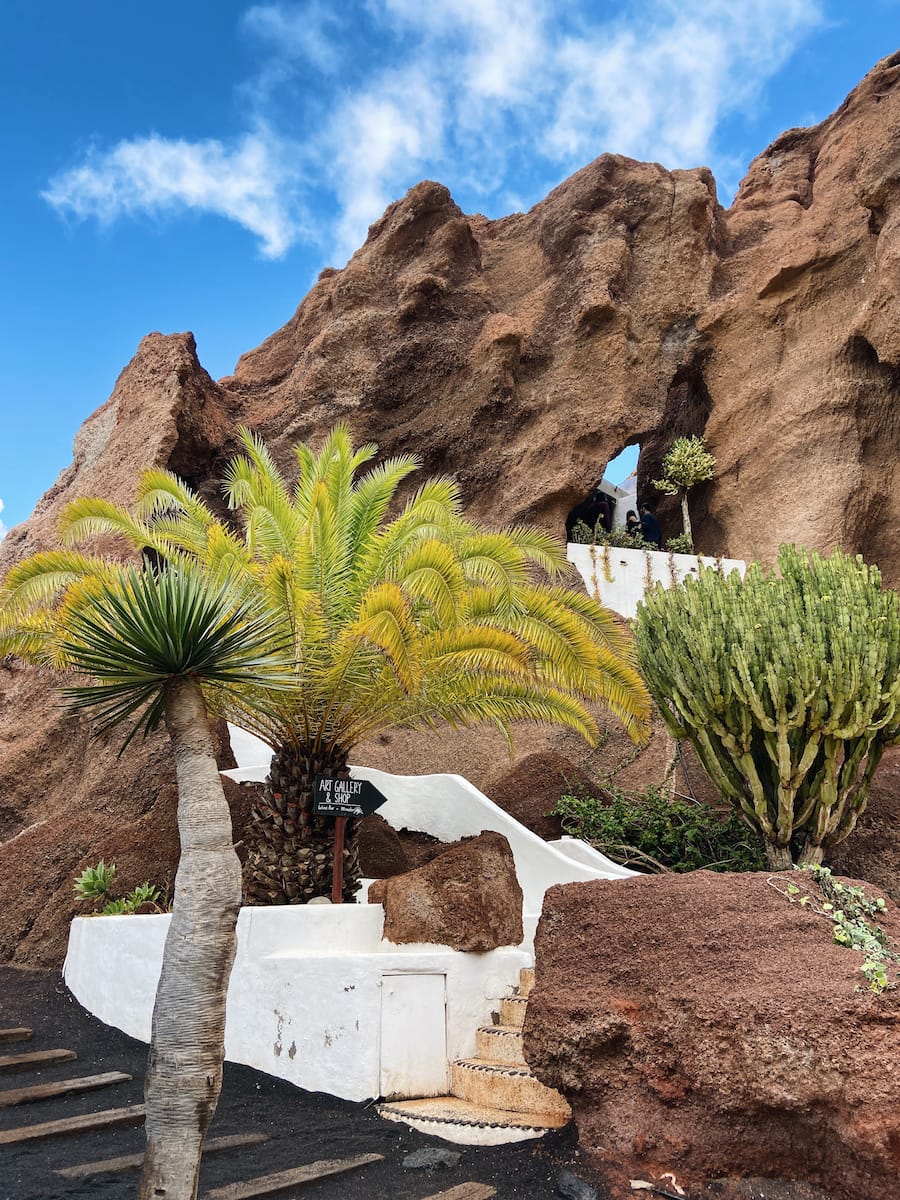 You can visit this spectacular home that was built in a sea of lava and observe the artist's paintings that are displayed throughout the grounds.
The home includes a swimming pool, ballroom, and is surrounded by abundant plant life.
The lower story of the home includes some very interesting tunnels and spaces built within lava that give it a very distinct look combining nature and art.
Address: C. Jorge Luis Borges, 16, 35507 Tahiche, Las Palmas
12. Explore Jameos del Agua
Los Jameos del Agua is a tunnel created by the eruption of the Corona volcano.
It is the first art and tourism center created by Cesar Manrique and includes a unique lake inside the tunnel, an eating area, an auditorium, and a pool!
You can discover the entrance to the tunnel of La Atlantida, which is at the back of the restaurant in the tunnel that gives you panoramic scenic views of this beautiful lake and volcanic formation.
You can experience Las Noches de Jameos which is a magical way to have an evening filled with live folk music and dinner.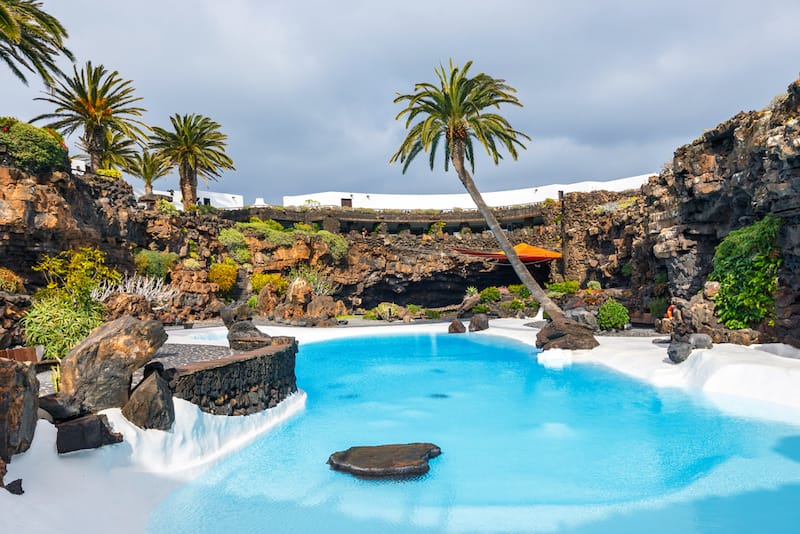 Visit the Insolita, a guided tour through the grounds with an in-depth history of the art and work of Cesar Manrique.
The ecosystem within the volcanic lagoon includes over 77 species of sealife specific to this area including the near-extinct blind crab.
Los Jameos is a special place to have dinner, and tour an amazing cave tunnel complete with a lagoon and some amazing art!
13. Visit a Winery in La Geria
For wine enthusiasts, the Canary Island wine trail of La Geria is an amazing place close to the Timanfaya National Park, where you can take a tour and try some one-of-a-kind wine!
The Canary Island Wine trail includes 20 bodegas and wineries in Lanzarote. These bodegas produce wine made from the most prized grape grown in the Canary Islands called the malvasía volcánica.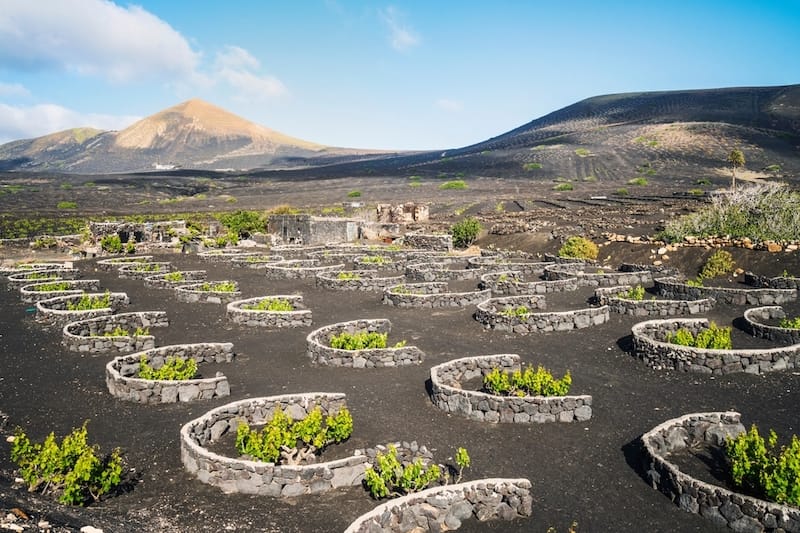 The area makes mostly white wine both sweet and dry, and sparkling wines. What makes La Geria so unique is the use of "Geria" or "Hollow grounds", where they plant the grapes to utilize for wine.
You will see some very distinct holes in the ground that have vegetation, all within the desert-like landscapes of the region.
La Geria is named a protected space that solely has the purpose of producing wine. It can be toured by visitors looking to have an unforgettable experience in these vineyards!
>> Click here to check wine tour rates and availability
14. Photograph El Lago Verde
One of the natural wonders of Lanzarote, the Lago Verde (Green Lagoon) is a bright green color due to different sulfurs and minerals and is truly a sight to see!
Surrounded by black sand and the blue ocean make for a very interesting but beautiful landscape.
The green lake is an untouched and protected area where it is forbidden to swim, but makes for some great photos! Next to Lago Verde is a small fishing village, El Golfo, where you can stop for a bite in a traditional Canarian restaurant.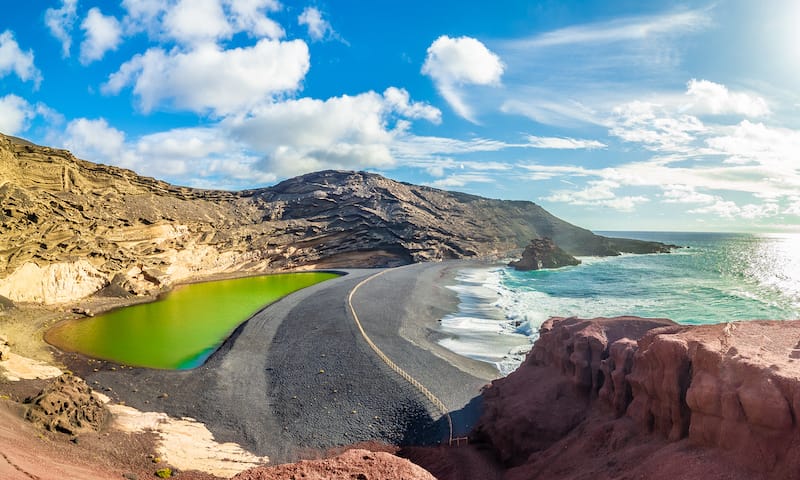 Nearby is a Mirador where you can take amazing photos with a spectacular background. It is free to access and you can walk and see this amazing picturesque landscape and beach!
15. Walk Around Los Hervideros
For an amazing scenic view, Los Hervideros is an amazing landscape on the Atlantic coast in the town of Yaiza.
This is a great place for fishing and taking some spectacular photos! Los Hervideros form a landscape triangle with the Salinas de Janubio and the Charco de los Clicos.
The salt flats of Salinas de Janubio are one of the most beautiful sights of this island and are located next to the town of La Hoya.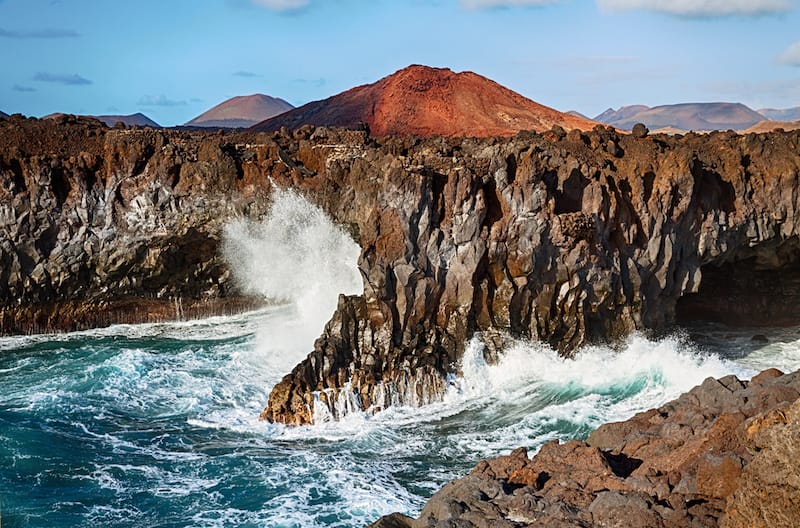 Charco Verde de los chicos is a seawater lagoon of a green color made from the plankton, minerals, and sulfurs within it.
Los Hervideros is an amazing place to walk and take in the breathtaking views of the volcanic formations around the beautiful blue coastal waters.
16. Enjoy the Beach in Playa Blanca
A beachgoer's paradise off the coast of Lanzarote is Playa Blanca, known for its transparent waters and white sands.
Get a different view from the island's volcanoes to a beautiful beach within a charming fishing village.
The town is a good place for shopping, bars, and restaurants and has many beachfront hotels.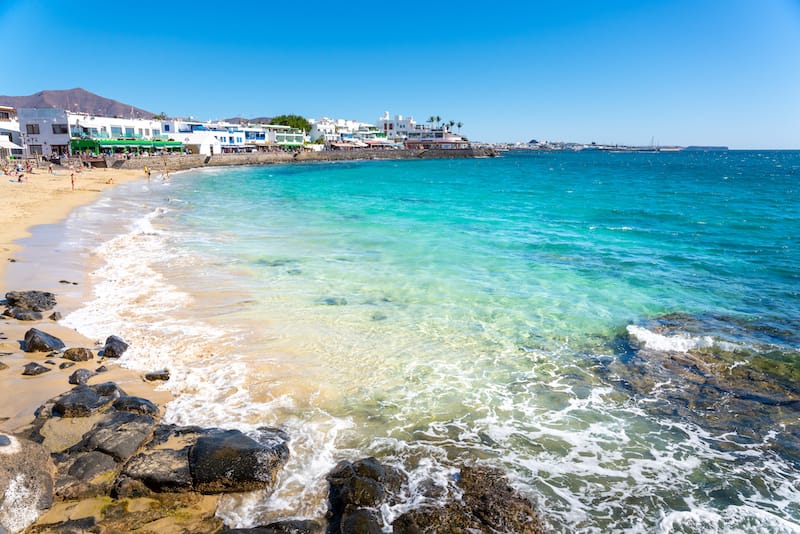 Under the water at Playa Blanca is the world's only underwater sculpture museum at a depth of 15 meters. You can dive down to see this amazing art!
Playa Blanca is a beautiful beach getaway and a place to tour a local village and discover the local food and shopping!
17. Stroll Along the Cactus Garden
You can visit the amazing Cactus Garden in Guatiza, which is home to over 500 species of cacti and is the last great work of artist Cesar Manrique.
The architecture is a combination of decorative and sculptural elements that incorporate the environment. Internationally awarded for its interior design and cactus garden, this spot is a must-see!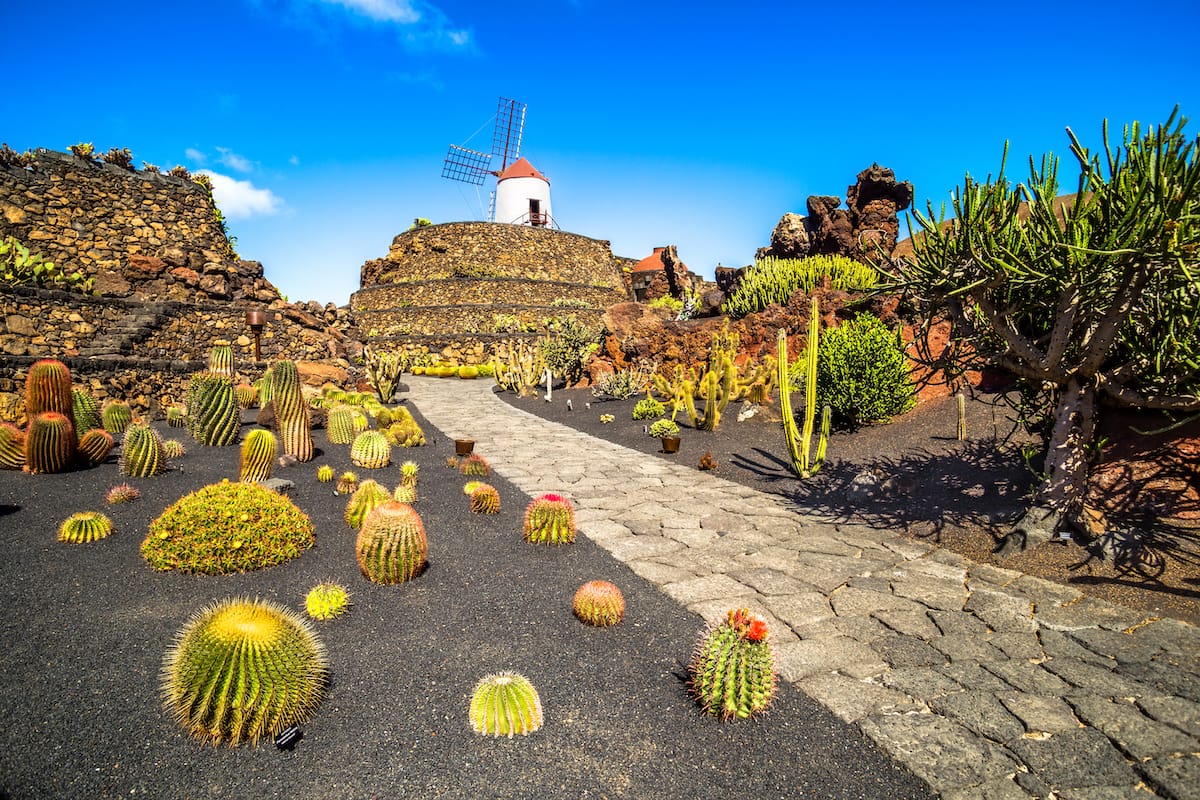 The Jardin de Cactus restaurant on the grounds is a special place to see panoramic views of the garden and partake in some new and intriguing cactus dishes such as the honeyed cactus croquettes.
You can also taste some amazing local wine from the Lanzarote wineries. Take a guided tour and stop in the shop for a souvenir from this uniquely artistic cactus garden!
Address: Av. Garafía, 35544 Guatiza, Las Palmas
18. Check Out Castillo de San Jose
The San Jose Castle (Castillo de San Jose) is very interesting because it is more than a castle- it is also an art museum.
Another project by the artist Cesar Manrique, this historic castle was built for defensive purposes on the island and in 1976, it was refurbished and became the home of the International Museum of Contemporary Art MIAC, the first art museum in the Canary Islands.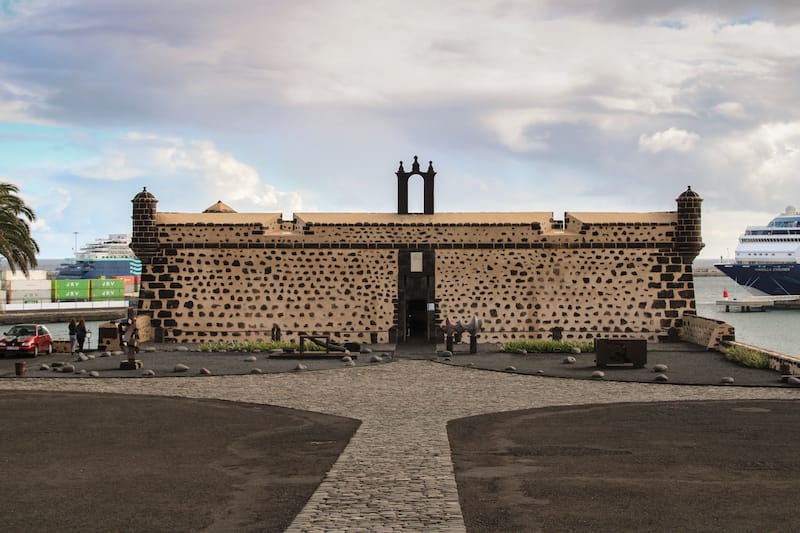 Along with the museum is a restaurant with stunning views of the bay which is considered one of the best restaurants in Arrecife!
There you can try some unique and creative dishes that are a spin on local favorites and afterward have some homemade ice cream made with local goats' milk.
You can attend a live concert at the Castle and enjoy one of the famous cocktails or wines provided!
19. Visit Caleta de Famara
The world-renowned surfer's paradise of Lanzarote called Caleta de Famara is a small fishing village that hosts international surf competitions on the beach of San Jose.
This town attracts many European surfers every year and has surf shops and seafood restaurants beside the surfing traffic that comes to town, is relatively quiet.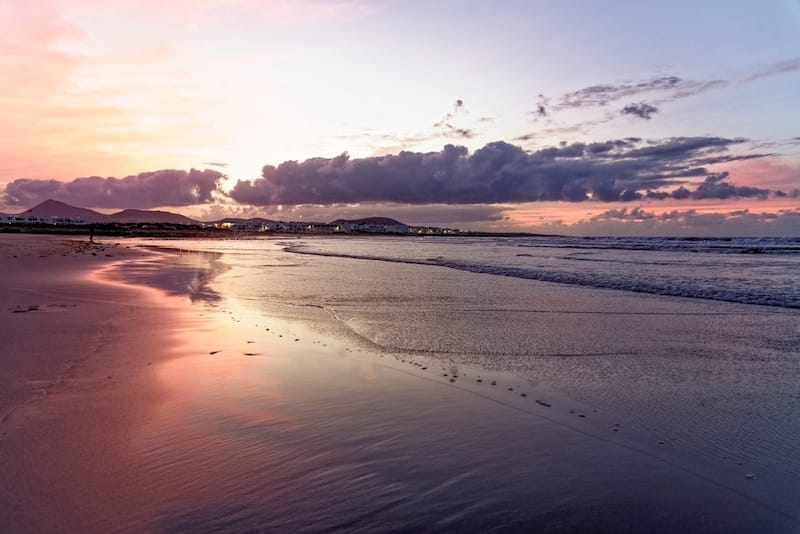 This village has roads covered in sand and a small harbor where the locals take their boats out or go snorkeling.
You can find a community of bungalows for rent in this town that include a swimming pool and a common area and a small supermarket.
The beaches circle around cliffs and have strong currents and winds making for perfect surfing conditions.
They are great for walking and soaking up the sun and you can discover some great restaurants in the town!
20. Travel Back in Time to Haria
Haria is a small town to the north of Lanzarote with only 1,000 residents and is a great place to experience a historical Spanish town.
The town is known for the 1,000 palm trees that were said to have been planted 1 per child born in the town.
This quiet town is a great reprieve from other busier areas on the island and you can go hiking around the village.
The village lies in a valley and has its own shops, bars, and restaurants.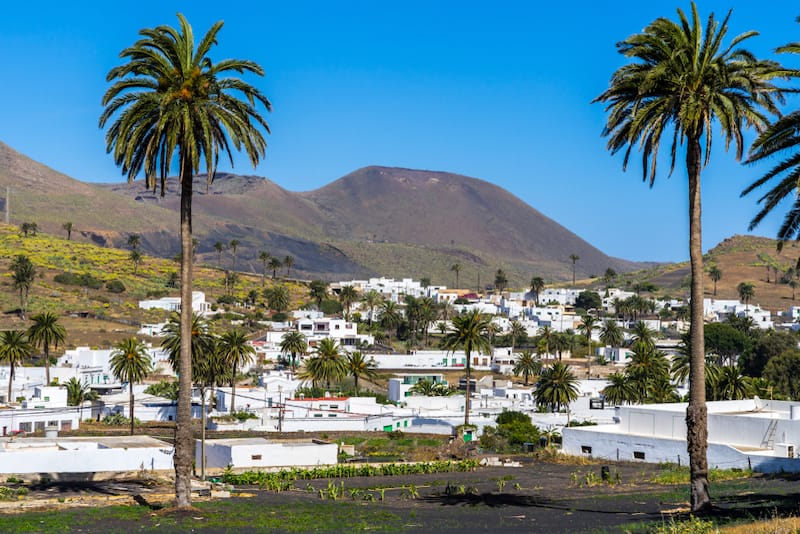 You can see some historic architecture and old houses and a church named the Nuestra Senora de la Encarnacion, with a small art museum inside.
Haria has its own Sunday market where you can find homemade treasures and souvenirs. This tiny village is a hidden gem on the island of Lanzarote.
21. Visit the Natural Swimming Pools at Los Charcones
The natural swimming pools of Los Charcones are a treasure of Lanzarote and are tucked away from the busy beaches on the island.
The pools are of different depths and are a great place to dip in the clear water and relax.
You can go on a natural pools tour and walk along this long stretch, taking in the views. It is a great place for relaxation and sitting in the natural waters in a quiet area.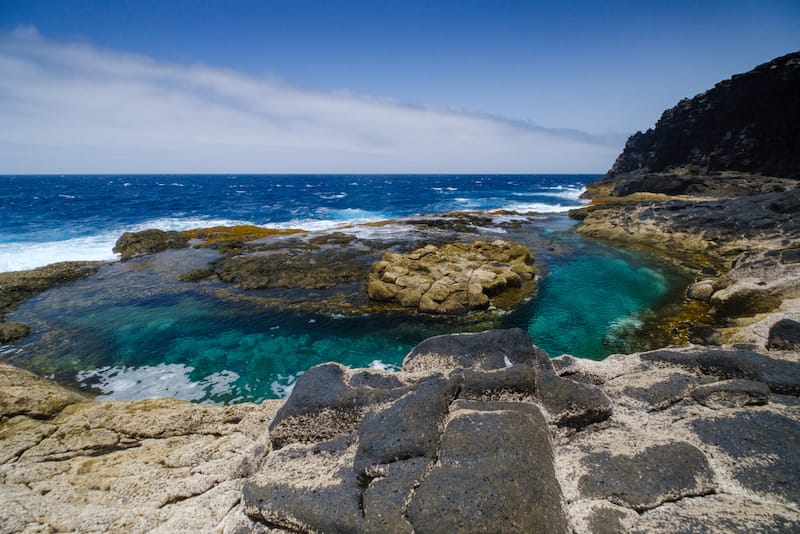 The rugged terrain makes for fewer tourists and a calming, relaxing atmosphere.
Listen to the waves crashing at Los Charcones while you relax in a natural pool only 2 kilometers from the lighthouse of Pechiguera, another popular attraction.
There are towns nearby with cafes and restaurants to visit as well such as Yaiza.
22. Explore Castillo de San Gabriel
One of Lanzarote's oldest castles is the Castillo de San Gabriel, which is surrounded by the beautiful bay of Arrecife.
The Archaeological and Ethnographic Museum was established here and at the entrance to the museum are 2 brass shells that were brought over after World War II.
Be transported back in time walking through the castle and observing the exhibits with a collection of over 3,000 items.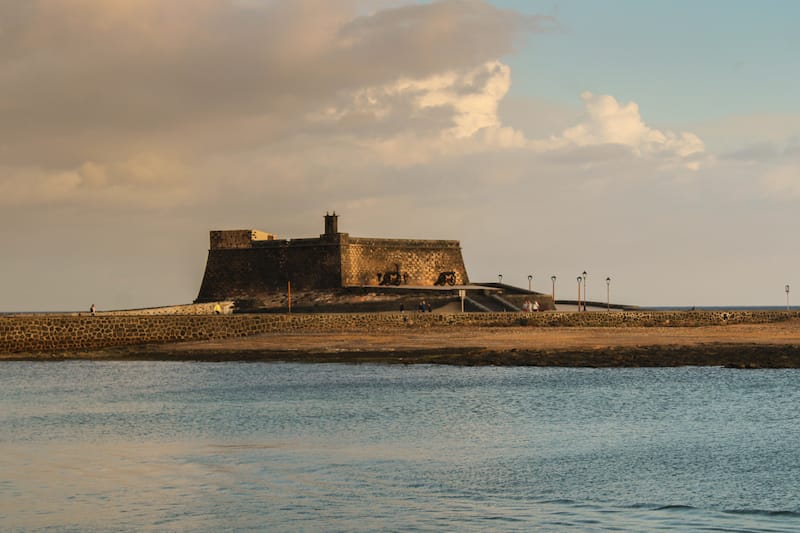 Go outside and take in the spectacular views on the rooftop of the Atlantic Ocean and the island's white capital city.
On the ocean's waterfront are the popular Reducto Urban Beach and the Puente de las bolas, a place where canon balls were made to counterattack the pirates.
This area's fascinating history with pirates and famous historical conquerors makes this a history buff's dream!
23. See Parroquia de San Ginés
Parroquia de San Ginés is a beautiful church in Arrecife, the capital of Lanzarote.
This church was built in the sixteenth century and is in the center square of the town, surrounded by Palm trees. Check out the beautiful architecture and stained glass windows within.
The church still operates and holds Catholic Mass on the weekends, and you can attend a ceremony or just take a tour.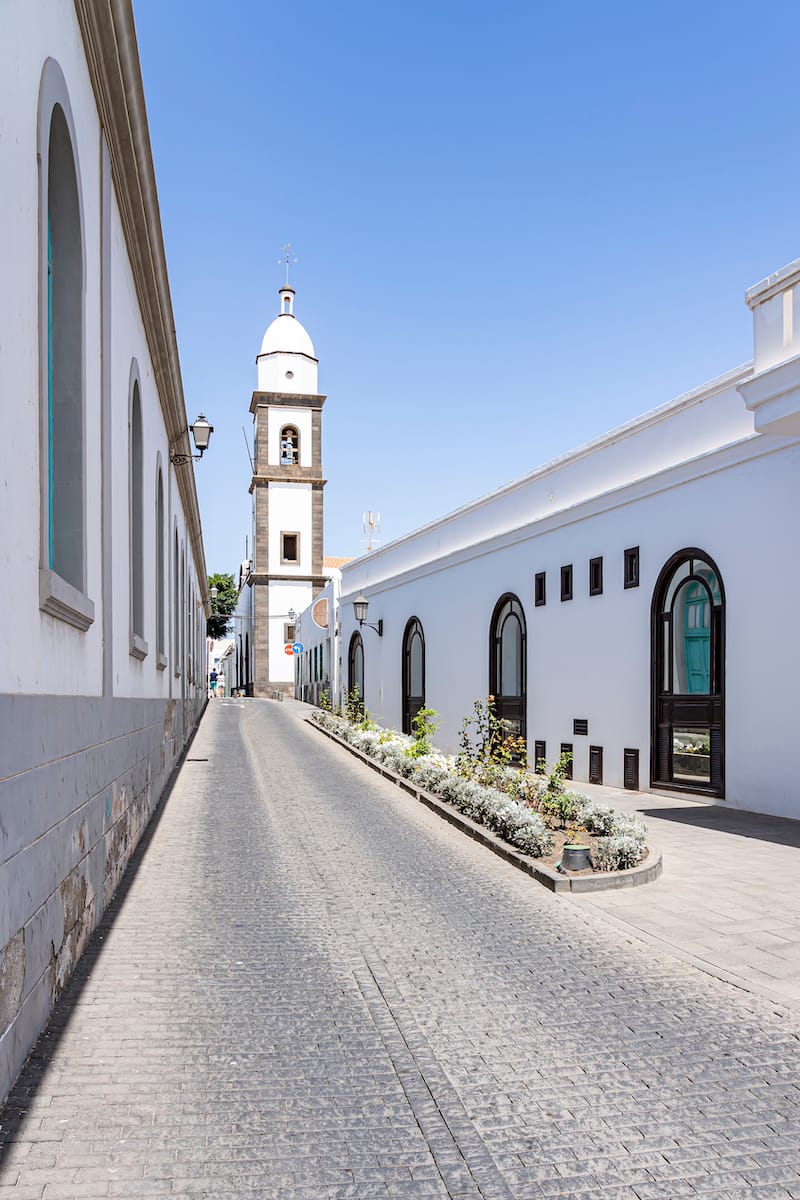 After seeing this historic catholic church you can spend some time in town, eating at a local restaurant or visiting one of the shops.
It is also close to the Puente de las Bolas, the bridge that leads to the Castillo de San Gabriel, and the history museum.
Address: Pl. de las Palmas, 1, 35500 Arrecife, Las Palmas
24. Go Underwater at Museo Atlantico
The Museo Atlantico is Europe's only underwater museum and is located off the coast of Playa Blanca.
The museum is home to some fascinating art sculptures located under the sea at 12 to 14 meters below the surface!
You can do a guided dive from an experienced diver from the only diving school on the island.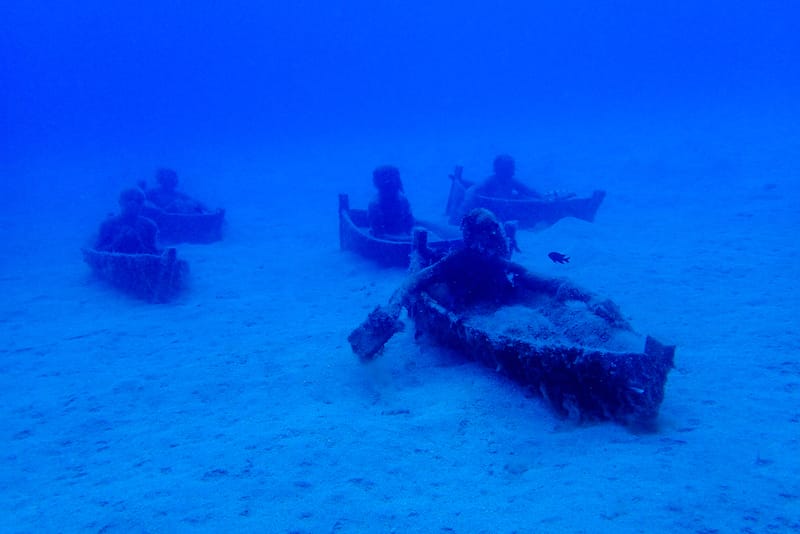 The design of the Museo Atlantico is of an artificial reef and has 10 different groups of sculptures. The themes range from representing historical events to modern-day people. It is one of the best places to visit on Lanzarote!
There is a beginner dive tour for those who are not experienced in diving, which leads you on a short dive where you can still get a view of the statues.
The diving school has several different types of tours from 4 different locations surrounding the museum.
Address: Centro Comercial La Mulata, Calle Lanzarote, 1 Dive College Lanzarote, 35580 Playa Blanca, Las Palmas
Where to Stay in Lanzarote
Are you looking for the best places to stay in Lanzarote? These are some of our top picks and I stayed at them all and loved them!
Casa Salinas Playa (Orzola apartment)
Hostal San Ginas (hostel and hotel I stayed at – budget option!)
Playa Blanca Marcastell (Playa Blanca apartment)
Did we miss any of the best things to do in Lanzarote?
Let us know your favorite Lanzarote attractions, activities, and more in the comments! Thanks!
More Lanzarote Travel Guides
Pin this Lanzarote Things to Do Guide