Are you looking for the best day trips from Los Angeles? This guide has you covered! Read on!
Los Angeles is sprawling and can overwhelm at times. These LA day trips offer a quick getaway and escape from the city – from national parks to small towns and beyond!
We have included an array and tried to include Los Angeles day trips that are within 3 hours of the city and can easily be reached by car.
Did we miss any of your favorite day trips from LA? Let us know your favorites in the comments!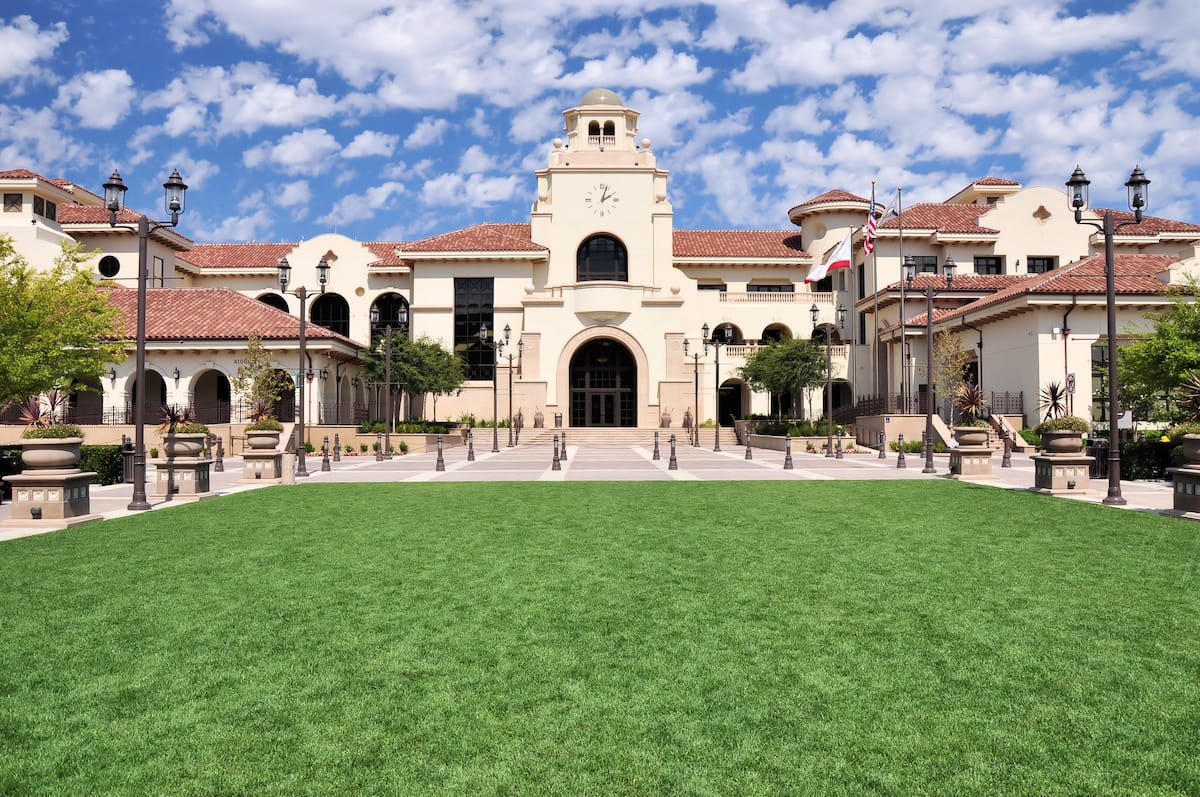 How to Get Around Southern CA
Our public transportation system in the US (and especially Southern California) leaves something to be desired. Therefore, the best way to get around is to rent a car in LA.
You can also take organized day trips from the city to some of the spots below. Or, if traveling with a group, you can rent a bus with GOGO Charters and visit the places that way!
Best Day Trips From Los Angeles
Laguna Beach
Distance from Los Angeles: 50.2 miles
Driving Time: 45 minutes
Along Orange County's small coast is Laguna Beach, known for its coves in Crystal Cove State Park, its tide pools, and a boardwalk with beautiful views overlooking the ocean, leading to the Heisler Park's gardens.
It is a popular surfing destination and has a seemingly endless network of trails through the protected lands of Laguna Coast Wilderness Park's coastal canyons of 20,000 acres.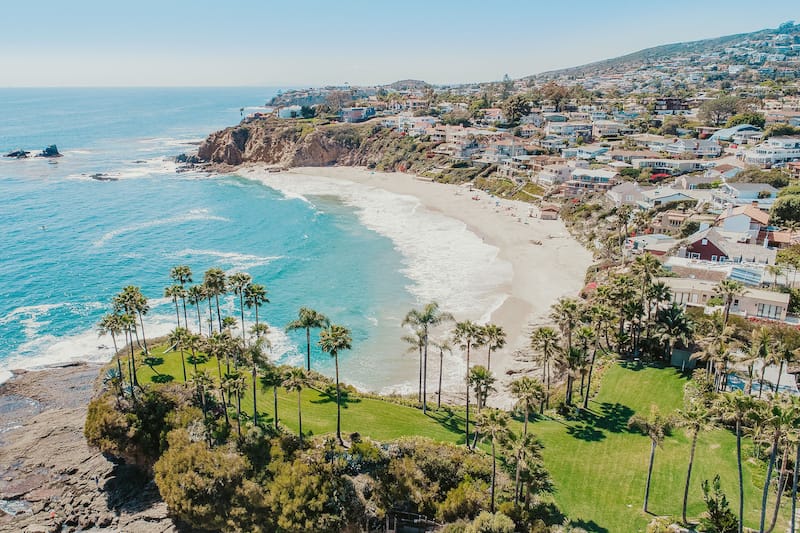 There are an abundance of biking, hiking, running, and even diving opportunities depending on which trails you take.
On land in the beautiful California coastal town, you'll find art galleries and bohemian aesthetic boutique shops, cafes, and restaurants.
Pismo Beach
Distance from Los Angeles: 175 miles
Driving Time: 2 hours, 44 minutes
Along central California's coast is Pismo Beach, renowned for its many beaches, the Eldwaylen Ocean Park, the Monarch Butterfly Grove that shelters migrating butterflies, the Dinosaur Caves upon the rugged cliffs with ocean views and trails, Margo Dodd Park's coastal bluff and beach, and the Chumash Park's wetlands.
Additionally, there are popular wineries, such as Tastes of the Valleys, Monarch Grove Winery Tasting Room, and Sans Liege Wine Tasting, which are all along the coast with panoramic views of the ocean.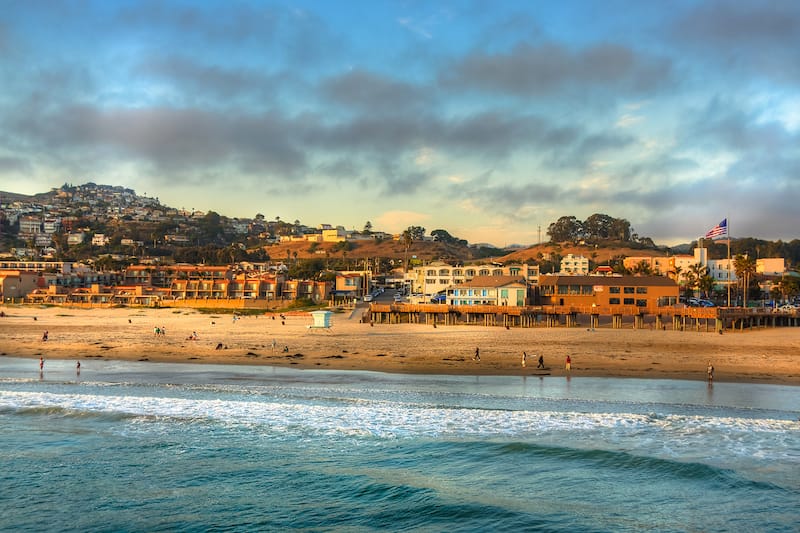 There are also water parks and playgrounds at the various parks for children to enjoy and spend their time.
Huntington Beach
Distance from Los Angeles: 37.2 miles
Driving Time: 39 minutes
Southeast of Los Angeles is Huntington Beach, primarily known for its surf beaches and the International Surfing Museum displaying the local memorabilia of its surf culture and longboards.
Huntington Beach is especially known for its long Huntington Beach Pier.
It is known as the Surf City due to its mild climate and long beautiful beaches reaching a length of 8.5 miles.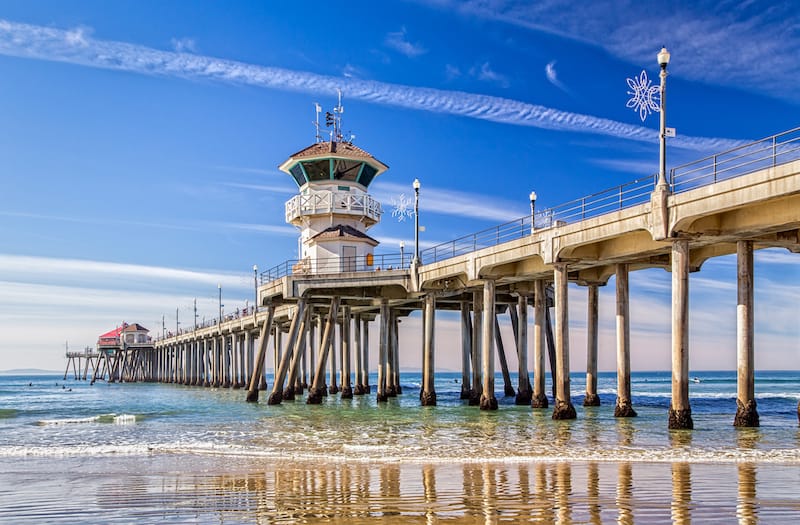 The beach farther inland also has a Central Park with lakes, fields, gardens, and even an equestrian center, in which you can go horseback riding on the beaches.
Additionally, there is the Bolsa Chica Ecological Reserve, which shelters a variety of bird species in its dunes and wetlands.
Morro Bay
Distance from Los Angeles: 201.7 miles
Driving Time: 3 hours, 8 minutes
Morro Bay is named after the ancient volcanic Morro Rock, a mound at the end of its beach. It is one of the most charming small towns in CA.
The rock itself is nestled within the Morro Bay State Park, where you can engage in an abundance of outdoor activities, such as hiking, biking, surfing, kayaking, boating, and even golfing, near its numerous lagoons and trails.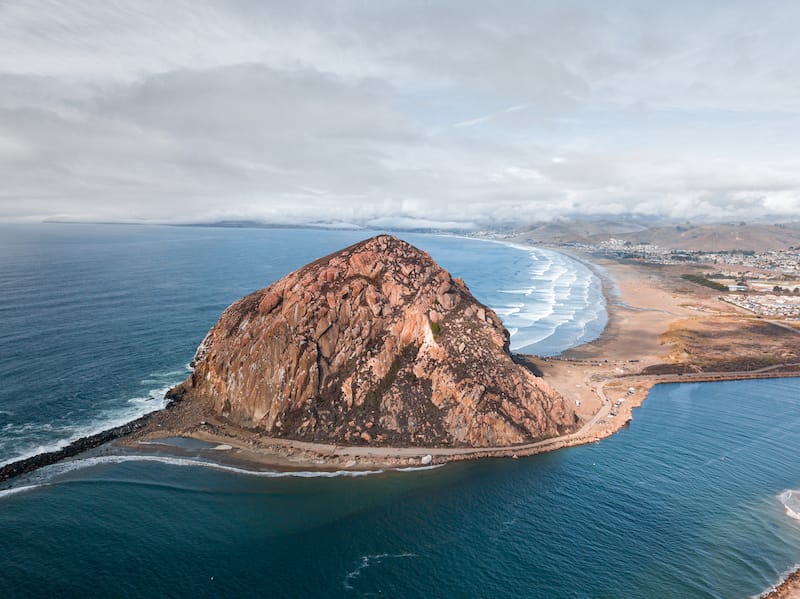 There is also a saltwater marsh home to many birds, and trails leading up to the stunning Black Hill granting both views over the bay and the city.
Additionally, Morro Bay State Park houses a Museum of Natural History and features local Native American culture alongside its ecological exhibits.
Newport Beach
Distance from Los Angeles: 44.1 miles
Driving Time: 40 minutes
Newport Beach's large and packed harbor of vessels of all kinds is an exciting center of entertainment.
It has a classic amusement park featuring a Ferris wheel, a carousel, and arcade games, and is called the Balboa Fun Zone.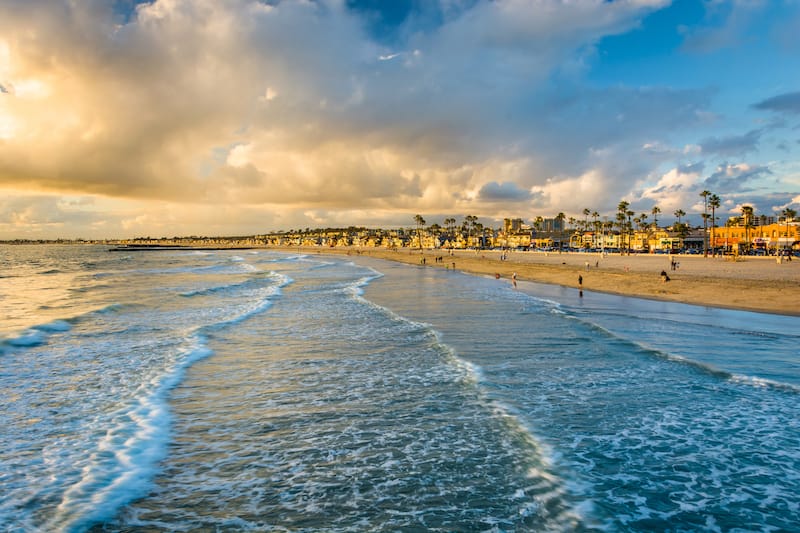 The Balboa Peninsula is divided into two piers, the Newport Beach Pier and Balboa Pier, and connects by a bridge, or grants access via ferry and its boat docks to Balboa Island.
The island is primarily a destination for holidays and vacations and has a chic street with upscale shopping and dining as well as a local history museum, all overlooking the ocean views.
Channel Islands National Park
Distance from Los Angeles: 69 miles
Driving Time: See below
While visiting Channel Islands National Park takes a little extra effort, it is absolutely worth the day and can even be one of the best weekend trips from LA if you want to stay longer!
The best way to reach the Channel Islands from Los Angeles is to drive to Ventura Harbor in Oxnard and then take the ferry across to Santa Cruz Island.
There are two concessionaires for boats to the islands there (Truth Aquatics and Island Packers).
Channel Islands is home to five islands- Santa Cruz, Anacapa, Santa Rosa, Santa Barbara, and San Miguel- full of untouched beauty and gorgeous natural sceneries.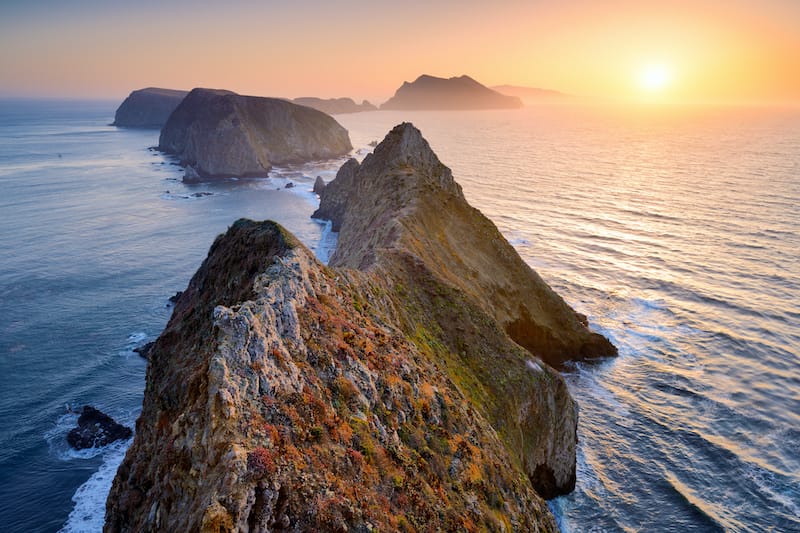 Even the boat or plane ride to the islands is majestic on its own.
One of the best ways to explore the Channel Islands is via kayak, where you can check out the forests and sea caves close up.
You can also go hiking and searching for wildlife on the 15+ trails. You can even hike to a lighthouse in Anacapa.
Whale watching is another popular activity here between December and April.
In order to fully explore the beauty of the Channel Islands, it's recommended that you stay for a few days on the islands' campgrounds or by booking a tour where you will sleep on the boat.
Other activities here include paddleboarding, surfing, and snorkeling- in short, worlds of fun await you!
Six Flags Magic Mountain
Distance from Los Angeles: 35.1 miles
Driving Time: 34 minutes
Just 35 miles northwest of downtown Los Angeles in Valencia is Six Flags Magic Mountain, a 262-acre amusement park featuring popular rides, such as X2, Tatsu, The Riddler's Revenge, Lex Luthor, and Twisted Colossus.
Additionally, there are thrill rides and family rides to partake in, such as CraZanity, Dive Devil, Full Throttle, The Apocalypse, The Batman Ride, the Buccaneer, and the Canyon Blaster.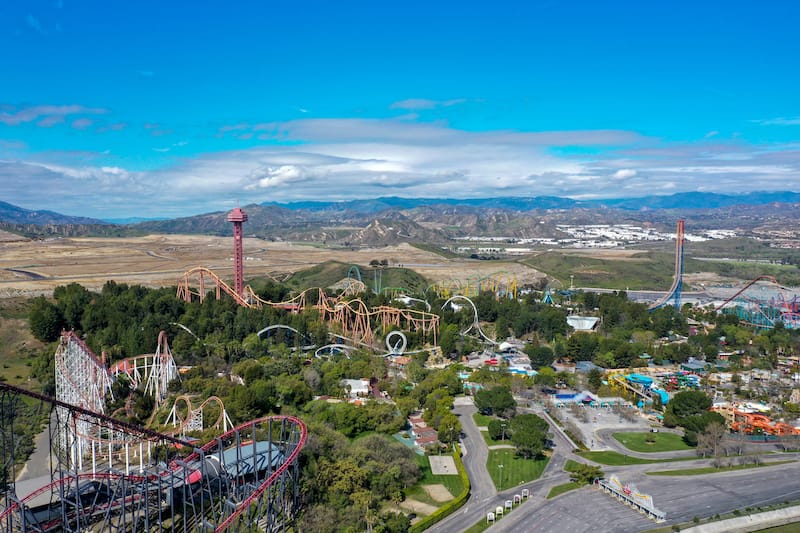 There are over a hundred attractions in the park, with shopping, dining, events, concerts, live shows, and entertainment.
Tickets at the gate fluctuate throughout the year due to seasonal and holiday specials, and it is recommended to purchase ahead of time online!
Lake Arrowhead
Distance from Los Angeles: 80 miles
Driving Time: 1 hour, 20 minutes
Lake Arrowhead is the hidden gem of the West Coast.
Surrounded by the San Bernardino National Forest, the landscape establishes the ambiance of a charming mountain resort, and it is often called "The Alps of Southern California."
A variety of outdoor activities are available throughout the year, including backpacking, bicycling, hiking, as well as water and snow skiing.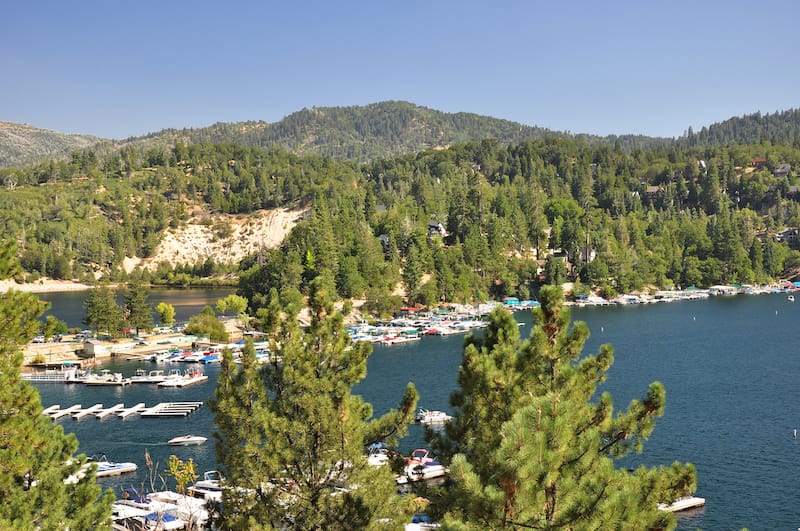 The mountainous region boasts exceptional lodging and dining experiences, such as Saddleback Inn, which is known for its stand-alone cottages with huge double jacuzzi tubs and fireplaces.
Its Saddleback Grill presents traditional and innovative gourmet American cuisine with a full bar and live entertainment.
Disneyland
Distance from Los Angeles: 27 miles
Driving Time: 27 minutes
In Anaheim, you'll find the first theme park opened by the Walt Disney Company, Disneyland.
There is a multitude of attractions, including Pirates of the Caribbean, Peter Pan's Flight, Indiana Jones Adventure, Space Mountain, Splash Mountain, Alice in Wonderland, and Ancient Sanctum.
There is the popular Character Dining, where you can meet the stars of the world of Disney in person!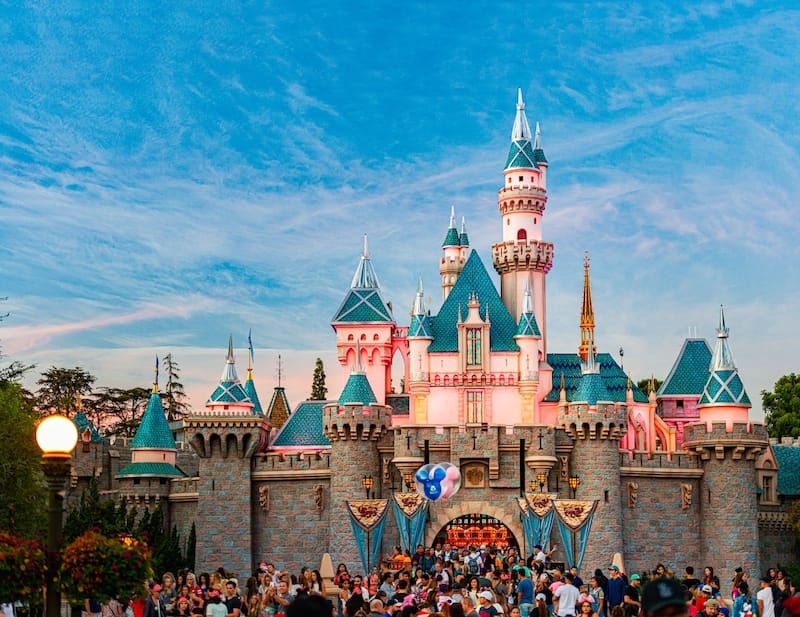 There is also a Christmas Fantasy Parade or the Disney Viva Navidad Street Party for live entertainment.
The Disneyland Monorail is a great option to rest your legs whilst catching the sites of the city and discussing the next course of action.
Pasadena
Distance from Los Angeles: 10.8 miles
Driving Time: 16 minutes
Pasadena is a beautiful town right outside Los Angeles. Known for its charming Old Town, be sure to stroll around the lovely district, which is among the most walkable spots in Southern California.
You can also go on a tour of the Gamble House, which was originally built for the heirs of Procter & Gamble.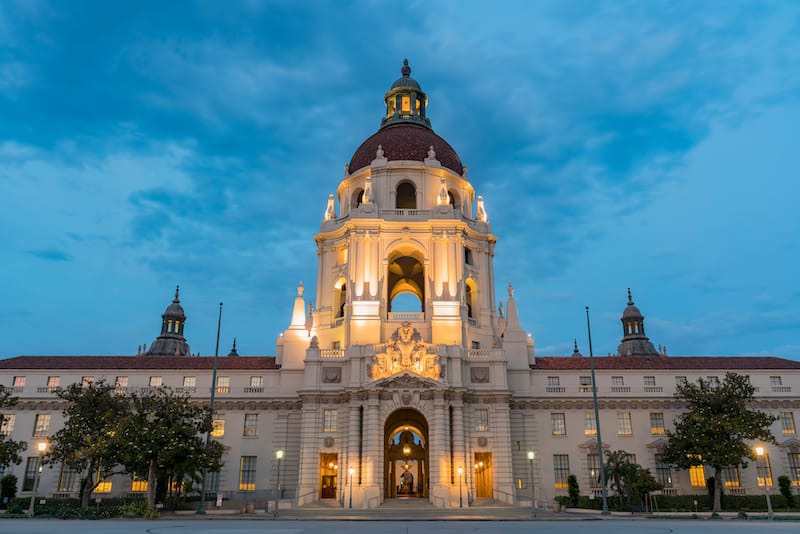 It's also possible to go hunting for antiques at the Rose Bowl, the same site as the New Year's Rose Bowl Game, which has an entire stadium-sized flea market on the second Sunday of the month.
For those looking for an outdoorsy adventure, be sure to check out Eaton Canyon Falls, an accessible waterfall hike.
San Gabriel Mountains National Monument
Distance from Los Angeles: 50 miles
Driving Time: 59 minutes
Covering 346,177 acres of land, the San Gabriel Mountains National Monument is home to some of the best biodiversity in the USA.
It is also home to the Mount Wilson Observatory, where some of the most incredible discoveries in modern astronomy have been made.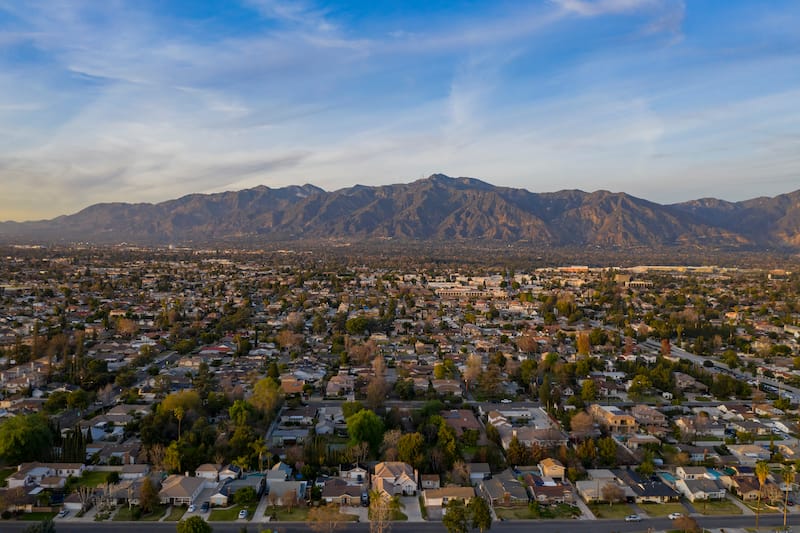 The monument, which boasts around 4 million visitors every year, is also the perfect place for a variety of outdoor activities, including hunting, cross-country skiing, hiking, picnicking, horseback riding, and water activities.
A popular spot within the monument is Jackson Lake, which is located above the San Andreas fault, home to plenty of fish, and a great spot for camping.
You can also hike to the Bridge to Nowhere, a pedestrian art bridge that is located deep within the Sheep Mountains.
Santa Barbara
Distance from Los Angeles: 95.1 miles
Driving Time: 1 hour, 24 minutes
Santa Barbara's sandy beaches are surrounded by the soaring Santa Ynez Mountains, with overflowing mountains of vibrant biodiversity gleaming in the golden sun.
The region has vineyards on the coastal valleys running from west to east, and the brisk ocean air creates some of the best Pinot Noir, Chardonnay, and Syrah in all of California.
Some of the best vineyards to visit are Alma Rosa, Brewer-Clifton, Babcock, Fess Parker, and Dierberg Star Lane.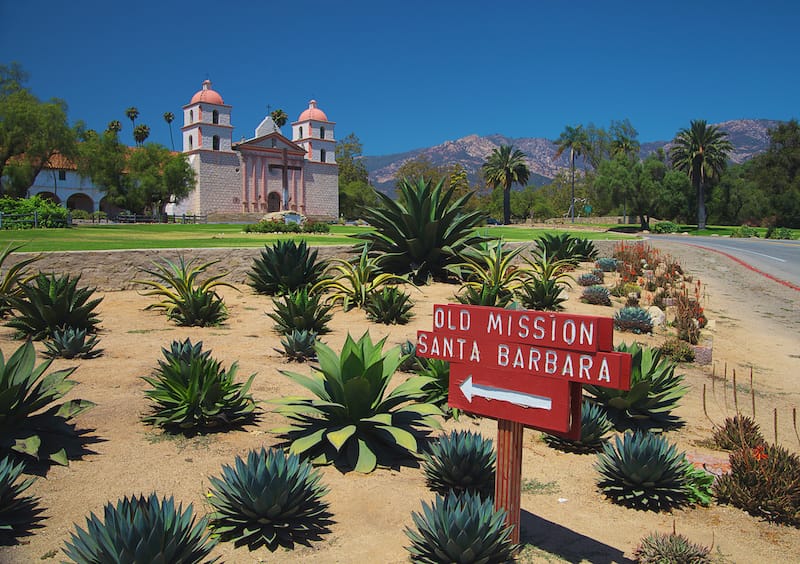 Enjoy Santa Barbara's nature and explore the underground salt caves, or go kayaking through the Channel Islands.
Otherwise, the city has a multitude of world-class dining establishments, in addition to museums, art galleries, and shopping.
Joshua Tree National Park
Distance from Los Angeles: 127.6 miles
Driving Time: 1 hour, 56 minutes
Joshua Tree National Park has the typical desert aesthetic you see in movies, with its bare desert landscapes, cactuses, and its rough and bumpy rock formations.
The park itself is named for its abundance of Joshua trees that you find in its deserts, which are actually both the Mojave and Colorado Deserts. It is ideal for a one-day trip!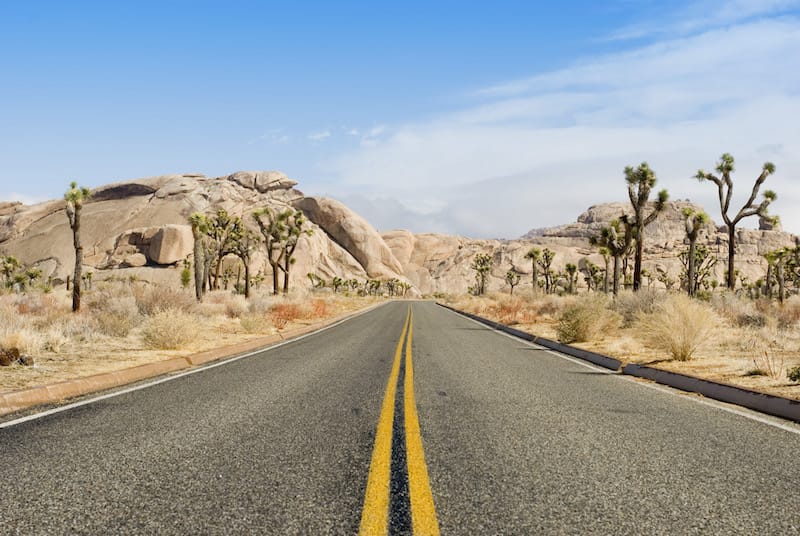 The vast protected area has weaving trails that lead up to the Hidden Valley, a one-mile loop trail that leads through massive boulders of an alleged legendary hideout belonging to cattle rustlers, as well as panoramic views of mountains, mesas, and the famous Coachella Valley.
Malibu
Distance from Los Angeles: 33.2 miles
Driving Time: 38 minutes
Malibu is known for its beautiful sandy beaches and luxuriant neighborhoods full of upscale shopping, restaurants, and cafes.
It is a favorite place to live among many celebrities over the years and has stunning museums.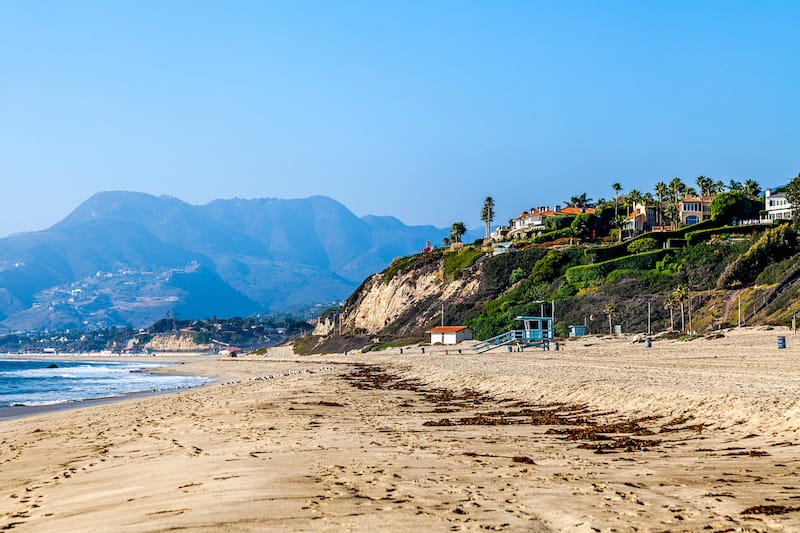 The Getty Villa is a great place to start your luxurious strolling, through the beautiful colonnades and gardens and underneath the ornate ceilings housing collections of tens of thousands of antiquities from ancient Mediterranean civilizations.
The Point Dume State Beach and Preserve has the best beaches in Malibu, with rocky cliffs and coves, and Zuma Beach has over a hundred acres of land with a beachfront of almost 2 miles!
Ojai
Distance from Los Angeles: 82.9 miles
Driving Time: 1 hour, 19 minutes
Discover the village aesthetic of Ojai in the heart of the Topa Topa Mountain valley.
Due to it being nestled in a geomagnetic vortex zone, travelers from wellness retreats and meditation centers come to unwind and hike the numerous scenic trails spread throughout the valley.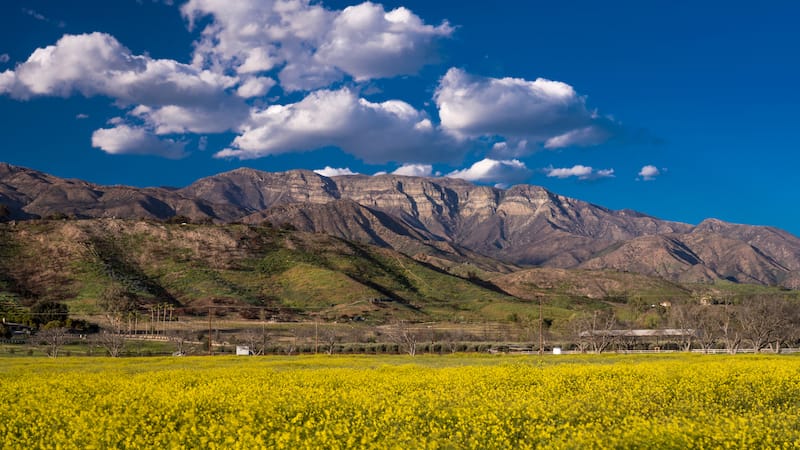 The Rose Valley Falls Trail is a 1-mile picturesque hike in the Los Padres National Forest featuring vibrant meadows and a waterfall you can climb into!
Additionally, Ojai's town has art galleries, such as the Beatrice Wood Center for the Arts and Dan Schultz Fine Art Gallery and Studio, boutique hotels, specialty shops, and local organic farmers markets.
San Juan Capistrano
Distance from Los Angeles: 54.5 miles
Driving Time: 47 minutes
The birthplace of the renowned Orange County is Mission San Juan Capistrano, a historic landmark and museum founded more than 200 years ago.
It showcases California's Native American, Spanish, Mexican, and European heritage and multicultural history.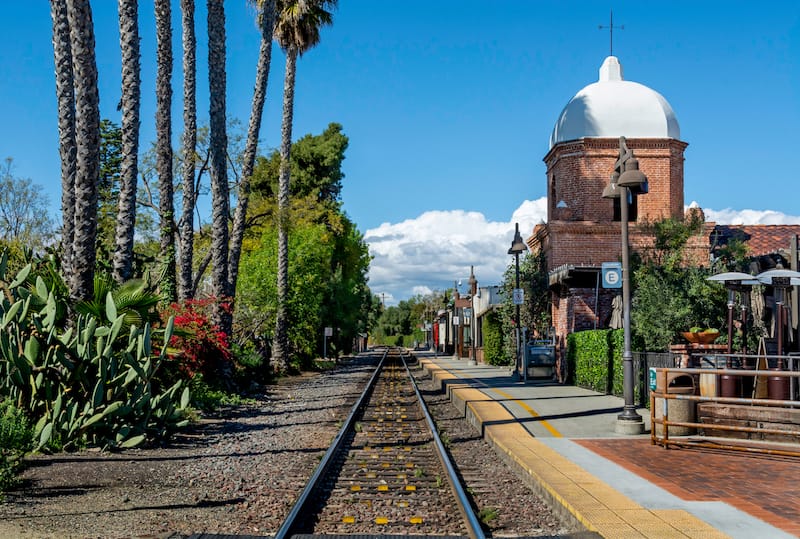 To this day, the chapel where Saint Serra once celebrated Mass still stands.
The city is called the "Jewel of the California Missions" and is especially famous for its Annual Return of the Swallows, and is declared to be the American Acropolis.
It exhibits precious and rare paintings, and religious artifacts, such as a stunning 400-year-old golden retablo, stunning gardens, historic paintings, and historical artifacts.
Oceanside
Distance from Los Angeles: 82.9 miles
Driving Time: 1 hour, 9 minutes
The picturesque Harbor Beach and Oceanside Harbor of Oceanside city are highlighted by its many palm trees and its iconic wooden pier.
Its marina and streets of theaters, shops, museums, and restaurants, which are growing in reputation for their delicious food, and its boutique hotels have reimagined the historic downtown.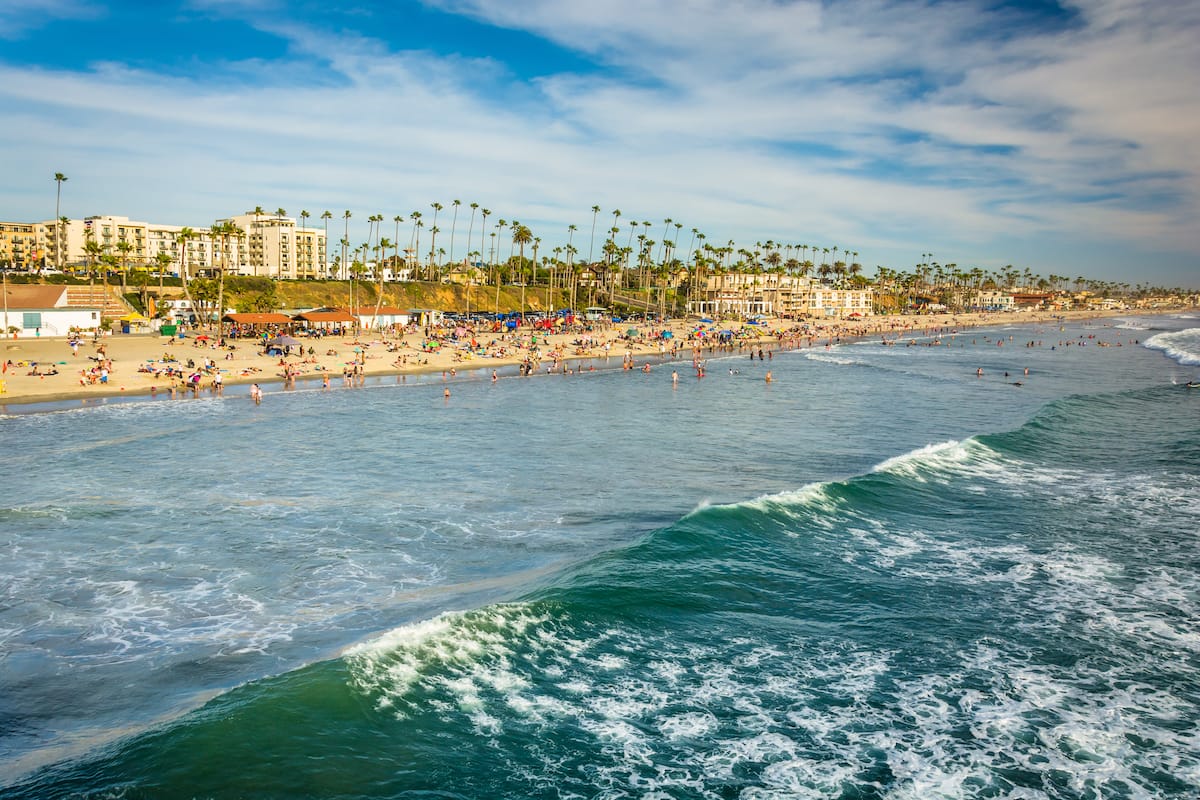 The boutique shops are all local crafts and products, and there is an abundance of recreational activities to engage in other than swimming and surfing at the beach, such as strolling through the Mission San Luis Rey – Rose Garden, relaxing at Sunny's Spa and Beauty, or going rock climbing at Vital Climbing Gym.
Solvang (and Buellton)
Distance from Los Angeles: 128.2 miles
Driving Time: 2 hours
Get away from the hustle and bustle of Los Angeles and enter the wine country of the region, where you'll find the quirky towns of Solvang and Buellton.
These historic industrial towns have been reimagined into chic and trendy restaurants, winery bars, bistros, cafes, breweries, distilleries, winery showplaces, and pastry and sweet shops.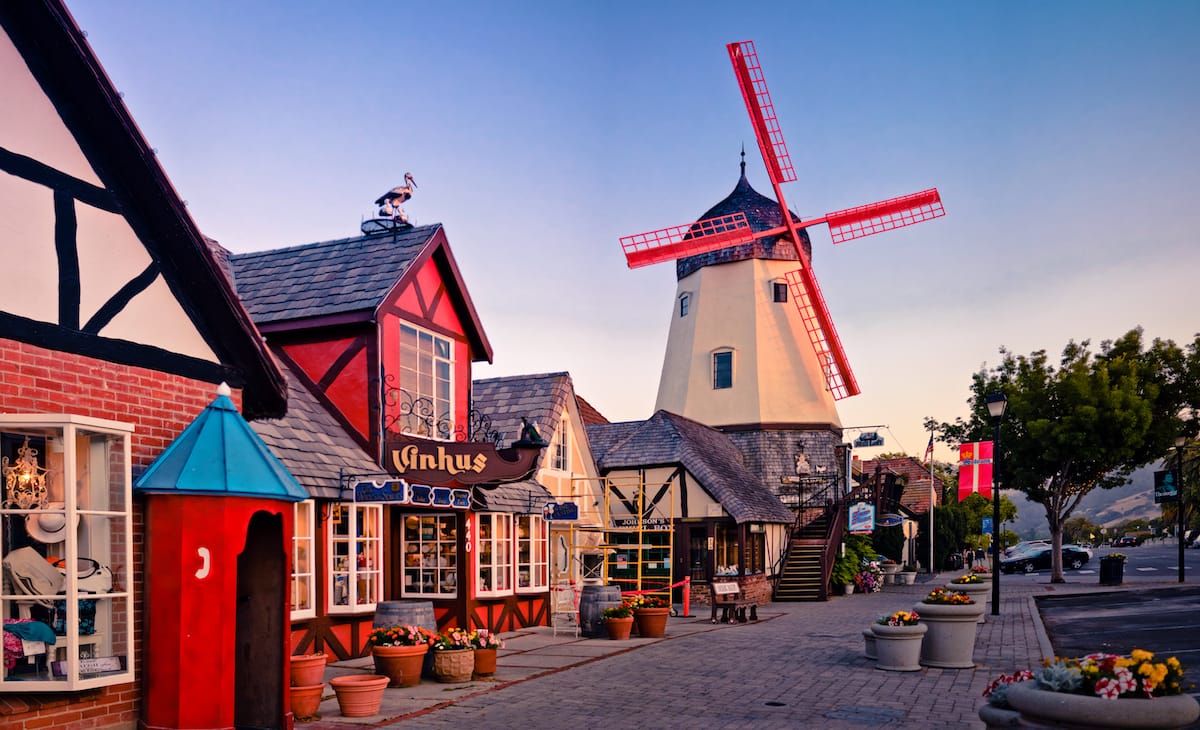 There are more than 10 wine-tasting rooms in Buellton alone and visiting them is one of the best things to do in the area! Solvang has a Danish history and vibe to it.
To check out a collection of American automobilia in a vintage museum, go to Mendenhall's Museum of Gasoline Pumps & Petroliana.
Big Bear
Distance from Los Angeles: 96.8 miles
Driving Time: 1 hour, 44 minutes
On the banks of Big Bear Lake is a town bearing the same name, particularly known for its lean slopes and terrain that transform into a wonderful ski resort throughout the year.
The Bear Mountain ski resort and Snow Summit ski resort are popular destinations for visitors across the US.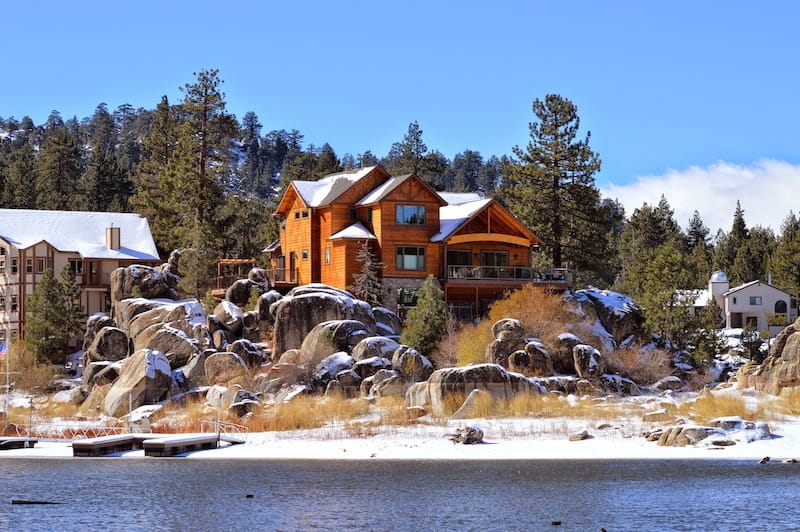 Big Bear Lake Village is a commercial area with an endless row of specialty shops, boutiques, and restaurants on its picturesque streets.
San Bernardino National Forest encloses the city and has an abundance of mountain trails to choose from, such as the Pine Knot Trail to Grand View Point or the Castle Rock Trail.
Temecula
Distance from Los Angeles: 84/9 miles
Driving Time: 1 hour, 13 minutes
Temecula has over 3,000 acres of wine country and produces award-winning wine in its many wineries, in which you can dine, lounge, and sample, such as the Callaway Vineyard & Winery, the Vindemia Vineyard & Winery, and the Baily Vineyard.
Additionally, it hosts many championship golf courses, such as the 27-hole course at Temecula Creek Inn.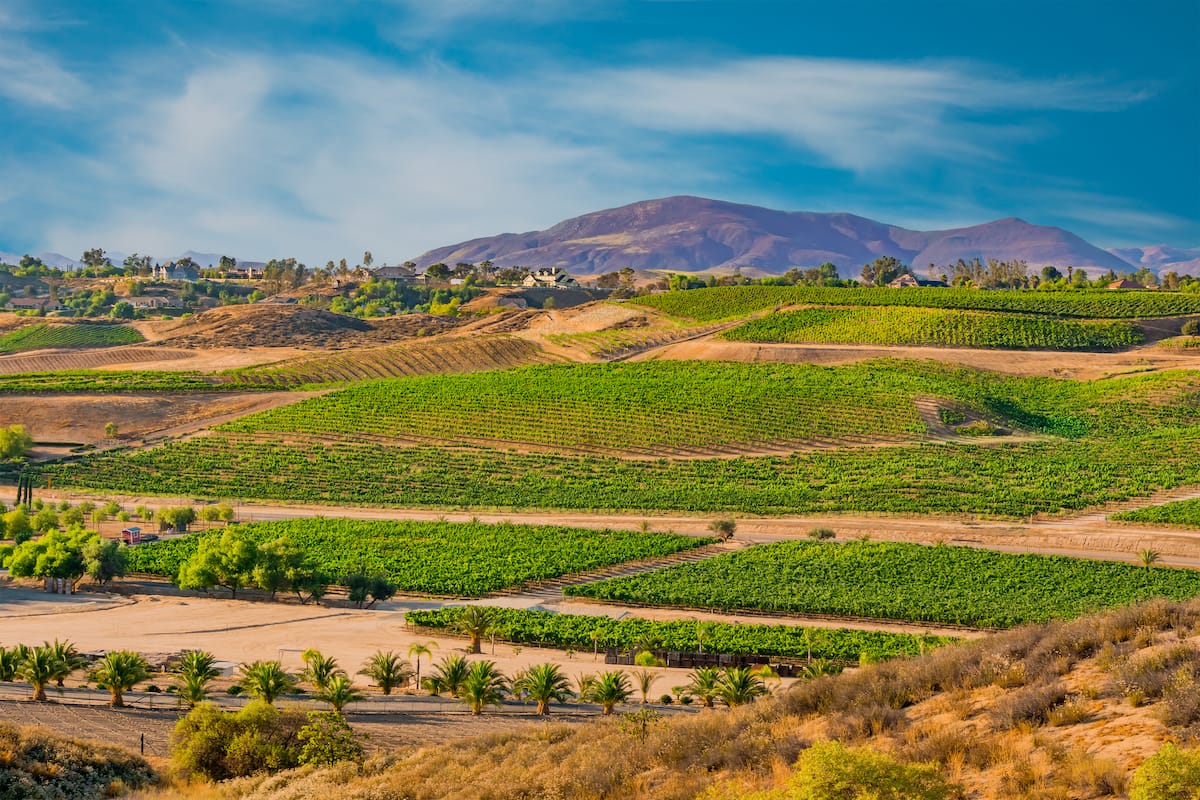 The climate is also ideal for hot-air ballooning, and A Grape Escape Balloon Adventure and California Dreamin' Balloon Adventures are two renowned establishments in the state for their serene adventures.
Take a walk through Old Town Temecula, which has lots of pretty shops, eateries, and cafes. If you turn this into a weekend trip, it is very easy to find a place to stay overnight!
Palm Springs
Distance from Los Angeles: 106.6 miles
Driving Time: 1 hour, 32 minutes
Palm Springs is a celebrity favorite since the 1930s due to a variety of reasons: from stylish boutique and vintage hotels, spas, golf courses, award-winning restaurants, and hot springs, to the rift valleys of Coachella which grant trails for horseback riding, hiking, and biking, you'll find all the best parts of Southern California in this city.
Palm Canyon Drive features all the main attractions and is popular for its architecture of mid-century-modern styles.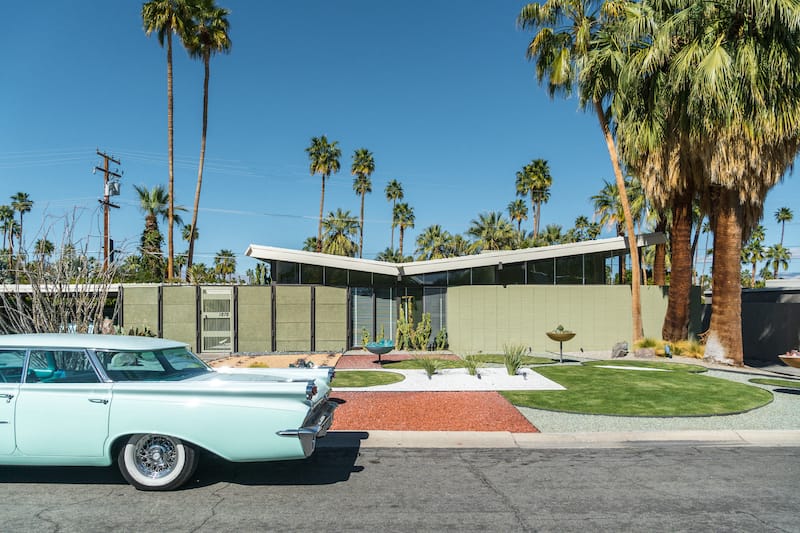 To explore the surrounding landscape, the Aerial Tramway takes you into the heart of the Coachella Valley to its mountain tops, where you can enjoy a unique lounging, restaurant, or café experience.
If you spend longer than just a day in Palm Springs, we recommend heading to Joshua Tree on a road trip from there!
Long Beach
Distance from Los Angeles: 24 miles
Driving Time: 26 minutes
Long Beach is a popular port and coastal city in the south of California known for its waterfront attractions, from museums to world-class dining establishments.
RMS Queen Mary is a main attraction functioning as a museum, hotel, and exhibition center.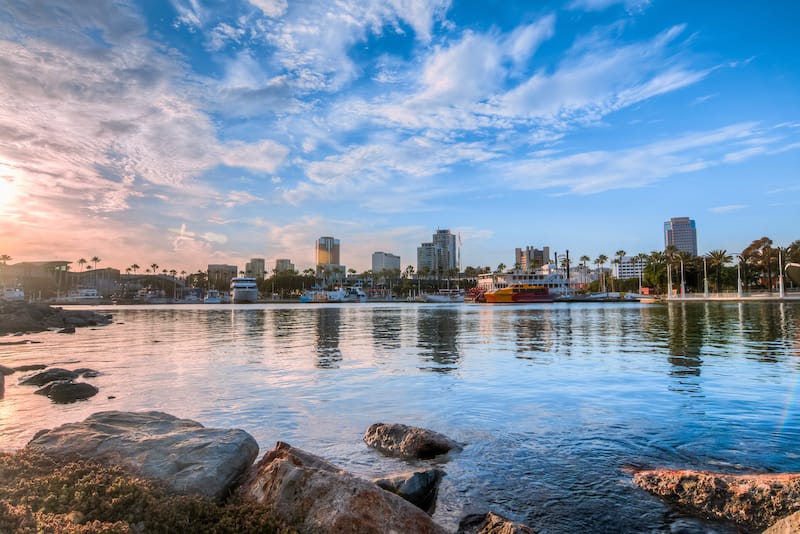 There is also the Museum of Latin American Art, showcasing contemporary works, and the historical landmark of Rancho Los Cerritos, the largest adobe home of its time with gardens.
The Naples Canals are docked with a variety of vessels, and have rentals that offer opportunities to kayak, paddle, or even drive the boats present. There are also excellent waterfront restaurants and cafes.
Catalina Island
Distance from Los Angeles: 22 miles
You must take a high-speed ferry to reach Catalina Island, which lasts approximately 1 hour.
Catalina Island is renowned for its pleasant coastal towns encircled by protected wildlife and a backdrop of its highest peak, Mount Orizaba.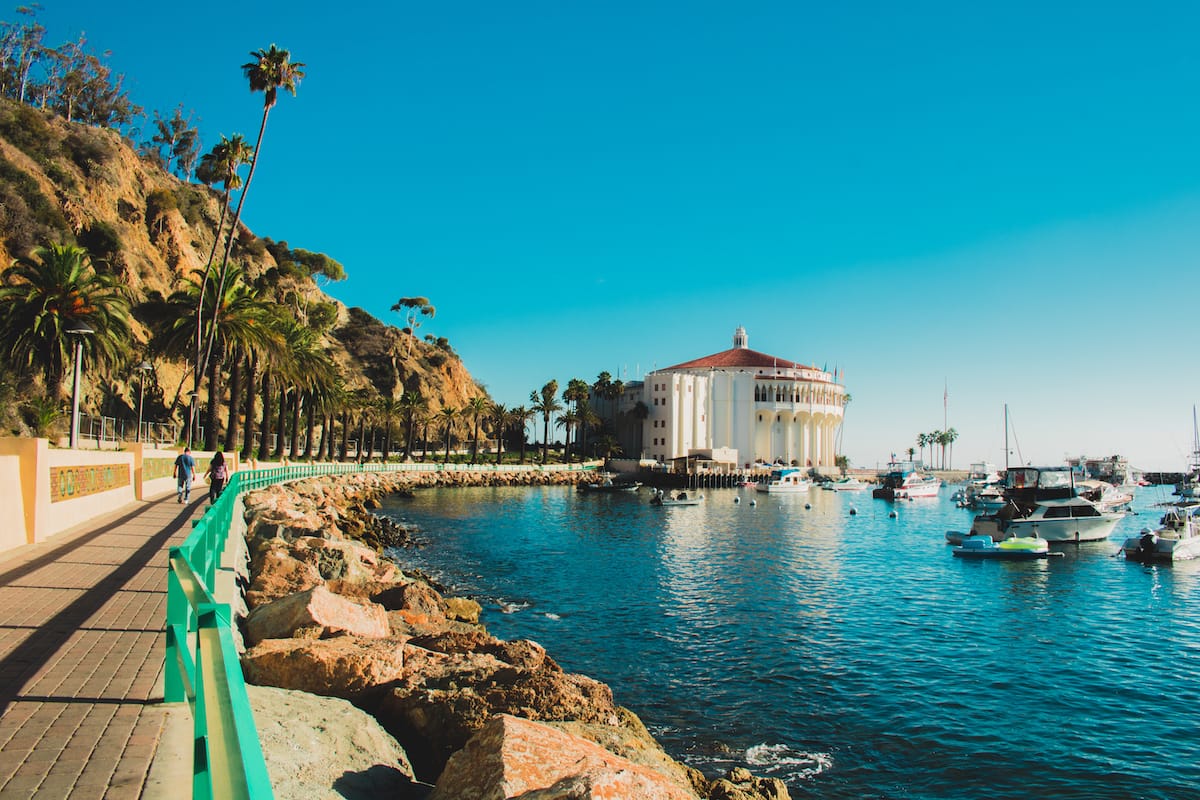 It is an excellent location to go scuba diving with numerous sites throughout the island. It has two resort towns: Two Harbors and Avalon.
The former is in the north and has a campground and harbor and is primarily centralized when trying to engage in and with the island's natural environment and wildlife, whereas the latter in the south has restaurants, hotels, and attractions, such as the Catalina Casino, which has a museum, ballroom and movie theater.
San Diego
Distance from Los Angeles: 120.3 miles
Driving Time: 1 hour, 43 minutes
Besides its perfect climate and its excellent beaches running over 70 miles, the city of San Diego is also known for its art galleries and artist studios, such as the San Diego Museum of Art and Museum of Contemporary Art San Diego, and its museums, such as the San Diego Natural History Museum and San Diego Air & Space Museum.
It also has numerous gardens, such as the Inez Grant Parker Memorial Rose Garden, Japanese Friendship Garden, and Harper's Topiary Garden.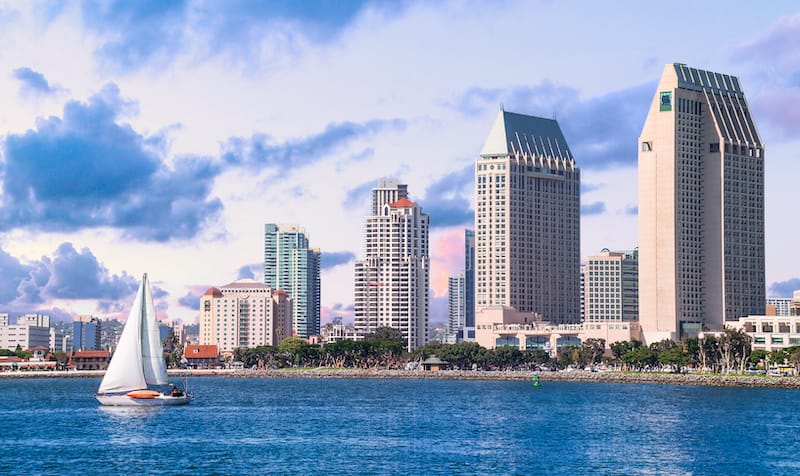 The deep harbor of the city houses an aircraft carrier that was transformed into a public museum, called the USS Midway. Additionally, LEGOLAND California is near the city.
While we think at least two days in San Diego is optimal, it can definitely be enjoyed on a day trip as well!
Coronado Island
Distance from Los Angeles: 125.9 miles
Driving Time: 1 hour, 51 minutes
Coronado Island has five stunning beaches that attract visitors annually all throughout the year: Coronado Central Beach, Coronado Dog Beach, Silver Strand State Beach, Glorietta Bay Beach, and Ferry Landing Marketplace.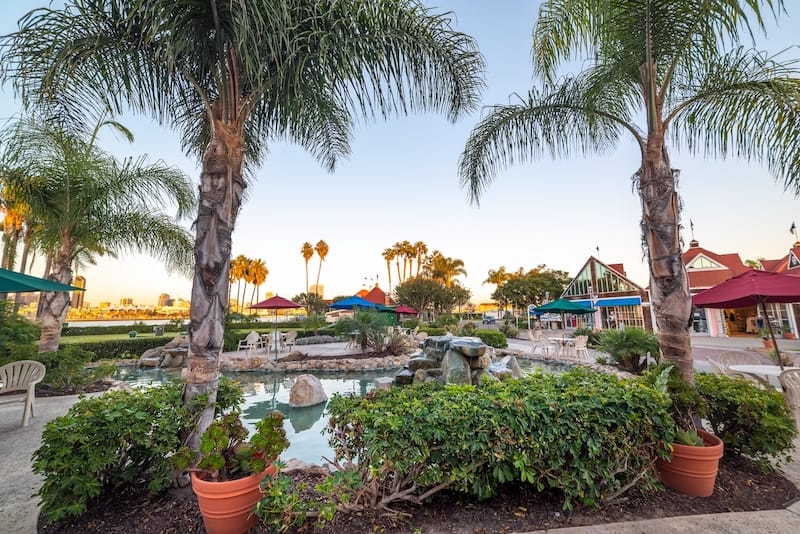 Coronado's Ferry Landing is known for its specialty shops, restaurants, and art galleries, such as the Emerald C Gallery, the San Diego Art Gallery – which is also called The Galleria, and the Art & Frames By Wood Gallery.
Boat around the Bay Marina with sailboats and speedboats, or engage in water activities with kayaks, water skis, jet skis, or paddle boats. The Coronado Skate Park is another attraction, with a 16,000-square-foot park.
Kern County
Distance from Los Angeles: 132.7 miles
Driving Time: 2 hours, 7 minutes
Kern County has a variety of museums to check out, such as the Crystal Palace and Museum, the California Living Museum, and Camelot Park.
The Kern River Golf Course has a well-maintained course with long holes, greens, and fairways, and also serves excellent food and refreshments.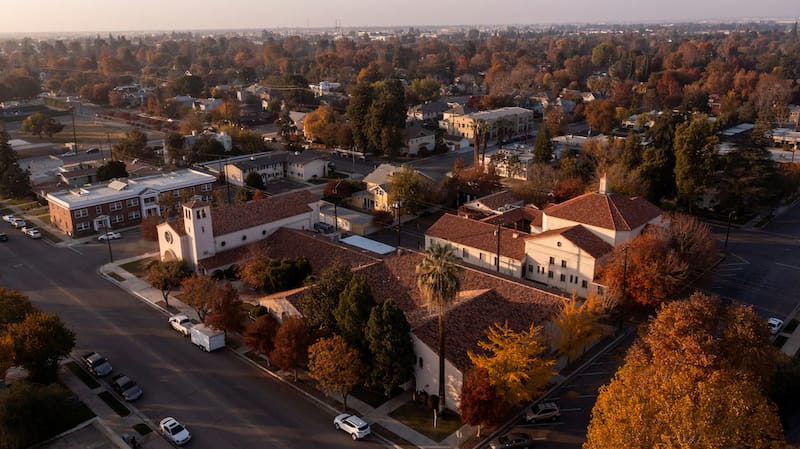 The Kern River County Park is a beautiful and clean park to stroll through to enjoy the scenery, or perhaps even have a picnic whilst catching sites of wildlife.
Clagg's Kayak Rentals allows you to enjoy the Kern River through the desert and backdrops of the mountains, leading toward the lush and green county park.
Knott's Berry Farm
Distance from Los Angeles: 21.8 miles
Driving Time: 26 minutes
In Buena Park, you'll find a theme park running around 57 acres centralized around all things berry- from diverse food with a variety of berries (boysenberry flavor is their go-to!) with shops and souvenir stores offering treats, candy, silverware, cups, clothes, glasses, weapons, and other merchandise.
Knott's Berry Farm features numerous types of rides, such as coasters, dark rides, flat rides, and water rides.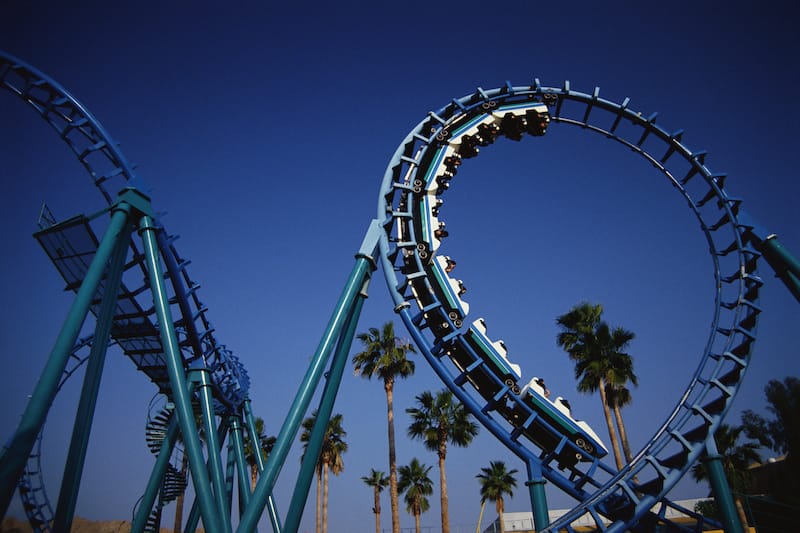 Some of their rides include HangTime, GhostRider, Xcelerator, and Silver Bullet. It's a great theme park to take your family to if you're on a budget, with daily admission tickets averaging around $69.
Legoland
Distance from Los Angeles: 90.1 miles
Driving Time: 1 hour, 20 minutes
LEGOLAND has an abundance of family fun to explore.
The theme park features a variety of rides and attractions, such as the Coastersaurus, Beetle Bounce, Lego Technic Coaster, Lego Ninjago The Ride, and water rides like Fairy Tale Brook, Aqua Zone Water Racers, and Pirate Reef.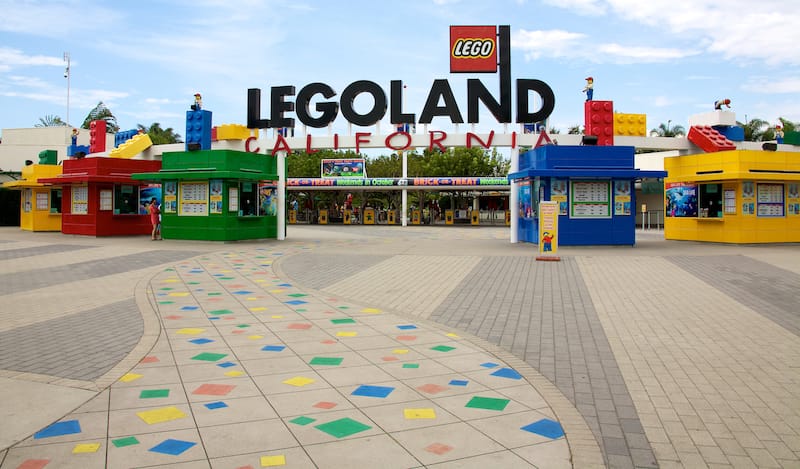 Its Miniland is perhaps the favorite attraction of its visitors, with bridges, landscapes, and American cities rebuilt with Legos, such as Washington DC, New Orleans, San Francisco, the Las Vegas strip, and New York.
Build and race your own Ferrari at the newly opened LEGO® Ferrari Build & Race, or look for buried treasure during the LEGO City Deep Sea Adventure ride.
Santa Monica National Recreation Area
Distance from Los Angeles: 51.3 miles
Driving Time: 1 hour
The Santa Monica National Recreation Area is a conglomerate of many open spaces and individual parks protected and preserved as one.
It is a popular place for a variety of activities, such as mountain biking, climbing, camping, horseback riding, wildflower viewing, and of course, hiking.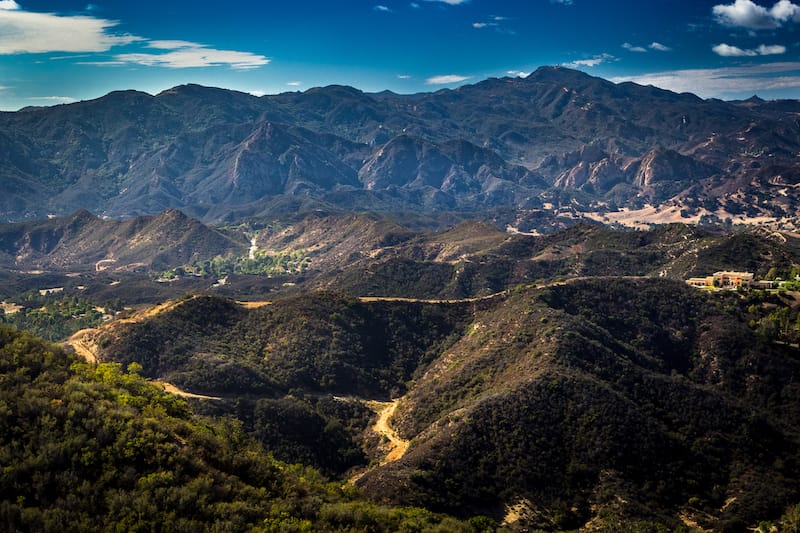 Its famous Backbone Trail is a favorite for hikers, leading you through meadows, chaparral, coastal sage scrub, streamside areas, as well as oak woodlands, for 67 miles and connects the east and west side of the mountains.
There is an outdoor events calendar on the official website providing information on the recreational activities often led by local and national organizations alike.
San Simeon
Distance from Los Angeles: 230.5 miles
Driving Time: 3 hours, 39 minutes
San Simeon State Beach is located near its historic town, which is across from the magnificent Hearst Castle.
The beach is prepared with restroom facilities, barbeque grills, and water faucets, in addition to 24 picnic sites and 150 parking spaces.
Access to the beach is easy and can be spotted along Highway 1.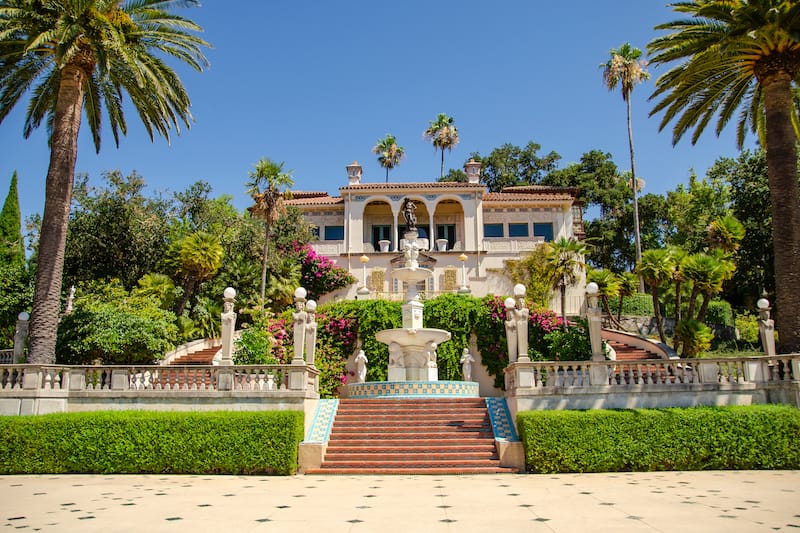 The Hearst Castle can't be missed, as it dominates about 250,000 acres of land, highlighted by palm trees and the sea.
Hike through trails with views of the coastline and mountains in the distance, such as the Boucher Trail at Piedras Blancas, where along the way, you can see elephant seals.
Did we miss any of the best day trips from Los Angeles?
Let us know your favorite LA day trips in the comments!
More Southern California Travel Guides
Pin this LA Day Trips Guide