Are you a lover of the delicious lobster roll? This is a guide about where to find the best lobster roll in Maine. It will also include its history, some tips, and seasonal information.
What could be more satisfying than a proper lobster roll, packed with tender, sweet chunks of lobster and served with just the right amount of mayonnaise and lemon to enrich that delicious meat? A Maine lobster roll!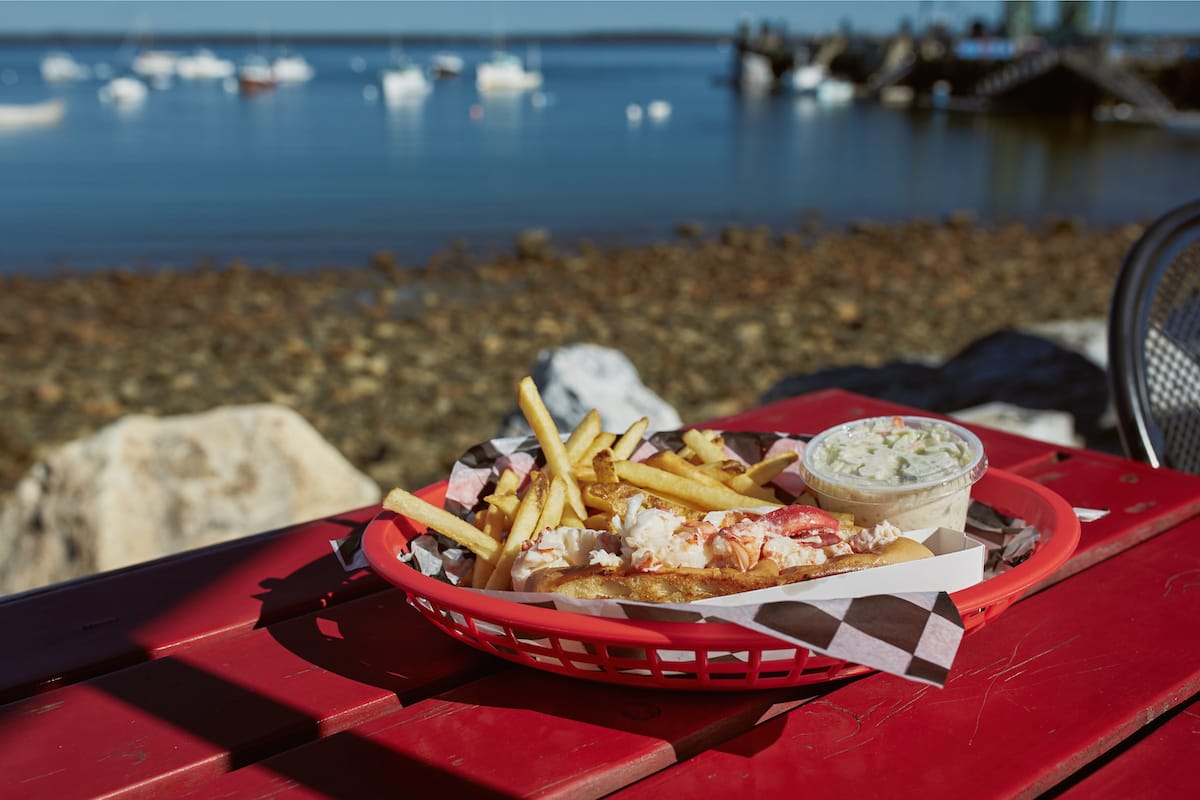 Maine lobster is the sweetest, most flavorful, and tender lobster on the market.
It's hand-caught by a community of dedicated lobstermen committed to sustainable fishing for generations.
In that context, Maine is the home of some of the tastiest, freshest, and most succulent lobster rolls in the U.S—making the northernmost state in New England the place to be if you're a lobster roll "aficionado."
Nevertheless, lobster rolls were not always Maine's marquee foodstuff. How did a humble hotdog bun stuffed with the simplest ingredients manage a rockstar status in the food world?
I recently got hooked on this dish and am pretty new in the lobster world, don't worry because we've covered you.
In this comprehensive, Maine lobster roll guide, we'll cover the best places in the state worth visiting throughout each lobster roll's fiend's lifetime.
Let's discuss and see what a lobster roll is, how it's made, briefly go through the rich history of Maine lobster rolls, and define the best season for visiting Maine and enjoying some delicious freshly-made lobster rolls.
What is a Lobster Roll?
One of the world's most delicious sandwiches, the lobster roll is a pretty affordable way to stretch and enjoy this premium ingredient without breaking the bank.
The traditional lobster roll is a sandwich stuffed with premium lobster meat soaked in butter and served on a steamed or grilled lobster roll bread—a hotdog bun or similar roll so that the sandwich's opening is on the top rather than on the side.
The key to this luscious sandwich can be found in its freshness and simplicity, as the original lobster roll recipe consists only of three main ingredients: fresh lobster chunks, bread, and dressing.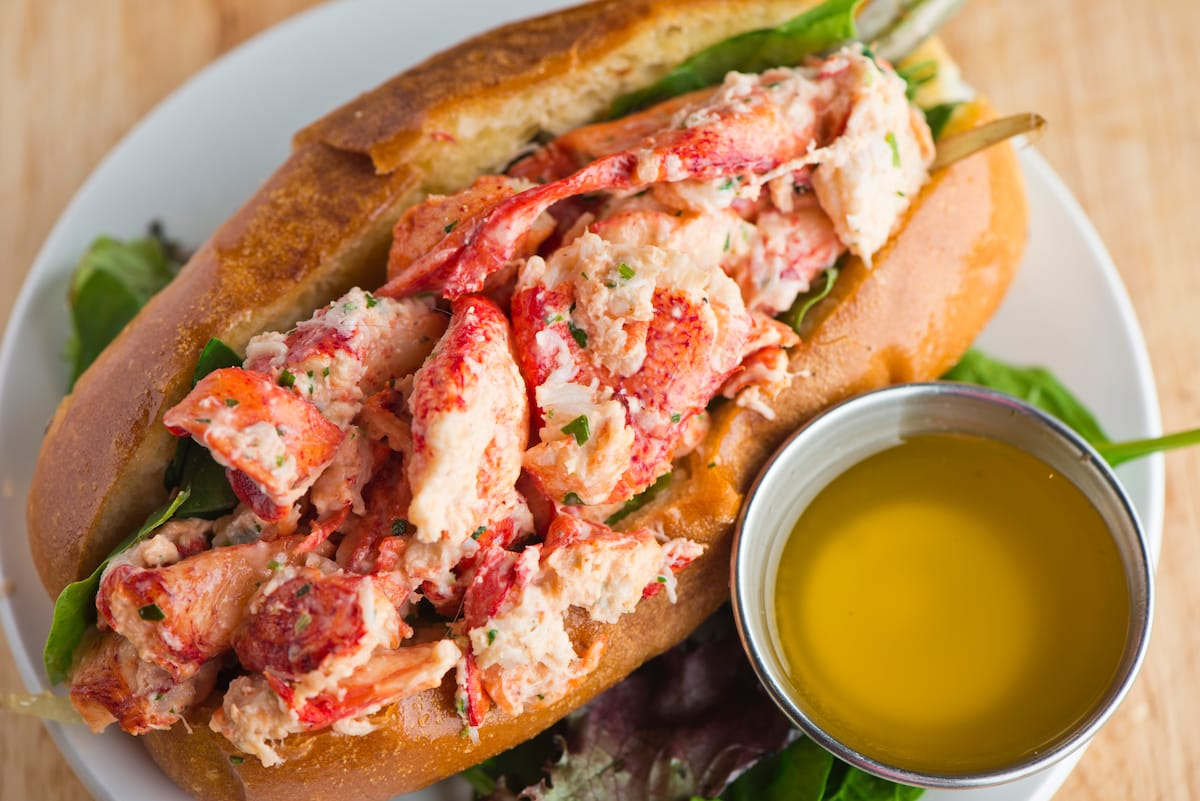 There are various versions of this delicious dish in other parts of New England.
Still, Maine's famous lobster roll consists only of these three ingredients, with the lobster chunks being gently tossed with good-quality mayonnaise.
Beyond mayo, every other addition to a Maine lobster roll is subject to debate. You may add diced scallion or celery. The lobster roll may also contain lemon juice, lettuce, salt, and black pepper.
Traditional Maine lobster roll restaurants serve this sandwich with french fries or potato chips on the side.
The History of Lobster Rolls
Like other culinary delights that appear out of nowhere, the lobster roll has a pretty murky origin story. Nevertheless, most historians credit Perry's restaurant, a diner in Milford, Connecticut, with cooking up the lobster roll circa 1929.
At those times, the sandwich's popularity gained traction up and down the Connecticut coast but not far beyond it.
Years after, a legendary Boston chef named Jasper White is credited with the lobster roll sandwiches rise in the 1980s when his dressed-up versions of the dish were enjoyed at his waterfront restaurant.
Then, in the 1990s, lobster rolls started to gain traction when New York chef Rebecca Charles started serving her Maine-style lobster rolls at her Pearl Oyster Bar.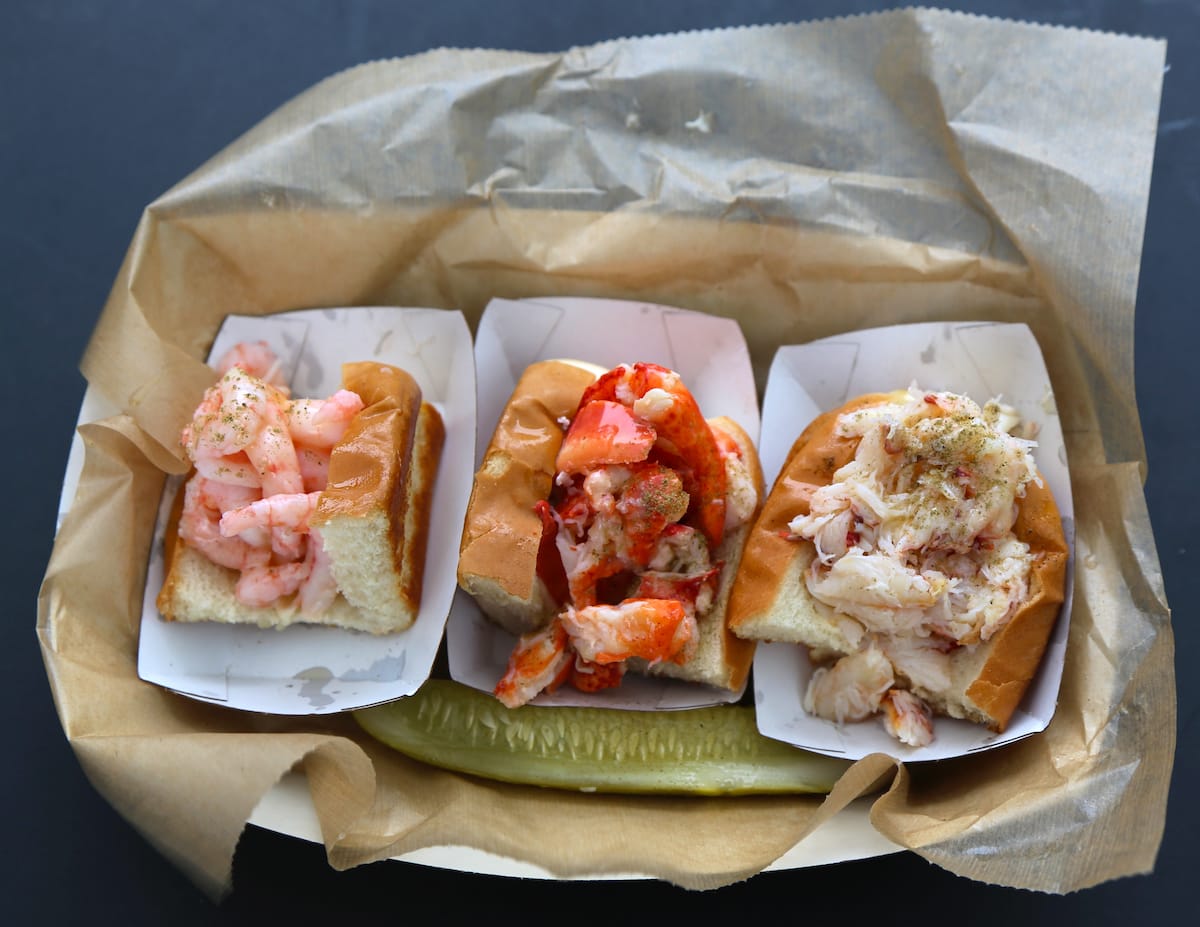 The fresh, steamed meat chunks were piled into butter-grilled buns before being lightly coated with mayo and anchovies.
Ever since, the lobster roll has solidified as a true American classic, up there with hamburgers, buffalo wings, corn dogs, and apple pies.
Truth be told, the lobster roll sandwich has single-handedly put Maine and New England on the culinary map in the U.S.
When is Lobster Roll Season in Maine?
In general, lobsters are harvested year-round off the coast of Maine by the 6000+ lobstermen that tirelessly operate throughout the year.
However, most get caught between late June and late December, when the lobsters are the most active.
They are also harvested during the deep winter and early spring months but in much smaller quantities.
Still, when speaking about when is lobster roll season in Maine and New England, it's kind of hard to think of summer in New England and not think of some lobster rolls.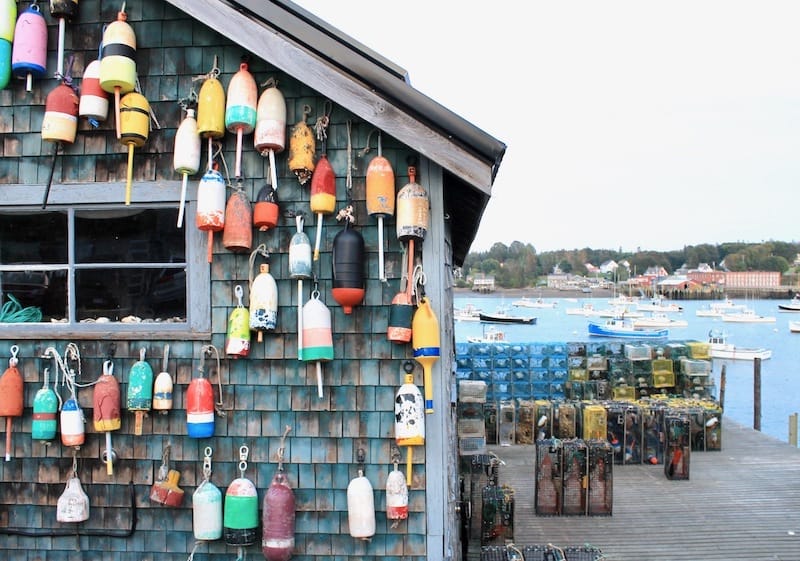 In that context, some of the most extensive lobster counts from lobstermen come during the warm summer months when they work around the clock to meet the demands of locals and tourists.
There's also an excellent reason for this. Lobsters are more abundant during the summer because they migrate closer to shore in warmer waters, often shedding their shells.
And after lobsters molt, they like to eat, and hungry lobsters are deemed easier to trap.
Places for the Best Lobster Roll in Maine
Now that you have a better understanding of what a lobster roll is, its importance and its connection with the State of Maine, its rich history, and the season when lobsters get harvested most efficiently, it's time to go ahead and present the best places where you can eat a top-notch lobster roll in Maine.
Below, we'll lay out the lobster roll establishments in Maine that deserve your visit during the hot summer days in no particular order.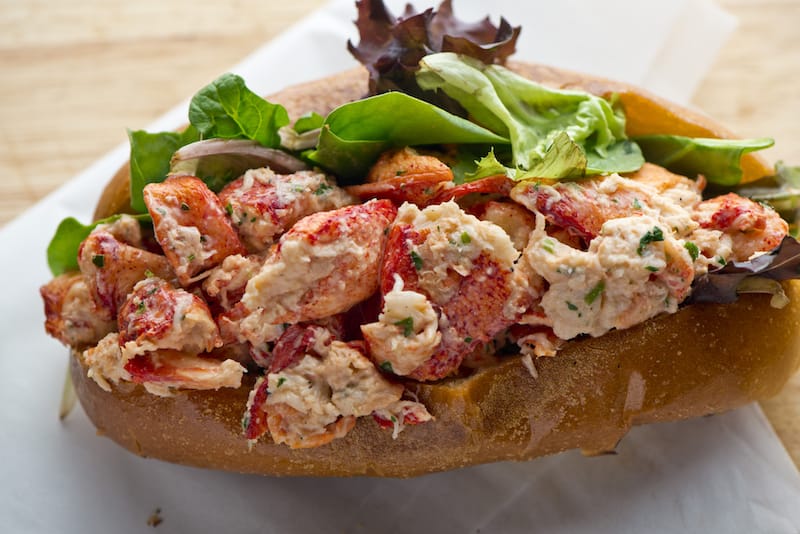 Gilbert's Chowder House
Location: 92 Commercial St., Portland
Phone number: 207-871-5636
Website: www.gilbertschowderhouse.com
As the place's name implies, Gilbert's chowder house specializes in chowder. Still, this no-frills eatery also offers an array of fresh Maine seafood specialties, including one of the best lobster rolls in Maine!
With generous chunks of sweet lobster thrown in mayonnaise and served in a well-toasted hot dog bun and salty, along with crispy French fries, the only things left to complete the perfect New England picture are a view and a cold brew.
Luckily, this eatery checks all these boxes with seating available inside or on the patio overlooking the water and local craft beers.
Check around and enjoy the eatery's unique atmosphere and then take some award-winning lobster roll or chowder to go. Gilbert's chowder house is open daily from 11 AM until 9 PM.
Five Islands Lobster Co.
Location: 1447 Five Islands Rd., Georgetown
Phone number: 207-371-2990
Website: https://fiveislandslobster.com/
Sitting right on the edge of Sheepscot Bay, you can access Five Islands Lobster Co. by land or sea.
Located in the small fishing village of Georgetown, you'll be able to enjoy a delicious meal while taking in the sights and sounds of what people call "the prettiest harbor in Maine."
Taken fresh from the cold, deep waters of the harbor straight to the kitchen, Five Islands' lobster is never stored in tanks.
While this restaurant is known for its fantastic lobster rolls, they also offer plenty of other fresh seafood such as shrimp, scallions, haddock, mussels, and clams.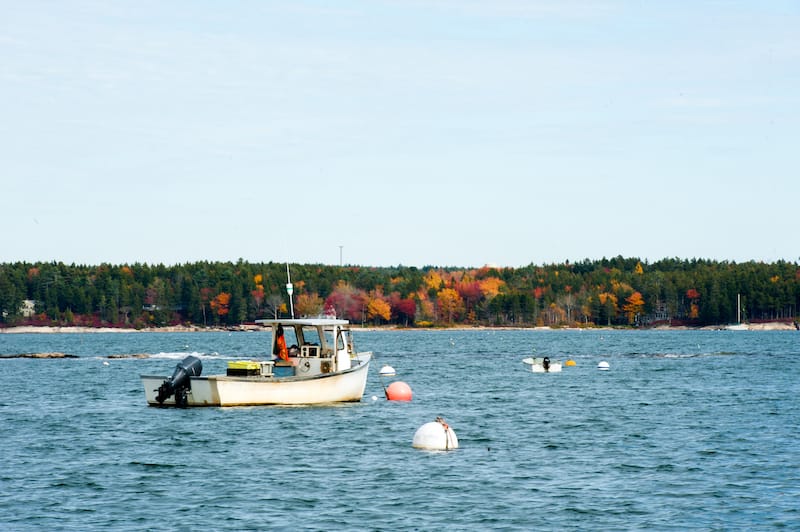 They also have great options for non-seafood eaters, like burgers, hot dogs, and steak and cheese sandwiches.
Make sure to get a homemade sauce to top your plate with, like tartar sauce, cilantro mayo, or mustard dill. BYOB and enjoy an amazing meal at this classic Maine establishment.
As this restaurant has outdoor seating, they sometimes close for inclement weather. Call ahead to check if they're open if the weather seems questionable.
Highroller Lobster Co.
Location: 104 Exchange St., Portland
Phone number: 207-536-1623
Website: www.highrollerlobster.com
If you're driving through Portland, Maine, you'll soon find that it's a real challenge to pass up the Highroller Lobster restaurant, where you can have one of the best lobster rolls you'll ever try.
Piled relatively high with delicious, sweet, big lobster chunks, topped with your choice of unique spreads and sauces, and served up on grilled brioche rolls freshly baked daily from the local Southside Bakery, Highroller Lobster Co. represents the ideal modern take on regional tradition.
You can pair your customized lobster roll with any number of cold craft brews or wines in the restaurant.
Highroller Lobster is one of the fastest-growing seafood favorites for fresh, creative tastes in the entire region. This lobster roll house is open daily from 11 AM until late.
The Rusty Crab
Location: 84 Benjamin St, Mars Hill
Phone number: 207-540-4343
Website: https://www.facebook.com/TheRustyCrab/
Serving up delicious seafood since 2011, this family-run restaurant is transitioning from a small, picnic table-style location to an indoor sit-down restaurant to accommodate the growing demand for their delicious food!
Despite the busyness of moving, they are still serving amazing eats that will have your mouth watering.
While their classic lobster roll is a fantastic choice that will not disappoint, the Rusty Crab also offers clams, grilled salmon with a bourbon molasses sauce, crab cakes, pasta, bacon cheeseburgers, chicken dishes, and the fan-favorite fried raspberry cheesecake.
Make sure to try their homemade hushpuppies and coleslaw alongside your fresh seafood dish!
Before leaving, pick up a souvenir Rusty Crab t-shirt to remember your delicious meal in Mars Hill!
The Rusty Crab is open Wednesday-Sunday, 11 am-8 pm, and sometimes on Tuesday, depending on the day's catch. Make sure to check their Facebook page for the latest updates.
Scarborough Fish and Lobster
Location: 697 US-1, Scarborough
Phone number: 207-883-5398
Website: www.scarboroughlobster.com
Every once in a while, the most unassuming, unpretentious locations will prove the most exceptional gems.
Scarborough Fish and Lobster is the fitting exemplar of a hole-in-the-wall eatery, and it's chock full of coastal treasures that will delight your sea-bound cravings.
This lovely family-owned local favorite serves only the freshes Atlantic Coast lobster provided by select local lobstermen.
This Maine seafood eatery is well-known for loading its rolls with nothing but top-quality lobster meat.
In Scarborough Fish and Lobster, there's no room for any fillers, and with their lobster rolls being so fresh and tasty, you wouldn't want anything to stand in the way of the flavor anyway.
For a double-dose of lobster delight, you can get a cup of lobster chowder to go. Scarborough Fish and Lobster are daily open from 10 AM to 6 PM.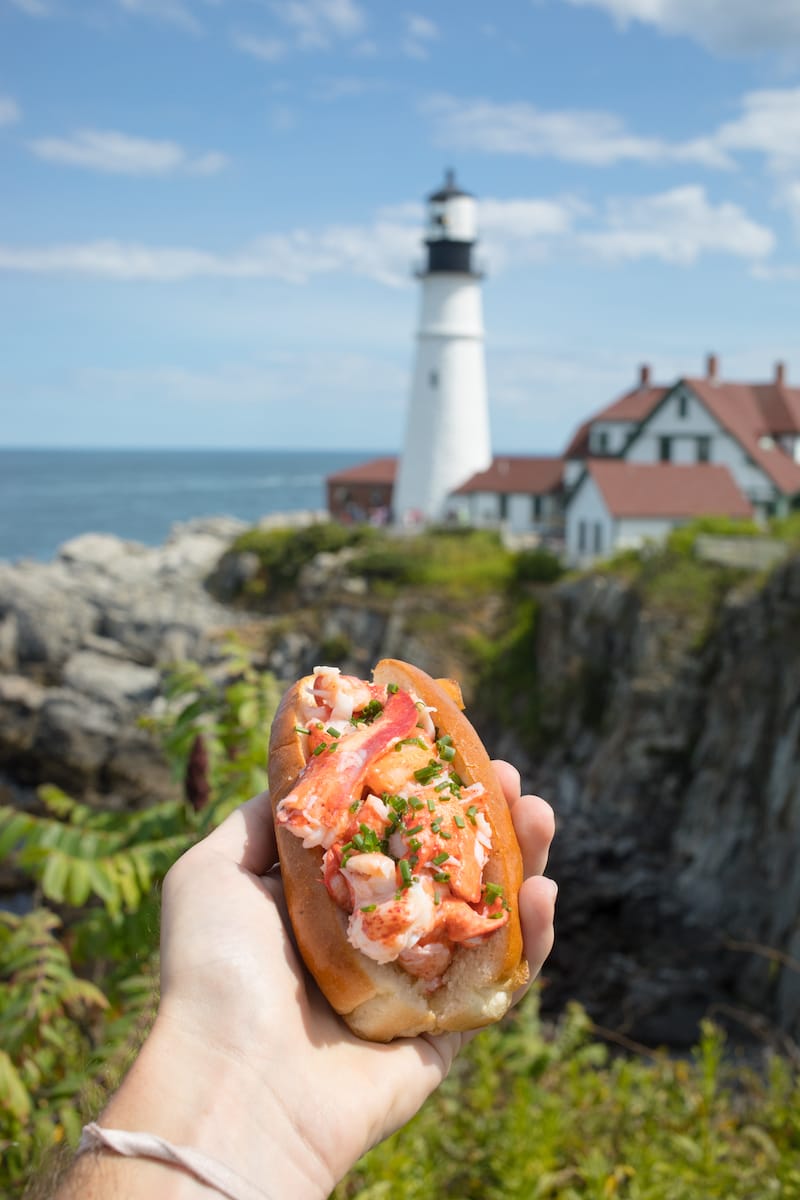 Bite Into Maine
Location: 1000 Shore Rd., Cape Elizabeth
Phone number: 207-289-6142
Website: www.biteintomaine.com
Almost nothing can beat having a fresh lobster roll on the ocean, and Bite Into Maine offers delectable local tastes with a view.
Overlooking the Portland Head Light, the flagship food truck provides the picture-perfect setting for a break in the middle of the day while exploring Fort Williams Park at Cape Elizabeth.
Bite Into Maine is the place to be for the ultimate lobster roll debate as both Maine Style and Connecticut Style are served on the food truck's menu.
They also serve up dishes for Allagash Brewing Company patrons from a classic airstream.
While their two locations are seasonal in operation, you can always partake in their famous lobster rolls, melts, chowders, and more at their year-round location at The Commissary takeout location on U.S. Route One in Oak Hill Scarborough.
The Lobster Shack At Two Lights
Location: 225 Two Lights Rd., Cape Elizabeth
Phone number: 207-799-1677
Website: www.lobstershacktwolights.com
Located at the very end of Two Lights Road along the coastline of Cape Elizabeth, it is an award-winning restaurant providing scenic oceanside dining for more than 60 years.
Here, you can enjoy outdoor dining beneath the lighthouse or stay inside in their cozy dining room and enjoy the open views of the Portland Harbor.
At this place, although the lobster rolls are fresh and memorable, it's the setting that puts The Lobster Shack At Two Lights over the top as a genuine Maine experience.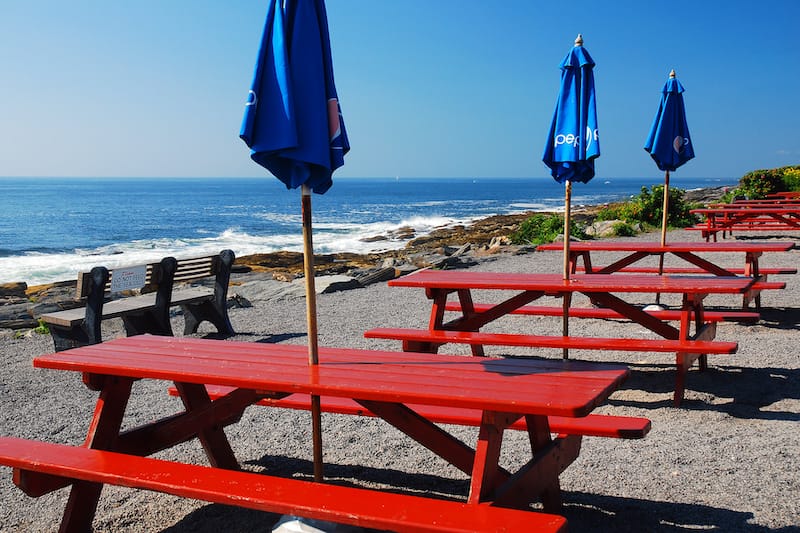 The Haddock and The Lobster Dinner are alternative stand-outs on their menu. The first one even serves as a significant challenge on The Travel Channel's Man Vs.
Food. If you ever decide to visit this fantastic restaurant, save some room for dessert since many delicious homemade cakes, pies, and cookies are available from 11 in the morning to eight in the evening.
DiMillo's On The Water
Location: 25 Long Wharf, Portland
Phone number: 207-772-2216
Website: www.dimillos.com
DiMillo's On The Water is a popular nautical-themed marina hot spot nestled within a car ferry serving up the freshest seafood with dazzling views of the booming harbor.
Starting in 1982 as DiMillo's Floating Restaurant, the not-in-service ferry serves as one of the most renowned restaurants in the nation, at a length of 205 feet and a beam of 65 feet.
The restaurant's lobster roll is a lunchtime favorite, consisting of chilled Maine lobster meat served on a brioche roll with Boston lettuce topped with a brown butter aioli.
While all lobster dishes strike a winning chord with customers, the lobster roll is the best option during an afternoon at the port.
For dinner, you can go with a lobster in or out of its shell, and you might even try the lobster mac and cheese, which is a thing of culinary beauty.
J's Oyster At Old Port
Location: 5 Portland Pier, Portland
Phone number: 207-772-4828
Website: www.jsoysterportland.com
Besides getting the nod from the late Mr. Bourdain, this seaside restaurant has also received praise from Gourmet Magazine, particularly acknowledging the universal appeal of lobster rolls.
Located on Portland's waterfront, J's Oyster proudly claims—if it swims, we've got it on our menu.
Their award-winning lobster roll is served on a grilled hot dog roll with lettuce and mayo on the side. J's Oyster At Old Port is open daily from lunchtime until late.
Eagles Nest Restaurant
Location: 1016 N Main St, Brewer
Phone number: 207-989-7635
Website: https://www.facebook.com/eaglesnestbrewer/
Although quaint and unassuming, this little roadside stop has a local reputation for amazing lobster rolls. Located in Brewer, right across the river from Bangor, you can enjoy lovely views of the Penobscot River as you dig into your seafood plate.
The lobster rolls are the Eagles Nest's star item, and the portions are so huge you could easily share them with a friend.
If you want lobster in a different form, try the lobster BLT, lobster grilled cheese, or lobster stew. They also have a great everyday deal of all-you-can-eat haddock.
If you aren't feeling like seafood, try their hot pastrami or pulled pork sandwich. Top it all off with a delicious sweet treat, like a piece of lemon meringue or Boston Cream pie.
The Eagles Nest Restaurant is open from Sunday to Thursday, 11 am-6:45 pm and Friday and Saturday, 11 am-7:45 pm.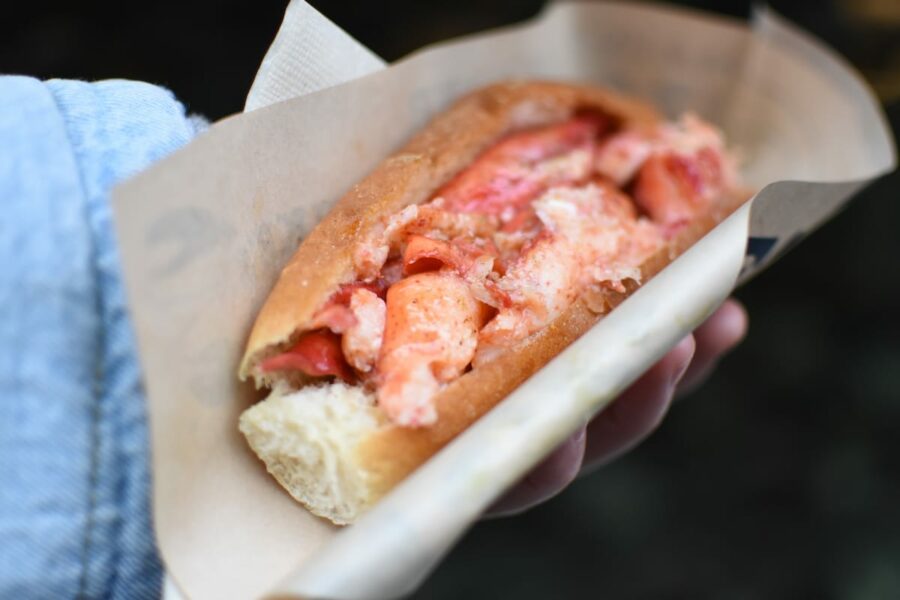 Luke's Lobster
Location: 60 Portland Pier, Portland
Phone number: 207-274-6097
Website: www.lukeslobster.com
Named the best lobster outside of New England by USA Today, Luke's Lobster has taken the Maine staple to a global level.
Nevertheless, the best place to experience Luke's lobster roll is right on the waterfront in Portland, where you can enjoy the scenic views of the working port.
The secret of Luke's lobster roll is minimalism.
The restaurant stays 100% true to tradition, using only New England-style split-top hot dog rolls stuffed with knuckle and claw meat, topped with the perfect combination and amount of salted butter, mayo, lemon juice, and a pinch of the restaurant's secret seasoning.
As a result, Luke's signature dishes are known to consistently meet their established standard, even beyond the New England coast.
The Bluebird Ranch Family Restaurant
Location: 78 Main Street, Machias
Phone number: 207-255-3351
Website: https://www.bluebirdranchrestaurant.com/
At the Bluebird Ranch Family Restaurant, the Prout family takes pride in providing the best homestyle food and friendly service around.
With an extensive menu of homemade delights, you are sure to be stuffed by the end of your meal here.
Their featured lobster roll is made with lightly-dressed lobster piled on a grilled roll served with coleslaw and fries.
Other delicious options include lobster salad, haddock chowder, fried scallops, BBQ ribs, a Reuben sandwich, or a roast turkey dinner.
Make sure you save room to indulge in one or two of the Bluebird Ranch's fresh, homemade desserts, like Whoopie Pie cake or wild Maine blueberry cheesecake.
You can even get some goodies to take on the road with you, like a fresh loaf of bread, muffins, cookies, jam, or a bottle of their homemade wild blueberry vinaigrette!
The Bluebird Ranch Family Restaurant is open Thursday-Monday, 11 am-8 pm, except Sundays when they open early at 8 am. If you're there on the weekend, stop in for fresh donuts, made only on Sunday mornings!
The Bluebird Ranch Family Restaurant is definitely a must-stop location for some hearty, local Maine cuisine.
Red's Eats
Location: 41 Water St, Wiscasset, ME 04578
Phone number: (207) 882-6128
Website: https://www.redseatsmaine.com/
Although served out of a tiny, iconic red shack, there is nothing tiny about the amazing flavor of these piled-high lobster rolls.
Called "World's Best Lobster Shack," this family-owned eatery has been featured by Fodor's, The Food Network, TripAdvisor's Hall of Fame, Huffington Post, and many others, as well as being a beloved spot for many people who make an annual trek to eat at their favorite lobster place!
Here, simplicity is the key to a classic lobster roll… you get a toasty bun with lobster piled high, and can choose whether you'd like butter or mayo on the side.
They also serve other amazing items on their menu, like deep-fried clams, hamburgers, hotdogs, shrimp baskets, crab cakes, haddock fish 'n' chips with homemade tartar or cocktail sauce, and steak sandwiches.
Red's uses fresh, locally-made ingredients as much as possible, sourcing their sauerkraut, produce, butter, gluten-free bread, honey sodas, and desserts all from local farms and vendors!
The late Allen Gagnon, owner of Red's for many years, built his business on this philosophy:
"Give people the freshest food…..and plenty of it," thus winning the loyalty of customers satisfied with Red's fresh, tasty, comfort food. You won't leave hungry, that's for sure!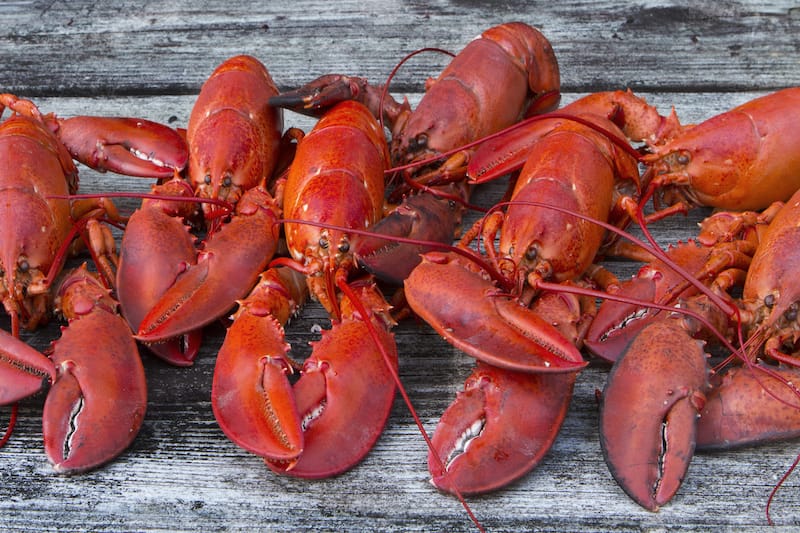 Marriner's Restaurant
Location: 35 Main St, Camden, ME 04843
Phone number: (207) 236-4949
Website: Facebook
This cozy, classic diner is a must-try if you're looking to eat like a local in Camden.
With gorgeous views of the Penobscot Bay Harbor and Megunticook Waterfall from both inside the dining room and sitting out on the deck, you'll get a delicious meal with a great view.
Open for breakfast and lunch, Marriner's has options to satisfy every craving.
This family-style restaurant's seafood dishes are fresh and tasty, offering options like lobster rolls, lobster omelets, haddock Reubens, crab cakes, and clam chowder.
Other fan favorites include their blueberry pancakes, veggie omelets, French toast, and burgers.
Make sure to stop by Marriner's for a delicious breakfast, brunch, or lunch with a beautiful view, and enjoy the mouthwatering food and sights Maine has to offer!
High Tide Low Tide Seafood
Location: 226 Madison Ave, Skowhegan
Phone number: (207) 474-3960
Website: Facebook
If you're craving fresh seafood in the Skowhegan area, you're in luck.
Aside from their main restaurant in Skowhegan, High Tide Low Tide Seafood also has a sister shop in Madison, as well as several food trucks that visit surrounding towns (check their Facebook page for truck schedules!), so you're never far from a tasty meal.
Stop in for a delicious lobster roll, with a toasty bun, or other fresh seafood such as crab rolls, clam chowder, haddock, shrimp, and scallops.
You can also buy fresh seafood to take home, including sushi-grade tuna, as well as all the supplies you need to make homemade sushi!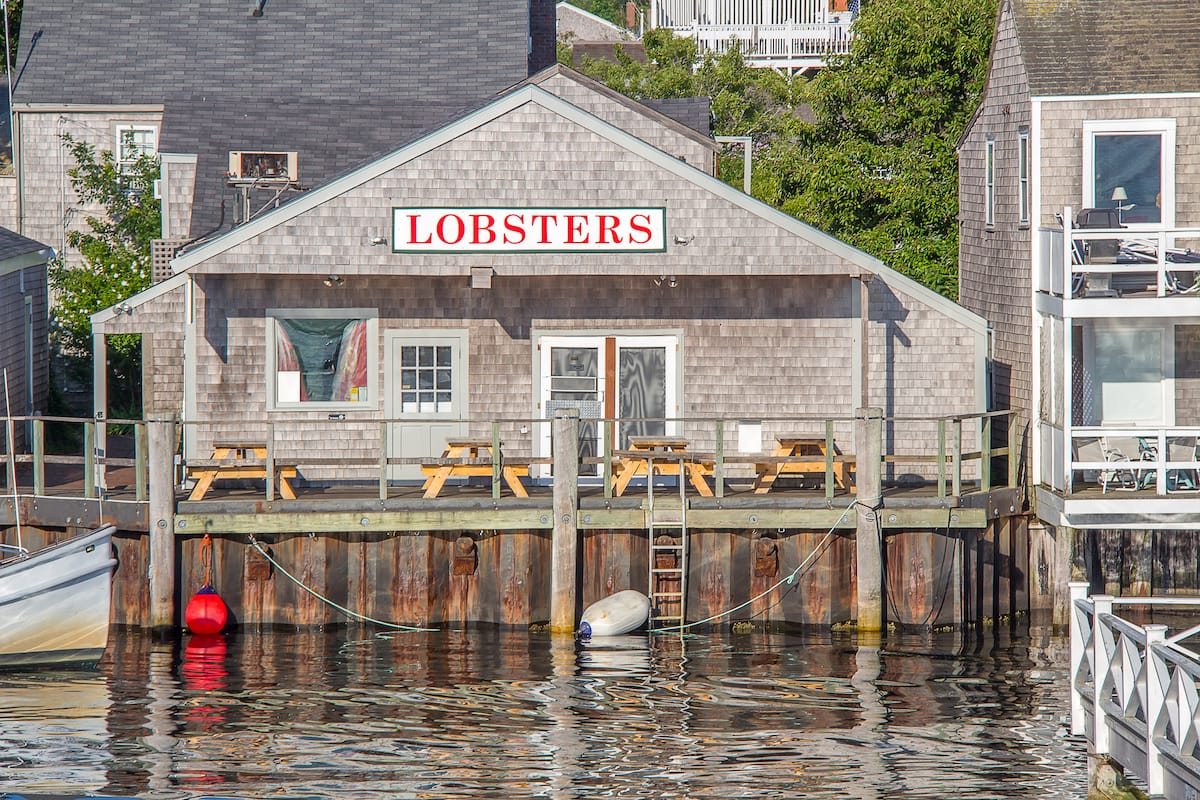 Final Thoughts About Maine Lobster Rolls
With such rich history and so many fantastic lobster roll options around, there's no doubt that you'll be eating well while in Maine.
After all, the seafood industry is the backbone of the State's culinary culture, and for a good reason indeed!
However, once you start on a lobster roll adventure in Maine, you may find it challenging to enjoy other types of dishes while on the coast.
We recommend you take it slow, relax, and enjoy every bite along the way!
And, if Massachusetts is on your New England bucket list – be sure to discover the best lobster roll in Boston with our guide here!
More Maine Travel Guides
Pin this Lobster Rolls in ME Guide