Are you looking for the best whale watching tours in the Azores? These Azores whale watching tours are for you! Keep reading!
Are you planning your trip to Sao Miguel last minute?
If youʻre booking your trip to Sao Miguel last minute, we have you covered. Below are some of the top tours, hotels, and more!
Top Experiences and Tours in Sao Miguel:
Top Hotels in Sao Miguel:
Sao Vicente Lodge – Atlantic Retreat (Northern Sao Miguel)
Octant Furnas (Central Sao Miguel)
Grand Hotel Açores Atlântico (Eastern Sao Miguel)
This is a guide to the best ethical whale-watching tours in the Azores, something that I definitely think should be on your Azores itinerary.
Azores Whale Watching Tours
There are many amazing tours in the Azores and one of the most popular things to do when you visit the Azores is to check out the many whales that call the local waters home at certain times of the year.
Whale watching in the Azores is a popular thing to do when there and this guide will tell you more about Azorean whales, when the best time to see them is, awesome whale watching tours, and the ethics behind whale watching.
It will also tell you what I advise you to bring on your Azores whale-watching trip!

Facts About Whales in the Azores
The Azores is one of the largest whale sanctuaries in the world.
These tiny islands in the middle of the Atlantic that are part of Portugal are home to over 20 species of cetaceans which is actually a solid third of the amount that exists worldwide.
That is pretty spectacular if you ask me and it is all the more reason to travel to the Azores and see these beautiful creatures in their natural habitat in an ethical manner.
The Azorean whales range from residents to migrants to the islands and some are seen better in certain seasons (which I detail below a bit more). The most commonly seen whales are sperm whales.
You will also see blue, fin, and sei whales depending on the season as they pass the Azores on their migratory paths.
You will also have a pretty good chance of seeing humpbacks during the autumn season.
Another commonly spotted species are dolphins! You will have a really good chance to spot bottlenose, Atlantic spotted, and common dolphins when you're on a whale-watching tour in the Azores.
When is the Best Season for Whale Watching in the Azores?
The best Azores whale watching season is April and May!
This is when you can see the majority of species that exist in the nearby waters regardless of whether they call the Azorean waters home or are simply passing through.
This is when the bigger whales come out to play.
But, the overall whale watching season in the Azores is from April until October. During the spring months, you can see larger whales like blue, fin, and sei whales.
In the autumn, you will see humpbacks. Sperm whales are around year-round feeding on large squid deep in the Atlantic waters.

All Day Azores Whale Watching Tours
There are quite a few whale watching tours on Sao Miguel and I am only going to list two under the all-day section as they are both highly recommended and both include other activities in the process.
Please see below for additional details regarding each longer-duration tour.
Whale and Dolphin Watching with Vila Franca Islet Visit (7 Hours)
If you're looking for an all-day whale and dolphin watching tour in the Azores that is ethical, this is definitely a sound tour option for you.
The tour is 7 hours long and you will head to Vila Franca do Campo Islet, an island that is over in the historic capital of the Azores, Vila Franca do Campo (was moved after the earthquake in the 1500s).
On this tour, you will also have a chance to snorkel at Villa Franca do Campo Islet which is quite a cool deal since the Azores limits the number of people allowed to go out there daily.
Lunch is included in a local restaurant (vegetarian options included).
Do bring your swimming gear with you if you wish and since snorkeling masks and gear are in limited numbers, bring your own if you wish. Hotel pickup is not included.
Click here to check tour prices, dates, and itinerary details.

Ponta Delgada: Whales and Volcanoes Tour with Lunch (8 Hours)
This is a great option for those who want to do a little whale watching combined with another excursion.
The whale watching part takes 3 hours and will take you out into the blue, Azorean waters searching for the Azores and Sao Miguel's most-precious creatures before visiting the volcanoes that have shaped the landscapes and geography of the Azores.
You will get to see Lagoa do Fogo and Caldeira Velha on this trip. A buffet lunch is included in the price, but the entrance fees are not.
Hotel pickup in Ponta Delgada is included in the tour price.
Click here to check tour prices, dates, and itinerary details.

Half-Day Azores Whale Watching Tours
If you're just solely looking for whale watching and a shorter day-trip, these two tours will be your best bet!
They are both three hours and will leave you free to do other activities, excursions, and Azores tours that day.
Azores Whale Watching Expedition and Islet Boat Tour (3 Hours)
This tour departs from Ponta Delgada and lasts for 3 hours.
You will take to the sea in a RIB boat that fits anywhere from 12-28 people depending on bookings for the day.
You will head to Vila Franca do Campo Islet and circle around it, offering you a view of the historic capital of the Azores, Vila Franca do Campo (destroyed in an earthquake in the 1500s).
Be sure to bring your own water for the journey as that and hotel pickup in Ponta Delgada are both not included.
Click here to check tour prices, dates, and itinerary details.

Whale and Dolphin Watching Trip from Ponta Delgada (3 Hours)
Another three-hour Azores whale watching trip, this tour will take you out from Ponta Delgada and you'll have the chance to do a little whale watching.
This tour prides itself in the likely opportunity that you'll get to see minke whales, dolphins, turtles, and more.
If you're looking for something that is shorter and less expensive, this is definitely the tour for you and your travel companions! Hotel pickup in Ponta Delgada is not included in the price.
Click here to check tour prices, dates, and itinerary details.

Things to Know Before Whale Watching
Before I went on a whale watching trip, there are a few things I wish I had known. These are those tips or facts about Azores whale watching:
Whale watching in the Azores is kind of a newer thing for tourism.
Whaling was actually legal in the Azores and when the islands decided it no longer served a purpose there, they converted all whaling areas, boats, and the men who did the whaling into whale watching tour owners, guides, and enthusiasts.
How cool is this? Taking an industry that slaughters whales into one that takes pride in the majestic creatures… it is just remarkable.
You are not guaranteed to see any whales. Please don't get mad at the tour company for this.
It is, obviously, not their fault. The creatures have their own patterns and behavior and while the companies have a pretty good insight as to where the whales are, they are not going to lure them to the boat or up out of the water simply for you to take a photo and ooh and aww over them.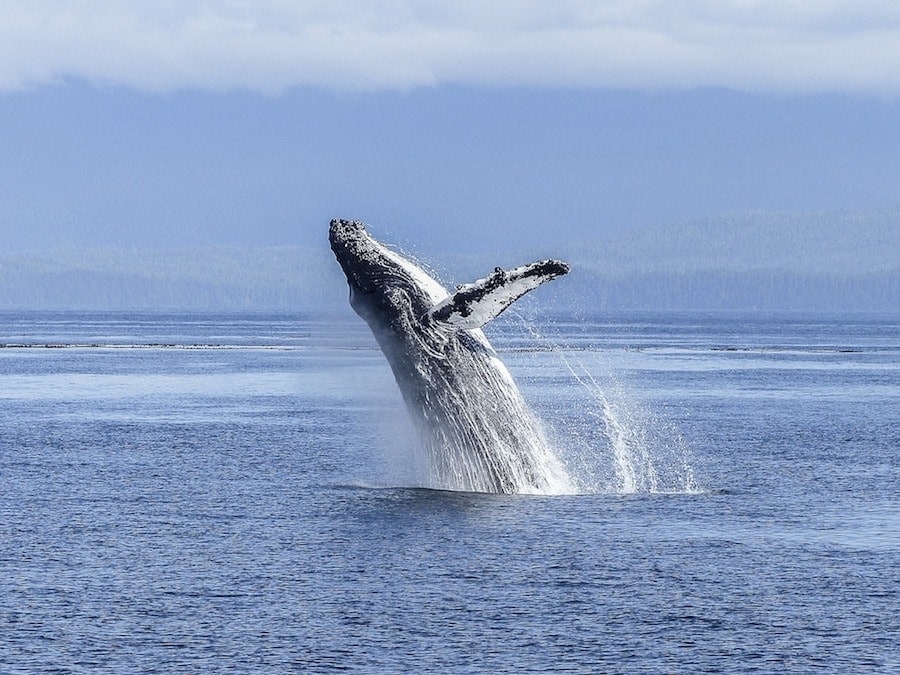 Please don't scream and get crazy when you see one. I was on a boat with a bunch of people in Norway that screamed and it was like a circus on my whale watching in Tromso trip.
It was almost as distasteful as how unethical the boat approaching the whales was. Almost.
The Azores weather is not what you may think. Sun is common, but so is rain. How else would the islands stay lush and green?
Bring the proper equipment for rainy weather. I detail below what I suggest bringing on an Azores whale watching tour.
You will most likely be on a RIB boat if on Sao Miguel. For those who have never been on a RIB boat, it is a small, inflatable boat. It can go fast, or sit and rock in the water.
You have a good chance to get wet on this boat- so dress accordingly and have the right camera equipment for such. It also could be cold as you go against the wind, so dress warmly.
Is Whale Watching Ethical?
To be honest, whale watching can be ethical or unethical. I had a horrific experience in Northern Norway with whale watching and I deemed that particular trip to be extremely unethical and would never recommend it to anyone.
In the Azores, most boats going out are small, RIB boats, which I think is better as they make less of a distraction in the waters
The Azores has firm guidelines in place that state that boats must never approach a whale from behind and the boat can never get closer than 50 meters to the whale.
If there is a calf present, the boat must stay 100 meters away. It is also not permitted to stay watching the same whales for more than half an hour.
Sometimes the whales will get curious and come closer on their own- this is permitted, regardless of whether or not the 50 meters rule is in place.
There is a certified marine biologist on board the trips and they will use their best judgment to ensure the whales' safety and behavior is the top priority. If any of this is violated, please do report it.
This was all violated on my trip in Norway and there was a calf involved in it all and it brought tears to my eyes.
Just remember we are in their territory and we must behave accordingly to witness these majestic animals in their native habitat.

What to Bring on your Whale Watching Trip
These are some tips of things I suggest bringing to go whale watching in the Azores. Many of the tours will provide you with rain gear and waterproof jackets and pants… just double check before! I still like having my own.
⇒ SEASICKNESS WRISTBAND: Do you get seasick? I kind of don't, but then I do at the most unexpected times. I would definitely suggest bringing along a sea-sickness wristband or tablets, just in case! If you don't spend a lot of time on boats and are jet-lagged from the trip to the Azores, you may end up feeling unexpectedly queasy on the journey. Click here to shop for seasickness wristbands.
⇒ SUNGLASSES: There is no telling what kind of weather you will encounter at sea, but bring a pair of shades anyway! I assume you already have a pair of sunglasses you prefer but if you don't, you can check out options by my favorite brand, Quay Australia, here.
⇒ PROTECTING LIP BALM: You're going to be out on the salty Atlantic and no feeling is worse than salty air or water drying out your lips. I recommend a natural lip balm to help overcome this feat (I say natural because most unnatural products contain alcohol which actually dries your lips out more forcing you to keep repurchasing!). I love Nairian products which are made with natural products from the Armenian highlands. Click here to shop for Nairian lip products.
⇒ WATERPROOF JACKET: Nothing is worse than being caught in the rain or crap weather without the proper jacket. You don't need to spend an arm and a leg on a decent waterproof jacket. This is the one I suggest. And Helly Hansen is one of my favorite go-to brands ever since living in Norway. Click here to shop my favorite waterproof jacket.
⇒ DRY BAGS: If you're a regular reader of my blog, you will know that I swear by my dry bags from "The Friendly Swede". I bring them everywhere and they have even been whale watching with me. They have traveled with me to Kazakhstan and beyond. They are ideal for a whale watching trip to protect your camera equipment and belongings. Click here to shop my dry bags from The Friendly Swede.
⇒ WATERPROOF PHONE CASE: If you're planning to use your phone a lot on the whale watching voyage, be sure to have your phone protected with a waterproof case. This is, obviously, less important on a catamaran journey than it is on a RIB boat one. Click here to buy a waterproof phone case.
⇒ SUNSCREEN: The Azores aren't always a sunny destination, but the sun does come out! It just does it in patches. Be sure to keep your skin protected with a high-quality sunscreen. Click here to buy sunscreen.
⇒ KLEAN KANTEEN WATER JUG: I also swear by my Klean Kanteen stainless steel water jug. Not every tour above includes water (the shorter ones to note), so be sure to bring your own. The water in the Azores is clean and drinkable and plastic sucks. Click here to shop my Klean Kanteen water jug.

Whale Watching Photography Tips
If you're looking to do some Azores photography on your whale watching trip, be sure you have the right equipment for the job.
I have never done a whale watching tour on a RIB boat, actually, but I have been on one for other purposes and found it quite hard to photograph because I'm amateur and I had bad lighting (was during the winter).
Be sure to have a camera where you can use manual settings or sport mode for that quick shutter speed. You will only have a split second to catch these creatures doing their thing each time!
If you're on a catamaran, you will have an easier time, but there could be a chance you're surrounded by more people and they may hinder your shots. I would bring a tripod on a catamaran.
Try to also have a remote to attach to the camera. A zoom lens is imperative, of course.
If you're using your phone to photograph whales, you may struggle to capture the images you want in a high-quality format. Below are the lens and camera equipment I suggest for Azores whale watching photography:
⇒ YOUR CAMERA: Obviously, you will want to have a camera with you. It doesn't need to be a top-of-the-line or expensive camera, just something you are familiar with and know how to work. I don't use a fancy or expensive camera. Click here to shop for my camera.
⇒ ZOOM / TELEPHOTO LENS: If you're wanting to film whales, you will definitely want a zoom lens (telephoto lens). I suggest something that goes up to 250mm or more.
I am currently using a lens that goes to 200mm but when I have been whale watching, I used one that was 300mm. They are not that expensive and you'll need to ensure the one you purchase fits with your camera model. Click here to see which zoom lens I use.
⇒ TRIPOD: You will appreciate having a tripod if you're on a catamaran for your whale watching trip in the Azores. If you're on a RIB boat, forget about it.
A tripod will help with stability and assist you in capturing a clear and sharp image. Click here for the tripod I use.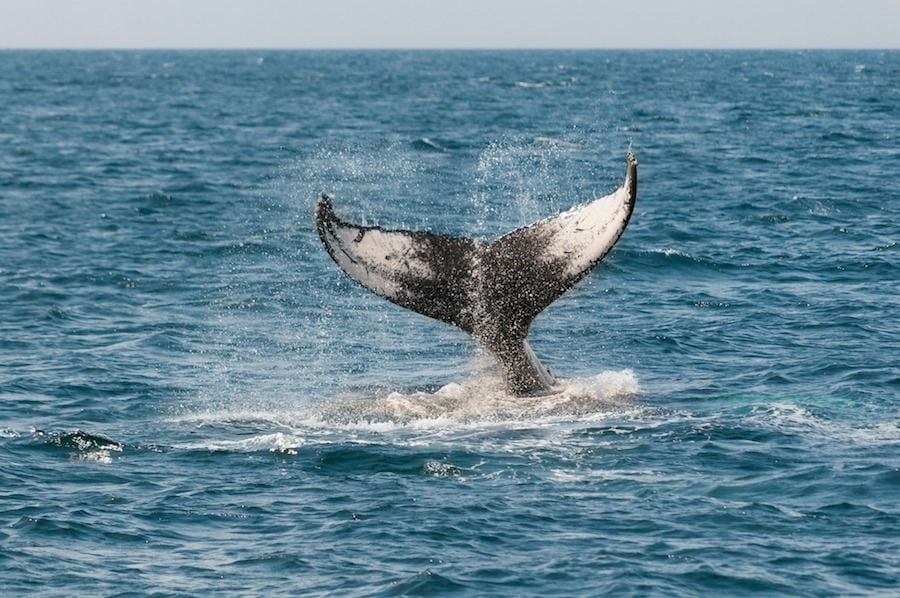 ⇒ REMOTE: If you are traveling with a tripod, you will also want a remote to make taking the photos easier. You can use your phone as a remote (depending on your camera model and its wifi capabilities), but I suggest just purchasing a cheap one. Click here for a solid camera remote option.
⇒ LENS CLEANER: I always carry a lens cleaner with me wherever I go because I am careless with things and don't take great care of things. You may experience water or rain on your whale watching trip and you will be thankful if you can easily clean it in a more professional way. Salt water on a lens is no joke! Don't use your clothing to do this (lesson learned here). Click here for an awesome lens cleaning kit.
⇒ POLARIZER: You will be outside and there is no way to predict the weather or lighting. I always travel with a polarizer to help against reflections in overly sunny skies or extreme lighting. I would suggest doing the same for this trip because once you're on a boat, you can't turn around! Buy a polarizer here.
⇒ GOPRO HERO7: If you're looking to make a video from your trip, I don't think you'll regret it! How often do you get to see such gorgeous creatures going about their day?! I highly suggest bringing a GoPro with you for the ride as it will easily record your Azores whale watching experience! Click here for GoPro options.
⇒ FEIYA TECH GIMBAL STABILIZER: If you're serious about making a video from your trip, be sure to have a gimbal stabilizer with you. I use Feiyu Tech's stabilizers and they have always worked well for me. While I usually use them with my phone, you can also insert your GoPro into it. It will be a savior if the waters are rocky and temperamental! Click here to shop a gimbal.
Where to Stay on Sao Miguel
I have written a guide to the best Sao Miguel hotels that you can check out for more detailed options. If you're looking to do a whale watching in the Azores trip, I suggest staying in Ponta Delgada, the capital city and biggest city on Sao Miguel.
If you have a rental car and want to stay outside of the city, please definitely look into the wonderful Sao Vicente Lodge on the north part of the island in Sao Vicente Ferreira. I stayed here and it was incredible! It isn't that far of a drive to Ponta Delgada and whale watching tour pickup points.
–> For current rates and availability click here | Read reviews on TripAdvisor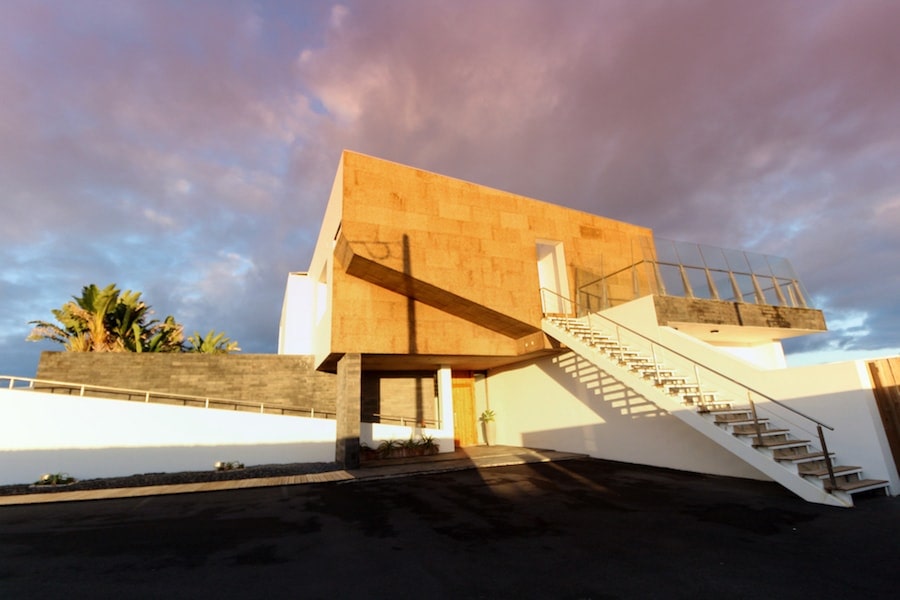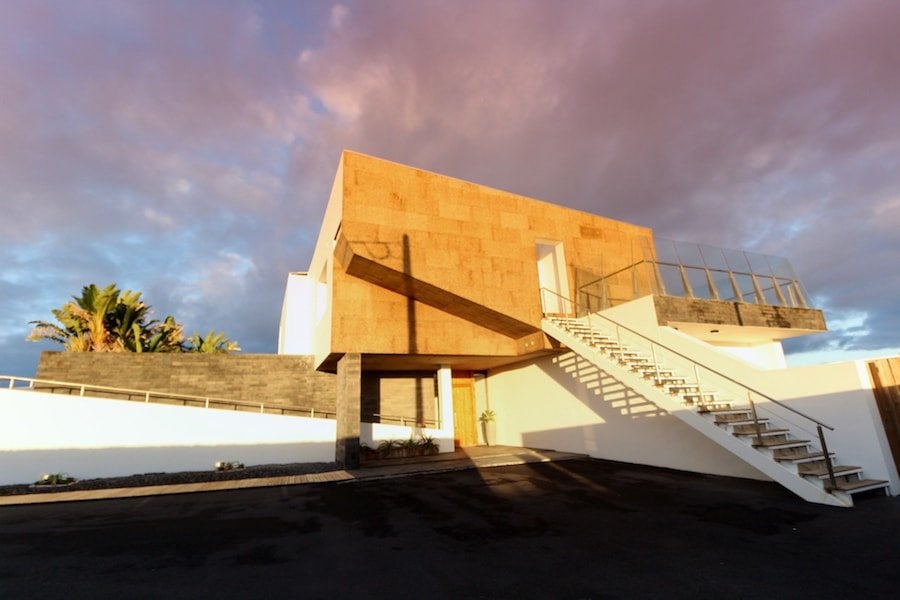 Have you ever been whale watching in the Azores? If so, please drop your tips and suggestions into the comments section for future travelers! Thanks!
More Azores Travel Guides