This guide takes you on a tour of the Azores and the best Azores waterfalls you can find on many of its islands!
Did we leave out any of your favorite Sao Miguel waterfalls or ones on other islands?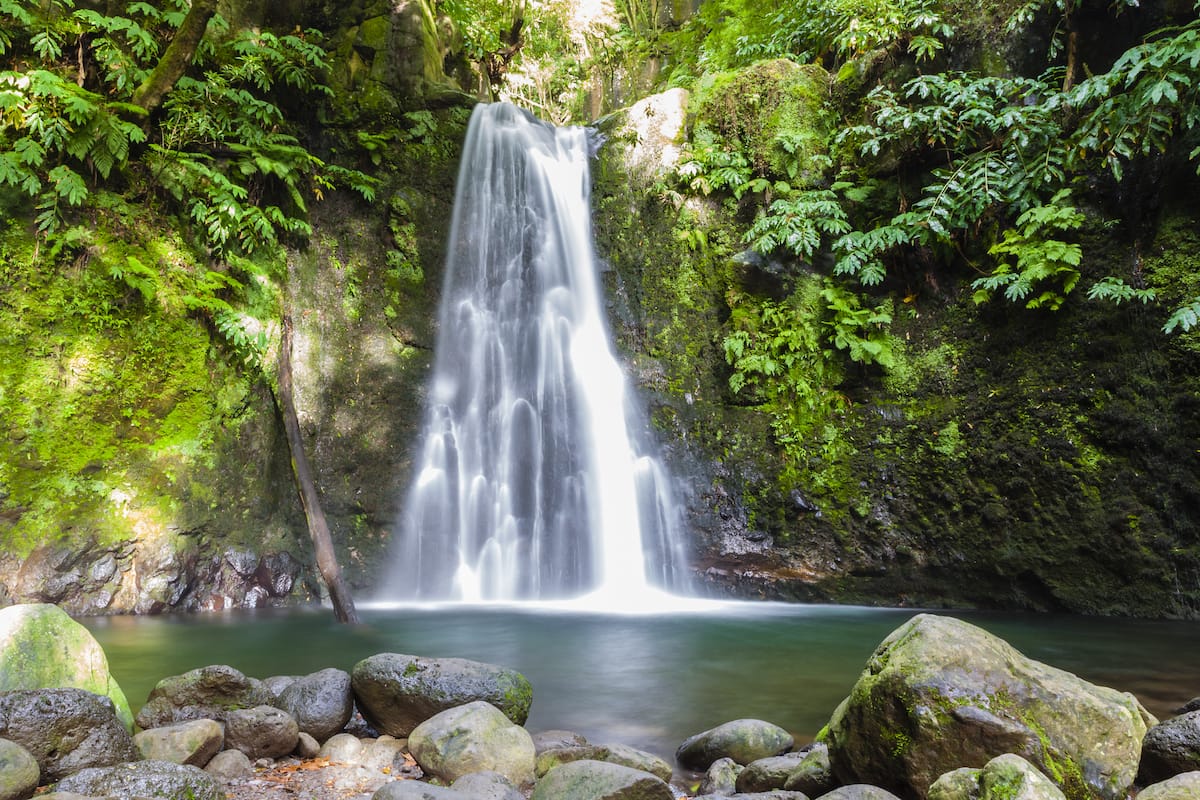 Best Azores Waterfalls
This guide takes you to many of the islands and the best Azores waterfalls located on each! We do not have anything listed for Pico – so if you know of any waterfalls in Pico, please let us know!
What is your favorite waterfall on Sao Miguel and the other Azores islands? Let us know in the comments!
Sao Miguel Waterfalls
1. Ribeira da Salga Waterfall
Located right near the villages of Lomba de Sao Pedro and Salga on Sao Miguel Island, you will be able to check out the stunning Ribeira da Salga Waterfall.
You can easily get to the waterfall by car with a 40-minute drive from Ponta Delgada. Then, you will need to hike for around 30 minutes to the canyon. It is also an epic spot for canyoning in the Azores!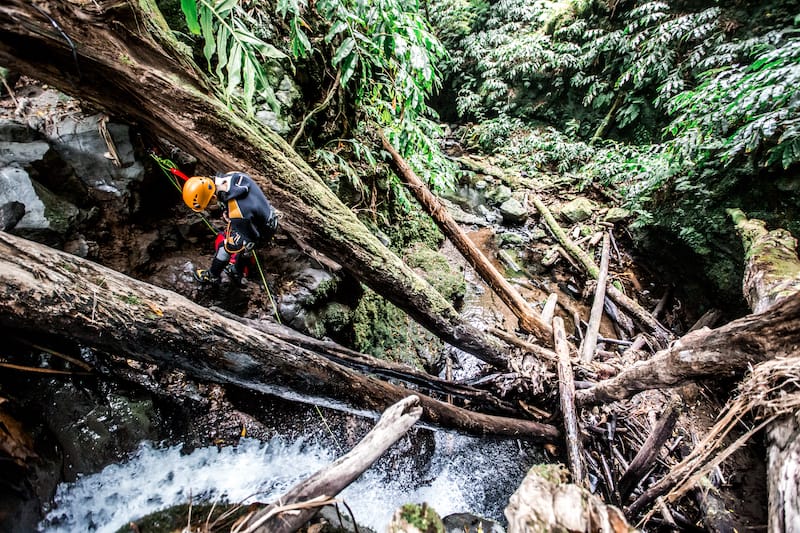 Although this might seem like a lot of effort for a waterfall, once you reach your destination, you'll find that it's completely worth it! You can explore the streams and canyons, as well as make use of the natural slides.
This is especially a fun adventure for those who love an adrenaline rush! It is definitely a place that should be on every Sao Miguel itinerary.
2 Salto do Cabrito
This is another waterfall that is a must-see in the Azores. Near the thermal baths of Ribeira Grande, you should also check out the Salto do Cabrito waterfall, which is surrounded completely by subtropical flowers and is located near the hydroelectric power station.
It will require a hike of around 20 minutes, but this is family-friendly and easy to do! There are rocks all around the waterfall, and there is a small lake where you can swim.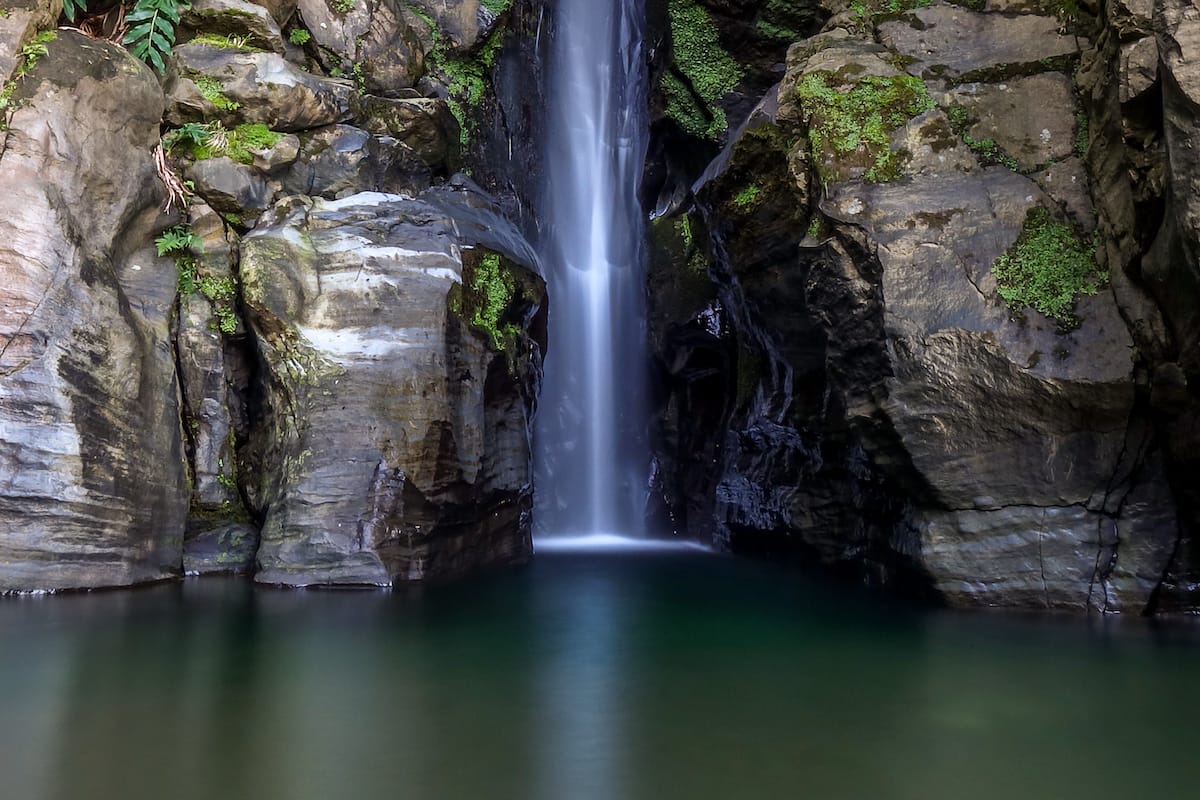 You can also walk up the footbridge to the area where the source of the waterfall is, which goes through a large canyon. You can also check out the cows grazing in the fields near the path. This was actually my favorite Sao Miguel waterfall I visited!
3. Caldeira Velha
The Caldeira Velha waterfall is on the northern slopes of the Fogo volcano, which includes thermal pools that are surrounded by lush tropical greenery, including large Jurassic ferns.
You can take a swim in the hot pools. One of the pools is smaller and has hot water, and the larger one includes two waterfalls. There are also changing rooms and showers near the pools, making the experience even more convenient.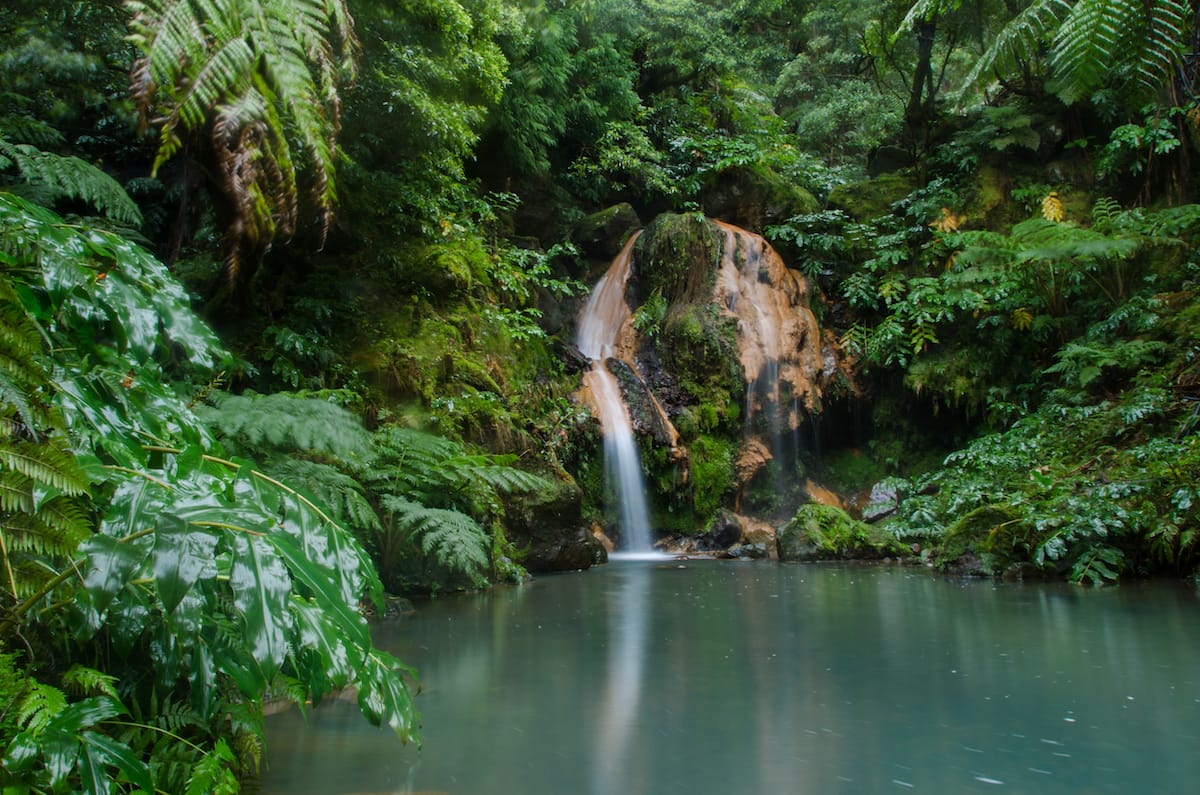 In order to reach the Caldeira Velha waterfall, you only need to hike the road to Lagoa do Fogo, which will give you stunning views of tropical nature.
4. Ribeira dos Caldeiroes Waterfall
Located right in the Natural Park of Ribeira dos Caldeiros, you will be able to experience the beautiful waterfall, which has lots of flowers and nature surrounding it.
You can easily get to the waterfall on foot, and this experience is one that can be enjoyed by the whole family! There is a botanical garden near the waterfall, as well as several small waterfalls on your way to the main one.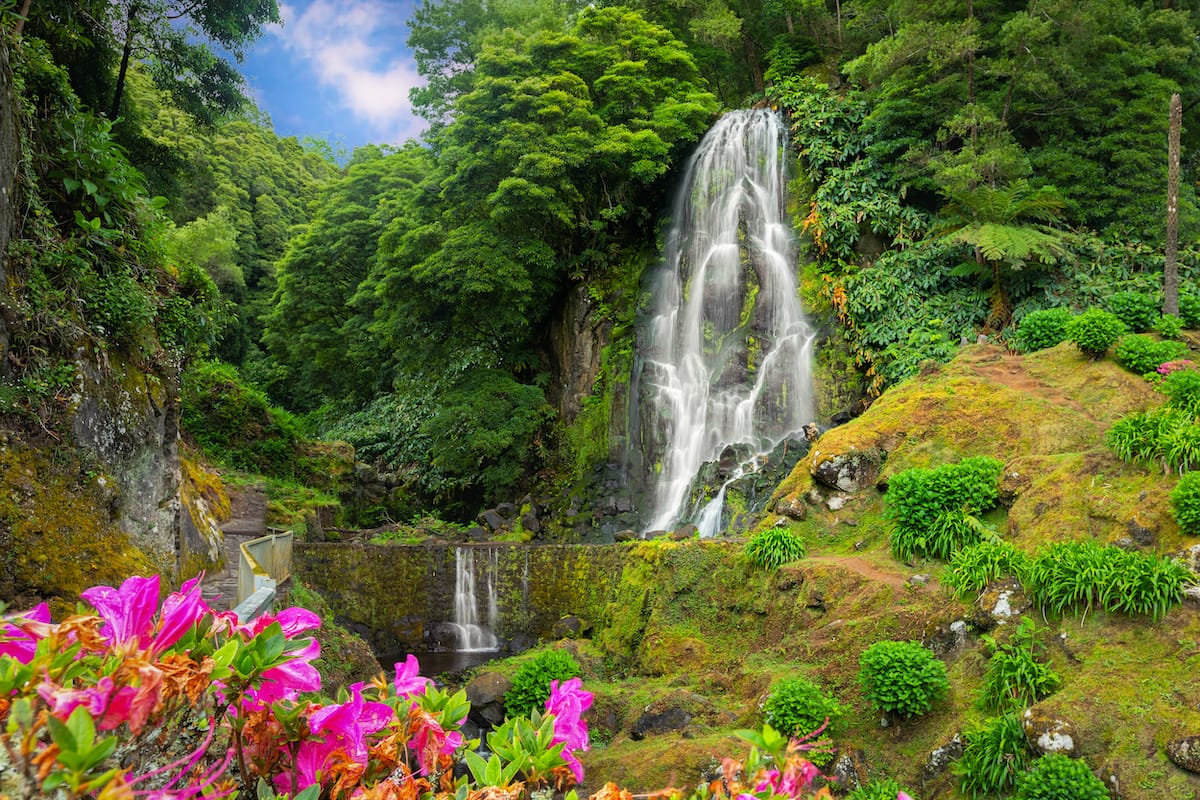 You can swim in the lake on the south side, as well as partake in some excursions and canyoning activities. If you want to take a break, you can chill in one of the nearby gazebos.
5. Salto do Prego
The Salto do Prego waterfall is located on the southwest coast of Sao Miguel island. Here, you will be able to enjoy a unique experience, as you will be able to catch views of both the nearby town and the Atlantic Ocean.
You will begin your trek to the waterfall from Faial da Terra, which is well-preserved and full of many streams and waterfalls. There are two paths, one of which is more difficult but offers beautiful views.
It can take around two hours to complete, and beginners might experience some difficulty. There are also some orchards belonging to local families, steps, and wooden bridges along the way.
Once you reach the waterfall, which is hidden in the forest, you won't regret the long hike it took to get there! This is one of the best travel experiences in the Azores, in my opinion!
6. Salto da Farinha
The Salto da Farinha waterfall is located in the northern portion of Sao Miguel. In order to reach the waterfall, you can take a hike of approximately 3 miles running along two mountain ridges.
The waterfalls are just past the beach. This area used to be known for cereal milling, which is where the waterfalls' name comes from. There is a small wooden bridge, which will grant you access to the waterfall.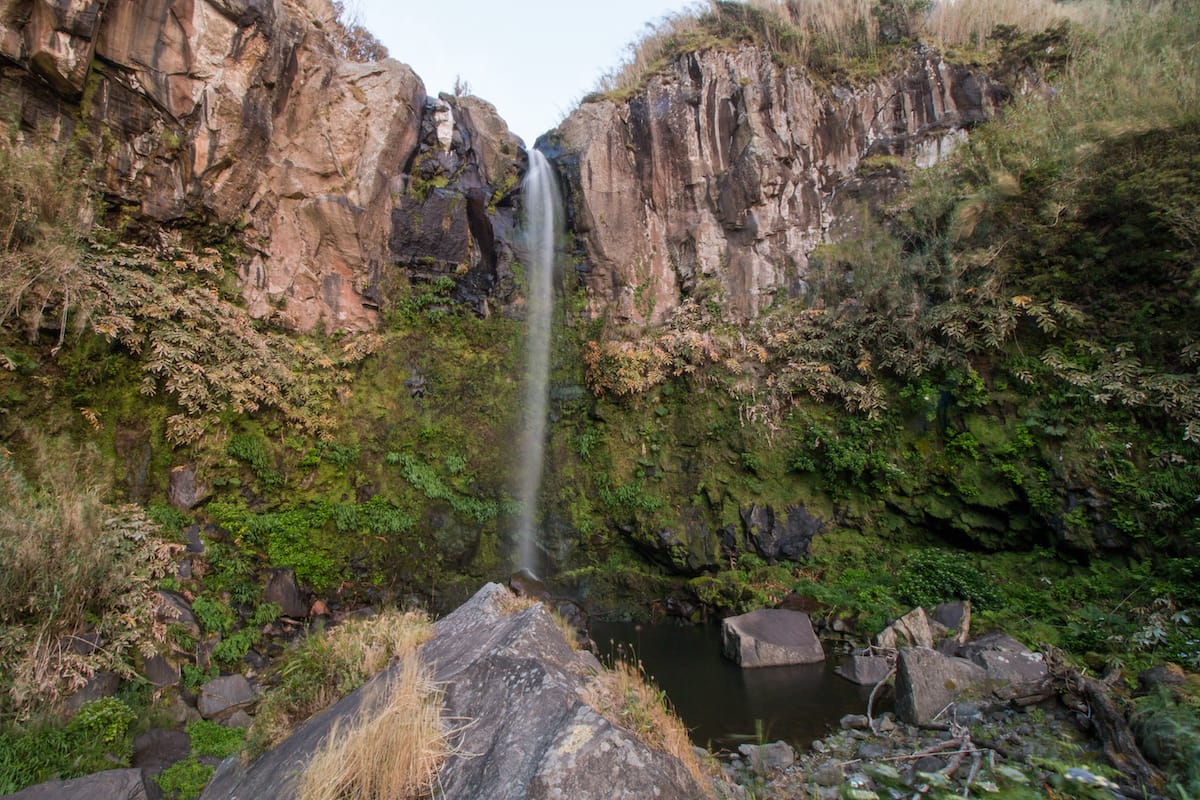 Once you reach the base and pass a couple of boulders, you can swim in the cool waters, which will enable you to relax on a hot summer day.
7. Salto do Cagarrão Waterfall
Salto do Cagarrão Waterfall is located on the Prego River, which is on a 7.6 km (around 4.7 miles) trail near the Faial da Terra and Salto do Prego, both located on the southeastern portion of the island.
It is particularly popular among those who enjoy outdoor activities like hiking and birdwatching. Although the trail is steeper, you will not regret the difficult hike once you see the stunning views at the end.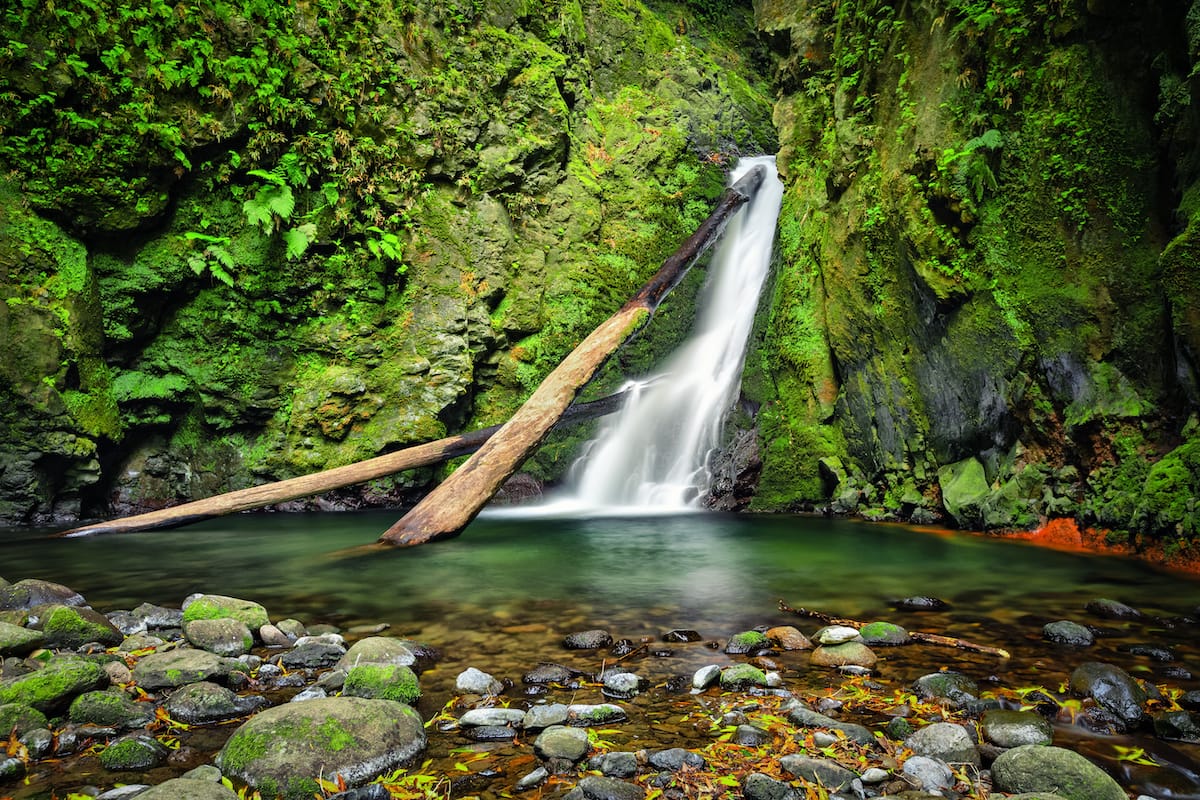 It takes around 10 to 15 minutes to hike to the waterfall, where you will be able to swim.
Depending on the ages of the people you're taking with you are, it might not be the most ideal option for families, but the views and activities here are certainly worth the hike.
8. Hot Waterfall of Ribeira Quente
According to many visitors, this may as well be the most beautiful waterfall in the Azores!
It is completely hidden by two tunnels and surrounded by tropical vegetation, which makes the Ribeira Quente one of the hardest waterfalls to reach.
It is a thermal source, making it hot, and it is the highest waterfall on Sao Miguel. Keep in mind that the hike to the waterfall is considered dangerous because you have to navigate between the two tunnels in order to reach it.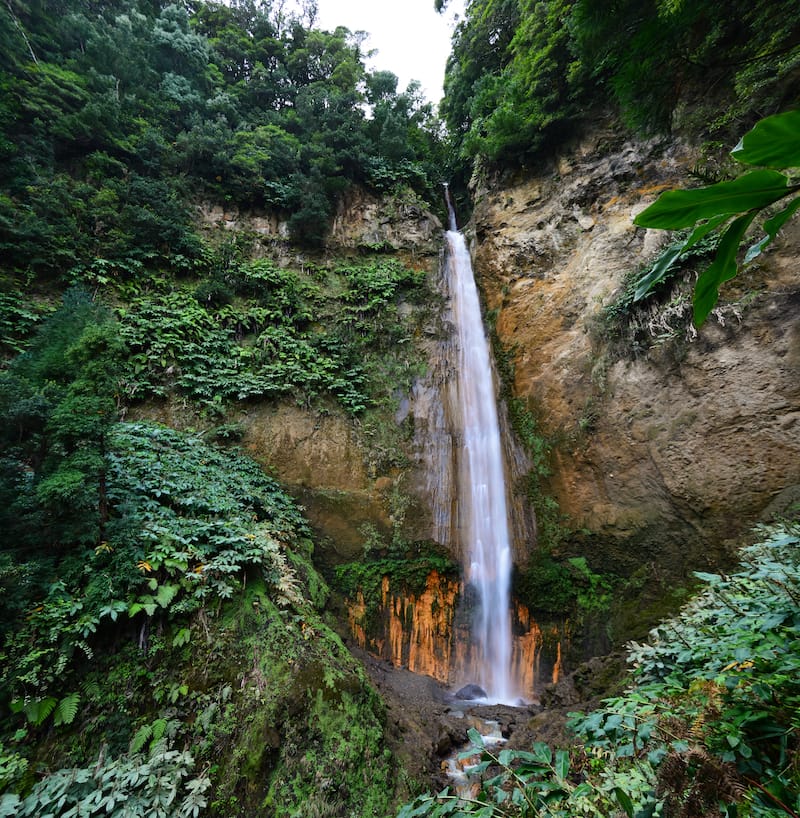 But if you're up for an adrenaline rush, then there is nothing that can stop you from reaching this stunning sight! The best time to visit is between April and September.
9. Salto do Rosal
Salto do Rosal is located deep in the forests near Furnas Lake, where some of my favorite Sao Miguel hotels are located.
People enjoy hiking to the waterfall in order to get some peace and tranquility after a hectic week. In order to get to the waterfall, you will start your hike near the Chapel of Nossa Senhora das Vitorias and the Garden of Lagoa das Furnas.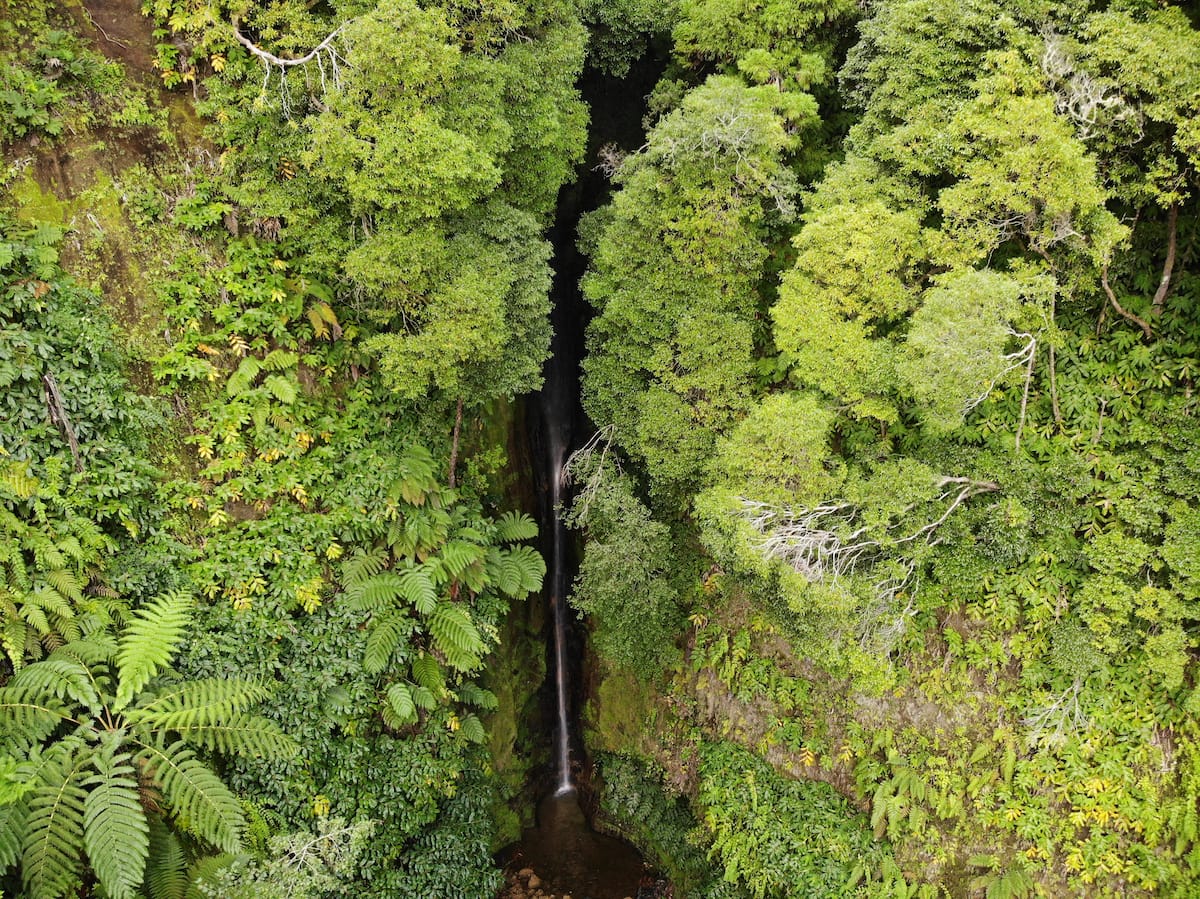 It only takes a couple of minutes to get to the waterfall, and the entire walk will leave you in awe of the stunning tropical vegetation nearby.
You should plan your visit to Salto do Rosal sometime between April and September, as the magical sight located right in the middle of the island is one that's not to be missed.
10. Poço Azul
As you may have noticed, Sao Miguel is an island that is home to many gorgeous waterfalls, and Poco Azul is no exception. This is particularly well-known for its clear waters and green vegetation surrounding the waterfall.
Many people have said that the hike to the waterfall is rather difficult, but it is certainly worthwhile. You can admire the waterfall from afar and take some nice pictures, or you can take a hike and go for a refreshing swim.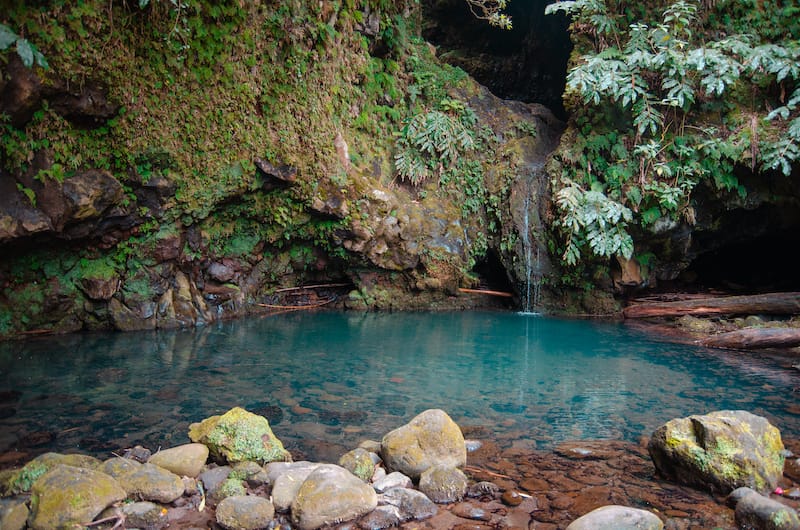 The best time to visit these Sao Miguel waterfalls is between June and August, making it the perfect place to check out on a warmer day.
Flores Waterfalls
1. Cascata da Ribeira do Ferreiro (Poço da Alagoinha)
These waterfalls in Flores are considered to be among the most beautiful Azores waterfalls! In order to reach the falls, you have to go on a small hike, which according to most visitors, is well-built.
You will be able to enjoy all the different parts of nature, including lush greenery and stunning waterfalls. It is a family-friendly trip, meaning that you can even take younger children with you and have no issues.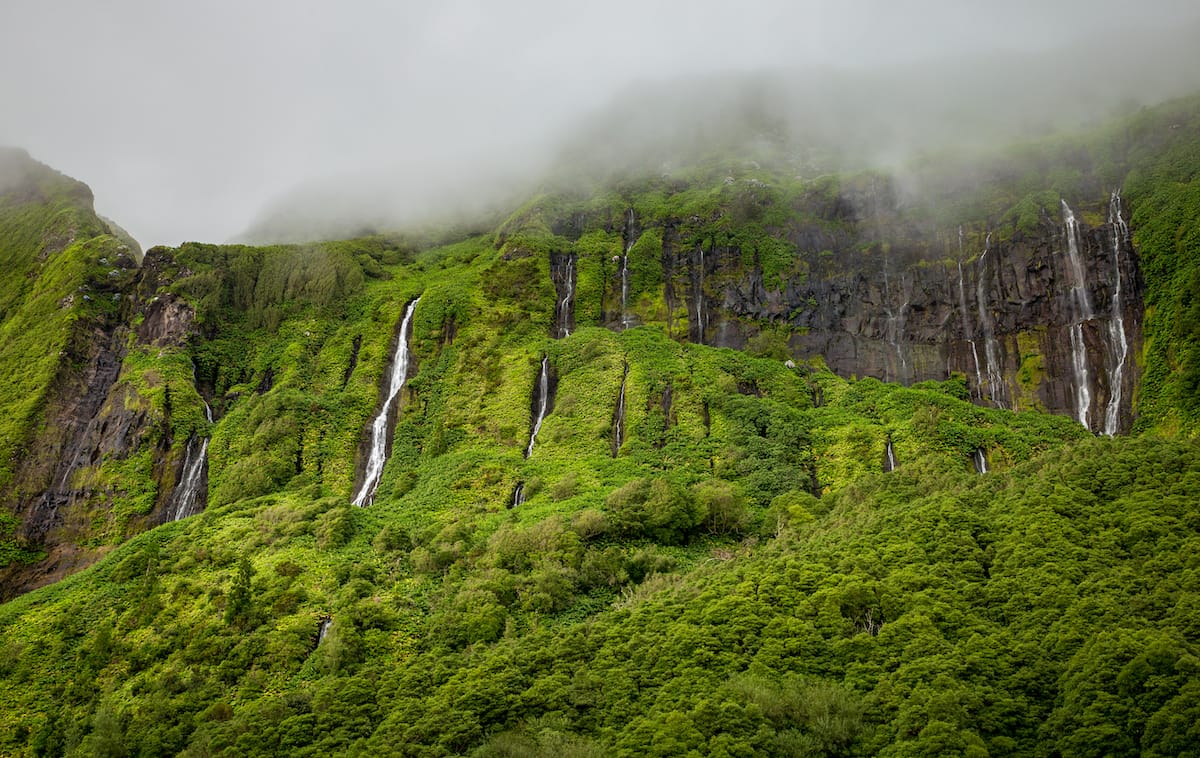 You won't regret coming all this way when you see the views at the end, provided by Cascata da Ribeira do Ferreiro. Once you reach there, you can relax, enjoy a picnic, and cool off on a hot summer day.
2. Cascata do Poço do Bacalhau
Cascata do Poço do Bacalhau is located on the Azores island of Flores. The beautiful waterfall is at a height of around 300 feet and is mostly active during the rainy season.
Keep in mind that the summer might not be the best time to see the waterfall because it is only a trickle into the pond below, which can be used for swimming.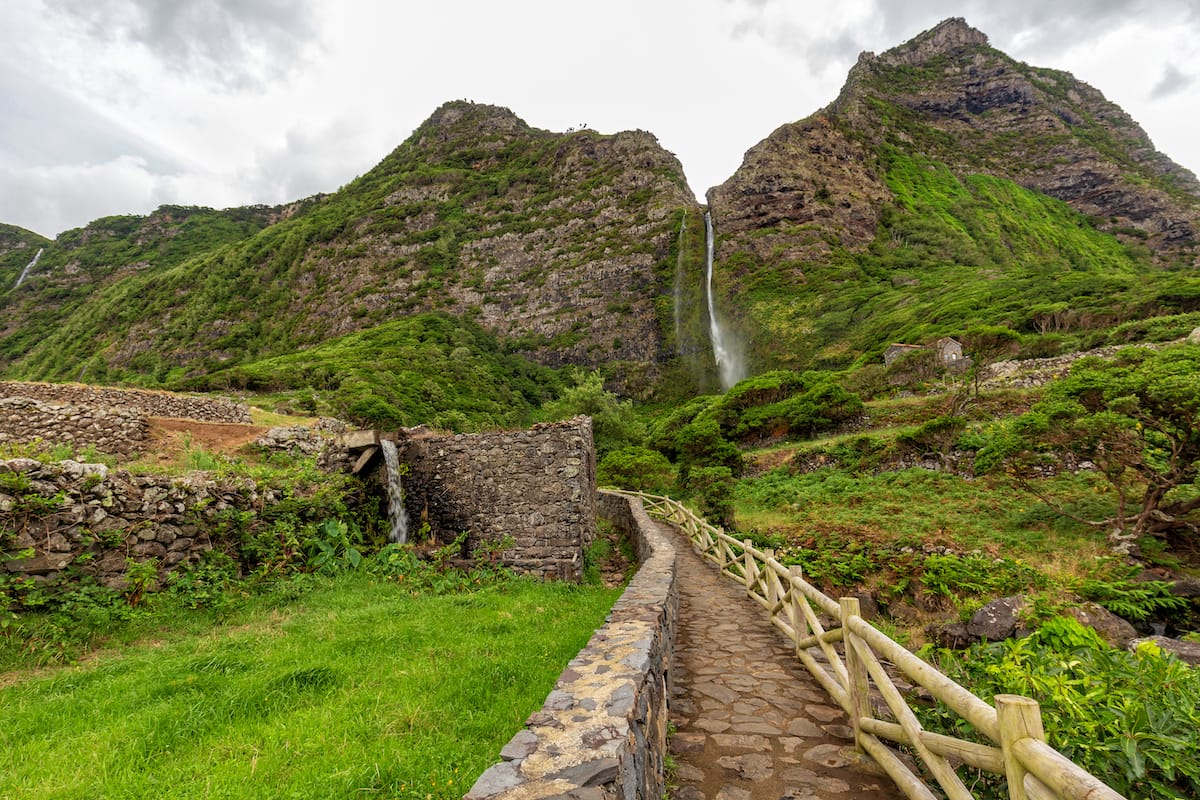 This clear and natural water is a popular spot for swimming among both locals and tourists.
The mountains from which this waterfall feeds are often covered by clouds. Aside from that, it is possible to see eels swimming in the ponds below.
Terceira Waterfalls
1. Parque das Frechas
Parque das Frechas is home to some stunning waterfalls, despite the fact that Terceira is known for being the flattest island in the Azores.
However, many people enjoy gathering at these waterfalls with their families for some fun in the sun, to celebrate, or just to cool off. Many locals enjoy staying cool by visiting the waterfall, as well as celebrating their birthdays or other special occasions.
The best time to visit is between March and May, and it's a great spot to visit if you're up for some leisure walking and waterfall sightseeing. This is one of the best things to do in Terceira!
Santa Maria Waterfalls
1. Cascata Ribeira do Aveiro
Cascata Ribeira do Aveiro is considered to be one of the most interesting attractions on Santa Maria Island, especially for its photo opportunities! It is located in Lugar da Maia.
Many people especially enjoy the ducks that live near the waterfall and the fact that there is plenty of space to relax and even have a picnic.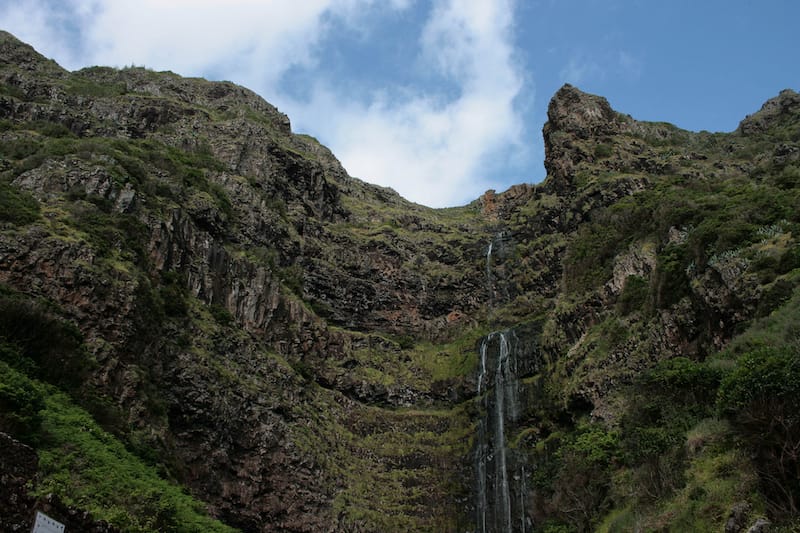 Once you reach the natural sight, you will be able to enjoy the nature all around you, as well as the peace and tranquility of listening to the rushing water.
In general, this peaceful location is one that is loved by both tourists and locals, and certainly one that you must check out during your visit.
Sao Jorge Waterfalls
1. Waterfall of Santo Antão
Located on the southeastern portion of Sao Jorge is the small parish of San Antao, which is considered to be one of the most remote villages in the Azores.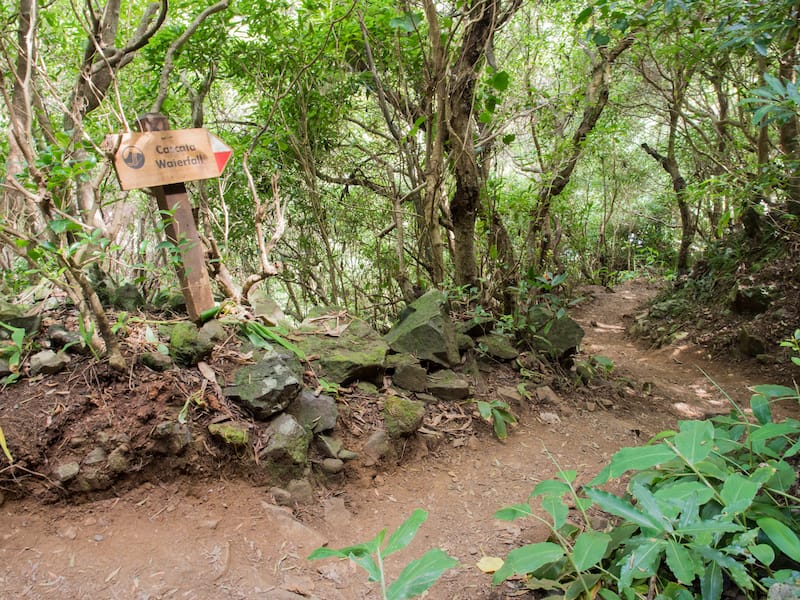 It is also home to the only waterfall on all of Sao Jorge. The attraction is small and charming, and it is located right in the heart of the village near the chapel, so you will be able to do some exploring of the local community, too.
The stunning scenery all around the waterfall will make your trip to this remote island and village all the more worthwhile.
In addition to that, you will be able to get some views of the ocean. The best time to visit is between March and May.
What are your favorite waterfalls in the Azores? Let us know the top Sao Miguel waterfalls as well as ones on other islands in the comments!
More Azores Travel Guides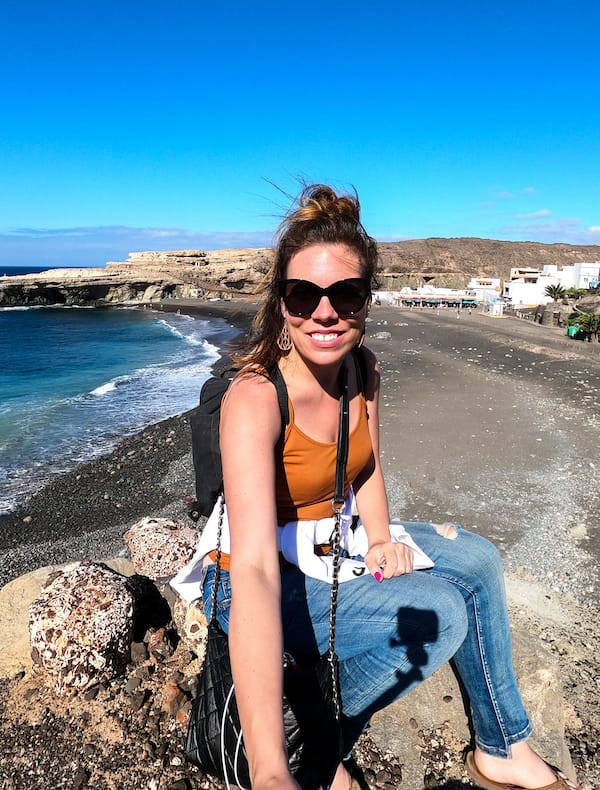 Megan is a travel blogger and writer with a background in digital marketing. Originally from Richmond, VA, she now splits her time between Frankfurt, Germany and Arctic Finland after also living in Norway, Armenia, and Kazakhstan. She has a passion for winter travel, as well as the Nordic countries, but you can also find her eating her way through Italy, perusing perfume stores in Paris, or taking road trips through the USA. Megan has written for or been featured by National Geographic, Forbes, Lonely Planet, the New York Times, and more. She co-authored Fodor's Travel 'Essential Norway' and has visited 45 US states and 100+ countries.