Going snorkeling in the Azores can open up a whole new world to many travelers.
These gorgeous islands offer great underwater opportunities but you need to know where to find them and how to embark on an Azores snorkeling trip ethically and safely.
This guide will give you all the information you need to do both. This is a guide to snorkeling in the Azores.
Azores Snorkeling Guide: Best Places to Go Snorkeling in the Azores
Given its location in the middle of the Atlantic, this rocky outcrop of islands is one of the best places in the world to go snorkeling.
The volcanic Azores Islands have some of the most diverse waters in the world with plenty of marine flora and fauna living just off the shores.
The volcanic activity has also created amazing topography underwater which is equally as spectacular as the marine life.
If you plan to visit the Azores to do some snorkeling, it will likely be one of the best experiences of your life. As you explore the different islands, you will quickly find they each have their own magic and characteristics.
From Santa Maria's amazing wildlife of sea turtles and beyond to the coasts of anchor graveyards off the coast of Sao Miguel, there is something for everyone on these islands.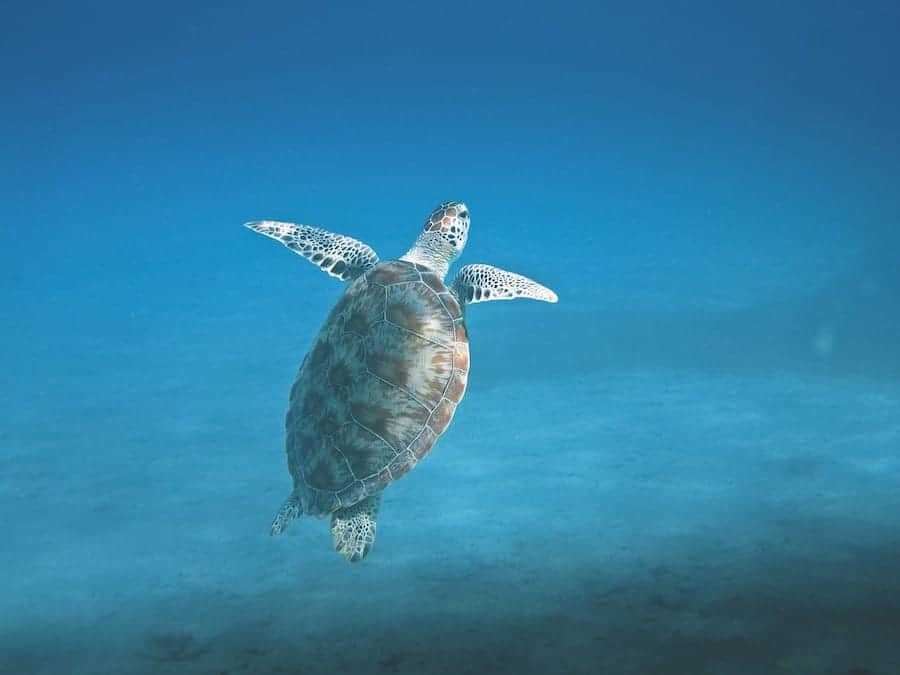 The other great thing about this island chain is that even though they are in the Atlantic Ocean, the water is warm and inviting thanks to the volcanic heat spewing out from the depths.
In this guide, I will take you through the best spots to snorkel around the island plus some of the best Azores snorkeling tours available.
Interested in Azores diving options instead? Click the link to check out my guide to diving in the Azores and PADI qualifications there.
Best Places for Snorkeling in the Azores
If you are wanting to just head to a beach to snorkel, there are plenty of places you can do this in the Azores. Fortunately, the waters are rich with nutrients which means that fish life is plentiful and they will often come close to shore.
It is important to note the colors of the flags at the beach to make sure that swimming is safe. Below are the flag colors and indicators:
Red Flags: no swimming
Yellow Flags: swimming is discouraged
Green Flags: safe to swim
There is another set of flags you need to look out for which signal if jellyfish are in the area. A yellow flag with a jellyfish in the middle means there have been some sightings of jellyfish or reported stings.
A red flag with a jellyfish in the middle means there have been many sightings or stings and bathing or swimming is not recommended.
There are no coral reefs on the islands as they are volcanically formed, but the incredible underwater landscapes are just as impressive. Here are some of the best beaches in the Azores to go snorkeling from on the islands.
Snorkeling on Sao Miguel
Islet of Vila Franco do Campo
The small islet just off the shores of Sao Miguel has some of the most pristine waters in the world. If you are lucky enough to get to visit the islet where visitor numbers are restricted (only 400 tickets are sold each day), you will be able to snorkel in these amazing waters.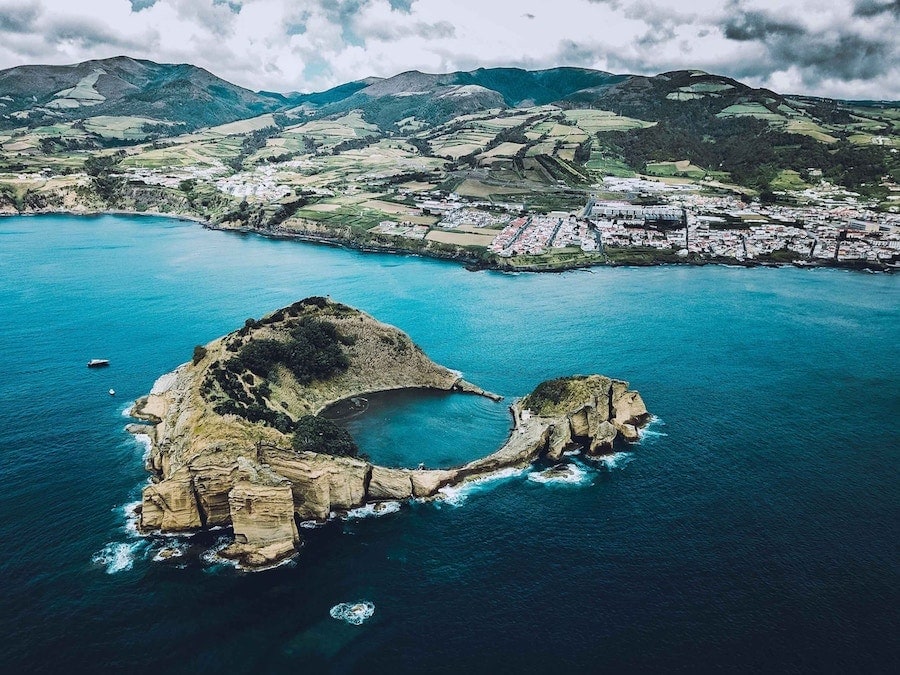 The crater of the collapsed volcano is filled with seawater which comes crashing in from the sides and is home to plenty of fish and flora.
This little paradise is rated one of the best places in the world to snorkel and is definitely one of the Sao Miguel snorkeling hotspots.
Azores Snorkeling Spots on the Other Islands
Praia Porto Pim (Faial)
One of the best places to snorkel in all of the archipelago and definitely the best place to snorkel on Faial, this sheltered cove and the beautiful beach have calm waters and plenty of marine life.
If you spend some time snorkeling off the beach there, you are likely to see octopus and even the occasional manta ray or jellyfish.

Praia da Riviera (Terceira)
There are many very clean and pristine beaches around different islands, but Praia da Riviera is one of the cleanest beaches with zero pollution recorded. The clean waters are perfect for Azores snorkeling and checking out marine life.
The amazing beach is surrounded by cliffs supporting many seabird families. This is the premier place to go snorkeling on Terceira.
Poça Branca (Pico)
This small beach has formed into a natural swimming place and is one of the best places to snorkel on Pico.
The mostly enclosed natural pool has calm waters which makes it a safe and easy place to snorkel as well as see the marine life that is taking shelter in these tranquil and safe waters.

Praia Formosa (Santa Maria)
Praia Formosa literally translates to the beautiful beach and it surely lives up to its name. Santa Maria's beaches are unlike the other islands and they are golden in color due to the way the island formed after having sunk several times.
This idyllic bay has a more Mediterranean feel to it than the others and the waters are stunning. As you snorkel on Santa Maria, you will see plenty of wildlife as well as an impressive sunken ship.
Santa Maria is also known for having sea turtles swimming in the area.
Azores Snorkeling Tours on Sao Miguel
1. Snorkeling with Dolphins on Sao Miguel
The Azores is one of the few places in the world where you are able to go snorkeling with wild dolphins in their natural habitat.
Providing it is done respectfully and correctly, you can head out into the open water and experience these magnificent creatures up close.
When a pod is found, you will enter the water quietly at a respectable distance and observe the dolphins in their element.
If you are lucky, the naturally curious dolphins may come close to you to check you out, however, it is always important to note this must always be the dolphin's choice and not yours.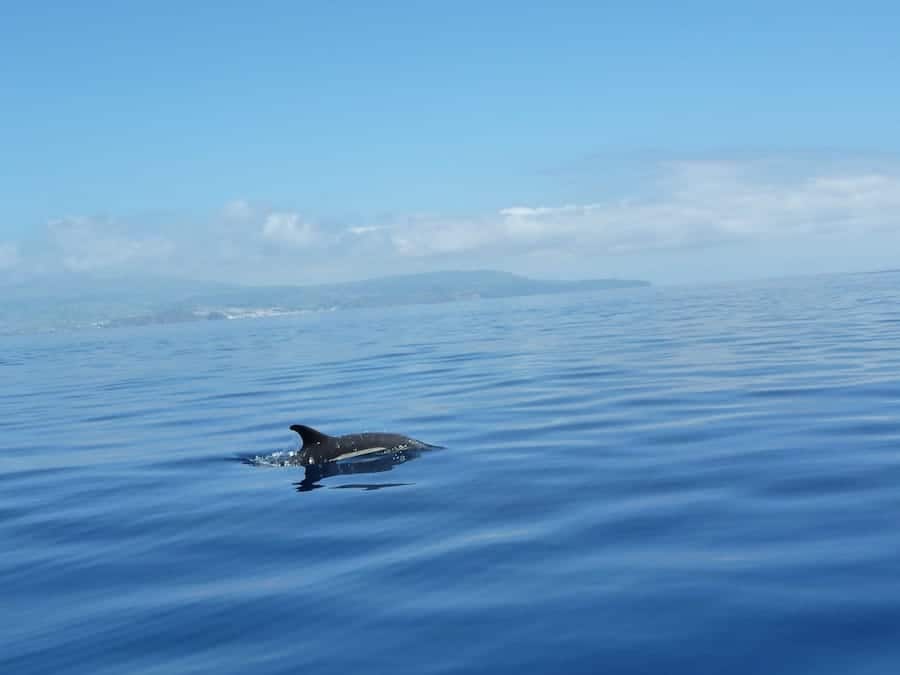 On the boat ride out to sea, you may also see whales out in the ocean diving to the depths to feed. You will be provided with all the necessary equipment and can choose between a half-day or full-day tour.
⇒ Click here to see rates and availability for this snorkeling tour
2. Snorkeling Excursions Sao Miguel
Snorkeling excursions arranged by the Best Spots Azores Dive Center are reputable and some of the best.
During the two-hour excursion, they will take you to one of the best snorkeling spots on Sao Miguel Island where, with an experienced guide, you will learn all about snorkeling in the Azores and about the area you are snorkeling in.
They will help you spot all the different kinds of fish and flora. The tours run between April and October and the price includes all the snorkeling equipment you will need.
⇒ Click here to see rates and availability for this snorkeling tour
3. Islet of Vila Franco do Campo Snorkeling Tour on Sao Miguel
If you have struggled to get a ticket to the islet of Vila Franco do Campo, taking this tour will allow you to snorkel these stunning waters.
The tour by Big Blue Adventures will take you out to the island where you will be able to enjoy snorkeling in the waters for around 90 minutes.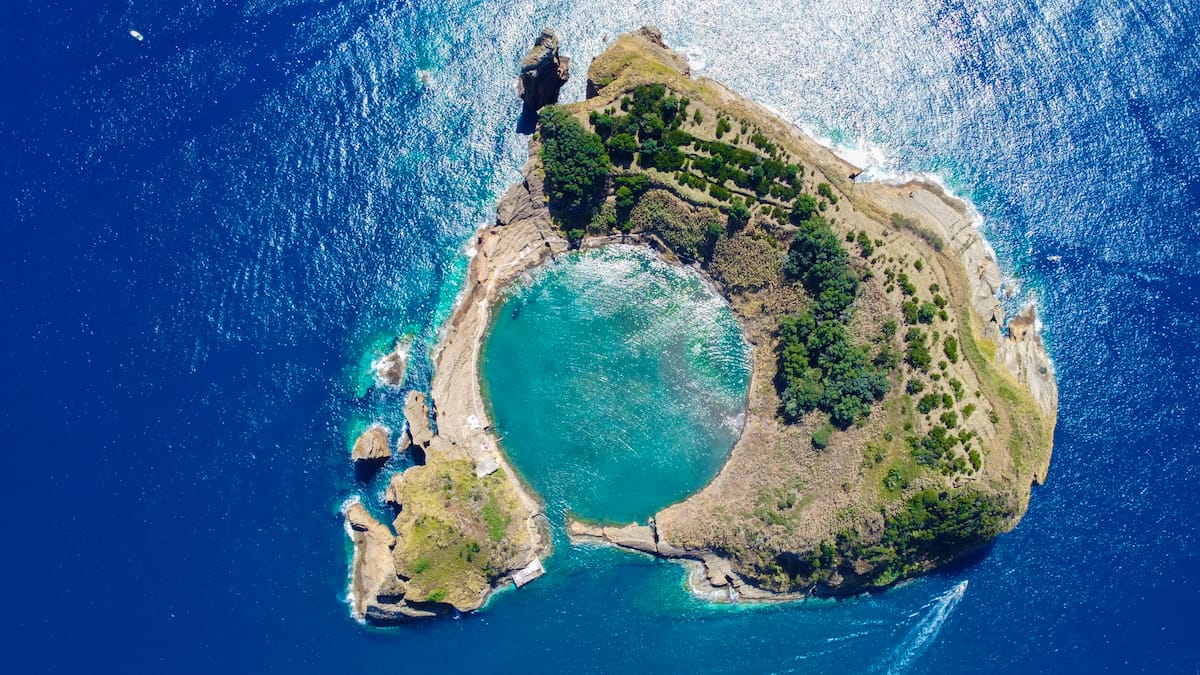 During the tour, you will always be with an expert guide who will talk you through everything you need to know. The tour is only available between June and September and includes snorkel equipment.
⇒ Click here to see rates and availability for this snorkeling tour
Azores Snorkeling Tours on Other Islands
4. Snorkeling Excursion (Santa Maria)
If you are staying on the island of Santa Maria, there are many amazing snorkeling spots thanks to the island's unique formation compared to the other Azorean Islands.
The Snorkeling Excursion tour with Haliotis Santa Maria is a great package where you will complete two one-hour excursions with an experienced instructor who will teach you skin diving technics and the best methods for exploring the underwater worlds in a safe and fun way.
All snorkel equipment you may need will be included in the package.
⇒ Click here to see rates and availability for this snorkeling tour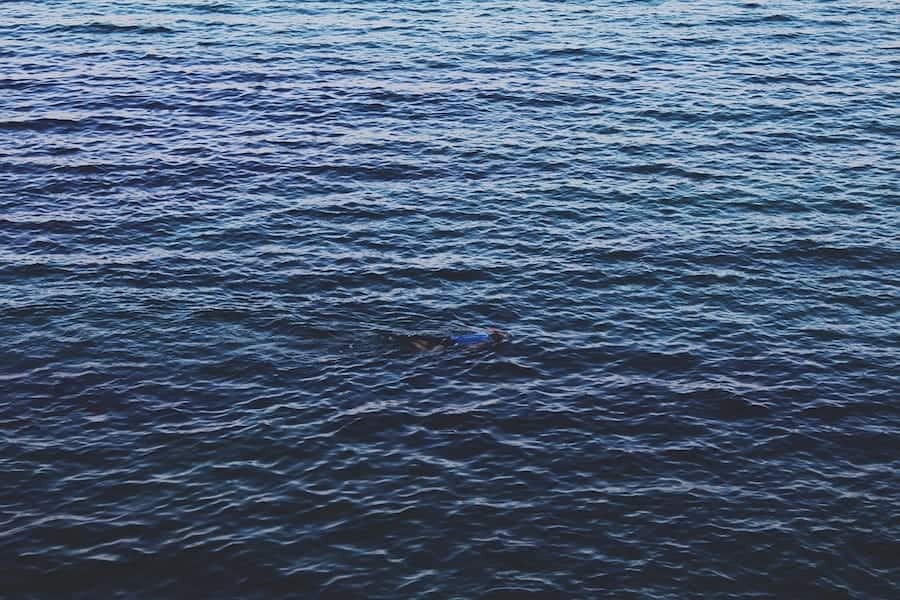 5. Snorkeling Goat Island (Terceira)
Head out on this tour to the small islet of Goat Island, just off the southern coast of Terceira. You will head out in a glass bottom boat where you may spot large marine animals as well as shipwrecks resting on the sea bed.
Once at Goat Island, you will spend an hour snorkeling in the pristine and crystal-clear waters where you will see all kinds of animals from loggerhead turtles to barracudas.
It is truly a magical experience. The tour is operated by Water4Fun and includes all snorkel equipment.
⇒ Click here to see rates and availability for this snorkeling tour
6. Snorkeling Excursion (Faial)
Enjoy the magic of the waters surrounding Faial with Haliotis Faial Snorkelling Excursion. During your two snorkeling excursions that each last an hour, you will learn the basics of snorkeling in the Azores as well as skin diving with your experienced instructor.
You will see incredible nature and topography as you make the most of the waters with your new-found mermaid skills. The tour includes all the equipment that you may need.
⇒ Click here to see rates and availability for this snorkeling tour

What to Bring on Your Azores Snorkeling Trip
I think having a few of the basics for your Azores snorkel trip is essential as you may struggle to scramble around the islands and find some last-minute essentials.
Here are a few things I recommend bringing with you. Please note that most tours have the actual snorkeling equipment, so I am not listing that on here:
⇒ SEASICKNESS WRISTBAND: I claim I don't get seasick, but sometimes I do feel queasy when on boats.
Since some of these tours do require you to be on a boat, I can recommend a seasickness band if you're similar to me. Click here to shop for seasickness wristbands.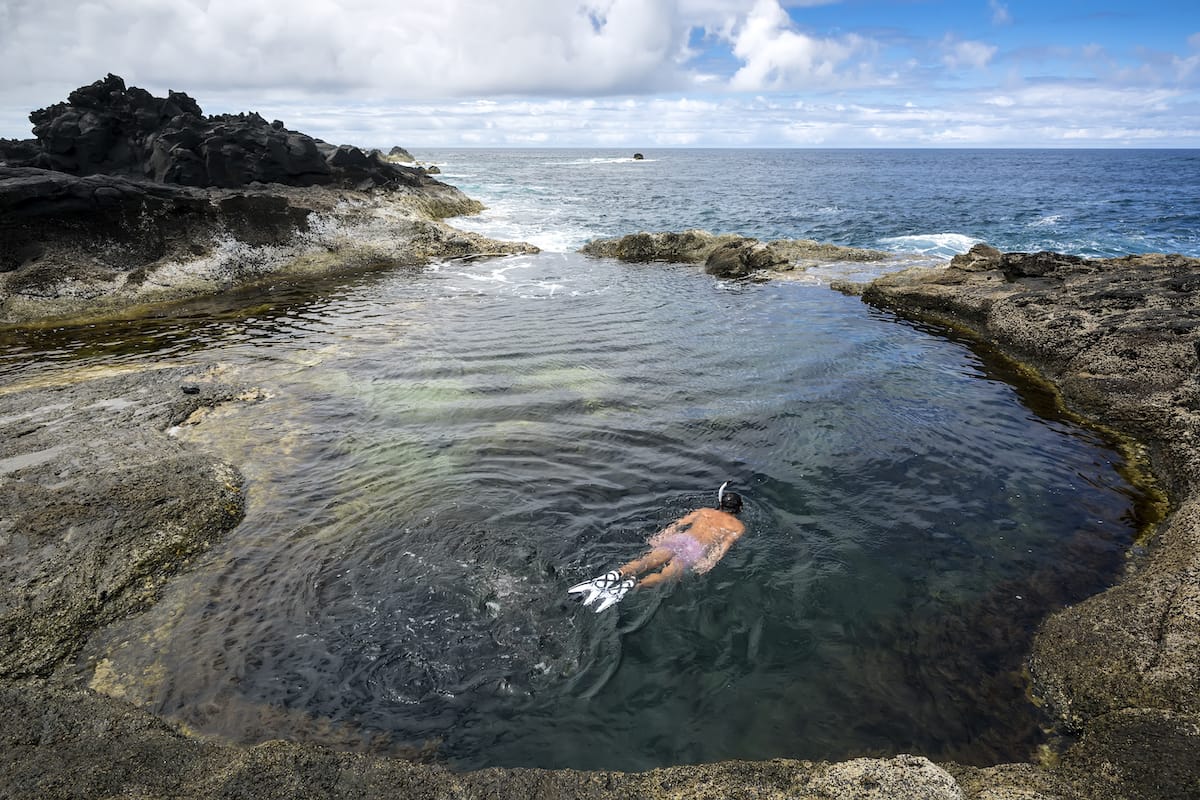 ⇒ SUNGLASSES: The weather in the Azores is temperamental but you should definitely bring a pair of shades for when you're not swimming underwater with sea life. You can check out options by my favorite brand, Quay Australia, here.
⇒ WATERPROOF JACKET: While the Azorean waters are warm, definitely still have something to cover up in just in case you're out and the weather changes last minute (which really does happen in the Azores!) Click here to shop my favorite waterproof jacket.
⇒ DRY BAGS: Don't let your gear get wet on a boat while you're playing around with fish! I swear by dry bags and keep everything dry and free from the elements inside of them. My favorite brand is by The Friendly Swede. Click here to shop my dry bags from The Friendly Swede.
⇒ WATERPROOF PHONE CASE: I don't really think this needs an explanation, but you really don't want to have to replace a phone in the Azores. Click here to buy a waterproof phone case.
⇒ SUNSCREEN: This is vital for very obvious reasons. Click here to buy sunscreen.
⇒ KLEAN KANTEEN WATER JUG: Plastic sucks and we need to be better as a society and as travelers when it comes to frivolously using plastic water bottles and more. I always travel with my Klean Kanteen (I have a few, actually!) and I can highly recommend that you pick up one and do the same. Click here to shop my Klean Kanteen water jug.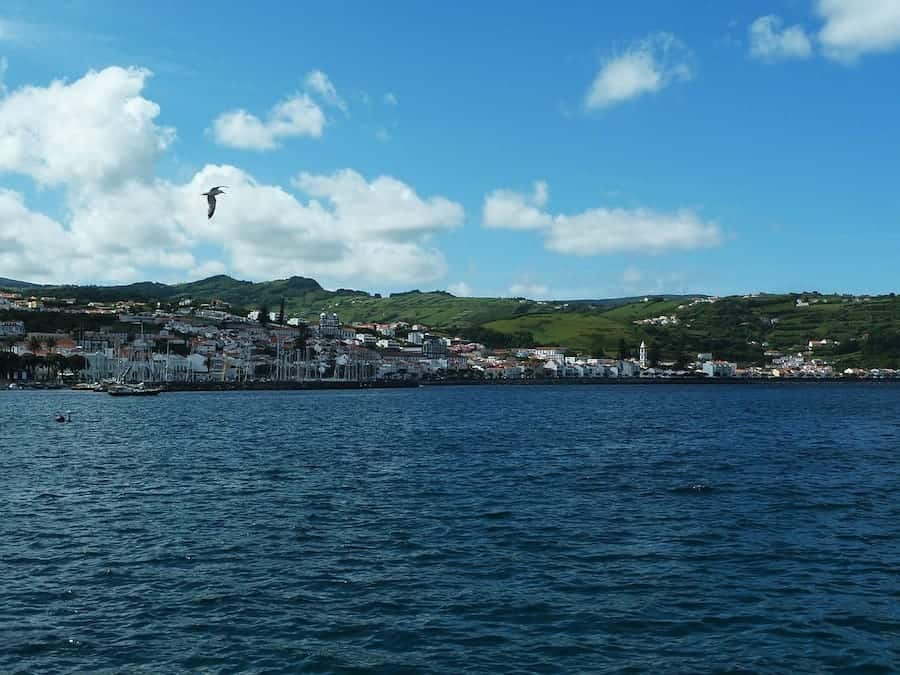 ⇒ GOPRO HERO7: If you're wanting to capture life under the sea in the Azores, you will definitely need a good underwater camera. While this camera needs the proper equipment to keep it waterproof, I can personally recommend it for this usage. Click here for GoPro options.
Where to Stay on Sao Miguel
I have stayed in a few places on Sao Miguel but nothing really was as spectacular as my stay at the Sao Vicente Lodge on the northern coast (central area).
The lodge prides itself on anonymity and being sustainable and eco-friendly. It offers sea views from its rooms and there are hiking opportunities in abundance and it was just spectacular. I can recommend it to everyone.
⇒ Click here to check rates and availability for the Sao Vicente Lodge
There are many amazing spots to check out in the Azores for a snorkeling trip but these are definitely some of the best Azores snorkel spots as well as tours that will organize a trip for you at an affordable price.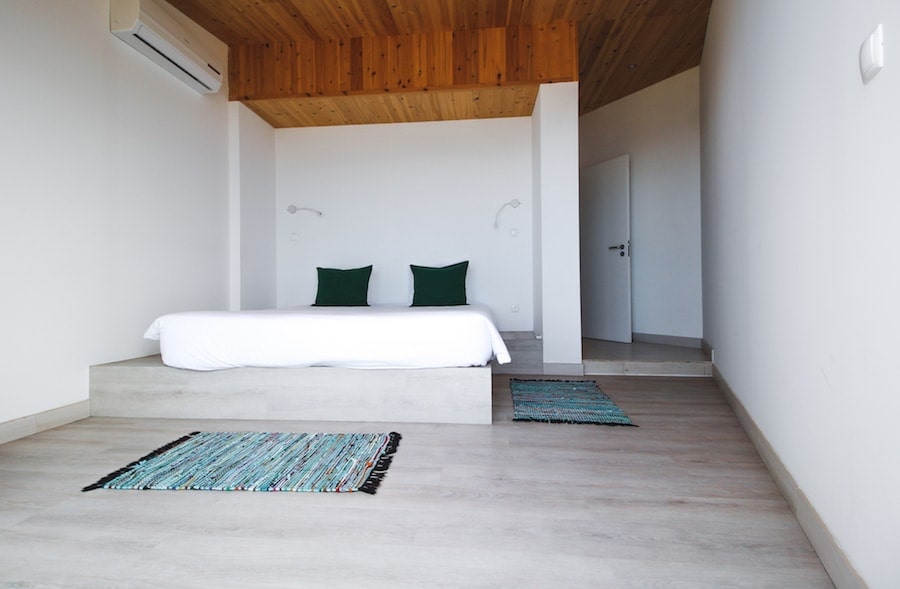 More Azores Travel Guides