This is a guide that will detail what to pack for the Azores for all seasons. This Azores packing list will cover the essentials for both men and women and I'll show you what is in my carry-on as well as my check-in.
Are you planning your trip to Azores last minute?
If youʻre booking your trip to Sao Miguel last minute, we have you covered. Below are some of the top tours, hotels, and more!
Top Experiences and Tours in Sao Miguel:
Top Hotels in Sao Miguel:
Sao Vicente Lodge – Atlantic Retreat (Northern Sao Miguel)
Octant Furnas (Central Sao Miguel)
Grand Hotel Açores Atlântico (Eastern Sao Miguel)
I will also let you know what I think you should leave behind when packing for your trip as well as what I think you should wear in the Azores.
What to Pack for the Azores
I traveled to the Azores in early October when the temperature was pleasant and comfortable although it did get relatively humid at times. I definitely, as always, slightly over-packed for the weather as I was not sure what would be needed.
I traveled to the Azores with a male companion, so I will highlight the essentials for both men and women in this Azores packing guide.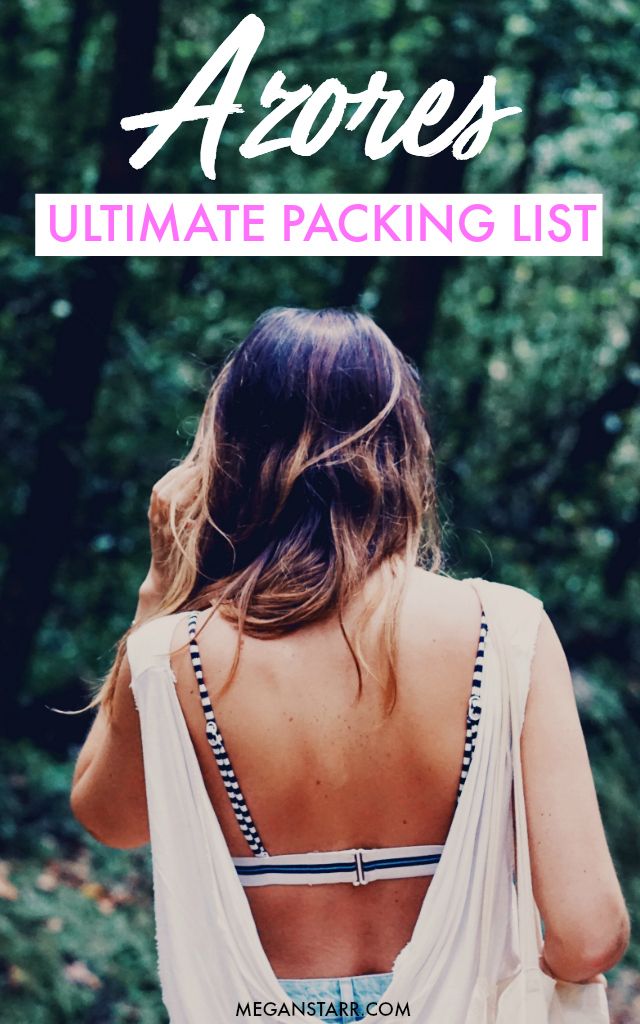 The location of the Azores in the middle of the Atlantic, which gives the islands a rather temperate climate that is relatively consistent year-round.
Although winter temperatures can drop down to lows of around 12 degrees compared to the summer highs of 25 degrees, the only major difference is that the winter weather will bring more wind and rain.
The most complicated thing about packing for the Azores is that the weather rapidly changes as fronts come in across the Atlantic.
This guide will perfectly complement my four-day Azores itinerary, maximizing your experience and enjoyment of your trip there.
Azores Packing List for Women
I traveled to the Azores from the UK via Lisbon. As I was taking a range of different flights, I was limited with the amount of luggage that I could take.
I was also planning to move about a lot while on the trip, so I wanted to keep my baggage light and easy to carry.
For this very reason, I traveled with a regular carry-on bag plus a day pack that I could take around with me while exploring each day, leaving the bulky stuff in my hotel during the day.
I will break down the guide into the essentials for every season. It will be split into my main luggage, daypack, and toiletries… along with some seasonal suggestions.

What's in My Check-in Bag (Backpack or Suitcase)
To be honest, when I am able to travel with a suitcase, I will happily take one with me.
The thought of having to haul around a heavy backpack or even the notion of having to pack for a week using only hand luggage brings on a bout of anxiety.
But, I also have a tendency to overpack and limiting my luggage size really helps me focus on just packing the things I need.
I traveled with my Osprey Farpoint 40L and a small daypack, but you could also do this with a carry-on suitcase such as the Delsey Lightweight Sky 2.0, which is certified as hand luggage and a day pack.
I recently purchased an American Tourister hardshell suitcase which I will take on my next trip to the Azores.
My Osprey Farpoint 40L was a Christmas present from my family a few years back and it quickly became one of my favorite bags to travel with.
It is lightweight but able to store enough clothes for a short trip and does not get too bulky, all at the same time as distributing weight across the back to give the feeling of hardly carrying around anything.
The Delsey Lightweight suitcase has been my trusty travel companion ever since I bought it in New York. Despite being run ragged for the last 7 or so years, it has really held up even if a few wheels needed to be replaced after they struggled to deal with the rugged terrain of Central Asia.
It is super lightweight and really feels like you are dragging around air. I will often use this bag for checked luggage even though it's certified as being a carry-on.
I recently replaced this bag with something with a fun color and something that was hardshell (discussed above).
Both bags are great for taking to the Azores, especially when traveling in the warmer months as you really don't need to wear many bulky clothes.
If you are renting a car during your trip, you can easily dump the bags in the trunk of the car and set off.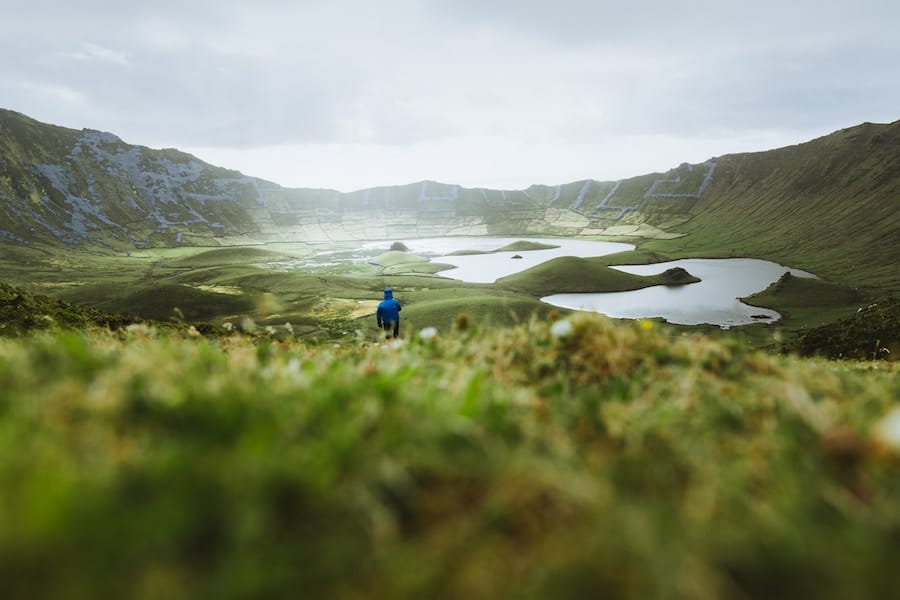 Clothing-wise, I recommend bringing a small mixture of hiking clothes as well as your average stuff that you'd wear on a city break.
The lighter the better- as the weather quickly changes you might find yourself needing to put on an extra waterproof layer.
The Azorean way of life is relaxed and most restaurants do not require you to get all dressed up and hiking clothes will be accepted.
Here were some of my Azores packing essentials:
Hiking boots (I highly recommend

my Keen Targhees

as they are great and lightweight. I have had mine for nearly a decade and they are holding up well!)

Comfortable and breathable hiking socks

Baseball cap or hat with a rim to keep the sun from your eyes

1 lightweight sweater

1 waterproof jacket (I use this one from Rains Journal in a mint color

)

Comfortable shorts

Underwear and bras (I like these comfortable

sports bras from Weekday

, a Swedish brand)

Pajamas

Swimsuit or bikini to take advantage of thermal pools and waterfalls on the islands

Sunglasses (I own copious amounts of

Quay Australia

sunglasses and highly recommend them)

Multiple pairs of comfortable black leggings- I like Calzedonia leggings

4-5 comfortable tops

1 pair of waterproof pants

The

Friendly Swede dry bags

in case it decides to rain randomly… which will happen. Also great for visiting the many waterfalls.

Seasickness wristbands

(especially if you plan to head out whale watching)

A pair of trekking poles (the ground can be slippery after it rains

see some highly rated ones here

)

Klean Kanteen

– because plastic sucks

Another pair of shoes if you are spending the day in the city. I like to travel with

my black, vegan Dr. Martens

but whatever is most comfortable for you works the best!
What's in My Carry-on
Carry-on luggage is where I struggle the most because I struggle to find the balance between the things I need for blogging and those things I need for everyday, normal life.
The travel blogging needs end up overtaking the other needs and I haul around a lot of electronic equipment.
I am obsessed with my WANDRD 31L bag because it is the perfect carry-on bag and designed for toting around your equipment safely.
The bag consists of several different compartments so that you can separate your electronics from other items and even use it for long weekends.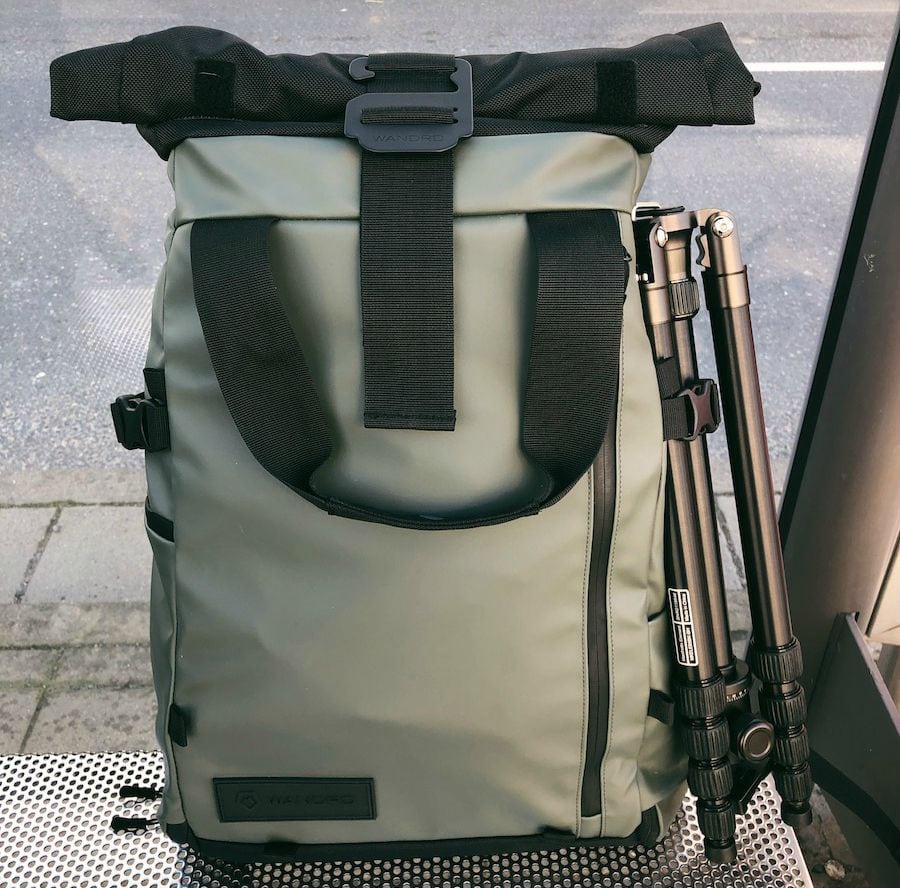 The waterproof bag easily holds all of my camera equipment, drone, gimbal, and all the other little bits and pieces. The lower section of the bag can only be accessed while the bag is off, which keeps your more expensive items safe.
The upper section is accessible in multiple ways meaning you can quickly access those items via the top of the bag, ideal for any extra clothing you will need to carry around with you.
I recently purchased an American Tourister hardshell suitcase that I am starting to use as my carry-on since I am having back issues.
So, if you're not looking to purchase the WANDRD bag listed above, I can definitely recommend my new carry-on suitcase. It is also Ryanair and budget airline certified for size.
For a lighter option, I love Fjallraven Kånken and Sandqvist daypacks (can you tell I have a thing for Scandinavian products?).
These light and comfortable backpacks are great for toting around the things you need for a day- especially if unlike me you don't carry around 100,000 camera lenses.
In my WANDRD 31L bag is the following:
MacBook Air

A camera that you know how to use (I am still learning about photography and

this is the one I use

)

A wide-angle lens (I can recommend

this Canon 10-18mm

, as it will really help you capture the beauty of the islands)

My

Manfrotto tripod

(needed for long exposures and stability)

My

GoPro Hero 7

Neutral Density filters that will help with long exposure photography (I recommend

these affordable ones by Gobe

)

Electrical plug adapters or converters

All chargers

External hard drive like

this Seagate 2TB

to backup photos daily

Power strip (preferably one with additional USB ports so you don't need to use up all the plug sockets- I never travel without one!)

A notebook or book… just something to do for downtime

Headphones

Zoom lens (optional, but great for wildlife photography… I use this cheap one-

Tamron 70-300mm

)

Drone (optional, but I recommend either the

DJI Mavic Air

or

DJI Spark

because they take up less space in your carry-on)
Drones are definitely not everyone's cup of tea, but I personally love them. I find they provide a different perspective and can give you shots and footage of things you otherwise would not be able to get.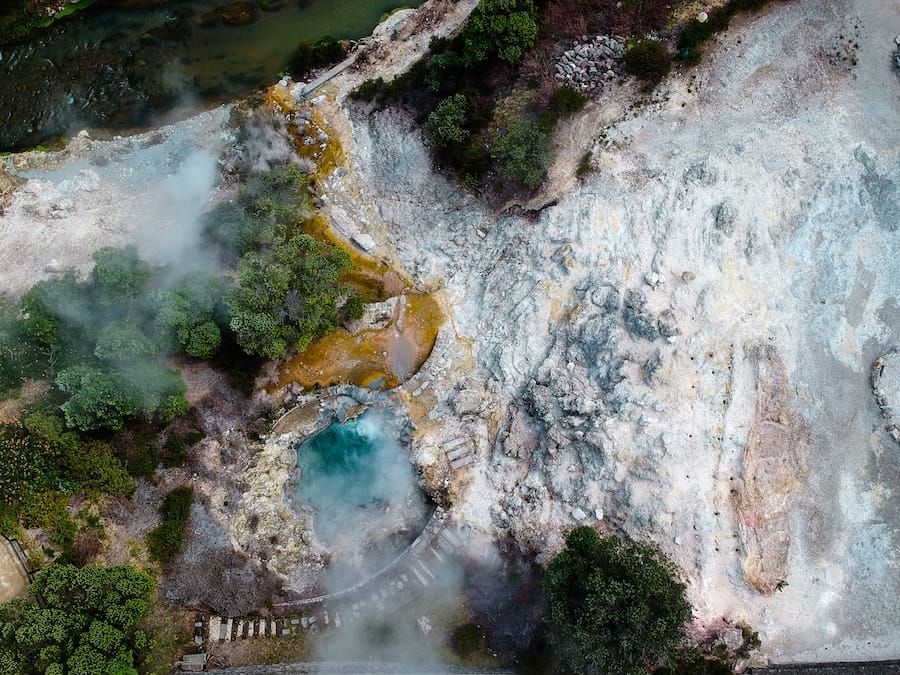 I have traveled with a Mavic as well as the DJI Spark and can fully recommend both but it is really dependent on what you're doing. If you're just having fun, a Spark is great. If you want nice photos and video options, definitely opt for the Mavic.
What's In My Toiletry Bag
I won't go into too much detail about what to pack toiletries wise as everyone has their own needs and routines, but I highly recommend the following:
Cuticle balm (I use

this one by Nairian

and it is great for cracking skin which the changing weather can cause)

Lip balm

All medications you require

One kickass lipstick … the easiest way to dress up any outfit for a night out in Ponta Delgada.
What Am I Happy I Packed for the Azores?
Wide Angle Lens – Islands like the Azores are so beautiful that I find the only way to do them justice is with a wide-angle lens. The ability to capture all of the scenery really makes for some of the most stunning photos. I use this wide-angle lens.
Neutral Density (ND) Filters – There are plenty of waterfalls throughout the islands which are perfect for playing around with long exposures on.
ND filters block the light meaning that during the daytime, you can take epic photos of flowing water that look really impressive. These affordable ones by Gobe allow you to easily change the density on the filter without having to change the filter.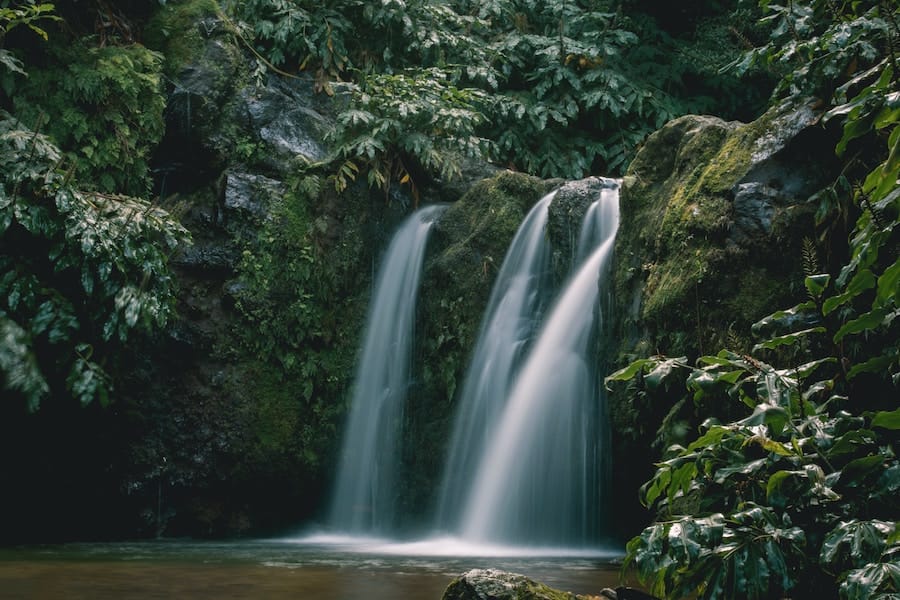 Hiking Boots – During my time in the Azores, I went on a couple of organized tours, and for some strange reason… I decided against wearing my hiking boots even though I brought them with me… big mistake.
I ended up slipping and falling quite hard and in the process, bruising my leg and ankle. The ground had become slippy due to a short rainstorm and my footwear was completely inappropriate, so I highly recommend taking your hikers with you.
And actually wearing them. Shop my Keen Targhees hikers here.
What Should I Have Left Behind?
Bulky Sweaters – I am a big fan of sweaters, and seeing as went to the Azores in October, I thought I would need a bulky-ish one. However, the temperate climate and high humidity meant that they are definitely not needed.
I do recommend taking a light thin sweater for the cooler evening periods.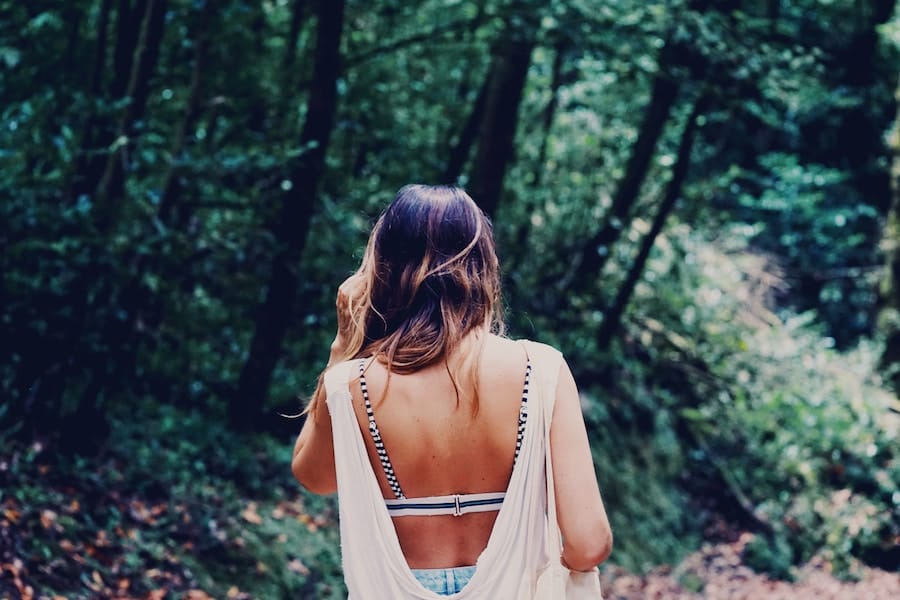 Packing for the Azores by Season
There are seasons in the Azores but they are not as drastic as those you will find in mainland Europe. The temperate climate means that you will enjoy great sunshine and warm days year-round.
However, in the winter months, there will be more rain and a high chance of storms hitting the small group of islands. The following items are things you should consider depending on the season:
Winter in the Azores
Winter in the Azores is never going to be so extreme that you need to pack all your snow gear, but it will get windy and it will get wet, so it is important to be prepared.
Sturdy umbrella

A beanie (I use the ones from Finnish brand,

Superyellow

or my favorite mustard one from

Libertine-Libertine

)

Any other wet weather gear you like to travel with
Summer in the Azores
Summer in the Azores may be cooler than in mainland Portugal, but it still needs to be prepared for.
Even though the lush green islands provide some relief from the mid-summer sun, I suggest packing the following things to make sure your trip isn't ruined due to the sun:
Suntan lotion & Aftersun

Sandals. You may find your feet get a bit too hot in shoes and if you are planning on taking advantage of swimming in the sea or thermal baths, then sandals are a great practical option for footwear.
What to Pack for the Azores (Men)
I traveled with a male companion to the Azores when I went and he was happy he packed some of the following items:
A waterproof jacket (Helly Hansen makes great rain jackets for men)

Waterproof hiking boots

Waterproof Pants

A backpack that was waterproof and lightweight to carry his own camera gear like

the WANDRD 21L

(a smaller version of my carry-on)

A pair of sneakers to walk around the city in.

Travel Insurance for the Azores
I would never recommend traveling without insurance to any place and that is definitely true of the Azores. Mishaps and accidents are prone to happen wherever you are in the world.
I actually got injured there hiking in the wrong shoes, but it was never bad enough to have to be seen by a doctor. We recommend SafetyWing for all of your travel insurance needs. They are cheaper than other brands but still give top-quality service and policies.
>> Click here to get an Azores travel insurance quote
Where to Stay in the Azores
We actually wrote an entire guide about where to stay in the Azores. Have you been to the Azores and did you know what to pack for the Azores? What was something on your Azores packing list? Please drop me a comment and let me know what was essential for your trip!
More Azores Travel Guides