After getting home from the Azores, I have been unmotivated with life. As weird as that sounds, I always find myself pining to be back there.
It is so rare that you visit a place and just envision yourself moving there someday, but that is how it was for me.
I have loved many places- the Faroe Islands, Colombia, the Caucasus… but I can't picture myself living in any of them. The Azores was different.
The food was sensational, the scenery was easily some of the best on the planet, and the people were just so kind and down-to-earth.
I must say, I was left with a positive impression throughout the whole trip, but I think it was the Sao Vicente Lodge (formerly the Santa Barbara Lodge) that gave me that overall positive first impression upon arrival.
We stayed with Sao Vicente Lodge as soon as we arrived for a few nights on the north coast near Sao Vicente Ferreira and Capelas and it was absolutely the best introduction to the Azores.
Click here for a 4 day Sao Miguel itinerary.
About the Sao Vicente Lodge
Santa Barbara Eco-Beach Resort was the dream child of two Azores lovers and nature enthusiasts. The Beach Resort opened in 2015 after ten years of realization.
Santa Barbara owns two properties. The first is the main Santa Barbara Eco-Beach Resort. The second is the Sao Vicente Lodge that is situated a bit east in another area of the north coast and is the newer property.
The Eco-Beach Resort is more of a personal experience, with an in-house restaurant and amenities at your feet.
The Lodge is almost the complete opposite and it offers a totally anonymous experience, which is actually exactly what I needed this holiday.
They provide you with a code to enter the property's gate and once you get through, you go inside and to a small 'locker' where you can retrieve a tablet and the rest of the information inside.
You then head to your room (more of an apartment) and that is it. You never have to encounter others or go through that grueling process of checking into a hotel or guesthouse.
No one comes to the Azores for a sunny holiday. These islands are so remote and they see about 300 different weather patterns passing over daily.
However, the north shore and Sao Vicente Ferreira is said to be the sunniest place on the island.
So, you may have a 1% higher chance of seeing the sun when it wants to come and grace you with its presence.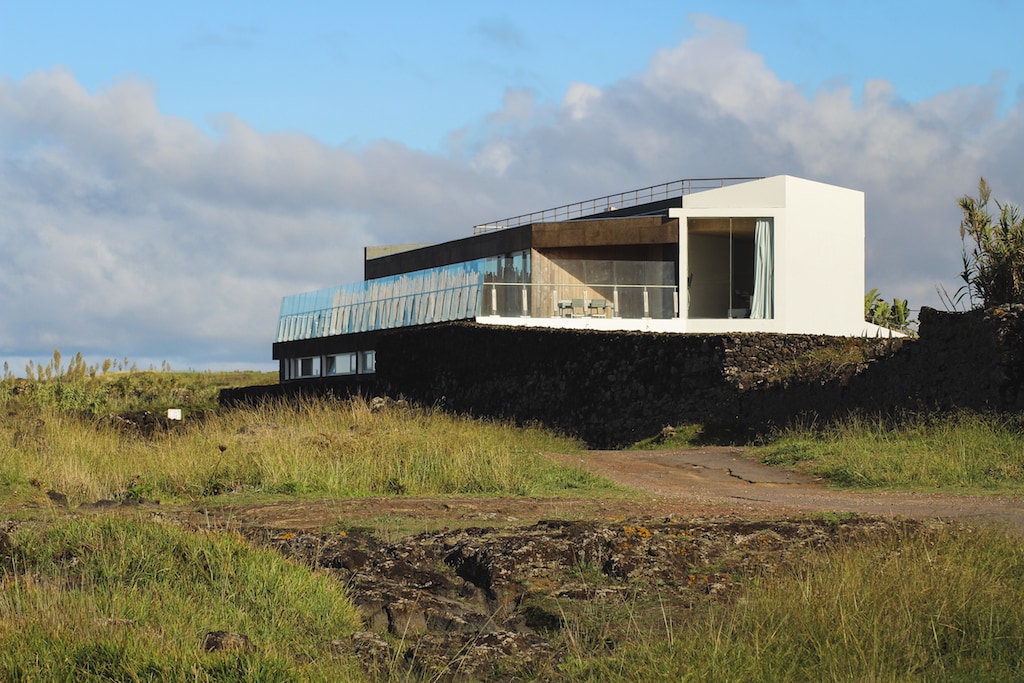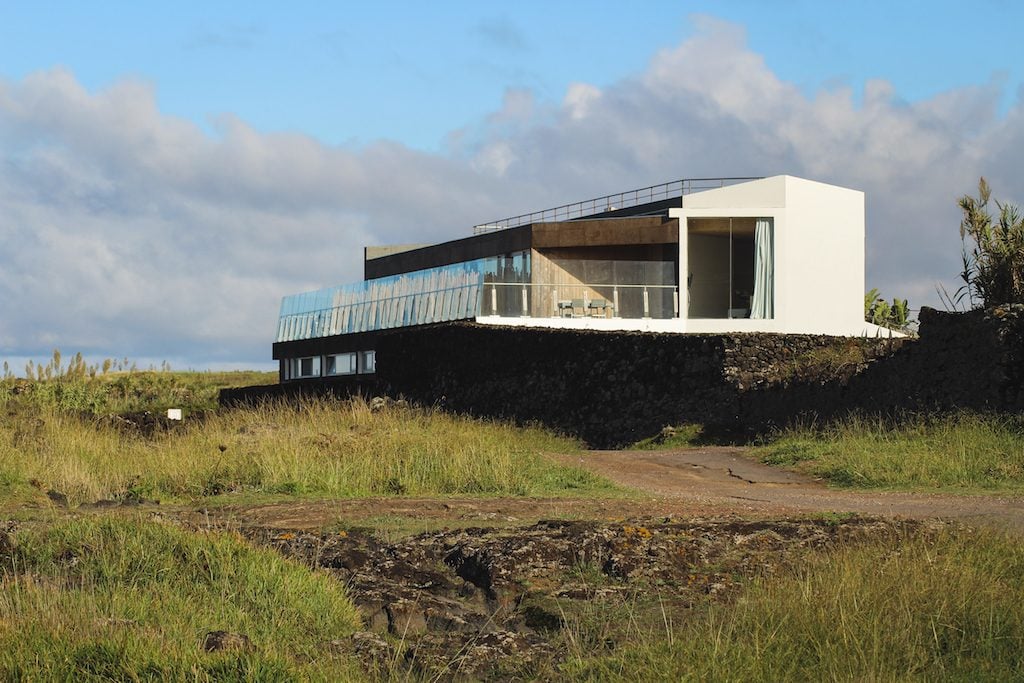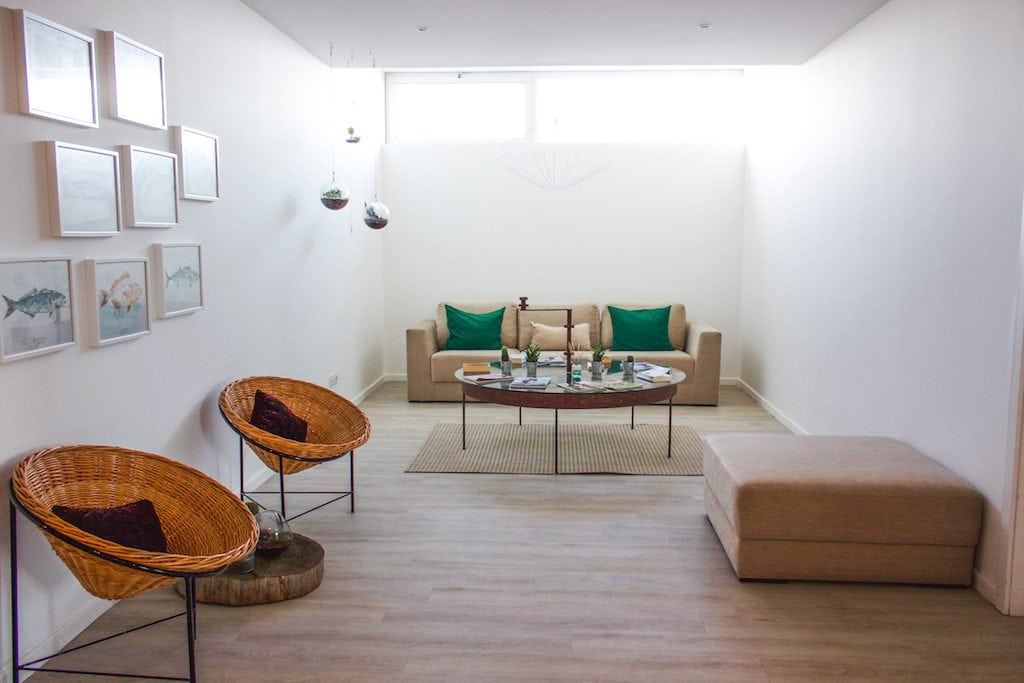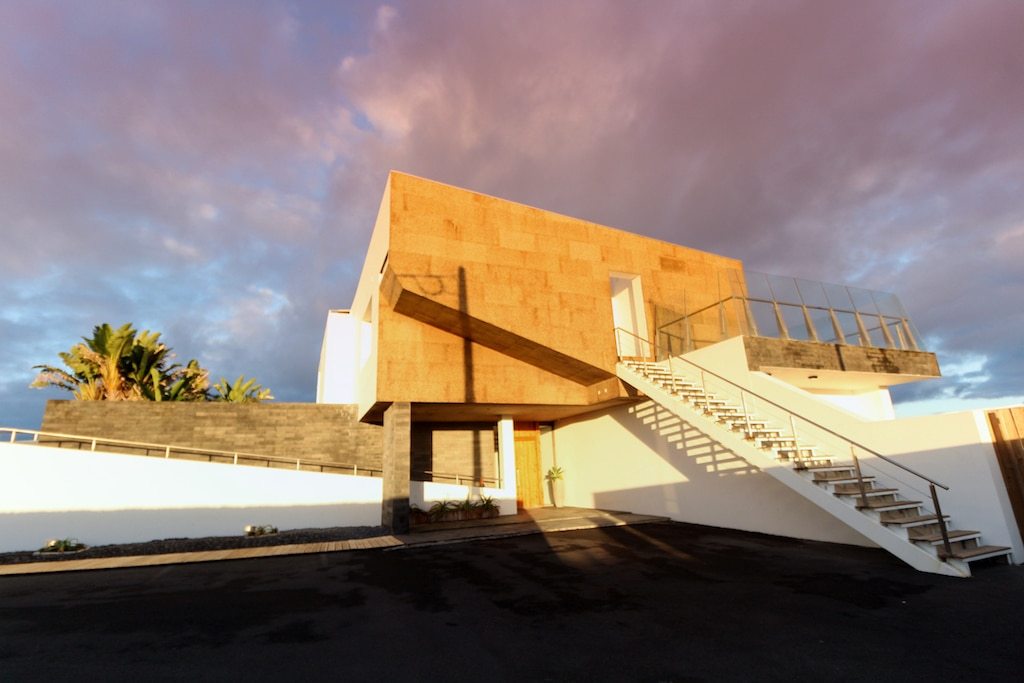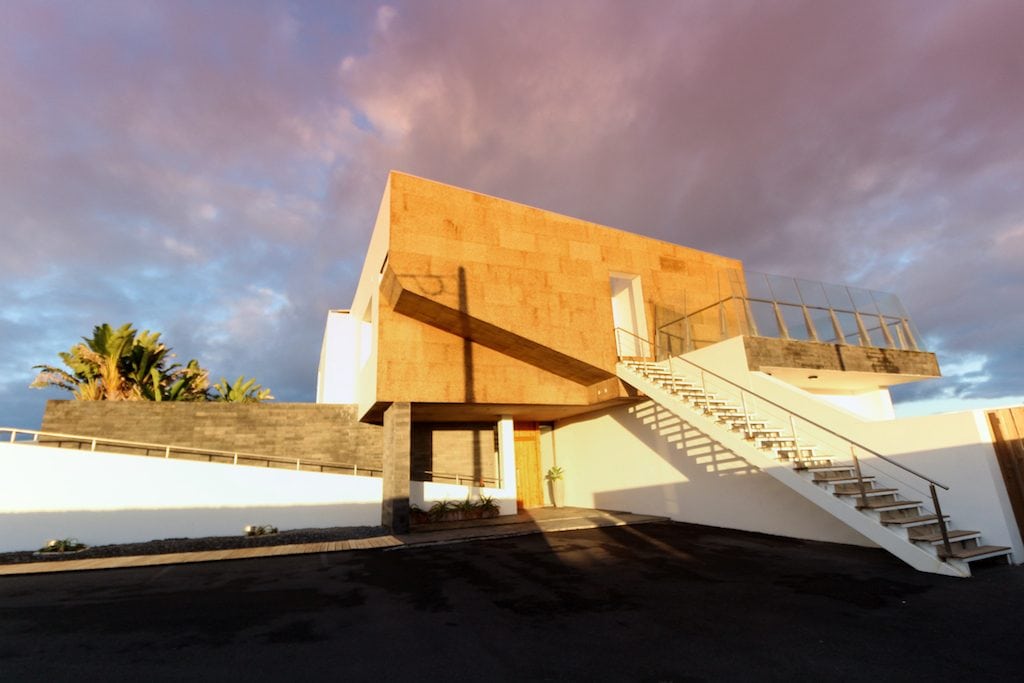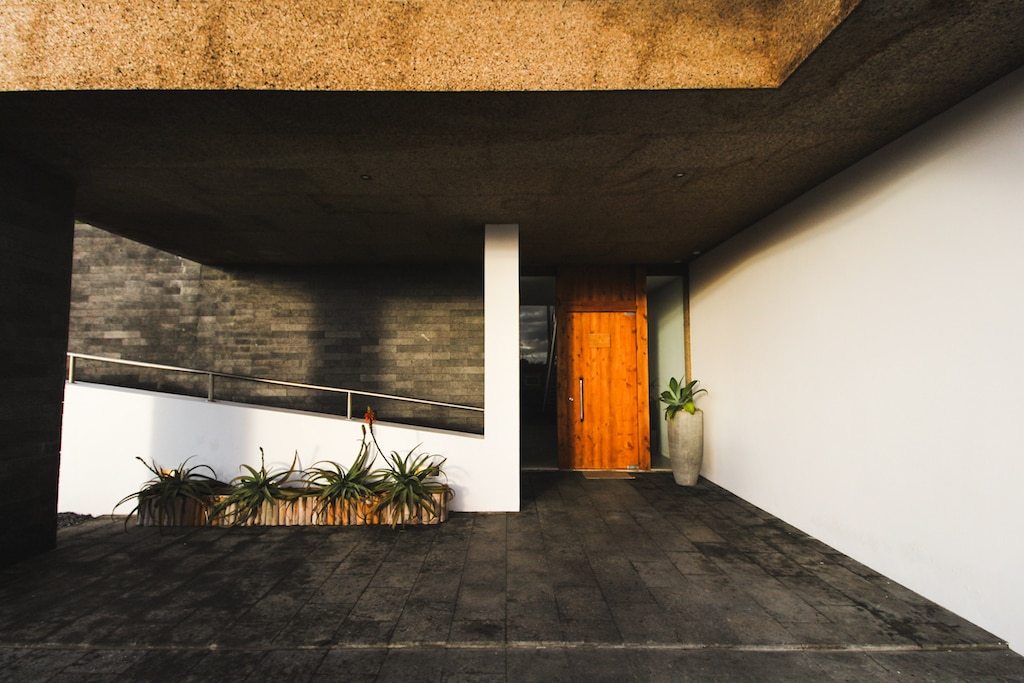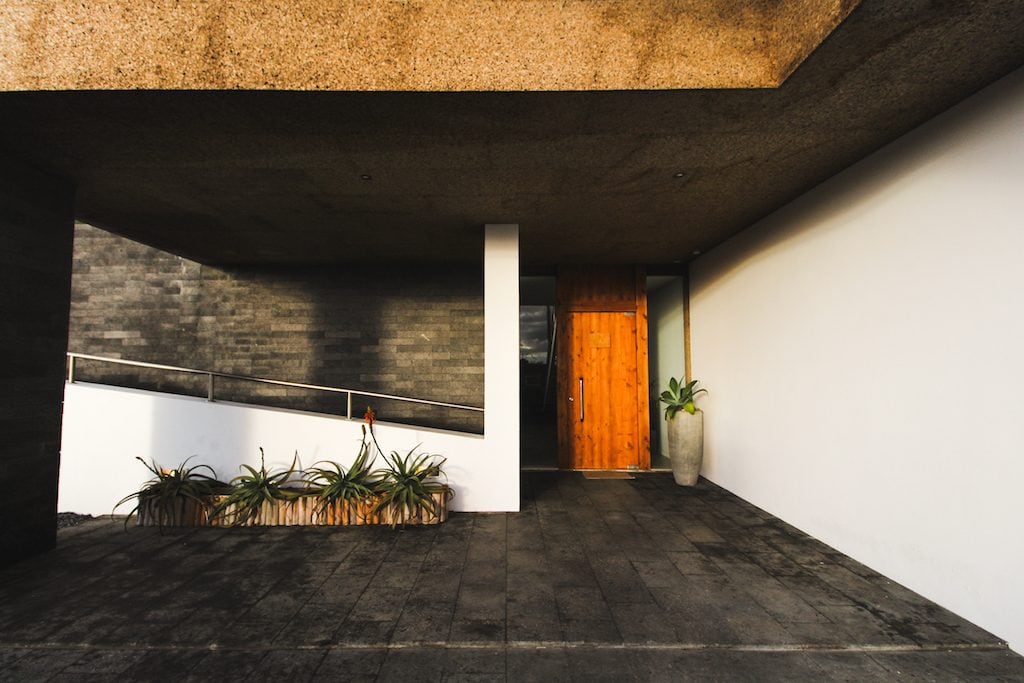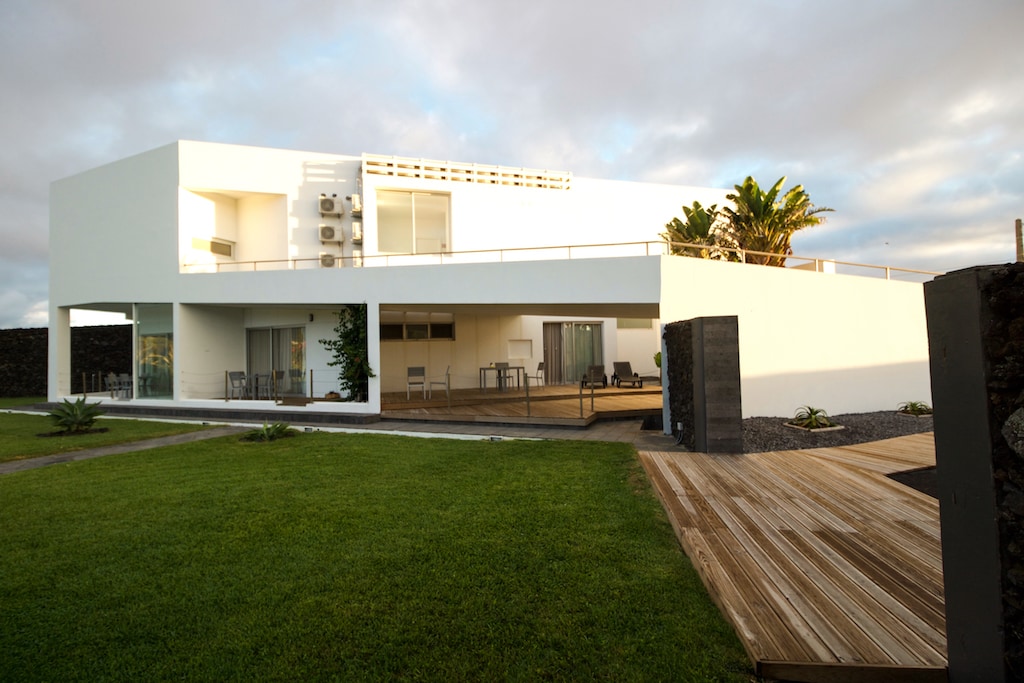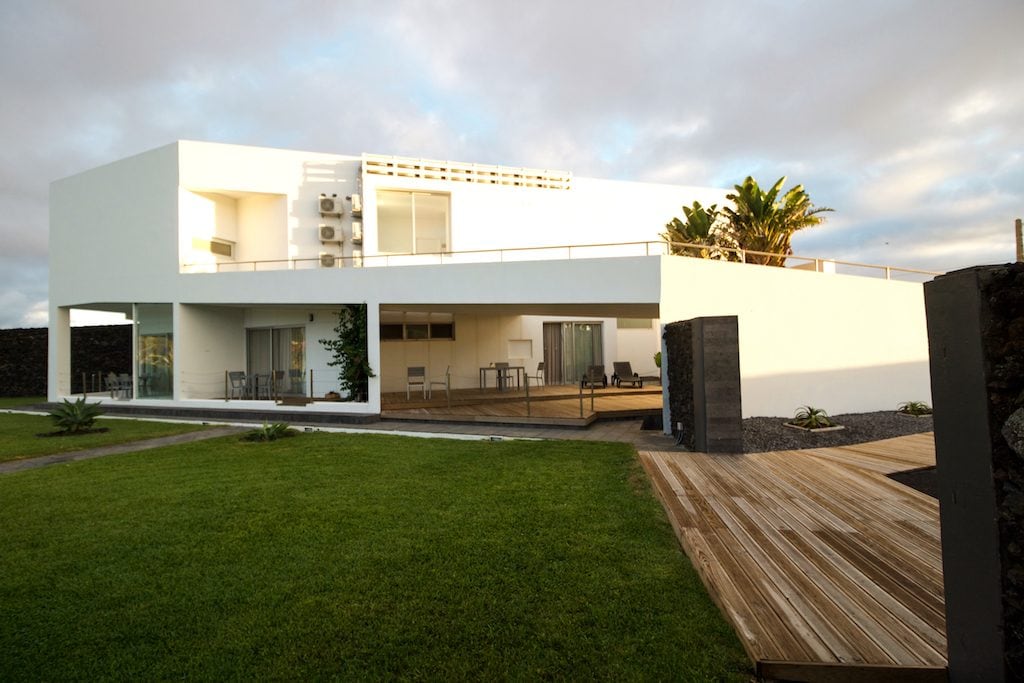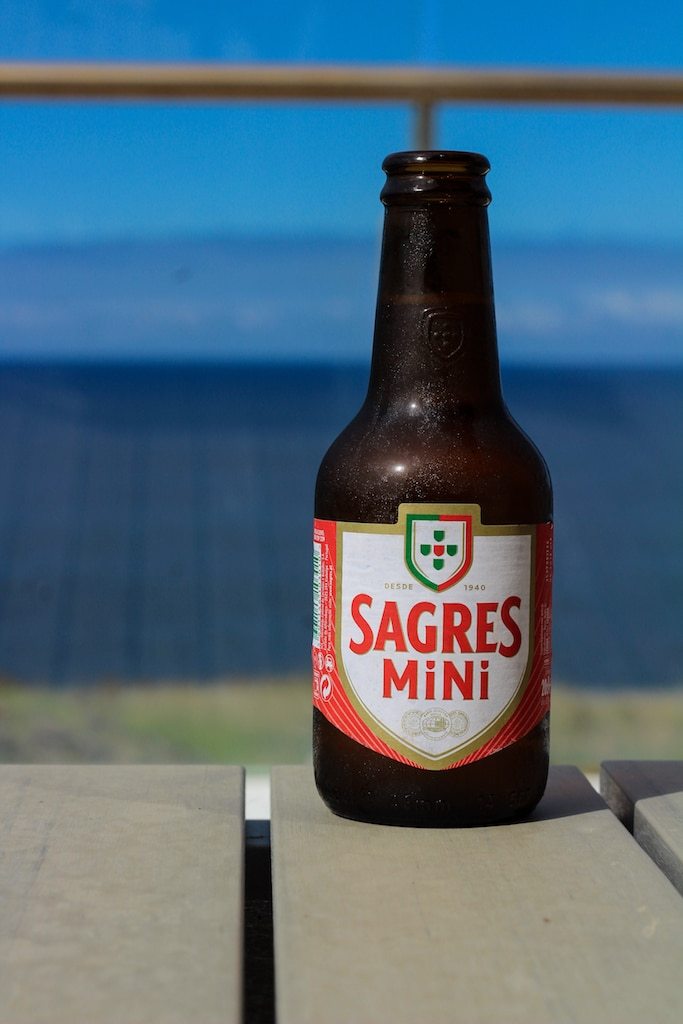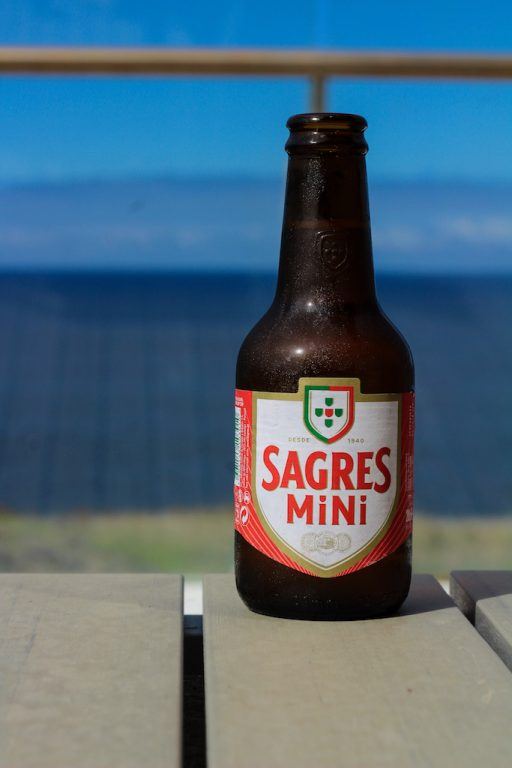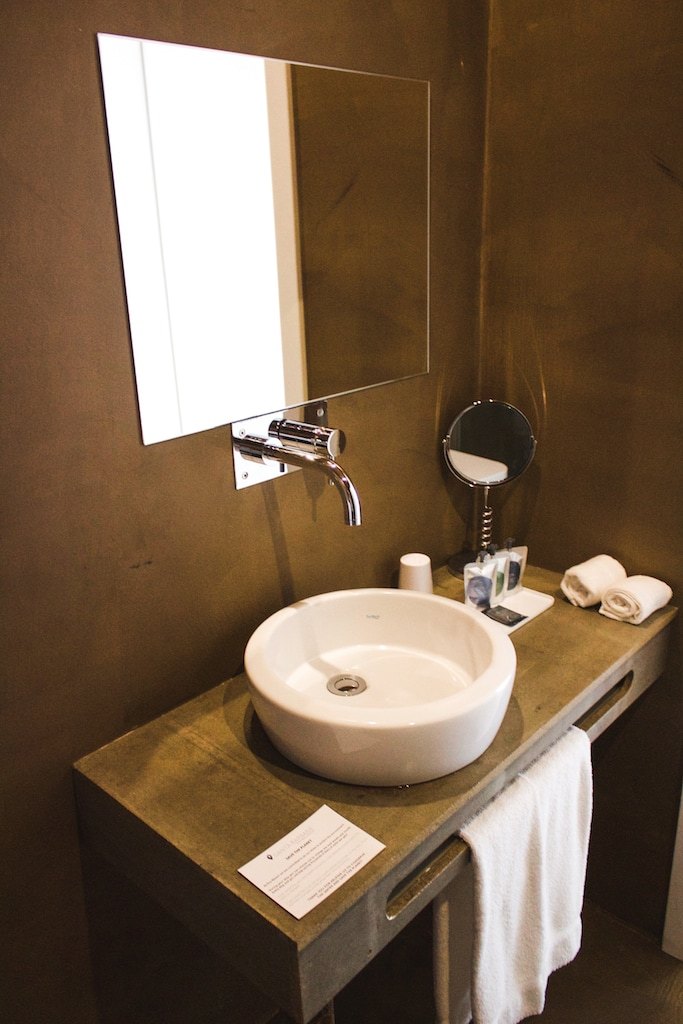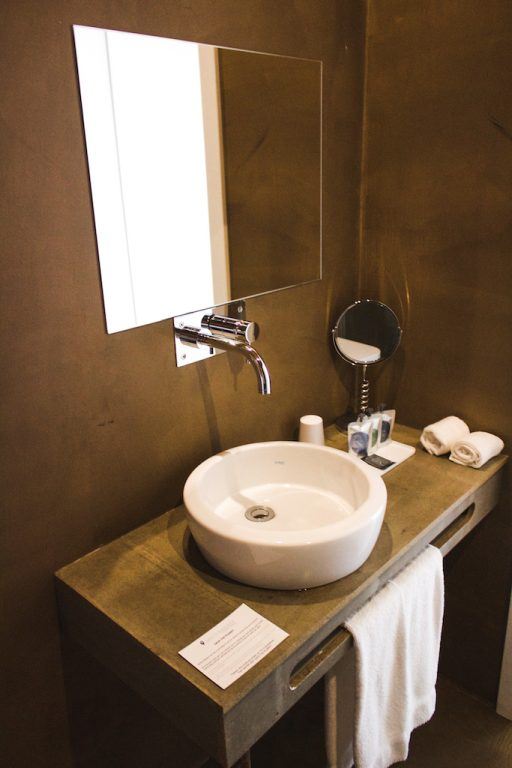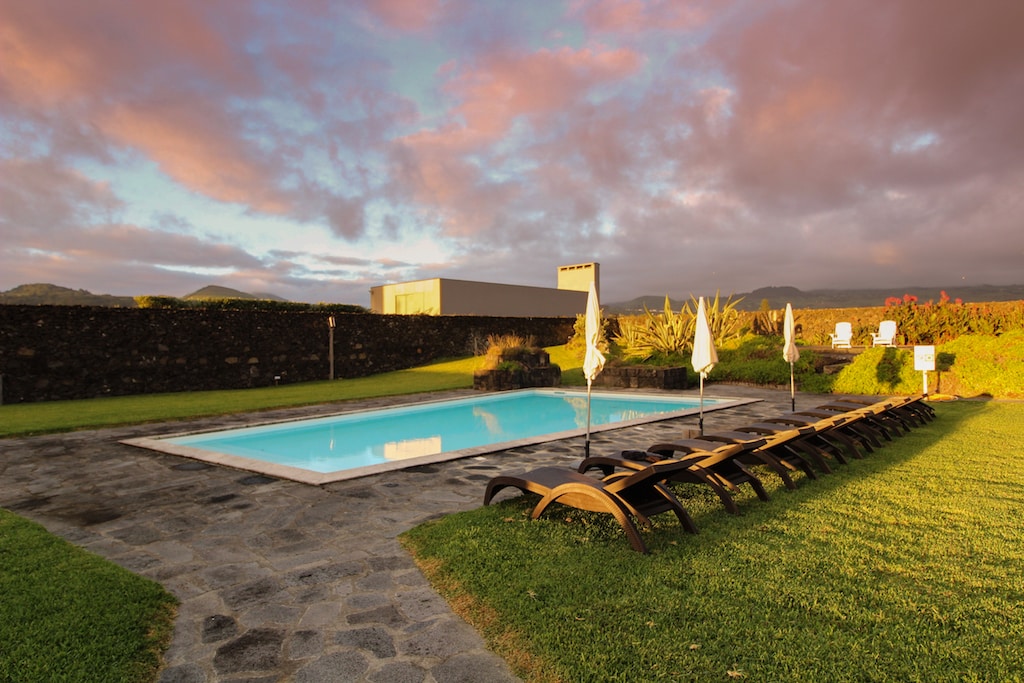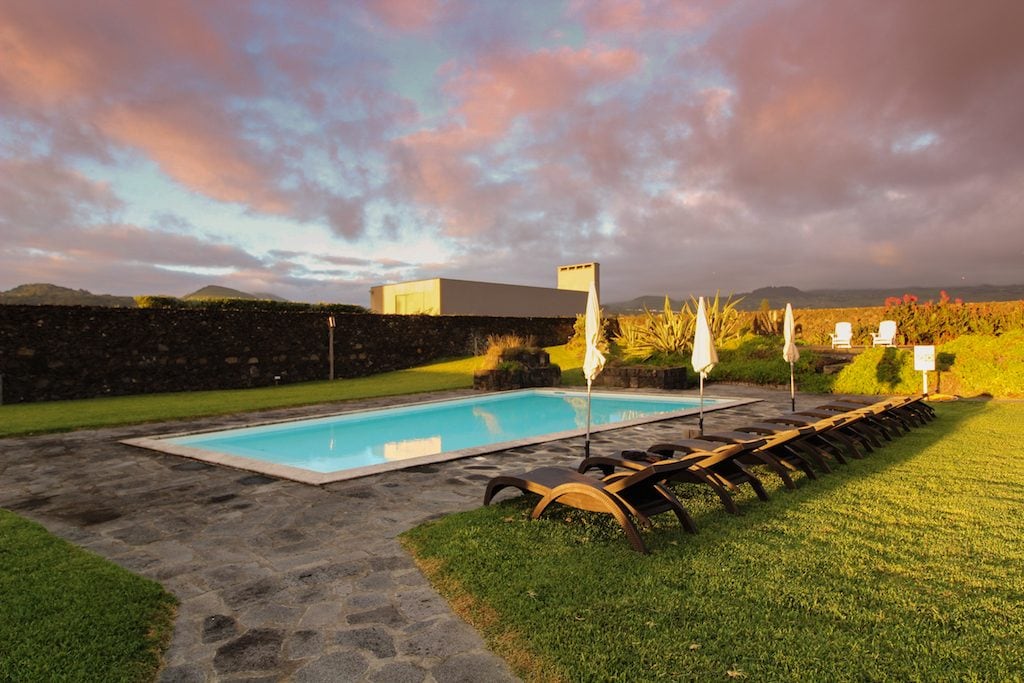 Feeling Anonymous at the Lodge
This was my absolute favorite thing about the Lodge. The Azores is not densely populated and you certainly don't go there to feel like you're in Mumbai.
You go there for relaxation, the otherworldly nature, and restitution from the crazy and hectic life you may endure elsewhere.
While there are other people staying at the Lodge, we never actually encountered a single person with the exception of the housekeeping staff and maintenance (who graciously helped me when I ended up locked out of my room- obrigrada!)
While it is easy to be anonymous there, you may cross paths with the few other guests that will share the pool or barbecue area with you. Otherwise, the place is yours!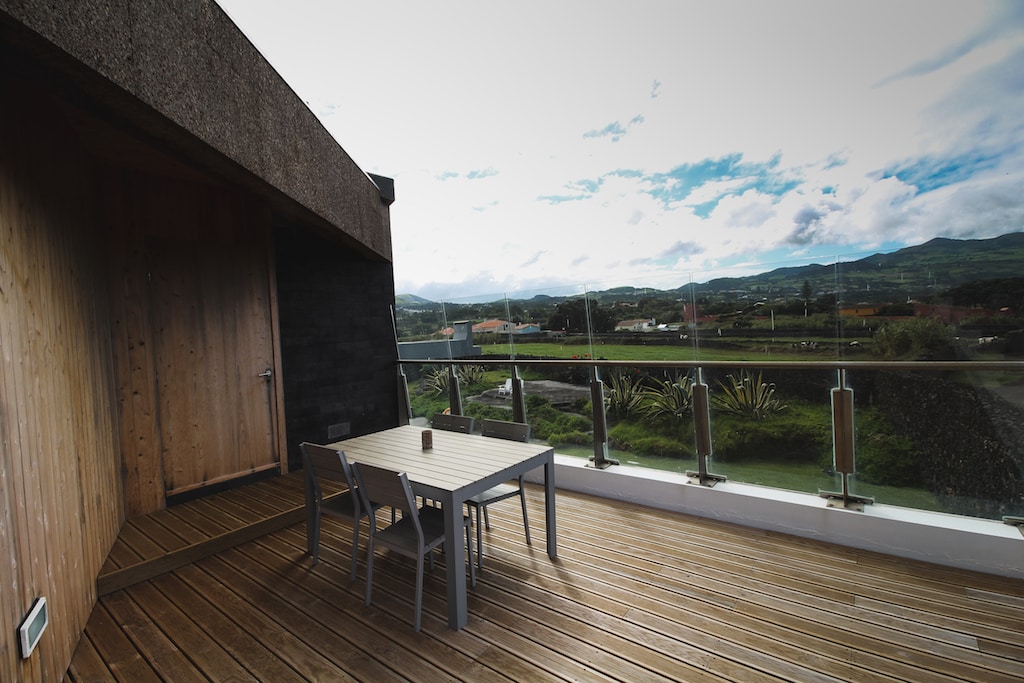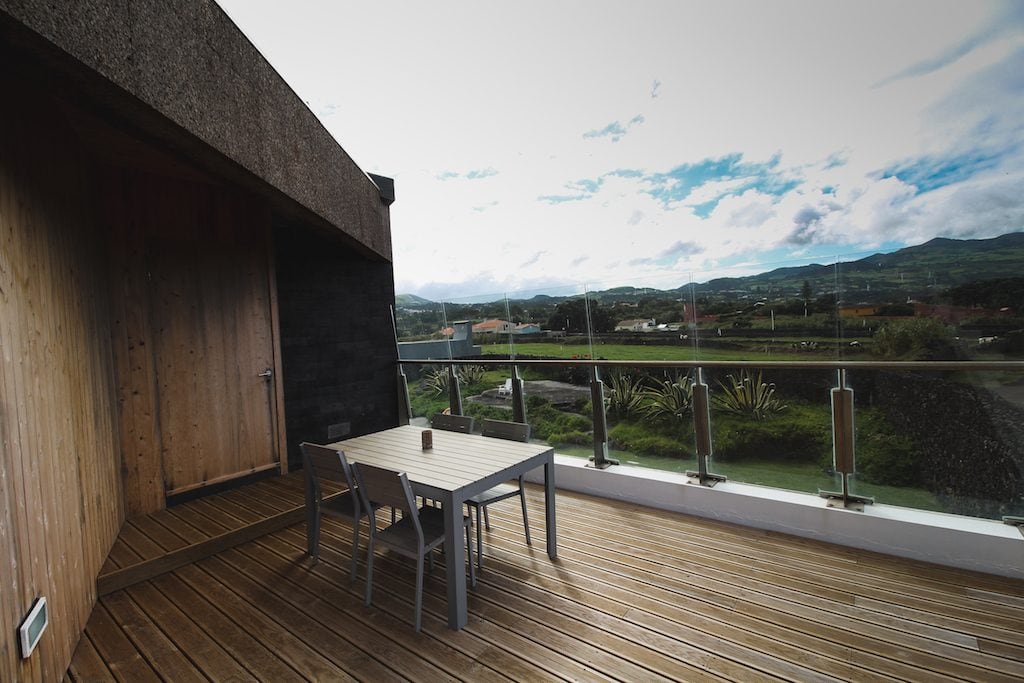 Waking Up to This View
We were put in the beautiful, minimalistic, and modern Boca Negra suite for our time on Sao Miguel. This suite is just rad.
You have a kitchen, comfortable couch, terrace that is so large that it exceeds the size of my flat in Germany, modern bathroom, and a bedroom that actually give you a view of the sea from your bed.
Um, yes, pleaseeee. This may have been one of the only times in my life where I have genuinely been excited about waking up in the morning.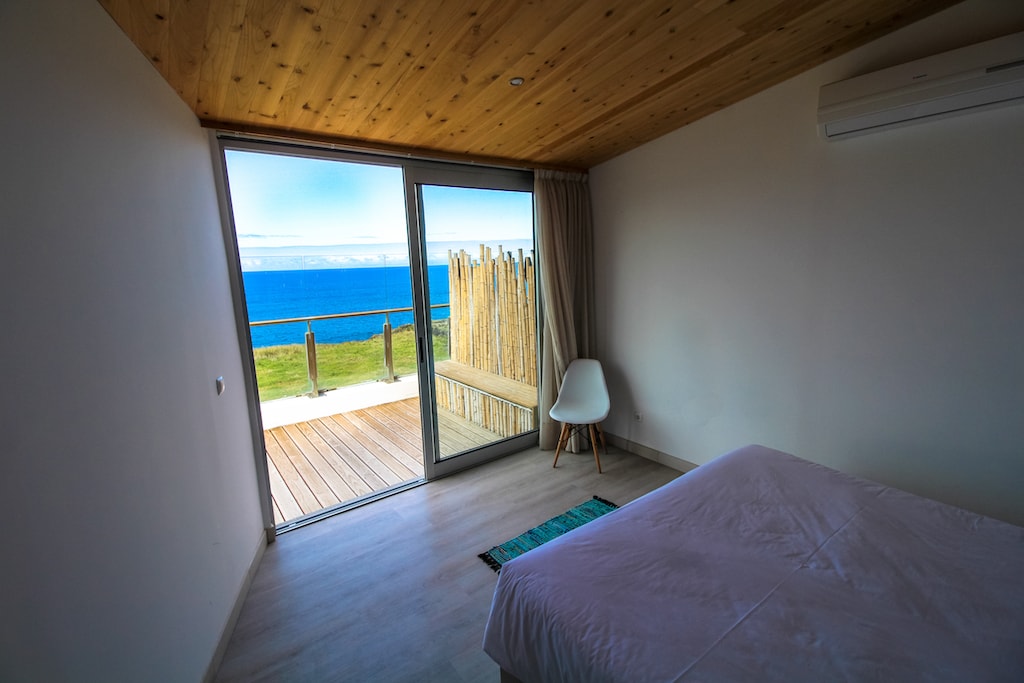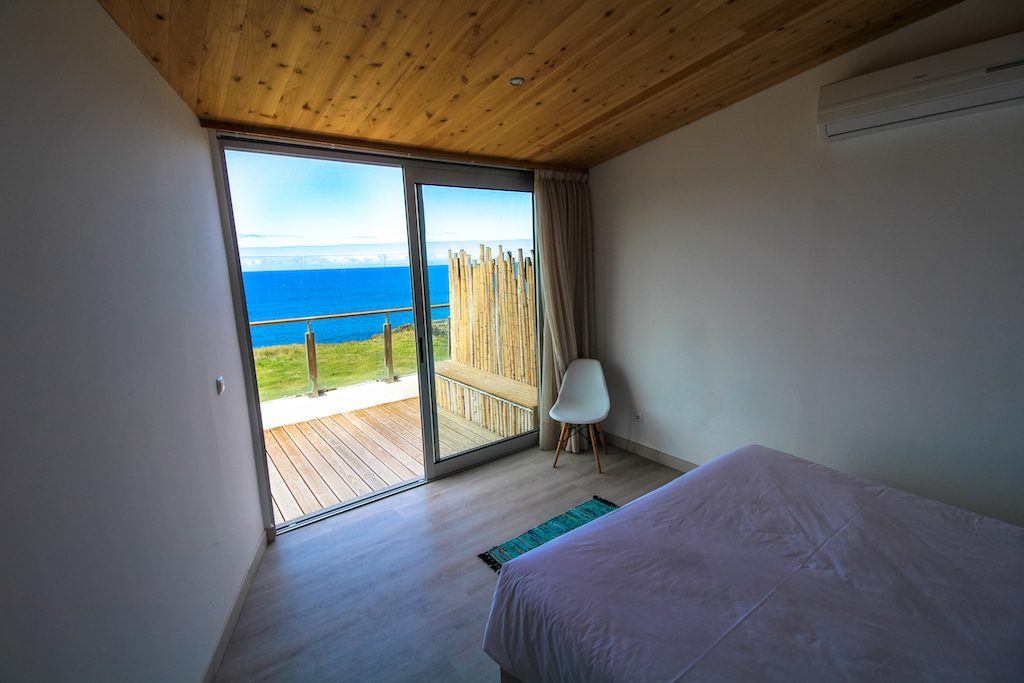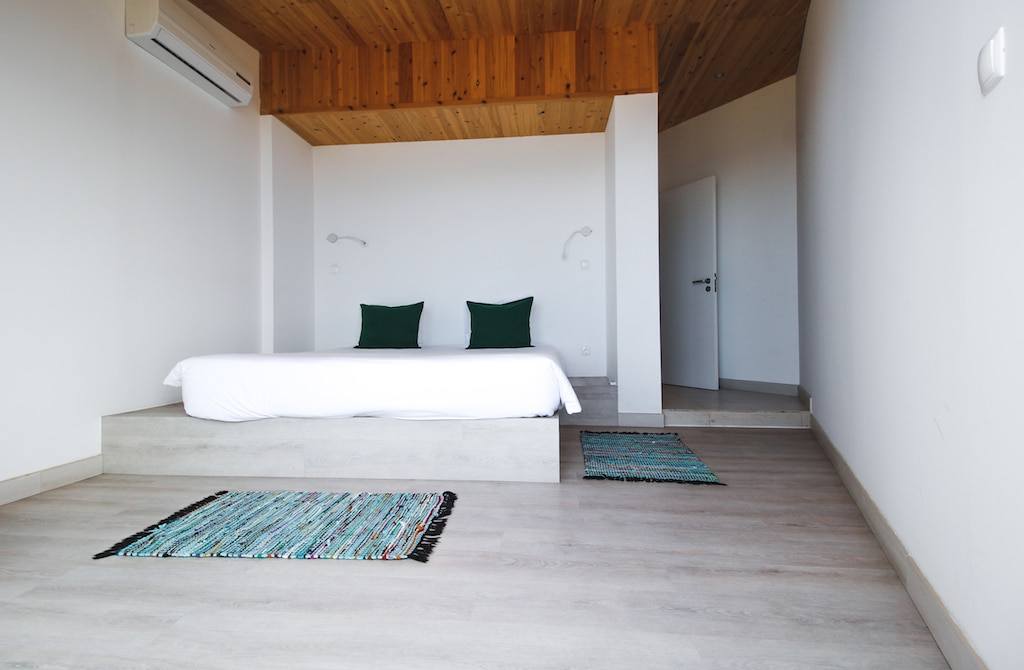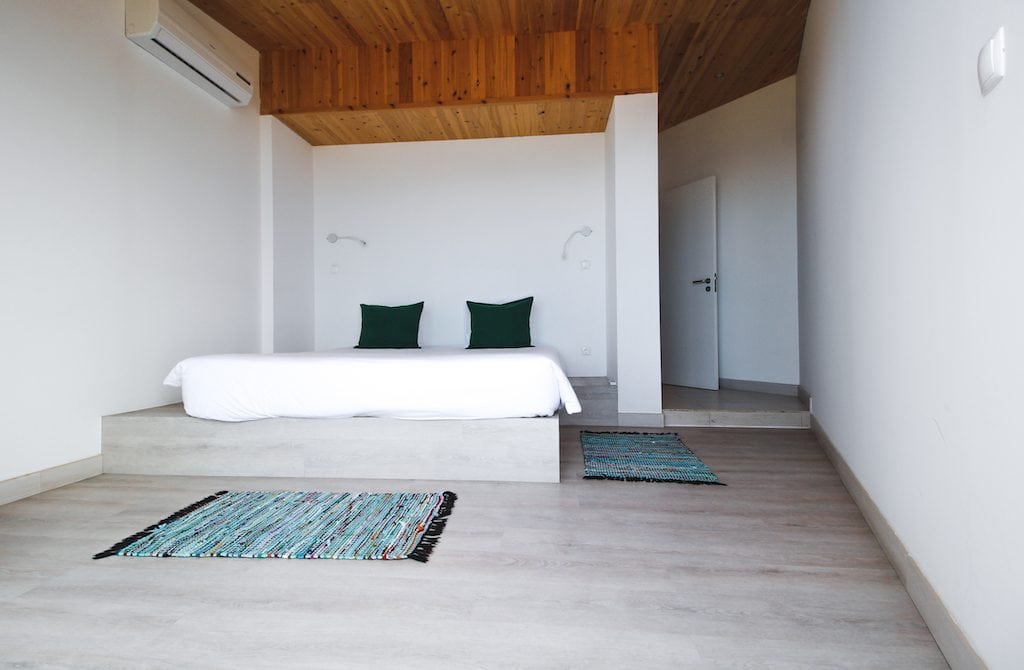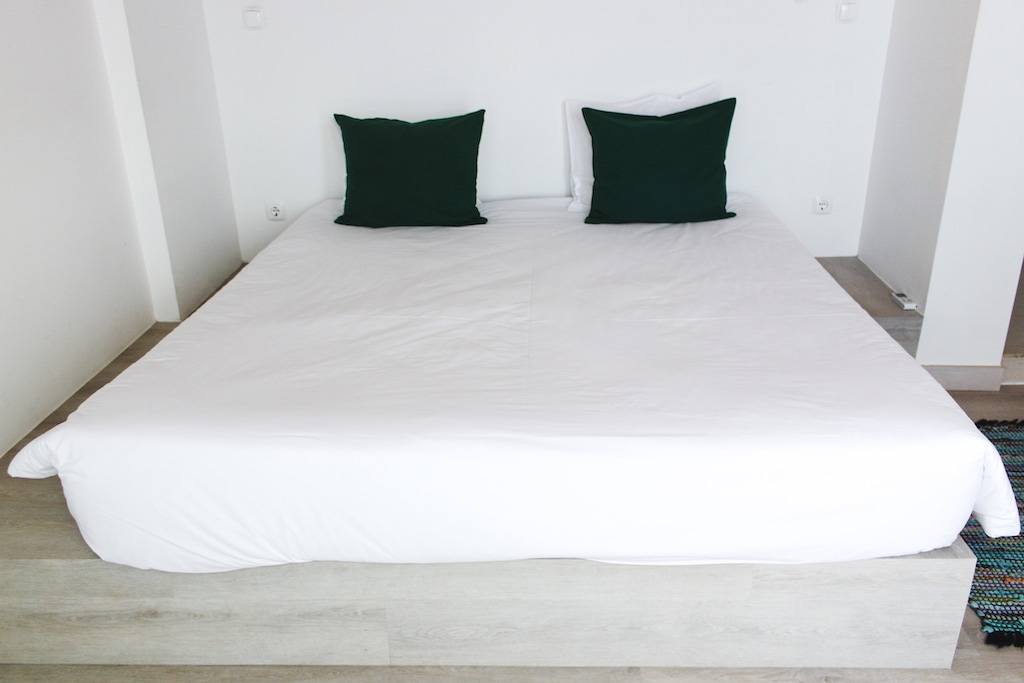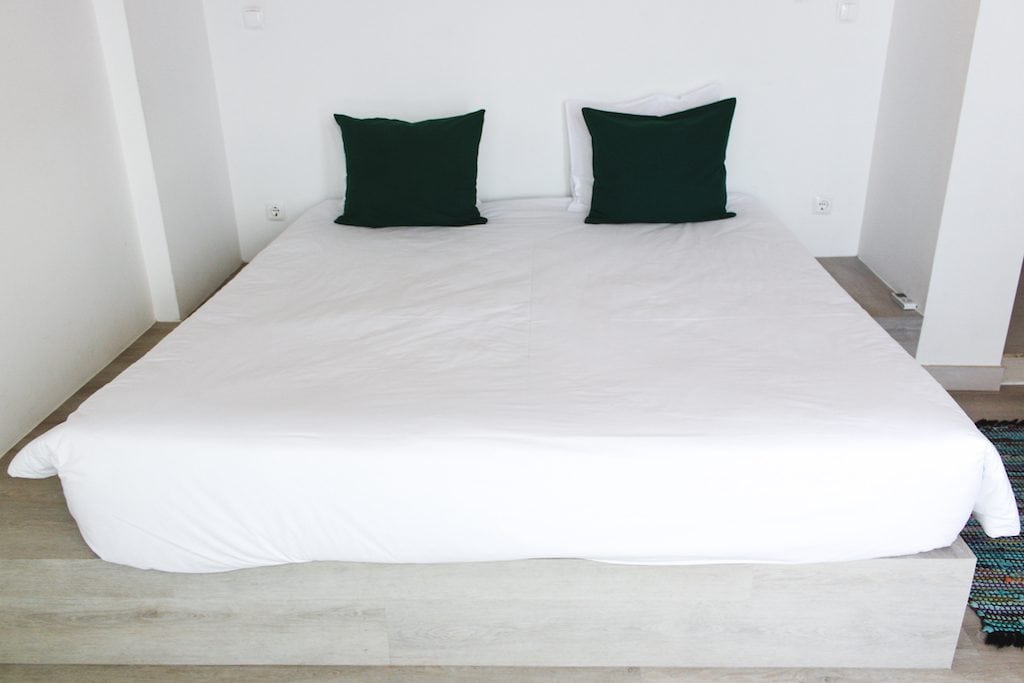 Delivered Breakfast Basket
Because you are in a remote location (and because we didn't have a rental car!), you have the option to have a breakfast basket delivered to your room the night before so you can wake up and have an array of food waiting for you.
The basket is $15 per person and contains very local, Azorean ingredients and products.
While I enjoyed the products in the basket, I did feel that the price was semi-steep for the amount that you get.
On the other hand, they are driving and hand-delivering the basket to you from the other property, so it is understandable that the labor and gas would need to be factored into the cost.
With that said, Azorean products are very natural compared to most of the products I've had in other countries.
The cows are completely free-range and live much longer lives than cows elsewhere.
The milk in the Azores (and other dairy products) is even found on mainland Portugal and in Madeira as it is extremely high quality.
We had our basket delivered and decided to enjoy it on our amazing terrace once we woke up. Even though the weather was cloudy and very 'Azore-ish' that morning- that breakfast and view were utterly perfect.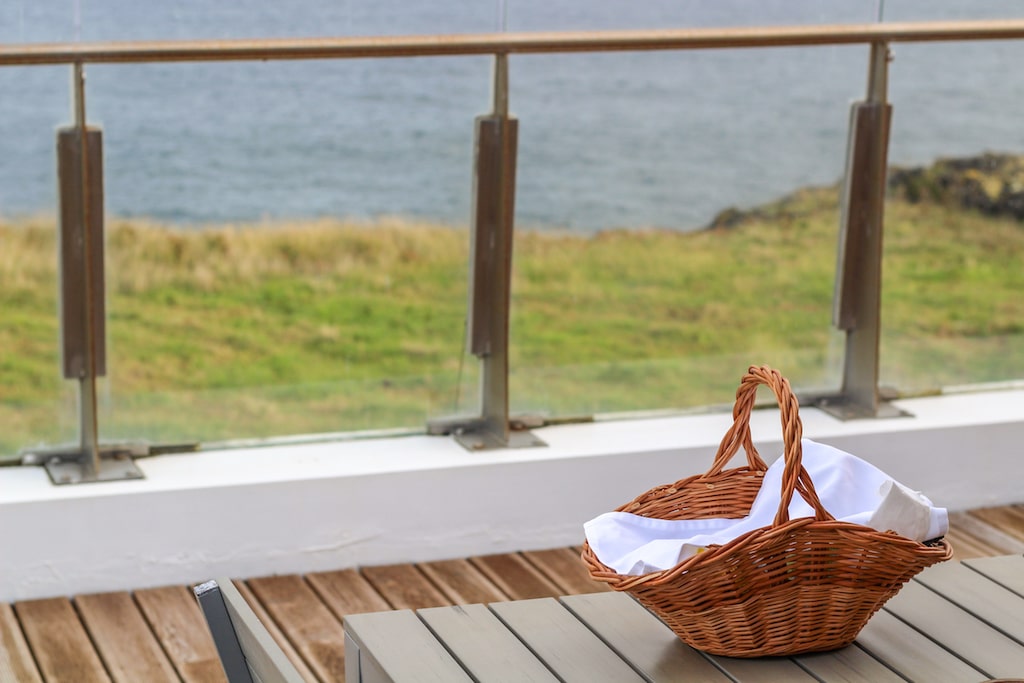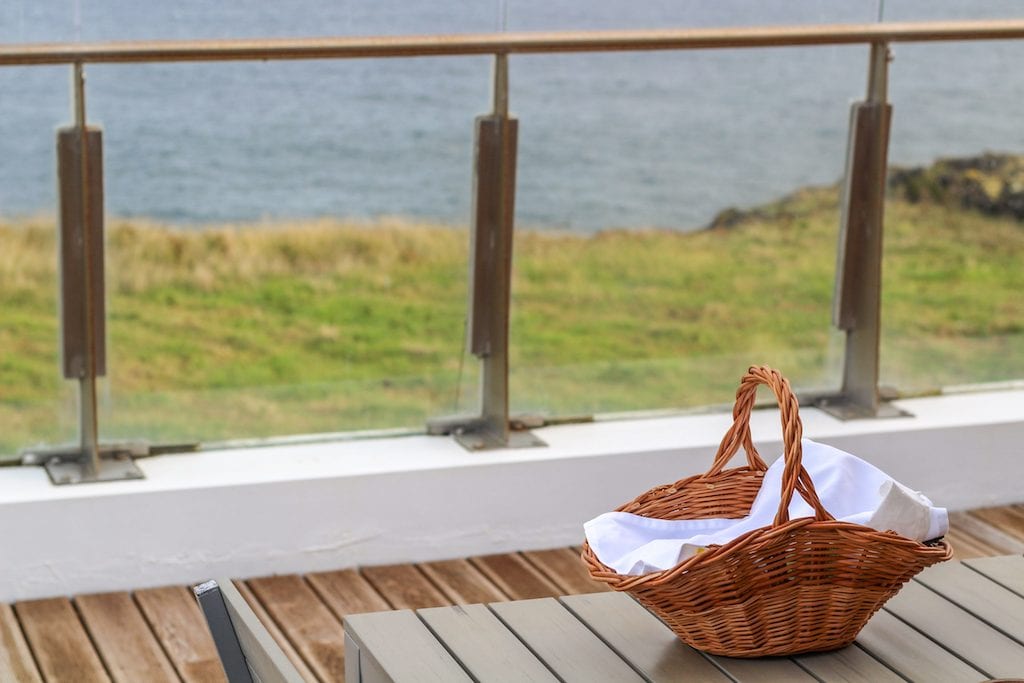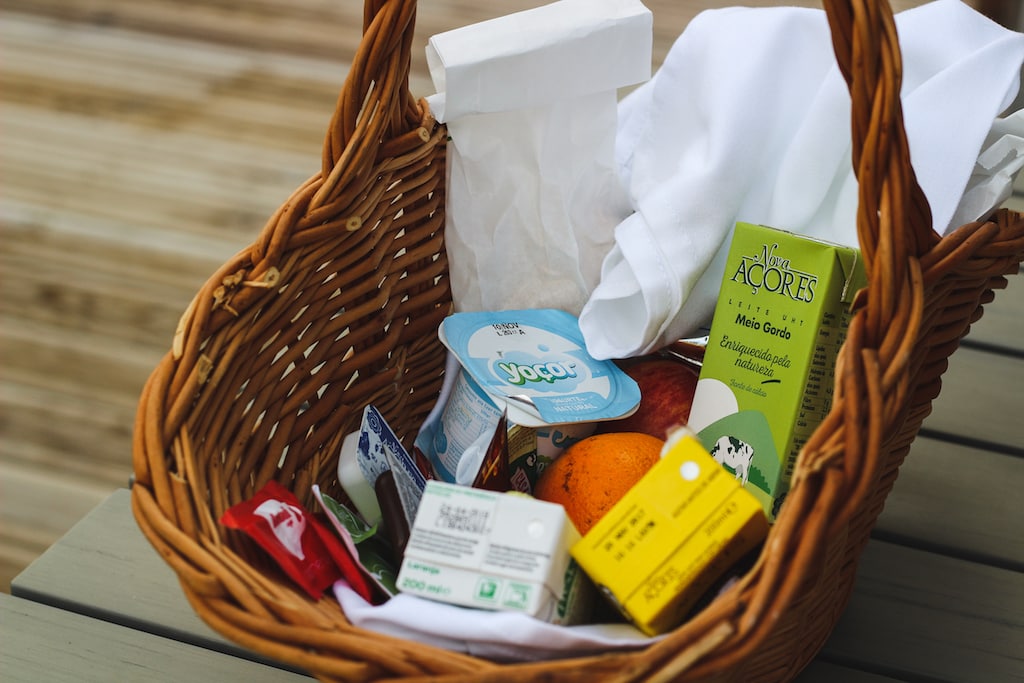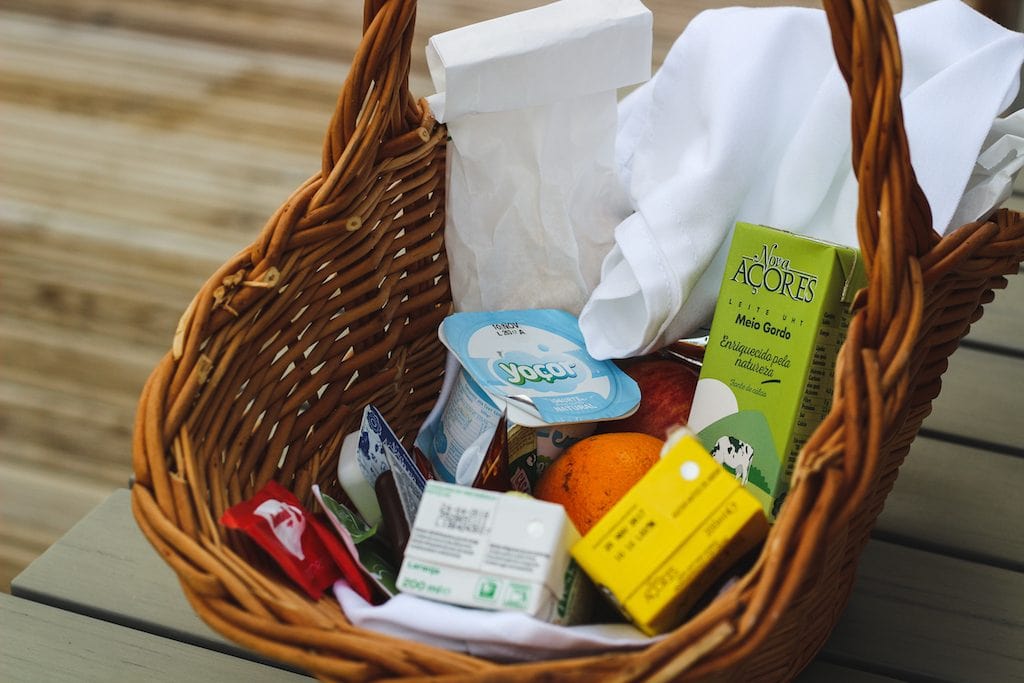 Local Hikes With Some of the BEST Views
The property itself was remarkable and I could have just stayed inside the entire time and I would have been completely content.
However… I was in the AZORES- a dream place for me to visit. I knew I had to get outside and into nature where I feel most comfortable and relaxed.
Our cab driver informed us that a new beach trail had just opened right outside of our front property and we took no time to go and explore it.
We walked and walked and walked. We soaked up the views, we had a few beers in Capelas, and we just basked in the excitement of being in a place we had been dreaming of visiting for so long.
The hikes are easy and some of it is even paved. This is a must-do for people visiting Sao Vicente Lodge!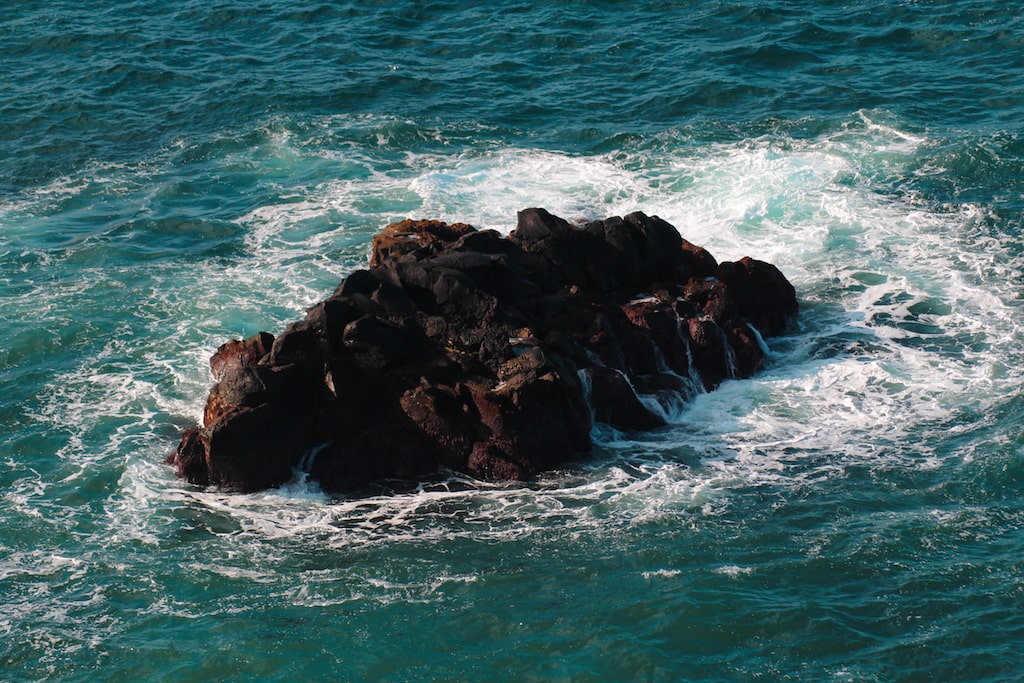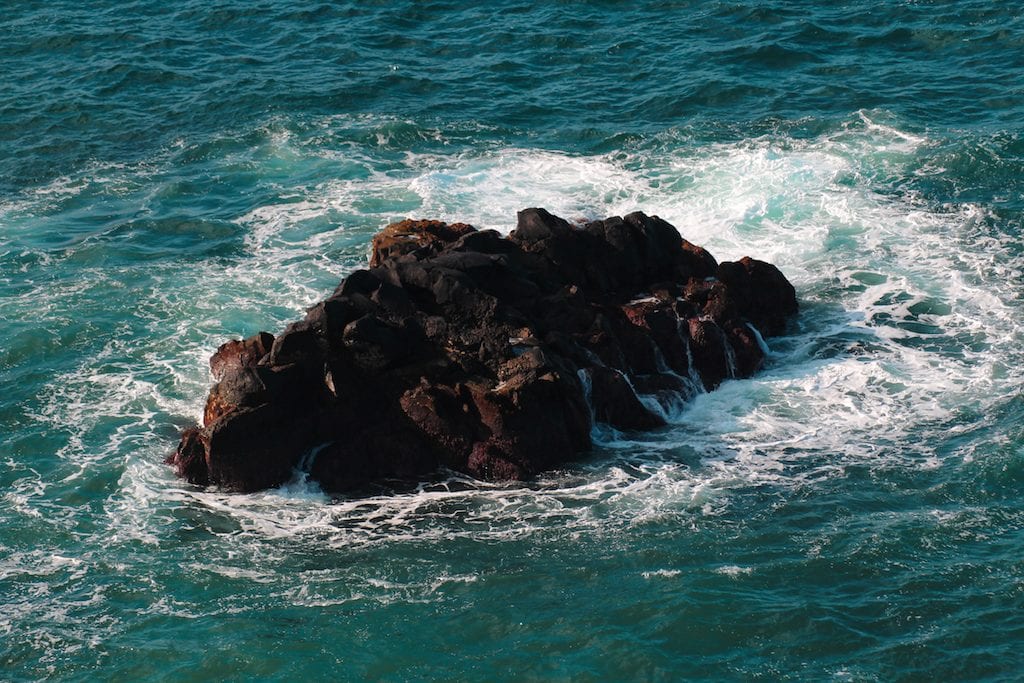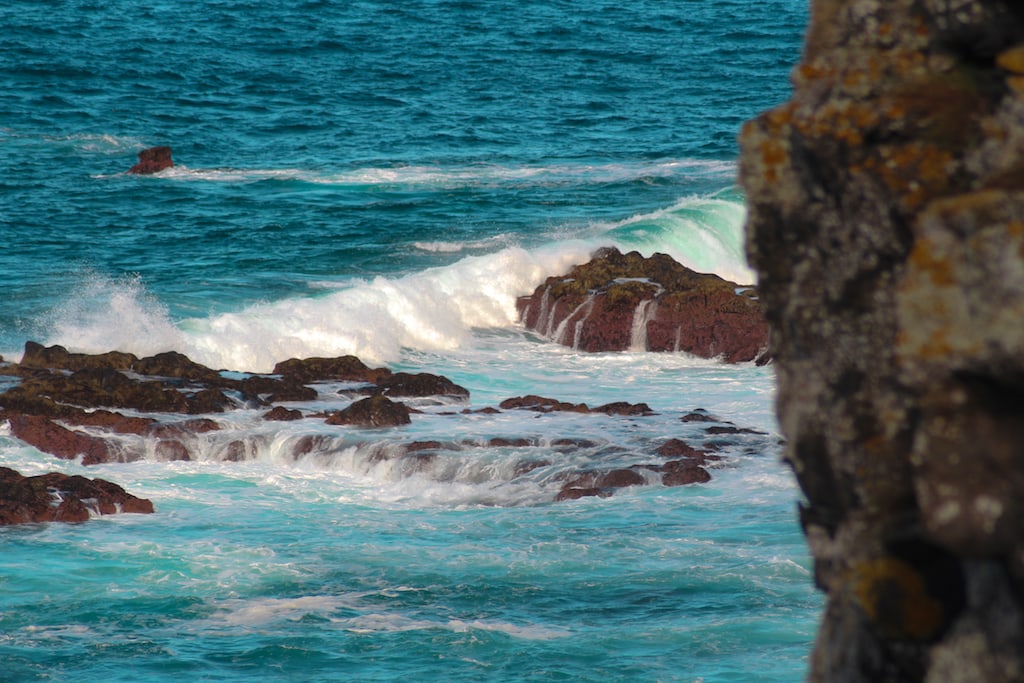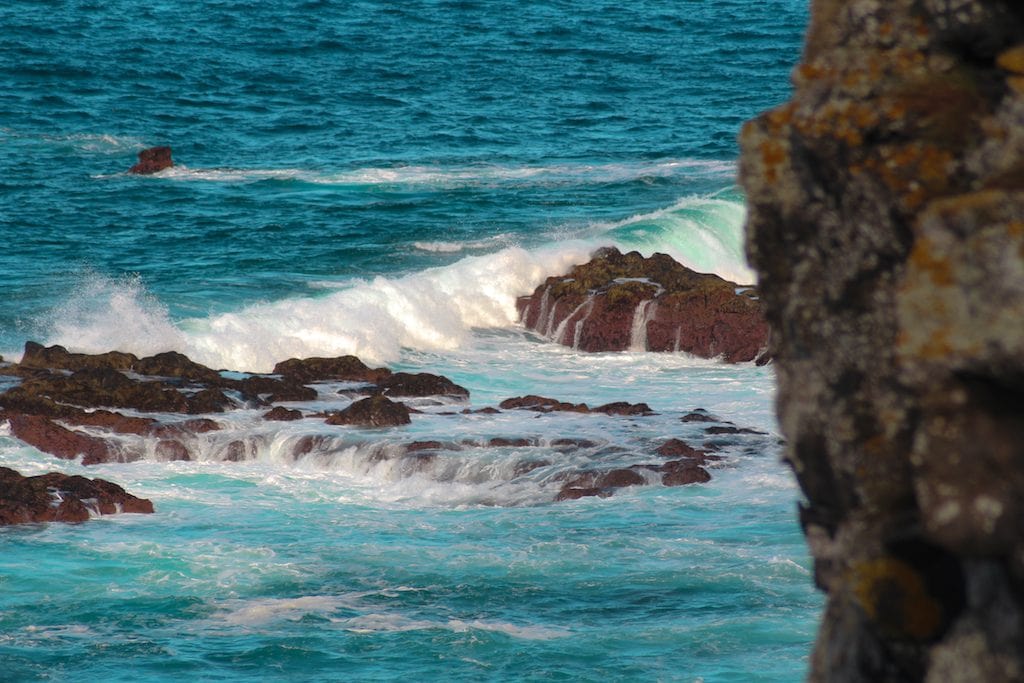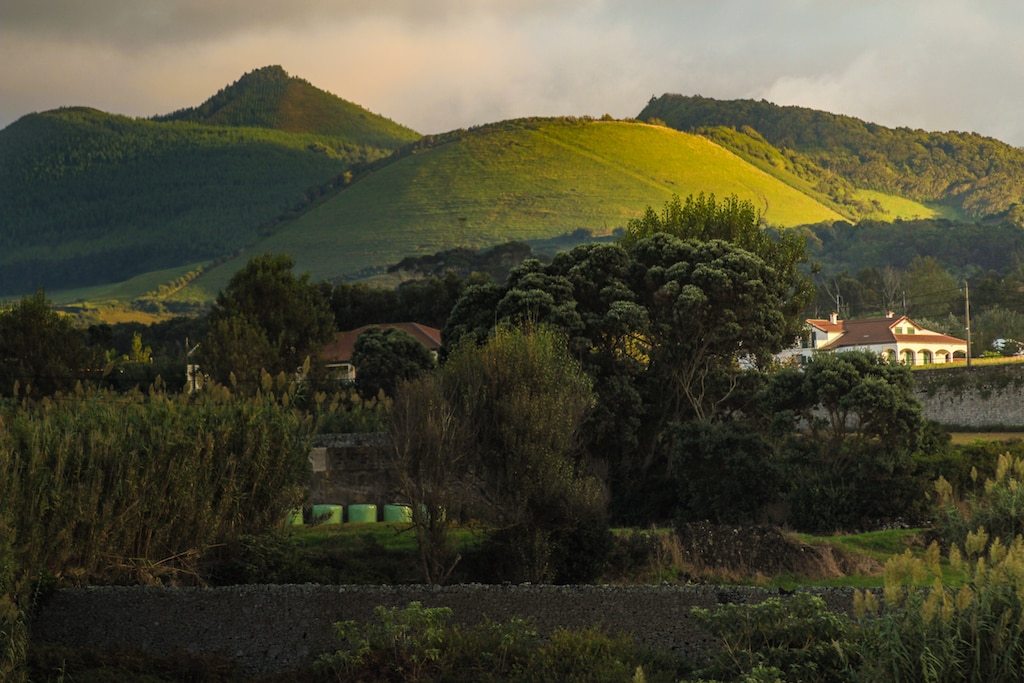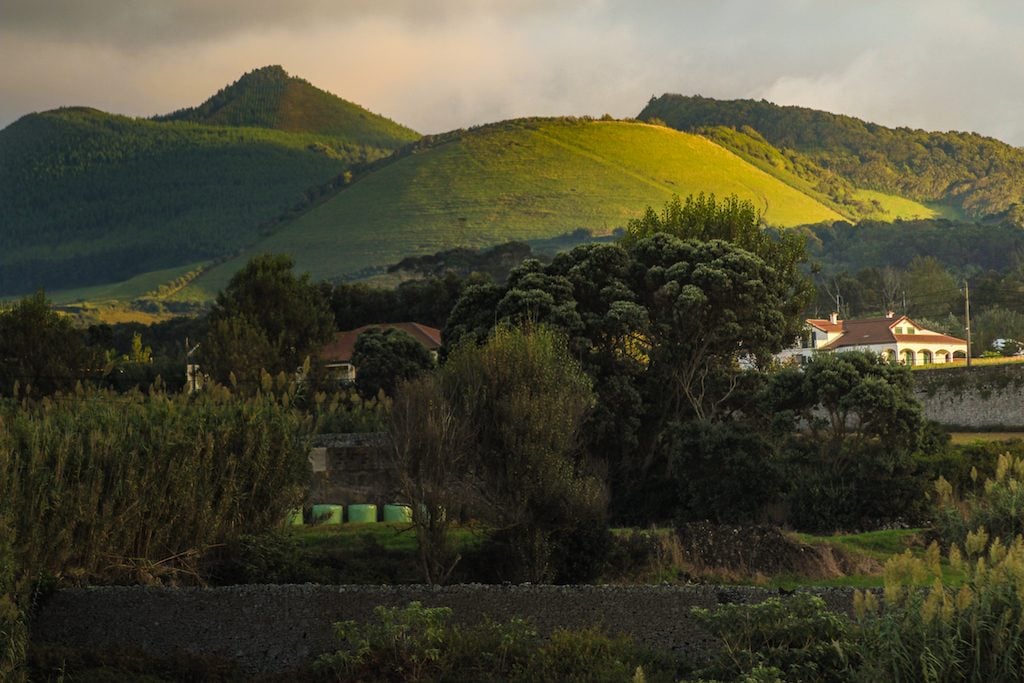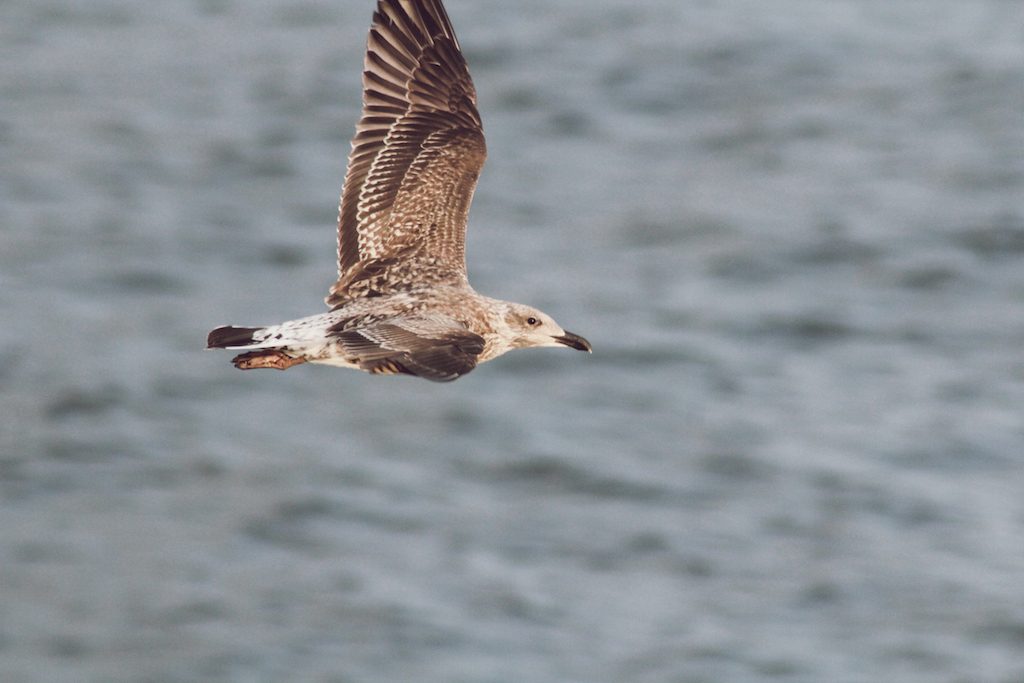 Fast Wi-fi
As a travel blogger and digital marketing nerd (I only call myself that because I seriously spend like 17 hours a day at my computer), wi-fi is important to me everywhere I go, even if I am not working.
To be disconnected from the world is something I only get to do a couple of times a year, and I wasn't going to do it while in the Azores. The wi-fi at the Lodge was fast and did its job. This travel blogger approves.
Food and Drinks Options at the Beach Resort
We opted to cook in every night (just kidding- we ventured out to restaurants on foot), but for those who have a car, you have the option and invitation to go to the Beach Resort for dinner and drinks.
The menus and brochures left in our apartment had me salivating at the thought of even seeing the food, but we never made it there as we lacked a car and it was just too far away on foot.
The restaurant is called Areais and I follow all of their food photos on Facebook still to this day as it all looks mouthwatering and makes me feel bad that I sometimes eat ramen noodles.
They also specialize in sushi with fresh Azorean fish and local, seasonal ingredients. All meals come with a sick view, naturally.
The bar offers an equally as impressive view and you can enjoy a local favorite, Kima, a passion fruit soda.
You also have the chance to enjoy local Azorean wine, which I can confirm is mighty tasty!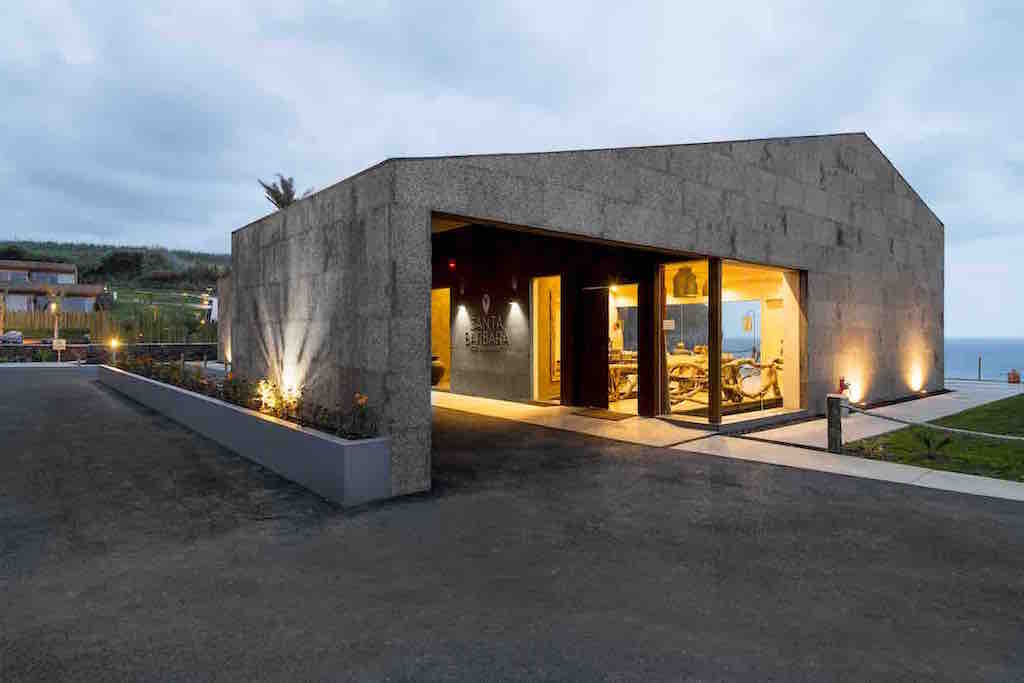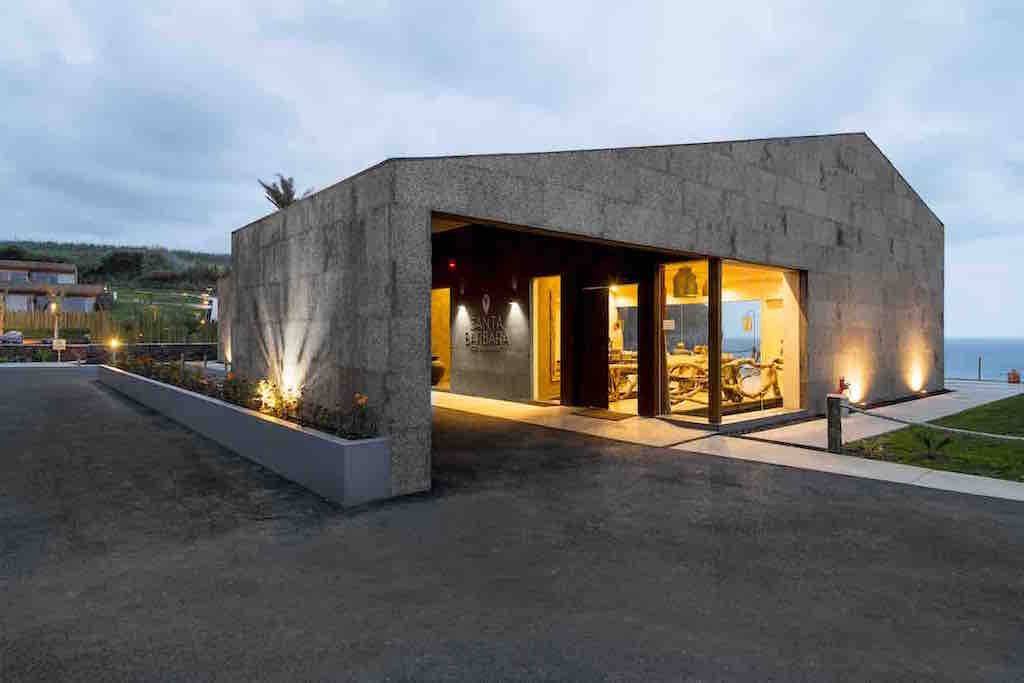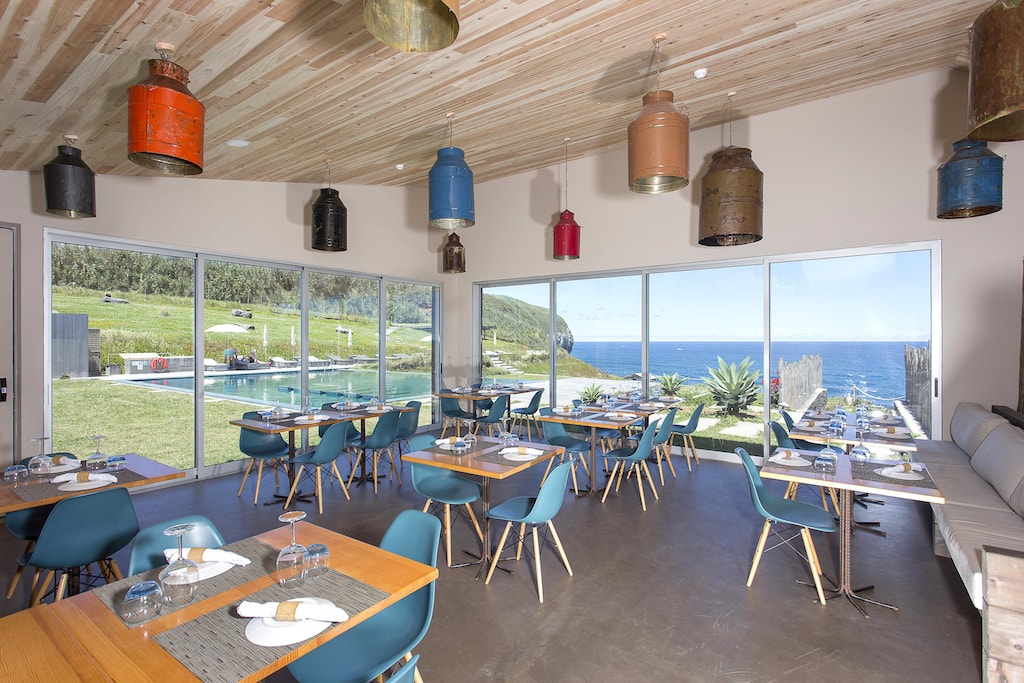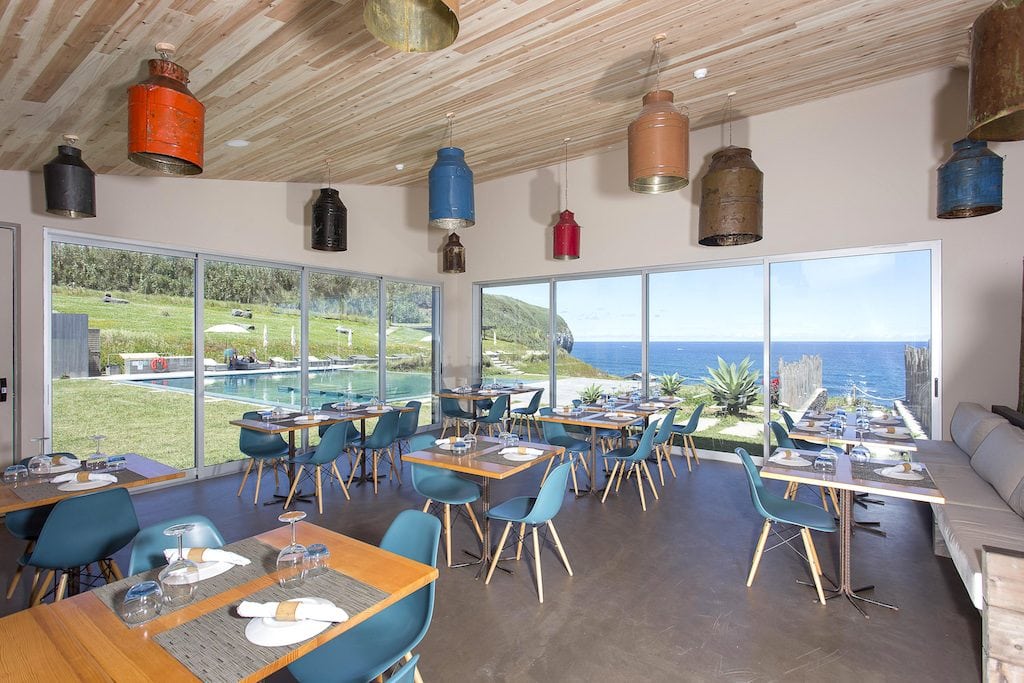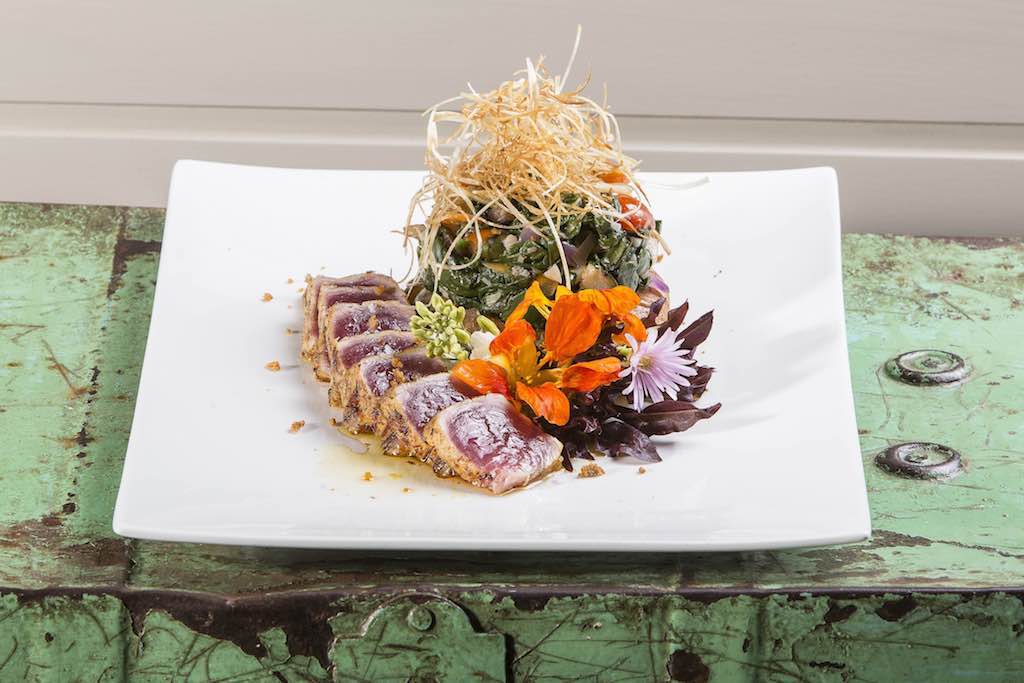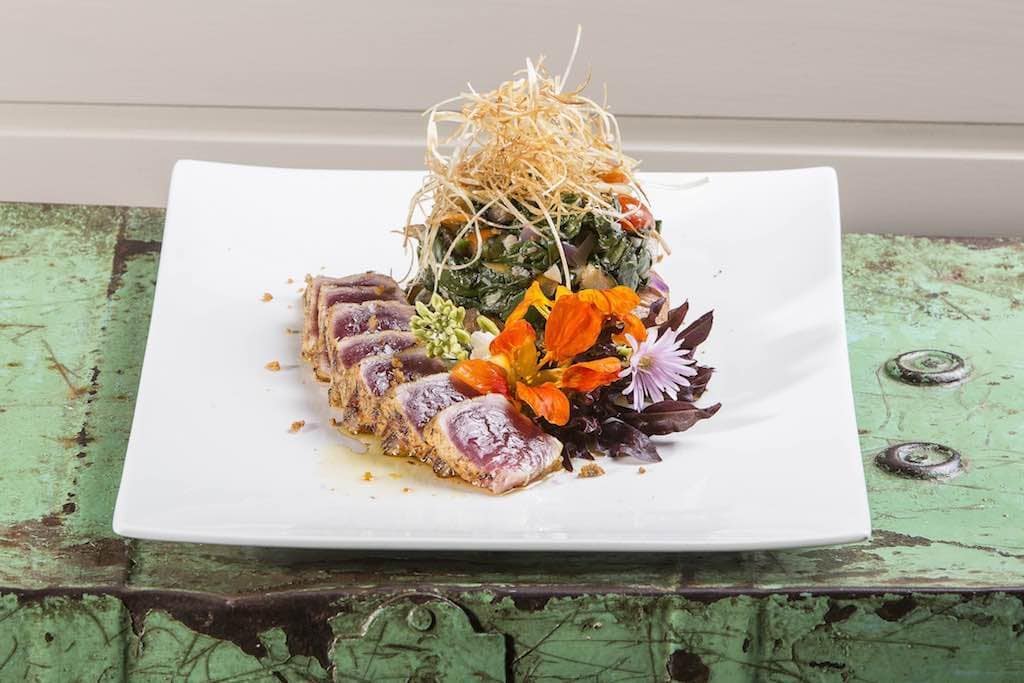 <three photos above used with Santa Barbara Eco-Beach Resort's permission>
In conclusion, my stay at the Sao Vicente Lodge was next to none. It was incredible. The stay was relaxing and just everything I could have wanted from a place I'm staying at. It was absolutely the perfect introduction to the Azores (which I know I will be visiting over and over and over again until I see every inch of every island).
Our few days there were spent hiking, drinking Azorean wine, and meeting locals on our daily excursions. I also chilled in bed a lot and gazed out my window at the sea. No shame.
I wouldn't change a thing; however, the only thing I wasn't too keen on was that the coffee machine in the Lodge used pods.
While I found everything else super eco-friendly at the Lodge, I am very against machines that use coffee pods for sustainability and ecological purposes.
Again, that was the only thing throughout the stay that I would have changed and it is a pretty minute thing!
I just feel guilty if I don't mention it here. Fortunately, the breakfast basket came with some coffee grounds I was able to make a cup of black coffee with, which was nice!
Thank you so much to Sao Vicente Lodge for your incredible hospitality and for making my first trip to the Azores absolutely phenomenal and undoubtedly my 'trip of the year'!
More Azores Travel Guides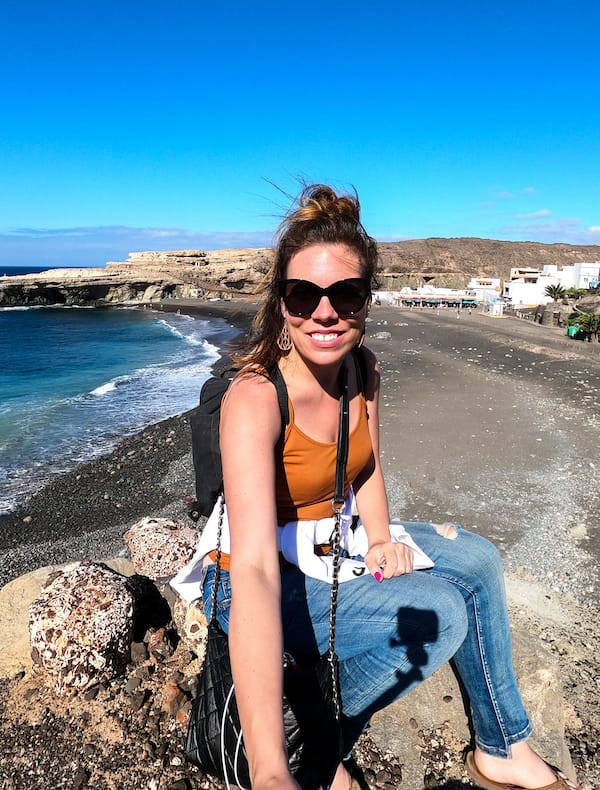 Megan is a travel blogger and writer with a background in digital marketing. Originally from Richmond, VA, she now splits her time between Frankfurt, Germany and Arctic Finland after also living in Norway, Armenia, and Kazakhstan. She has a passion for winter travel, as well as the Nordic countries, but you can also find her eating her way through Italy, perusing perfume stores in Paris, or taking road trips through the USA. Megan has written for or been featured by National Geographic, Forbes, Lonely Planet, the New York Times, and more. She co-authored Fodor's Travel 'Essential Norway' and has visited 45 US states and 100+ countries.