Milan's most famous sight is undoubtedly Duomo Milan, or the Milan Cathedral. This guide will tell you everything you need to know before you visit Duomo Milan, including Duomo ticket prices, tours of the Milan Cathedral, and where to stay in the city.
Are you planning your trip to Milan last minute?
Be sure to book your accommodation and tours to the Milan Cathedral ahead of time to ensure availability!
Here are our top recs for Milan Cathedral tours:
Here are our top recs for accommodation in Milan:
What To Know Before You Visit Duomo Milan Cathedral
The Milan Cathedral, often called the Duomo Milan (its Italian name), is one of the most iconic sites of the northern Italy city. The church is the 4th largest in the world and is an impressive and domineering site which will leave you in awe.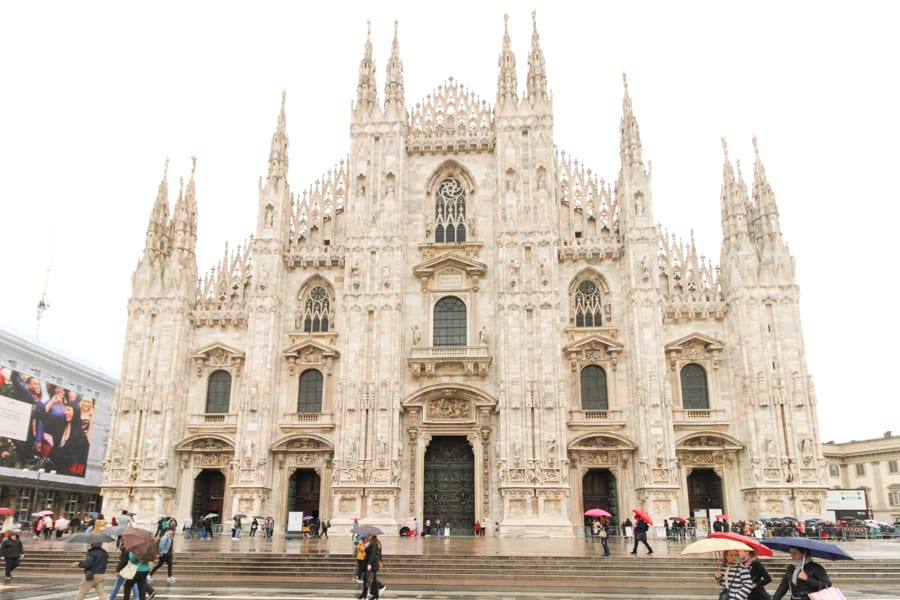 No trip to Milan is complete without taking in this glorious sight and getting up close and personal with it.
This guide will take you through everything you need to know before visiting the Milan Cathedral, from Duomo ticket prices and opening times to what to wear and beyond.
If you feel I have missed something on this list, feel free to comment below!
History of Duomo (Milan Cathedral Facts)
The spectacular Duomo Cathedral has been a permanent part of Milan for over 600 years. It's seen plenty of different rulers come and go, has been through several renovations and reconstructions, and has witnessed some of Italy's most important historical moments.
The Milan Cathedral has become one of the most distinctive landmarks in Europe.
The vision for such a grand cathedral originated from Bishop Antonio da Saluzzo but Viscount Gian Galeazzo Visconti had even more ambitious plans for the building. The viscount was the person responsible for the Cathedral having its signature pinkish-white marble.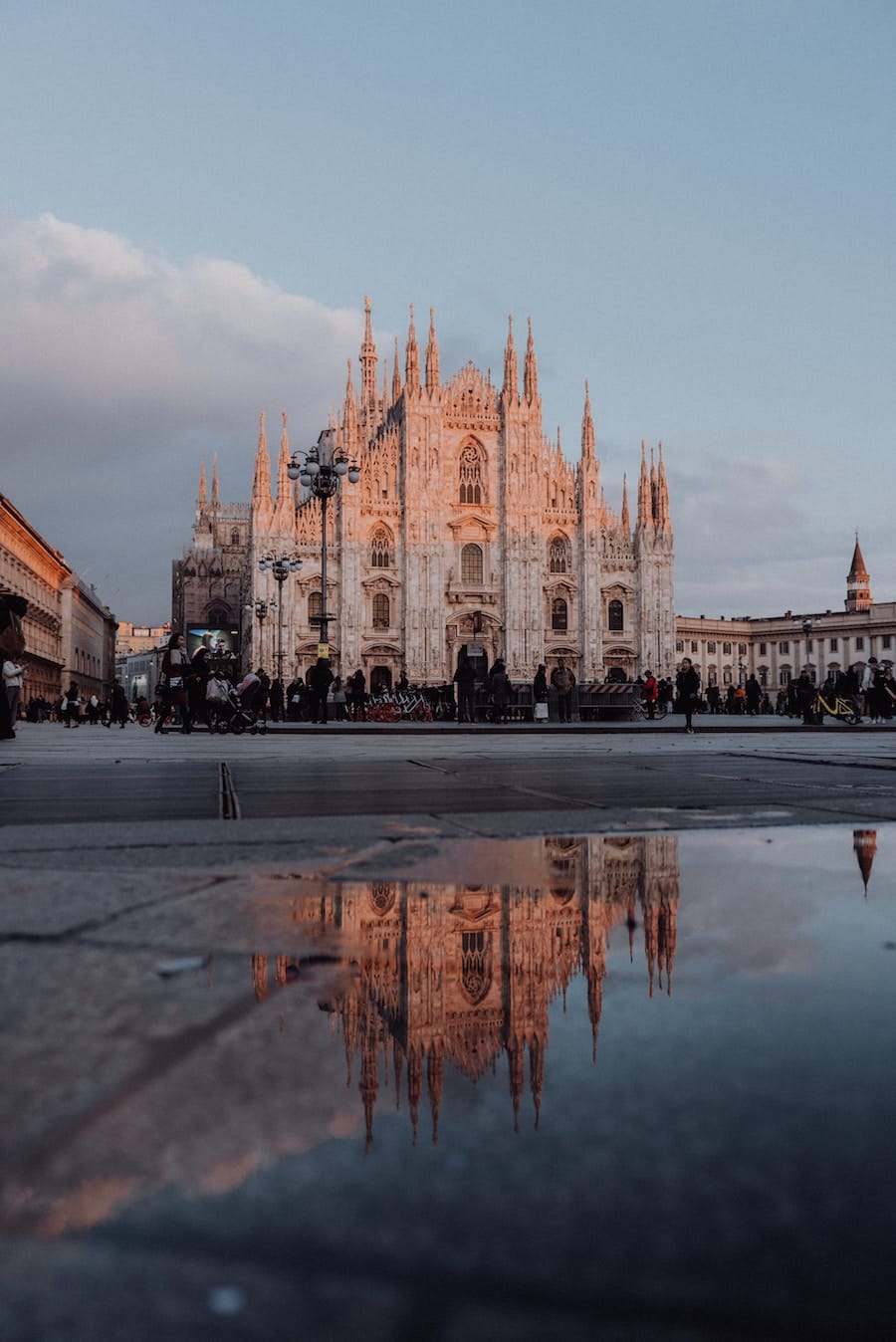 It was on his order to replace the previously planned terracotta stone with marble that was taken from Lake Maggiore, one of the best day trips from Milan, in the northern part of Italy.
Special canals were dug throughout the city so that the marble could be brought in. Construction of the Cathedral officially began in 1386.
Most churches and religious buildings in Italy have a striking Renaissance style. However, the Milan Cathedral is decidedly Gothic. That becomes immediately apparent once the gargoyles and huge white spires come into view, although a few other styles are still present in the construction.
Since it took such a long time to be fully built and so many different sets of hands worked on Duomo Milan, it is possible to see other architectural styles creep into the Cathedral's mostly gothic styling.
With the growth of Viscount Visconti's plans for the Cathedral, more and more architects and experts from all across Europe flocked to Milan.
The project was incredibly ambitious, so over the course of several centuries around 80 different head architects worked on the sight. That's not to mention the thousands of workers, artists, sculptors, and more that added their own touch to the building.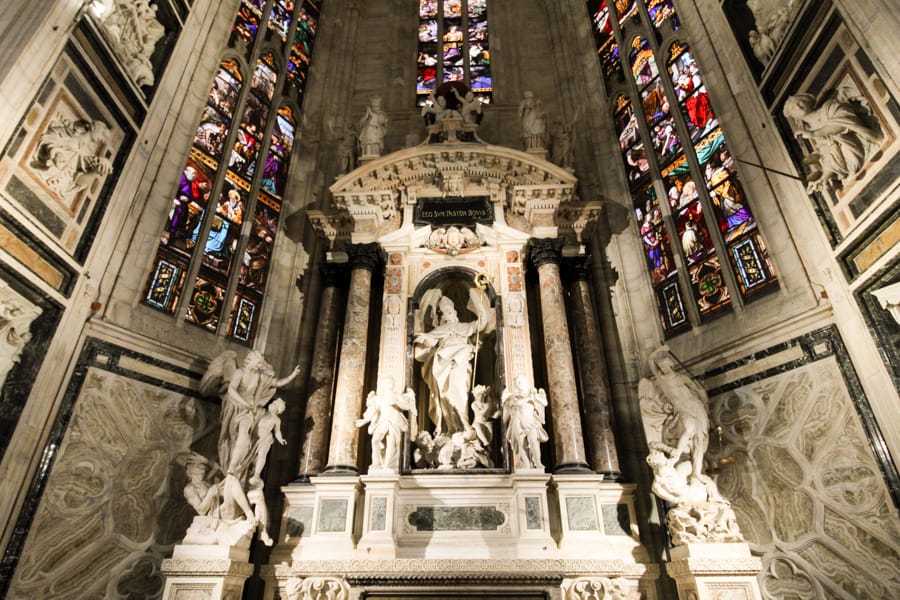 Because of this, there is a distinct Pan-European vibe to the Cathedral.
However, it remained unfinished for centuries due to being so grand and to this day is still not fully completed. It was consecrated in 1418, but at the time of consecration, only the nave had been completed.
There was a large amount of politics, lack of money, differences in vision, and even a lack of caring, all of which have caused the delay in the cathedral ever being completed.
In the 16th century, Archbishop Borromeo and his architect Pellegrini gave some much-needed development to the church. That was mostly due to severe reformation in the Catholic Church at the time.
However, it was only in the 19th century when the Cathedral reached the final stages of construction. Mostly due to Napoleon's orders, the awe-inspiring façade was finalized during his time as a ruler.
That might have marked the end of the construction of the Cathedral yet it was far from being fully complete.
Since the Milan Cathedral can never be truly complete, there has to be regular maintenance. In 2002, a 5-year cleaning project began in order to bring the Cathedral up to speed.
Everything was brought to pristine condition and there is a constant effort to keep all aspects of Duomo Milan that way.
About Duomo Milan Cathedral
The most important thing you need to know is the site is made up of six different areas, all of which are not necessarily connected to each other, but all are within the same vicinity. The Milan Cathedral sites are as follows:
The Rooftops of the Cathedral
Inside the Cathedral
The archaeological area
Crypt of Saint Charles
Duomo Museum
San Gottardo Church
Apart from the archaeological area and the Crypt of St. Charles, each site has its own entrance. To enter the archaeological area, you must enter from inside of the cathedral itself. The entrance can be found next to the entrance/exit of the cathedral.
Duomo Ticket Prices
First of all, there are many websites out there listing the Milan Cathedral as a free site to visit. This is a bit of a lie. Those who are going there to worship can enter via a special entrance to go and pray for free but this is not an entrance for those wishing to see tour Duomo Milan in full.
There are two broad options for buying Milan Cathedral tickets:
individual tickets to each site at the Cathedral
combined tickets with the option to include fast-track (valid for 3 days)
All tickets must be purchased in advance- either online or via one of the ticket offices located on the right-hand side of the cathedral (if you are facing it). You can also purchase your Duomo Milan tickets at one of the two cashiers located in the Duomo Milan Museum area.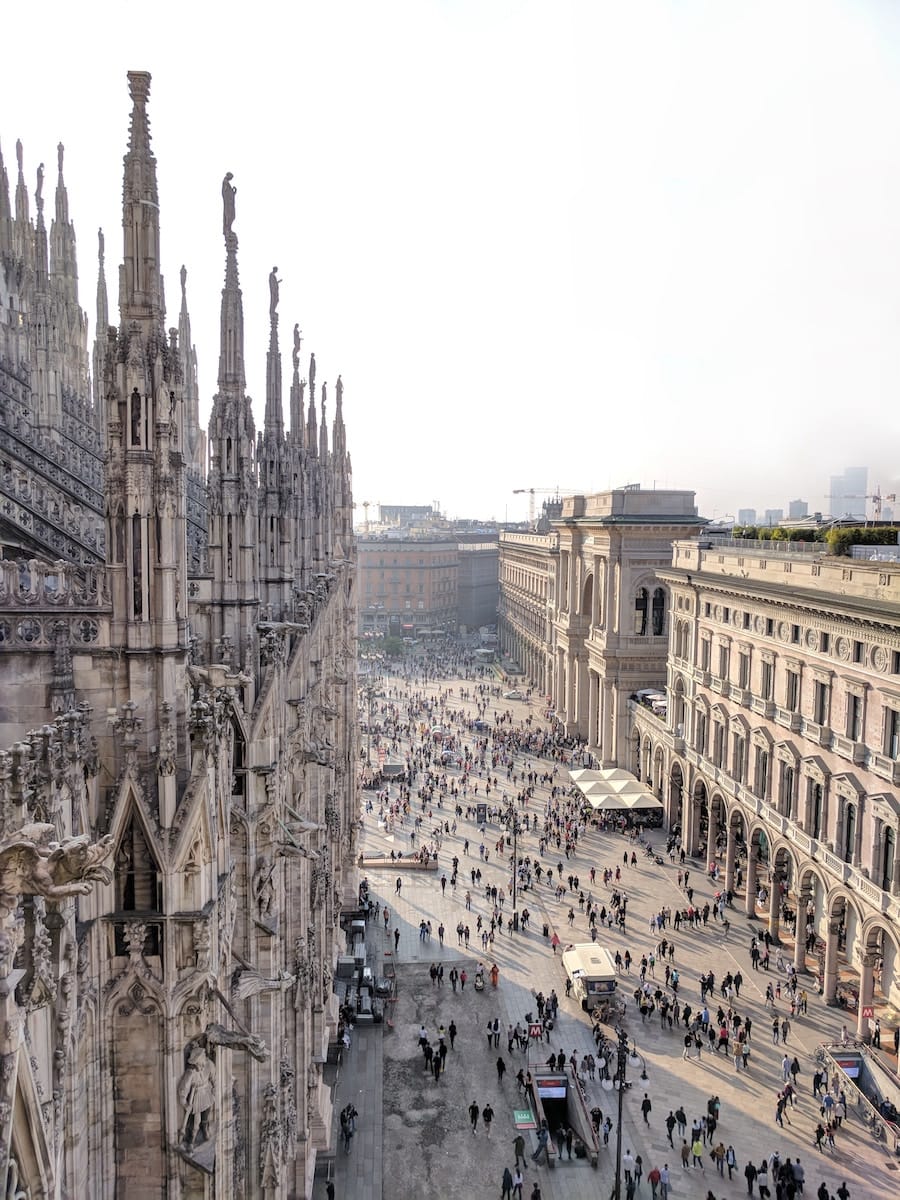 I will take you through all of the ticket options so you can make your own choice. Concessions are classed as children between 6-11 years old and documentation may be requested as proof. Children under 6 can visit for free.
If you are just looking to go to one of the sites, for example, just inside the cathedral or just to the Duomo rooftop, then you can buy individual tickets to each site. Milan Cathedral ticket prices are as follows:
Cathedral – Adults 3€ ; Concessions 2€
Rooftops via Stairs – Adults 10€ ; Concessions 5€
Rooftops via Lift – Adults 14€ ; Concessions 7€
Rooftops via Fast-Track Lift – Adults 23€ ; Concessions 12€
Museum and San Gottardo Church – Adults 3€ ; Concessions 1€
The Archaeological Area and the Crypt of St. Charles are both free to enter, however, you will need an entrance ticket to the Duomo Milan Cathedral to be able to access these sites.
If you are planning on visiting more than one sight, I highly recommend purchasing a Milan Cathedral combined ticket which lasts for three days although you can only enter each site once. The combinations and prices are as follows:
Duomo Pass Lift – Cathedral, Rooftops by lift, Archaeological Area, Duomo Museum, and San Gottardo Church – Adults 17€ ; Concessions 9€
Duomo Pass Stairs – Cathedral, Rooftops by stairs, Archaeological Area, Duomo Museum, and San Gottardo Church – Adults 13€ ; Concessions 7€
Cultural Pass – Cathedral, Archaeological area, Duomo Museum, and San Gottardo Church – Adults 8€ ; Concessions 4€
Fast-Track Pass – Cathedral, Rooftops by the Fast Track Lift, Archaeological area, Duomo Museum, and San Gottardo Church – Adults 25€ ; Concessions 13€
If you're looking to purchase your Duomo Milan combined tickets in advance, which I highly recommend, you can affordably buy them here.
Duomo Milan Cathedral Fast-Track Ticket Option
I actually opted for the fast track ticket, and I can honestly say that it was the best option. I was in Milan on a very rainy day and the queues were still really long. With the fast track option, you get to use the special fast track lift and the fast track queue entrance to enter the Cathedral.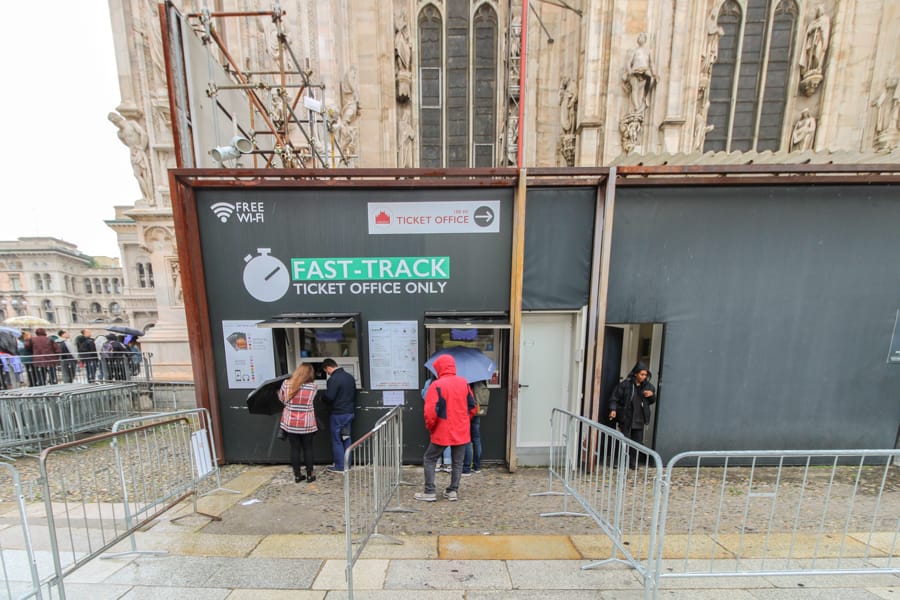 This really saved me a lot of time as I was pressed for time that day, however, I would have done the same if I had the whole three days to explore since I'm totally impatient and hate waiting in line. The extra 8€ spent will really save you a good few hours in time spent in queues.
Those are hours that could be spent eating amazing food… let's be honest here.
>> Click here to purchase a Milan Cathedral fast-track ticket and avoid waiting in line
Duomo Milan Opening Times
The opening times are fairly consistent across each sight but they can vary somewhat. Below I have listed the opening times for each sight as they stand now. It is possible that they can change if there are special events at the Cathedral. You will need to verify this via the main website for the Cathedral.
Rooftops – Daily 9am-7pm – Last ticket 60 minutes before closing time, last admission 50 minutes before closing time, Closure starts 30 minutes before closing time
Cathedral – Daily 8am-7pm – Last ticket 60 minutes before closing time, last admission 50 minutes before closing time, Closure starts 30 minutes before closing time
Archaeological area (Baptistery of San Giovanni Alle Fonti) – Daily 9am-7pm – Last ticket 60 minutes before closing time, last admission 50 minutes before closing time, Closure starts 30 minutes before closing time
Crypt of St Charles – Monday to Friday 11am-5:30pm, Saturday 11am-5pm, Sunday 1:30pm-3:30pm – Last entrance 15 minutes before closing time
Duomo Museum – Daily apart from Wednesday 10am-6pm, Closed Wednesdays – Last ticket 60 minutes before closing time, last admission 50 minutes before closing time, Closure starts 30 minutes before closing time
San Gottardo Church – Daily apart from Wednesday 10am-6pm, Closed Wednesdays – Last ticket 60 minutes before closing time, last admission 50 minutes before closing time, Closure starts 30 minutes before closing time
Getting to the Milan Cathedral
There are several ways to reach the Cathedral via public transport. I took the metro from the central station and found it very easy. The metro station Duomo is serviced by the 1 and 3 metro lines and the trains arrive and depart very regularly.
There are also several tram lines that go to the nearby stops of Torino (Doumo) – serviced by trams 2,3,14, the other stop is Dogana (Duomo) – Serviced by tram 24.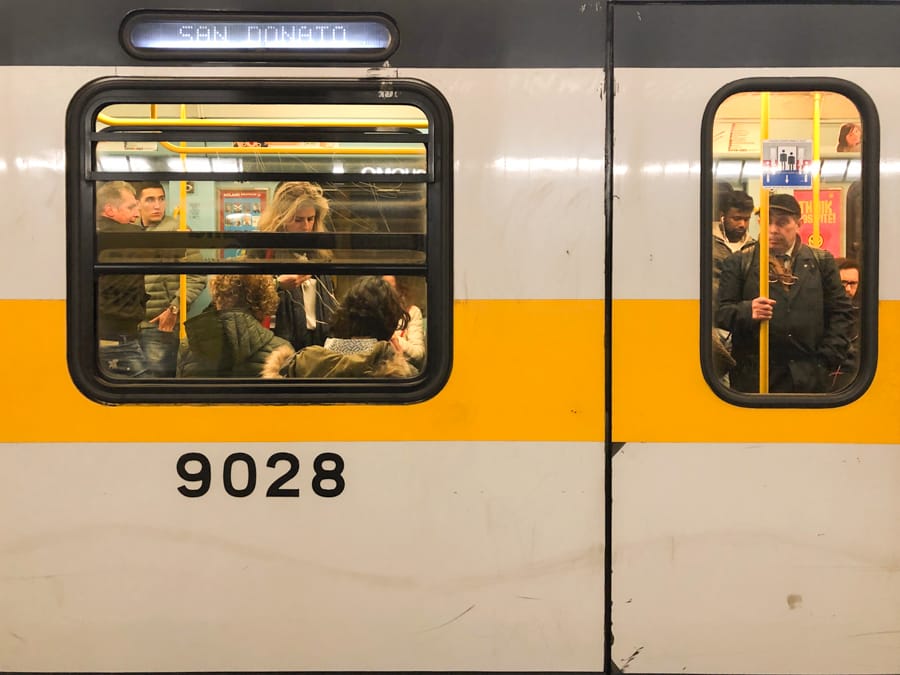 You can also take a taxi there, however, given Milan's complex one-way system of roads and high-traffic levels, this can get rather expensive.
If you are still wanting to use a taxi, then I recommend using the taxi app MyTaxi (soon to change to Free Now) to book your taxi.
It will provide a pricing bracket for your journey. Uber is incredibly expensive in Italy and normally more expensive than regular taxis.
Ideal Plan for Visiting Duomo
I have to admit that I was unable to visit all the sites as I simply didn't have time when I was there.
I was only able to explore the Duomo terrace (rooftop), Cathedral, and archaeological area. However, from what I experienced, the best way to see all the sites is to first start off exploring the Duomo roof.
The roof takes around an hour to explore depending on how often you stop to take photos and enjoy the views over Milan. From the Milan Cathedral rooftop, head down to the Cathedral and check out the Milan Cathedral inside.
The cathedral itself is worth taking time to explore and I would recommend spending at least an hour and a half taking in the grand sculptures and alters.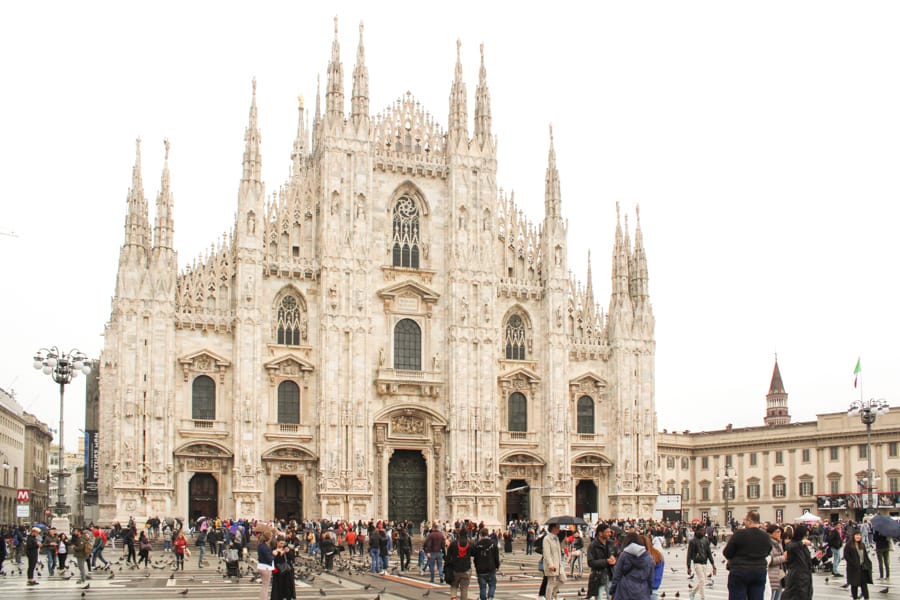 Before leaving, spend 45 minutes exploring the archaeological area within the church. This is as much as I saw due to time restraints, though had I had the time, I would have gone to the Duomo Museum next, followed by the San Gottardo Church.
Personal Tips for Visiting Duomo Milan
Wear good shoes
The church is made entirely out of marble so if you are planning on visiting the roof, I highly advise wearing good footwear with a decent grip.
The edges of the roof are not steep, but in the rain, can get relatively slippery as the stones are pretty smooth from people walking on them.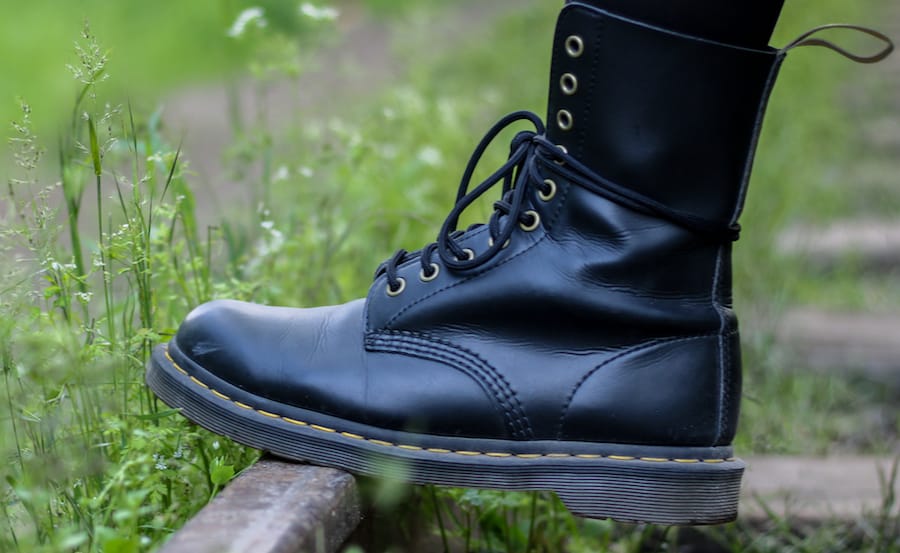 I'll admit that I didn't wear the best footwear and found that it made me pretty nervous seeing as I was very high up. Luckily, if you purchase the combined Duomo ticket, you can save the roof for a clearer day or simply wear different footwear on each day.
I wore my vegan Dr. Martens for my trip to the Milan Cathedral. You can see them in different photos below. They have amazing grip on them and I wear them pretty much everywhere.
>> Click here to shop my vegan Dr. Martens boots
Wear Sunscreen
If you are planning to visit the roofs of the Cathedral, I highly recommend bringing sunscreen. There is literally zero shade up there and you are fully exposed to the sun (or in my case, the rain). So lather up with sunblock to keep those UV rays from burning you to a crisp.
>> Click here to shop my sunscreen for your trip
Dress Appropriately
If you plan on visiting both the roof and the Duomo Cathedral on the same day, it's important to dress appropriately for both. On the Duomo roof, you will be exposed to the elements- either the scorching sun or the rain which means either covering up or thinning out the layers.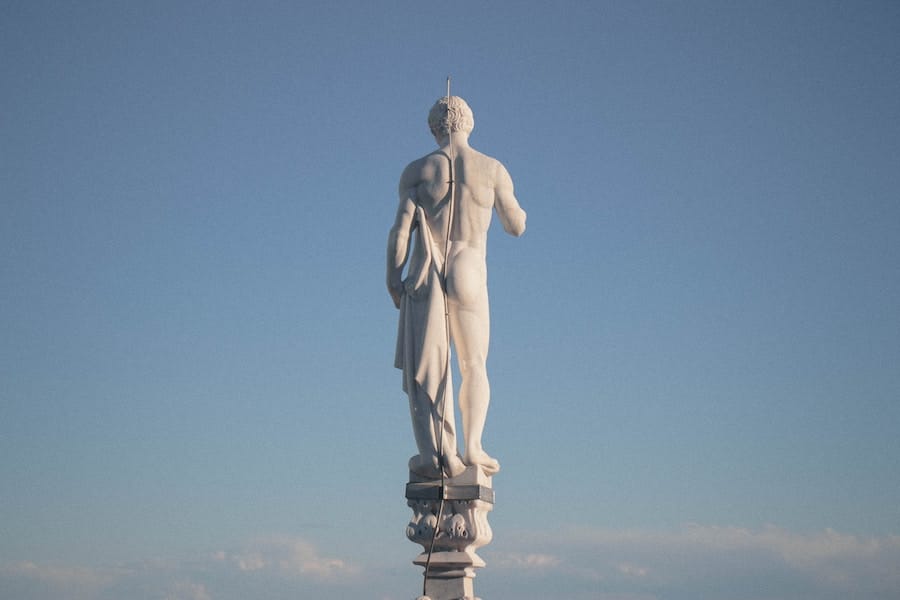 However, inside the Milan Cathedral, you will want to dress respectfully and modestly as it is still in use as a church and because you will find that people are praying or worshipping.
You may find that you will be denied entry if you are considered to not be dressed moderately. This includes too short of sleeves or showing shoulders, shorts or mini skirts, or an exposed abdomen, or a hat.
No Drinks or Food Allowed
There is no food or drink policy at the Milan Cathedral. And… you will likely be searched for these types of things upon entry. I recommend making sure you are well hydrated before entering anywhere although keep in mind that there are no bathrooms on the roof or inside the church.
If you have not purchased a fast track ticket and will have to queue for a while, I recommend buying some water for the queue during summers. It would be even cooler if you have brought a reusable water bottle with you to avoid contributing to our planet's plastic problem
I use a Klean Kanteen everywhere I travel to and I think you'd love one too if you wish to avoid using plastic bottles when in Milan.
>> Click here to shop my amazing Klean Kanteen
Invest in a Tour of the Duomo Rooftop
The roof of this spectacular church is one of the best sites, however, I found that as I was exploring on my own I was unable to get the full value of the experience. There are no plaques or signs to explain what you are looking at or what you can see in the distance.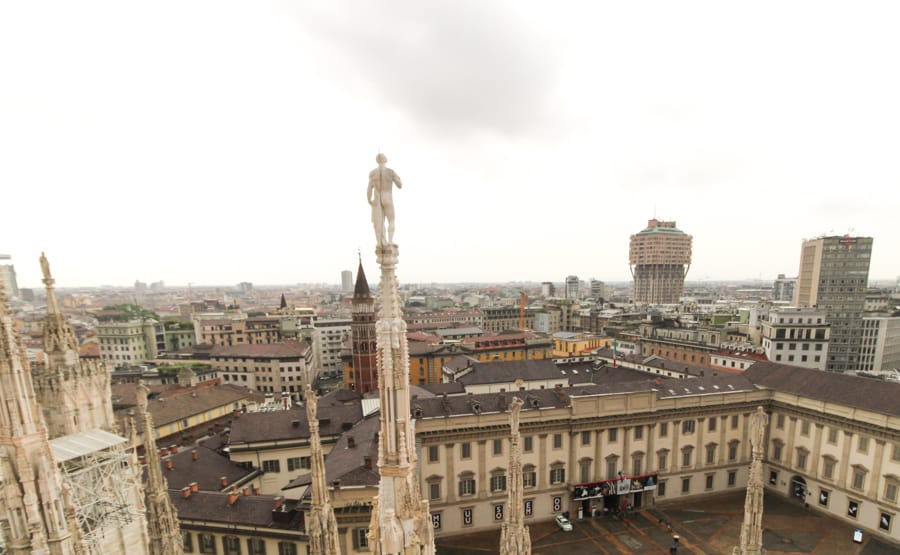 As I wandered around slowly photographing every little part of the roof, I was able to listen in to some of the English speaking tours that went past and found that there are many hidden details and interesting stories about the roof.
If you have time and a bit extra money, I highly recommend taking a Cathedral rooftop tour.
>> Click here to see prices for a Milan Cathedral rooftop tour
Are You Afraid of Heights?
This may sound obvious, but if you are afraid of heights, the rooftops may not be the ideal place for you. Although it is entirely safe, it can be slightly unnerving as the pathway around the edge is narrow and it can get busy.
I found it very stressful while I was up there because at the start as it was very wet while I was there. Once you reach the middle and higher parts, it is a little better.

Self-Guided Audio Tours of Duomo
Inside of the Milan Cathedral, you can rent audio guides to take you through what you are seeing. The booth for renting the audio guides is close to the entrance of the church.
The audio guides cost 6€ for one but if you are in a pair you can get two for 10€. You will need cash to rent the equipment as no card payments are available.
If you are not planning to take a tour but are looking to learn more about the church, then these audio guides are a great way to visit the Milan Cathedral. To rent the equipment, you will need to use your ID or Passport as a deposit.
The Cathedral is open until 7pm and the audio guide booth inside the Cathedral closes at 5pm on weekdays with the last rental being at 4pm. On weekends, it closes at 3pm with the last rental at 2.30pm. If you ended up being delayed returning the device, you will need to return them to the ticket office outside of the church to the left.
From the ticket office, you can also rent devices to guide you through the Duomo terrace.
Milan Cathedral Stairs & Elevator to Duomo Terrace
The rooftop terrace is one of the best sights in Milan and is the highlight of many people's trips to the Cathedral. There are several ways to reach the roof and each with its own cost.
The cheapest option is to take the stairs up to the roof which costs 10€. It has to be noted that you will need to climb 251 stairs to reach the highest part of the roof. If the thought of climbing up all the way to the top by stairs is completely daunting, there are two elevator options.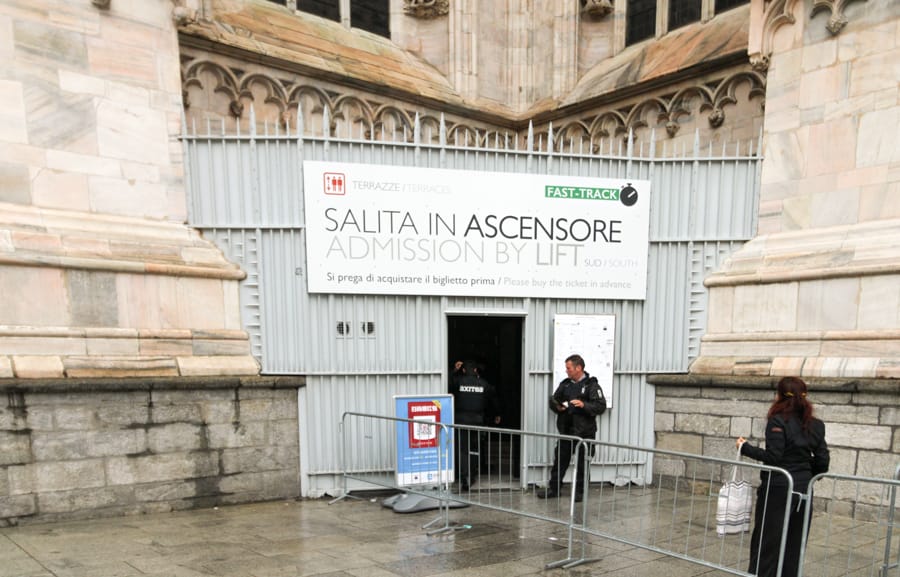 The regular elevator is located on the north side of the church and will take you up to the first level of the roof. You will need to take some stairs to reach the highest part. The regular elevator will set you back 14€.
If time is not on your side, you can pay a little extra and take the fast-track elevator that is located on the south side of the church. The fast-track elevator costs 23€.
Both elevators fit around 6 people plus an attendant- this can get a little claustrophobic but the journey only takes a minute.
>> Click here to book your rooftop only passes
Milan Cathedral Inside
There is plenty to see inside of the Milan Cathedral, from ornate statues and altars to the final resting places of important religious leaders as well as those who were crucial in the building of the Cathedral. My favorite part of the interior was the statue of Saint Bartholomew, located in the right-hand corner towards the back of the church.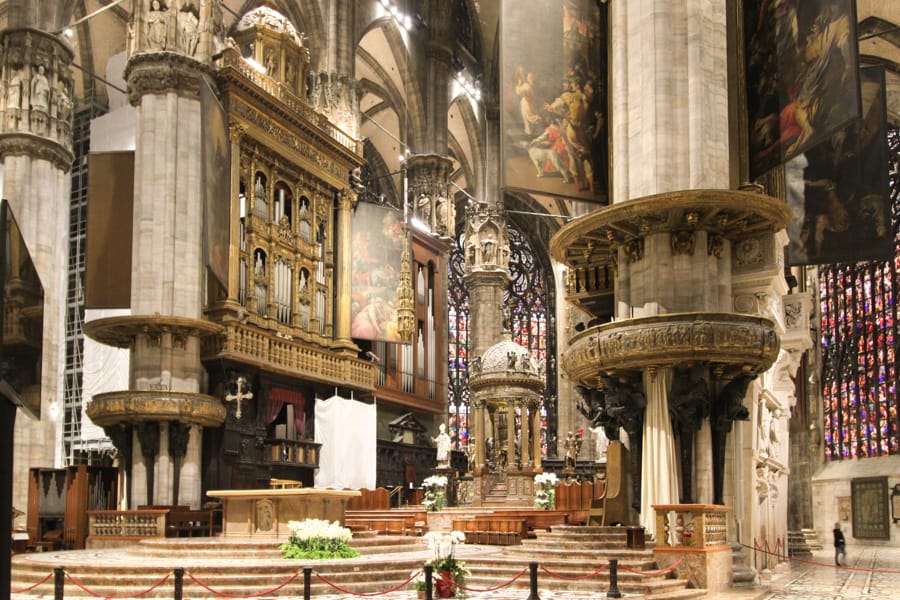 The mysteriously cool lighting on the statue makes it perfect for taking pictures. As you walk along the edges of the Cathedral, there are sarcophaguses, with descriptions about those who are laid to rest there. On the left-hand side of the Cathedral is an area where you can purchase prayer candles.
During certain times of the year, there are displays in the cathedral of amazing canvases and other items of historical and religious significance.
Duomo Photography (Taking Photos at Milan Cathedral)
The Milan Cathedral is incredibly photographic with plenty of photograph opportunities inside and out. However, there are several rules that need to be adhered to regarding Duomo photography, for example, you can not use tripods or monopods inside the Cathedral or on the roof.
Another piece of equipment that has thankfully been banned is the selfie stick. While photographing inside of the church, be aware of people praying on the edges and lighting candles.
The noise of the camera can seem relatively loud in the quietness of the sight and people may look at you if they feel its disturbing them (or so I experienced).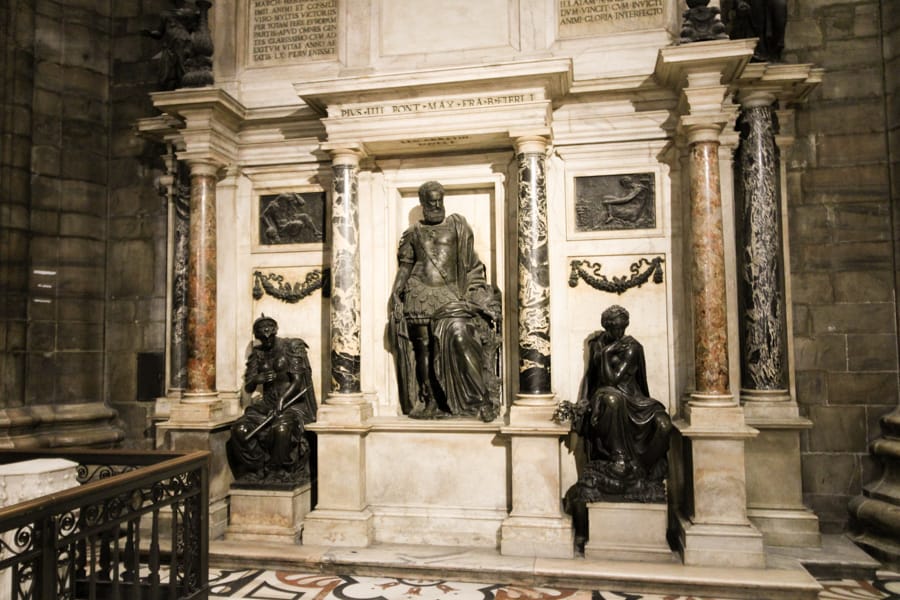 On the Milan Cathedral rooftop, there are plenty of crowds, so getting a clean shot can be hard. But, if you wait for your chance, you will get amazing shots. The lighting inside of the church is not the best for photography as its strangely bright at the same time as being dark.
Milan Cathedral Outside
The one thing I really didn't enjoy about the whole experience was the outside of the Cathedral. It is super busy with people posing for their latest Instagram photoshoot.
Moreover, the worst part about the outside of the Cathedral was the sheer amount of pigeons due to people feeding them. Gross.
There are many people who will harass you to purchase seeds to feed the pigeons along with other random stuff. I honestly found the number of pigeons and constant harassment overwhelming and almost didn't head into the Cathedral because of it.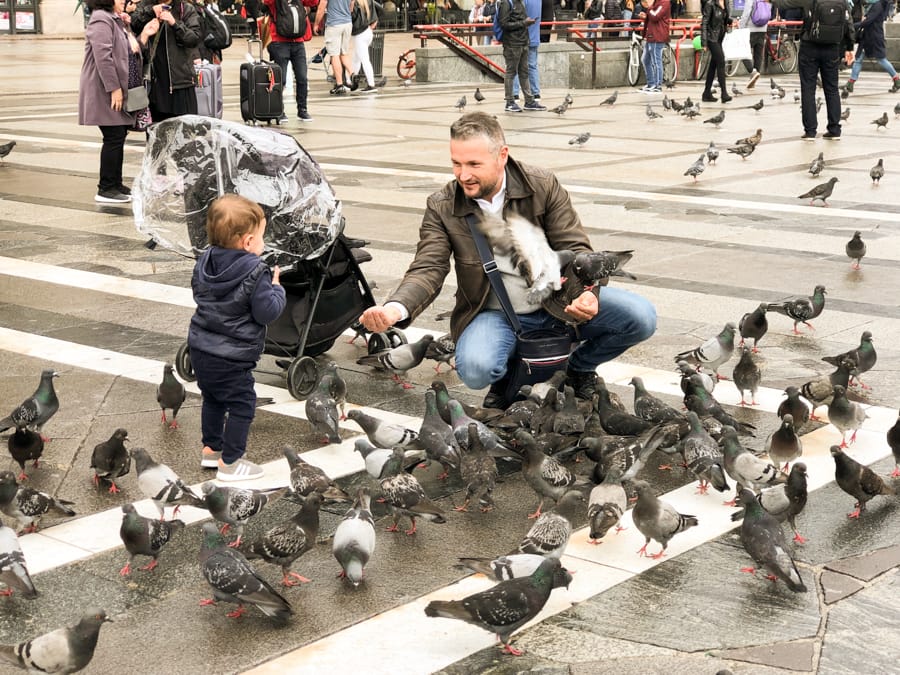 In the square, keep a good eye on your belongings as there are many people looking to pick your pockets.
Construction at Duomo is Common
Since the Cathedral was never fully completed, you will often find there is construction going on somewhere on the side and outside of the church. While I was there, the main spire was wrapped in scaffolding as well as some other parts of the roof.
The construction didn't really bother me as nearly every square inch of the Cathedral is amazing and very photogenic. If you can't photograph one part, you will get equally good shots elsewhere.

Be respectful
The Cathedral is still in use and people are worshipping and praying there. Much of the inside of the building is closed off to visitors. Do not try and push past these barriers or you will quickly be told off by security.
Also, make sure you keep noise to a minimum and abide by all the rules. Workers will quickly eject you from the Cathedral.
The Little Red Light at Duomo
In the dome above the apse is a small little red light that shines in the dome.
This may seem odd, but the light marks the spot where supposedly one of the three nails used in the crucifixion of Jesus is stored. For three days of the year during the Rite of the Nivola, the nail is put on display to the public.
The nail is retrieved using a lift that was originally thought of and invented by Leonardo Da Vinci who thought to have to climb a ladder was too tiresome. The Rite of Nivola takes place on the 14th of September every year.
The Milan Cathedral Sundial
The Cathedral also acts an impressive sundial. As the sun shines through a special window, it shines along a golden line that runs along the floor with symbols of the Zodiac on either side.
As the sun moves through the sky throughout the day, it tells the time on the sundial and as the year progresses, it marks the various months with their zodiac signs. It used to be so accurate that all of the city's clocks were set to it.
Fun Facts about Duomo Milan
If you are looking to impress people with your knowledge of the Milan Cathedral, here are a couple of fun little facts.
The marble all comes from one quarry where it is still taken from to this day.

There are 52 pillars in the church to represent the 52 weeks of the year.

There are over 3000 Statues, 135 Gargoyles, and 700 different sculptures on various parts of the building. As the church nears completion, there is still a possibility that more will be added.

The golden Madonna statue on top of the Milan Cathedral was deemed so culturally and historically important in 1930 that a law was passed saying no building can be taller than statue. To bypass this law, all high rise buildings in Milan have a statue of the Madonna on them.
Bars, Cafes, and Restaurants around the Milan Cathedral
The Milan Cathedral is centrally located so if you are looking for a place to stop for a drink or a bite to eat, there are no shortage of options around the main square. The bar Terrazza Aperol has a great terrace where you can overlook the square and Cathedral while enjoying a nice refreshing drink.
Prices and restaurants near Milan Cathedral tend to be far more expensive than the average bar in Milan. There are budget options, such a Burger King, close by as well.
Milan Cathedral Tours
If you are wanting to make the most of the experience, take a guided tour around the Cathedral and rooftops. There are plenty of Duomo tours available and I will highlight a few of the ones that I think are the best.

Fast-Track Milan Cathedral and Terraces Guided Tour
A one and a half hour tour of the rooftop, Cathedral, and archaeological area. Your informative guide will take you through the site and show you hidden little spots and secrets held within the church. The cost also includes the museum and San Gottardo Church but you will have to explore these on your own.
>> Click here for tour rates and availability
Skip-the-Line 2.5-Hour Milan Duomo and Terrace Tour
For a slightly longer tour, your informative and licensed guide will talk you through all there is to know and love about the cathedral and its rooftops on this two and a half hour tour.
>> Click here for tour rates and availability
Getting from Milan Airport to the City
If you're coming from either of the airports in Milan (Bergamo or Malpensa), you can easily reach the city with a transfer from Welcome Pickups. I have used them in various places around Europe, mostly in Greece, and they always get me to the city center for the same price as a taxi but with FAR better service.
They will speak good English, have a sign with your name on it (feeling important is crucial after a long flight, no?), and the cars will be clean and efficient.
>> Click here to book a Welcome Pickups transfer to Milan
Where to Stay in Milan
I have written an entire guide of where to stay in Milan that you can check out for more details and options. The Milan hotels, guesthouses, and hostels below are a few suggestions of my top picks for places that will amplify your Milan trip and experience visiting Duomo.
Armani Hotel Milano (Luxury)
This five-star hotel is one of the most impressive and luxurious hotels in Milan. The sleek rooms are fully equipped with pretty much anything you could want with speedy Wi-Fi available in every room. Its central location is perfect for visiting all the main sights, including the Milan Cathedral!
–> For current rates and availability click here | Read reviews on TripAdvisor
Al Naviglio 81 (Mid-range)
Located to the south of the city in the hip Navigli district of town, this awesome hotel is one of the best places to stay, with stylish and spacious rooms each designed in their own way.
Although away from the city center a bit, it is well connected and there are plenty of places to eat and drink in the location.
–> For current rates and availability click here

casaBase (Hostel)
This cool hostel is a great place to stay in Milan. The creative space, mixed with a hostel, offers guests a fully immersive experience with rooms to suit all needs.
In addition to normal tourists, there are resident artists and creatives that stay there for long periods of time. The rooms are comfy and give the feeling of being in a boutique hotel.
–> For current rates and availability click here
Do You Need Travel Insurance for Italy?
I definitely recommend purchasing travel insurance before you embark on a trip to the lovely country of Italy. While Italy is safe, you just never know anywhere you go in the world. And I definitely wouldn't walk on the marble of the Milan Cathedral in the rain without it! I recommend SafetyWing for Italy travel insurance.
>> Click here for an Italy travel insurance quote for your trip
There are so many useful things to know before you visit Duomo Milan, or the Milan Cathedral, on your trip to Italy. I hope this guide helps you out and assists you in planning your visit to this magnificent sight! If you have questions, please drop them in the comments.
YOU MIGHT ALSO LIKE: Things to do in Bergamo / Visiting the Colosseum / How to Get from Bergamo Airport to Bergamo / Milan Accommodation / Getting from Milan to Turin / Getting from Milan to Bergamo / Getting from Milan to Lake Como / A Guide to Atalanta Stadium / Milan Day Tours / Milan Cooking Classes and Food Tours / Best Day Trips from Milan