One of the best places to travel to from Milan is the gorgeous city of Bergamo. This is a guide on how to get from Milan to Bergamo by train. It includes station information, prices, and more.
Are you planning your trip to Bergamo last minute?
Be sure to book your accommodation and tours in Bergamo ahead of time to ensure availability!
🇮🇹 Here are our top recommendations for tours in/from Bergamo:
🛌 Here are our top recommendations for accommodation in Bergamo:
🚗 Looking for the best way to get around Lombardy? Click here to check rental car rates for Italy!
Milan to Bergamo Cheaply by Train
Getting from Milan to Bergamo is pretty straightforward by train.
The Italian railway system is a beauty for us Americans who wonder if our country has an allergy to public transportation.
The trains are clean, comfortable, and efficient. The regional trains, in my opinion, are pretty speedy and don't stop off in loads of little towns.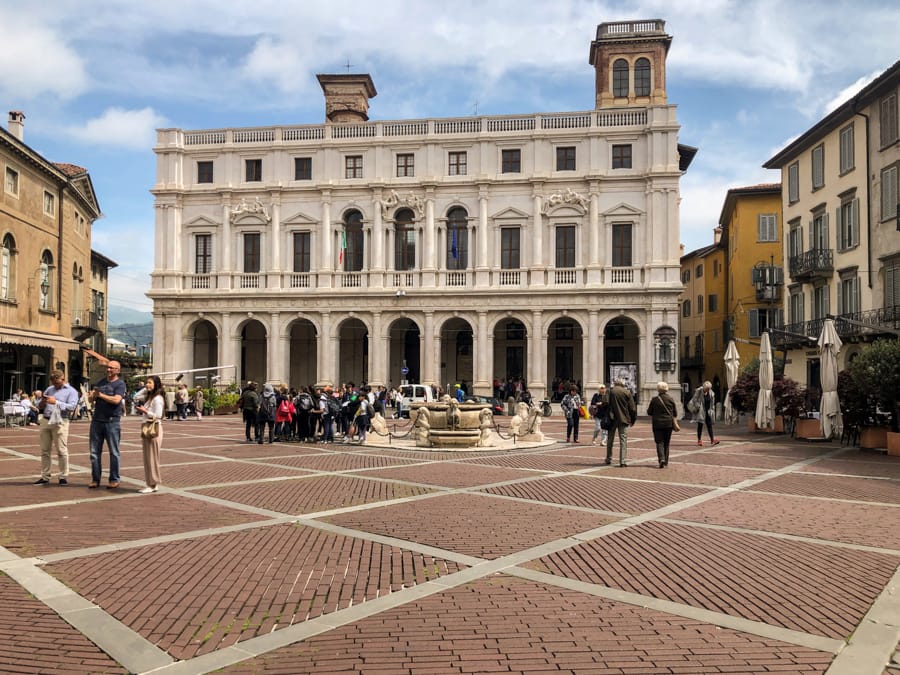 Bergamo is a hidden gem of northern Italy and despite being home to the third busiest airport, the crowds have kept away for years and headed off to larger cities or up into Lake Garda and Lake Como.
Getting to Bergamo from Milan couldn't be easier as there is a regular train service from Milan Central Station to Bergamo that is incredibly cheap.
Milan Central Station
The Milan Central Station is located just to the north of the center of the city and is reachable by the M2 and M3 metro lines.
Alternatively, there are plenty of trams and buses that go to the station. The station is usually busy with plenty of people passing through it or just generally milling around in the station.
The station operates a gate system to get to the platforms where you must have a valid ticket. Once past the gates, you will find things a lot calmer and less stressful.
The Milan Central Station is handicapped accessible.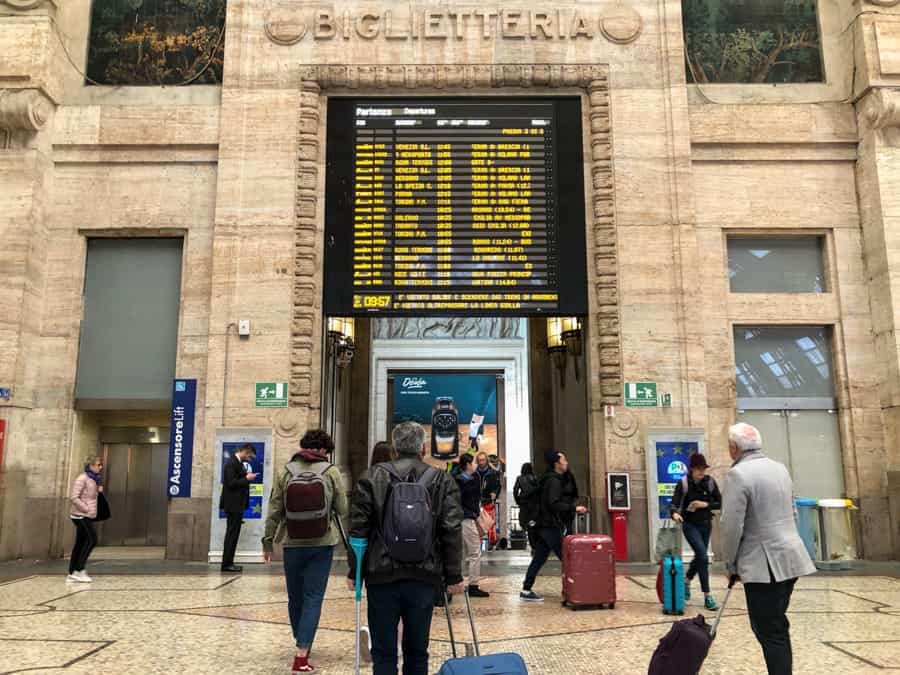 Is there Luggage Storage at Milan Central Station?
Yes, there is a luggage storage facility in the station that operates between 6am and 11pm. You will find it on the lower levels of the station hidden away in a corner. Luckily, it is well-signposted, so you will not struggle to find it. The prices vary on how long you leave your luggage there, the price system is as follows
Base price (0-5 hours inclusive of 5th hour) – 6 euros.
An additional Euro for every hour from the 6th to the 12th hour (inclusive of the 12th hour) + base price.
From 13th hour onwards 0.50€ per hour + base price + 6-12 hour rate.
You pay for your luggage when you pick it up with the coupon they give you. Take a photo of the coupon just in case.
Is There Food at the Milan Train Station?
Yes, there is plenty of food in Milan Central Station – from fast food places like Burger King to Italian-style bistros and espresso bars.
There are also plenty of places to eat outside of the station, so there is no chance that you will go hungry.

Buying a Train Ticket from Milan to Bergamo
There are several ways to purchase tickets in Italy. You can either purchase them online via the correct train website (there are several train companies in Italy… in this case you need TrenItalia), at a ticket office (again you need the right company) or via the ticket machine (again you need to use the correct company's machine).
I always used the ticket machines as it is a lot easier and there are plenty dotted around the station and because you can change the language from Italian to a wide range of languages.
Once you are at a TrenItalia machine, you will need to complete the following steps:
Select the station where you are going. You may need to type it in.
Select which time you wish to depart from. For example "from 16:00 onwards". These time brackets tend to be in 4-hour blocks.
Select the exact train you wish to travel on. There are plenty of options to Bergamo, but some may require changes. The ones that take around 50 mins are normally direct.
Pay with either cash or card. I used a card as the contactless payment feature is available and quick to use.
Collect your tickets and change if you paid with cash.
You must validate your ticket before getting on the train. There are validation terminals at the beginning of every platform.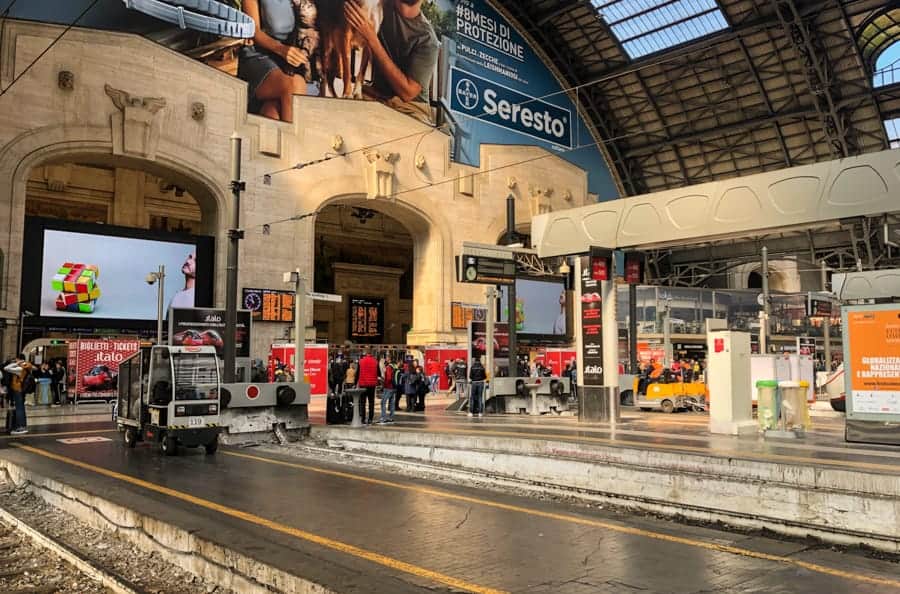 How Much is a Ticket to Bergamo from Milan?
The journey takes between 45 minutes and an hour and 15 minutes and is incredibly affordable. A single fair costs around €5.50 for a second-class ticket.
If you are wanting to travel with a little more comfort, you can purchase an €8.50 ticket for first-class seats, but honestly, I didn't find them too much more comfortable in first class.
How to Take the Train to Bergamo
Taking the train from Milan to Bergamo is really simple. Head up to where the platforms are in Milan Central Station and look to see which gate and platform you are leaving from.
If no platform has been announced, just head to the gate it tells you (for example Gate E).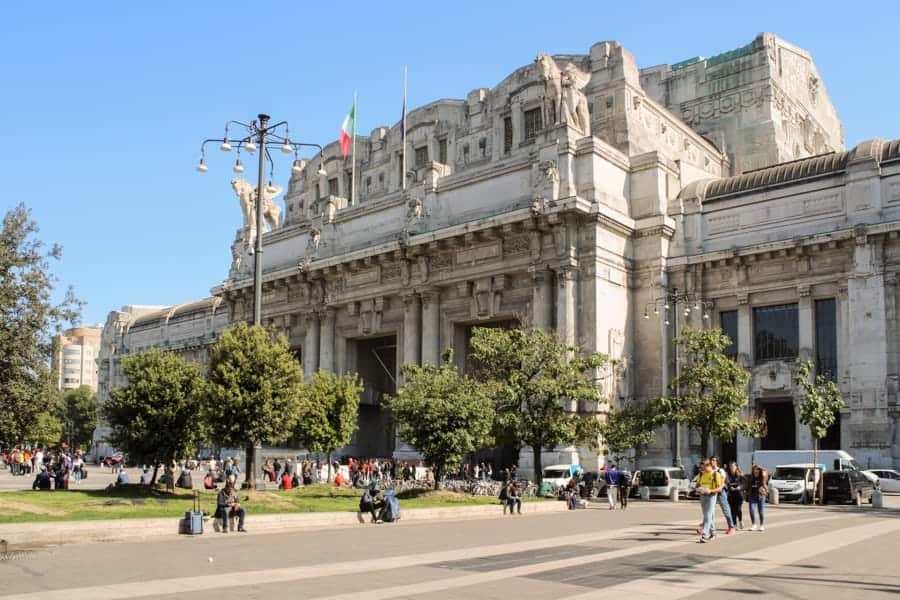 Milan has this great gate concept where sections of platforms are separated into gates and to pass into the gate, you will need a valid ticket.
Once through the gate, you will find an awesome, more chilled-out section of the station without as many crowds. There are still places to eat and drink beyond the gate too.
Once past the gate, head to the platform or wait for the platform to be announced. You'll want to show up at least fifteen minutes prior to departure.
Make sure you validate your ticket at the beginning of the platform and do be aware that sometimes the machines are out of ink… so find another if it doesn't leave a mark.
The Train Journey to Bergamo
The train ride is super easy and quick and if you are on the direct train, it takes around 50 minutes. The journey is pleasant there are plenty of nice views of mountains as you speed through the countryside.
During rush hour, the train gets very busy and you may find that there are no seats available and you will have to stand.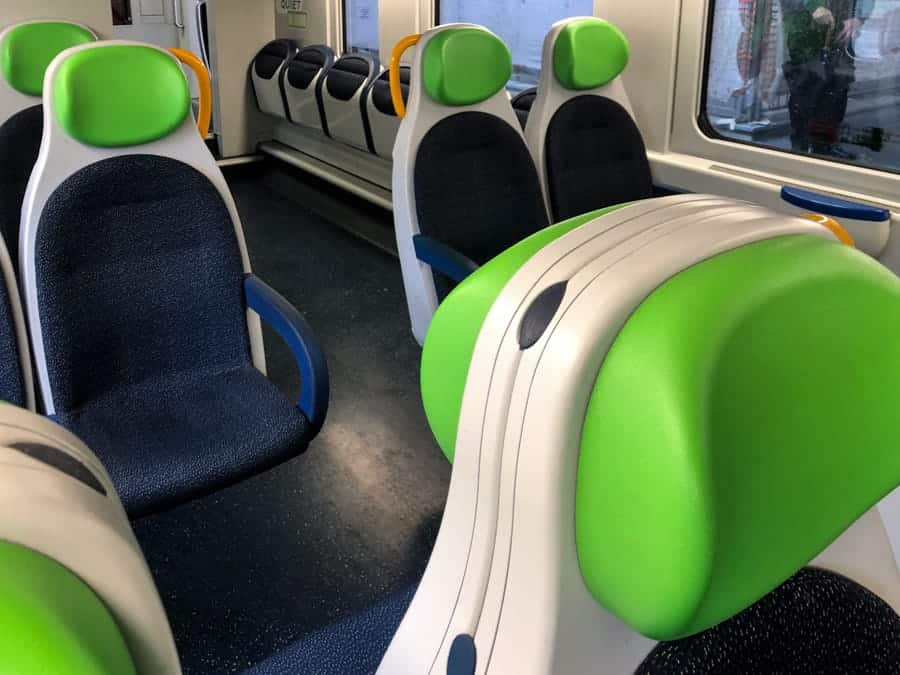 Is there Luggage Storage at Bergamo Station?
Yes, if you head across the street, between the Mcdonald's and the bus station are some lockers where you can store luggage.
The small ones cost 3 euros for the day and the larger ones cost 4 euros. The large ones are big enough to fit a small suitcase and some other stuff in there.
Is there Food at Bergamo Station?
Yes, there is a small kiosk that sells a range of drinks and snacks. You can also purchase tickets from the little shop.
Opposite the station, there is a large McDonald's that can provide a quick meal if you're unable to find something somewhere else.

Getting Back to Milan from Bergamo
Getting back to Milan from Bergamo is pretty straightforward as it is the same route but opposite and the trains run regularly.
To purchase a ticket, there are several options available and you can use the machines that are in the main concourse of the station.
Go to the little kiosk that sells various snacks and goods as well as train and bus tickets or you can go to the main ticket office that is located left of the shop if you are facing the station.
You will need to validate your ticket before boarding the train and there are several validation points around the station.
Final Thoughts on my Trip to Bergamo from Milan
Getting from Milan to Bergamo is super easy, especially if you follow the steps above. I highly recommend taking the trip and enjoying a day in Bergamo as it is such a wonderful city and you will find a lot of different things to do in Bergamo.
You can also find cheaper accommodation in Bergamo than the options you may find of places to stay in Milan.
Click here if you're looking for how to get from the Bergamo Airport to the city or if you're looking for detailed instructions about how to get to Gewiss Stadium.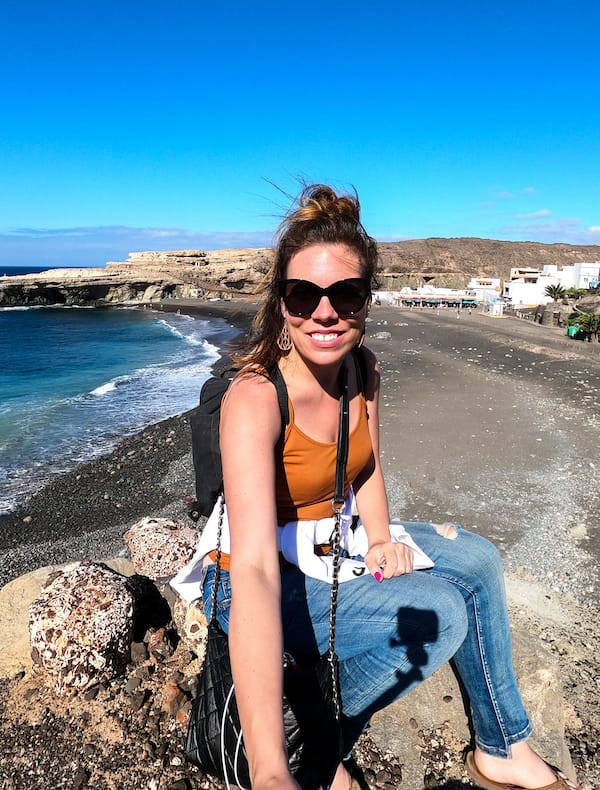 Megan is a travel blogger and writer with a background in digital marketing. Originally from Richmond, VA, she now splits her time between Frankfurt, Germany and Arctic Finland after also living in Norway, Armenia, and Kazakhstan. She has a passion for winter travel, as well as the Nordic countries, but you can also find her eating her way through Italy, perusing perfume stores in Paris, or taking road trips through the USA. Megan has written for or been featured by National Geographic, Forbes, Lonely Planet, the New York Times, and more. She co-authored Fodor's Travel 'Essential Norway' and has visited 45 US states and 100+ countries.