One of the most popular day trips from Milan is the world-famous Lake Como.
The stunning Italian lake and region have garnered a reputation for being the playground of the rich and famous over the years.
This is a guide on how to get from Milan to Lake Como by train.
More specifically, Milan Cadorna to Como Nord Lago.
Getting from Milan to Lake Como by Train
Getting to the town of Como on the edge of Lake Como is a simple trip although it is important to pay attention to which stations you are departing from and arriving to.
The Italian train system is brilliant and incredibly affordable (no matter how many complaints you hear… their trains work and run unlike where I am from in the United States).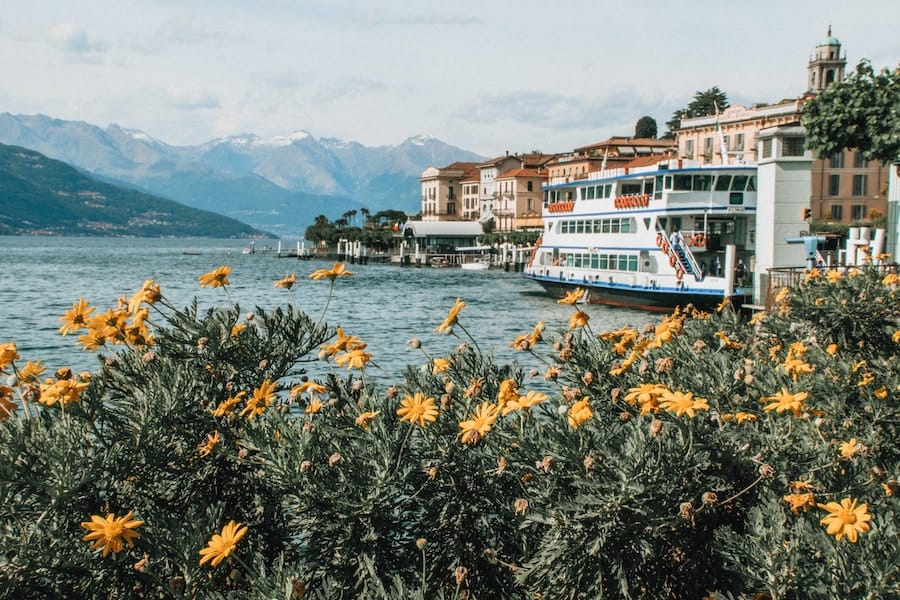 The trains in Italy are mostly very modern, clean, and usually speedy and on time. They are a great way of getting around Italy where gas prices tend to be pretty high.
This is a step-by-step guide from getting from Milan to Como, your gateway to Lake Como.
Milan Cadorna to Como Nord Lago
Lake Como is the playground of the rich and famous made notably popular by George Clooney and company frequenting the lake to stay in villas from WIMCO and other companies along its mountainous coast. It is not hard to see why… trust me.
I hadn't really given much thought to visiting Como on this trip as I was keen to visit lesser-known areas of the region and I didn't want to break the bank with a visit there.
However, when my B&B in Varese messaged me a few days prior to my trip asking if I could check in later, I decided to make the trip there as I had a lot more time freed up.
It was much easier to get to Lake Como by train from where I was in Milan, so that is what I decided to do. You can also get to Lake Como as an organized day tour from Milan.

Arriving at Milan Cadorna Station
For a direct train to Como Nord Lago Station, you will need to head to Milan Cadorna station, a smaller station located slightly west of the center of the city.
Getting there from Milan Central station is simple- you just need to take the M2 (green) metro line in the direction of Assago/Abbiategrasso where you will alight at Cordona FN.
The journey takes around 10 minutes and a metro ticket one-way costs €2 (updated 2022) and can be purchased at a kiosk in the station.
Be warned- there are often huge lines for metro tickets during busy periods.

Is there Luggage Storage at Milan Cadorna Station?
No. This is a suburban station and there aren't any luggage storage facilities available for travelers. However, if you are reaching the station via metro from Milan Central Station, you can store your luggage there.
Prices vary depending on the amount of luggage and the time you need to store it.
Is There Food at the Milan Cadorna Train Station?
There is no shortage of food in and around the station so you will not go hungry.
Most of the places also offer a to-go service where you can buy drinks and snacks for the journey.
If you are needing a coffee, there are little coffee shops where you can grab a quick espresso.
Buying a Ticket to Lake Como from Milan
There are multiple ways to purchase tickets for your train to Como. You can use one of the many machines that are available in multiple languages and there is normally an assistant available to help you if you get stuck.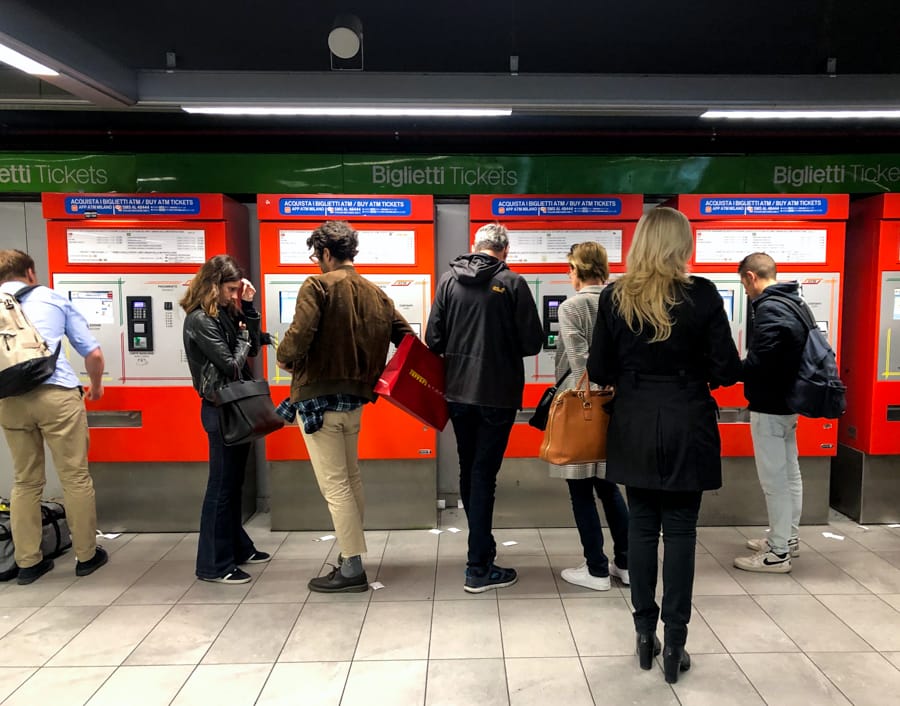 There are also ticket offices and small shops that will sell you tickets for both trains and buses.
Otherwise, you can buy them online but you will need to know the train company that operates the line that you will be going on.
I, personally, find purchasing the tickets from the machines the easiest and quickest way.
When you are at the machine you need to do the following:
Find a TrenNord ticket machine. These are the only ones where you can purchase tickets to Como.
Select your destination (Como Nord Lago). There are several Como options but this one puts you right next to the lake. If a direct train to Como San Giovanni station is available from your point of departure, that will work too. You will need to walk around 10 minutes through the lovely town of Como to reach the Lake.
Pick your train. They go nearly every hour… so just pick the quickest and most direct one.
Select the way you wish to pay: cash or card. I paid with a card as it was more convenient.
Collect your printed ticket and change if you paid for your ticket(s) with cash.
Validate your ticket before getting on the train.
How Much is a Ticket to Como from Milan?
The ticket prices change subject to the option you choose; however, you should choose the €4.80 one-way option.
The ticket is a second-class fare and you can purchase a first-class ticket instead… but I really didn't see much difference between the two classes and as the trains are fairly modern the second class was just as nice.

How to Take the Train to Como Nord Lago
The struggle I had was finding a place to validate the ticket. Turns out, it's right next to platform three which was where my train departed from.
Once you have validated your ticket, you can simply hop on to the train and sit and wait for it to depart.
Cadorna is the starting point of the train, so it should be sitting there waiting.
If your train departs from platform 3 like mine did, you will find it to the very left of the row of platforms and can enter through large open barriers next to the ticket validating point.
The Train Journey to Como Nord Lago
The journey to Lake Como is incredibly scenic as you head out of Milan into the foothills of the Alps. The journey lasts around an hour and as you stare out of the window, the time will fly by.

Is there Luggage Storage at Como Nord Lago Station?
No, there is no luggage storage at Como Nord Lago. The station is literally just two platforms with a small ticket office and a little shop.
There are toilets at the entrance of the station.
There are plenty of hotels along the lakeshore which should hopefully be able to take any luggage you may want to drop off.
However, if you are planning to return to your Milan accommodation that day, I would leave anything you don't need in Milan.
Is there Food at Como Nord Lago Station?
Nope, there is only a small kiosk that sells some chocolate bars and stuff.
However, you are close to plenty of restaurants and food places in the nearby vicinity where you can enjoy some pasta or pizza.
I really enjoyed the restaurant La Griglia, which is set back from the lake but close to the station. They made an awesome risotto.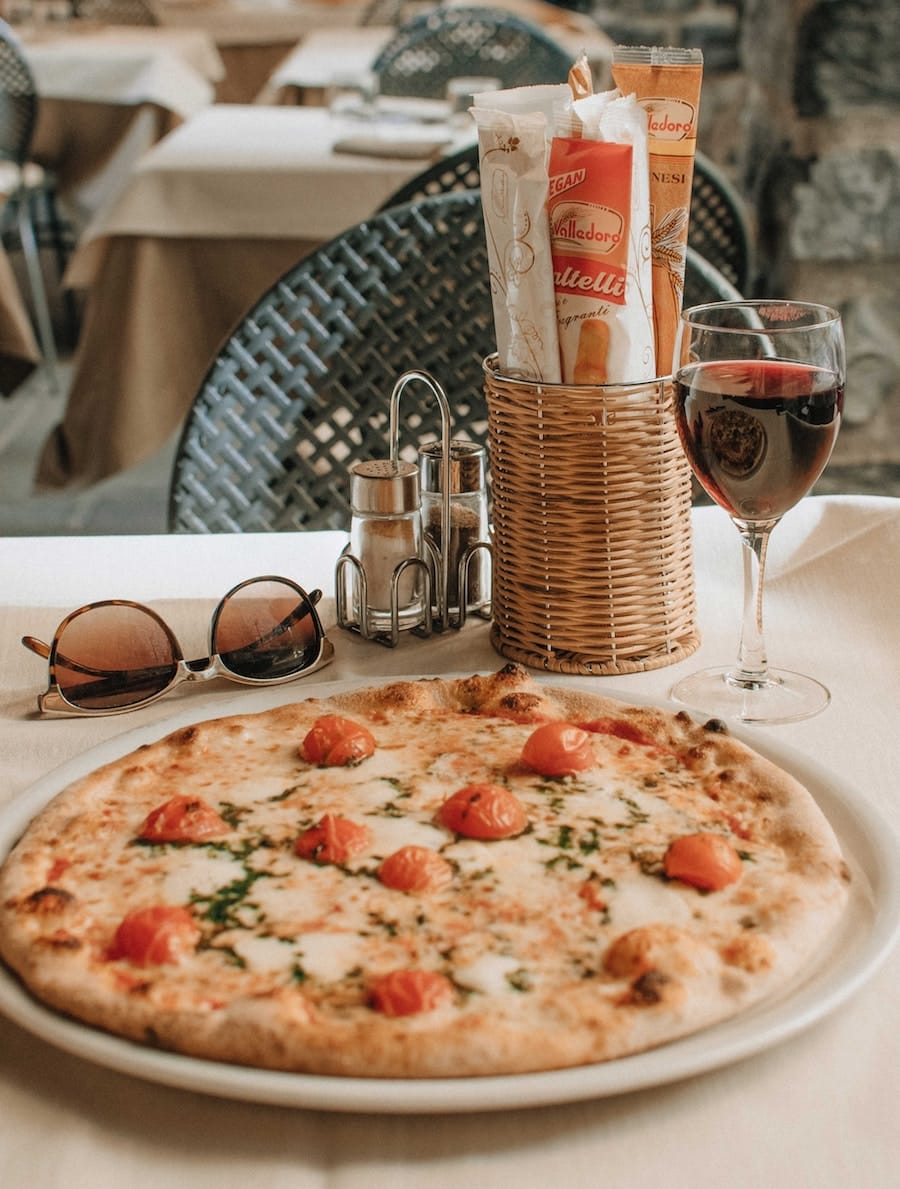 Getting Back to Milan from Lake Como Nord Lago
Getting back to Milan from Lake Como is very easy and is just the reverse of how you got there after you've explored all the wonderful things to do in Lake Como.
The journey is a popular route, so you will see plenty of people heading back to Milan. Ticket machines and counters are available in the little station building.
Make sure to validate your ticket before boarding the train.

Final Thoughts on my Trip from Milan to Como
Getting to the Como is extremely easy if you follow the steps outlined above.
The simple journey makes arriving in the beautiful town stress-free and prepares you for a relaxing day of exploration at one of the most famous lakes in the world.
Any other places on your itinerary? Click here to see our Milan to Turin guide.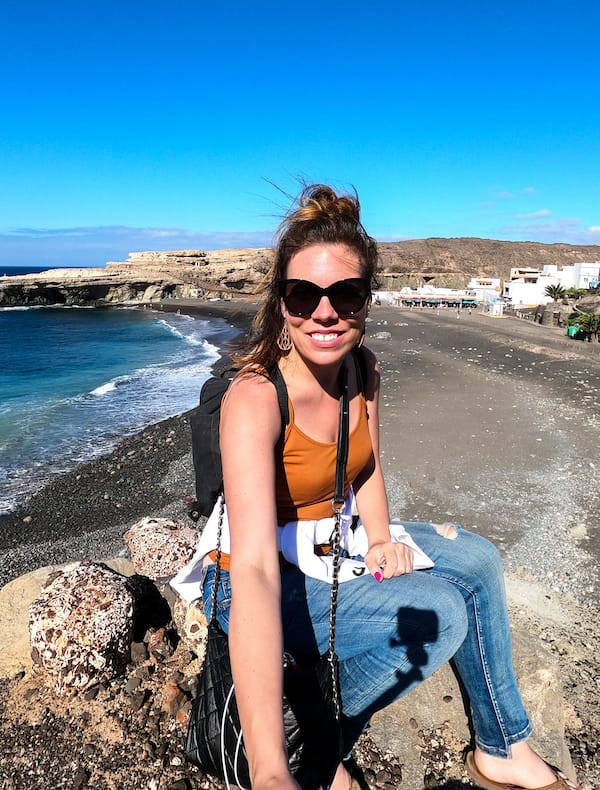 Megan is a travel blogger and writer with a background in digital marketing. Originally from Richmond, VA, she now splits her time between Frankfurt, Germany and Arctic Finland after also living in Norway, Armenia, and Kazakhstan. She has a passion for winter travel, as well as the Nordic countries, but you can also find her eating her way through Italy, perusing perfume stores in Paris, or taking road trips through the USA. Megan has written for or been featured by National Geographic, Forbes, Lonely Planet, the New York Times, and more. She co-authored Fodor's Travel 'Essential Norway' and has visited 45 US states and 100+ countries.