Are you searching for the best things to do in Cinque Terre, Italy? This guide covers the top Cinque Terre attractions, tours, and more!
Are you planning your trip to Cinque Terre last minute?
If youʻre booking your trip to Cinque Terre last minute, we have you covered. Below are some of the top tours, hotels, and more!
🇮🇹 Top Experiences and Tours in Cinque Terre:
🛏️ Top Hotels in Cinque Terre:
MADA Charm Apartments (luxury)
Real Rooms (budget)
🚗 Looking to travel around the Cinque Terre independently? Click here to check Italy rental car rates!
The Cinque Terre is a bucket list destination for so many people! And, rightfully so!
This guide will detail the top Cinque Terre landmarks – from popular beaches to trails that can't be missed!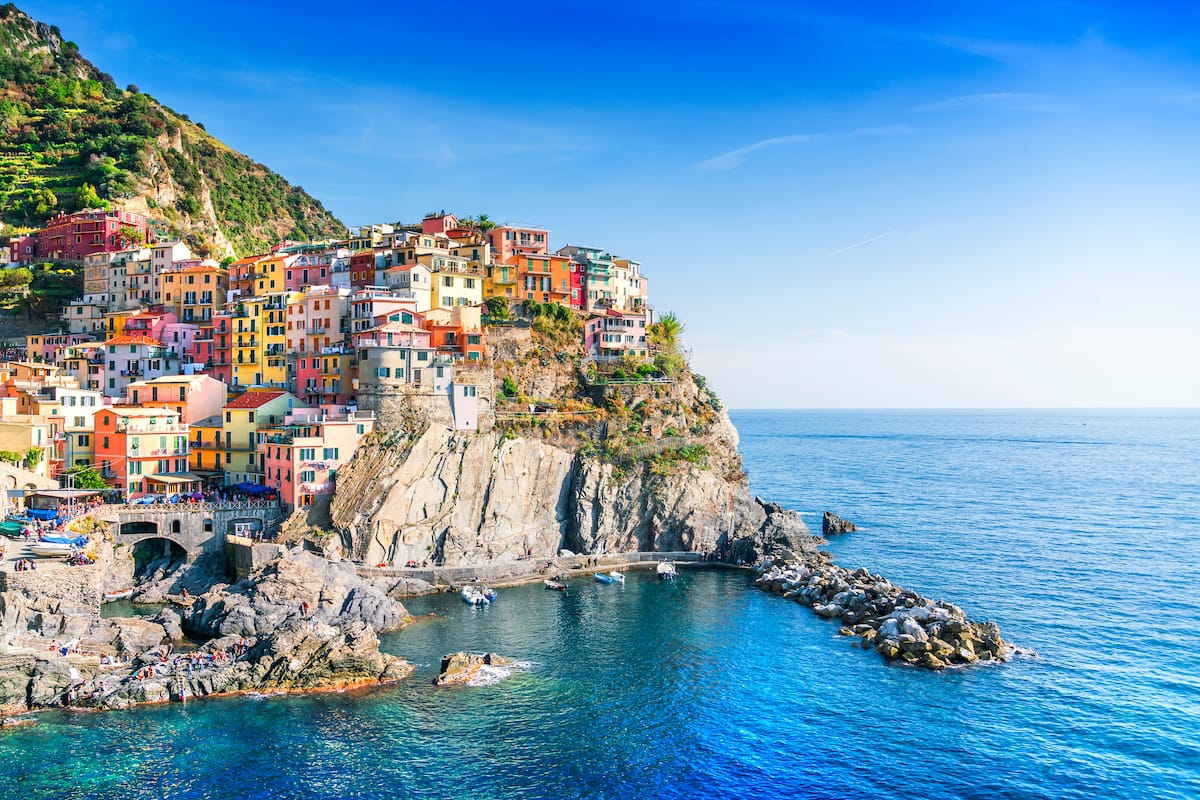 Do you have any suggestions for what to do in Cinque Terre? Let us know in the comments!
Best Cinque Terre Tours (to Maximize Your Time!)
If you're looking for something more organized when in the Cinque Terre and the surrounding area, here are some awesome Cinque Terre tours and experiences you should check out.
These tours will help you maximize your time, which is especially important if you only have a short amount of time in the region! We listed a variety so that you can pick which one is most suitable for you (and many include multiple places!):
Best Things to Do in Cinque Terre
1. Take a Cruise to Porto Venere, Monterosso, and Vernazza (Our Top Pick!)
Duration: 8 hours
Meeting Point: Molo Italia Harbor in La Spezia
Language: English, Italian
⛵ CLICK HERE TO BOOK
The top-picked cruise and boat trip around the Cinque Terre is an 8-hour excursion from La Spezia taking you all the way to Porto Venere, Monterosso, and Vernazza.
This round-trip ride will allow you to be in awe of the Cinque Terre's stunning beauty while getting to explore some of the towns that make up this coastal area.
In Porto Venere, you will have a chance to explore or pass the Church of San Pietro, the Church of San Lorenzo, and Doria's Fortress.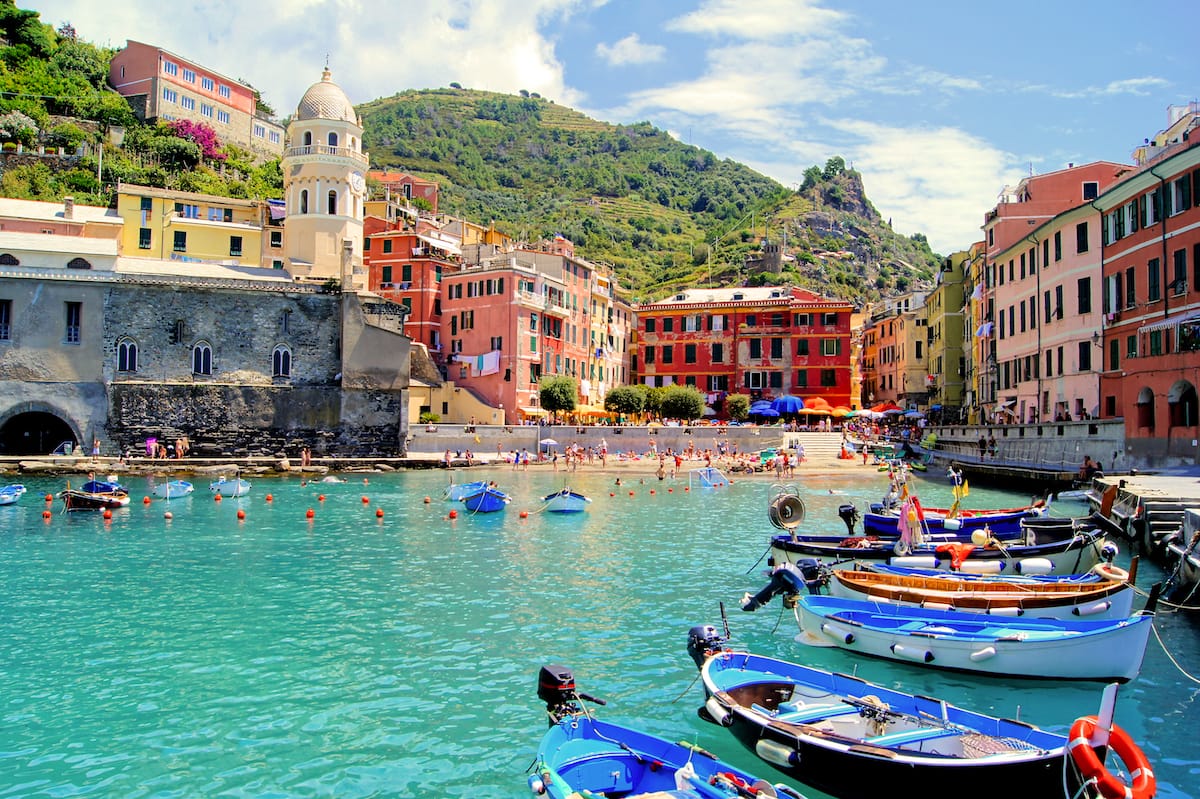 In Monterosso, you can check out the Medieval town and its landscapes from Torre Aurora.
And finally, in Vernazza, you can peruse the village and see its beautiful fortification system. Vernazza is colorful and such a photogenic place!
Food and drinks are not included, nor is hotel drop off and pick up. But, this tour is one of the best-sellers and such great value for money!
>> Click here to check boat trip rates and availability
2. Check out the Blue Path (Sentierro Azzuro)
One of the main focal points of the Cinque Terre's incredible landscape is the hiking opportunities. The longest trail that stretches 7.5 miles is known as the Blue Path.
To access this amazing trail, all you need is a Cinque Terre card, which can be purchased online or at centers along the trail.
The cost of the card is €7.50/day and well worth it. There are several parts of the trail that are worth highlighting that correspond to different villages encountered along the way.
The first section of the trail connecting Riomaggiore and Manarola is about 0.5 miles and takes around 15-30 mins.
It takes you through an old railway tunnel that passes through the foot of the mountains with a tranquil and beautiful view.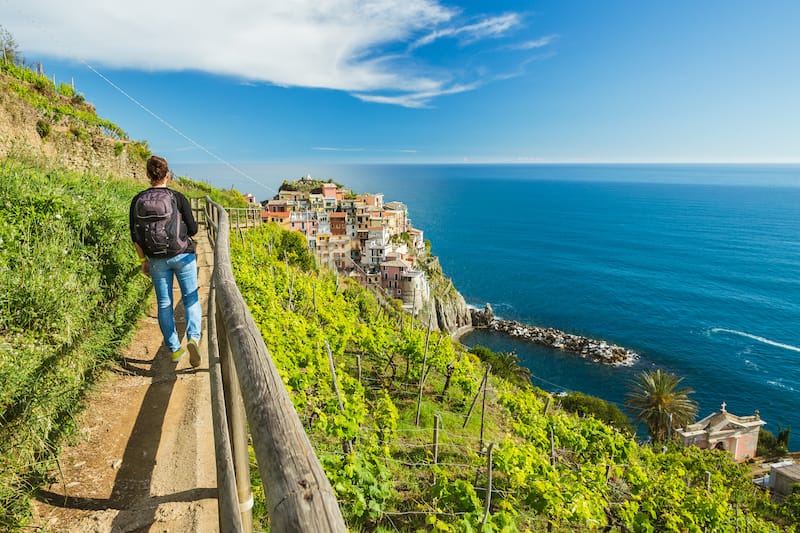 The second trail along the path is the trail connecting Manarola and Corniglia which spans about 1.2 miles. It takes around 40-60 mins and takes you to the Corniglia railway station.
This path, similar to the previous route, includes scenic views of the lower mountainside. The third trail connects Corniglia to Vernazza and is approximately 2 miles long.
Take a 70-100 min walk through the hilltop forest to view the stunning greenery and panoramic views overlooking the Riviera.
The final trail connects Vernazza and Monterosso al Mare and is about 80-120 mins through the groves. This comfortable and quiet 2-mile walk is the perfect final destination of your journey through the Blue Path.
3. Go on a Riomaggiore Vineyard & Wine Cellar Tour
Duration: 2 hours
Meeting Point: Cinque Terre point
Language: English, Italian
🍷 CLICK HERE TO BOOK
If you are interested in seeing the winery lifestyle of the Cinque Terre, then Riomaggiore is the way to go. This is a guided tour of the beautiful cliffs of Riomaggiore, overlooking the Italian Riviera.
Located 250 meters above sea level, the town of Riomaggiore is beset by colorful cliffside homes and vineyards where the winemakers integrate history and modern science into their wines.
The tour includes intricate winemaking of carefully crafted wines while being guided by a knowledgeable tour guide who is offered in both English and Italian.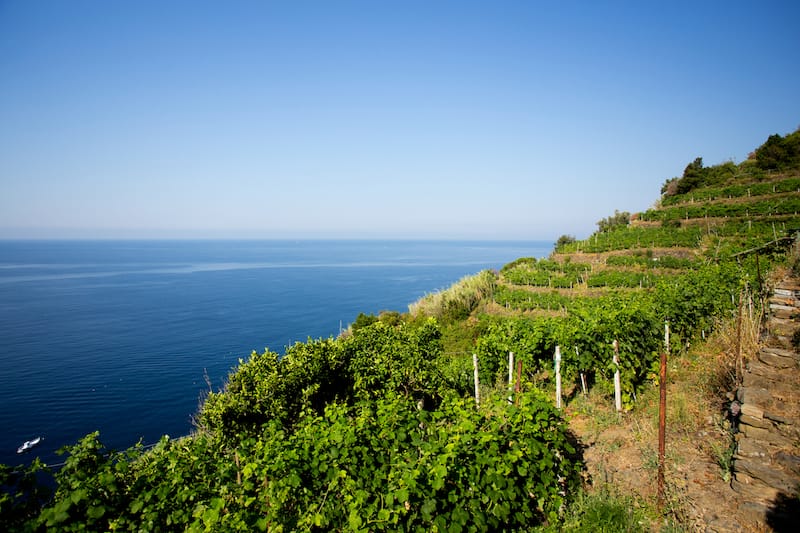 For the low cost of $76 per person with an 8-person limit, you can enjoy this 2-hour wine tour and tasting of some of the best wines in the region.
This tour integrates the culture and tradition of one of the most beautiful towns in the Cinque Terre, Riomaggiore, with a long history of winemaking throughout the region.
>>Click here to check wine tour rates and availability
4. Explore Monterosso al Mare Beach
This beach is a must for every Cinque Terre bucket list! With one of the most beautiful coastlines in the world, there are so many options for beaches, one of which is Monterosso al Mare Beach.
It is an attractive town with rolling hills, great restaurants, and a booming nightlife. It is also home to one of the most romantic hotels in the Cinque Terre, Porto Roca.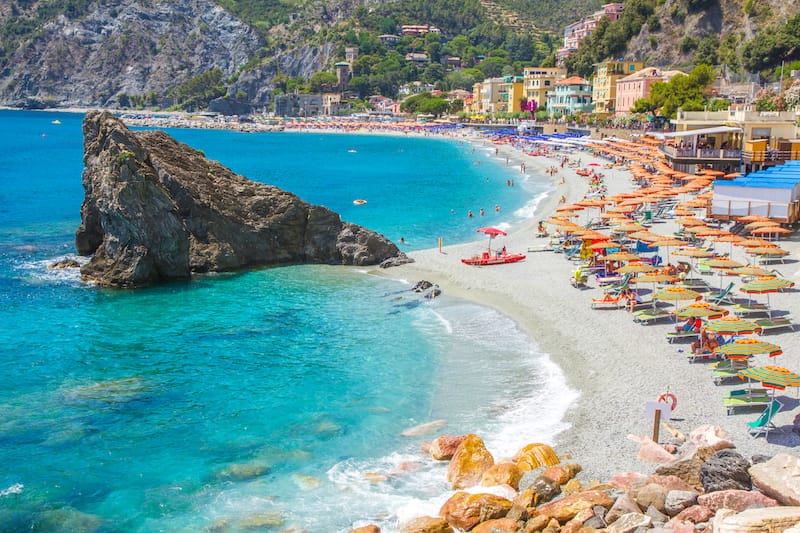 In case you are interested in a beach without an entrance fee, you may want to look into Levanto, which is also located nearby.
However, visiting the town is a must, and so is visiting the eatery Il Fornaio, where you can eat delicious focaccia while looking at the view of the waterfront.
5. Take a Pasta and Tiramisu Class in Riomaggiore
Duration: 3 hours
Meeting Point: Riomaggiore
Language: English, Italian
🍝 CLICK HERE TO BOOK
While in Riomaggiore, when looking for an activity to do with the whole family, a cooking class is a great option.
We recommend a pasta and tiramisu class where seasoned local chefs welcome a small group to guide them through pasta making while they enjoy complimentary drinks and sparkling wine.
This takes place in the private homes of trained chefs as a half-day class offered in English and Italian. It is rather costly, so if you are looking for a more wallet-friendly option, this may not be the one for you.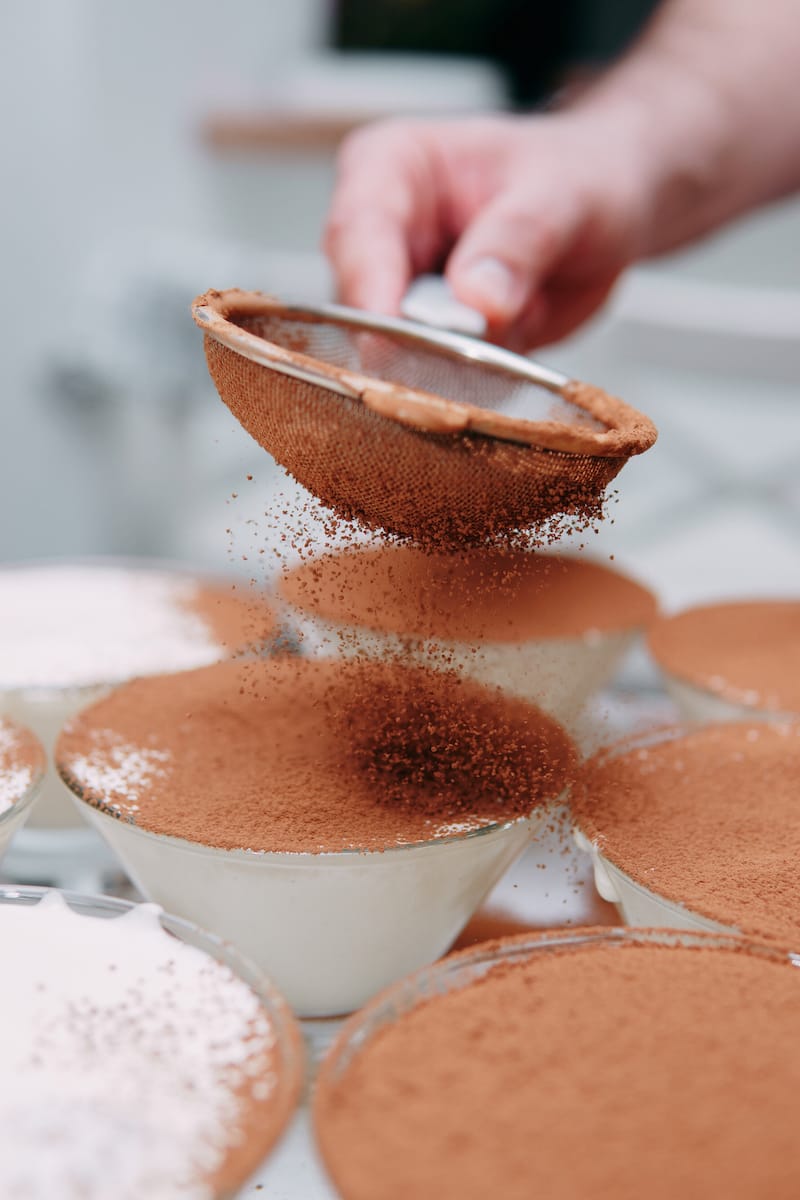 Despite this, it is well worth the money and the valuable experience you get out of the class.
Learning the culinary aspect of the Cinque Terre in a hands-on environment is a great way to truly understand the culture of the Cinque Terre and what makes this region so special.
>>Click here to check pasta class rates and availability
6. Discover Porto Venere
Overlooking the Gulf of La Spezia, the seaside setting of Porto Venere, characterized by Ligurian cuisine and historic landmarks, is often called the 6th village in the Cinque Terre.
If you plan to go here, make no mistake, this is not your typical tourist destination. During the day, it's bustling, but in the evening, it is described as having a tranquil atmosphere.
Porto Venere is wonderful for all types of adventures, day and night. It is a UNESCO World Heritage Site and is home to a castle from the Middle Ages overlooking the rocky cliffs.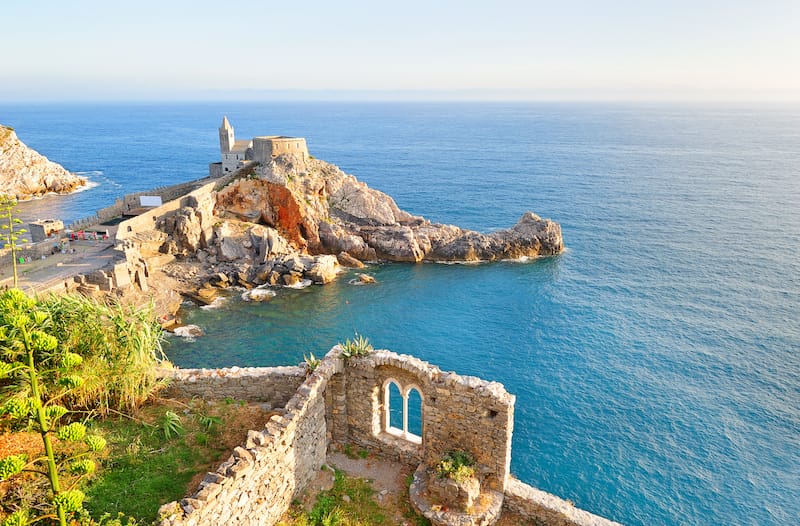 Additionally, the natural setting of the jagged coastline makes it wonderful for natural landforms such as Byron's Cave, which is a popular spot for photos and swimming opportunities.
At the end of the day, coming home to a place where you can rest and feel at home is most important.
That's why many five-star hotels are scattered throughout Porto Venere and are conveniently located at some of the finest restaurants in the region.
One of which is Palmaria Restaurant, the place to experience authentic cuisine with fresh seafood made by highly experienced chefs as you sit back and watch the sunset over the horizon.
7. Eat Dinner at Fuori Rotta Restaurant
Another wonderful dining opportunity in Riomaggiore is Fuori Rotta. This restaurant offers a seasonal menu and a tasting menu that is made of organically sourced ingredients from around the region.
Fuori Rotta is a loving and personable dining experience with a rooftop terrace view of the coast. The restaurant describes its offerings as "when creativity and culinary flair meet the land."
Fuori has delicacies that are decorated ornately and curated perfectly for the best taste. They also offer artisanal, organic, and natural wines sourced from right in Riomaggiore's vineyards.
While in Riomaggiore, don't miss out and try popular dishes like Scucuzzun, an ancient Ligurian pasta served with basil and fresh vegetables.
As well as Tagliatelle with pumpkin and shredded licorice, flavors that when combined come together to make incredible cuisine.
Address: Via Telemaco Signorini, 48, 19017 Riomaggiore SP
8. Tour the Doria Castle
In the heart of Vernazza lies the Doria Castle. The Doria Castle is dedicated to Obertenghi, a German noble family from the 1500s, and is situated at the highest point in Vernazza.
Once used as a fortress to protect the village from pirates in the 1800s, it's now a popular attraction in Vernazza.
The landmark is one of the main historical aspects that remain from the history of the Mediterranean.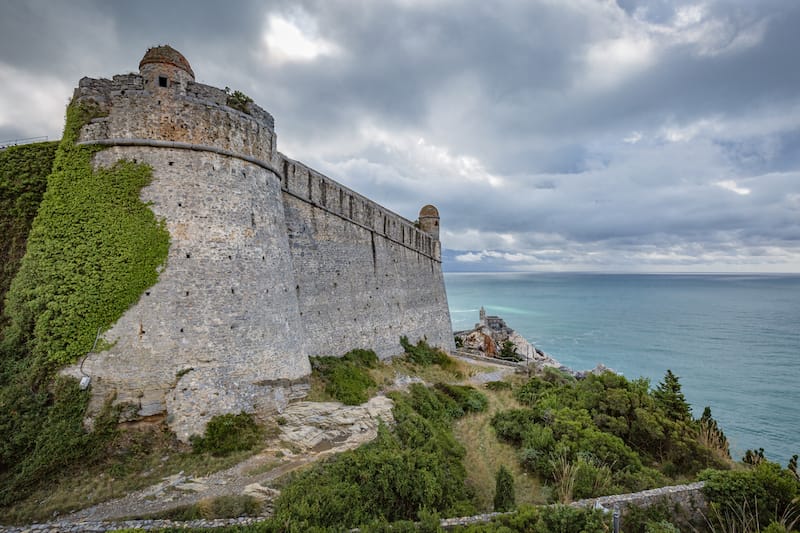 Doria Castle affords spectacular panoramic views over San Pietro Church and the Gulf.
Overall, it is the perfect place to visit to take photos of the castle and learn about its history and significance to the Cinque Terre.
9. Take a Kayak and Snorkel Tour to Punta Mesco
Duration: 3 hours
Meeting Point: Stella Marina Beach Bar
Language: English, Italian
🐟 CLICK HERE TO BOOK
To experience the wildlife of the Cinque Terre, you can take a kayak tour from Monterosso al Mare to Punta Mesco.
This 3-hour tour is $96 per person and is a highlight. It is perfect for anyone looking to explore the marine life of the Ligurian waters.
The Cinque Terre boat tour is guided by an experienced scuba diver who fits you with scuba and kayak equipment upon arrival. No prior experience is required, other than the ability to swim.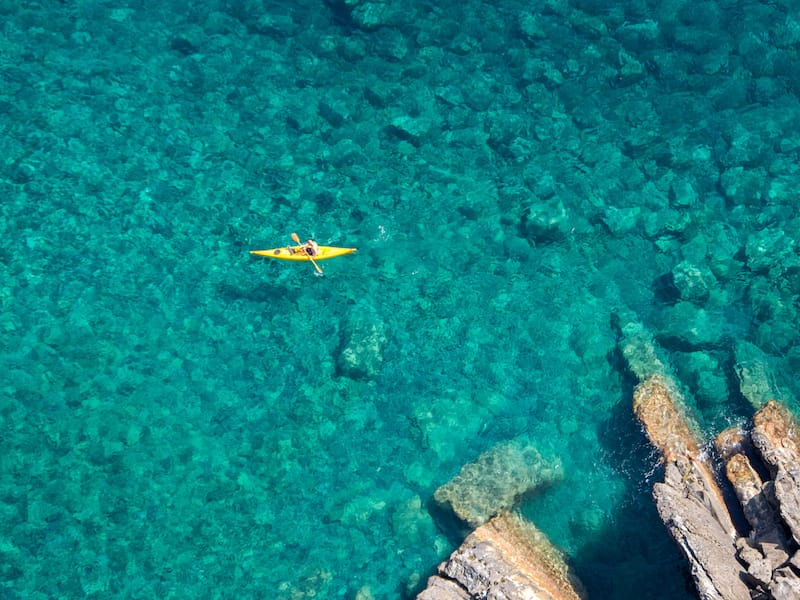 Offered in English and Italian, the tour guide will walk you through the natural seascape of the coast.
All that is expected is that you bring a bathing suit, sunscreen, and all the essentials, depending on whether the weather permits.
This tour is a surreal experience, seeing the native species and taking in the breathtaking seascape of the Cinque Terre.
>>Click here to check kayaking tour rates and availability
10. Enjoy Lunch at Nessun Dorma Restaurante
Off the cliffs of Manarola is the popular eatery Nessun Dorma, founded in 2014 with the idea of putting passion and hard work into creating food.
The menu includes delicious cheese and meat platters made from fresh products collected daily.
The staff has a goal of accommodating all their guests, making Nessun Dorma not just a restaurant but also complete with fully serviced rooms.
They also offer boat tours of Manarolo as well as classes in pesto making from their very kitchen. These classes take place 2 times per day at 10:30 and at 1:30 and have a rich lunch included.
This lunch includes (burrata, parma ham, melon, their fresh bruschetta, foacaccia, and wine).
Nessun Dorma is an integrative dining experience where you are not only experiencing good food, but when you eat it, you can taste the love and care that the restaurant owners have been incorporating throughout their food since the very beginning.
Address: Località Punta Bonfiglio, 19017 Manarola SP
11. Explore the City of Vernazza
Explore the city of Vernazza, home to gorgeous vistas and located in the heart of the Cinque Terre, perfect for hiking the Blue Trail along the coast to Monterosso.
Vernazza was founded in 1000 AD and ruled by the Republic of Genoa since 1276. Vernazza is also home to the Doria castle (mentioned above) and the historic Church of Santa Margherita di Antiochia.
The town of Vernazza, with its beautiful coastlines characterized by colored houses built on the cliffs of Cinque Terre, is surrounded by olive groves that are said to produce the finest olive oil in the country.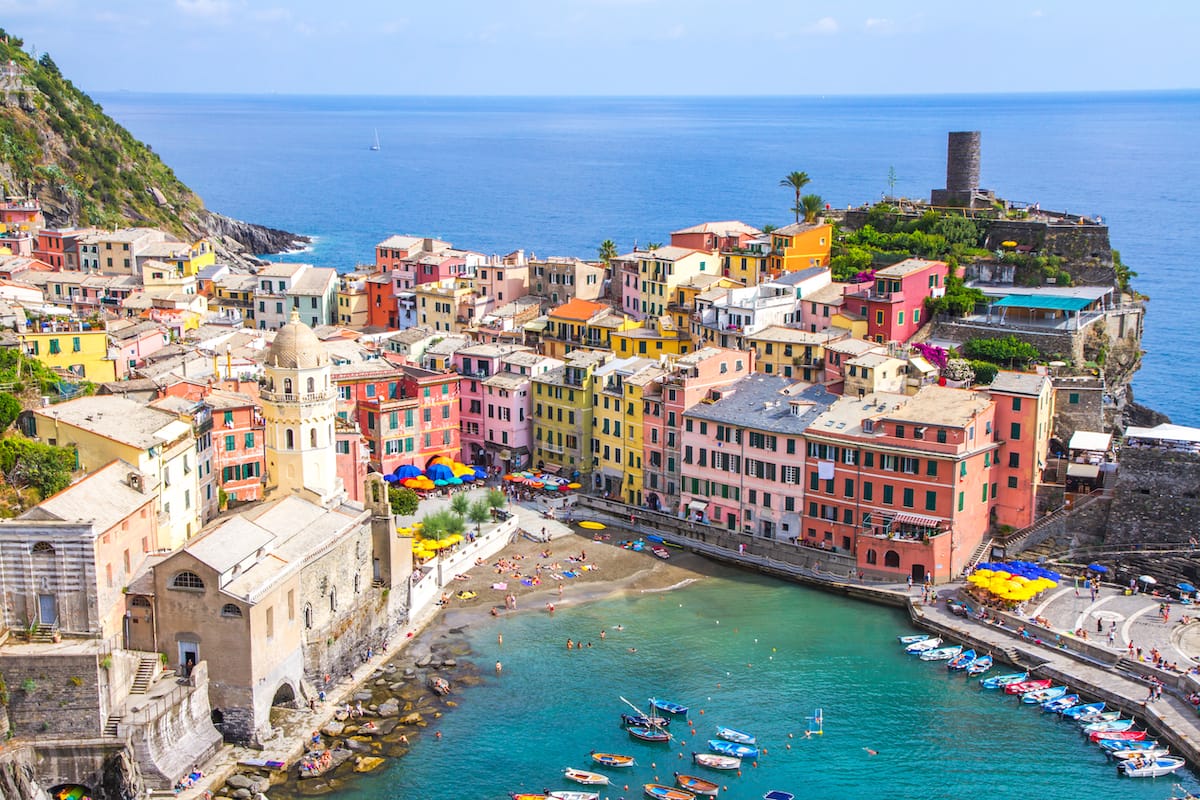 Also, if hiking is not your cup of tea and you prefer shorter distances, a short 10-minute walk up the Blue Trail boasts numerous photo ops with the best views over the water.
Additionally, if you are looking for delicious food, popular restaurants include Restaurante Belforte and Pippo a Vernazza.
If you are looking for a fine dining experience, perfect for special occasions, Ristorante La Torre is a popular option.
Overall, Vernazza is full of all the important stops you have to see to fully experience what the Cinque Terre is all about.
12. Admire Sunset Spots along Cinque Terre
Whenever you visit an area you can't visit without seeing the marveling views at all times of day and night.
That's why coming to the Cinque Terre and finding the perfect spot to sip on some wine and watch the sunset is the perfect evening activity.
In each of the villages, there are different ways that you can see the sunset and recommendations on places to go to better take in the views.
Throughout Riomagggiore, the first village, the left seaside pier near the ferry dock offers a spectacular vista as well as the Riomaggiore castle where you can see the village on your left accented by the sunset on your right.
Whereas, in the town of Manarola, there are the best sunset spots in all of the villages of the Cinque Terre.
These spots can be best viewed from the bar of a popular restaurant, Nessun Dorma the famous Punta Bonfiglio's viewpoint.
Additionally, if you take a 5 min walk to the hill above Nessun Dorma, you will see a spectacular view encompassing the whole Riviera.
13. Travel Back in Time to the Santuario di Nostra Signora Di Montenero
Located in Riomaggiore, 340 meters above sea level, stands the Santuario di Nostra Signora di Montenero, a perfect religious and historical destination for travelers.
The sanctuary can be accessed by trail and is home to a sacred image of the Assumption of the Virgin hanging above the altar.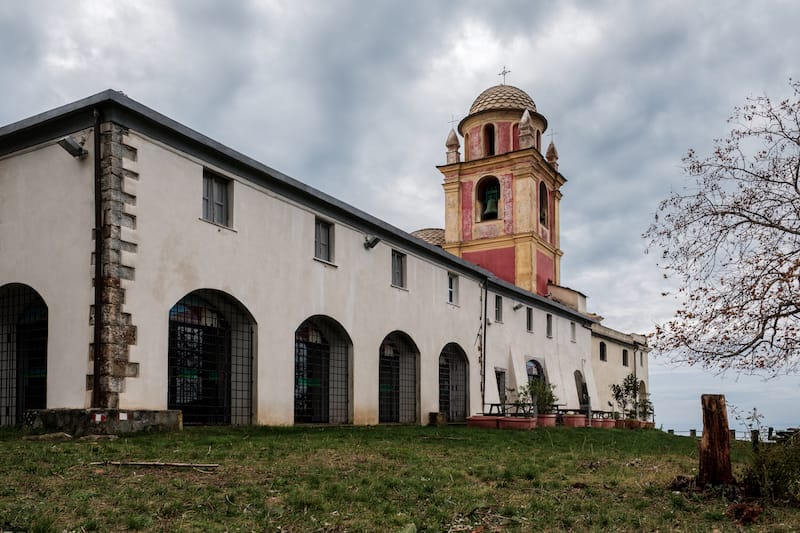 The image was brought there at the dawn of the Middle Ages by Greek refugees fleeing iconoclastic persecution.
According to a legend passed down by locals of Riomaggiore for generations, the image is sacred because the man who first encountered it had a limp, but after coming across the image, he was able to walk normally.
For a small entrance fee, less than the average bus fare, one can travel to see this marvelous sanctuary off the top of the cliffs of Riomaggiore.
14. Try Some Seafood at Osteria A Cantina de Mananan
Osteria A Cantina de Mananan is an eatery centrally located in Corniglia. Characterized by fresh and flavorful seafood, Osteria offers seafood and meat platters, as well as a daily fresh catch.
All the fish is same-day sourced directly from the shores below Corniglia. Osteria has set itself on ensuring that its fish comes from local fishers and their vegetables come straight from their very own garden.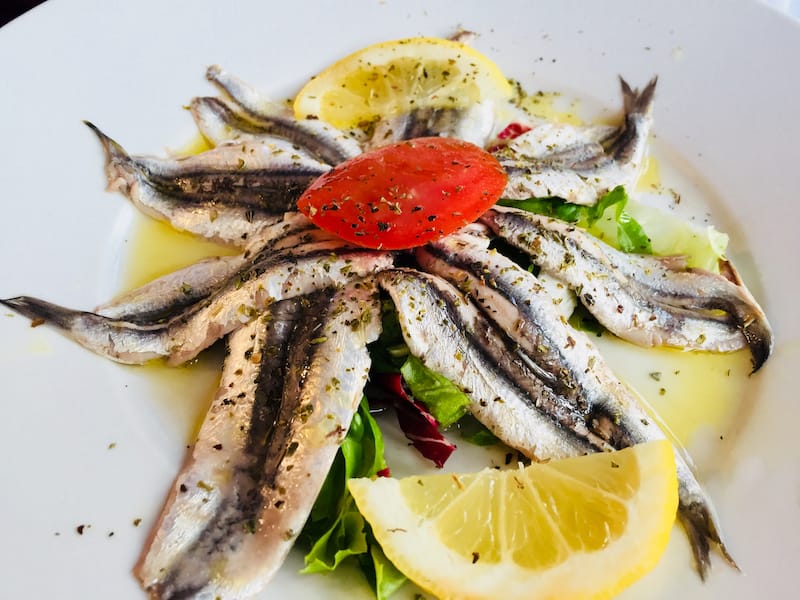 Preparations are simple but packed with flavor; consider grilled and rolled vegetables stuffed with mozzarella, fresh anchovies stuffed with herbs, or the house specialty, coniglio (rabbit) roasted in a white sauce.
A popular dining destination among locals and tourists alike, Osteria offers a home-like atmosphere where the food is made with passion and care.
Address: Via Fieschi, 117, 19018 Corniglia SP
15. Learn How to Make Pesto at a Levanto Pesto Making Class
Duration: 1 hour
Meeting Point: Il laboratorio del Pesto
Language: English, Italian
🍴 CLICK HERE TO BOOK
While staying in Levanto, although technically outside of the Cinque Terre, it is referred to as the "sixth village" of the Cinque Terre.
There are so many amazing opportunities to spend the day or the rest of your stay here. While at the end of your stay or while looking for a nice hour to kill in your day, you should invest in this pesto-making class.
Offered at an affordable price of $41.45 per person, this pesto-making class will teach you the traditional and modern ways of making Ligurian-style pesto.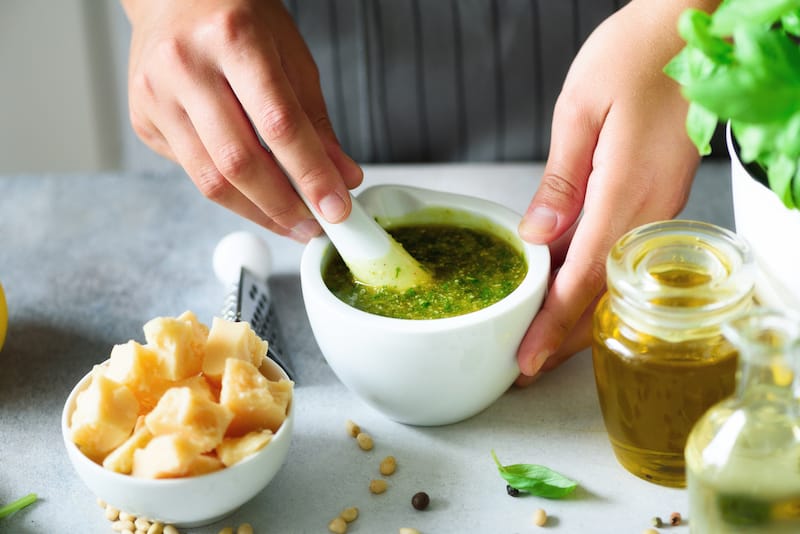 The chef, who has been cooking this renowned pesto since the 1980s, walks you through the process of making pesto the modern way and the historic way by using a mortar.
After making the pesto, you are given munchies to taste-test your pesto, such as olive oil with bruschetta.
This is a great option if you have already eaten lunch or dinner and just want to learn something new and culturally significant about Ligurian cuisine that doesn't take a huge chunk out of your day.
After taking this class, you will come out with a traditional recipe for Ligurian pesto that you can make at home for all your friends and family.
>>Click here to check pesto class rates and availability
16. Indulge in Some Gelato at Gelateria Vernazza
While looking to appease your sweet tooth and get dessert, there are plenty of options, but gelato, an Italian classic, is the most popular option.
In Vernazza, Gelateria Vernazza has gelato, sorbet, ice cream, coffee, and even crepes.
Gelateria Vernazza is a local favorite with flavors such as ricotta and fig, white chocolate and coconut, and even the Cinque Terre special made of white chocolate, mascarpone, and organic forest fruits from Cinque Terre.
Recently, they opened a tasting lab with handcrafted gelatos made fully from scratch in the gelateria.
This tasting lab gives the confectioners the chance to experiment with vibrant and unique flavor combinations and get the customers' opinions.
Overall, get a sweet, creamy treat where their master confectioners incorporate their mantra of 'love, passion, and tradition' into every scoop.
Address: Via Roma, 13, 19018 Vernazza SP
17. Try Authentic Dessert at Alberto Gelateria
A minute's walk from Corniglia's train station is Alberto Gelateria. You will easily find it because of the colorfully decorated door with lemon ornaments.
It has been a popular destination for a quarter of a century. Alberto Gelateria sells gelatos and crepes, as well as specialty fresh drinks.
Their lemon gelato and Ligurian basil sorbet are their specialty. People come from all around to taste the fresh flavors of some of the best gelato in the region.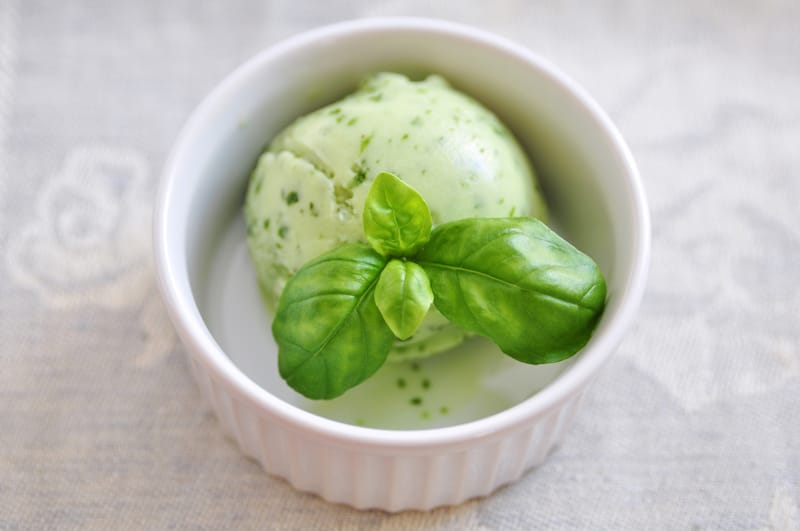 Alberto Gelateria also offers lemon juice if you're up to testing your sour strengths.
Additionally, all of the gelato and sorbets come topped with a wafer for a sweet crunch alongside the many flavor options available.
Alberto Gelateria has been rewarded travelers' choice in customer service excellency every year from 2015-2022.
Address: Via Fieschi, 74, 19018 Corniglia SP
18. Hike in Cinque Terre National Park
The National Park of the Cinque Terre is the perfect place to get exercise while among nature.
Although the smallest national park in Italy (14.9 sq mi) it is a UNESCO World Heritage Site that is integral to the culture and history of the Cinque Terre.
The trails of the national park span the 5 villages of Corniglia, Manarola, Monterosso al Mare, Riomaggiore, and Vernazza.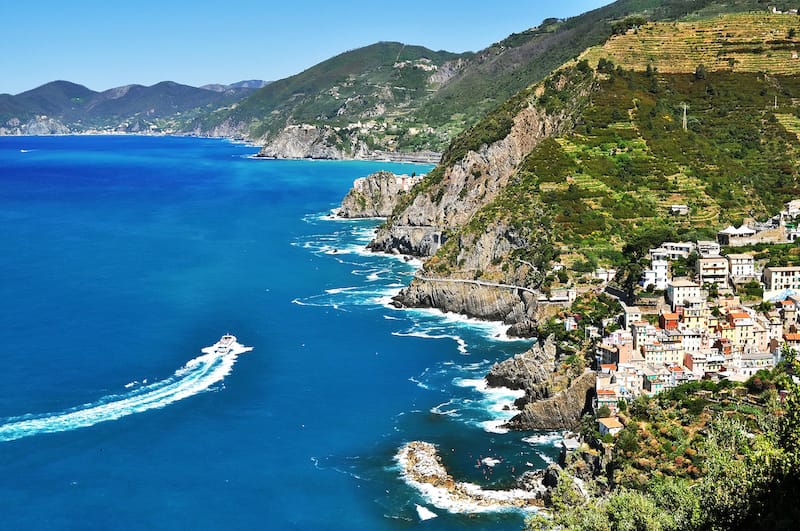 Therefore, the park can be accessed from any of the 5 villages by train or a short walk. With only 5,000 permanent residents, the maintenance and care of the national park is important in preserving the history of the locals and the region.
The Cinque Terre National Park has plenty of great places to sightsee and take photos among its 3 main trails.
The main trails are the Blue Trail (7.5 mi) which spans most of the villages towards the north, the trail from Vernazza to Monterosso al Mare (2 mi), and the Riomaggiore Ring Trail (2 mi).
19. Marvel at the Castle of Riomaggiore
The Castle of Riomaggiore, built in 1620 during the domination of Napolean Bonaparte, the inside of the castle was converted into a cemetery for locals.
The castle is located 450 meters away from Riomaggiore railway station. It is a small fortress with wonderful views of Riomaggiore, perfect for taking pictures of the coast.
For a small entrance fee of 2 euros, you can see this historical castle and take in the breathtaking views of the Mediterranean.
20. Get Fried Seafood at Tutti Fritti
With the coast a quick walk away, you can't come to the famous fishing village of Riomaggiore without trying the seafood.
Tutti Fritti, a restaurant in the center of Riomaggiore serves fried seafood. Tutti Fritti offers an assortment of seafood dishes that you can mix and match to make fried combos.
Popular combos include shrimp, calamari, fried anchovies, and octopus. Tutti Fritti has many options, anywhere from $7-$17.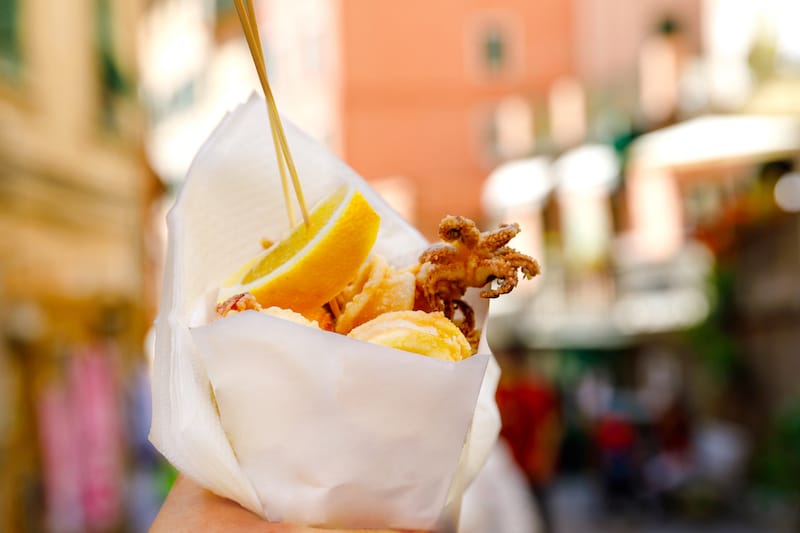 Tutti Fritti is the kind of restaurant where you can get quality seafood quickly on the go as you walk the shore.
The food comes in a variety of sizes but the most popular is the option in a cone to-go, easy to eat, yet unbelievably crispy and perfect for a quick lunch or snack.
Address: Via Colombo, 161, 19017 Riomaggiore SP
21. Visit the Oldest Wine Shop in Monterosso al Mare
Taste and buy wine at the oldest wine shop in Monterosso al Mare, Enoteca Internazionale. Enoteca Internazionale sells local, Italian, and international wine assortments and liquors.
Additionally, they sell extra virgin olive oil sourced from the famous olive groves of Vernazza. The wine shop has wine tasting and hor d'oeuvres to enjoy in the many indoor and outdoor amenities.
You can visit and enjoy a variety of cheeses such as bruschetta served with chutneys while you taste the vast wine selection.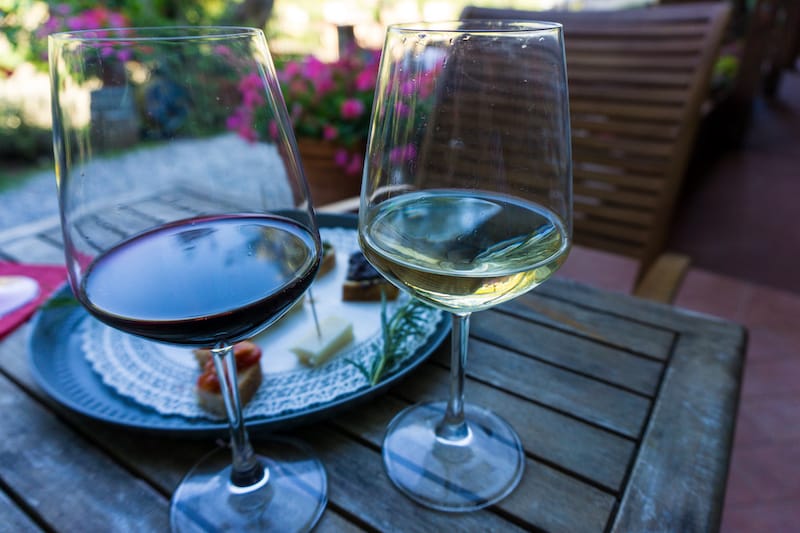 You can also have a light lunch with cold cuts, salads, and traditional dessert offerings to enjoy while you sip.
Enoteca has a selection of more than 500 wines that span from all over the world in places such as South Africa to Australia.
You have the opportunity to taste some of the world's rarest wines picked by their in-house sommeliers.
Address: Via Roma, 62, 19016 Monterosso al Mare SP
Where to Stay in Cinque Terre
If you are looking for the best places to stay in Cinque Terre, here are some of the top options!
Did we miss any of the best things to do in Cinque Terre? Let us know your top picks in the comments!
More Italy Travel Guides
Pin this Cinque Terre Things to Do Guide