Naples is famous for so many things but perhaps it is most renowned for being the home of pizza. And, when visiting, you should definitely book a Naples pizza making class!
This guide will detail my experience at a pizza making class in Naples, why I think you should book one, and exactly what to expect when you do!
I took my Naples pizza making course with Eat and Walk Italy and I booked it through Get Your Guide as they allow cancellations and will send you confirmations and a voucher, making the process seamless.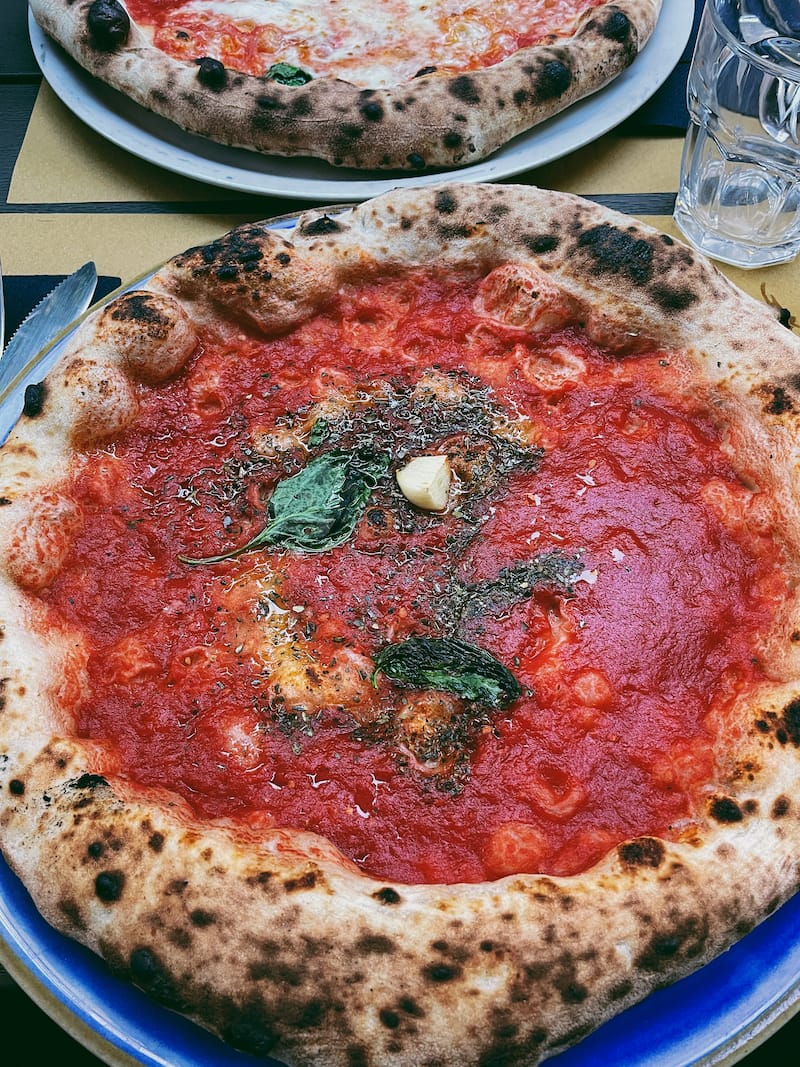 Is there anything you want to know before taking a Naples pizza making class? Let me know in the comments! Thanks!
Should You Take a Naples Pizza Making Class?
Yes! So, I actually don't do a lot of cooking these days, but I do try to take cooking classes in Italy whenever I go there.
I don't have a lot of patience for making dough, but my partner does and he loves making homemade pasta and pizza whenever he gets the chance.
However, neither of us ever had any refined training (or insider tips!) to really learn more about the process and the tricks to making a delicious pizza.
BOOK HERE: Pizza making class in Naples
We signed up for a Naples pizza making class on our last trip there to kind of learn these secrets… and because it was a super affordable rainy day activity.
While Naples has incredible weather during the summer months, the winter leaves something to be desired and you will want to plan some extra activities to keep occupied during the stormy season! A pizza course was one of those activities for us.
This post will detail my experience at this pizza making course in Naples, what I think you should know before, and how to book the exact one I took when there!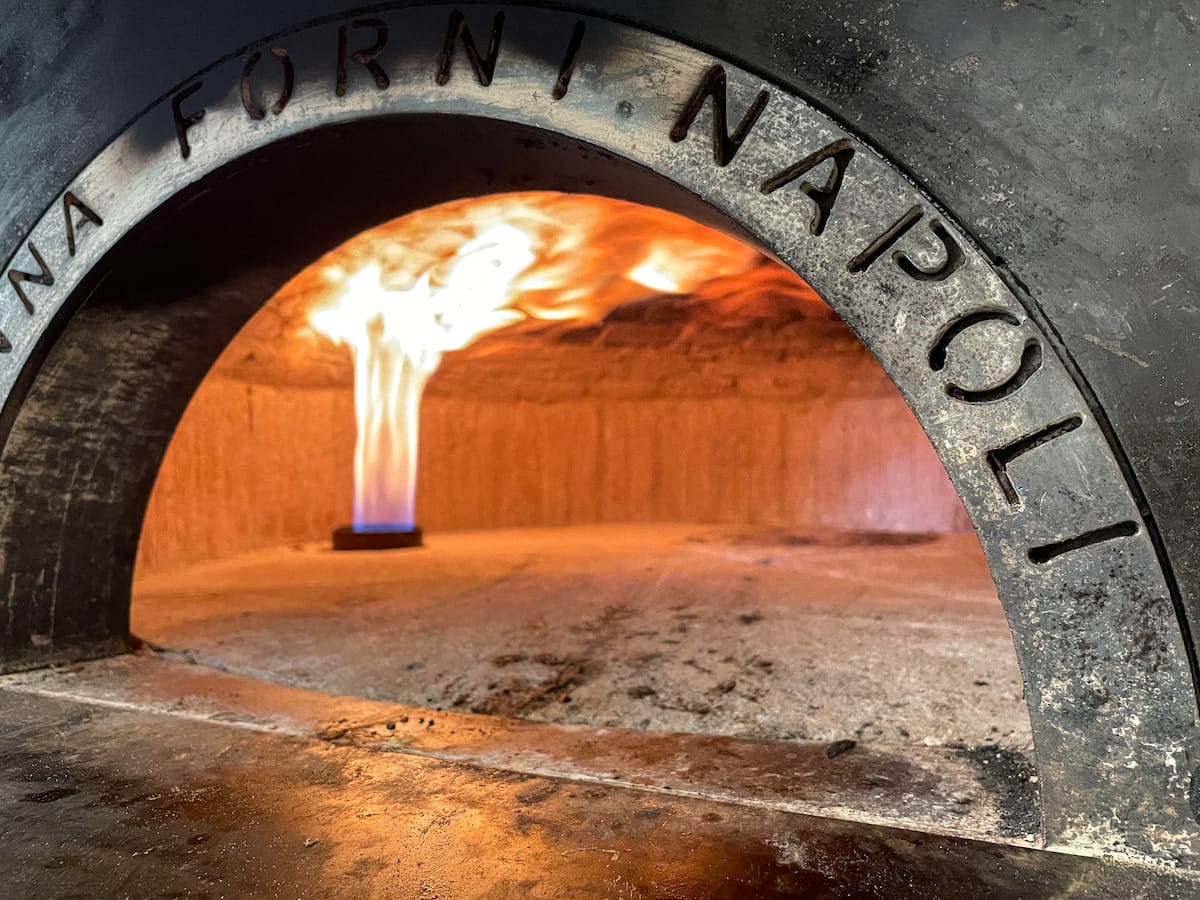 How to Book a Pizza Making Class in Naples
As mentioned before, I booked this Napoli pizza making class with Eat and Walk Italy through Get Your Guide.
I use Get Your Guide for all of the cooking courses I book around Europe as they have great relationships with the partners and only work with the best ones.
They also allow last-minute cancellations if something happens (which is quite common these days post-pandemic)!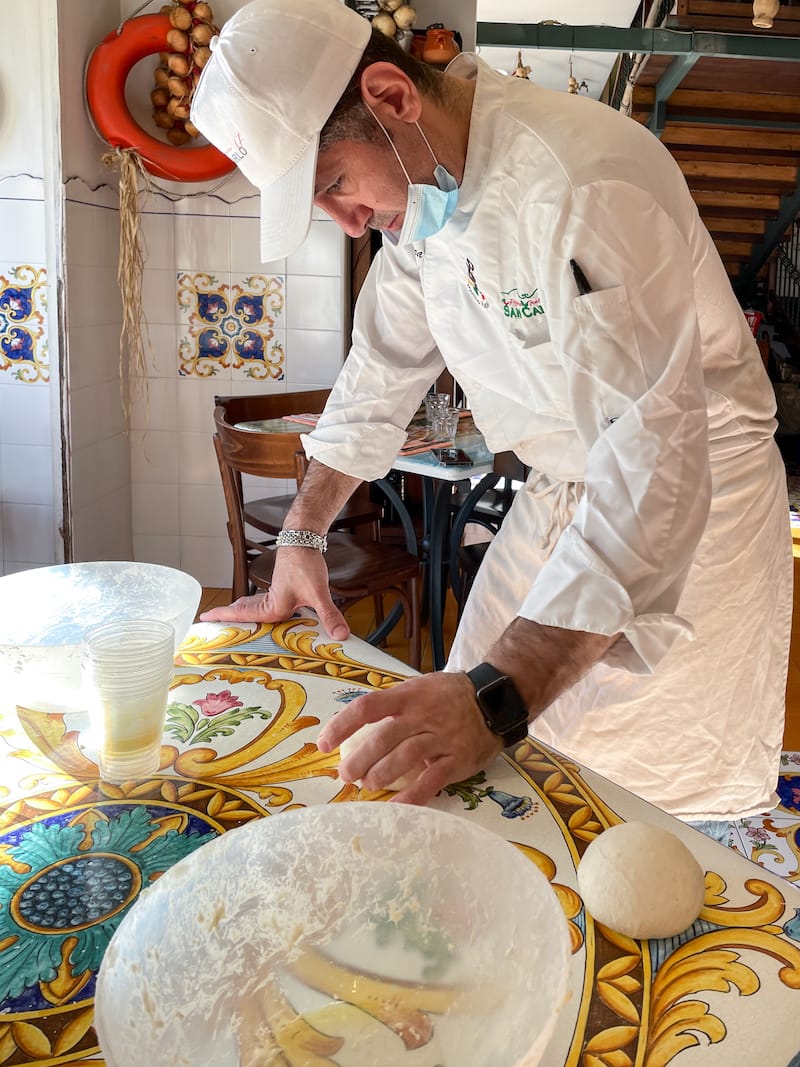 This is a small group course that is limited to ten people, making it an amazing thing to do in Naples for small groups (or couples).
Since I took this in winter, we were the only two in the class! But, it does sell out quickly during the high season, so book ahead!
Book your pizza making class here!
Naples Pizza Making With Eat and Walk Italy Review
Duration: 2 hours (arrive at least 10 minutes early)
Meeting Point: Restaurant at San Carlo 17
Language: English, Italian
CLICK HERE TO BOOK!
To be honest, I had no idea what to expect walking through those doors! I have taken plenty of cooking classes throughout the years but never a pizza making one! And, especially not in Naples, the home of pizza!
When we walked in, everyone was super friendly and it was prior to the restaurant opening, so there were no guests inside. Only us and a few of the staff!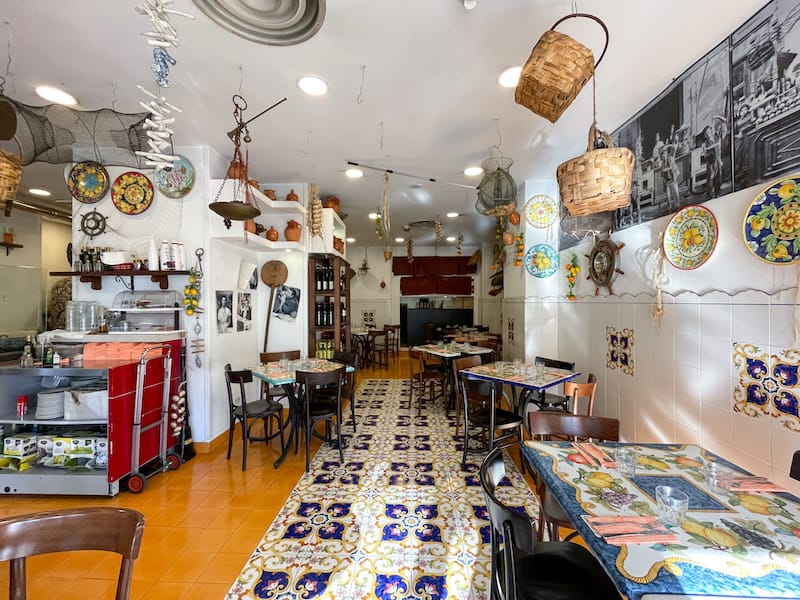 The pizzaiolo was setting up the table for us and had everything already prepared and laid out.
It was so nice to come somewhere that was organized and seemed to be waiting to give us a demonstration (and the pizzas we were about to make!).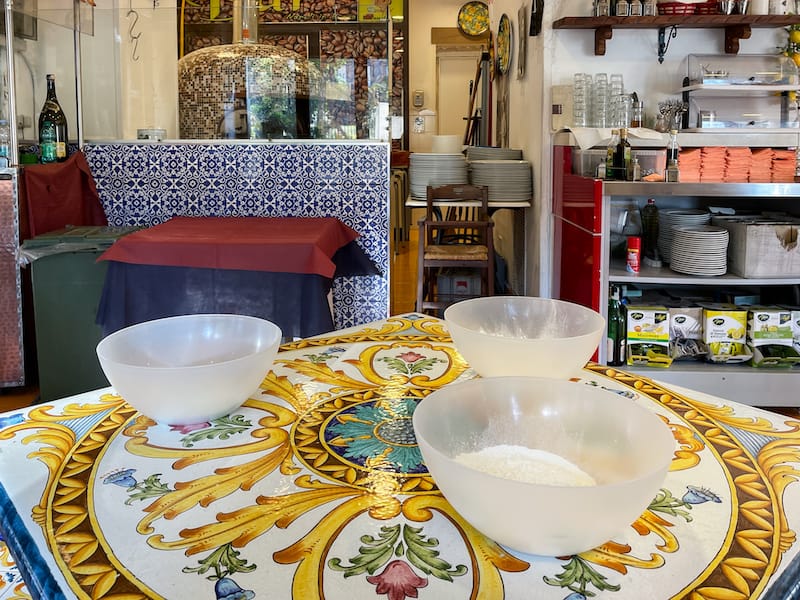 The class is a 'Make Your Margherita' pizza making class so we were set to do just that!
The ingredients that were on the table were flour, water, salt, oil, and some fresh brewer's yeast. The pizzaiolo explained to us the amounts as well as the diameter size of a Neapolitan pizza (and the reasoning behind it).
BOOK HERE: Best Naples pizza making class
We got to prepare the dough ourselves and learn how to add the ingredients together in order to get the dough right. I messed this up, unfortunately, and he had to 'salvage' my dough!
I assumed that this poor dough would be what would be tossed into the pizza oven, but no! They had other dough ready for us as we didn't get a chance to let it sit for the 4-6 hours needed. Whew! Seriously, my dough was so embarrassingly bad!
After doing the first part and learning all the steps so we could recreate this at home, we went behind the counter to the oven and put the sauce, cheese, basil, and oil on the pizzas and had a chance to put them in the oven ourselves.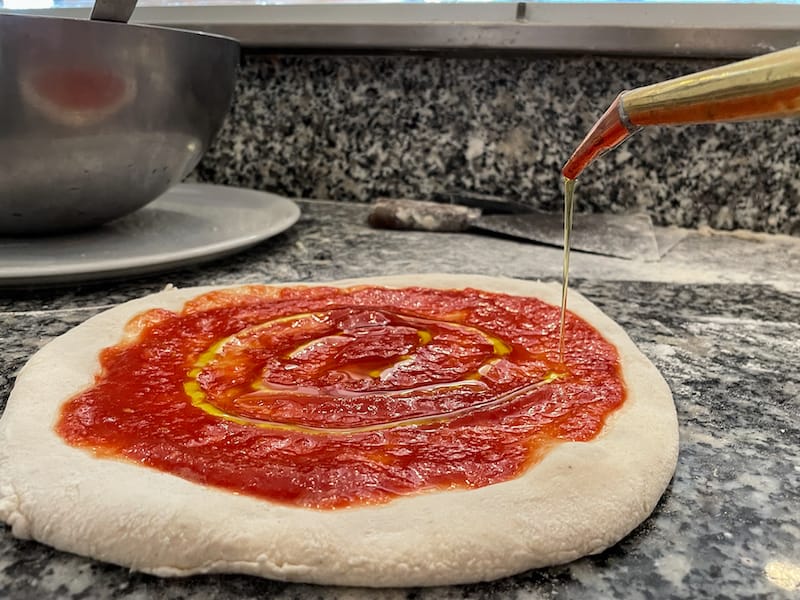 Voila! Once the pizza came out, we were able to get ready for our homemade feast.
We went back to our tables, were able to order drinks (a glass of wine is included!), and sat waiting for the first course (homemade bruschetta).
After the bruschetta, we had a chance to eat the pizzas that we made. Mine was pretty freaking delicious! We finished it off with tasty mango sorbet (can also have a lemon one if available).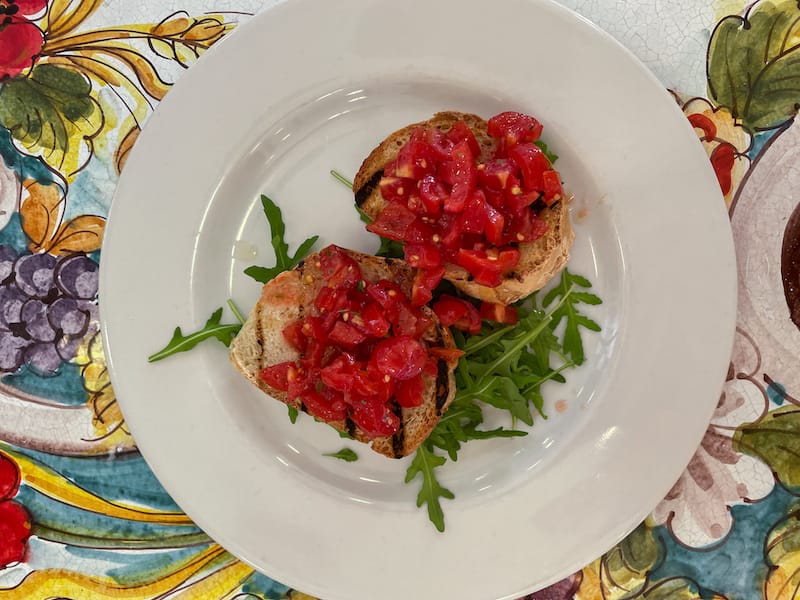 Throughout the process, the pizzaiolo will take photos and videos of you (if you wish) and send them to you right after.
We also had the recipe sent to us by email so we could remember the exact measurements to make the pizza at home.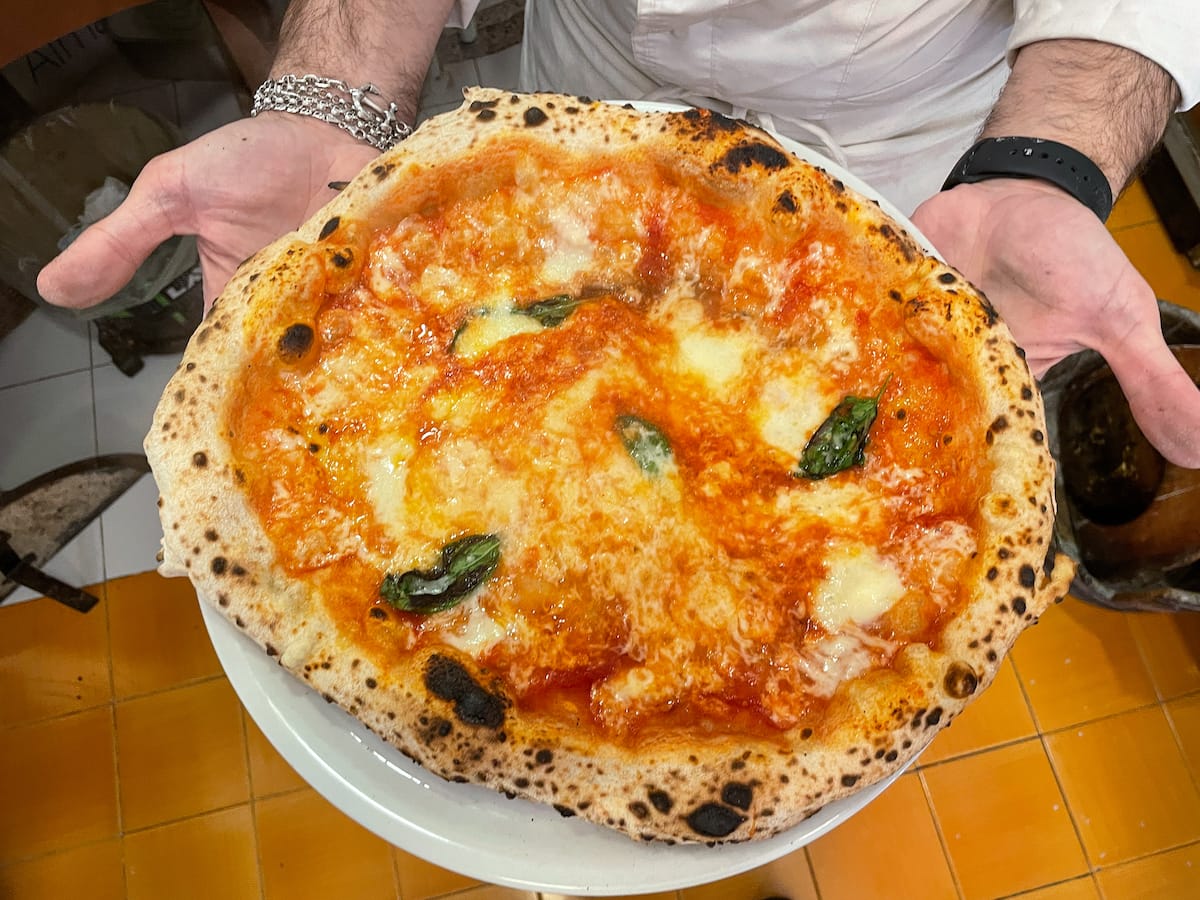 This Naples pizza-making class was fantastic. It was affordable, easy to follow, and really great for individuals, couples, or even families. The pace was slow enough that I think kids would love it!
Book your Naples pizza course here!
What to Wear and Bring With You
To be honest, nothing out of the ordinary. I would recommend not wearing your finest clothing (they will give you an apron though) or any rings or watches.
My hands were a disaster by the end of it… and washing them in the sinks was not the easiest process.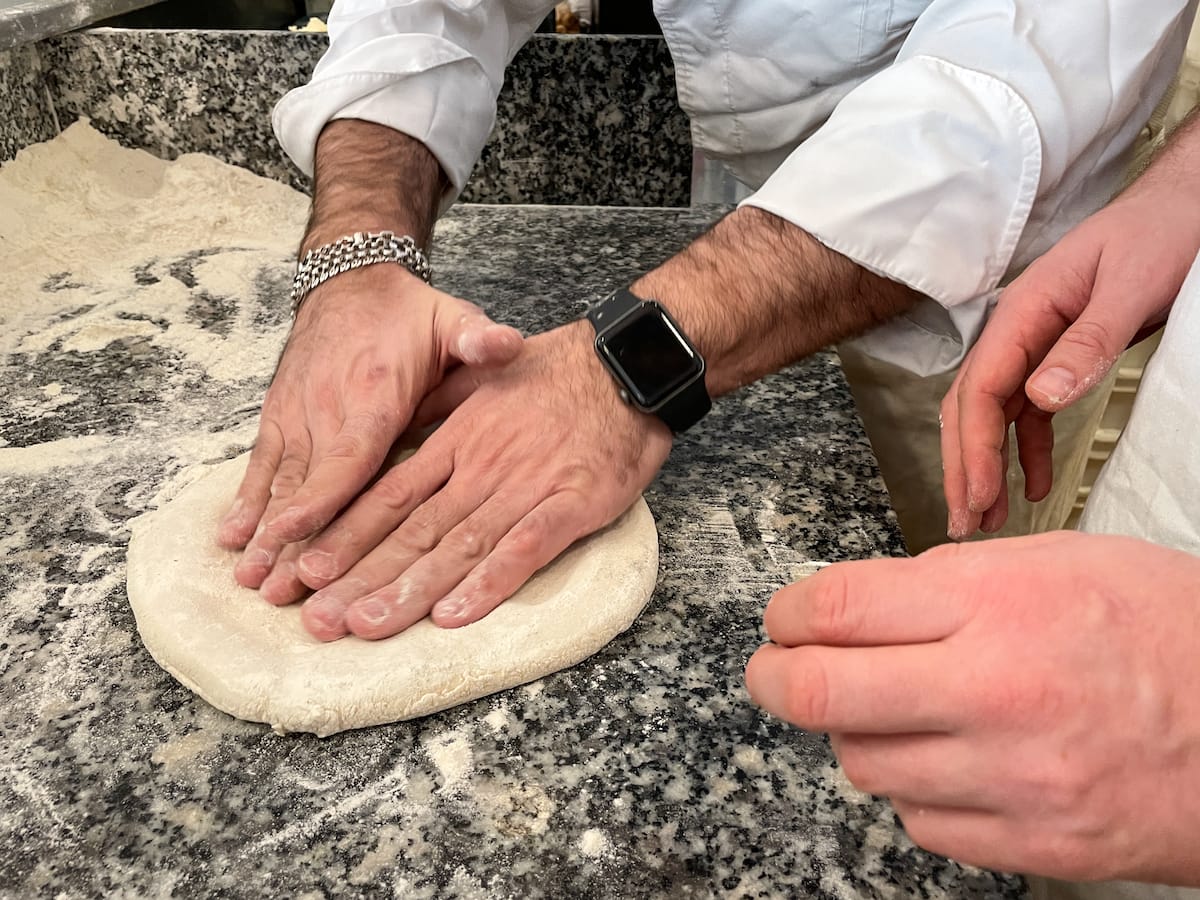 I think this was because I messed up kneading my dough, though. If you know what you're doing, you should be fine!
I would also bring a small amount of cash for a tip if you wish to tip at the end of it.
Other Naples Food Activities You Might Like
If you are looking for more food-focused activities and tours on your Naples trip, here are a few that I highly recommend adding to your itinerary!
Naples Street Food Tour with Local Guide
Duration: 2.5 hours
Meeting Point: Piazza Bellini by the Greek ruins (someone will be holding a sign)
Language: English
CLICK HERE TO BOOK!
This Naples street food tour is an excellent (and cheap!) tour to book if you're a food lover and want to explore the gritty streets of Naples by scent and taste! You'll visit the historic center of the city and even a limoncello factory.
Your day will start with enjoying the taste of pizza a portafoglio and pizza fritta, two famous Neapolitan street foods.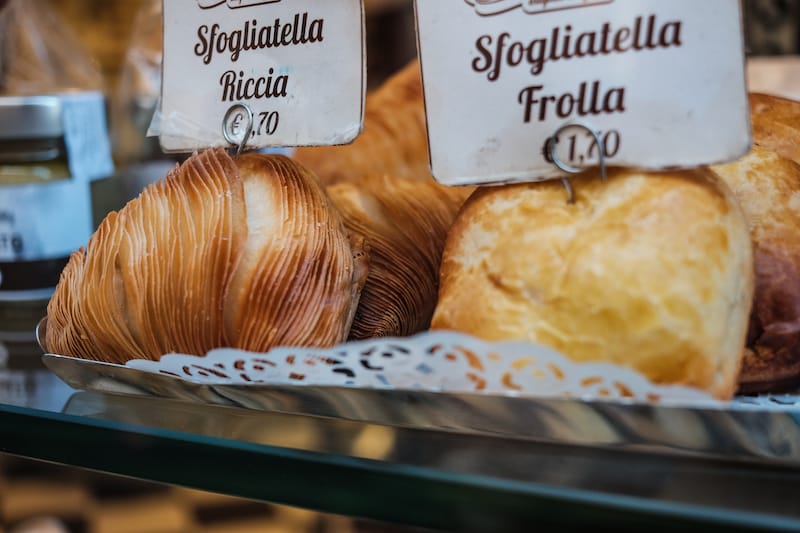 Then, you will enjoy other famous Italian eats such as frittate di pasta, arancini, babà, sfogliatelle, and fresh mozzarella from a local salumeria.
The day will end with limoncello at the factory and a bit of gelato.
Book your street food tour here!
Food and Wine Walking Tour with Local Guide
Duration: 4 hours
Meeting Point: Piazza Dante under statue (guide will have sign)
Language: English
CLICK HERE TO BOOK!
This evening tour of Naples takes you around the city to discover the best street food and places to drink wine!
You will start at a pizzeria and then move along to 7 other stops, trying delicious favorites like eggplant parmigiana, zucchini flowers, Neapolitan rum cake called Baba, and the famous local dessert sfogliatelle.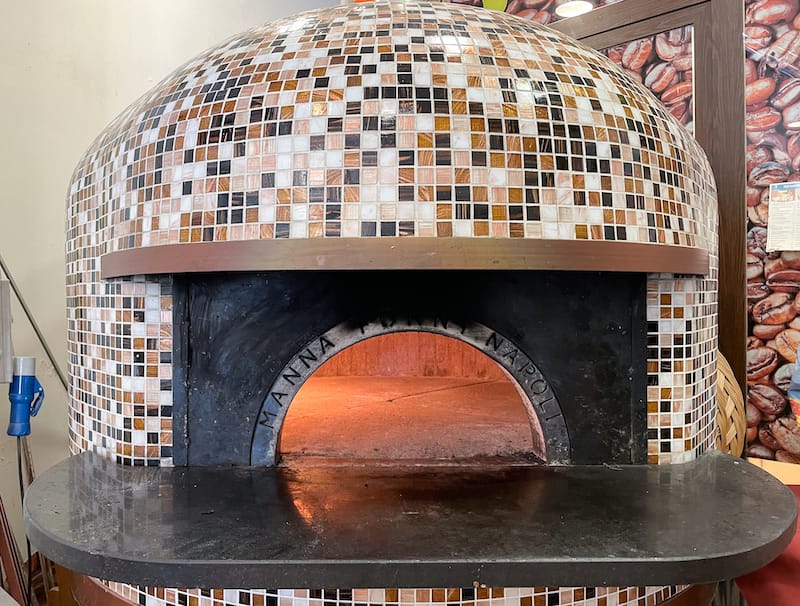 You'll also get a chance to try Aglianico wine as you sample pizza fritta, a Neapolitan street food… as well as the original Pizza Margherita!
If you're vegan or vegetarian, let the guide know beforehand but options are readily available.
Book your evening food tour here!
We hope this answers all of your questions about signing up for a Naples pizza making class!
If you have any questions about learning to make pizza in Naples, let me know in the comments! Thanks!
More Campania & Naples Travel Guides
Pin this Pizza Making Class in Naples Guide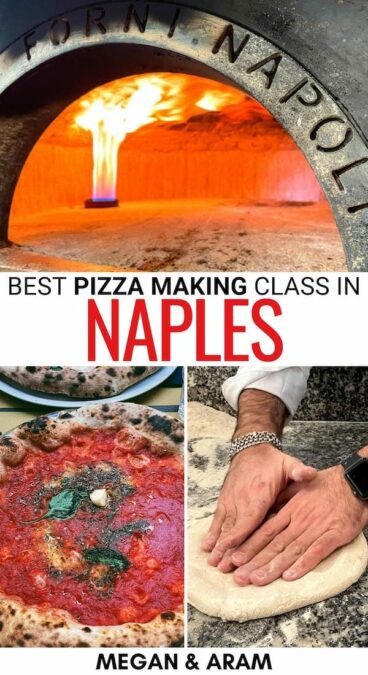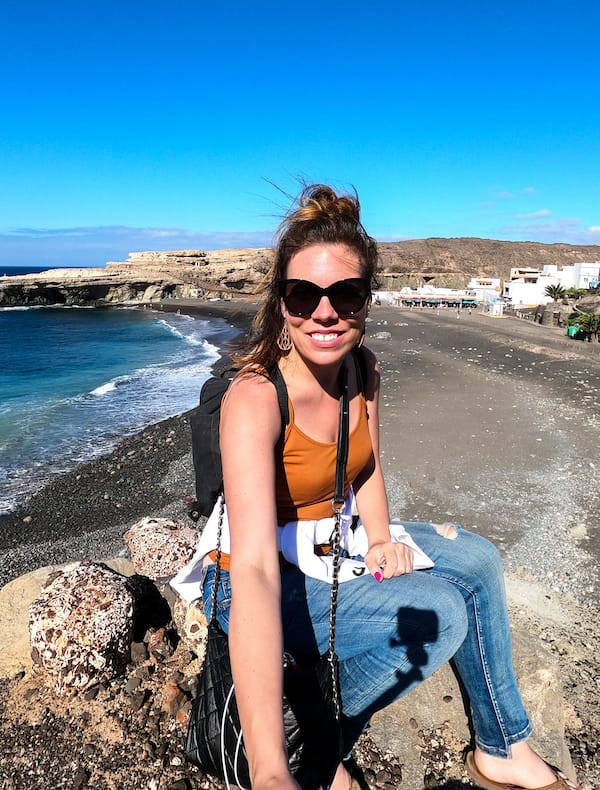 Megan is a travel blogger and writer with a background in digital marketing. Originally from Richmond, VA, she now splits her time between Frankfurt, Germany and Arctic Finland after also living in Norway, Armenia, and Kazakhstan. She has a passion for winter travel, as well as the Nordic countries, but you can also find her eating her way through Italy, perusing perfume stores in Paris, or taking road trips through the USA. Megan has written for or been featured by National Geographic, Forbes, Lonely Planet, the New York Times, and more. She co-authored Fodor's Travel 'Essential Norway' and has visited 45 US states and 100+ countries.