Are you planning a trip to Nice in winter this year and looking for the best ways to see the city (and its surroundings)? This guide is for you!
This guide will tell you all the best things to do and what to know before spending winter in Nice. It also has tours, activities, and the best day trips!
A winter trip to Nice may not present you with the tropical temperatures of the Caribbean, but it will surely provide you with a break from the colder temperatures around Northern Europe (and much of the US and Canada!).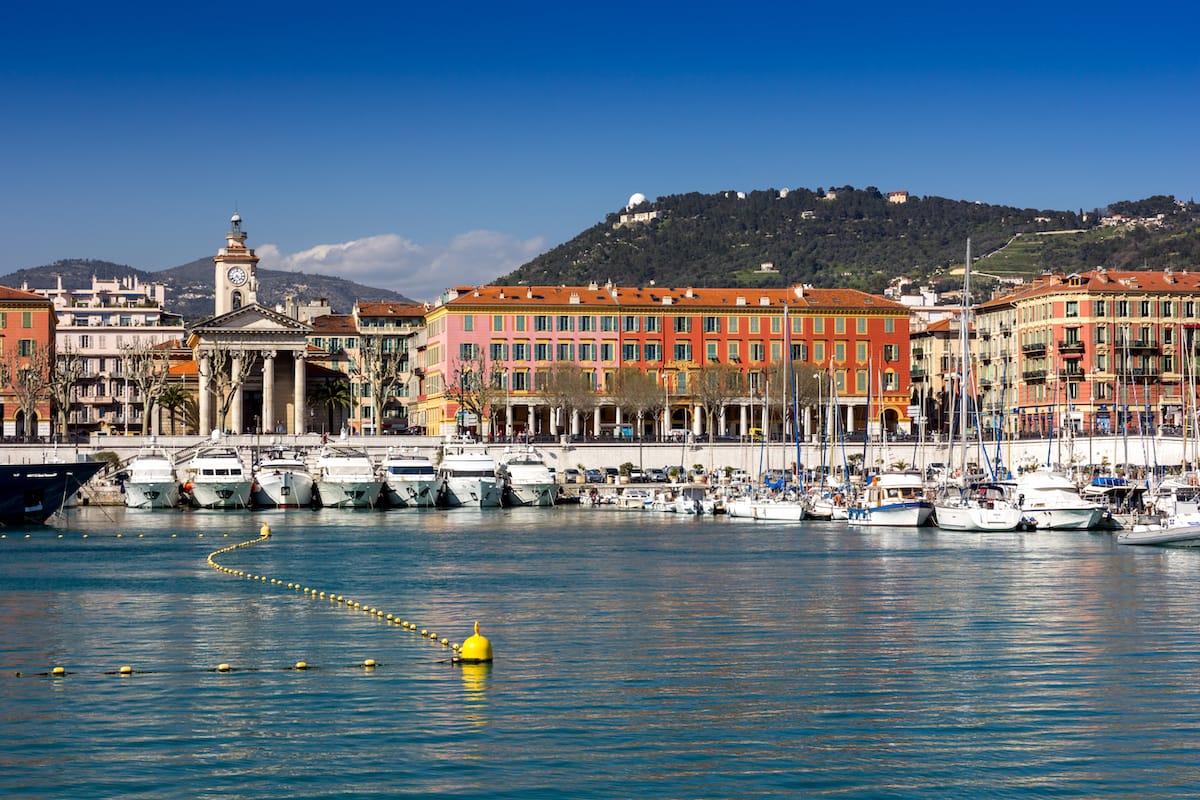 Did we miss any of the best things to do in Nice in winter? Let us know in the comments!
Winter Temperatures in Nice
Nice has pretty mild temperatures in the winter months, but it is definitely not a sunbathing paradise during those months, so leave the swimsuit at home (unless you're going to an indoor pool and spa).
Here are the average winter temperatures in Nice:
Nice in November:

highs of 16 C (61 F), lows of 9 C (48 F)

Nice in December:

highs of 13 C (56 F), lows of 6 C (43 F)

Nice in January:

highs of 12 C (54 F), lows of 5 C (41 F)

Nice in February:

highs of 13 C (55 F), lows of 6 C (42 F)

Nice in March:

highs of 15 C (58 F), lows of 8 C (46 F)
Nice typically does not see snowfall.
Best Things to Do in Nice in Winter
1. See the French Riviera in One Day from Nice
Discovering the Côte d'Azur aboard a spacious and air-conditioned bus on this guided tour of the French Riviera guarantees a one-of-a-kind experience.
First, you'll visit the "Moyenne Corniche" for 15 minutes and be ready to take in the panoramic views of the port of Villefranche-sur-Mer and Saint-Jean-Cap-Ferrat.
Tour the medieval village of Èze and discover the secrets of perfume with a free guided tour of the Fragonard perfumery. It is one of the most popular day trips from Nice and a must!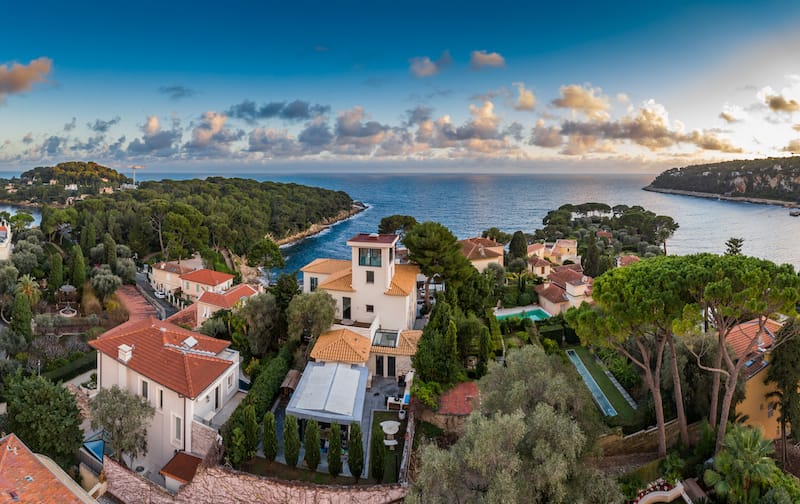 Then you'll head to the Principality of Monaco to experience the old town and the palace, see the ceremony of the changing of the guard and indulge in retail therapy at the upscale shops.
History buffs will love visiting Antibes and Saint-Paul-De-Vence, a medieval fortified village where many painters and artists have resided.
Round off your tour at Cannes, the famous city of stars, where you can explore the Beverly Hills of France, stroll along the famous Croisette, and be captured by the magic of the famous Red Carpet Film Festival.
>> Click here to check French Riveria tour rates and availability
2. Take a Walking and Food Tour of Nice
If you're after experiencing the best of Provence on the honeycomb streets of Old Nice, then this 4-hour sightseeing and tasting tour is the perfect option for you.
Immerse in the culture and savor the best of the local produce with your foodie guide at ten degustation stops.
Tour the city's oldest neighborhood to get a glimpse of what life is like for locals and discover their favorite local treats at different venues.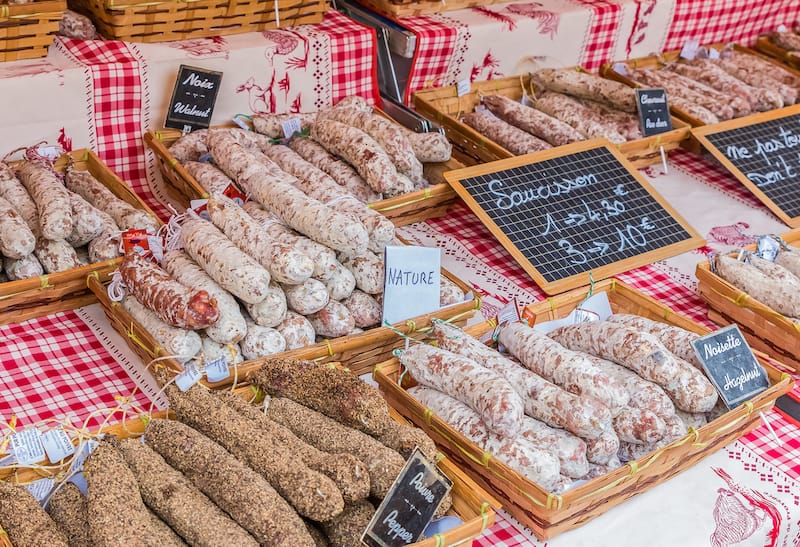 Along the way, you'll learn the traditions of Nice and discover the best-hidden restaurants and bars to try iconic recipes influenced by the French and Italians.
After sampling regional wines, cheese, freshly baked bread, and ice cream, your expert guide will make you experience the joie de vivre of the French Riviera and conclude your tour with a typical aperitif of drinks.
>> Click here to check Nice tour rates and availability
3. Enjoy the Nice Carnival in February
Nice Carnival is the premier international Carnival in France and brings the city of Nice to life. I think this makes Nice one of the top winter city breaks in Europe because it gives you something to do outside of just the Christmas season.
This is the most important winter event on the Côte d'Azur and is one of the three most famous carnivals in the world after Rio and Venice.
Although the modern-day event has been performed since 1872, its origins date back to 1294. Every February for 2 weeks, people from all over the globe flock here to enjoy the festival and soak up the buzzing vibes.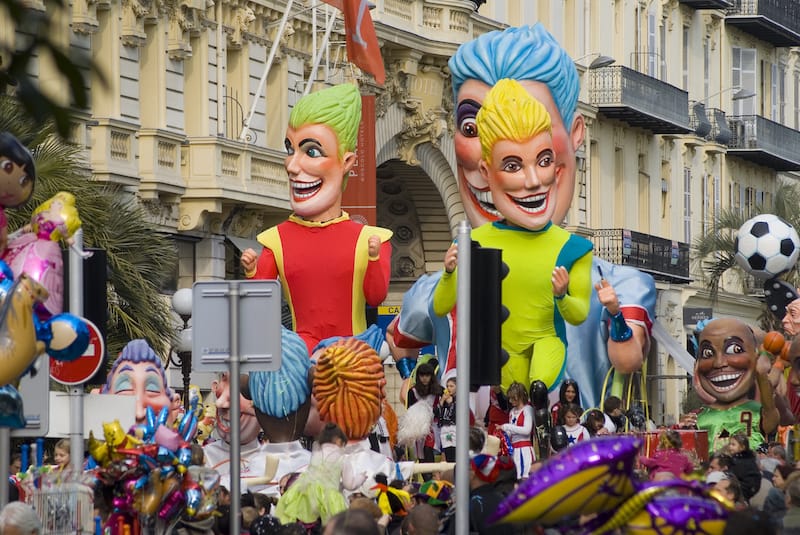 The Carnival Parade, featuring day and night parades, and the Flower Parade are the two main parades, followed by the cremation of the King of Carnival puppet and a stunning fireworks show.
This year the Carnival will run from 17 February to 3 March 2024. The theme of the 2024 edition (150th Anniversary) is "King of Pop Culture."
4. Try Out Some French Coffeeshops
Nice's diverse coffee scene will certainly keep you caffeinated and happy for your whole winter visit.
Cafe Fino has that perfect coffee-drinking atmosphere where you can sip Chaï latte, mocha, espresso, and americano and pair it with delicious pastry.
This is also the perfect spot for a leisurely brunch.
Edmond Café is another must-visit cafe with a clean and charming atmosphere that is focused on providing a versatile brunch, salads, desserts, and hot chocolate, as well as a wide selection of coffee and tea specialties.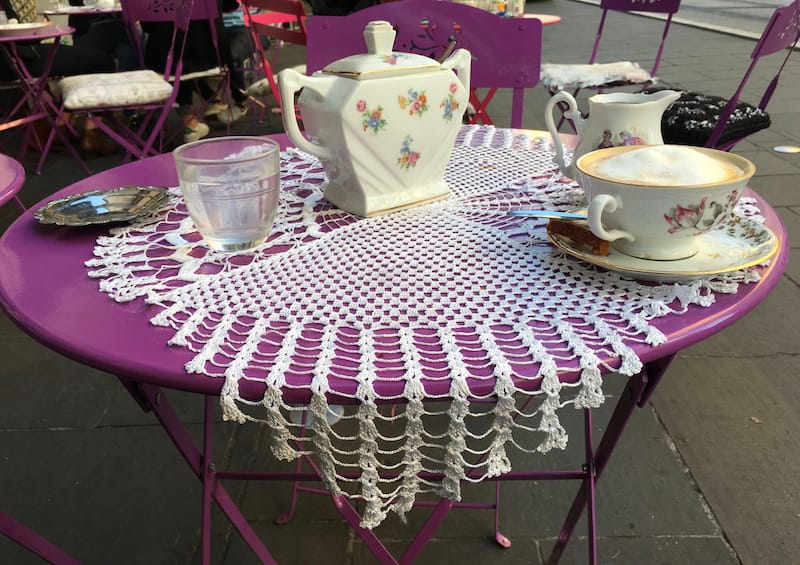 Macchiato coffee paired with otherworldly carrot cake is sure to become your favorite combo here.
Fans of good coffee can grab their perfect cup of coffee at Malongo, which is one of the prominent coffee establishments in town that has been operating since 1934.
Here you can get your hands on ground coffee roasted in the traditional way, high-quality coffee beans from organic farming and fair trade, as well as get coffee capsules, pods, teas, and infusions.
5. Savor French Cuisine at Some of the Best Nice Restaurants
After hours exploring the city, it's time to indulge your taste buds with delicious Niçois food at authentic local establishments.
Bistro d'Antoine is a Michelin-starred restaurant with classic French cuisine. The taste of old-fashioned pork casserole and knife-cut beef tartare are out of this world.
Those after savoring some of the best fish and seafood in the city should visit Peixes. The menu changes every two months and offers all the delights of the big blue.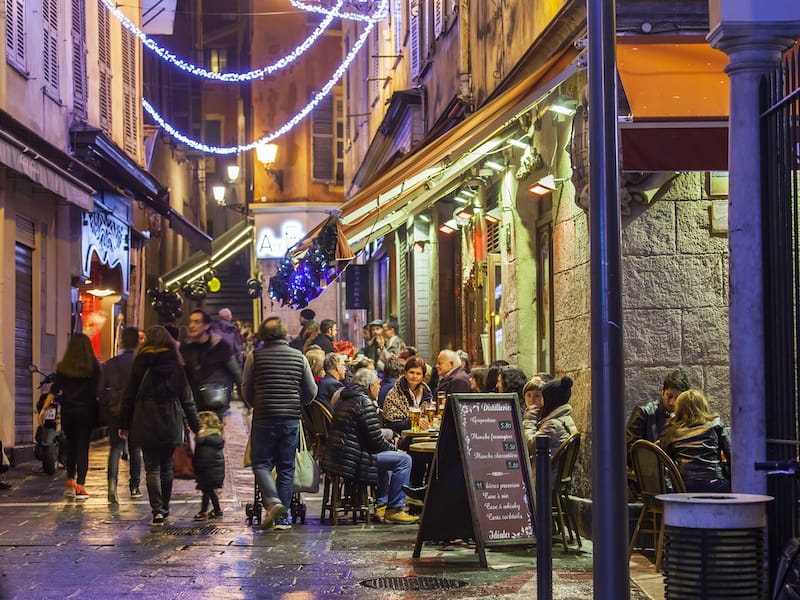 In addition to more classic options, you will also find ceviche, tartar, stuffed cod, octopus with gnocchi and seasonal vegetables, and various smoked fish, which can make for an affordable but no less exciting meal.
There's no escaping an Italian food coma following a meal in Di Piu. Big-hitting mains include Lasagna Di Piu, Salmon Pizza, Beef Carpaccio, and Seafood Spaghetti.
Enjoying your meal while taking in one of the most mesmerizing views of the Bay of Angels will guarantee an unparalleled dining experience.
6. Stroll Along the Promenade du Paillon
Crossing Place Masséna and connecting the Musée d'Art Moderne et d'Art Contemporain (MAMAC) to the famous Promenade des Anglais, the Promenade du Paillon is a true 12-hectare green oasis right in the heart of downtown Nice.
Also known as the Coulée Verte, this large urban park is lined with nearly 1,600 trees, 6,000 shrubs, and 50,000 perennial plants lining its walkways and offers a huge reflecting pool with 128 jets in the middle used to stage sound and light shows on a regular basis.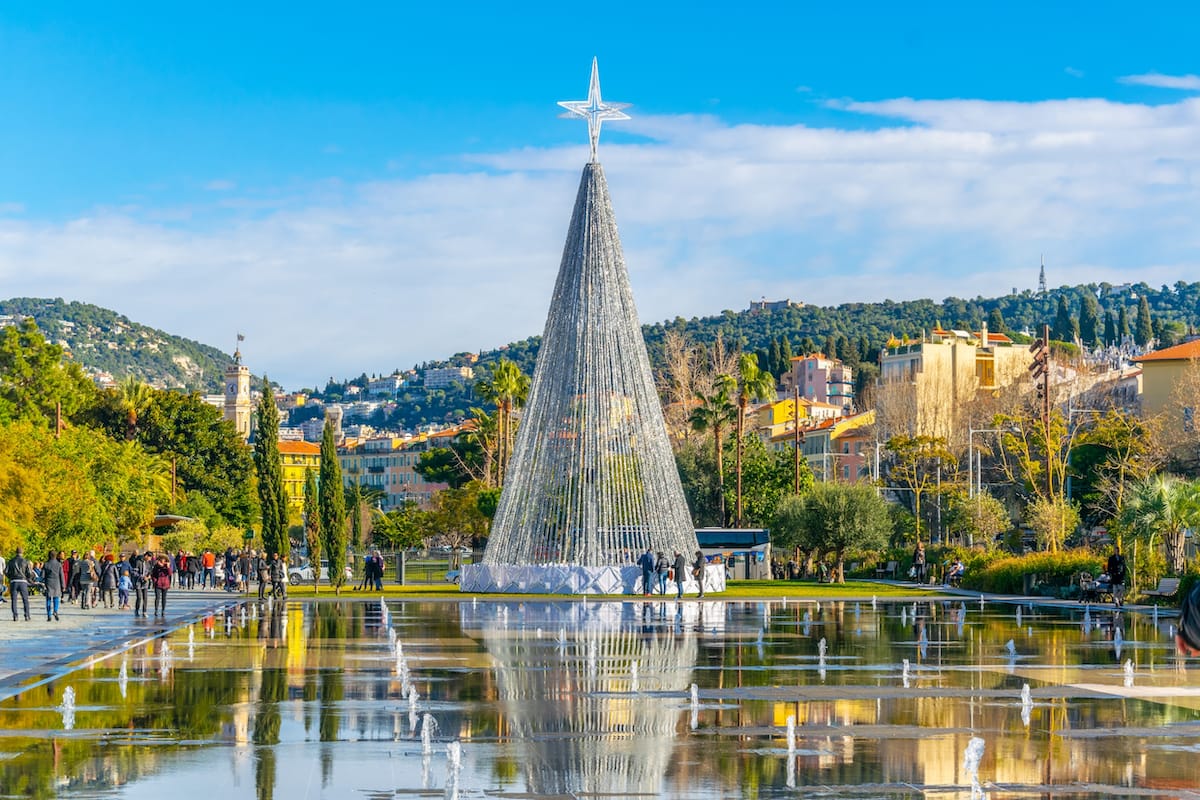 Further down, you can let the kids loose in the play area with fake grass and a gated fence featuring swings, climbing frames, and seesaws, as well as fantastic wooden sea creatures.
The Promenade du Paillon is open year-round from 07:00-23:00 in summer and 07:00-21:00 in winter and is absolutely free to enter.
Address: Plassa Carlou Aubert, 06300 Nice
7. Get Artsy at the Museum of Modern and Contemporary Art Nice
Art lovers can quench their thirst for modern art at the Museum of Modern and Contemporary Art Nice, nestled in the very heart of the city.
The museum, featuring four windowless concrete towers, houses 1,300 works of art dating from 1950 to the present day, created by more than 300 artists.
Among the notable artists are Yves Klein, Andy Warhol, Alain Jacquet, and Dennis Oppenheim. The impressive character of the building itself is worth mentioning.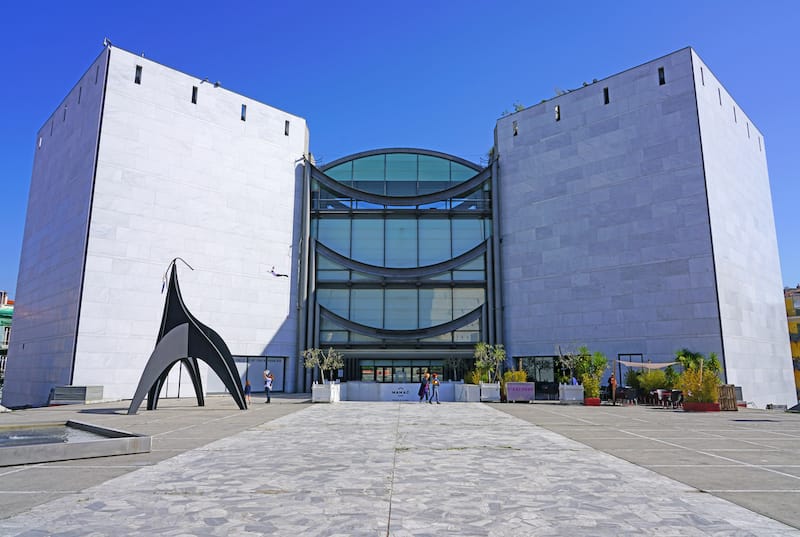 Various art movements are represented in the Museum, including New Realism, American Pop Art, Minimal Art or Conceptual Art, The Fluxus group, Figuration Libre, and more.
Don't miss getting to the very top of the building to take in stunning panoramic views of Nice from the observation deck.
MAMAC welcomes its guests Tuesday through Sunday from 11am to 6pm, with an admission fee of 10 euros.
Address: Place Yves Klein, 06000 Nice
8. Marvel at Beautiful Port Lympia
Your Nice trip won't be complete without soaking in the old-fashioned charm of The Old Port of Nice, also known as Port Lympia.
The port was constructed by Charles Emmanuel III, Duke of Savoy in 1750, and opened to traffic in 1752.
Stroll along its lovely quays to marvel at its beautiful Venetian-coloured buildings and reach Napoleon Bonaparte Street to witness the tenement house where he lived.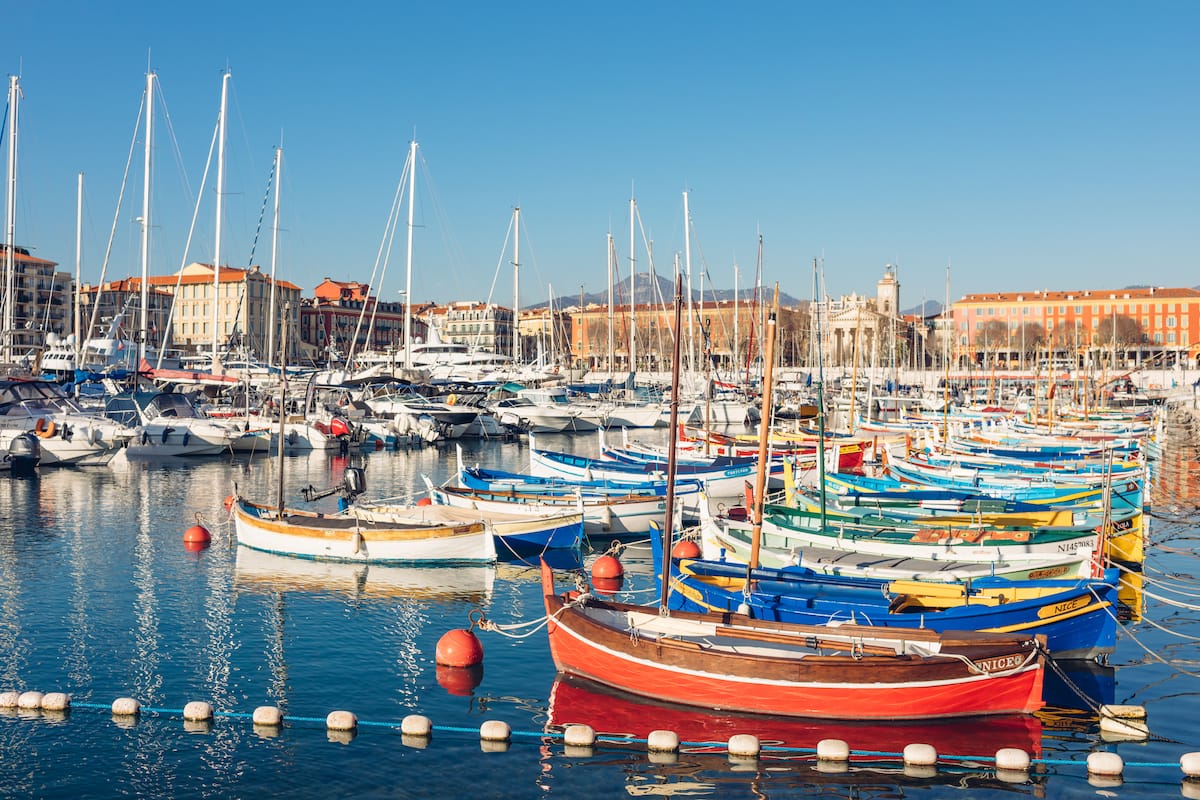 In the summer months, you can use the free boat crossing between the eastern and western quays through the Lou Passagin service.
Treasure hunters can check out Marche aux Puces for the paintings, lamps, and vintage furniture, while history buffs can step inside the Notre Dame du Port Church, nestled on the Place Ile-de-Beauté, and admire the clock tower of the Caserne Lympia, which served as a prison housing the galley slaves working on the port in 1750.
9. Get Festive at the Nice Christmas Market
Swinging by Nice Christmas markets is a must to soak in that festive spirit in the South of France. And it is the #1 thing to do during Christmas in Nice, naturally!
Every year during the Christmas season, hundreds of Christmas lights and decorations adorn the seaside Promenade des Anglais with Christmas magic.
Traditionally, it takes place at Jardin Albert 1er and on Place Masséna in the heart of the city.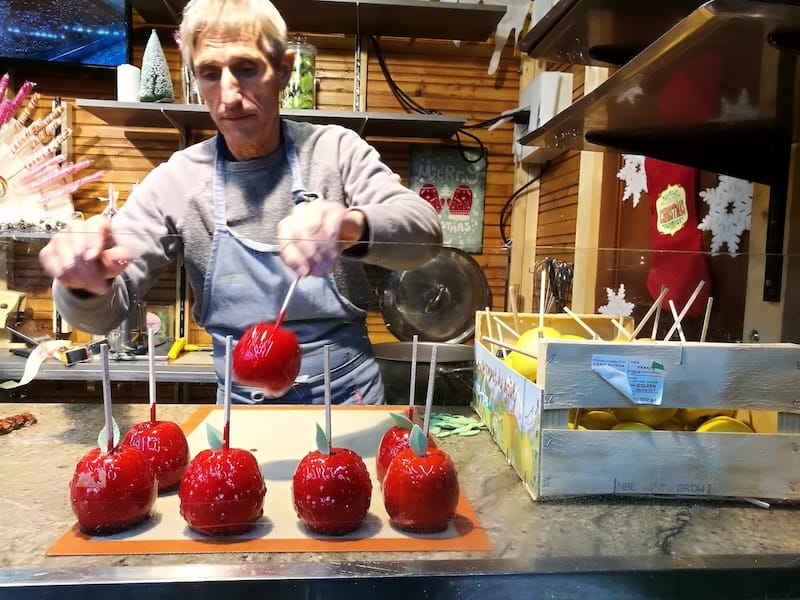 Warm up with a hot chocolate as you explore the charming Christmas village, marvel at the Enchanted Forest of 600 Christmas trees, see the massive Ferris wheel and ice rink, admire stunning light installations all across the city, and check out more than 60 wooden chalets offering all kinds of amazing gifts and treats for friends and family back home.
Keep your eyes peeled for two Canad Cabins and a Swiss Chalet packed with Swiss goodies. Nearby you can find a kid's area with giant inflatables, carousels, live theater, Santa's cabin, and more.
10. Do a Little Winter Shopping
If it's a cold or rainy day, it's the perfect excuse to spend some time indoors satisfying your shopping itch.
Shopping in Cote d'Azur can be quite expensive, so knowing the season of great deals can save you thousands.
The annual Winter Sales or "Soldes d'Hiver" start mid-January and continue for about a month.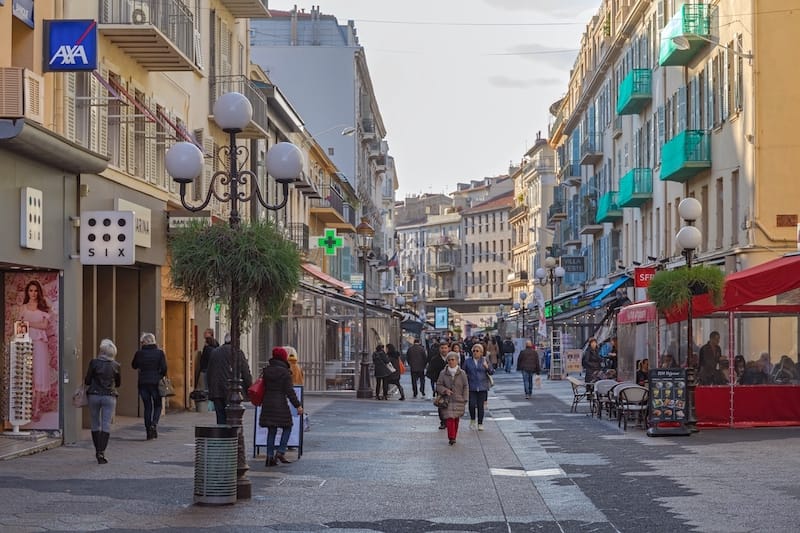 This is a huge French tradition that allows tourists and locals alike to stock up on warm-weather items at a fraction of the price.
Many decent shopping sites and malls, such as Galeries Lafayette, H&M, Zara, Nice Etoile, Cap3000, and Polygon Riviera, are open 7 days a week, offering markdowns that get deeper as the weeks go on.
11. Go Ice Skating in Nice
​​It's time to lace up your skates and experience an exciting ice skating adventure at the city's best ice rink, located within the well-known Palais De Sports Jean Bouin.
The spacious 1800m² Jean Bouin Olympic skating rink on the 5th floor of the building provides ample room for skaters of all ages and abilities to get a taste of the Nice Christmas spirit.
This is the perfect place for both novices and seasoned skaters who want to show off their skills. Various courses are offered here, such as ballet on ice, dance on ice, and figure skating.
This ice rink is an internationally recognized venue that hosts various sports events and competitions as well as features themed and musical evenings, allowing you to enjoy an elevated ice-skating experience with the whole family.
12. Wander Through Vieille Ville
Wandering through Vieille Ville, also known as the Old Town (Vieux Nice), is one of the best things to do in Nice.
Bordering the Promenade des Anglais to the south and the Promenade du Paillon to the north, Vieux Nice is packed with 16th-century terracotta buildings, restaurants, shops, narrow alleyways, palm trees, churches, and squares.
You can enjoy the city's colorful palette by strolling through charming neighborhoods, smelling the flowers in Cours Saleya, and witnessing the Belle Époque architecture.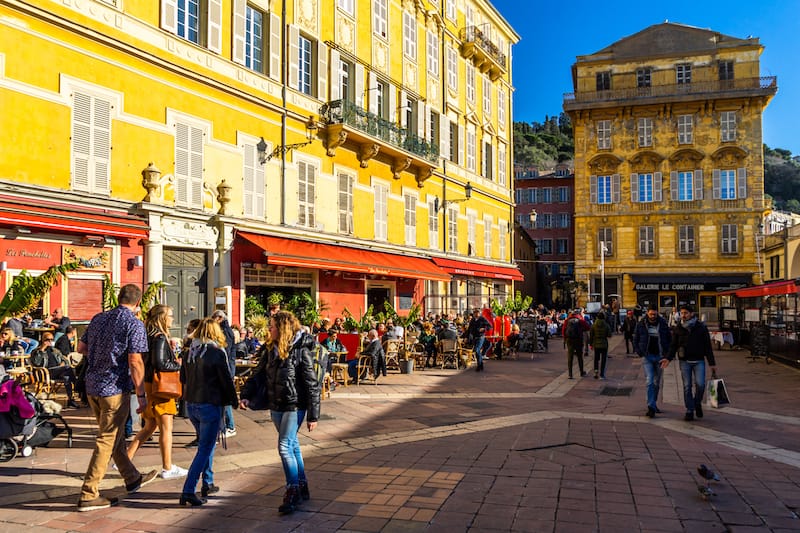 Highlights of the town you shouldn't miss are The Cathedral of St. Reparata, Place Rossetti, False Gate, and Lascaris Palace.
Indulge in some people-watching at the Place du Palais de Justice, pay a visit to Vieux Nice Port, or grab a delicious cone of Fenocchio ice cream.
Your trip won't be complete without visiting the Nice Opera House, Place Massena, and Matisse's House.
13. Climb to the Top of Colline du Chateau (Castle Hill)
Overlooking Vieux Nice, Colline du Chateau is one of the most historic monuments of the city, which was destroyed in 1706 by the troops of Louis XIV.
The story of the hill dates as far back as the Bronze Age, around 2100 BC, which around the 3rd century BC, became a Greek colony.
Take the 300 steps to the top of the hill for mesmerizing views over the whole city and the Bay of Angels. There is also a motorized train or an elevator available for a fee.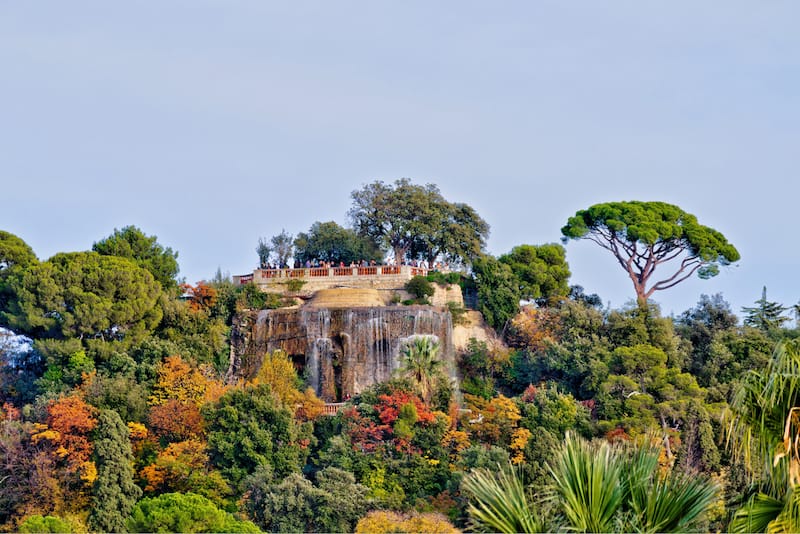 Once on top, you can find a serene hilltop park perfect for a Sunday picnic, making this one of the most relaxing things to put on a Nice itinerary.
Here you can also see the Bellanda Tower and Cimetière du Château, participate in sports, admire the man-made Cascade Dijon, and discover the ruins of Saint Mary's Cathedral, which once stood there in the early 1700s.
Castle Hill is open seven days a week, from 8:30am to 6:00pm in winter and from 8:30am to 8pm in summer.
14. Learn More at Musée du Palais Lascaris
Art enthusiasts can escape the winter cold at the Musée du Palais Lascaris, located at the heart of the Old Town.
Dating back to the first half of the 17th century, this baroque-style palace houses a collection of around 500 musical instruments owned by Antoine Gautier and the collection of the Gisèle Tissier-Grandpierre Foundation of the Institut de France.
The palace was built for the aristocratic Lascaris di Ventimiglia family of Italian origin, who owned this impressive building until 1802.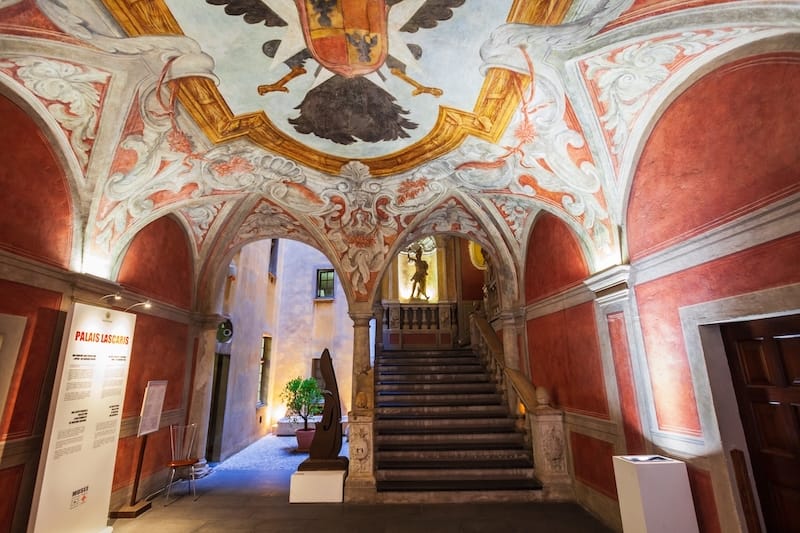 Besides witnessing the 2nd largest collection of musical instruments in France, you can also admire the temporary exhibits and step inside the opulently restored rooms with period furniture and artifacts.
Inside, be ready to marvel at the grandiose staircase decorated with frescoes, exclusive tapestries, Flemish carpets, eye-catching chairs, and sofas that will transport you back to the medieval age.
The museum welcomes its guests every day from 10am-6pm (closed on Tuesdays) with an admission fee of 10 euros.
Address: 15 Rue Droite, 06300 Nice
15. Try Cuisine Nicoise (the Cuisine of Nice)
Trying Cuisine Nicoise is a must since it has its unique place in the culture and daily life of locals, and it is quite different from famous French food.
The French gave the term "Cuisine Nissarde" in 1998 in an effort to preserve authentic Nice recipes and traditions.
Nice gastronomy combines Mediterranean, English, and Provincial French influences and offers many healthy and traditional dishes as well as various vegan and vegetarian-friendly options.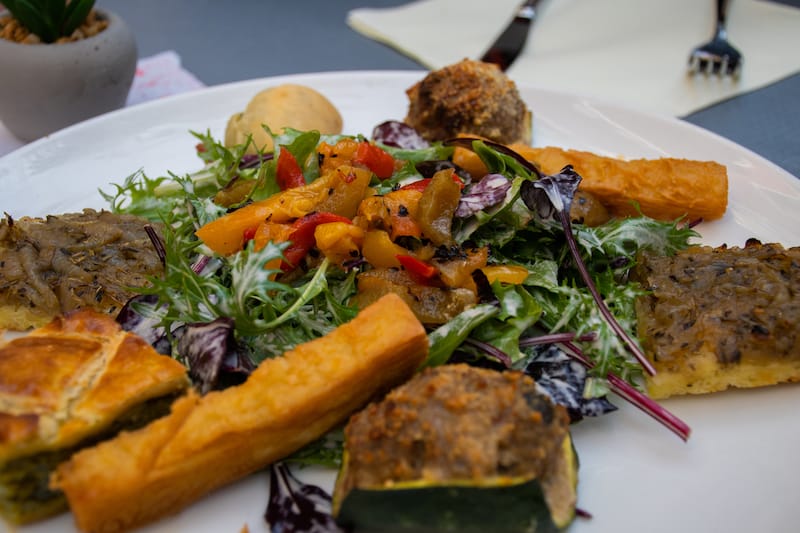 Socca, also called farinata, is one of the must-try foods in Nice, which you can find on sit-down restaurant menus and at stands across the city.
You can't leave the city without savoring Pissaladière, Beignets, Fougasse, Pan Bagnat, Ratatouille, and Soupe au Pistou.
Make sure to top everything off with heavenly desserts, such as Tourte de Blettes Sucrée, Calisson, or Gâteau des Rois.
Did we miss any other essential things to do in Nice in winter?
Let us know your favorite places to visit during winter in Nice in the comments. Thanks!
Things to Do in Nice in Winter (On a Map!)
🗺️ HOW TO USE THIS MAP: You can use your fingers/mouse to zoom in and out. To get more info about a place, simply touch/click the icons. Want to save this map for later use? Click the '⭐' by the map title and it will add it to your Google Maps account (Saved > Maps or 'Your Places').
More Nice Travel Guides (+ Nearby!)
Pin this Winter in Nice Guide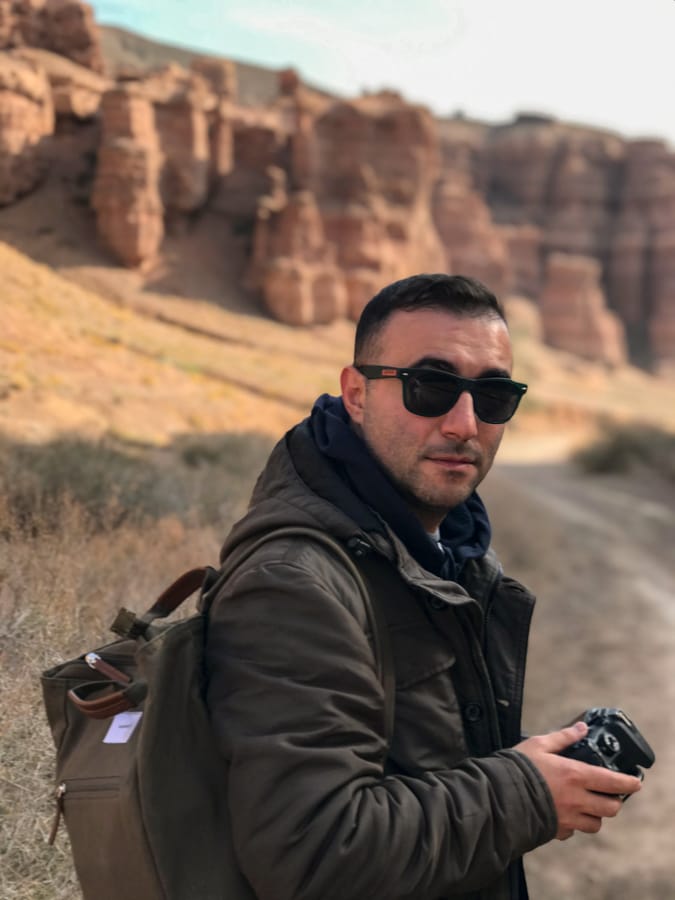 Aram is a travel blogger and writer from Armenia who spends his time between Spain and his home country. He is passionate about music and football (the European kind) and covers a lot of Western European destinations on the blog. Aram is a laidback traveler who enjoys meeting new people and finding the best food in each city that he visits (hence his frequent trips to France, Italy, and Greece!). He has been featured in (or written for) Forbes, BBC, The Guardian, Fodor's Travel, and more.