I was recently excited to plan a day trip from Nice to Saint Tropez, one of the most sought-after coastal towns on the French Riviera!
This guide details my experience on the Nice to Saint Tropez ferry, as well as some other options for getting to the French town. Keep reading to learn more!
Below, I will outline the various options for getting to Saint Tropez from Nice, as well as some insider tips for the journey.
Not taking a ferry from Nice to St Tropez but want other options for getting there? No worries! I have you covered on that too. Including a tour that plans everything for you (so you don't have to lift a finger!).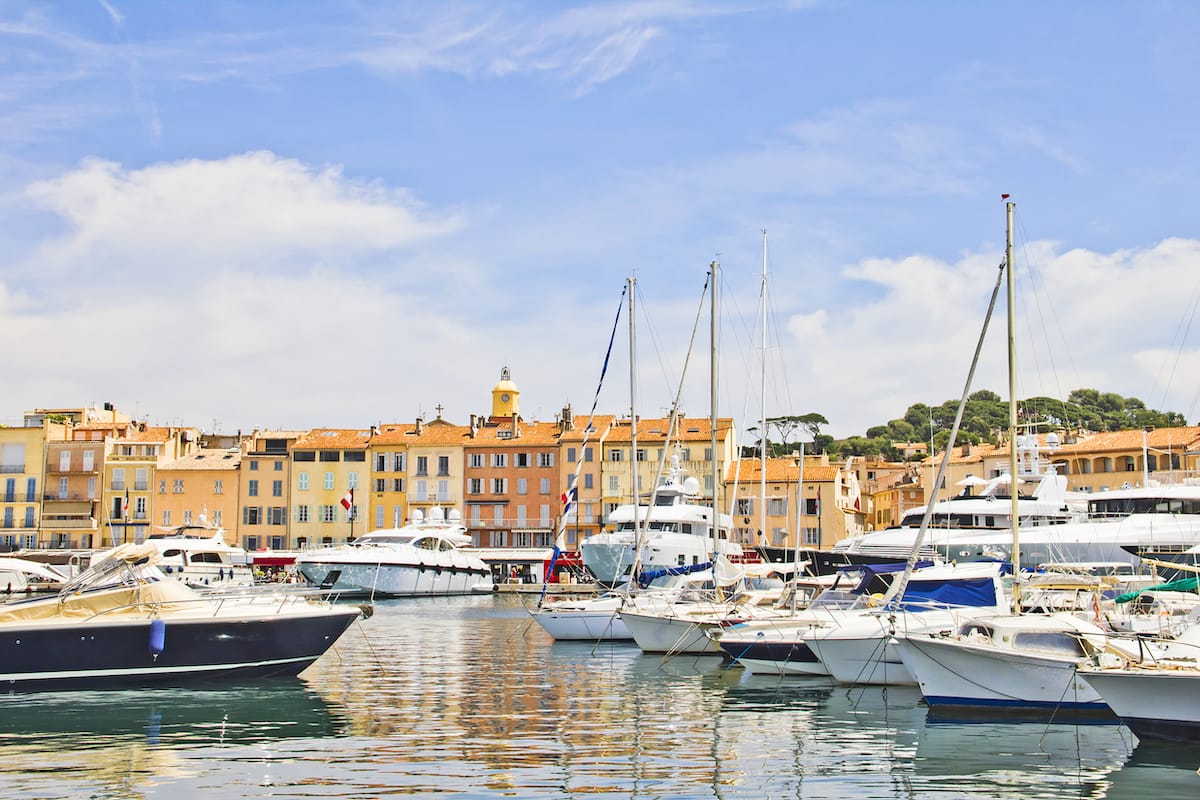 I also touch upon how to get there with a rental car and public transportation from my experience on the ferry.
Did I miss anything in this article? Let me know in the comments. Thanks!
How to Get from Nice to St. Tropez (At a Glance)
Don't have time to read further? No worries – here is a quick overview of the 6 options for getting from Nice to St. Tropez:
Ferry from Nice to St. Tropez: this is what I did and it allowed me to travel there with ease, but have enough time on my own to explore the town. This option is limited during the low season. You can check ferry prices here.
Organized tour from Nice to St. Tropez: this is for those who want an expert guide to help them see everything in St. Tropez, including being picked up in Nice. This option is available year-round. Check day tour rates and availability here.
Train (and bus) to St. Tropez: great for budget travelers who have time and no anxiety with navigating public transportation.
Taxi to St. Tropez: expensive option but pretty seamless
Train + Ferry from Saint-Raphaël: a bit more cumbersome.
Renting a car: excellent option for those wishing to explore the French Riviera on their own. You can compare rental car rates here.
Should You Plan a Trip to Saint Tropez from Nice?
Situated between Toulon and Cannes, Saint Tropez boasts a world-renowned shoreline that serves as a home for luxury yachts.
The famous town also offers open-air markets, charming boutiques, St. Tropez's Old Town, and many iconic museums, like the Musee de l'Annonciade.
The thought of walking through the quaint streets of Saint Tropez, where Pablo Picasso once strolled and drew inspiration, thrilled me and was one of the main reasons I thought to take a day trip to St Tropez from Nice on my latest France adventure.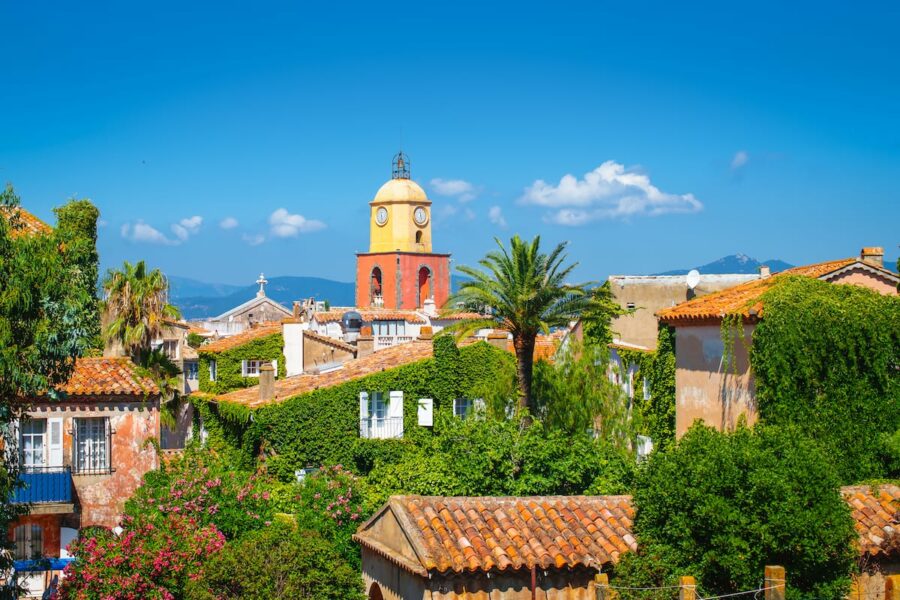 Aside from being a favorite destination for the rich and famous, Saint Tropez is also known for its landmarks such as the 15th-century Portalet Tower, Pampelonne Beach, Eglise Notre Dame de l'Assomption (an Italian baroque-style church), and a 17th-century fortress that now houses the Maritime History Museum.
There are a handful of reasons to visit Saint Tropez (and far more than I just described!). I was totally prepared to step away from the fun in Nice to experience a different place in South France.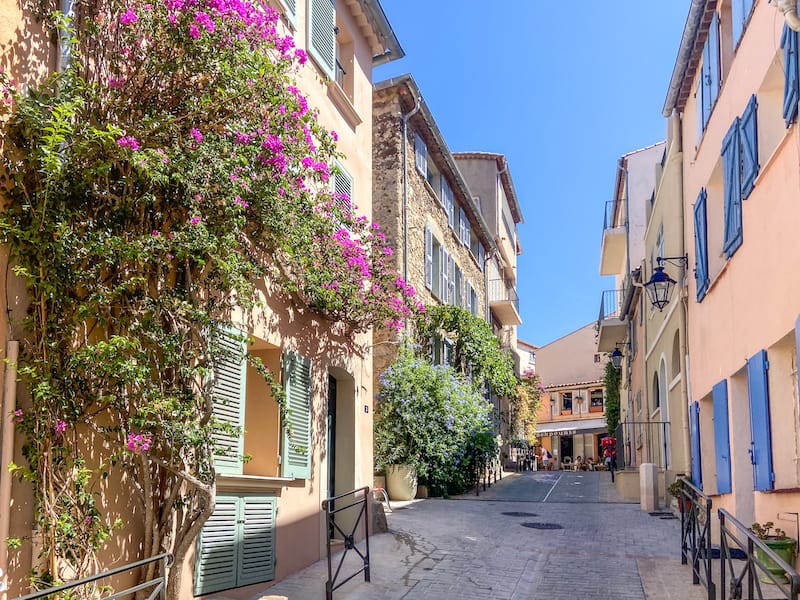 Since so many options exist for getting to St. Tropez from Nice, you can kind of determine the type of trip you can have there: independent or organized.
I opted for an independent trip on the ferry, which gave me the freedom to roam the town on my own.
Initially, I chose to grab my camera and "get lost" in the picturesque town. I took photos, sipped tasty coffee, tried local delicacies, and visited museums, including the Annonciade Museum.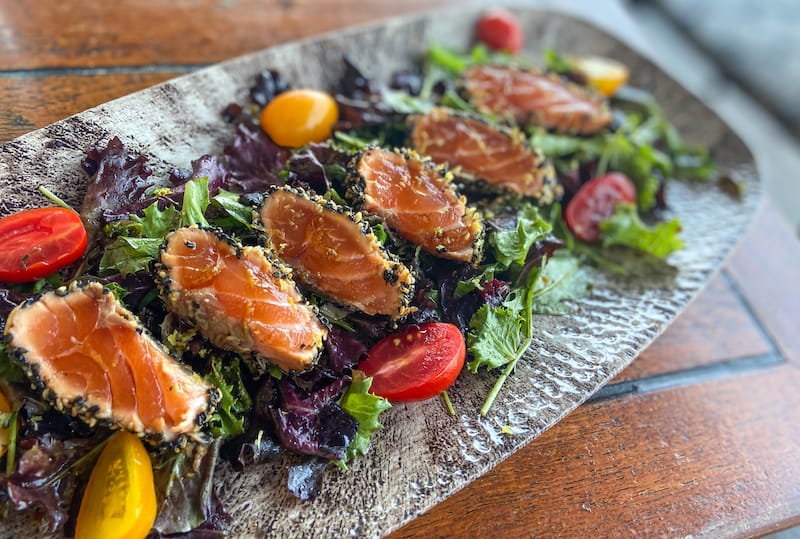 Nevertheless, Saint Tropez is easily one of the top places to visit near Nice and I hope this guide breaks down getting there for you in a way that you feel confident enough to book that trip right now!
Best Options for Getting from Nice to Saint Tropez
1. Nice to Saint Tropez Ferry (What I Did: Best Seasonal Option)
DURATION: Leave Nice 0900, Arrive St. Tropez 1130 / Leave St. Tropez 1630, Arrive Nice 1900
MEETING POINT: Quai Lunel (Trans Côte D'Azur ticket desk)
🛥️ BOOK HERE
This turned out to be an excellent choice for me, not just for its speed and affordability but also because the Nice ticket covered multiple destinations, including Île Sainte-Marguerite and Cannes.
Also, it was super easy to prearrange my boat from Nice to St. Tropez with our trusted partner, GetYourGuide, which helped me plan my travels ahead of time and not at the last minute!
Where to Meet on The Day of the Ferry
The ferry departs from the central port of Nice, Port de Nice Lympia, which is conveniently located for everyone visiting the city.
You will need to go to the Trans Côte D'Azur ticket desk in Quai Lunel to present your ticket.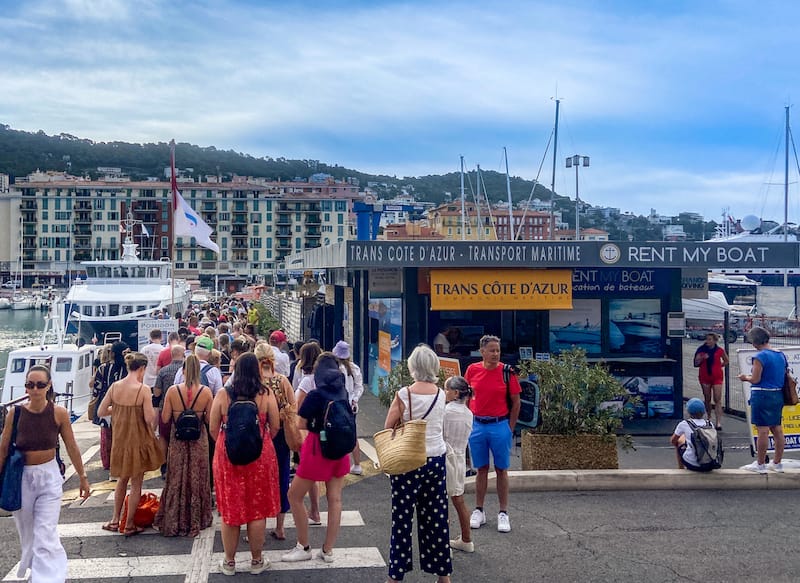 When you show up, you will see a line (unless you're the first, of course!) where you can step in and wait to get on the boat. Just have your voucher ready to show up at the ticket desk; you do not need to pick up anything else there.
If you are hungry or would like a coffee, there are cafes in close proximity to the port.
My Experience on the Nice to St. Tropez Ferry
The journey is actually longer than I expected. It took 2.5 hours to get there (one way). As noted above, you will meet at the Trans Côte D'Azur ticket desk in the Quai Lunel area to show your ticket and wait on your boat.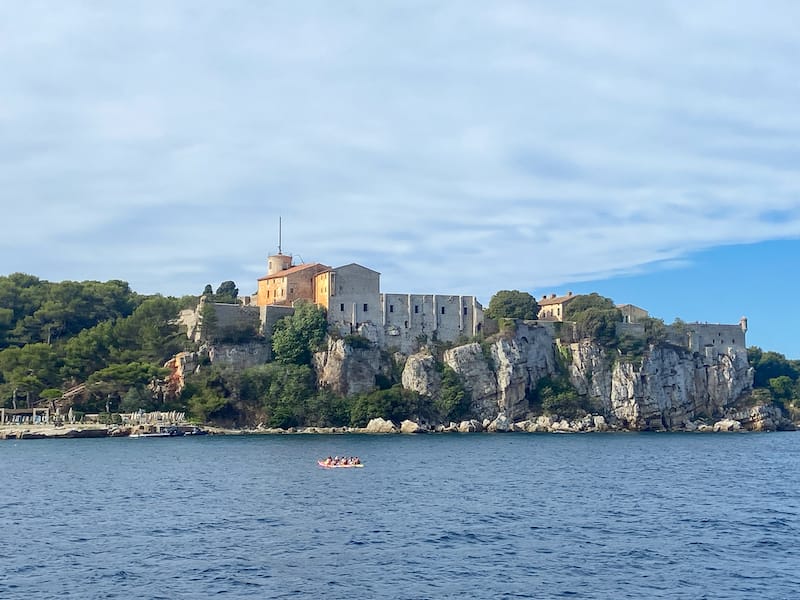 Fortunately, I had booked my ticket beforehand with GetYourGuide, so everything was super straightforward and ready to go.
I showed my ticket and then got onto the boat, where I was greeted by a crew that spoke English.
Note: Do arrive 30 minutes in advance! This is crucial.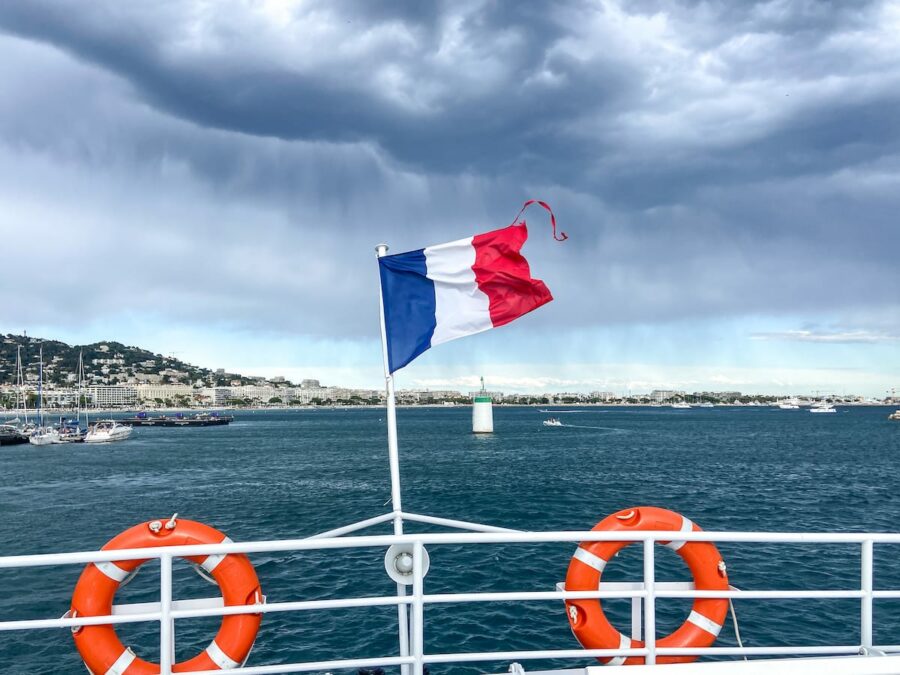 The St. Tropez ferry is medium-sized, but because of the popularity of the destination during the summer months, it can get quite packed!
However, the seating is comfortable, and there's a spacious refreshment area where you can purchase coffee and snacks.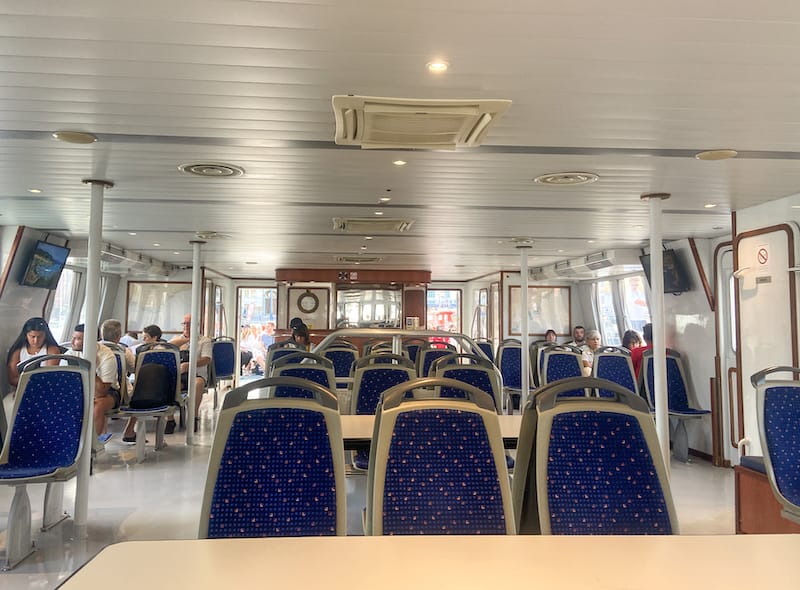 I definitely advise checking out the views along the boat journey, as the French Riviera is absolutely breathtaking, whether you take it in from the land or out at sea!
If you're looking to explore Saint Tropez independently, this is, in my opinion, the best option. And who doesn't want to take a boat trip in the south of France?
2. Full-Day Tour from Nice to Saint Tropez (Top Year-Round Option)
DURATION: 9-10 hours
MEETING POINT: Pickup included
🇫🇷 BOOK HERE
For travelers who don't prefer transportation to Saint Tropez by ferry, I strongly recommend this day tour option from Nice to Saint Tropez.
It will take you in a minibus with an expert guide. It is the most hassle-free option in this guide! And available year-round (the next option is the one I did, and it is only seasonal, unfortunately).
With this day tour option, you will have plenty of time to discover Saint Tropez yourself, which I think is crucial when exploring the French Riviera.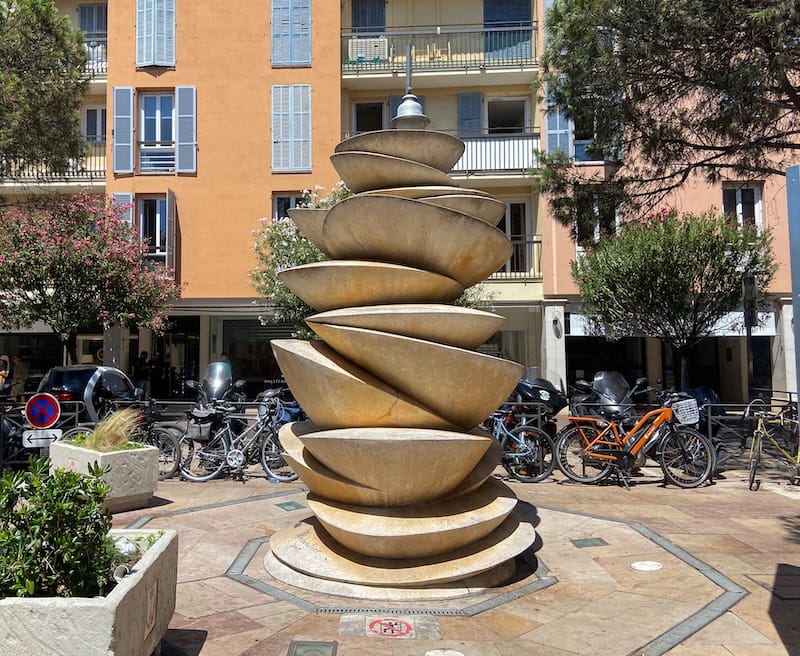 Another great thing about this tour is that the itinerary includes not only Saint-Tropez but you will also visit Port-Grimaud village which is near Saint-Tropez.
Port Grimaud is known for having a unique layout of canals, beautiful houses, and boat routes, and it is home to the magnificent 14th-century Chateau de Grimaud castle and many other historical sites.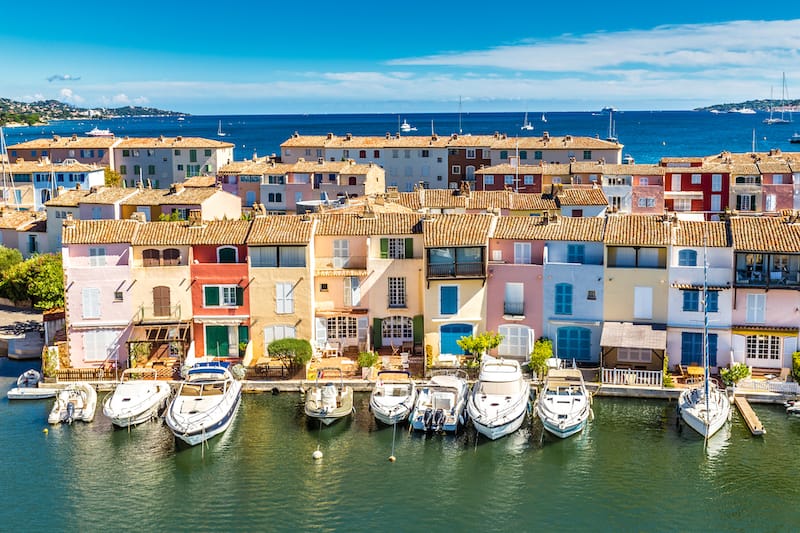 Besides the fact that you will visit all these amazing places, you will also enjoy the road of the French Riveria, which is full of gorgeous panoramic views!
The biggest plus of this day tour from Nice to Saint-Tropez is that your pick-up will be organized for you and the van will wait for you in front of your hotel. There will be a guide who speaks English on this trip.
3. Train and Bus to Saint Tropez
Since Saint Tropez does not have its own train station, you can't train directly to this town.
If you'd like to go by public transport, you can do a combination of train and bus, which takes between 3-4 hours.
First, take the train from Nice to Saint-Raphaël Valescure, which takes about one hour.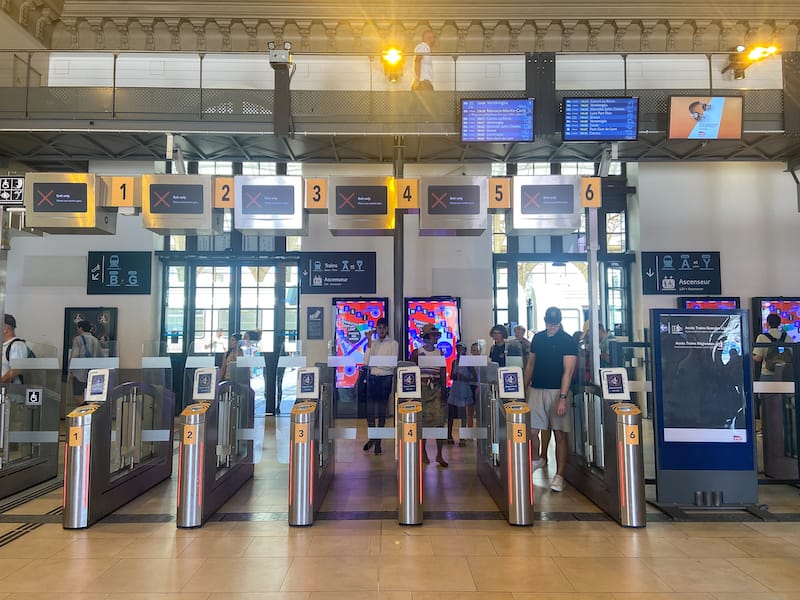 In Saint-Raphaël, you will transfer to bus line 876 which takes you to Saint Tropez, which takes between 1.5 to 2 hours, depending on how many stops the bus makes.
Make sure to carefully plan your route to allow for enough time to transfer between train and bus.
4. Nice to Saint Tropez by Taxi
Alternatively, you can take the train from Nice to Saint-Raphaël (1 hour) and then take a 40-minute taxi ride to Saint Tropez, which usually starts around 85€.
You can also check apps like Uber and Bolt to search for the best price. This is not the cheapest option, but if you're looking to get there in a hurry, it is a feasible one!
5. Train to Saint-Raphaël (and Ferry to St. Tropez)
Another option is to take the train to Saint-Raphaël (1 hour), then take a ferry from Saint-Raphaël to Saint Tropez, which runs between April and November.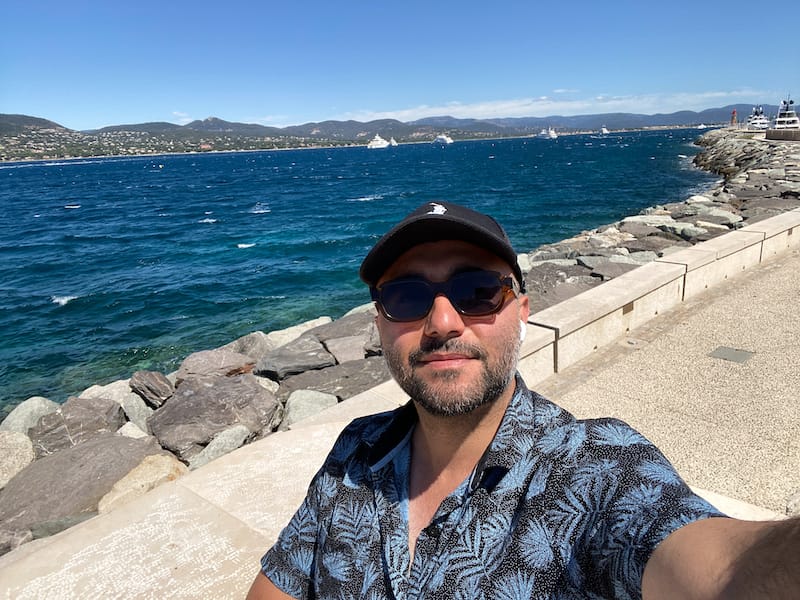 The one-hour ferry sails twice daily (and even more frequently during the summer months).
Roundtrip tickets are 32€/adult and one-way tickets are 20€/adult.
6. Nice to Saint Tropez by Car
Driving to Saint Tropez is probably the easiest and most flexible option, if you are renting a car. Drive time from Nice is typically about 2 hours but can be longer due to traffic.
Take the A8 from Nice, taking Exit 36 towards Saint Tropez. Pretty easy! Just be prepared to pay for parking!
Do you have any questions about getting from Nice to Saint Tropez by ferry, train, or day tour? Let me know in the comments!
More Nice Travel Guides
Pin this St. Tropez from Nice Guide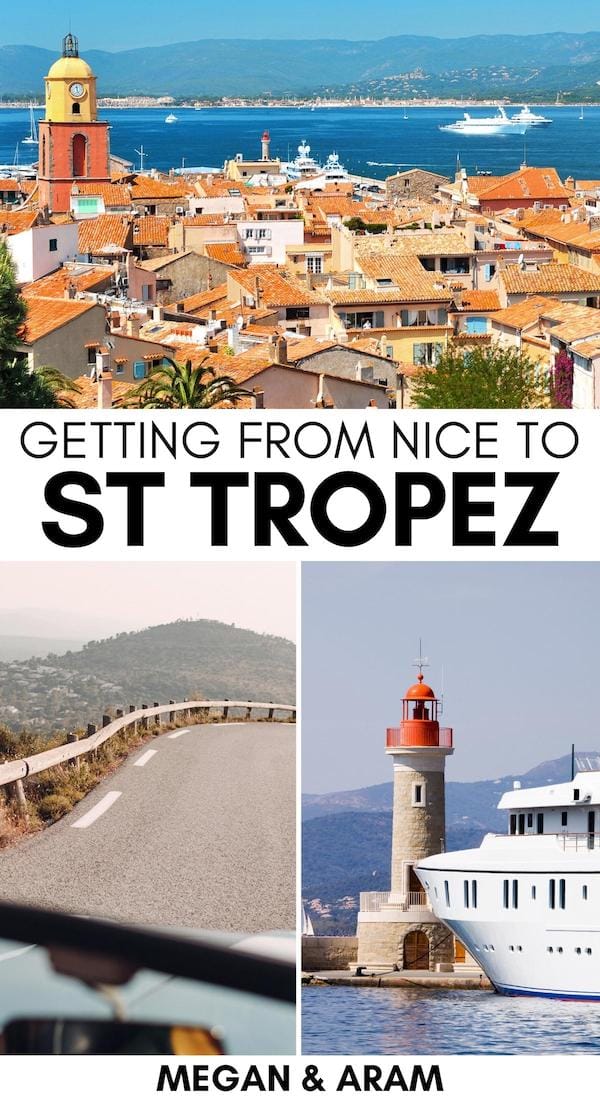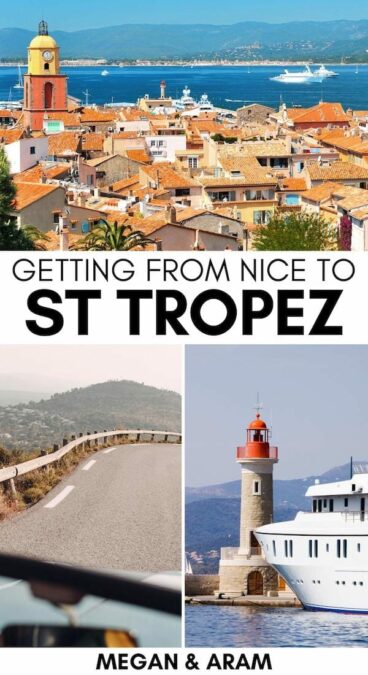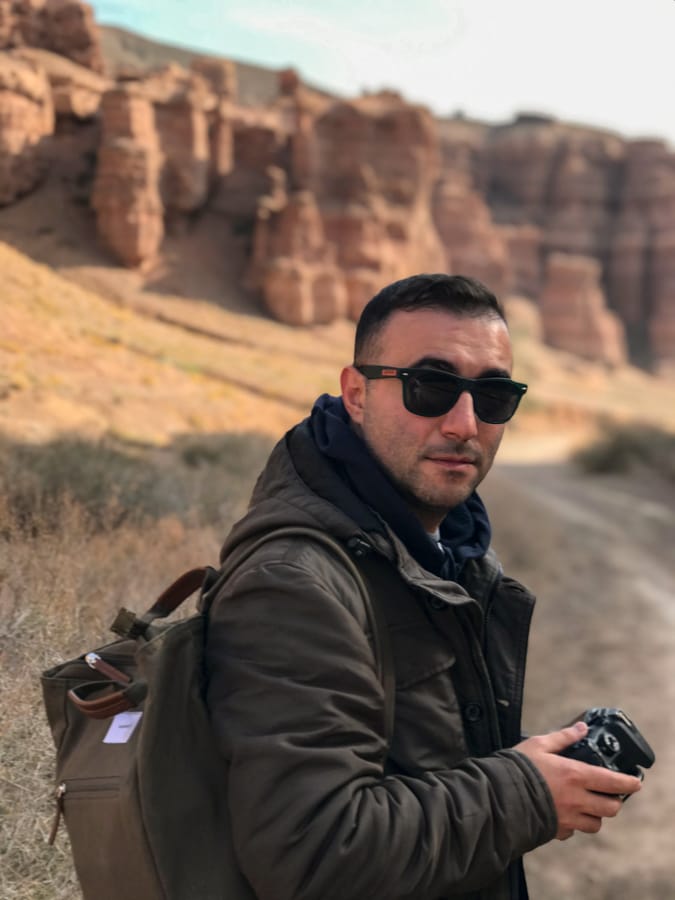 Aram is a travel blogger and writer from Armenia who spends his time between Spain and his home country. He is passionate about music and football (the European kind) and covers a lot of Western European destinations on the blog. Aram is a laidback traveler who enjoys meeting new people and finding the best food in each city that he visits (hence his frequent trips to France, Italy, and Greece!). He has been featured in (or written for) Forbes, BBC, The Guardian, Fodor's Travel, and more.