Recreational kayaking is super popular in the States, with people of all ages going on fun day trips near home and some even camping onshore on multi-day tours.
It's no wonder, given the number of incredible spots you can reach in America alone – from rivers and lakes to bays and waterways.
Whether you're out for a day or a weekend, paddling is a fantastic way to explore new places while staying active.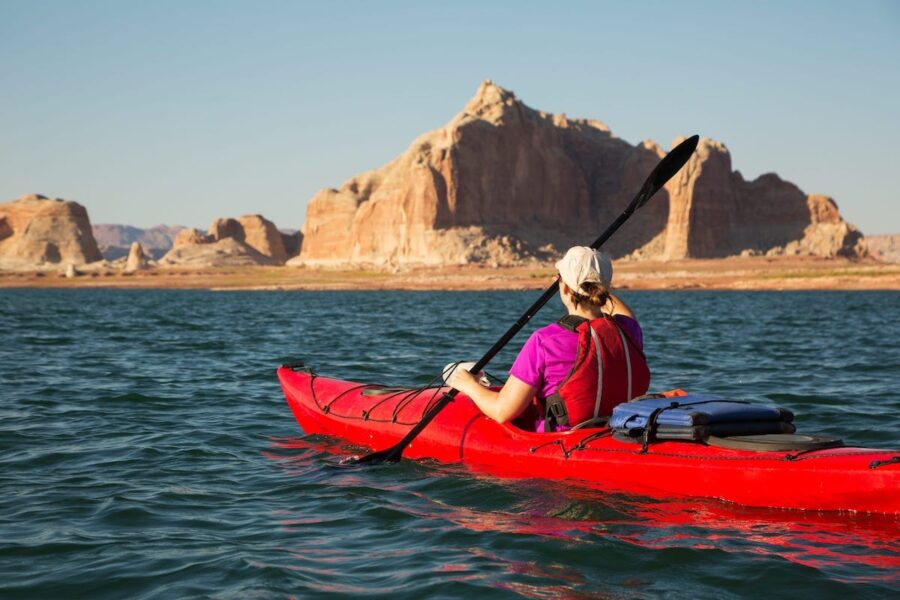 Quietly gliding through the water makes for a fantastic slow travel option, perfect for getting away from it all, reconnecting with nature, and spending time with your friends and loved ones.
Below, you will find a list of some of the best places for kayaking in the USA, in no particular order. We have skipped out on certain epic ones (like kayaking to the Mokes in Hawaii) in favor of ones on the mainland!
We didn't list your favorite place? Let us know what it is in the comments! Thanks!
Best Places for Kayaking in the USA
Colorado River
Location: Arizona, Colorado, Wyoming, Nevada, California, New Mexico, Utah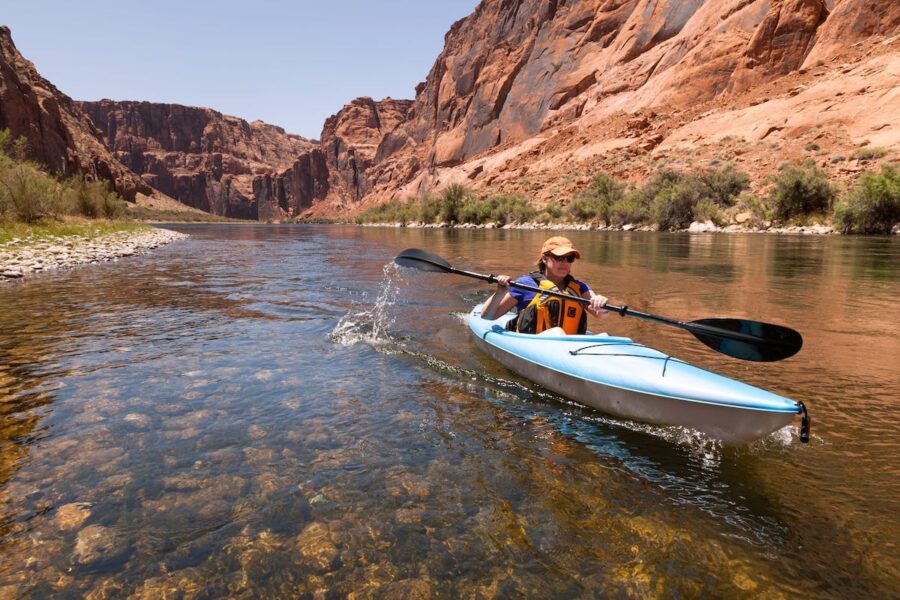 The Colorado River is 1,450 miles long and runs through seven states – Colorado, Wyoming, Nevada, Arizona, California, New Mexico, and Utah.
The scenery changes dramatically with each state, making kayaking here fantastic in many places. The beautiful canyons, mountains, and forests are immersed in over 700 miles of backcountry.
You can either go on a day trip or choose a popular longer segment with decent access to transportation. Kayaking the whole river is quite a feat and requires advanced kayaking skills (class IV), as there are various sections with long, violent rapids.
It's crucial that you check the classification of the area you plan to kayak in and the access/exit points, so you can leave if you need to.
Not an expert kayaker? You'll want to pick the 15-mile section ​​from Glen Canyon to Lees Ferry, which is accessible by car. You can rent a kayak here.
This day trip will give you a taste of the Colorado River. If you intend to paddle in some parts of Arizona, Utah, and Colorado, you will need to get a permit.
Lake Tahoe
Location: California and Nevada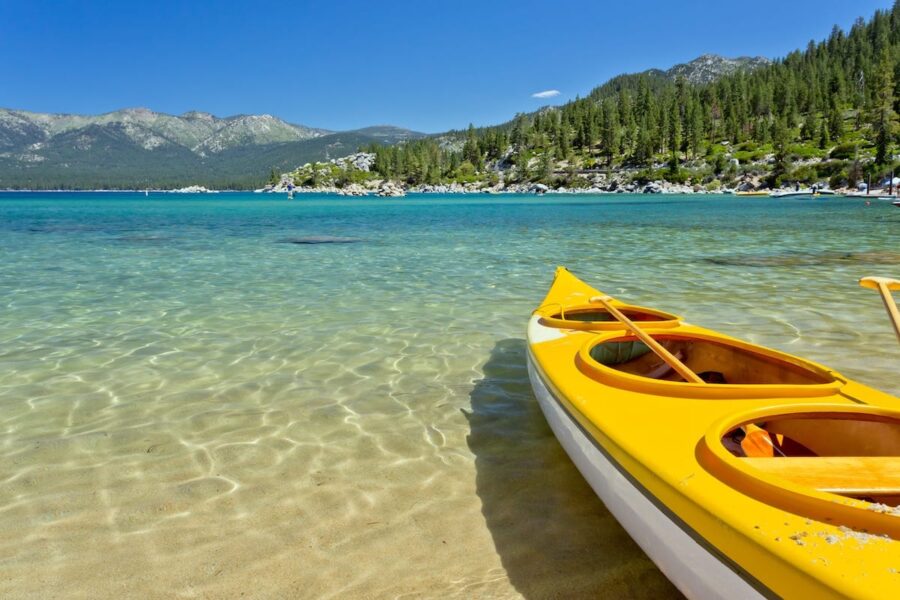 Lake Tahoe is the largest Alpine lake in North America, offering 75 miles of coastline. As it's located in the Sierra Nevada mountain range, you can view some stunning landscapes from its cobalt blue waters.
The lake is dotted with alcoves of soft sand beaches and surrounded by pine tree forests, rocky fields, cafes, meadows, and restaurants. You will be able to immerse yourself in nature, but get back to shore for a well-earned hot meal.
You can also do some excellent bird watching, hiking, and fishing. Paddlers of all abilities can find a good spot on the lake that suits their abilities.
You can circumnavigate Lake Tahoe in one go, or break the trip down into four days to make the most of the on-shore entertainment. Apart from the many cafes and restaurants, you can visit some cultural and historic sites, such as the Ehrman Mansion.
You can rent a kayak on the north and south shores and there are various options for accommodation, including camping. You can even go kayaking in winter in Lake Tahoe!
Glacier Bay National Park
Location: Alaska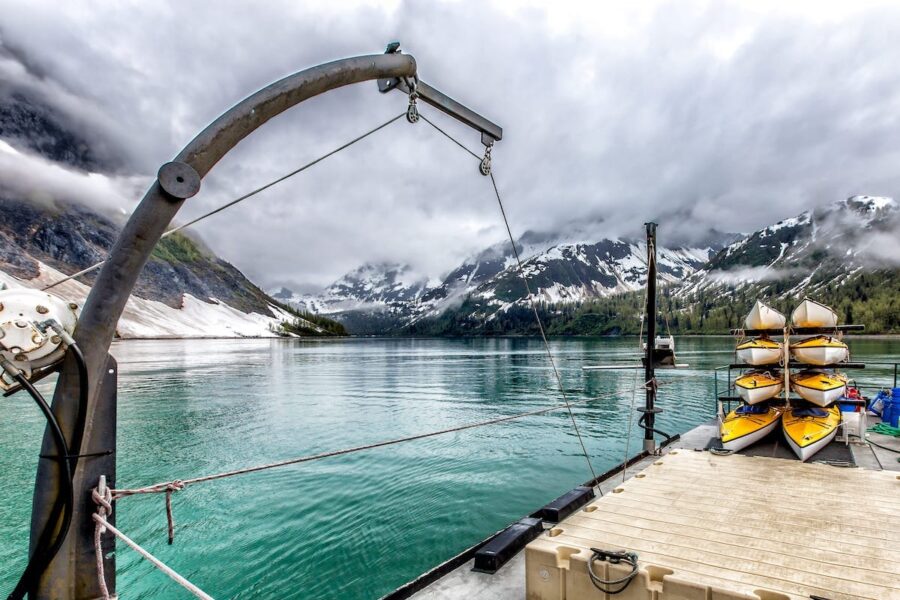 If you're looking for uncontaminated nature and unrivaled wildlife spotting, Alaska is hard to beat. With some luck, you can see bears, orcas, humpback whales, puffins, eagles, and sea lions.
The landscape is made up of fjords, tidewater glaciers, mountains, and forests. It's breathtaking.
Glacier Bay National Park is truly wild and only accessible by plane or boat. There are flights, air taxis, ferries, and charters from Gustavus. You can rent a kayak directly at the park, as well as sign up for guided tours.
During the summer, the Glacier Bay Lodge can drop you off or pick you up from designated locations. These change often to limit human impact on the park.
Want to camp here? You will need to register for a free permit and attend a 30-minute orientation session. This will be essential for planning your kayaking trip and figuring out the extreme tides of the bay.
When you collect your permit, you will be able to borrow bear-resistant food canisters from the National Park Service for free.
The best place to camp in the campground in Bartlett Cove. Remember: leave no trace.
Allagash Wilderness Waterway
Location: Maine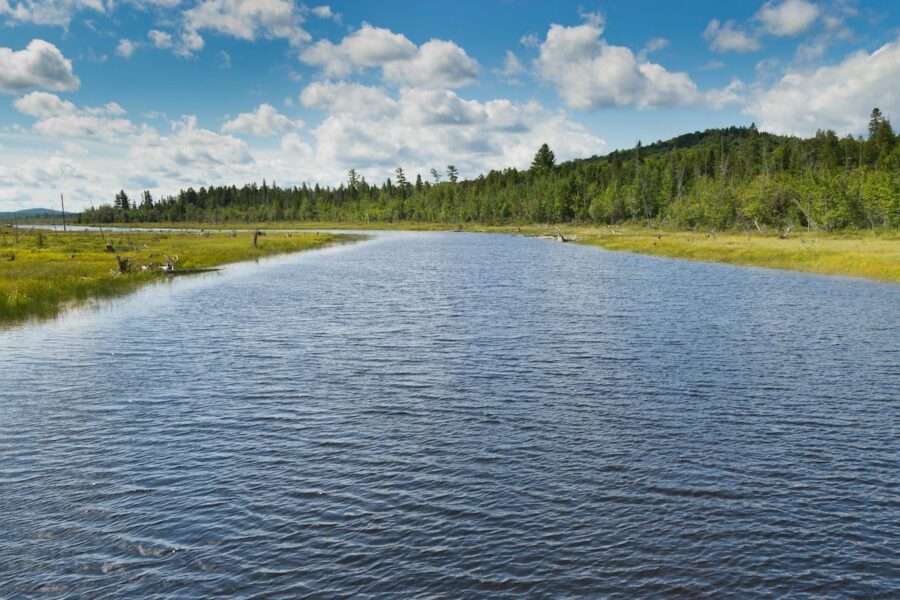 The Allagash Wilderness Waterway (AWW) is a 92-mile long river and lake area located in the National Wild and Scenic River System, in Maine.
The route alternates sections of the Allagash River with lakes and a few class II whitewater segments. Once a commercial highway, the waterway has been left untouched and is surrounded by commercial forests and logging roads.
You can either take a week to kayak the whole length of the waterway, up to the North Maine Woods, or choose shorter day trips. There are plenty of campgrounds along the water, although amenities are scarce.
It's backcountry territory; expect to hear or see moose and bears. The fishing in the AWW is fantastic – you can hook wild native brook trout, lake trout, and lake whitefish.
If you're a beginner, you can book a guided trip. Don't forget to pay your pass fees at one of the booths or self-service stations.
Klamath River
Location: California and Oregon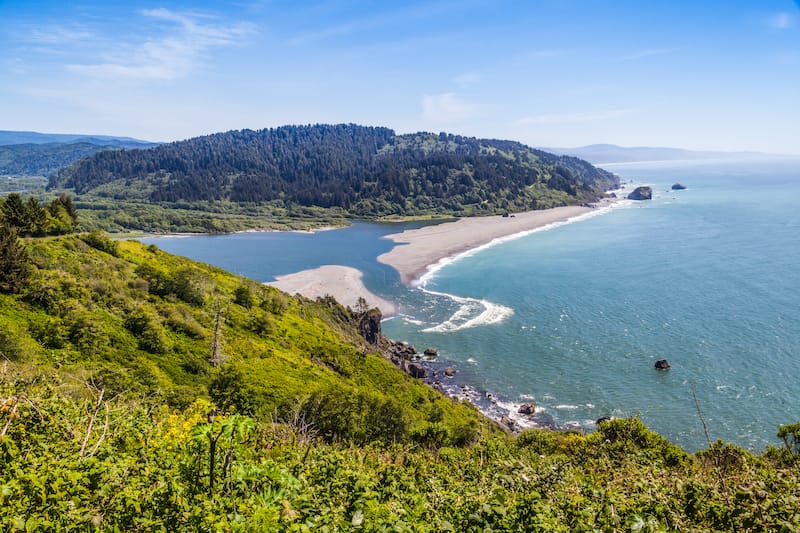 Looking for the perfect mellow kayaking trip for the family? Opt for the lower Klamath River in California. You can complete the easy 20-mile section from Happy Camp to Dillon Creek at your own pace.
Along the way, you'll find natural swimming holes, cliff-jumping spots, waterfalls, warm pools, and a few class II and III rapids. The water is warm enough to jump in.
You can also stop off to go for a hike in the stunning woods. With a little patience, you're also able to admire bald eagles, ospreys, river otters, and beavers.
It's the perfect summer family trip. If you plan to camp, secure a fire permit. On the Klamath River, while you are immersed in beautiful natural forests, you're never too far from civilization.
Happy Camp is also only an hour and a half drive from Yreka, so you could combine the watery outing with a visit to Redwood National and State Parks.
San Juan Islands
Location: Washington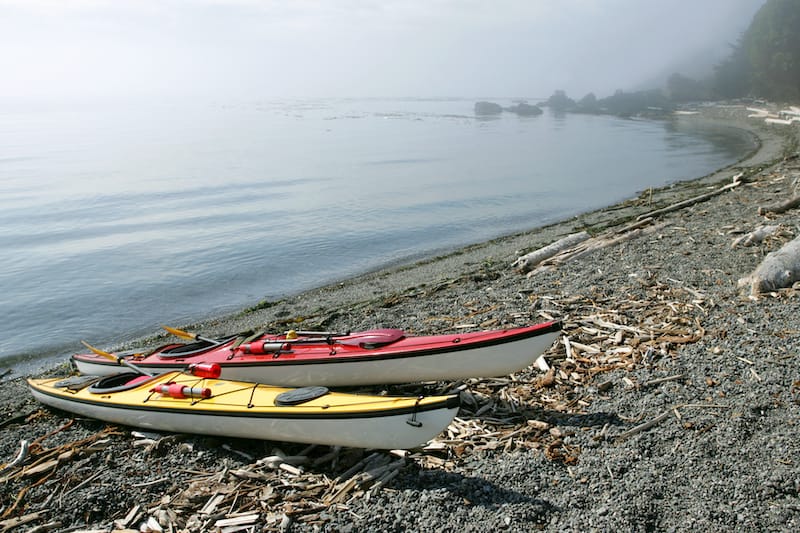 If you are keen to see some sea life, the San Juan Islands in Washington almost always deliver. There is a resident orca pod you can see year-round by San Juan Island itself.
Plus, you're likely to spot seals, sea lions, dolphins, and sea otters. You will be immersed in green forests and see snowy mountains in the background.
Don't forget to look up: the islands are home to the greatest concentration of bald eagles in the continental United States.
You can rent a kayak on San Juan Island. The strong tidal currents can be challenging to inexperienced paddlers, so if you're a beginner, you'll want to stick with protected bays.
The islands are located on the border between Washington and Vancouver Island and can only be reached by plane or ferry from Anacortes. However, there are farmers' markets, plazas, spas, and shopping venues on land.
To move around, you can take your own car on the ferry, rent a bike once you arrive, or use the shuttle buses. You can visit for half a day or more; there is plenty to do and see in the area (and it is a great weekend trip from Seattle!)
Chesapeake Bay
Location: Virginia and Maryland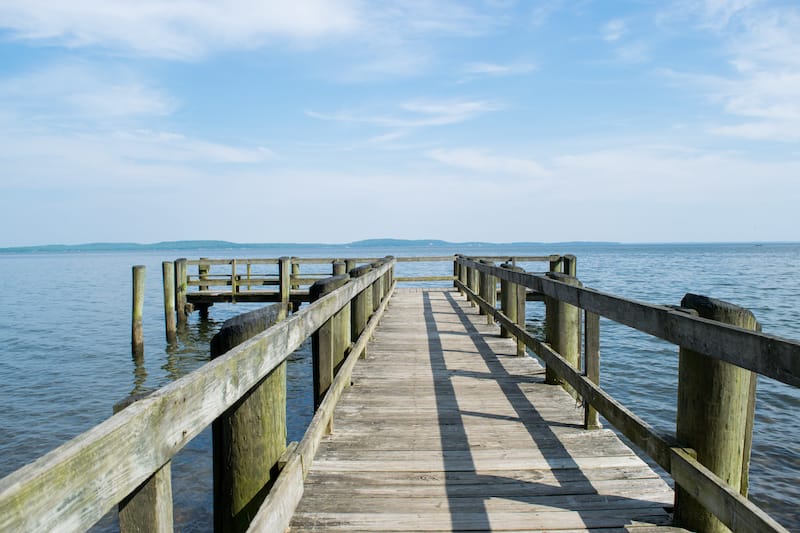 Want to explore somewhere less remote? The Chesapeake Bay is the largest estuary in the United States and features very interesting historical sites along its shores.
If you kayak here, you will be able to explore the green seashore, stop by points of interest, and go out for a warm meal in the evening. It's a great place to enjoy both an active holiday and city life.
Most people choose to spend two full days paddling around the bay. No permit is required to kayak here and you are able to camp. However, there is plenty of alternative accommodation, such as cottages and holiday homes.
There are class I to III segments, so it's not a very challenging area. It would be a perfect spot to try out kayaking for the first time.
San Juan River
Location: Utah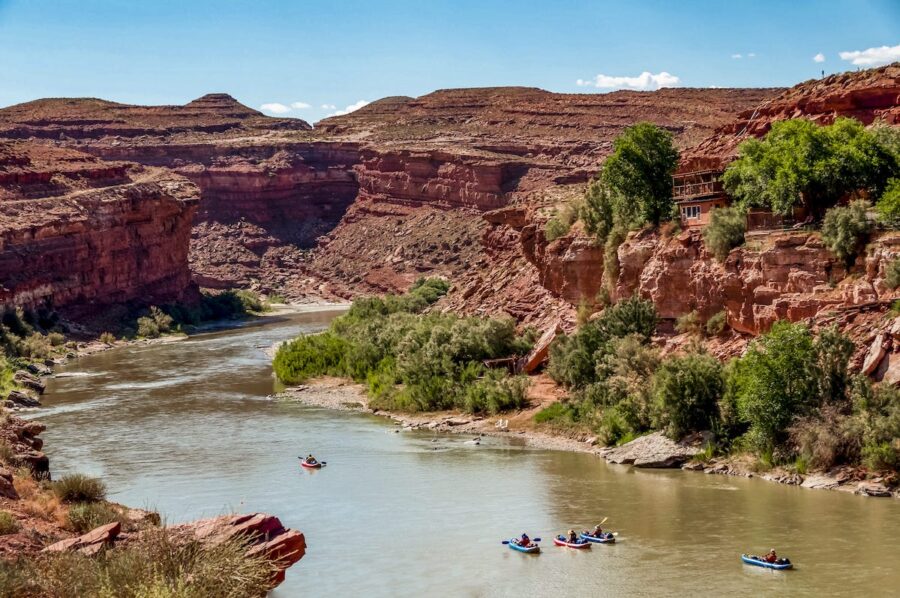 If you're a beginner or are looking to take novices kayaking with you, the San Juan River, in Utah, is the perfect spot. Here, the landscape is reminiscent of that created by the Colorado River, with vast, red, arid canyons.
You won't need much muscle power to float downriver and there are plenty of easy sections to tackle.
Build-in some fun stops to rest your arms. There are thousand-year-old rock structures, rock art, fossilized reefs, and more to marvel at. There's also lots of great hiking to do.
You have a better chance to enjoy the area if you stay three to five days. For easier kayaking, stick with the upper section. Don't forget to get your permit before you start booking everything. There are various rental shops near the river.
Tuolumne River
Location: California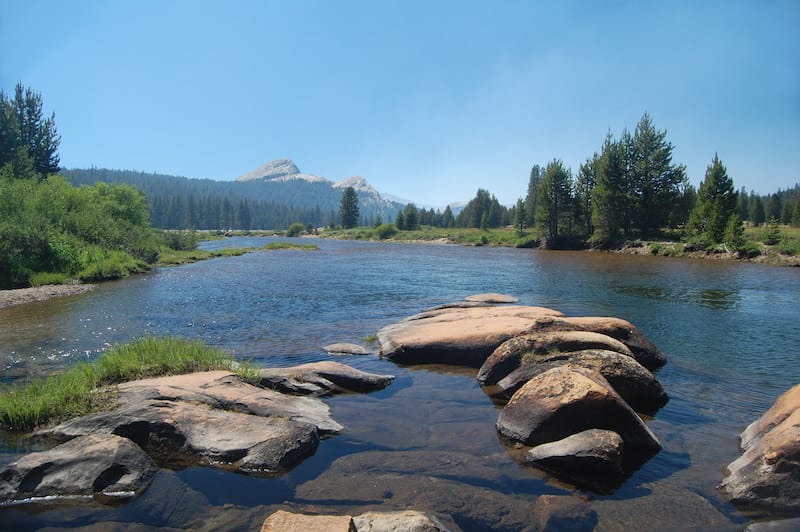 Looking for a more thrilling kayaking experience? You can't beat the 18-mile stretch of class IV to VI+ rapids of the Tuolomne River, in Yosemite National Park.
It's often called the "rafting Nirvana", and with good reason. You'll paddle through intricate boulder gardens, rushing cascades, and churning holes. The exhilarating route takes you through canyons and forests and near impressive waterfalls.
You could paddle the whole exciting section in one day, but there are lots of beautiful camping spots and great hikes to do on the river shores. Stopping by will pay off – you can hike to swimming holes and waterslides.
Those are, in our opinion, the best places to go kayaking in the USA. If you're a novice, consider booking a kayak tour for at least half a day, so you can learn the basics to stay safe.
Before you book your trip, make sure to look for a section of a river or lake that suits your abilities. And, of course, check if you need any permits.
What are your favorite places to go kayaking in the US? Let us know in the comments.
__________________
This article was written by the guys from Deckee, the safe boating app.
Deckee is a free app, designed to keep you safe and informed on the water.
On it, you can check the marine weather forecast, look up points of interest, such as boat ramps, record your trips, and more. You can download Deckee for free from your app store.
Pin this USA Kayaking Guide