There is something so epic about the Amalfi Coast. This is a guide to the best things to do on the Amalfi Coast, including some tips for the best time to visit and important things to know before your trip!
The Amalfi Coast is one of the most iconic destinations in the whole of Italy. And for good reason, this stretch of coastline is simply stunning.
It has such a glamorous feel and there is so much to experience and it is best experienced on a road trip (but you can also take tours or a train)!
The Amalfi Coast consists of 13 charming towns that cling to the dramatic cliffside. It has been listed as a UNESCO World Heritage Site since 1977 and attracts thousands of tourists each year.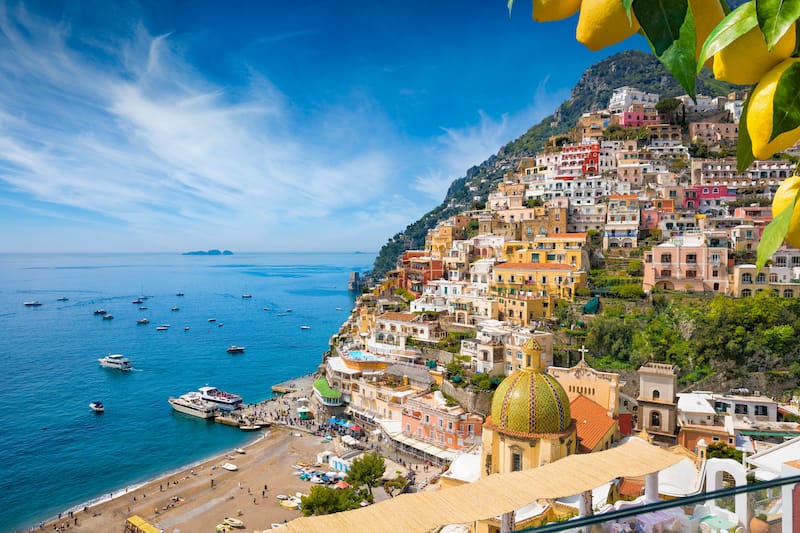 This is a guide to the best things to do on the Amalfi Coast written by Katie from You Me Under the Palm Tree. Please let us know of your favorite Amalfi Coast attractions in the comments!
Amalfi Coast Travel Tips
This part of Italy is so glamorous but it doesn't come without a price tag. There are cheaper parts of the coastline but it definitely has a higher price tag than other parts of Italy.
The most expensive part of your Amalfi Coast trip will certainly be accommodation. We opted to stay in an Airbnb but it still worked out rather expensive.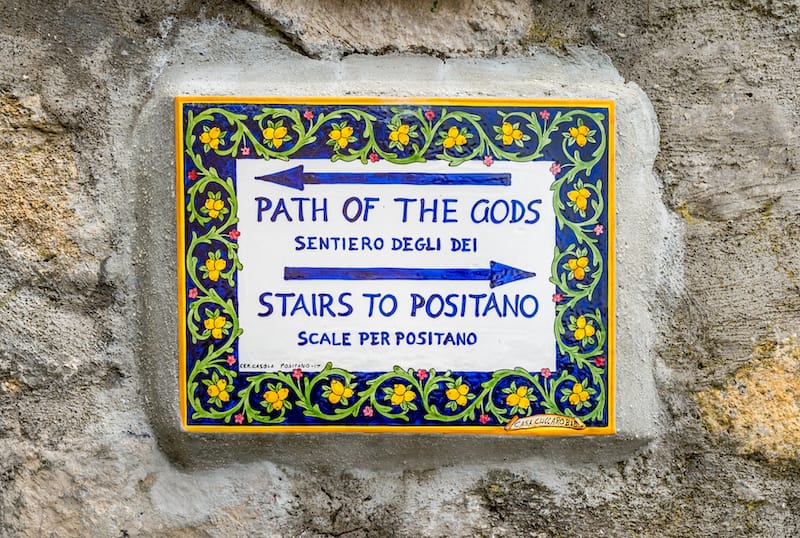 We think it is worthwhile to spend a little more money to get an incredible place with a balcony and some beautiful views.
We loved having our morning coffee on our balcony with stunning views of the Amalfi Coastline… it is an experience you won't forget.
It is worthwhile to make reservations ahead of time for places you know you want to eat.
There are restaurants offering the most incredible views and these places get booked up really quickly. Make sure to obtain reservations and request a good table as soon as you can.
How Many Days Do You Need on the Amalfi Coast?
You could easily spend a long weekend here or a whole week. To truly experience this beautiful collection of sun-baked towns and villages a week would definitely be best.
We spent a week on the Amalfi Coast and still felt there was more to see! We say the optimal number of days would be anywhere from 5-7 days to truly take it all in.
Best Way to Experience the Amalfi Coast
Make sure to move around and stay in different places. A lot of tourists base themselves in one town and venture to different places.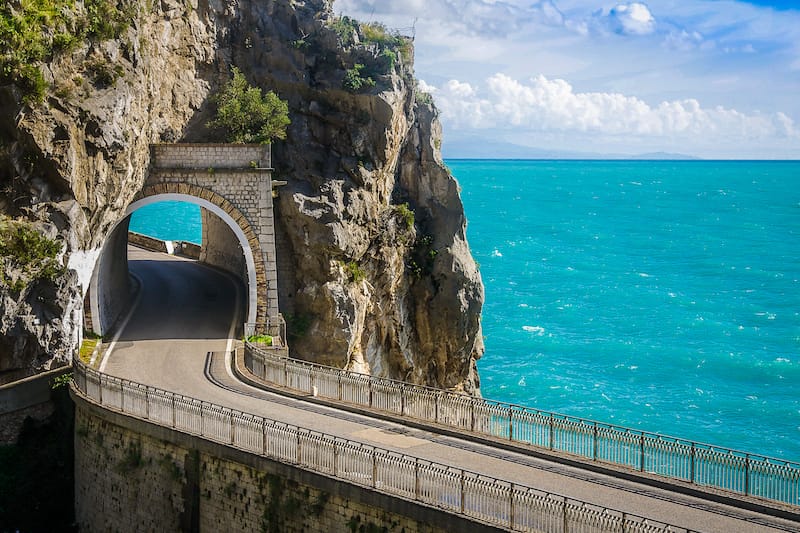 Whilst this is doable, we loved immersing ourselves in the local way of life after the daytime tourists left. If time permits, work your way along the Amalfi coast and you will have an incredible experience.
You will find some of the most incredible hidden gems in Italy on the coast!
IMPORTANT UPDATE: The Amalfi Coast just imposed restrictions to help curb the over-tourism for the 2022 season (this continues today even in 2023!). If your rental car plate ends in an odd number, you can access the road on odd-number days. If it is even, you can access it on even number days. Simple as that.
Best Time to Visit the Amalfi Coast
The best time to visit the Amalfi Coast is between April and June. At this time of year, you will find warm weather and flowers in bloom.
In July and August, tourists flock to the Amalfi Coast and temperatures start to rise as well. It is best to try to avoid these months if you don't like the heat and high prices.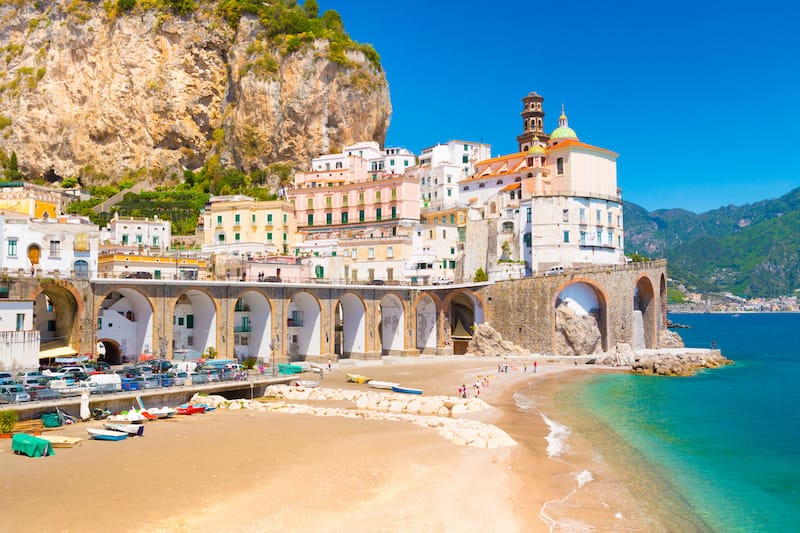 We visited in the latter half of September and found the weather to be really enjoyable and tourist numbers not to be too high.
(Editor's note from Megan: I went in December and it was too cold to swim and a lot of places were shut down but I still loved it!)
Best Things to Do on the Amalfi Coast
1. Hike the Path of the Gods
The Path of the Gods is the best hike on the Amalfi Coast. This hike offers you the most beautiful views of the Amalfi Coastline and it stretches from Bomberano to Nocelle and will take roughly 2 to 2.5 hours and is 4 miles (6.44 kilometers) long.
If you hike the Path of the Gods, the journey will guide you through ancient historical towns, ruins, and awe-inspiring views.
To really make the most of this hike head here for sunrise and pack breakfast. There are a few benches along the path that is perfect for breakfast.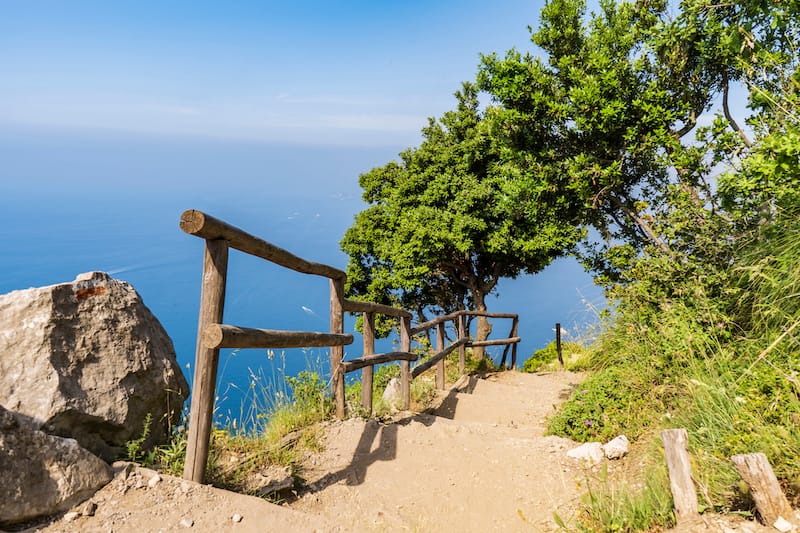 This breathtaking Amalfi hike provides some of the most dramatic views of the Coastline. Make sure to stop at the Belvedere viewpoint for an incredible stopping point with the best views along the hike. The Path of the Gods is the perfect way to spend your day!
You will also get to experience two lesser-known towns on the Amalfi Coast, Bomberano and Nocelle.
Once you get to Nocelle, make sure to stop at Lemon Point for the best fresh lemon and orange juice. It is a welcome refreshment after a long hike.
How to Get to the Path of the Gods
It is easy to use public transport to get to the trailhead. Get a SITA bus to Amalfi – this is easily doable from Sorrento or Positano. Once you are in Amalfi, get the Bus to Bomberano.
If you want to get there for sunrise then, unfortunately, public transport doesn't run early enough. The only other option is to get a taxi and this is really expensive. It will cost around 90 Euros one way.
2. Take a Day Trip to the Island of Capri
When visiting the Amalfi Coast, a trip to the island of Capri is a must! Ferries run from every destination along the Amalfi Coastline, so there is no excuse!
This island is so beautiful, with its bright blue sea and green rugged landscapes, it is simply stunning. Even though the island is renowned for being a playground for the rich, there is actually something to do there for every traveler and budget.
Here are our top 3 things to do in Capri:
1. Mount Solaro & Ana Capri
Capri island is made up of two parts, Capri and Ana Capri. Mount Solaro is in Ana Capri.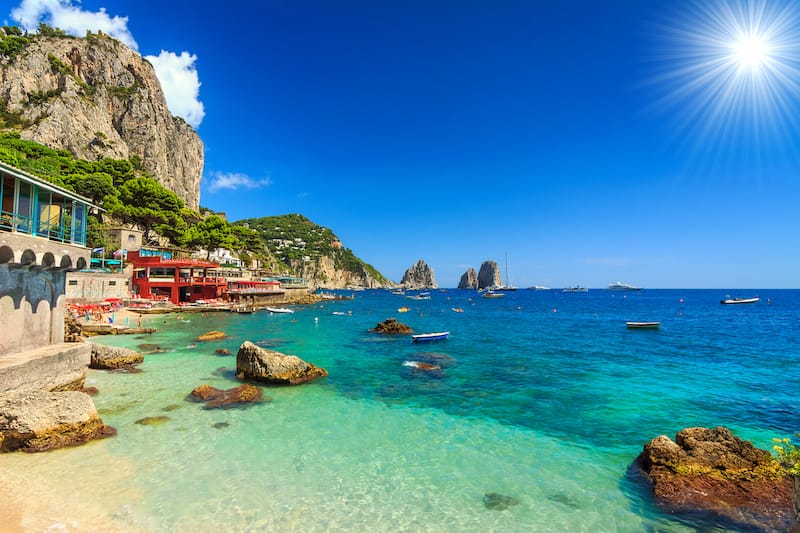 How to get to Mount Solaro
When you arrive at the Marina Grande, there is a bus station on the left. Buy your tickets and get on the bus to Ana Capri. Once you arrive in Ana Capri, you will be in Piazza Vittoria.
From there, you will need to climb the steps to the cable car that take you to the top of Mount Solero.
The cable car is such an awesome experience in itself. It is amazing to watch the Capri landscape unfold in front of you as you approach the top of the mountain.
Tickets: 12 Euro return, 9 Euro one-way.
Opening times and prices may vary. Check them out first at the info points in the Piazzetta or Marina Grande.
This mountain top is only small but it offers some of the best views in Capri. Once at the top of the first viewpoint, standing in front of the entrance will gift you the best views!
There is also a small café there so you can enjoy some gelato whilst taking in the landscapes. You can either return to Ana Capri by cable car or you can walk back down.
Coming back down on foot allows you to make a detour to see the Church of Cetrella. This is a tiny house of religious importance perched on the rocks with incredible views of Capri.
2. Ana Capri
When you are back in Ana Capri, it is worthwhile taking the time to explore. Ana Capri is home to some beautiful historic villas that have been turned into museums.
There are also loads of shops to have a nose around and explore. A real highlight of this area is Villa San Michelle, it was the dream home of Swedish Physician Axel Munthe. This villa was built on the ruins of an ancient chapel dedicated to San Michele.
3. Blue Grotto
This is one of Capri's most magical sights. The Blue Grotto is a sea cave that has sunlight passing through an underwater cavity that creates a blue reflection illuminating the cave. It is such a beautiful sight to see and definitely a must-see when in Capri.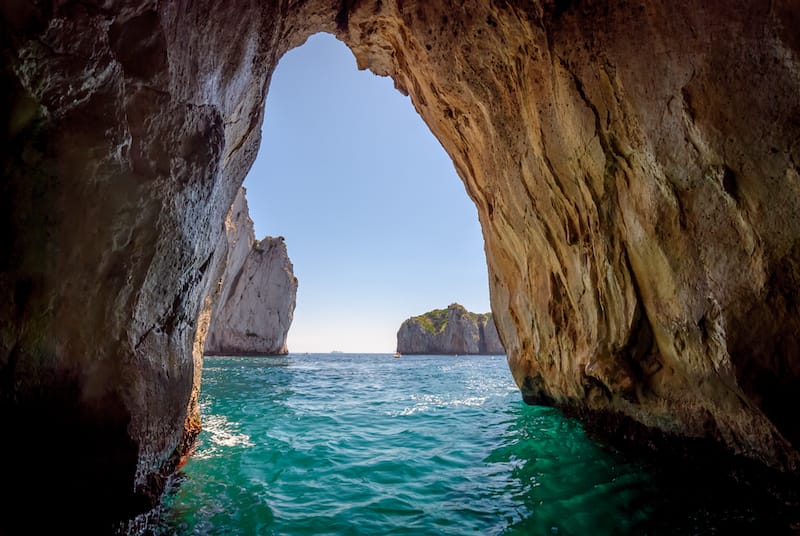 How to get to the Blue Grotto
To reach the cave you can get a boat from the Marine Grande or by bus from Ana Capri.
Entrance to the Blue Grotto is possible by small rowboats. It will cost around 14 euros per person.
3. Villa Cimbrone in Ravello
Ravello
Ravello in itself is worth a day trip from Sorrento or even Naples. This town was our absolute favorite place on our Italy road trip. Ravello is definitely the most romantic place along the Amalfi Coast and is the ultimate honeymoon destination.
The town is full of romantic viewpoints, amazing food, and some of the most stunning gardens you will ever see.
The Villa
Below you will see the opening times and prices for The Villa in Ravello:
The Gardens are open to the public from 9 am until sunset.
The entrance ticket price is €7.00.
This Villa was the absolute highlight of our Amalfi Coast trip. Villa Cimbrone is another historic villa in Ravello, famous for its jaw-dropping views from the terrace of infinity and luxurious blooms and rose gardens.
The Terrace of Infinity
This terrace provides the best views across the whole of the Amalfi Coast. This spot is the most perfect place to watch the sunset.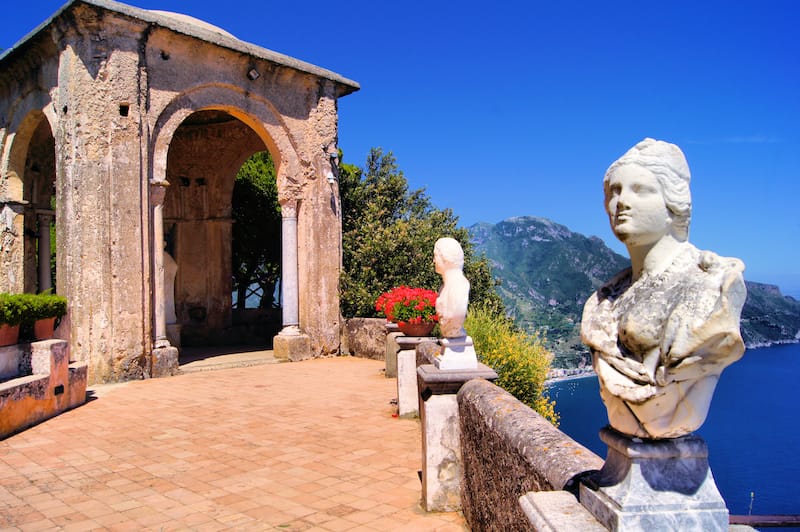 Of course, there are many other beautiful spots in the gardens of Cimbrone… the Terrace of Infinity is just one of them. We would recommend taking a few hours to wander and explore this incredible place.
Stop for Granita in the Garden of Lucia and walk around the rose gardens. There really is so much to see and each corner is filled with beautiful flowers and architecture.
5. Furore Beach
Furoir di Four Beach is one of the most iconic beaches on the coastline. Used by Red Bull as an extreme diving site, this beach is nothing short of spectacular.
💥 INSIDER TIP: An important thing to note is that this beach only catches the sunlight early in the morning. So head here early and soak up the morning rays before the sun is out of reach.
How to Get to Furore Beach
To experience this stunning beach, you can rent a boat from any town like Positano or Amalfi and head that way. You can also drive there and walk around the town of Furore above the beach.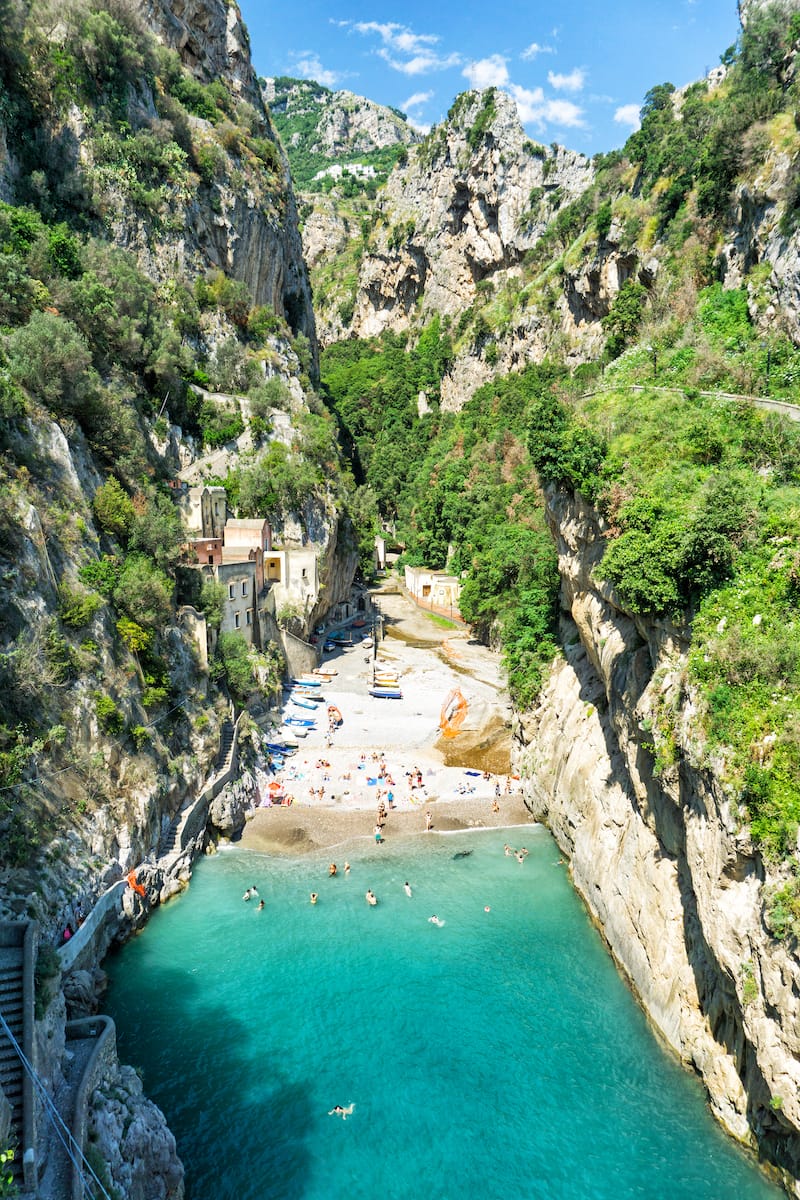 There are a set of stairs that lead all the way down to the beach. One thing to bear in mind is that there is no available parking in the vicinity.
To head there by Bus, you can catch the Positano – Amalfi Line. Whilst this beach is a little hard to access, it is certainly worth it.
6. Visit Atrani
Atrani is a city and commune. The Municipality of Atrani has a surface area of 0.12 km, making it the smallest in the whole of Italy. The biggest difference between Amalfi and Atrani is authenticity.
If you visit Atrani, you will notice that it represents a true insight into the local Italian lifestyle. This town is made up of many small narrow residential streets.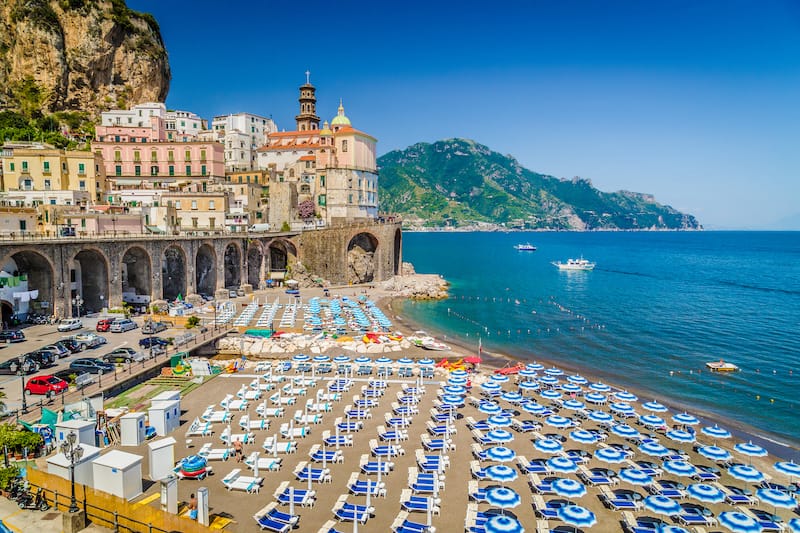 It is only a 10-minute walk from Amalfi town and therefore easy to access. With laundry hanging from open windows swaying in the breeze and locals gathering for their morning coffee in the main square, it is a beautiful town to experience a local way of life.
The Beach in Atrani
Atrani's beach was the most perfect place to chill. Sunbeds and umbrellas are cheaper than other places on the Amalfi Coast.
Dotted with blue and white umbrellas and beautiful rocks in the sea to lie on. This beach has a small public beach or two beach clubs that offer beds you can hire for the day.
Have Lunch or Dinner at La Arcate
Pizza from La Arcate is a must! Call ahead of time and book a table right on the seafront. It is the most perfect place offering wood oven pizza cooked to perfection.
They have tables right by the seafront lit up by old-fashioned lamp posts and it really sets the mood for a wonderful experience.
7. Eat Dinner and Drink Peach Bellinis at Ill Trident in Positano
Ill Trident in Positano is an incredible place to catch a sunset and have incredible food. The area is filled with white wire arches and bright pink climbing flowers.
They offer great food but the highlight for us was their beautiful freshly made Peach Bellinis. For dinner, we recommend the Kamut spaghetti with black olives, capers, and yellow cherry tomatoes.
Enjoy your cocktail sitting on the sunlit terrace and take in the incredible views.
A few other restaurants we loved in Positano:
Faro Bar- right on the edge of the coastal road in Positano and offers an incredibly romantic setting. This place is renowned for its fresh fish.
Da Gabrisa Restaurant & Wine Bar – Although this is a wine bar, you should definitely have one of their signature G&T's. Any of their seafood pasta dishes are also delicious.
Casa e Bottega – this is the best place for breakfast in Positano and we loved their avocado on toast and smoothie bowls.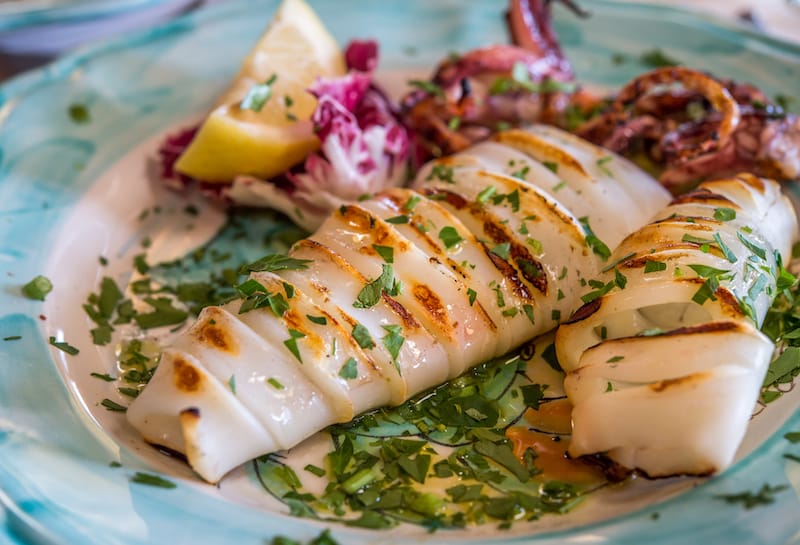 General tips for eating out along the Amalfi coast
It is worthwhile making reservations ahead of time for places you know you want to eat. There are restaurants offering the most incredible views like Ill Trident and they get booked up really quickly.
Make sure to make reservations and request a good table as soon as you can.
8. Head to Arienzo Beach Club
Arienzo Beach Club is an amazing place to relax and rejuvenate in Positano. The owners have a small boat that will pick you up from Positano and take you to this iconic beach in a hidden cove.
The tiny beach is covered with iconic orange umbrellas and sunbeds. They serve the perfect Aperol and amazing lunch options. This beach club is the ultimate spot to chill along the Amalfi Coast. Check out their reservation options here.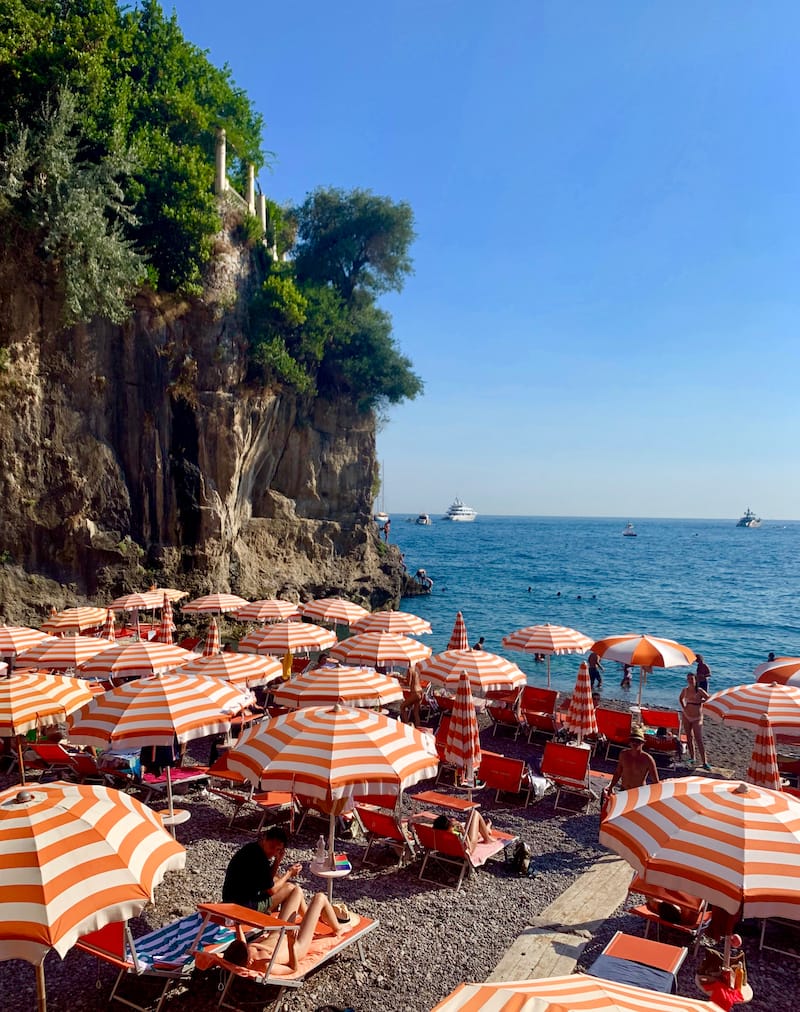 We met many locals who recommended this beach club. Known for its incredible lunch options, this beach club is the perfect way to spend a day on the Amalfi Coast.
9. Explore Amalfi Town
Amalfi town is sometimes overlooked with many individuals stopping there as part of their onward journey.
However, we believe Amalfi deserves a trip in its own right. Because it is one of the central ports along the Amalfi Coast, chances are you will be visiting Amalfi at some point.
It is so easy to get there from Positano, Capri, or any other major destinations on the Amalfi coast. Below are our top things to do in Amalfi.
Shopping in Amalfi Town
The best place to get souvenirs and everything lemon-related! Stroll the cozy streets and spot the adorable fountains dotted around the town.
Head to La Scuderia del Duca paper store. Filled with the historical journey of the paper trade in Amalfi and intriguing artifacts, if you search hard enough, you might be able to find old vintage postcards and classic stationery printed on Amalfi paper.
Admire the Amalfi Cathedral
If you are heading to Amalfi, you simply cannot miss this architectural masterpiece. The cathedral sits with pride in the center of Amalfi and it is just beautiful.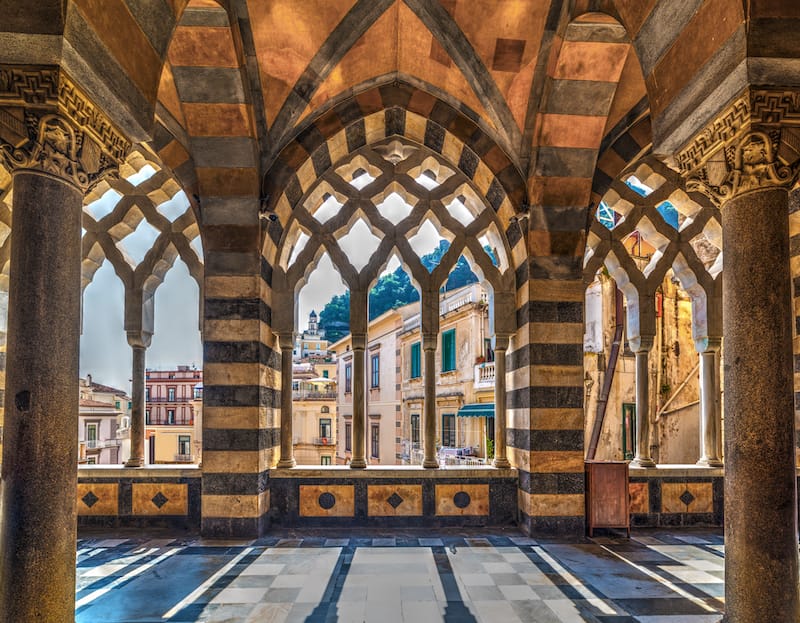 The Amalfi Cathedral is dedicated to the Apostle Saint Andrew. His relics are also found there. Entering the Cathedral is free, so why not take a look around?!
10. Drive the Coastal Road
The Amalfi Coast road offers some of the best views of the Amalfi Coast. However, it certainly isn't for the faint-hearted! With narrow lanes, wild drivers, and steep cliffs, there are definitely some hair-raising moments.
Hire an old Vespa or you can pay more for a classic car and drive the coastline. Check out Positano Vintage Dream for hire options.
The best scenic viewpoint is at Conca dei Marini just after the Belvedere Hotel. You will get to see the crystal clear water of the Saraceno Hotel which was once a fortress.
The view also allows you to see the former villa of Sofia Loren with the perfect Amalfi backdrop.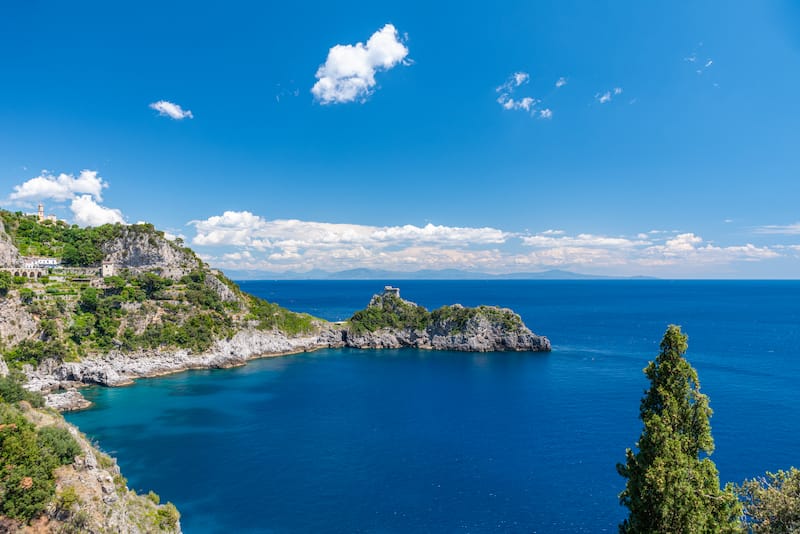 The road from Amalfi to Agerola (or from Agerola to Sorrento) provides a unique view over Praiano.
Compared to the other roads along the Amalfi coast, there are a couple of places where you can pull your car over to the side, especially in between Furore and Agerola.
One really important thing to note here is that there are not a lot of parking spots along the coastline. Also, for the parking spots that do exist, they will be very expensive.
💥 INSIDER TIP: Because of the lack of parking and expensive prices if you do rent a car, we recommend renting a Vespa instead for the duration of your Amalfi trip!
Adventurous Amalfi Coast Activities
If you're the type that is seeking something more adventurous than just scenic views and incredibly good food, we have listed a few activities that will encourage you to still make a trip to the Amalfi Coast! Here are some of our top picks!
1. Go Skydiving
To really have one-of-a-kind views of the coast and an unforgettable experience on your Italy trip, consider a skydiving tour!
After an instruction and safety session, this adrenaline-pumping activity will take you from the ground to an altitude of 4,500 meters (14,700 feet), where you will then jump out of the plane, free fall for a minute while reaching a speed of more than 120 mph, and then float to the ground while enjoying breathtaking views of the coast and Mount Vesuvius.
This is a tandem jump, so you will be attached to the expert instructor at all times who will take care of opening the parachute and safely landing.
This experience is based in Salerno and is open for bookings throughout the year.
>> Click here to check rates and availability
2. Go Crystal Kayaking near Sorrento
Discover some of the most beautiful hidden spots on the Amalfi coast and explore the underwater world from the comfort of a transparent kayak! It is one of my favorite things to do in Sorrento!
This unique tour will let you see below the surface as you paddle through crystal clear waters to secret caves, coves, bays, and beaches, with time available to swim, snorkel, and relax.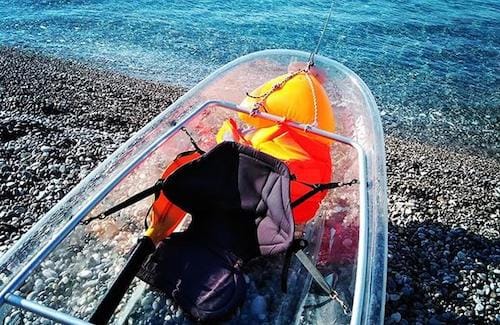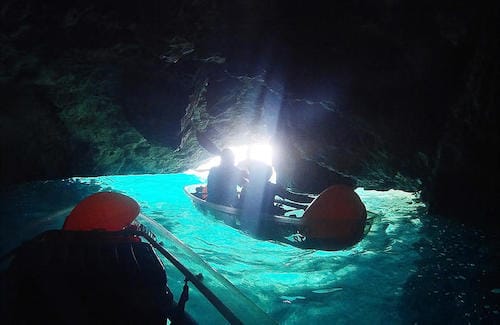 With the transparent kayak, you will have amazing views both above and below you! Leaving from Marina Del Cantone, you will have the option to choose a 90-minute or a four-hour tour, with bookings open from April through October.
Don't miss this unique opportunity to fully appreciate the magnificent beauty of the Amalfi coast.
>> Click here to check rates and availability
Should You Visit the Amalfi Coast?
The Amalfi Coast is full of incredible towns, villages, and amazing things to do. Each town has something unique to offer with its own charm and identity.
We hope you enjoyed our guide to the best things to do along the Amalfi Coast. This is such a stunning part of Italy and you are guaranteed to fall in love with this coastline and everything it has to offer.
Whether you are visiting the cliffside villas in Ravello or the stunning blue waters of Capri, each experience is so unique and memorable.
Additional Italy Travel Resources
Pin this Amalfi Coast Things to Do Guide