Are you looking at visiting Herculaneum on your next trip to Italy? This guide tells you how to visit Herculaneum from Naples (and even Rome)! Read on!
Are you planning your trip to Herculaneum last minute?
If you're traveling to Herculaneum last minute, you want to ensure you have your lodging and tours booked ahead of time! These are our top picks:
🇮🇹 Best Tours to in Herculaneum:
🛌 Best Places to Stay in Ercolano (Herculaneum):
Casa Raiola Ercolano (fantastic accommodation by the sea)
Bella 'Mbriana (beautiful villa)
B&B Enjoy Ercolano (5 minutes away from Herculaneum where I stayed)
🛌 Best Places to Stay in Naples:
🚗 Looking for the best way to get around Campania? Click here to check rental car rates for Italy!
Herculaneum is easily the most fascinating and mind-blowing site I have ever been to in my life. I still can't wrap my head around the place, its history, and how well-preserved the Herculaneum ruins are today.
Overshadowed by Pompeii to its south, Herculaneum is lesser visited, yet offers a far better insight into Roman life in 79AD than Pompeii, in my opinion.
This post will include everything you need to know before visiting Herculaneum from Naples and other places in Italy including tours, tickets, where to stay in Naples and Ercolano, and how to get there.
What to Know Before Visiting Herculaneum from Naples
I have always wanted to visit Herculaneum and Pompeii. I knew they were close to Naples, an Italian city that I wanted to eat a lot of pizza in or take one of the famous Naples food tours in… but I yearned to go and learn about this enthralling, ancient history.
Herculaneum was an ancient Roman town located fairly close to modern-day Naples that was founded in the 6-7th century BC.
Today, it is an archaeological site between Pompeii and Naples and can easily be reached via public transportation on the Circumvesuviana train.
The ruins are a UNESCO World Heritage Site along with the other famous places that Mount Vesuvius decimated, Pompeii and Oplontis (currently Torre Annunziata).
The towns of Stabiae (where Pliny the Elder died from the eruption) and Boscoreale were also buried under ash and lava from Vesuvius' 79AD eruption.
What remains fascinating about Herculaneum is that the ruins offer such valuable insight into Roman life back in 79AD. In addition, the preservation of the place is incredible.
The lava and ash preserved everything from wood to sewage, allowing archaeologists to be able to recount details of life in Herculaneum and the Roman empire with more precision than any other ancient era in history.
This post will give information about the Herculaneum ruins, how to visit Herculaneum from Naples and other places in Italy, tours to take, hotels in Ercolano (modern-day Herculaneum) and where to stay in Naples, ticket prices, and much more.
Please send me an email or leave a comment if you have any additional questions or suggestions to future travelers.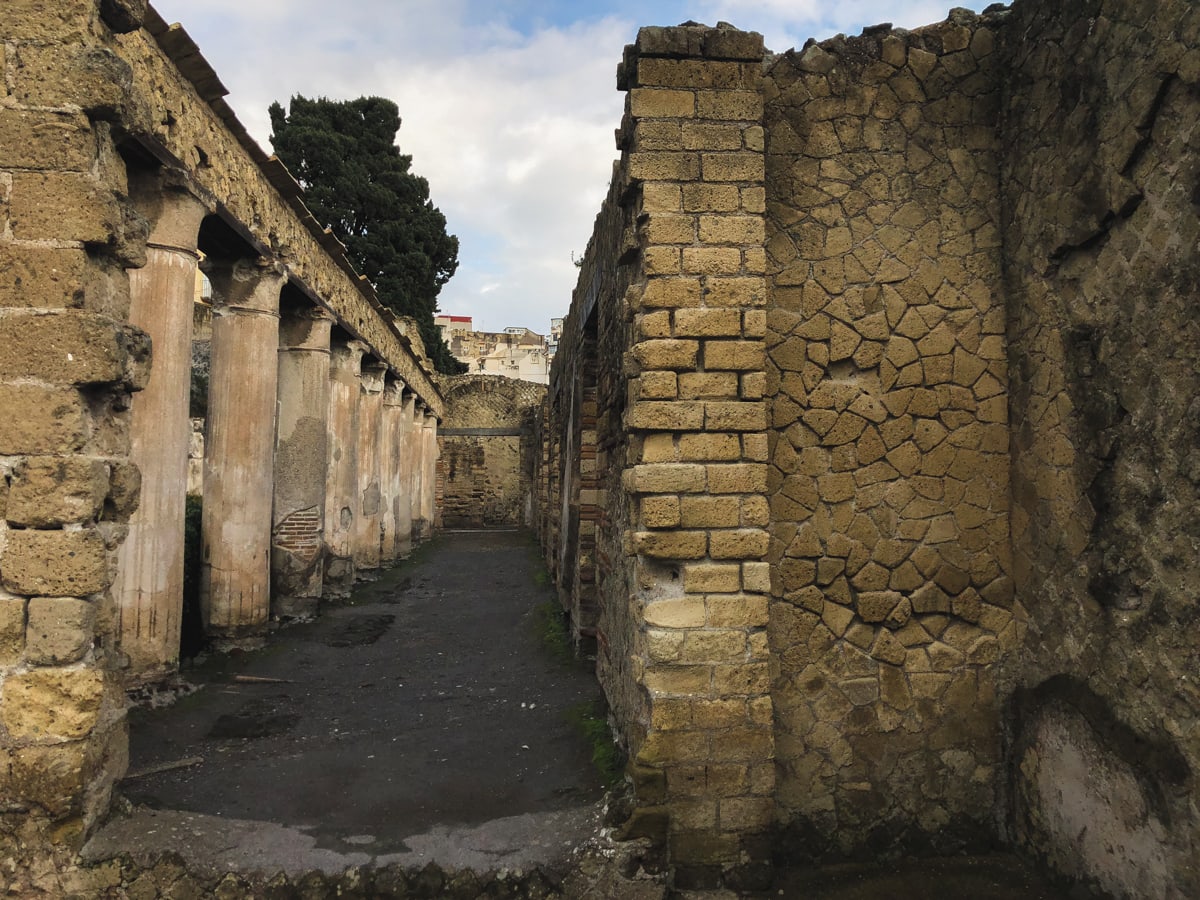 About Herculaneum
Herculaneum was an ancient Roman town located near Mount Vesuvius near modern-day Naples, Italy. The ruins are located in the city of Ercolano, which is a sizeable city of around 53,000 people. It sits right on the coast on the Bay of Naples.
In 79AD, Mount Vesuvius erupted, leaving Herculaneum and nearby Pompeii, Stabiae, Oplontis, and Boscoreale buried in ash for centuries.
Pompeii, for example, was buried under around 5 meters (about 16 feet) of ash while Herculaneum was buried under around 25 meters (82 feet) of ash.
This difference allowed Herculaneum to be preserved far better than Pompeii and the lava's carbonization actually saved everything from wood, sewage, mosaics, roofs, beds, and more.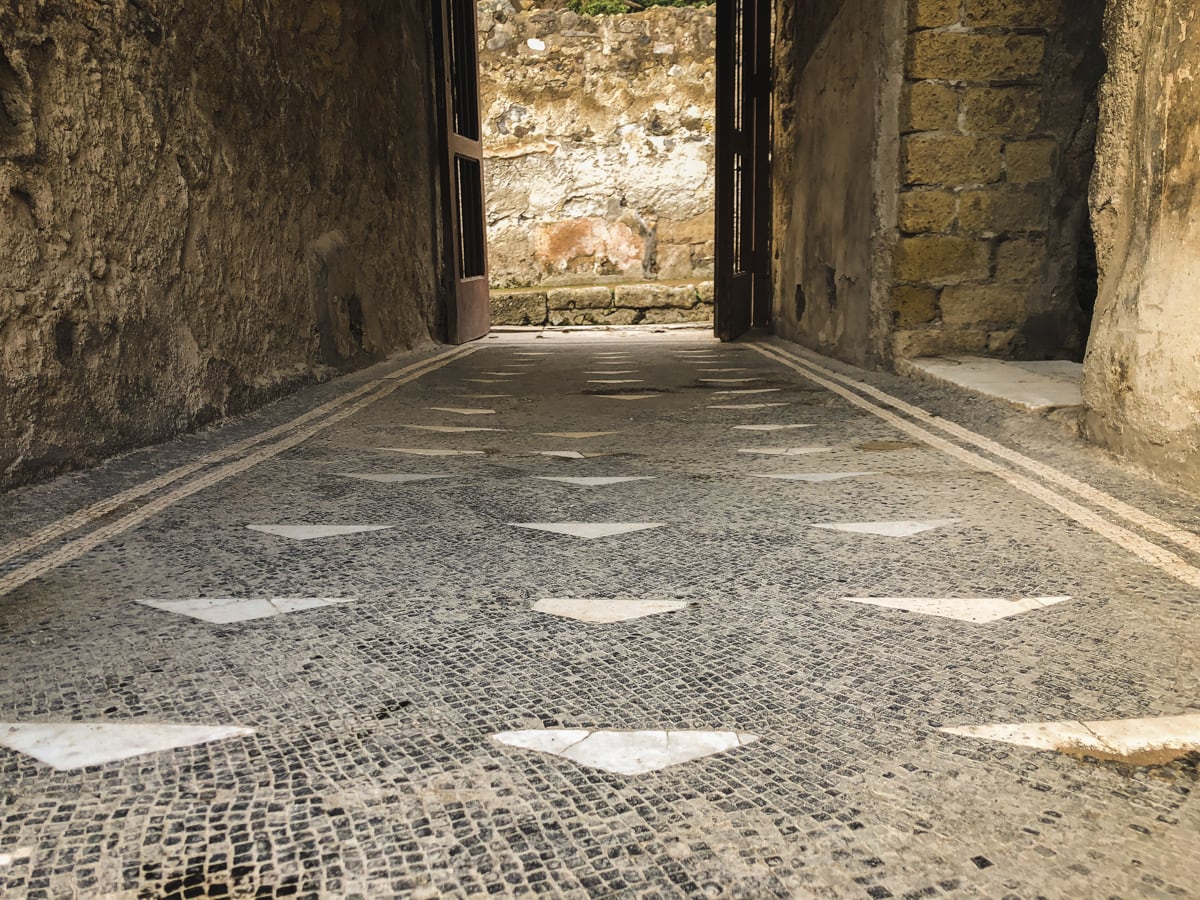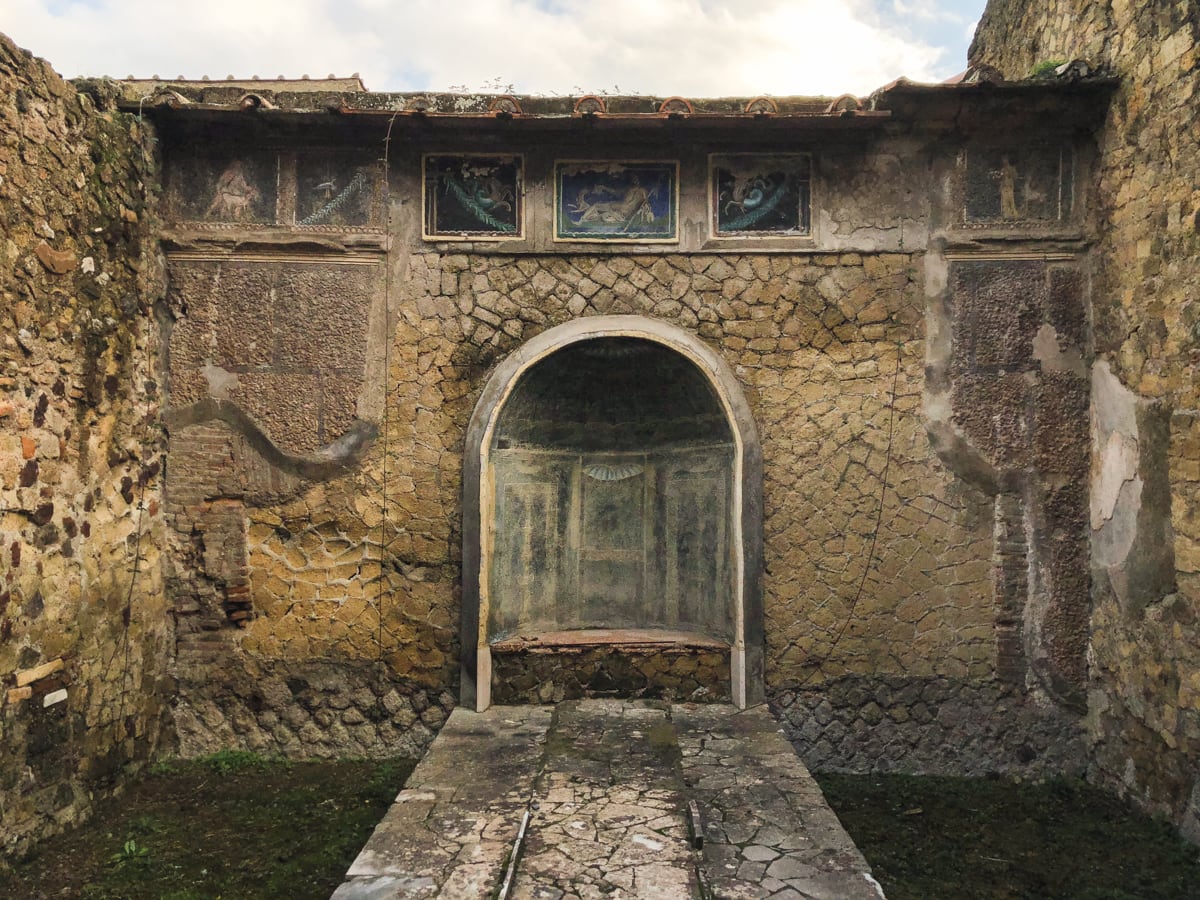 Most of the residents fled the eruption, which completely buried the town in a matter of about 12 hours, but around 300 skeletons were found by archaeologists at Herculaneum.
The skeletons were in excellent condition to be studied and analyzed. These Herculaneum skeletons have offered riveting details of the lives of residents of the Roman town (you can read more about them below).
Herculaneum was known for being a bit wealthier than other towns and cities in the area. What is really interesting, however, is that archaeologists have determined that around 80% of the town's residents were former slaves.
During the Roman empire and specifically in certain areas, slaves would come to work from places abroad (the Middle East, notably) and they would work hard and tirelessly with the goal of being free.
Freed slaves were able to start their own businesses and could take in wealth and Roman citizenship once freed.
Graffiti has been discovered all around Herculaneum and the uncovering of such has given insight into vulgarities in the Latin language for the time and has offered perspective into what Latin was like for the ordinary person and not just the wealthy.
The graffiti has also given the indication that women were more literate than previously thought and that even many female slaves were able to read and write.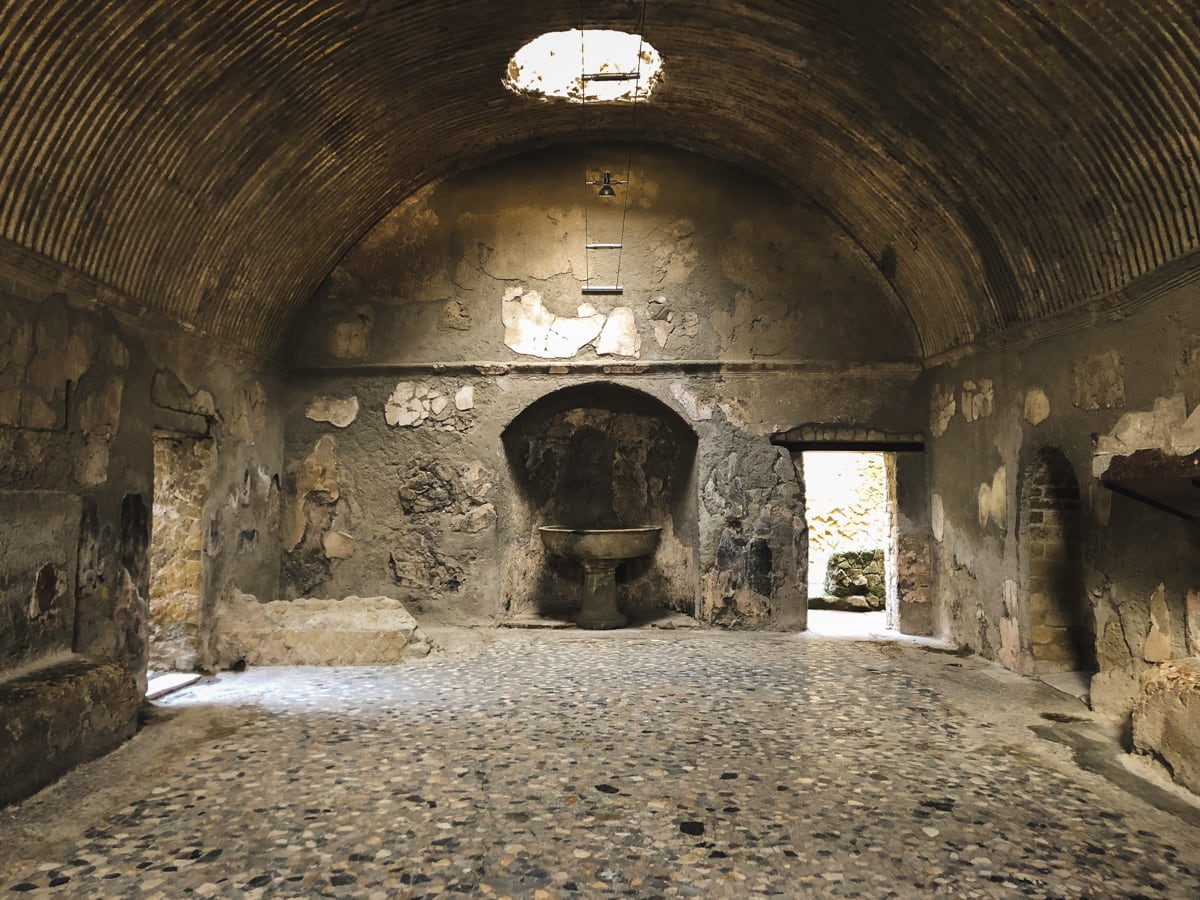 The town was discovered during the engineering of a well in 1709 in Ercolano (called Resina at the time). While digging, ornate statues were discovered in what would have been the theatre of Herculaneum.
One of the most renowned statues was the Herculaneum Woman, which can now be found on display at the Dresden Skulpturensammlung in Germany.
Excavations continued off and on and then Pompeii was discovered and most were halted at Herculaneum since Pompeii was far easier to dig out since it was buried under less ash than Herculaneum.
Unfortunately, funding has hindered excavation of the site over the years and about 75% of it remains still buried.
There are many conservation efforts in place today to try to preserve what has been uncovered as the elements are starting to deteriorate some of it.
Excavations have temporarily been stopped in an effort to ensure the conservation of the town that is exposed and open for tourism today.
Today, you can visit the ruins of Herculaneum by tour or independently with a private car or public transportation. I visited by public transportation and I have detailed how to do so later in the post.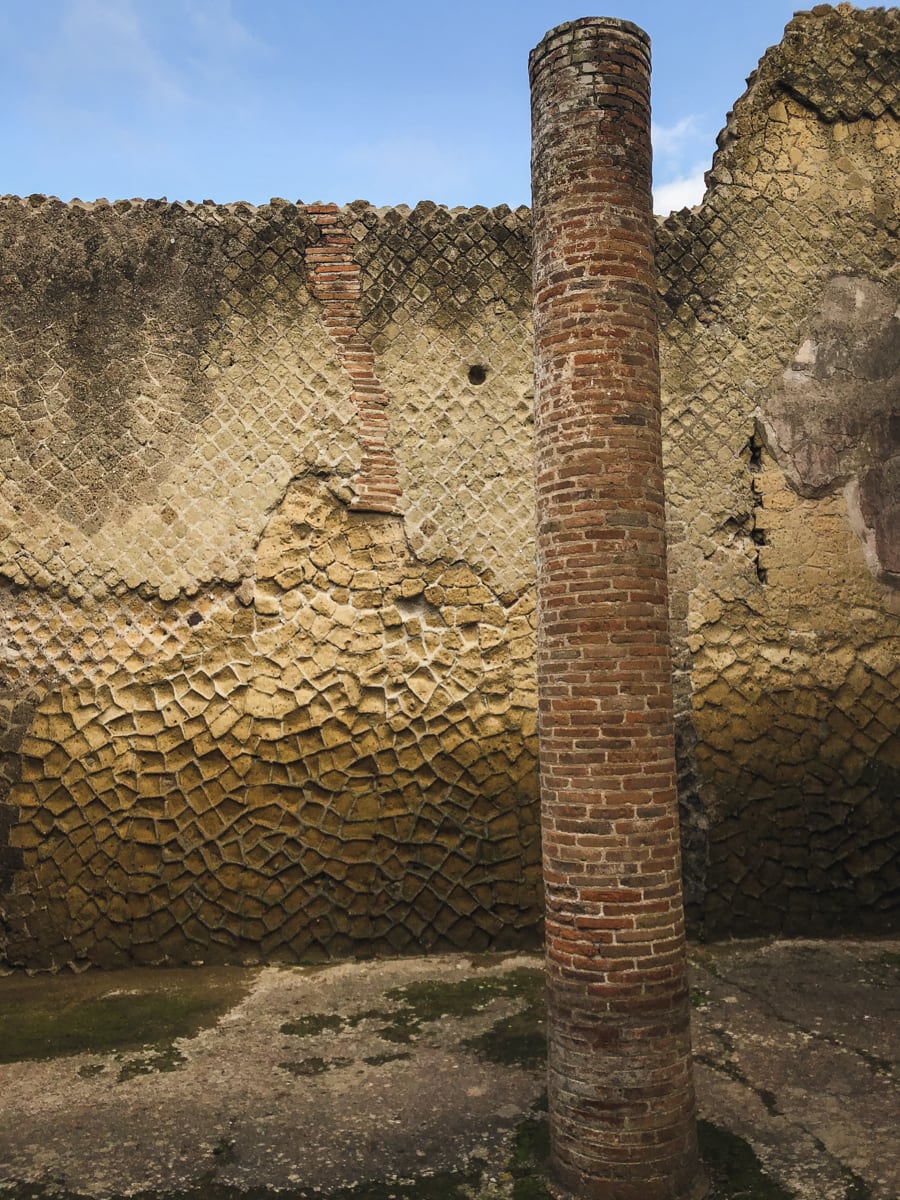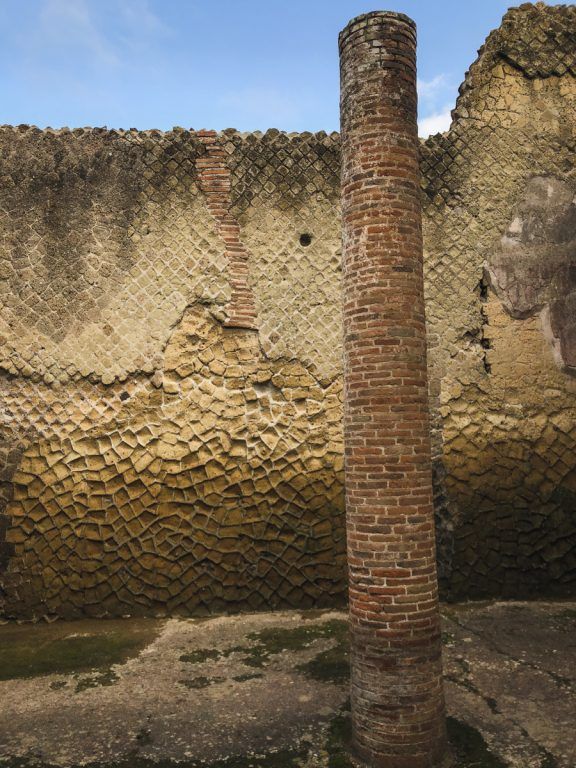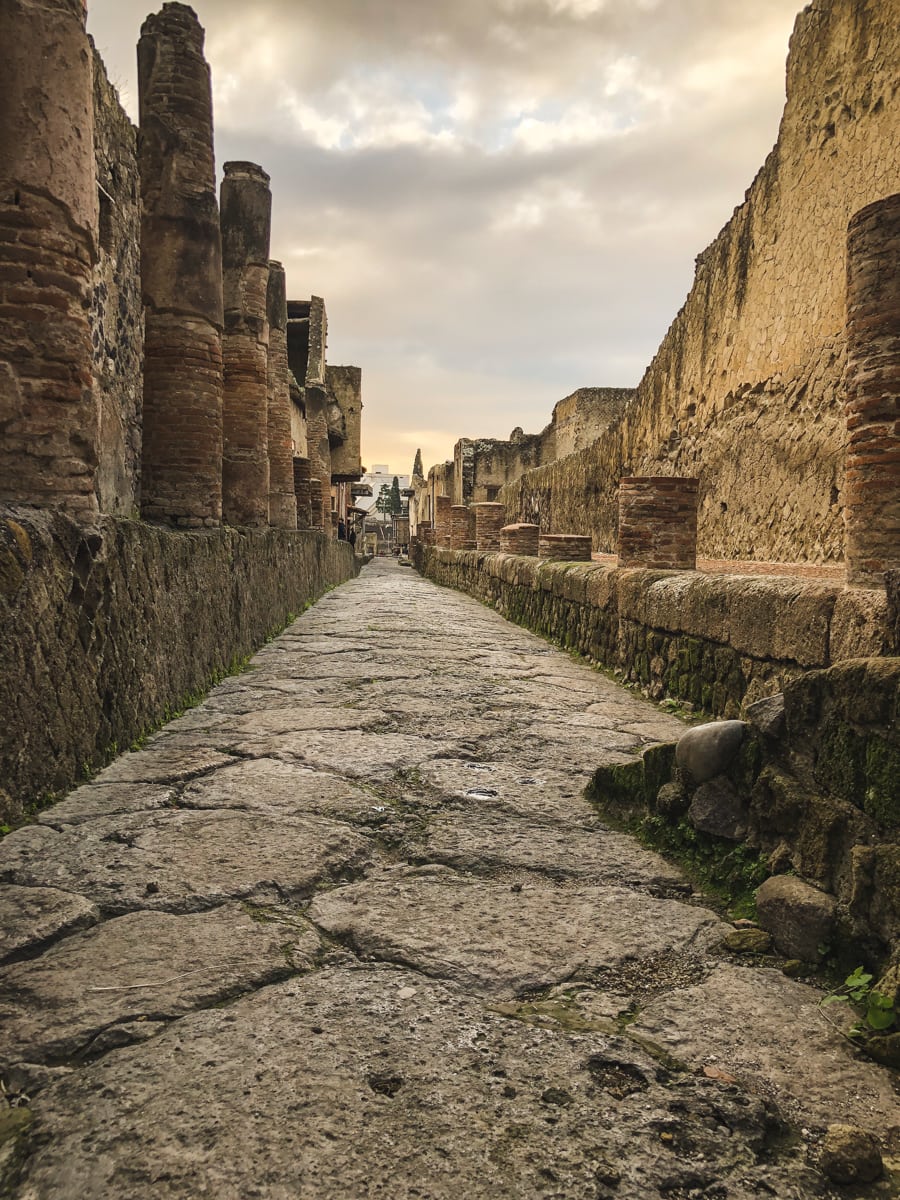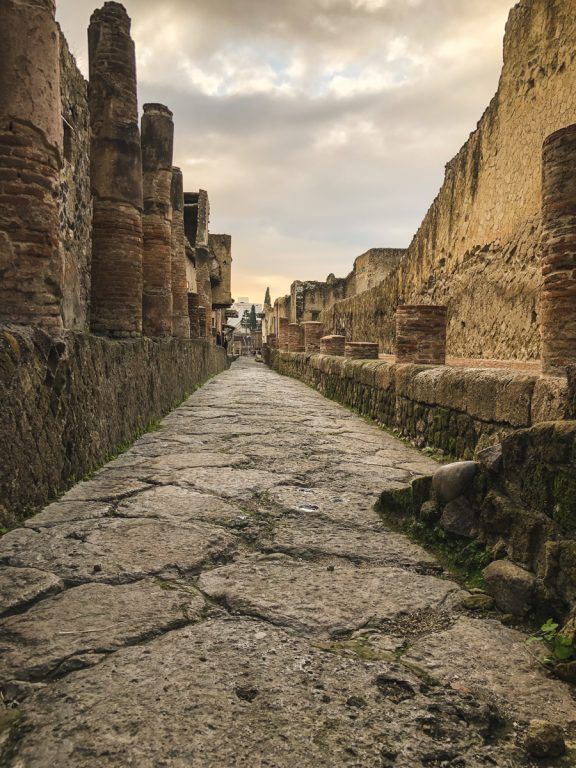 Herculaneum Skeletons
At Herculaneum, you will find the best collection of preserved skeletons from this time in history in the world.
In 1981, excavations led by Dr. Giuseppe Maggi unearthed more than 55 skeletons at Herculaneum in boat houses near what was the ancient shoreline (the shoreline grew by nearly half a kilometer after the eruption).
Prior to this discovery, it was thought that most residents managed to escape as only a few skeletons had turned up during excavations.
The Herculaneum skeletons found turned up in boathouses by the shoreline which gave the indication that they were trying to take shelter from the catastrophic eruption. These boathouses were later determined to have been built to double as shelter, but not from a volcanic eruption.
For years prior to the 79AD Vesuvius eruption, earthquakes had violently shaken the city on a regular basis. A large earthquake had damaged Herculaneum twenty years prior and proactive measures were put in place in case of another earthquake.
The residents never associated a connection between the earthquakes and Vesuvius erupting and they failed to relocate because of the rich soil at the base of Vesuvius (rich soil = healthy vineyards… I totally get their reasoning).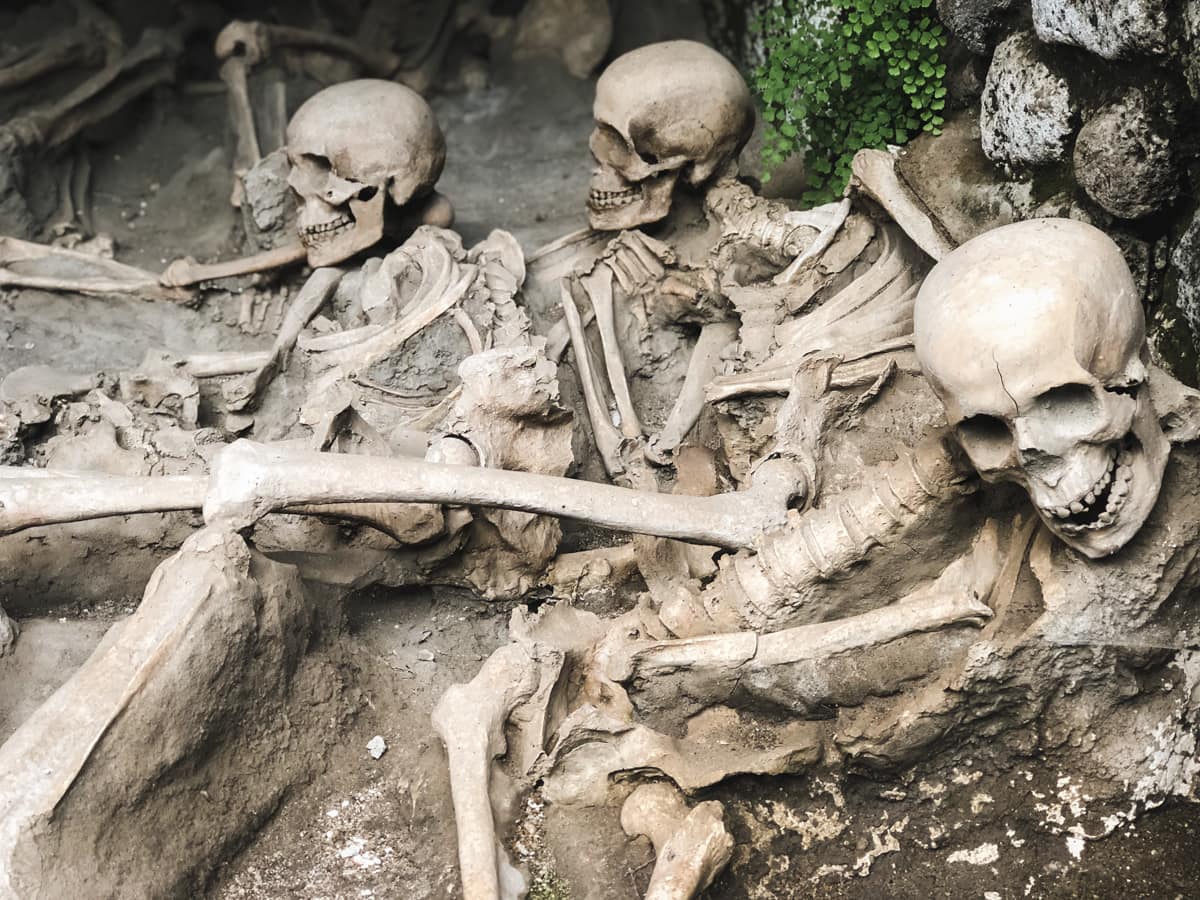 Another interesting thing discovered by analyzing the skeletons at Herculaneum was the fact that 80% of those residing in Herculaneum had been slaves at some point in their lives.
The bones indicated hard labor which was typical for those who had been slaves at some point. There was one slave, who had come to Herculaneum from Syria, who had worked hard like a slave, ended up free, and become a wealthy man in the town.
His documents were traced as he was initially owned by Marcus Nonius Balbus, a local luminary who owned a lot of Herculaneum. Once freed from Balbus, he became a property owner and Roman citizen.
His name was inscribed on the local marble tablets as being a Roman citizen which gave the researchers information about the transition from slavery to a citizen in Herculaneum.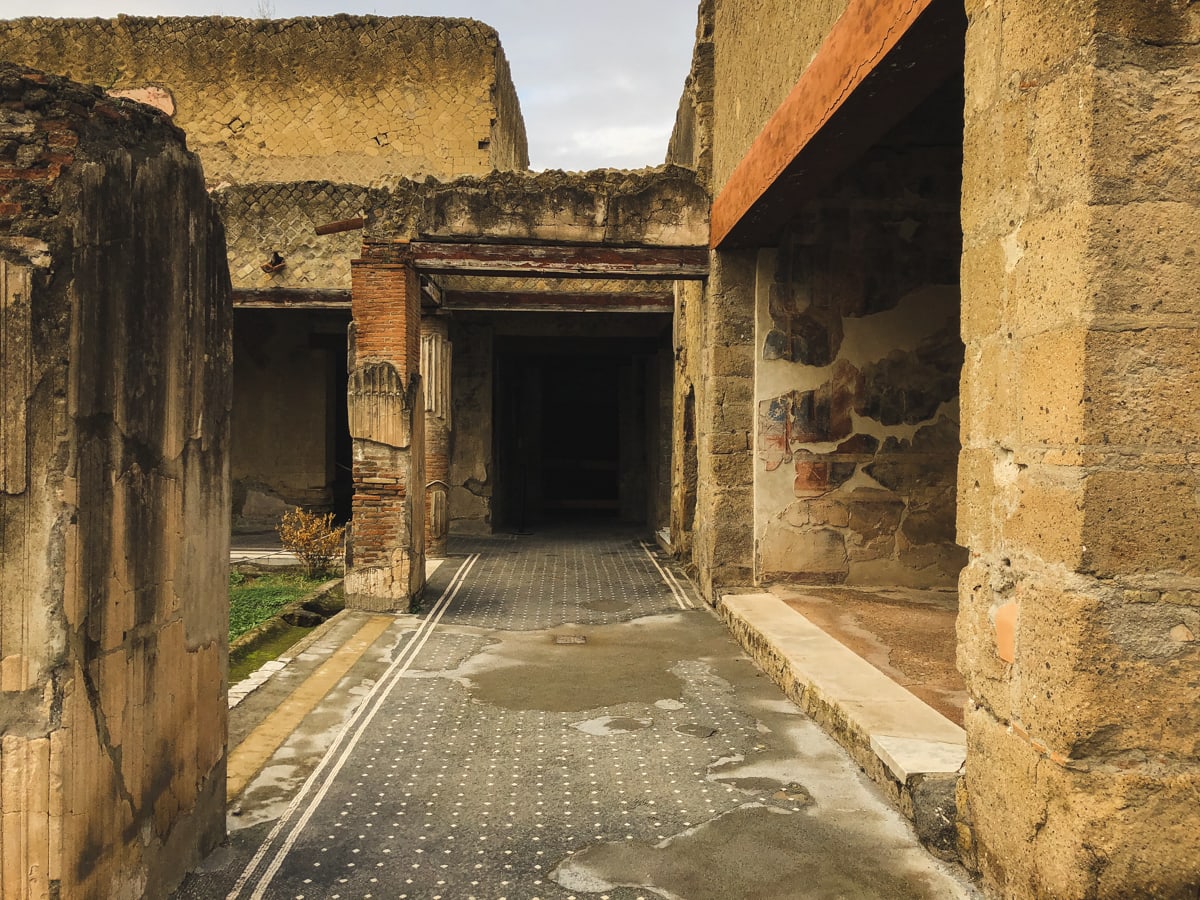 Herculaneum Museum
On December 20, 2018, a Herculaneum museum opened at the archaeological site, offering visitors an opportunity to enjoy different exhibitions, including the current one that displays and discusses the jewelry found at Herculaneum.
The museum had been a project in the works for years but never saw actualization until recently for one reason or another.
Fortunately, the museum has opened its doors and will offer those visiting Herculaneum another opportunity to learn more about the culture, the town, and the people that perished from Vesuvius' eruption.
My Experience Visiting the Herculaneum Ruins
I don't talk about much on this blog outside of Eastern Europe and other former-Soviet countries as well as the Nordics, but I have always had a deep interest in ancient Roman history.
I studied Latin for years growing up (I don't remember any words except how to say 'boy' and 'girl'… don't worry) and was more obsessed with the culture and history of Rome than I ever was in the language itself. Therefore, visiting Herculaneum was an epic experience for me.
The day I went there, I visited Pompeii prior. I had never been to either and Pompeii was just as touristy as I had expected. But, I was engrossed in its history and the ruins.
It just blew my mind. I actually contemplated not visiting Herculaneum after Pompeii because it was cold and I was tired. I am so glad I changed my mind.
I took the train from Pompeii a few stops down to Ercolano (Herculaneum) and walked toward the coast to where the ruins are. To my surprise, there were hardly any tourists in sight. Once I arrived at the Herculaneum ruins and entrance, there were still no tourists.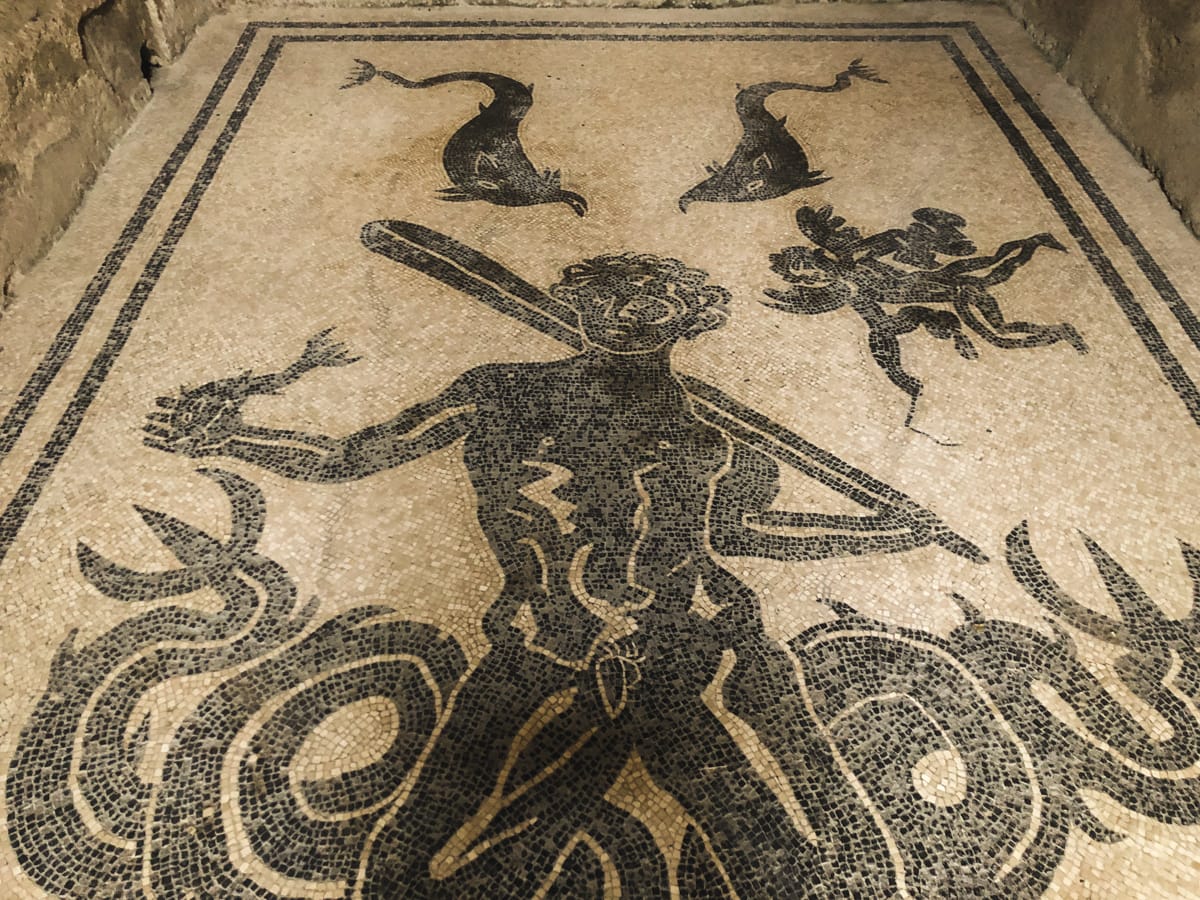 I paid the entrance fee (which I failed to get the combined UNESCO ticket that is offered when I was at Pompeii) and went to the ruins. The entire day, I saw maybe ten others visiting Herculaneum. I was there in early December, but I still couldn't believe how few people I saw.
The ruins of Herculaneum are in unimaginably great condition. I even had to Google to see if the ruins were rebuilt or restored in a colorful manner- but no. They are original and only conservation efforts have taken place.
There are mosaics on walls and floors, marble columns and statues, and even the original wooden furniture and doors (all wood was preserved from carbonization from lava). Even the roofs of buildings are still intact and interestingly enough, have their original color (the residents loved colorful hues and painted the roofs in different colors).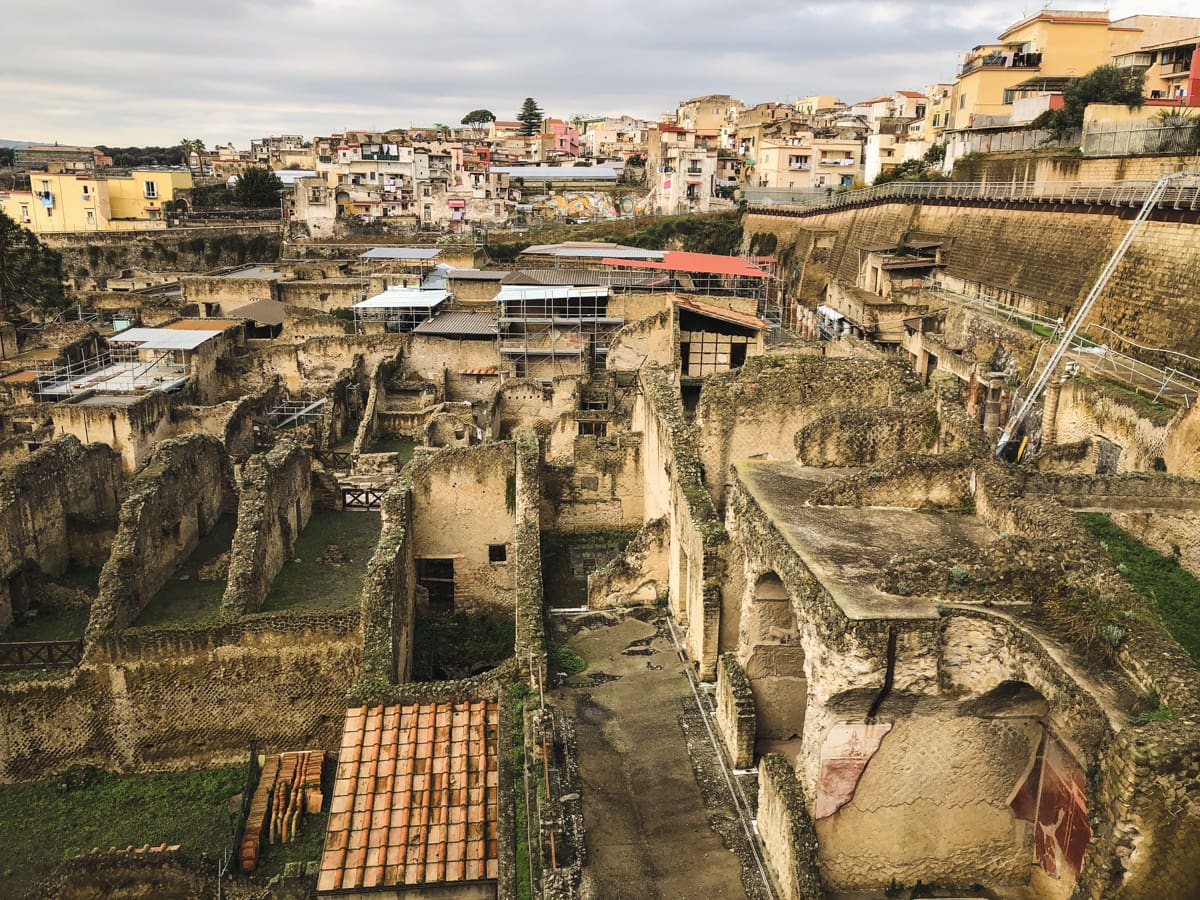 How to Visit Herculaneum from Naples
Visiting Herculaneum from Naples is actually a pretty seamless process. From the Naples Central Station (Napoli Garibaldi), you will need to follow the signs for the Circumvesuviana trains underground. Head down toward the trains and get a ticket to 'Ercolano' (they should understand if you say 'Herculaneum').
I combined my trip with Pompeii, so my tickets were based on going a little further. But, a ticket should be around 2.50€ one-way.
Be sure to try to get your return ticket at the same time. Trust me, it's far easier than dealing with it later. Emily Lush has indicated that a one-way from Naples to Herculaneum was 2,20€ on May 25, 2019.
Once you get your ticket, head to the platforms and you will want to catch the train to Herculaneum from Platform 3. Beware, however… as two different trains leave from this platform.
One will go to Sarno and the other will have a final destination of Sorrento. You want to get on the Sorrento train. Be sure to ask as there may not be any other indication of which train is which.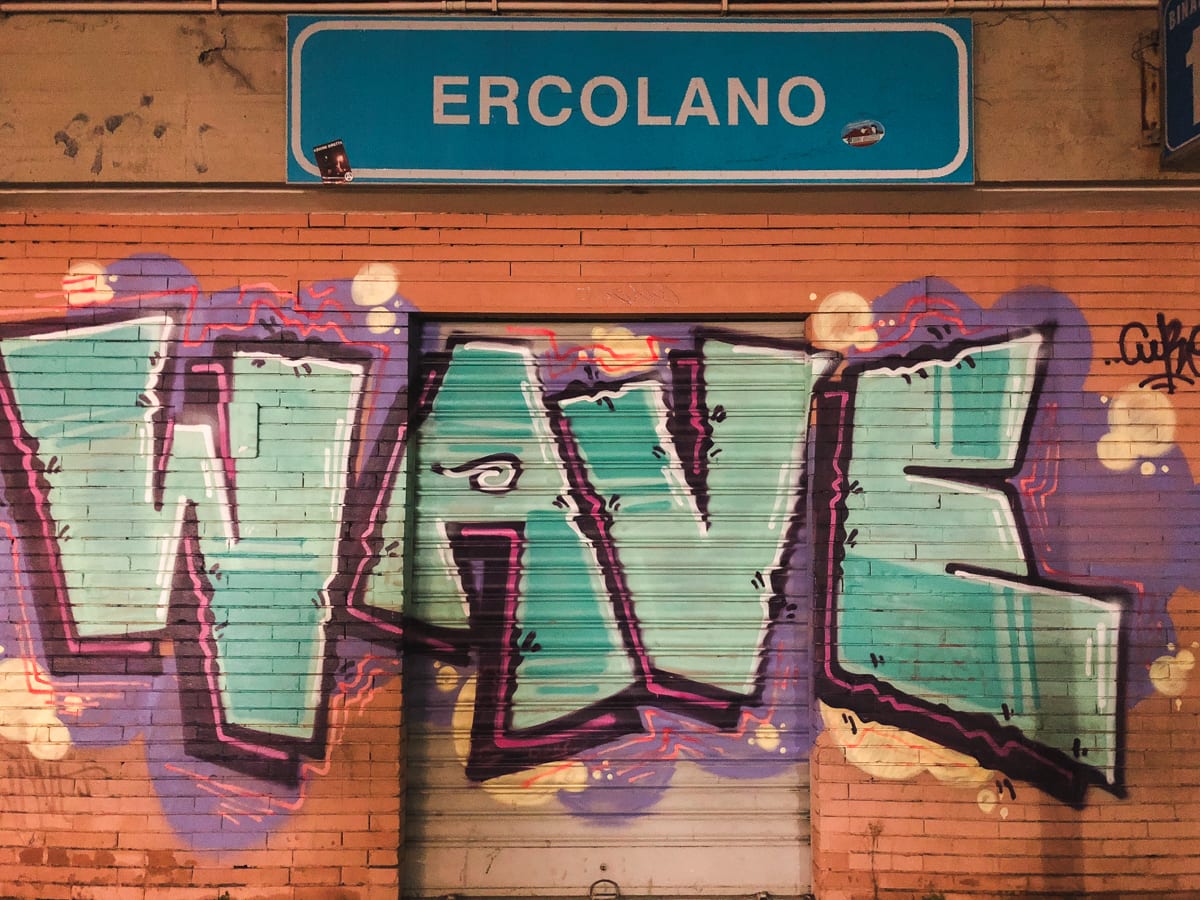 Once on the train, you will have about a thirty-minute journey to Ercolano station. The journey from Naples to Herculaneum (Ercolano) may be shorter as some of the trains move faster. Just keep an eye out for the station so you ensure you get off at the right place.
Once you get off the train at Ercolano, you will want to find the main street and just start walking down towards the sea.
There may be signs you pass that will say Herculaneum Scavi or Scavi di Ercolano. You will eventually run into the ruins and Herculaneum archeological sites. Getting to Herculaneum from Naples is fairly easy- just keep an eye out for the right stations and do what I suggested above.
Also take note that if you're on the main floor of the train station, you will see loads of signs for Herculaneum and Pompeii trains. These are tour companies that will sell you tickets that are far more expensive than the regular ones. Do follow all signs to the Circumvesuviana trains and get your ticket there.
I'd love to give you a link to timetables and the Circumvesuviana train website but it is a piece of crap and none of the links work on it. Tsk, tsk.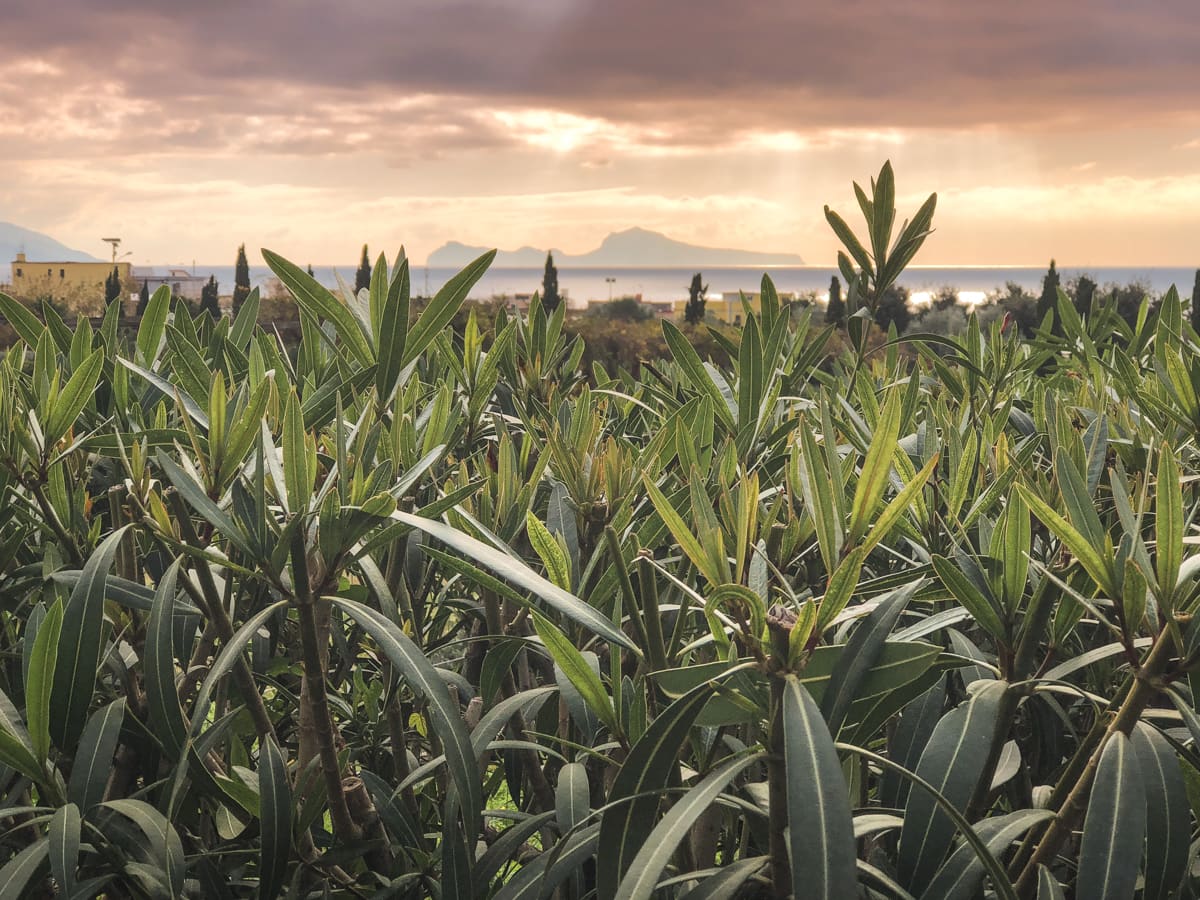 <view of Capri in the background>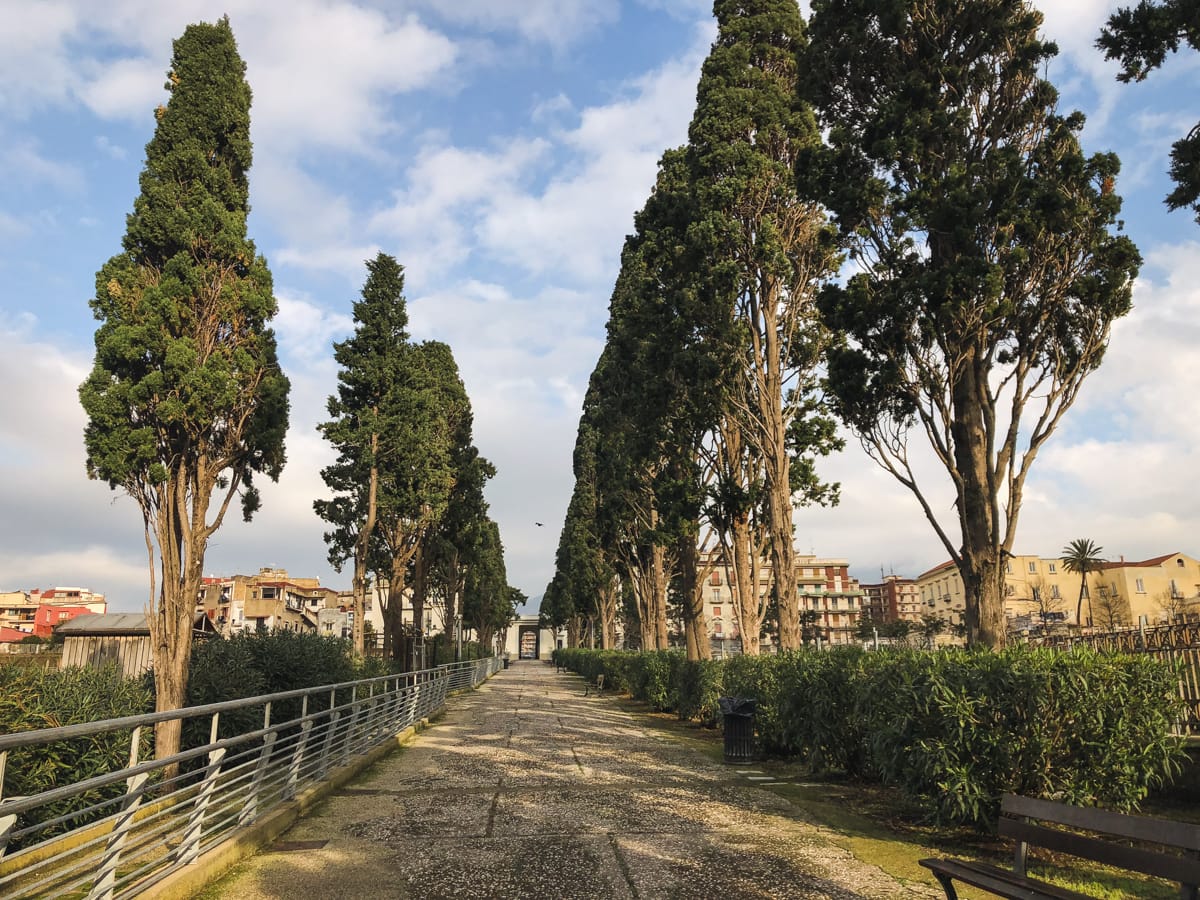 Visiting Herculaneum from Other Cities and Places
You can take a trip to Herculaneum from several other places in Italy. You can visit as a trip from Naples as suggested above, or as an excursion from Sorrento, Pompeii, or even Rome.
It is the perfect day trip if you have three days in Rome (or longer). Below will detail how to visit Herculaneum from each of the aforementioned places.
How to Visit Herculaneum from Pompeii
Another option for getting to Herculaneum is to come from Pompeii. In order to do this, you will need to go to Pompeii's main station and take the train in the direction of Naples.
How far is Herculaneum from Pompeii? Well, Ercolano station is about 15-20 minutes from the Pompeii ruins. Once you're in Ercolano (Herculaneum), just follow the steps above to get to the archaeological site.
To get from Herculaneum to Pompeii (or Ercolano to Pompeii), take the train from Ercolano station toward Sorrento. It will take anywhere from 15-20 minutes and you'll want to disembark at Pompeii station.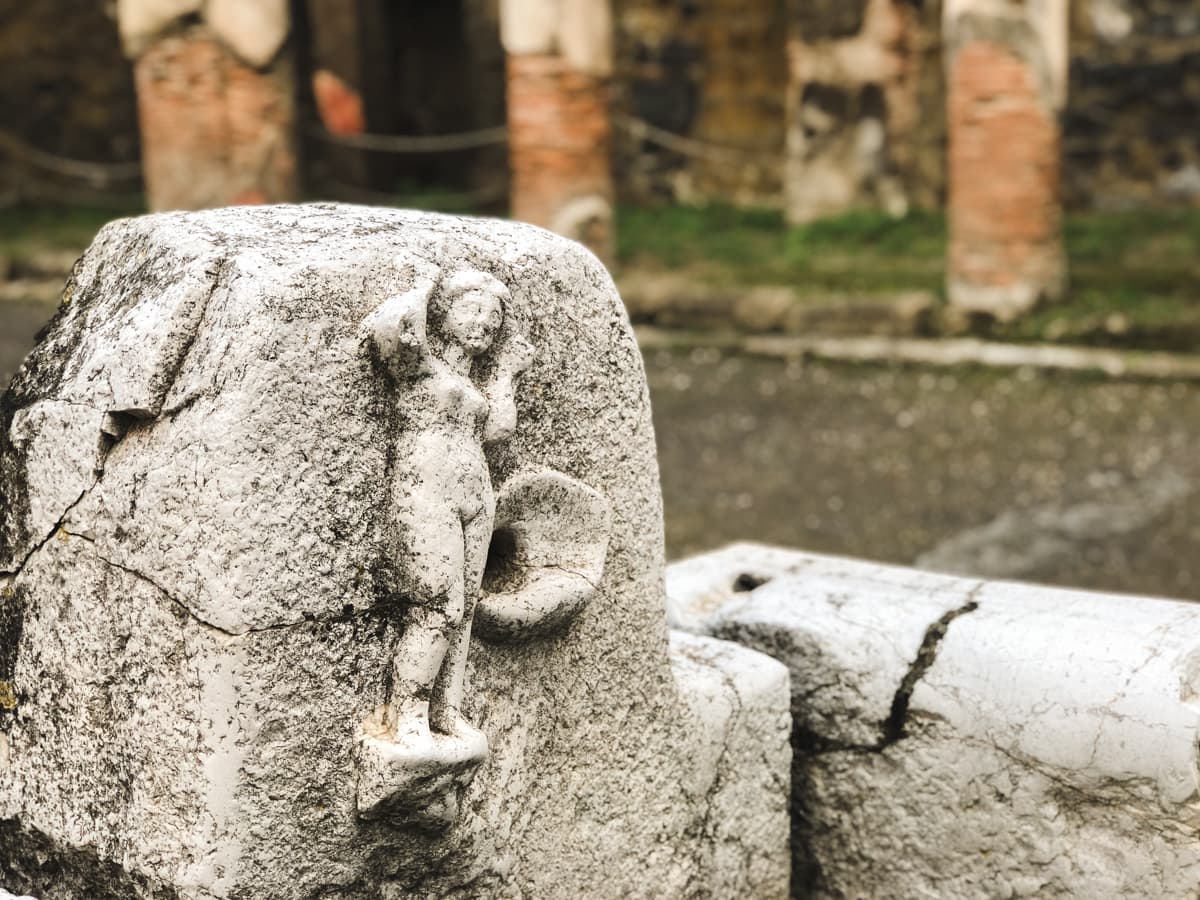 How to Visit Herculaneum from Sorrento
To go to Herculaneum from Sorrento, you can take the train from Sorrento to Ercolano. The train from Sorrento to Herculaneum will take anywhere from 45 minutes to an hour. In Sorrento, make sure you board the train that goes towards Naples and it will be on that line.
Time will vary depending on if the train is a fast one or a slow one. Visiting Herculaneum from Sorrento can easily be done as a day trip.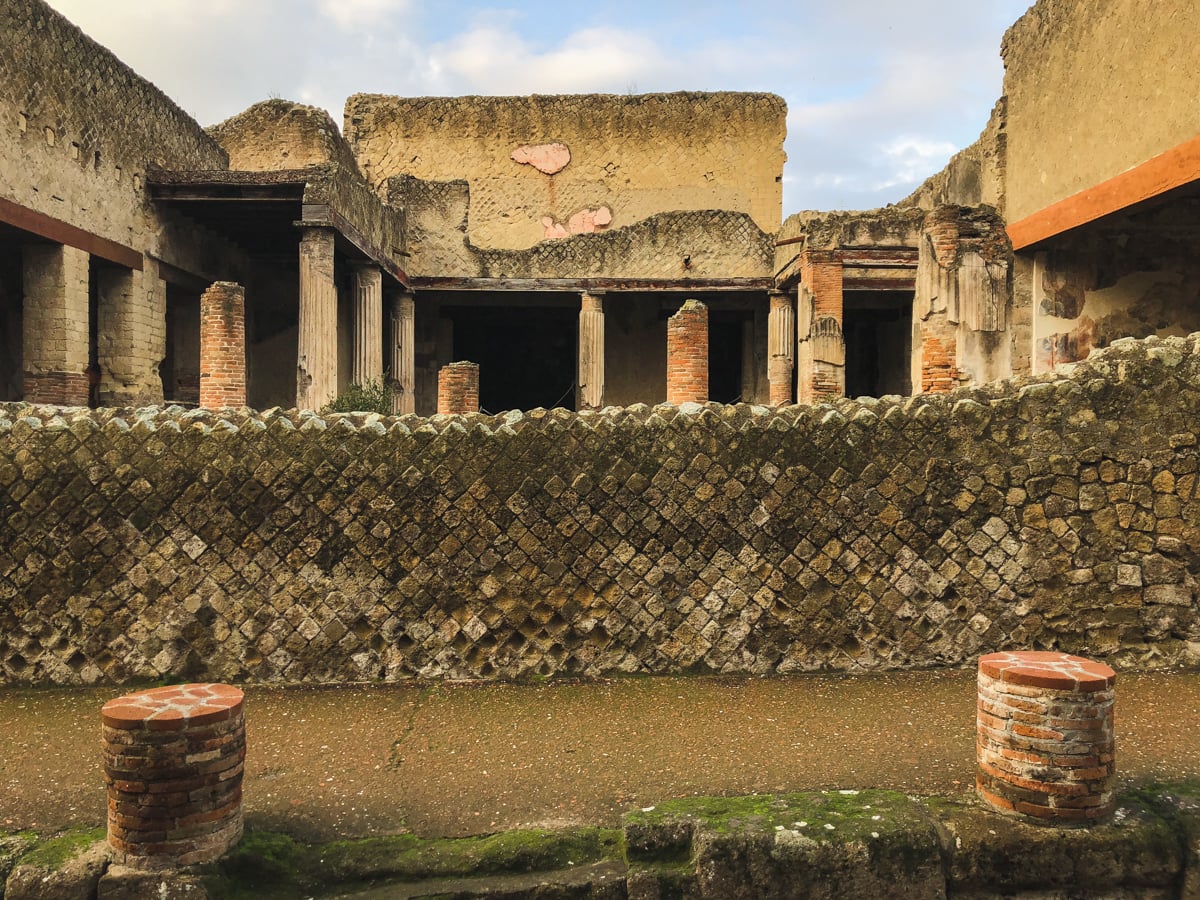 How to Visit Herculaneum from Rome
Believe it or not, visiting Herculaneum as a day trip from Rome is totally feasible if planned well and if it is the only site you're interested in seeing (I don't think Pompeii and Herculaneum could both be done as a day trip unless you're just looking for a flash visit of the historical sights).
To get from Rome to Herculaneum, you will want to head to Rome's Central Station and catch a train to Naples.
Once in Naples, you will follow what I detailed above about getting from Naples to Herculaneum on the Circumvesuviana train.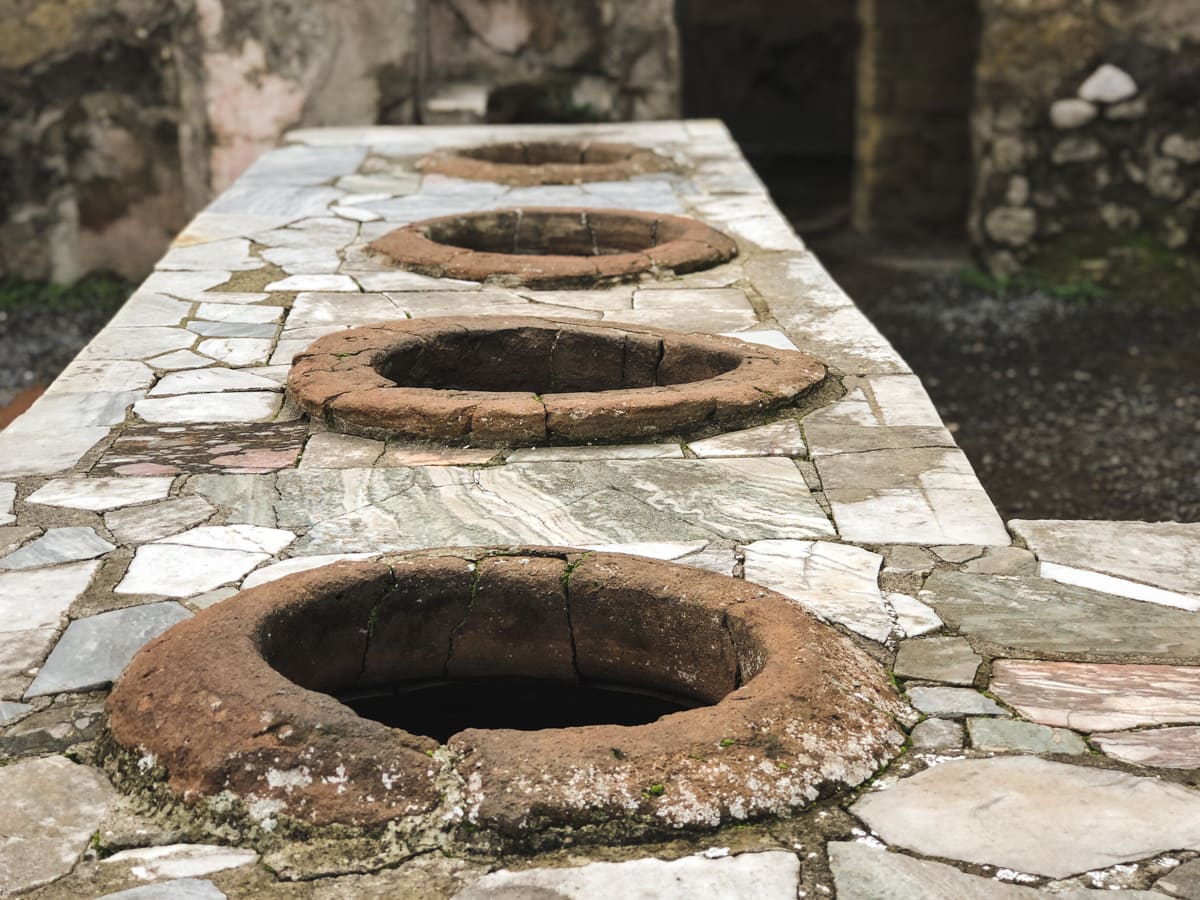 Visiting Herculaneum by Car
You can also travel to Herculaneum by car. From Naples, you're looking at a fifteen to twenty-minute drive and from Rome, you're looking at anywhere from two to three hours to the archaeological site. Parking is available at Herculaneum.
Taking a train to Herculaneum may be the easier way if you're just going on a day trip from Naples, but if you already have a car, it is definitely feasible to use it to take you to the site.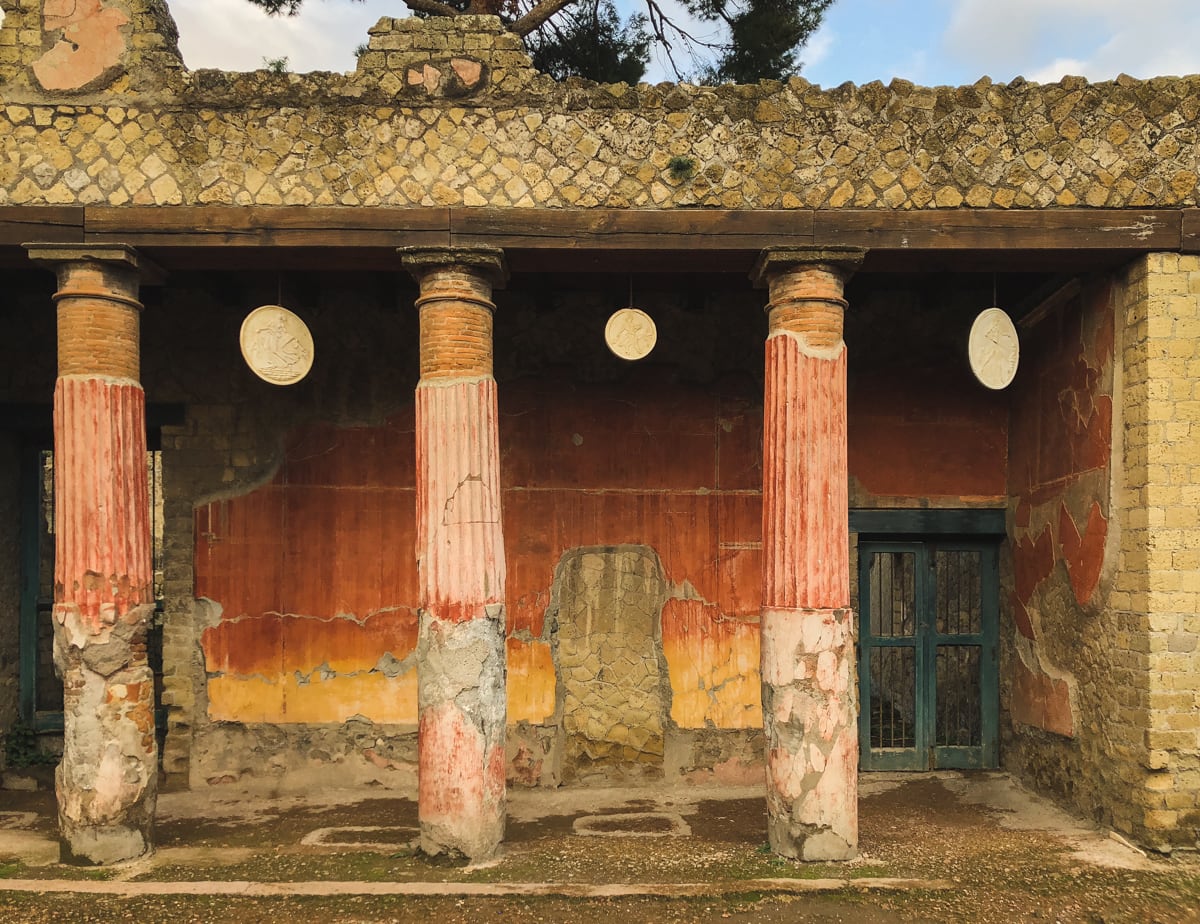 Herculaneum Tours
If you're not keen to make this trip to Herculaneum independently, the good news is that there are so many tours offered! You can find a full list of tours to Herculaneum here, but I would recommend the ones below based on your location in and around Ercolano.
Herculaneum Tours from Naples
You can find most of the options as Herculaneum tours from Naples… as most people base themselves in Naples when visiting the region's UNESCO sites. These tours come highly recommended and will ensure you get to visit Herculaneum in an effortless manner and learn the most about the historical site.
Herculaneum and Mt. Vesuvius Full-Day Excursion from Naples (8 Hours): This tour will take you from Naples to Herculaneum and Mount Vesuvius.
You will get to skip the line at Herculaneum and it covers your Herculaneum ticket price within the tour price.
After, you will set off for Vesuvius where you'll get to walk around the crater and enjoy the views from above. Vesuvius entry is NOT included in the tour price. The tour is 8 hours. Click here to check prices and availability.
This tour also does not include an audio guide or a guide in general. This tour is more for those looking to just touch the surface on the history of Herculaneum and see the natural landscape of Vesuvius.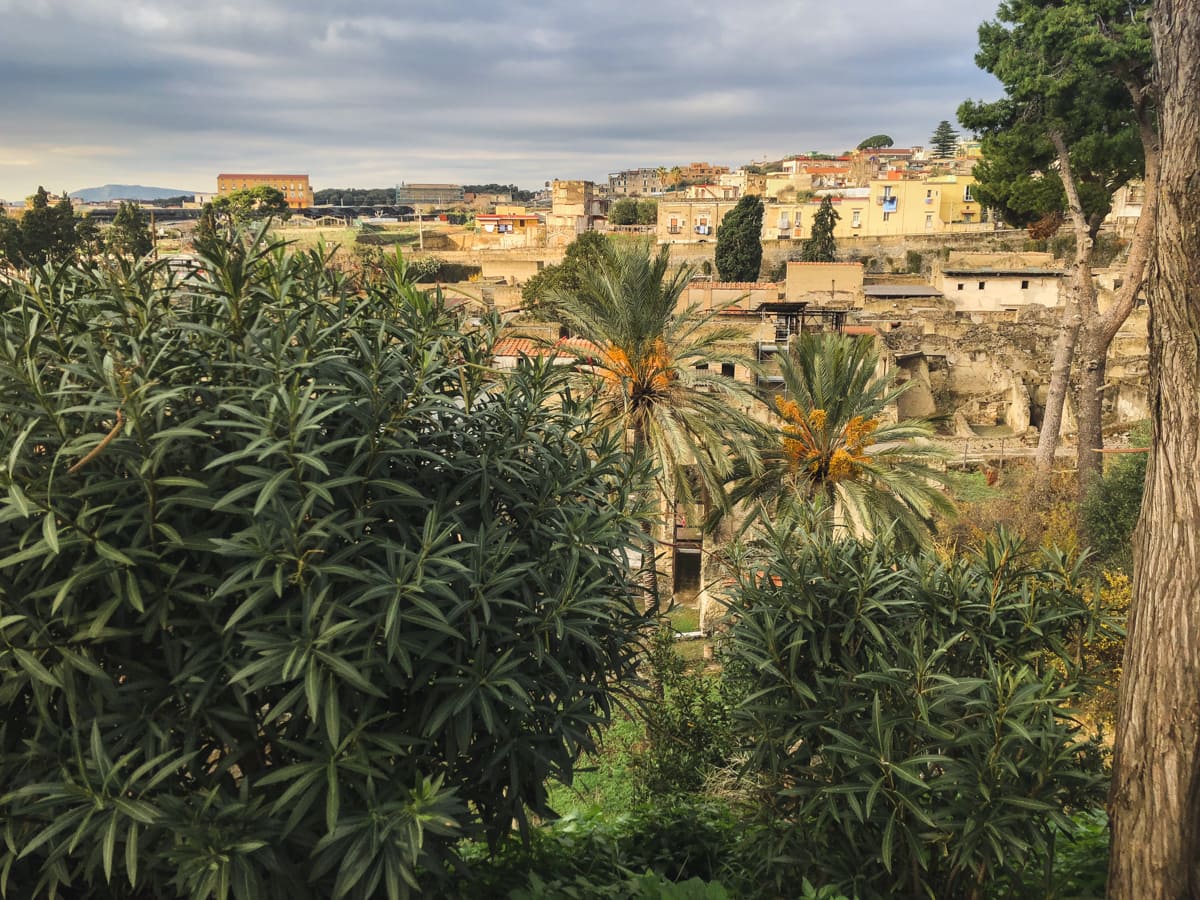 Pompeii & Herculaneum: Full-Day Sightseeing Tour from Naples (8 Hours): If you're looking to visit Pompeii and Herculaneum in one day, this is definitely the tour for you.
It includes both Pompeii and Herculaneum admission tickets, lunch, transportation from Naples, and a guide at Pompeii (not one at Herculaneum, however). It is highly rated and runs in both Italian and English. The tour is 8 hours long. Click here to check prices and availability.
Herculaneum: Private Tour of the Ruins (2 Hours): This tour of Herculaneum is completely private and is for the traveler interested in learning extensively about Herculaneum and the catastrophe that happened in 79AD.
Transfers to Ercolano are not included and admission is not covered in the price of the tour… it is simply a Herculaneum guided tour and it covers the guide only. The tour is 2 hours long. Click here to check prices and availability.
Getting Tickets to Herculaneum
Herculaneum tickets are cheaper than those at Pompeii. You can get a ticket to visit Herculaneum for 13€ per person (price confirmed as of May 25, 2019). The Herculaneum entrance fee can be paid at the sight itself. Once you arrive at the ruins, there will be an office you need to go into to purchase the Herculaneum ticket.
Children under 18 are free and the Herculaneum entry fee for senior citizens with EU passports is free, as well. To see other Herculaneum ticket prices as well as to purchase them online (2€ reservation fee).
If you're visiting both Herculaneum and Pompeii in one day, however, you can get a ticket that covers both sites, as well as others for 22€. You can not purchase this ticket online, but rather in person.
That ticket covers visiting Herculaneum, Pompeii, Oplontis, and Boscoreale. Visiting the sites in Stabiae is free.
To visit Pompeii alone, you're going to pay 15€, so this combined ticket is totally worth it if you're looking to see more than just one sight.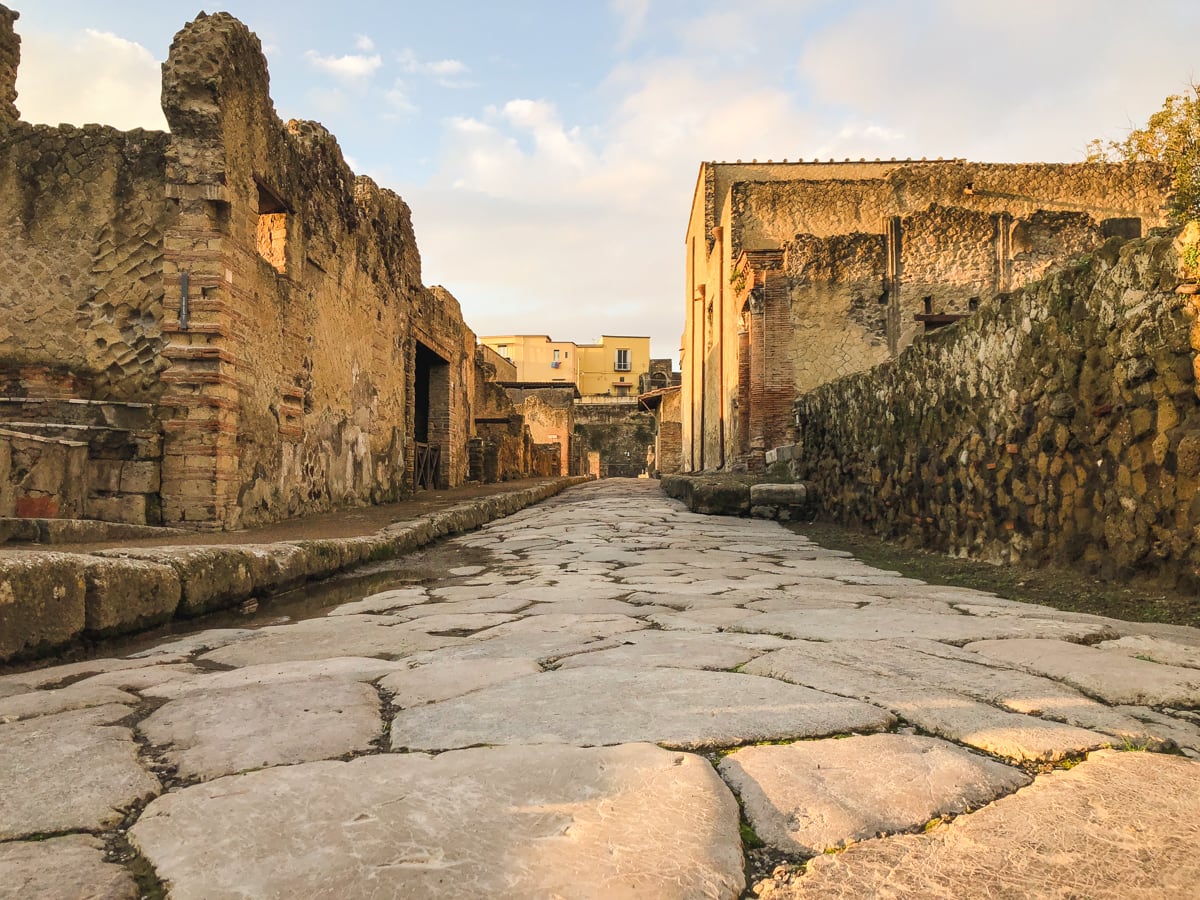 Campania Arte Card
Another option for gaining access to Herculaneum is to purchase the Campania Arte Card. This card can be purchased for 3 days, 7 days, or 365 days and grants you access to a variety of historical and cultural places in the region.
It is affordably priced, as well. Click here to inquire or purchase a Campania Arte Card.
Herculaneum Visiting Hours
The Herculaneum opening hours vary depending on what time of the year you visit. They are currently listed as follows:
• October 15 to March 15: 08:30-17:00
• March 16 to October 14: 08:30-19:30
The ticket office will close an hour and a half before the closing time… so be sure to get there with ample time to spare! The Herculaneum opening times are subject to change, so be sure to check here to ensure you have the right timetable.
Herculaneum Audio Guide
Unfortunately, I wasn't able to find a good Herculaneum audio guide to recommend, but I do suggest watching this documentary by the BBC before visiting Herculaneum. Rick Steves also has some good resources and a Herculaneum travel guide on his site. You can view it here.
On the other hand, you can rent an audio guide at the Herculaneum ticket office on site. The audio guide costs 5€. You can also sometimes rent an actual Herculaneum guide there that can show you around and explain about the ruins and history of the Roman town.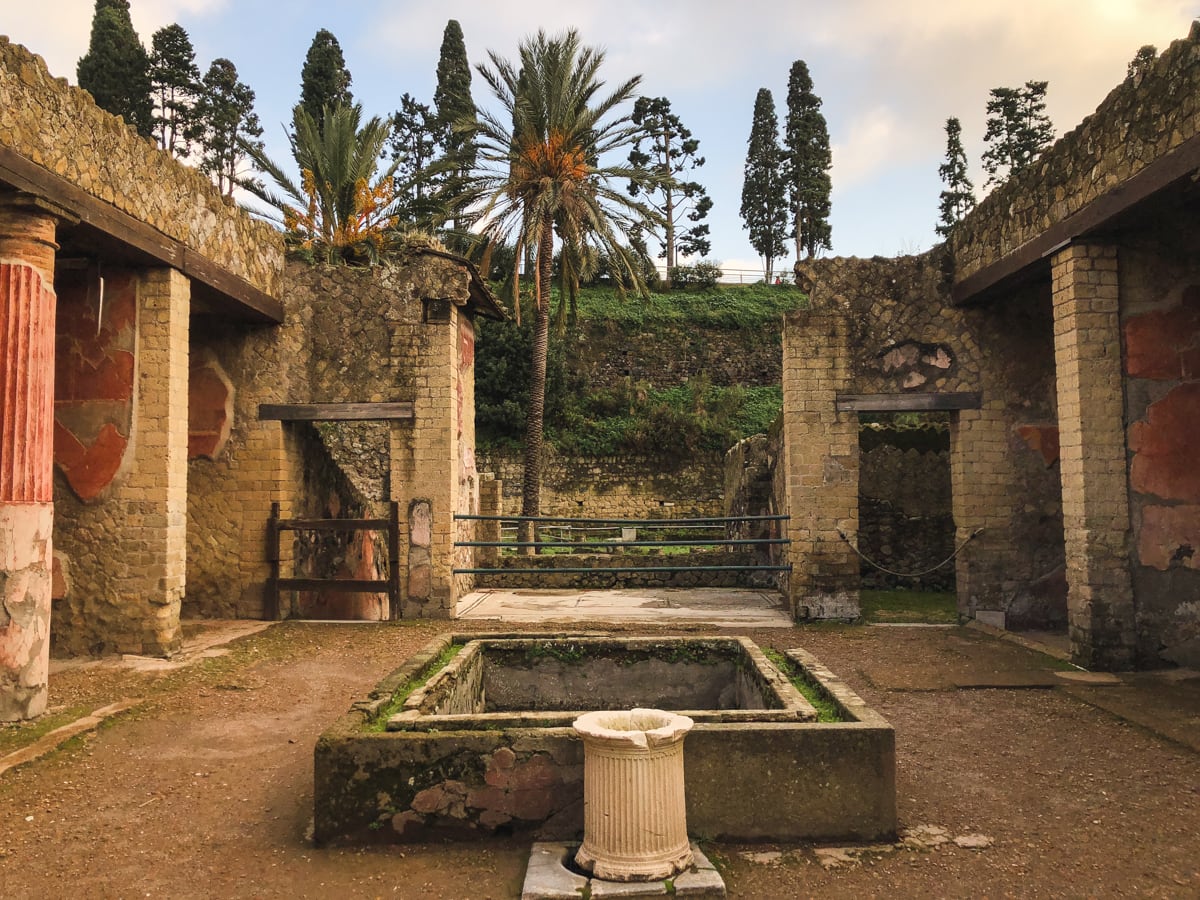 Herculaneum Map
You can pick up a map at the Herculaneum entrance upon arrival, or you can download and/or print out this detailed map giving information about each of the buildings in the town here.
If you're fascinated by the history and are determined to learn more about what happened, I highly suggest you have a map of Herculaneum to accompany you as you peruse through the ruins.
Hotels Near Herculaneum
Since I went to Herculaneum from Naples as a day trip, I actually stayed in Naples. But, you can stay in Ercolano if you wish and want to break things up a bit more. If the craziness of Naples can be too much, I think you'll really like Ercolano.
I actually went to the seaside to watch the sunset after my time at Herculaneum and I think I would have thoroughly enjoyed crashing there for a night or two.
Click here to check accommodation options and availability in Ercolano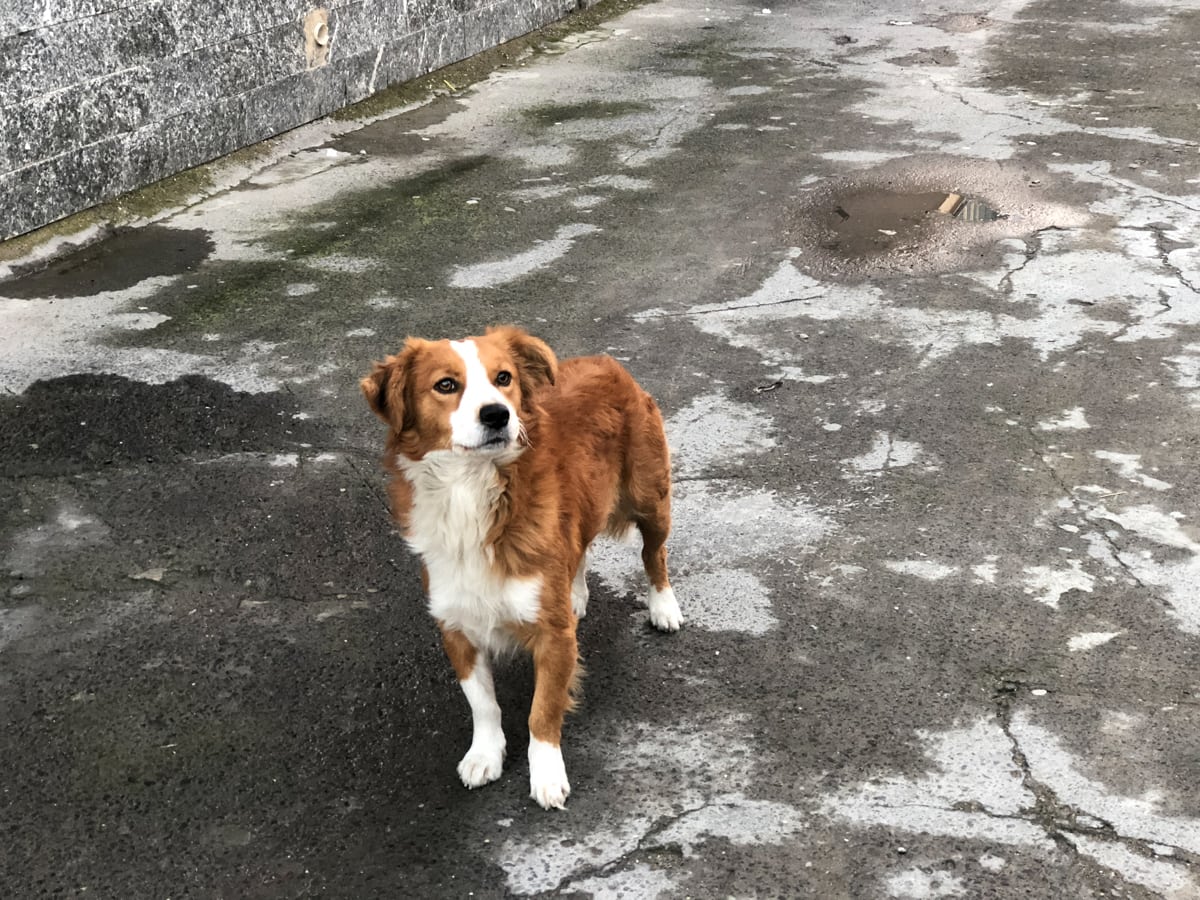 <if you stay in Ercolano and come across this pup- beware! Looks cute… super territorial and will let you know when you're in his hood>
Hotels in Naples
I actually stayed at a wonderful place in Naples called the Spaghetti House. It was an apartment that had one of the nicest bathrooms I have ever seen.
The Spaghetti House is located really close to the train station and above a really delicious and super local pizzeria. Espresso and breakfast were included in the price and it was so affordable that I will undoubtedly stay there when I go back to Naples next time.
Click here to check rates and availability for the Spaghetti House
If you're looking for something a bit more in the city center or more of a serviced hotel, you can easily find it as Naples accommodation options are aplenty. I would try to get somewhere near the train station if you're using Naples as a base for several regional day trips (like Herculaneum, Pompeii, and Sorrento).
Click here to check accommodation options and availability in Naples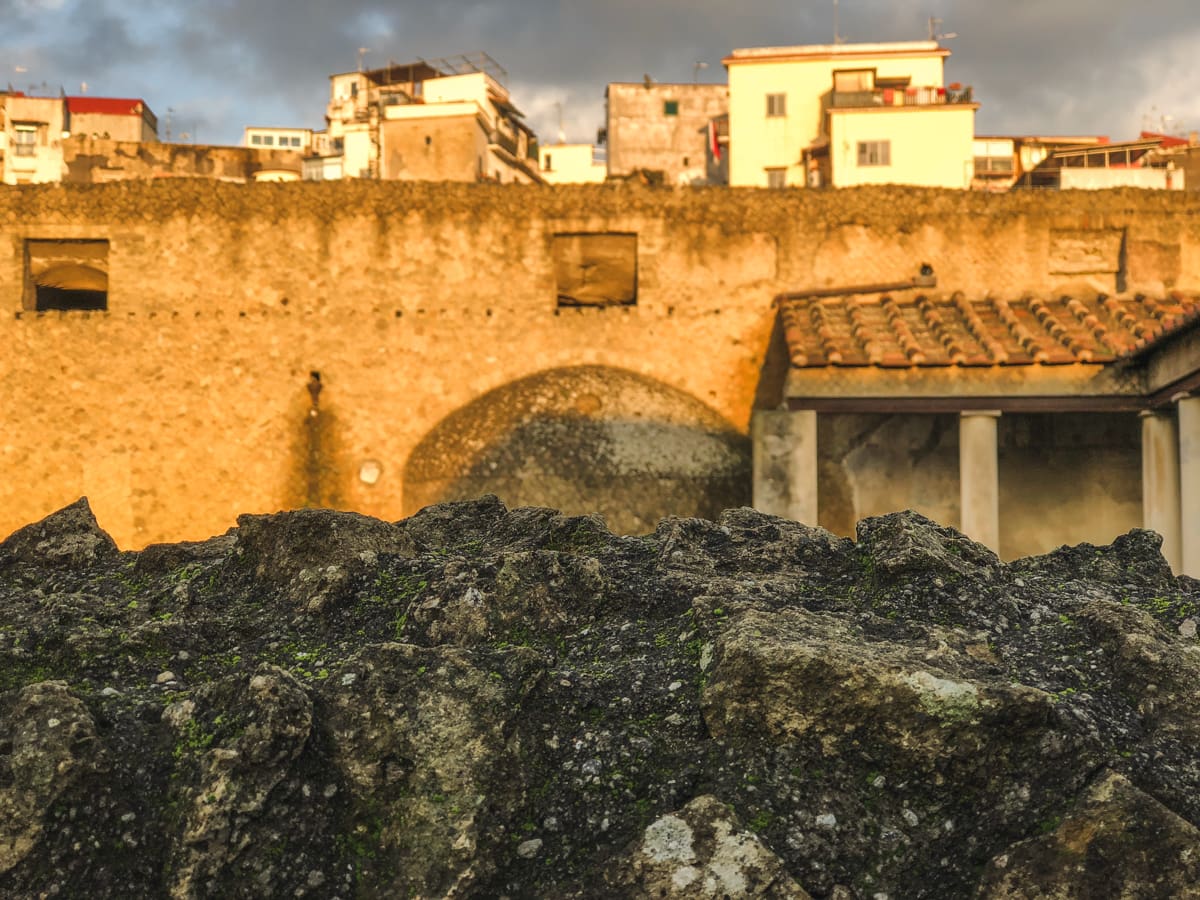 Best Time to Go to Herculaneum
I imagine that despite the World Heritage Site being lesser visited than nearby Pompeii, it is still likely teeming with tourists during the summer months. If you prefer the hot weather, longer days, and don't mind crowded places, summer is for you.
However, if you're like me and loathe all of the above (except longer days), winter or shoulder season is definitely a better option.
I went when I was visiting Naples in December and there were maybe ten other tourists on the premises when I was there. It really offered a lot of time to stroll around and reflect on Herculaneum itself.
How Long Do You Need to Visit Herculaneum?
I think it depends on your fervor for visiting an ancient, historical site. For me, I didn't think I'd need much time there. I enjoyed Pompeii but found everything to look the same after a while.
Herculaneum is completely different. I literally walked into every single courtyard, house, and ruin that I could when there. I am not joking.
I could have spent six hours perusing the ruins… but instead, I was short on daylight and only spent about two hours there. I also didn't rent an audio guide because I am cheap.
I would suggest for those really interested in learning about Herculaneum- set aside four hours at the sight. For those who just wanted to quickly visit Herculaneum and walk around and take a few photos, two hours should be enough.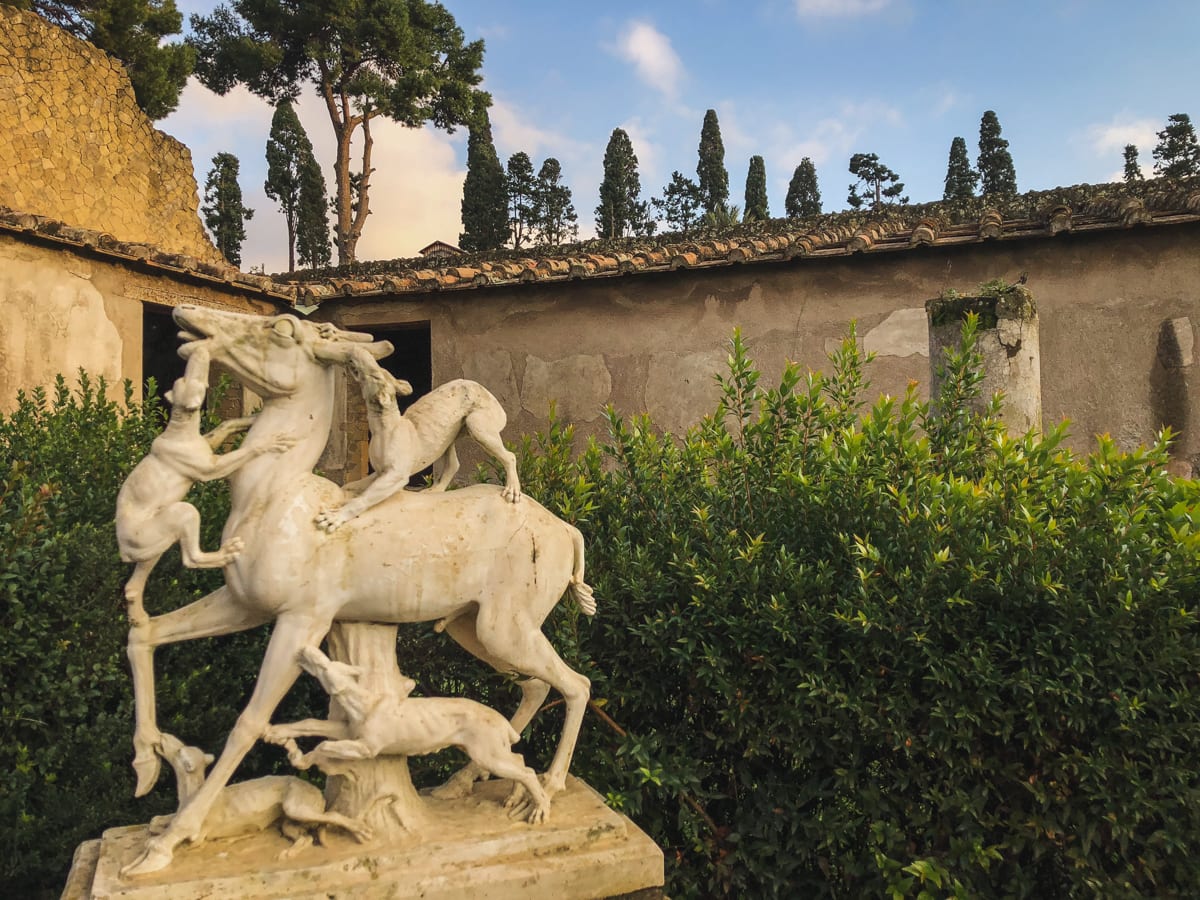 What to Bring for a Trip to Herculaneum
You can find pretty much anything you need from a food and drinks perspective in Ercolano, but below are some recommendations that I think should accompany you on a trip to see the Herculaneum ruins:
Bug Spray: Herculaneum used to be the shore of Italy, actually, and although it no longer is, there is a lot of stagnant water at the bottom of it and the place is infested with mosquitoes.
I went during winter and they were biting me through my clothes and were monsters. I can't imagine the hell I would endure during summer. Bring bug spray! Click here to find a bug spray suitable for your trip.
Passport or ID card (if EU citizen): If you're an EU citizen, you may qualify for a ticket discount at Herculaneum. If you're 18-24 and an EU citizen or if you're over 65 and are an EU citizen, you'll receive a discounted, or even free, admission to Herculaneum.
Wide-Angle Lens: I feel like I always suggest a wide-angle lens, but because of the nature of how close the buildings are at Herculaneum, I would definitely advise bringing one for the trip. Click here to see which wide-angle lens I use.
Herculaneum: Italy's Buried Treasure: This book by Joseph Deiss documents the history of Herculaneum and offers insight to the archaeological site and the life that existed there before the Vesuvius eruption in 79AD. If you're a history buff, I definitely recommend reading it before visiting Herculaneum. Click here to shop the book.
Walking Shoes: The stones and pathways around Herculaneum are not necessarily easy to maneuver about on, so I recommend being smart about the shoes you wear. Sneakers or hiking boots should suffice and allow enough comfort and support. Click here to shop my favorite sneakers.
Stainless Steel Water Bottle: I was at Herculaneum during the winter months and it was still a little warm that day (Pompeii was freezing, on the other hand). The summer months are probably smoldering! Bring an eco-friendly water bottle. Click here to shop my Klean Kanteen.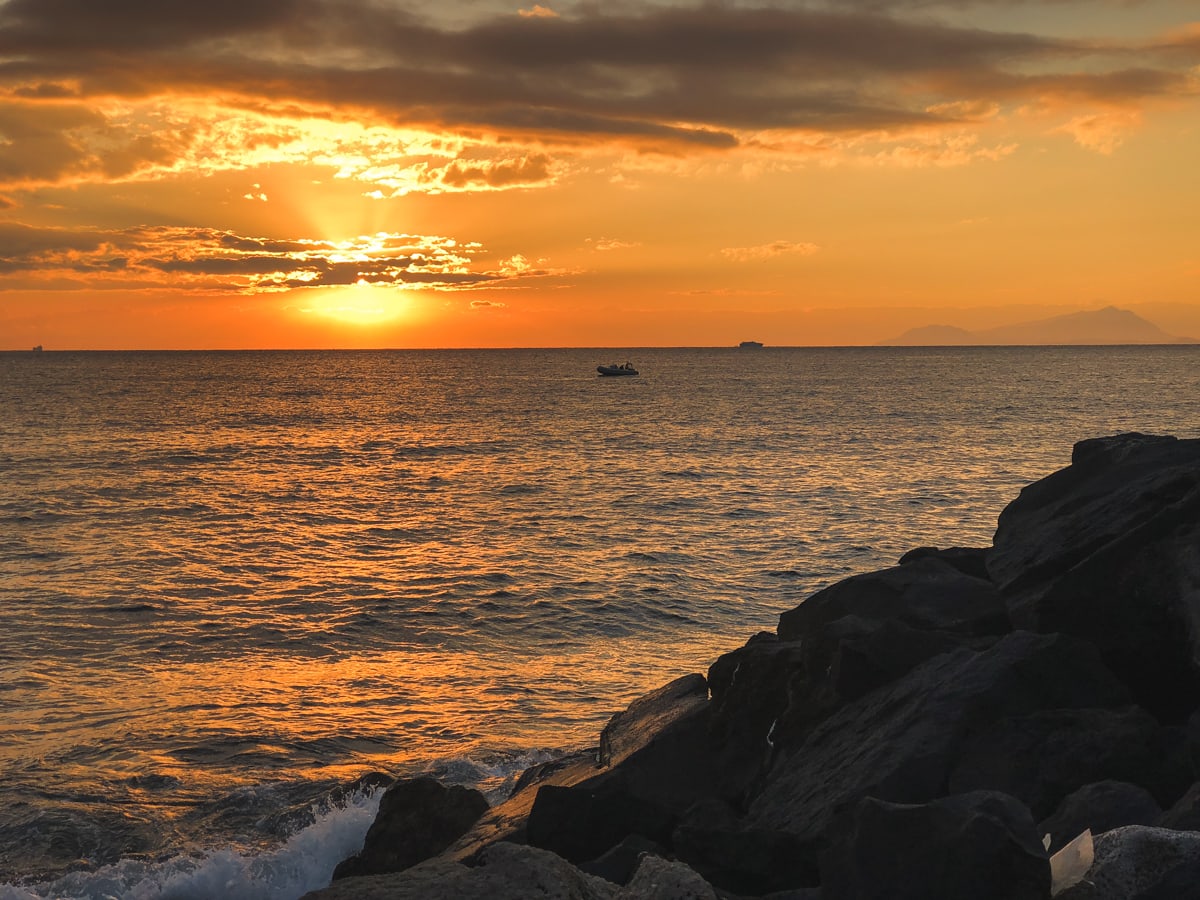 Herculaneum or Pompeii?
Both! Pompeii's sheer size is going to make your jaw drop. I was so overwhelmed by the number of ruins and sites to see at Pompeii. There is also a colosseum there, which you won't get to see one of in Herculaneum. And it's Pompeii. You have heard of it and heard it referenced most of your life.
But, don't skip Herculaneum. The Roman ruins are better preserved and offer an in-depth insight into Roman life at the time of the eruption. And, fewer people visit Herculaneum, offering a more intimate experience as you learn about the town.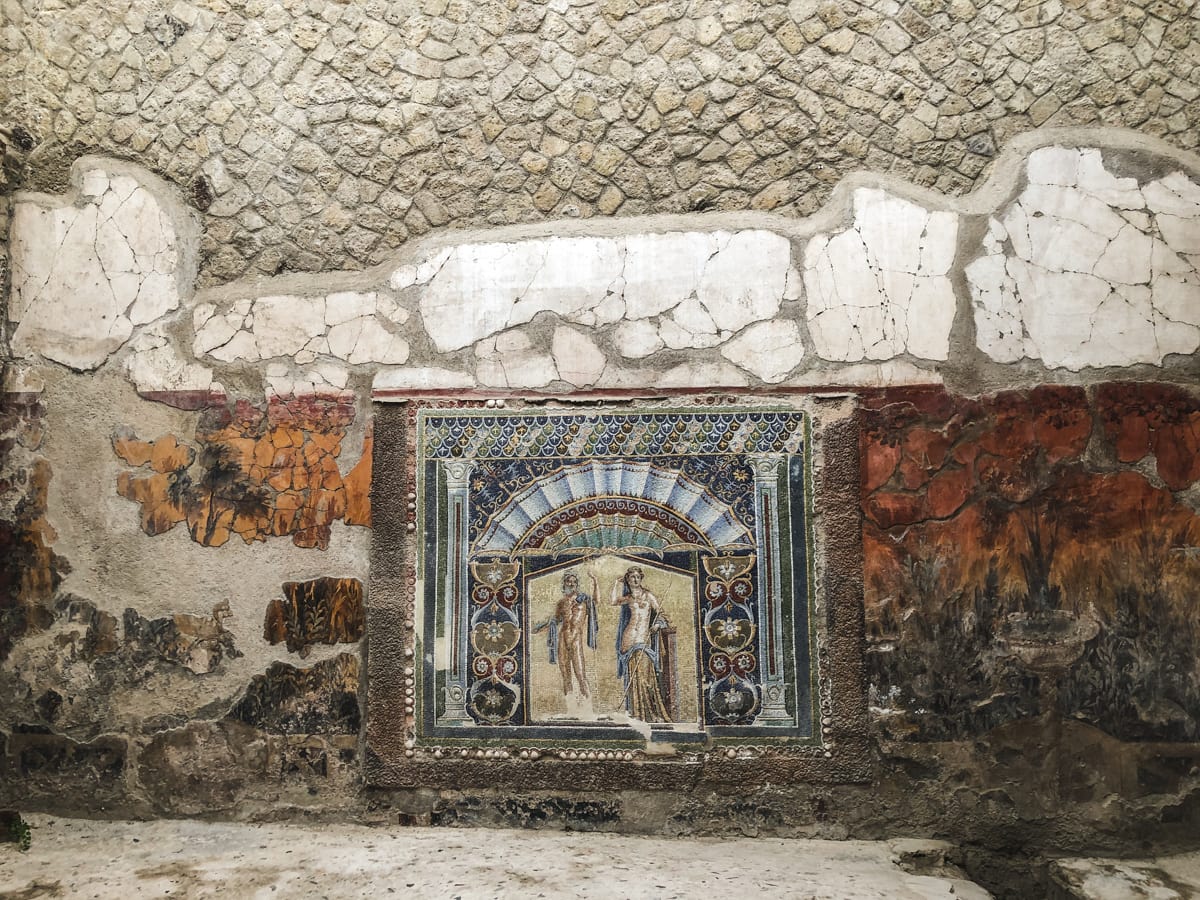 Final Thoughts on Herculaneum
Visiting Herculaneum was absolutely the most incredible experience for me if you weren't already able to detect that in this post.
The archaeological site is so well-preserved that it humanizes the people of Herculaneum and really takes you back in time to the Roman days. I highly recommend taking a day trip to Herculaneum if you're in Naples for a few days.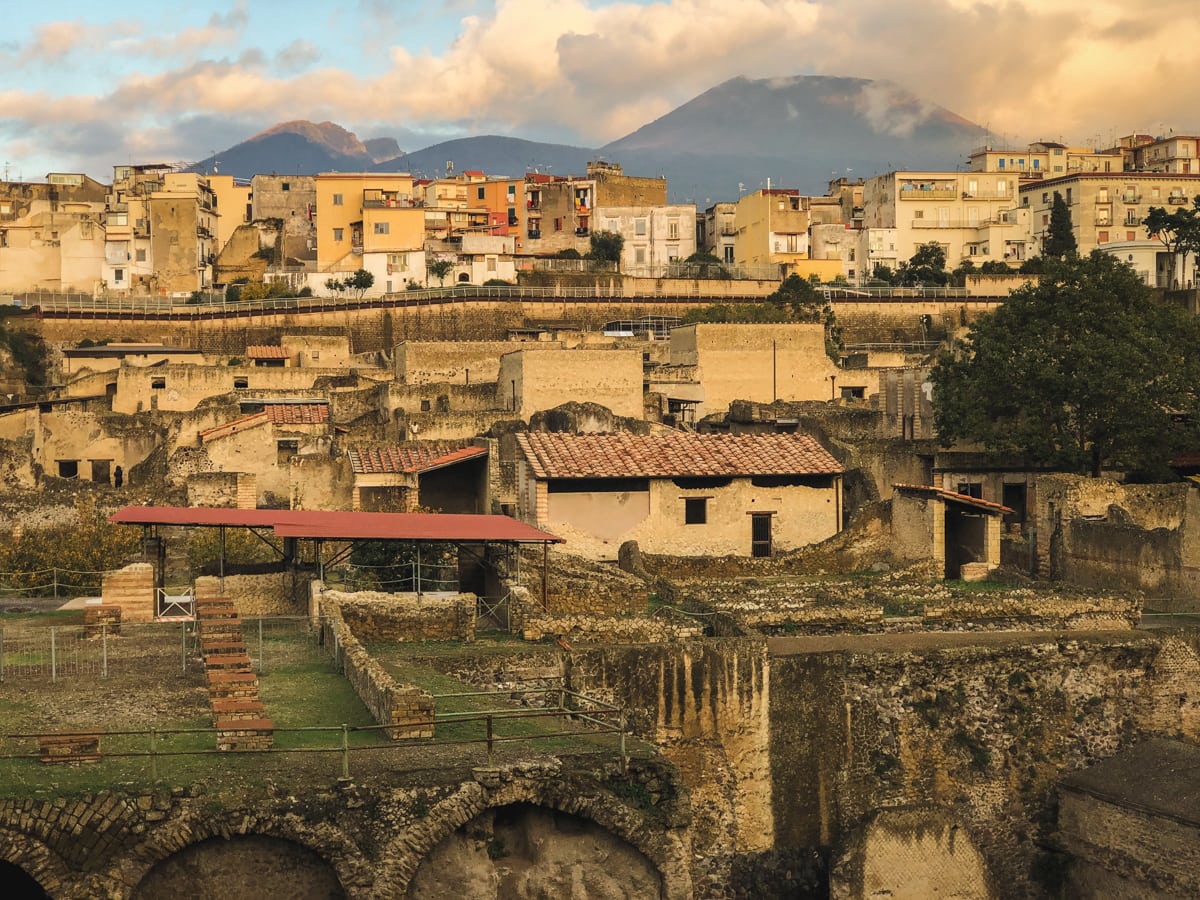 More Campania & Amalfi Coast Travel Guides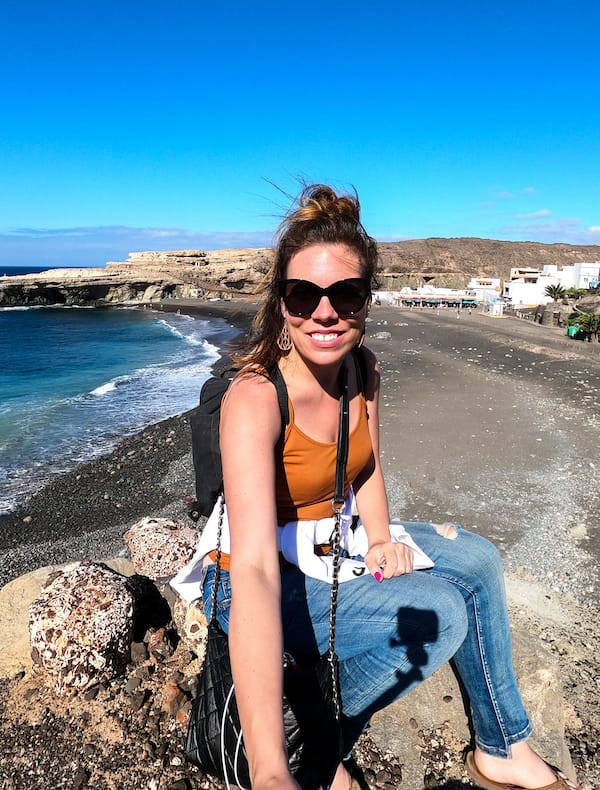 Megan is a travel blogger and writer with a background in digital marketing. Originally from Richmond, VA, she now splits her time between Frankfurt, Germany and Arctic Finland after also living in Norway, Armenia, and Kazakhstan. She has a passion for winter travel, as well as the Nordic countries, but you can also find her eating her way through Italy, perusing perfume stores in Paris, or taking road trips through the USA. Megan has written for or been featured by National Geographic, Forbes, Lonely Planet, the New York Times, and more. She co-authored Fodor's Travel 'Essential Norway' and has visited 45 US states and 100+ countries.