This is a guide to the best hotels in Svalbard and will cover the most credible Longyearbyen hotels for all types of travelers.
Are you planning your trip to Svalbard last minute?
If youʻre booking your trip to Svalbard last minute, we have you covered. Below are some of the top tours, and more!
Top Experiences and Tours in Svalbard:
Top Hotels and Places to Stay:
This list is mostly pretty conclusive of most Svalbard hotels, but if there are other recommendations you have, please leave them in the comments!
Where to Stay in Svalbard – Overview
If I was forced to pick one place on this planet that blew my mind, I would probably pick Svalbard every time. As someone with no desire to travel to Antarctica, this Arctic 'paradise' left me speechless.
It was a different planet and one that left me captivated by its rawness and beauty.
Tourism in Svalbard is up-and-coming and this Svalbard hotels guide will definitely help you get sorted and plan your trip to the northern Norwegian wonderland.
If there are any hotels in Svalbard I missed or that you think should be listed on this guide, please leave them in the comments.
There is a limited capacity of places to stay in Svalbard, but new places do open every so often.
Because of the finite number of hotels in Longyearbyen, I do suggest booking your Svalbard accommodation as soon as you book your plane tickets there.
This guide will contain hotels, cabins, camping, and guesthouse options so that you can have the best stay in the Arctic possible!
Hotels in Longyearbyen Town Center & Nearby
1. Svalbard Hotell Polfareren
Svalbard Hotell Polfareren marries modern décor with lodge-inspired interior design as a nod to Norway's famous ski lodges. The Longyearbyen hotel has a central location in the town center and is close to the Svalbard Museum and the Lompensenteret Market.
The hotel can organize outdoor activities for guests such as bike and walking tours, horse riding, Pyramiden tours, hiking, canoeing, and skiing.
Guests can also ask the hotel for a local cultural tour if they want to learn more about the town. However, if they prefer to stay in, they can take a dip in the public bath or enjoy the Norwegian view from the sun terrace.
–> For current rates and availability click here
2. Basecamp Hotel
Outdoorsy tourists will love to stay at the Basecamp Hotel, a lodge-style property offering a variety of activities to guests such as bike tours, walking tours, hiking, and skiing.
You can join outdoor adventures set up by Basecamp, including polar bears and rare Arctic wildlife encounters.
The hotel also organizes pub crawls for a fun night out meeting locals and other tourists in the area. If you want to stay in and see the Northern Lights while cozied up, you can head to the Cognac Attic which has a glass ceiling, giving you the perfect view of the beautiful Norway night sky.
The interior is rustic and cozy and this is definitely one of the best Longyearbyen hotels and you won't regret booking your stay there.
–> For current rates and availability click here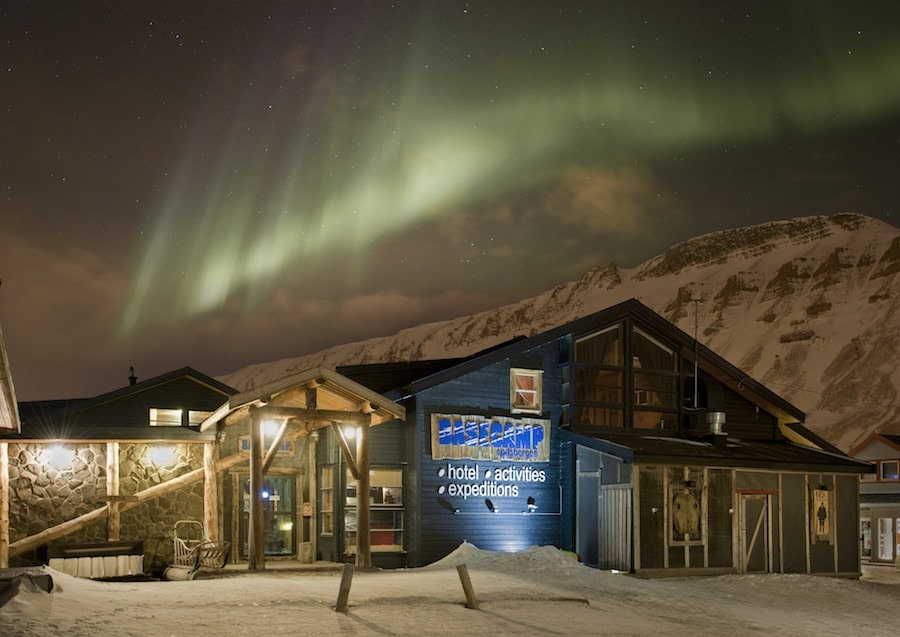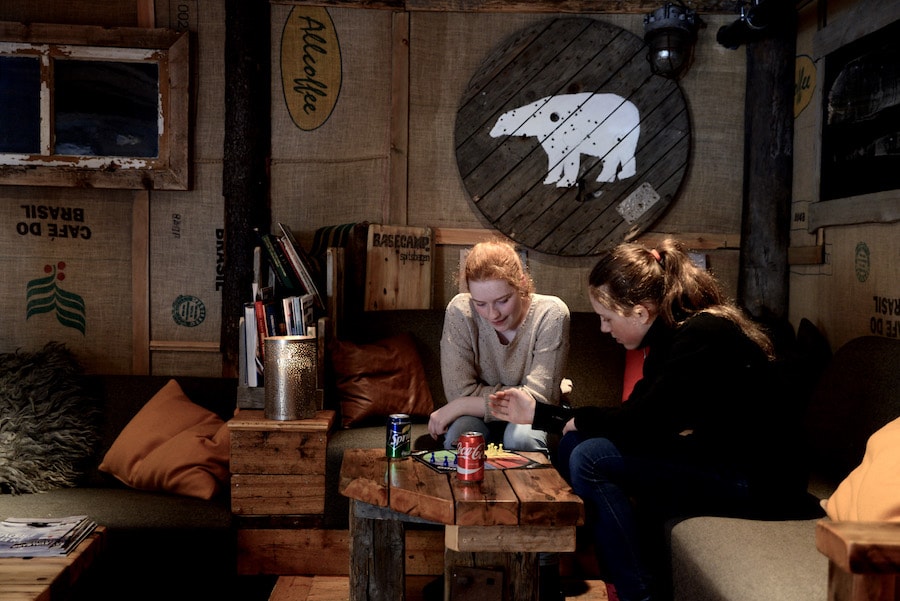 3. Svalbard Hotell – The Vault
Do you want to see the snowy mountains of Svalbard from your room? Stay at Svalbard Hotell – The Vault and you won't be disappointed.
Its location gives guests the perfect view of the surrounding Norwegian landscape, and the hotel staff can help you join an organized ski mobile tour if you want to see more of Svalbard. The new hotel opened in February 2018.
Each room in The Vault has an electric kettle, a cable TV, a seating area, air-conditioning, and a private bathroom.
From October to March, the famous Northern Lights can be seen from the property, which makes these months the perfect time to stay at The Vault.
–> For current rates and availability click here
4. Radisson Blu Polar Hotel Spitsbergen
Radisson Blu Polar Hotel is a modernized ski lodge that boasts impressive panoramic views of the Norwegian landscape from inside the property. Guests can enjoy different activities during the summer and winter seasons.
Cruises, trekking, and kayaking are popular activities in the summertime while dog-sledding and glacier excursions are popular activities in the wintertime.
Year-round, guests can relax in the on-site open-air hot tub and sauna. There's also a bar and restaurant in the hotel that serves Arctic specialties and international dishes.
The Svalbard Hotel is also known for its breakfast buffet, so make sure to try it out while checking in.
–> For current rates and availability click here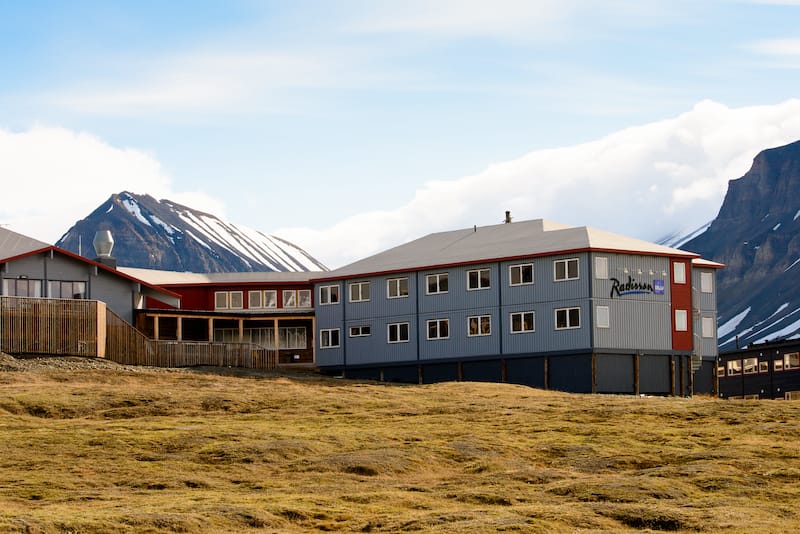 5. Funken Lodge
Located on the stunning island of Spitsbergen in Svalbard, Norway, Funken Lodge is both simple and modern at its finest.
It has amenities that cater to the needs of its guests during their vacation: a fitness center, a sauna, a relaxation area, a bar and restaurant, a gift shop, and meeting facilities for business travelers.
Adventurous tourists will be glad to know that the hotel can organize activities such as biking, hiking, canoeing, and skiing for them. From the hotel, the Sukkertopen Mountain is less than a kilometer away.
Tourists who want to see the Northern Lights in their full glory should stay at the Funken Lodge between October and March. Funken Lodge has become one of the best places to stay in Svalbard.
–> For current rates and availability click here
6. Mary-Ann's Polarrigg
This hotel has a very intimate feeling to it and is, like a lot of lodging in Longyearbyen, a converted coal miner cabin. At Mary-Ann's Polarrigg, they have kept that rustic touch and cozy atmosphere.
A short walk from Longyearbyen town, the property serves a bit like a 'complex' where you will find a restaurant (Vinterhaugen), spa, sauna, and a friendly staff waiting to help you have the ultimate experience in the high Arctic.
There are various rooms available (they do book up quickly, however!) and the on-site restaurant is out of this world and is almost reminiscent of a greenhouse.
I have known a few people to stay at Mary-Ann's Polarrigg and they have all raved about their time there! This is definitely one of the top Svalbard lodging options!
–> For current rates and availability click here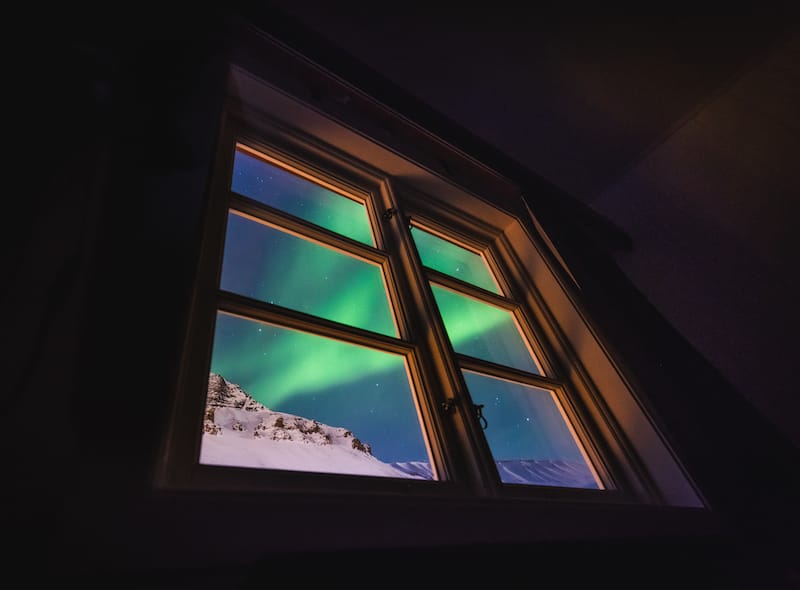 7. Haugen Pensjonat Svalbard
f you're looking for a simple and affordable hotel in Svalbard, Haugen Pensjonat Svalbard is the right place for you.
The property has standard rooms with shared bathrooms that can accommodate up to three people, and a two-bedroom apartment with a bunk bed and sofa bed in each room, accommodating up to six people, as well as a shared kitchen that guests can use.
You can wake up and fall asleep to the beautiful views of the Norwegian snowy mountains from your room.
For a comfortable stay in Norway that doesn't break the bank, stay at the Haugen Pensjonat Svalbard.
–> For current rates and availability click here
Svalbard Guesthouses
8. Gjestehuset 102
I actually stayed at Gjestehuset 102 years ago and had a great experience.
The Svalbard accommodation is located a bit of a walk (around 2km) from the town center, but the walk offers views that are just unspeakable.
I made this walk multiple times daily and there were reindeer hanging around the fields and views of the mountains that would make one's jaw drop.
Gjestehuset 102 offers no-frills rooms with beds and not a lot of decoration.
The bathrooms were shared (for my room) and there was also a shared kitchen. But really, this is the perfect place to stay if you're on a budget.
–> For current rates and availability click here
9. Coal Miners' Cabins
Within close proximity to the mountains and glaciers are the Coal Miners' Cabins, a property that was once exactly as it suggests converted into reasonably priced accommodation for people visiting Svalbard. And the rooms are actually really beautiful.
I had breakfast here at their delicious buffet when I was in Svalbard and the property was really lovely and the staff was friendly and helpful.
While the cabins are located in Nybyen, a 'satellite' town of Longyearbyen, it is worth it for the price and the walk into the town center daily.
–> For current rates and availability click here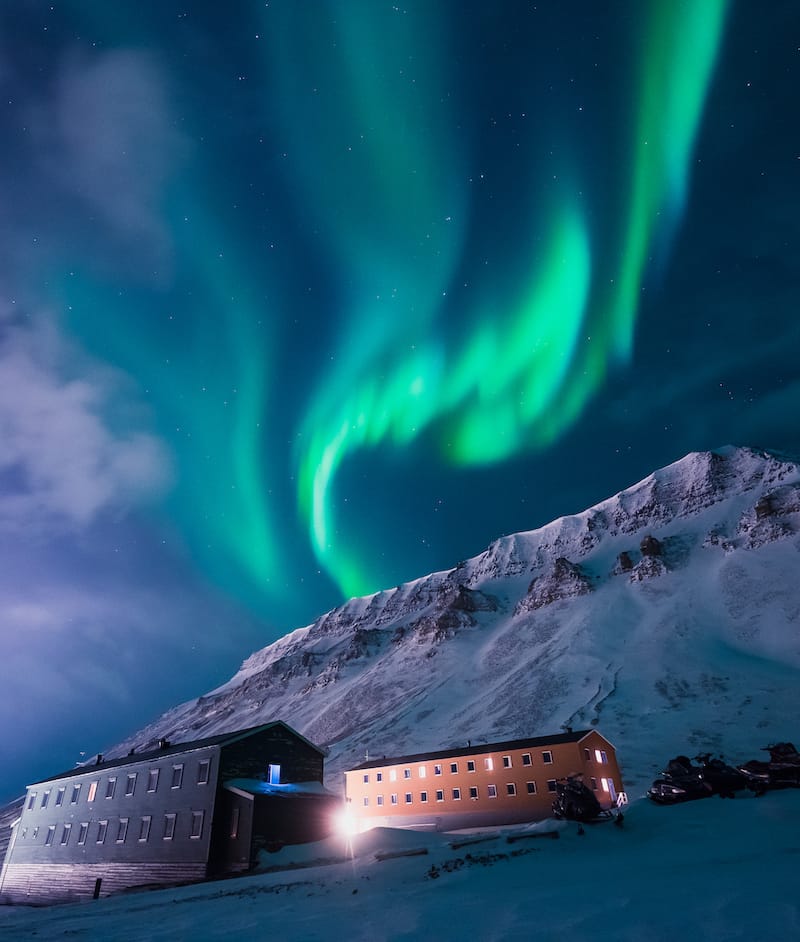 10. Russki Dom Guesthouse
Brand new accommodation close to the town center, Russki Dom Guesthouse is affordable accommodation right on the shores of the Adventfjorden.
It can host up to 16 people in its 4 rooms. There are shared showers and a kitchen with a large breakfast room. Free wifi is available throughout.
–> For current rates and availability click here
Hotels in Svalbard (Not in Longyearbyen)
11. Isfjord Radio Adventure Hotel
If I could pick any place in the world to crash for a couple of nights, it would undoubtedly be here at the Isfjord Radio Adventure Hotel.
This hotel was once a radio station built in 1933 and while it doesn't look like anything to write home about from the outside, the inside is completely renovated and modern and cool.
The property is so far removed from civilization that you likely have a better chance of seeing a polar bear than a human being strolling around the premises.
In order to get out to the Isfjord Radio Adventure Hotel, you must book through Basecamp Explorer.
During the winter, you will arrive there by snowmobile or dogsled. In the summer, you will arrive by boat. No matter which season you pick to visit, your mind will inevitably be blown.
–> For current rates and availability click here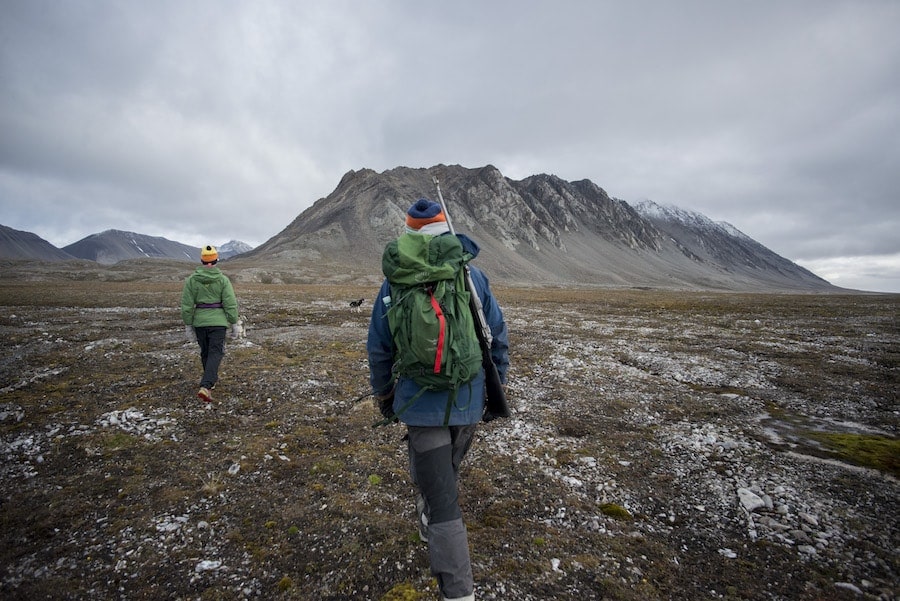 12. Nordenskiöld Lodge
Ever slept at the foot of a glacier? Probably not. But, you most definitely can at the Nordenskiöld Lodge on Svalbard.
This Spitsbergen hotel sits at the edge of the Nordenskiöld Glacier about 100 kilometers north of Longyearbyen.
In the summers, you will arrive by boat, and in the winter you will arrive by snowmobile or dogsled. The Nordenskiöld Lodge is the northernmost commercial cabin in the WORLD. How cool is that!?
You can book to visit and stay there with Basecamp Explorer. They will arrange the details for you and you can, of course, visit and walk on the glacier when there with a guide.
There are so many dreamy hotels in Svalbard, but I can assure you that this is one of a kind. I have seen the Nordenskiöld Glacier and it was remarkable.
–> For current rates and availability click here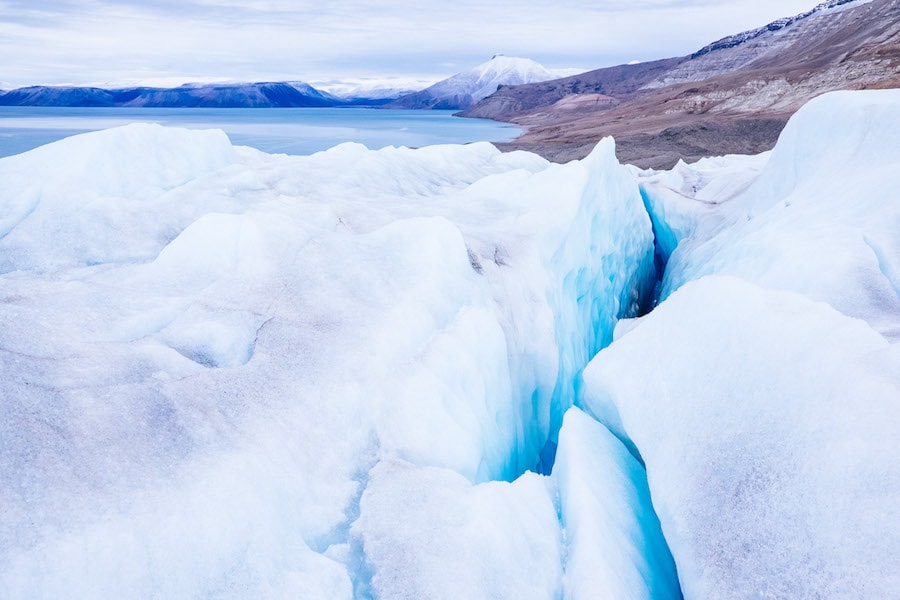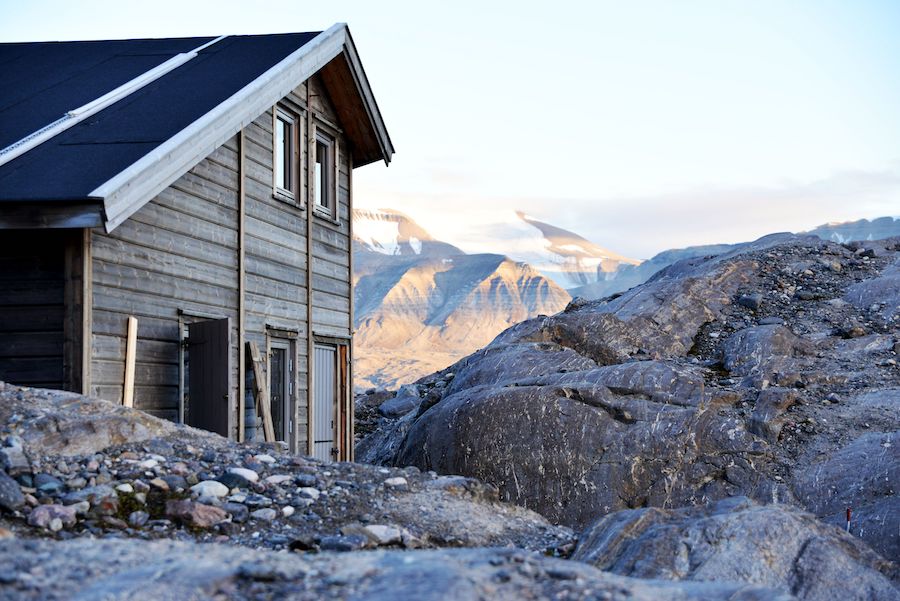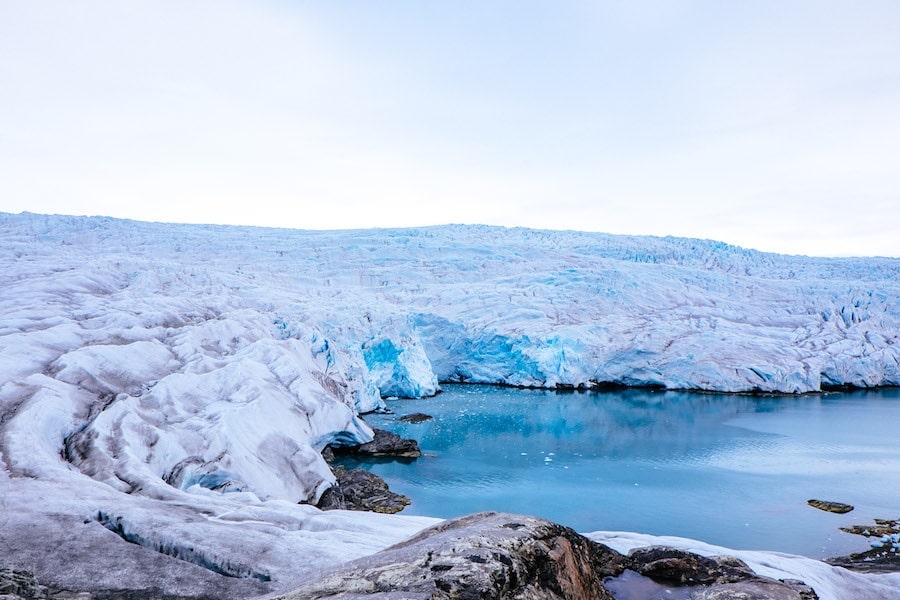 Barentsburg Hotels
13. Hotel Barentsburg
Believe it or not, staying in Barentsburg is an option and while the property may pop up as a cheap option, you still have to consider how you're going to get there, which can pose a challenge.
Hotel Barentsburg is an outdated, yet interesting option in Barentsburg, the Russian (and Ukrainian) settlement on Spitsbergen.
There are around 43 rooms available for guests on-site.
When there, you will find a restaurant that offers epic views over the Grønfjord Bay and Olaf Mountain. Their restaurant serves a bit of everything but is known for catering to the settlement with Russian food.
Please do not consider this as an option if you have not previously sorted out how you are planning to get there.
–> For current rates and availability click here
14. Pomor Hostel
Another Barentsburg accommodation and one that is very budget-friendly is the Pomor Hostel.
Again, please don't consider this property if you don't have transportation to Barentsburg pre-arranged or you're going to find yourself homeless in Longyearbyen!
Pomor Hostel has 30 twin and triple rooms and there are shared bathrooms on each floor, in addition to a kitchen. You will find a laundry facility on the first floor.
The decor is actually paying homage to 'Pomors' and is made from northern pine with patchwork quilts. It is supposed to bring you back to the Russian north. Free wifi is included.
–> For current rates and availability click here
Pyramiden Hotels
15. Pyramiden Hotel (Tulpan Hotel)
Another option for a place to stay is Pyramiden Hotel (or Tulpan Hotel) in Pyramiden, the abandoned Soviet mining town about 110 kilometers from Longyearbyen.
Situated right beside the Nordenskiöld Glacier, one of Norway's most impressive glaciers, you will find a hotel with 28 modern rooms and 5 suites.
There is also an on-site restaurant and souvenir shop on the 1st level.
The rates are fairly cheap, but again, you need to consider how you're getting there. Reaching Pyramiden is only possible in winter by snowmobile and during summer, you can take a boat there. Breakfast is included.
–> For current rates and availability click here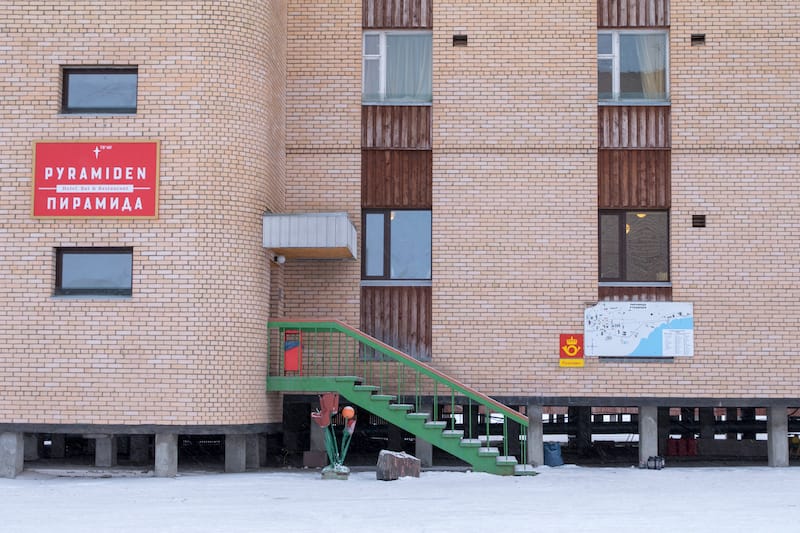 16. Longyearbyen Camping Options
Yes! You can go camping in Svalbard! However, because of the wildlife threats across Spitsbergen, you will need to do so in a very organized fashion and you can do so with Longyearbyen Camping.
This is the world's northernmost camping site, which is pretty cool and something to put on that Svalbard bucket list! Besides, camping in Norway is cool and something I do enjoy doing!
The campsite is located on Hotellneset, a large plain, and was named after the original hotel on Spitsbergen that stood from 1896 onward.
Today, you can take to the wilderness and sleep in a tent in the Arctic during the summer months.
Prices are currently 180NOK per person and tent rental is 200NOK per night. The area has toilets, showers, a fire pit, a fully-equipped kitchen, and the Arctic Naked Bathing Club.
–> For current rates and availability click here
Longyearbyen Accommodation Tips & Pointers
Before you book your hotel in Svalbard, you will need to consider a few things. These are based on my experiences in Svalbard – so if you have any tips, please drop them below, as well!
Location Matters
Some of the hotels are located a bit far from the town center. In reality, the walk into town is spectacular, but if you're visiting Svalbard in winter, it may be a bit lackluster making that same stroll daily.
We have provided a map near the top of this post of where the hotels are located.
Taking Shoes Off Before Entering the Hotel
You will need to remove your shoes before entering the hotel. And it is not just taking them off and taking them to your room necessarily… there is a rack at the entrance where you can place them.
This is a tradition in Svalbard that dates back many years… but it also helps keep things clean.
I will prewarn you that the person I traveled with on my first trip to Svalbard had his shoes stolen.
Now, I really don't think it was intentional and that someone threw on the wrong pair of boots as they were getting ready for the day, but he never got them back and had to purchase a new pair.
Perhaps put a tag on your shoes or wear ones that don't blend in so easily!
Getting to Your Hotel from the Airport
There are shuttles that will take guests from the Svalbard Airport into the town center.
There are not many commercial flights arriving so just follow the crowd or ask your hotel beforehand, but they should know when your arrival is based on your booking.
Book Early!
Book your Longyearbyen accommodation early! Places do tend to fill up, especially as the Arctic grows as a tangible destination for many people.
This also goes for the tours and things to do in Svalbard – always book ahead!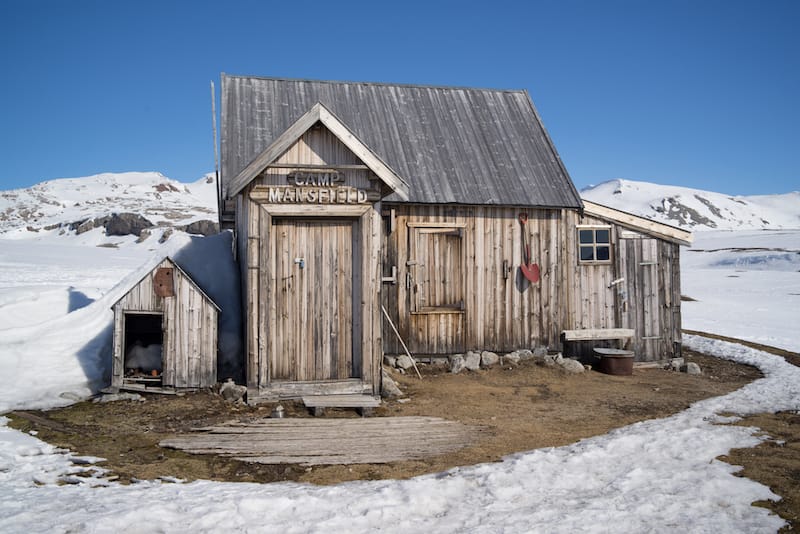 Hotels in Svalbard – The List
If you're looking for a quick roundup of the Svalbard hotels on this list, please see below:
Svalbard Hotell Polfareren
Basecamp Hotel
Svalbard Hotell – The Vault
Radisson Blu Polar Hotel Spitsbergen
Funken Lodge
Mary-Ann's Polarrigg
Haugen Pensjonat Svalbard
Gjestehuset 102
Coal Miners' Cabins
Isfjord Radio Adventure Hotel
Nordenskiöld Lodge
Svalbard Tours and Excursions
There are heaps of tours available in Svalbard and various excursions that will satisfy all types of travelers. You can participate in hikes, polar bear watching, snowmobiling, dog sledding, etc.
Your hotels can arrange tours for you but here are some of our top tours, including some winter ones if you're traveling during the dark season!
Svalbard is the most incredible place I have ever visited. If you have the opportunity to visit- please do it! There is no other place on this planet that compares.
If you have any hotels in Svalbard that you would recommend, please drop them in the comments! I covered most but I am aware there are a few that are not in this guide. Have a great trip!
More Svalbard Travel Guides
Pin this Svalbard Accommodation Guide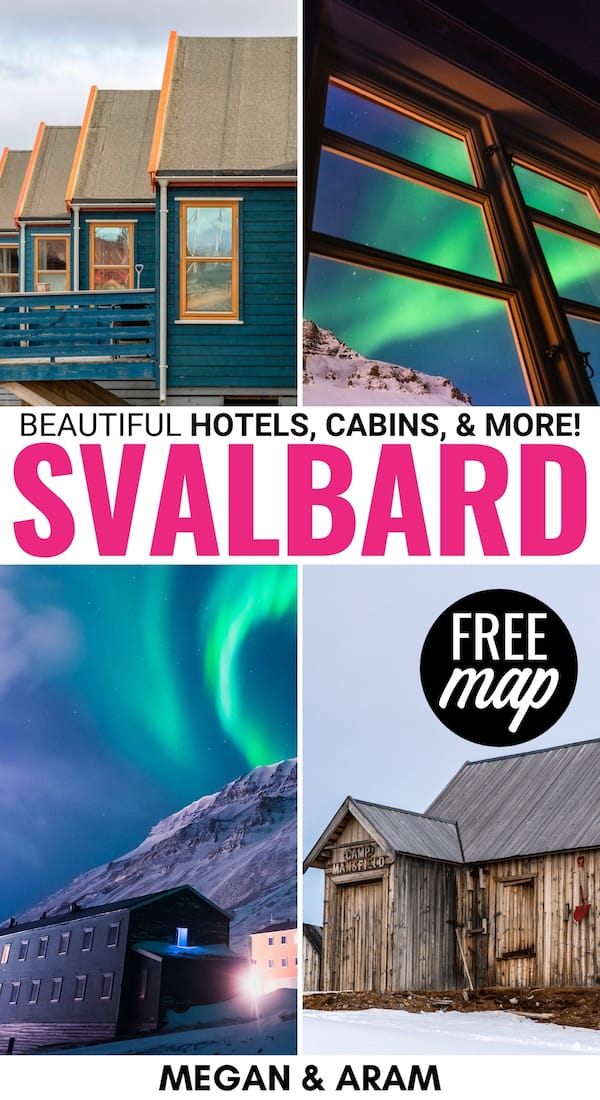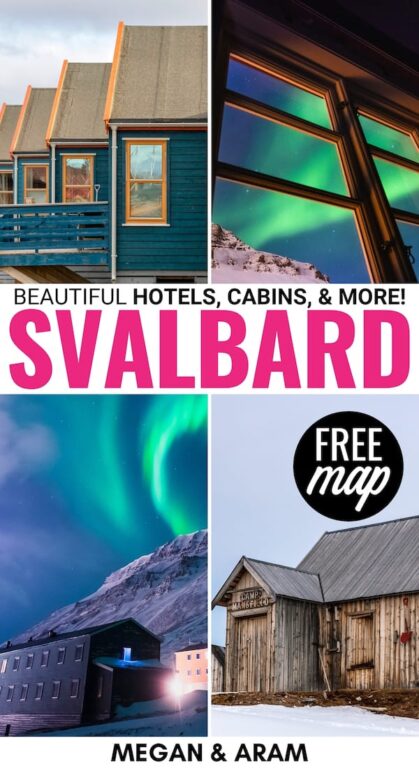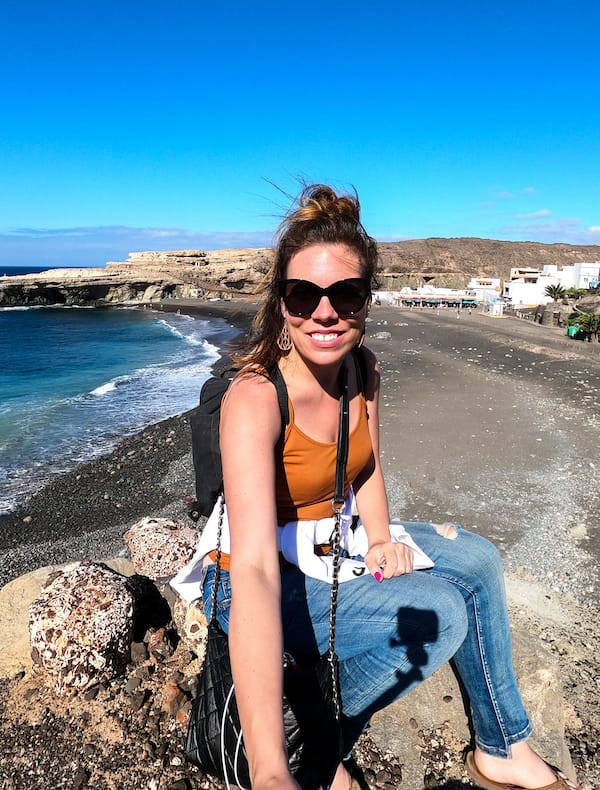 Megan is a travel blogger and writer with a background in digital marketing. Originally from Richmond, VA, she now splits her time between Frankfurt, Germany and Arctic Finland after also living in Norway, Armenia, and Kazakhstan. She has a passion for winter travel, as well as the Nordic countries, but you can also find her eating her way through Italy, perusing perfume stores in Paris, or taking road trips through the USA. Megan has written for or been featured by National Geographic, Forbes, Lonely Planet, the New York Times, and more. She co-authored Fodor's Travel 'Essential Norway' and has visited 45 US states and 100+ countries.