One of the most challenging things about traveling to Svalbard is knowing which tours and excursions are worth the money they charge. To help you out, these are the best Svalbard tours (worth your money)!
This is my list of the best tours in Svalbard and excursions that are good value for their money… and they will help show you one of the most magical places on Earth.
Best Svalbard Tours
There are few places left on this planet that really feel unexplored and Svalbard is one of those places. But, while it feels unexplored, that is part of its charm and mystery and parts of the archipelago should stay that way.
Svalbard is an Arctic archipelago made up of nine islands and one of them happens to be Spitsbergen (many people confuse Svalbard and Spitsbergen thinking they are the same thing… they aren't).
For millennia, the rugged and bleak landscape was only home to polar bears and ocean-dwelling animals. Eventually, European whalers arrived chasing the whales north.
Today, Svalbard tourism has started to take over as one of the main industries on the islands (research and mining being the other two) and tour companies are beginning to pop up to help you see as much as possible and explore the area with expert guides.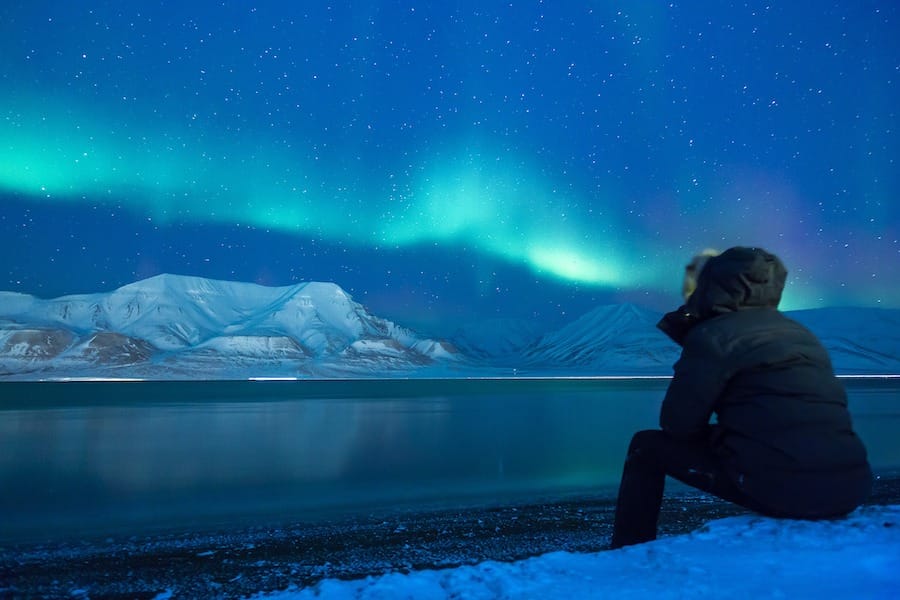 While I don't usually give a lot of background on tour guides I write, I felt it was important to detail a bit more about Svalbard below to show why organized tours with sustainability in mind are extremely important.
For centuries, animals were disregarded in the region. Today, numbers are starting to rise in some species, and then climate change is killing others.
Why Should You Take a Tour of Svalbard?
To be honest, you can't really see Svalbard without a tour. There are a few reasons for this:
The first reason you need to book a tour of Svalbard is that the terrain is treacherous and can't be explored independently without getting a permit to carry a weapon, and so forth.
And, carrying a weapon is mandatory. If you're just heading to Svalbard for a few days, this poses a huge problem.
The second reason you need to book a tour is that this is not an area you want to see without an expert or guide. Just trust me on this.
You will have so many questions and concerns and it is really important to know what you're marveling at because this place looks like NOWHERE else you've been!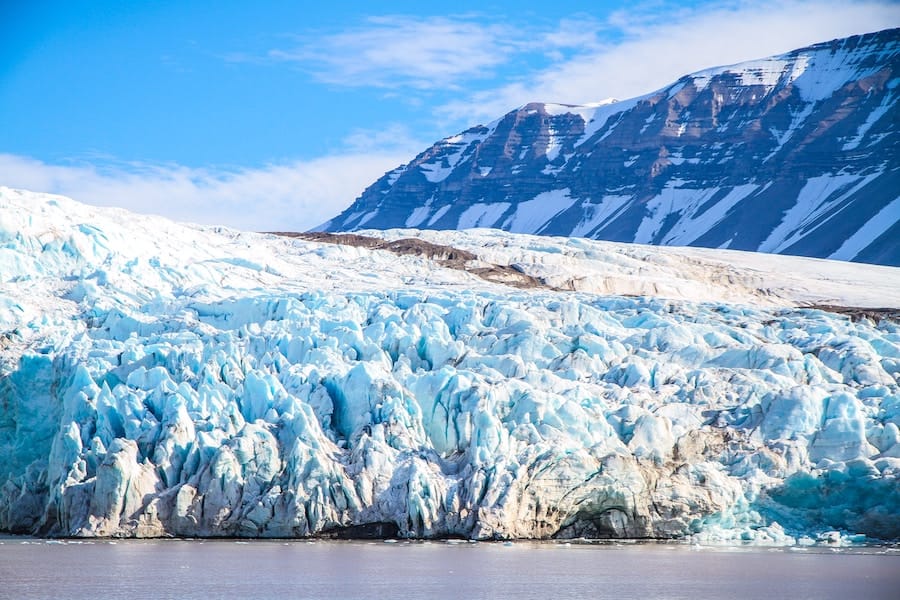 The third reason is the most important. You really need a guide because this is a sensitive ecosystem. It is the breeding ground for many endangered and vulnerable species.
Climate change is wreaking havoc on Svalbard. And not many people know how to ethically and sustainably visit Svalbard.
But, if you take a tour with a certified guide and one that is recognized as a partner of Visit Svalbard, they will know what they are doing and you will be leaving less of a footprint in Svalbard than you would if you were to go independently or with a company that is not adhering to the strict rules on the islands.
Which Svalbard Tour Companies Meet Standards?
Well, you can find them all on Visit Svalbard's website, but the following tour providers are ones that meet the tough standards up there.
Please, please, please… don't book a tour with anyone that is not listed here or on their website. It is really crucial that we explore Svalbard in a sustainable manner.
Polar Bears on Svalbard
Many people who visit Svalbard set their hopes and dreams around seeing the beautiful polar bears that call the archipelago home.
Polar bears are incredibly dangerous but also relatively elusive, spending the majority of their time out on the sea ice where hunting is easiest.
With that being said, leaving settlements without a gun is illegal since the bears are a constant danger year-round and are one of the few species that hunt humans.
This apex predator has suffered greatly over the years due to interactions with humans and bear populations have suffered over the years and since 1973, they have been a protected species.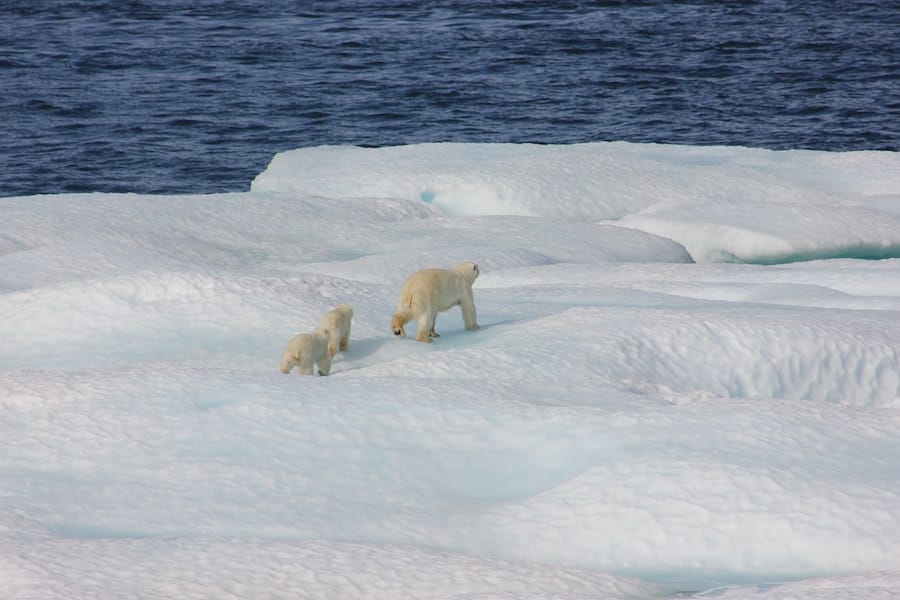 Since polar bears are protected, there are no true 'polar bear safaris', however, there are tours that will take you to areas that they are known to inhabit during the winter.
During the summer months, polar bear populations on the islands drop since the bears follow the sea ice north to the polar ice caps where sea ice remains year-round. There is a small population that sticks around, however.
In abandoned towns and settlements, you need to be extra careful since bears are known to take refuge in derelict buildings.
That being said, the opportunity to see one of these bears should not be passed but should be done at a respectful distance that is both safe for you and the bear.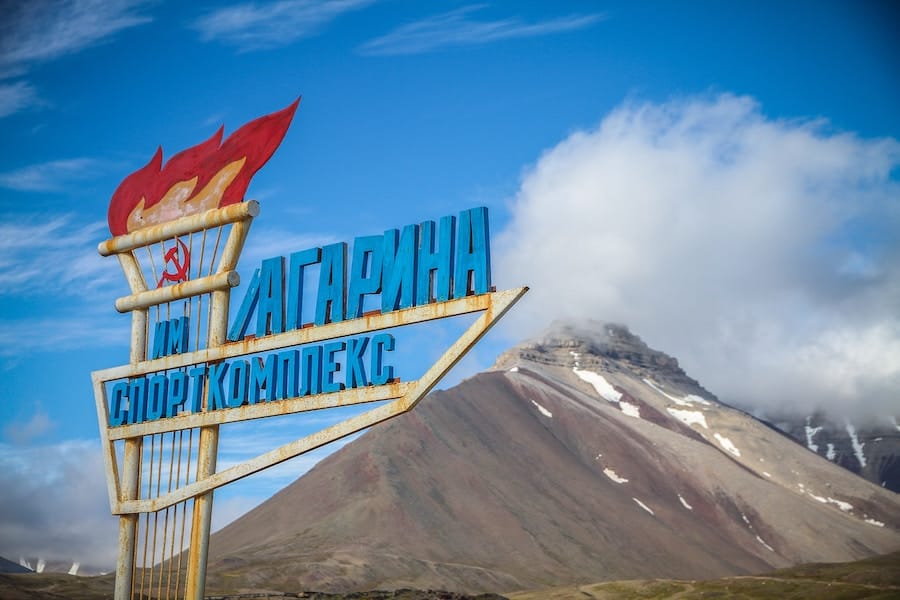 To help you make the most of your trip to Svalbard, I have compiled a list of the best tours that exist there.
I have chosen a wide range of tours that cover each of the seasons, so no matter when you plan your trip, you will be able to make the most of it in this magical wonderland.
Summer Svalbard Tours (into Autumn)
The next group of tours are mostly summer tours but some run into early autumn.
Visit a Walrus Colony by Speed Boat
Tour Operator: Better Moments Svalbard
Months Available: May – August
⇒ Click here for rates and availability
There are many animals that call Svalbard and its surrounding areas home. From Atlantic puffins and ringed seals to majestic polar bears, the nature is super diverse. One of the most prominent animals in Svalbard is the walrus.
On this seven-hour boat ride, you will head away from Longyearbyen in the comfort of an enclosed speed boat, taking in the majestic views and looking out for a vast array of wildlife on the way.
You will venture to Poolepynten, part of Prins Karls Forland island, a favorite spot amongst the walruses.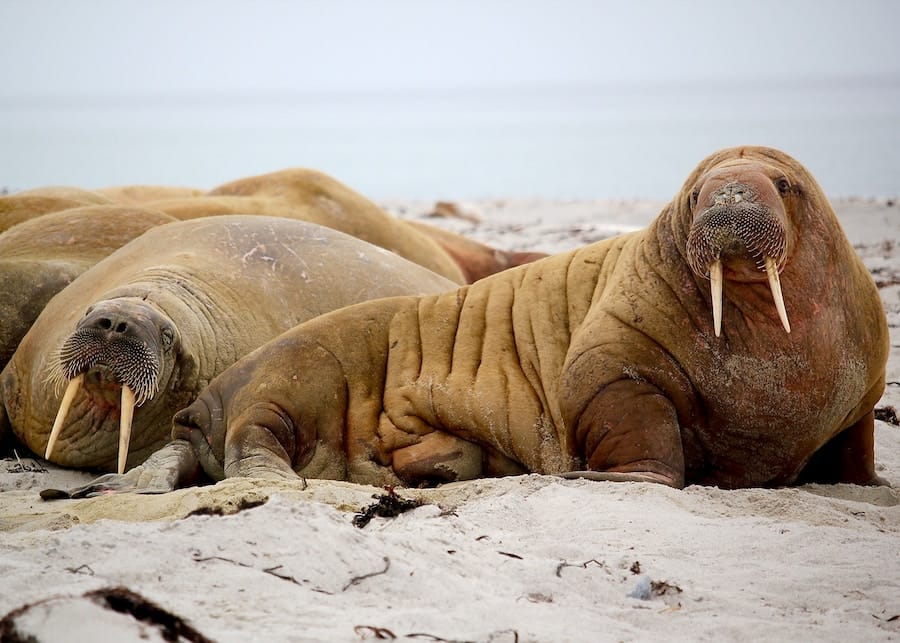 Once you reach the island, you will hopefully find a colony of around 30 walruses who are jostling for the best position on the beach. How close you get to the walruses will depend on the weather.
If it is on your side, you will be able to disembark from the boat and see these magnificent creatures from the beach (although always keeping a respectful distance so as not to disturb them in any way).
If the weather is bad, you will stay aboard the boat and watch the walruses from the water. After observing the walruses, you will enjoy a light lunch on board the boat before heading back to Longyearbyen.
The tour is only available during the warmer months.
Svalbard Boat Trip to Ny-Ålesund
Tour Operator: Better Moments Svalbard
Months Available: May – August
⇒ Click here for rates and availability
Surprisingly, it is somehow possible to venture further north than Longyearbyen. Take a boat tour to Ny-Ålesund, the northernmost town in the world and a former mining town.
Departing from Longyearbyen, you will sail north, taking in the mesmerizing Arctic scenery along the way. You will pass close by an island that is known to host a colony of walruses.
If the fantastic animals are on the island and the weather permits, the boat will stop and allow you to observe the tusked giants of the sea. As you carry on north, you will see further natural beauty spots that will be sure to take your breath away.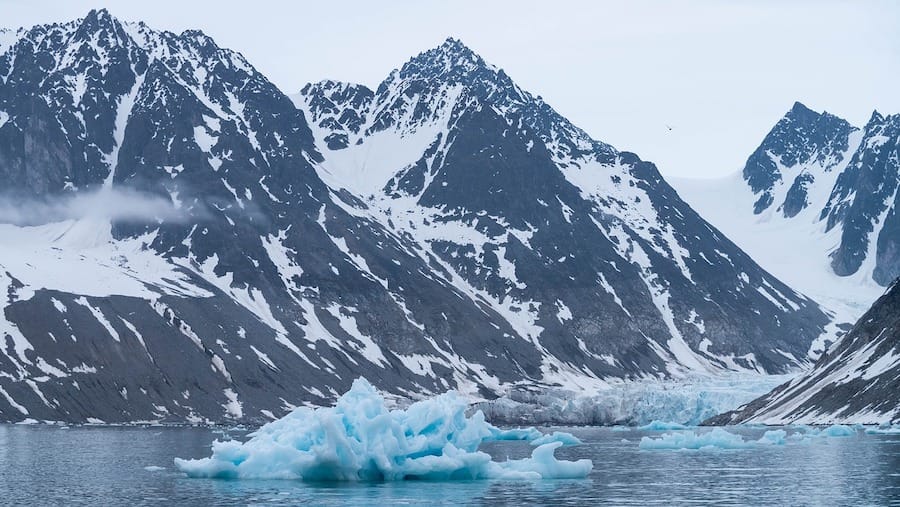 Once you reach Ny-Ålesund, there will be time to explore the town, a place where you will find the world's most northern functioning post office.
Lunch will be available in the town, followed by more time to explore and get yourself some souvenirs from this truly unique town.
The tour only runs during the summer months but you should still dress for cold weather.
Nature and Wildlife Svalbard Boat Tour
Tour Operator: Better Moments Svalbard
Months Available: May – October
⇒ Click here for rates and availability
Svalbard is home to some of the Arctic's most pristine nature spots, where dramatic landscapes and rich waters are home to some of the world's most beautiful animals.
This Svalbard nature and wildlife tour will take you along the coast to some of the most remote areas where you will get the opportunity to take in the breathtaking views and hopefully see some of the animals that call the region home.
In the comfort of a closed and heated RIB boat, you will bounce along the Arctic water, stopping at various points to check out the area.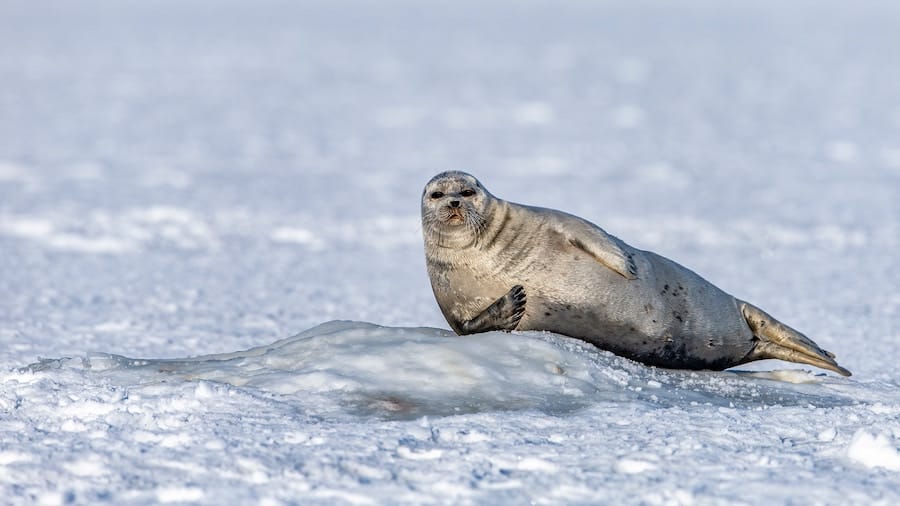 As the seas open up, there's a chance to see giant blue whales or humpback whales feeding in the nutrient-rich waters. Looking towards the land, it is possible to see polar bears who haven't followed the sea ice north, instead preferring to stay and hunt on the coastal edges of the island.
During the spring months, sea birds take over the high cliffs that tower out of the sea to breed. The tour in Svalbard runs from May onward, once the sea ice opens up and you can easily maneuver through the water.
Svalbard Kayaking Along Glacier Fronts
Tour Operator: Better Moments Svalbard
Months Available: June – August
⇒ Click here for rates and availability
Svalbard is made up of three core terrain types: vegetation, barren rock, and glacial ice.
Glacial ice makes up about 60% of the landscape and the slow-moving rivers of ice crawl toward the sea where huge chunks break off and create illuminating icebergs. One of the best ways to see these giant ice structures is by kayaking to them.
Head out into the calm waters of the Isfjord with your fully qualified guide and paddle between giant icebergs that float gracefully in the fjord.
Starting in the bay around the Nansen Glacier, you work your way to the Glacier Terminus where it reaches out into the sea. As you paddle around the calm fjord, you might be lucky to see seals lying around on floating ice sheets.
If you're really fortunate, you might witness the glacier calving and a new iceberg being formed. After spending a few hours enjoying the waters, the group will head back to shore to warm up with hot soup.
The tour is only available during the summer months and requires no previous kayaking experience.
Spring Svalbard Excursions
'Spring' is a rough word here as some of these tours cross over from Svalbard in February into the late spring. But, most will run during March, April, and possibly into May.
Snowmobile Trip to the Land of the Polar Bear
Tour Operator: Better Moments Svalbard
Months Available: February – May
⇒ Click here for rates and availability
Svalbard's most famous winter resident is the majestic polar bear that spends the dark cold nights hunting and breeding on the islands before heading north with the receding sea ice during the warmer months.
On this snowmobile tour, your expert guides will take you out of Longyearbyen into the Arctic in search of these amazing creatures.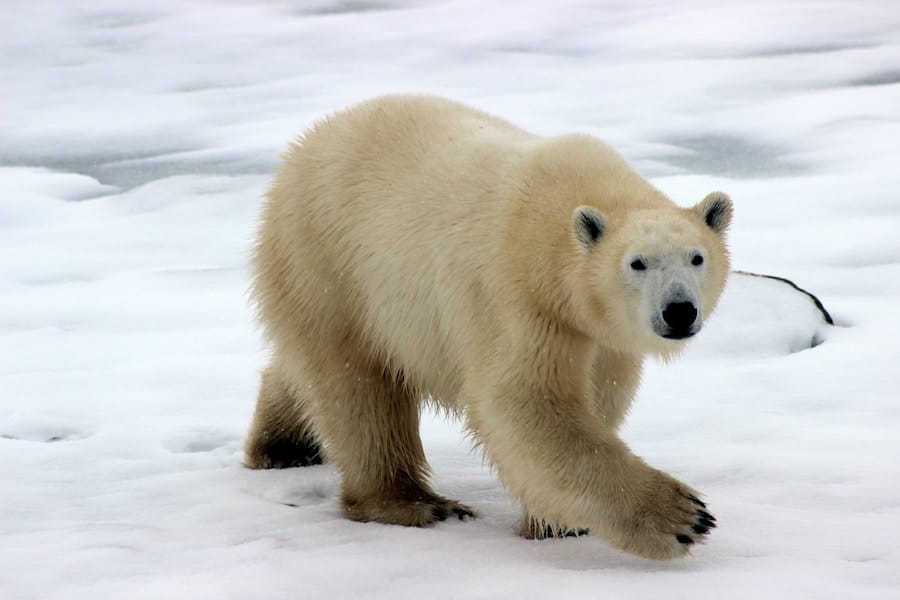 If you are lucky enough to find a bear, you will remain at a safe distance away and spend time observing them in their natural habitat.
The journey to the bears is exhilarating and outstandingly beautiful, as you work your way to and along the eastern coast of the island.
On the trip, you will need to bring some binoculars to fully appreciate the beauty of these animals because getting too close is very dangerous.
I also recommend purchasing a zoom lens for your camera so that you can attempt to photograph the bears.
To take this tour, you will need to hold a valid driving license. The tour is only available during the early part of the year while there is some light but still enough snow and ice to keep the bears in Spitsbergen.
Snowmobile Trip to Barentsburg (Little Russia)
Tour Operator: Spitzbergen Adventure
Months Available: March – April
⇒ Click here for rates and availability
Take a trip to the Russian side of Svalbard with an amazing snowmobile excursion from Longyearbyen to Barentsburg.
Setting off from the base in Longyearbyen, you will head through the valleys, mountains, and over the glaciers of the island to the Russian town of Barentsburg.
Once you arrive in Barentsburg, you will enjoy a hearty Russian lunch followed by a guided tour of the town where you will learn about Russia's influence on the Spitsbergen.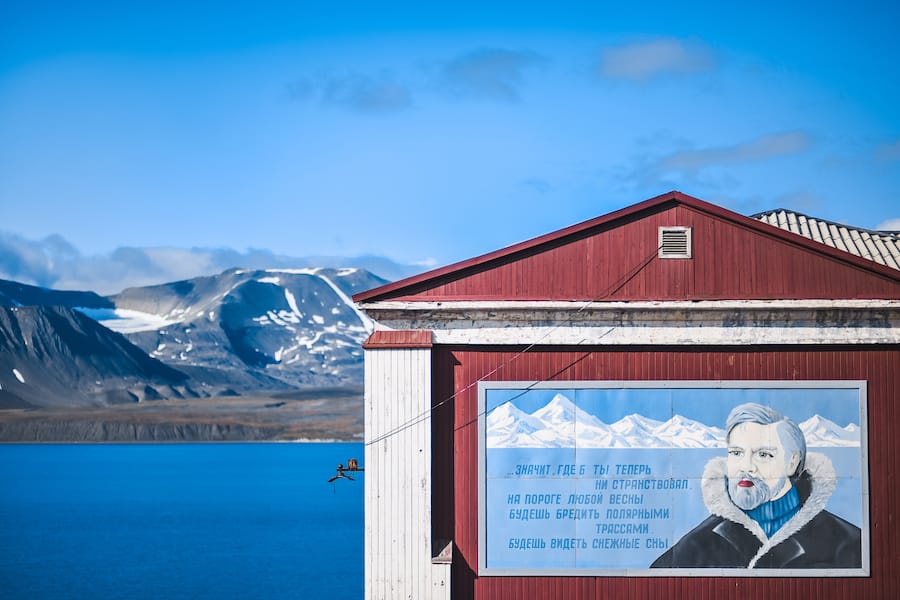 To and from the town, you will make periodical stops to take in the awe-inspiring scenery and your guide will tell you all about the land you are traversing.
There will be plenty of opportunities to see wildlife along the way, including Svalbard reindeer, a much smaller subspecies of the common reindeer that has inhabited the islands for over 5,000 years.
If you are super lucky, you may get to see a polar bear searching for food. The tour lasts around 10 hours and although no snowmobile experience is necessary prior to the trip, you will need to hold a full driving license.
Pyramiden & Glacier Snowmobile Excursion (2 Days)
Tour Operator: Spitzbergen Adventure
Months Available: March – April
⇒ Click here for rates and availability
Lose yourself in the Arctic on this two-day adventure to Pyramiden.
Traveling on snowmobiles, you will explore imposing glaciers and the stunning nature that surrounds Pyramiden, a former Soviet mining town that used to be home to about 1,000 people.
Along with taking in the island's nature, you will be guided around Pyramiden, which is now a ghost town where houses are no longer inhabited by humans but more commonly used by polar bears and arctic foxes for refuge.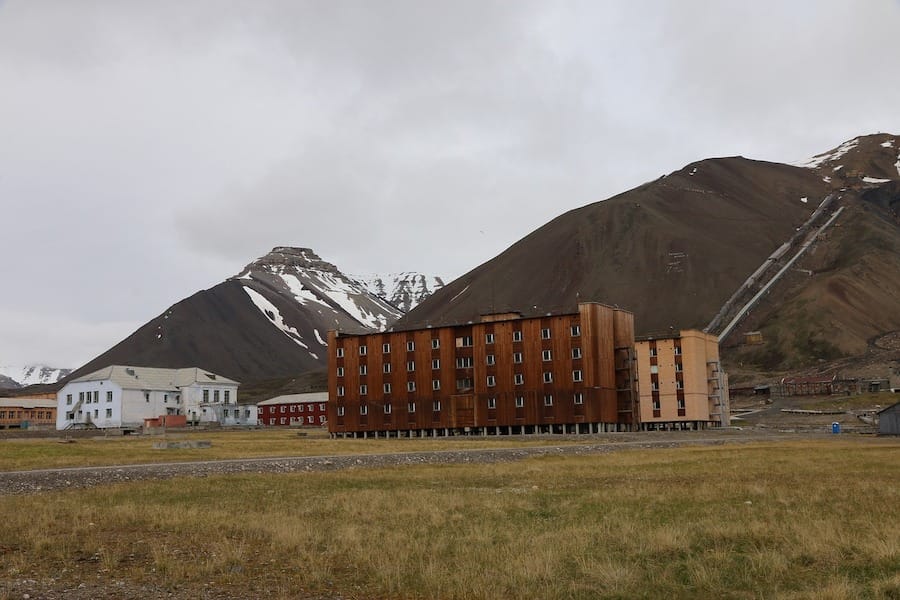 Due to safety reasons, exploring Pyramiden on your own is not possible and during this time, your guide will take you around the town under the watchful eye of the world's northernmost Lenin statue.
The tour takes place over two days and includes an overnight stay in Hotel Pyramiden and all meals and hot drinks. To take part, you will need to hold a full and valid driving license.
Wilderness Evening with Dinner at Camp Barentz
Tour Operator: Hurtigruten Svalbard AS
Months Available: March – September
⇒ Click here for rates and availability
From early spring to early autumn, the ice and snow release much of its grip on the archipelago and briefly exposes the tundra where only the hardiest types of vegetation survive.
Head out to the fantastic Camp Barentz, named after the explorer who officially discovered the islands, to learn all about the wildlife that calls the islands home.
You will enjoy a steaming hot bowl of Bidos, a reindeer stew, cooked over an open fire, followed by a chocolate brownie.
As you eat, your hosts will talk you through Spitsbergen's history and conclude with a fantastically informative presentation about polar bears, the world's largest land predator that hunts and breeds on these very islands.
There will be a choice of alcoholic and non-alcoholic drinks available while you're learning more about the region on this Svalbard tour.
The evening lasts around three hours and includes hotel pickup and drop-off. Tours are only available from mid-spring to mid-autumn.
Svalbard Winter Excursions
Northern Lights Hunt by Snowcat
Tour Operator: Hurtigruten Svalbard AS
Season Available: Winter
⇒ Click here for rates and availability
One of the top winter activities in Svalbard is to chase the magical northern lights. With 84 days of complete darkness and many more with extended nights, the chances of seeing the aurora borealis are high if conditions are right.
This Svalbard northern lights tour will take you out in the wilderness in a specially-designed, all-terrain vehicle where expert guides will take you to the best spots to see the magic unfold.
Thanks to the Caterpillar tracks the vehicle can take you to areas normally only accessible by more versatile methods, such as snowmobiles, skis, or even dog-sleds.
The Svalbard excursion will pick you up from the Radisson Blu in the center of Longyearbyen and head to the Advent Valley away from light pollution caused by the town.
The tour lasts around 2.5 hours and you will be supplied with hot drinks and biscuits along the route. If you wish to photograph the lights, you will need to bring along a tripod and the guide will help you set up your camera correctly.
It is important to note that seeing the northern lights is not guaranteed and largely depends on how clear the sky is, in addition to the amount of solar activity that night. Tours are only available throughout the winter months until around mid-March.
Northern Lights Evening with Dinner at Camp Barentz
Tour Operator: Hurtigruten Svalbard AS
Season Available: Winter
⇒ Click here for rates and availability
Seven and a half miles outside of Longyearbyen is Camp Barentz- located at the very end of one of the island's few roads.
The Advent Valley is one of the best places to see the lights and the chance of seeing them during the dark winter nights is relatively high if conditions are right.
You will be taken out to the camp by a bus that will pick you up from outside of your hotel. Once you arrive, you will be greeted by the local hosts who will offer you a shot of Norway's famous Aquavit.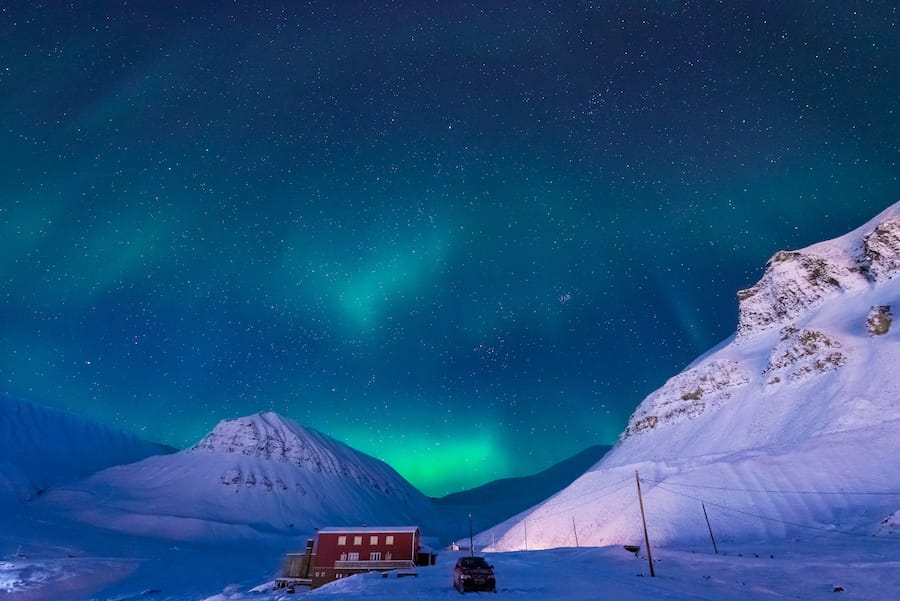 During your time at the camp, you will be fed a delicious two-course meal. The first course comprises of Bidos, a traditional Sami stew made of reindeer meat and root vegetables, and one of my personal favorite northern Norwegian dishes.
The Bidos will be followed by a delectable chocolate brownie and throughout the meal, a range of alcoholic and soft drinks will be on offer. As you eat and drink, your hosts will talk you through the history of Svalbard and some of the science behind the northern lights.
Outside spotters will wait for the lights to appear and once they arrive at the party, you will be taken outside to watch the magic unfold.
The trip lasts around 3 hours and you will need to bring warm clothes and any equipment you need with you.
At the beginning of the tour, you will be given a safety talk. It is imperative to pay full attention to the talk as the valley is inhabited by polar bears throughout winter.
Dog-Sledding Experience Under the Northern Lights
Tour Operator: Green Dog
Season Available: Winter
⇒ Click here for rates and availability
During the winter months, snow and ice make much of Spitsbergen completely inaccessible and people need to revert back to more traditional ways to travel.
One of the best ways to navigate the icy wilderness is by sled pulled by a team of trusty dogs. On this Svalbard winter tour, you will venture into the wilderness in and around Bolterdalen where you'll have the chance to view ptarmigan and reindeer.
The route and trip are suitable for those who have never been dog-sledding before.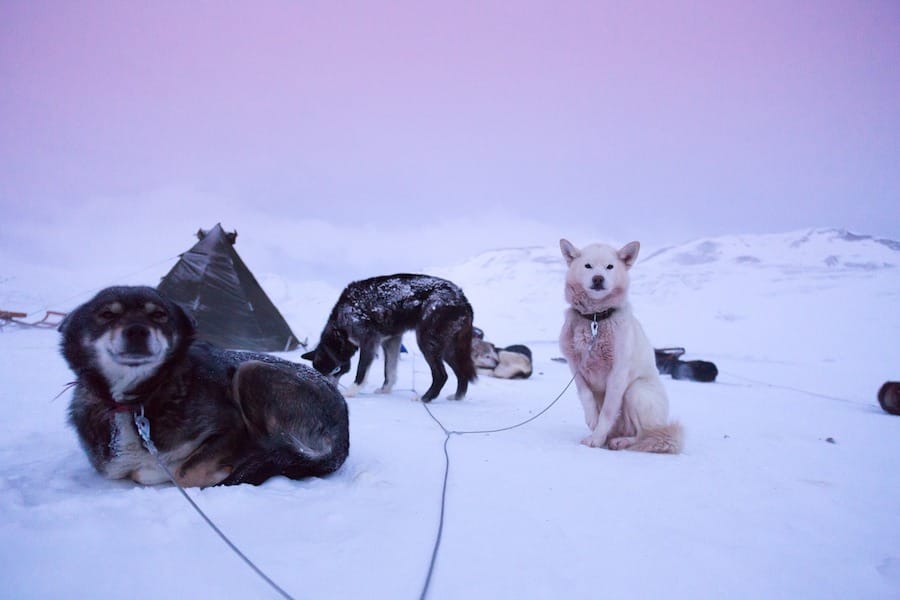 Taking it in turns with your partner, you will guide your pack of huskies along the path. As the musher (the person who stands at the back operating the sled) you will control your team of 5-6 dogs and gawk at the otherworldly scenery.
You will also be waiting for the northern lights to dazzle the skies!
Prior to setting off, you will be given a tutorial on how to operate the sled and keep safe out in the wilderness and you will also have the opportunity to greet the playful dogs who will all be raring to go.
The tour is only available during the winter months when snow and ice cover the tundra and it lasts for about 4 hours.
Year-Round Excursions in Svalbard
Historic Coal Mine Tour at Gruve 3
Tour Operator: Gruve 3
Months Available: Year-round
⇒ Click here for rates and availability
After the collapse of the hunting industry in the islands, people started to utilize the islands for its natural reserves of coal that are harbored deep underground.
Mining is the largest of the three main industries in the world's most northern settlement, bringing in much of the wealth of the archipelago, followed by tourism and scientific research.
This three-hour tour will take you to a now-defunct mine on the edge of Longyearbyen.
You will spend three hours exploring the mine and learning all about the special techniques that were used to mine here as the coal seams were much thinner than are normally found in mines across the world.
You will get to explore the huge coal tunnels and crawl through the tiny seams that miners had to endure every day. Your expert guides will teach you about how miners survived life at the top of the world where they had to endure brutal seasons and dangerous animals.
On the way to the mine, you will pass the Global Seed Vault, a building that holds examples of a million different seeds that can be used to repopulate plants that have suffered due to man-made or natural disasters.
The tour runs twice a day and is available year-round.
Where to Stay in Svalbard
If you're looking for the best places to stay in Svalbard, you can check out our Svalbard hotels guide here. It lists our top picks and details where they are located.
If you have any additional questions, please reach out to us and we will do our best to answer! I hope this guide helps you plan your visit to Svalbard!
More Svalbard Travel Guides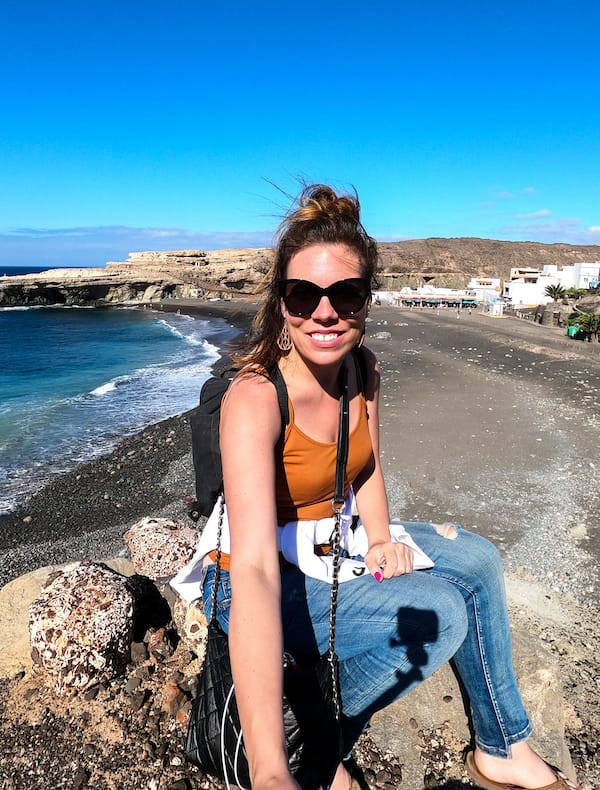 Megan is a travel blogger and writer with a background in digital marketing. Originally from Richmond, VA, she now splits her time between Frankfurt, Germany and Arctic Finland after also living in Norway, Armenia, and Kazakhstan. She has a passion for winter travel, as well as the Nordic countries, but you can also find her eating her way through Italy, perusing perfume stores in Paris, or taking road trips through the USA. Megan has written for or been featured by National Geographic, Forbes, Lonely Planet, the New York Times, and more. She co-authored Fodor's Travel 'Essential Norway' and has visited 45 US states and 100+ countries.