There are so many unique experiences in Svalbard and I have done nearly all of them at one point or another.
While many are for adventurers, the Arctic Wilderness Evening at Camp Barentz in Svalbard is one that is for everyone!
Are you planning your trip to Svalbard last minute?
If youʻre booking your trip to Svalbard last minute, we have you covered. Below are some of the top tours, and more!
🦭 Top Tours & Activities in Svalbard:
🛌 Top Hotels and Places to Stay:
This post details my evening at Camp Barentz, how to book, and whether I think the trip was worth it or not.
Please note that this experience is only available from March until September.
You can not book this during the dark Svalbard winter (but don't worry- plenty of other experiences are available, including another one at Camp Barentz I discuss later!).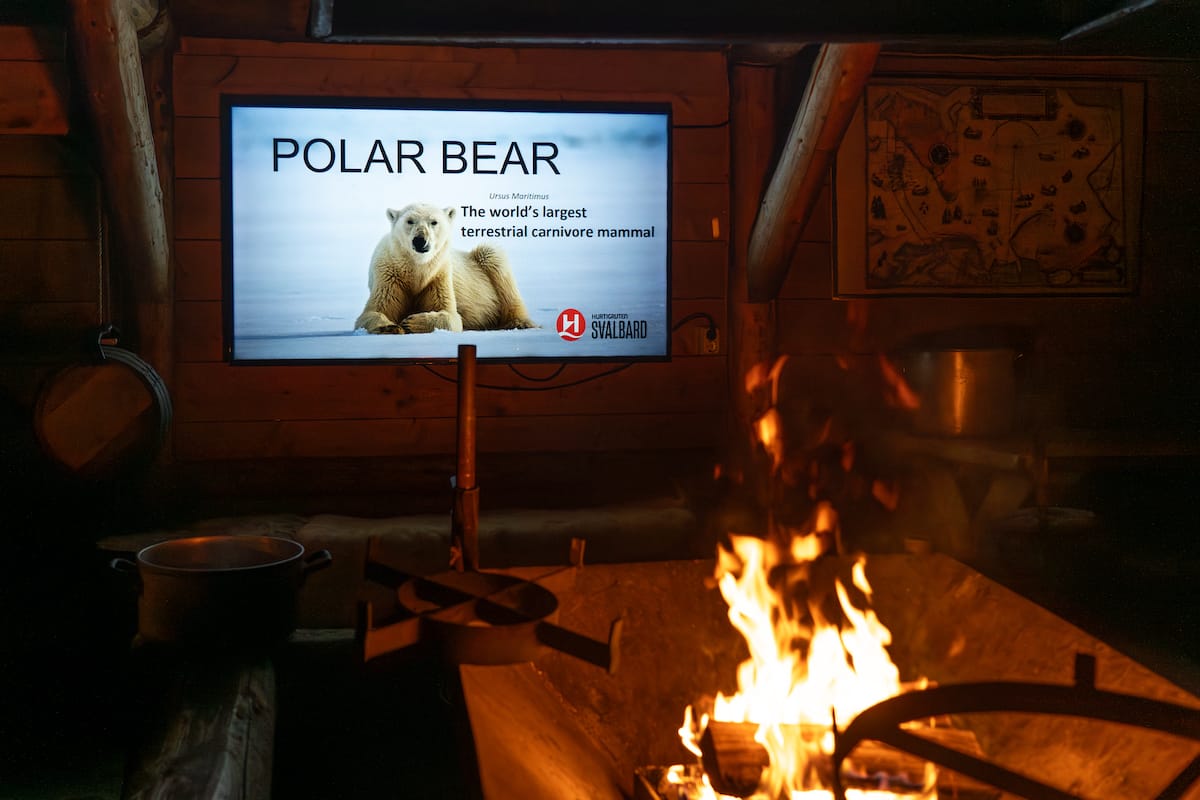 If you have any questions, please let me know in the comments – happy to answer!
Why I Booked a Wilderness Evening at Camp Barentz
During my latest trip to Svalbard, I had two experiences in mind that I was determined to do since I had done pretty much everything one could do here during this time of the year.
One of those experiences was an evening at Camp Barentz, a wilderness area named after Willem Barentz, the Dutch man who discovered Spitsbergen.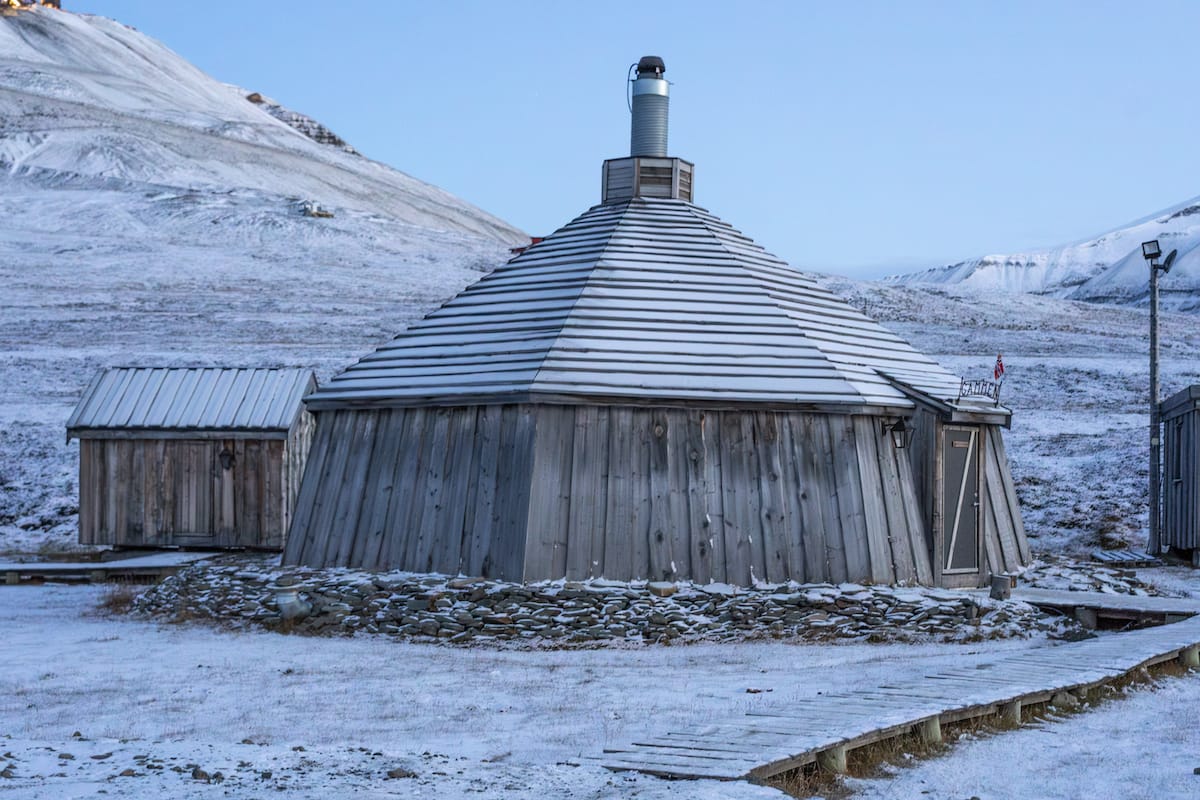 Nearly every Svalbard tour I have taken has been on the more 'adventurous side'. And while I love those types of tours (within my own limits), I hated that I felt that the only chilled-out experiences were at restaurants around Longyearbyen.
So, when I found out that Camp Barentz offered an opportunity to escape the city for a few hours while you got to eat dinner around a fire in a cabin, I was stoked to add that to my Svalbard bucket list!
Learning about polar bears throughout the experience was also an added perk!
How to Book an Arctic Wilderness Evening at Camp Barentz
Duration: 3 hours
Pick-up: Offered to most hotels
Season: March-September
➡️ CLICK HERE TO BOOK
There are a couple mediums through which you can book Camp Barentz in Svalbard… but I found the best (and most reliable) way to book was through the Hurtigruten Svalbard website directly.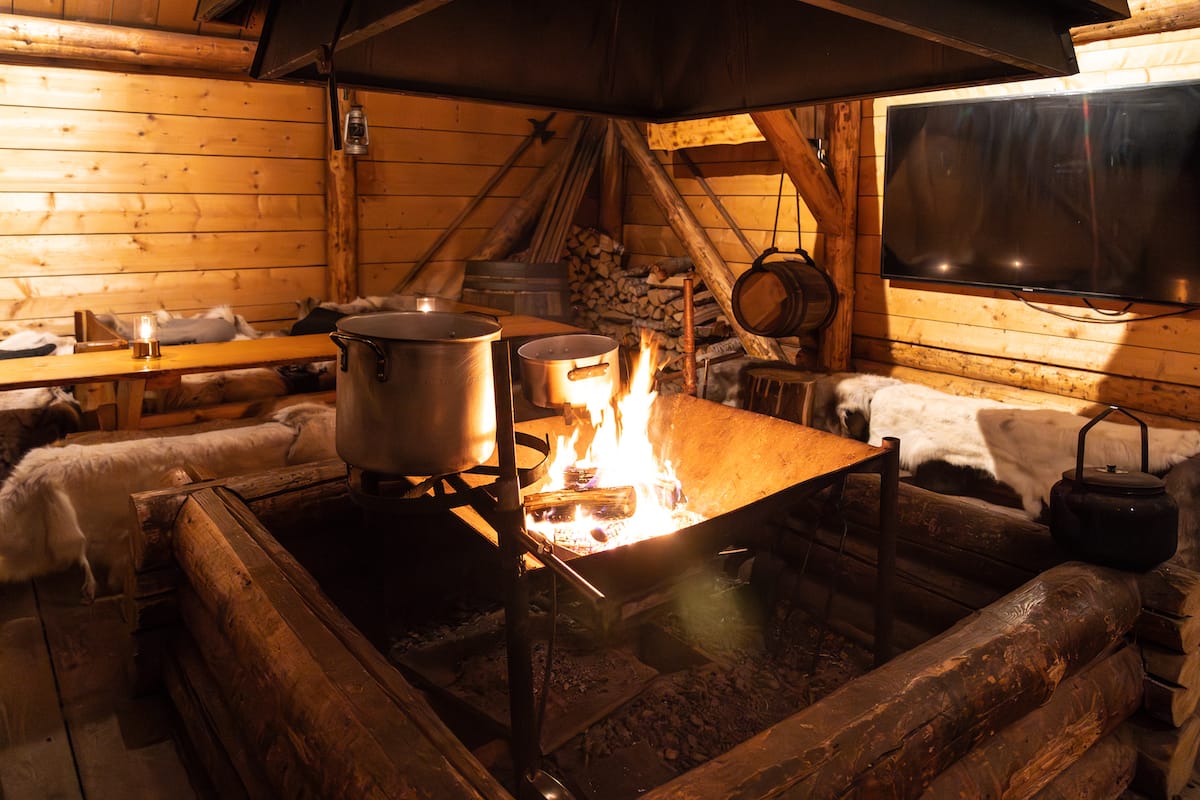 Pick-Up in Longyearbyen
Our evening started at 7pm in Longyearbyen. We were picked up at our individual locations (or somewhere close to it) by a nice van and driver.
The driver then proceeded to drive us out to Camp Barentz, which is about a 10 minute drive out of the city going toward the Gruve-7 mine, which is the last in-use coal mine here.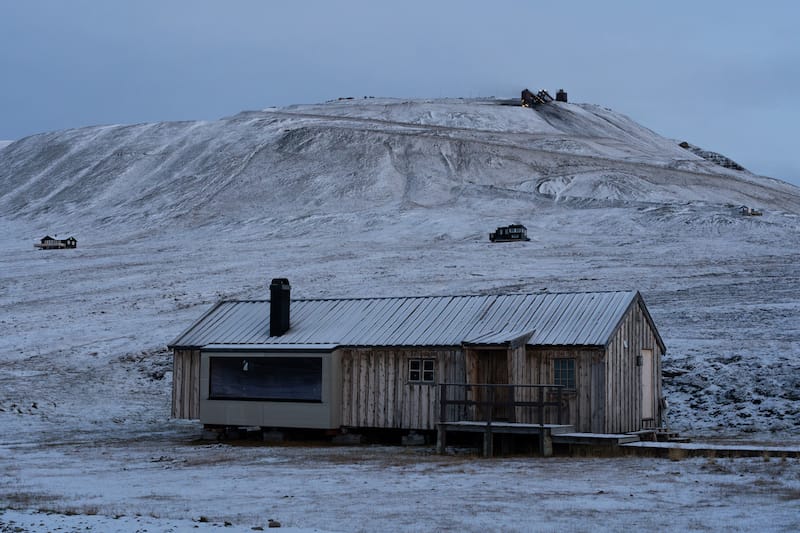 Camp Barentz is located right underneath that in Adventdalen under a mountain called Breinosa.
Note: Be sure to be ready and to double check the time your experience starts on your confirmation. It is subject to change at any point.
Arrival and Welcome Drink
When you arrive at Camp Barentz, you will be greeted by your guide for the evening who will meet you outside with his/her polar bear protection.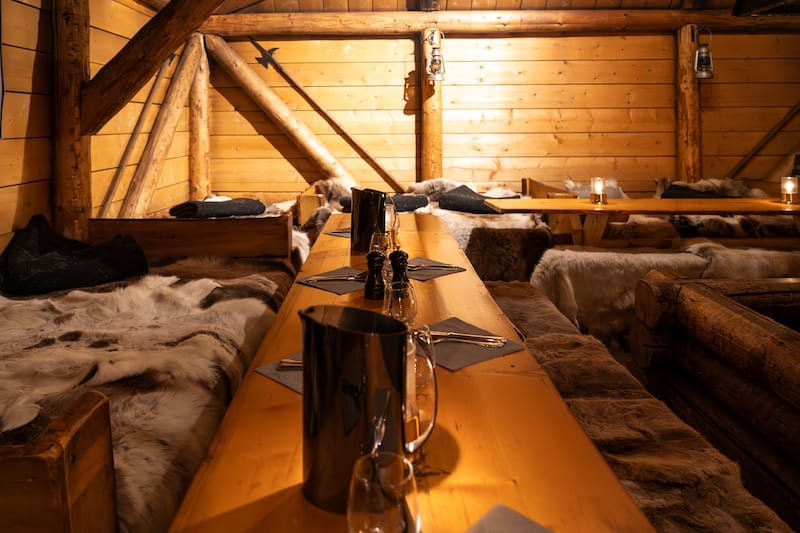 After a quick briefing and short introduction to Adventdalen, your group will be taken inside the cabin where you'll be welcomed by a warm fire and tables set for a 'koselig' evening (koselig roughly means 'cozy' in Norwegian).
Once you find your seat, the guide will bring you a welcome drink (ours was Norwegian aquavit), and will brief you on how your evening will go.
Learn About Svalbard's History (+ Food!)
Dinner is heated over the fire before being served to all guests. The dinner is 'bidos', a Sami stew that is filled with root vegetables and reindeer meat. It is so hearty and delicious and perfect for the atmosphere you're in!
You will also have fresh bread as well as flatbread served along side it. Dessert will come a little later with coffee/tea.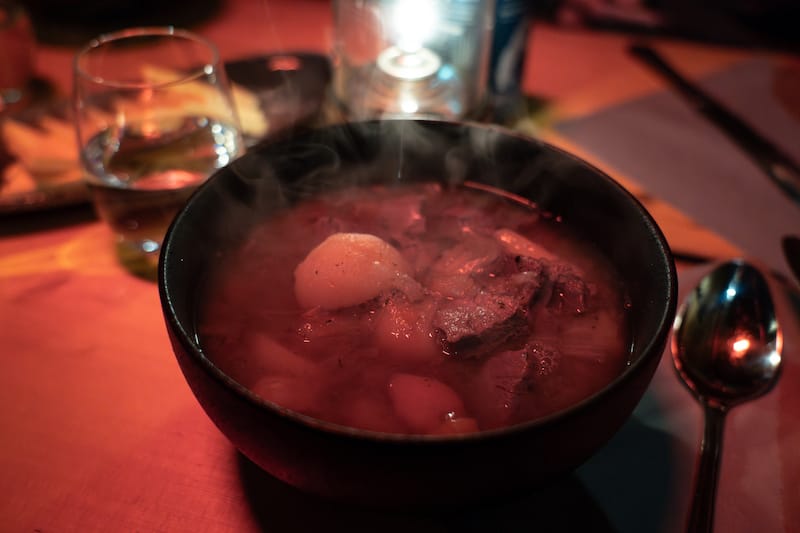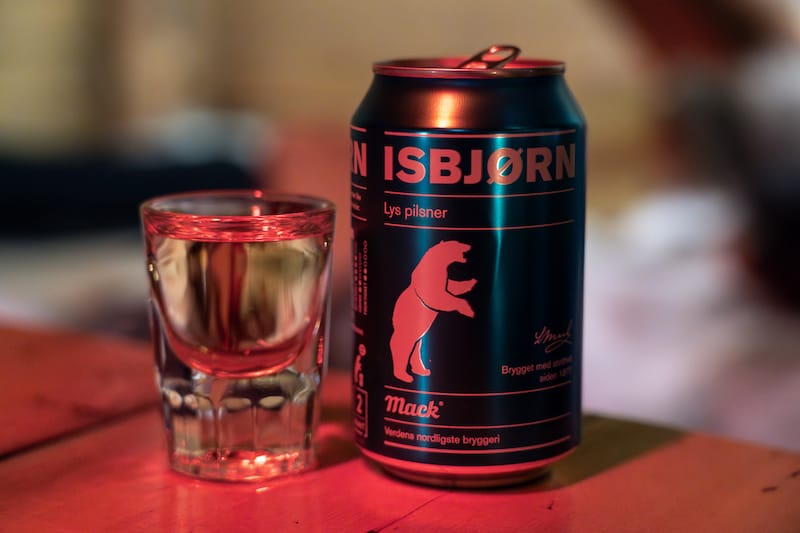 During dinner, we were also offered a glass of wine, soda, or beer. The beer was a Mack Øl (from Tromso) 'isbjørn' beer – with a polar bear on the can. It was so appropriate for the evening!
Are you a vegetarian? Let them know ahead of time and they will prepare you a meal suitable to your needs.
Polar Bear Presentation
While you're eating your dessert and warming up with some tea and coffee, you will get to sit through the famous polar bear presentation! To be honest, this was my favorite part of the entire evening.
Guests will learn all about polar bears and their history on Svalbard and this part of Norway… as well as their current status on the archipelago.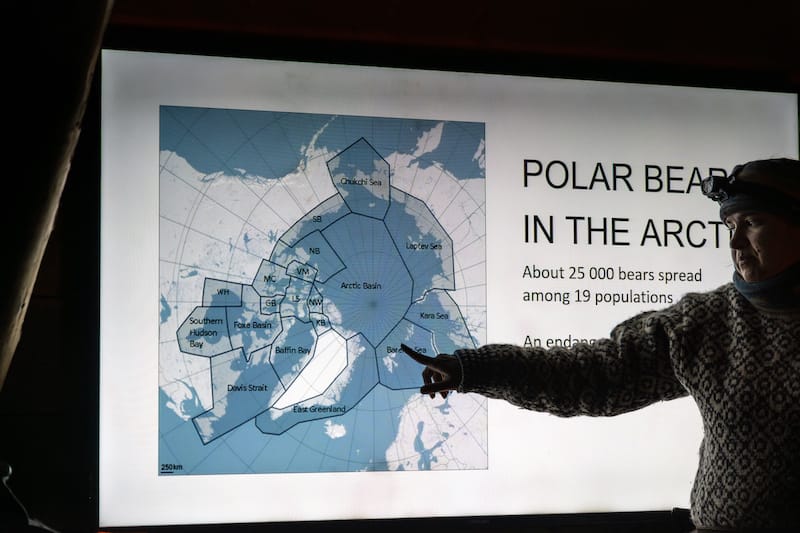 The presentation is about 30 minutes long and super informative. It is accompanied by a slideshow and videos!
I won't say much more here as the information is best consumed by sitting there learning it by the fire from someone who has first-hand experience of living on Svalbard.
What to Wear on Your Camp Barentz Tour
To be honest, that cabin can get warm! But, you will spend a short amount of time outside before the night starts and if you need to go to the bathroom, you will need to go outside to a (heated) portable toilet.
I would recommend wearing your normal outdoors gear that you packed, along with something like a basic sweater underneath.
🔥 GOOD TO KNOW: You will be in a cabin with a fire… meaning your clothes will smell like smoke by the end of the evening. Wear something that you don't mind getting a smoky scent on!
Because you have the fire inside, you can move to an area that is suitable for your comfort (whether it be closer to the fire… or further from it).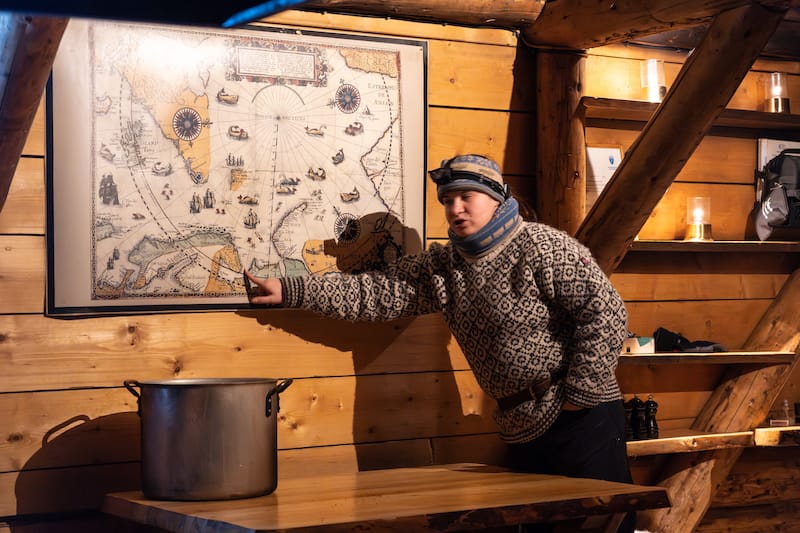 Traveling in Winter and Want to Visit Camp Barentz in Svalbard?
Don't worry – they also have a northern lights evening that you can sign up for!
From October 1 – March 15, Camp Barentz hosts a northern lights tour which you can check out here. It takes place on Tuesdays, Fridays, and Sundays and it is a great experience to experience the camp, see the aurora, and enjoy some tasty food!
Did we miss anything above about booking an Arctic Wilderness Evening at Camp Barentz? Let us know in the comments!
More Svalbard Travel Guides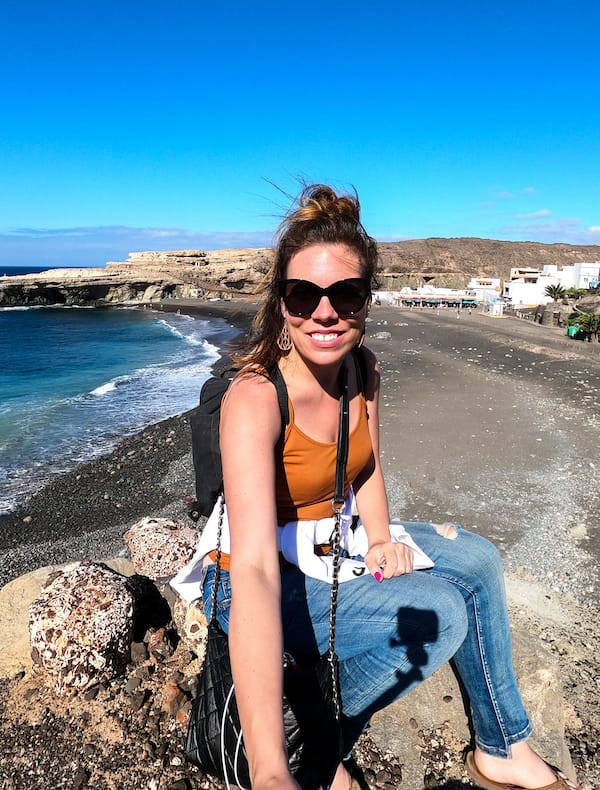 Megan is a travel blogger and writer with a background in digital marketing. Originally from Richmond, VA, she now splits her time between Frankfurt, Germany and Arctic Finland after also living in Norway, Armenia, and Kazakhstan. She has a passion for winter travel, as well as the Nordic countries, but you can also find her eating her way through Italy, perusing perfume stores in Paris, or taking road trips through the USA. Megan has written for or been featured by National Geographic, Forbes, Lonely Planet, the New York Times, and more. She co-authored Fodor's Travel 'Essential Norway' and has visited 45 US states and 100+ countries.