Are you traveling to Svalbard and are curious about where to eat in Longyearbyen?
This guide contains the best Longyearbyen restaurants (and a few tasty cafes)!
Svalbard has extremely good food. I am still blown away that I can name at least ten delicious places to eat in a town that has around 2,400 residents.
Every time I am driving around other towns in Northern Norway, I am baffled at how much better the culinary scene is in Svalbard than most other places.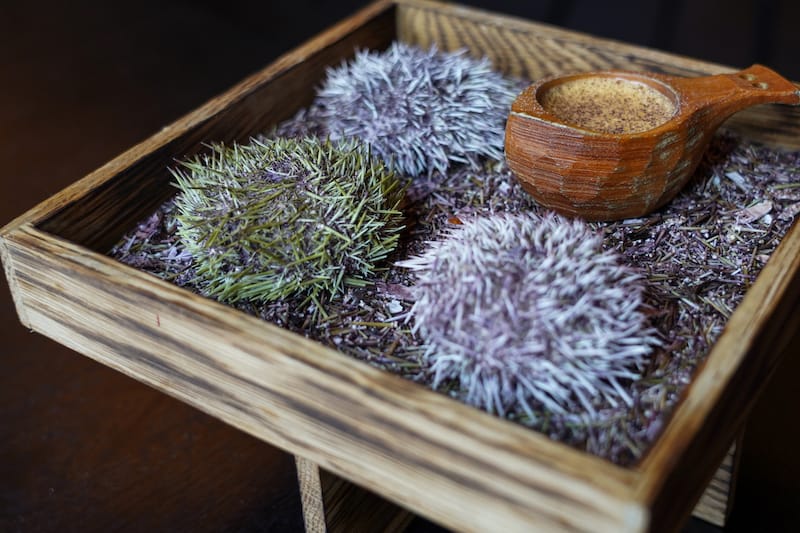 While this list doesn't exactly include restaurants outside of Longyearbyen, I do hope you can try a few of these out when you're in Svalbard's main city (especially if you're only passing through).
To be fair, there are not many more restaurants in Longyearbyen than what is listed. The gastro scene is so good that I feel compelled to put most of the restaurants here.
In Longyearbyen, you will find that every restaurant does offer vegetarian options (even if you need to make a request beforehand). And you'll also find many places with dairy-free alternatives (every cafe will offer this), as well as gluten-free dishes.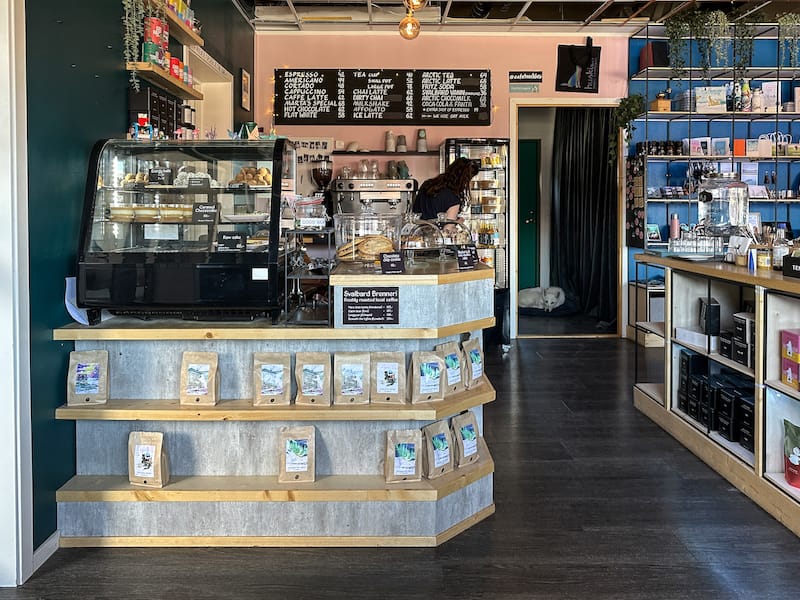 These are the best restaurants in Longyearbyen, from my experience! I have eaten at every single place on this guide, and many of them multiple times.
And I can assure you, one of the best things to do in Svalbard is to eat!
In addition to the restaurants in this guide, you will find a little bit of information about common ingredients, tipping, reserving tables, and more at the end of the guide, where you will also find a map of restaurants in Longyearbyen.
Did I miss any of the top Svalbard restaurants? Let me know in the comments!
Best Longyearbyen Restaurants
1. Huset
Location: on the edge of Longyearbyen before Nybyen on a side road
Reservation required: Yes, and they will also ask for your card ahead of time to avoid last-minute cancelation (there is a fee).
If you flew to Longyearbyen and could only have one dining experience on your trip (and budget was not a concern), I would pick Huset every time.
This fine dining restaurant in Longyearbyen checks all the boxes for me – it offers sustainable and seasonal ingredients, impeccable plating and flavors, and one of the best wine cellars I have ever seen (it has won awards in Europe).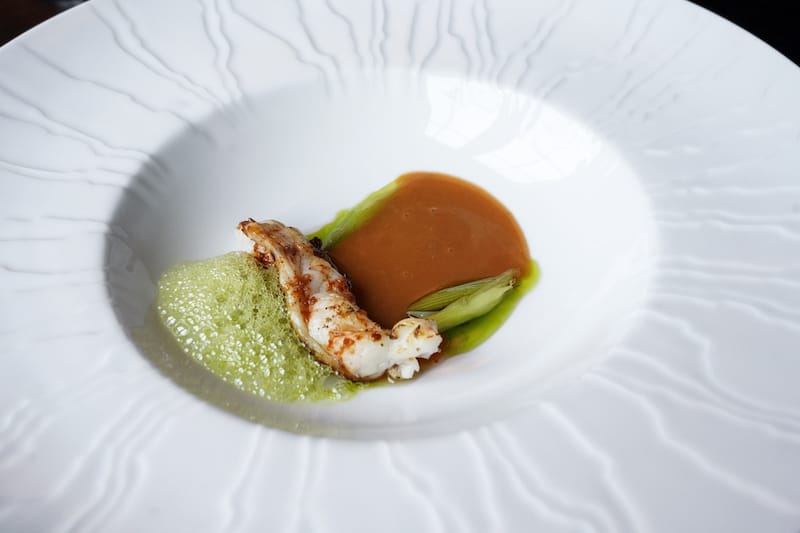 When I went to Huset, it was the middle of summer and I ordered their tasting menu. The menu strives only to use ingredients from the Arctic.
While not much grows up here in Svalbard, they did have some local ingredients on the menu. But, others were sourced from Arctic Norway and Finland.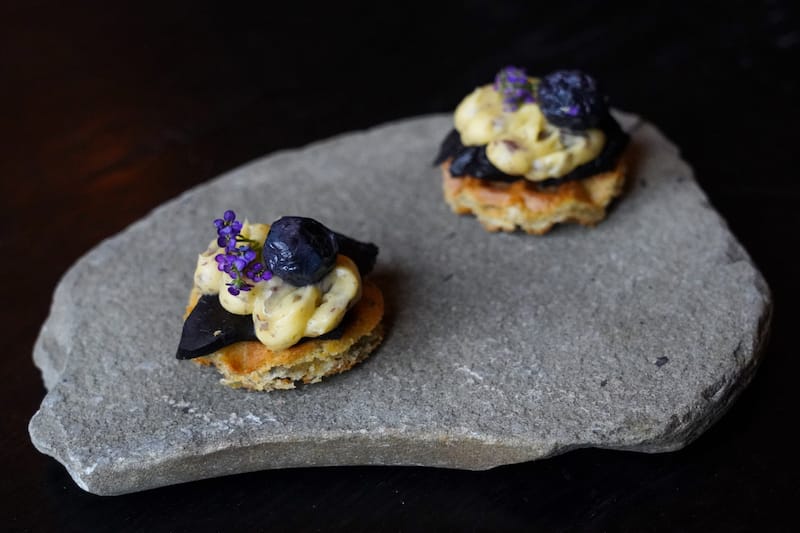 I had everything from dried seal to homemade sourdough prepared with yeast from the local Svalbard brewery. And every single thing was mind-blowingly good.
💡 GOOD TO KNOW: I had a couple of glasses of wine with the tasting menu and I paid somewhere around $250 (including tip). It was honestly worth every penny, but this is not for the budget traveler.
Be sure to book your reservation as far in advance as possible as it is not the easiest place to get in! But if you're looking for where to eat in Svalbard as a lover of fine dining – this is a MUST for your list.
2. Funken Restaurant
Location: Funken Lodge
Do you need a reservation? Yes
Funktionærmessen Restaurant (usually referred to as Funken Restaurant) is one of the best places to eat in Longyearbyen, and in my opinion, it offers the best views over the town!
The restaurant is located in the Funken Lodge – a luxury hotel that is not quite in the town center, but a short walk outside of it. It is on a slight hill, so if you struggling walking a bit, be sure to order a taxi.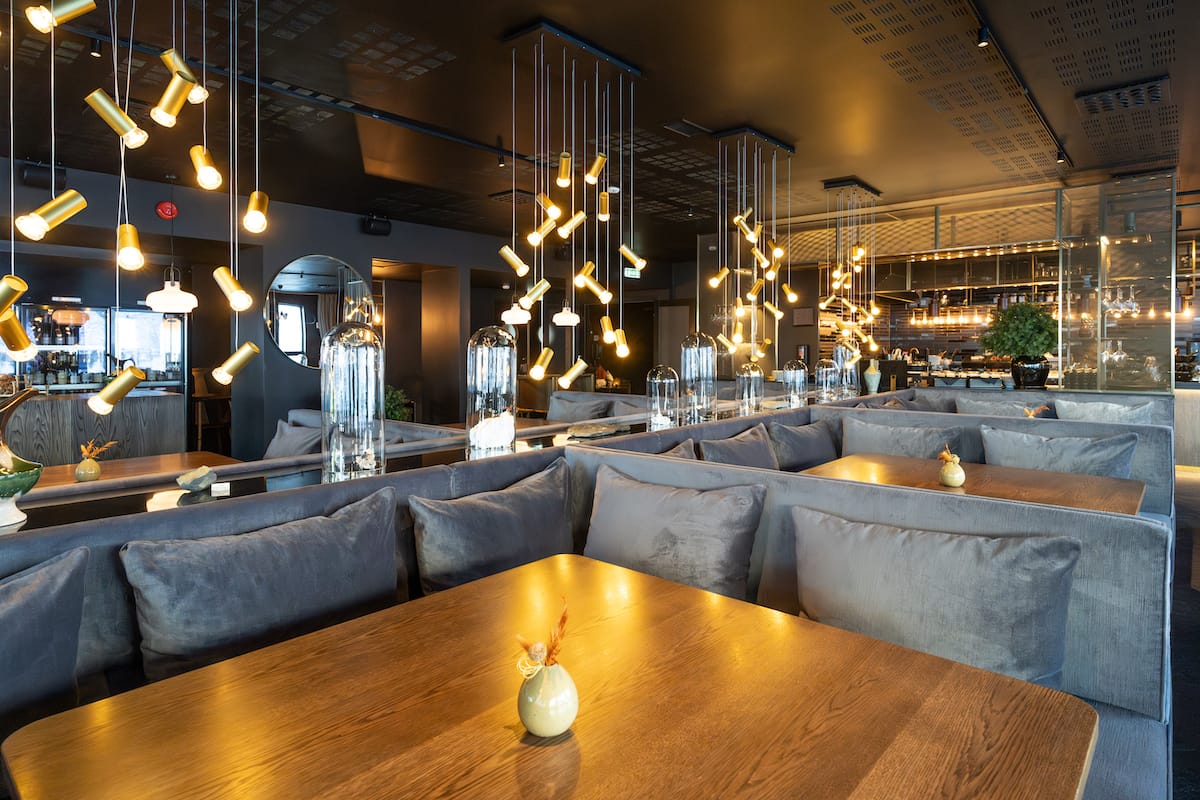 At Funken Lodge, you will walk in and go up the stairs to the restaurant where you will first enter into the bar area.
Have a drink here before or after your meal! It is the first cocktail bar in Longyearbyen and the bartender, Sergey, is a magician when it comes to drinks!
🍳 PRO TIP: Funken Lodge also offers breakfast daily and regardless of where you're staying – you can go enjoy their buffet for about $22. It is my favorite breakfast in town!
Funken Restaurant has a menu that rotates with the season and product availability. When I was there, I ordered the lamb, but you also will have your choice of various types of fish (often cod or turbot), chicken, or a vegetarian dish.
King Crab is often a signature on the menu… and you'll find an array of appetizers and desserts. Also, don't miss out on their extensive wine and Champagne collection!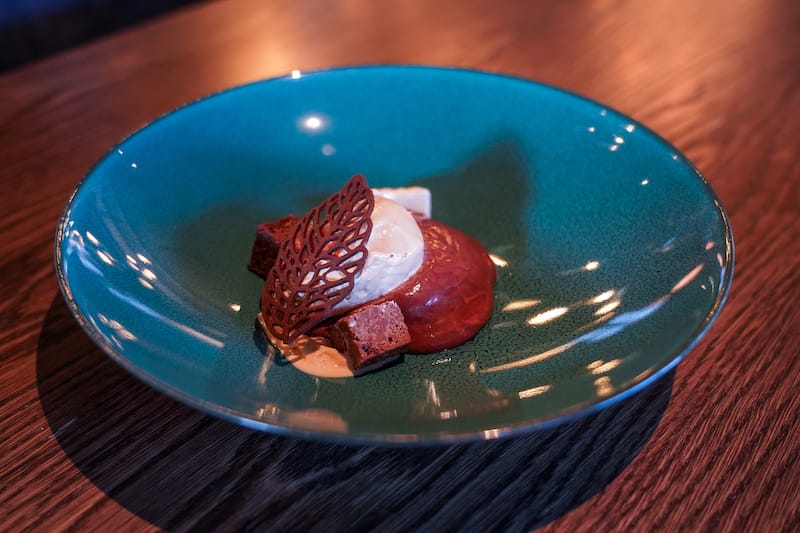 One great thing is that they have a 3-course menu and a 6-course menu available for guests. Considering what I ordered, I did the 3-course and thought the price was fair (about $70).
3. Gruvelageret
Location: in Sverdrupbyen (you need a taxi)
Do you need a reservation? Yes, and they will also ask for your card ahead of time to avoid last-minute cancelation (there is a fee).
It took me a few trips to finally make it to Gruvelageret. Partly because I never booked tables ahead and always missed my opportunity to dine there!
However, I finally had my chance on my latest trip and I definitely recommend Gruvelageret not only for the food but also for the experience.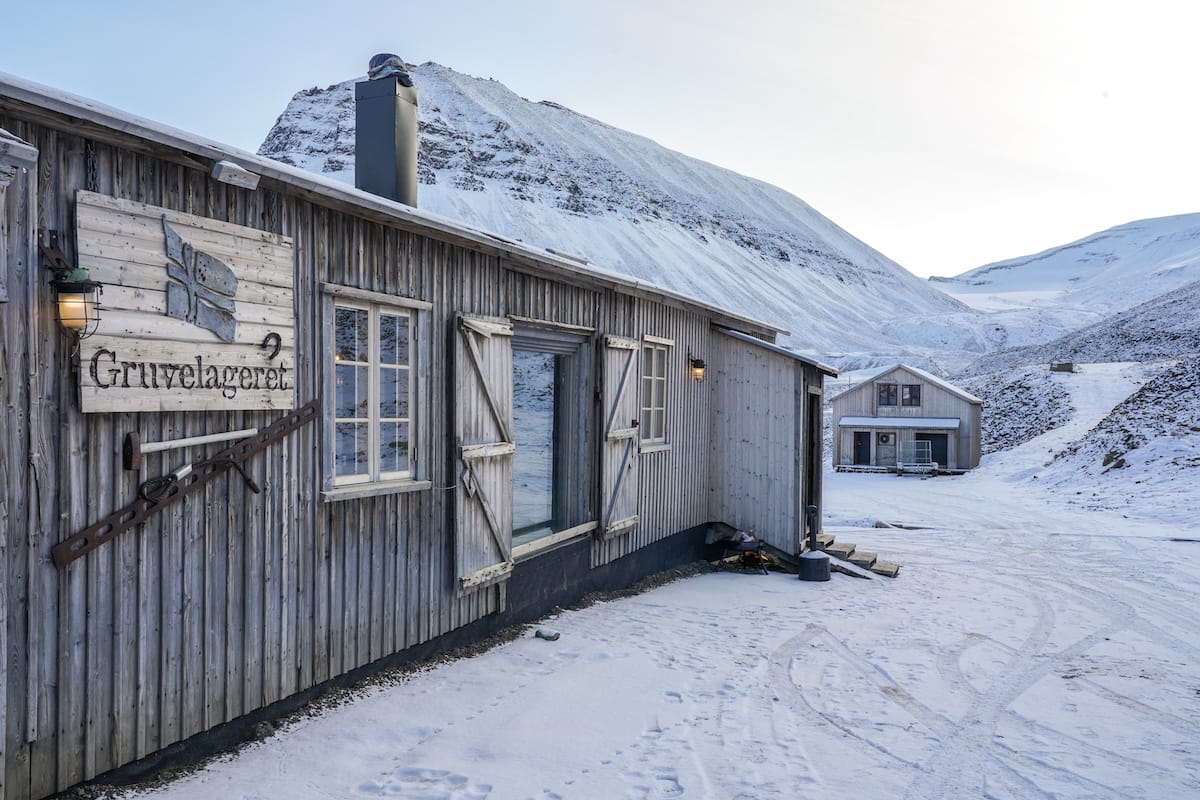 Gruvelageret's main appeal is that they offer a set menu in a wild location outside of the town's center in a former mining area called Sverdrupbyen.
🚕 GOOD TO KNOW: You can not 'technically' walk to Gruvelageret. Although I did, I realized once there that I was in an area that required a gun for polar bear protection. You can take a taxi there and also have your server order you one back into town!
The Longyearbyen district is situated beneath the glacier and there is not much left of it – but the building that Gruvelageret is in survived the years and has worn several different 'hats' throughout the decades.
Years later, Steve D. Torgersen (he moved to Longyearbyen as a teenager) purchased the building and turned it into the dining experience we know today. It opened its doors in February 2015.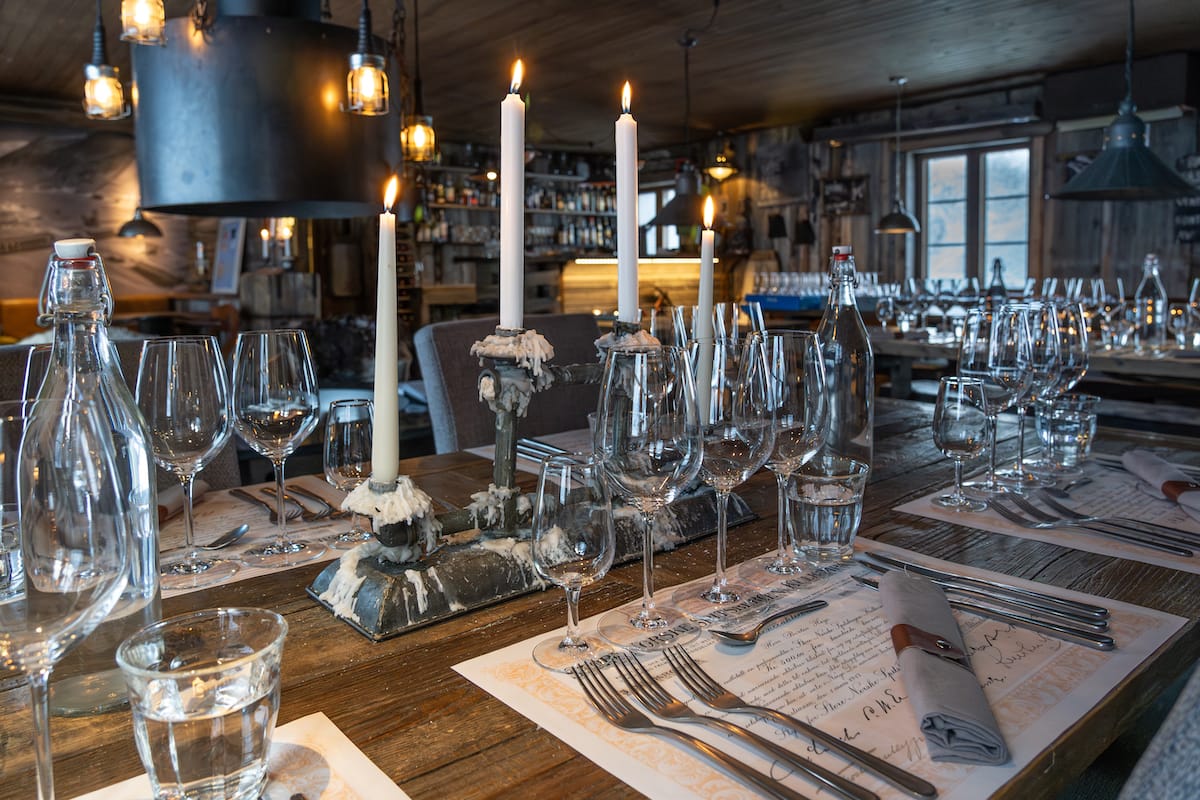 Today, Gruvelageret offers one of the coziest dining experiences I have ever had anywhere in the world. The interior is almost like a museum of sorts – with memorabilia from Svalbard and Arctic Norway.
The menu is ever-changing with the seasons and when I was there, I opted for the wine menu (it is paired with the 4-course food menu).
While everything was absolutely delicious, I did find that the Argentinian beef on the main course could have been replaced with something a bit more sustainable and 'local' to the High Arctic. The beef was tasty, nonetheless.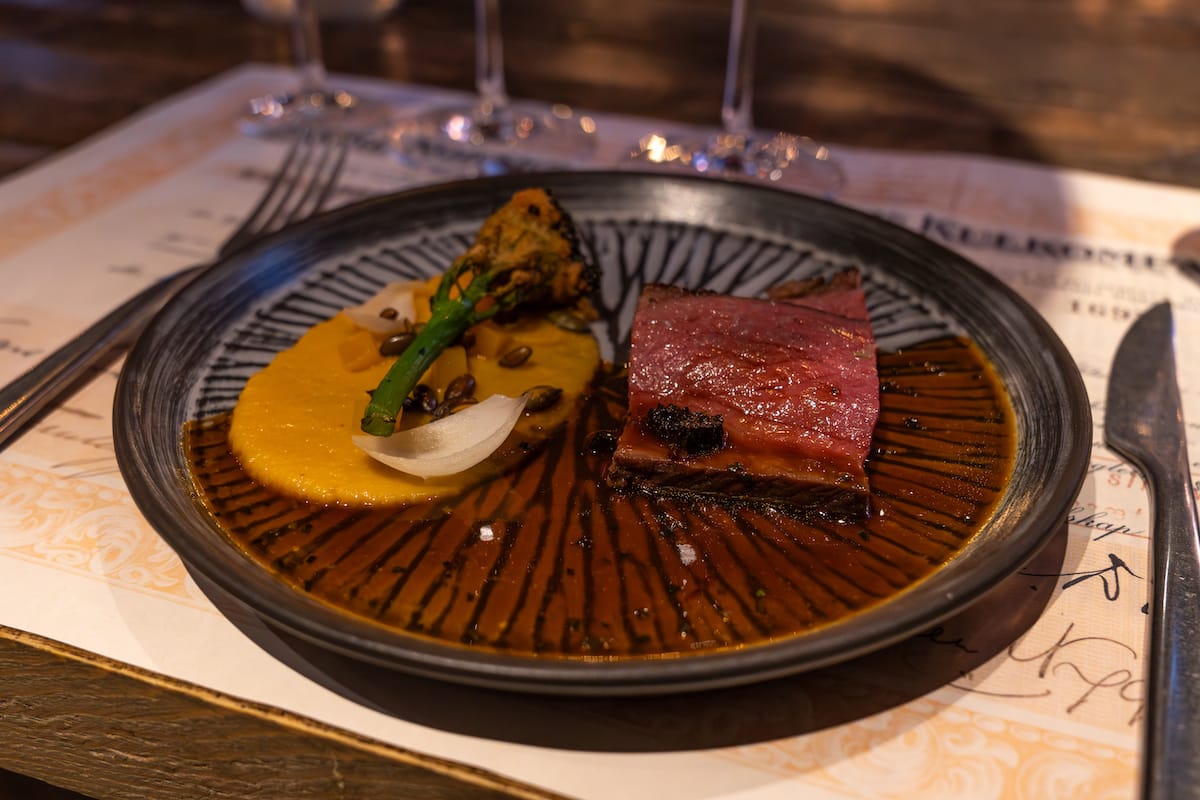 Dining at Gruvelageret is one of the pricier experiences in Svalbard and will set you back well over $100 per person (pending you don't also include the wine menu). Be sure to book in advance!
4. Kroa Restaurant
Location: downtown beside Svalbard Hotell | Polfareren
Do you need a reservation? Most likely not
Kroa was the first place I ate at nearly a decade ago on my first Svalbard trip! It is kind of that 'reliable' place that I never have trouble getting in or grabbing a good meal at… so I continue to go back when I decide I want to eat out last minute.
At Kroa, you will find a menu with some Arctic favorites (I had a wild pigeon there one time and it was incredibly delicious) but also a pizza menu, which makes the place ideal for kids or someone wanting a comfort meal.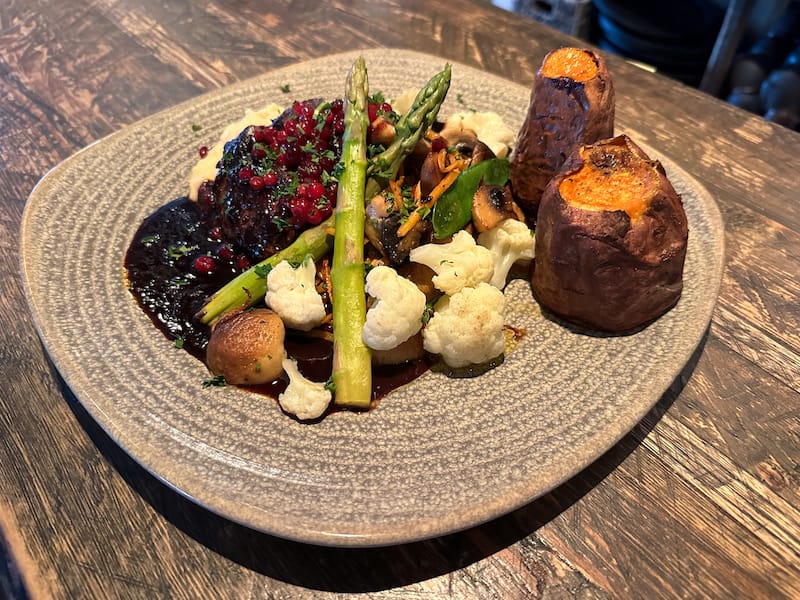 The pizza was decent but I tend to be a bigger fan of their actual menu… but I did find myself craving pizza on the last trip and I ordered that one night when I was there.
Other items you will find on the menu are burgers, their daily soup, klippfisk, and more.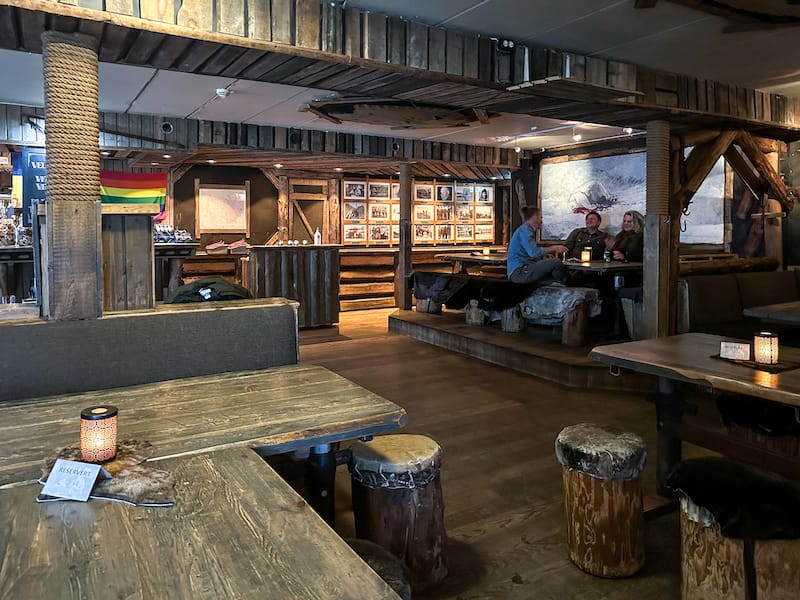 Kroa is open for lunch and they remain open until 2am daily. This is a great place to add to your Svalbard food itinerary!
5. Vinterhaugen Restaurant & Peisen Bar
Location: Mary-Ann's Polarrigg
Do you need a reservation? Yes, you can call +47 79 02 37 02 or email them
On the edge of Longyearbyen, you will find Mary-Ann's Polarrigg, one of the most popular places to stay in Svalbard.
But, even if you're not a guest of the hotel, you have the opportunity to stop by and enjoy dinner at their on-site restaurant, Vinterhaugen.
Vinterhaugen is open year-round and has been around since 2004! I have to be honest, I initially booked a reservation here because the interior is green and leafy (a drastic change from what you see outside!).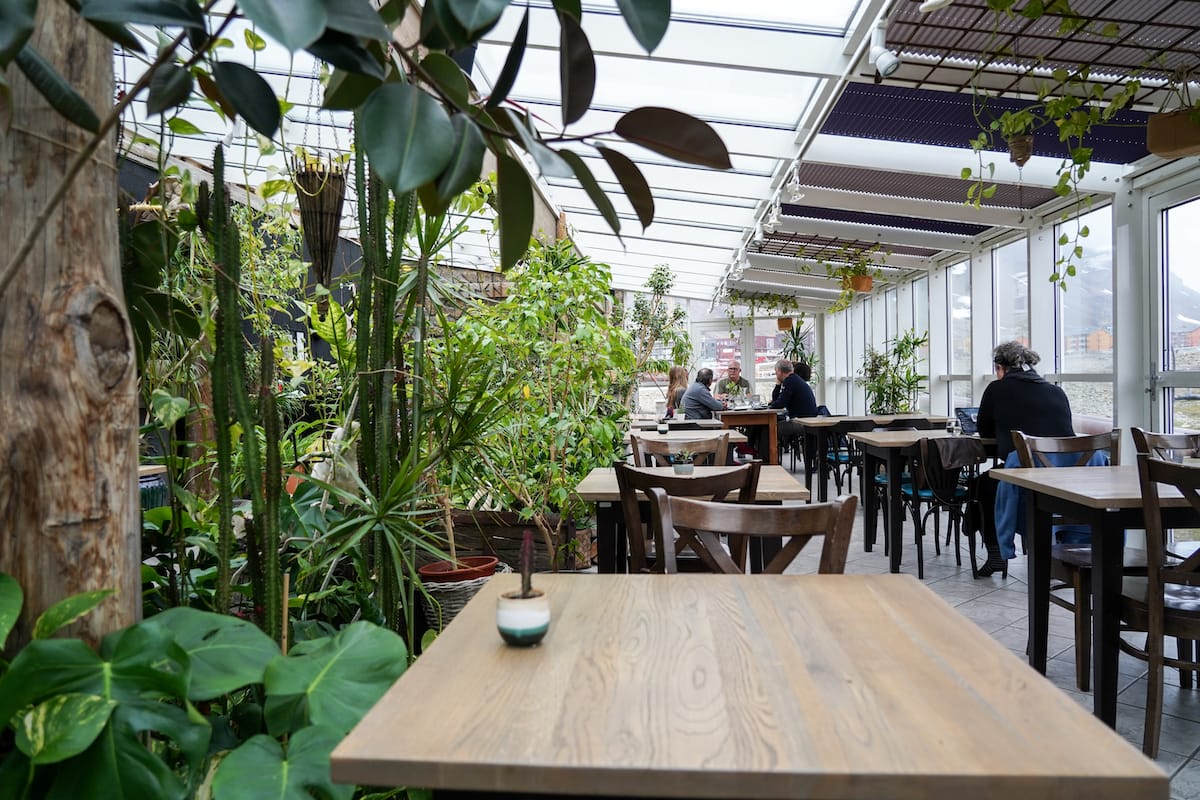 I also went here because I wanted to try their seal dish (sorry vegetarians). Seal is a sustainable form of meat in the Arctic and I had actually never tried it before – so I was intrigued to taste it.
They also have items on the menu from other parts of Northern Norway (ie. reindeer).
I have to be honest, seal was an acquired taste for me… but they prepared it perfectly and I am so glad I got to try it there (I had it dried a few nights later at Huset Restaurant).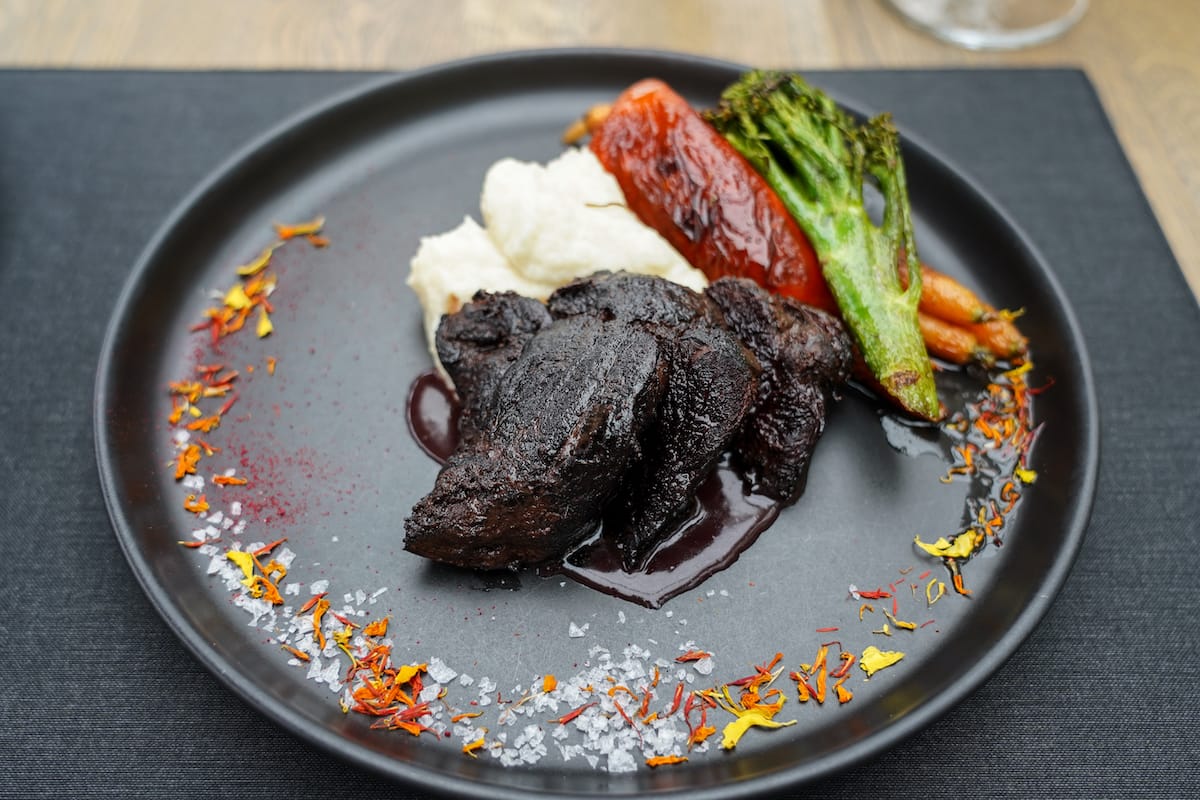 Nevertheless, I insist that this is one of the best places to eat in Longyearbyen and I will continue to return on future trips.
Vinterhaugen is open Monday through Sunday from 6pm until 10pm. You will need to call and make a reservation in advance (or get in touch via their website like I did).
When you're done, you can also stop by their Peisen Bar for a drink (it is open until midnight).
6. Restaurant Polfareren
Location: Svalbard Hotell | Polfareren
Do you need a reservation? Yes
Located in the Svalbard Hotel of the same name, Restaurant Polfareren is one of my favorite restaurants in Longyearbyen simply because they know how to execute Arctic dishes and deliver on flavor. They also have a fantastic wine and drinks menu!
Open daily from 6pm-10pm, it is recommended to book a reservation at Polfareren.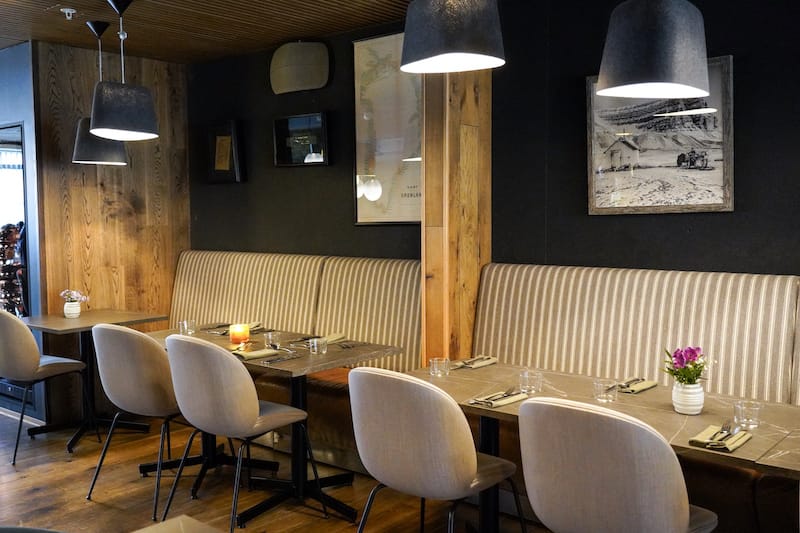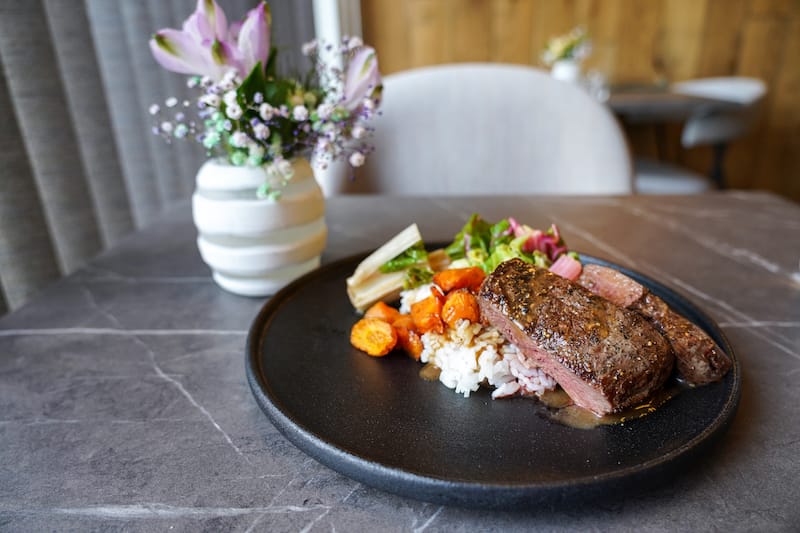 When I ate there, I enjoyed a reindeer fillet with rice and some vegetables.
I do see that the menu has shifted a bit (likely with the season) and now the reindeer fillet comes with a brown cheese sauce and a sea buckthorn gel… making me ever-so-curious to go back and order it again!
They also have halibut and duck breast, and there is always a vegetarian option on the menu.
7. NUGA Sushi & Noodles
Location: Svalbard Hotell | The Vault
Do you need a reservation? Yes (link on their Facebook to a booking platform)
Located inside The Vault Hotel, NUGA Sushi & Noodles is consistently ranked as one of the best restaurants in Longyearbyen.
I booked my table in advance (highly recommend you do the same as it is a small place!) and headed to the cozy place late in the evening one night for some sushi.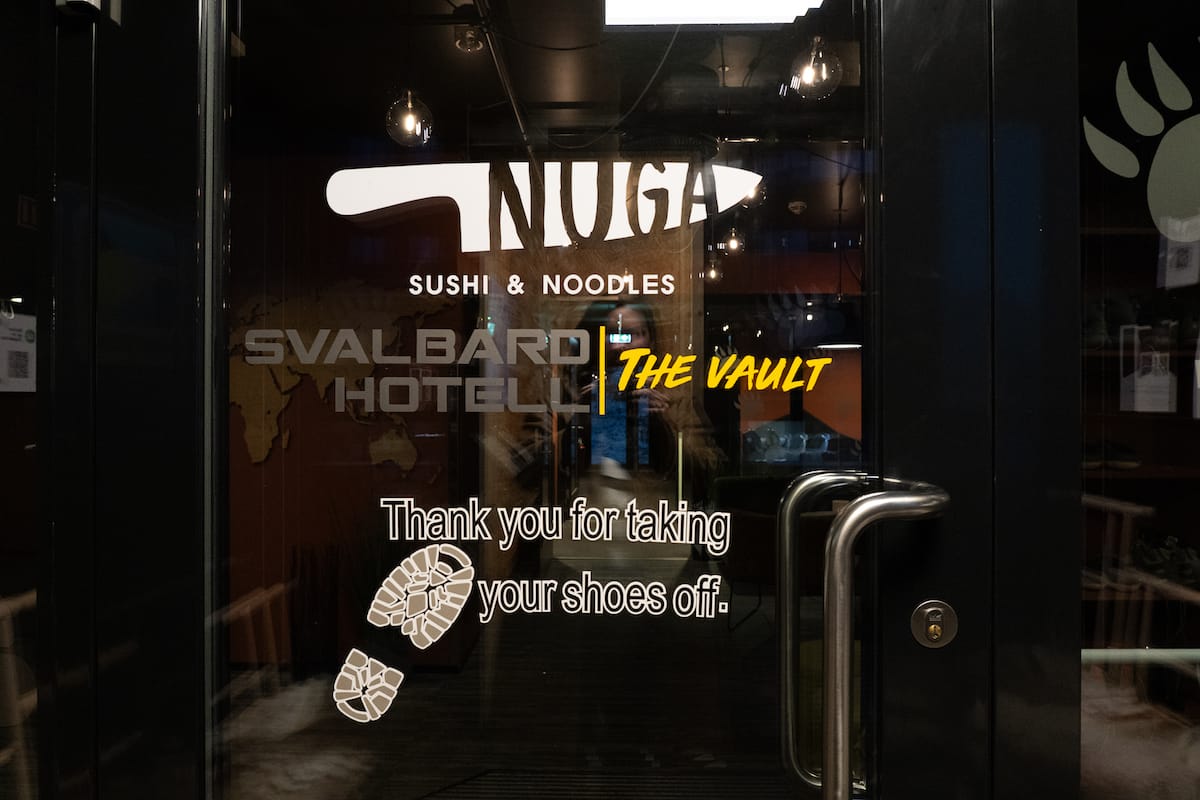 On the menu, you will find various types of sashimi, nigiri, and maki. They have their own specials, including the NUGA Futomaki which is salmon, shrimp, cucumber, avocado, and chili mayonnaise.
If you're not a sushi enthusiast, they also offer stir-fried noodles, ramen, tempura, and poke bowls. Yuzu creme brulee and mochi ice cream are on the dessert menu.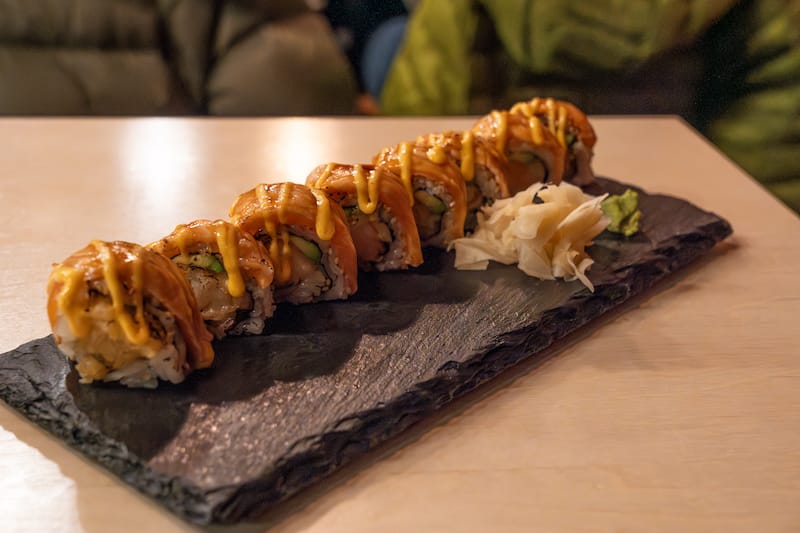 Vegan and vegetarian options are available.
While I know not many people considering traveling to Svalbard for sushi, it is definitely a welcome change to some of the other restaurants if you're looking for some different flavors for a night!
8. Tio Monchos
Location: Longyearbyen Kulturhus downtown
Do you need a reservation? No
A newer place in Svalbard is Tio Monchos.
This is considered to be the world's northernmost food truck and restaurant and you can find it inside the Longyearbyen Kulturhus (right downtown). You may also see their food truck parked outside.
The place gets insanely good ratings, so I had it on my list of places to eat lunch at and finally had a chance to go on my latest trip.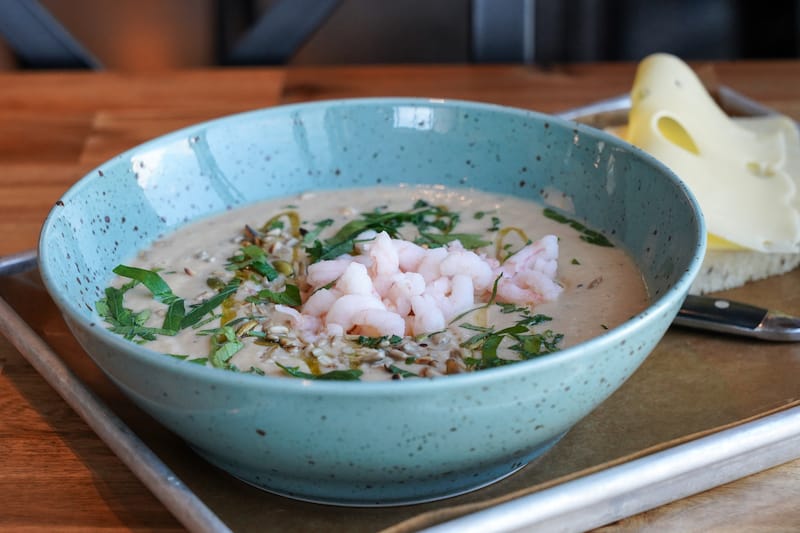 I did not realize that they had a rotating menu and every day was different, which was pretty cool (and gave me the chance to eat there multiple times).
While they are renowned for their Mexican fare, they also have different options depending on the day of the week. The first time I went there, the menu consisted of cauliflower soup – it was delicious!
To see what is on the menu each day, keep up with their Facebook page linked above. I highly advise enjoying lunch there one day!
9. Camp Barentz
Location: They will drive you to Camp Barentz
Do you need a reservation? You must book this in advance (it is an activity/experience). You will pay at the time of booking.
I wrote an entire review of my night at Camp Barentz, so I won't go into too much detail here – but this is definitely a worthwhile evening experience and one that you will get to enjoy dinner at!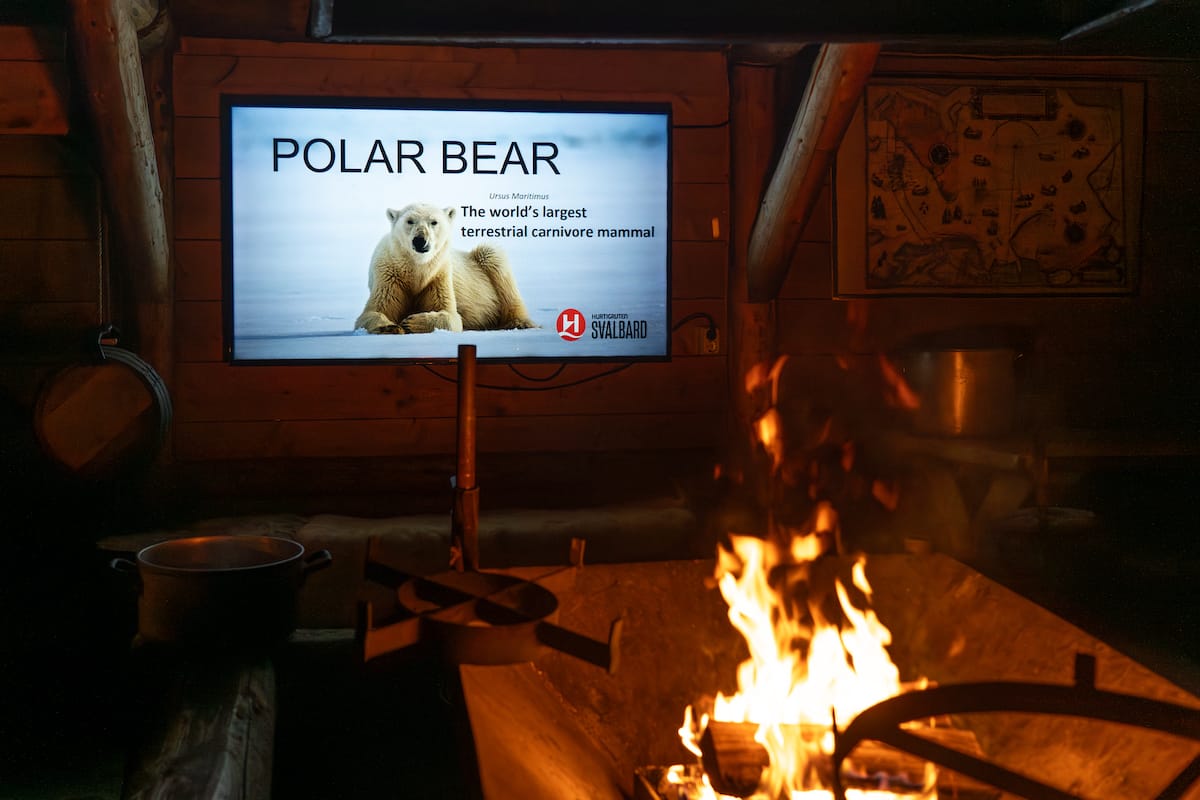 Camp Barentz is a lodge and complex located outside of Longyearbyen a bit (you can not walk there) and in order to enjoy the experience, you must book the experience through Hurtigruten Svalbard.
It runs year-round and during the winter months, your evening will focus on the northern lights while the summer months and shoulder season will focus on learning about polar bears.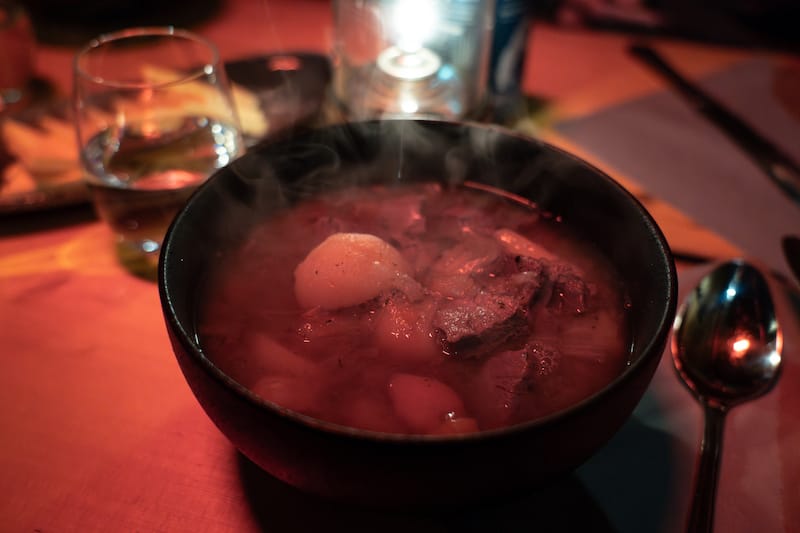 Both experiences, however, will include dinner and it will most likely be Bidos stew – a famous Sami dish. There is also tasty bread, dessert, and drinks available.
>> Click here to check Camp Barentz rates and availability
10. Restaurant Nansen
Location: Radisson Blu Polar Hotel
Do you need a reservation? I would advise one during the high season.
Located downtown in the Radisson Blu hotel, you will find Restaurant Nansen.
The popular Nordic fusion restaurant has an a la carte menu where you will find delicious and high-quality meats with a variety of well-prepared side dishes and sauces.
The menu contains everything from seafood to Arctic meats and beyond. There is always a vegetarian option available.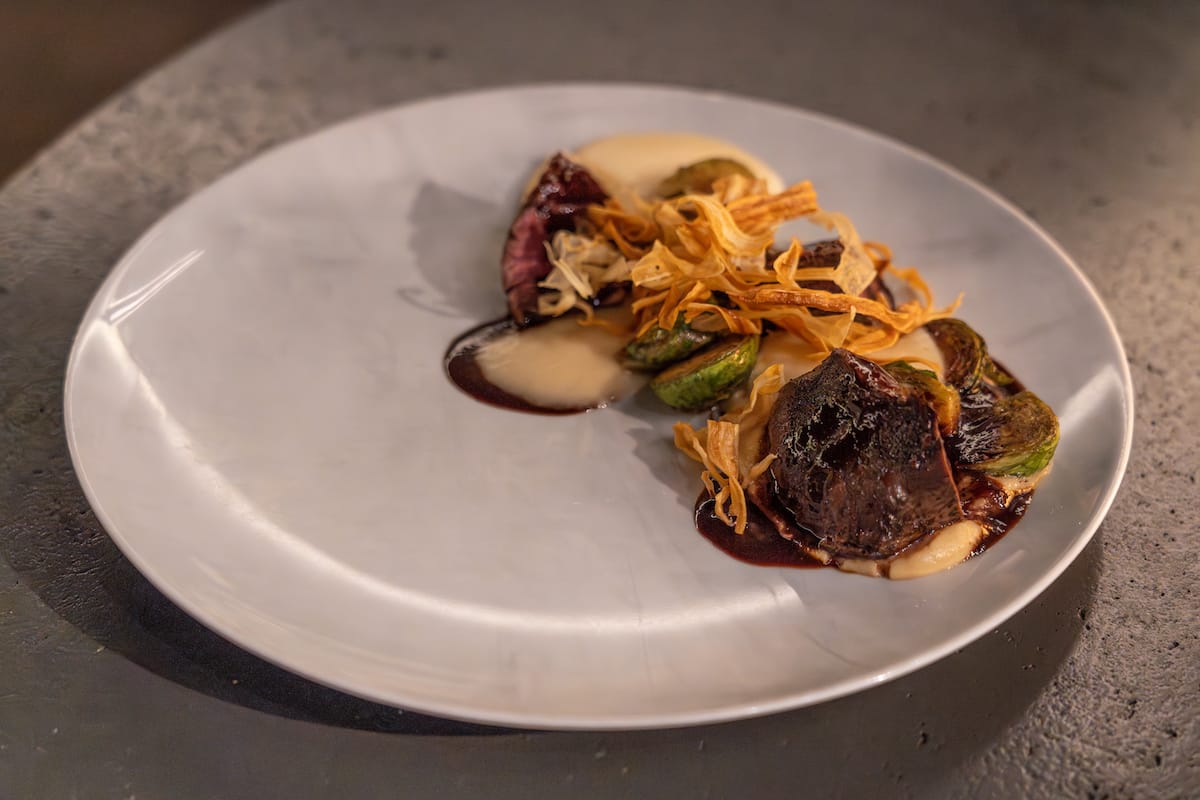 When I visited on the latest trip, I enjoyed their reindeer tenderloin that came with salsify puree, brussels sprouts, apple cream, salsify chips, and a blackberry sauce. Gosh… based on this post it appears I really like reindeer meat (I actually do).
The restaurant is spacious and large but I would still make a reservation, particularly if you're looking to dine there in high season. Restaurant Nansen is open for dinner from 6pm until 11pm daily.
Popular Longyearbyen Cafes
Fruene
Fruene is kind of the OG of Longyearbyen cafes (they opened in 2003 and had a big 20th birthday event this year!).
I even went there a decade ago (and enjoyed the same cauliflower soup I enjoyed years later).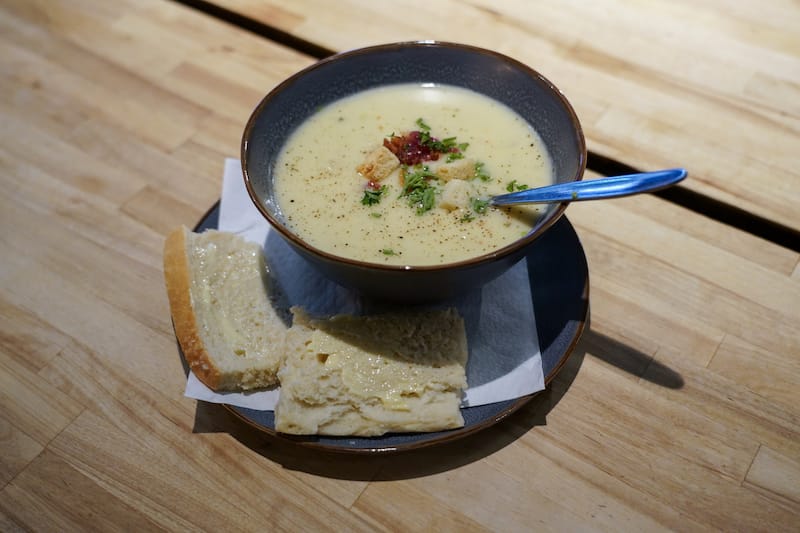 I often go here to work (I also don't think they have wifi so I usually hotspot) at this long table that they have so I don't take up too much space.
They offer coffee and small eats in a rather social environment, so it is a welcomed change to sitting at my hotel working.
Inside, you will find a bustling place at almost any hour of the day… especially on cruise ship days. So, beware… but it is worth having lunch there on your Svalbard trip.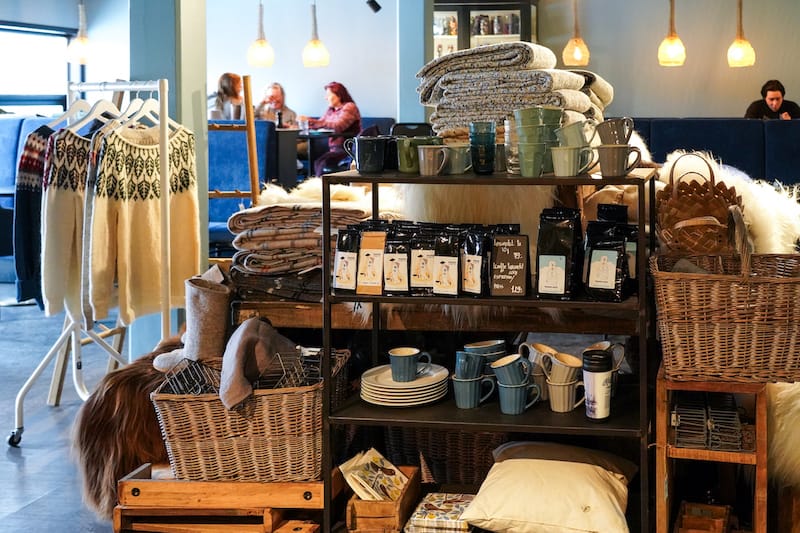 Be sure to also check out the local goods as well as the gourmet chocolates they have in the cafe.
You will find Fruene at Lompensenteret Shopping Center and it is open daily from 10am-6pm on weekdays, 10am-5pm on Saturdays, and 11am-5pm on Sundays.
Check their Facebook page for more.
Cafe Huskies
Cafe Huskies has quickly become one of my favorite places in Longyearbyen. I guess this is no surprise to anyone who knows my obsession with dogs, but I seriously can't get enough of the place.
I go there to 'work'. They don't have free wifi… it is just my excuse to sit near the window and take photos of the dogs that are 'working' that day. To be fair, they also have delicious coffee, tasty cakes, and more.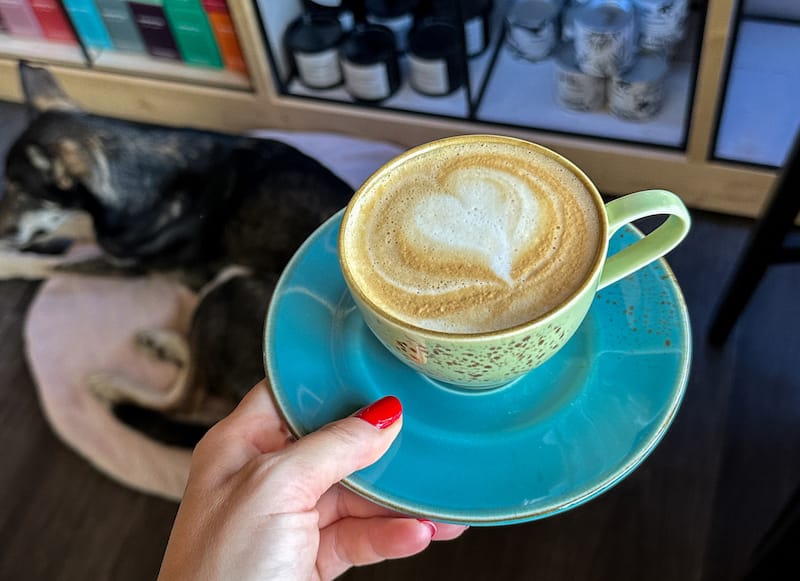 One thing I love about Cafe Huskies is that they sell so many local products. You can find books by local writers, notebooks, trinkets, and goods designed by local artists. I purchase something every single time I am in there.
Outside Magazine actually wrote more about their story if you are wondering how the idea came about. It is kind of funny – and interesting!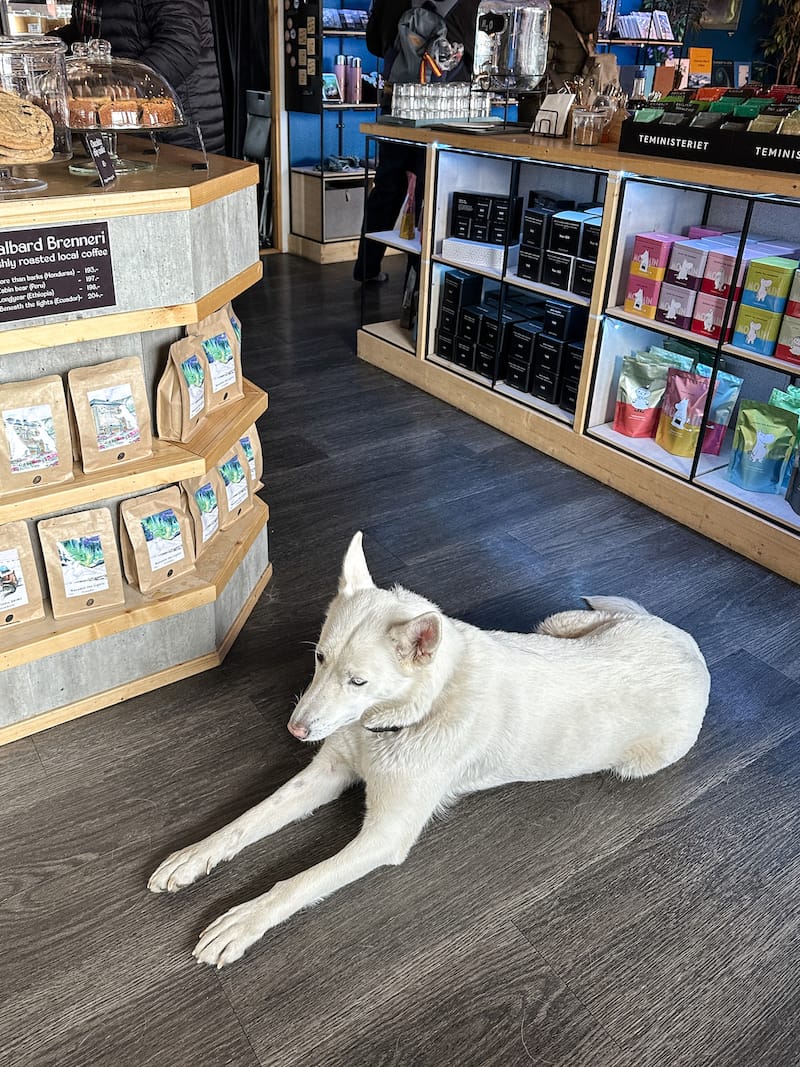 Nevertheless, a gem of a place in Svalbard and one you must visit if you are also a dog lover!
They are open daily from 11am until 6pm. Beware- if the cruise ships are in during the summer months, this place gets rammed. I'd hold off visiting until around 3pm… it tends to die down a little then.
Check their Facebook page for more.
Nordover Cafe
Okay, so Nordover is technically an art center (the world's northernmost, in fact!) but they also have a really nice cafe inside!
Opened in November 2022, the art center houses temporary exhibitions and events and also contains the Kåre Tveter Collection's permanent collection.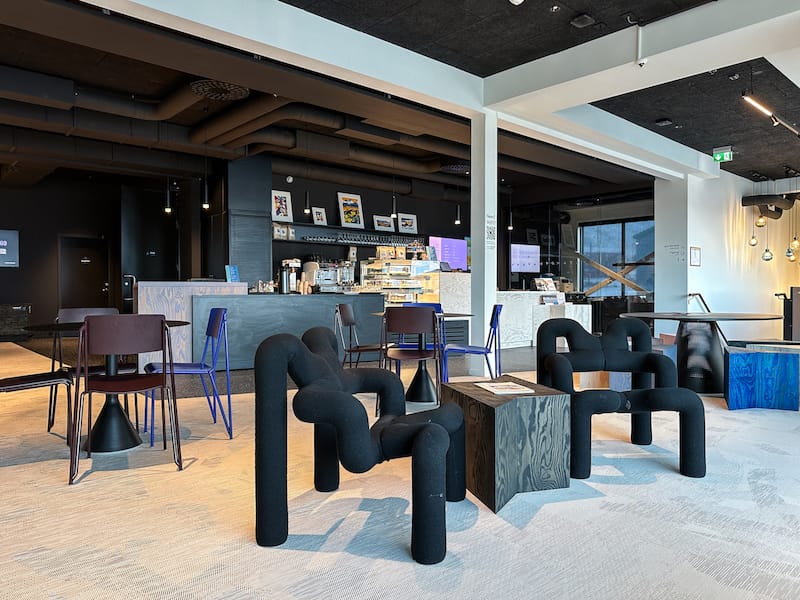 But, they also have a really awesome little cafe inside! When you enter the building, you will need to remove your shoes and head to the second floor, where you'll see a small local artisan shop and a spacious cafe.
It is a quieter place, which I find inviting given how busy Fruene and Cafe Huskies can be.
The first day I stopped in, I was having a rotten day, and the friendly barista and delicious coffee turned my day right around. Take a seat by the window; it has a stellar view over Longyearbyen.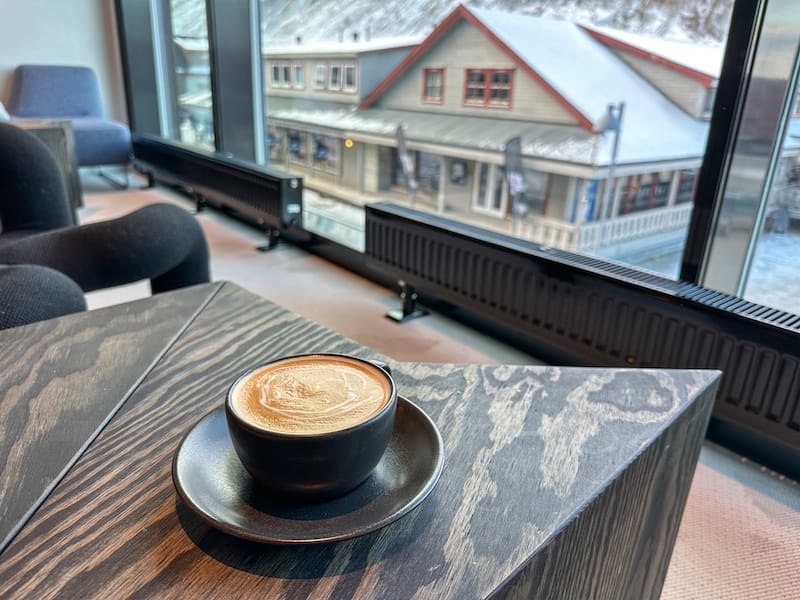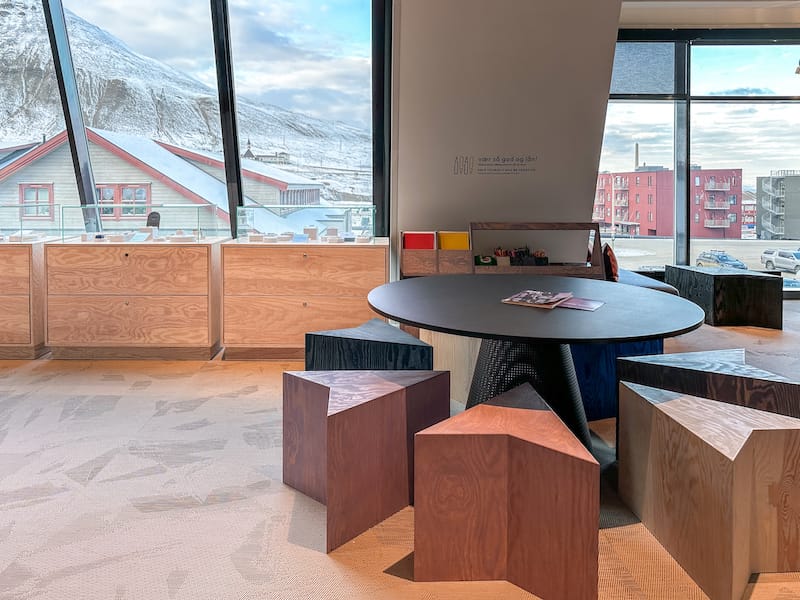 Nordover is open from 10am-6pm daily except on Tuesdays. You will find them right beside the Svalbardbutikken.
Map of the Best Restaurants in Longyearbyen
🗺️ HOW TO USE THIS MAP: You can use your fingers/mouse to zoom in and out. To get more info about a place, simply touch/click the icons. Want to save this map for later use? Click the '⭐' by the map title and it will add it to your Google Maps account (Saved > Maps or 'Your Places').
Tips for Eating Out in Longyearbyen
Reserving a Table at a Restaurant in Longyearbyen
If you're traveling to Svalbard in the high season, you will definitely need to book a table at a restaurant, including many on this list. Usually, you can just visit their website, and there is a link where you can book.
Otherwise, if you search the place on Google, there is usually a place to book a table. Or, you can try emailing them!
Some of the restaurants in Longyearbyen will require a credit card to reserve your place (Gruvelageret and Huset come to mind) and will charge a cancellation fee if you don't show up or cancel too late.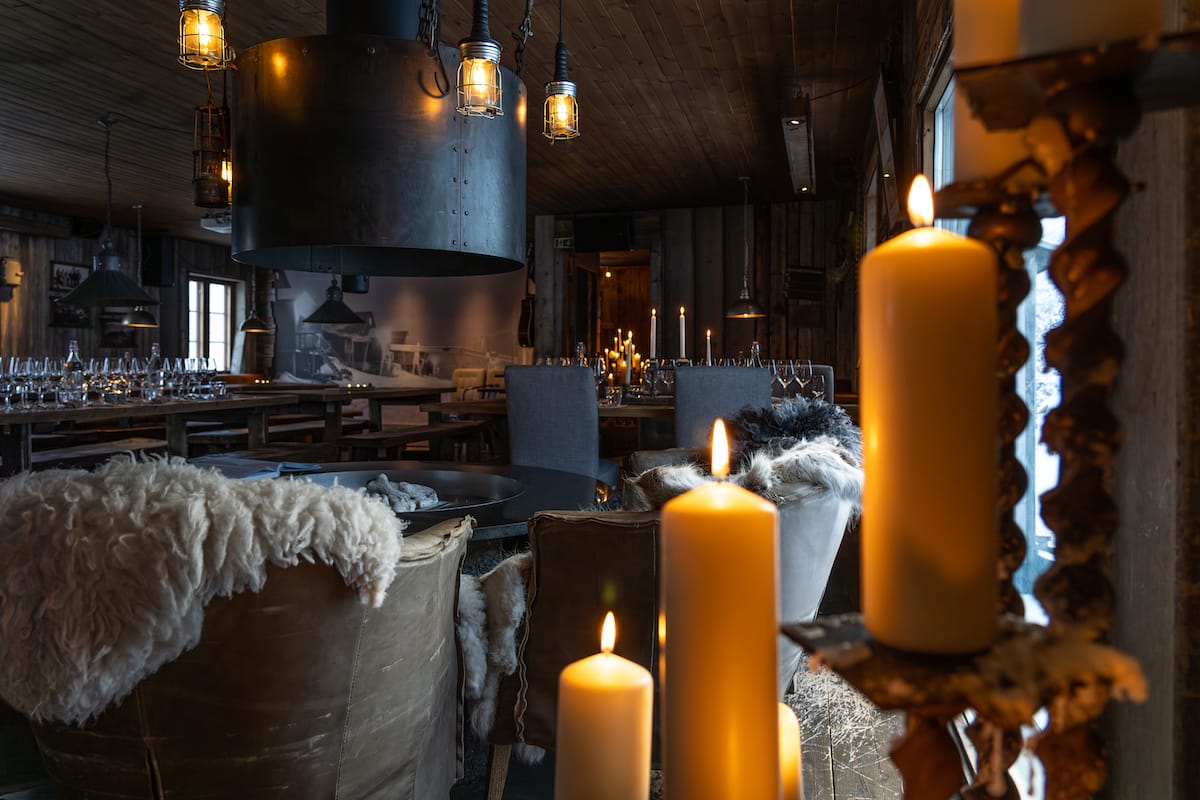 When I travel alone to places, I often send them a message on the reservation form that states that they can place me at the bar if they need to.
Usually, they will give me a table, but I like to give them the option to take as many reservations as possible.
Another thing to note when you reserve is that you can let them know your allergies or dietary restrictions. Usually, this is only for places with set menus (Huset, Gruvelageret, Camp Barentz, etc).
Tipping and Paying
All Longyearbyen restaurants accept credit cards (and most Apple Pay).
You can leave a tip at your discretion. While Norway pays its workers fairly, do keep in mind that it is still not always as much as deserved if exceptional service. Many of the servers are seasonal workers.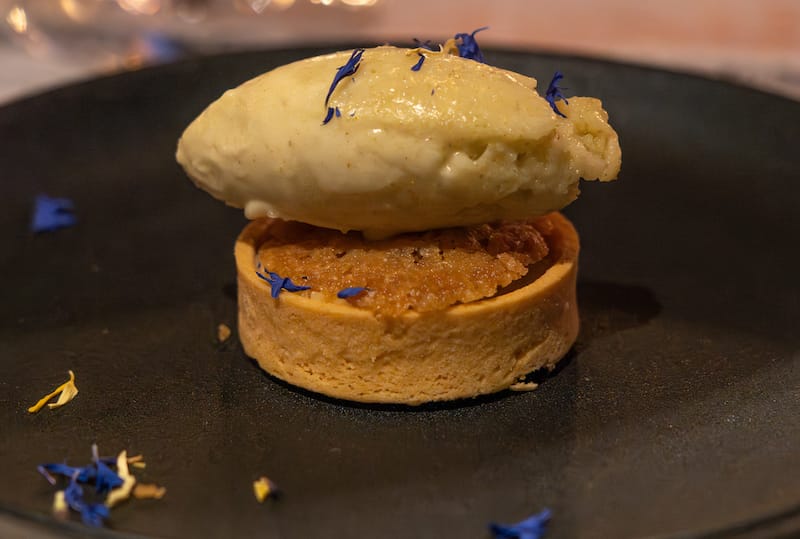 To leave a tip for your server, you will need to let them know as you're paying, but generally, the card machine will be handed to you to put in your 'final amount'.
This is where you can add a tip by putting in that final total. Beware that you usually can not add more than 20-25% – it simply won't let you.
Is Water Free?
Yep! Longyearbyen has free water at all of its restaurants. However, it will be tap water (don't worry… Norway has the world's best water. I promise!)
🧊
PRO TIP:
Do try the sparkling canned water (Svalbardvann) from Svalbard Bryggeri at some point during your trip! Everything at the brewery (including the beer) is made with water from Bogerbreen,
a 2000-year-old glacier!
If you order sparkling water, it will not be free.
What's on the Menu in Svalbard?
Longyearbyen's restaurant scene is pretty international and you can find various delicious foods from sushi to New Nordic cooking.
While many menus are everchanging, here are some typical ingredients you find in Norwegian (or Nordic) kitchens:
Cod (torsk)
Shrimp (reker)
Halibut (kveite)
Mussels (blåskjell)
Whale (hval or hvalbiff)
Salmon (laks)
Reindeer (reinsdyr)
Lamb (lamm)
Dill (dill)
Potatoes (poteter), carrots (gulrøtter), leek (purreløk), beetroot (rødbeter)
Butter (smør) and bread (brød)
Many types of berries such as blueberries (blåbær), cloudberries (multe), lingonberries (tyttebær), strawberries (jordbær), raspberries (bringebær), black currants (solbær), and red currants (rips)
In Svalbard, you may also see seal on a few menus (whether it be dried or in steak form). I only saw it on two menus the last time I was there, but menus are ever-changing.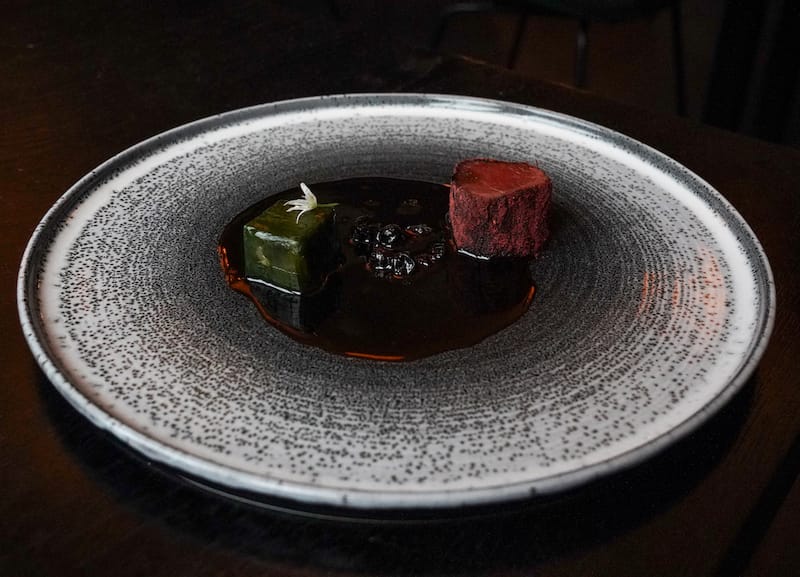 You also have a chance to see moose on menus here and there (it's pretty delicious and one of my favorite meats).
What are your favorite restaurants in Longyearbyen?
Let me know about the best meal you have had in Svalbard (or where you're looking forward to eating the most)!
More Svalbard Travel Guides
Pin this Restaurants in Longyearbyen Guide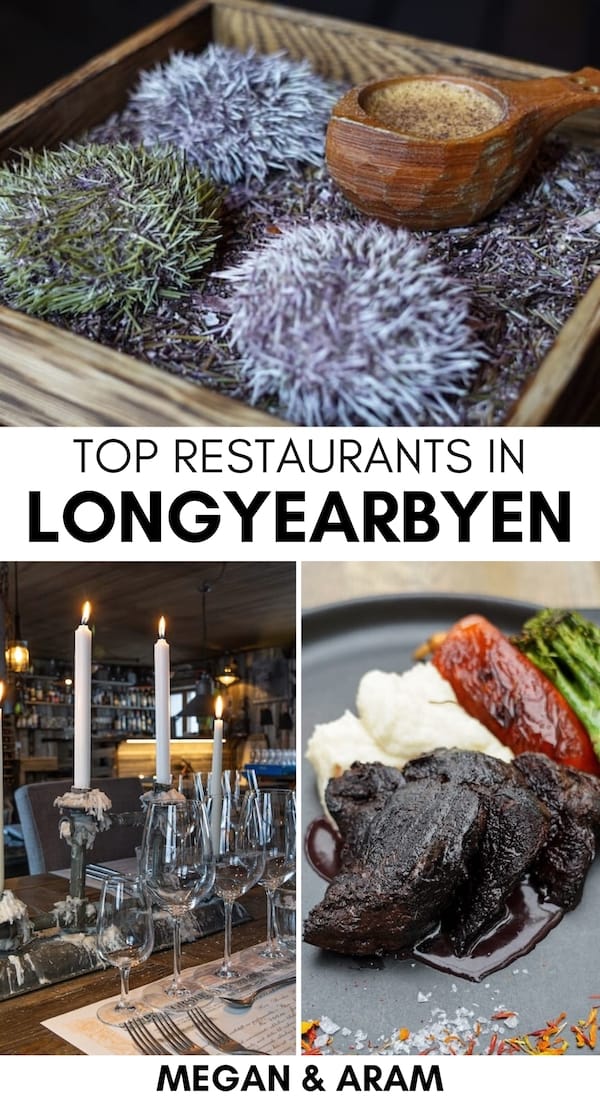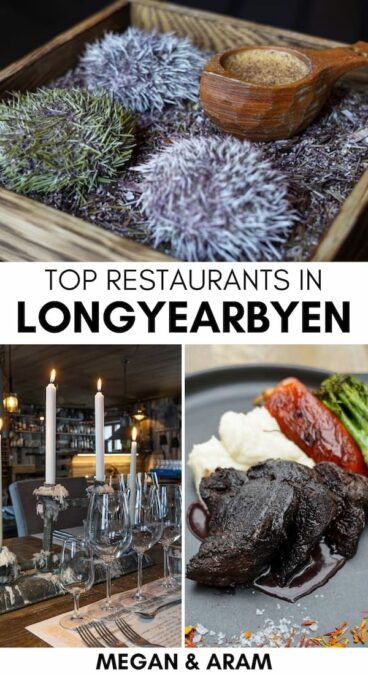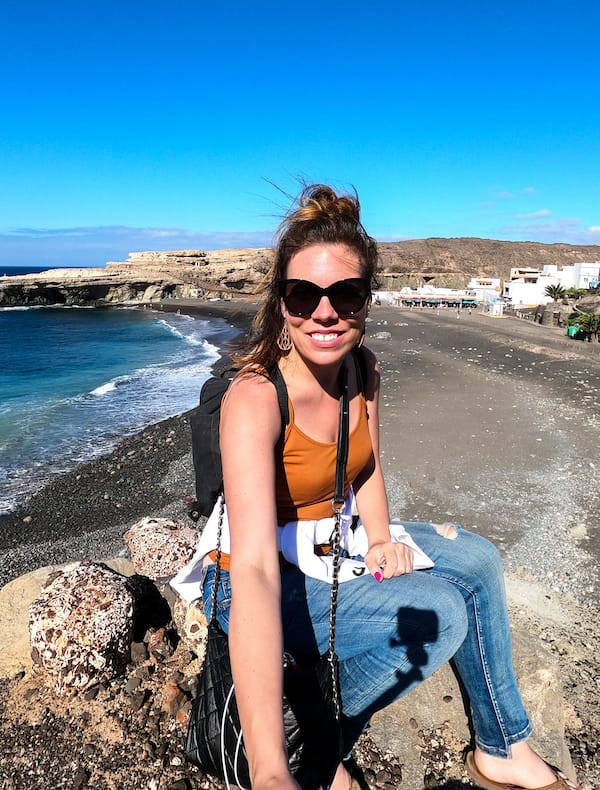 Megan is a travel blogger and writer with a background in digital marketing. Originally from Richmond, VA, she now splits her time between Frankfurt, Germany and Arctic Finland after also living in Norway, Armenia, and Kazakhstan. She has a passion for winter travel, as well as the Nordic countries, but you can also find her eating her way through Italy, perusing perfume stores in Paris, or taking road trips through the USA. Megan has written for or been featured by National Geographic, Forbes, Lonely Planet, the New York Times, and more. She co-authored Fodor's Travel 'Essential Norway' and has visited 45 US states and 100+ countries.