Are you planning to visit Baku, Azerbaijan and have no idea what to expect? This Baku travel guide will offer tips and some practical information for planning your Baku trip.
I am also using my own experience visiting Baku to help with some of the opinions I have from my time there. If you have anything to add for those traveling to Baku, please leave a comment with your experiences! Thanks.
Disclaimer: This post was initially written in 2018 by Megan who went there independently. All proceeds since late 2020 have been donated to rebuilding Artsakh and community development projects in Armenia.
Baku Tourism Quick Facts
Location: Azerbaijan (Caucasus)
Population: 2.23 million
Currency: Azerbaijani manat (code: AZN; symbol: ₼)
Annual Visitors: 2.5 million annually
Famous Attractions: Icheri Sheher (Old City), Palace of the Shirvanshahs, Flame Towers, Nizami Street, Maiden Tower in the Old City
My Trip to Baku
I had tried for five years to get a visa to Azerbaijan. Luck never worked in my favor and I was rejected nearly every single time until the last application where I was suddenly and astonishingly approved.
I changed my plans all around in order to get there before they realized that they had finally approved my visa. I arrived in Kutaisi and took a bus to Tbilisi for a few days where I relaxed and sorted things before I was set to visit Baku.
When I arrived in Baku, I quickly realized that while the city seemed to be ready to take in tourists from one perspective, the tourist infrastructure still has a long way to go. Little things, like getting a SIM card were a painful and cumbersome process.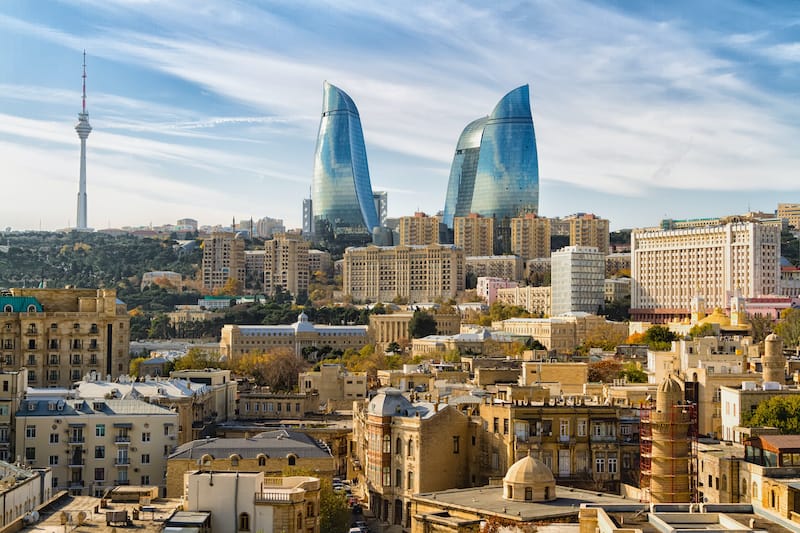 Even finding the best restaurants in Baku presented a slight challenge. I have written this post with the intention of helping future travelers travel to Baku in an easy manner and get adjusted to the destination quickly.
I wrote this post day by day while I was in Baku, so many sections are in the order I encountered them or thought that the information could be useful for other travelers (… I have since revised this to make it neater- it was a mess!)
If you have any tips for people that will be visiting Baku, please leave them in the comments! Thanks!
How to Get to Baku (and Getting Around Once There)
This next section details how to get to Baku and how to get around Baku once you're there. If you're curious about how to take a taxi in Baku, you can check out the linked guide for tips!
Getting to Baku from Tbilisi
If you're trying to get from Baku from Tbilisi, the easiest way to do so is by train.
The train leaves Tbilisi every evening at 2035 and arrives in Baku at 0850. You can purchase a ticket at the Tbilisi Railway Station and the price is approximately 84 GEL for a 1st class sleeper, 52 GEL for a 2nd class sleeper, and 35 GEL for a 3rd class sleeper.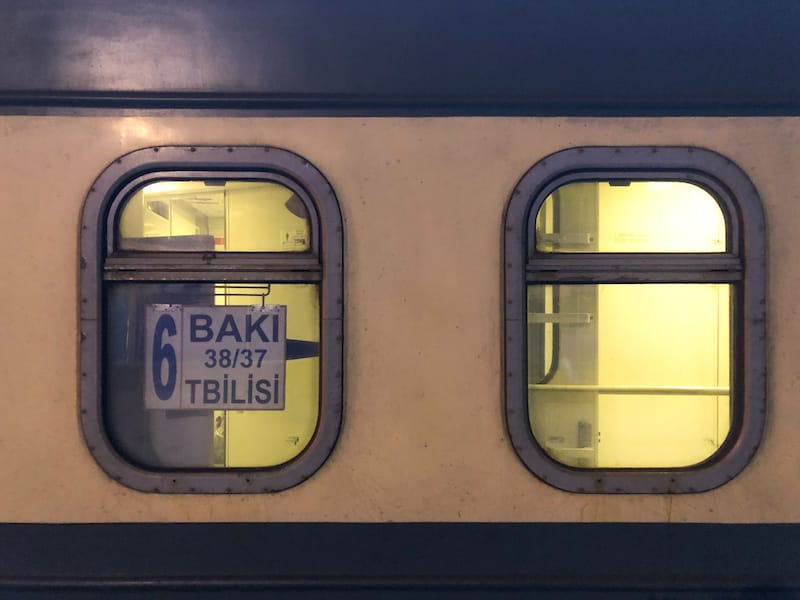 When I took this train, I was automatically placed in 2nd class with other foreigners as it made the border control easier. The train times tend to be the same regardless of whether you're in Tbilisi in winter or in summer.
Check the Georgian Railways site for additional information and updated timetables and prices. I think the train is the easiest way to get from Tbilisi to Baku.
Getting from the Airport to City
We have an entire guide that shows you how to get from Baku Airport to the city. It also includes transfer options if you're looking for an easy way.
Getting to Baku Olympic Stadium
Are you traveling to Baku for a sports event? This guide details how to get to Baku Olympic Stadium from various points around the city.
BakıKart for Buses
I needed to go to a hypermarket one day on my attempt to find flip-flops and the best way to get there was by bus. Buses cause me anxiety as I don't like crowds, but this bus (Bus 65) had a starting point near where I was staying so I could be one of the first on.
I went to hop on the bus only to discover that they only take the BakıKart (Baku Card). Yikes… I definitely didn't know this. You can only buy the card at the bus station or some metro stations, and I certainly was nowhere close to one.
READ MORE: The perfect weekend in Baku itinerary
The bus driver was overwhelmed with the fact that I didn't have one (not in a bad way- he just wasn't used to tourists trotting around) and allowed me to ride for free to the hypermarket, which was a thirty-minute ride.
The ride should have cost me 1.90 manat. Once I left the hypermarket with a lot of purchased goods, I used Uber to find a taxi to take me back. The Uber took 45 minutes because of traffic and only cost 3 manat.
To learn more about the BakıKart, you can click here. The card is used both for the bus system and the metro system.
Baku Travel Tips
Is Baku Safe?
Yes, Baku is relatively safe as a tourist who minds their own business and stays out of trouble. I never felt like I was in danger in Baku.
But, you must be mindful if you are a journalist or blogger. Azerbaijan ranks low when it comes to freedom of the press.
You will find a section a bit lower in this post about scams I encountered while I was traveling to Baku. Don't let this deter you from visiting- scams exist everywhere. I was just a bit unlucky and feel I should be honest regarding my experience there.
Do You Need Travel Insurance for Azerbaijan?
It is definitely recommended to purchase insurance before you travel to Azerbaijan. While the country is pretty safe, you never know what kind of pickle you may get yourself into anywhere so it is better safe than sorry!
We recommend SafetyWing, a Norwegian company with affordable policies and one that covers you worldwide. Don't travel to Azerbaijan without some type of coverage!
>> Click here to get an Azerbaijan travel insurance quote
Best Tours in Baku
Baku and Azerbaijan have so many amazing sights and places to visit that you want to ensure you don't miss seeing them if you're short on time.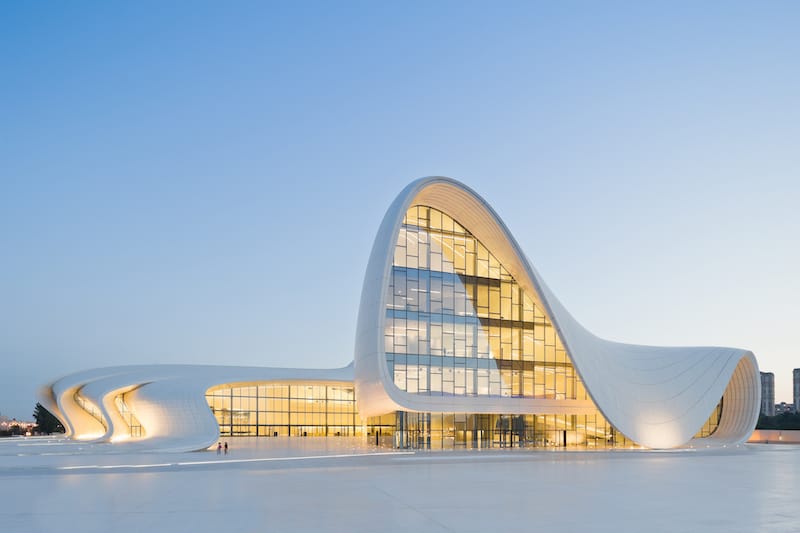 The best way to go about this is to organize a tour. These are some affordable tours of the city and its local area that we recommend to people visiting Azerbaijan. You can see the complete list of the best Baku tours here.
Insider tip: Just a small secret- Azerbaijan produces some good wine that no one talks about! We definitely recommend the wine crawl for wine lovers.
Baku City Pass
We always tell our readers to purchase a city pass if a city offers such as you will get discounts, free transportation, entrance to museums, and more.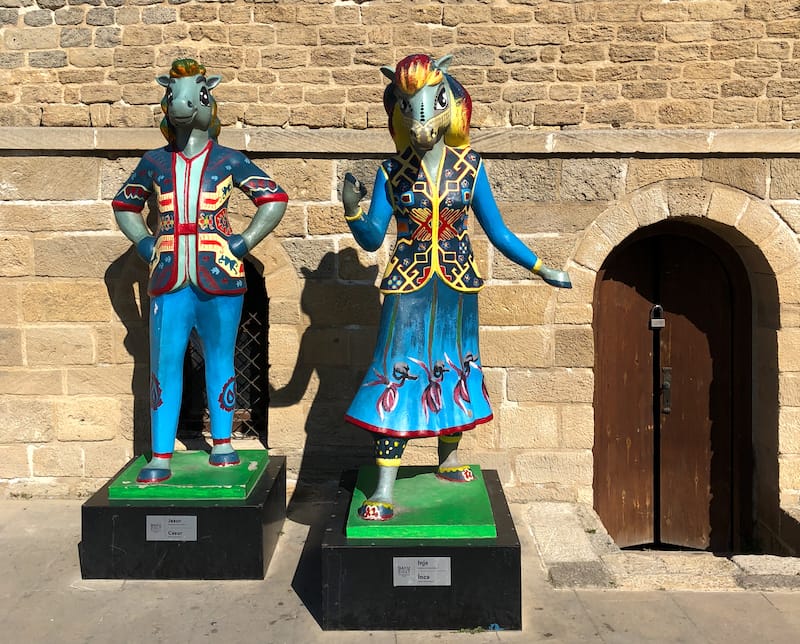 It just makes everything easier and cheaper. The Baku City Pass grants you free entrance to museums, metro rides, hop-on/hop-off bus rides, and discounts in many of Baku's restaurants.
It is a great option for those visiting Baku!
Renting a Car in Baku
If you'd rather have the freedom of exploring Baku by car, then you can definitely rent a car in Azerbaijan and do so.
It is also a great option during the summer months as you can flee the hot temperatures in an air-conditioned car. Renting a car in Baku will make your trip more comfortable and you will have the luxury of being independent in your sightseeing.
>> Click here to check rental car rates for Baku
Is Baku Expensive?
It truly depends on what you're going to be doing there. I found it really affordable as a traveler, however. Things like accommodation (at a hostel), food, and groceries were really affordable and never put much of a dent on my wallet.
However, it is easy to end up somewhere with pricier food. A meal along the promenade can easily set you back $15 or more. But, for the most part, Baku is not expensive.
Language in Azerbaijan
The main language in Azerbaijan is Azerbaijani. But, Russian is ubiquitously spoken in Baku and you can get by with English pretty easily too. The language I heard most often spoken, however, was Russian.
Azerbaijani is extremely similar to Turkish, so if you have traveled to Turkey or know any amount of Turkish, you may find it easier to read and speak than Russian.
It is useful to know a little Azerbaijani or Russian if you plan to visit Baku.
Wifi in Baku
The Wifi works pretty well in Baku. My hostel had extremely good wifi where it was just above average in most other establishments I went into. I can't vouch for things outside of the city center, however.
Azerbaijan Visa and Registration in Baku
Azerbaijan recently introduced an e-visa system, allowing a much easier process to travel to the country in the Caucasus.
I never had any luck getting a visa all the years I tried, but I only tried the e-visa system three times before finally getting approved my fourth time.
Do You Need a Visa to Visit Azerbaijan?
Azerbaijan announced a couple of years back that they were opening up an e-visa system, which was a simplified (and cheaper) process for many nationalities to obtain a visa.
Double-check on the site to ensure you qualify for the e-visa, but if so, the process is pretty seamless. However, ensure you apply on the right website. There is a tourism agency scamming people out of money (three times the price!). The link below is the legit, government-affiliated one:
Click here to Apply for an E-Visa in Azerbaijan
You fill out the form, submit, and then issue payment. The payment is a little over $20. I have been declined for this visa several times in the past. You can not get your money refunded.
I would use a personal email address (especially if a journalist or blogger) and be cautious about what you write as your profession.
Also, if you have a middle name and it is on your passport- be sure that you write it on the application form! I failed to do so this time and even after approving, they caught the error and declined my visa.
But, on a positive note, they gave me three hours to correct the information and pay a small surcharge and then they approved again.
I had no issues at the border when arriving here on the train with the visa and the process ended up pretty smooth, despite all the rejections in the past!
Registering in Azerbaijan
If you plan to stay in Azerbaijan for longer than 10 days, you must register yourself with the government within the first 9 days. Failure to do so will result in a hefty fine!
You can register yourself or have the place you are staying at register you. I decided to do the process myself so I could write about it here.
>> Click here to Register in Azerbaijan
You can click the top button that says "Registration Upon Place of Stay" and fill in your details. Make sure they are exactly as they are in your passport (including Middle Name under 'given name').
When it asks for your address, they are looking for your address that you are staying at in Azerbaijan.
From there, you will need a local mobile number where you can confirm things. I used my hostel's number. To confirm the number, the form gives you a code to text to a specific number from the phone number you listed and voila.
You can then submit your application for registration. Just make sure you confirm the email they send you shortly afterward.
Failure to register will result in a huge fine… or you can just accept getting kicked out of the country for two years.
PS: My registration never ended up accepted despite following the procedure well! Get the place you are staying to do it. I had them do it for me frantically and it was accepted, thankfully!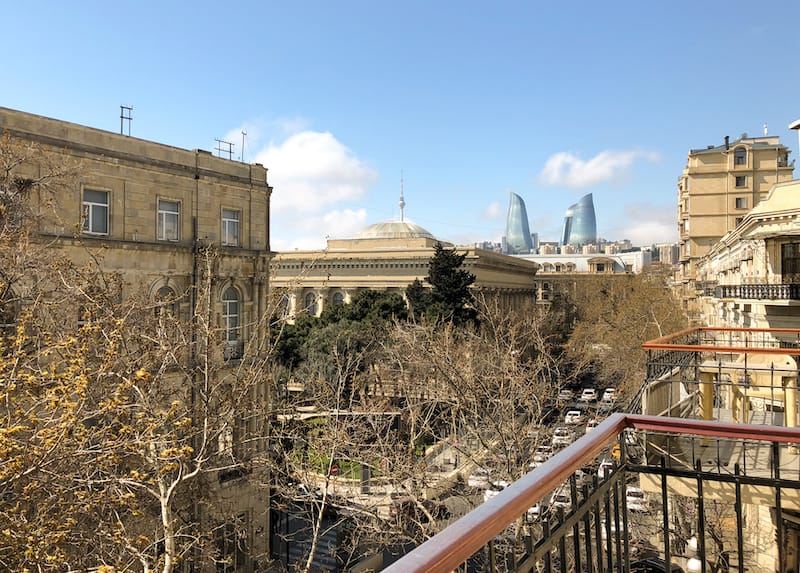 When is the Best Time to Travel to Baku?
As I usually say on this site, it really depends on you! If you're an outdoors lover and plan to visit many of the awesome Baku day trips that exist, you will want to visit in spring, summer, or autumn.
If you're coming for a cultural experience, traveling to Baku in winter can still be an opportune time as you can always eat and visit museums! Many people travel to Baku for events, however. These often take place in spring and summer.
In my opinion, the best time to visit Baku is in spring or autumn.
How Many Days in Baku?
If you're merely visiting Baku and not embarking on a trip anywhere else, I think you can see the city quite well in 2-3 days. Check out our Baku itinerary if you are looking to keep occupied for two days in the Azeri capital.
Weather in Baku
The weather in Baku ranges from season to season. If you want to see snow, your best chance to see snow in Baku is in February. On the contrary, July is usually rather hot but gets relief from the Caspian Sea.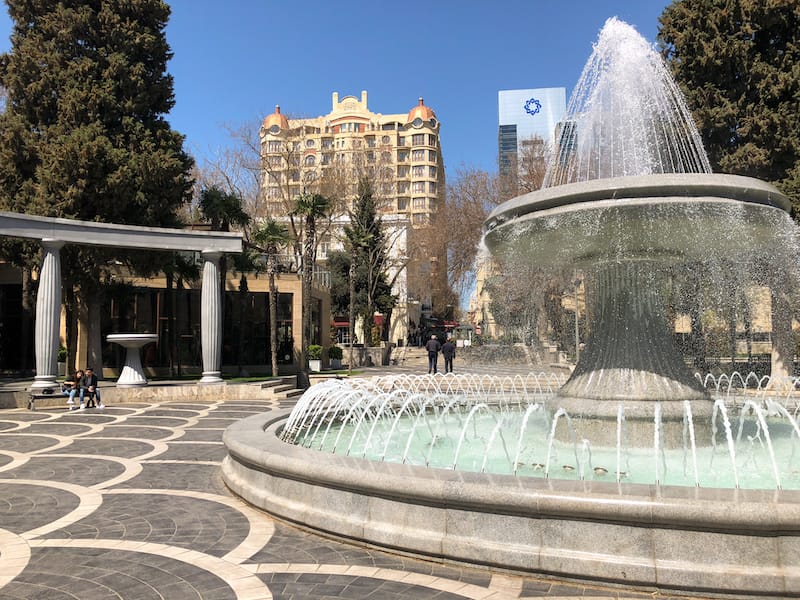 The average temperatures in Baku range from 4C (39.5F) in February to 26.5C (79.5F) in July. The highs in July are typically around 30C (86F) and it is usually sunny in Baku.
Is Baku Windy?
Yep. Being right on the Caspian Sea, the city is often extremely windy. I was there during April and the wind was a daily ordeal in some way, shape, or form! I was never dressed properly for it.
It also gave off a chilly breeze this time of year. While the wind was excessive, I am sure it is a welcomed thing during the hotter months of the year.
Scams in Baku (and Things to Watch Out For)
Sadly, scams are ubiquitous in Azerbaijan. Corruption in Azerbaijan is also common. This is an oil-rich country and quite frankly, the men I encountered on the streets were often scammy or thug-like (not all, but a lot).
It was mindblowing and everything I feared that Baku would be, but hoped it wouldn't be.
Below are some of the common scams I encountered or someone I was with encountered. Many other scams exist, but they are pretty typical of ones that are common in other countries.
These are ones that I hadn't yet encountered in other places, or just ones I think people traveling into the area need to be aware of.
Azerbaijan SIM Card Scams are a Thing
Once I arrived, I knew I had to find a SIM card for my month in Baku. My phone was using the service of Azercell (although it didn't work because I wouldn't pay for the package), so I figured that was a legit company that had good service throughout Azerbaijan.
I found an Azercell shop in the city center of Baku and went inside. I asked if I could purchase a SIM card with my Mastercard and they said yes… then changed their mind and told me to take out cash for one. I obliged even though it seemed a bit sketchy; I needed cash anyway.
I went back to their shop and they told me it would be 35 manat ($20) for 1GB of data. My jaw dropped. I asked how much it would be for unlimited data and they told me 80 manat ($50 or so).
That couldn't be right- after all, I was paying less in Germany which is outrageously expensive in my opinion. I just concluded that I would have to go a month without cell phone service.
Once I arrived back at my accommodation, I talked to the hostel owner and he told me that I was scammed. Ouch.
I wrote on Azercell's Facebook wall what happened and they apologized and told me there are many people who are unauthorized dealers who can set their own prices. It seems to me like they were going to give me a crappy data package and pocket the rest of the money.
They gave me four locations for Azercell that are authorized and legit to go get a guest package for 17 manat. This guest package includes 10GB of data and some talk time.
Interestingly enough, I had a rude guy take care of me at the Tagiyev location and eventually I settled for 10GB for 10 manat with no talk time. Whatever. The process was such an ordeal. These locations are authorized by Azercell:
2 B.Bagirova Street, 33a 28 May Street, 26a Tagiyev Street, and Ganjilik Mall (1st floor inside the Maxi.az store) at Said Rusamov Street 36.
Try to have a female take care of you- I found the men there to be condescending and rude.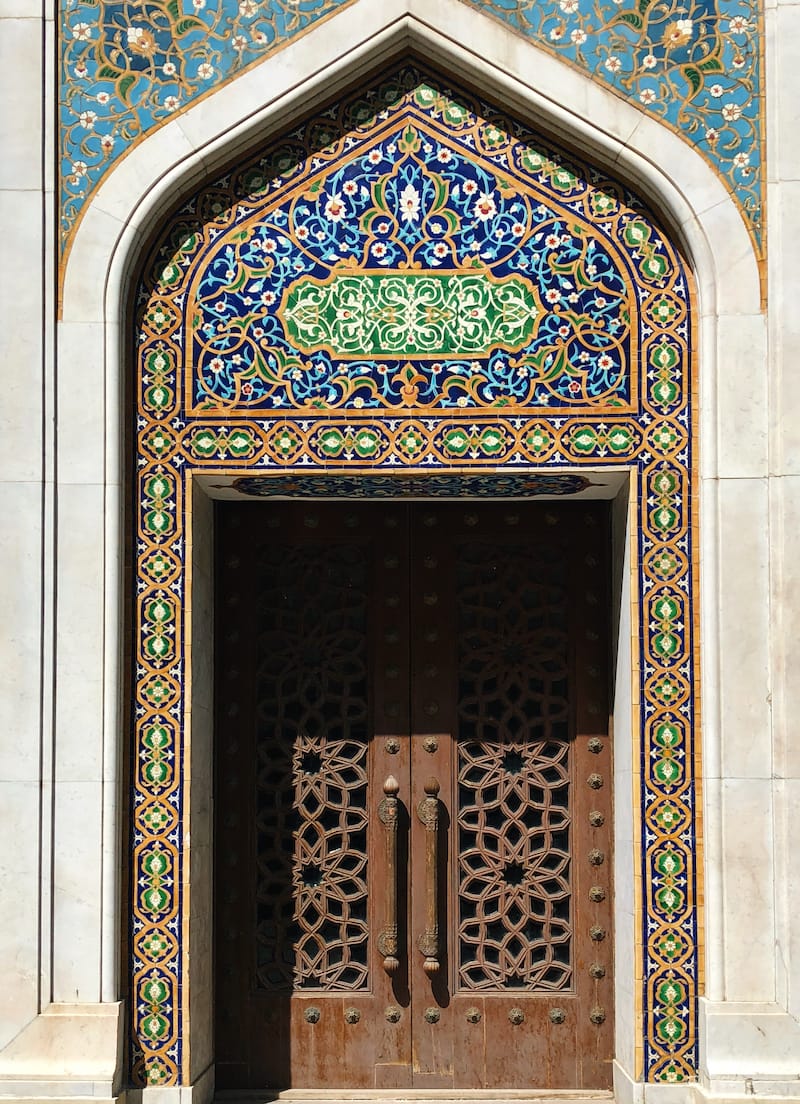 Always Check Your Itemized Bill
In Baku, I was charged 'extra' too many times to count at restaurants. Usually just a manat or two extra per item, but it happened frequently. I always joked and asked if these were 'inflated tourist prices' and they laughed and said that they forgot the price of something.
The fact that this happens so often tells me otherwise. I had this happen in Sarajevo often and I finally asked a bartender about it and he told me that people do it there because they are paid so poorly and they take advantage of tourists when they can.
Unfortunately, Baku isn't as affordable as Sarajevo for me, so I am cautious about what I am charged here and I always check each item against the menu price.
Never Give Someone Your Money
Ugh… I hate writing this one. But, never leave your money unattended with someone. The other night, I ordered Indian food to my hostel.
This process takes place over Whatsapp and I notified them that I only had 50 manat on me (like $30 or so). I needed them to bring change.
The guy that arrived had no change and acted flustered with the request and suggested that he take the bill to change out and he would bring back the change.
As soon as I was in the middle of handing it over to him, the hostel worker interfered and said 'No way!' He made the guy go and get the change himself from the actual Indian restaurant.
He then proceeded to tell me that you never trust someone here with your money unattended and it commonly ends in the theft.
On a side note, a woman from Uzbekistan in my hostel has been here for a while and will continue to be here for a while because an Azeri man scammed her out of $2,000.
By a miracle, he was found and the police arrested him and have demanded that he work and pay her back. So, she is stuck here until the payment is made in full. I am usually pretty trusting with things, but just put up a guard here and be smart.
Taxis in Baku
Unfortunately, Uber is the best way for foreigners to get around currently as taxi scams are a thing here and prices are often hiked up for foreigners.
While I don't always agree with Uber's principles, I do agree with the fact that I don't want to end up in some weird and uncomfortable situation in a taxi. Been there, done that in Kazakhstan a few times. It resulted in me being beaten.
READ MORE: How to easily take a taxi in Baku
While Uber is the best way to get around when you visit Baku, ALWAYS check your car and driver. There is a tendency for local taxis to greet at the airport or train station and say "Uber" loudly assuming someone has ordered one. Be sure to verify the taxi license plate to avoid getting into any trouble with this.
If you are arriving at the airport- read how to get from Baku Airport to the city center with Uber and other options.
Watch Out for Train Bribes
It is extremely common for the people working the train to quote foreigners more for tea or coffee. On the other hand, that should be where the line is drawn.
When I was on the train from Baku to Tbilisi, we had passed through Azerbaijan customs and then pulled up to the Georgia customs center.
The officer came on board and took my passport and left the train. I was sharing the cabin with another American; we were the only two foreigners on the entire train that were not native Russian speakers.
While we were waiting, we cleared our beds of all linens and put them each in a neat pile at the end of our beds with the towels they give us.
One of the women working on the train came in and asked if she could take each linen stack away from us. First of all, most of you that have been on Soviet-style trains know that this rarely happens. You have to drop that stuff off in a pile yourself at the end of the train.
Thirty minutes later, she came to us and said there was one pillowcase missing. We laughed and said there wasn't. She insisted it wasn't there. We told her to check again as it was likely wrapped up in another sheet. She came back and scoured our cabin for this 'lost pillowcase'. This went on for at least half an hour.
She went and got a man who was working on the train and brought him into our cabin and he told us we had to pay for the pillowcase.
I vehemently refused and said I would get the police involved once back in Tbilisi if they didn't leave us alone. This was clearly a scam/bribe. There was no missing pillowcase. Once I threatened the police, she eventually left us alone.
If I am going to steal from a post-Soviet train, I am not going to steal a rough pillowcase with 'Azerbaijan Railways' written all over it. I am going to go after something better- like one of those Soviet-style tea mugs. Or the toilet paper in the bathrooms that mythically exists.
Be Careful on the Baku Metro
Pickpockets are common. But guess what? So is other sleazy stuff. I filled up my BakiKart with a little bit of credit and went to the turnstiles to get to the Metro escalators. Some middle-aged lady pushed me out of the way after my card read green and went through herself on my credit.
I was right next to the officer watching and he just stared at me with dead eyes like this kind of thing happens a lot. Nevertheless, that was the moment I made the decision to leave Baku early.
I was actually on my way to buy a plane ticket to Nakhchivan when this occurred. The metro does not cost a lot of money, but if you visit Baku, just be cautious and aware of your surroundings.
Food, Restaurants, and Grocery Shopping in Baku
I could write a lot about this as I ate out nearly every single day after I gave myself a nice, mild case of food poisoning from my own cooking. But, here are the basics. I may expand this into an entire post in the future.
Can You Drink the Tap Water in Baku?
Um… maybe? I drank the tap water in Baku daily and had no issues. But I was staying somewhere clean in an affluent part of the city.
Generally speaking, it is advised to purchase bottled water when in Baku and the rest of Azerbaijan. But I don't believe in plastic.
I highly recommend taking your own water bottle with you to Azerbaijan and using one that has a built-in filter. This post will show you which water bottle with a filter is best for traveling.
Grocery Shopping
To be honest, I generally like buying my produce at market stalls. This trip, however, I had to resort to getting them at a hypermarket for convenience purposes (and lack of market stalls around where I was staying). I also needed to buy flip-flops, hence the convenience purposes.
I went across the city by bus to Bravo Hypermarket, which was massive and had everything I needed. It was slightly pricey as they were selling a lot of Waitrose branded products, but the local ingredients like the produce were extremely affordable. I bought a kilo of tomatoes, a lot of onions, zucchini, peppers, etc.
Some other prevalent shops in Baku are Fresco, Spar, Araz, and Neptun. I also went to Continental a few times as I had to use up my tomatoes very last minute and made salsa and needed tortilla chips (Continental sold a lot of products from Edeka in Germany, including salted tortilla chips).
Do be wary about indulging too fast into one thing. I made like four eggs one day in an omelet that looked like cat vomit the end and I made myself super sick from the number of eggs.
I think my body wasn't used to the Azeri eggs quite yet and I struggled as a result. The eggs are great quality… it was just my body I think (and probably being used to lousy quality ingredients in Western Europe).
Restaurants in Baku
I have found the restaurants serving traditional Azeri cuisine to all be more or less the same. The menus look the same (and offer a bajillion items) and the restaurants in Baku all tend to be underground and the areas are broken up into little cave-like sections.
Azeri food is kind of like a lot of different foods I have tasted before, albeit with more oil and sometimes with less flavor (depending on the dish).
They love herb usage, so if you are allergic to dill, mint, or coriander (cilantro), do make note of that beforehand.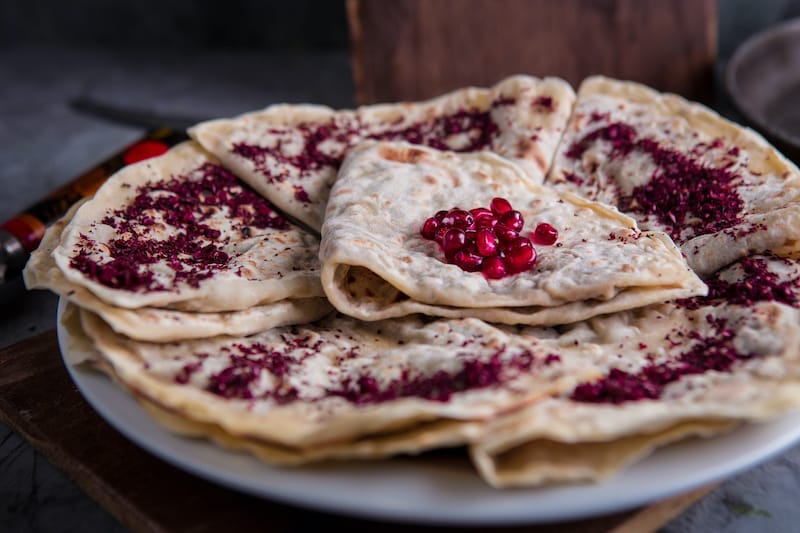 Usually, the servers are all male at these restaurants, which was one of the first things I noticed. I have had some servers that were standoffish and some that were extremely friendly. You can usually pay with Visa or Mastercard, but do check beforehand.
You can not add a tip to the card, however, so have cash if you want to add more than the usually already added service charge.
While my opinion on the cuisine is that it was a little flavorless, do take into consideration that I have a lot of experience traveling in post-Soviet countries and Azeri cuisine is kind of a mishmash of different Soviet dishes and middle eastern dishes.
So, if I had plov in Baku, I didn't prefer it to Uzbek plov, etc. But, most people I know quite liked the cuisine in Azerbaijan.
And, to be honest, the food is one of the best reasons to visit Azerbaijan even if I didn't love every single dish I had when there.
READ MORE: Best restaurants for Azeri food in Baku
Common Ingredients in Azerbaijani Cooking
The ingredients you'll find in Azeri cooking are similar to that of what you'll find in many of the other Caucasus countries.
Mutton, Chicken, Fish, cherries, quince, bell peppers, sumac (my favorite spice), tomato, apples, pomegranate, plum, apricot, eggplant, super delicious bread… just to name a few.
If you have food allergies and plan to visit Baku, do get translations of exactly what your allergy is in Russian and Azerbaijani and show it to the servers. I asked for 'no dill' a few times in multiple languages and was still served it.
Tipping in Azerbaijan
This is very dependent on where you are and what your bill is. I tend to always tip at least 10-15% because the American in me will have an anxiety attack and be unable to sleep if I don't.
However, if the service is bad, I don't care one way or another. In Baku, especially at the more 'touristy' restaurants, they will often add a service charge to your check.
They did this with me 9 times out of 10. It was usually such a meager amount that I still left a couple of manats, especially when service was exceptional. My service was usually either horrendous or stellar. There was never an in-between.
Markets in Baku
There are many markets in Baku that you can head to for delicious and local produce. While none were in close proximity to where I was staying, with a little effort, I could have located them.
The Metro station (Sahil) was closed down while I was in Baku, so nothing was super convenient for me. Ask the place you're staying for the nearest market to you and take advantage of the tasty produce that Azerbaijan has to offer!
Beer in Azerbaijan
As a beer lover, I was hoping to find at least one craft beer bar with local brews. I didn't find that. But that is okay as I really enjoyed the mass-produced Xirdalan.
Sometimes it is nice to have a cheap beer that is just easy to drink. Many people I met said that they are expecting some craft beer in the near future, however.
There is one bar called Beerbasha that serves microbrewed beer. I was on my way to head there with a friend, but I was told that it is all men there and it is extremely luxurious and upscale.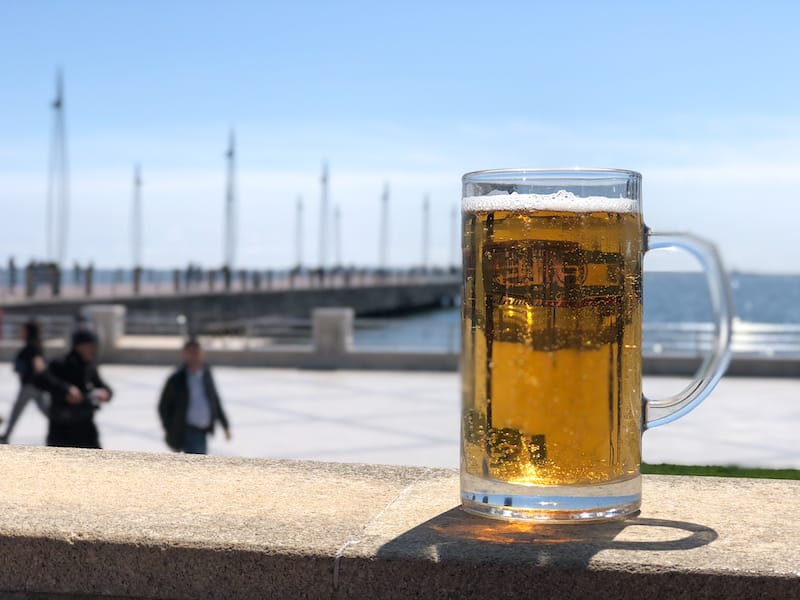 In my mind, that means pretentious. I am not really into those kinds of places, so I passed and went to Pivnaya Apteka instead. It was okay… still a bit too upscale for my tastes and the beer selection was a bit lackluster.
Okay, so don't visit Baku for beer… but it exists if you're open to mediocre beer. Thankfully, the wine is pretty decent!
READ MORE: Best bars in Baku
Wine in Azerbaijan
Yes, there is wine in Azerbaijan. And while it may not be as recognizable as Georgia or Armenia's wine scene, it is still good and actually quite big.
There are wine bars in Baku where you can enjoy a wine tasting and you can buy a glass of the stuff almost anywhere.
I wasn't a huge fan of pomegranate wine as it was too rich for me, but I loved a glass of dry red from Gabala. The best part about this bottle of wine?
It was only about $1.80. I bought a bottle of this frequently when there. Probably too frequently as the shop workers in the market I used to go to knew to have a bottle behind the cashier for me ready to go.
Miscellaneous Tips for Visiting Baku
Accommodation in Baku
There is an abundance of places to stay in Baku– especially for a traveler not on a budget. I looked into hotels, apartments, and hostels before visiting Baku.
The issue I had with apartments is that I was going to be there during the Formula 1 race, which meant that accommodation was limited. I was using Airbnb and the only options available seemed sketchy as they were quoting different prices throughout.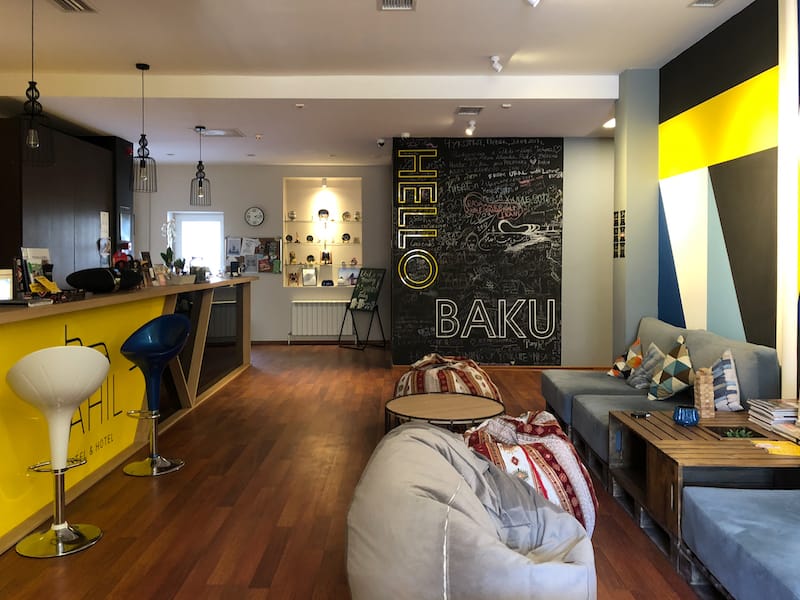 There was also one pretending to be in Baku when he was really up in Sumqayit. The hotels were all booked or just out of my price range. So, I went for a hostel.
I found a hostel called Sahil Hostel located near the Sahil Metro Station and it was one of the best places I have ever stayed. Easily one of the best hostels in Baku. They had a female dorm and it was affordable.
>> Click here to check out rates and availability for Sahil Hostel
As for other hostels in the city, I say do your research. If hostels can't fill to capacity, they usually will house migrant workers or locals. This is common in former-Soviet countries that are trying to build tourism.
While I have no issue with hostels that do this, I have found that I am more comfortable amongst other travelers as I have had some issues with migrant worker men (from Azerbaijan, actually) when I was staying at a place in Poland making me feel really uncomfortable and following me into my private room.
Soviet Architecture in Baku
When you think of Baku, I doubt that Soviet architecture comes to mind. It is probably more the modern stuff that is currently dotting the city and its skyline.
I met a girl on the train back from Baku to Tbilisi who was into Soviet architecture and she said she found Baku lacking it.
I am not sure where she looked, but there are resources online that can help you track down the stuff and I found there to be a fair amount of Soviet architecture in Baku. You can use this resource to get you started.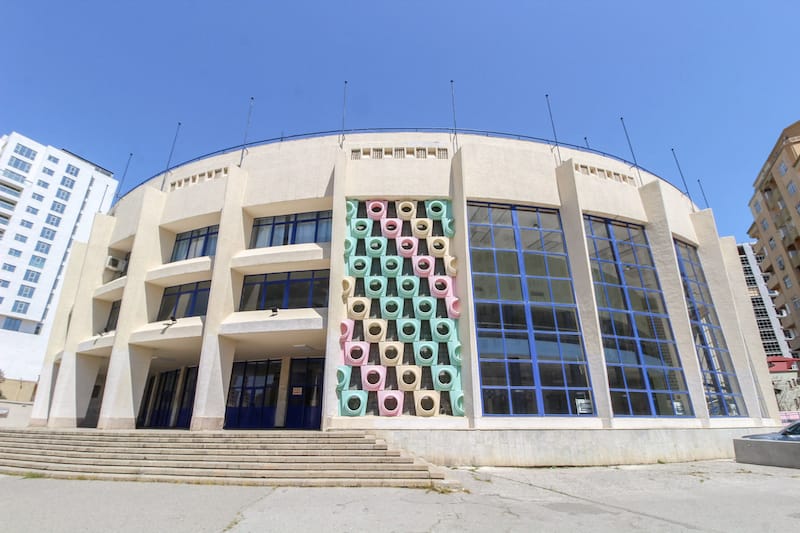 Baku is Diverse
The city of Baku is actually rather diverse even though it may not appear so at first. The country's history is extremely interesting and kind of gives light to why diversity exists in Azerbaijan today.
While I am not going to go into detail regarding the history, just realize that the city is home to many from other CIS states, Iran, and many Gulf Coast countries.
In addition, there are many American and British expats currently calling Baku home. Baku will most certainly be on your Azerbaijan itinerary and it is cool to see the mixture of the people of the country all in one city.
Business Opening Hours
One of the best things about travel is that you get to experience different cultures and different norms. Imagine a coffee shop in the United States opening at 1000. There would be an uproar. Well, that is the norm for Baku. The streets are pretty chill in the early mornings, in fact.
Instead of wallowing in the fact that you can't get an espresso or do your grocery shopping at 0800, use this time to explore the city center and Old Town as there is hardly anyone around!
Where to stay in Baku
We have created a guide of the best hotels in Baku, but we want to quickly recommend a few here for travelers going to Baku. These places range from luxury to budget and all are highly recommended by us:
Hilton Baku (Splurge): Everyone knows the Hilton brand… and while we are usually keen on recommending a place that is not a large chain, we know that many people traveling to Azerbaijan and Baku want something that is familiar (even if just to collect or use their points).
We recommend the Hilton Baku for this reason. It is luxurious and you will have an extremely comfortable stay in Baku. Click here for rates and availability.
Shah Palace Hotel (Mid-range): This hotel has high reviews from those who have experienced its hospitality and comforts. There are many amenities and it is situated in a wonderful location in Baku. Click here for rates and availability.
READ MORE: Best places to stay in Baku
Sahil Hostel & Hotel (Budget): This is my favorite hostel anywhere in the world. I stayed there for multiple weeks and found a little 'home' for myself in Baku.
Even though I don't love hostels, this place was not a party palace but rather a comfortable place to stay with a fantastic location, wonderful owner, and much more. They offer private rooms and dormitories. Click here for rates and availability.
Should You Book a Trip to Baku?
I definitely think booking a trip to Baku will be a great getaway if you're a city person who also likes the options of a few day trips. The city was easy to get around and the food was delightful. The modern architecture is a lovely mix with the old, too.
There are many things to know before you plan to visit Baku, Azerbaijan, but these are hopefully a few general tips to get you prepared for a trip there. If you are traveling to Tbilisi or somewhere in Georgia, Azerbaijan is a great add-on to your itinerary.
If you have any additional questions or comments, please feel free to drop them below and I'll do my best to help!
Additional Baku Travel Guides
Be sure to read up on our other Baku travel resources! You can see them below: