Finding yourself in Baku, Azerbaijan without proper knowledge of the city or a semi-organized plan of what to do can actually lead to a huge missed opportunity to see the Azeri capital in all its glory.
This guide will show you how to spend the perfect two days in Baku. If you feel anything is left off of this Baku itinerary, please drop it in the comments for travelers to read!
Disclaimer: This post was initially written in 2018 by Megan who went there independently. All proceeds since late 2020 have been donated to rebuilding Artsakh and community development projects in Armenia.
The Perfect Two Days in Baku Itinerary
To be honest, I spent almost a month in Baku, Azerbaijan. I ventured there during spring and while the Presidential elections were taking place and while the city was setting up for the Formula 1 race that was going to be held while I was there (I left a bit before the race, but that is a whole other story).
While I think spending a month in any city allows you time to explore deeply and really get to know a place, allotting yourself two days in Baku will actually be a great start to gaining an impression of the capital of Azerbaijan.
This itinerary will hit at the main sights and what to do in Baku for the average traveler. I will list some suggestions at the bottom that might be to your liking depending on your travel style.
If you have any additional recommendations for travelers, please drop them in the comments so that people will have added options to make their Baku itinerary as customized as possible. Click here to see how to get from the Baku airport to city center with ease.

How to Get to Baku
You can get to Baku in a few ways. You can fly directly there into the Heydar Aliyev Airport. Many airlines service Baku. If you're coming from Tbilisi, you can take a marshrutka, train, or taxi to Baku. I, personally, took the train to Baku from Tbilisi and had a good experience on the way in (lousy one of the way out).

When Should You Travel to Baku?
To be honest, I went to Baku in April. It was windy and not overly warm but not too cold either. I would suggest traveling to Baku during spring, summer, or autumn. Summers can be very warm but you're near the sea so you will get a little bit of a breeze coming your way. Winters are not brutal and if you like cooler weather, it might be a good option for you.
But, I actually think one of the best things about Baku is the sidewalk cafes and the ability to enjoy the promenade… so I suggest doing when it is warmer. Click here to check out amazing Baku tours.
Day One in Baku: Azeri Food + Baku Old City
For your first day in Baku, I definitely suggest getting down with some of the main sights in the city. Here is my suggested itinerary for your first day in Baku:
Head to the Caspian Sea for Breakfast
Along the Caspian, you will find heaps of open terraces and sidewalk cafes. Find one an order a delicious Azeri-style breakfast. I ordered eggs and tomatoes (called pomidor-yumurta) and sat in the morning watching the city wake up and it was my fondest memory of Baku, to be honest. I had just gotten off of the overnight train and was so happy to be in Azerbaijan finally after so many years of declined visas.
Do be sure that you take cash out if you're planning to do this. I actually had visited a place that took my Mastercard, but for some reason, I struggled often with my credit card working in Azerbaijan. I never found out a definitive reason why there were constant errors… but it is better to have a little cash on you rather than to be stuck without an opportunity to pay on your first day!

Visit Baku's Old City
The Old City of Baku (sometimes referred to as the Inner City) is an area of Baku that is extremely well preserved and is a UNESCO World Heritage Site. The Inner City is walled and had a population of about 3,000 people in 2007. Inside the Old City, you can see two extremely important sites to Azerbaijan- the Maiden Tower and Shirvanshah's Palace. There are disputes over how old the Maiden Tower is with some historians saying it dates back to the 7th century and others declaring that it dates back to the 12th century. Whichever it is, it is worth a visit and is one of the coolest things to see in Baku.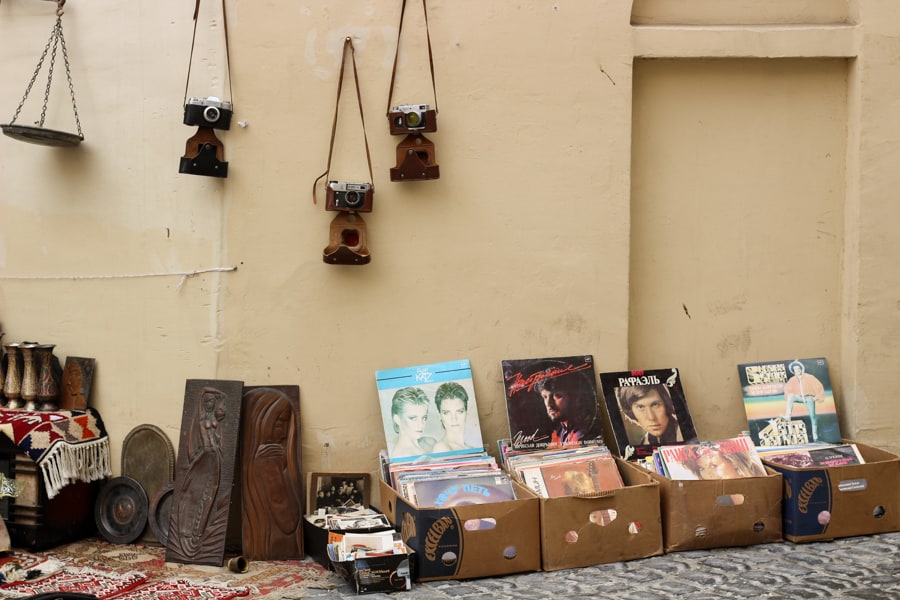 The Old City of Baku has previously been on the UNESCO endangered list as it suffered a lot of damage from the November 2000 earthquake, but the country did an astounding job to get it back to decent condition and the World Heritage Committee praised Azerbaijan for its efforts.

Grab Lunch at Firuze
There are many traditional Azeri restaurants in Baku and one of the most highly rated is Firuze, a restaurant located in the heart of Baku near Fountains Square. This is a great place to get acquainted with Azeri cuisine and try whatever floats your boat. I recommend the Azeri rice pilaf with sour cherries and plums or dushbere (local dumplings in a broth with dried mint and herbs).
You can find Firuze at 14 Tarlan Aliyarbeyov near Fountains Square.
Walk Around Fountain Square
One of my favorite things to do in Baku was to loiter around Fountain Square. The area was previously called Parapet and is still referred to by that name often by locals. In this area, you can head over into the Old City or walk along Nizami Street. Many events, celebrations, and festivals take place in the vicinity of Fountain Square. You will also find a slew of restaurants in and around the square, including Nargiz, which I suggest you enjoy dinner at.

Have Sadj at Nargiz Restaurant
Enjoying sadj was one of my favorite meals in Baku. I tasted it at Nargiz, one of the best restaurants in Baku, and have craved it ever since. Nargiz, or Nergiz, is located in the famous Fountains Square in the Azeri capital city and is extremely easy to find. The menu is extensive and offers every type of Azeri food you could wish to try or eat. While I loved the sadj at Nargiz, I also can recommend pretty much everything else as I ate there multiple times while in Baku.
You can find Nargiz Restaurant at Fountain Square 9 in Baku.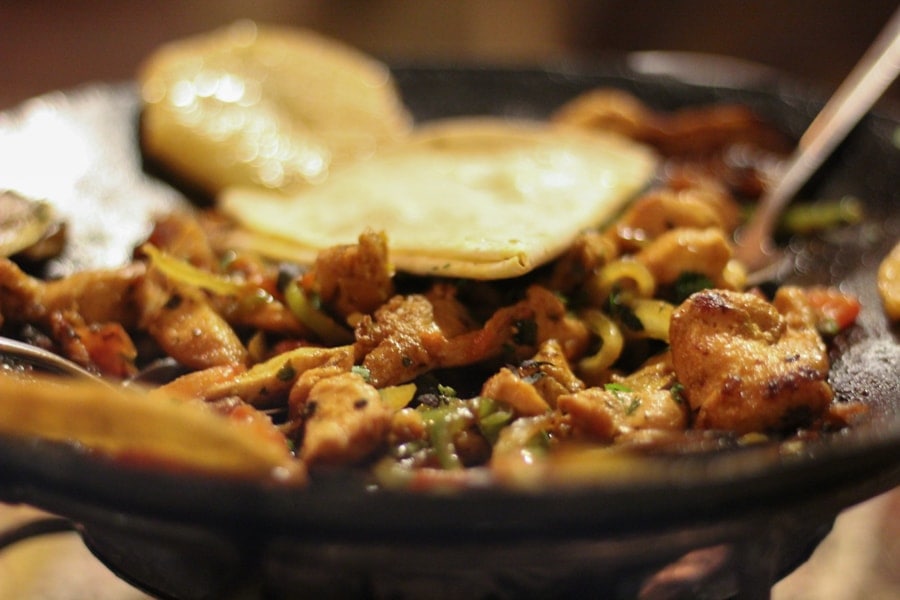 Take a Night Tour of Baku
Baku is illuminated and a city that really comes to life at night. The best way to get a taste of Baku's pulse is by taking a night tour of the city. This highly-rated, night tour will take you to some of the most famous sites in the city during the dark hours such as Yanardag Eternal Flame, Heydar Aliyev Cultural Center, and the Flame Towers. The tour is three hours long and is wheelchair accessible.
⇒ Click here to book your night tour of Baku
Day Two in Baku: Day Trip or Architecture Admiration
Baku is such a dynamic city that has so many different layers waiting to be explored. In my opinion, your second day in Baku should be spent doing whatever best suits you. I have broken up day two into two parts: a day trip and food day or an architecture day. The day trip goes to the mud volcanoes and a few other places while the architecture day includes the various, contrasting architecture that Baku has to offer- from modern delights to Soviet nostalgia.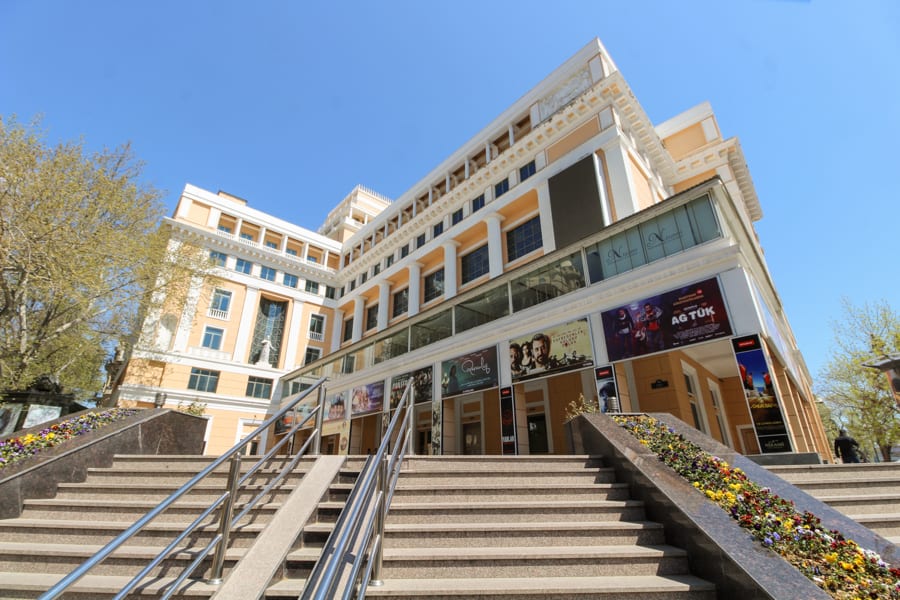 Option 1 (Gobustan Tour + More Azeri Food)
Organized Tour to Gobustan, Mud Volcanoes, and Bibi Heybet Mosque
Day two in Baku will start off with an organized, five-hour tour to Gobustan, the mud volcanoes, and the Bibi Heybet Mosque.
Gobustan is a well-preserved, open-air museum that holds ancient petroglyphs and it is one of the best places to visit in Azerbaijan. The rock carvings offer a great insight into the ancient people of Azerbaijan. This is a must-add to your Baku itinerary and seeing it with a tour will allow you to gather insight into the true meanings of the petroglyphs and area.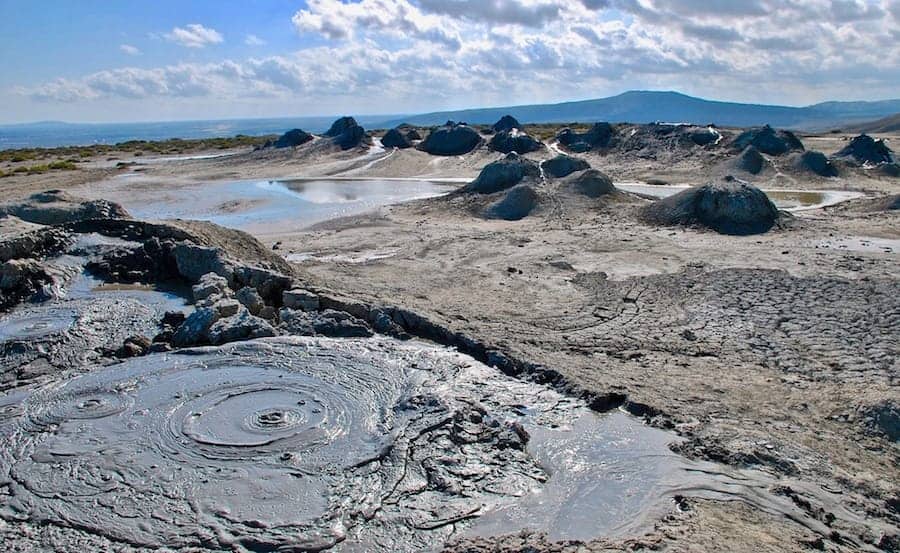 The mud volcanoes are easily one of the most famous sites in all of Azerbaijan. Do check prior to booking your tour if the mud volcanoes are even accessible as sometimes it is not possible to reach them during the winter months.
Lastly, you'll visit Bibi Heybet Mosque, one of the oldest mosques in Baku and one of the most notable sights in Azerbaijan. The mosque was originally built in the 13th century and then later destroyed by the Bolsheviks in 1936. Today's mosque is a recreation of the original, but it is still worth visiting. It serves as a worship center today.
⇒ Click here to book your tour to Gobustan, the Mud Volcanoes, and Bibi Heybet Mosque
Have Dinner at Nakhchivan Restaurant
Nakhchivan is an autonomous territory in Azerbaijan that is completely detached from the rest of the country. The region is known for its delicious food and traditions and no place in Baku is better to witness this than at a restaurant called Nakhchivan that specializes in, you guessed it, food from Nakhchivan.
They will walk you through the dishes that are particularly associated with the territory and help you order something that will give you a taste of another part of Azerbaijan.
To get to Nakhchivan Restaurant, you can easily take a Baku taxi or access it by public transportation. To get there with public transportation, you can take bus 3 or 18 to the stop "Alley of Honor" and walk up Parliament Avenue to the restaurant. You can also reach it nearby by taking buses 6, 31, or 77 to Arts Gymnasium stop and walking a short distance from there.

See the Lights at Baku Chrystal Hall
To finish the evening, head to the Baku Chrystal Hall and witness a modern building with a lot of illumination and flair. The building sits on the Caspian Sea and it glistens over the blue waters during the day and lights up the city at night. If the night is nice, you can walk the promenade back toward the city center, or Old City.
Option 2 (Architecture Tour of Baku)
Not keen on visiting the mud volcanoes and Gobustan (or have it already planned for another day)? I think two days in Baku is definitely not complete without visiting and marveling at some of the contrasting architecture that the city has to offer. I have listed four buildings that I think are essential to see when you visit Baku.
Do note that two of these buildings will be visited during the night tour I mentioned for the previous day, so if you're not wanting to revisit them during daylight, I have listed a couple more places below that you can add to your Baku itinerary.

Trek Out to the Heydar Aliyev Center
This gorgeous, white building has easily become the symbol of Azerbaijan whether the Flame Towers like it or not. And to be honest, it really is as beautiful as it looks in photos. I figured heading there would be an overrated thing to do, but it turned out to be one of my Baku highlights. It was designed by award-winning British-Iraqi architect, Zaha Hadid, and it is just a mesmerizing structure.
If you're looking to photograph the Heydar Aliyev Center, I highly suggest bringing along a wide-angle lens. The building is massive and best captured with a wide-angle lens. Click here to see the wide-angle lens I use.

Visit the Flame Towers
The Flame Towers are one of the most known sites in Baku and all of Azerbaijan. They are a trio of skyscrapers located in the city and one of the skyscrapers happens to be the tallest building in Azerbaijan (182 meters tall). The towers represent the fire-worshippers which is one of the symbols of the Caucasian country, particularly Zoroaster.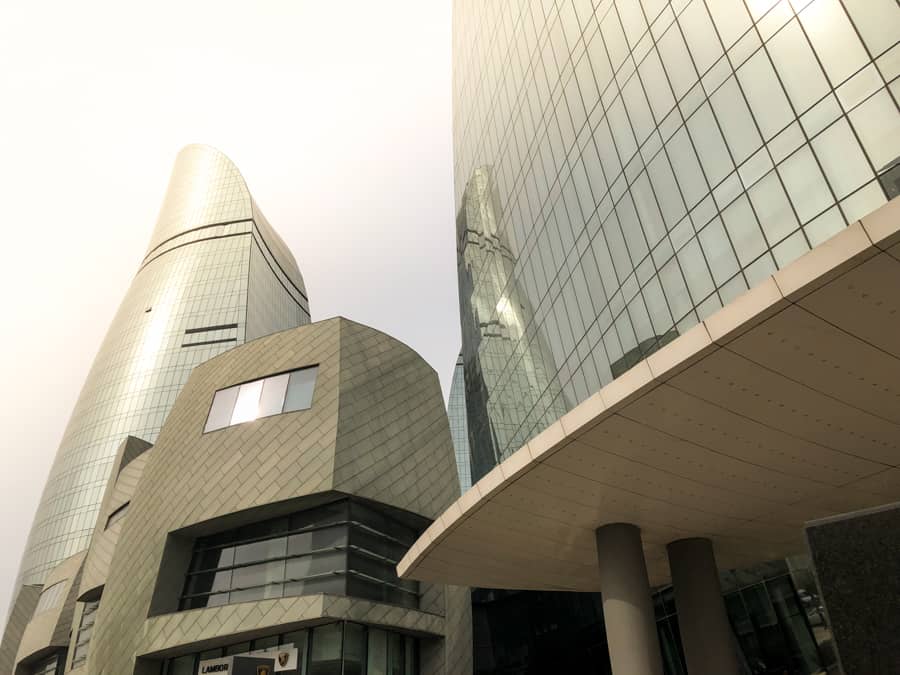 One of my favorite things about the Flame Towers is that they are often lit up at night into different colors and light shows. When I was in Baku, the country had the Presidential elections and they were lit up as the flag of Azerbaijan, which was pretty cool.

Have Lunch at Nakhchivan Restaurant
I listed this restaurant as a dinner option for the Gobustan tour day, but I really think it is worth eating at for lunch if you opted for the architecture day. It is located extremely close to the Flame Towers and you will get to enjoy the cuisine of Nakhchivan, an enclave nestled between Turkey and Armenia, but is part of Azerbaijan. Nakhchivan fare is simple, yet flavorful and delicious, and it will give you the opportunity to try something completely unique during your two days in Baku.
A carpet museum may seem like an odd choice of places to visit in Baku, but it is definitely worth the hype and the location is epic. From Nakhchivan Restaurant, you can walk down Parliament Avenue toward the Caspian Sea and take the Funicular down to the Azerbaijan Carpet Museum. The building itself is a modern work of art and Azeri carpets are some of the most prized in the world. The museum sits on the Caspian Sea and is idyllic.
Azerbaijan Carpet Museum Opening Hours
⇒ Mondays: closed
⇒ Tuesdays – Fridays: 10am – 6pm
⇒ Saturdays: 10am – 8pm
Azerbaijan Carpet Museum Entrance Fees
Adults: 7 AZN
Students: 3 AZN
Children under 6 years of age: free
Photography Fee: 10 AZN
Click here to view more information about the Azerbaijan Carpet Museum.
Walk the Promenade to the Baku Chrystal Hall
This gorgeous piece of modern architecture is incredibly beautiful and deserves a visit and a place on your Baku itinerary.
The hall was finished in 2012 and just in time to host the Eurovision Song Contest that year. It is a large indoor arena and if you get the chance to see it at night from the outside, it lights up the entire area near the National Flag Square.
Have Dinner and Call it a Night at Dolma
One of the best restaurants in Baku is Dolma, and it is situated at Fountain Square underground.
The establishment specializes in, as you guessed, dolma. Interestingly enough, I had dushbere there (Azeri soup dumplings) and never dolma, but enjoying dolma is essential when in Azerbaijan and this is definitely the place to do it at.
There are also so many Baku bars and pubs in close vicinity so you can carry on enjoying Baku with drinks if you choose to.

Other Possible Places to Visit in Baku
There are so many other cool buildings to visit in Baku when you're there and while I listed some of the best modern places, you won't want to miss the city's Soviet architecture if you're into that (I am!) Some of my favorite buildings there were Mirvari (a cafe on the promenade), the Baku State Circus (I love Soviet Circuses from an architectural standpoint but refuse to go inside for their animal treatment), and the Government House of Baku.
Click here to check out Baku city tour options.

What to Pack for Baku
Windbreaker Jacket: Baku is, hands-down, one of the windiest cities I have ever been to. The Caspian is unforgiving and I highly recommend bringing a windbreaker or appropriate jacket for the trip. Click here to see my recommended jacket choice.
Sunscreen: Baku is also pretty sunny. If you have sensitive skin or just want to be cautious and protect the skin that you do have, bring some sunscreen with you! Click here to see which sunscreen I use.
Good Walking Shoes: My two days in Baku itinerary does require a fair amount of walking and to get the job done without issues, I suggest purchasing or bringing a really good pair of walking shoes for your Baku trip. I love my black Nikes as they are versatile and comfortable. You can see them here.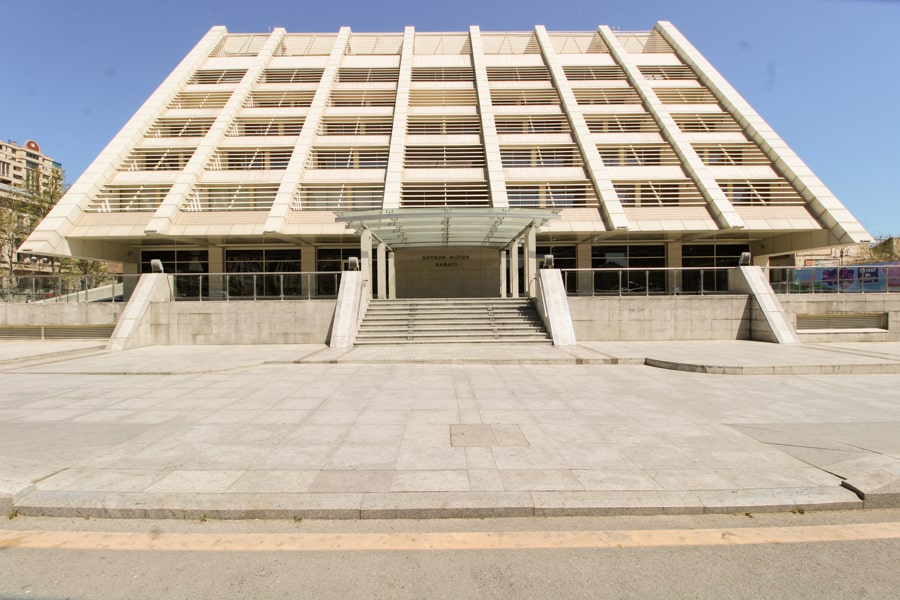 Daypack: Be sure to not leave for your Azerbaijan trip without a durable and lightweight daypack. I have used so many daypacks over the years, but I recently partnered with Standard, a Canadian company, and I can highly recommend their daypack bag to get the job done. You can see the daypack I use here.
A good pair of Sunglasses: I never leave home without like a billion pairs of sunglasses and you won't want to either when you're visiting Baku. Okay, so just one good pair will suffice. I love Quay Australia's options and have several pairs from them. You can check out Quay Australia's sunglasses collection here.
Reusable Water Bottle: Please, please, please… travel with a reusable water bottle. I always tote along my Klean Kanteen stainless steel bottle and it is a trip essential for me. Click here to see my Klean Kanteen water bottle.

Do You Need Travel Insurance for Azerbaijan?
Yes, I highly recommend purchasing travel insurance before you travel in Azerbaijan before your trip to Baku. I always use World Nomads insurance and it has helped me feel secure from India to Colombia to the beautiful city of Baku.
Click here to get your quote for Azerbaijan travel insurance

Where to Stay in Baku
You can see all of my recommendations for the best hotels in Baku here. But, for a quick reference for the places I suggest to travelers and ones that will fit this Baku itinerary, see below:
High-end, Luxury Hotel in Baku: I suggest the Hilton Baku for the best high-end and luxury hotel choice in the city.
–> For current rates and availability click here | Read reviews on TripAdvisor
Mid-range Hotel in Baku: The best mid-range hotel in Baku, in my opinion, is the Winter Park Hotel in the city.
–> For current rates and availability click here | Read reviews on TripAdvisor
Budget Hotel or Hostel in Baku: Sahil Hostel is one of the best hostels I have ever stayed at and one that I can highly recommend to budget travelers in Baku.
–> For current rates and availability click here | Read reviews on TripAdvisor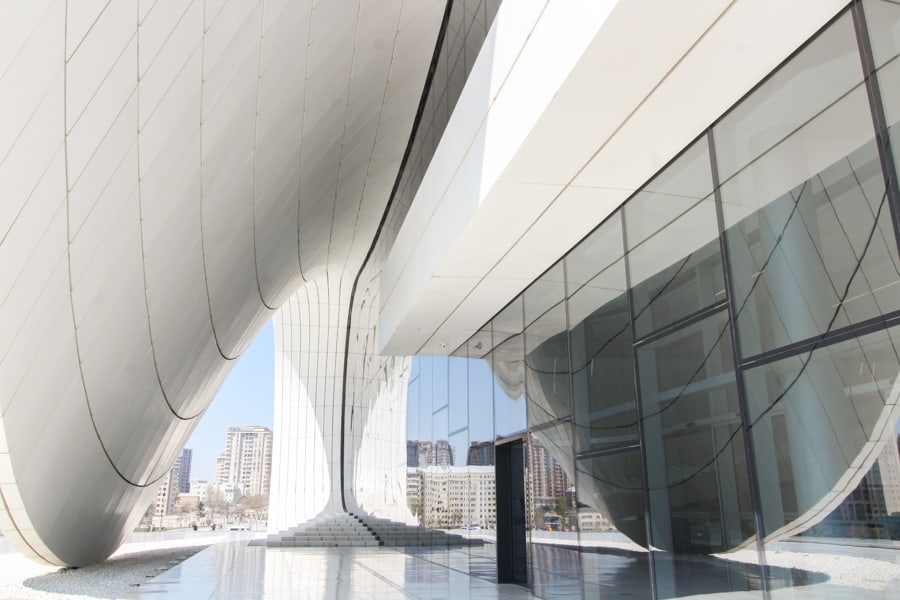 If you have any additional comments or suggestions to make someone's two days in Baku itinerary as epic as possible, please place them below in the comments! Thanks!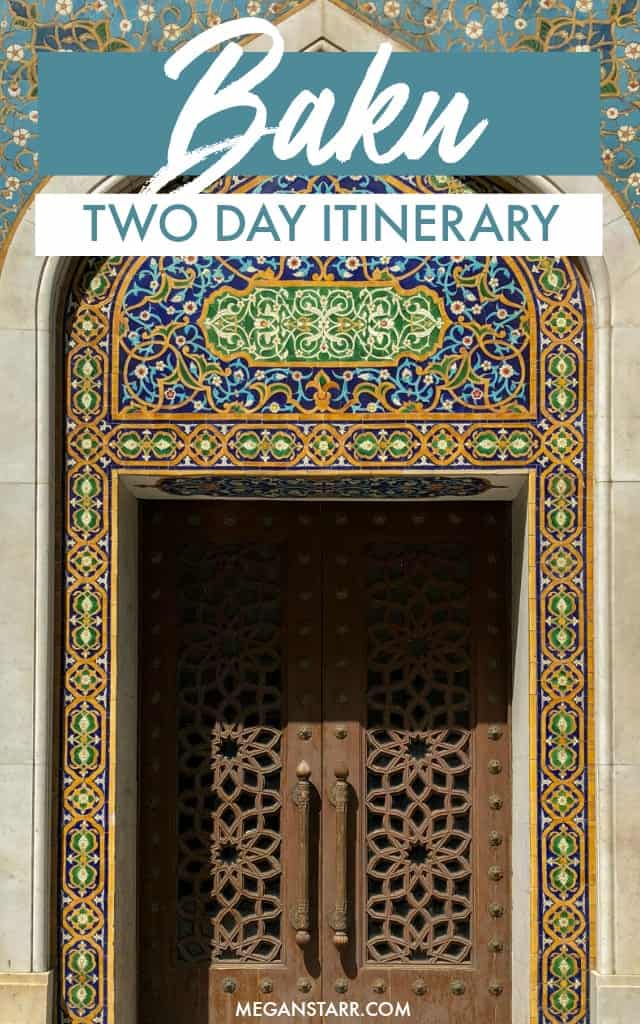 Craving More Azerbaijan Travel Inspiration?