Are you looking for the best things to do in Tbilisi? This guide has you covered!
Are you planning your trip to

Tbilisi

last minute?
If you are booking your trip to Tbilisi last minute, we have you covered. Below are some of the top tours, hotels, and more!
🇬🇪 Top Experiences and Tours in Tbilisi:
🛌 Top Hotels in Tbilisi:
Hotel Adamo (luxury in Tbilisi!)
Apartment Marina (Mid-range)
At Funicular Hostel (top-rated budget lodging!)
🚗 Looking for the best way to get around Tbilisi? Click here to check rental car rates for Georgia!
Tbilisi is the largest city in Georgia and is found on the banks of the Kura River, this city is home to approximately 1.5 million people and is a popular tourist spot.
This is down to all the incredible things to do in Tbilisi including eating tasty food, sampling the famous Georgian wine, admiring the architecture, and learning about Georgia's history.
The city of Tbilisi was founded in the 5th century and before 1936, the capital was known by the name of Tiflis, and in some languages is actually still known by that name.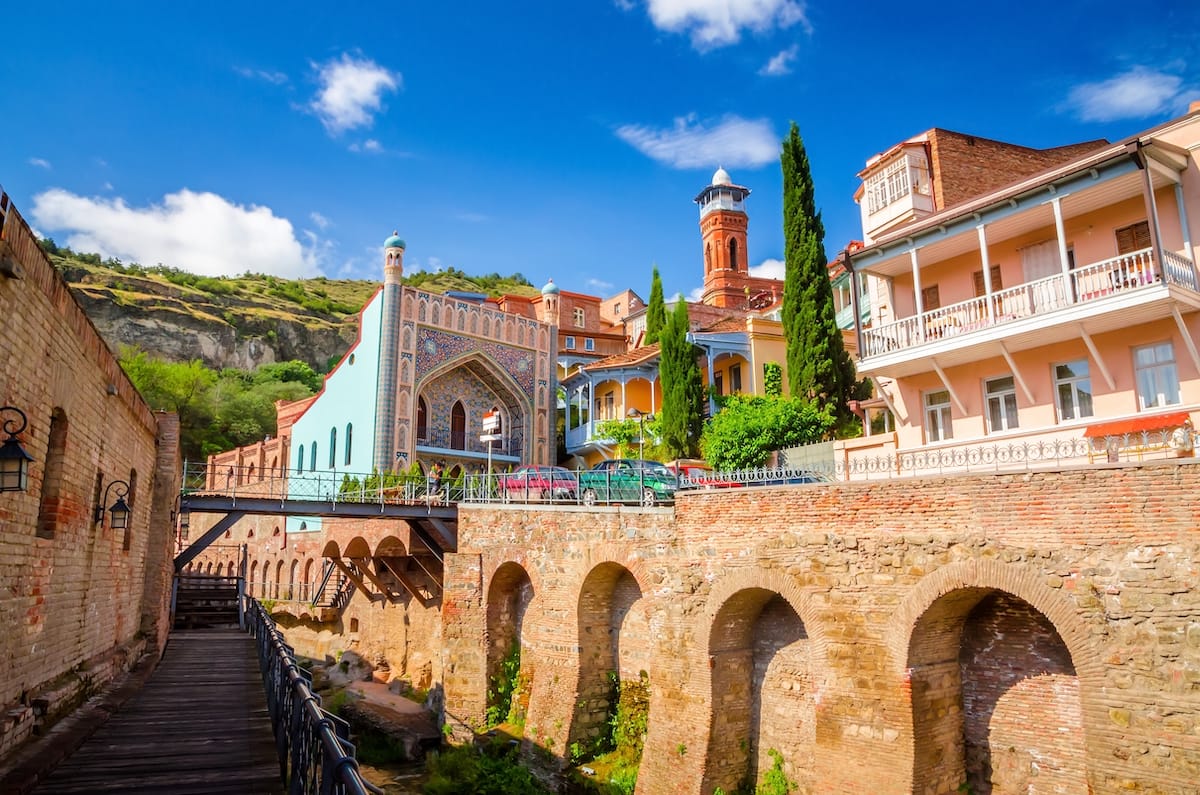 Due to its proximity to the famous Silk Road, and its location on the crossroads between Europe and Asia, Tbilisi has been a very important city throughout the ages and has a lot of history.
We are going to through all the information you will need to explore this city including the best things to see in Tbilisi, how to get around, and the authentic dishes that you need to try!
Best Tbilisi Tours (to Maximize Your Time!)
If you're looking for something more organized when in Tbilisi and the surrounding area, here are some awesome Tbilisi tours you should check out.
These tours will help you maximize your time, which is especially important if you only have a short amount of time in the city! We listed a variety so that you can pick which one is most suitable for you (and many include multiple places!):
Best Things to Do in Tbilisi
1. Tbilisi Old Town
Located right on the bank of the River Mtkvari is the old town of Tbilisi which dates back to the 5th century AD.
According to Georgian history, the old town was founded by King Gorgasali of Iberia and was then ruled under the reign of many different cultures including the Persians, Arab conquerors, and the Mongols.
What's interesting is that the old town of Tbilisi has actually been destroyed and then rebuilt 29 times throughout the years, and yet it still going strong.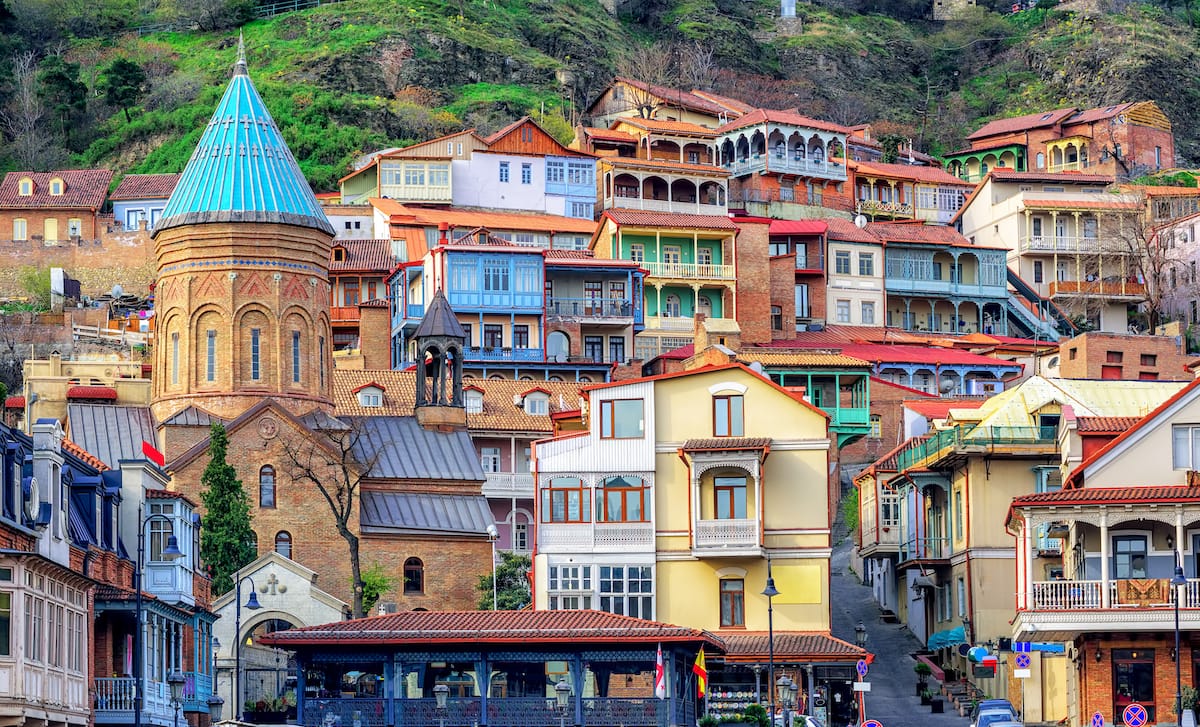 The best part about Tbilisi Old Town is that the majority of the sights you will want to see are located here, including Narikala Fortress and the leaning clock tower.
This part of Tbilisi is as authentic as it gets, and it's even on the waiting list to become a UNESCO World Heritage Site.
2. Narikala Fortress
Narikala Fortress is located within Tbilisi Old Town and is an ancient symbol of Tbilisi's defense.
Also known as the 'Mother Fortress of Tbilisi' this place was founded during the 4th century, which was when the city itself came into existence.
Narikala Fortress was expanded during the 7th and 8th centuries, and then further extended in the 11th century by King David.
In 1827, the fortress was actually damaged by an earthquake and many areas have not been restored since.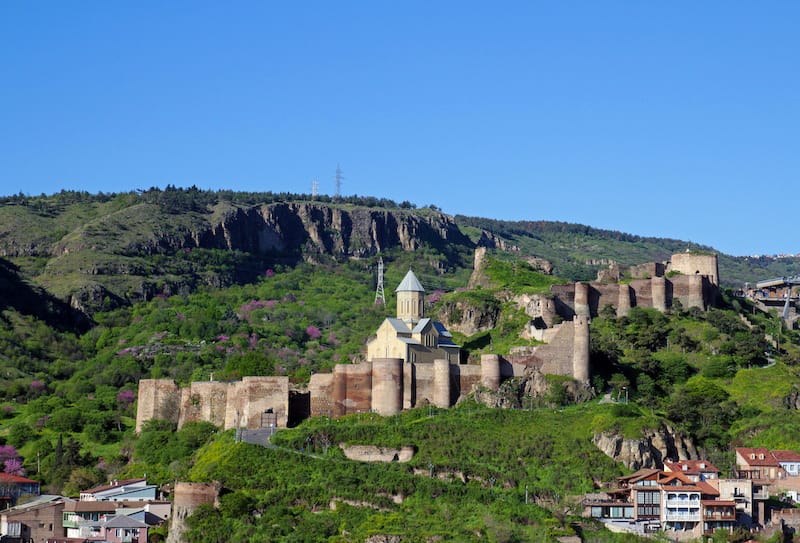 The best way to explore this fortress is to take a walk around the Narikala tourist route.
This route runs from the top of the ridge, around the fortress, and then down into the old town. It is an impressive 1500m long and offers beautiful views so is the perfect way to explore Tbilisi's history.
You can either walk up to the fortress from the old town (recommended) or take the cable car which connects Rike Park in the old town to the fortress.
3. Kartlis Deda (Mother Georgia Statue)
Very similar in appearance to the Rodina Mat (Nations mother) statue in Kyiv, Kartlis Deda rises above the city in stern defiance from the top of Sololaki Hill.
The statue was erected in 1958 to commemorate the 1500th year of the city!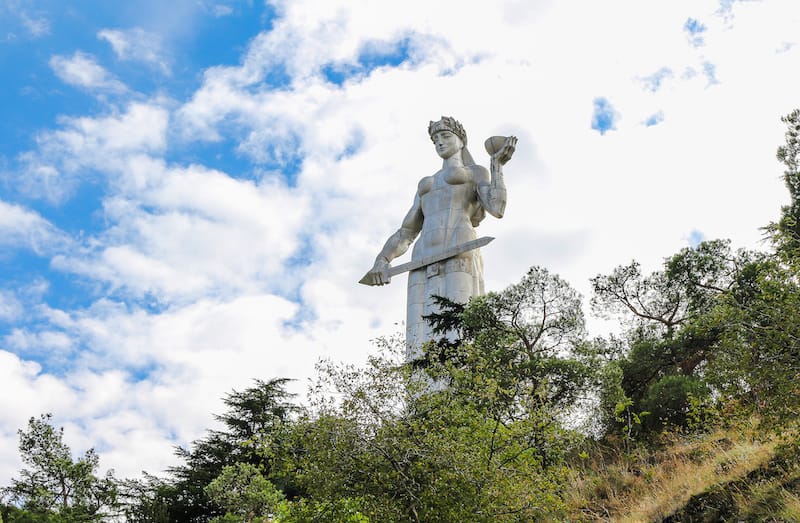 The giant steel structure stretches 20m and represents a woman in traditional Georgian dress holding a sword in one hand and a cup of (presumably Georgian) wine in the other!
A must-see attraction in Tbilisi also thanks to the incredible views across the city and to the Caucasus Mountains beyond.
4. The Holy Trinity Cathedral
The Holy Trinity Cathedral is the largest Orthodox Cathedral in Georgia and is one of the most beautiful buildings in Tbilisi.
With an impressive height of 87m, the golden dome of the cathedral can be seen pretty much anywhere throughout the city.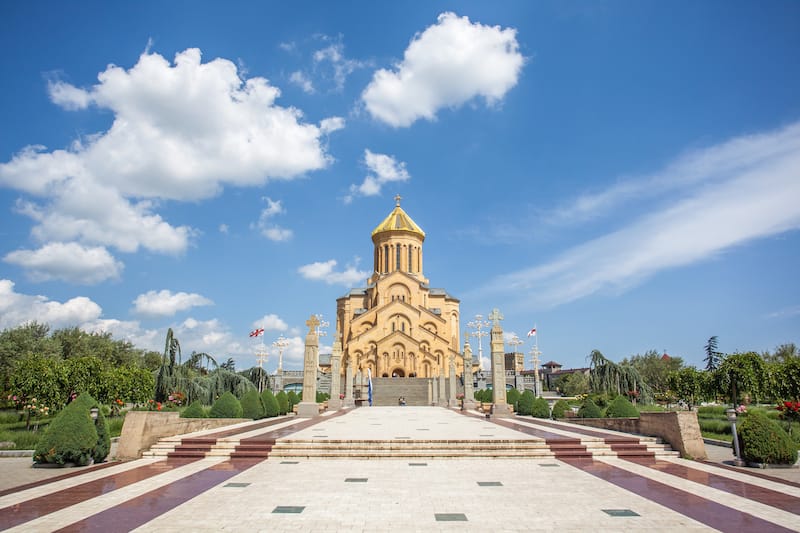 Commonly known as Sameba, this cathedral was built in 2004 and is one of the largest Eastern Orthodox cathedrals in the world.
In fact, it's actually one of the largest religious buildings in the world due to its total area.
Address: MRX8+3H8, Tbilisi
5. Party with City Pub Crawl Tbilisi

One of the best things to do in Tbilisi is to go on a pub crawl! You can explore the bar scene in Tbilisi on a pub crawl walking tour, receiving welcome drinks at each bar.
Get to know other travelers while you play games and compete in contests along the way.
City Pub Crawl Tbilisi turned the usual pub crawl format into a game where you can win points for each activity. In the end, the winner will be crowned king/queen.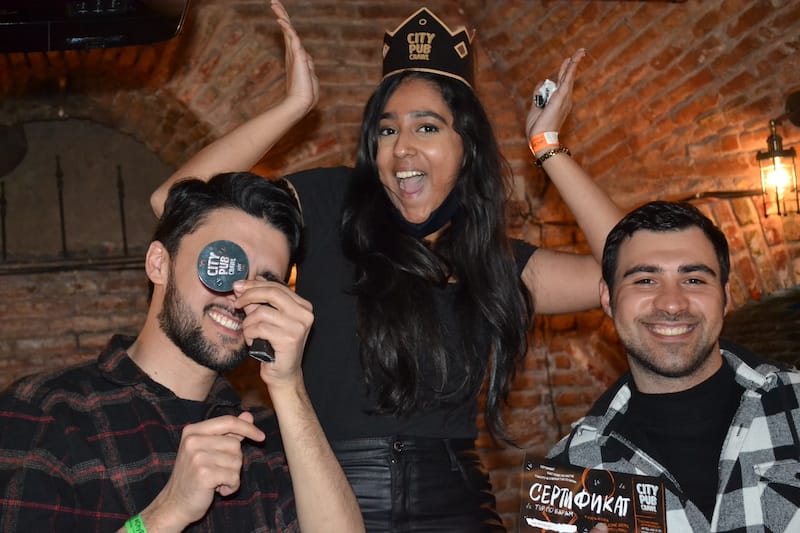 There are tons of different bars you will venture to on the trip, as well. And all are within walking distance of the Sololaki District.
Since the routes are pre-organized, you won't spend more than 5-10 minutes walking between the bars. You can book your pub crawl in Tbilisi here.
It will run you 60 GEL and you will get welcome shots included! Each Friday and Saturday the trip starts at D20 Bar at 4 Amaghleba Street.
Check out their Instagram for more info (or you can call them at +994598115847 to book your slot).
6. Liberty Square
Liberty Square (sometimes known as Freedom Square) is an area in central Tbilisi just off Rustaveli Avenue which houses the large neoclassical/baroque Liberty Monument.
The 25 meters (115-foot) St George Statue, as it is also commonly known, was erected to replace the statue of Lenin that adorned the square during Soviet times.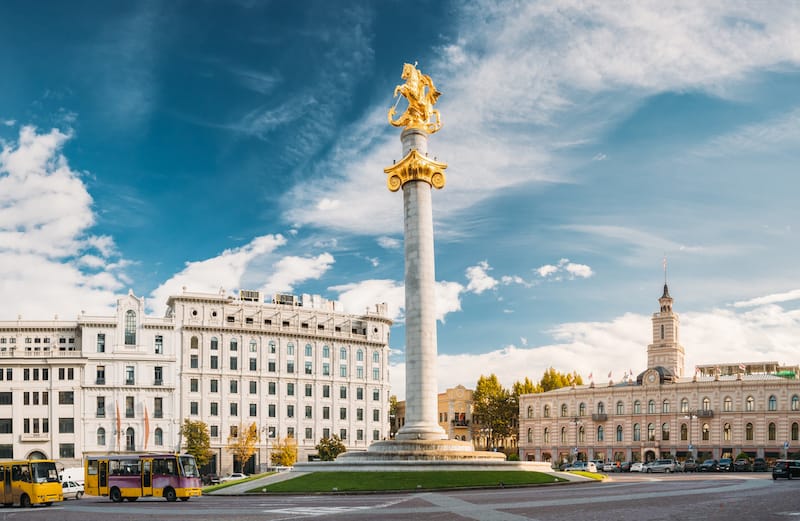 Liberty Square is also home to Tbilisi City Hall and the Marriot Hotel and it is at the culmination of six of the largest avenues in the city.
Address: 11 Aleksandr Pushkin St, Tbilisi 0105
7. Tbilisi Sulfur Baths
Visiting the Tbilisi Sulfur Baths is one of the best things to do in Tbilisi.
The name 'Tbilisi' loosely translates to 'warm place' and the story is that the founding of the city involves the natural hot springs that are located within the area.
The baths are very warm at a temperature of around 30°C and contain therapeutic minerals which are good for both your skin and health.
If you are wanting even more of a relaxing experience, you can choose to book a masseuse.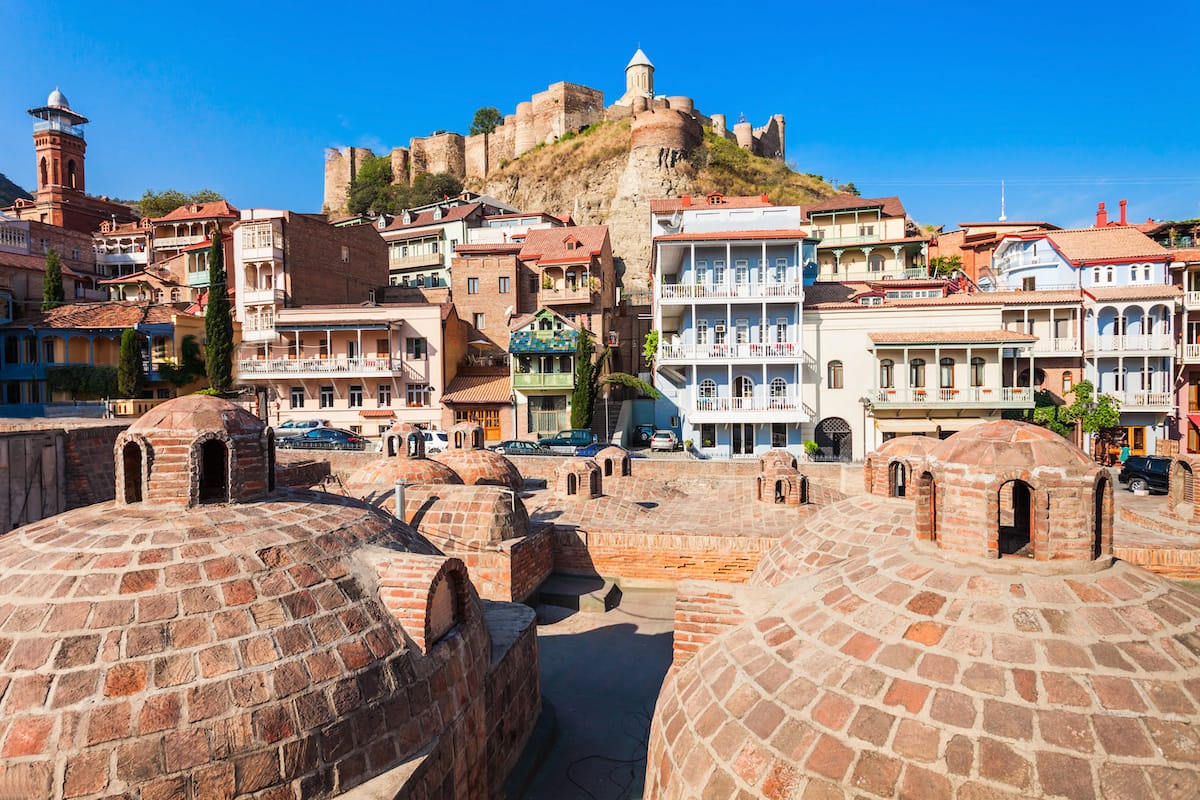 There are multiple bathhouses located throughout the city, so you can take your pick on which one to visit.
Check out this guide that tells you all you need to know about visiting the baths, including tips, etiquette, and the best bathhouses to visit!
8. Gallery 27
Gallery 27 is a small gallery that was opened in 2013 by an artist called Nino Kvavilashvili.
Nino and over 100 Georgian artists present their handmade art here using only high-quality materials.
One of the best things about visiting Gallery 27 is that they offer workshops for tourists to learn new skills, techniques, and crafts.
Visiting this place is one of the best things to do in Tbilisi as it gives people the opportunity to learn about the local heritage and Georgian culture.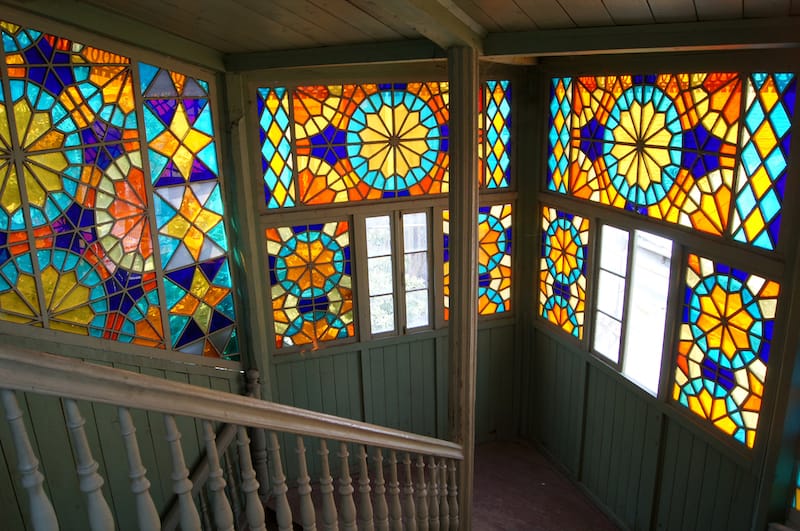 If you are looking to buy a souvenir then this gallery also offers handmade quality crafts including jewelry and ceramics.
Not only that but if you're a keen photographer, this gallery has beautiful carvings and an incredible staircase with colored stained glass windows where you can take beautiful photographs.
Address: N52 L.Asatiani Street, Tbilisi
9. Fabrika
Fabrika is known as one of the coolest spots in the city and is one of the top things to do in Tbilisi.
This space actually used to be a large old soviet sewing factory, until it was abandoned and became derelict for decades.
However, today it is one of the most popular and hipster spots in the city.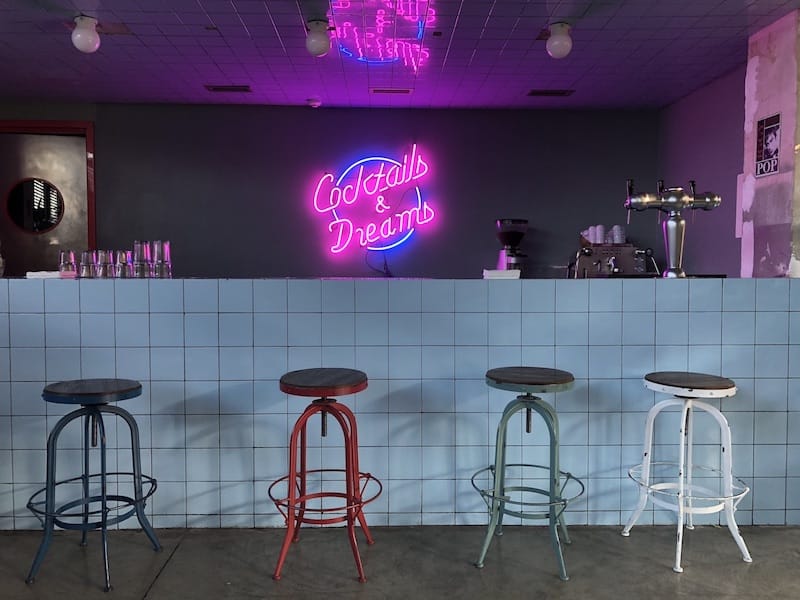 Fabrika has plenty of quirky cafes and bars, artist studios, an open courtyard, and is home to the largest hostel in the region.
See the official Fabrika website for current events and what's going on right now!
Address: 8 Egnate Ninoshvili St, Tbilisi
10. Leaning Clock Tower
Visiting the Leaning clock tower is one of the best things to do in Tbilisi and one not to be missed.
It is one of the most unusual architectural masterpieces in the country and would be perfectly at home in Alice in Wonderland.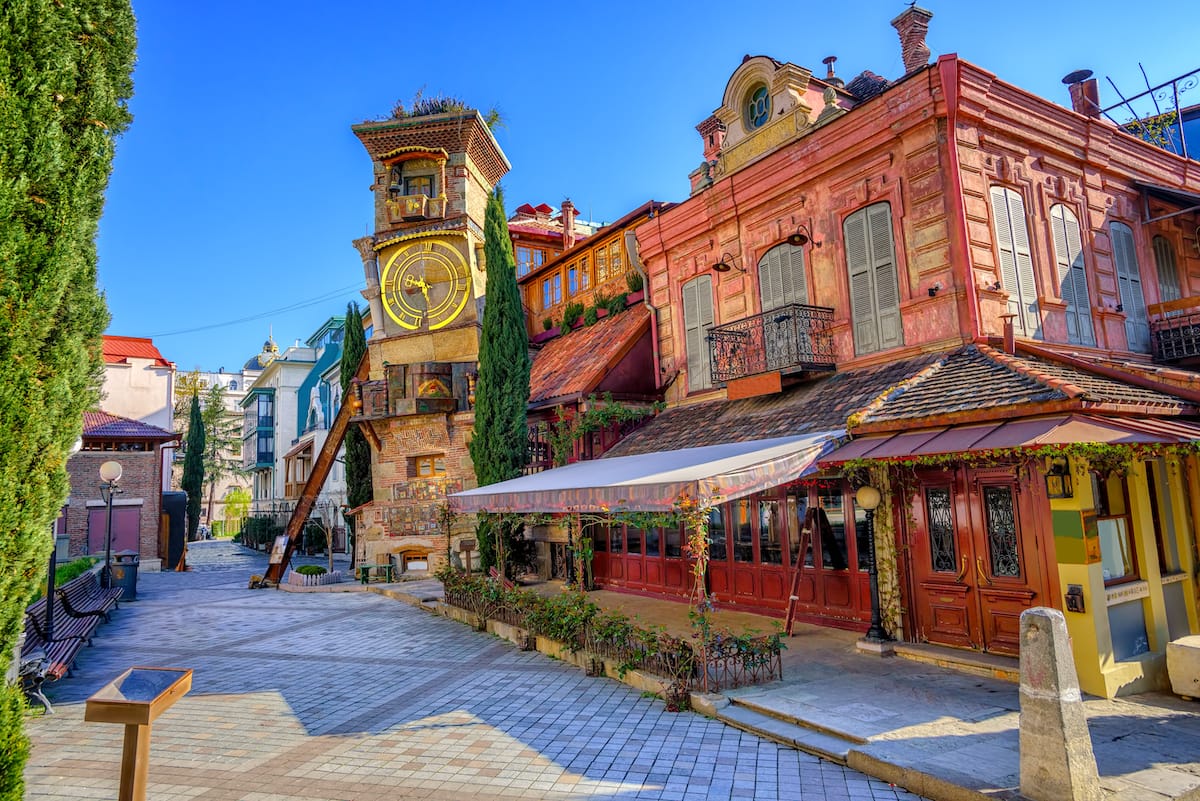 Found within the old town, the design of the tower makes it seem like it's on the brink of falling down, with only a steel beam holding it in place and a large clock located in the middle.
The leaning clock tower is actually attached to the puppet theatre of Rezo Gabriadze and was built in 2011.
Address: 13 Ioane Shavteli St, Tbilisi
11. Queen Darejan Palace
This unique palace was built in 1776 for Erekle II's wife – Queen Darejan. Today, the palace is one of the most popular Tbilisi attractions and is free to visit.
The most popular part of the palace is the beautiful balcony that surrounds the upper part of the tower.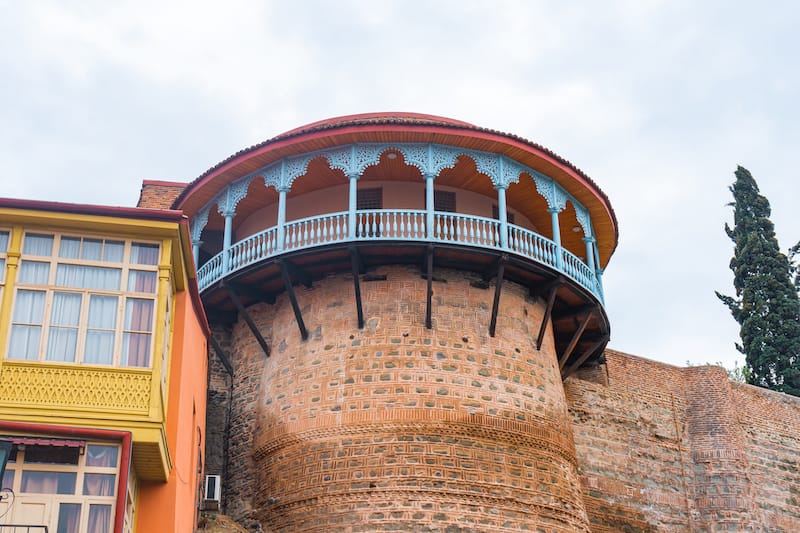 That is because the balcony offers incredible views of the city, which makes it one of the best places to visit in Tbilisi.
Address: 7 Urbnisi Street, Tbilisi
12. Mtatsminda Park
Mtatsminda Park is located on top of Mount Mtatsminda and is the perfect place to relax, take part in plenty of activities and go on theme park rides.
It is located at a height of 770m which makes it the highest point in Tbilisi and is one of the best places to go if you are after an incredible view of the city.
There are plenty of things to do in Mtatsminda Park including bowling, basketball, log rafting and there is even a ghost castle found here amongst the other fairground attractions.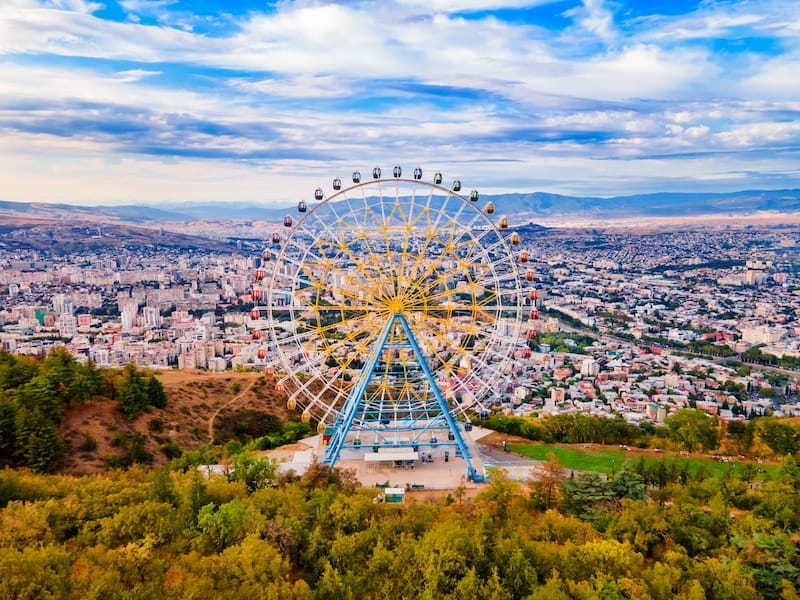 There is also a small train that makes its way around the park, which is a fun family activity.
However, the most popular thing to do is to head out on the Ferris wheel which is located at the edge of the mountain.
13. National Botanical Garden of Georgia
For the horticulturalists among you (and those that just love nature), the National Botanical Garden of Georgia is one of the best things to do in Tbilisi!
The gardens cover approximately 98 hectares and include over 4,500 different species of fauna from the Caucasus and beyond.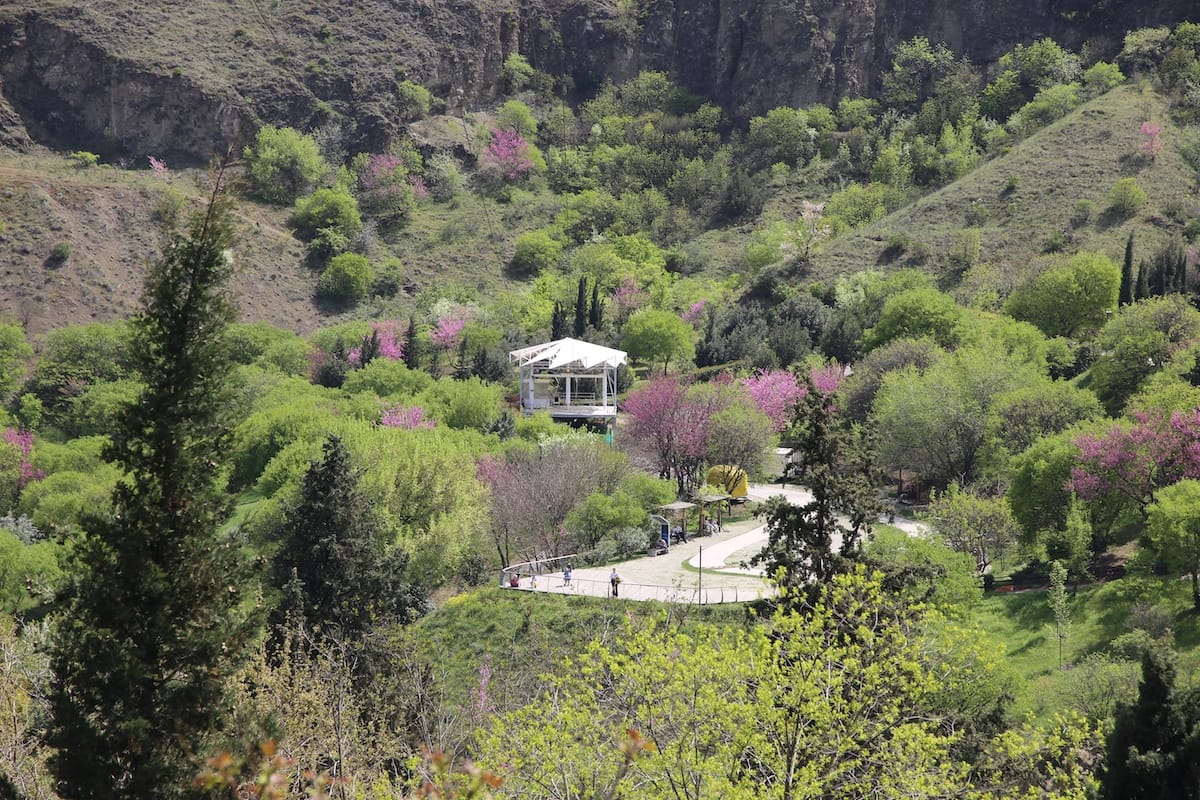 The gardens (formerly Tbilisi Botanical Garden) are easily reachable thanks to their location close to old Tbilisi and the bathhouses of Abanotubani.
Address: Botanikuri St, Tbilisi
14. State Museum of Georgian Folk Music and Instruments
This small museum houses an interesting display of Georgian folk instruments throughout the centuries.
There are two main exhibition rooms containing instruments, photography, and displays all relating to Georgian and South Caucasian folk music.
Address: 6 Samghebro St, Tbilisi
Best Day Trips from Tbilisi
There are plenty of cool day trips you can take from Tbilisi. Here are just a few of the popular ones!
15. Chronicles of Georgia
If you are planning to head out of the city, then visiting the Chronicles of Georgia is a must!
This incredible structure was built in 1985 and actually depicts various scenes from the 3,000-year history of Georgia.
The chronicles of Georgia consist of 16 large columns that reach an impressive height of 35m.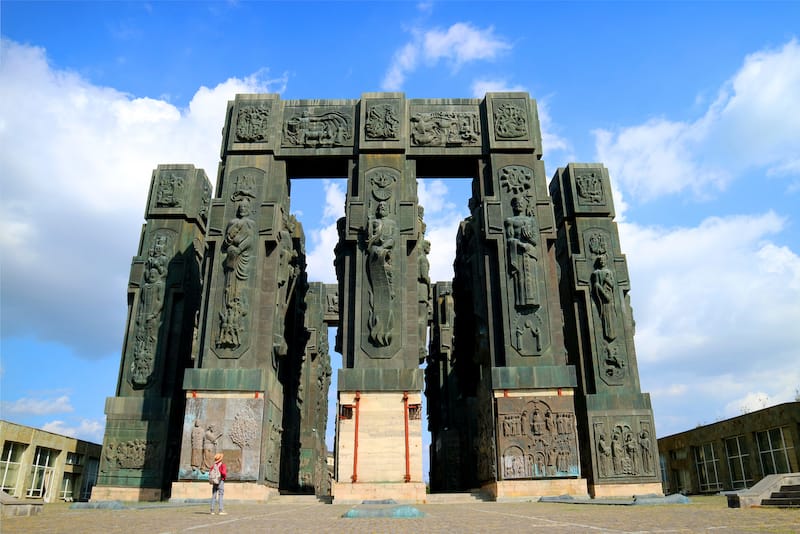 The lower areas of the pillars depict the life of Jesus and other important figures from the Christian faith, whereas the higher parts of the pillars consist of members of royalty and the previous rulers of Georgia.
What's even more interesting, is that the towers are yet to be completed and work on them still continues to this day.
Due to the height of these columns, you can also get an amazing view of the Tbilisi Sea down below.
Address: QRC6+65V, Chronicles of Georgia Temqa, Tbilisi
16. Mtskheta
Mtskheta is one of the oldest cities in Georgia and was actually its former capital before Tbilisi.
The city is an important part of Georgian history and became a UNESCO World Heritage Site in 1994 due to its historical significance and cultural monuments.
Some of the most popular things to do in Mtskheta include visiting the Jvari Monastery of Mtskheta, Bebristsikhe Fortress, and the incredible Svetitskhovli Catherdral.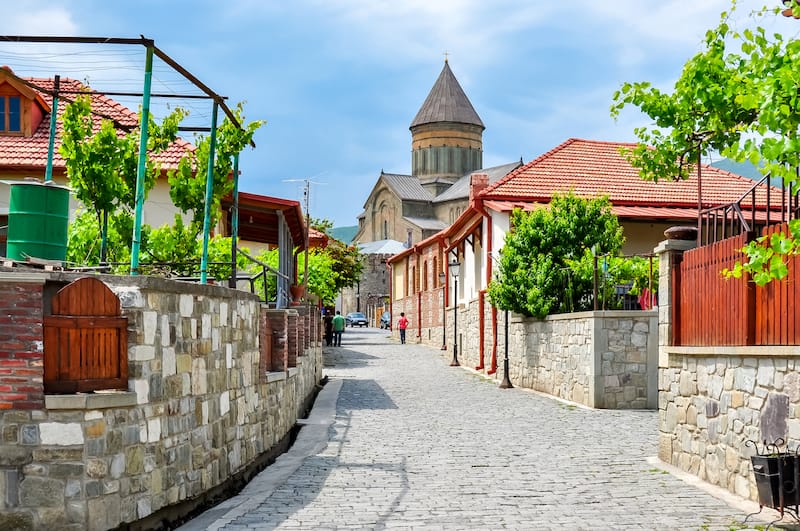 The city is located about 20km outside of Tbilisi and can be reached by both train and bus. Tickets are incredibly cheap and the journey takes between 25-40 minutes.
17. Kazbegi National Park
Kazbegi National Park is located on the slopes of the Caucasus range and is home to Kazbegi Mountain which is the highest mountain in Georgia.
This huge mountain (also known locally as Mkinvartsveri) is an impressive 5,047m high and offers some spectacular scenery.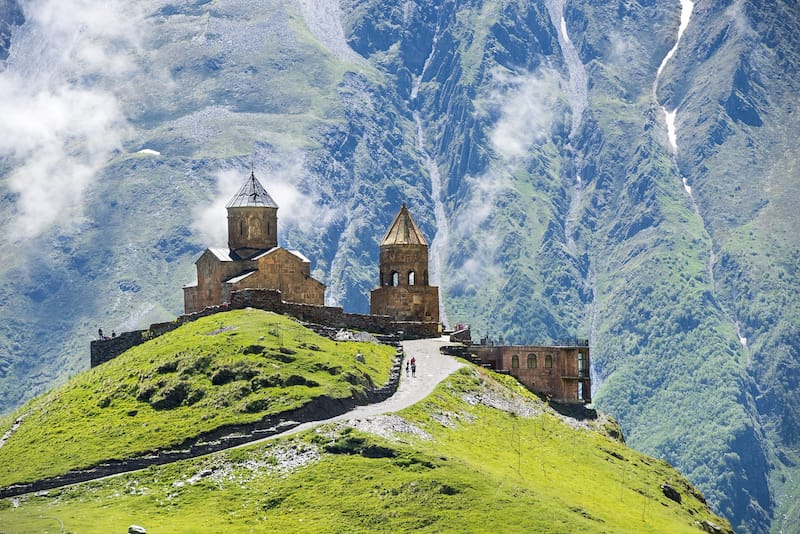 Some of the top things to do within the national park include hiking up to Devdoraki Glacier, visiting the Gveleti Waterfall, and exploring the Gorge of Artkhmo.
This National park is also a popular place for ice climbing, mountaineering, and bird watching along the Dariali Gorge, where you can spot eagles, hawks, and huge griffon vultures.
18. Stepantsminda
The town of Stepantsminda (which is also called Kazbegi) is located along the Terek River and is the perfect base to explore the beautiful surrounding region.
The best part about this little town is the cute guesthouses which offer incredible views of the surrounding mountains and the Gergeti Trinity Church.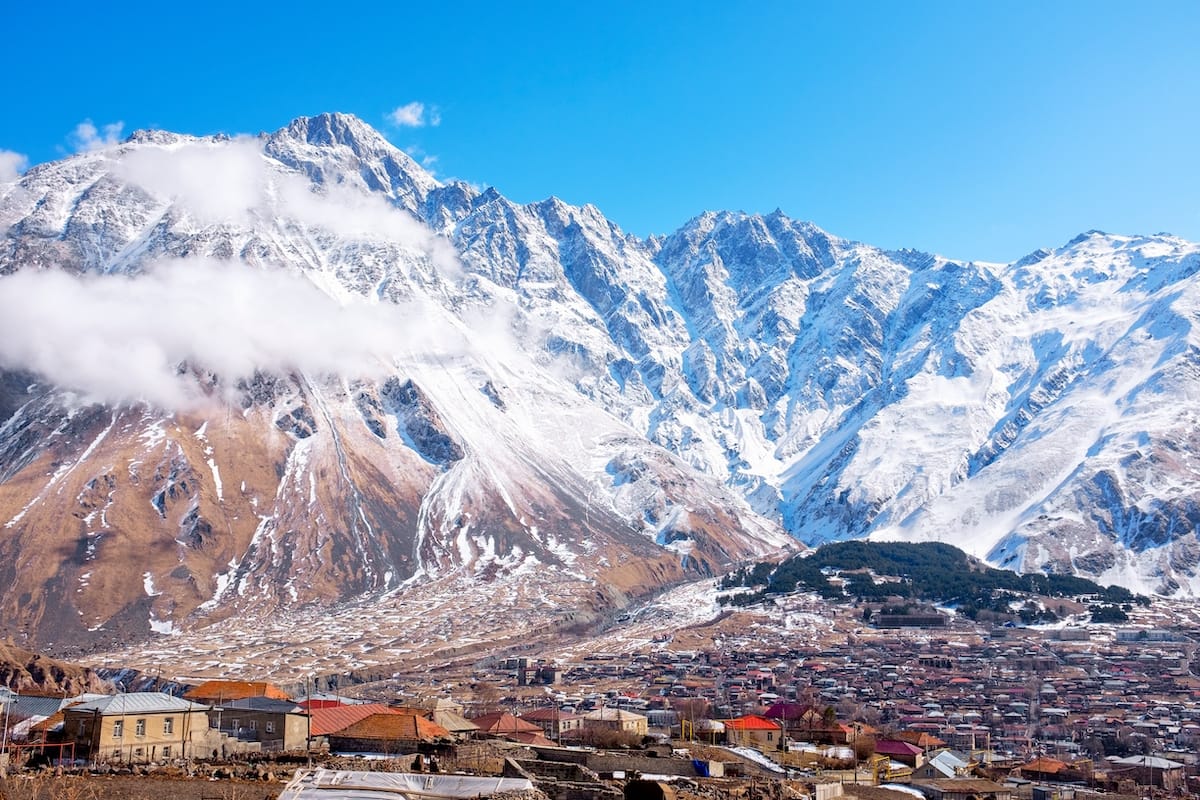 The best way to head to Stepantsminda is to hire your own car, as you will get to see some pretty amazing sights on the way.
You will get to travel along the Georgian military highway and see the true beauty that this country has to offer.
Getting to Tbilisi
Tbilisi International Airport is located about 15km outside of the city center, so the city is easily accessible from international destinations.
If you are traveling from a neighboring country, then traveling by bus or train is a good choice.
You can catch a bus across the border into Georgia from Turkey, Armenia, Azerbaijan, and Russia.
There are also plenty of transport links throughout Georgia, so getting to the capital is pretty easy.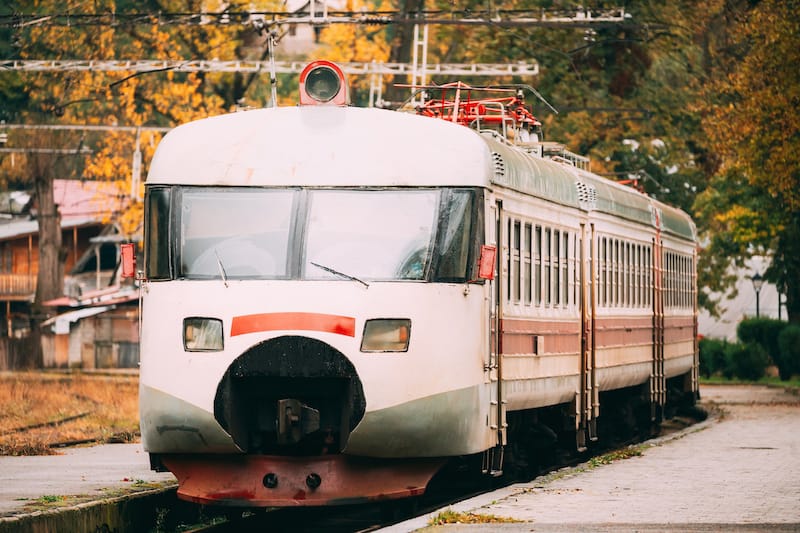 There is a direct bus from Istanbul to Tbilisi. It takes 30 hours and costs 25 Euros.
There is a daily overnight train between Tbilisi and Baku in Azerbaijan. The journey time is around 11 hours and costs 34 Lari. Click here for full info and how to buy tickets.
Getting Around Tbilisi
There are plenty of ways to get around the city of Tbilisi via public transport, which makes exploring this awesome destination a piece of cake.
One of the most popular ways to travel around is via the underground train network as it connects most of the major areas located within the city.
There are also minibusses that drive around set routes in the city and these are called Marshrutkas.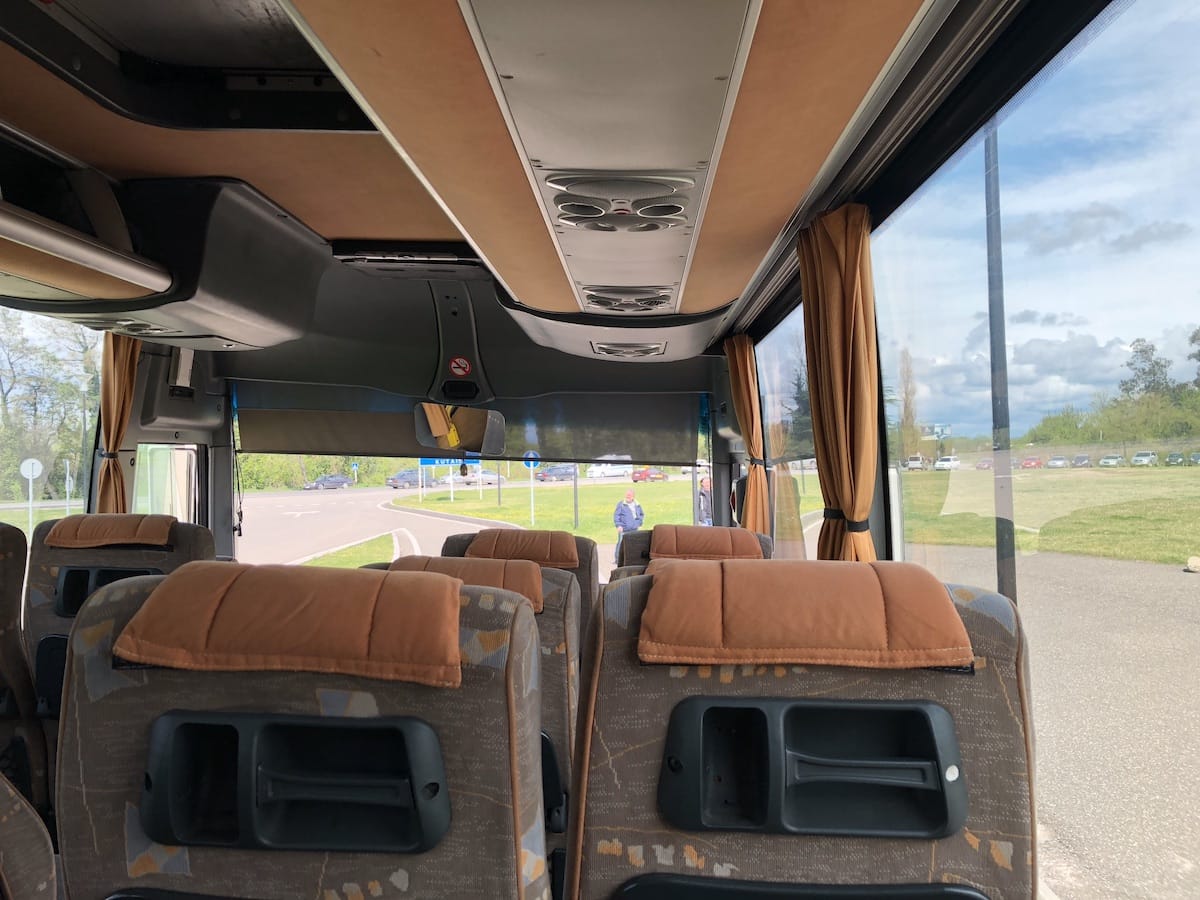 There are no set stops along these routes so you just have to flag one down and check it's going in the direction you need before getting on.
If you don't fancy either of these options, getting a taxi is a great way to get around the city as fares are very affordable.
The good news is that many of the famous historical sites are located near each other in the old part of Tbilisi, so you can just walk around this area.
Best Food Dishes to Try in Tbilisi
Georgian cuisine is famed around the world and for good reason!
Rich, hearty dishes spiced with a mixture of flavors from the region can be enjoyed for very reasonable prices! Best washed down with plenty of Georgian wine!
There are lots of authentic dishes to try in Tbilisi, so here are some of the ones you need to try!
Khinkali – Khinkali is Georgia's national dish so is a must-try.
The best way to describe it is like a Chinese dumpling that consists of either a meat or vegetable filling.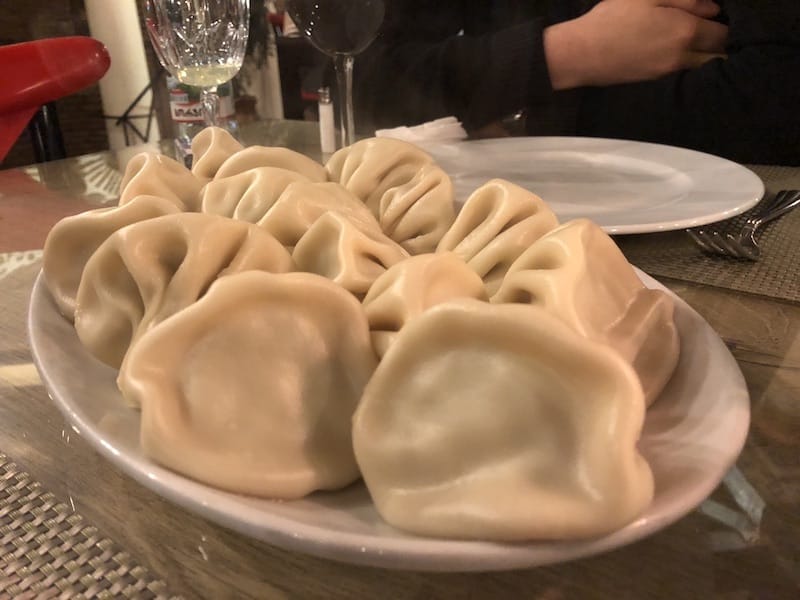 Aside from the filling, there is a delicious broth inside the Khinkali which makes it even more delicious.
Generally, Khinkali is boiled however, you can get them deep-fried too.
Ostri – Ostri is the perfect dish to have on a cooler day, as it is a hot and spicy beef stew made with mushrooms, pepper, tomato sauce, garlic, and plenty of herbs and spices to give it an incredible flavor.
Khachapuri – Khachapuri is another popular Georgian dish, and there are plenty of different varieties. Khachapuri is a cheese bread, and they come in a variety of sizes, shapes, and even fillings.
The most popular version of this dish is the Adjarian khachapuri which is shaped like a boat with melted cheese and butter inside and then topped with an egg to finish it off.
Weather in Tbilisi
The weather in Tbilisi varies throughout the year, with the summers typically being very dry and warm, and the winters being very cold; experiencing plenty of rain and snow.
The warmest month to visit Tbilisi is in July, with an average high temperature of 30°C, and the coldest month to visit is January with an average low temperature of -2°C.
The summer season here lasts between June to September, with the cold season lasting from November to March.
Best Time to Visit Tbilisi
Although Tbilisi can be visited all year round, the best time to visit is between May and June, or September and October.
This is when the temperature is warm, but cool enough to wander around and explore all day.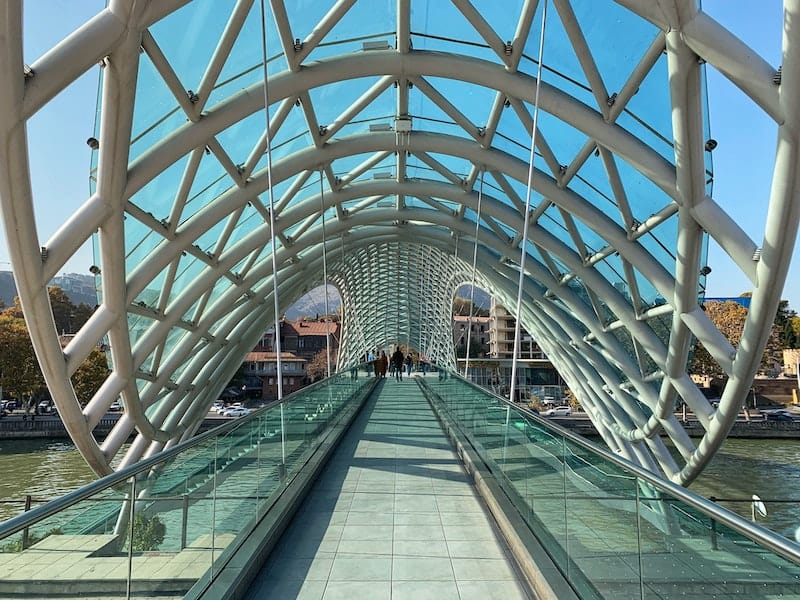 The peak months of July and August are also popular but that is when accommodation prices are high, and the heat can be unbearable at times.
Is Tbilisi Safe to Visit?
When it comes to traveling, we can all get a bit nervous about visiting new destinations.
However, Tbilisi is a safe city to visit with low crime levels and very friendly people.
The only things to be mindful of here are erratic drivers and petty crimes like pickpocketing in the main touristy areas.
Accommodation in Tbilisi
There are plenty of choices when it comes to accommodation in Tbilisi. Here are some accommodation options for each budget:
Budget accommodation: At Funicular Hostel (a double room and shared bathroom)
Mid-budget accommodation: Hotel Terrace (a unique apartment located close to the city center)
Luxury accommodation: Hotel Adamo (a double room with a balcony)
Should You Visit Tbilisi?
Thinking of visiting Tbilisi? This city is the place to visit if you are a fan of authentic culture, tasty food dishes, and plenty of history.
You can view the city from the famous balcony within the Queen Darejan Palace, take a dip in the relaxing sulfur baths, or learn some Georgian crafts at Gallery 27.
There are so many awesome things to do in Tbilisi, so make sure you add this quirky city to your bucket list!
More Georgia Travel Guides
Pin this Tbilisi Things to Do Guide