The easiest way to arrive in Baku from other parts of Europe or Asia is via the international airport called Baku Heydar Aliyev International Airport (GYD).
This is a quick guide detailing how to get from Baku Airport to the city center in a variety of ways. It also includes reputable Baku Airport transfer options. If you have any questions, please drop them in the comments!
Disclaimer: This post was initially written in 2018 by Megan who went there independently. All proceeds since late 2020 have been donated to rebuilding Artsakh and community development projects in Armenia.
From the Baku Airport to City Center
There is nothing more stressful inducing (for me at least) than arriving in a new city and not quite knowing how to get to the city, especially after a long and draining flight.
There are usually multiple options regardless of where in the world you may land and each will vary in price. In this Baku airport transfer guide, I hope to help make your arrival in Baku as streamlined as possible.
The airport is located around 30km outside of the city center and journey times can range from 25 minutes to much longer depending on the volume of traffic.
There are multiple options for getting to the city center from the Baku airport, each with their own positives and negatives. I will detail the methods and average costs in an effort to help you make the decision that suits you best.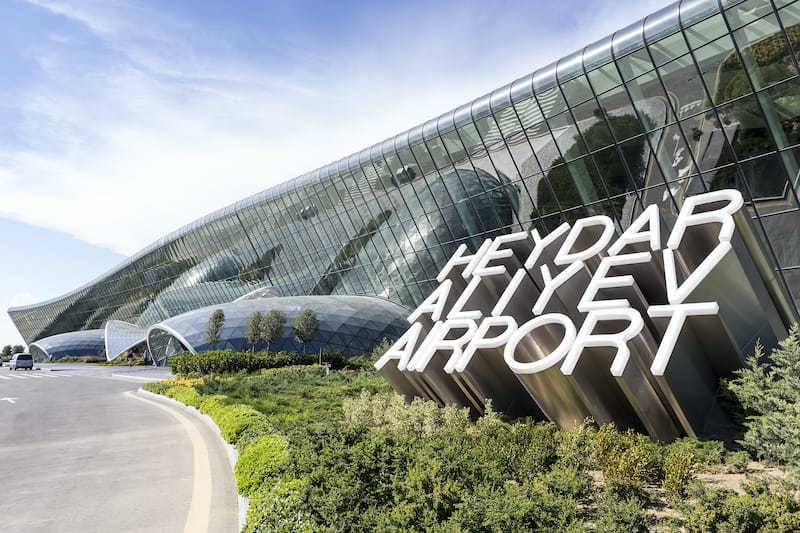 Do You Need Travel Insurance for Azerbaijan?
Yes, we highly recommend travel insurance for Azerbaijan. The country is pretty safe but accidents can occur anywhere and Azerbaijan and Baku are no exceptions! Our insurer of choice is SafetyWing, a Norwegian company with a fantastic reputation for high-quality customer service, worldwide policies, and affordable coverage.
Renting a Car in Baku
If you're looking to see more than just Baku and some of the gorgeous country of Azerbaijan, you may want to consider renting a car there. Do brush up on the rules of the road and a bit of the language before getting behind the wheel.
Best Tours in Baku
We think seeing Baku by tour is a great way to get a lot of information and details that you may otherwise not be able to gather. There are several wonderful tours in Baku, but here are some of the favorites that we recommend taking.
Baku Pass
One way to get killer discounts and free entrances around Baku is by getting your hands on the Baku City Card. With this card, you will have access to transportation, museums, restaurants, bars, cafes, tours, and more.
Taxi Tender
If you are like me and dread nothing more than having to take heavy and bulky baggage on public transport or having to barter with taxi drivers after a long flight, then I highly recommend Taxi Tender.
Although the cost is slightly more than a regular taxi, the peace of mind the service brings is by far worth the cost, especially if you are traveling with a group.
Simply book your taxi online before your flight- choosing the airport and your hotel and the time you want to be picked up (consider the time to get through immigration and customs). You will then be presented with a few options for taxis and the cost of each one.
The prices tend to fluctuate at different times of the day and you will need to choose a tier of car that will fit the number of people traveling with you. Once you have selected your tier of the cab, enter your flight information and pay and a mobile voucher will be sent to you to present to the cab driver.
The great thing about this service is they will be waiting for you inside the airport with your name on a plaque so you will not need to hunt your taxi down.
The drivers will also track your flight so if you are delayed, they will plan their arrival based on real-time flight information.
If you are stuck in long immigration lines or your baggage is delayed coming out, you will be provided with the driver's direct mobile number and will be able to inform him directly yourself. Alternatively, you can contact the Taxi Tender's 24/7 hotline and have them contact your driver.
Taxi Tender only works with the best-rated taxi firms to ensure you will receive the best service once you have been picked up. Click here to register for taxi tender and start booking your Baku airport transfer.
Baku Bus
The cheapest way to get to the Baku city center is by bus. The airport express bus runs 24 hours a day at half an hour intervals, although, during the night they only run every hour. The express bus goes between the airport and 28 May metro stop with a stop in between at Koroglu Metro Station.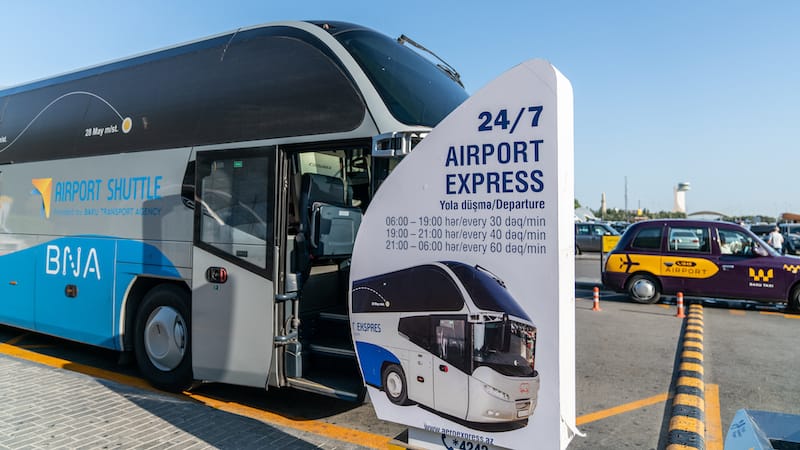 Depending on traffic, the journey will last around 25-30 minutes. Naturally, it will take longer if there is heavy traffic. The buses depart from the terminal next to the official airport taxi rank.
To purchase a ticket for the bus, you will need to get a BakuCard/BakiKart (this is DIFFERENT than the city pass) as you cannot buy tickets on the bus anymore. To do this, you will need to go the BakuCard/BakiKart Kiosk and select the card and add some credit to the card.
A single trip from the airport to the city center will set you back 1,30AZN (around $0.75) plus 2 AZN for the card which is non-refundable.
To purchase the tickets, you will need some Manats (Azeri currency) as the machine does not take card payments. The tricky thing about purchasing the tickets is that the machines are not available in English.
You will need to hope that a friendly local (which there are plenty of) will help you purchase the BakuCard/BakiKart and add some credit to it.
The buses are all modern and relatively new with air conditioning, toilets, and Wifi. They seat around 48 people and there is no option to stand.
Seats are allocated on a first come first served basis, so you may need to wait for the next bus if your current one is filled to capacity. Baku's buses are a great way to get around and save you money on your Baku itinerary.
Taxis in Baku
Outside of the airport, you will find official taxis, which are styled like traditional London black cabs except they are white.
These can be paid and ordered at the official taxi rank where you will be given the price by the operator. The cabs can be paid for in cash or card and the price to the city center should be around 20-25 AZN.
These taxis are cheaper than the airport pick-up option, but you will need to hope there are some available upon your arrival. Getting a taxi in a Baku is an affordable option and usually the quickest.
There will also be people touting taxis and they will try and charge you an extortionate rate and you will need to try and haggle them down which can be exhausting.
You should be firm with the 20-25 AZN price and eventually, they should accept this price. Make sure the agreement is fully understood before getting into the car as this could cause issues later on.
Uber is also available in the country and offers a flat rate that is far cheaper than the other taxi options but you will need to connect to Wi-Fi to use this service and have an Uber account already set up.
Do be sure to cross-check the taxi license plate with the one Uber gives you as there is a problem with people posing as Uber drivers and ripping off tourists in Baku.
Uber is incredibly reliable in the city and the service is provided by reputable taxi firms. If you need to use data roaming to access the service, it could end up costing you a lot more.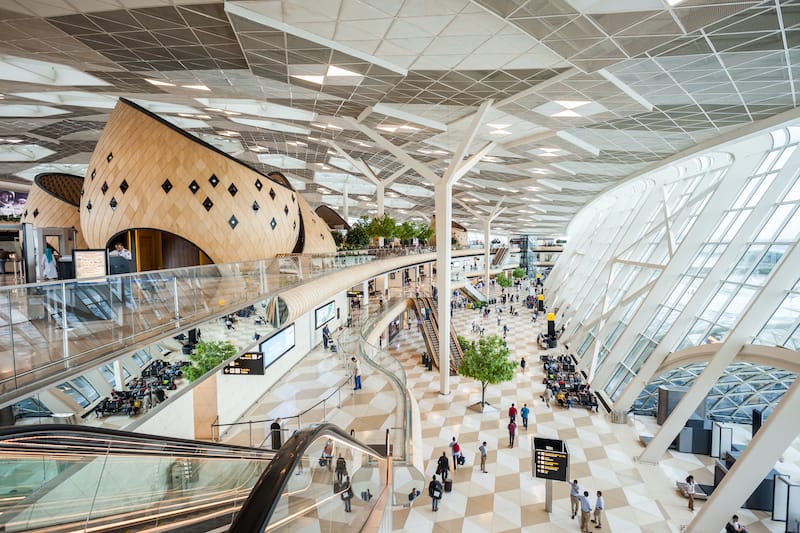 Renting a Car in Baku
If you are planning to rent a car during your time in Azerbaijan, it is possible to do so from the airport. The Baku airport to the city center is about a 25-minute drive. It is important to note that if you are not used to driving in the region, this can be a daunting prospect.
Car ownership is on the rise in the country but the infrastructure isn't really to the standard for the number of cars, so traffic jams are common and can take a while to clear.
Where to Stay in Baku
Baku gives visitors a lot of accommodation options and some of them are simply brilliant. You can check out our guide to Baku's best hotels or you can see some of our top recommendations here that will fit all budgets.
Click over to the guide if you want additional details on each. Just a note, Sahil Hostel & Hotel is the best hostel I have ever stayed at anywhere in the world. If you're on a budget, this is an exceptional place.
Other Baku Airport Transfer Options
If Taxi Tender is not an option for you- here are three other Baku airport transfer options that are highly recommended:
⇒ Private One-Way Heydar Aliyev International Airport Transfer
⇒ Private Transfer Heydar Aliyev International Airport to Baku
⇒ Private Airport Transfer to Baku or Azerbaijan
This guide of getting to the city center from the Baku Airport should help streamline your arrival in Azerbaijan. Click here if you're looking for how to get to the Baku Olympic Stadium if you're in the city for an event.
Also, be sure to check out the best hotels in Baku for accommodation recommendations and the very best restaurants in Baku if you're craving some Azeri cuisine. We hope that this guide on how to get from Baku airport to city center will aid you on your trip!