Are you heading to the hottest place in the United States soon and are looking for the best Death Valley Airbnbs for your trip?
This guide uncovers some of the best Airbnbs in Death Valley as well as amazing Death Valley cabins and rentals. We have gathered the top-rated Airbnbs in Pahrump and Tecopa and more to incorporate into your Death Valley itinerary!
Have you ever stayed at a cool Airbnb rental near Death Valley? Let us know your top picks in the comments if so!
Best Death Valley Airbnbs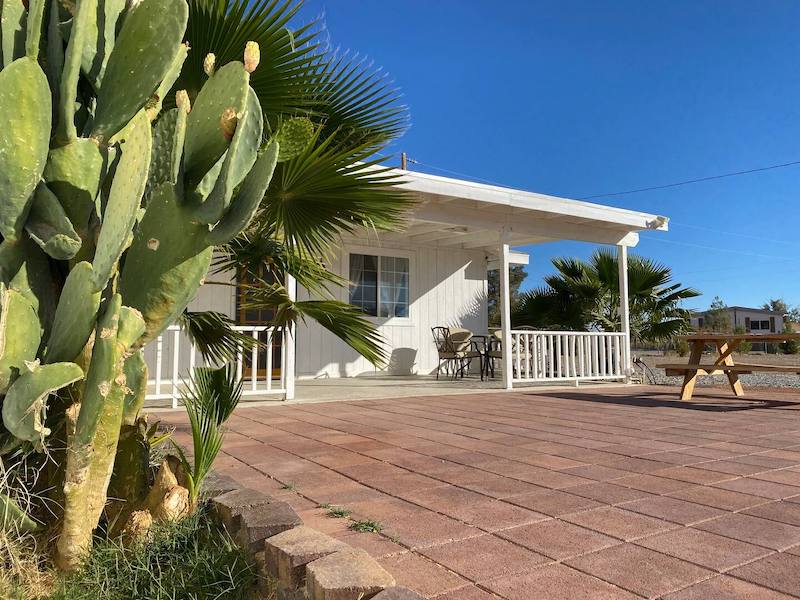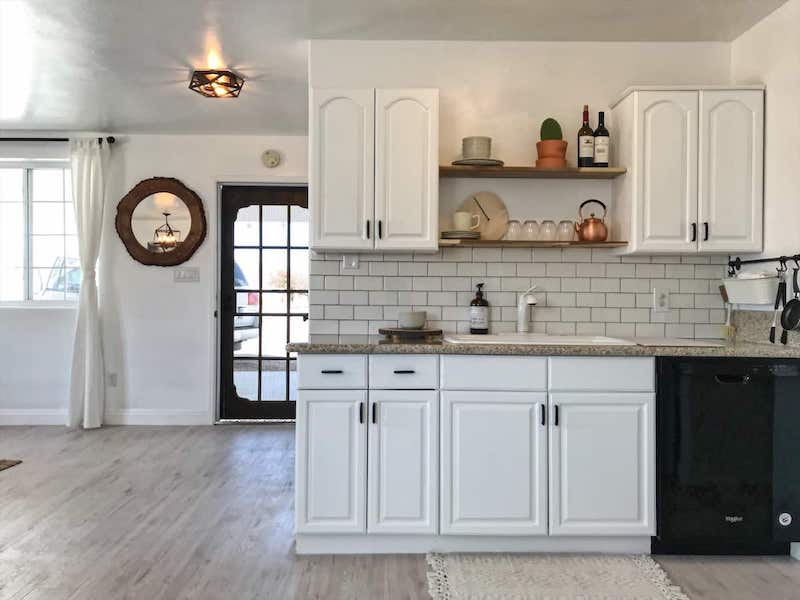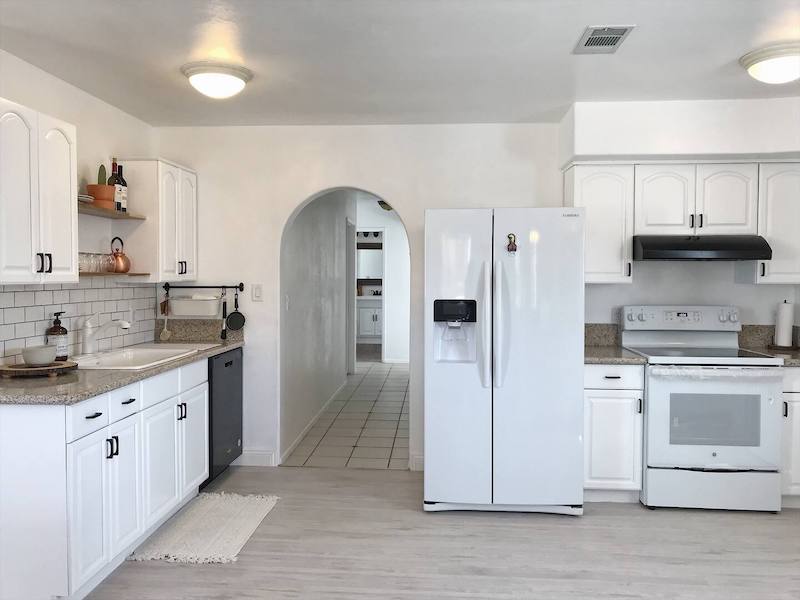 If you're looking for a home that fits a large group, this is a fantastic Pahrump vacation rental to consider!
This renovated and modern house close to Death Valley and Red Rock Canyon can accommodate up to 8 guests in its 2 bedrooms, 2 bathrooms, fully-equipped kitchen, and living room area with a dining table.
Connect with yourself, your friends, and nature on the outside patio with a cozy sitting area around a fire pit, and enjoy the wonders of the sunset or spot the constellations in the night sky. Extra conveniences are a TV, free wifi, a covered carport for up to 3 cars, and much more.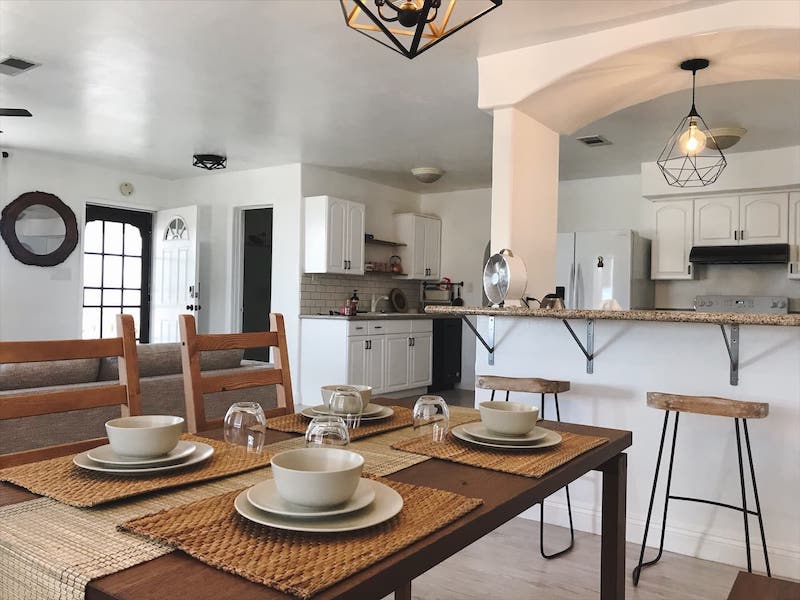 An 8-minute drive will get you to casinos, restaurants, and other entertaining places the downtown area has to offer.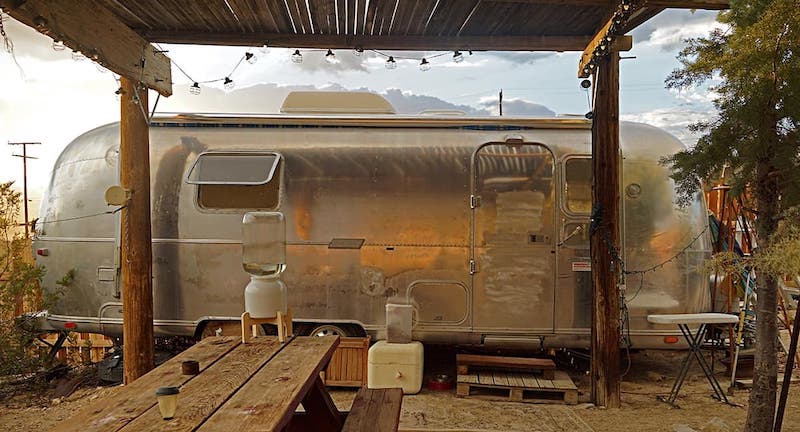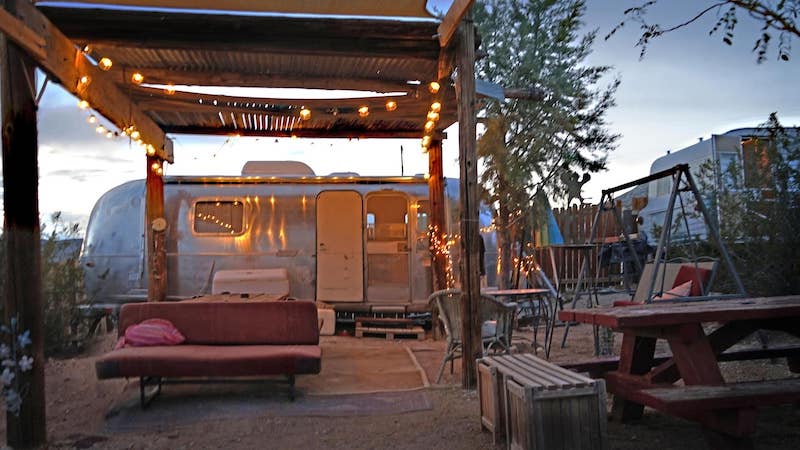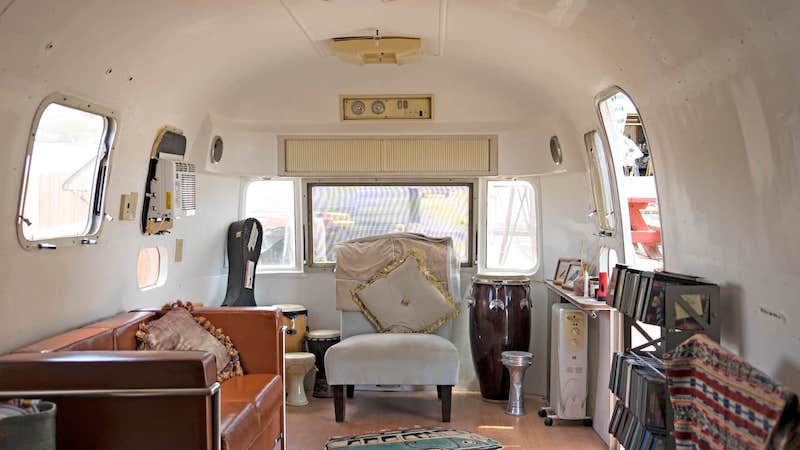 Are you looking for an authentic desert experience? If so, then this vintage Airstream with a rustic-styled interior located in Darwin has your back! Suitable for up to 2 people, it offers one bedroom with a queen-sized bed, heating and air-con, and wifi. In the adjacent vintage trailer, you will find a kitchen with all the amenities and a dining area.
Outside, there is an outhouse with a covered heated shower. You will also find a free parking area and you are just 45 minutes away from the nearest amenities.
Entertaining evenings will be guaranteed on the outside as it has hangout spots surrounded by breathtaking mountain views where you can find a picnic table, hammock, BBQ grill, stove, and much more.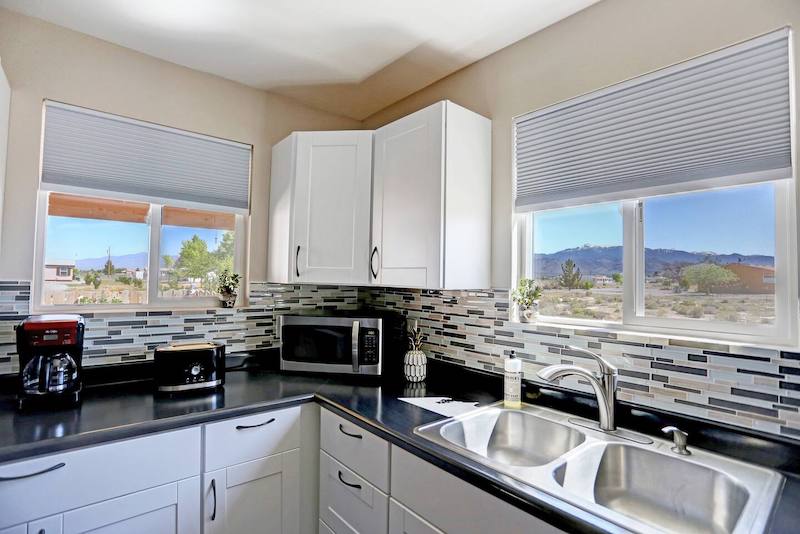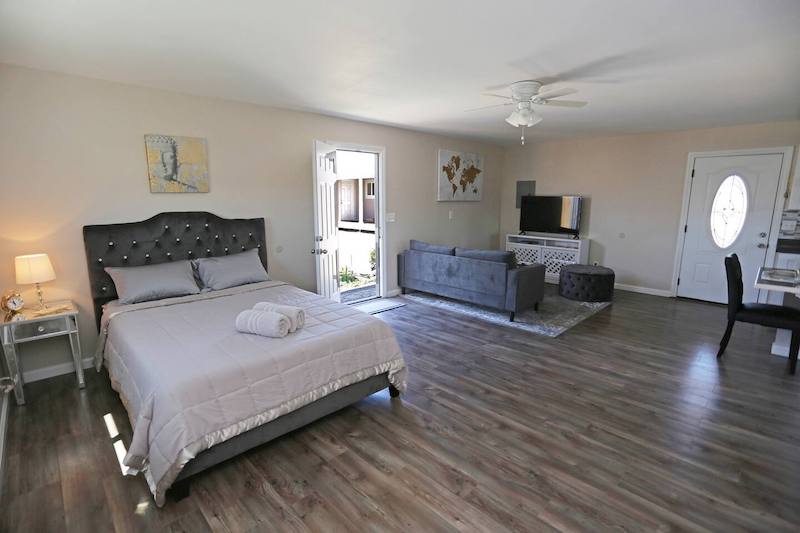 When it's time to book that romantic couples trip, this new and luxury guesthouse in Pahrump should definitely be on your list of top Pahrump Airbnbs!
Being the perfect weekend getaway location for 2, this 565 sq ft house has a modern and greyish interior and offers 1 bedroom with a queen-sized bed.
The Pahrump Airbnb's kitchen provides a complete set of kitchenware and appliances; the house offers free wifi, heating and air-con, a spacious parking area, a bathroom, and many more conveniences.
Finish off your day with your loved one in the outdoor cabana, drinking a glass of wine, and admiring the beauty of nearby goldfish ponds with soothing waterfalls.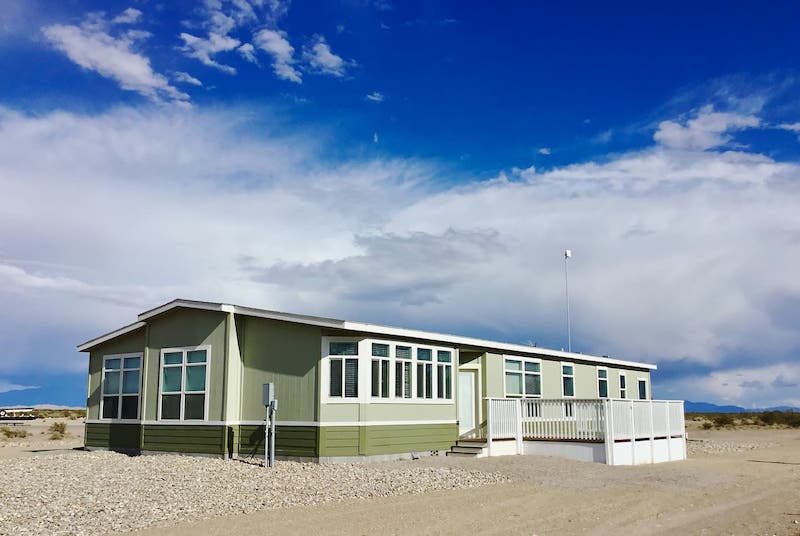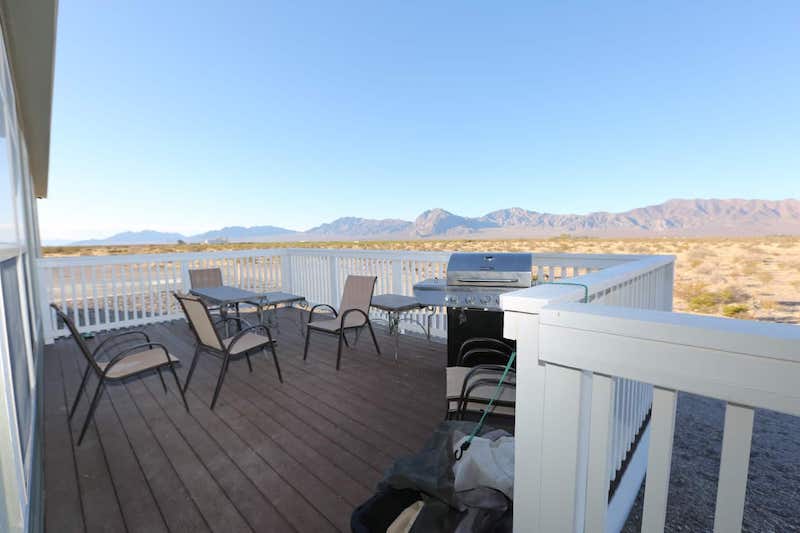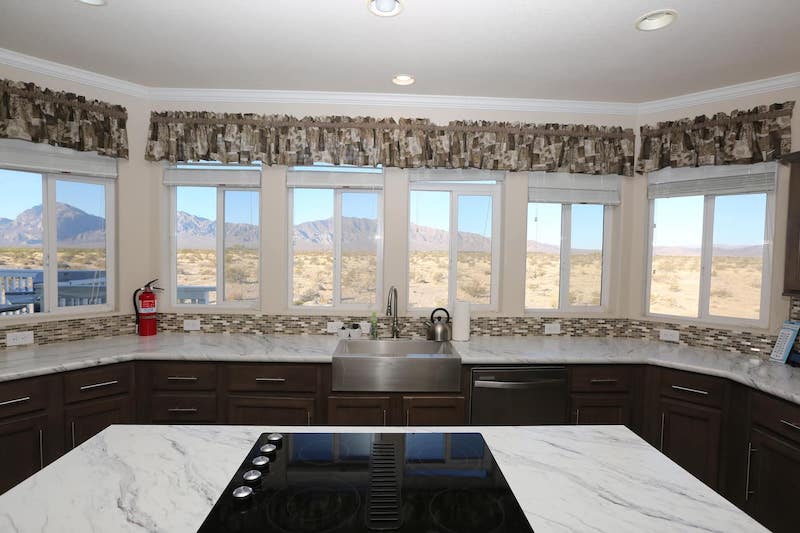 This gorgeous, modern property offers a remote stay for up to 8 people in the Amargosa Valley in the middle of the desert.
Located 55 miles from Death Valley National Park, this spacious house offers a variety of up-to-date accommodations, such as 3 bedrooms (1 king-sized and 2 single beds, a queen-sized bed, 1 double and 1 single bed), 2 bathrooms, a fully-stocked kitchen, wifi, smart TV, BBQ grill, and much more.
Enjoy quality time with friends on the back deck with an ample seating area and admire the spectacular sunset views behind the Funeral Mountains.
This is the best place to relax and rejuvenate after a full day hiking in a Death Valley, the Big Dunes, and Ash Meadows National Wildlife Preserve.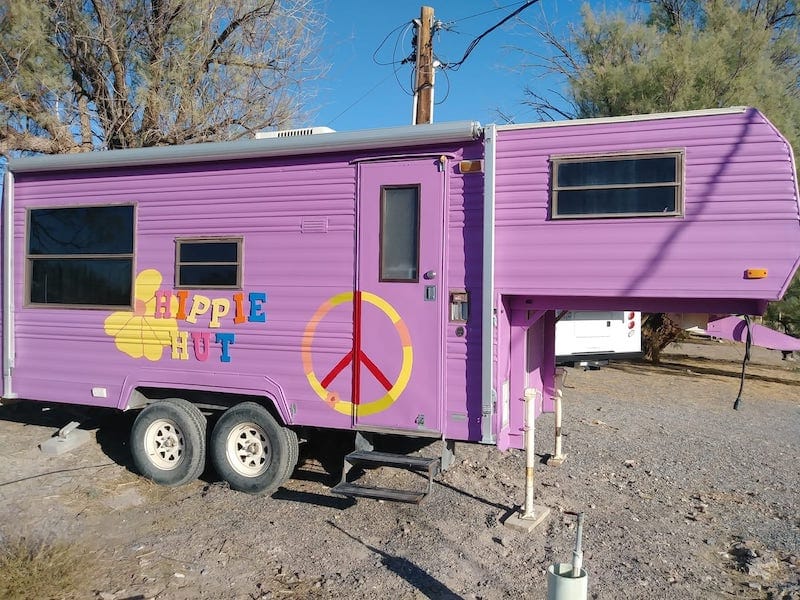 If you're visiting Death Valley in winter or during various other times of the year, then this unique purple camper has your back when it comes to accommodation!
It is suitable for up to 6 people and offers a loft sleeping area with one bedroom (with a double bed). However, in the case of guest numbers, it can comfortably sleep up to 4 people despite being able to fit 6. The camper's conveniences are a kitchen, a half-bath, heating and air-con, TV, and a fire pit.
Free parking is available on-premises and across the street, you will find a mineral hot spring that will ensure you get a truly relaxing experience.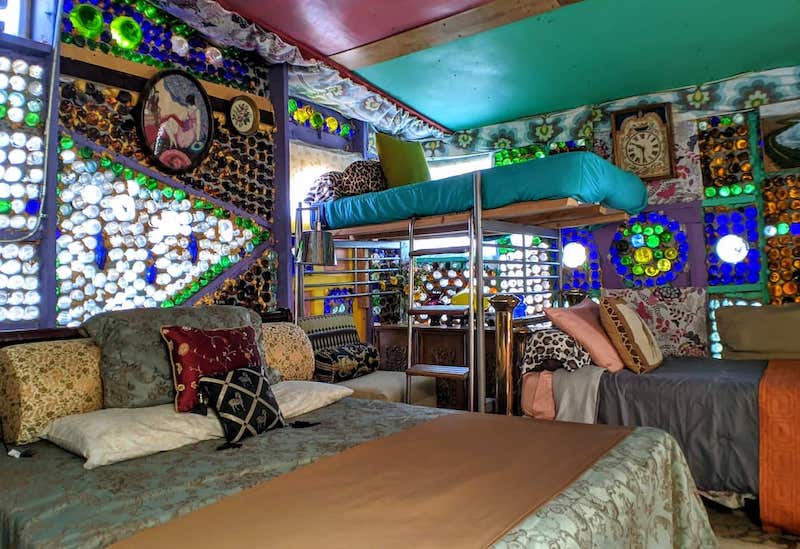 This Airbnb in Tecopa is a fantastic and unique choice for visitors to Death Valley. It is a great place to break up a road trip from Colorado to California (or anywhere else far)!
It can comfortably fit up to 4 guests and the inside area offers 1 bedroom with a queen-sized bed plus two single beds, 1 bathroom with a shower area, heating and air-con, wifi, and a large dining room.
By staying in this charming cottage, you may discover the fine artworks throughout the house and feel as though you're living in a history museum! You can also find a greenhouse, chapel, ceramic studio, and a free parking space on the property.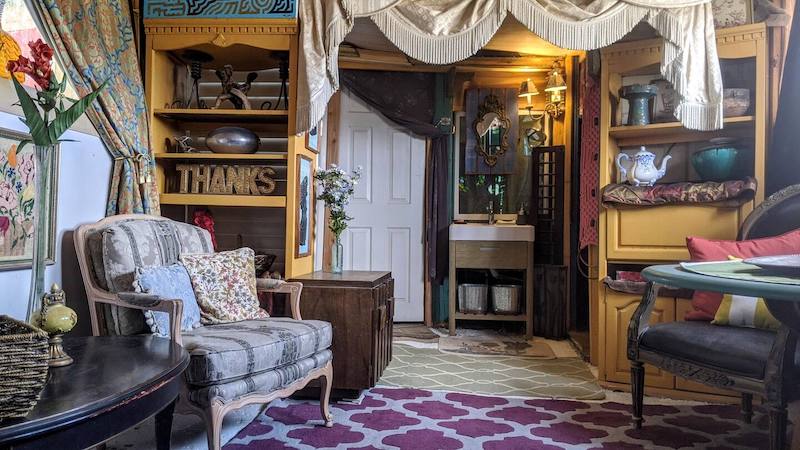 After your day trip to Death Valley, you can get back and rejuvenate in the tiki-themed, outdoor sitting area and finish off your day with a cold beer or glass of wine while admiring the quiet serenity of the desert.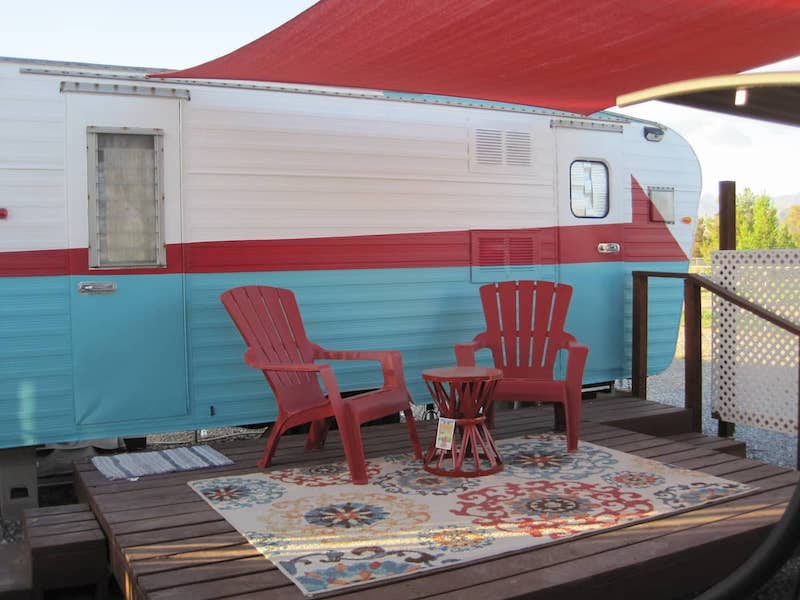 Bring your loved ones to Pahrump, a fabulous Nevada small town, and step back in time to the 1980s in this unique retro-style camper.
The conveniences it offers to its guests are one bedroom with a double bed, one small bathroom (extra shared full bathroom near the outside entrance), a kitchenette, wifi, TV, shared pool, hot tub, gas grill, and much more.
Build a campfire on the outside patio and enjoy your cozy outdoor living around a firepit where table bowling, shuffleboard, darts, and swing will guarantee you entertaining evenings.
A one-hour drive will get you to your next adventurous destinations: Las Vegas or Red Rock Canyon, two of the best places to visit in Nevada!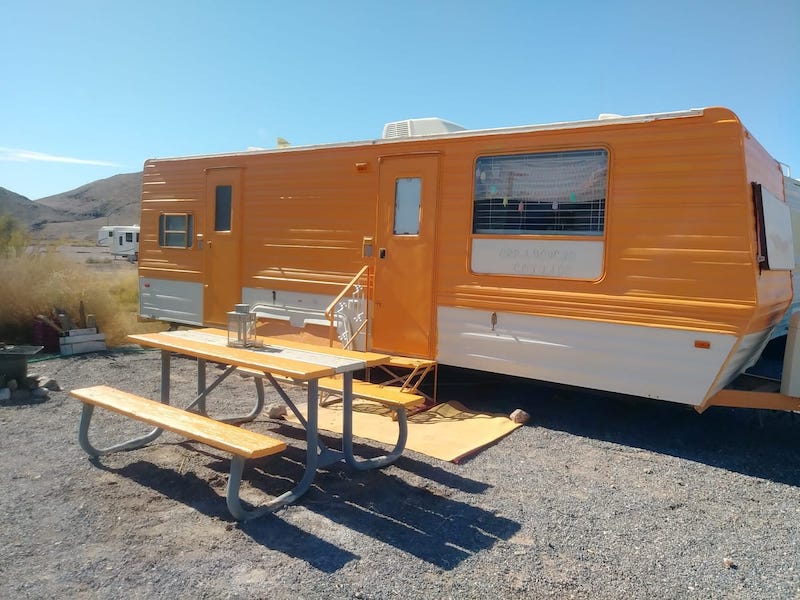 Another small yet cozy camper in a desert with wooden accents is located in the Tecopa Hot Springs Campground near Death Valley.
The camper offers a half-bathroom, a complete kitchen with appliances, heating and air-con, TV, and free parking. It can comfortably sleep 3 people in one bedroom with a double bed plus a single bed in a shared space.
After a long day of exploring the gorgeous scenery and hiking in Death Valley National Park, you can soak and enjoy the mineral hot spring pools across the street.
Spend a day exploring other nearby destinations such as Dumont Sand dunes, Ashmeadow Preserve, and more. This Airbnb near Death Valley makes the perfect base.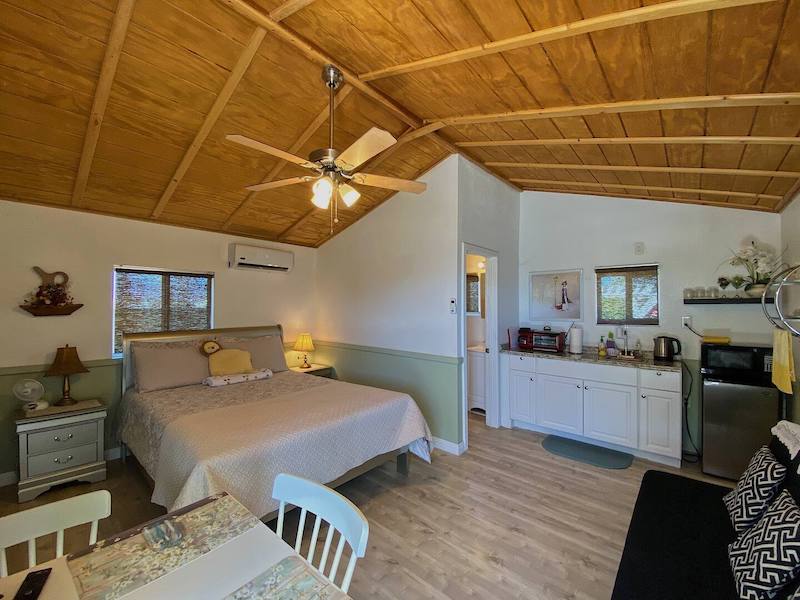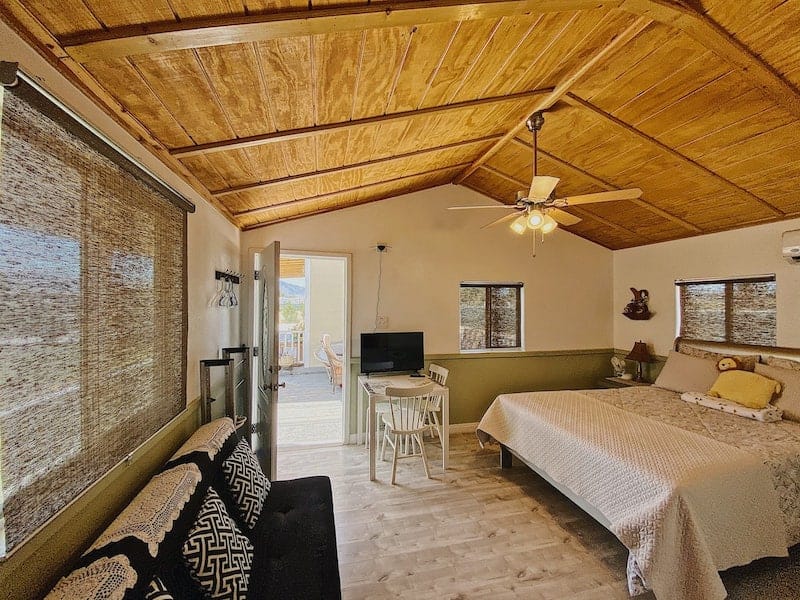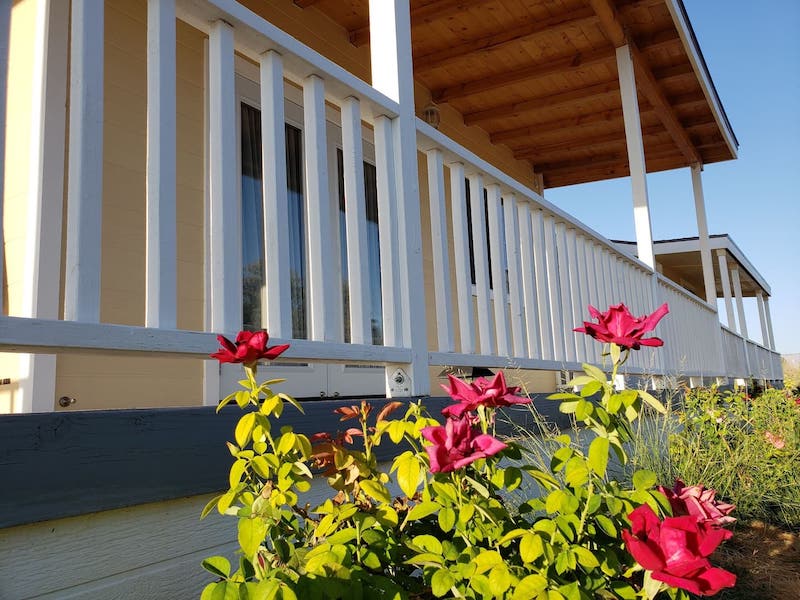 Are you looking for a suitable Airbnb with coziness and style located between Las Vegas and Death Valley? This charming studio guest suite offers a warm interior for your Pahrump getaway.
It can accommodate up to 3 guests and provides one queen-sized bed, a sofa bed, a private bathroom, a kitchen, a free parking area, a beautiful vegetable and flower garden, and much more. Spend your evenings reading your favorite book on a snuggly patio chair or dining under the starry skies while being comfortably seated on the outside deck.
You can find Red Rock Canyon, Spring Mountain Raceway, and Death Valley in close proximity.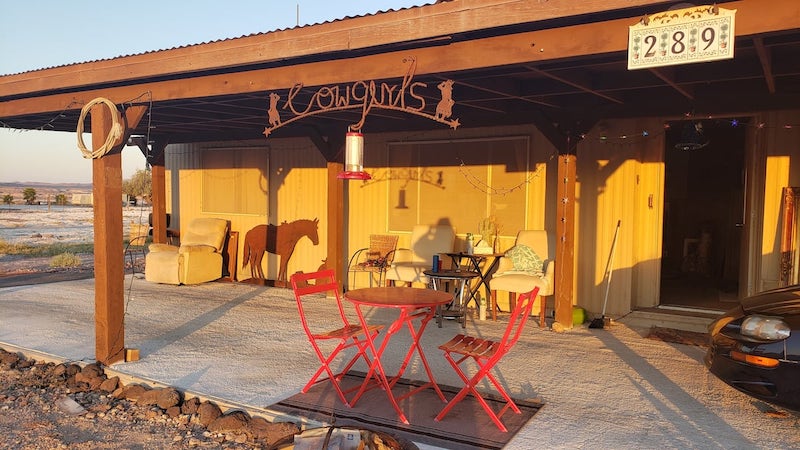 This single-story, spacious ranch-style home located in Tecopa is the perfect place for western adventurers who are keen to discover hiking spots, hot springs, and much more in Death Valley.
Its roomy area can welcome up to 6 people and offers 3 bedrooms (a king-sized, a queen-sized, and 2 single beds), 2.5 bathrooms, a fully-stocked kitchen, living room area, wifi, Smart TV, and much more.
Enjoy your own private spa experience in a nearby hot springs healing pool where you can also find massage tables, a gym, and shower facilities. The large outside deck can entertain any group and is the best spot to stargaze and admire the surrounding serenity of Death Valley.
This farmhouse is located only an hour away from spectacular Las Vegas.
These are the top Death Valley Airbnbs you can rent for your trip. Let us know your top Airbnbs in Death Valley as well as Death Valley cabin rentals in the comments if you have stayed somewhere near the park before!
ABOUT THIS LAND
Death Valley National Park is on the unceded land of the Timbisha Shoshone people. We ask you to join us in acknowledging their communities, their elders both past and present, as well as future generations.
We also acknowledge that Death Valley NP was founded upon exclusions and erasures of many Indigenous peoples, including those on whose land these US National Parks are located.
⇒ Do your research before visiting National Parks and places in the US. Native Land and Whose Land are good starting points.
⇒ Hire Native guides when possible and encourage National Parks and government organizations to start hiring them.
⇒ Donations matter. Part of the proceeds from this blog is donated monthly to the Native Women's Wilderness.
Pin This Guide to the Best Airbnbs in Death Valley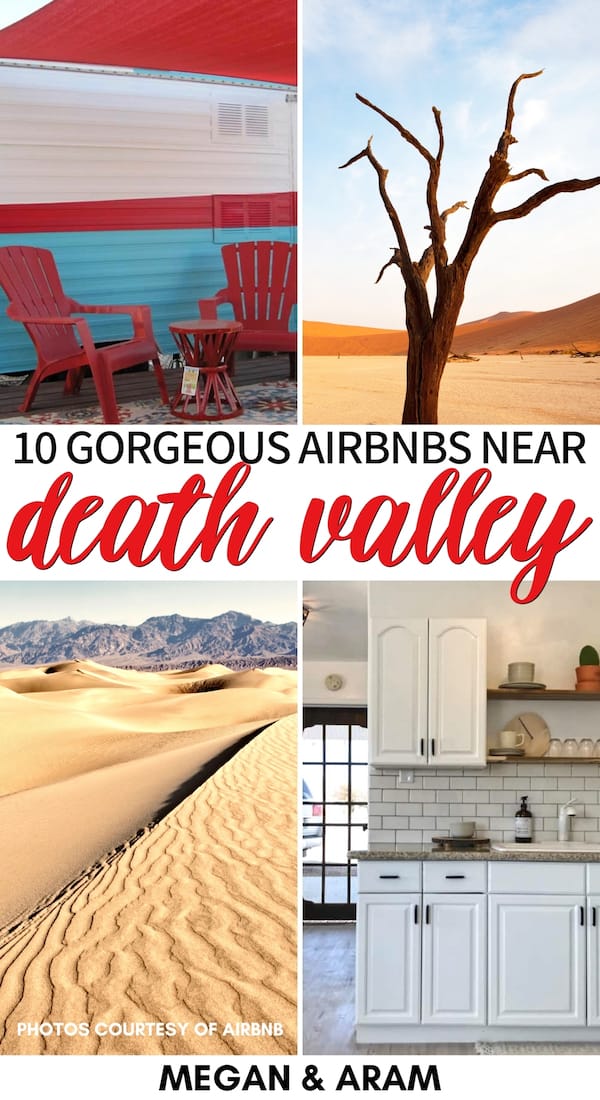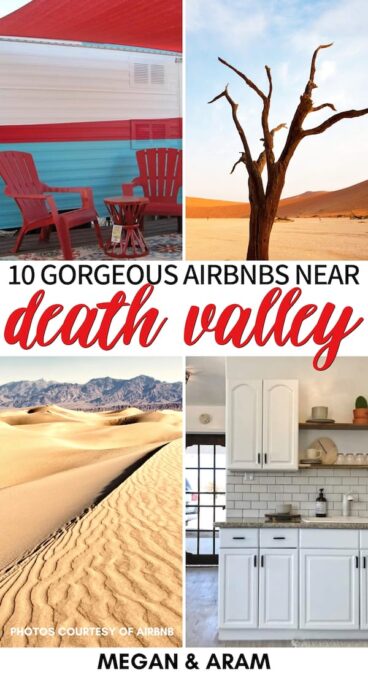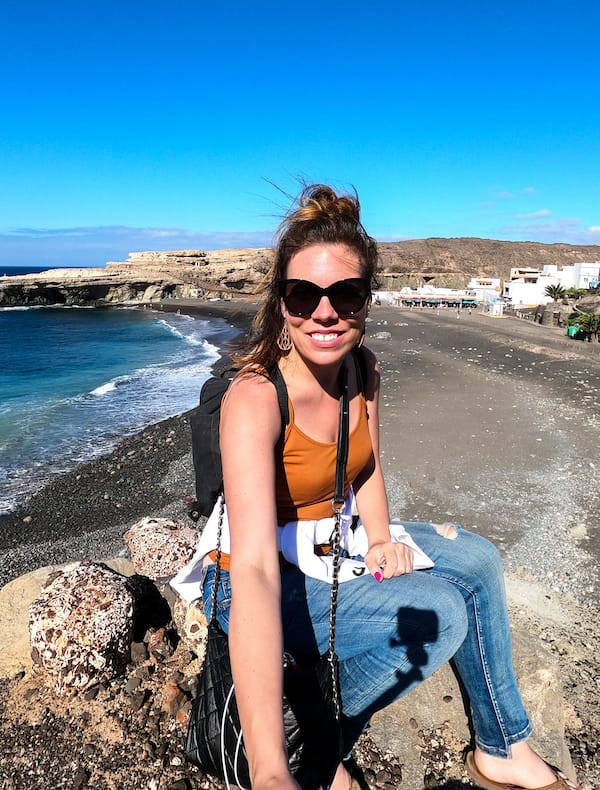 Megan is a travel blogger and writer with a background in digital marketing. Originally from Richmond, VA, she now splits her time between Frankfurt, Germany and Arctic Finland after also living in Norway, Armenia, and Kazakhstan. She has a passion for winter travel, as well as the Nordic countries, but you can also find her eating her way through Italy, perusing perfume stores in Paris, or taking road trips through the USA. Megan has written for or been featured by National Geographic, Forbes, Lonely Planet, the New York Times, and more. She co-authored Fodor's Travel 'Essential Norway' and has visited 45 US states and 100+ countries.