Do you have an upcoming trip to Switzerland and are looking for the best day trips from Lugano? If so, keep reading!
In this guide, we detail the most popular Lugano day trips – from mountain peaks to lakes in Italy (and beyond!).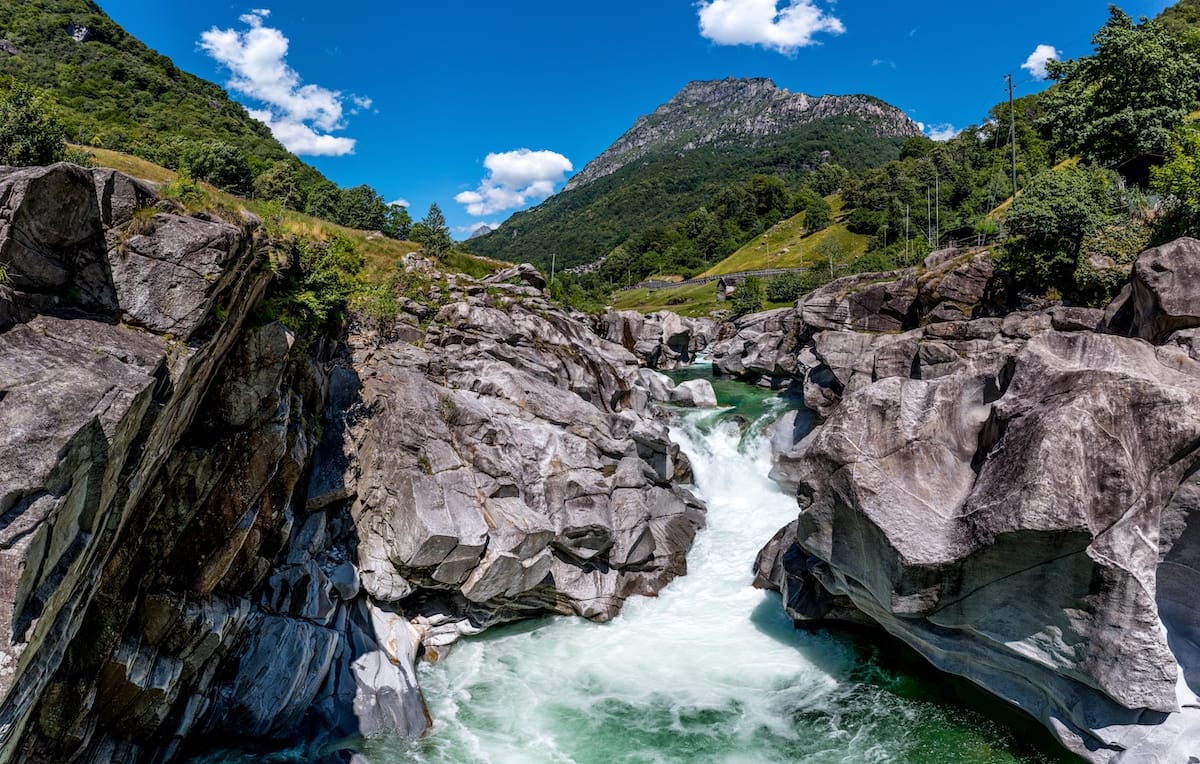 Did we miss any of the best places to visit near Lugano?
Let us know in the comments!
Best Day Trips From Lugano
1. Lake Lugano
Distance from Lugano: 20 km (34 minutes)
Nestled between Switzerland and Italy are the pristine waters of Lake Lugano, drawing travelers in with its enchanting blue waters and serene ambiance.
Embarking on a cruise around the lake offers a unique opportunity to immerse yourself in the breathtaking landscapes with picturesque Swiss villages whilst enjoying cultural delicacies on board.
The typical view from the lake includes rolling hills and verdant forests framing the shimmering waters.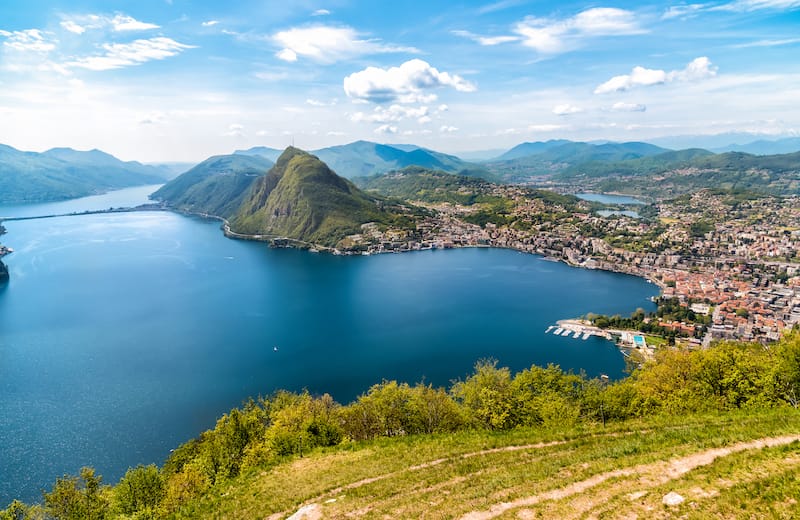 There are a variety of cruising options to suit every traveler's preferences, including everything from a leisurely sightseeing tour to a romantic dinner cruise.
One of the highlights of a cruise on Lake Lugano is the chance to discover the charming lakeside villages lining its shores.
Each village has its own elegant promenade and vibrant cultural scene gracing the shores of Lake Lugano.
You can spend time discovering the picturesque stone houses as you explore the village's narrow alleys and cobblestone streets and savoring local cuisine at one of the many waterfront restaurants.
>> Book a Lake Lugano excursion from Lugano
2. Gandria
Distance from Lugano: 5.1 km (9 minutes)
Nestled on the picturesque shores of Lake Lugano is one of Ticino's most beautiful lakeside villages, Gandria.
It exudes an old-world charm and transports visitors to a bygone era with its narrow winding streets and stone houses embellished with frescoes and stucco decorations dating back to the 16th and 17th centuries.
Gandria is situated at the foot of Monte Brè and offers a tranquil escape into traditional Swiss-Italian village life.
It is known for its wine, cured meats, cheeses, and olive oil production over the course of its existence, and it also has a traditional fishing heritage.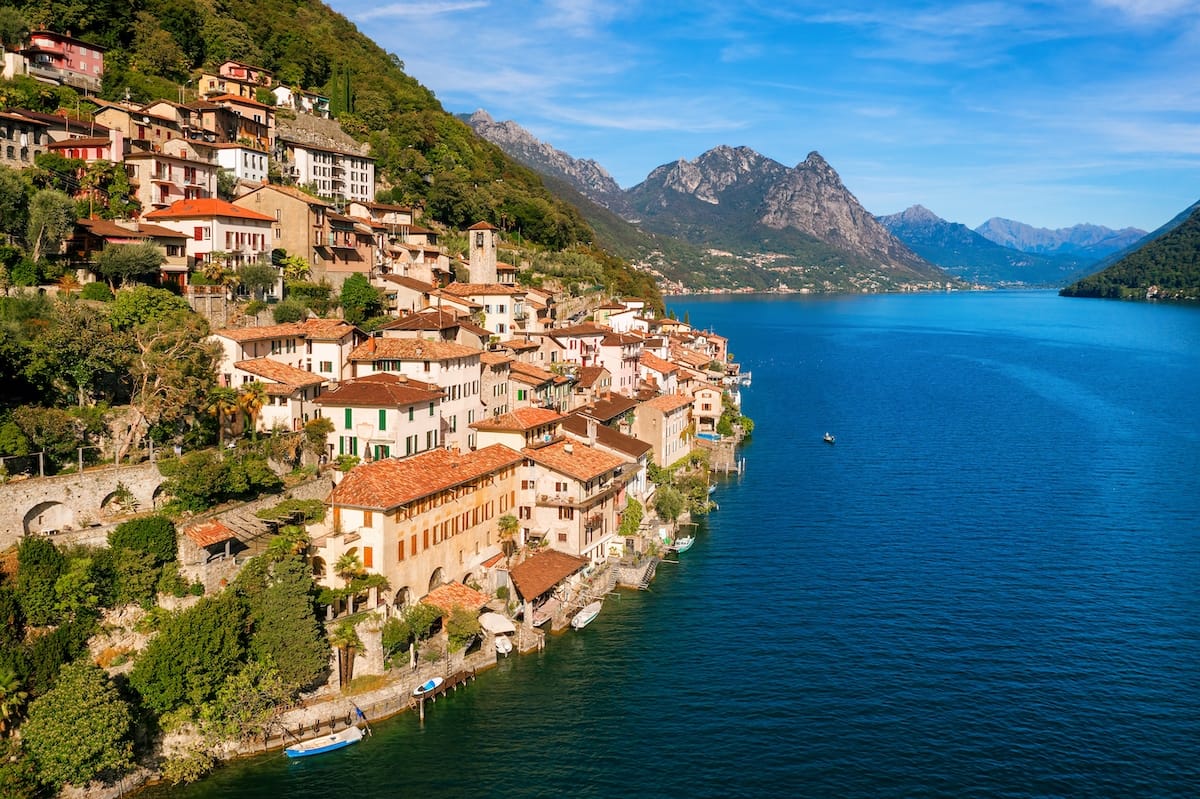 Stroll through its narrow, cobblestone streets, lined with picturesque stone houses adorned with colorful shutters, flower-filled balconies, and terraced gardens.
Pick a bench or one of the lakeside cafés giving panoramic views of the glistening lake and the vista of the surrounding mountains whilst enjoying the local culinary heritage.
>> Book a trip to Gandria from Lugano here
3. Valle Maggia
Distance from Lugano: 59.1 km (59 minutes)
Discover the breathtaking region of Ticino's hidden gem, Valle Maggia, nestled between majestic mountains, cascading waterfalls, lush green meadows, verdant forests, and crystal-clear rivers.
The Maggia River is one of the natural landmarks included in its diverse range of scenery, and it enters into the valley and sculpts the beautiful gorges and natural pools along its course.
Valle Maggi is especially known for its stunning waterfalls, like the Cascata del Toce located near the village of Riale, cascading down a height of over 140 meters.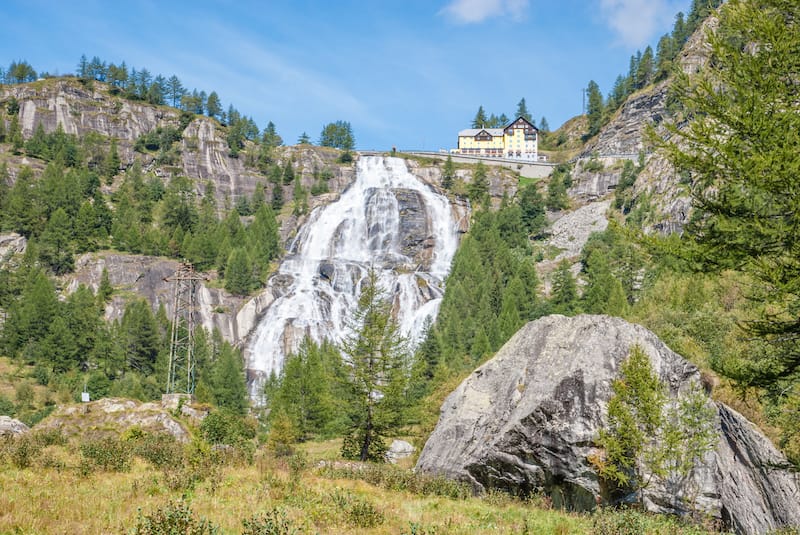 Another impressive waterfall with a stunning backdrop of lush greenery and rugged cliffs can be found near the village of Foroglio, called the Cascata di Foroglio.
Valle Maggia is a popular hiking destination with well-marked trails that wind through the valley, leading to panoramic viewpoints, alpine pastures, and remote mountain peaks.
Additionally, their valley presents ample swimming, kayaking, and canyoning opportunities all throughout.
4. Milan (Italy)
Distance from Lugano: 78.7 km (1 hour, 7 minutes)
Milan is the capital of Italy's Lombardy region and boasts iconic landmarks, world-class fashion, and rich artistic heritage throughout its bustling metropolis.
The city's most iconic symbol, the Duomo di Milano, is a massive Gothic cathedral proudly towering over the city with intricate spires, statues, and an ornate façade.
You can tour its vast interior adorned with gigantic pillars, stunning stained glass, and numerous grandiose chapels, and also ascend to its rooftop to witness the panoramic views of Milan's breathtaking cityscape.
Milan is a renowned global fashion capital and is home to world-famous designers and luxury boutiques.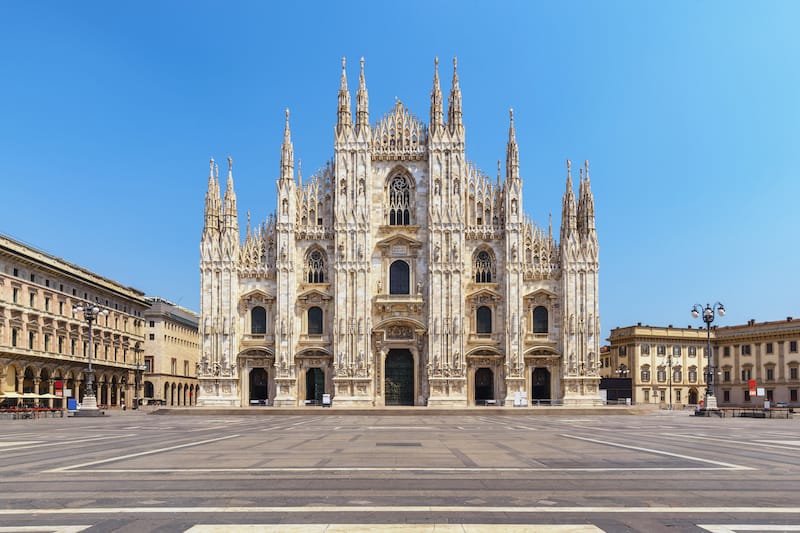 The Galleria Vittorio Emanuele II is a lavish shopping gallery with high-end fashion brands and a lot to showcase on behalf of the city's fashion heritage.
For art history, the Convent of Santa Maria delle Grazie has Leonardo da Vinci's Last Supper.
The Sforza Castle is another historical landmark with fortified walls, towers, and courtyards and houses numerous museums.
5. Zurich
Distance from Lugano: 207.1 km (2 hours, 30 minutes)
Start exploring Zurich at the Old Town and discover its historic area woven with narrow medieval streets and charming squares.
The cobbled streets along the Limmat River will lead you to well-preserved medieval architecture all throughout town, where you'll find historic landmarks, such as a Gothic cathedral with twin towers known as the Grossmünster.
The Kunsthaus Zurich is a prominent art museum housing an extensive collection of European art from renowned artists such as Monet, Picasso, and Van Gogh.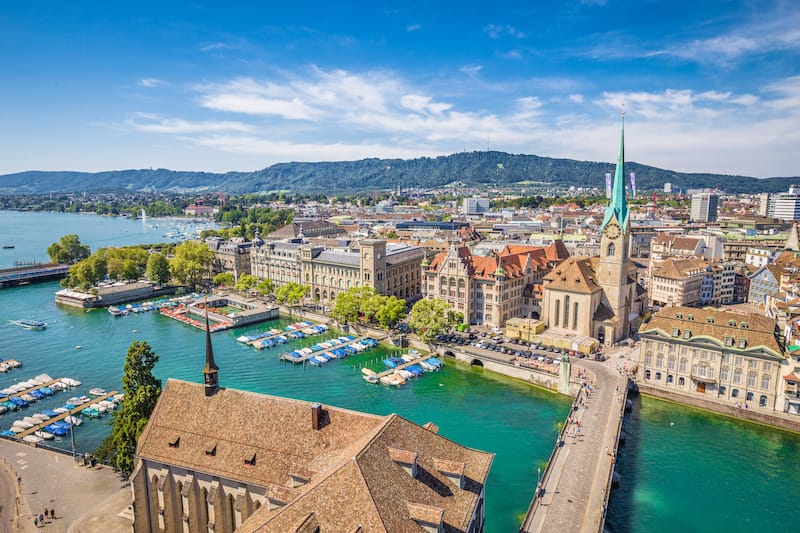 You can head over to Lake Zurich for a scenic promenade along its shores of Lake Zurich.
There is also the Bahnhofstrasse, one of the most famous shopping streets in Europe loaded with prestigious brands, luxury boutiques, and high-end shops on its elegant streets of gorgeous fountains and traditional architecture.
Enjoy some treats at shops like the Sprüngli Confiserie or go to another trendy part of town Zurich's West District for design studios, galleries, and chic boutiques.
6. Lake Como (Italy)
Distance from Lugano: 28.1 km (39 minutes)
Take a luxury bus ride along Lake Como and discover the charming Italian towns of Como, Bellagio, and Varenna – which are all full of stunning gardens looking across the lake with gorgeous, historic villas.
You can take a walking tour through the charming towns along the shores of Lake Como where in Como and see one or two of the iconic neoclassical villas and their gardens of sculptures and flora, such as the Villa Balbianello, Villa Olmo, Villa Monastero, Villa Carlotta, Villa D'Este, and Villa Erba, to name a few.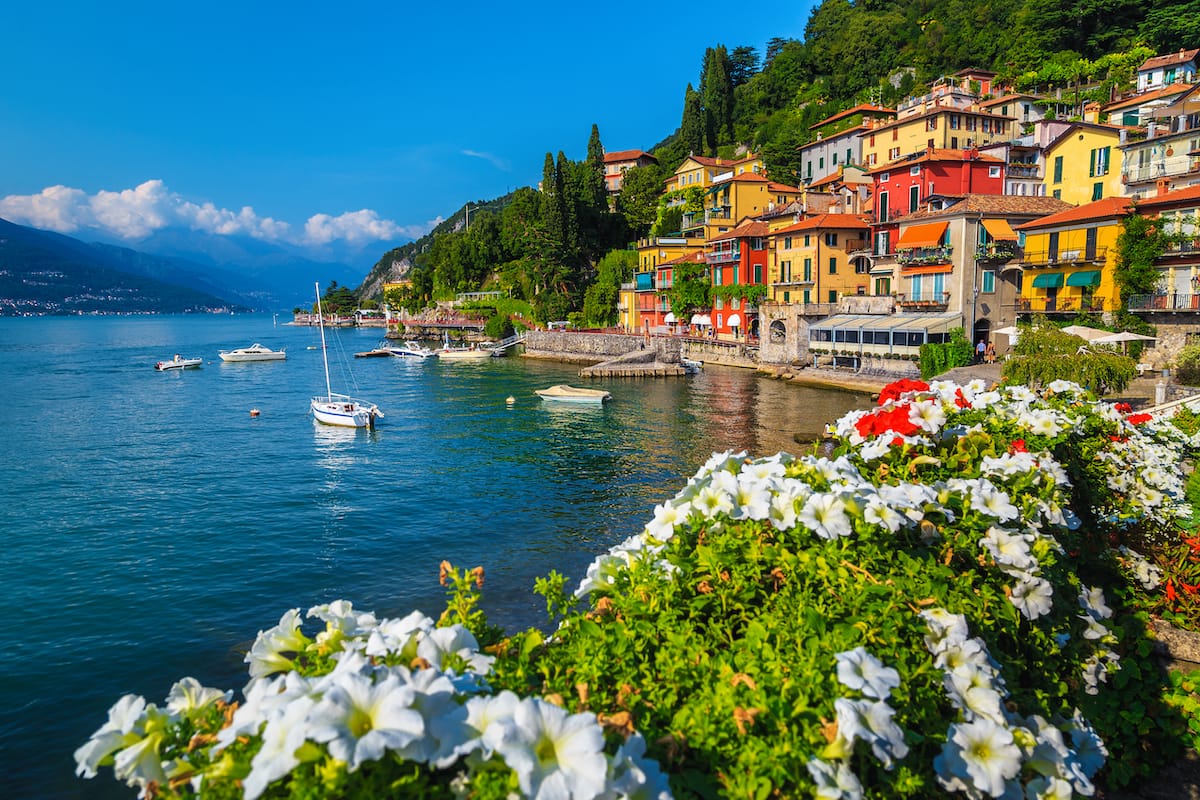 Each villa has its own majestic view of the lake you don't want to miss, and some are even converted into hotels, restaurants, or cafes.
After completing leisurely strolls along the coast, you can take a relaxing cruise on the lake by private boat, where you can admire the scenery whilst sipping on a refreshing beverage or even enjoying a meal.
7. Morcote
Distance from Lugano: 12 km (20 minutes)
Take a boat across Lake Lugano toward the fishing village of Morcote.
The charming narrow streets of Morcote will lead you to arcades of old patrician houses and traditional buildings with painted facades where you can dine or relax at.
The iconic tower of the Chiesa Santa Maria del Sasso can be seen from all points of the town. Morcote's little paradise is most notable for its subtropical vegetation decorating the town all throughout.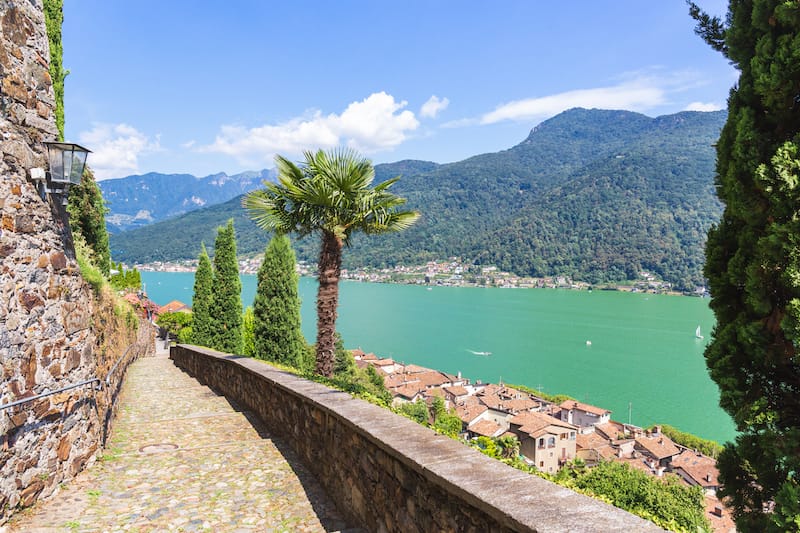 It also has two lush parks that you can explore: Parco Scherrer, which has lemon trees and bamboo groves with classical and mythological statues and a hillside villa, and Parco San Grato, an alpine natural environment with trails, lakes views, and vibrant Azaleas.
The terraced cemetery and the Chappel of S. Antonio of Padova and the Tower of the Captain are other places of architectural interest you can walk through or along.
8. Monte Generoso
Distance from Lugano: 37.5 km (50 minutes)
Monte Generoso is a popular peak located in the Swiss Alps.
You can explore the mountain with a variety of exciting outdoor activities or attractions, such as the Monte Generoso Railway, a historic cogwheel railway that will comfortably take you to the mountain's summit.
It climbs through steep terrain and passes through a few tunnels and bridges, and it is equipped with large windows, allowing you to take in the full scenery as you ascend.
The mountain is a favorite for hikers and is marked with a network of trails for both the seasoned hiker as well as the beginner.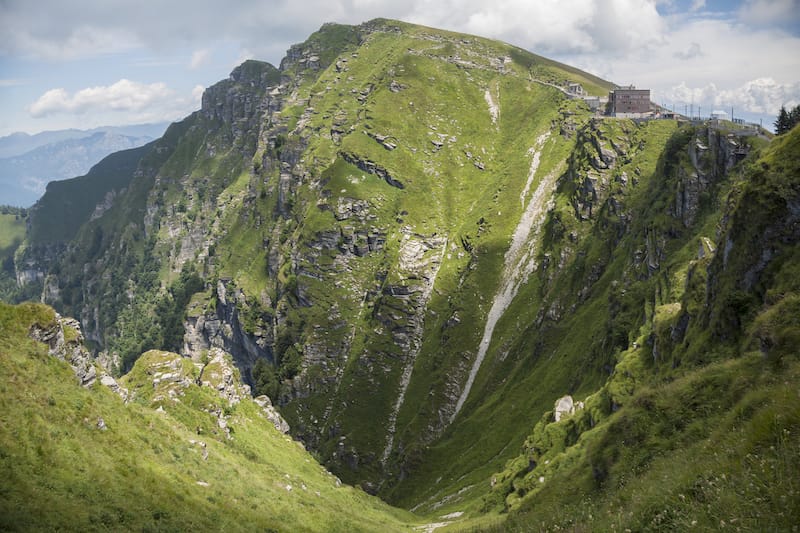 Some of the most popular trails include the Sentiero del Monte Generoso, Bellavista-Monte Generoso, Alla scoperta delle Nevère del Monte Generoso, and Giro della Valle di Muggio.
Monte Generoso's landscapes also have a rich diversity of flora and fauna, with a unique ecosystem and a wide range of wildlife. The mountain also has an astronomical observatory.
9. Locarno
Distance from Lugano: 44.1 km (44 minutes)
Locarno is a captivating city with a Mediterranean charm and a sunny climate.
Its vibrant Piazza Grande is a picturesque square lined with colorful buildings, charming cafés, and historic landmarks, bustling with life all throughout the day and night.
Take a leisurely stroll along the lakeside of Lake Maggiore and marvel at the Alps surrounding the town and in the distance.
The Old Town, or Città Vecchia, is crafted with a labyrinth of streets, adorned with colorful facades, ancient arcades, hidden courtyards, and charming boutiques.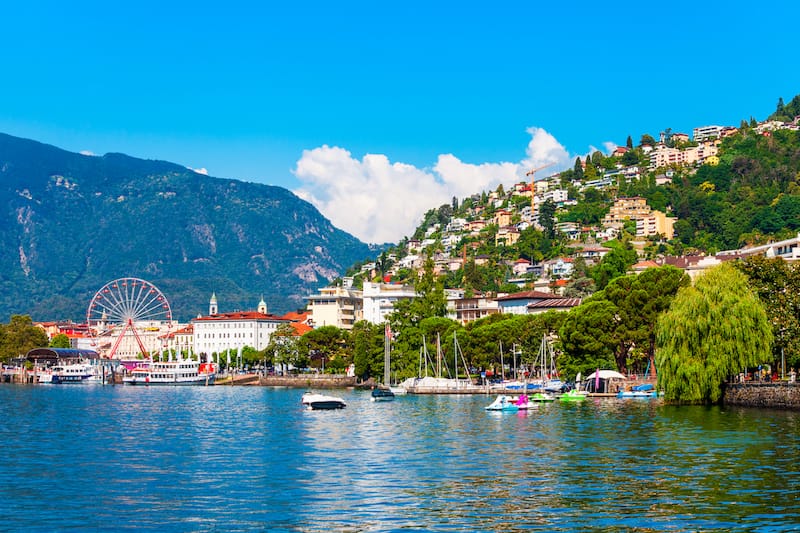 The medieval Piazza Sant'Antonio is a beautifully preserved Visconti Castle that now houses a museum showcasing the history of the region.
There are numerous music festivals and art exhibitions throughout the year in Locarno as well, including the Settimane Musicali, a prestigious classical music festival that attracts renowned musicians from around the world.
For art, the Museo d'Arte della Svizzera Italiana presents a diverse collection of Swiss and Italian art.
10. Castles of Bellinzona
Distance from Lugano: 31.7 km (33 minutes)
Transport back in time to the medieval era with a visit to the three Castles of Bellinzona overlooking the Alpine landscape.
The first is Castelgrande, the largest and most prominent of the three castles with massive walls, towers, and courtyards.
Its strategic location atop a rocky hill offers panoramic views of Bellinzona and the surrounding valley and its underground chambers once served as prisons.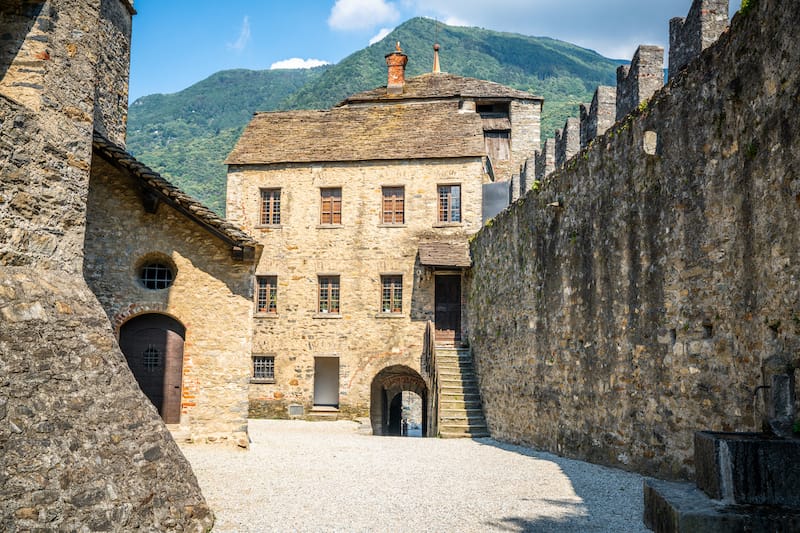 Perched nearby on a hill is the smaller Montebello Castle, a testament to the local military architecture.
This castle is characterized by its well-preserved towers and battlements, which offer a glimpse into the daily life of the castle's inhabitants during the Middle Ages.
Last but not least is Sasso Corbaro Castle, which is situated on the highest hill. Its fortress offers commanding views of the entire region, which includes views of the neighboring castles and the snow-capped peaks of the Swiss Alps.
Walk along these ancient walls and immerse yourself in the medieval atmosphere.
11. Verzasca Valley
Distance from Lugano: 47.4 km (54 minutes)
The Verzasca Valley offers an enchanting landscape for you to explore. The Verzasca River, renowned for its emerald-green waters and smooth granite rock formations, is the main attraction of the valley.
Take a leisurely stroll along its banks or go for a refreshing swim. Cross the iconic Ponte dei Salti, a picturesque double-arch stone bridge spanning over the river.
The Verzasca Valley offers a myriad of hiking and nature trails, one being the Sentiero Verzasca, a popular and scenic trail following the river.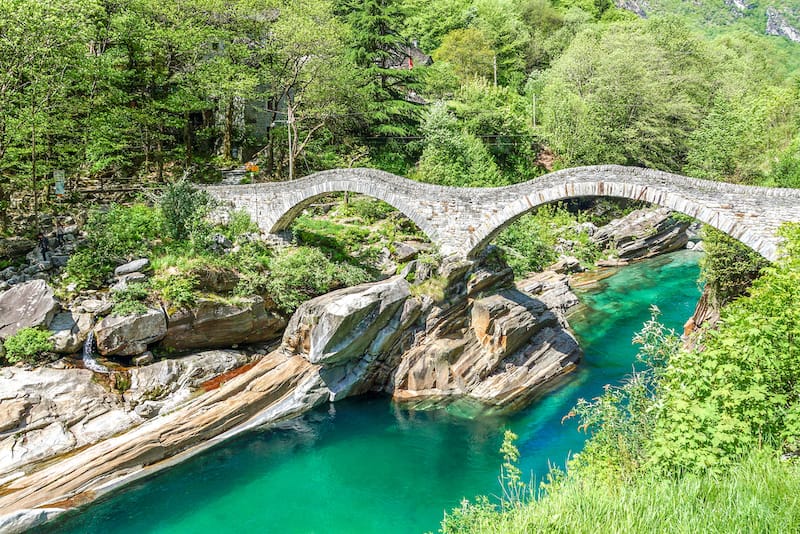 The Denti della Vecchia is a more challenging trail taking hikers through rugged terrain, but rewarding them with panoramic views of the valley and surrounding peaks.
You can also visit one of the many traditional grottoes tucked away in the hillsides. For thrillseekers, the Verzasca Valley also offers the opportunity to bungee jump from the towering Contra Dam.
A freefall towards the river whilst surrounded by the beauty of the valley will create an unforgettable experience.
12. Monte Tamaro
Distance from Lugano: 23 km (52 minutes)
Monte Tamaro is just a short drive from the city of Lugano and offers a diverse range of activities with the most stunning panoramic views in Switzerland.
It overlooks the scenic valleys and lakes of Ticino.
To reach the summit, you can take a cable car ride all the way to the observation tower, and from there you can marvel at the Swiss Alps, the Italian plains, and the shimmering waters of Lake Maggiore.
There are numerous outdoor activities suitable for the mountain's rolling hills and rugged terrain, such as mountain biking and paragliding.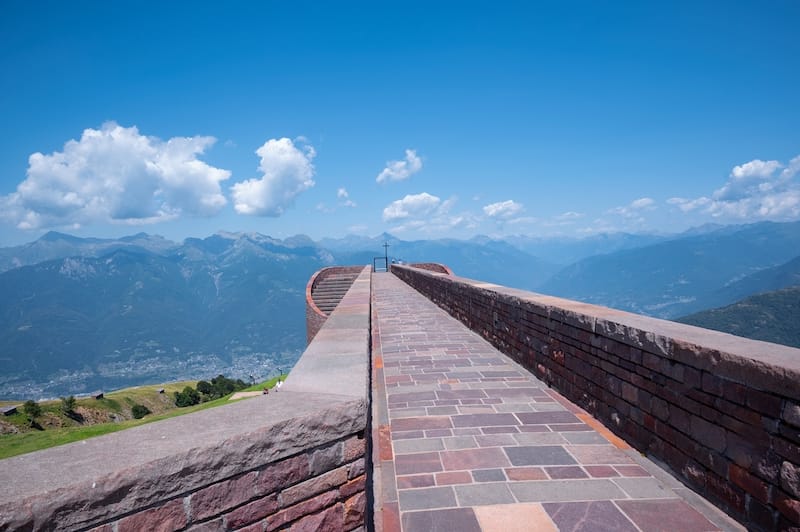 There is also the Flying Fox, a thrilling zip-line that whizzes over the mountainside.
Additionally, there is a summer toboggan run, the adventure high ropes park at the middle station, and a large children's playground at the upper station of Monte Tamaro.
The mountain is also home to numerous cultural landmarks, like the church of Santa Maria degli Angeli, located on the mountain's summit.
Did we miss any of the best day trips from Lugano?
Let us know your favorite Lugano day trips in the comments. Thanks!
More Switzerland Travel Guides
Pin this Lugano Day Trips Guide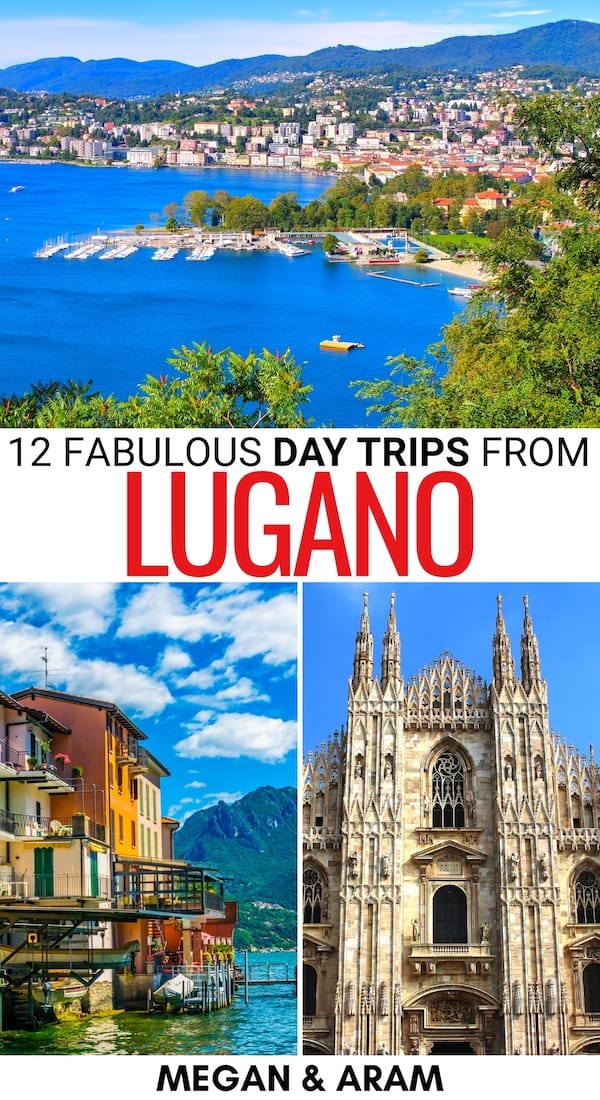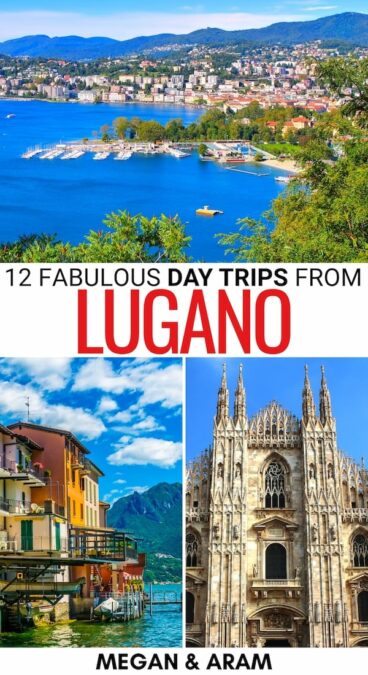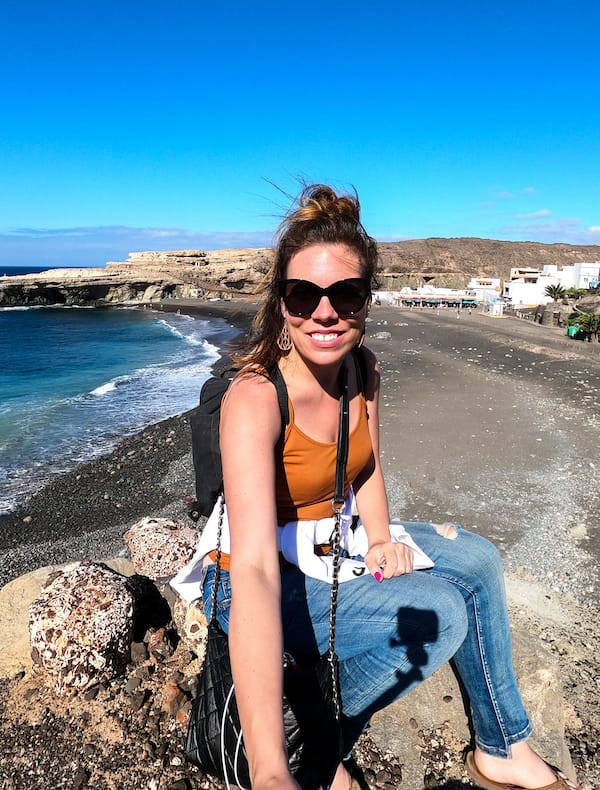 Megan is a travel blogger and writer with a background in digital marketing. Originally from Richmond, VA, she now splits her time between Frankfurt, Germany and Arctic Finland after also living in Norway, Armenia, and Kazakhstan. She has a passion for winter travel, as well as the Nordic countries, but you can also find her eating her way through Italy, perusing perfume stores in Paris, or taking road trips through the USA. Megan has written for or been featured by National Geographic, Forbes, Lonely Planet, the New York Times, and more. She co-authored Fodor's Travel 'Essential Norway' and has visited 45 US states and 100+ countries.