Are you looking for the best things to do in Bern, Switzerland? We've got you covered – from the top Bern attractions to some memorable day trips!
Did we miss any of the top places to visit in Bern?
Let us know your favorite Bern landmarks and things to do in the comments. Thanks!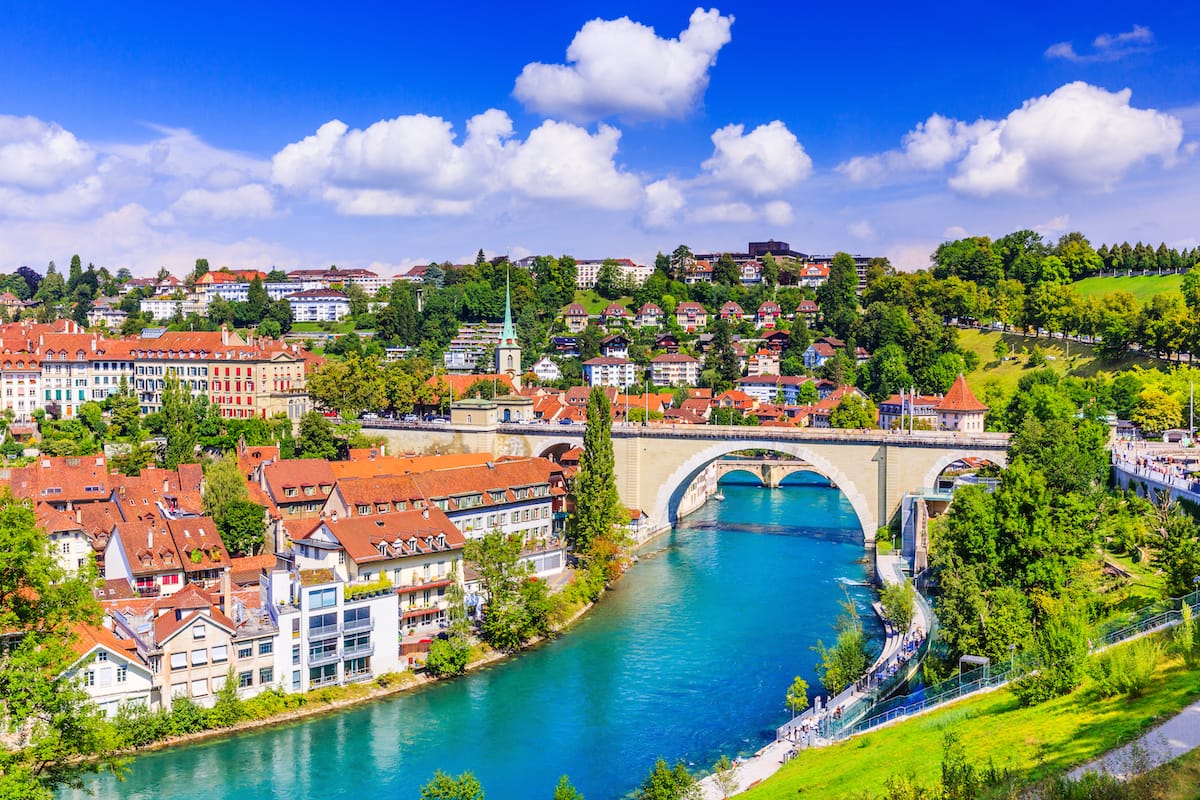 Best Things to Do in Bern, Switzerland
1. Explore Bern's Old Town
Want to explore a bit of Bern's Old Town? This 90-minute tour city tour is the perfect option for you!
Bern is considered to be a UNESCO World Heritage Site, making the city packed with history and culture.
The tour will be led by a local guide, who will teach you all you need to know about Bern, a city with a history of 800 years.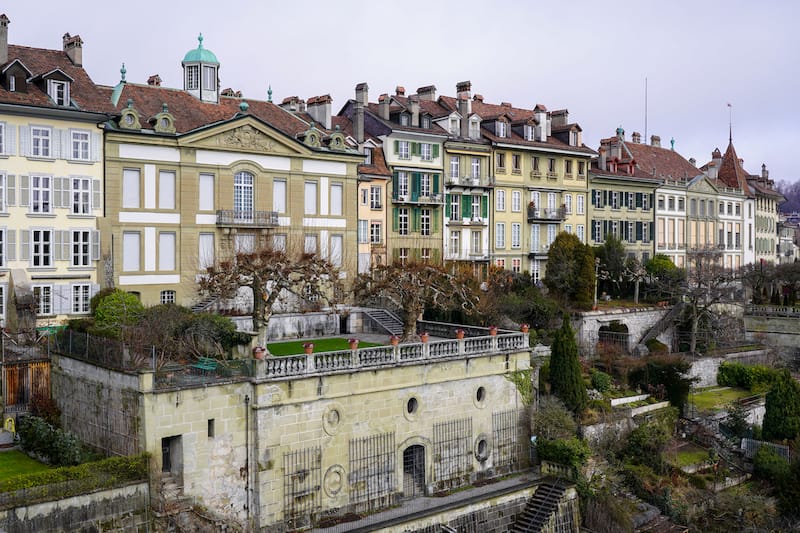 You will have the chance to stroll along the city's most famous sites, including the Gothic Cathedral Munster, the Clock Tower Zytglogge from the 13th century, and the Parliament building.
The tour is available in German, French, or English. Be sure to have your camera ready and your best walking shoes on!
>> Click here to check tour rates and availability
2. Take a Tour of Zytglogge Clock Tower
The Zytglogge is one of Bern's most famous landmarks. Built in the 13th century, the clock serves as one of the main remnants of Bern's city walls. It has served as the main timekeeper for the past 600 years.
As part of this tour, you will have the chance to climb 130 steps to the top, where you will reach a lookout platform and experience stunning views of Bern's old city and beyond.
You might even get to see the Alps from your vantage point!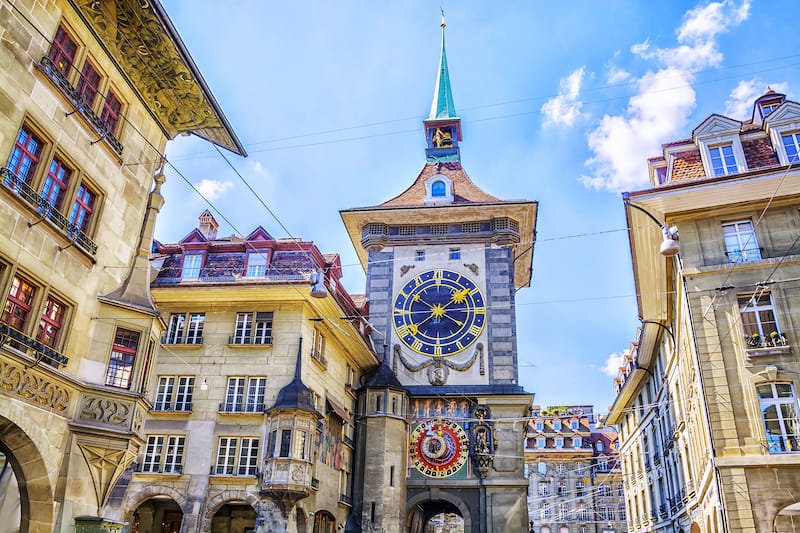 You can also check out the first Western city gate, as well as a puppet show and the inner workings of the famous clock.
The tour lasts around 1 hour. Be sure to note whether you would like the tour in German, English, or French upon booking.
>> Click here to check tour rates and availability
3. Visit Hammam and Spa Oktogen
The Hammam and Spa Oktogen provides the most exquisite Oriental spa right in the heart of Bern. Here, you will get to experience a tradition that has spanned over two millennia.
Did you know that Hammam was also home to the first gas boiler in Switzerland?
With this experience, you will first start with a ritual to cleanse and warm up your body. Then, you will start with the pestemal, which is a cloth-bound to your body.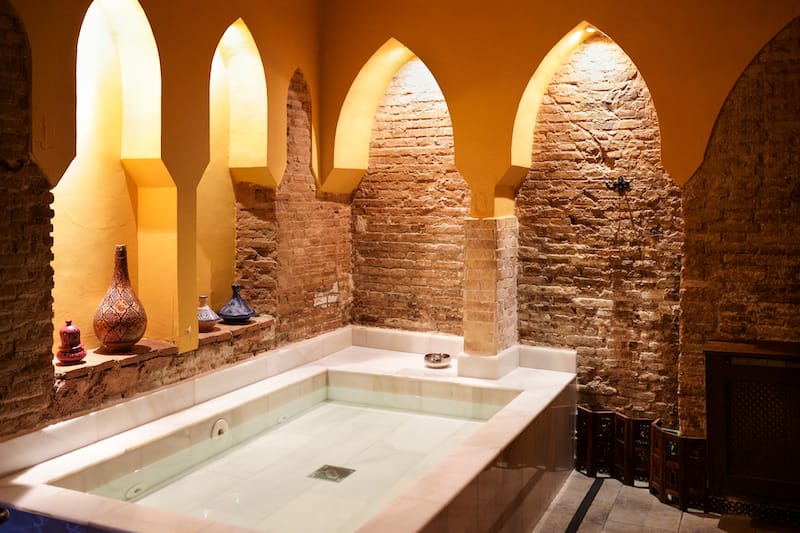 Afterward, you will be taken to the steam room- Sogukluk- where you will warm up at 38 degrees Celsius.
You will then experience full-body exfoliation in the Kese room, as well as a relaxation bath in the Sicaklik room.
Finally, you will head over to the steam room, where you will experience a pore-opening herbal steam, exfoliation, and an umbilical stone.
>> Click here to check tour rates and availability
4. Take a Tour of Jungfraujoch from Bern
This day trip from Bern will feature some of the most picturesque views of the Alps, including the popular Grindelwald and Interlaken, so be sure to have your camera ready.
You will explore Jungfraujoch, a mountain that is also known as the Top of Europe with an elevation of 3,466 meters above sea level.
After making a few stops through Alpine towns and villages, you will have the chance to take a walking tour throughout the tunnel system in Jungfraujoch.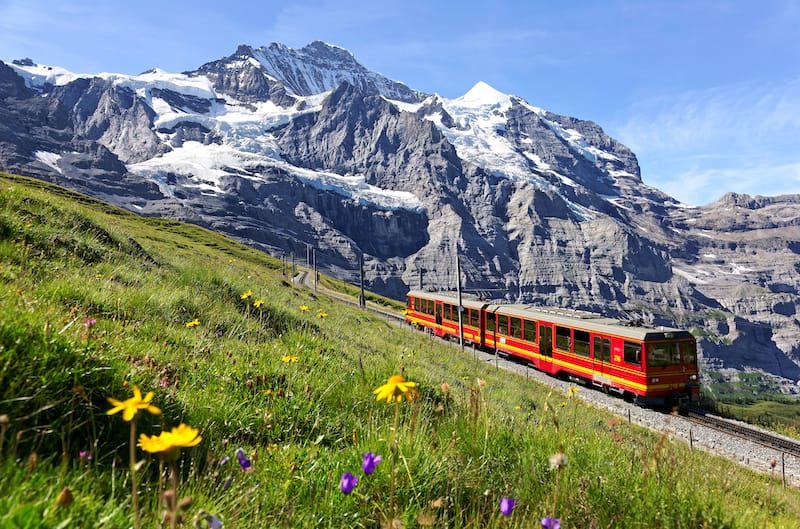 Then, you can check out an exhibit about how chocolate is made in Switzerland, and enjoy lunch at one of Jungfraujoch's 3 restaurants.
After lunch, you'll have the opportunity to make a stop in Grindelwald, one of the most photographed places in the country.
>> Click here to check tour rates and availability
5. Go Rafting on the Aare River
If you enjoy rafting, don't miss the opportunity to go rafting on the Aare River, which can prove to be a fun adventure whether you're on your own or with family and friends!
As part of the trip, you will receive all the necessary equipment, including a lifejacket, paddle, and raft. Your belongings will also be kept in a waterproof bag.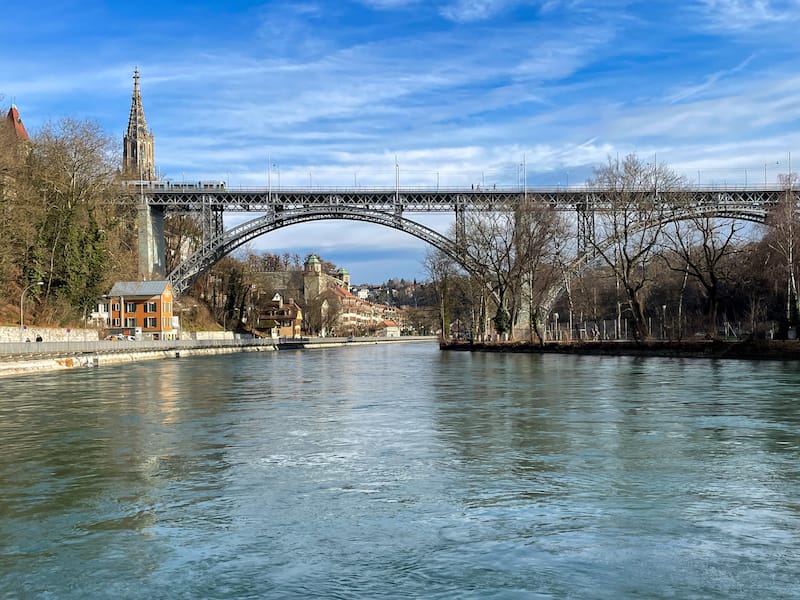 Prior to going rafting, you will have a brief session with your instructors on the route and how you should maneuver along the river.
You can also choose which route you want to take: upper Aare or lower Aare.
Afterward, you can enjoy a nice picnic along the river and even go for a swim.
>> Click here to check tour rates and availability
6. Take a Day Trip to Interlaken
Interlaken is one of the most beautiful parts of Switzerland, home to stunning mountain lakes, castles, and mountains.
It's certainly possible to take a day trip from Bern, as there are direct trains with Eurocity or Intercity that are only 54 minutes.
When arriving in Interlaken, you can get on the paddle steamer, Blumlisalp, to explore Lake Thun and catch views of the five castles.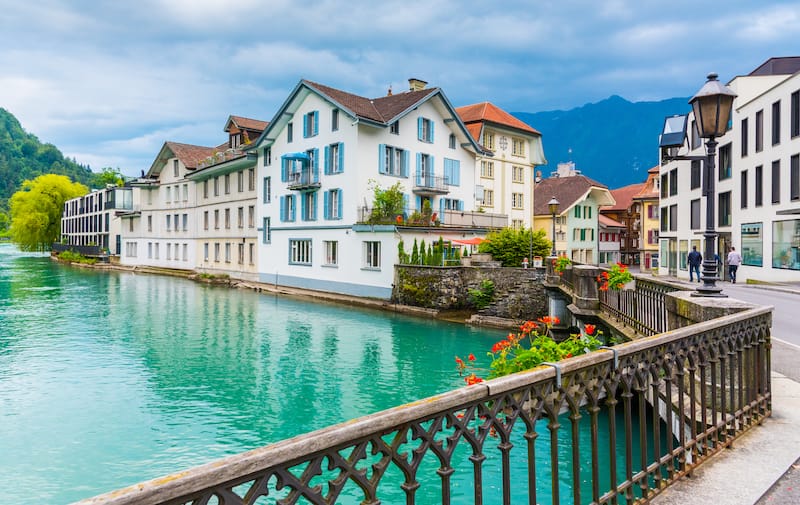 You can also get on a train dating to 1906 to reach the top of Heimwehfluh, where you can dine at a restaurant, check out a viewing gallery, and see a bobsleigh track.
To get to Interlaken's Lake Brienz, you will need to get a train to the Interlaken-Ost station, where you can see the Lotschberg saloon steamer and views of the Alps.
If you visit Interlaken in winter, many of the same activities are still available (like paragliding!), which is pretty cool.
7. Take a Day Trip to Lauterbrunnen
Chances are, you have seen thousands of photos of this idyllic Swiss village, which looks like something that came out of a fairytale.
With its stunning mountains, chalets, and waterfalls, Lauterbrunnen is nothing short of paradise.
The good news is that you can easily take a day trip from Bern to Lauterbrunnen. It takes about an hour and a half. There are 27 trains to choose from, and prices are around 14 euros.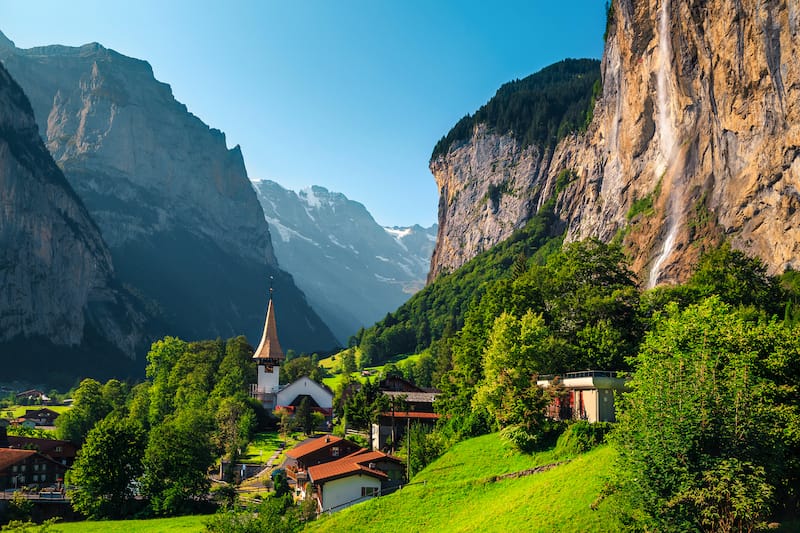 Of course, upon arriving in Lauterbrunnen, all you'll want to do is stroll around and take pictures.
To capture the best viewpoint, go right outside Chalet Pironnet off the main street and down a footbath.
The Staubbach Falls is the main waterfall that you will see in the village. Although the entire village presents views of the waterfall, there is also a trail you can hike to get behind the waterfall.
You can also choose from plenty of opportunities for hiking, as well as eating traditional Swiss food, like schnitzel, fondue, raclette, and spätzle!
8. See the Cathedral of Bern
The Cathedral of Bern, also known as the Munster Cathedral, is an impressive Gothic church located in central Bern. It also serves as the largest medieval church in Switzerland.
You will be able to climb up 344 stairs to the lookout point, where you can even admire views across the whole city of Bern, all the way to the snow-capped Alps, from the church's tower.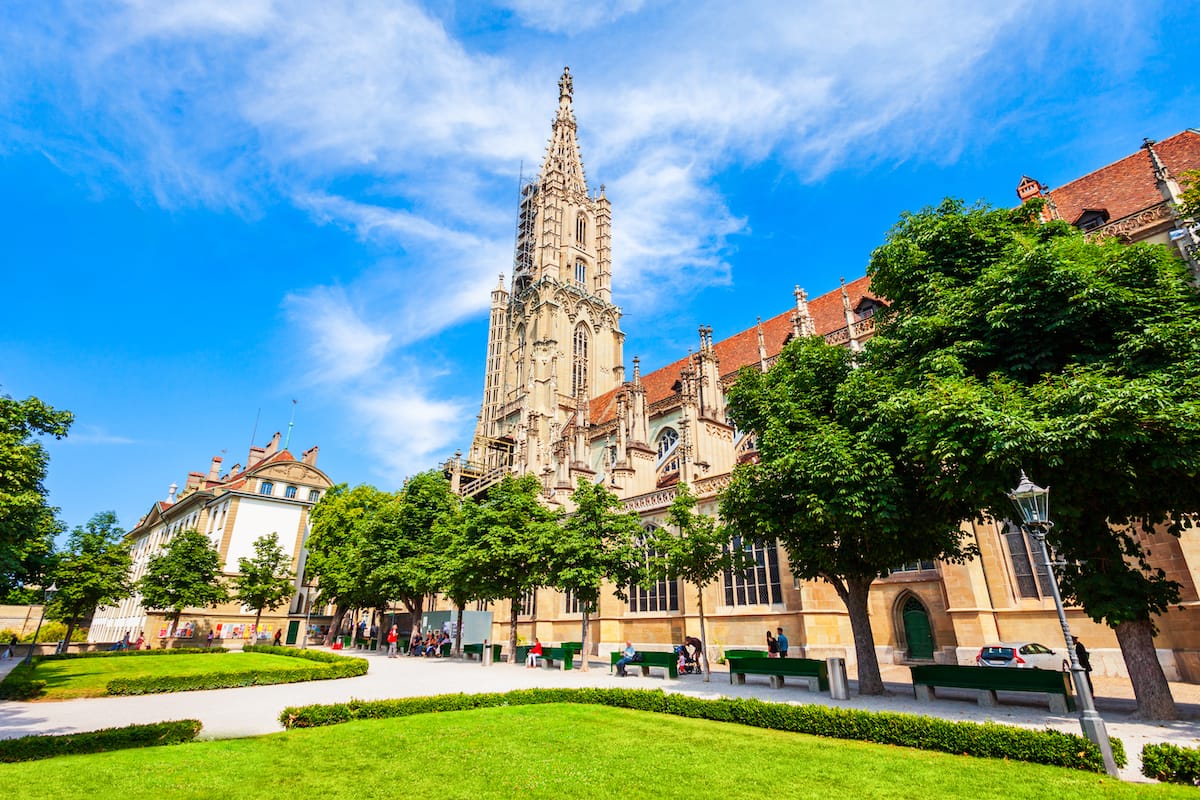 Although the church's construction began in 1421, the steeple was finished in 1893 as the church needed to be continuously perfected and fixed.
You can check out guided tours, as well as events and concerts, which all take place at the cathedral. It is open every day.
9. Walk across Nydeggbrucke
The Nydeggbrucke Bridge is what connects Bern's old city to the new city. The bridge runs across the Aare River. It is also close to Barengraben.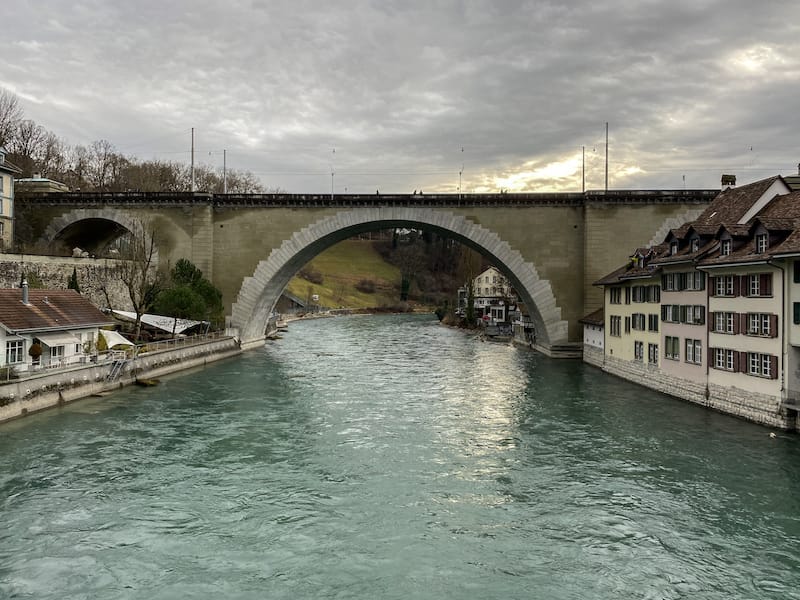 It is 190 meters, and the bridge serves as a nationally significant site in Switzerland. You might even get to see it if you choose to take a city tour, but if not, be sure to visit this significant landmark!
The bridge features three arches and was built with limestone.
10. Go to the Bernisches Historisches Museum
History buffs should make it a point to visit the Bernisches Historisches Museum (the Bern History Museum).
It is one of Switzerland's most prized museums that is home to a collection of history from all around the world.
Some of the collections focus on themes such as archaeology, ethnography, history, and numismatics.
The museum hosts many changing exhibitions, so be sure to check out the website prior to visiting to learn more about any unique exhibitions or events that will be taking place during the time of your visit.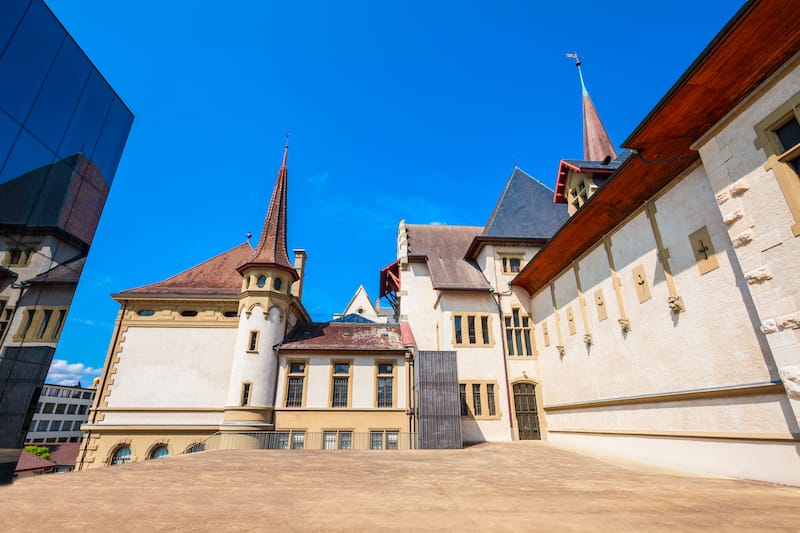 There are also plenty of interactive experiences for you to get a more immersive encounter with history and learn more about important parts of history.
The museum is open from Tuesday to Sunday from 10 AM to 5 PM, and it is closed on Mondays. It is also open on most Swiss public holidays, excluding Christmas and Zibelemarit.
Address: Helvetiapl. 5, 3005 Bern
11. Check Out the Parliament Building
Bern's Parliament Building is where the Swiss parliament meets. The dome is where the parliament sessions are held, and its west and east wings house the federal government and administration.
The Parliament Building serves as a national symbol because the intention was for the building to bridge any gaps between the different linguistic regions of Switzerland, as well as differing political and religious beliefs.
It was built solely by Swiss constructors, as well as painters, sculptors, and glass artists.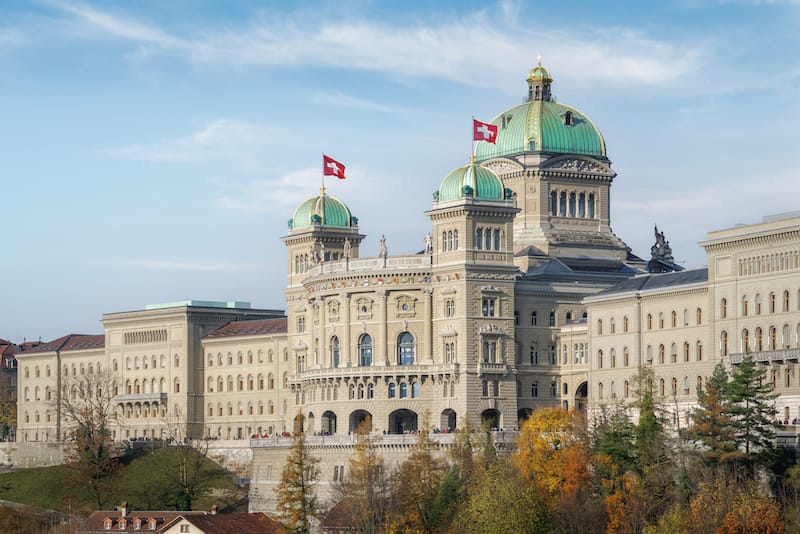 There are many opportunities to tour the Parliament Building when visiting Bern. Upon entry, you will see a sculpture of the Swiss forefathers making an oath, as well as marvels like the ceremonial staircase and The Cradle of the Confederation mural.
You can also have the opportunity to check out political proceedings from the spectator gallery if you are interested in politics.
Guided tours are offered of the Parliament Building regularly. They are free of charge and available in 4 languages. Be sure to book 3 days before you plan to visit, arrive 20 minutes ahead of time, and bring an official ID with you.
Address: Bundesplatz 3, 3003 Bern
12. Visit the Museum of Communication
The Museum of Communication is the sole museum in Switzerland that is entirely dedicated to communication.
It is home to both permanent and temporary exhibitions, so be sure to check the website if you want to find out what exhibitions or events will be taking place when you visit.
You will be able to learn more about the impact that communication and technology have had on society and culture, as well as unique experiments, face-to-face encounters, and more.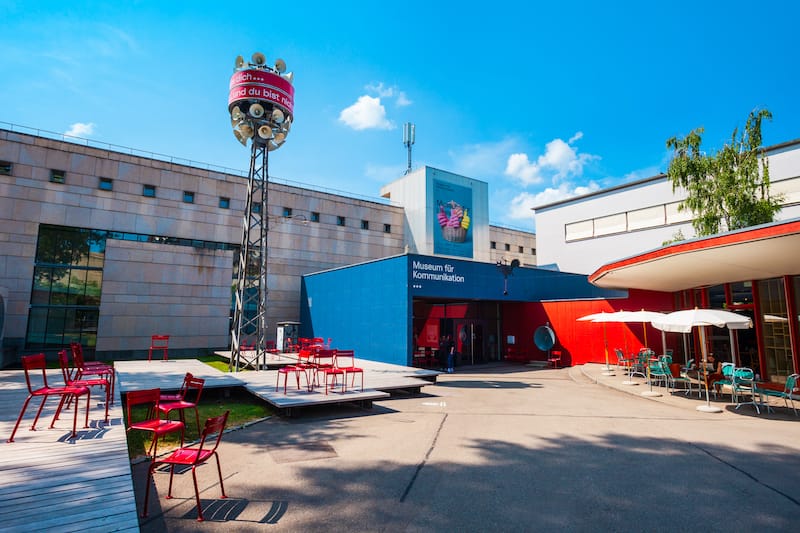 Visitors are highly encouraged to interact with each other, as the museum assistants are always trying to engage in direct communication!
After you tour the museum, you can stop by the Pavillon Cafe for a bite to eat or a cup of coffee.
The museum is open from Tuesday to Sunday at 10 AM to 5 PM, and it is closed on Mondays.
For adults, entrance costs CHF 15. For children between 6 and 15, it is CHF 5, and for students, OAPs, or groups of at least 10, the price is CHF 10.
Address: Helvetiastrasse 16, 3000 Bern
13. Have Fondue in a Gondola at Marzilibrucke Restaurant
Marzilibrucke Restaurant provides visitors with the unique opportunity to try fondue in a ski gondola (or, you can choose to do so on solid ground if you're not up to taking any risks).
Right under the restaurant's charming chestnut trees, you will be able to have this romantic experience within an authentic gondola, which is decorated red and white with accessories like ski poles.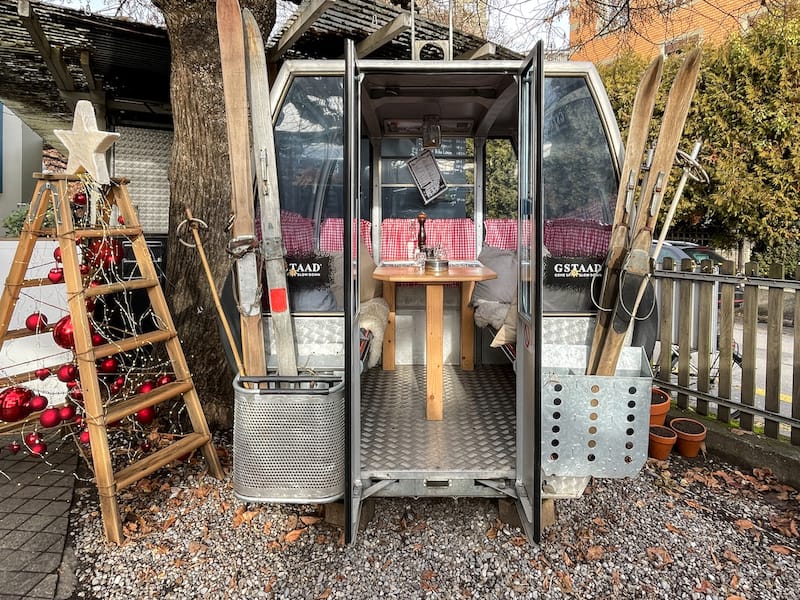 It is possible to do this between October and February.
The restaurant's garden has heated cabins where you will be served a traditional cheese fondue. They also serve Swiss specialties such as dried meats and cold Plattli.
Be sure to book your gondola in advance because the experience is in high demand!
Address: Gasstrasse 8, 3005 Bern
14. See the Many Fountains of Bern
Did you know that Bern is also known as the City of Fountains?
This is due to the fact that the Old Town is home to over 100 fountains all spread out throughout the city.
Not only are the fountains stunning to look at, but you can also drink the water from them! The cool water is clean and drinkable, and it is also free to drink, making it the perfect way to quench your thirst on a budget.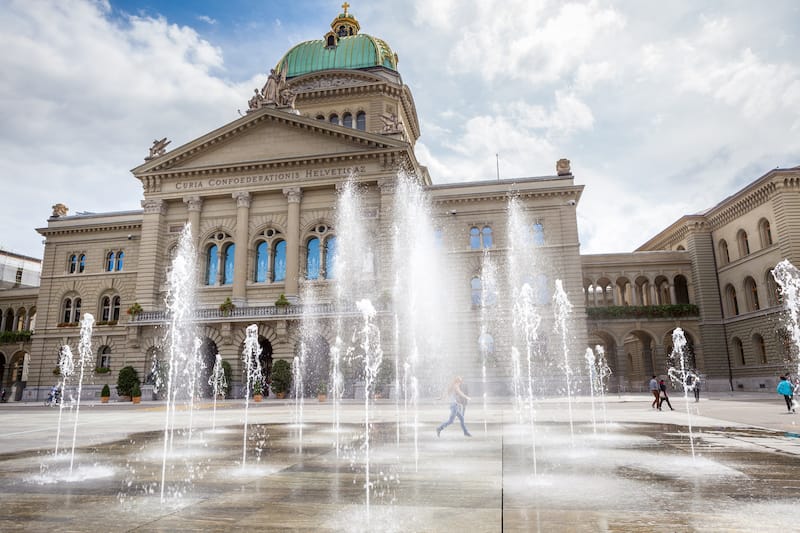 And did you know that Bern has had this constant water supply since the Middle Ages?
Historically, people used to gather around these fountains to converse, make deals, discuss politics, and settle arguments.
Some fountains to look out for include the Justice Fountain, Ogre Fountain, Moses Fountain, and the Banneret Fountain.
15. Go to the Einstein Museum
At the Einstein Museum in Bern, you will get to learn all about the life of the famous physicist Albert Einstein and his discoveries.
Note: It is part of the Bern History Museum.
The museum houses around 550 originals and replicas from the scientist's life, as well as films, animations, and more to allow visitors to get to know Einstein as a person.
Other events from Einstein's life that are covered in the exhibitions include his relationships, the Holocaust, and the atomic bomb.
You can opt for an audio guide, which is available in 9 languages to make it more accessible to people from around the world.
The guided tour lasts 1 hour and hosts a maximum of 20 people. The tours cost CHF 180.
Address: Helvetiapl. 5, 3005 Bern
16. Take the Mattelift Down to the Matte District
One of the most exciting activities that you should be sure to add to your list when visiting Bern is to take the Mattelift to the Matte district.
The lift has been in operation since 1897, and it was designed by the same person who designed the Eiffel Tower!
It links the UNESCO World Heritage site of Bern's Old Town to the Matte district, which is located along the Aare River.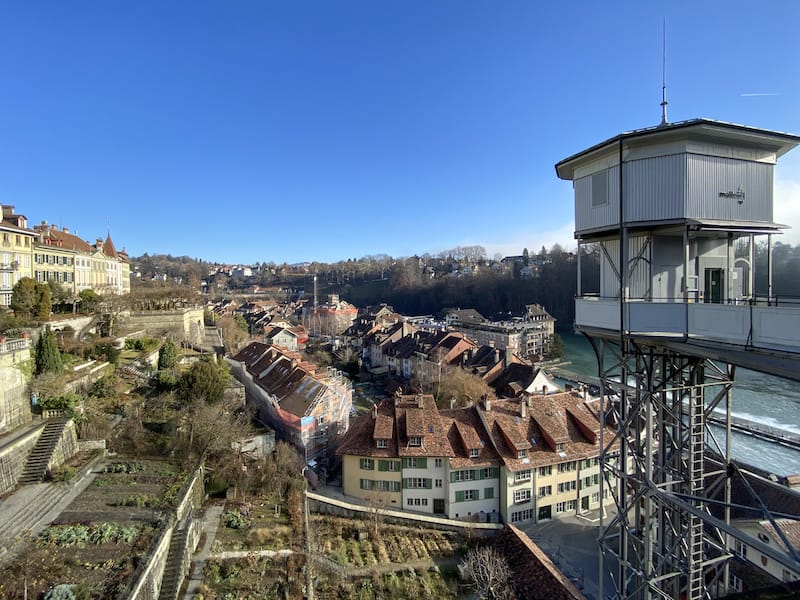 Once upon a time, this division between the two parts of the city was based on class. There were also public baths in the Matte district.
Nowadays, the Matte district is best known for its cafes, art studios, and small shops. It is also known for the unique dialect spoken, called Mattenenglisch.
The ride on the lift costs 1.40 CHF.
17. Have a Tasty Coffee at Jusqa
If you enjoy all things tea and coffee, be sure to also visit Jusq'a in Bern. It is a boutique store where you will be able to purchase your own coffee, tea, and even sweatshirts or other gear.
At the shop, you can also enjoy your own cup of coffee, like a latte or matcha.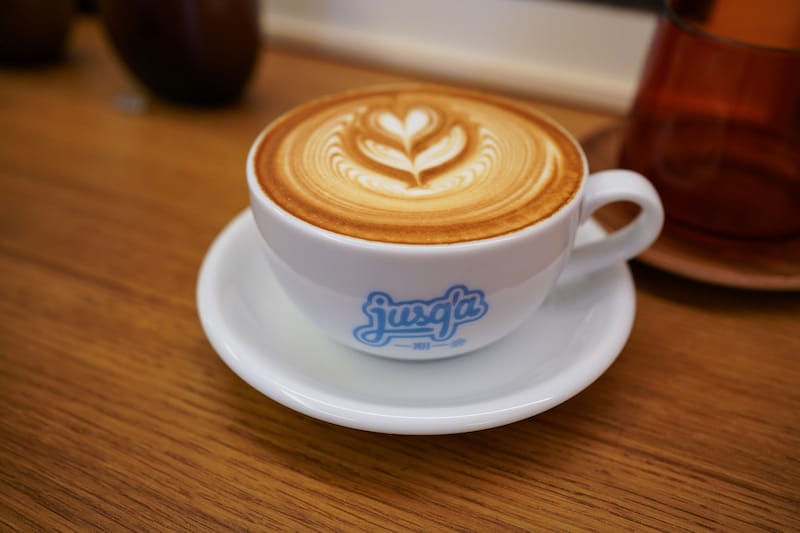 You can order goods online as well, or check them out at this unique startup to take some of Bern home with you.
The coffee shop is open from Mondays to Fridays from 12 PM to 6 PM.
Address: Brunngasse 52, 3011 Bern
18. Enjoy the Einstein au Jardin
Looking for picturesque views along with your lunch? Einstein Au Jardin is the perfect restaurant where you will have the chance to enjoy both.
The restaurant overlooks the Aare River and provides stunning views of the Bernese Alps, making it the best place to take Instagram-worthy pictures of your coffee and the scenery.
Here, you are guaranteed to have fresh and tasty meals as the restaurant does its best to base the menus on local seasonality.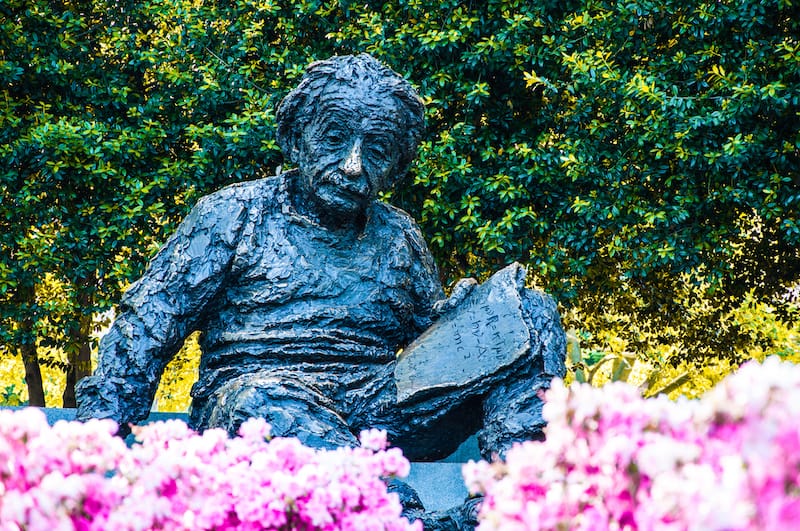 Whether you want to have a small lunch, cake, ice cream, or coffee, you are sure to enjoy the romantic vibes at Einstein Au Jardin.
The restaurant is open every day from 10 AM to 5 PM.
Address: Münsterplattform 5, 3011 Bern
19. Have Dinner at Kornhauskeller Restaurant & Bar
Want to experience some exquisite Swiss food and drink? Be sure to check out the Kornhauskeller Restaurant and Bar.
Here, you will be able to indulge in favorites such as beef carpaccio, chestnut soup, veal chops, and homemade tagliatelle.
The menu changes with the season so diners will be able to enjoy fresh and local options, so be sure to also check the website for the specific menu when you wish to visit.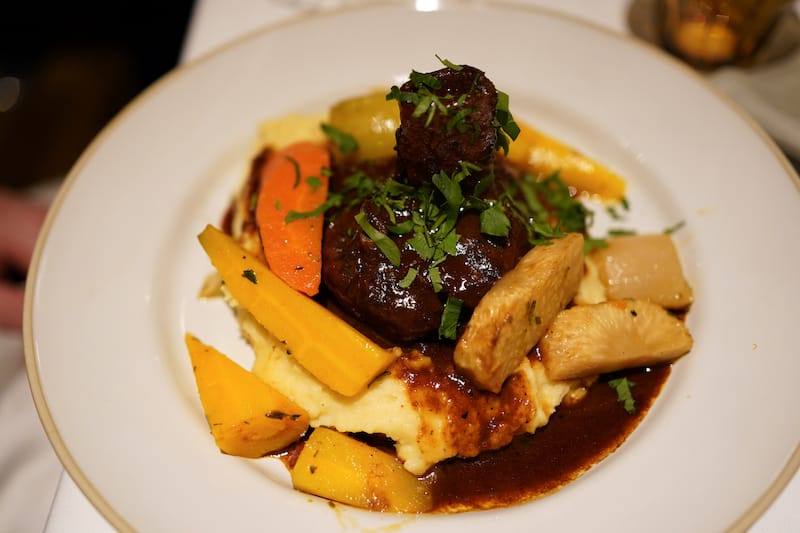 You will also have the opportunity to check out different alcoholic drinks, especially if you are a wine connoisseur, such as varieties of prosecco, white wine, and Swiss wine.
The restaurant's opening hours are: Monday to Thursday- 11.30-14.30 and 17.30-22.00, Friday and Saturday- 11.30-14.30 and 17.30-23.00, and closed on Sundays.
Address: Kornhauspl. 18, 3011 Bern
20. Go Skiing in Wengen
What better way to enjoy the winter in Bern besides skiing in Switzerland?
You can go skiing in Jungfrau, as well as a plethora of other wintertime activities like sledding, ice skating, hiking, curling, and snowshoe hiking.
The Jungfrau Ski Region is one of the most popular skiing destinations in the world, with people coming from all over to enjoy the winter sport in paradise.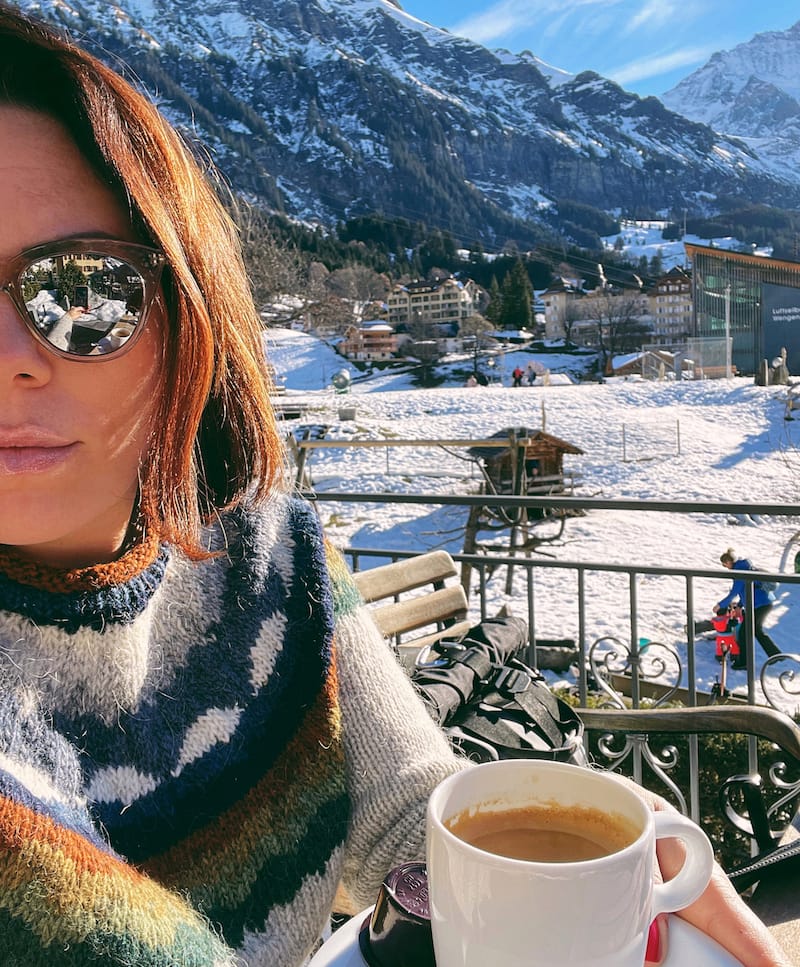 The ski slopes are at an altitude of 2,970 meters, and you will have over 275 kilometers to ski on.
You also do not need to bring your own equipment because there are plenty of spots for rental nearby.
There are also plenty of bars, campgrounds, hotels, and cabins if you wish to stay the night (or a few) or grab a bite to eat after a long day of skiing.
The Wengen tour center opening hours are as follows:
Monday: 9:00 am – 12:30 pm, 1:30 pm – 6:00 pm
Tuesday: 9:00 am – 12:30 pm, 1:30 pm – 6:00 pm
Wednesday: 9:00 am – 12:30 pm, 1:30 pm – 6:00 pm
Thursday: 9:00 am – 12:30 pm, 1:30 pm – 6:00 pm
Friday: 9:00 am – 12:30 pm, 1:30 pm – 6:00 pm
Saturday & Sunday: Closed
Where to Stay in Bern
Are you looking for some fantastic accommodations in Bern? Here are some of our top picks!
Did we miss any of the best things to do in Bern? Let us know your favorite attractions in Bern in the comments!
More Switzerland Travel Guides
Pin this Bern Things to Do Guide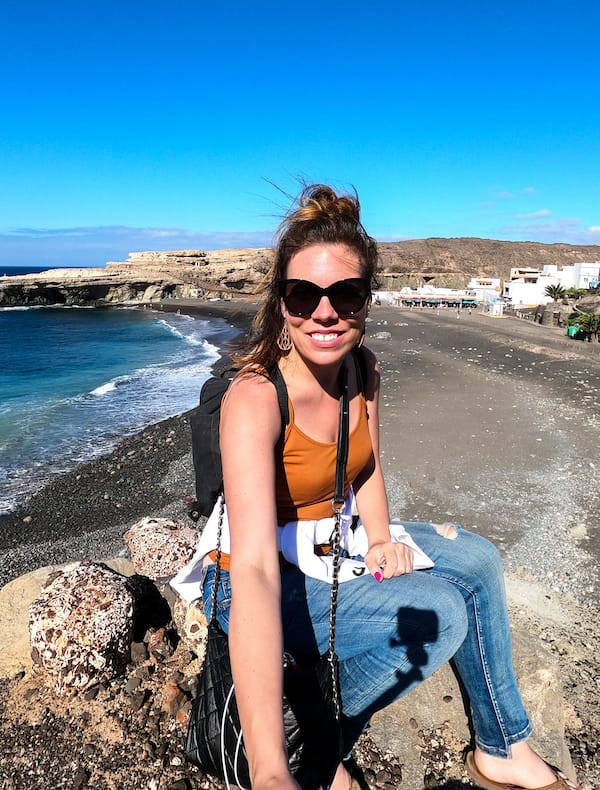 Megan is a travel blogger and writer with a background in digital marketing. Originally from Richmond, VA, she now splits her time between Frankfurt, Germany and Arctic Finland after also living in Norway, Armenia, and Kazakhstan. She has a passion for winter travel, as well as the Nordic countries, but you can also find her eating her way through Italy, perusing perfume stores in Paris, or taking road trips through the USA. Megan has written for or been featured by National Geographic, Forbes, Lonely Planet, the New York Times, and more. She co-authored Fodor's Travel 'Essential Norway' and has visited 45 US states and 100+ countries.