Mauritius is a cornucopia of adventure and beautiful places!
This is a guide to amazing things to do in Mauritius – it will showcase what to do in Mauritius for history lovers, adventure seekers, foodies, and more!
Are you planning your trip to Mauritius last minute?
If youʻre booking your trip to Mauritius last minute, we have you covered. Below are some of the top tours, hotels, and more!
🇲🇺 Top experiences and tours in Mauritius:
🛌 Top hotels in Mauritius (by area!):
🚗 Looking for the best way to get around Mauritius? Click here to check rental car rates for Mauritius!
It also contains some of the most beautiful places to visit in Mauritius.
Best Things to Do in Mauritius
Travel is an amazing gift from the universe and there is no feeling like the feeling your stomach conjures up before arriving at a new destination.
Traveling to Mauritius was like this for me.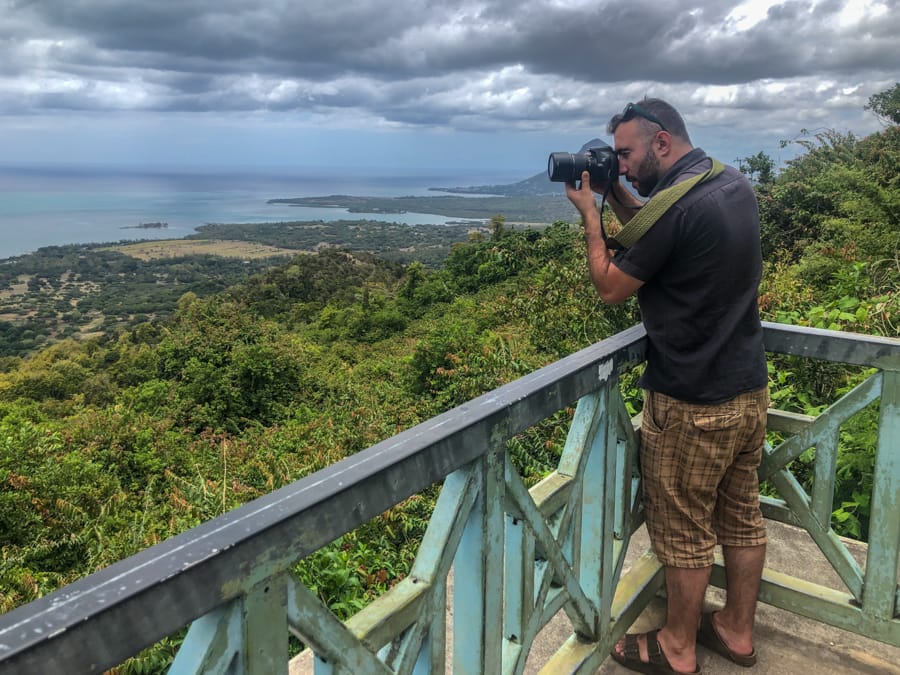 I really wasn't entirely sure what to expect but I was excited to discover somewhere new… especially a place that had a reputation for being a bucket list destination that is considered to be one of the world's most beautiful islands.
One thing I wished I had done prior to traveling to Mauritius was researched a little further.
I knew vaguely what there was to do there but I genuinely had no idea that there were so many things to do in Mauritius.
In fact, my biggest regret was not sticking around a little longer to discover more of the island than I did!
I hope that this guide will help you plan your Mauritius itinerary a bit better than I did.
There are mind-blowing beaches, adventurous activities, delicious food, and stunning places all waiting for you to visit, do, or devour them.
There is far more to do on the island than just party or hang around an all-inclusive resort.
This guide will touch upon some of the island's tumultuous history, including its unsettling slavery past, how diversity defines the island today, and what else one can do to keep occupied in Mauritius.
If you have any additional recommendations for what to do in Mauritius, please leave your suggestions in the comments section for other travelers.
What to Bring to Mauritius
I will soon have an entire guide of what I recommend packing for Mauritius but for now, here are a few things I think that will be useful for your trip:
Renting a Car in Mauritius
Mauritius is a small island with not too many roads and the ones that they do have are pretty well-maintained.
Renting a car in Mauritius will not only aid you in seeing the island at your own pace but it will also give you the chance to have the comfort of a car and air-conditioning if you're struggling with the heat and humidity.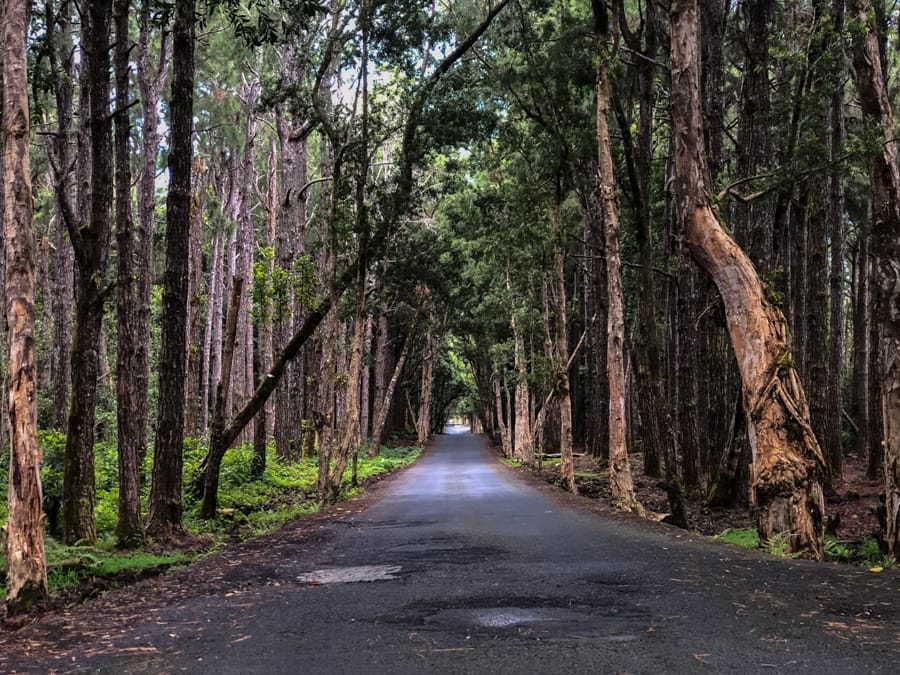 Do be aware that driving in Mauritius means driving on the left side of the road, NOT the right, so be sure you're comfortable doing this before renting a car there.
If you're unable to rent a car in Mauritius, no worries… there are many tours that will help you still see the island.
>> Click here to rent a car in Mauritius
Best Tours in Mauritius
I really had no idea how many things to do in Mauritius existed and I am really glad that I did have a chance to go on tours when there as it helped me see far more of the island than I had initially planned.
One thing to note about Mauritius is that the tours sell out fast!
Book ahead if you can. I was limited on choices as I played things by ear and ended up with not as many options as a result.
My Mauritius tours were outstanding but they were not necessarily my first choices.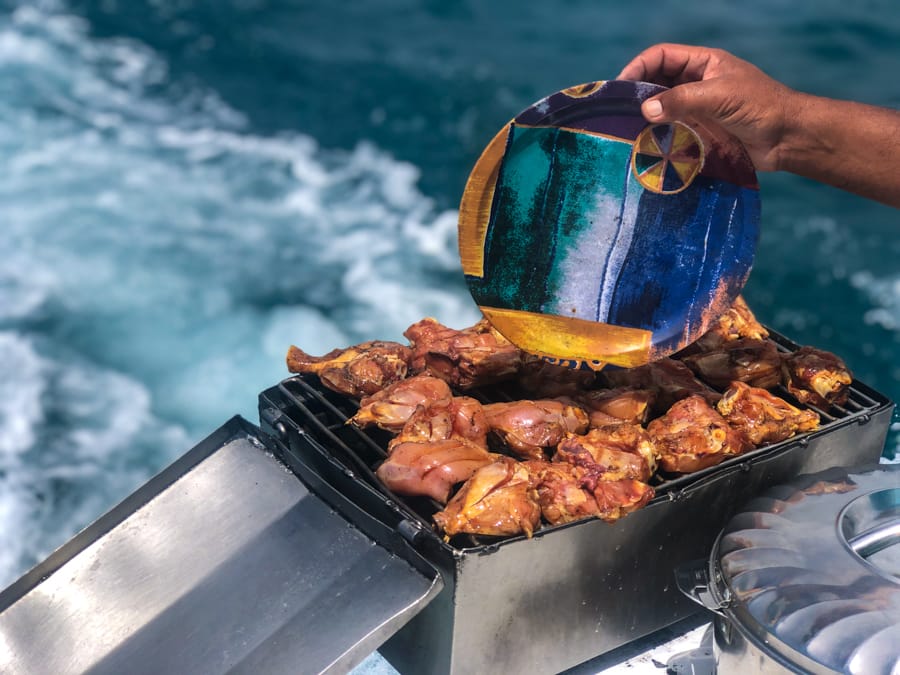 Taking a tour in Mauritius is beneficial as you don't have to rent a car and many of the tours will pick you up directly at your hotel.
We created an entire guide of the top-rated and recommended Mauritius tours, but we are listing a few here to help you see what is available.
At the end of this guide, you will also see quick links of ones we discuss throughout the text.
Here are a few top-rated Mauritius tours that we recommend:
What To Do in Mauritius
Historical Things to do in Mauritius
The history of Mauritius is anything but a simplified one. Centuries of colonization and slavery had an immense impact on the island and the complexities of it are still very evident in society today.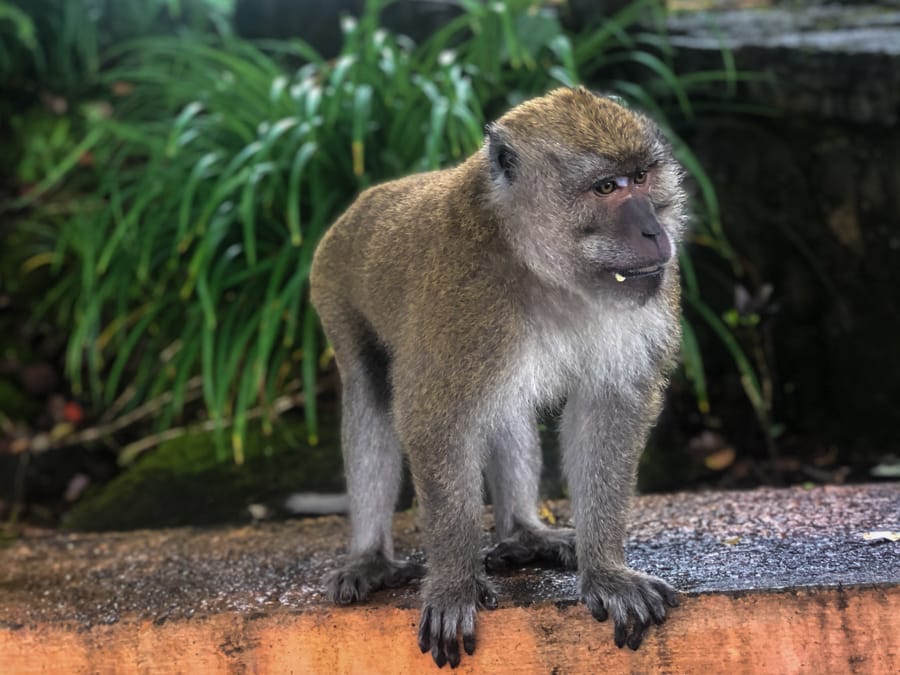 While one could write a book about this topic, I am not really qualified to go into great detail about it except for a few overviews here and there as I would need a lot more time to really dive into it when there (and I will, next time).
One thing that was very noticeable to me when I was in Mauritius was the prevalence of Hindu culture.
The British brought in thousands of Hindus from India in the 19th century as indentured laborers to work in the sugarcane fields and factories.
Many of these people remained in Mauritius and created a new life but kept in touch with their roots.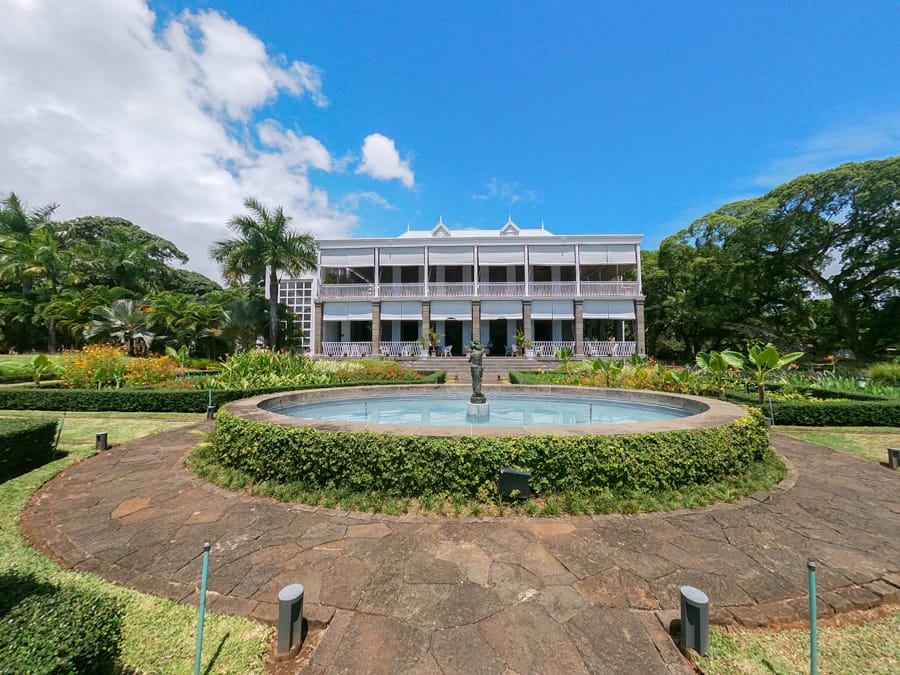 Nowadays, the Hindu presence is very commonplace around the island you will see Hindu temples and shrines everywhere… along with some religious sights from Muslims, Christians, and Buddhists, too.
I found the island quite peaceful despite the many cultures and religions represented in Mauritius.
There are many museums and sights in Mauritius that showcase the diversity of the island, particularly the Hindu presence there.
Pay Respects at Le Morne Brabant
The majestic landscape of Le Morne Brabant (Cultural Landscape) showcases gorgeous mountains hugging the Indian Ocean.
Unfortunately, this mountain has a dark past as it was an alleged shelter for runaway slaves from the 18th-19th century.
There are people disputing this but it has become recognized by UNESCO for its tragic past.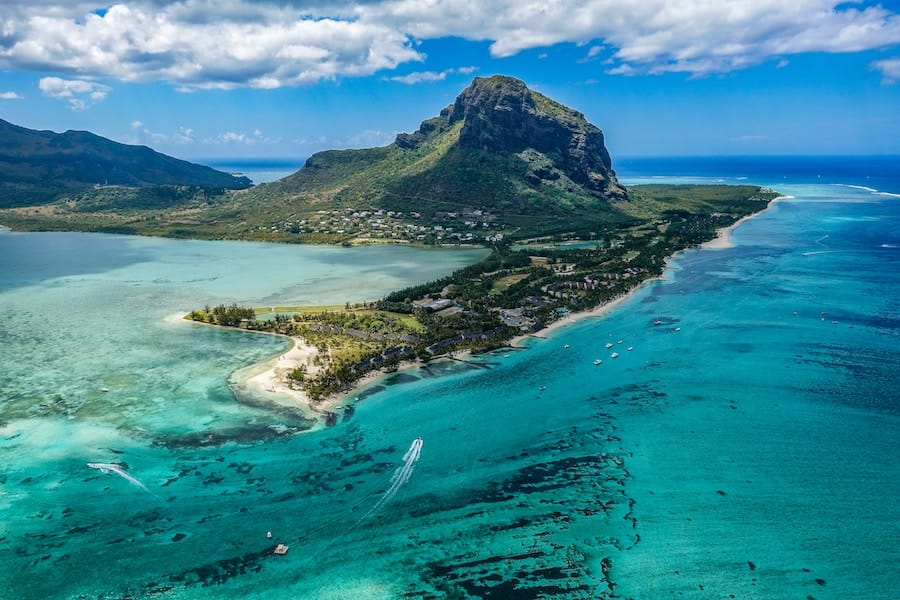 Located on the southwest side of the island, it is a UNESCO World Heritage site and a must-visit place in Mauritius simply for its remarkable history and breathtaking views.
If you're looking to hike the mountain with a skilled guide who can educate you along the way, check out this really awesome tour that allows you to learn while you soak up the wonderful Mauritius nature.
Head to Aapravasi Ghat in Port Louis
Aapravasi Ghat in Port Louis is the remains of the old immigration center (Aapravasi Ghat is Hindu for immigration center) that was used to process the thousands of 'paid' Indian laborers that were bought to the island to work on the plantation and in the factories by the British Empire after the abolishment of slavery.
The arrival of these works on Mauritius shaped the island's culture in a massive way, with over 65% of today's current population having its ancestry linked to the Indian migrants that came through the Aapravasi Ghat.
The building has not fared well over the years with urbanization causing large parts of it to be destroyed.
However, the remaining parts have been preserved and granted UNESCO World Heritage status due to the cultural impact the Indian workers had on this tiny island's way of life.
Interestingly, the use of Indian workers had not been done prior to the first ones that came to Mauritius, after this, the practice became commonplace with Indian workers transported to the various colonies throughout the world and bringing their own cultural impact wherever they went.
Learning more about the history of Indians on Mauritius is something that is crucial to do if you want to learn more about the culture in Mauritius.
Visit the Statues of Shiva and Durga Maa
One of the best places to visit in Mauritius south is in the Savanne district right next to the Grand Bassin.
You will find an imposing and massive statue of two Hindu Gods there. The statue of Shiva and Durga Maa are more than 30 meters tall and are incredible to see in person.
According to Hinduism, the goddess Durga Maa has eight hands and is the mother of the universe and the protector of evil for humanity.
On the other hand, her husband, Shiva, is a god of destruction. Seeing these statues together is pretty conflicting and interesting, to say the least.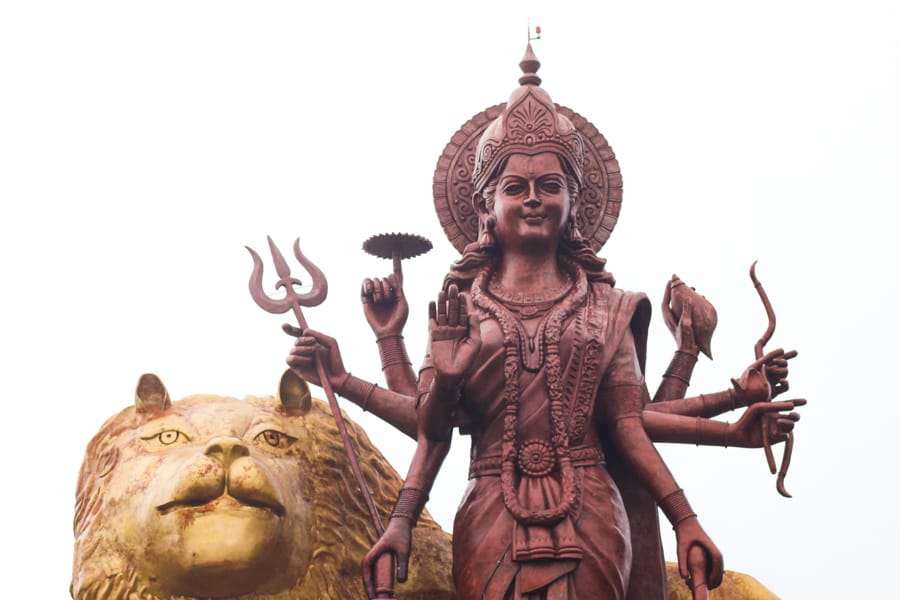 Since 2008, these statues became a popular tourist attraction since the area hosts a large festival annually called Maha Shivaratri, also known as the 'Great Night of Lord Shiva'.
It has since become one of the most popular, if not the most popular, festivals on Mauritius.
Check out Ganga Talao (Grand Bassin)
A couple of hundred meters away from the statues of Shiva and Durga Maa is one of the most sacred places in Mauritius, Ganga Talao… also widely known as Grand Bassin, which translates to 'Sacred Lake'.
The Shiva Temple was built in 1897 and is located in the Ganga Talao area where locals are praying, blessing, and participating in Maha Shivaratri.
The photogenic crater lake is surrounded by religious statues and flower-covered arches and was mind-blowingly beautiful.
In addition, the area is teeming with curious monkeys that are hunting for food so be sure not to provoke or disturb them during your visit to Ganga Talao!
Entrance to Ganga Talao is free.
Learn about Sugar at L'Aventure du Sucre
Sugar production and the industry behind it played a very important part in the history of Mauritius over the centuries.
Mauritius may be a young country but its history is complex. You can learn a lot about the sugarcane industry historically and presently in Mauritius at L'Aventure du Sucre.
At L'Aventure du Sucre, you will learn about sugarcane, see the product from start to finish, and get educated on the crop's end-uses.
My favorite thing about L'Aventure du Sucre is that it is not only a museum but it is also a large facility where you can cut the sugarcane yourself, enjoy the sugar in rum at a cocktail tasting, and eat desserts made especially from sugarcane.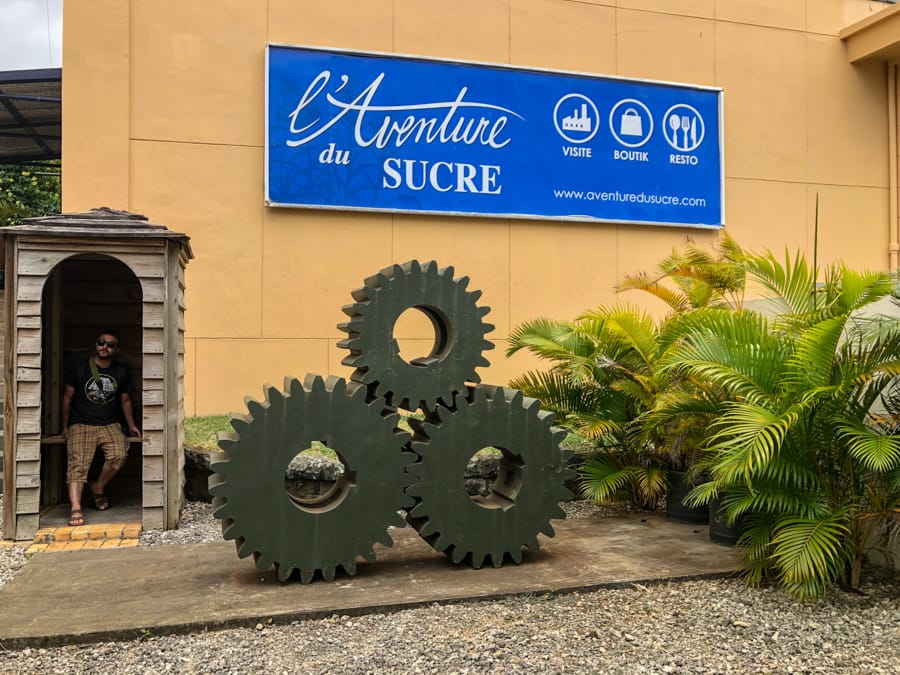 The place is super interactive and is one of the best things to do in Mauritius for families, honeymooners, and more.
Ticket prices to L'Aventure du Sucre are 425 Rs for adults and 200 Rs for children (6-13 years of age and students).
Cultural Things to Do in Mauritius
Learn about Ship Building at Bobato
One really interesting thing on my itinerary in the south of Mauritius was a place called Bobato, a ship model shop that specialized in miniature models of beautifully built ships.
Opened in 1992, the place specializes in ornate ships that are replicas of actual ones as well as ones you can customize yourself.
I found it really interesting to stop by this place in Curepipe to learn more about it and watch the masters go to work. It was amazing how detail-oriented the process is and how intricate it all was.
These make for an interesting gift but just be careful about how you transport one home!
You can check out Bobato at 53A Sir John Pope Hennessy Street Curepipe/Daruty de Grandpre Avenue in Curepipe on Mauritius.
You can also see the ships for sale at Pride of the Islands – Handcrafted Ship Models which is located at Royal Road in Floreal.

Visit the Port Louis Central Market
One of my favorite things to do when I travel is to find a local market and peruse the aisles.
I like trying different local ingredients and I know that Megan loves toting back spices when she travels from various places too.
The Port Louis Central Market is one of the most popular on the island and you can find a variety of unique fruits there. Some of the local fruits you can find on Mauritius are as follows:
Dwarf bananas, known as Banane Zinzeli

Sugar apple, known as Zatte

Lychee

Longan

Java Apple, known as Jamalac or Zamalac

Java Plum, known as Jamblon

Jackfruit

Pomegranate
Mauritius for Nature Lovers
The tropics evoke images of lush green landscapes and palm trees along perfect, cerulean beaches.
Mauritius is definitely the tropics and these images are, in fact, very real. However, I did find the landscape to be much more diverse than I had initially thought it would be.
The interior looked rugged and like some of the places I saw in Central Asia while the coastal regions looked like paradises I had only seen on postcards.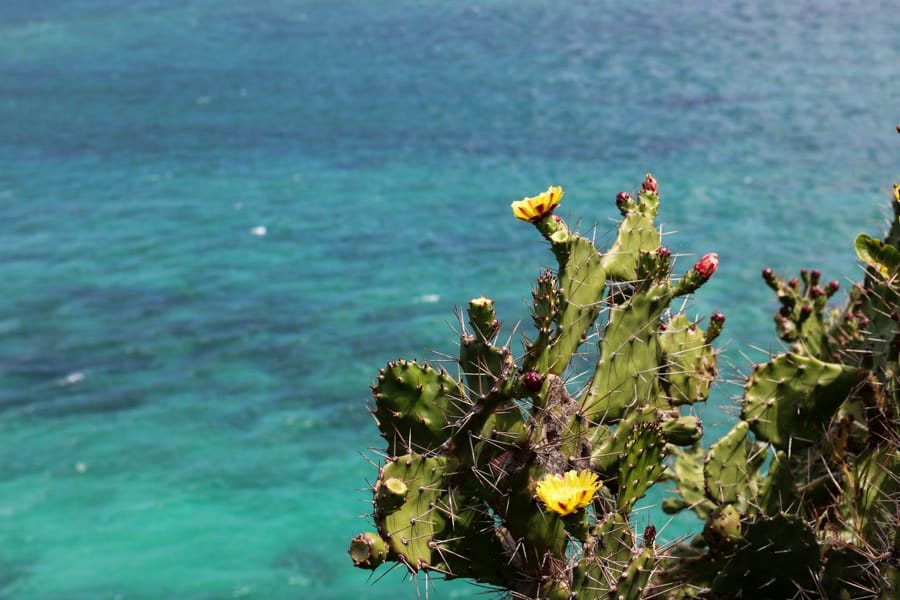 These varying landscapes create the perfect place for adventure tourism like hiking, rock climbing, kayaking, canyoning, and more.
But, it also gives those who are not into adventure sports a chance to witness some of the most insanely beautiful scenery.
This next section is a recap of some of my favorite things to do in Mauritius for nature lovers.
Take a Tour to Ile aux Cerfs
Also known as Deer Island, Ile aux Cerfs is located on the east coast of Mauritius in the district called Flacq.
Unfortunately, deer no longer exist on the 100-hectare island, but it does have one of the most beautiful beaches in Mauritius (if not the world!) and it is an essential thing to do in Mauritius for visitors.
Ile aux Cerfs is also famous for its incredible-looking lagoons, a golf course, 5-star hotels, and several water activities.
To make your trip unforgettable and relaxing, you can take a catamaran tour to Ile aux Cerfs as I did and enjoy a peaceful day seeing one of the most beautiful places in Mauritius.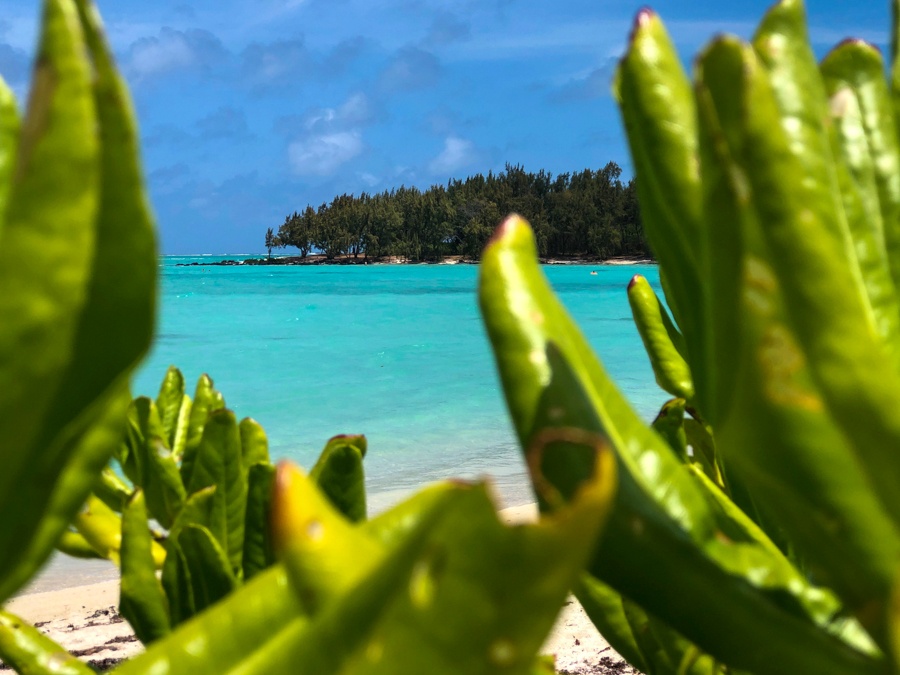 The tour operator will pick you up from your hotel and after about 40 minutes, depending on where you're staying, you're on a catamaran heading to Ile aux Cerfs.
During the sail in the crystal clear Indian Ocean, you will have a chance to go snorkeling, visit a small waterfall, and eat a BBQ right on the boat.
On the island, you will find many restaurants so if you're keen to try some local cuisine, this is the time to do it!
>> Click here to arrange a catamaran tour to Ile aux Cerfs.
Visit Heritage Nature Reserve
Heritage Nature Reserve is a 2,500-hectare place that nature lovers and those looking to learn more about Mauritius should visit on their trip there.
The reserve is filled with amazing waterfalls, gorgeous views, green nature, and many opportunities to relax or rest.
One of the greatest things about Heritage Nature Reserve is that there are many opportunities to picnic, ride quads around the reserve, and more.
There are several hidden corners that will leave you constantly curious about what else there is to discover the many things to do in Mauritius.
You can check out this post on Heritage Nature Reserve for more information.
Explore Black River Gorges National Park
Located in the south of Mauritius sits one of the most famous sights in the country, Black River Gorges National Park.
This natural wonderland is one of the biggest parks on the island and it was established in 1994.
It is about 68km² and contains varying landscapes that are home to forests, rare birds, the Mauritian flying fox, and many rivers and lakes.
Inside the National Park, you will find great places to visit in Mauritius like Alexandra Falls and the friendly river dolphins.
Check out Alexandra Falls
Alexandra Falls is inside Black River Gorges National Park and is a must-visit for those heading to Mauritius.
While the waterfall pales in comparison to its nearby sister, Chamarel, it is still worth checking out as it offers a really great viewpoint over the mountains.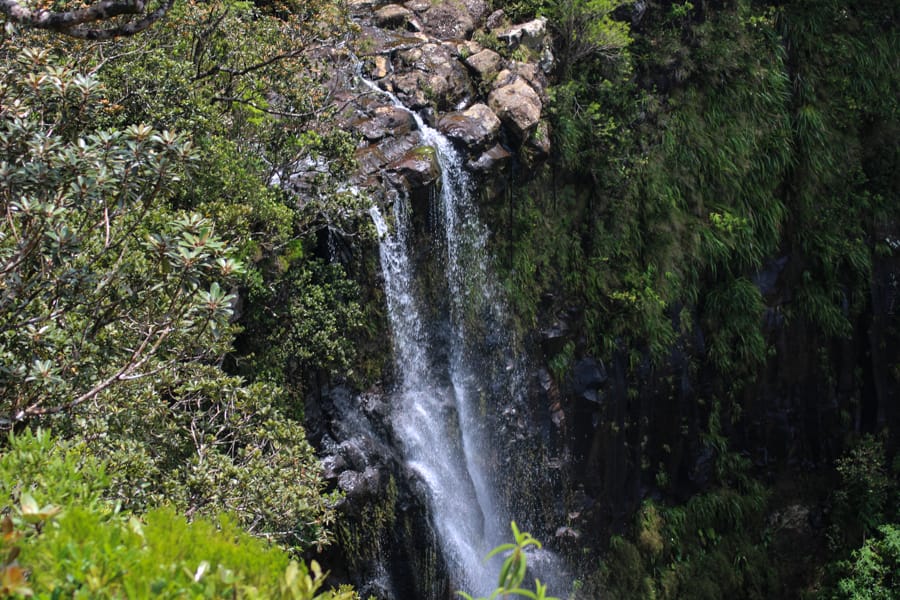 There is a special wooden staircase that takes you to a spot where you can see this hidden waterfall. It is definitely worth visiting when you're in the National Park!
The area has parking and really easy and walkable trails.
Visit the Black River Gorge Viewpoint
The panoramic view from the Black River Gorge is something not to be missed in Mauritius.
The viewpoint can easily be reached from nearby places such as Alexandra Waterfall or Chamarel Waterfall and offers one of my favorite views of the entire trip.
Technically speaking, you can see the Black River Gorge along with Seven Colored Earth, Alexandra Waterfall, and Chamarel Waterfall, along with heaps of other places within five hours.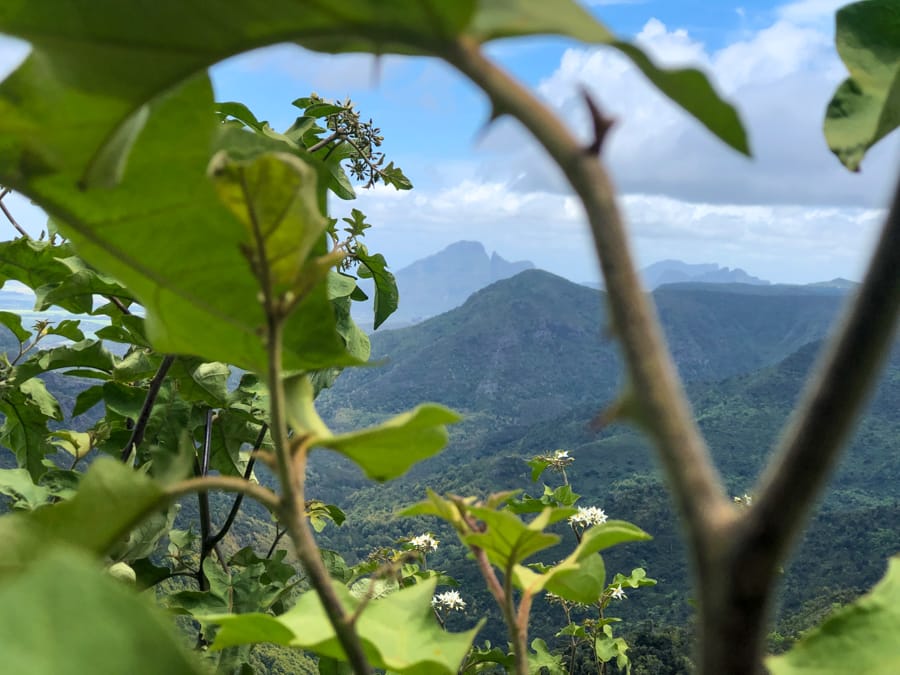 The breathtaking view of the Black River Gorge is a green serpentine-like area looking ethereal and harmonious as it was a place in Mauritius that was looked after by the government for decades.
It really gave me one of those 'pinch me' moments when I was there.
Before walking to the watchpoint, you can park your car in a special, dedicated parking space near a toilet that is about 30m away.
Please also watch for the monkeys that will be lurking in the area.
To find this viewpoint, plug in B103- Plaine Champagne Road Mauritius into your navigator if you rent a car.
Admire the Chamarel Waterfall
Easily one of the most beautiful places to visit in Mauritius, the Chamarel Waterfall is one of the icons of the island nation.
The 83m tall mesmerizing waterfall is located on the southern part of the island between the Black River Gorges National Park and the Seven Colored Earth.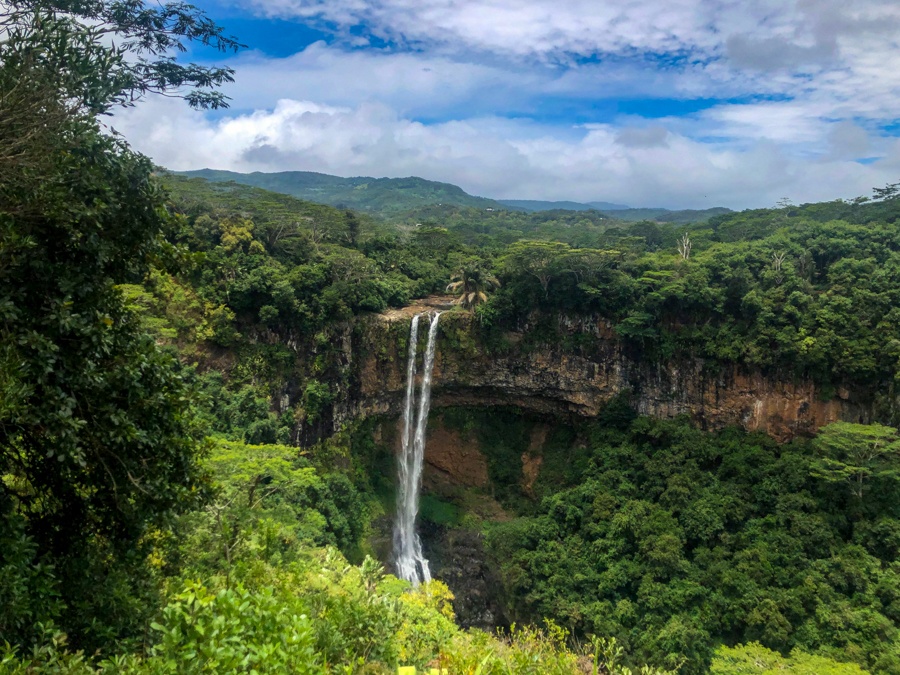 Not only is the waterfall a spot to chill out at and take it all in, but it is also a place where avid hikers go to enjoy the trail network.
Seeing the Waterfalls of Chamarel and the Seven Colored Earth will cost a little, however, as the price for both is 250 Rs for adults and 75 Rs for children.
Making a stop at the Chamarel Waterfall is one of the best things to do in Mauritius, hands-down.
If you want to take an organized tour of the south of Mauritius, this will be on it! And I highly recommend taking a tour as it makes transport easy.
>> Click here to beat the crowds and purchase your ticket NOW!
Marvel at the Seven Colored Earth
As previously mentioned, you will need to purchase a ticket to see Seven Colored Earth but I can assure you that the price, while possibly steep depending on your budget, is undoubtedly worth it.
I have never seen anything like Seven Colored Earth in my life and it is a rare, natural wonder that makes it one of the most special places on the planet.
Seven Colored Earth is known as a geological formation of seven-colored sand dunes across a 7500 square-meter landscape.
It is a large tourist attraction in Mauritius and to avoid the masses of visitors, I suggest you visit it early in the morning.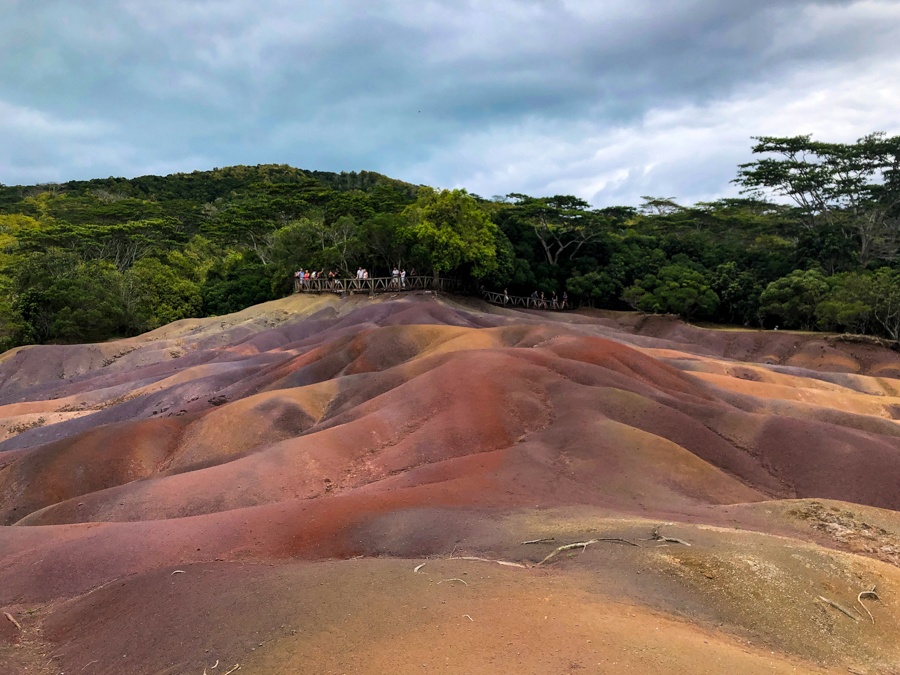 Please be aware that when you're visiting Seven Colored Earth and the Waterfalls of Chamarel, it is illegal to fly a drone without permission.
>> Click here to beat the crowds and purchase your ticket NOW!
Take a Boat to Cocos Island
There is a unique opportunity to enjoy and relax your way over to Cocos Island, a beautiful island off of Mauritius that boasts white beaches and stunning scenery.
Located off the southeastern coast of Mauritius, you can explore Blue Bay Marine National Park during your tour.
The Cocos Island tour also offers a chance to enjoy cocktails, delicious food, and epic ocean views from glass-bottom boats during your ride to the island.
This is a luxurious Mauritius experience that no one should miss!
>> Click here to see itinerary, rates, and availability for a trip to Cocos Island.
See Trou aux Cerfs Volcano Crater
Mauritius was formed because of volcanic activity millions of years ago and there is still evidence of this throughout the island.
One example is Trou aux Cerfs volcano crater, a dead volcanic crater on Mauritius.
Located about 25 kilometers away from Port Louis, you will find Trou aux Cerfs, a massive hole in the earth that formed post-eruption a hundred thousand and some years ago.
What was once a disaster zone is now an area flourishing with life and beauty.
The ride to Trou aux Cerfs is kind of unassuming as it all used to be part of a volcano that is kind of masked presently by the abundance of lush nature.
I can assure you that there is something mysterious in Trou aux Cerfs.
You can't walk in certain areas there as they are protecting the space, but it is undoubtedly still worth a visit.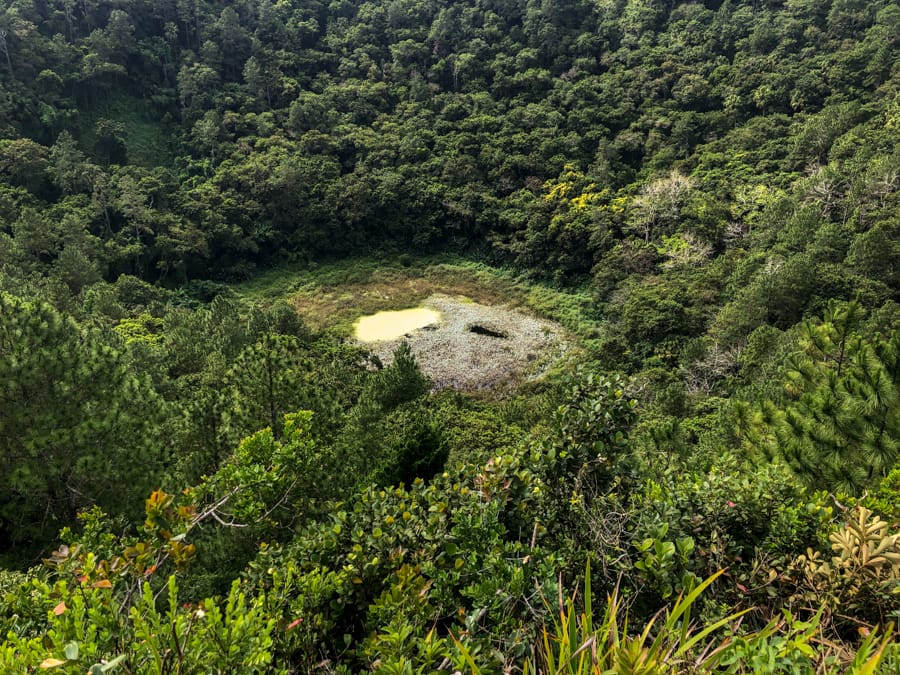 Also known as Murr's Volcano, Trou aux Cerfs crater is 100 meters deep and has a diameter of 350 meters.
On a side note, next to Trou aux Cerfs is a very obscure building that is worth checking out due to its interesting construction design.
It is actually a weather station. The locals continuously crack jokes that they don't predict the weather being predicted here, regardless of how new and modern the station is.
You can easily see this part of the island on a private tour of the southwest of Mauritius.
>> Click here to inquire more about a private tour.
Sail Around the Northern Isles
Visitors to Mauritius will be pleased to know that one can see so much of the islands easily by taking a tour of the northern isles of Mauritius.
You will get to sail around the six islands and enjoy BBQ on the boat or a picnic lunch.
The closest island is located about four kilometers away from the main island and is called Coin de Mire. It is super easy to reach by organized catamaran and the views are epic.
You will be able to disembark from the boat and enjoy a cocktail on the beach and just relax and soak up the gorgeous Mauritius nature at your fingertips.
Click here to check out Mauritius northern isle tour details, availability, and rates.
Visit the Botanical Gardens in Mauritius
There is one main botanical garden in Mauritius called the Sir Seewoosagur Ramgoolam Botanical Garden It is located in the district of Pamplemousses in the northwest of the island and it covers a space of 178.7 km2.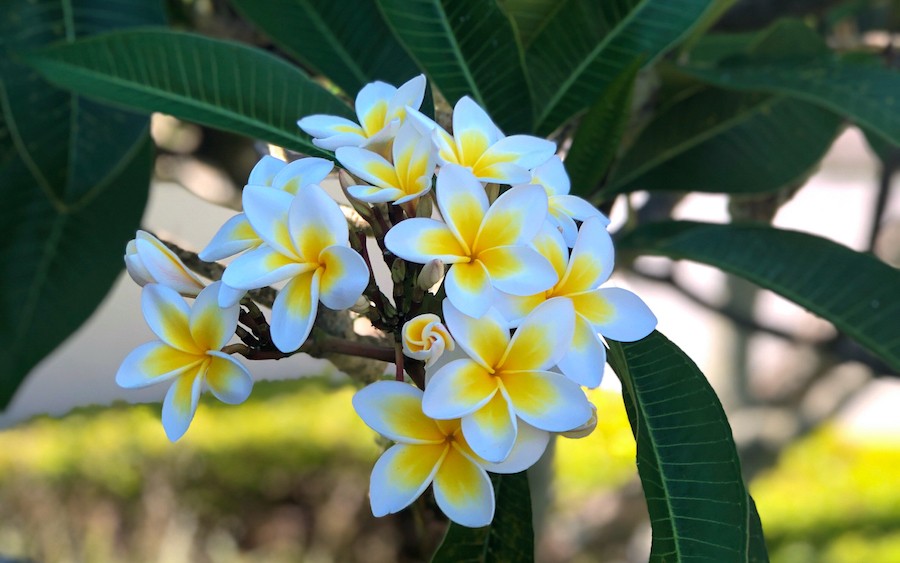 The botanical garden is insanely beautiful and is very well-kept and will blow your mind with its lush, green trees, miniature ponds, and colorful flora.
The garden was established in the 18th century and eventually became a home for more than 85 different types of palms from various islands in the Indian Ocean, Central America, Asia, and Africa.
For nature lovers, botanical gardens offer a respite from the craziness of city life or larger towns and this place is no exception.
>> Click here to book your trip to the botanical gardens along with a tour of Port Louis.
Delicious Things to Do in Mauritius
One of the best things about Mauritius is the FOOD! And drinks.
There is something completely remarkable about being in a place with such astoundingly flavorful cuisine.
I could write on this forever, but I am listing a few of my favorite food and drinks experiences in Mauritius to help you plan what to do.
Try a Fruit-Based, Local Wine
The wine industry in Mauritius is mainly an import industry as the country doesn't cultivate grapes or have any grape wine production. However, Mauritius produces its own variety of wine… from lychee fruit.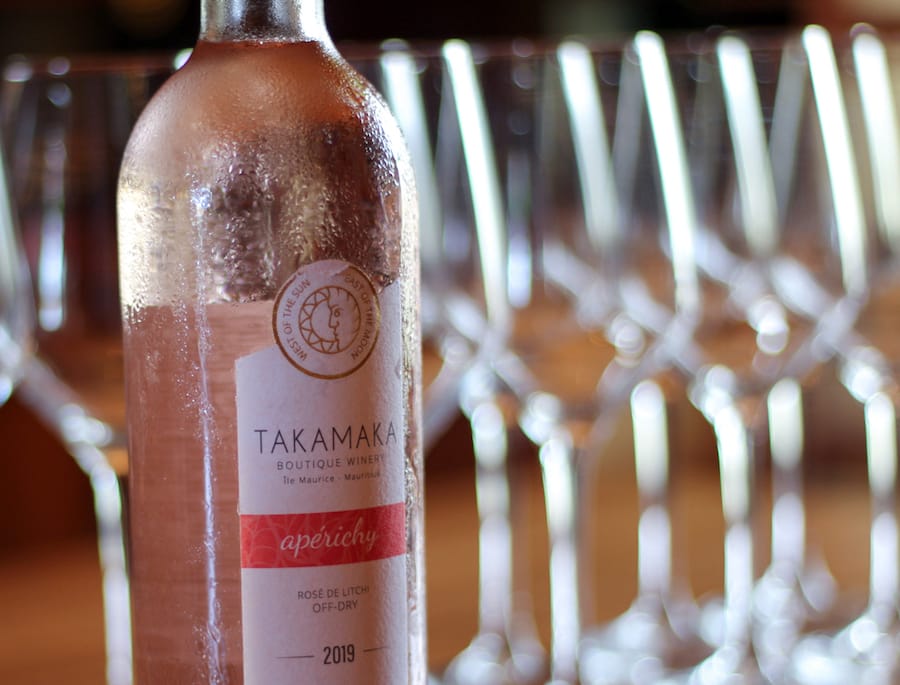 I found the taste of the wine to be very special and unusually delicious, which is a huge compliment as I come from a country with known wine production and the oldest winery in the world.
While the wine is different and won't taste the same as grape wine, it is absolutely worth trying when you're there. It was delightfully refreshing.
Take a Street Food Tour and Try Dholl Puri
As previously mentioned, the cuisine of Mauritius is very influenced by that of India and Europe.
One of the greatest things coming from India is the Dholl Puri, an enormously popular wrap that is ubiquitously found everywhere on the island.
Since it is common street food, you will find it with different varieties and sauces on the island.
You will see it range from a Mauritius curry sauce to a tomato-based one.
Another amazing combination to try is dholl puri with sweet kheer.
You can devour the famous Mauritian dish on your own or you can take a street food tour to learn more about it and the history of street food in Port Louis and beyond.
Eat Your Body Weight in Seafood
It's no secret that if you're visiting a tropical island, you will want to indulge in the local seafood and discover the best dishes the country has to offer.
Mauritius was no exception.
The European and Indian influences of the island made the fusion of dishes absolutely delightful and bursting with flavor.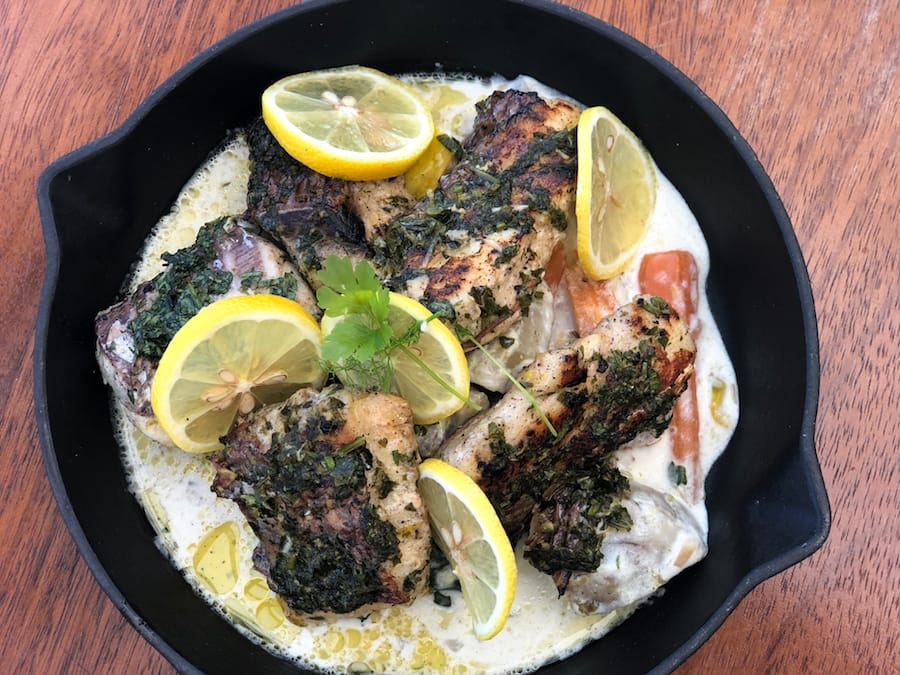 You will have no issue finding amazing food on the island and while I would love to give a solid recommendation, EVERYWHERE that I dined at had exceptional food.
I ate everything from fresh tuna to desserts made with local sugarcane and it was all outstanding. Be ready to eat!
Enjoy a Sugarcane Rum Cocktail (or Visit a Rhumerie!)
I had no idea that rum could be made from sugarcane (okay, I didn't really know anything about rum, let's be honest) and I certainly had no idea that it was so top-notch.
The best rum I have ever had was actually in Mauritius. Lazy Dodo rum was truly amazing and worth knowing.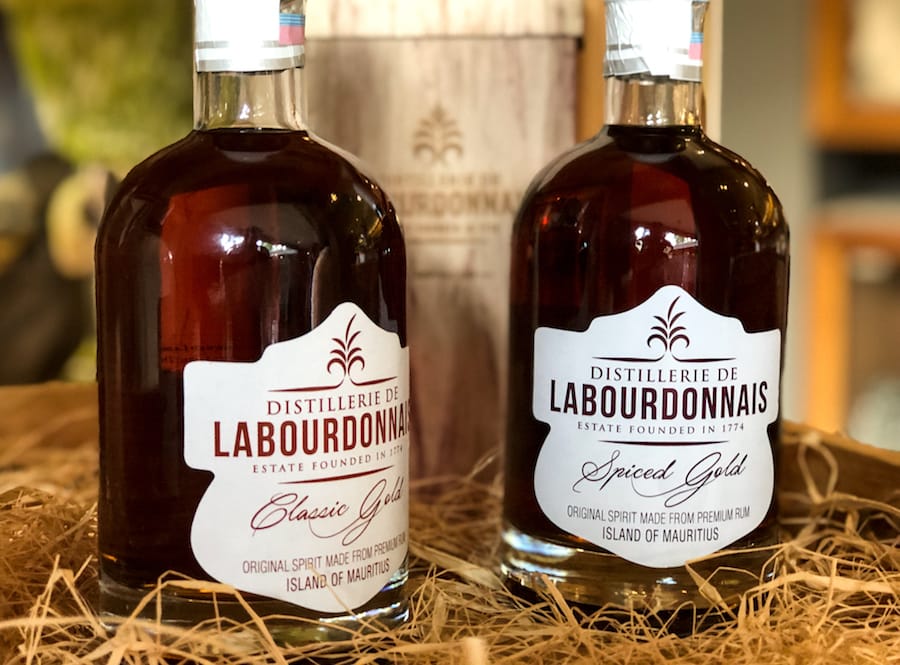 I had the opportunity to try rum at L'Aventure du Sucre Museum Factory where the professional and skilled bartenders explained how the rum was made and they gave me the opportunity to try different types of rum.
If you enjoy cocktails, spirits, or just learning more about a place through drinks, this is definitely one of the best things to do in Mauritius.
What to Do in Mauritius for Active Travelers
Go Flyboarding at Grand Baie Beach
Located in the North of Mauritius is Grand Baie, a small village with a fantastic public beach dotted with sailboats and the secluded La Cuvette.
The area is popular with many 5-star resorts, restaurants, and craft stores… but one thing that is notable about the area is that there are heaps of water activities available. Including flyboarding.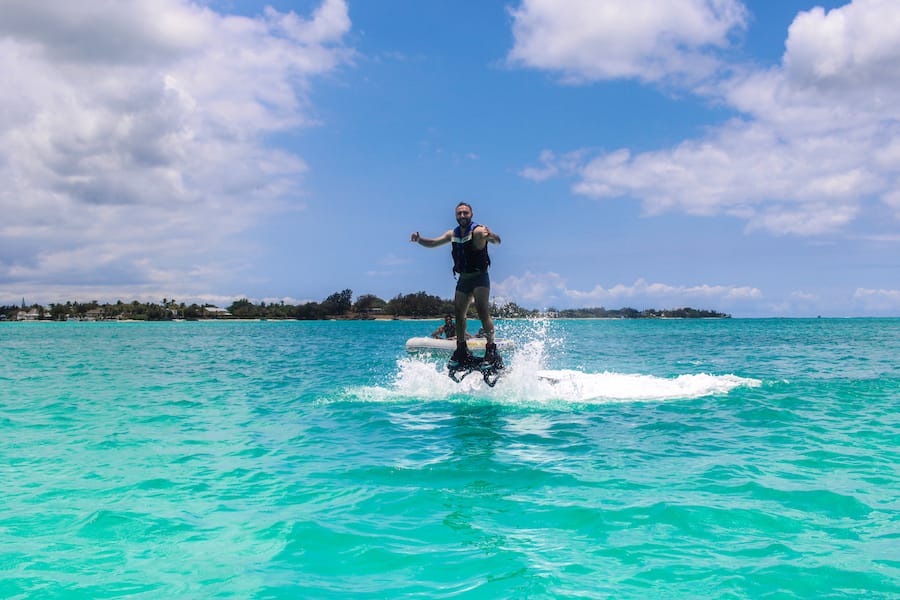 For extreme water sports lovers, you can take to the skies… and the water by trying out the flyboarding experience at FLYn'Dive Flyboard Mauritius there.
It was an unforgettable experience and one of the most interesting things I did on the island!
You can find out more information about flyboarding with FLYn'Dive Flyboard Mauritius here.
Go Golfing in Mauritius
I had no idea how popular golfing in Mauritius was until I got there and saw course after course! Golfers, this is a paradise for you!
There are over ten courses on the island and many are full 18-hole courses.
Golf has been a huge part of the culture of Mauritius since 1902 and they host many large championships there.
If you're into golfing, Mauritius is the perfect place to do it.

Go Snorkeling in Mauritius
If you love seeing what lies beneath, then snorkeling in Mauritius is definitely for you.
The island is a paradise surrounded by rich coral reefs and a lot of gorgeous flora and sea creatures.
There are many places to snorkel around Mauritius, but I suggest booking a snorkeling tour while there.
One reason I suggest booking a snorkeling tour in Mauritius is that the ecosystem and coral are very sensitive around the island.
There are many rules that are not openly discussed yet are imperative to be followed.
It is also helpful to have a knowledgeable guide around to help you identify creatures and what you should know before going below the water.
>> Click here to find a snorkeling tour in Mauritius that fits your needs.

Mauritius Tours Mentioned in the Post
We mentioned quite a few top-rated tours above that we suggest to help you achieve some of these awesome things to do in Mauritius. Here is a quick guide to the Mauritius tours we mentioned:
Where to Stay in Mauritius
I had the opportunity to stay in two different places in Mauritius.
One of them was a luxury resort which was fantastic for those with a larger budget.
The other place I stayed in Mauritius was more mid-range and I also highly recommend it!

LUX Grand Gaube (Luxury)
The LUX Grand Gaube is a stunning 5-star resort that was the first accommodation I had in Mauritius.
I really loved everything about it- from the breakfast buffet to the DJs in the evenings… it truly had so much personality and life.
The scenery was epic and the amenities were endless.
>> Click here for rates and availability at LUX Grand Gaube
Voila Bagatelle (Mid-range)
If you have a smaller budget but still want to feel great about your choice of accommodation in Mauritius,
I can also recommend Voila Bagatelle as a wonderful place to stay.
The property is a bit smaller and is not located on the water but it has everything you will need and then some.
>> Click here for rates and availability at Voila Bagatelle
More Mauritius Travel Guides