One of my favorite things I did in Mauritius was to take an Ile aux Cerfs tour on a catamaran. The journey was stunning and created some awesome memories from the trip.
This is my guide reviewing my tour to Ile aux Cerfs in Mauritius and tips, what to expect, and more.
Are you planning your trip to Mauritius last minute?
If youʻre booking your trip to Mauritius last minute, we have you covered. Below are some of the top tours, hotels, and more!
🇲🇺 Top experiences and tours in Mauritius:
🛌 Top hotels in Mauritius (by area!):
🚗 Looking for the best way to get around Mauritius? Click here to check rental car rates for Mauritius!
How to Take an Ile aux Cerfs Tour in Mauritius
Visiting Mauritius and not taking the opportunity to see some of its amazing islands in unimaginable and you should not leave without doing so. It will make your list of things to do in Mauritius larger, but trust me, it's so worth it.
I definitely recommend planning your Mauritius holiday in advance.
By really planning your Mauritius itinerary, you will be able to put aside some days to enjoy the beaches, islands, and nature of Mauritius.
This Ile aux Cerfs tour is one of the essential things to put on your list, in my opinion.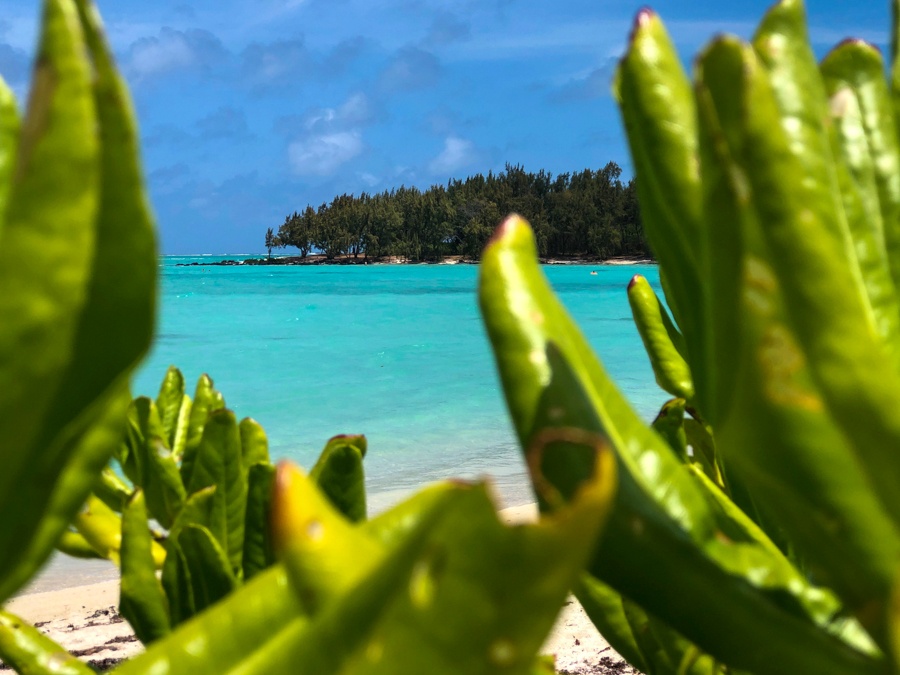 The emotions and benefits of sailing in the wind in the gorgeous Indian Ocean while a pod of dolphins is swimming by are absolutely unreal.
And having the chance to go snorkeling in Mauritius in a place where such beautiful creatures live among a famous reef is just a feeling that can't be replicated anywhere else.
My tour to Ile aux Cerfs gave me all of these emotions and I highly recommend taking one yourself.
This is a guide of how to take an Ile aux Cerfs tour, what to expect, and some tips if you choose to do so.
My Thoughts about My Ile aux Cerfs Excursion
One thing you should know before visiting Ile aux Cerfs is a little bit about the island.
Getting there was a bit crazy as the tours do book up quickly, and that is something I will reiterate a few times throughout this post!
I hope it encourages you to book ahead.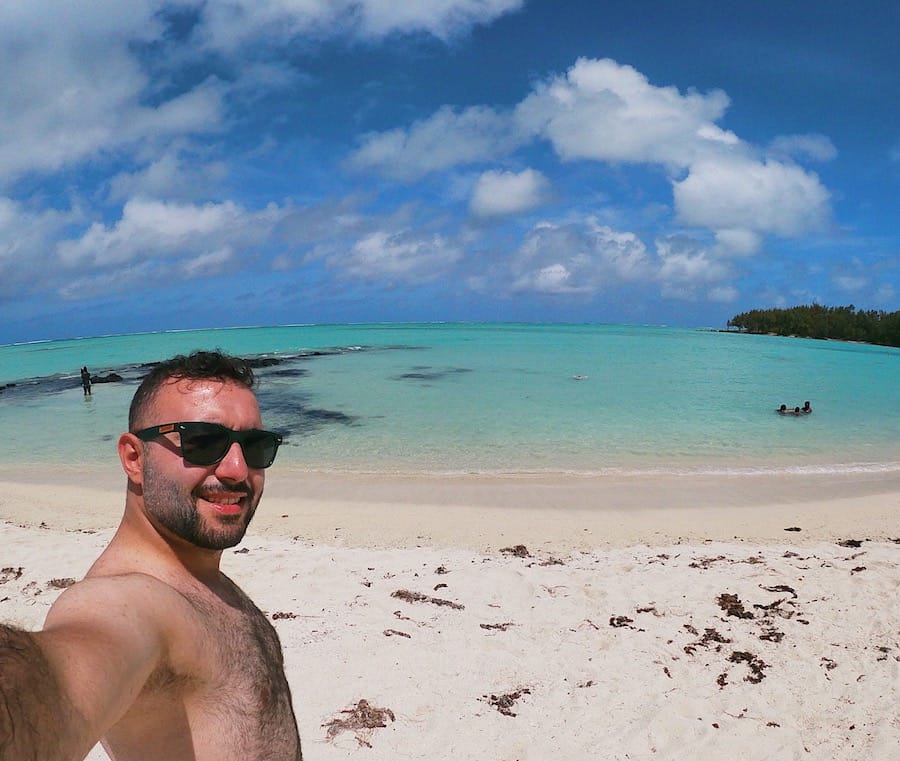 Ile aux Cerfs Island
Ile aux Cerfs is a dreamy paradise island that is located near the main island of Mauritius on the east coast of the country.
It is privately owned and has 87 hectares of preserved tropical forest and white sand beaches.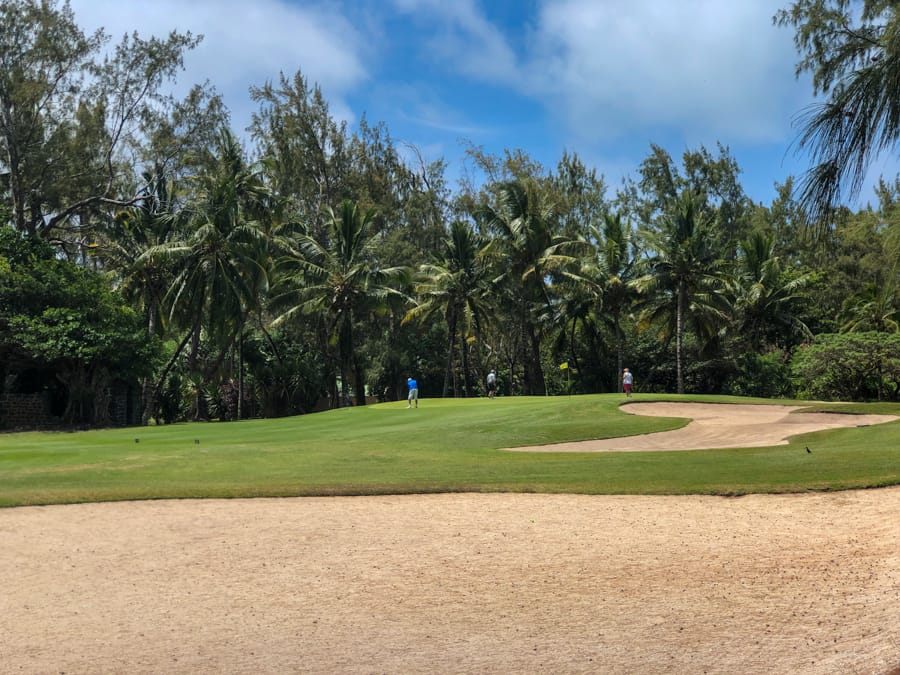 The island also has the largest lagoon in Mauritius and it is surrounded by luxury resorts, a golf course, and coral reefs where you can go snorkeling or scuba diving.
Booking a Tour to Ile aux Cerfs
After looking through a number of options for Ile aux Cerfs tours and seeing that many were already sold out, I settled on a Catamaran Cruise from Bluebay to Ile aux Cerfs.
The cost was around €118.
Please note that I only booked this tour because it was the only one available last minute.
There are cheaper ones and I showcase them below!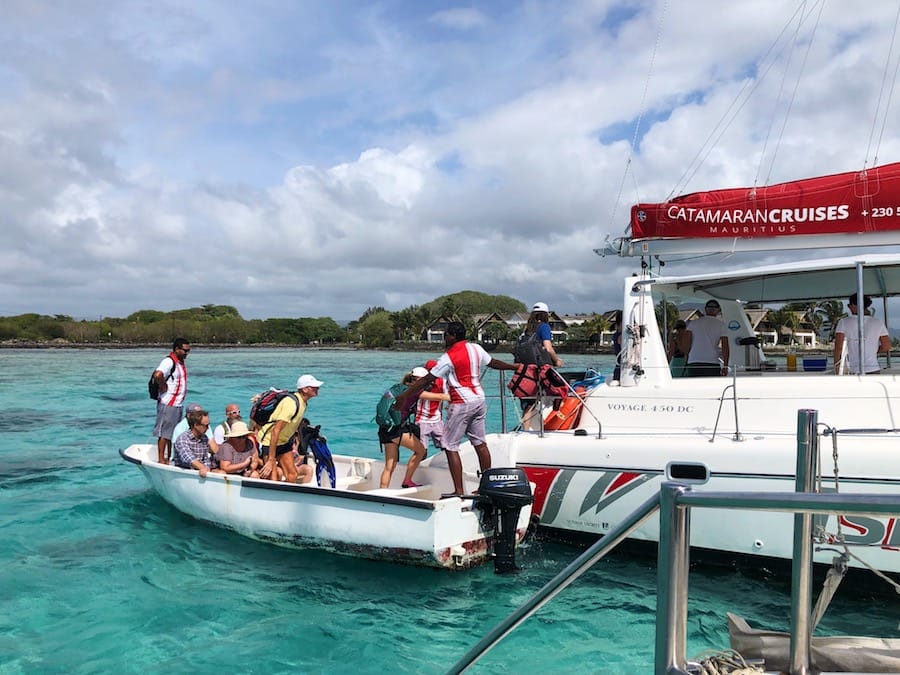 The biggest perk for me was that this tour actually offered a hotel pickup from where I was staying at the time.
My hotel was located in the center of Mauritius inland, so this was essential for me to easily be able to take this tour.
They also dropped me back at my hotel after. This was included in the rate.
>> Click here to see tour details, rates, and availability for the one I took
Ile aux Cerfs Tour options
As I noted above, there are various tours sailing to Ile aux Cerfs.
Mine was not the cheapest but I booked it merely because the other ones were already booked.
But, I think just getting there is the important thing. Here are a few alternative options that may suit you better:
Full-Day Cruise to Ile aux Cerfs with BBQ Lunch Included (from €60 pp)
This tour is a bestseller that goes to Ile aux Cerfs.
It may or may not include pickup depending on where you're at (you can get in touch with them for conformation!) but it departs from Pointe Jerome.
Lunch is included as is snorkeling. You get free time on the island just like I had and this was the tour I wanted to actually book initially before booking the one I did.
>> Click here to check tour rates and availability

Mauritius: Full-Day Speedboat Tour to Ile aux Cerfs & BBQ (From €105 pp)
This tour is another hot one that offers the chance to take a speedboat instead of a catamaran to Ile aux Cerfs.
It is wheelchair accessible and the tour will also take you to the Grand River to the waterfall, give you a chance to snorkel, and much more.
There are private and public tour options with this company, so definitely inquire to see which is the best suiting for you and your travel companions.
>> Click here to check tour rates and availability
Ile aux Cerfs Full-Day Cruise from Trou d'Eau Douce (From €58 pp)
Another viable option of a tour that pretty much is similar to other ones out there is this one to Ile aux Cerfs from Trou d'Eau Douce.
You will hop aboard a boat that will take you to the island and feed you a delicious BBQ lunch.
In addition, you'll get to snorkel and cruise the Grand River to the waterfall.
>> Click here to check tour rates and availability

Private Catamaran Charter to Ile aux Cerfs (From €850 per group)
If you're looking for a romantic cruise to Ile aux Cerfs or simply one that isn't combined with other people, this is definitely the option for you.
The cruise will take you to all the main sights leaving from Pointe Jerome.
This is not an option for those in a wheelchair or mobility issues, unfortunately.
>> Click here to check tour rates and availability
Who Should Take This Tour?
Like most tours, there are some restrictions and there are some people who this tour is not a good fit for. Y
ou can see below who I recommend and don't recommend this tour for:
This tour is a good option for you if:
You love sailing

You feel great in the open ocean

You enjoy snorkeling

You love drinking alcohol on a boat
This tour is NOT a good option for you if:
You are claustrophobic and don't like crowded boats

You have seasickness issues on boats

You are pregnant

You are in a wheelchair or have mobility issues

What to Pack for an Ile aux Cerfs Trip
You will have lunch provided for the day as well as drinks on board, so you don't really need to worry about that.
But, here are a few items I think you should bring along with you to help you enjoy the Ile aux Cerfs trip to the fullest.
⇒ Good sunscreen: You will be on the open water right below the sun and the sun will hold no mercy.
Be sure to bring a good sunscreen that will work with your skin for the day to protect you from the sun's dangerous rays. Click here to see which sunscreen we recommend.
⇒ Towel and swimsuit/trunks: This tour involves a lot of swimming or opportunities to swim and be in the water.
Be sure to bring a towel and swimming clothes with you.
⇒ Seabands: If you sometimes get a bit seasick or nauseous on boats, you will definitely want to invest in some seabands before you leave.
They are affordable and lightweight and a perfect addition to your Mauritius trip. Click here to shop for seabands.
⇒ Sunglasses: The sun is killer on the open seas and you will want to protect your eyes while you're out sailing the ocean.
Be sure to bring a good pair of shades with you.
⇒ Travel insurance: I definitely recommend having travel insurance before you travel to Mauritius, especially if you decide to join a tour like this one.
It is better safe than sorry. We recommend SafetyWing and that is who I used on my trip. Click here to get a Mauritius travel insurance quote.
On the Ile aux Cerfs Catamaran
My excursion to Ile aux Cerfs landed me at the Bay after my hotel pickup and we were then put on our catamaran to the island.
We were given unlimited access to soft drinks, beer, water, and rum cocktails all day which really made the trip even more fun than expected.
Snorkeling around Ile aux Cerfs
During our sailing experience, we stopped in the middle of the lagoon around Ile aux Cerfs where it wasn't too deep and gave us snorkel equipment to dive into the warm and crystal clear Indian Ocean.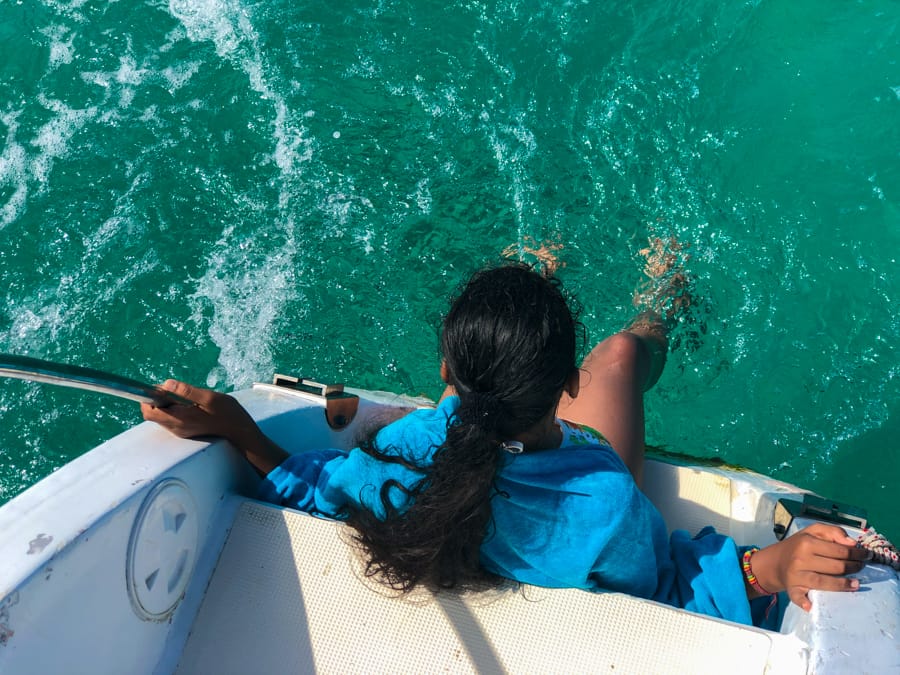 If you decide to partake, you will have the opportunity to see some colorful coral reefs surrounded by different types of fish.
This gave me a chance to master my swimming and snorkeling abilities in one of the most beautiful places in the world, so I had no complaints.
Boating in the River to a Small Waterfall
It turns out that there is a small and hidden waterfall on Ile aux Cerfs that you can take a boat to during the tour.
We had to switch from the catamaran to a small, fast boat in order to see it, however.
The GRSE Waterfall is one of the sights on Ile aux Cerfs that can not be missed, in my opinion.
It is surrounded by lush, green landscapes and scenery and is located in Grand River South East historic village there.

Arriving on Ile aux Cerfs
From first sight, you might find Ile aux Cerfs extremely crowded as it is a very popular day trip and Mauritius excursion, but it really depends on where your boat docks for the day.
We had about two hours on the island and that amount of time gave us the chance to swim in the white sand beaches, drink a cocktail at one of the local cafes, buy Mauritius souvenirs, and photograph hidden parts of the island all while sipping on a coconut.
This was my favorite part of the tour as it gave us the freedom to do what we wanted and it was the best time to photograph things.
BBQ Lunch on the Catamaran
After wrapping up our time on the island, we headed back to the catamaran and chilled out and relaxed.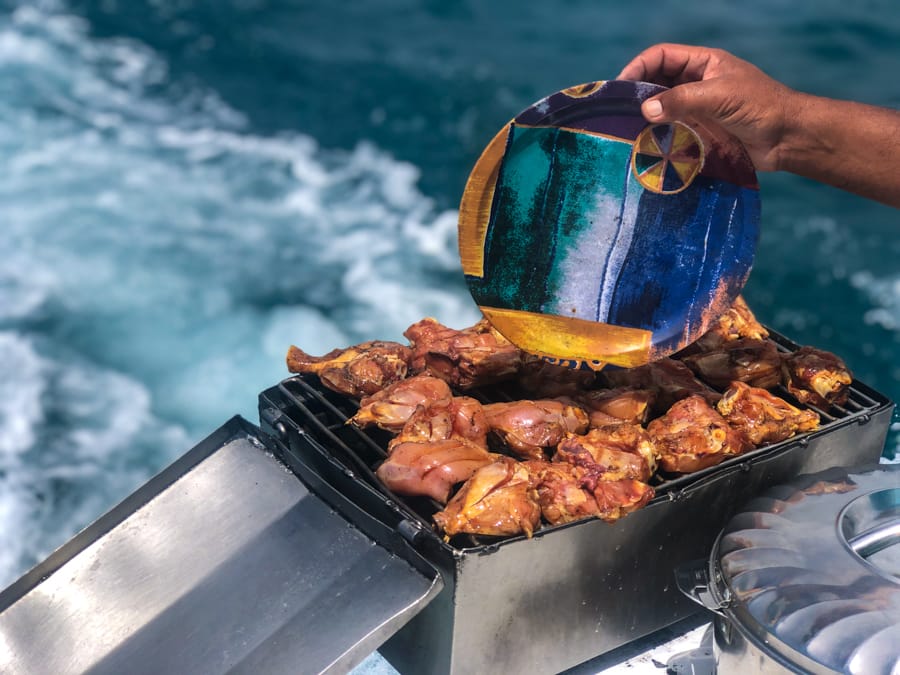 We enjoyed a BBQ that was cooked right on the back of the boat that was being tended to as we sailed through the epic, blue waters of the sea. This was the best time to chill out, booze a little, and eat a delicious lunch.
Arriving Back to Your Hotel
Obviously, it will depend on where you're staying at regarding what time you manage to get back.
I arrived back at my hotel at 1730 that day. It was a nice, long day… and a much-needed excursion!
Final Thoughts
I can definitely say that I am satisfied with this tour and it was well worth the price I paid for it.
At first, I was skeptical as our catamaran definitely was filled to capacity, but everything turned out great and I had a blast and it was one of my favorite experiences from traveling in Mauritius.
This Ile aux Cerfs tour is highly recommended by me but I truly think that any of the boat tours to the island would be able to deliver exceptional results.
I am listing a few options of tours below as they fill up quickly so you will want to ensure you're on one of them for the day!

Quick List of Tours to Ile aux Cerfs
Here is a list of tours that will take you to Ile aux Cerfs.
They book up quickly so make sure you book in advance! I discuss them in more detail above.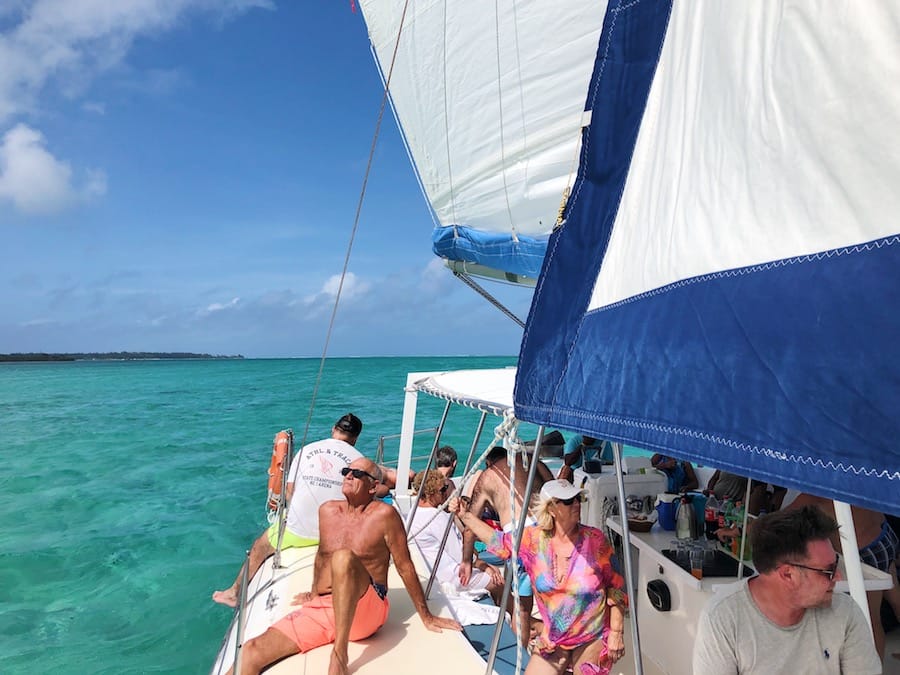 More Mauritius Travel Guides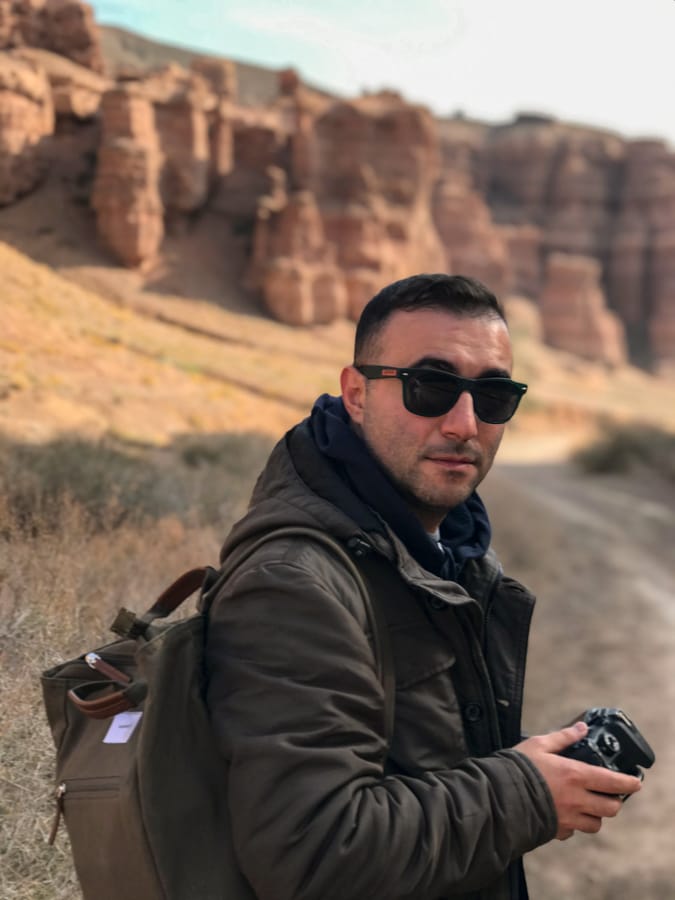 Aram is a travel blogger and writer from Armenia who spends his time between Spain and his home country. He is passionate about music and football (the European kind) and covers a lot of Western European destinations on the blog. Aram is a laidback traveler who enjoys meeting new people and finding the best food in each city that he visits (hence his frequent trips to France, Italy, and Greece!). He has been featured in (or written for) Forbes, BBC, The Guardian, Fodor's Travel, and more.