If you find yourself booking a trip to Mauritius, you will eventually hit the 'What do I do when I'm there?' question and it can be an overwhelming thought as you dive into planning the adventure.
This is my Mauritius itinerary which covers 7-10 days in the island nation.
Are you planning your trip to Mauritius last minute?
If youʻre booking your trip to Mauritius last minute, we have you covered. Below are some of the top tours, hotels, and more!
🇲🇺 Top experiences and tours in Mauritius:
🛌 Top hotels in Mauritius (by area!):
🚗 Looking for the best way to get around Mauritius? Click here to check rental car rates for Mauritius!
If you're looking for things to do in Mauritius, you won't be disappointed. There is a lot going on there and so much to keep you occupied for days.
I break this itinerary for Mauritius into sections of the island to make it easier to break things up. I also give Mauritius hotels in each region to help you plan your trip best.
Mauritius Itinerary Options for 7-10 Days in Paradise
If you think just because Mauritius is small that you won't be able to stay occupied for a week there, you're very mistaken!
There are so many interesting, adventurous, and beautiful things to do in Mauritius that you should plan at least 7-10 days there with many activities and the perfect amount of downtime to have a remarkable trip.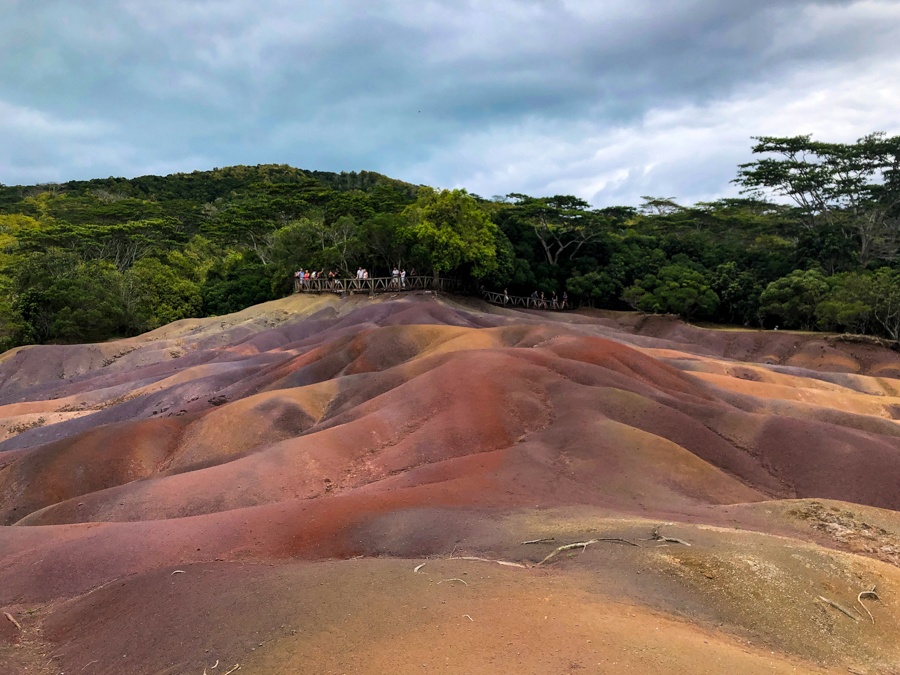 This Mauritius itinerary is divided into sections depending on the island and how many days I recommend in each part.
The regions you will find below are the north, south, west, east, and central and each area on the island truly does have a unique story to tell.
Mauritius is divided into ten districts: Black River, Flacq Grand, Port Moka, Pamplemousses, Plaines-Wilhems, Port-Louis, Rivière du Rempart, Savanne, Rodrigues, and the capital city of Port-Louis.
You will find gorgeous luxury resorts and affordable spots to stay in each. I give suggestions for each section based on my Mauritius travels.
The islands around Mauritius also play an important role in the culture, life, and tourism of the country so I do suggest visiting one or more and I detail how to do it below.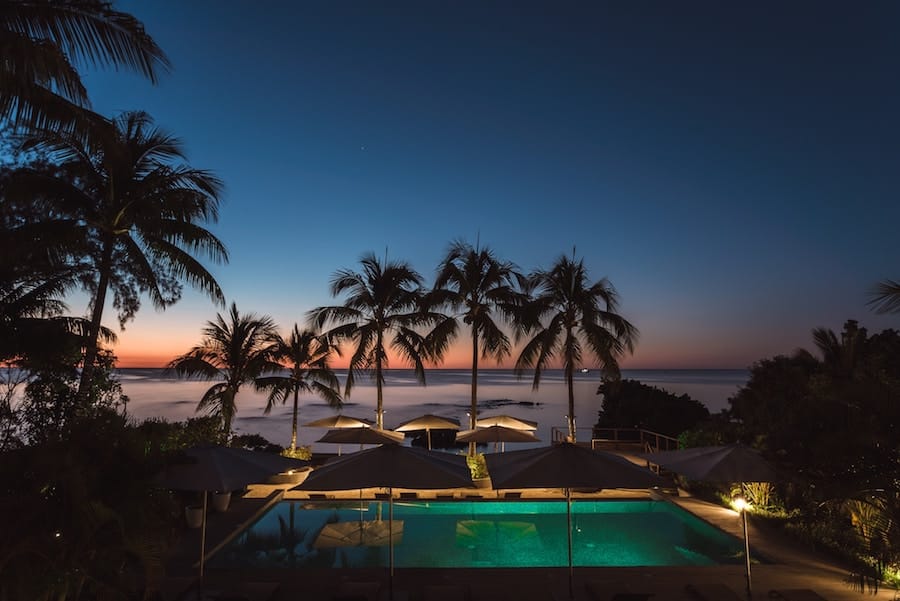 Renting a Car in Mauritius
One of the biggest challenges is getting around Mauritius.
Not that it is a difficult place to travel through but more or less because you need to make the decision of what will work for you.
I suggest renting a car for your trip there as it will give you the freedom to explore at your own will and make stops when you'd like to take a photo or just admire the scenery.
>> Click here to check Mauritius rental car rates
Private Driver in Mauritius
Another pretty affordable and viable option in Mauritius is to book a private driver for the day. You can cheaply book a person and tell him or her what you want to see around the island.
This is particularly great if you're not keen on taking organized tours around because the tours don't entirely fit your needs.
I did book a private driver with a friend for a day and it was the best decision to check out some of the places to visit in Mauritius south for us.
We were able to make the stops we wanted and inquire about information and things we wanted to know.
>> Click here to book a private driver in Mauritius
Getting Around Mauritius
It's pretty easy to maneuver about on Mauritius but sometimes, during rush hour, you can end up in heavy traffic because the size of the island is small and there are still over one million people living there.
Just be cognizant that the evenings and mornings may become heavy on the roads so plan accordingly.
In addition, if you are planning to take any of the Mauritius tours available and you will need to cross through or over Port Louis, please be aware that the best time to do this is in the morning.
Most tour providers are offering pickups from the hotel, just as my Ile aux Cerfs tour did so that works to your benefit.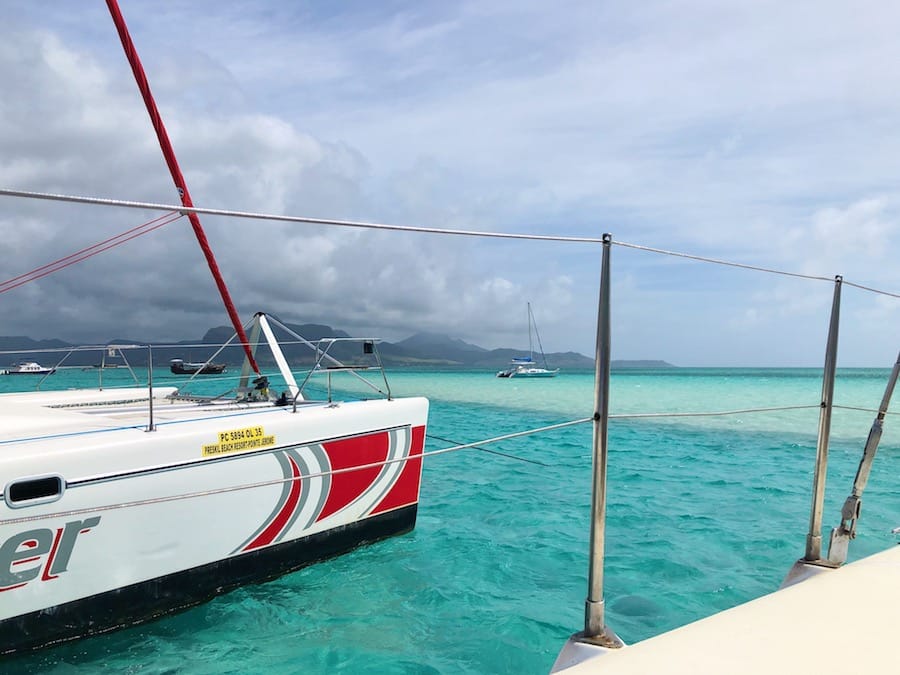 This Mauritius itinerary will help first-time travelers to the island plan their trip and not waste time doing it while already on the island.
Mauritius is truly magnificent even if a bit far to reach for many (it took me twelve hours from Paris!)
Don't waste time when there as you may have to spend quite a bit of time actually arriving there!
If you have any suggestions for this Mauritius agenda, please drop them in the comments.
These are purely my recommendations and you can tweak the plan as much or as little as needed. Thanks!
North Mauritius (1-2 Days)
After arriving in Mauritius, I think the best place to start your trip is in the north of Mauritius.
This area is a little less wild than the south and the resorts and weather are dreamy up there.
Some places to visit in Mauritius' north include Pamplemousses, Rivière du Rempart, Grand Baie, and Port Louis.
I found the north to be more chilled out than the south and even though there were fewer sights, after a long journey, you're going to just want to relax and take it all in.
The beaches in the north are like nothing I've ever seen and I'm still in awe of them.
I recommend two days in the north of Mauritius but if you're pressed for time and are prepared for a more active day there without much relaxation, you can definitely see most in one day.
Here are my recommended things to do in Mauritius north:
Visit Sir Seewoosagur Ramgoolam Botanical Garden
Also known as the Pamplemousses Botanical Garden, this gorgeous natural space is a popular spot for locals and tourists both.
It is also considered one of the oldest botanical gardens on the island.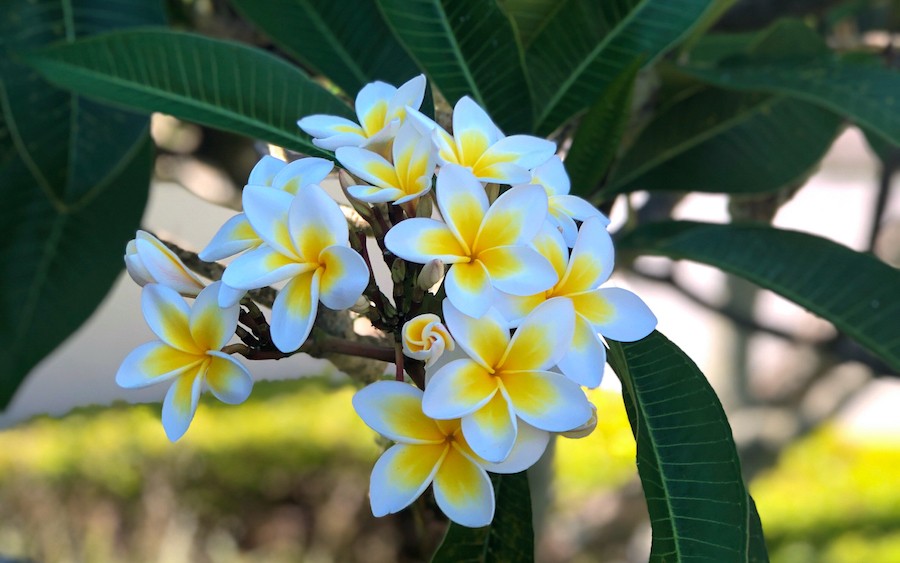 The botanical garden is the perfect start to discovering Mauritius as it'll give you the chance to learn more about the tropical ecosystem.
In the 18th century, this garden gathered 85 types of palms from Central America, Asia, Africa, and beyond. The lush, green garden has a large pond of oversized water lilies, ebony, and sugarcane.
Working Hours: from 8:30 AM to 5:00 PM
Entrance fee: 200 MUR (4.15 Euros) or (4.50 USD)
Address: Pamplemousses
QUICK TIP: Combine your trip to the botanical gardens with a day of sightseeing in Port Louis.
This Port Louis, botanical gardens, and Mont Choisy tour will affordably take you to both and you'll get to see all with an expert guide.
Head to L'Aventure du Sucre Sugar Museum And Factory
Located merely thirty minutes away from Port Louis is L'Aventure du Sucre, a museum and factory dedicated to the most famous crop of Mauritius, sugarcane.
The sugar industry has played a major role in the history of Mauritius. It was previously called the luxury white sand and sugar was produced on the island in more than ninety factories.
L'Aventure du Sucre is a museum that gives visitors the opportunity to learn how the sugar-producing industry put Mauritius on the map and it also tells the story of how everything came to be, including the slave and colonization history of Mauritius up until it became a free country.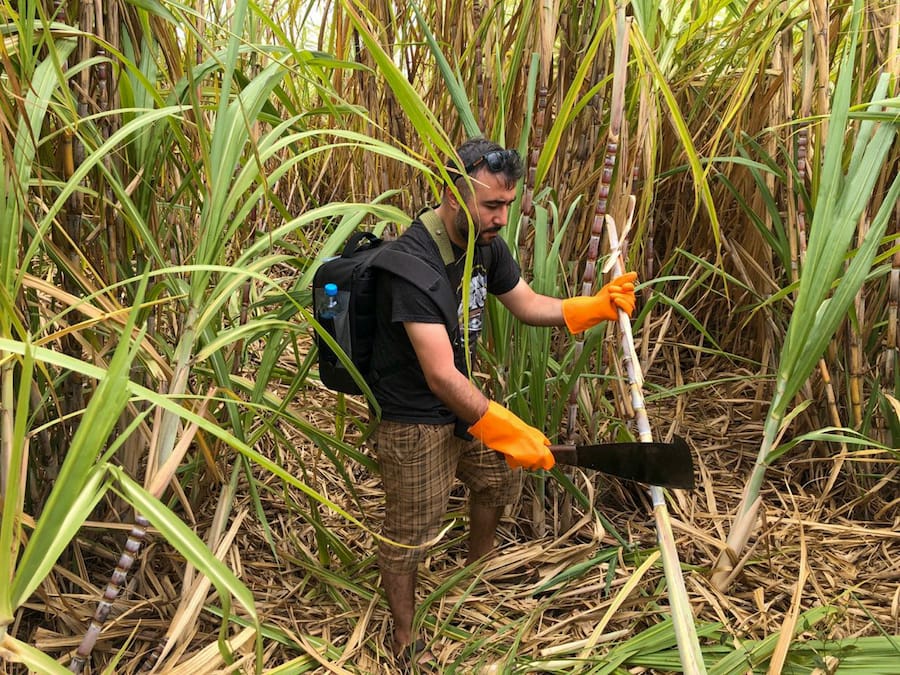 Aside from the tour, you'll have the opportunity to cut sugarcane yourself from the field and then try delicious rum made from sugar.
There is also a great restaurant located on the premises.
Working Hours: 7 days a week from 9:00 am until 5:00 pm including public holidays.
Ticket Price: 700 MUR (15 Euros ) or (17 USD) for adults and 400 MUR (8.30 Euros) or (9 USD) for children (6-13 years of age and students)
Address: B18, Pamplemousses 21001
INSIDER TIP: Order one of the desserts there as they are all impeccably made and contain sugar from Mauritius
Relax in Grand-Baie
Before and after your northern adventures, you definitely will feel like the beach is calling your name.
The northern part of Mauritius is home to some outstanding, public beaches where you can relax and swim in the clear Indian Ocean while enjoying cocktails on the white, sandy beaches.
There is a lot to do up in and around Grand Baie but we think it is essential to add the beaches of Grand Baie to your Mauritius itinerary.
Location: Grand Baie
Grand Baie Public Beach
Surrounded by small fruit shops, oversized palms, and tasty restaurants, Grand Baie Public Beach is the place to be for those visiting Mauritius.
The safe swimming area is separated from the boating and catamaran area and you can even get a nice suntan while you take your morning run.
The sunsets from Grand Baie Public Beach are also pretty remarkable.
INSIDER TIP: I had the chance to go flyboarding at Grand Baie and if you're interested in adventurous activities are simply trying something new, I recommend giving it a whirl!
Location: Grand Baie Beach
>> Click here for additional details.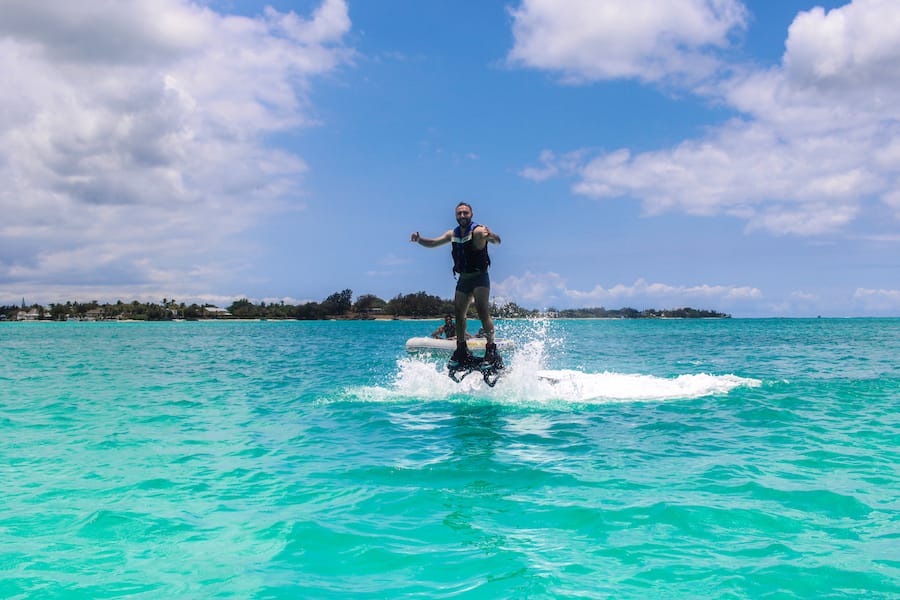 La Cuvette Public Beach
Not far from Grand Baie Public Beach is another cozy beach with a blue lagoon called La Cuvette Public Beach.
It is the perfect place for families, snorkeling, and a chilled-out day.
On the weekends, the Mauritius beach becomes crowded, but if you're on holiday in Mauritius, you can easily visit whenever it is most suitable for you.
There are also many food and drink options at La Cuvette.
Location: La Cuvette Public Beach
Visit the Northern Isles
There are some gorgeous islands off the northern coast of Mauritius.
The best way to see these special islands is by an affordable tour on a catamaran.
You can book this Mauritius tour of the northern isles that will take you around the seas of the north for a full day.
This is a best-selling tour and one that is likely to sell out quickly!
Learn Mauritius History at Aapravasi Ghat
A UNESCO World Heritage Site and an important place to learn about Mauritian culture and history is Aapravasi Ghat in Port Louis.
This place acknowledges and details the history of Indians coming over as indentured labor to work the sugarcane fields during the British colonization of Mauritius.
If you're keen to learn more about the island nation, this is an essential place to add to your Mauritius plan.
Working Hours:
From Monday to Friday: from 9:00 AM to 4:00 PM
Saturday: from 9:00 AM to 12:00 AM
Closed: on Sundays and during the Public Holidays Closes: at noon on December 24th and 31st
Address: Building, 1 Quay St, Port Louis
Port Louis Central Market
Another place that is worth a visit is the Port Louis market in the capital city.
This market has a plethora of local flavors that you can indulge in and it will give you an idea of what kind of crops Mauritius grows and how they incorporate them into their local cuisine.
This is also a perfect chance to try some of the street food in Port Louis and Mauritius. The nation is known for having incredible food and the best way to explore that is to try it all!
Working Hours: every day from 5:00 AM to 5:30 PM except on Sunday from 5:00 AM to 11:30 AM
Address: 9 Corderie St, Port Louis
QUICK TIP: Are you a foodie who really is interested in learning more about the food and street food of Mauritius?
This Port Louis street food tour will help you get a taste of Mauritius with an expert guide who will detail everything you are tasting and seeing.
Where to Eat in the North of Mauritius
I am not going to dive into giving heaps of restaurant recommendations because, quite frankly, I ate at the resorts I was staying at most of the trip or on the tours I was doing.
But, I will do my best to highlight some renowned places or restaurants I thoroughly enjoyed dining at.
One Mauritius restaurant I recommend adding to your itinerary is La Table du Château restaurant inside of The Domaine de Labourdonnais, a privately owned park that boasts its own restaurant, rum factory, and a 19th-century colonial house that is currently a museum.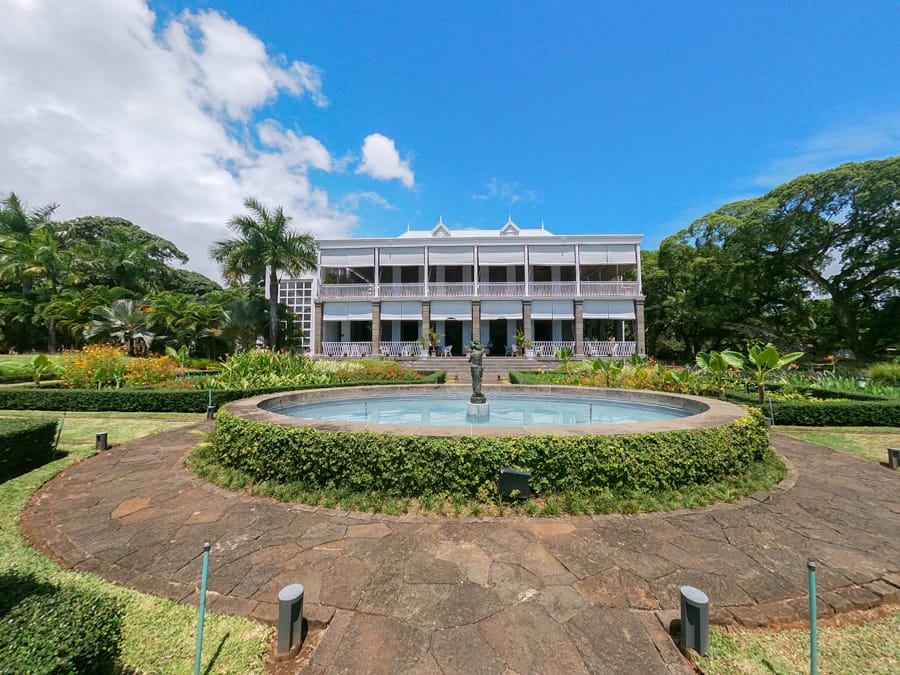 La Table du Château has insanely good delicacies from chef Fabio De Poli and there is nothing better than enjoying your day in the amazing facility among the rare plants and trees while sipping on some locally-made rum.
Address: La Table du Château Domaine de Labourdonnais, Mapou
Where to Stay in the North of Mauritius
I stayed at the awesome LUX Grand Gaube in the north of Mauritius. If your budget allows it, I would recommend calling LUX Grand Gaube home for a few nights too.
It had so many amenities from private beaches, a cinema, several top-quality restaurants, and more.
>> Click here to check rates and availability for LUX Grand Gaube
Tours around North Mauritius
If you're looking to book something a bit more organized, there are a few tours in the north of Mauritius that may be suited to your desires.
Here are a few tours we recommend to see a bit more of the north of the island:
South Mauritius (2-3 Days)
The south of Mauritius was my favorite part of the island and, in my opinion, was the most beautiful place in Mauritius.
The region is home to sights, stunning landscapes, historical spots, and a lot of green nature.
It is actually possible to see all of the sights in one day but you won't really have the time to enjoy them all and learn about the history of each location, so I do recommend planning more time to your Mauritius itinerary to enjoy the south if possible.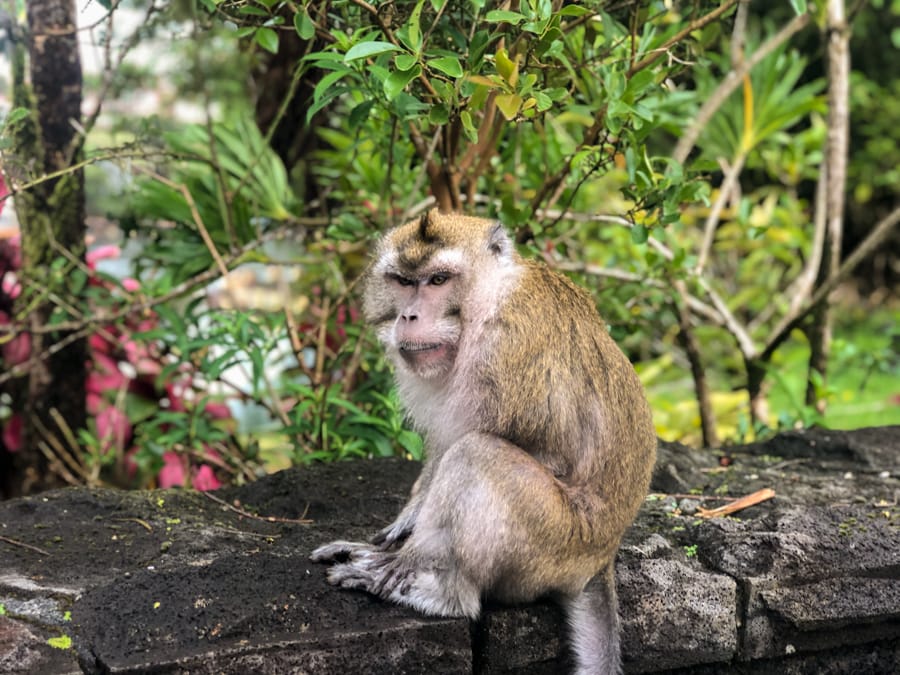 As for places to stay in Mauritius south, I think it is easiest to rent an Airbnb, stay at a luxury resort, or stay in one of the northern hotels because it is still quite easy to access the big sights in the south from these areas and it will allow you to not move hotels too much.
If you do not rent a car in Mauritius, I highly recommend booking some tours for the south. I saw the southern sights on a tour and it was a fantastic option for my limited time and desire to see more of the island.
This top-rated Mauritius south tour is a good place to start. It takes you to pretty much everything listed below on this itinerary and in a single day!
I recommend spending at least 2-3 days in the south of Mauritius depending on how much time you have and how crazy of a schedule you want for your trip. Here are my recommended things to do in Mauritius south:
Check Out Chamarel Waterfall
In my honest opinion, this was the most breathtaking place to visit in Mauritius… the whole island included!
At 83 meters (272 feet) tall, the Chamarel Waterfall will undoubtedly take your breath away with its amazing view, lush nature, and gorgeous drop.
It was just incredible. Have your camera ready to photograph this beauty!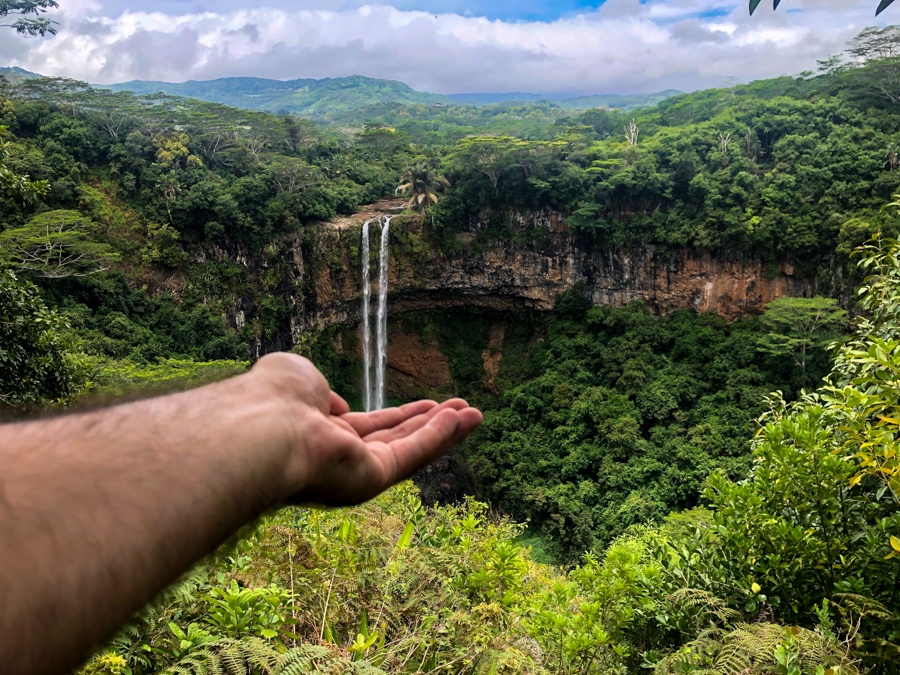 If you enjoy hiking, you can walk down to the spot where the waterfall is and enjoy the breeze of it hitting the rocks or you can just walk to a viewpoint where you can admire it from afar.
Either way, this is an essential place to add to your Mauritius itinerary.
Working Hours: 8:30 AM–5:00 PM
Entrance fee: 250 MUR (5.20 Euros) or (5.65 USD) for adults and 75 MUR (1.55 Euros) or (1.70 USD) for children.
THINGS TO KNOW: It is not free to visit Chamarel Waterfall.
You can purchase a ticket there and it allows you access to the Chamarel waterfall and Seven Colored Earth.
I recommend skipping the line and purchasing your ticket in advance, however.
You can purchase your entrance to Chamarel Waterfall and Seven Colored Earth here and not waste any additional time!
See Seven Colored Earth
This natural phenomenon is located not too far from the Chamarel Waterfall and it is truly one of the most magical places to visit in Mauritius due to its obscure landscape.
The 7,500 square meter attraction is a soil divided into seven different colors and, as a result, the dunes appear to be a work of art on a canvas created by nature.
There is a cafe next to the sight where you can sit and enjoy a quick meal and coffee at and admire this place from afar.
You can also walk to the viewing platform on the opposite side of the cafe where you have a chance to take an epic photo of Seven Colored Earth.
There is also a small reserve close by where old, large turtles are living and are protected by authorities.
The entrance fee to Seven Colored Earth and Chamarel Waterfall is 250 MUR (5.20 Euros) or (5.65 USD) for adults and 75 MUR (1.55 Euros) or (1.70 USD) for children
Working Hours: 8:30 AM–5:00 PM
THINGS TO KNOW: As mentioned above, it is not free to go to Seven Colored Earth.
And you will have to wait in line once you arrive, perhaps throwing a dent into your day if it is tightly packed.
I recommend buying your ticket to Seven Colored Earth and Chamarel Waterfall before arriving so you can skip the line and go see the beauty that awaits.
Go to Black River Gorges National Park
Black River Gorges National Park is a large rainforest with a capacity of around 68 square kilometers (26.25 square miles) that has been government-protected since 1994.
The park takes care of rusa deer, wild pigs, and many endemic birds such as the Mauritius kestrel, pink pigeon, Mauritian parakeet, cuckoo shrike, bulbul, olive white-eye, grey white-eye, and the Mauritius fody.
The beautiful and extremely green nature caught my eye immediately and left me still pining to return today.
There are several sights in the national park that can be visited like the Black River Peak viewpoint from where you can catch a breathtaking view of the mountain covered with greenery underneath a bright, blue sky.
You can head to the Alexandra Falls watchpoint to admire a hidden waterfall cascading from the rocks in the middle of a tropical rainforest.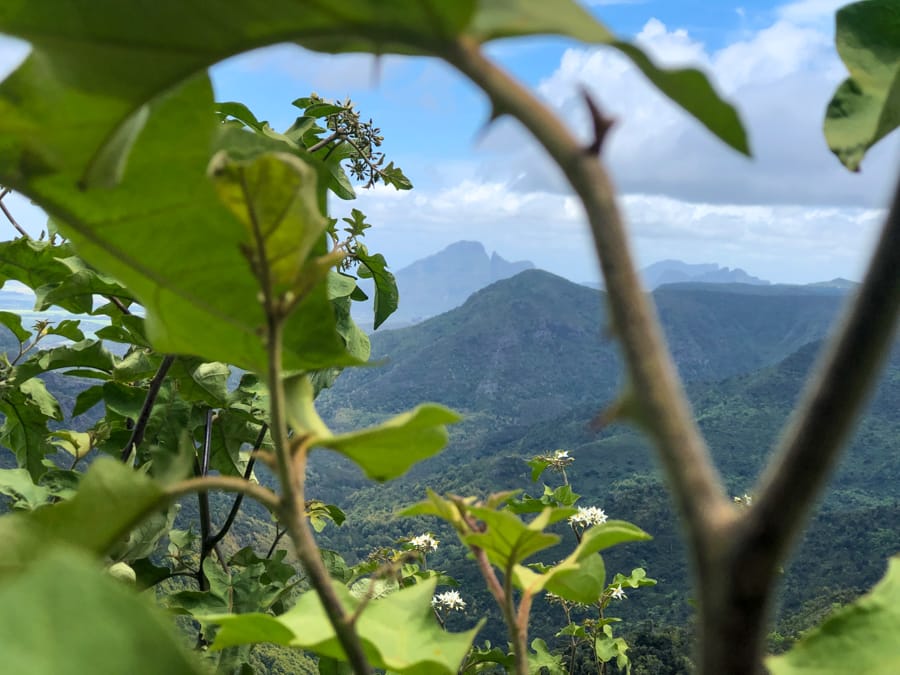 Working Hours: from 6:00 AM to 6:00 PM
Entrance Fee: Free
Address: B103 – Plaine Champagne Road
QUICK TIP: You can see Black River Gorges National Park and many more awesome sights in Mauritius South by booking a tour of the best things to see on this part of the island.
I highly recommend this as I took a tour of the south myself! Check our rates and availability to the best of southwest Mauritius here.
Visit Blue Bay Marine Park
Declared a National Park in 1997, the Blue Bay Marine Park is the perfect location for snorkeling in the shallow seawater of the nation which has one of the most diverse and famous underwater ecosystems in the world.
Blue Bay Marine Park was put on the map due to its corals and you will have the chance to observe these 1,000-year-old coral reefs with over 38 species accounted for.
The spot is protected by the government, so be sure to read up on the rules and regulations before going and be sure to adhere to them!
Address: Blue Bay
INSIDER TIP: Mauritius is surrounded by amazing coral reefs that actually mean sharks are not that prevalent in the waters.
It also means that you should be careful to follow regulations as they are trying to protect this sensitive biosphere.
Most sunscreens contain Oxybenzone, a chemical that kills young corals.
Be sure to bring sunscreen to Mauritius that is void of this!
>> You can see my recommendation for a reef-friendly sunscreen here.
See Grand Bassin
Also referred to as Grand Talao, the Grand Bassin is one of the holiest places to visit in Mauritius.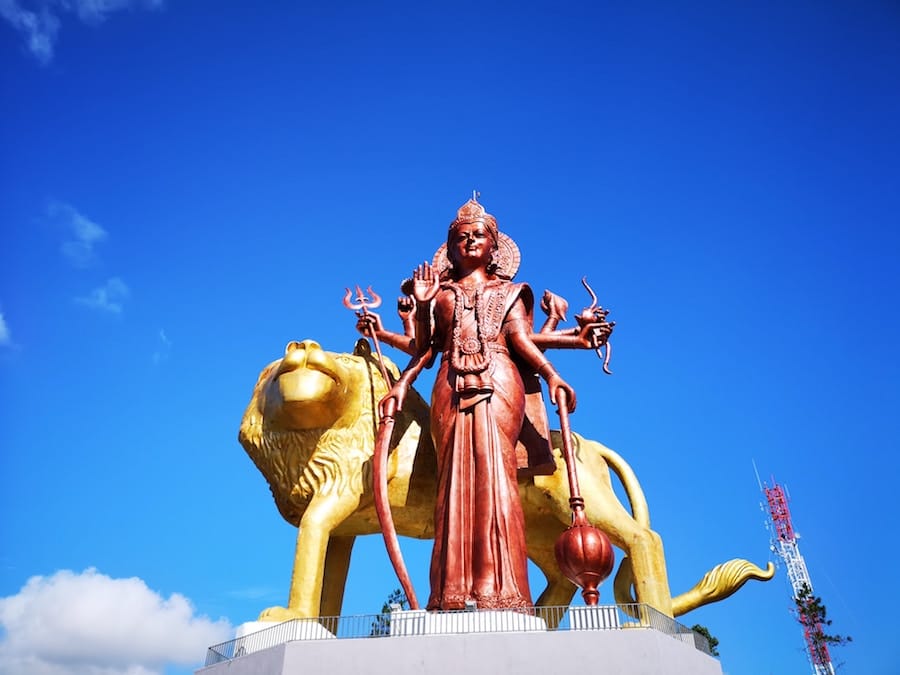 Located 550 meters (1804 feet) above sea level, this volcanic crater lake is located in the district of Savanne.
The temple is dedicated to Shiva and is surrounded by dense, green hills.
The holy lake is one of the main tourist attractions on Mauritius island.
Not only is the location a holy place for people praying to Shiva and the festivals that are hosted here, but it is also the home to many curious monkeys.
Next to Grand Bassin are two large and impressive statues dedicated to the Hindu religion that was built-in 2008. The statues are 33 meters (108 feet) tall and are of Shiva the Destroyer and Durga Maa, the protector of the universe.
Working Hours: from 5:00 AM to noon and again from 1:00 PM to 6:00 PM
Entrance Fee: free
Pay Respects at Le Morne Brabant
Le Morne Brabant has been a UNESCO World Heritage Site since 2008 and the peninsula is one of the most desirable places to visit in Mauritius.
This mesmerizing, basaltic mountain is located on an area of twelve hectares and is more than 500 meters (1640 feet) above sea-level and the area is surrounded by many cafes and a gorgeous lagoon.
One thing to note is that the history of Le Morne Brabant is pretty traumatic. It was a refuge for slaves seeking freedom and an escape from their owners.
Please take the time to learn more about Brabant and the history behind it before visiting.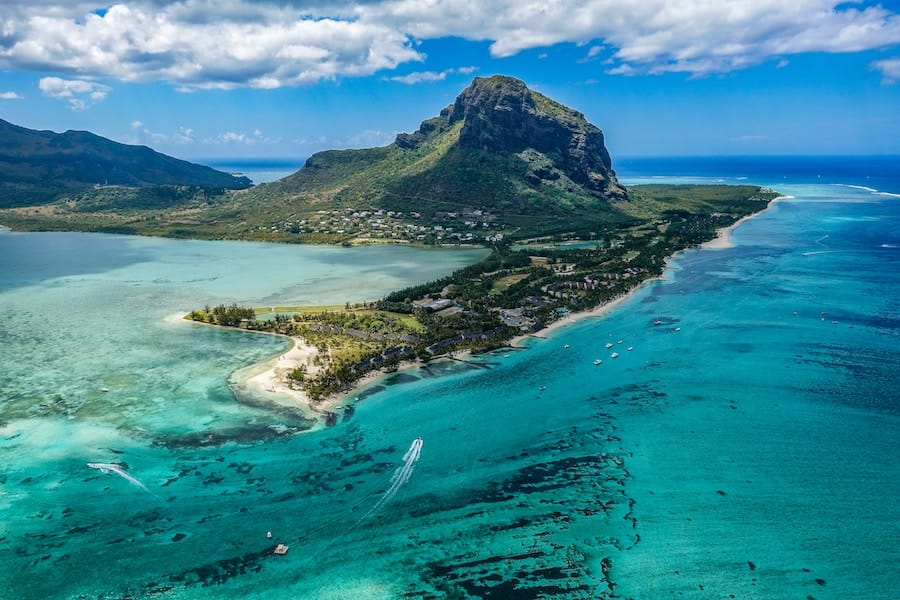 Today, Le Morne Brabant is a hiker's paradise and you can trek the 3.5 kilometers (2.17 miles) worth of hiking paths that will grant you some of the best views on Mauritius.
QUICK TIP: If you want to hike the mountain and learn more about it at the same time, you might want to opt for a guided and organized hike.
This hike to Le Morne Brabant gives you the chance to do the eco-hike and learn more about the nature and history of the sight.
Where to Eat in the South of Mauritius
If you're seeking a great place to eat in the south of Mauritius, I can recommend the C Beach Club at Heritage Le Telfair Golf & Wellness Resort in the south of the island.
The eatery is the ideal place to enjoy delicious seafood next to the resort's crystal clear pool and you'll be able to spoil yourself with amazing local and international dishes there.
Address: Bel Ombre Territory 61002
Where to Stay in the South of Mauritius
One of the best places to stay in Mauritius and definitely one of the premier places in the south is Heritage Le Telfair Golf & Wellness Resort.
This luxury resort has everything to make you have the perfect vacation. They have a golf course, top-quality restaurants, a wellness center and spa, and phenomenal rooms.
>> Click here to get rates and availability for Heritage Le Telfair Golf & Wellness Resort
Tours around South Mauritius
I definitely recommend putting yourself on a tour if you don't have a rental car booked or you just want to see everything in a quick manner and learn from an expert guide in the process.
Here are some of the tours we recommend for south Mauritius and the ones that we cited above:
Mauritius Islands (1 Day)
Visiting Mauritius and not sailing to one of the beautiful surrounding islands would be a sincere mistake as they are easy to access with an organized tour and truly showcase the best that Mauritius has to offer from a scenery perspective.
There are several islands surrounding Mauritius and all are beautiful in their own way.
There are a few ones you can visit, but I am only highlighting my top two recommendations here.
If you want to plan this over two days, fantastic! I am just slotting in one day, however, as I am hoping you take the time to visit at least one!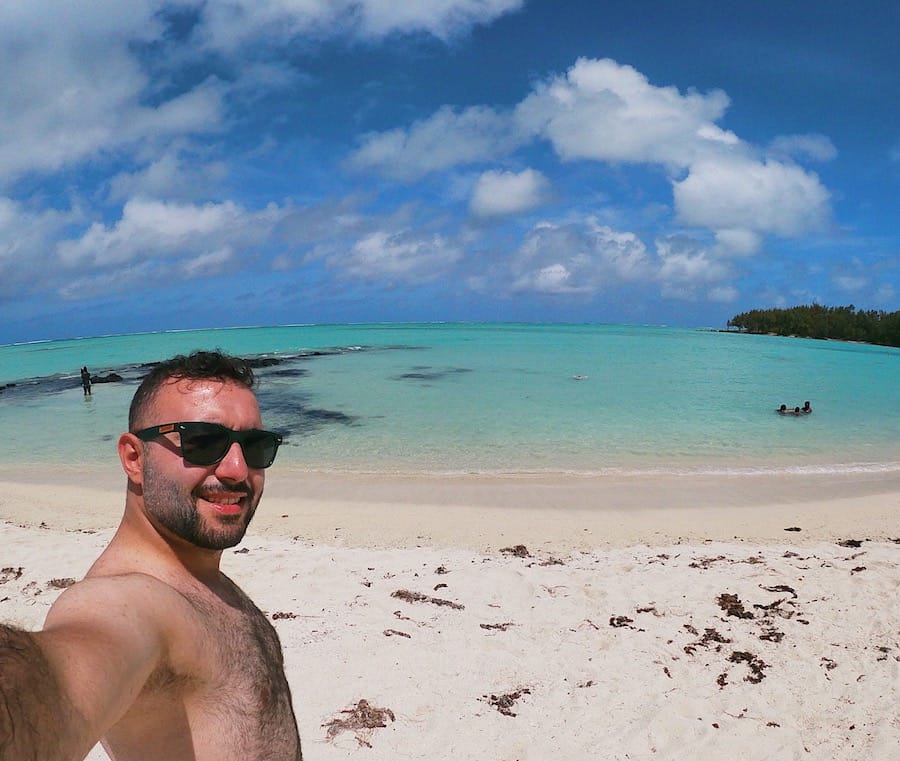 Different tours offer different packages but most all offer lunch included on the boat.
You will need to see what is best for you and your trip to Mauritius.
My tour had drinks on the boat, a hotel pickup, snorkeling, a chance to view a waterfall, and even see dolphins swimming next to our catamaran. It also had a BBQ on board.
INSIDER TIP: These tours sell out QUICKLY! Be sure to book yours as far in advance as you can or you will need to opt to take a trip somewhere on the mainland.
I learned this from personal experience and you can read more on my Ile aux Cerfs catamaran trip here.
IIe aux Cerfs Catamaran Trip
Ile aux Cerfs is an amazing island with white sand beaches and jaw-dropping scenery that makes it a must-visit place in Mauritius. The island was once known for its deer population but that no longer exists, unfortunately.
Located on a 100-hectare piece of land out at sea, Ile aux Cerfs has many water activities and other facilities like restaurants, cafes, an 18-hole golf course, and many other things to keep you occupied and make your Mauritius itinerary golden.
In order to get to the island, you will need to book an Ile aux Cerfs tour.
I wrote about my experience here. If you're keen to sail to this paradise, you can check out the tour we recommend to get to Ile aux Cerfs by catamaran.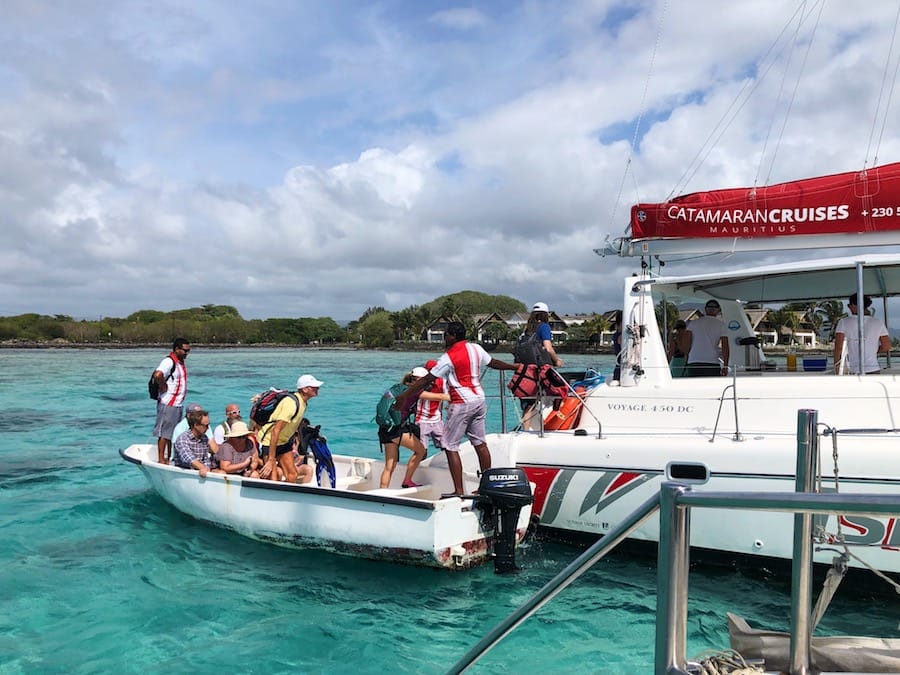 Ile Des Deux Cocos Island Trip
Located a mere ten minutes away from Blue Bay Jetty is Ile des Deux Cocos, or Cocos Island.
It is the perfect place to relax while in Mauritius. The beaches are paradise-like with dramatic blue ocean hues that make this a great addition to your itinerary for Mauritius.
A luxury villa from 1920 is on the island and can take bookings so that you can stay in paradise overnight.
I recommend going to Ile des Deux Cocos as a day trip and booking a full-day boat trip out there, however.
If you're keen to take a boat trip to Ile des Deux Cocos, click here to see your options.
This books up fast so book ahead of time!
Central Mauritius (1 Day)
If you're looking for something that involves food and shopping, this is a day for you.
Otherwise, it would be the thing I'd remove from this Mauritius itinerary.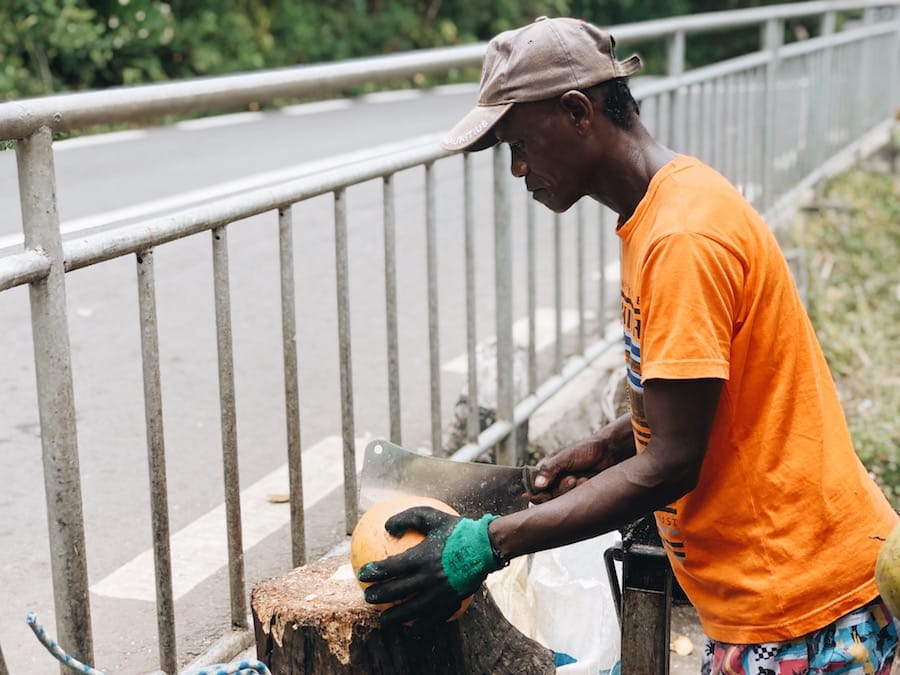 The central part of Mauritius is not brimming with exciting sights or beaches, but it does have its secrets making it worthwhile for a visit if you have the time.
There are heaps of shopping opportunities, restaurants, and more in the center of Mauritius.
Here are some things to do in Mauritius' center as well as where to eat and stay there.
Visit Trou aux Cerfs
Arguably one of the most interesting and stunning places in the central part of Mauritius is Trou aux Cerfs, a crater of a volcano that was formed after eruptions thousands of years ago.
If you have a car, you can drive there from Port Louis within one hour or you can take a taxi there.
The road is gradually uphill because it used to be a volcano but now it is just surrounded by private homes and a lot of gorgeous nature.
The crater itself is really photogenic and mysterious.
From first glance, it might not be as impressive as you would expect, but if you take your time and walk the surrounding areas and try to hike a little closer, you will see how powerful mother nature really is.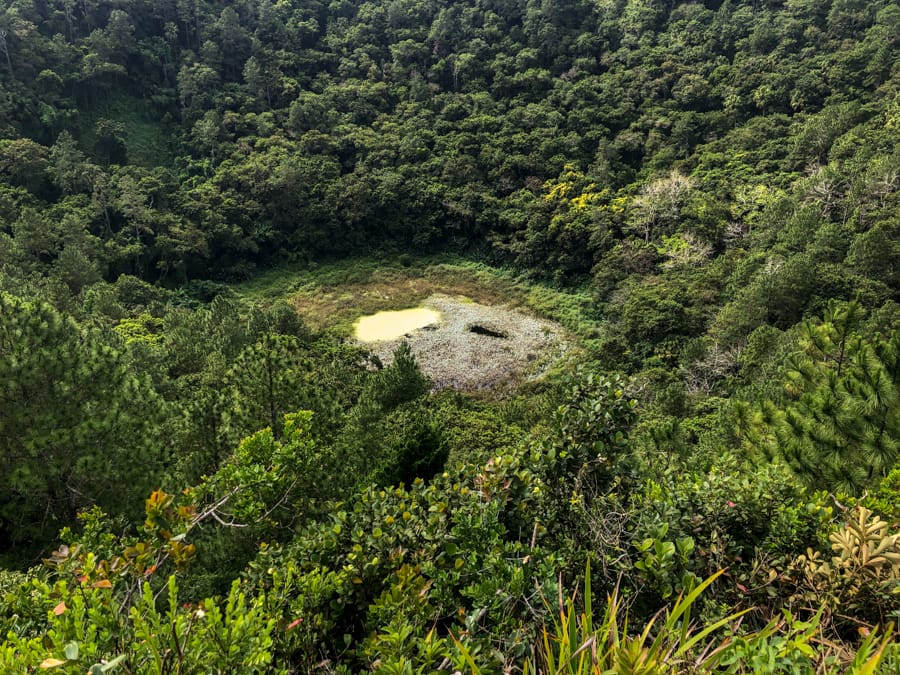 Trou aux Cerfs has a diameter of 350 meters (1148 feet) and a depth of around 100 meters (328 feet).
QUICK TIP: You can also see Trou aux Cerfs as part of a southwest island tour like this one.
If you decide to cut out this day from your itinerary, it may be best to book that tour in order to still see the volcano crater along with other sights that you will inevitably want to see on Mauritius.
Check Out Flying Dodo Craft Beer Brewery
If you're a craft beer lover and want to try Mauritius craft beer, you can visit the Flying Dodo craft beer brewery where you can taste fresh, local brews.
Flying Dodo has over 28 types of craft beer and is located in the Mall of Mauritius where you will also find several awesome restaurants and places to eat.
Address: 1, Mall of Mauritius, Bagatelle, Reduit 80832
See Miniature Ships at Bobato in Curepipe
Another interesting thing to do in Mauritius' center is to head to Bobato in Curepipe.
This is a miniature shipbuilding shop where you can see some of the most detailed and ornate designs on the island.
The handcrafted work became popular in Mauritius at the end of the 20th century and is now a tourist attraction in the center of the island where guests can see how hundreds of different types of ships are made and then displayed in different places around the island.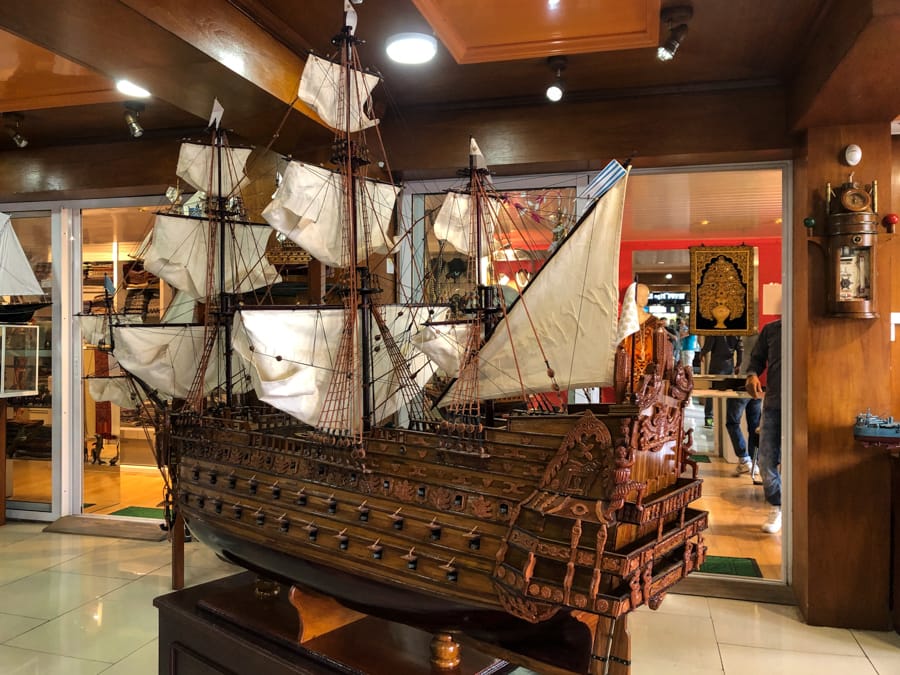 There are a few shops in the area doing this but Bobato was the most notable name to me and the shop I visited.
It truly was a work of art and some of these ships take weeks to complete.
Address: 53A Sir John Pope Hennessy Street
Where to Eat in the Center of Mauritius
My favorite meal in the center of Mauritius was the mouthwatering ribs I had at Flying Dodo Brewing Company.
The ribs fell off of the bone and the steak and ribs at the Mauritius restaurant were some of the best things I tasted on the entire island.
After discovering places on your Mauritius itinerary, be sure to pop into Savinia for a glass of wine and to enjoy a meal.
The service was also great and a perfect complement to my Mauritius adventure.
Address: 1, Mall of Mauritius, Bagatelle, Reduit 80832
Where to Stay in the Center of Mauritius
There are a few options for where to stay in the center of Mauritius, but I stayed at Voila Hotel Bagatelle and I really recommend it, especially for those on a tighter budget.
The staff was extremely friendly and I had great service all around. There is a large mall next door with many restaurants and the Mauritius craft beer Flying Dodo.
>> Click here to check rates and availability for Voila Hotel Bagatelle
West Mauritius (1 day)
Another possible option of a place to cut out if you need to remove something from this Mauritius itinerary is a day around west Mauritius.
You will likely see some of these sights along your Mauritius excursions booked anyway.
But, I am listing this here as there are some great places I enjoyed on this part of the island.
Relax at Flic en Flac Beach
The longest public beach with white sands on Mauritius is Flic en Flac Beach on the west side of Mauritius.
It is another beautiful Mauritius beach that is essential to be visited if you find yourself in this area of the island.
It is possible to get a killer photo and view of the sunset there and see Le Morne Brabant in the backdrop.
Location: Flic en Flac Beach
Get Your Adventure On at Tamarin Beach
If you love surfing, Tamarin Beach is the place for you.
The glassy waves of the Indian Ocean are made for extreme sports and you'll find so many offerings at Tamarin Beach that will keep you busy.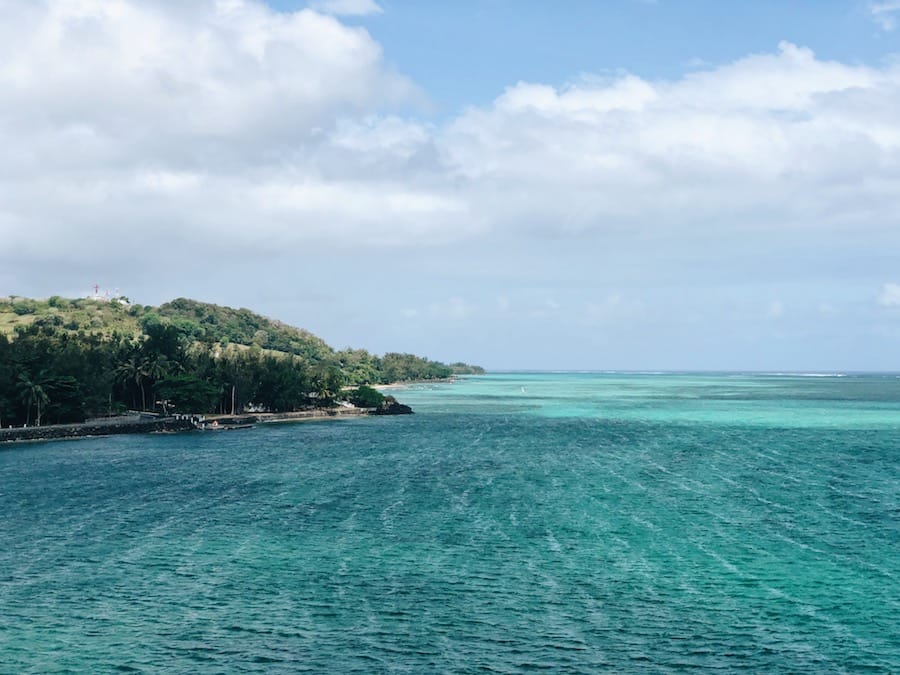 Even though it is a small village, Tamarin is easily accessible from the main road with Port Louis making it a trip that anyone can make.
It also gives you the ability to visit with ease but stay somewhere else on Mauritius.
Location: Tamarin Beach
Where to Eat and Stay in the West of Mauritius
If you are looking to stay in the western part of Mauritius, the best place to do so is at Sugar Beach Resort in Flic en Flac.
Sugar Beach Mauritius is a 5-star resort located with epic scenery and views and it is always one of the top places to stay in Mauritius, year after year.
One of the best things about the resort is that it is renowned for having amazing food.
There are multiple places to dine there and you can get everything from local dishes to sushi to fantastic cocktails by the beach.
>> Click here to check rates and availability for Sugar Beach Mauritius
East Mauritius (1-2 Days)
The east of Mauritius is considered to be super green and rich with natural places like Kestrel Valley where you'll find a unique ecosystem where locals and tourists can engage in hikes, enjoy picnics, and soak up the special nature the area has to offer.
Mauritius' east coast has so many hidden spots that you'll definitely be amazed at its scenic offerings and what you have the potential to uncover there.
INSIDER TIP: I have added this section of East Mauritius to highlight a few additional places to visit.
However, both of the island tours kind of fall in this region. Plan accordingly.
You might be able to combine this part of your Mauritius itinerary with the visit(s) to the islands.
Visit the La Vallee de Ferney Forest
If you have had enough relaxation time and want something different to do, don't skip visiting the La Vallee de Ferney Forest on the Mauritius eastern side.
It is a magical place to visit with friends and family and the ideal place to connect with nature.
Working Hours: all week from 8:30 AM to 5:00 PM except Saturday from 9:00 AM to 5:00 PM
Entrance Fee: 920 MUR (19 Euros ) or (21 USD) for adults and 484 MUR (10 Euros) or (11 USD) for children.
Stroll around Mahebourg
With a population of over 15,000 people, Mahebourg is the main village of the Grand Port District in Mauritius.
It is renowned for its Creole architecture that dates back to 1805 when it was founded as the old colonial capital of Mauritius.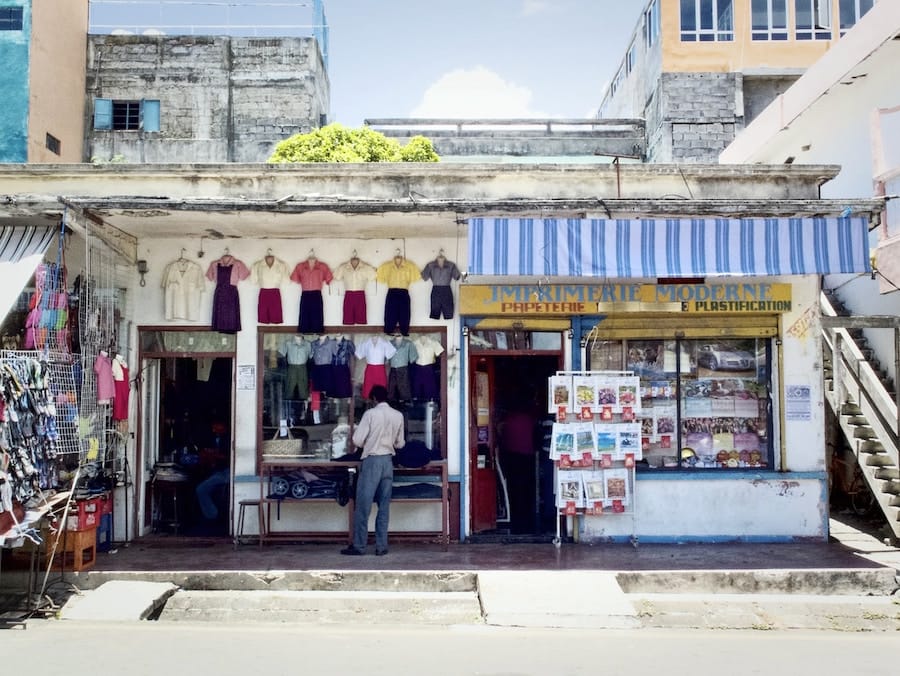 Today, it is recognized by its large waterfront promenades and seaside complexes that give you an impressive view of the Indian Ocean and the largest lagoon in Mauritius.
Some things you'll want to check out in Mahebourg are the porcelain collection, ancient maps, and bells from sailing ships wrecked that are now displayed in the Naval Museum and the Biscuiterie Rault which is the oldest biscuit factory in Mauritius.
You can learn how to make famous treats from cassava flour.
Mahebourg is a great place to stroll around if you find yourself with extra time on the east side of Mauritius.
Chill Out at Belle Mare Public Beach
Belle Mare Beach is a popular spot in the east of Mauritius that has a newly renovated beach that lures tourists from all over to come and relax on it.
The public beach has white sand with several food vendors and clean toilets in the vicinity.
Location: Belle Mare Beach
Where to Eat and Stay in the East of Mauritius
One of the best resorts on Mauritius is LUX Belle Mare and you can find it at the beach area of the same name.
This 5-star property has luxury amenities and so many fantastic places to dine and enjoy cocktails that you may never even leave the place!
You can find MIXE Restaurant at LUX Belle Mare and they have sensational food that fuses different cuisines together and their curries are a must-eat!
You will find gastronomic delights from all over the world at MIXE, however.
Address: Address: Coastal Road
>> Click here to check rates and availability for LUX Belle Mare

Mauritius Tours Quick Reference
If you're looking to quickly reference the tours mentioned above throughout this post, you can see a quick list of them below:
Mauritius Hotels Quick Reference
We listed our recommended places to stay throughout the Mauritius itinerary above but we wanted to list them as a quick reference here:

What to Bring to Mauritius
I will soon have an entire guide of what I recommend packing for Mauritius but for now, here are a few things I think will be useful for your trip:
Mauritius Itinerary Quick Reference
To make it easier, I have also listed out the suggestions without any additional verbiage of what to do for each day of the itinerary. I hope this helps with planning your Mauritius travels a bit!
Mauritius Itinerary Map
This map has every place I mentioned mapped out for you with ease so you can see where everything is located from this guide.
We hope you found this Mauritius itinerary fairly easy to read and pick through to create the best possible trip for yourself!
If you have any questions, please shoot us an email or drop a comment below. We will reply as soon as we can!
*I was hosted by iAmbassador and Mauritius Tourism as part of the #MyMauritius Explorer Lab when I was in Mauritius. All opinions are my own.
More Mauritius Travel Guides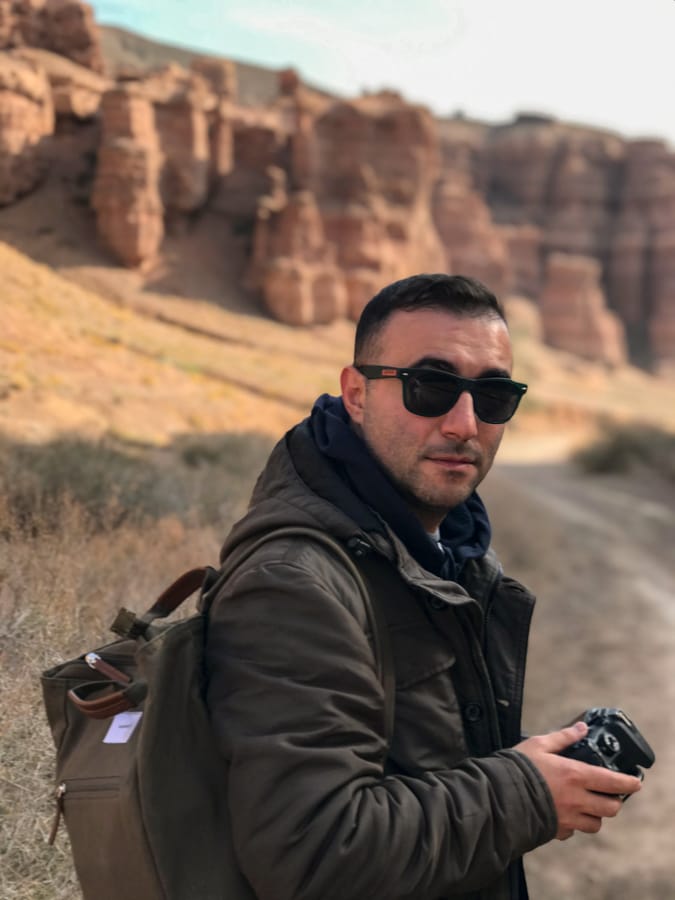 Aram is a travel blogger and writer from Armenia who spends his time between Spain and his home country. He is passionate about music and football (the European kind) and covers a lot of Western European destinations on the blog. Aram is a laidback traveler who enjoys meeting new people and finding the best food in each city that he visits (hence his frequent trips to France, Italy, and Greece!). He has been featured in (or written for) Forbes, BBC, The Guardian, Fodor's Travel, and more.