One of the greatest things about Mauritius is that the island offers diverse landscapes from its north to its south.
Mauritius south, however, is a wild, rugged, and inspiring place.
This is a guide to mesmerizing places to visit in Mauritius south.
Are you planning your trip to Mauritius last minute?
If youʻre booking your trip to Mauritius last minute, we have you covered. Below are some of the top tours, hotels, and more!
🇲🇺 Top experiences and tours in Mauritius:
🛌 Top hotels in Mauritius (by area!):
🚗 Looking for the best way to get around Mauritius? Click here to check rental car rates for Mauritius!
8 Mesmerizing Places to Visit in Mauritius South
Mauritius is a heaven on earth where you can see dramatic landscapes, magical beaches, blue lagoons, and hidden hideaways that will mesmerize you and take your breath away.
The island is so culturally rich and has a unique nature that will leave any visitor filled with emotions about how beautiful Mauritius is.
You will easily come back with thousands of pictures of Mauritius to show your friends!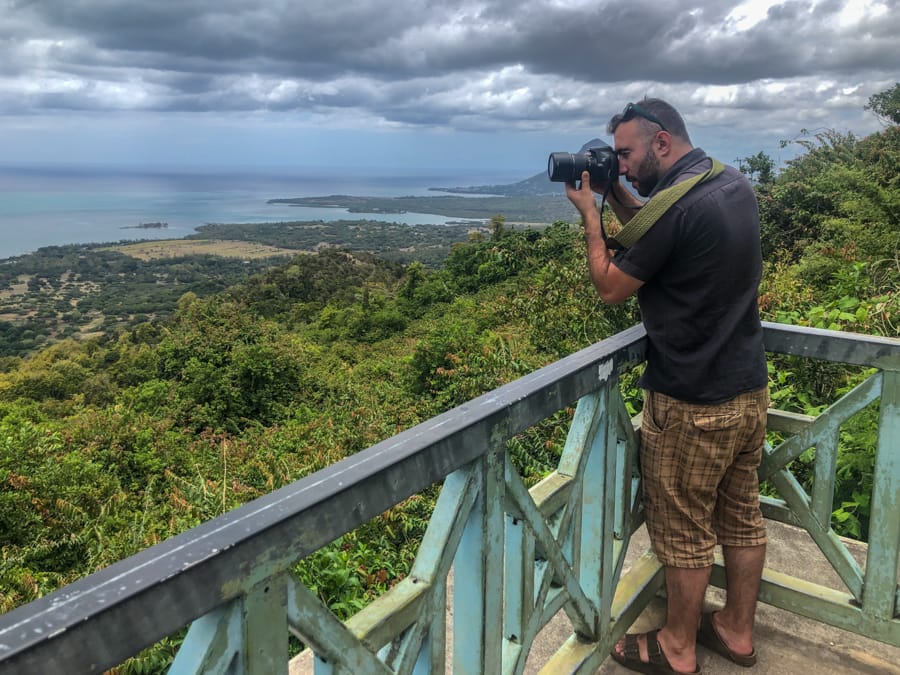 I recently had the chance to visit Mauritius and soak it all in as much as I could.
I found many things to do in Mauritius that kept me pining to return even before I had left!
I am certain you will feel the same after booking a trip there.
One of the most interesting things to know about Mauritius is that it is a fierce fusion of several cultures.
Unfortunately, this is a result of its dark colonization history.
After Mauritius gained independence in 1967, the country mashed all of its cultures together and became a place that feels different than anywhere else on the planet.
Not only are there several cultural things to do in Mauritius, but there are also many scenic places to visit in Mauritius south and north.
From my experience, I felt that the Mauritius excursions and activities were pretty balanced on various parts of the island.
There are places to see on all parts of the island and many that you should consider adding to your Mauritius itinerary.
This is a guide of the top places to visit in south Mauritius.
If you have any tips for things to do in Mauritius south and places to see there, please leave a comment or drop us an email! Thanks!
Do You Need Travel Insurance for Mauritius?
We highly recommend getting good travel insurance for Mauritius. While the country is pretty safe and accidents are unlikely, you really just never know.
I traveled to Mauritius with SafetyWing as my insurance provider and I had a great experience at a super affordable rate.
Their policies are very widespread when it comes to coverage and they are cheap. I paid about $14 for two weeks or something.
>> Click here to get a Mauritius travel insurance quote
Renting a Car in Mauritius
One thing you will want to consider when in Mauritius is renting a car. The roads are pretty good there and driving seemed to be pretty easy compared to other places I have traveled.
It also will give you the freedom to explore places independently and not feel like you're in a rush all the time.
>> Click here to rent a car in Mauritius
Hiring a Private Driver in Mauritius
If you're unable to drive in Mauritius, you should absolutely consider hiring a private driver for a day when there.
The rates are pretty affordable and you will pay per car, not per person, which is pretty awesome.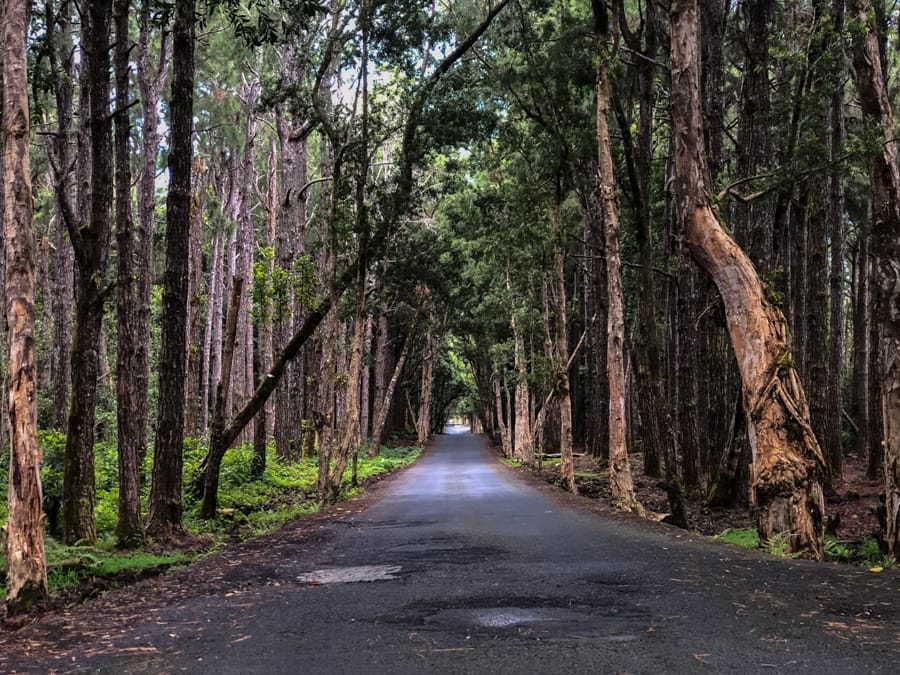 Hiring a driver in Mauritius means that you can dictate where you go.
You can use our Mauritius itinerary and put together a killer road trip and not have to do the hard part of driving.
This allows you to focus on the journey at hand. Mauritius south is the perfect place to hire a driver as you can see almost all in one day.
>> Click here to hire a driver in Mauritius
Taking a Tour of Mauritius South
To be honest, I think the best option for seeing the places on this guide to south Mauritius is to take an organized tour.
I know that can be an unpleasant experience for some, but it takes the pain away from getting around and not making it to the sights.
You will also have an expert guide with you.
This tour of Mauritius south covers what is on this guide for the most part.
You will truly see the best of this part of the island. It is also insanely affordable compared to other options.
>> Click here to check rates and availability for the Mauritius tour
What to Bring to Mauritius
If you're stumped on what to bring with you to Mauritius, you should at least consider taking the following few things.
Remember that you're in the tropics and rain does sometimes happen, as do evil mosquitoes.
The sun is also something to consider as it will hold no prisoners.
Places to Visit in South Mauritius
If you ask locals around Mauritius where to go on the island, many will probably tell you to head north to the beaches and the islands that are off the coast there.
But some may tell you to head south where the wild landscapes exist among colorful cities and lush forests.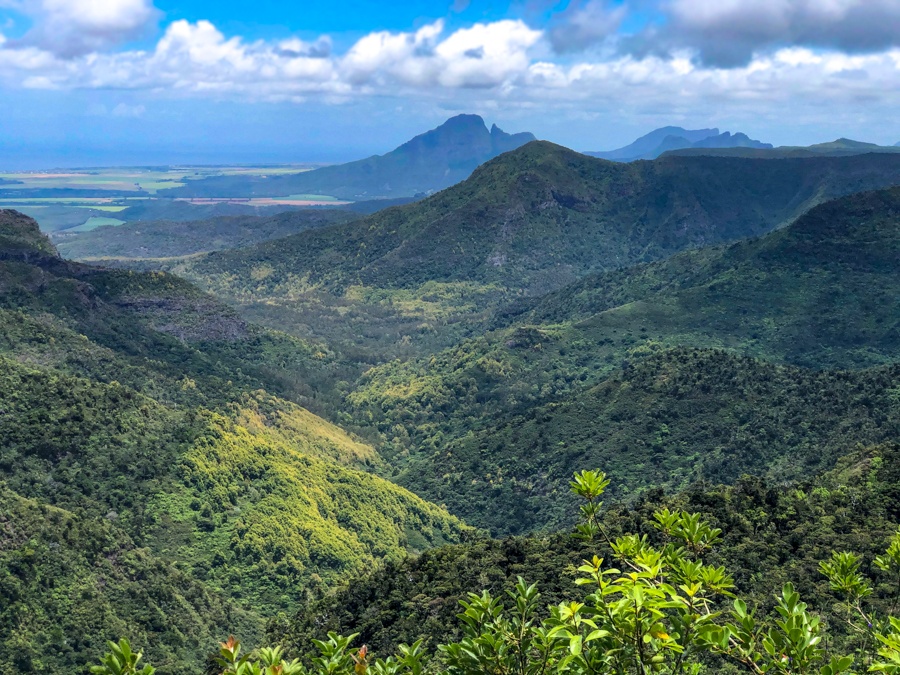 But, if you ask me, I will inevitably say to start your trip to Mauritius in the south.
I even think booking accommodation there is a great idea as it will give you a nice base to see things around Mauritius south.
To make it clear, I definitely think driving around Mauritius is easy, especially as the maximum distance from one point to another is about 2.5 hours without traffic.
There are more than a million people living in Mauritius so if you're driving during certain hours, do factor in a little more time because of traffic and road congestion.
1. Chamarel Waterfall
Probably one of the most beautiful places to visit in Mauritius south (if not the most beautiful!) is the Chamarel Waterfall.
This breathtaking natural wonder is 83 meters 272 (feet) high and even from afar, you can marvel at how powerful it is.
The waterfall is located a bit far from the Black River Gorges National Park on its west side. It is possible to go there via a tour or independently by paying an entrance fee.
By taking this south Mauritius island tour, you can see other sights along the way, like the Seven Colored Earth and Black River Gorges National Park.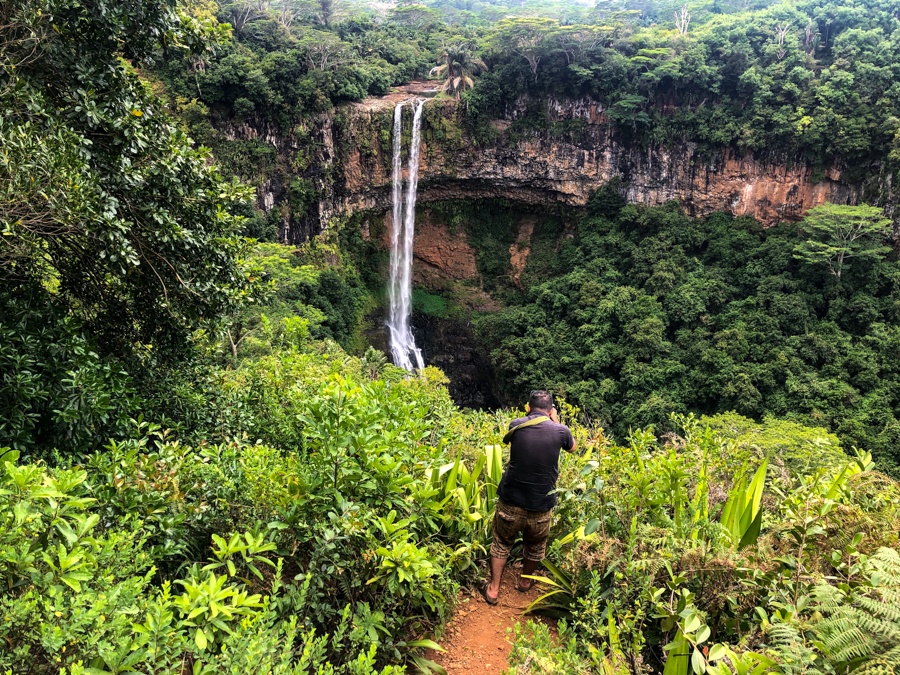 Ticket Price for Waterfalls of Chamarel including also Seven Colored Earth is 250 MUR (5.20 Euros) or (5.65 USD) for adults and 75 MUR (1.55 Euros) or (1.70 USD) for children.
Working Hours: 8:30 AM–5:00 PM
QUICK TIP: As mentioned above, you can combine your trip to Chamarel Waterfall with many other sights on a South Island tour.
But, you can also buy a skip-the-line entrance ticket and go there independently.
This ticket is combined with Seven Colored Earth so you will see both for the price of one.
2. Seven Colored Earth
Located in close proximity to the Chamarel Waterfall is Seven Colored Earth.
It is a spectacular piece of nature that has seven colors of sand dunes that have layered over the years across a 7,500 square meter (0.002 square miles) landscape.
It is truly mind-blowing to see these 7 different soils in colorfully in such a small area.
At Seven Colored Earth, you can enjoy the cozy cafe on-site where you can purchase a cup of coffee or small snacks.
There is also a viewpoint that offers fantastic views of the area. There is also a nature reserve where old turtles are protected.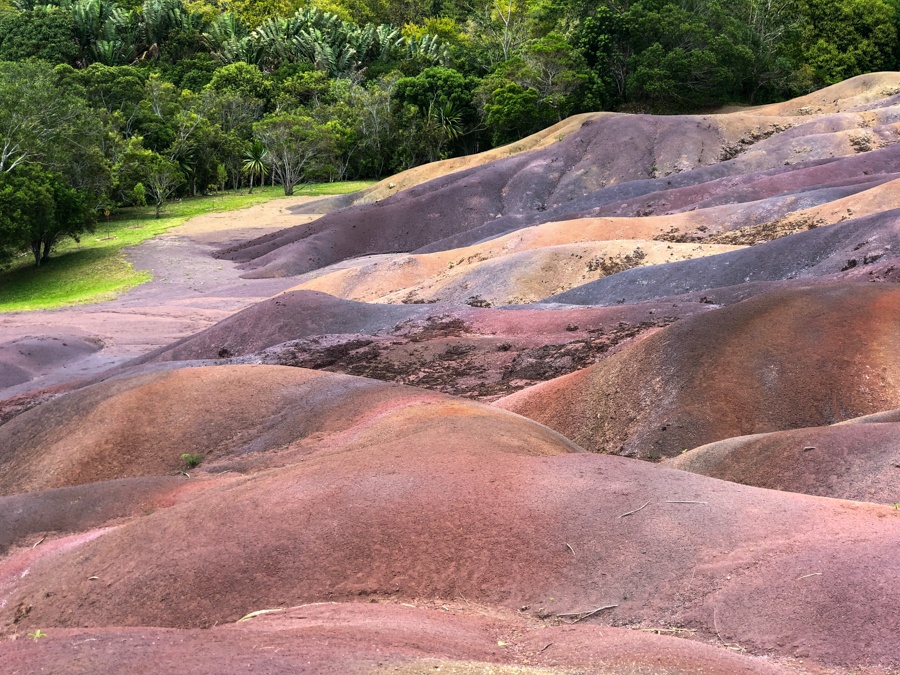 Working Hours: 8:30 AM–5:00 PM
Entrance fee: 250 MUR (5.20 Euros) or (5.65 USD) for adults and 75 MUR (1.55 Euros) or (1.70 USD) for children.
This will include your entrance to Chamarel Waterfall.
It is best to purchase your tickets ahead of time so that you can skip the line and see the sight easily upon arrival.
3. Black River Gorges National Park
One of the benefits of staying in the south part of Mauritius is that you are not only surrounded by epic beaches but you're also close to the biggest natural park on the island, Black River Gorges National Park.
The impressively large rainforest has a capacity of 68 square kilometers (26.25 square miles) meters and is truly a paradise for nature lovers, hikers, and backpackers.
Black River Gorges National Park is rich with a lot of flora and fauna like the Mauritius kestrel, pink pigeons, parakeets, and a lot more.
Many animals are endemic and you'll have the chance to catch a glimpse of them if they are feeling curious that day.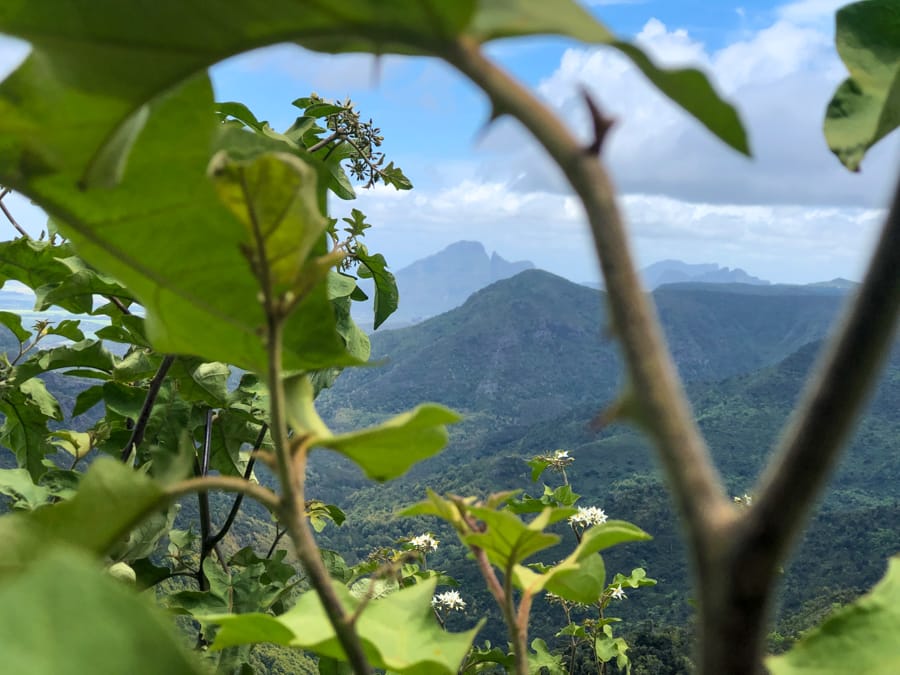 In addition to the gorgeous park, you will also get a chance to check out Alexandra Falls from a viewpoint. This waterfall will take your breath away even if it is not all that large in size.
4. Blue Bay Marine Park
After uncovering some of the coolest places to visit in Mauritius's south, you will eventually need a little bit of those beautiful beaches and waters that Mauritius is known for.
This is the ideal time to head to Blue Bay Marine Park and see an amazing coral reef lagoon where there are corals older than 1,000 years and wildlife like sea turtles and more.
This area is the perfect place to do a little snorkeling and diving and see some of the wildlife of Mauritius.
Address: Blue Bay
💥 INSIDER TIP:
Snorkeling is all the rage in this area and there are many tours and classes you can take there to experience life under the sea.
The area is protected by the government and it really is a gift to the locals as they will get to see the underwater life of Mauritius as they view over 38 different types of corals in their natural habitat.
Please do make sure you use reef-friendly sunscreen, however, as it is illegal to use generic regular stuff there.
>> Click here to shop for reef-friendly sunscreen.
5. Grand Bassin
Grand Bassin is the holiest place in Mauritius and is also known as Grand Talao.
The temple was built on the volcanic crater lake and is a unique opportunity to really get in touch with the religious history of the island.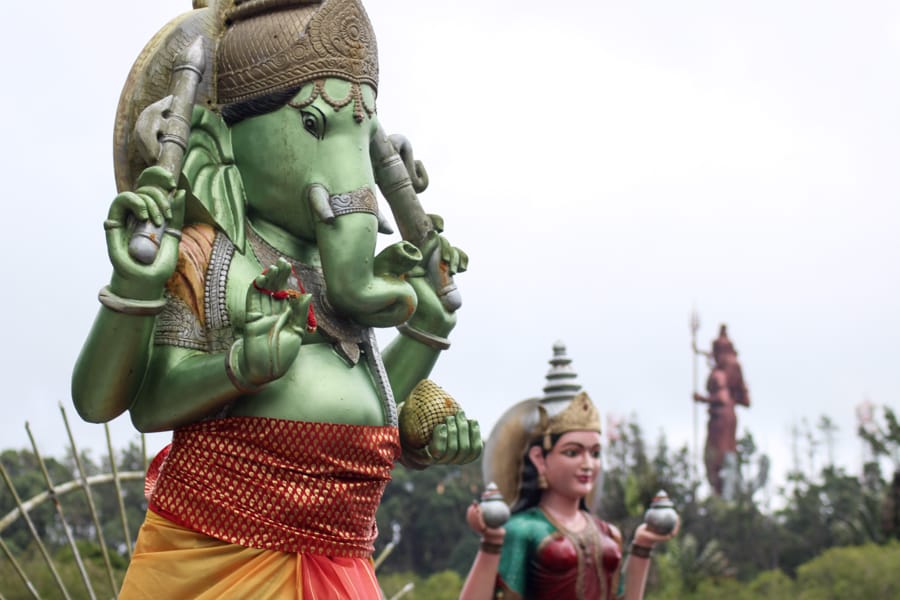 The area is surrounded by lush, green forests and the place is an important one as it is dedicated to the goddess Shiva and it has garnered a lot of tourism throughout recent years.
It is also a place where locals pray, celebrate with a huge festival, and have other ceremonies.
You will also find many monkeys roaming the vicinity looking for food and ways to pester people.
Fortunately, they are cute and I had a great time photographing the curious animals.
Next to Grand Bassin is a 30-meter-long (98-foot) statue of Shiva the Destroyer and Durga Maa, who is known as the protector of the universe in the Hindu religion.
This is one of the must-visit places to visit in south Mauritius.
Ganga Talao Working hours: from 5:00 AM to noon and again from 1:00 PM to 6:00 PM
Entrance to Ganga Talao is free.
Address: Grand Bassin
6. Le Morne Brabant
Another really important place to visit in Mauritius's south is the UNESCO World Heritage Site, Le Morne Brabant. It is a very key piece of history and culture in Mauritius.
Le Morne Brabant is a peninsula that has a basaltic mountain that is surrounded by palms and some of the most stunning beaches you will ever lay eyes on.
The mountain symbolizes freedom in Mauritius as it was allegedly the place where slaves would escape and take refuge from their enslaved daily lives. It now is a symbol of the island.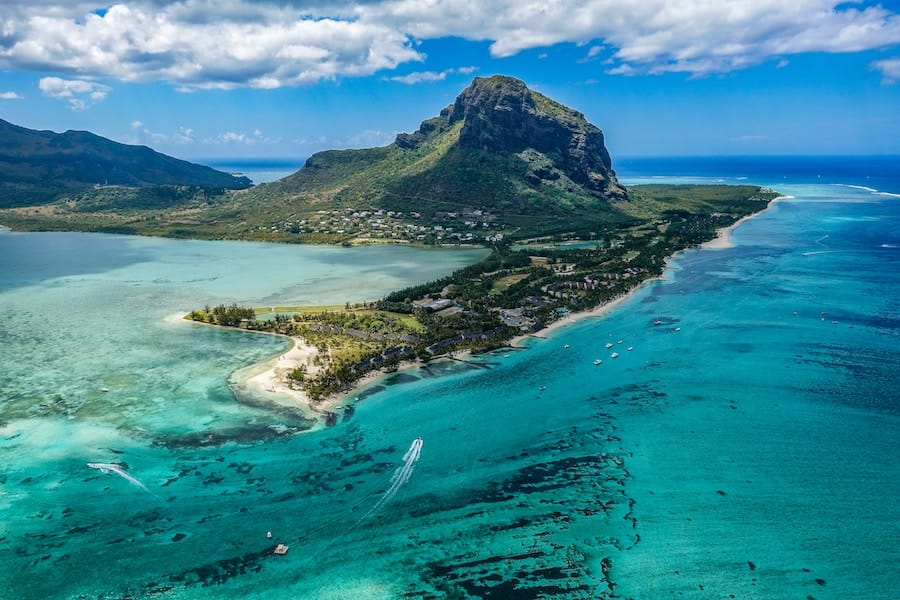 Another amazing sight beside Le Morne Brabant is an underwater waterfall that can really only be seen from a helicopter.
The entire area is outstanding and a must-visit place in Mauritius.
QUICK TIP: You can take a tour of Le Morne Brabant where you will have a chance to hike the area and learn more about its history and representation in society today.
7. Curepipe
Curepipe is known as the second metropolitan city in Mauritius as it is a huge commercial center for the island.
A large number of Mauritius tours visit Curepipe annually because of its many attractions.
It is located 500 meters 1640 (feet) above sea level and it is considered to be the highest city in Mauritius.
There are a few things to do in Curepipe that are of note and I list a few below in case you're interested in adding them to your itinerary.
Domaine Des Aubineaux
This historic manor building was turned into a museum in 2000 and was built in the middle of the 19th century in a traditional, colonial style and it currently showcases the history of colonial plantations in Mauritius.
In addition, Domaine Des Aubineaux is a historical place to visit in the south of Mauritius because it was the first residence that had electricity in 1889.
You can find Domaine Des Aubineaux on A10 Road in Curepipe.
Hôtel De Ville
Located in the heart of the city of Curepipe is Hôtel De Ville. It is a perfect place to show and detail the history of colonization in Mauritius.
The villa is even a popular destination for locals where they can see a gorgeous garden and veranda at the historic property.
You can visit Hôtel De Ville at Rue Chasteauneuf in Curepipe.
SSR Curepipe Botanical Gardens
The Curepipe Botanical Gardens are the second largest botanical gardens in Mauritius and they have a very important role in the island's life as it has been called the 'lungs of the city'.
The wonderfully preserved ecosystem gives visitors the chance to see rare plants and flowers throughout the gardens.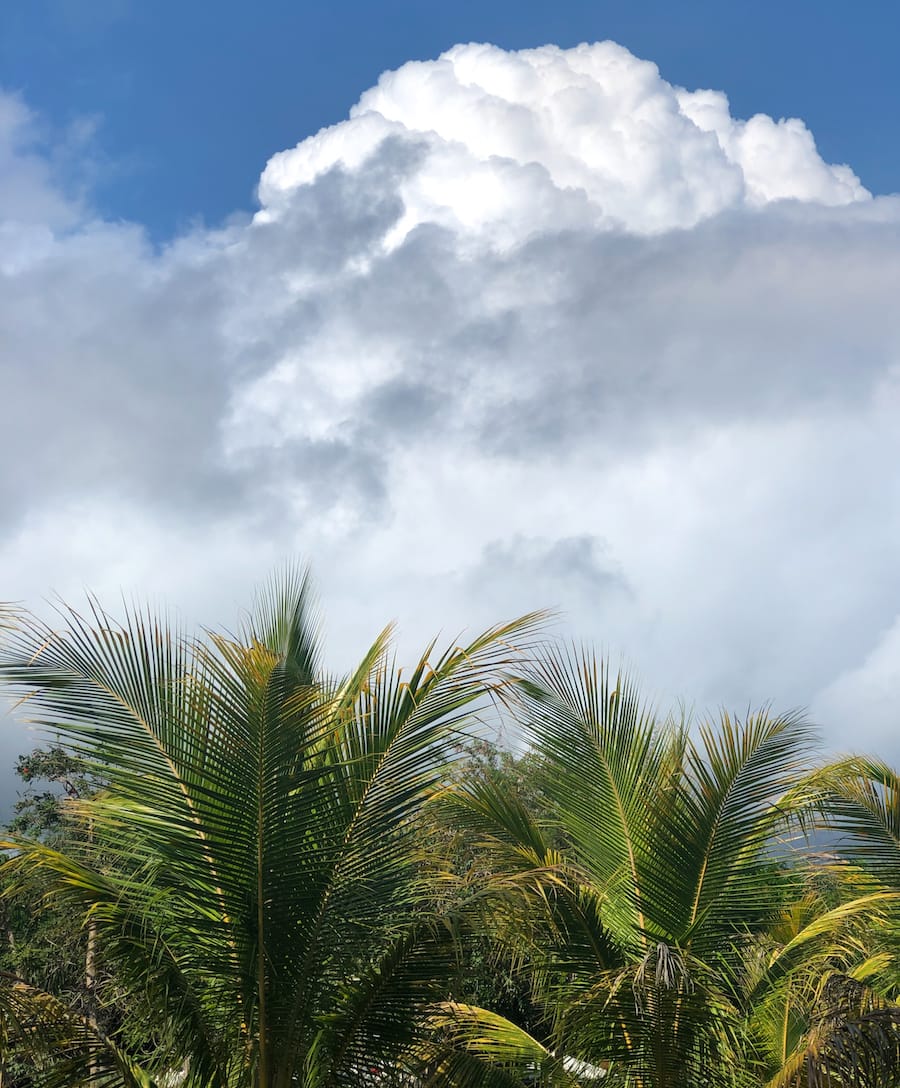 In addition, the Curepipe Botanical Gardens have a festival of flowers that dedicates the entire fest to the protection and taking care of the flora inside of the gardens.
You can find the Curepipe Botanical Gardens near Camp Caval in Curepipe.
Working Hours: 6:00 AM – 6:00 PM
Entrance Fee: Free
8. Trou aux Cerfs Volcanic Crater
Mauritius is an island of ancient and dormant volcanoes that have over the years become natural wonderlands such as forests, lakes, and more.
Trou aux Cerfs crater is one of those spots and it is located near Curepipe.
The crater, at first, appears to just be a hole in the ground with water and surrounded by lush vegetation.
But, if you realize that it is actually 350 meters (1148 feet) in diameter and has a depth of around 100 meters (328 feet), it is pretty impressive!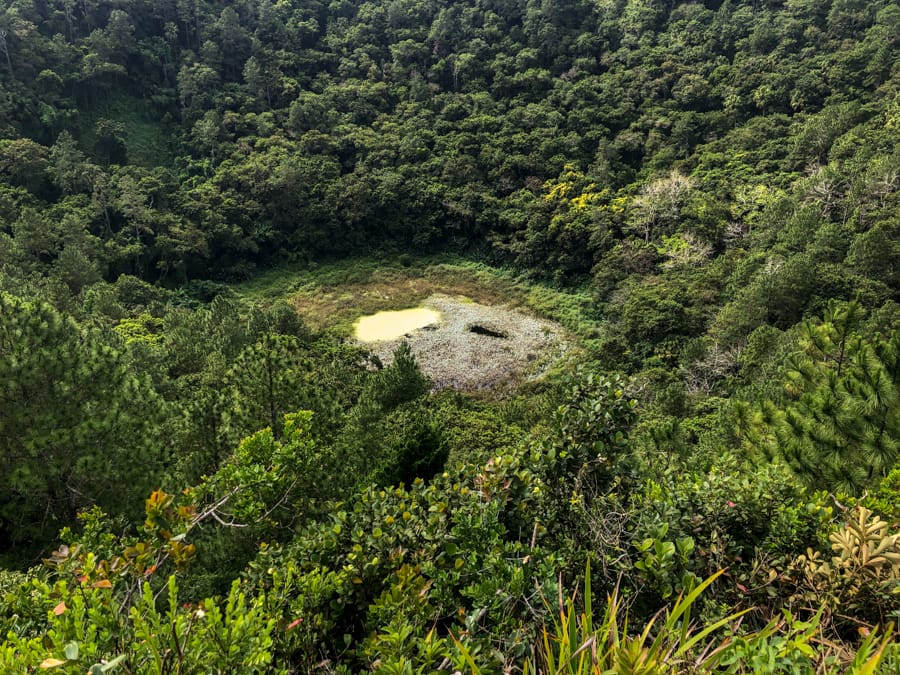 In order to see the crater in its entirety, you will need to stroll around it from viewpoints. It is one of the best places to visit in Mauritius south.
Location: Vacoas-Phoenix
QUICK TIP: You can see Trou aux Cerfs on a tour of Mauritius south. It is interesting to visit it with a tour as you will get to learn additional facts about its history and how it became what it is today.
Places to Visit in Mauritius South (On a Map!)
🗺️ HOW TO USE THIS MAP: You can use your fingers/mouse to zoom in and out. To get more info about a place, simply touch/click the icons. Want to save this map for later use? Click the '⭐' by the map title and it will add it to your Google Maps account (Saved > Maps or 'Your Places').
Where to Stay in South Mauritius
I recommend staying at dead weight if you decide to stay in the south of Mauritius and have the budget allocated to do it.
The hotel was fantastic and the golf course was so well-kept and green and beautiful.
They have amazing food on-site, such as at C Beach Club and more.
It truly is a magnificent place to stay or even just dine at.
>> Click here to check rates and availability for Heritage Resort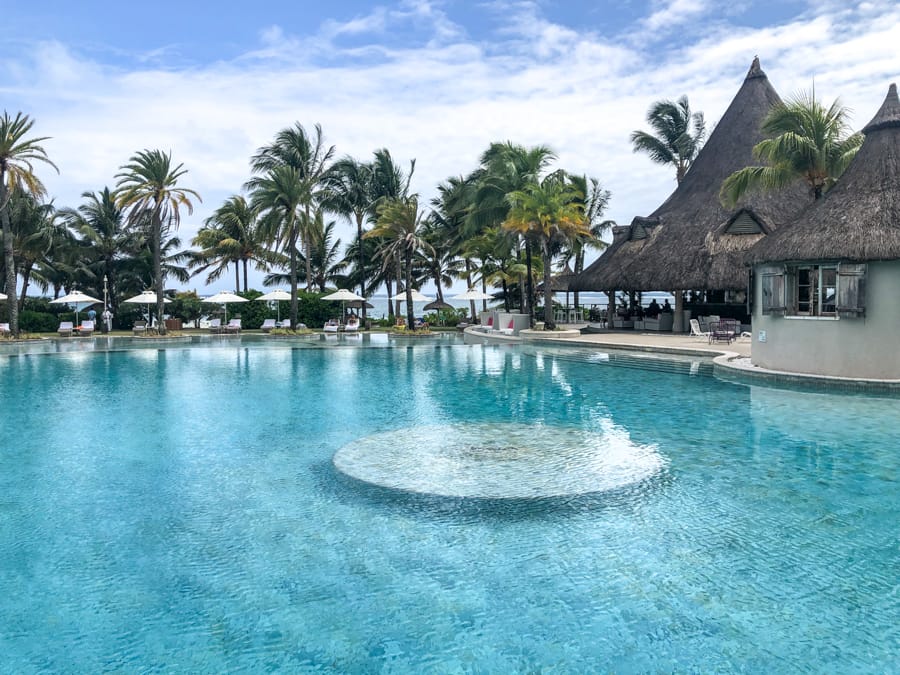 Mauritius Tours Quick Reference
If you're looking to quickly see some of the tours mentioned above in this guide, here are the ones we noted, including a link to where you can book a private driver to plan the south of Mauritius trip yourself.
If you have any additional recommendations for places to visit in Mauritius South, please drop them in the comments or let us know!
We would love to ensure that no other travelers miss out!
*I was a guest of #MyMauritius and iAmbassador when I was in Mauritius. All opinions are my own.
More Mauritius Travel Guides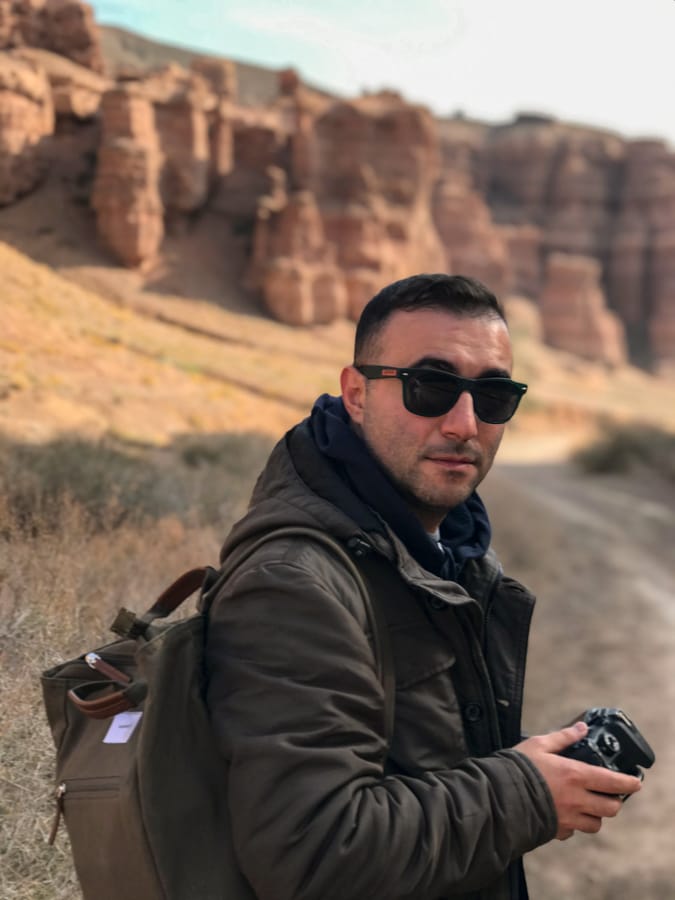 Aram is a travel blogger and writer from Armenia who spends his time between Spain and his home country. He is passionate about music and football (the European kind) and covers a lot of Western European destinations on the blog. Aram is a laidback traveler who enjoys meeting new people and finding the best food in each city that he visits (hence his frequent trips to France, Italy, and Greece!). He has been featured in (or written for) Forbes, BBC, The Guardian, Fodor's Travel, and more.