Are you looking for the best beaches in Mauritius? This guide has you covered – keep reading to uncover the top Mauritius beaches!
Are you planning your trip to Mauritius last minute?
If youʻre booking your trip to Mauritius last minute, we have you covered. Below are some of the top tours, hotels, and more!
🇲🇺 Top experiences and tours in Mauritius:
🛌 Top hotels in Mauritius (by area!):
🚗 Looking for the best way to get around Mauritius? Click here to check rental car rates for Mauritius!
Mauritius is one of the world's most stunning beach destinations. And, there is truly something for everyone!
You will find beaches perfect for relaxing alongside ones that are renowned for adventure!
We also let you know exactly why you should visit along with the best things to do at each beach!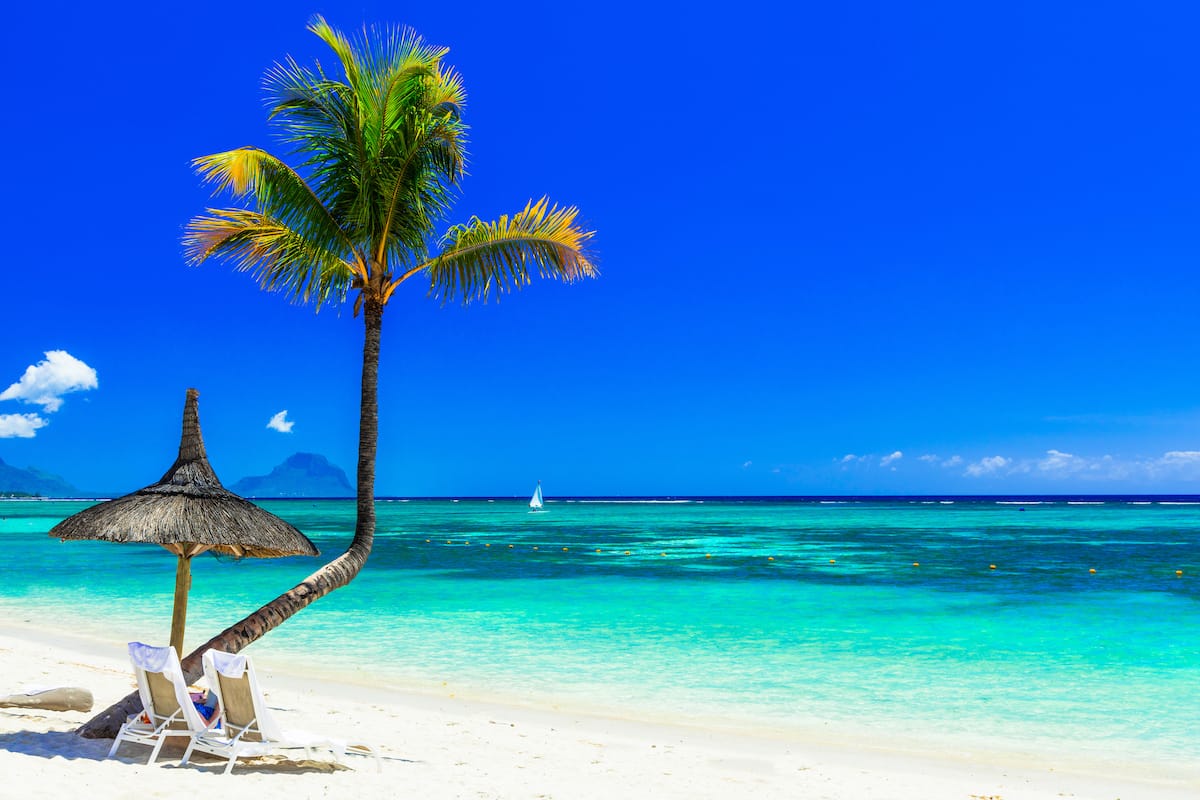 Did we miss any of the prettiest beaches in Mauritius on this guide? Let us know in the comments!
Best Beaches in Mauritius
1. Trou aux Biches Beach
Situated on the northwestern coastline of Mauritius, Trou aux Biches Beach is a stunning crescent-shaped beach that stretches for 2 kilometers and is approximately 20 meters wide, offering visitors plenty of space to sunbathe and play in the sand.
The beach features a gentle entrance to the crystal-clear turquoise water, so it is perfect for families seeking a fun-filled day out with their little ones. The surrounding area also contains some of the best things to do in Mauritius!
In addition, it offers a convenient infrastructure for visitors, including parking, toilets, showers, changing cabins, and sun loungers and umbrellas for hire, for a comfortable experience.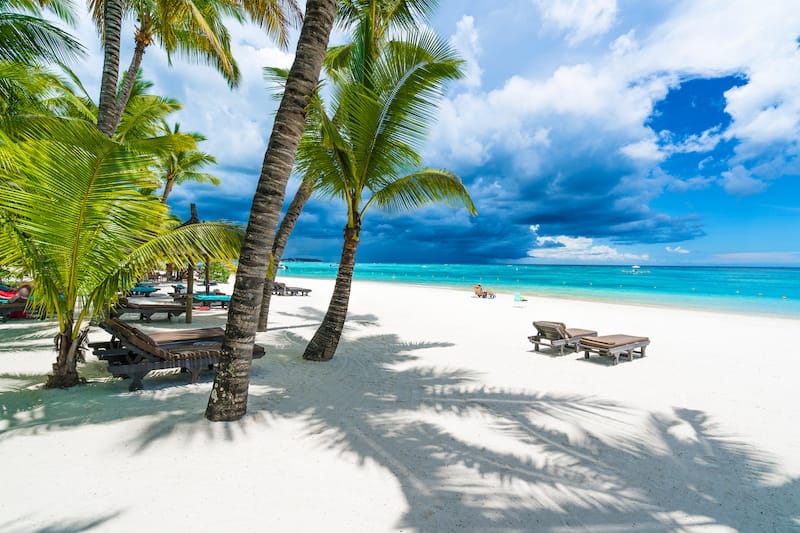 Adventurers can indulge in snorkeling, as the coral reefs that dot the shore are teeming with an array of exotic marine life, from stunning starfish to slinky moray eels.
Conversely, thrill-seekers can rent gear for kayaking, stand-up surfing, windsurfing, and parasailing. You can also take a jet ski, catamaran, or glass-bottom boat to explore the crystal-clear waters.
Want to encounter playful sea turtles and dolphins? The on-site Dive Spirit club is your gateway to an underwater wonderland.
And when it's time to take a break from the sea, rejuvenate your senses at Sakoa or La Plage Beach Club By Evaco, where you can savor delectable cuisine, groove to the rhythm of music, and even treat yourself to a relaxing massage.
If you're planning a trip to Mauritius and looking to stay close to the beach, Trou aux Biches offers some of the best hotels and resorts on the island.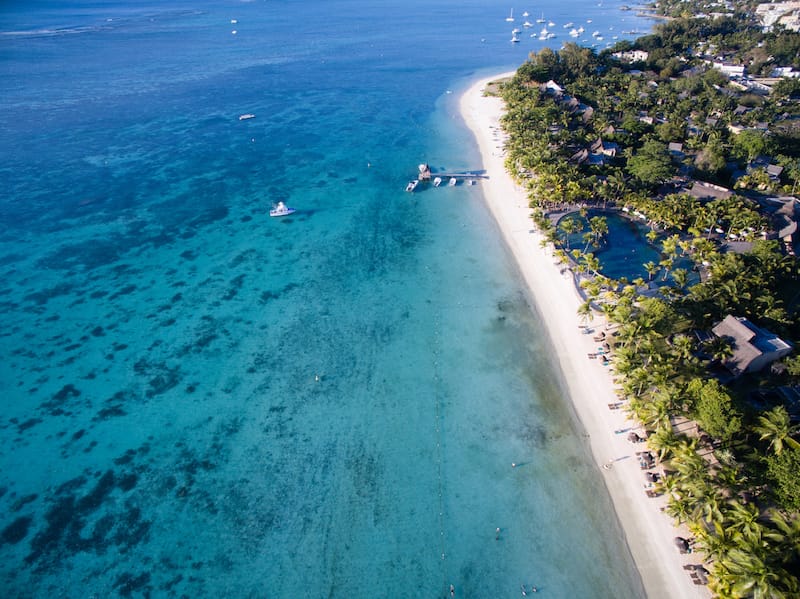 The Trou aux Biches Beachcomber Golf Resort & Spa, for example, is a popular luxury resort that offers direct access to the beach, as well as numerous amenities such as a spa, tennis courts, and multiple restaurants.
Voile Bleue Boutique Hotel in Pointe aux Biches is an excellent choice if you're looking for an affordable yet luxurious getaway. I
t features a must-try restaurant, Le Skipper, and a refreshing pool, all while offering breathtaking views of the island's picturesque northwestern coast. Plus, its prime location means that the best part of Trou aux Biches Beach is just a short 5-minute walk away.
The culinary scene at Trou aux Biches is not to be missed, with some of the best dining options on the island.
Treat yourself to a scrumptious seafood feast with stunning ocean views at Le Pescatore, conveniently located just a stone's throw away from the sandy beach.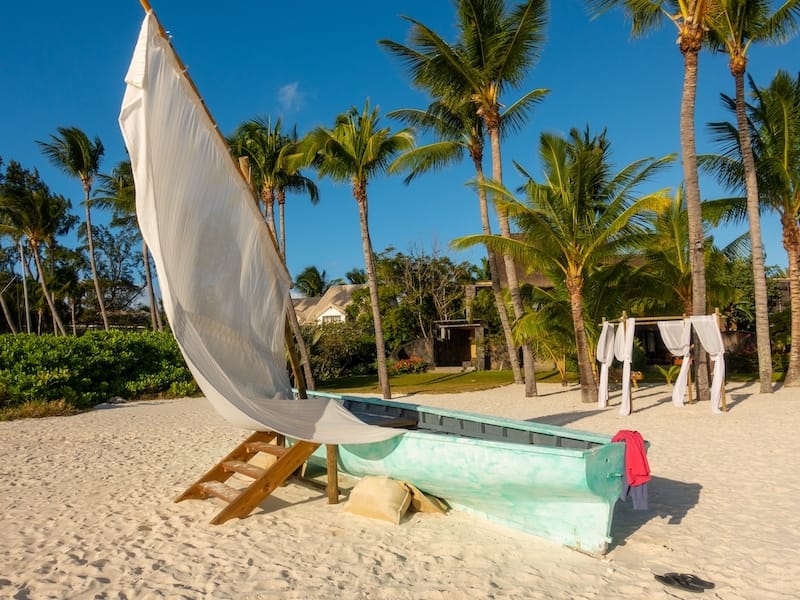 If you're looking for a diverse array of cuisine, head over to Beach Hut and Chez Ram for a flavorful mix of local, Indian, and international flavors that will tantalize your taste buds.
In addition to its natural beauty and excellent accommodations and dining options, Trou aux Biches Beach is also conveniently located near other popular attractions on the island.
Visitors can easily access the nearby Grand Baie, a bustling town known for its nightlife, shopping, and entertainment options.
2. Flic-en-Flac Beach
Flic en Flac Beach is located on the western coast of Mauritius.
Spanning over 6 kilometers in length and up to 100 meters in width, it is one of the longest beaches on the island and is divided into three bays: Volmar Beach to the south, the central beach, and the most picturesque North Flic-en-Flac.
The sand is soft, powdery, and bordered by a strip of casuarina trees, making it a perfect place for sunbathing or strolling along the shore.
If you're an adventure seeker, Flic-en-Flac Beach is your paradise, with a wide range of exciting activities and rentals on offer. Explore the mesmerizing marine world by snorkeling, paddleboarding, windsurfing, or even sea kayaking.
Glass-bottom boat tours are also available for those who want to admire the underwater scenery without getting wet.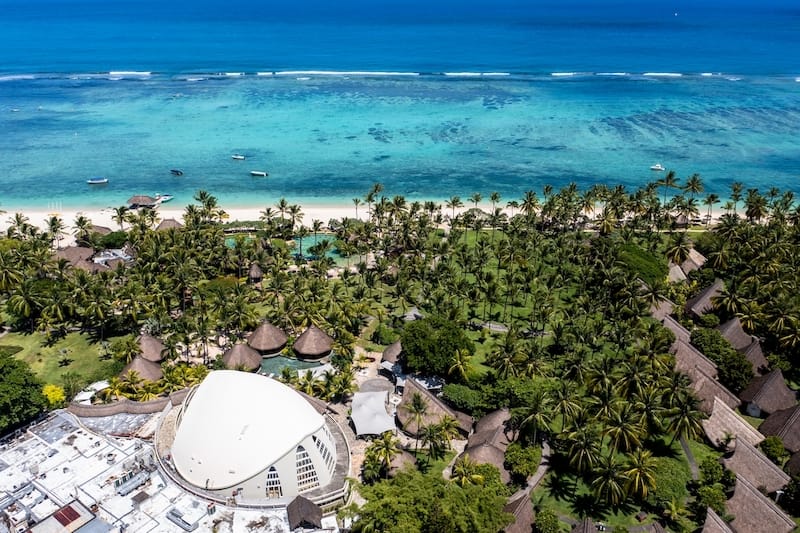 Flic-en-Flac Beach also boasts various facilities to make your beach day a breeze. Take advantage of the no-cost lavatories and showers to freshen up after a swim, and rent a parasol or sun lounger to relax in style.
The area is equipped with bars, cafes, dive centers, and designated picnic spots as well, making it the perfect destination for a fun-filled day out with family and friends.
Sugar Beach Resort and Hilton Mauritius Resort & Spa are fantastic choices for Flic-en-Flac Beach visitors.
These luxurious hotels offer direct access to the stunning beach, as well as world-class amenities and services.
With a range of on-site dining options, relaxing spa treatments, and numerous recreational activities, including water sports and tennis, visitors can truly indulge and unwind during their stay.
Additionally, both hotels are conveniently located near the bustling town center of Flic-en-Flac, providing guests with easy access to nearby shops, restaurants, and nightlife.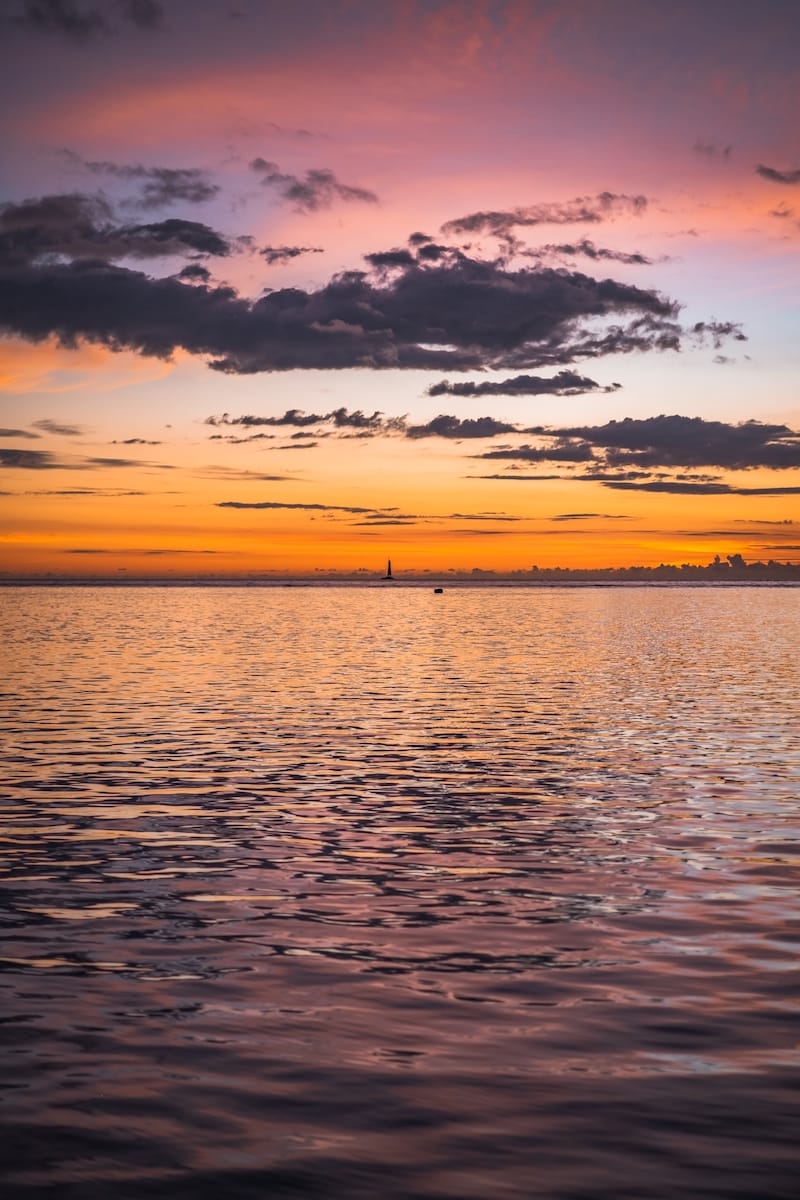 If you're looking for mid-range or budget accommodation, a great choice is the Aanari Hotel & Spa, which offers comfortable rooms and amenities such as an outdoor pool and spa services, all within walking distance of the beach.
Foodies rejoice! Flic en Flac Beach is also a culinary paradise, with some of the best dining options on the island. If you're a seafood lover, don't miss out on Pakbo, a standout restaurant serving delectable creole and Indian seafood dishes that will transport your taste buds to new heights.
For a unique gastronomic experience, check out Zub Express, which offers a fusion of Indian, Mauritian, and Chinese cuisine that will tantalize your palate with a symphony of flavors.
3. Belle Mare Beach
Nestled on the pristine east coast of Mauritius lies Belle Mare Beach, a haven of unspoiled nature with minimal development, save for a few hotels and luxury villas.
This untouched side of the island embodies the authentic spirit of Mauritius, providing visitors with a refreshing escape from the hustle and bustle of more developed coastal areas.
Here, you can bask in the island's natural beauty, with breathtaking views of the sea and lush greenery at every turn.
Enjoy a beach day like no other at this picturesque oasis, where the powdery white sand stretches for over 10 kilometers, making it one of the longest beaches on the island.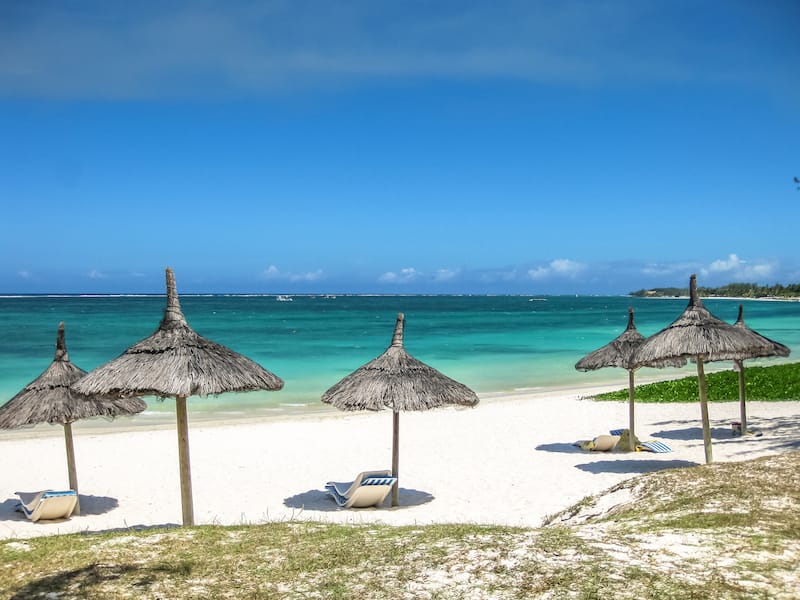 With a width of approximately 100 meters, there's no shortage of space for sunbathing, playing beach volleyball, and other fun activities. It's also equipped with an array of amenities and facilities to make your visit as comfortable as possible.
Clean public toilets, showers, and changing rooms are available for visitors' convenience, while sun loungers and umbrellas can be rented for a hassle-free beach day.
Moreover, Belle Mare Beach benefits from a deep lagoon that runs parallel to the shore, providing calm waters and perfect conditions for water sports and activities.
Rental equipment and watersports operators like Aquacity are available on the beach, so visitors can go snorkeling, pedalo boating, tube riding, windsurfing, or parasailing.
In addition, it is home to diving clubs, such as Dive Passion and Divetime Mauritius, which offer scuba diving courses and excursions for those who want to explore the colorful coral reefs and abundant marine life.
Alternatively, tourists can do horseback riding and visit nearby attractions such as the Legend Golf Course, Splash N Fun Leisure Park, or the Flacq market to experience local food and culture.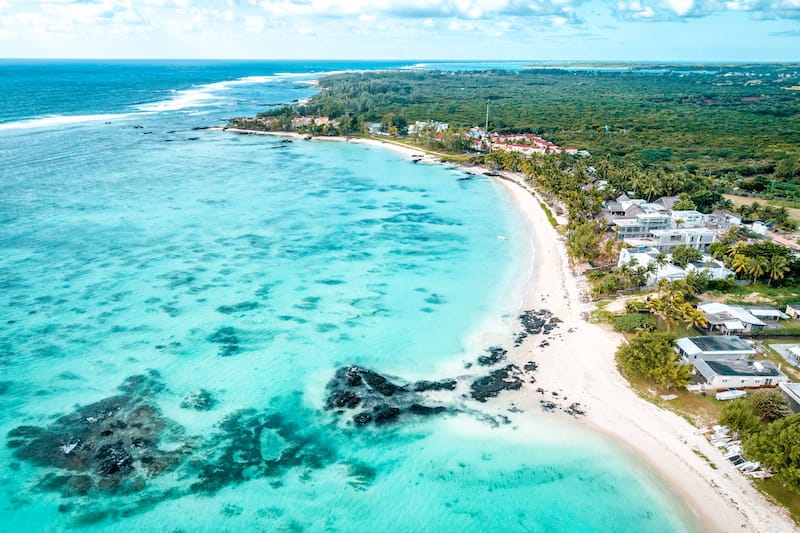 If you're looking to stay near Belle Mare Beach, the Residence Mauritius and Constance Belle Mare Plage are two of the best accommodation options.
These luxurious hotels offer direct access to the beach, stunning ocean views, and world-class amenities such as multiple restaurants, swimming pools, and spas.
The Residence Mauritius is known for its colonial-style architecture, elegant decor, and exceptional service, making it a perfect choice for a luxurious and relaxing stay.
The Constance Belle Mare Plage is renowned for its seven on-site restaurants, two top-notch 18-hole golf courses, and a spa.
For those looking for a more budget-friendly option, the Emeraude Beach Attitude Hotel, situated just across the road from the beach, offers comfortable rooms and a swimming pool at an affordable price.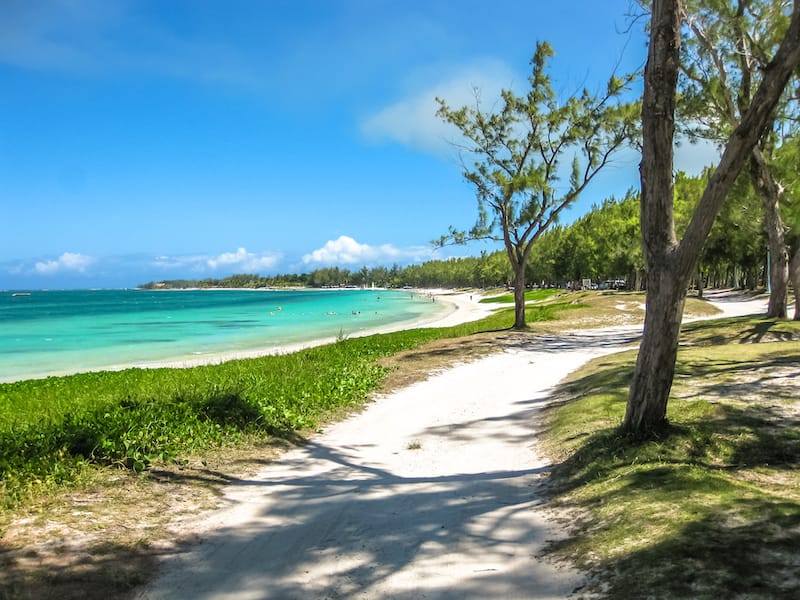 Near Belle Mare Beach, visitors can choose from an extensive selection of restaurants catering to every budget and culinary preference, ensuring everyone can enjoy a delicious meal.
Among the top choices are Hasu, Amari By Vineet, and Seasons Restaurant & Bar.
Hasu offers a unique Japanese culinary experience, serving up exquisite dishes such as sushi and sashimi made with fresh seafood, complemented by a refined atmosphere and attentive service.
Amari By Vineet is another must-visit dining destination, with Michelin-starred Chef Vineet Bhatia at the helm, serving Indian-inspired cuisine with complex flavors and artful presentation.
Meanwhile, Seasons Restaurant & Bar offers a more casual and affordable dining experience, with a menu that highlights local and Asian, specifically Indian, cuisine.
4. Mont Choisy Beach
Mont Choisy Beach, also known as Mon Choisy Beach, is the ultimate destination for those seeking a perfect balance of relaxation and adventure.
This stunning beach, characteristic of those in the northern part of Mauritius, spans an impressive 3 kilometers in length and 100 meters in width, boasting a gorgeous stretch of white sand.
Along the beach, you'll find thousands of Casuarina trees that provide ample shaded spots where you can take a break and enjoy a refreshing beverage while basking in the serene ambiance of the surroundings.
At this beach, visitors can take long walks, jog, do aerobic exercises, swim or snorkel in the warm waters, and soak up the romance of the stunning sunsets.
What's more, visitors can enjoy a variety of beach sports, such as volleyball, football, and frisbee. There's even a football field right next to the beach, where you can join the locals for a friendly game.
Beachside conveniences such as comfortable sun loungers, umbrellas, changing rooms, showers, and clean restrooms are readily available in Mont Choisy.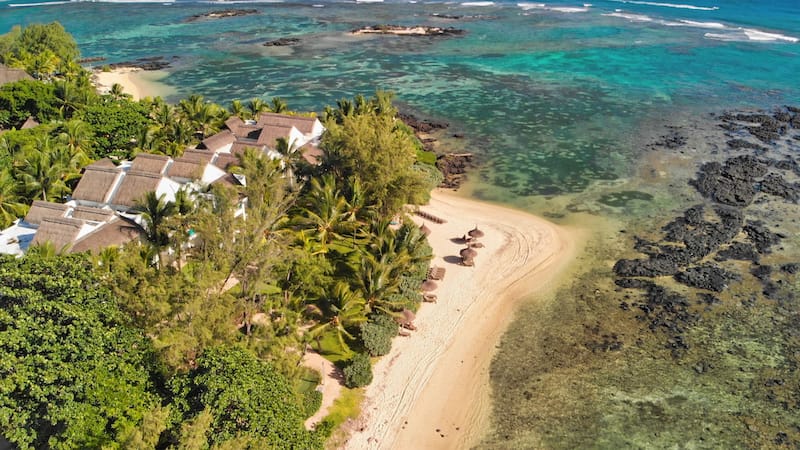 You may also notice various marine-based activities in the nearby waters, such as kite-surfing, parasailing, water skiing, jet-skiing, diving, and glass-bottomed boating, but most of these activities are organized from Grand Baie or Trou aux Biches.
It's also important to note that on weekends and holidays, Mauritians flock to the beach to spend quality time with their loved ones, resulting in increased crowds.
Tourists visiting Mont Choisy Beach in Mauritius can look forward to more than just the sun, sand, and sea.
They can also enjoy a variety of nearby attractions, such as the Mont Choisy Le Golf course, the only 18-hole championship course in the north.
For those seeking cultural experiences, the Maheswarnath Mandir Hindu temple is an excellent place to explore the island's religious heritage.
The Sir Seewoosagur Ramgoolam Botanical Garden, L'Aventure du Sucre museum, and The Château de Labourdonnais offer insights into the island's history, flora, and architecture.
Additionally, tourists can go on a shopping spree at either the Mont Choisy Mall or La Croisette shopping centers, where they can find a diverse selection of local and international brands.
During the peak season, you may find a few mobile food vendors hiding from the scorching sun under the trees, so you have various options if you fancy a snack.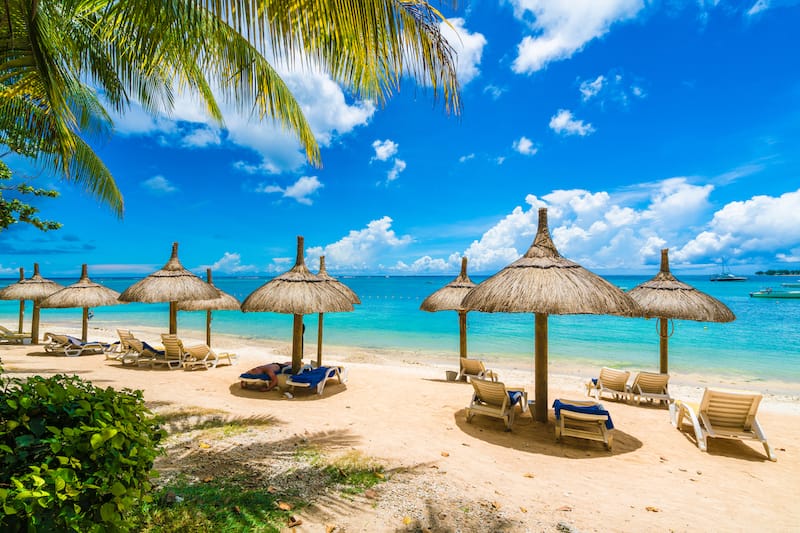 The kebab, fries, and samosas from Best Kebab are especially popular with beachgoers. Nearby, Refresh Restaurant Pizza Bar, #36 Beach Restaurant, and Stephanie Snack et Restaurant are great options for delicious food and good value.
Refresh serves affordable Italian and creole cuisine, #36 Beach Restaurant offers flavorful seafood dishes, and Stephanie Snack specializes in authentic Mauritian street food.
All three restaurants are highly recommended and provide excellent service.
Numerous fantastic lodging options surround Mont Choisy Beach. Mon Choisy Beach R, Tarisa Resort & Spa, and Coral Azur Beach Resort are excellent options for visitors who want to stay near this tranquil beach, catering to different budgets and preferences.
Mon Choisy Beach R. is a terrific choice for those seeking self-catering accommodation, with well-equipped apartments and a communal swimming pool.
Tarisa Resort & Spa is a luxurious 3-star hotel offering modern amenities, multiple swimming pools, and easy access to the beach.
Coral Azur Beach Resort is a great choice for its affordable rates, convenient beachfront location, and range of amenities such as a swimming pool, restaurant, and bar.
5. Le Morne Beach
Le Morne Beach, also referred to as Sugar Beach, is at the southernmost point of Mauritius and is renowned for its picturesque scenery.
The beach is situated between the shimmering ocean on one side and the breathtaking Mount Le Morne Brabant, a 55-meter-high UNESCO World Heritage Site, on the other, with palm trees, casuarina trees, and a vast strip of sand in between.
As a result, the beach is a favored destination for those who desire to bask in the beauty of nature and indulge in a serene atmosphere.
Le Morne Beach is a hub for water sports enthusiasts, especially wind and kite surfers, with several kite schools situated in the vicinity. The beach also provides ample opportunities for visitors to discover the ocean.
For those looking for an adrenaline rush, boat excursions, and glass-bottomed boat rides are available, and you can rent kayaks or diving equipment to explore Mauritius's underwater world.
In addition to its water sports, this striking location offers a diverse selection of outdoor activities that allow visitors to explore the breathtaking landscape and get their blood pumping.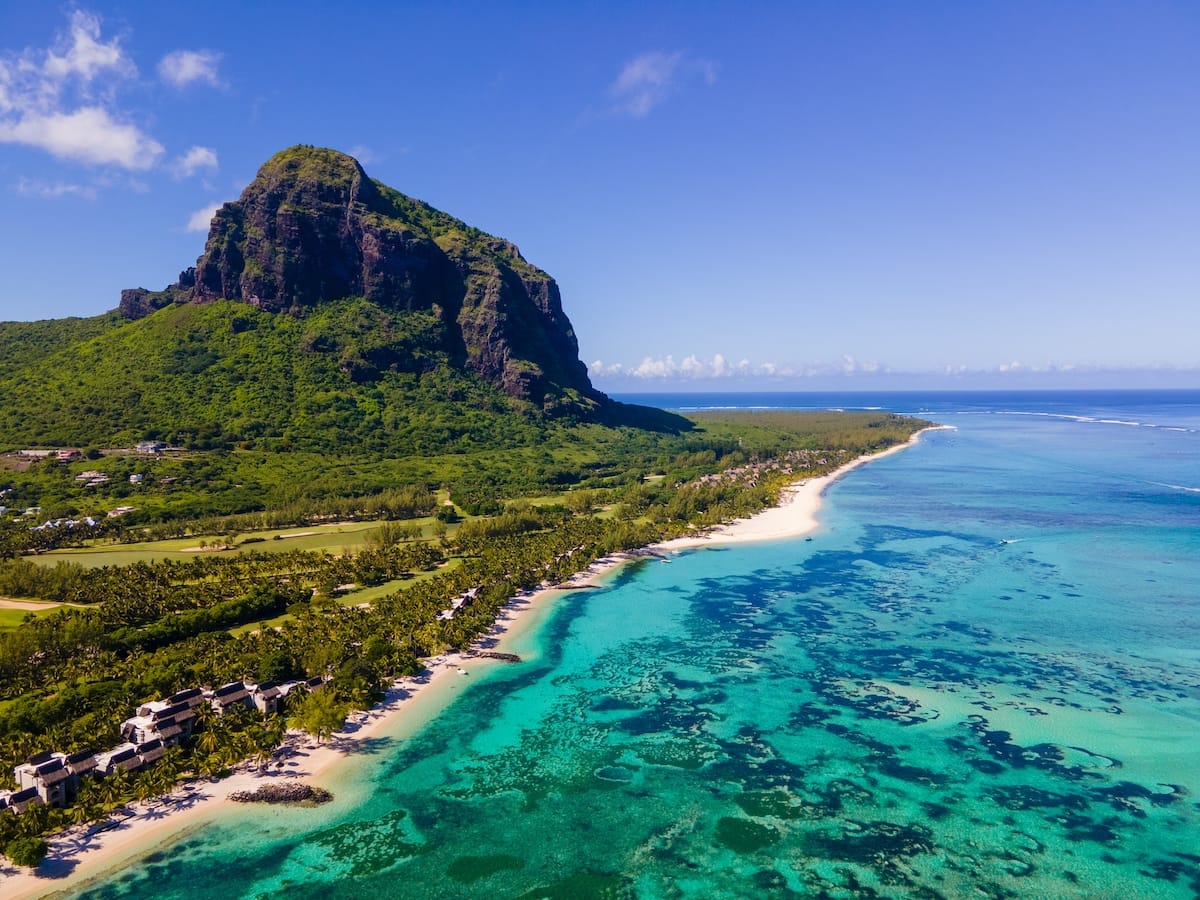 Whether hiking, mountain climbing, horseback riding, or quad biking, there's an adventure suitable for every intrepid traveler.
Situated close to some of Mauritius's most popular tourist attractions, your trip to Le Morne Beach can include the Le Morne Cultural Landscape, home to iconic landmarks like the mountain monolith and the International Slave Route Monument.
Other notable attractions to add to your Mauritius itinerary are the seven-colored sands of Chamarel, the stunning Chamarel waterfall, and La Vanille park. Visitors can also enjoy unique experiences like viewing the underwater waterfall from above via a water plane.
With some of the best hotels on the island located on the first line of the beach, it is an ideal destination for an all-inclusive holiday where you can relax without leaving the hotel grounds.
The JW Marriott Mauritius Resort, formerly St. Regis Mauritius Resort, offers a truly indulgent experience with stunning ocean views, elegant decor, and a range of upscale amenities like a spa, fine dining restaurants, and an infinity pool.
For budget-conscious travelers, the Seaview Calodyne Lifestyle Resort is a great option, offering comfortable rooms, an outdoor pool, and easy access to the beach.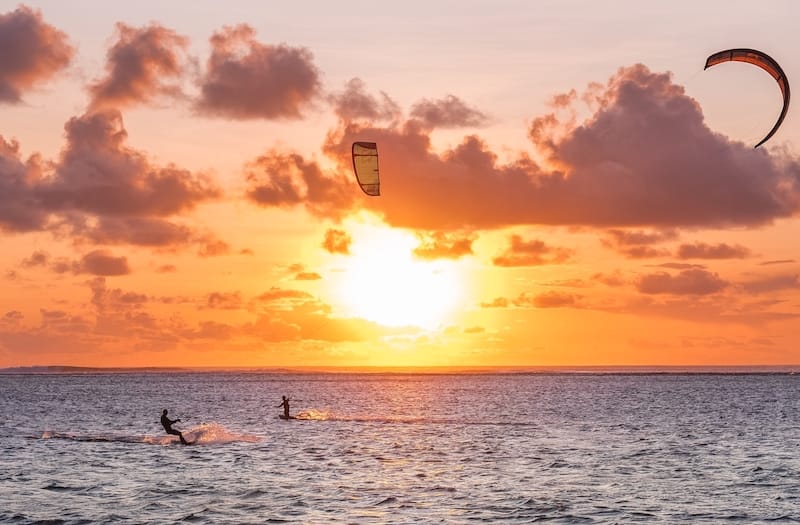 Finally, the LUX* Le Morne Boutique Hotel is a romantic oasis that offers personalized service, a tranquil atmosphere, and gorgeous ocean views.
Adding to the charm of Le Morne Beach, foodies are in for a treat with a wide range of dining options that cater to all tastes and budgets.
WAPALAPAM Island Eatery, Restaurant The Beach, and Emba Filao are among the best dining options at Le Morne Beach due to their unique and diverse menus and exceptional service.
WAPALAPAM is a popular choice for its traditional Mauritian Creole flavors, while The Beach's delicious seafood dishes are prepared in Italian and Mediterranean styles.
The latter is also known for its creative cocktails and picturesque setting on the sand. Finally, Emba Filao is a popular spot for visitors looking for a casual and enjoyable dining experience right on the beach with a flying dodo beer on hand.
6. Pereybere Beach
Pereybere Beach, located on the northern coast of Mauritius, is a small but stunning tropical paradise that is sure to leave you in awe. The beach boasts soft, white sand and crystal-clear waters perfect for swimming and snorkeling.
The water is shallow enough for children to play safely, and the coral reef just off the shore is home to an array of colorful fish, making it a wonderful spot for snorkeling enthusiasts.
Beyond swimming and snorkeling, there are plenty of activities to enjoy on Pereybere Beach. You can take a boat ride out to nearby islands, such as Coin de Mire, where you can go on a nature walk and see some of the island's unique flora and fauna.
Or, for those seeking an adrenaline rush, you can try your hand at water sports such as parasailing, water skiing, and windsurfing.
In addition to the fantastic activities, Pereybere Beach is also home to several amenities that make it an ideal vacation spot. Plenty of beach chairs and umbrellas are available for rent, allowing you to relax and soak up the sun comfortably.
Furthermore, people can rent bodyboards, pedalos, and kayaks directly from the beach or opt for diving expeditions or courses with diving operators such as Ocean Spirit or Octopus Diving Center to explore the magnificent underwater ecosystems of Mauritius.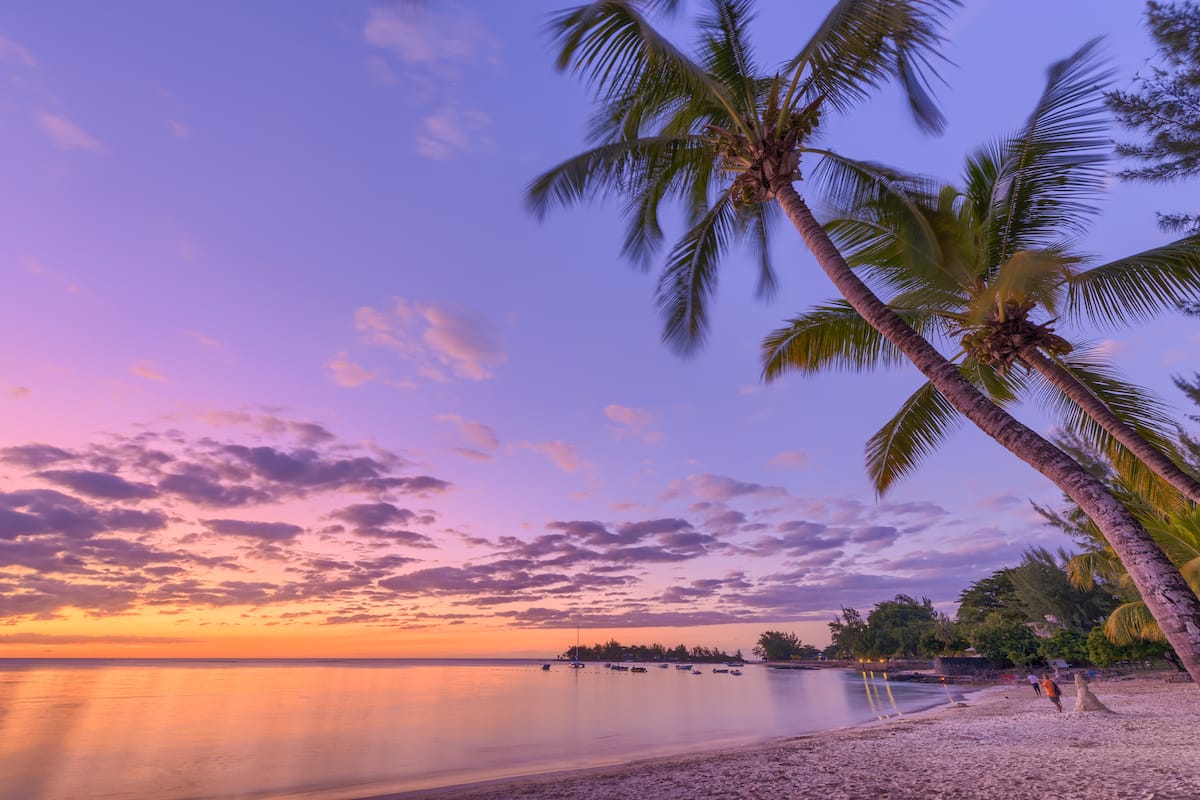 For those seeking to spend more time in the area, there are plenty of accommodations to choose from. Stay at the Pereybere Hotel & Spa, just steps away from the beach, for a budget-friendly option.
This comfortable hotel offers excellent service and is perfect for families and couples looking for a relaxing getaway. Alternatively, the boutique-style Le Beachclub Apartments & Villas is a superb option for those looking for a self-catering option with modern amenities.
Another alternative to consider is the luxurious boutique-style Paradise Cove Boutique Hotel, which has a private beach, spa, and several on-site restaurants If you're okay with staying a few minutes' drive from Pereybere Beach.
Regarding dining, there is an abundance of excellent choices close to the beach. The crowd-favorite for local cuisine is Grill & Chill, serving fresh seafood and homemade rums.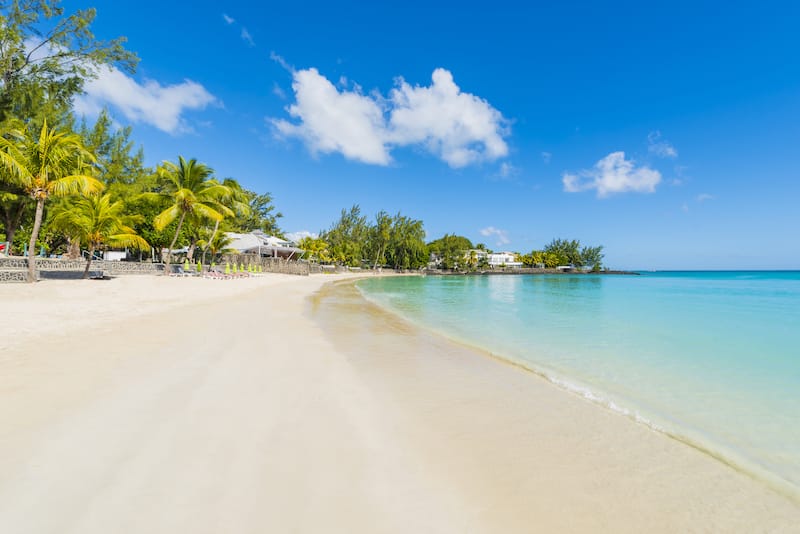 For an authentic Breton creperie experience, check out the restaurant Mam Gouz for to-die-for crepes and galettes at affordable prices. Bloom is another excellent dining option nearby, which offers divine eggs Benedict and poke bowls for a satisfying lunch or dinner.
Come dinner, don't miss Wang Thai for lovely Thai food in generous portions and a good selection of amazing cocktails to complement your meal.
If you're looking for nearby attractions, take a trip to the nearby town of Grand Baie, where you can explore the local markets and enjoy the nightlife.
Or, for a more laid-back experience, head to the botanical gardens in Pamplemousses, where you can see some of the island's exotic plant life.
7. Blue Bay Beach
Blue Bay Beach, situated on the southeastern coast of Mauritius, is a stunning expanse of white sand and azure waters. It offers abundant space for swimming and sunbathing, making it an ideal location for a day spent enjoying the sun, sand, and sea.
For those seeking respite from the sun, numerous shaded areas are available, complete with grassy areas suitable for picnics. You can indulge in delicious cuisine and refreshing drinks at any of the several nearby restaurants and cafes.
Furthermore, the beach is equipped with plentiful parking, toilet facilities, and changing rooms, all of which are available for your convenience.
The beach is often used as a point of departure for tours and excursions to the Blue Bay Marine Park, an adjacent protected marine reserve.
This allows visitors to partake in a diverse range of activities, including snorkeling, diving, and glass-bottom boat tours, while taking in the fascinating underwater ecosystem.
Another option is to take a boat trip to the nearby Ile des Deux Cocos, where you can explore the island's exquisite flora and fauna.
For those seeking to spend more time in the area, there are plenty of guesthouses and apartments to choose from.
The Chantauvent Guesthouse is a budget-friendly option that offers basic but clean and comfortable rooms with private bathrooms, as well as a restaurant and bar, and a prime location just steps from the beach.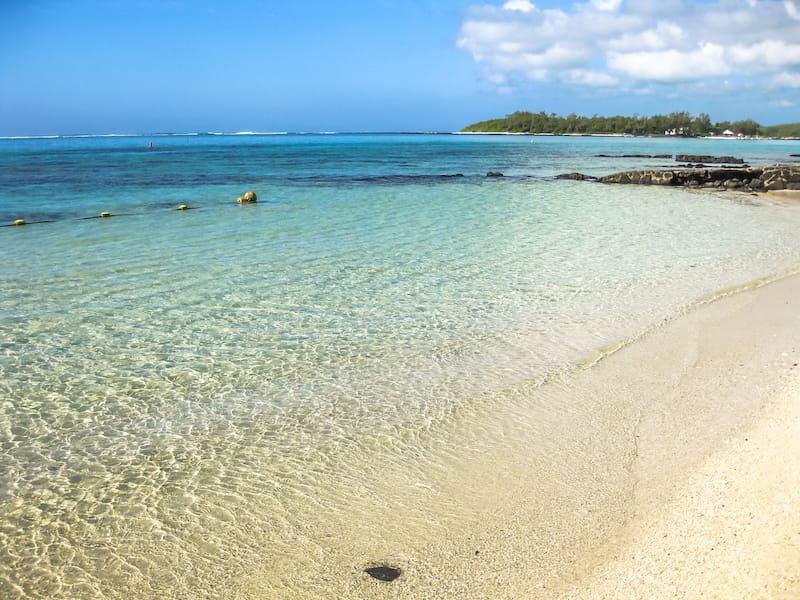 If you seek luxury, The Shandrani Beachcomber Resort & Spa is the best option located a short drive from Blue Bay Beach, offering elegant rooms with modern amenities, several on-site restaurants, and a range of activities such as snorkeling, kayaking, and windsurfing.
The resort also features a spa, multiple swimming pools, and a fitness center.
There are numerous dining options available at Blue Bay Beach that are sure to please your palate. For a sample of authentic local cuisine, visit Le Bougainville, a beachfront restaurant serving fresh seafood and local specialties.
Their Mauritian fish stew is particularly popular among diners. On the other hand, if you're in the mood for some delicious pizza or steak, head over to Blue Bamboo, located a short walk away.
If you're looking for nearby attractions, take a trip to Mahebourg Museum, where you can learn about the island's history and culture. Or, head to the nearby Pointe d'Esny, another stunning beach located just a short distance away.
8. Grand Baie Beach
Located on the northwest coast of Mauritius, Grand Baie Beach's 300ish meters of powdery white sand may be modest in size, but it's a breathtaking sight to behold.
Along the beach, there are several rows of casuarina trees planted, providing a pleasant and refreshing shade. Visitors can also find everything they need for a comfortable beach holiday, including umbrellas, cabanas, toilets, and other amenities.
However, swimming is not always convenient due to the large number of boats in the bay.
Despite this, Grand Baie Beach remains a highly sought-after vacation spot. It is situated in the center of the island's most vibrant and cheerful region and is widely recognized as the party beach of Mauritius.
Additionally, it is the most well-developed area on the island, where you can find supermarkets, shopping centers, casinos, excursion tour operators, hospitals, and ATMs.
Although the beach is considered most unsuitable for swimming, several good beaches for children, such as Pereybere and La Cuvette, can be found within walking distance.
And not far from the beach in the city itself, there are two large shopping centers, La Croisette Shopping Mall and Couer de Ville, for those looking to indulge in some retail therapy.
There is an extensive selection of excursion and boat trip options available as well, so visitors can take part in a variety of activities such as diving, walking along the seabed, riding underwater scooters, exploring the depths in a submarine, fishing, or observing marine life from a glass-bottomed boat.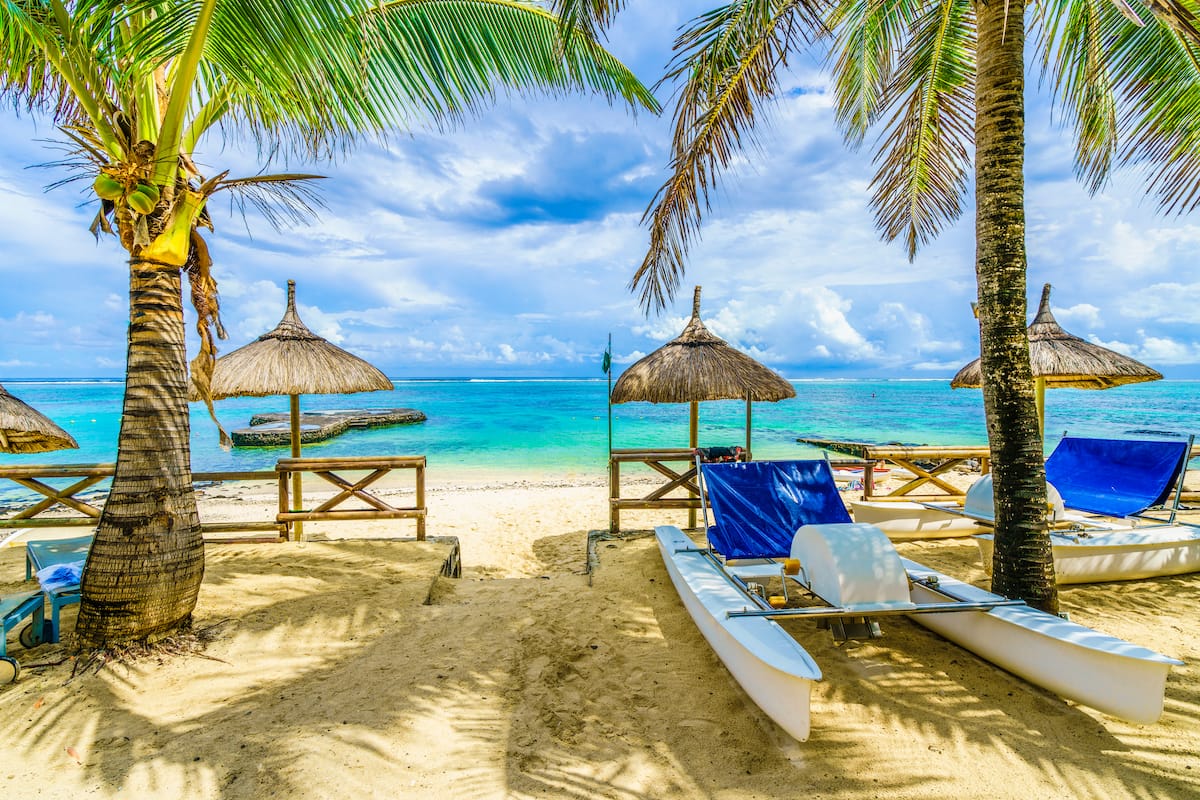 Grand Baie Beach offers a range of accommodation options, but three stand out as the best. First, the Royal Palm Beachcomber Luxury is a luxurious resort that provides the ultimate in comfort and style.
With a private beach, outdoor pools, a spa, and several high-end restaurants, guests can indulge in the ultimate vacation experience. Another excellent option is the Merville Beach Hotel, a charming boutique-style hotel with a more intimate and relaxed atmosphere.
With a prime location on the beach, this hotel boasts breathtaking ocean views and a range of amenities, including an outdoor pool, restaurant, and bar.
For those looking for a more budget-friendly option, Oceanic Villa offers comfortable and clean accommodation at an affordable price. Its proximity to the beach and range of amenities, including a pool and complimentary breakfast, makes it the perfect choice for Mauritius travelers on a budget.
When it's time to dine, there are several excellent restaurants to choose from. La Kaza and Blue Lagoon Cafe are trendy restaurants specializing in seafood and with great views of the sea.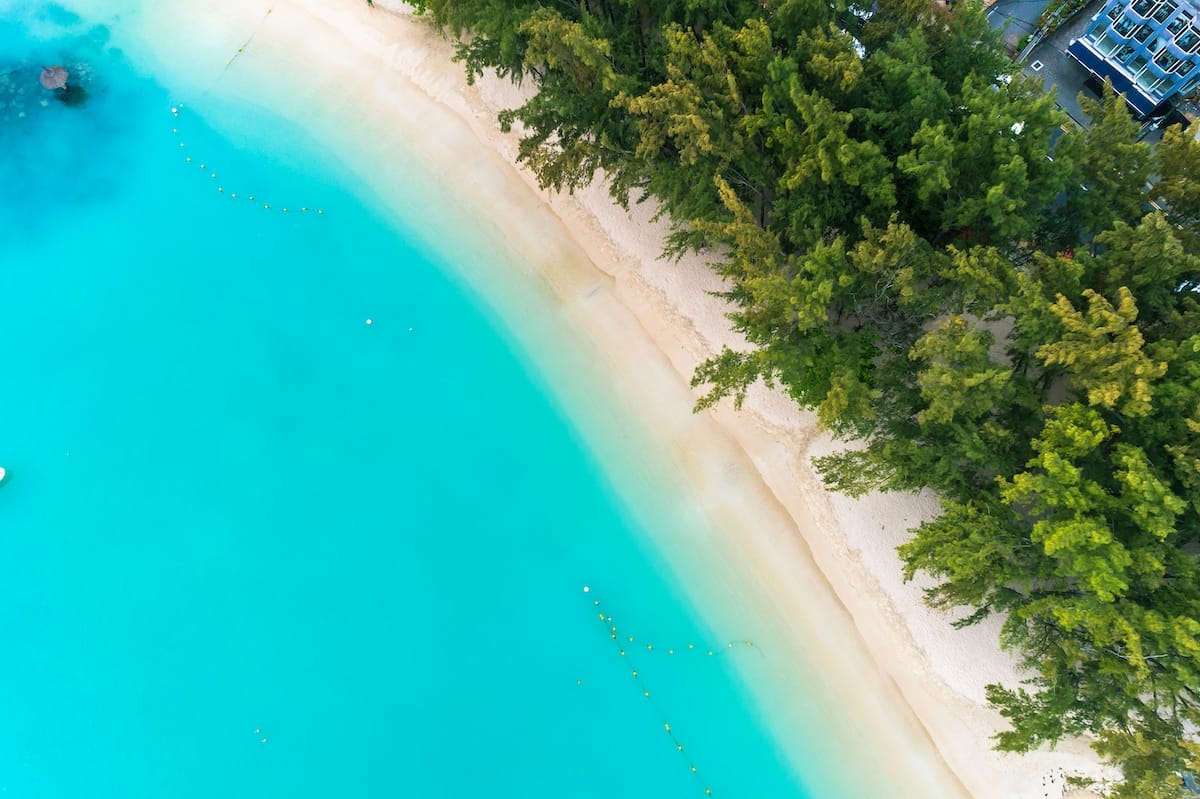 On the other hand, Le Poivrier is a more formal restaurant that offers a gourmet dining experience focusing on steak, pasta, and sushi.
With its extensive wine list, elegant decor, and impeccable service, Le Poivrier is a top choice for a special occasion or romantic dinner.
And when you're ready to explore the area, there are plenty of nearby attractions to visit, such as the Sir Seewoosagur Ramgoolam Botanical Garden and the Pamplemousses Market, where you can find a wide range of local handicrafts and souvenirs.
9. Tamarin Beach
Spread on the west coast of Mauritius, Tamarin Beach is a natural paradise that spans approximately 1.5 kilometers in length, boasting unspoiled light gray sand and crystalline turquoise.
Notably, it is renowned for being an excellent location for various water activities, including surfing, snorkeling, and swimming with dolphins. Visitors can witness these impressive creatures up close in their natural habitat, providing a unique and unforgettable experience.
Additionally, the beach is known for its excellent surf conditions, particularly during the winter months, making it a popular destination for surfers from all over the world.
For those who prefer a more relaxed pace, there are plenty of opportunities for sunbathing and enjoying the serene natural surroundings.
In terms of amenities, the beach offers showers, restrooms, dive and surf schools, equipment rental shops, as well as a range of local food and drink vendors selling delicious delicacies such as fresh seafood, bouchons, and tropical fruits.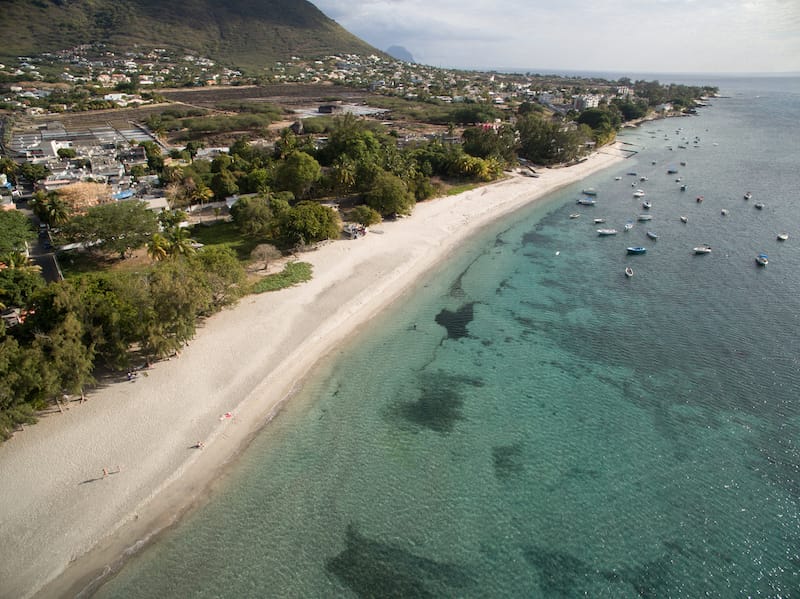 However, for proper, sit-down dining options, we recommend taking a quick drive to La Bonne Chute for the best seafood creole style in Tamarin or La Cosa Nostra for fantastic pasta and pizza.
Several hotels are located nearby or right on the beach, including the Tamarin Hotel, which is conveniently located just across the street from the beach, making it an ideal choice for those looking to enjoy the sun, sand, and sea.
Between 2 Waters is another excellent option. It's a delightful beach house just a few steps away from both the sea and the river, with a spacious garden that offers stunning views of both.
Nearby attractions include the Tamarina Golf Course, a challenging 18-hole course with breathtaking views of the Indian Ocean and Rempart Mountain, and the Black River Gorges National Park, a nature reserve home to numerous species of flora and fauna, as well as several hiking trails.
10. La Cuvette Beach
La Cuvette Beach is a hidden gem located on the northern coast of Mauritius. This beautiful beach spans approximately 200 meters long and is relatively narrow, with a width of only 10-20 meters.
Despite its small size, it offers visitors an intimate and tranquil escape from the hustle and bustle of the very busy Grand Baie.
La Cuvette Beach is ideal for those who enjoy swimming and snorkeling in serene, clear turquoise waters with soft golden sand. The beach is also safe for children to play in the shallow, calm waters.
For those seeking a more adventurous experience, kayaking and paddleboarding are also available, as well as other water activities such as catamaran rides and jet skiing.
A daily boat rental service and a diving center are conveniently located nearby.
Amenities at La Cuvette Beach include public restrooms, outdoor showers, and a few vendors selling snacks and drinks.
Visitors can also find several hotels on or near the beach, including the Royal Palm Beachcomber Luxury and Veranda Grand Baie Hotel & Spa.
The former offers a luxurious experience with a private beach, spa, and high-end restaurants, while the latter provides a more affordable yet still luxurious option with a range of wellness facilities, including a spa and fitness center.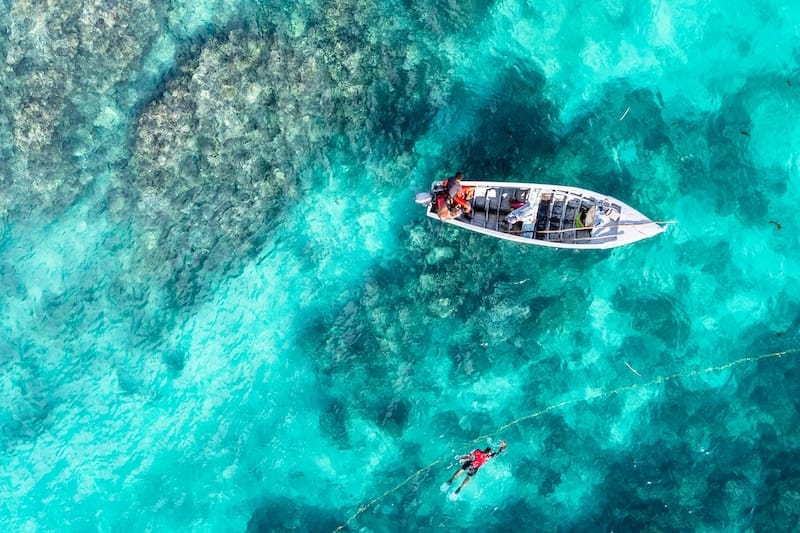 For dining options, visitors must try Garden Grill and La Botteghita when in La Cuvette Beach. The Garden Grill offers a range of delicious grilled meats and seafood dishes, all prepared to perfection on the open grill.
On the other hand, La Botteghita provides an authentic Italian dining experience, featuring freshly made pasta and pizza crafted using high-quality ingredients.
Both restaurants offer a relaxed and welcoming atmosphere, perfect for a casual lunch or dinner after a day of sun and sand.
Nearby attractions include the picturesque Cap Malheureux, a charming fishing village with a striking red-roofed church, and the Sir Seewoosagur Ramgoolam Botanical Garden, home to various exotic plants and trees.
11. Poste Lafayette Beach
Lafayette Beach, also known as Jalsa Beach, is situated on the outskirts of northeastern Mauritius.
The wild and tropical side of the beach offers a glimpse into the authentic beauty of the island, with rich coral reefs teeming with marine life.
Visitors can fully enjoy their time here as the beach is equipped with toilet and bathroom facilities for their convenience.
This hidden gem is located in a corner of the island that can be very windy, making it perfect for kite surfing. The beach is surrounded by volcanic rocks, adding to its wild and rugged beauty, and big waves make it an ideal spot for water sports enthusiasts.
However, the underwater currents are tremendously strong, making it highly recommended not to swim in these waters, especially for children and inexperienced swimmers.
But don't let that deter you from enjoying the other water activities available such as pedalo, windsurfing, and kayaking.
The southern part of Poste Lafayette Beach is mostly small islands of mangrove trees and long dark rock landscapes, adding to the area's natural beauty.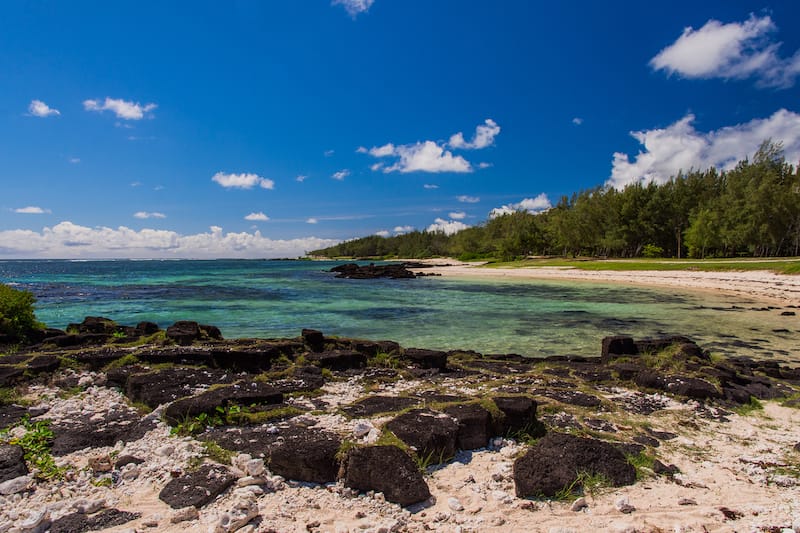 Behind the forests, some small beaches are hidden, serving as perfect picnic spots in this quiet and peaceful area.
While the sandy seafloor is limited, the shallow waters make it an excellent starting spot for beach trekking, allowing visitors to discover its hidden secrets.
If you'd like to see other fascinating attractions nearby, visit the geological wonders of La Cave Madame and Roche Noire Lava Tubes.
On weekends, a few snack vendors set up their stalls on the northern side of the beach, selling delicious burgers.
When you want a proper sit-down meal in a restaurant, dining at Sunshine Fusion, Seabell Restaurant, or La Maison d'Ete Restaurant near Poste Lafayette Beach will not disappoint.
Sunshine Fusion offers a unique fusion of Indian and Chinese cuisine, while Seabell Restaurant serves up delectable seafood dishes, mostly with an Indian flair.
For a taste of French Mauritian cuisine in a charming setting, La Maison d'Ete Restaurant is a perfect choice.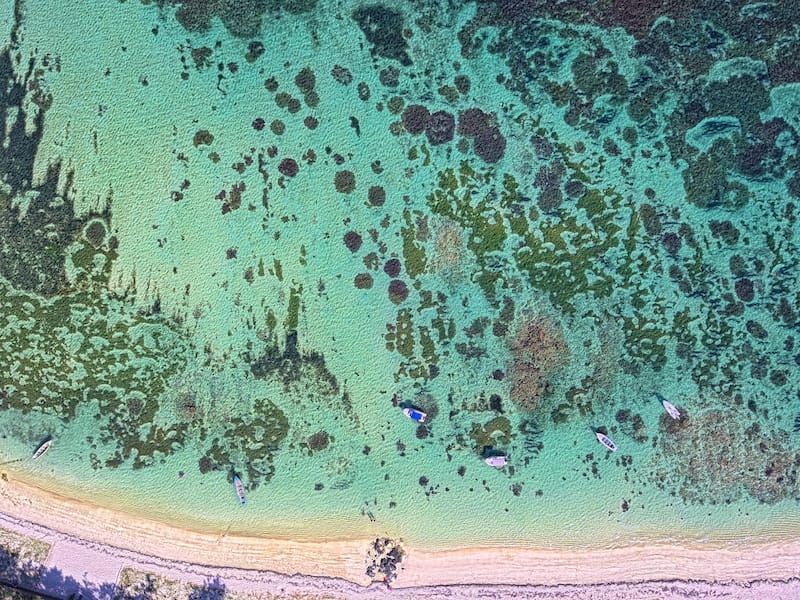 For top-notch accommodations near Poste Lafayette Beach, Radisson Blu Poste Lafayette Resort & Spa, Sankhara Private Beach Luxury Villas, and Fair Share Villas are the perfect options.
Radisson Blu Poste Lafayette Resort & Spa is a luxurious resort with stunning ocean views, while Sankhara Private Beach Luxury Villas offers private villas for a more secluded and intimate experience.
If you want to stay as close as possible to Poste Lafayette Beach, Fair Share Villas are just a stone's throw away from the beach, making it the ideal choice for beach lovers.
12. Pointe d'Esny Beach
Located in the southeast region of Mauritius is a secluded and challenging-to-locate beach known as Pointe d'esny Beach. This beach is like a hidden treasure, effectively barricaded by a series of high-end residential properties.
Without infringing on private land, one can reach the Pointe d'esny beach from the coastal road by traversing a narrow 150-meter pathway that is only two meters wide.
The path lies between two private properties at the heart of Pointe d'esny, creating an air of exclusivity around the beach.
As you make your way to the beach, you'll notice there are no signs or facilities, but the effort is well worth it. Once you arrive, you'll be greeted by fine white sand and a shallow seafloor.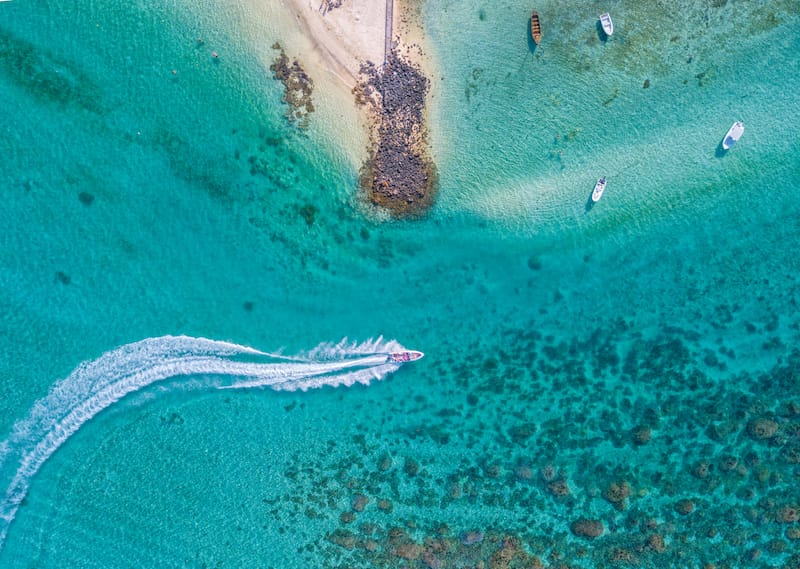 Take a dip and swim in the lagoon, or simply sunbathe on the beach and soak up the peaceful surroundings. If you're feeling adventurous, the beach's windy conditions make it an ideal spot for windsurfing, adding a touch of excitement to your visit.
These accommodations near Pointe d'Esny Beach come highly recommended by travelers for their exceptional service, luxurious amenities, and prime location.
Both Preskil Island Resort and Holiday Inn Mauritius Mon Tresor are renowned for their stunning ocean views, lavish accommodations, and range of activities, services, and convenient amenities.
The Blue Nest by Horizon Holidays is an upscale two-apartment property that offers a more intimate and personalized experience with beautifully designed rooms and a peaceful, secluded location.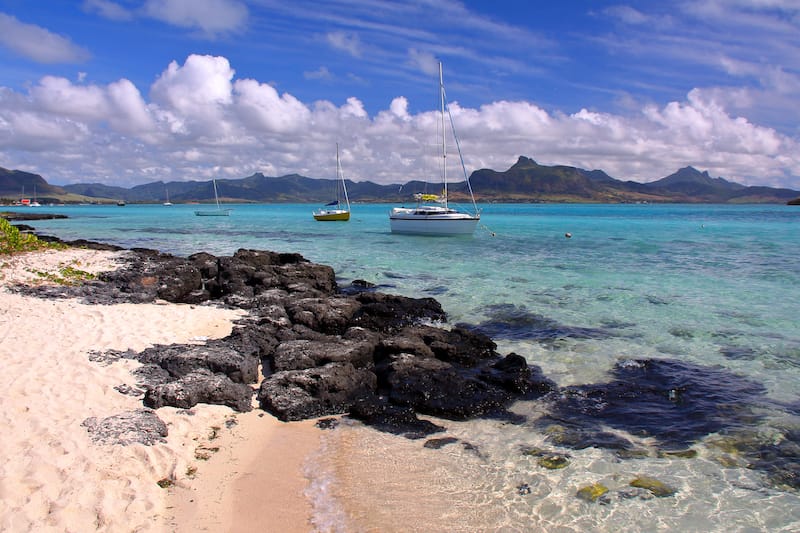 If you're looking for a break from the sun and some delicious food, there are a few great options nearby.
Blue Bamboo is just a short drive away, and their pizza, steak, and cakes are definitely worth trying.
Restaurant Le Bougainville is a great choice for those in the mood for fresh seafood.
On the other hand, if you're looking for a casual spot with excellent burgers and a variety of sides, Esco Burgers is a must-visit eatery in the area.
Nearby attractions in the area include the Blue Bay Marine Park, which offers snorkeling and glass-bottom boat tours, Mahebourg for a glimpse into the local culture, and Ile aux Aigrettes, a small island for conservation tours.
Did we miss any of the best beaches in Mauritius? Let us know your favorite Mauritius beaches in the comments!
Best Beaches in Mauritius (On a Map!)
🗺️ HOW TO USE THIS MAP: You can use your fingers/mouse to zoom in and out. To get more info about a place, simply touch/click the icons. Want to save this map for later use? Click the '⭐' by the map title and it will add it to your Google Maps account (Saved > Maps or 'Your Places').
More Mauritius Travel Guides
Pin this Mauritius Beaches Guide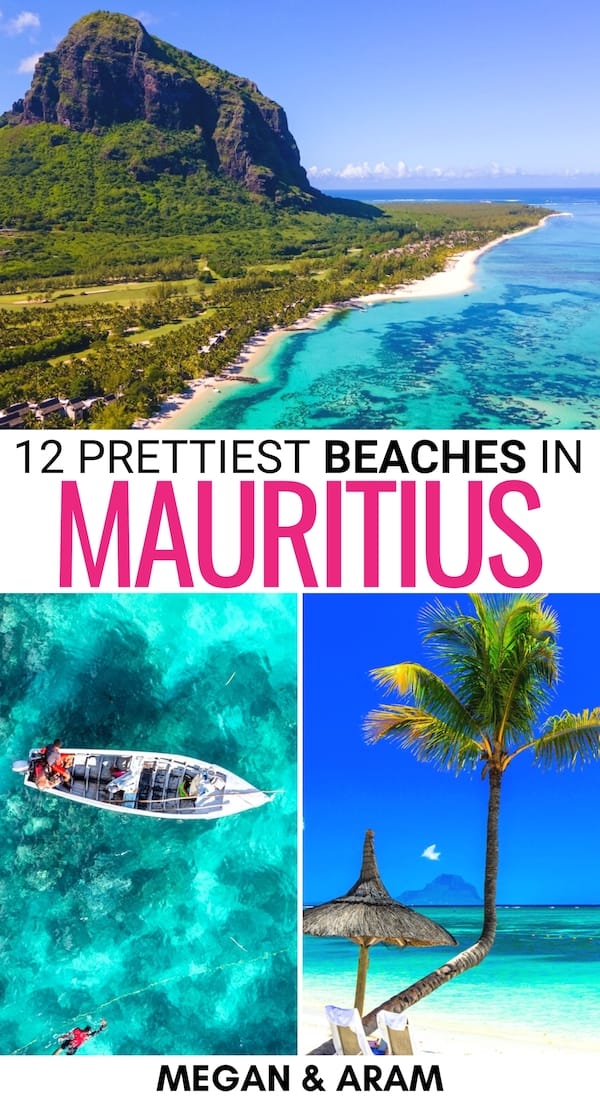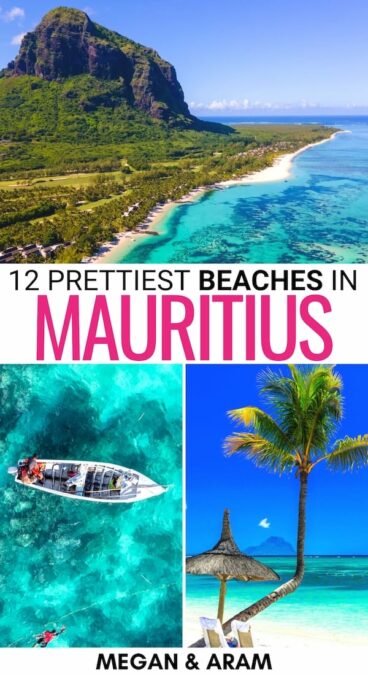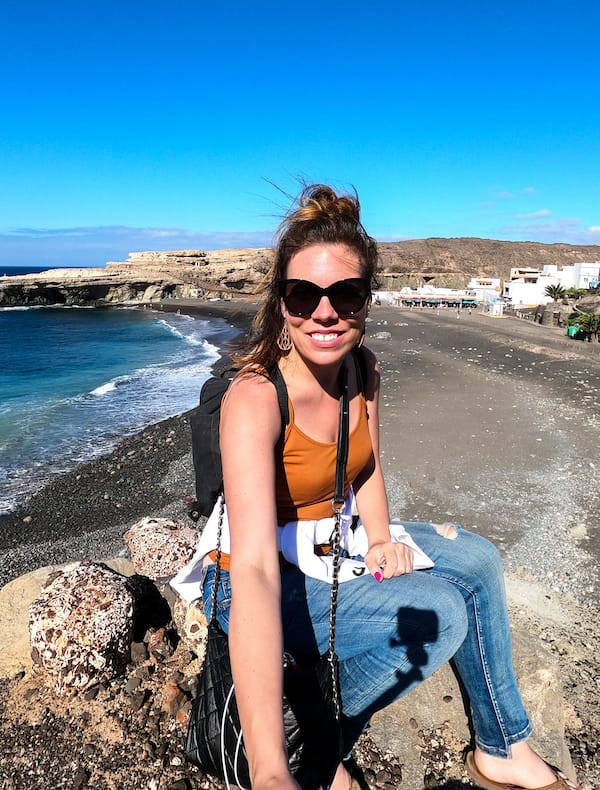 Megan is a travel blogger and writer with a background in digital marketing. Originally from Richmond, VA, she now splits her time between Frankfurt, Germany and Arctic Finland after also living in Norway, Armenia, and Kazakhstan. She has a passion for winter travel, as well as the Nordic countries, but you can also find her eating her way through Italy, perusing perfume stores in Paris, or taking road trips through the USA. Megan has written for or been featured by National Geographic, Forbes, Lonely Planet, the New York Times, and more. She co-authored Fodor's Travel 'Essential Norway' and has visited 45 US states and 100+ countries.