Are you planning a trip to Italy and looking for the best things to do in Rome? We've got you covered!
This guide covers the top Rome attractions and landmarks – from historical sights to museums (and more!).
We also include a few tours of Rome as well as places to eat and relax in the gorgeous Eternal City!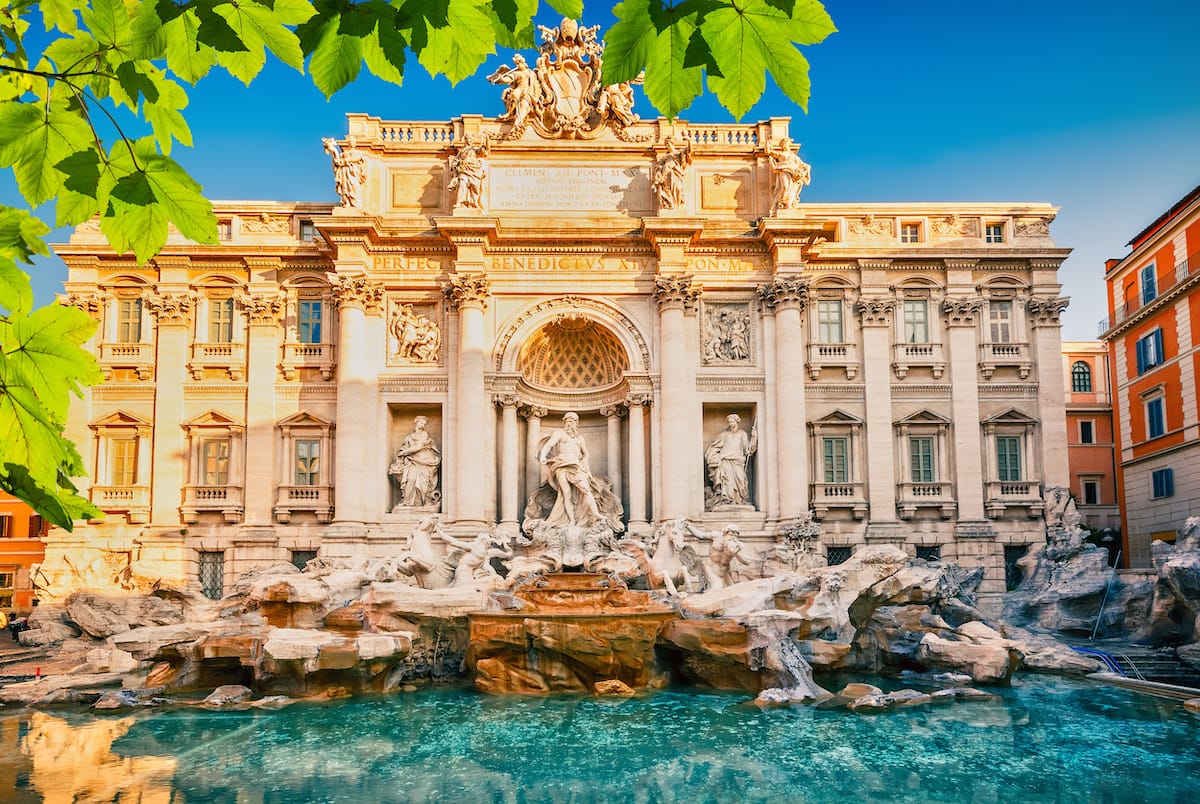 Did we miss any of the best places to visit in Rome? Let us know your favorite Rome landmarks in the comments!
Best Rome Tours (to Maximize Your Time!)
If you're looking for something more organized when in Rome and the surrounding area, here are some awesome Rome tours you should check out.
These tours will help you maximize your time, which is especially important if you only have a short amount of time in the city! We listed a variety so that you can pick which one is most suitable for you (and many include multiple places!):
Vatican Museums & Sistine Chapel Skip-The-Line-Ticket Entry (popular ticket!)
Best Things to Do in Rome
1. Cross the Colosseum off Your Bucket List
Your trip to Rome won't be complete without visiting the Colosseum.
Built between 70CE and 80CE, this modern-day symbol of Rome is the largest amphitheater ever made, which was used to hold gladiator tournaments, theater plays, public executions, and various forms of entertainment.
Also known as the Flavian Amphitheater, it could then hold about 50,000 people to enjoy its finest spectacles. To marvel at this engineering wonder, you can take a guided tour and avoid the lines with an expert local guide.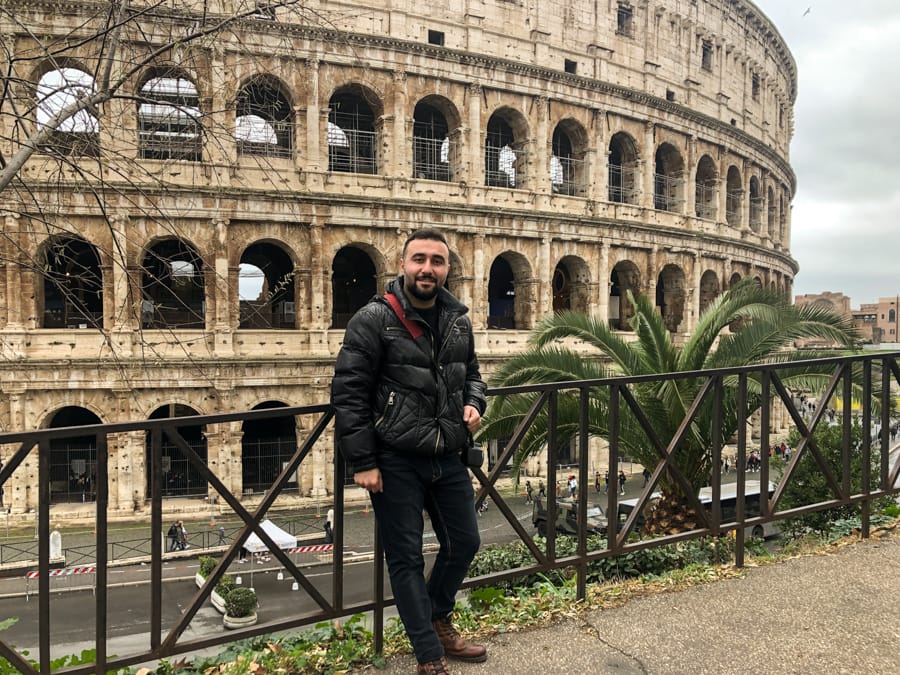 For the most authentic experience, make sure to arrive early in the morning to buy an entrance ticket to Palatine Hill.
If you're not a fan of queuing, you can buy the Roma Pass, a discount card that offers free entrance to the Colosseum.
Address: Piazza del Colosseo, 1, 00184 Roma RM
>> Click here to check tour rates and availability
2. Visit the Altar of the Fatherland
Honoring the memory of Vittorio Emanuele II, Italy's very first king, the Altar of the Fatherland was made to commemorate Italy's unity in 1870.
At the front of the majestic building, you can see a large bronze equestrian statue of Emmanuel and the goddess Victoria, as well as Corinthian columns, fountains, and stairways.
Museo Centrale del Risorgimento Italiano, at the base of the monument, is packed with historical artifacts.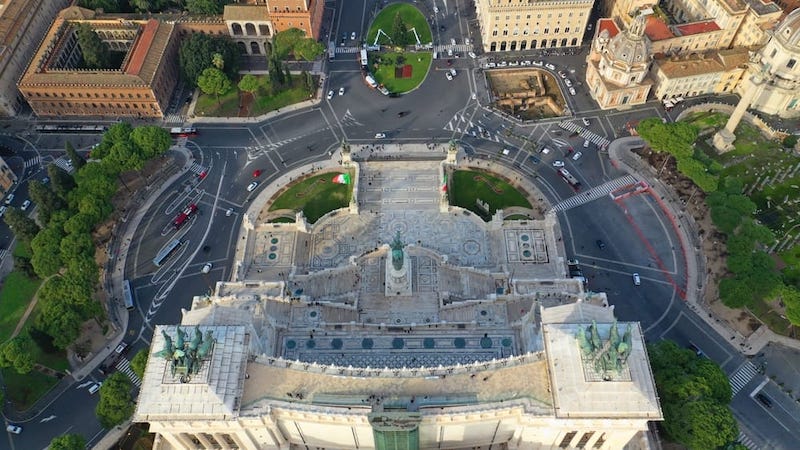 Don't miss climbing the stairs to the Terraces of Vittorio Emanuele II to enjoy the most spectacular vantage point of the Eternal City.
You can enter the Altar of the Fatherland free of charge, but if you don't want to climb many stairs, you have to buy a ticket to ride the Roma dal Cielo Ascensore to the Quadrigae Terrace.
Address: Piazza Venezia, 00186 Roma RM
3. Discover the Roman Forum
The Roman Forum was the political, legal, and religious hub of the Roman Empire.
Today all you can see are the sprawling remains of one of Ancient Rome's most important structures, but you can still use your imagination to experience the former glory of temples, basilicas, government buildings, and lively marketplaces.
Iconic sights are the Arch of Septimius Severus, the Arch of Titus, the Temple of Saturn, and the House of the Vestal Virgins, among other structures.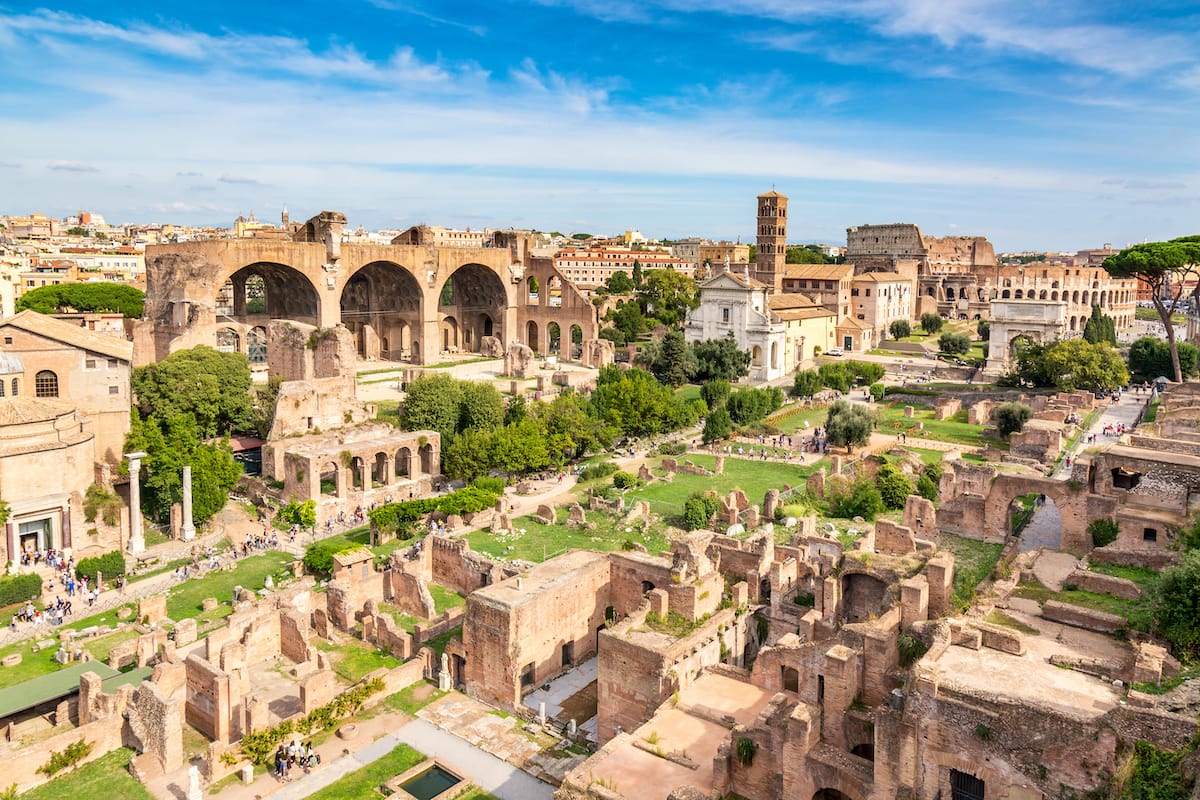 Don't miss taking in the panoramic views from Palatine Hill, one of the seven hills of Rome.
You can access the Roman Forum, Palatine Hill, and the Colosseum via one admission ticket from 21.50€ for adults and 2€ for ages 0-17 or take part in guided tours starting from 39€.
Address: Via della Salara Vecchia, 5/6, 00186 Roma RM
>> Click here to check tour rates and availability
4. Check out the Galleria Doria Pamphilj
Art and history lovers will be in heaven in Galleria Doria Pamphilj, boasting Rome's largest private collection.
This 16th-century palace was originally built for the Pamphilj family, but in the 18th century, Pope Clement XII decided to give all the property to the Doria family due to being left with no heir.
Be ready to marvel at the masterpieces of Raphael, Tiziano, and Velázquez, as well as see original decor in ten gorgeous rooms, including the throne room and ballroom.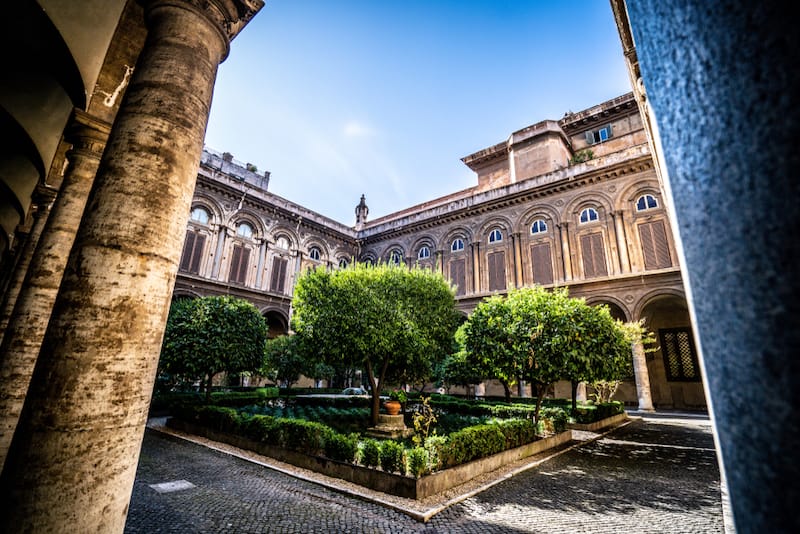 Please note that other apartments are still occupied by the descendants of the Doria Pamphilj family.
Book a ticket online for 15€ and visit Monday to Thursday from 9:00am-7:00pm and Friday to Sunday from 10:00am-8:00pm.
The audio guide, narrated by Jonathan Pamphilj, is included in the price of admission.
Address: Via del Corso, 305, 00186 Roma RM
>> Click here to check tour rates and availability
5. Travel Back in Time at Museo dell'Ara Pacis
Richard Meier's glass-and-marble pavilion is where you can witness Augustus' great monument to peace dating back to 13 BC.
Designed by American architect Richard Meier and operating since the spring of 2006, the centerpiece of the Museo dell'Ara Pacis is the 2,000-year-old "Altar of Peace" dedicated to Pax (the goddess of peace), which is one of the most important works of ancient Roman sculpture used (paradoxically) for sacrifices.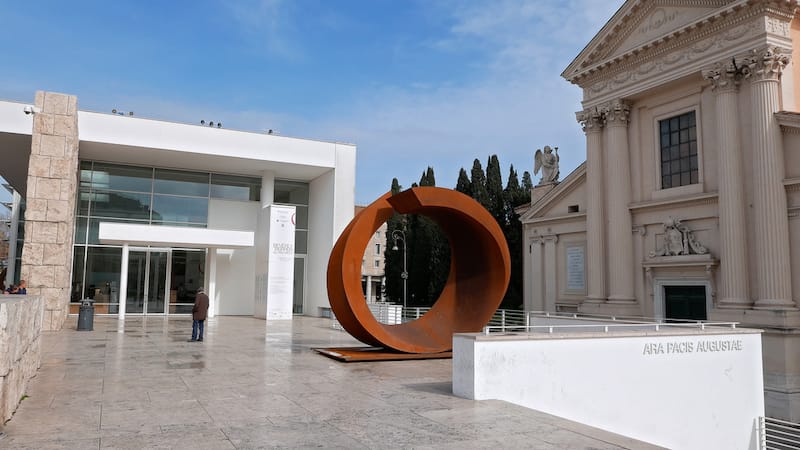 The building also houses a state-of-the-art digital library of Augustan culture and hosts temporary exhibitions and installations dedicated to archaeological themes.
An outdoor roof terrace above the auditorium features a contiguous bar and café with stunning views over the Mausoleum of Augustus to the east and the Tiber River to the west.
The museum is open daily from 9:30am to 7:30pm.
Address: Lungotevere in Augusta, 00186 Roma RM
6. Wander Around the Villa Borghese (Gallery and Park)
Nurture your inner art lover at Galleria Borghese & Villa Borghese Rome. Completed in 1633, this wonderful gallery houses one of the world's largest private art collections of Cardinal Scipione Borghese.
The stars of the show are the masterpieces by Raphael, Caravaggio, Rubens, Leonardo da Vinci, and Titian, displayed in twenty different rooms.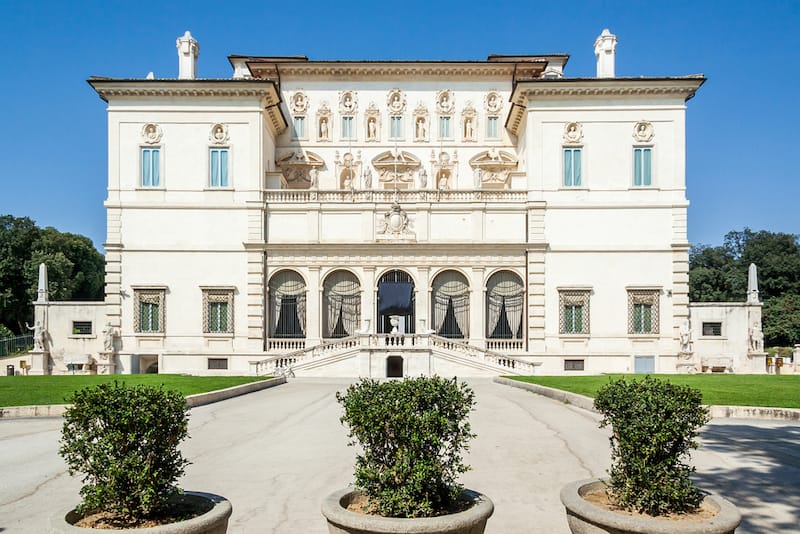 After exploring the diverse art scene, head to the Villa's remarkable gardens, an 80-acre park packed with villas, pavilions, sculptures, fountains, and famous attractions like Villa Medici, Bioparco, and Tempio di Esculapio.
Galleria & Villa Borghese welcomes its visitors Tuesday through Sunday from 9:00am-7:00pm with an admission of 25€.
Address: 00197 Rome, Metropolitan City of Rome
7. Stroll Along the Appian Way
A trip along the Appian Way guarantees an unparalleled experience. One of the oldest roads of the Roman Empire, dating back to 312 BC, once connected Rome to Brindisi in the Apulia region.

It was used to facilitate the day-to-day transport of goods between Rome and Campania and also to move troops more quickly during the Second Samnite War.
Step back in time as you explore cultural heritage sites, like old ruins, 12th-century stone towers, catacombs, and mausoleums of popes, martyrs, and nobility along your way.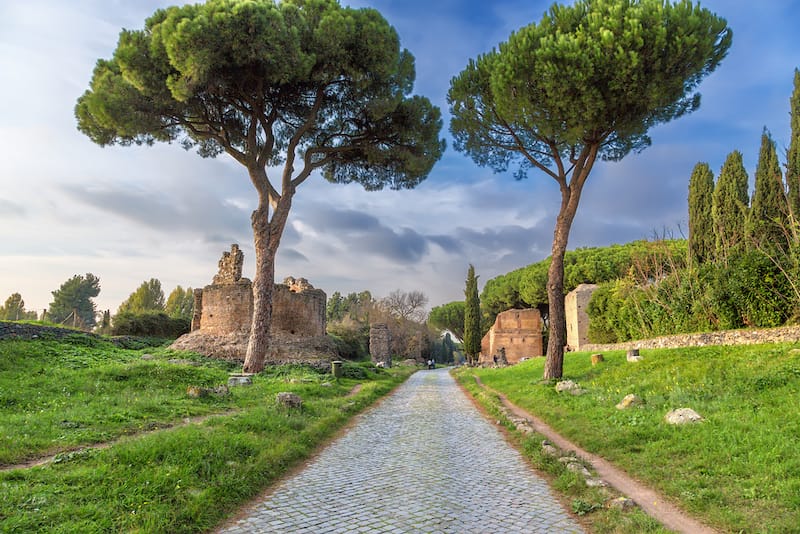 Notable sights are the church 'Domine Quo Vadis,' Basilica di San Sebastiano, the catacombs of St. Callixtus, Domitilla and Saint Sebastian, remains of the Circus of Maxentius, Villa Quintili, etc.
You can take part in a three-hour guided Via Appia Bike Tour for 35€ to experience all the highlights of the Appian Way.
8. Indulge in Gelato at Frigidarium Gelateria
If you're looking for the best ultra-creamy gelato in Rome, Frigidarium Gelateria is it.
Located in the heart of old Rome, five minutes from Piazza Navona, in this classic Italian gelato, you can satisfy your sweet tooth with some 20-odd flavors of gelateria made from all-natural ingredients.
The best part is that you have the option to top it off with whipped cream or dip your gelato in white or dark chocolate.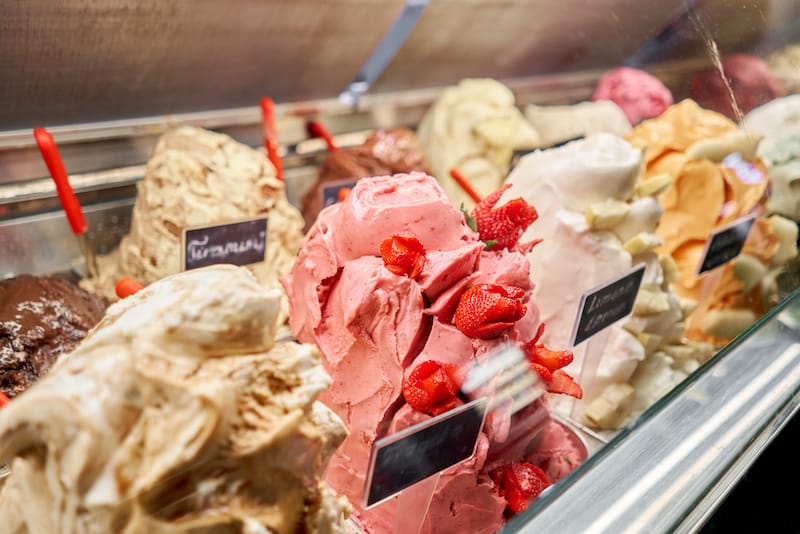 You can choose from salted caramel, Mozart flavor, Bacio (Italian chocolate kisses), Pan di Stelle chocolate biscuits, zabaione, zuppa inglese, cioccolato e arancia, etc.
The taste of their Gelato al Pistacchio is out of this world.
Address: Via del Governo Vecchio, 112, 00186 Roma RM
9. Check Out the Views at the Pincio Terrace
Pincio Terrace, connected to Borghese Gardens by a pedestrian bridge, is one of the favorite panoramic viewpoints of the Romans.
After touring the Borghese Museum, pop over to Terrazza del Pincio to take in sweeping views of the historic center and Vatican City.
Though not one of the "seven hills of Rome," here you can gaze down at Piazza del Popolo, which looks like a live theater, and admire the layers and domes of Rome.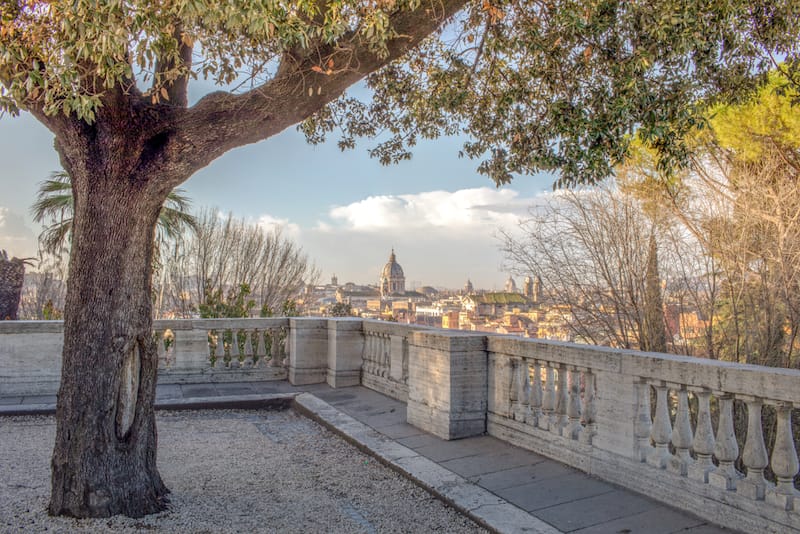 You can get here by walking through Villa Borghese, following the signs to Pincio Terrace, or climbing the stairs from Piazza del Popolo at the end of Via del Corso.
For a truly magnificent experience, visit Pincio Terrace at sunset to see pink and purple tones taking over the Eternal City.
Address: Viale Gabriele D'Annunzio, 00187 Roma RM
10. Explore the Sant'Ignazio di Loyola Church
Sant'Ignazio di Loyola Church, flanking Piazza di Sant'Ignazio Loyola, was designed by a group of architects chaired by Jesuit mathematician Orazio Grassi in 1626.
This magnificent 17th-century baroque-style church features a Carlo Maderno facade and several celebrated trompe l'œil frescoes by Andrea Pozzo, brother of the Jesuit Order.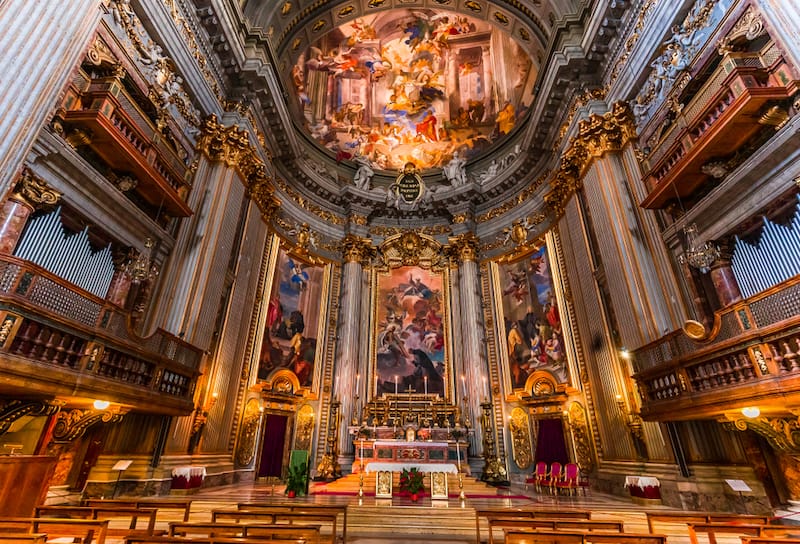 Be ready to marvel at the Fake Dome, known above all for its optical illusion effect, the vault that gives the impression of infinite space, and the presbytery and the apse illustrating the fundamental moments of Saint Ignatius' vocation and depicting the vision of La Storta (Rome).
Highlights of the church are the late 17th-century monument to Pope Gregory XV, Camillo Rusconi's masterpiece, the gigantic Statue of St. Ignazio, dating back to 1728, and the tombs of the Jesuit saints.
Address: Via del Caravita, 8a, 00186 Roma RM
11. Check Out the Ancient Park of the Aqueducts
If you want to witness the complex water systems that supplied Ancient Rome with thousands of gallons of water, then pay a visit to the Ancient Park of the Aqueducts (Parco degli Acquedotti).
In this 15 hectares of park, located just outside the city on the Appian Way, you can see a number of aqueducts created from 311 BC to 226 AD that served water throughout the Empire.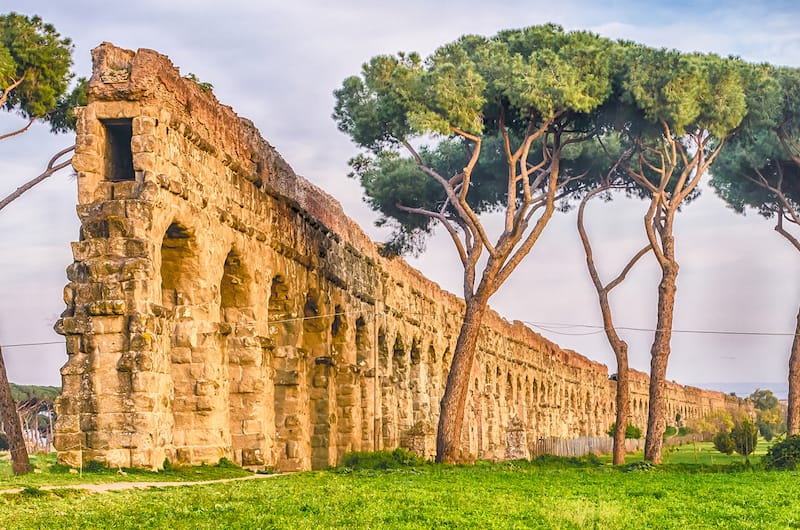 The first aqueducts that supplied public baths, restrooms, gardens, fountains, farms, milling, and private households were the 16-km-long Aqua Appia (312 BCE), the Anio Vetus (272-269 BCE), and the 91-km-long Aqua Marcia (144-140 BCE).
You can visit the park at any time of the day, but the best time to visit is definitely at sunrise to see stunning aqueducts bathed in purple hues.
Address: Via Lemonia, 00174 Roma RM
12. Visit St. Peter's Basilica
Visit St. Peter's Basilica, located in Vatican City, to immerse yourself in the majestic splendor of one of the holiest temples for Christendom.
Designed by several renowned architects like Bramante, Michelangelo, and Carlo Maderno, the epicenter of Roman Catholicism was named after Saint Peter, one of Jesus's twelve disciples.
After appreciating its impressive exterior, it's time to step inside and marvel at the incredible dome, Michelangelo's Pieta, Bernini's intricate Baldachin, and the bronze statue of St. Peter with his right toes worn down.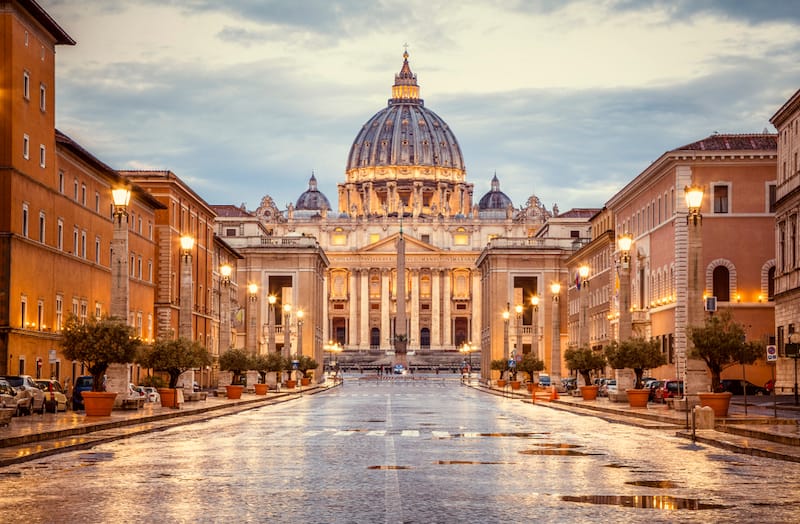 Make sure to climb to the top of the dome to take in unparalleled views of St. Peter's Square.
Even though you can visit the basilica for free, it is recommended to take part in a guided tour to skip endless lines and see all the essential sights with a local guide.
Address: Piazza San Pietro, 00120 Città del Vaticano
13. Marvel at Circus Maximus
Circus Maximus, seating up to 300,000 spectators, was the largest stadium in ancient Rome (and in the world) built for chariot races, shows, and performances.
Even though now you can't experience its original splendor, you can still see the grass-covered racing track and the outline of the central barrier and explore the galleries following the ancient paving stones through different rooms that once were shops, inns, and small offices.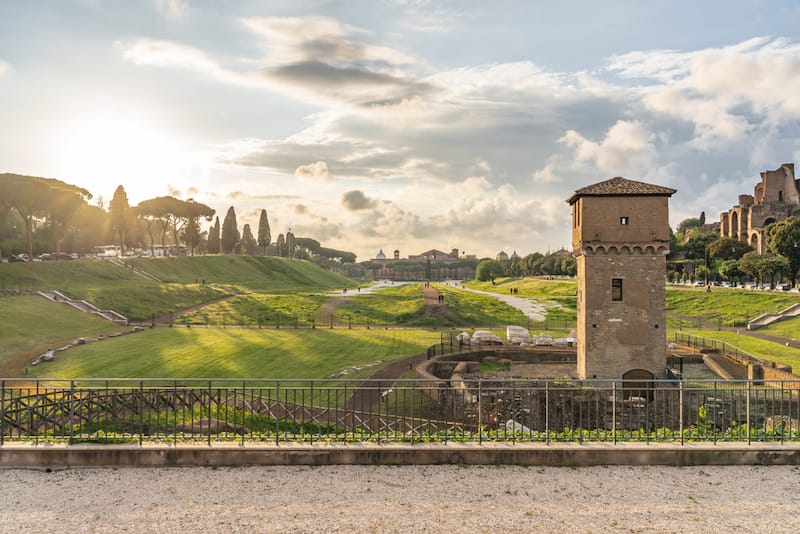 Today, locals and tourists alike use it as a large public park where they enjoy jogging, cycling, picnicking, and dog-walking, as well as taking part in music concerts and public events.
Don't forget to get to the top of the park right on the Aventine Hill to take in the remarkable views of the Circus Maximus and the Palatine Hill.
>> Click here to check tour rates and availability
14. Take a Day Trip to Pompeii and the Amalfi Coast
A day trip from Rome to the ancient city of Pompeii is the best way to get a real feel of what life was like in an ancient Roman city.
This unique tour allows you to delve deep into the unique history and appreciate the unrivaled scenery and picturesque towns of Pompeii, the Amalfi Coast, and Positano.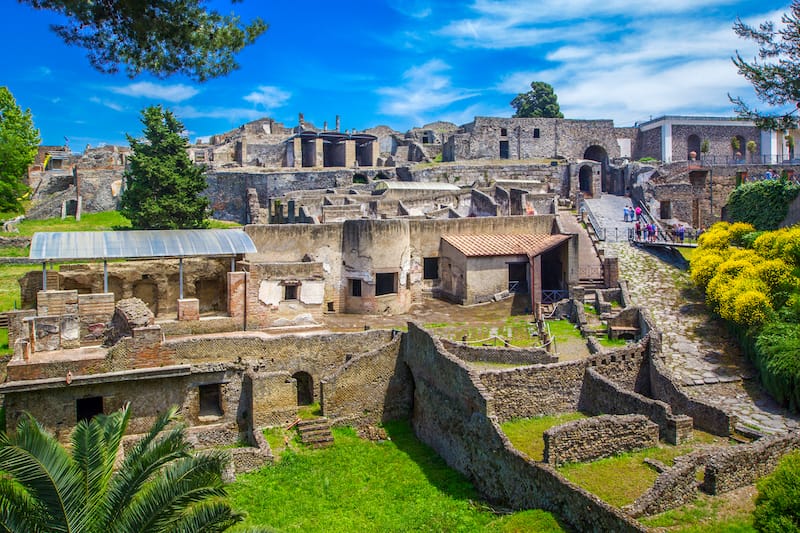 Hop aboard a comfortable, air-conditioned minibus and head to visit the UNESCO World Heritage site, where you can skip the long lines with your Skip-the-Line ticket.
Exploring marvelously-preserved ruins with your local expert guide guarantees an unparalleled experience.
💥
PRO TIP:
If you are visiting Pompeii without a tour, make some time to stop by
Herculaneum
, as well! The Vesuvius site was better preserved and is a very interesting place to explore.
After touring Pompei on your own, it's time to continue further south along the picturesque seaside roads to discover the resorts of Amalfi and Positano on the Amalfi Coast.
>> Click here to check tour rates and availability
15. Walk around the Coppedè Quarter
Coppedè Quarter, Rome's best-kept secret, is the perfect place for a leisurely stroll off the beaten path.
Named after its creator, Italian architect Gino Coppedè, this charming area is a real treat for photographers and architecture lovers.
It was built between 1919 and 1927, featuring several different architectural styles, including Baroque, Greek, and Roman architecture.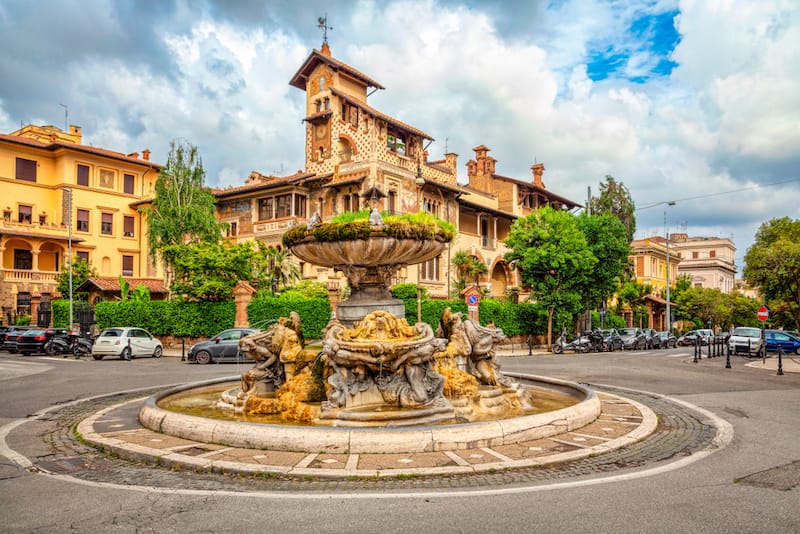 Piazza Mincio is at the top of the Coppedè's District's main attractions list. This small square has the Fountain of the Frogs at the center and is surrounded by unique buildings designed by Coppedè.
Coppedè's Archway, featuring an elaborate cobalt ceiling and an outside candelabra, is another imposing sight to behold. Other highlights of this district are Palazzo del Ragno, Villino delle Fate, and Via Olona.
16. Visit the Vatican Museums
Whether you are an art lover or not, visiting the Vatican Museums is a must if you want to see one of the world's largest and most significant art collections.
This labyrinth museum, nestled within the confines of the Vatican State, features 70,000 pieces of artwork in 54 galleries, courtyards, and hallways.
The immense collection was started by Pope Julius II in 1503 and has been expanding ever since.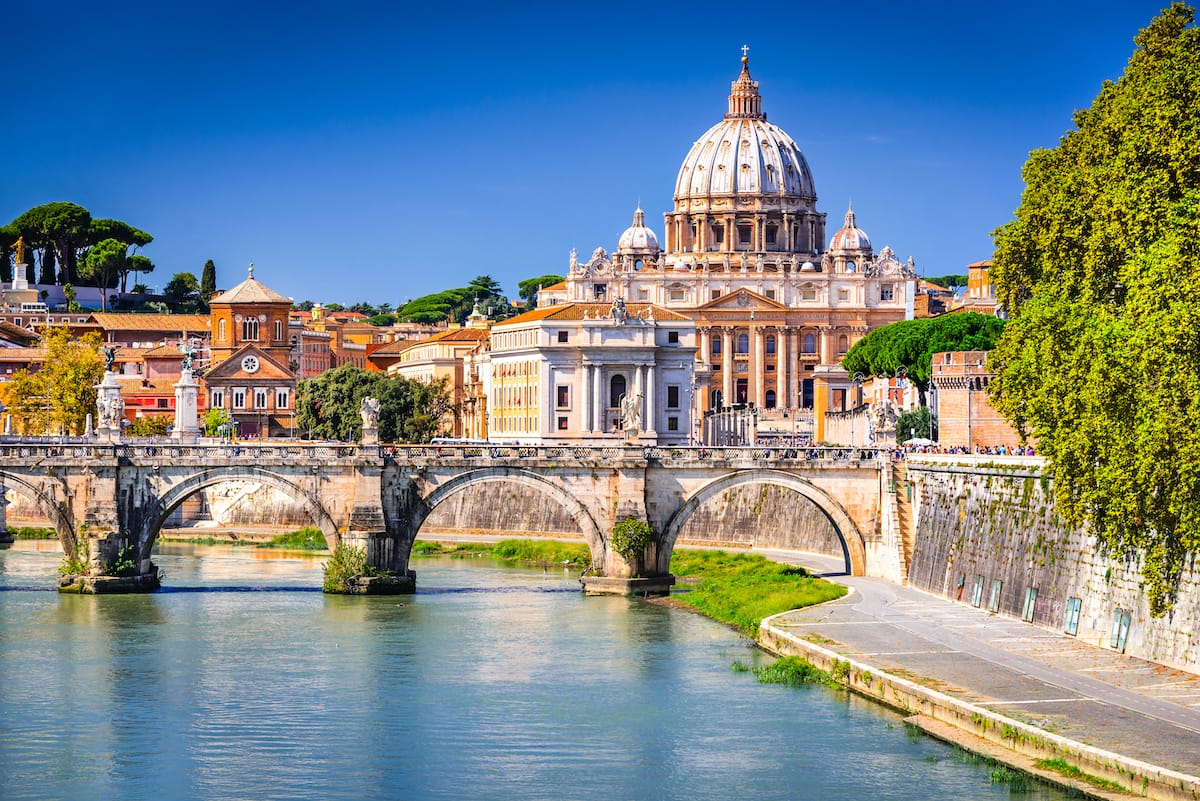 Highlights of the museum are Museo Egiziano, Museo Pio-Clementino, Appartamento Borgia, Maps Gallery, Raphael Rooms, Hall of Tapestries, Sistine Chapel, Last Judgment, Pinacoteca and more.
Don't miss admiring the famous Bramante spiral staircase on your way out. The museums are open Monday to Saturday from 9am-6pm. Tickets start at 17€ for adults and 8€ for children ages 6-18.
>> Click here to check tour rates and availability
17. Have Dinner at Colline Emiliane Restaurant
After a whole day exploring the city, it's time to indulge your taste buds with Emilian regional cuisine at Colline Emiliane restaurant, just a stone's throw from Piazza Barberini.
Operating since 1967, this family-run restaurant serves traditional rich, and flavorful dishes with a modern twist.
Coppa from Piacenza, Spinach Pie, and Green Lasagne will certainly whet your appetite for the restaurant's main dishes, like boiled beef with homemade green sauce, fried meatballs with mashed potatoes, and homemade tagliatelle in a ragout sauce.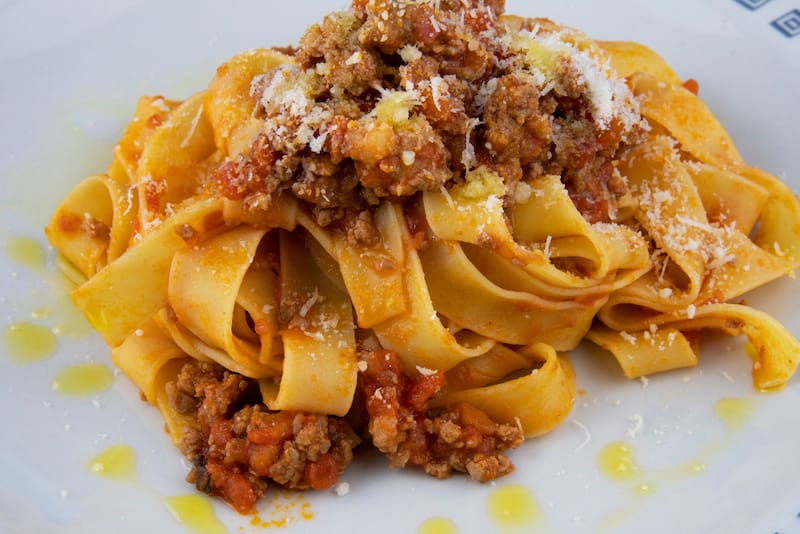 Don't forget to leave a little bit of space to top everything off with mouth-watering desserts, like Caramelized pear cake, Walnut and caramel cake, and Zabaione mousse.
Make sure to call and reserve before making your way there because it's impossible to find a table in case you just pop by.
Address: Via degli Avignonesi, 22, 00187 Roma RM
18. Photograph the Trevi Fountain
The Trevi Fountain is one of Rome's most famous landmarks located at the back of Palazzo Polli in the heart of the city center.
Constructed in 1762 by Nicola Salvi, the fountain is a powerful example of a baroque design.
It pays tribute to Oceanus, the god of the sea, standing under a triumphal arch, riding his chariot pulled by Tritons, and taming several Hippocampus.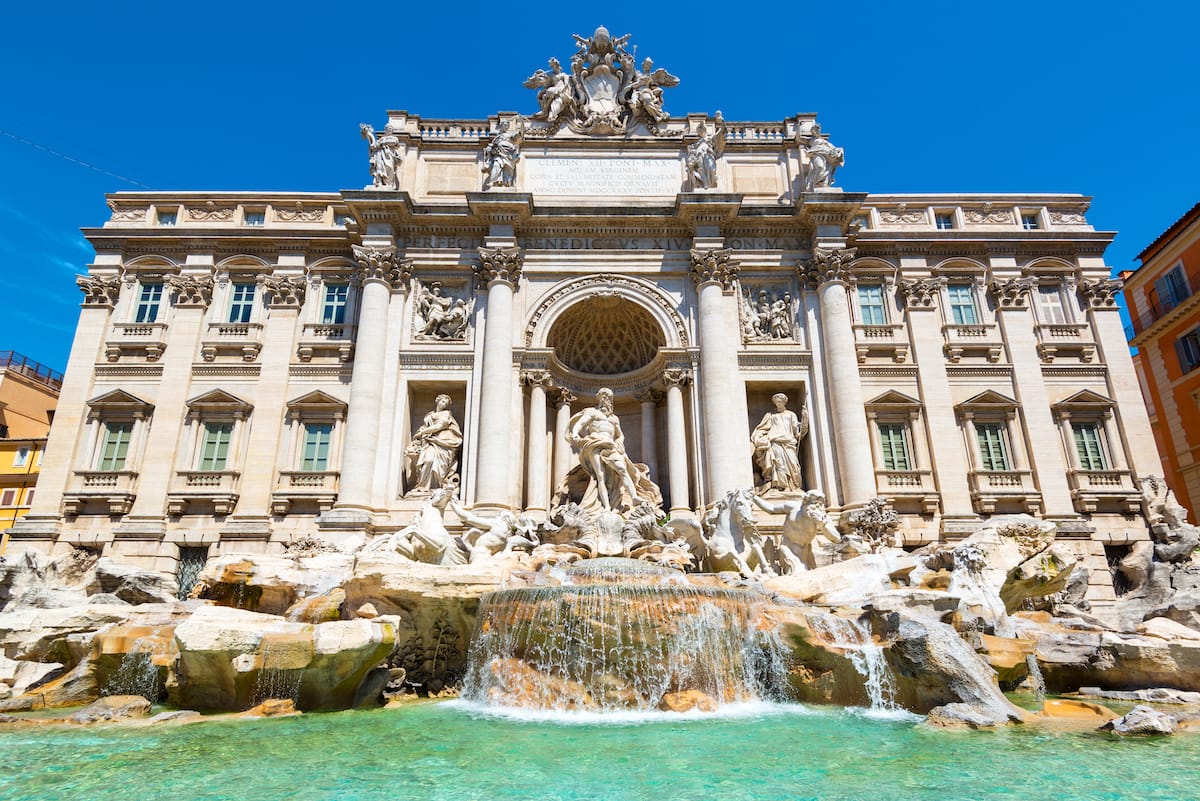 Two statues next to Oceanus are Abundance to the left and Health to the right. Make sure to visit at sunrise or past midnight (when lights illuminate the fountain) to avoid crowds of tourists.
There is a saying that if you toss a coin over your left shoulder into the gorgeous Trevi Fountain, one day you'll return to the Eternal City, fall in love, and marry an attractive Roman.
Address: Piazza di Trevi, 00187 Roma RM
19. Wander Around the Orange Garden (Giardino degli Aranci)
Sitting at the top of the Aventine Hill, which is one of Rome's historical seven hills, Orange Garden is one of the most romantic spots in the Eternal City.
Giardino degli Aranci, officially named Parco Savello, will reward you with mesmerizing 180-degree views over St Peter's dome and Roman skyline framed by stunning pine trees.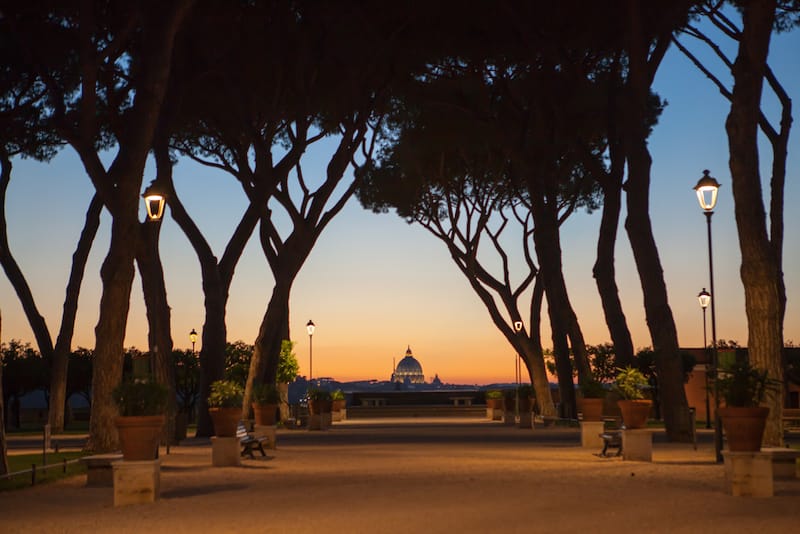 Besides viewing unparalleled Rome landscapes from the terrace, here you can also admire the Fountain of the Mask near the entrance and unwind in the relaxing green space packed with numerous orange trees.
For a one-of-a-kind experience, make sure to visit the Orange Garden at sunset to see pink and orange hues lighting up the Roman sky.
20. Make Pasta and Tiramisu at a Workshop (& Eat It!)
If you have ever wanted to try your hand at making authentic pasta from scratch with a local chef, then make sure to take part in the Pasta & Tiramisu Workshop with Dinner.
This cooking class in the heart of Rome will help you to uncover the secrets of making authentic homemade pasta and the famous Tiramisù dessert.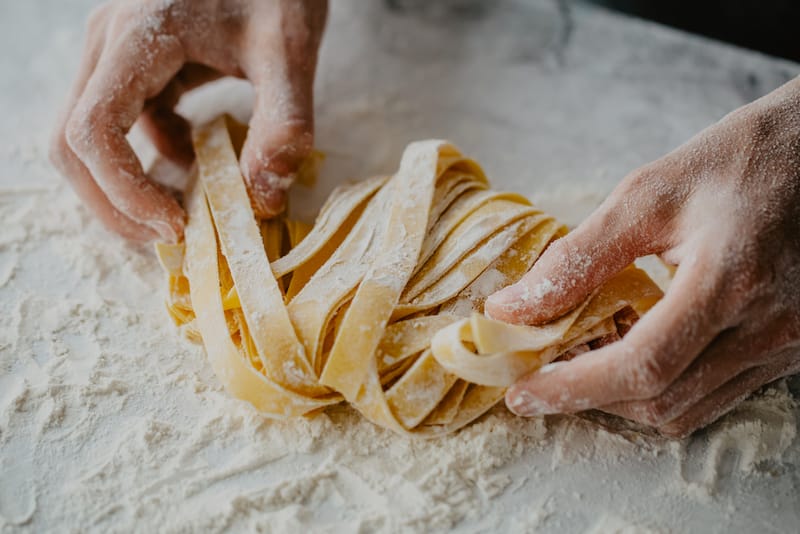 First, you will start by making your own pasta from flour and eggs, choose your topping sauce: carbonara, cacio e pepe, alfredo, amatriciana, or more, and then move on to preparing Tiramisù from simple and fresh ingredients for a delicious dinner.
Your final reward will be sitting down, tasting the meal you have just prepared, and pairing it with a glass of Italian wine.
>> Click here to check tour rates and availability
21. Pet Cats at Largo di Torre Argentina (and Cat Sanctuary)
Largo di Torre Argentina, a square with a tragic history, has its unique place in Rome's historical heritage.
Once the site where Julius Caesar was assassinated in the year 44 BC, it now serves as a cat sanctuary. Here you can see the remains of four of the oldest temples (Temple A, B, C, D), built in the third century BC.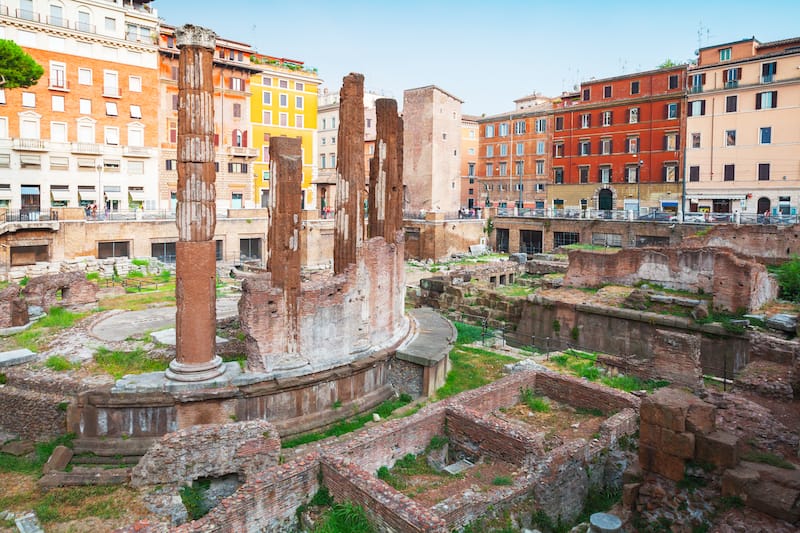 Let history come alive at the Theatre and Curia of Pompey, where Julius Caesar was assassinated by a group of co-conspirators.
After the excavations of the Area Sacra between 1926 and 1930, hundreds of cats decided to make these archaeological ruins their home. The fun thing is that you can adopt one of those fluffy furballs.
22. Eat Authentic Food at Campo de Fiori Market
Get the real taste of Rome at Campo de Fiori Market, one of Rome's great marketplaces within easy walking distance from Piazza Navona along Via dei Baullari.
The square was paved in 1456 and was once used for public executions, and in 1869 the market was established.
Being surrounded by Neoclassical architecture, the market is packed with many tents of vendors selling fresh fruits, veggies, and flowers as well as souvenirs and classic sightseeing snacks, mostly at great bargain prices.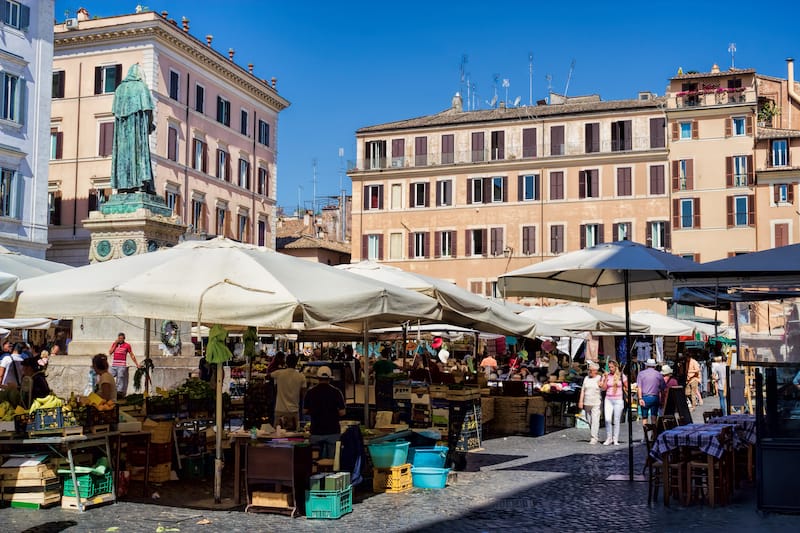 If you don't plan on buying anything here, you can simply stroll around to admire the stunning architecture and the statue of Italian philosopher Giordano Bruno and check out bustling streets around the market lined with various shops, cafes, gelaterias, and pizzerias.
The Campo de' Fiori is also worth visiting at night to enjoy the hopping bar scene.
23. Check Out the Pantheon
A visit to the Pantheon, dedicated to the twelve gods and the living Sovran, is like a walk through ages past ancient Rome.
Sitting on the Piazza della Rotonda, this is Rome's best-preserved monument commissioned by Marcus Agrippa in 27 B.C.E.
Here you can wow at its Greek-inspired exterior, visit the tombs of the great Renaissance artist Raphael and Italian kings Victor Emmanuel II and Umberto I, and gaze up at the oculus, the opening to the heavens basking the temple in a spiritual glow.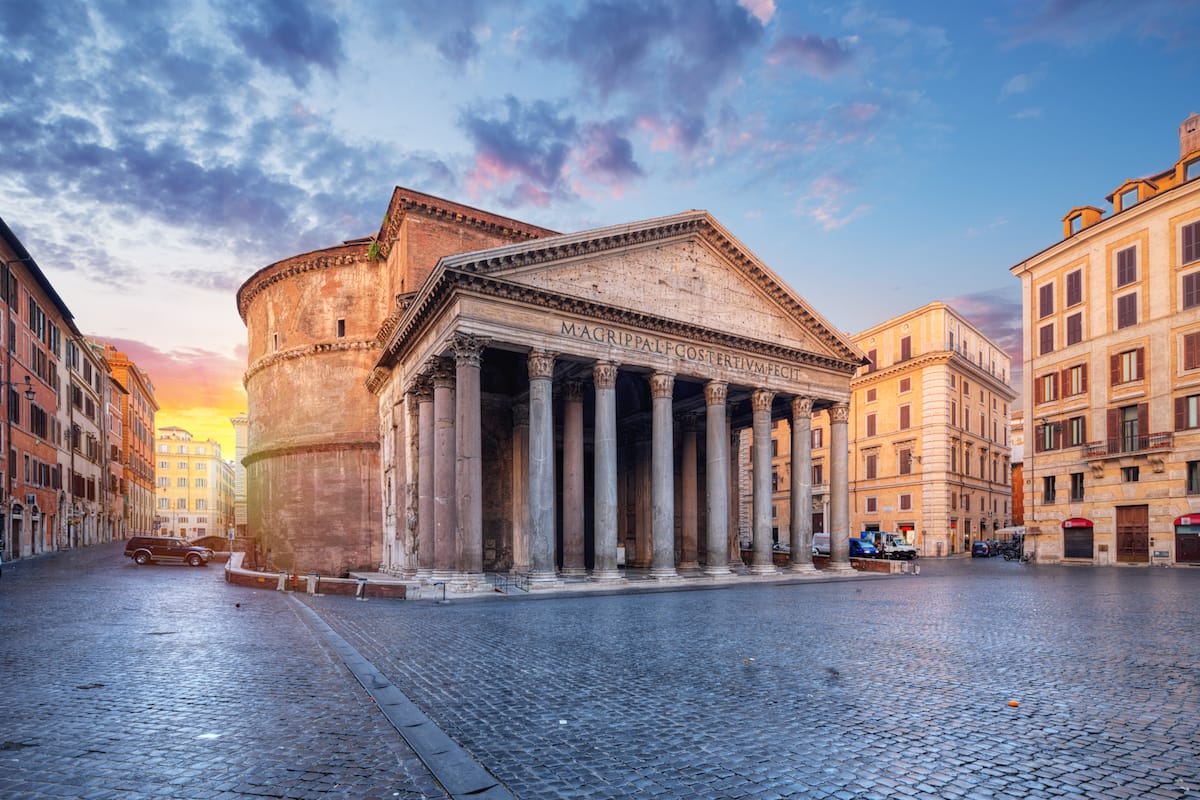 You can visit the Pantheon free of charge, but you can also purchase tickets for guided and audio tours, as well as weekend access, for an enriched experience.
You can also visit with a Rome Tourist Card, which allows you to enjoy visiting other famous Roman attractions with the same pass.
>> Click here to check tour rates and availability
24. Visit Piazza Navona
The elongated Piazza Navona, nestled on the site of the stadium of Domitian, is the perfect place to get a sense of Rome's buzzing life.
Surrounded by many unique buildings which date back to the 17th century, one of Rome's most beautiful and famous squares features famed Gothic cathedrals, international embassies, iconic fountains, gigantic statues, numerous restaurants, shops, musicians, and more.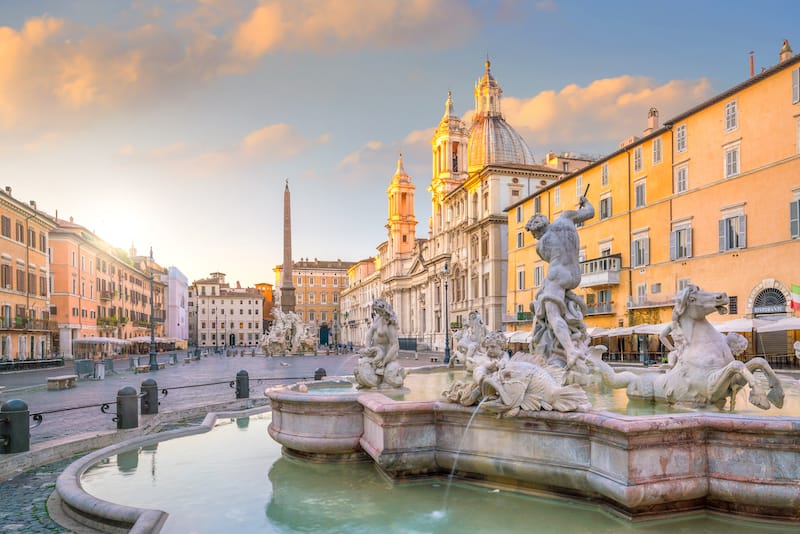 The centerpiece of the square is La Fontana Dei Quattro Fiumi (the Fountain of the Four Rivers) by Gian Lorenzo Bernini, depicting the four river gods with a large Egyptian Obelisk in the middle.
Notable sights of this vibrant square are Sant'Agnese in Agone by Francesco Borromini, the Fountain of Neptune, the Fountain of the Moor, the Palazzo Braschi, and the Palazzo Pamphilj.
25. Tour the Capuchin Crypt
Discover the sinister side of Rome at Capuchin Crypt.
Here you can find five small chapels beneath the Church of Santa Maria della Concezione dei Cappuccini, built between 1626 and 1631 by the order of Pope Urban VIII, whose brother Antonio Barberini was a Capuchin brother.
First, you will visit the museum to learn about the Capuchin Order and admire a work by Caravaggio, then head to the crypt, which is decorated with bones, skulls, and mummified remains of more than 4,000 individuals, and enter one boneless chapel with the altar.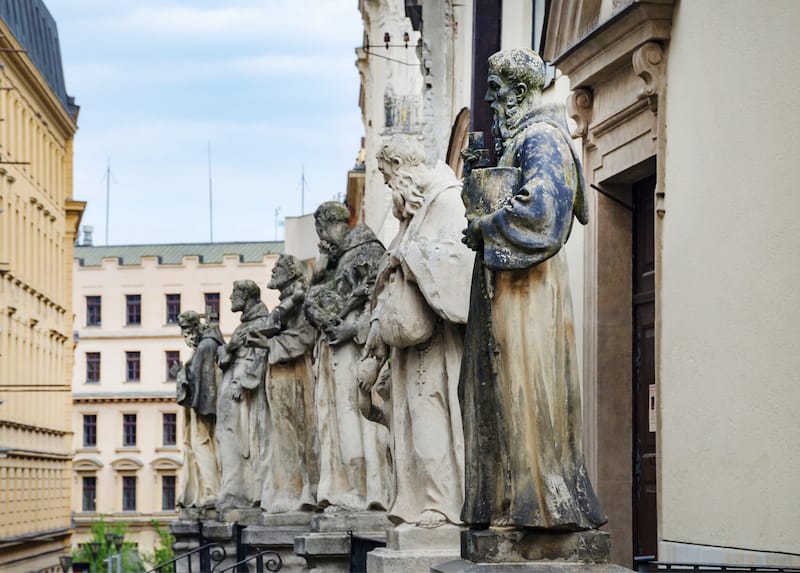 You can take part in a guided tour to visit Capuchin Crypt, which costs 60€ and has to be booked through the Church at least two weeks in advance.
Alternatively, joining a 45-minute guided tour with an English-speaking guide can be booked online for 40€.
26. See Piazza del Popolo
Piazza del Popolo (People's Square), flanked by many interesting sights, is the perfect palace to enjoy people-watching.
This neoclassical square, designed between 1811 and 1822, once welcomed pilgrims to Rome.
Here you can marvel at identical baroque churches Santa Maria dei Miracoli and Santa Maria in Montesanto, as well as Basilica Santa Maria del Popolo with its 12 side chapels and Porta del Popolo, the city gate of the Aurelian Walls.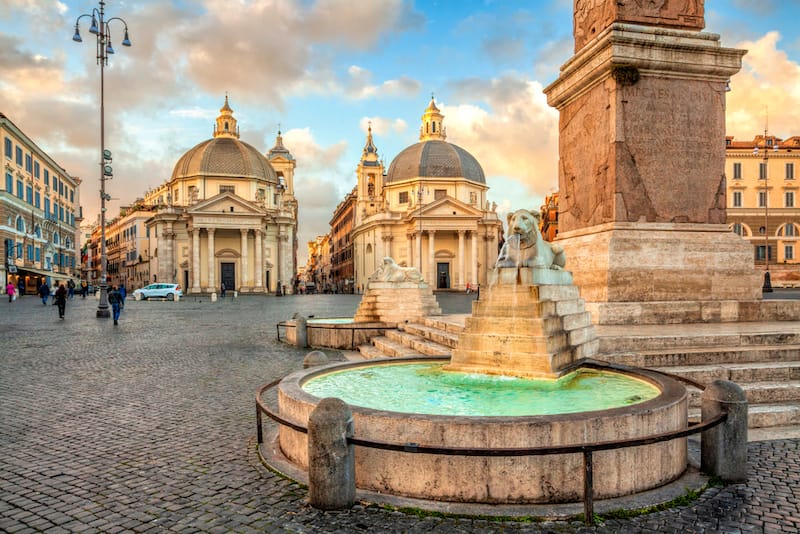 The centerpiece of the square is the huge Popolo Obelisk, which was moved from Egypt.
The Fontana del Nettuno and Fontana della dea di Roma frame the square.
Make sure to climb Pincio Hill using the steps to take in mesmerizing views of the Piazza and of Rome from the balcony of the Piazza Napoleone.
27. Discover Castel Sant'Angelo
Channel your inner history buff by visiting Castel Sant'Angelo, also known as the Mausoleum of Hadrian, built on the banks of the Tiber River.
It was constructed between 123CE and 139CE as a mausoleum for the Roman emperor Hadrian and his family.
Once used as a fortress with prison by the popes, today it's a museum where you can tour frescoed rooms, admire a collection of sculptures, and medieval weaponry, explore the papal apartments, and take in mesmerizing views of Rome from the top floor.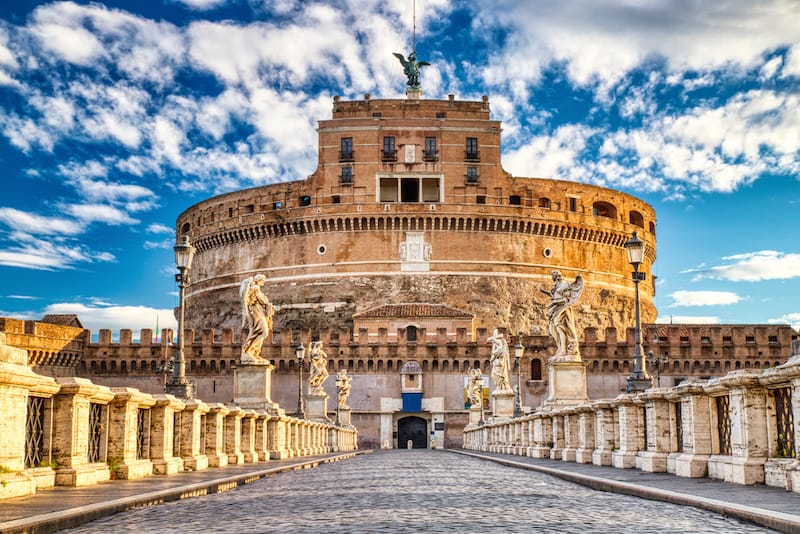 The statue on the fort is a reminder of the archangel Michael's appearance, who descended to end the plague in 590.
The museum welcomes its visitors from Tuesday through Sunday from 9:00am to 7:30pm with an admission of 17.50€ for adults and 3.50€ for ages 0-17.
>> Click here to check tour rates and availability
28. Eat Dinner at Ristorante Spirito di Vino
A visit to Ristorante Spirito di Vino, built on the site of an 11th-century synagogue, promises an unparalleled culinary experience.
The chef, Eliana Catalani, conveys the taste of Italy through homemade tomato sauce, jams, compotes, and syrups, as well as appetizers and desserts.
Here you can delight your taste buds with spaghetti carbonara, belly pork, veal, good crème brûlée, and panna cotta, which can be perfectly paired with delicious house wine, cordial, or prosecco.
Don't leave the restaurant without trying their signature dish, which is maiale alla mazio.
As you wait for the dinner, you can visit the wine cellar, which dates back to 80 BC and is packed with 5,000-7,000 bottles of wine.
Innovative and delicious food, professional and friendly staff, and a welcoming ambiance will make you return here every time you visit Rome.
Address: Via dei Genovesi, 31A, 00153 Roma RM
29. Walk Around Trastevere in the Evening
Getting lost in the most charming neighborhood in Rome is your perfect option to discover the authentic Roman way of life.
Located on the west of the River Tiber, this lovely area is packed with narrow cobblestone streets lined with medieval ivy-covered homes, restaurants, pubs, and cafes.
The Trastevere walking tour will make you feel like a local in this iconic neighborhood.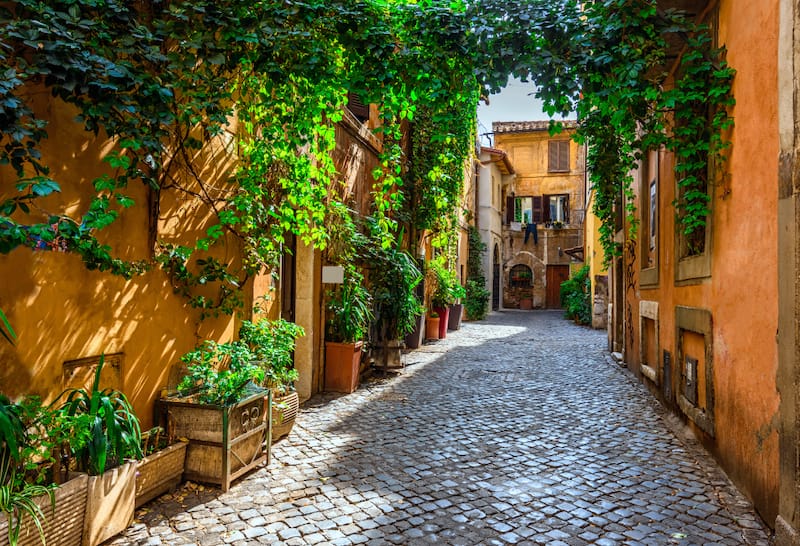 Start your journey by crossing the Ponte Sisto stone bridge to discover vibrant piazzas, like Piazza Trilussa, and admire Porta Settimiana, one of the three ancient gateways in the Aurelian walls.
Keep your eyes peeled for Renaissance-style Villa Farnesina, baroque Palazzo Corsini, and the Orto Botanico.
Watch skilled artisans at work in Aegea Mosaics, explore 12th-century Basilica di Santa Maria in Trastevere, and sample a traditional roman dish at one of the restaurants along Viale Trastevere.
>> Book Trastevere Sunset Food Tour
31. Travel Back in Time on Isola Tiberina
Fans of ancient Roman legends and myths should definitely add boat-shaped Isola Tiberina to their bucket list.
Nestled between the Jewish Ghetto and Trastevere, one of the world's smallest inhabited islands has been associated with healing since the 3rd century BC.
It once was home to an ancient temple to Aesculpapius, the Greek GodGod of medicine and healing.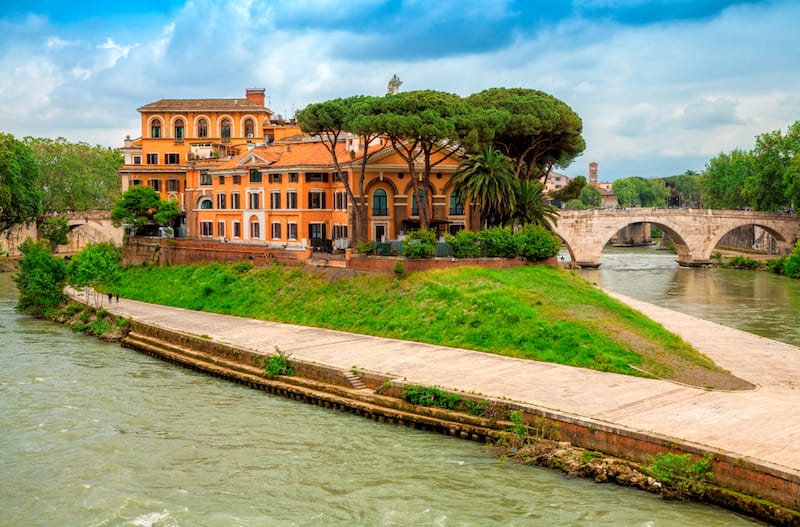 Visiting Tiber Island is free, and you can access it via Ponte Fabricio and Ponte Cestio.
Highlights of the island are the Infamous Column, Basilica of San Bartolomeo Apostolo, the Fatebenefratelli Hospital, Torre della Pulzella, and the Tiber River.
Don't miss catching a film at the Isola del Cinema, dining like a local at Trattoria Sora Lella, and joining Estate Romana, a popular summer event.
31. Marvel at San Francesco a Ripa Church
San Francesco a Ripa Church is another sacred building dating back to the 13th century.
Nestled in the lively Trastevere quarter of Rome, the Church is dedicated to St. Francis of Assisi, who stayed in the adjacent small convent during his visit to Rome in 1219.
Don't be fooled by its unattractive facade. Inside you will see a typical Franciscan environment without luxury, but packed with various masterpieces and funeral monuments.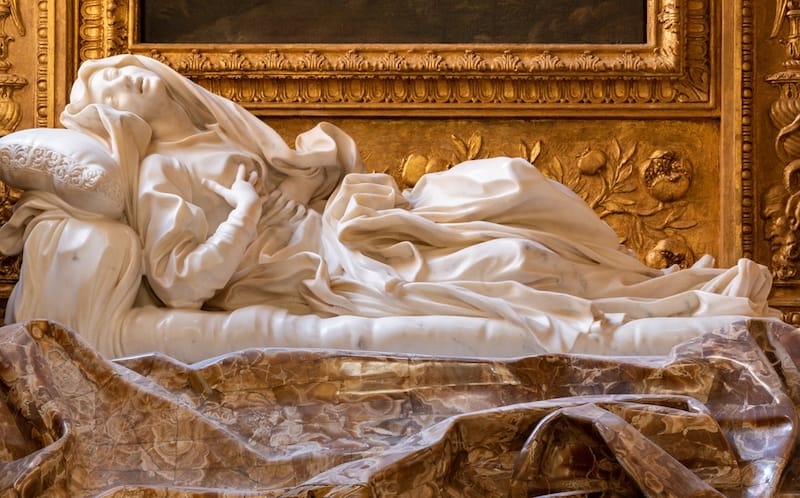 The highlights of the church are Beata Ludovica in Ecstasy, one of the raciest religious sculptures in the world created by Bernini, and the tomb of Saint Charles of Sezze.
You can also witness the stone pillow and crucifix of St. Francis in the room where he once stayed. The church is open daily from 7:00am-12:00pm and 4:30pm-7:30pm.
Address: Piazza di S. Francesco d'Assisi, 88, 00153 Roma RM
32. Admire the Baths of Caracalla
The last one on this list is one of the largest and most impressive thermal complexes in ancient Rome.
The Baths of Caracalla were built between 212 and 216 AD by Emperor Septimius Severus but opened by his son Caracalla.
The baths, where Romans once relaxed, studied, and played sports, stood out for their effective water supply as well as heating and drainage systems.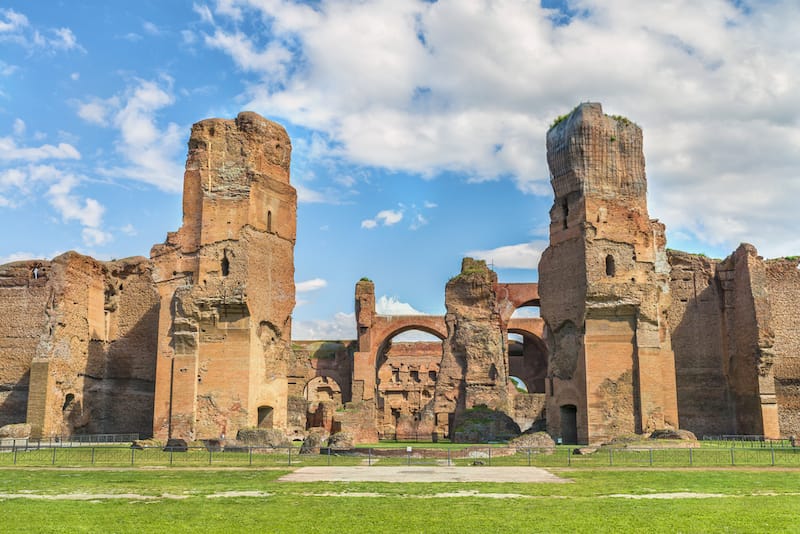 Today you can visit this enormous bathhouse complex to marvel at the frescoed ceilings, and impressive walls and simply use your imagination to immerse yourself in the splendor of ordinary Roman life.
Ever since the 1930s, tourists and locals alike gather in one of ancient Rome's great complexes to enjoy various summertime open-air performances in July and August.
>> Click here to check tour rates and availability
Where to Stay in Rome
Are you looking for the best places to stay in Rome? Here are some of our top picks!
Did we miss any of the best things to do in Rome for first-time visitors? Let us know your favorite Rome attractions in the comments.
More Italy Travel Guides
Pin this Rome Things to Do Guide