In addition to Italy's classic cities like Rome, Venice, and Florence, consider the fabled Baroque town of Noto, on the south-eastern tip of the beautiful island of Sicily.
It wouldn't be an exaggeration to say that this Baroque treasure in the province of Syracuse is home to one of Sicily's most beautiful historic centers.
A sparkling jewel in the Mediterranean Sea, Sicily is a great holiday destination, still barely touched by mass tourism.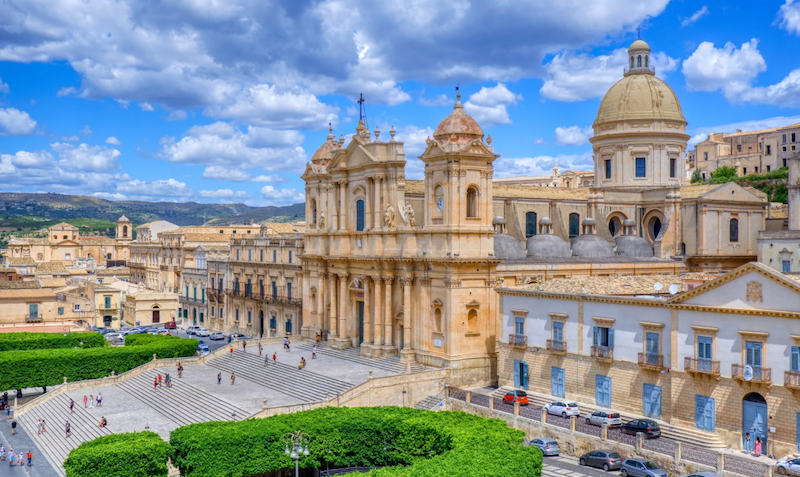 In recent years, Italian fashion influencer Chiara Ferragni's epic wedding at Dimora Delle Balze in Noto, and the success of the Sicilian detective series Inspector Montalbano brought tourism to this part of the island, but it is still not overrun and packed with tourists.
A pure gem of Baroque art in Sicily's southeast corner, the UNESCO-protected town of Noto is really worth visiting now, before it gets too popular.
Must-see Attractions in Noto
Although a town called Netum has existed here for a long, long time, the town you see today dates to the 1700s, when it was rebuilt from scratch in the wake of the terrible earthquake that struck south-eastern Sicily in 1693.
The creator of many of the finest buildings was the Baroque starchitect Rosario Gagliardi, whose extroverted style also graces churches and monuments in Ragusa and Modica.
Sicilian Baroque architecture is at its best in Noto, an architectural supermodel located at the foot of the Iblean Mountains and packed with opulent churches and palaces, all made of the local, compacted, honey-colored limestone rock.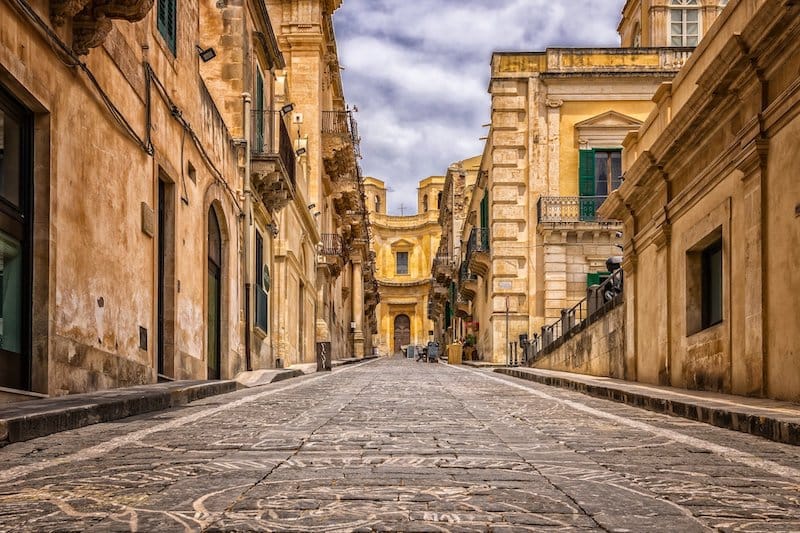 In contrast to touristy Taormina, this fabulous Baroque town in southeast Sicily transports visitors to an era before mass travel, where the charm of the old times seems to remain intact.
You will spot cigar-chomping men playing cards at café tables, craft shops, ceramicist's workshops, and gelaterias serving artisanal granita, sorbets, and the best ice cream on Earth, made with local ingredients like Sicilian prickly pears and the island's prized Bronte pistachios.
Although in size it would be considered a small town, there are many things to do in Noto (and it is one of Italy's hidden gems)!
San Nicolò Cathedral
A fine example of the Sicilian Baroque style, the Roman Catholic Cathedral of San Nicolò is the focal point of Noto's skyline.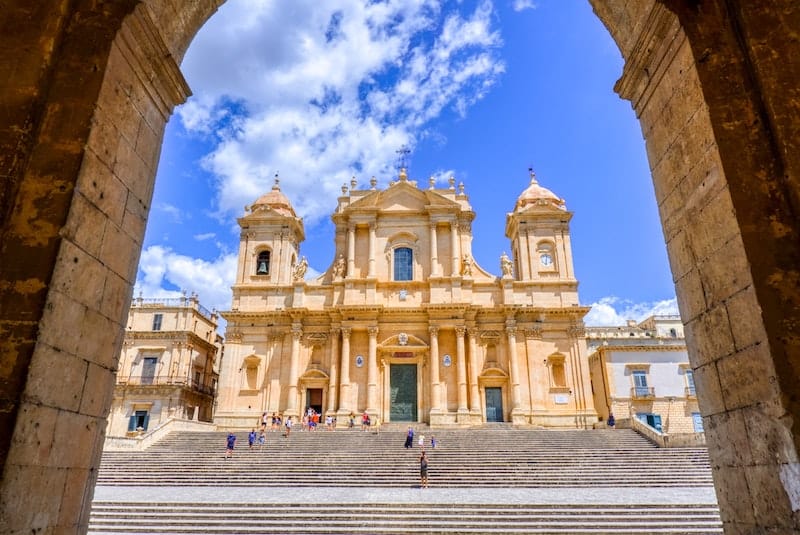 An unforgettable landmark standing at the end of an immense flight of stairs, it is especially hypnotic in the late afternoon when the setting sun casts the creamy limestone façade with an apricot glow.
Corso Vittorio Emanuele
The pièce de résistance in Noto is the pedestrian-only Corso Vittorio Emanuele, which begins at the imposing gateway of Porta Reale and extends west to the town's central piazza. Lined with amber-colored churches, public gardens, and dazzling Baroque palazzos decorated with lavish details, Corso Vittorio Emanuele really feels like a vast work of art or a film set.
Church of Saint Dominic
One of the town's finest Baroque buildings, the 18th-century Chiesa di San Domenico is a Baroque-style, Roman Catholic church designed to a Greek-cross plan by the abovementioned Sicilian architect Rosario Gagliardi, allegedly buried here. The church sports an interesting convex façade.
Palazzo Nicolaci di Villadorata
Palazzo Nicolaci di Valldorata is worth visiting for a glimpse of the sumptuous life of Sicilian aristocrats in past centuries.
The scenic façade of this 18th-century, 90-room palace wows with its sinuous wrought-iron balconies, supported by mythical creatures, including mermaids, sphinxes and winged horses.
Inside, the frescoed ceilings and richly brocaded walls offer an idea of the incredibly luxurious lifestyle of Sicilian nobles, as brought to life in Giuseppe Tomasi di Lampedusa's The Leopard, one of the greatest Italian literary works of the 20th century.
Scenic and romantic, it is the city's library now.
Ducezio Palace
Directly across from the Cathedral of San Nicolò in Piazza del Municipio is Ducezio Palace, which is now the seat of the Town Council.
Designed by Sicilian architect Vincenzo Sinatra in 1746, this graceful, porticoed building houses the eccentric Sala degli Specchi (Hall of Mirrors), definitely worth a visit.
Flower Festival in Noto
If you happen to be visiting Noto in Spring, then you are in for a treat. Each May local artists turn the Via Corrado Nicolaci, a street that runs off of the main Corso Vittorio Emanuele, into a carpet of colorful flowers for the Infiorata di Noto, an annual celebration that draws visitors from all over the world.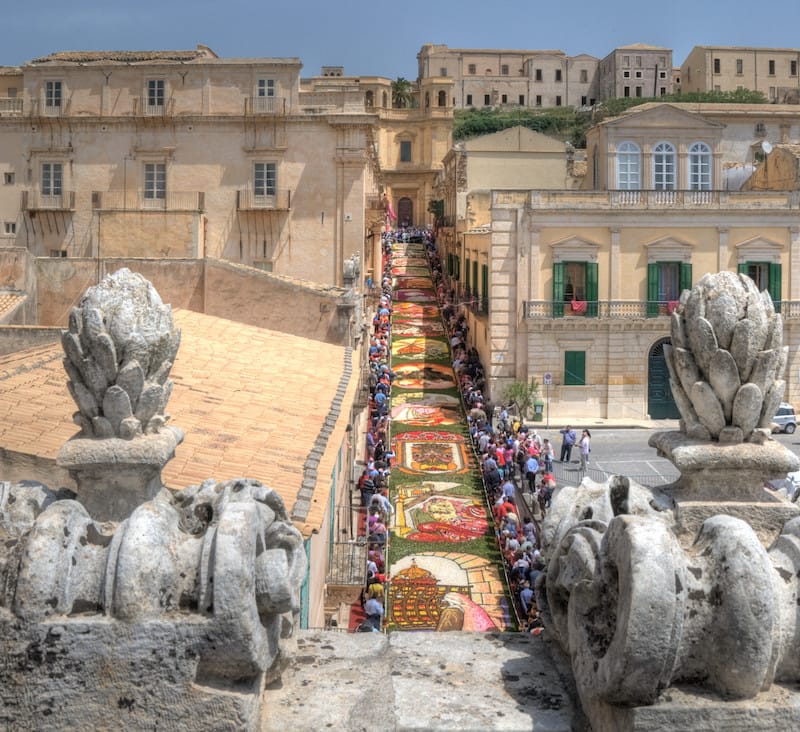 Local artists use flower petals to shape creative looking mosaics and elaborate designs that run the entire length of the street.
Blissed-out Beaches
South-east Sicily's shoreline offers many great seascapes, and the Gulf of Noto contains a number of wonderful ones. A short drive east of Noto are some of the greatest beaches not just in Sicily or even Italy, but in all of Europe.
When the temperatures soar, then, head to one of the nearby unspoiled sandy beaches. The closest to central Noto is Eloro Beach, almost tropical in its appearance.
Just a little bit further south are Spiaggia Cala Silenzio and the stunning beach of San Lorenzo, among the most beautiful arcs of sand along this gulf.
An absolute must-see when visiting Noto is the picture-perfect beach of Calamosche, in the Vendicari Nature Reserve, a protected haven lapped by the remarkably calm and clean waters of the Ionian Sea, famous for its population of flamingos, swans, cormorants, storks and turtles.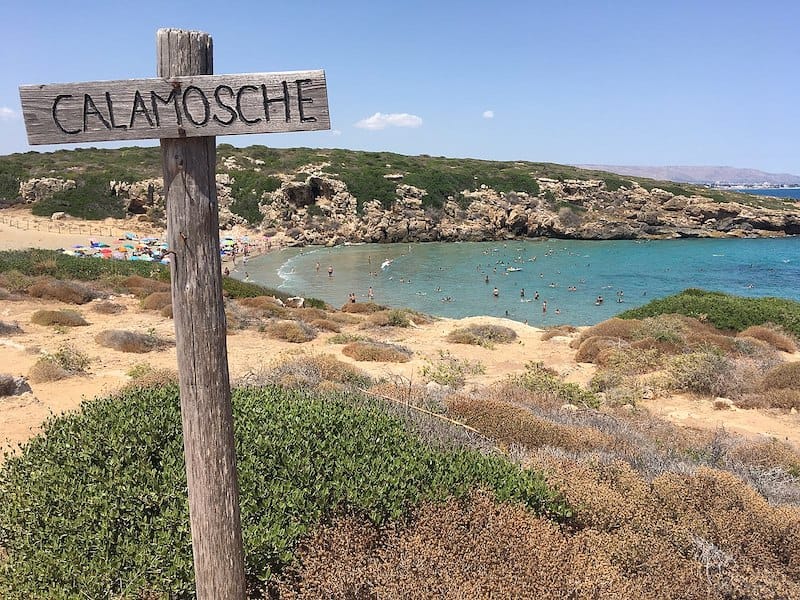 Definitely worth visiting is also the Isola delle Correnti, an ideal swimming spot at the very southern tip of the island, where the Ionian Sea meets the Med.
Visiting Montalbano's island soon? Renting a holiday home is a much safer choice right now than staying in a busy hotel, B&B or guesthouse. These are unusual times. Planning a vacation with social distancing in mind is crucial, and that's why the trend of villa holidays is on the rise.
Options vary from family-friendly vacation homes and luxury hideaways with shimmering private pools to secluded countryside retreats and sumptuous mansions with hypnotic sunset views.
Select Sicily Villas, one of the island's leading vacation rental companies, offers a range of exclusive properties in this area. Find out more on www.selectsicilyvillas.com.