Are you planning a trip to Iceland and looking to explore the Westfjords? This Iceland Westfjords itinerary will help you plan! Keep reading!
The Westfjords are one of the least trodden places in Iceland – making it a great place to escape the crowds and feel like you have a little bit of the country to yourself!
While we focused this itinerary on 3 days in the Westfjords, you can also plan extra time to really slow down and take it all in!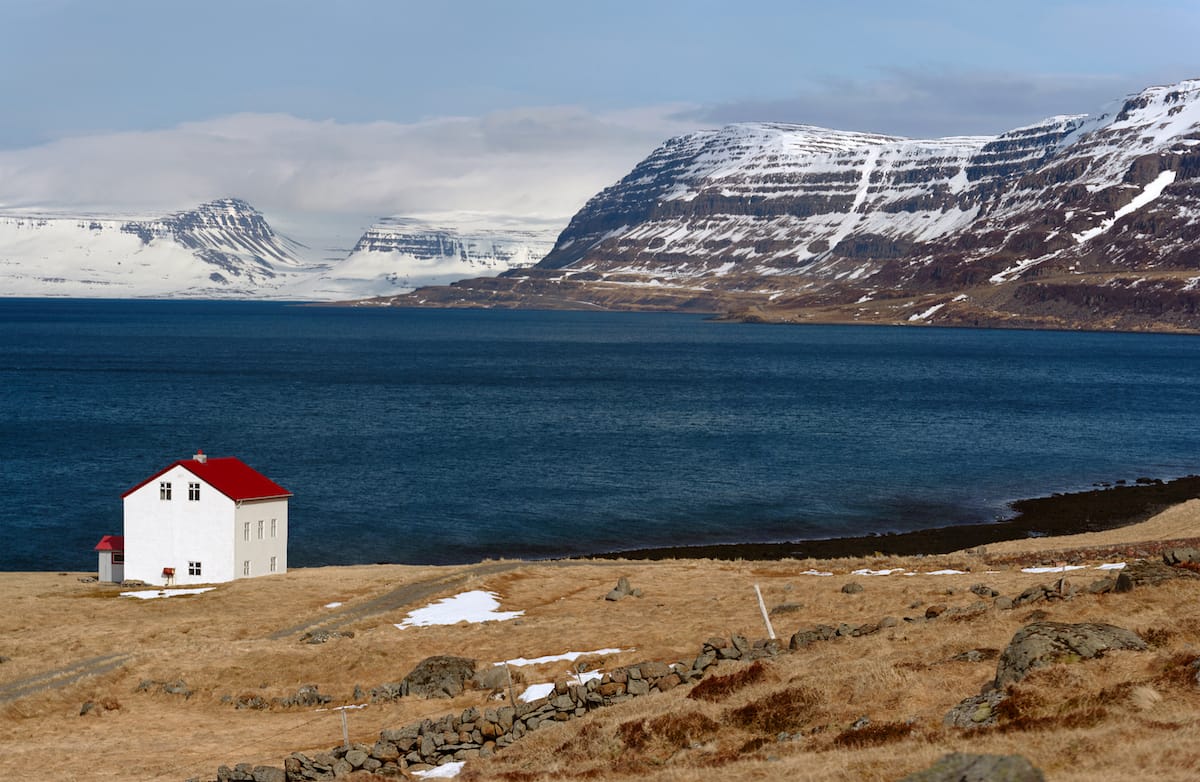 Let us know if you have any questions about this Iceland Westfjords 3-day itinerary in the comments! Thanks!
How to Get Around the Iceland Westfjords Region
The Westfjords Region is one of Iceland's most remote areas, so naturally, the best way to get around is by car.
This gives you the ultimate flexibility when planning your trip, and means you won't be restricted to public transport timetables.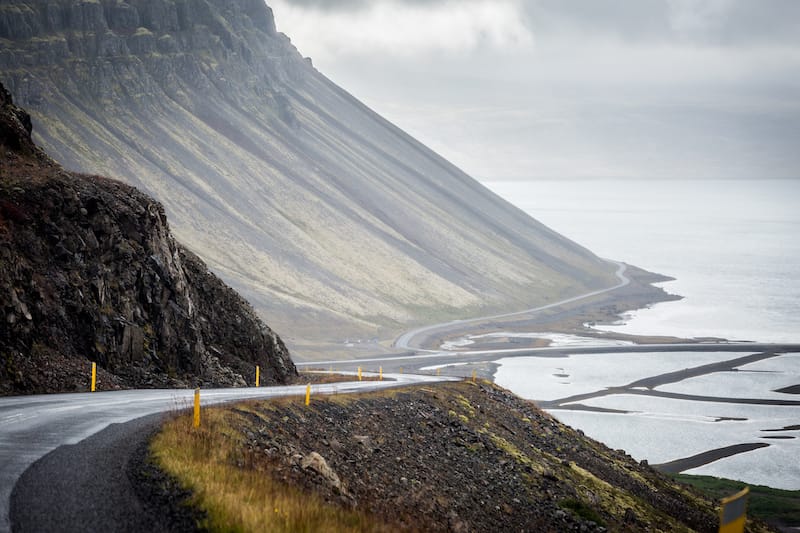 Many people choose to hire a car in Reykjavík, which is Iceland's capital city. This is where you'll most likely fly to so you can grab a rental right from the airport.
For the best deals, we recommend checking out Discover Cars which is who we use. This way, you can book your airport rental in advance, often for a much cheaper fee.
If you're planning to drive just be aware that there are some gravel roads around, and so you'll need to take your time and drive sensibly.
COMPARE RATES HERE: Rental cars in Iceland
For those who are unable to drive themselves, there are public buses that service some areas of the Westfjords Region.
Better yet, seasonal buses depart from Reykjavík to get here in the first place.
Iceland Westfjords Itinerary Overview
Day 1 Overview
The Museum of Icelandic Sorcery and Witchcraft (Hólmavik)
Drangsnes
Kaldalón
Have dinner in Ísafjörður
Dokkan Brugghús (Ísafjörður)
Day 2 Overview
The Ósvör Maritime Museum
Have lunch in Flateyri Village
Þingeyri
Dynjandi Waterfall
The Icelandic Sea Monster Museum
Day 3 Overview
Go on a kayaking tour
Have lunch in Patreksfjörður
Látrabjarg Cliffs
Rauðisandur Beach
Hellulaug
Where to Stay in the Westfjords
If you're planning to stay in various places through your trip and not in a campervan or tent, here are some of the top hotels and accommodation on suggested itinerary below:
Hotels in Ísafjörður
Tangs: Nearly a perfect score on Booking.com! Located near Pollurinn Hot Spring. This is an apartment-type of lodging with 2 bedrooms and an equipped kitchen and washing machine.
Hotel Isafjördur – Torg: This hotel is located at Silfurtorg Square and it has panoramic views of the fjord and surrounding mountains. Breakfast is included in your stay. The on-site restaurant also has international dishes with a local twist.
The Ísafjörður Inn: You'll find this highly rated property close to Pollurinn Hot Spring and it comes with linens, towels, and a shared kitchen.
Hotels in Bíldudalur
Harbour Inn – Guesthouse: This family-owned B&B is located in Bildudalur village and you'll find linens and towels included and breakfast served each morning. The Sea Monster Museum is only a 2-min walk.
Hotels in Patreksfjörður
Pálshús: At this popular guesthouse, you will find lodging with a spacious garden, private parking (free), and a shared lounge. The rooms are family style and each room comes with linen and towels included.
Hotel West: Located in the town center, this hotel is popular and has a shared lounge, terrace, free wifi, and epic views! All rooms have a private bathroom. Breakfast is served each morning.
Hotels in Flókalundur / Brjánslækur
Hótel Flókalundur: Only 5 minutes away from the Brjánslækur ferry terminal, this hotel has an on-site restaurant and no-frills rooms with free wifi, private bathrooms in each room, and a geothermal hot spring just a stone's throw away from the hotel.
Map of this Iceland Itinerary for the Westfjords
If you're looking to see the destinations on this itinerary laid out – this map will hopefully help! We also have included the 'extras' at the end of this guide in a separate section toward the end.
Want to go directly there? Click here.
To add this map to your Google Maps account, click the 'Star' icon next to the map name. You can then view it on your cell phone or computer by heading to your Google Maps account, click the menu and add it to 'Your Places'.
Day 1 in the Westfjords
The Museum of Icelandic Sorcery and Witchcraft (Hólmavik)
Your first stop along this Iceland Westfjords Itinerary is a must-visit. Located in the charming Icelandic village of Hólmavik, this museum is one of the country's most unique attractions.
The Museum of Icelandic Sorcery and Witchcraft has been around since the year 2000 and attracts thousands of tourists every year (despite its remote location). Honestly, it's not hard to see why!
Set on two floors, the museum will take you through the history of sorcery and witchcraft in this area. You'll also get to learn about what life was like here back in the 17th century.
Home to elaborate spells and rituals, Icelandic 'magical' staves, and animal skulls, the exhibits here will truly blow you away.
Stranger still, you'll find a horrifying pair of 'necropants' which are essentially the dried skin of a man!
Drangsnes
The small fishing village of Drangsnes is just a 30-minute drive from the Museum of Icelandic Sorcery and Witchcraft.
The scenery here is breathtaking and during the summer months, it's a fantastic whale-watching spot.
The highlight of visiting Drangsnes has to be the public hot tubs which are located along the shoreline.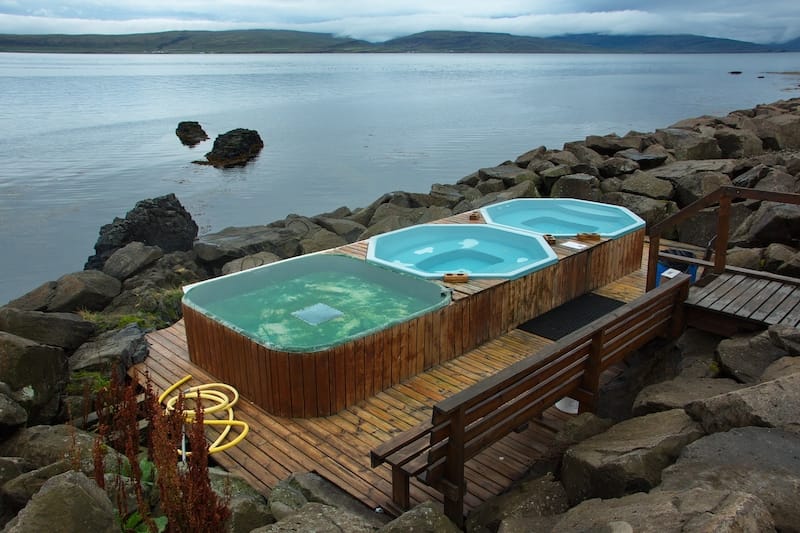 Not only will you get to relax in geothermal waters but you'll be treated to stunning views of the surrounding area.
However, for those who want to switch up this itinerary or find themselves with lots of extra time, you can always head out on this guided boat trip.
It takes around 3 hours and you'll be taken to Grimsey Island.
Kaldalón
Unless you're prepared for a tiresome hike, you can't actually get to Drangajökull Glacier.
However, you can drive to Kaldalón which is another beautiful spot in the Westfjords Region that's located nearby.
Kaldalón is a scenic fjord that stretches from Ísafjarðardjúp into Drangajökull, and it's around 5 km (3 miles) long. From Drangsnes, it takes just under 1.5 hours to get here.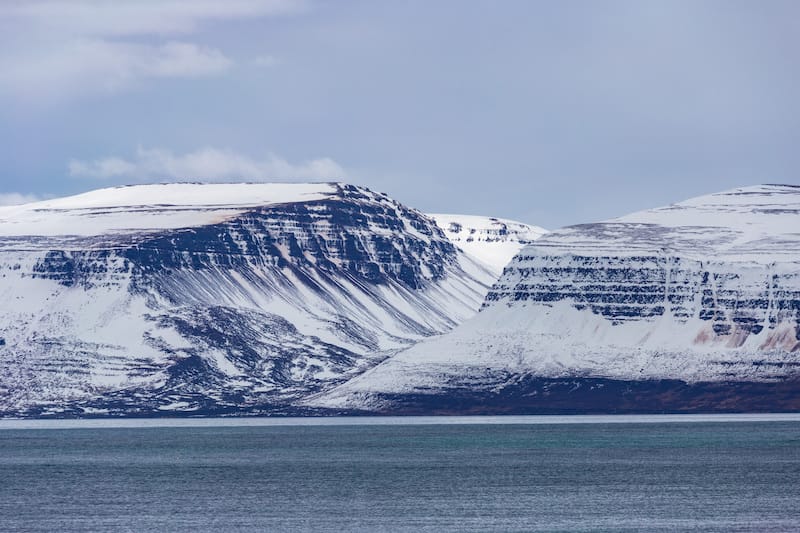 For those who have some extra time in this region, you could always swap this itinerary around and hike to Drangajökull.
The trail leaves from Kaldalón and will take you to the country's lowest-lying glacier.
If you take advantage of Iceland's Midnight Sun, then you may even be able to fit the 3-hour hike into this itinerary but we'd say that would be pushing it!
Have Dinner in Ísafjörður
Next up is Ísafjörður which is the peninsula's largest town. To reach the final stop, you'll need to drive for around 2.75 hours from Kaldalón.
Once you've arrived here, we're sure you'll be hungry. Luckily, there are some excellent eateries in town.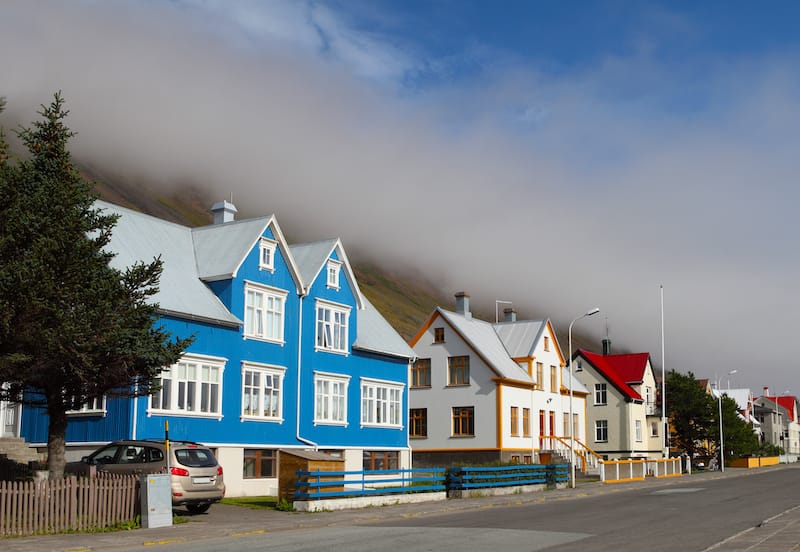 Whether you're after Western cuisine or some traditional Icelandic dishes, Ísafjörður has something for everyone.
If possible, try to book a restaurant in advance as there aren't too many options. If you're unsure, just drop the place an email or Facebook message them.
Here are some great restaurant options:
Dokkan Brugghús (Ísafjörður)
After grabbing some dinner, it's time to visit Dokkan Brugghús (if you haven't already eaten there) which is also located in town.
Luckily, this place is open until 11 pm so you'll have plenty of time to visit!
Now, what is this place you say? Well, it's the first (and only) brewery in the region, making it a must for any Westfjords itinerary!
Dokkan Brugghús is known for its high-class craft beer and there are plenty to choose from! There's both indoor and outdoor seating available so it doesn't matter what the weather's doing either.
The atmosphere here is fabulous and the staff are lovely, making it a great place to relax and reminisce on your day!
For those who are short of time, you can just tie in your dinner here with trying out some craft ales.
Day 2 in the Westfjords
The Ósvör Maritime Museum
The first stop of day two is the Ósvör Maritime Museum.
Located just a 12-minute drive from Ísafjörður, this museum has been open since 1988 and is a great place to include on your Iceland Westfjords Itinerary.
The museum is a replica of an Icelandic fishing station from the 19th century, so it's a really interesting place to visit. While here, you'll get a good idea of what life used to be like for Iceland's fishermen.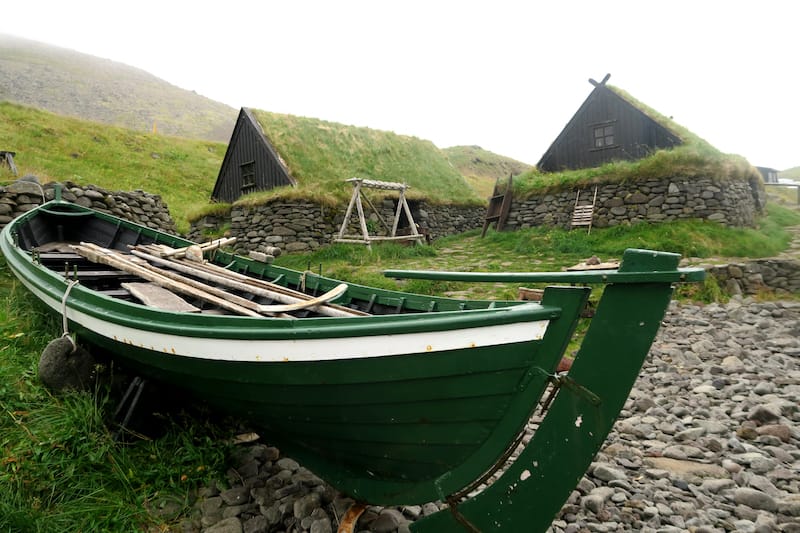 Aside from the main structures here, you'll get to see a variety of other tools that would have been used back in the day.
The main building (which used to be a fish processing station) also houses fish sheds and a salt house.
There's also an old wooden rowing boat found on-site.
Have Lunch in Flateyri Village
Just over a 30-minute drive from the Ósvör Maritime Museum, you'll come across Flateyri Village.
As the Westfjords Region is so remote, you'll only find a few small villages that offer restaurants.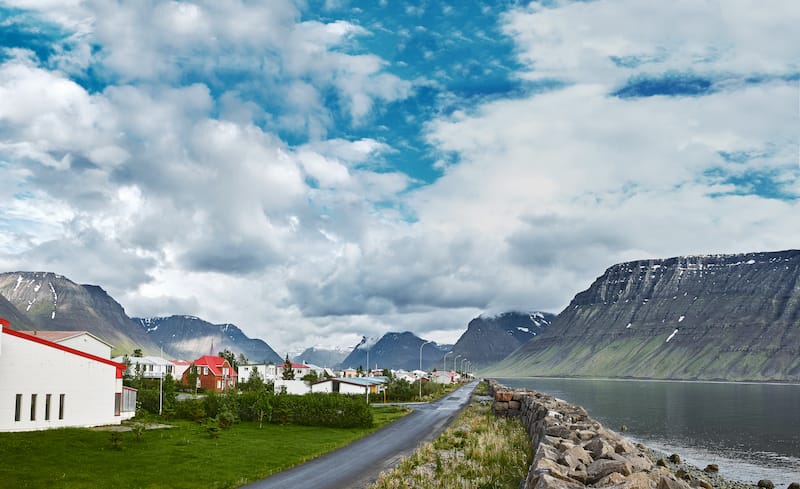 Flateyri is the perfect place to stop off as there are a few different eateries to choose from.
Whether you're after fresh seafood or a tasty cake to tide you over until dinner, this village has something for everyone.
However, as Flateyri is only small, there aren't tons of choices so just keep that in mind.
Here are some great restaurant options:
Vagninn – This place is known for its delicious food and fantastic atmosphere.
Gunnukaffi – Offers hearty (and mouth-watering) portions for an affordable price.
Bryggjukaffi – This cozy coffee house offers tasty cakes and coffee.
Þingeyri
After lunch, it's time to head to Þingeyri which is around a 30-minute drive from Flateyri.
This is another of the peninsula's small villages and it's located along Dýrafjörður, one of the country's most scenic fjords.
Only around 250 people live in this village, although it has been inhabited since 1787. The fishing industry has shaped Þingeyri over the years, leading to the charming community that you see here today.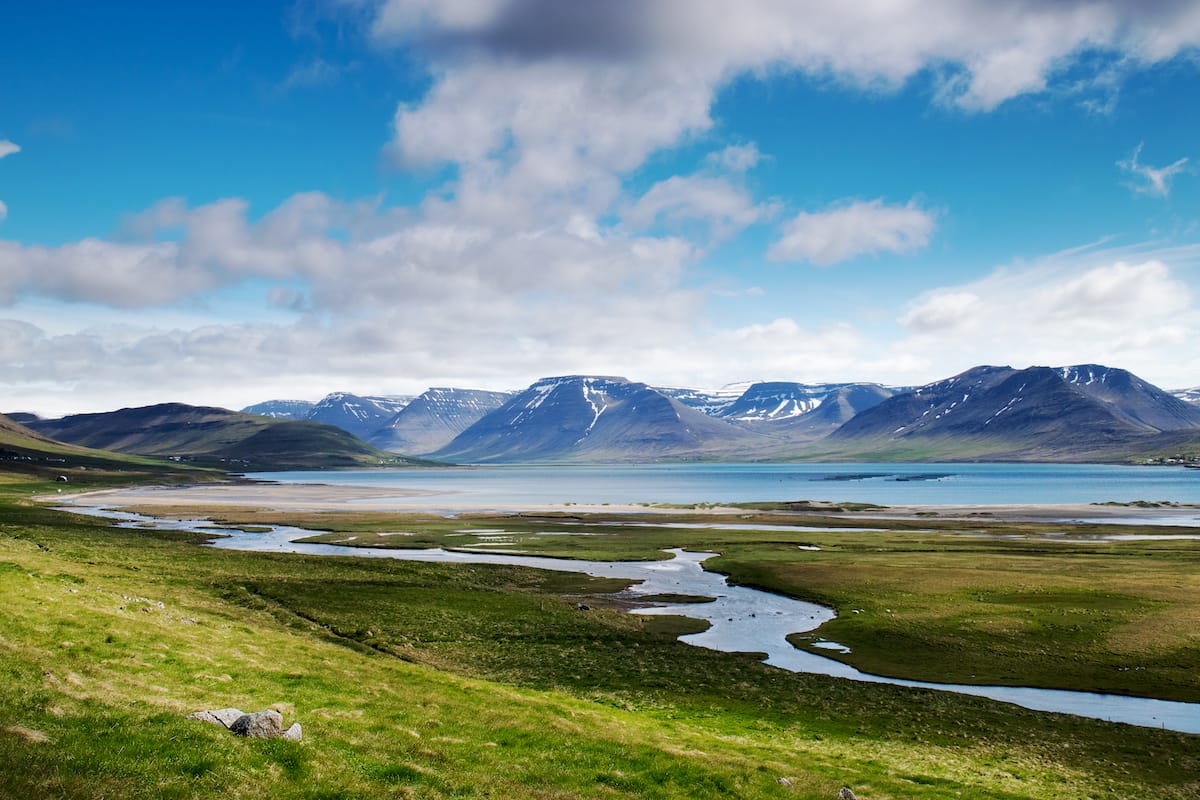 Þingeyri is located right at the base of Sandafell mountain and thanks to its location along the fjord, the scenery here will take your breath away!
If you've not eaten yet or you decided to just get a light bite then we recommend heading to Simbahöllin.
This place is famous for its delicious Belgian waffles, which are served with cream and rhubarb jam.
Dynjandi Waterfall
Dynjandi Waterfall is one of the most popular attractions in the Icelandic Westfjords so don't leave it off your itinerary!
Often referred to as 'The Thunder', this waterfall is under a 30-minute drive from Þingeyri.
Dynjandi is the largest waterfall in this region and is made up of seven different tiers. At an impressive 100 meters (329 feet), the power of the main cascade is crazy, especially as it drops off the edge of a mountain.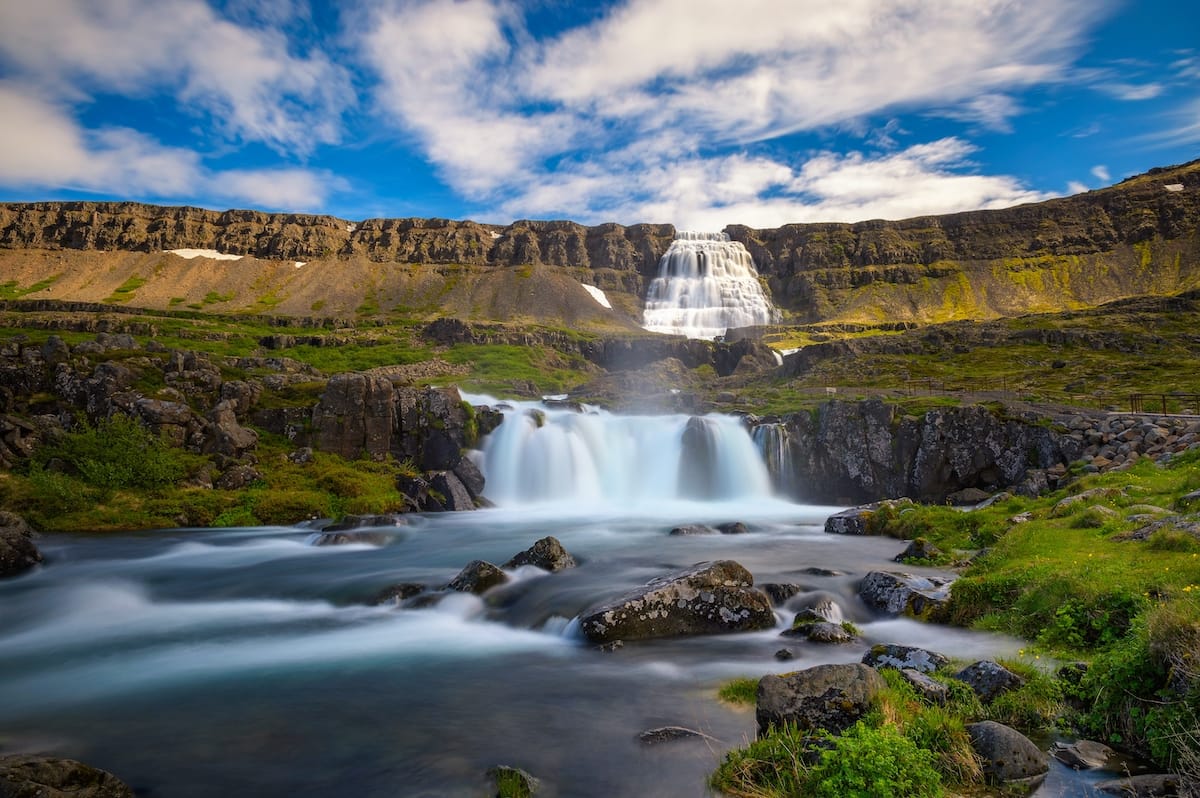 This protected natural monument is considered to be one of the most beautiful waterfalls in the country, and we'd have to agree. In fact, you can even walk behind one of the waterfall tiers!
Just bear in mind that the walk to the top is pretty taxing and you'll need to stay on the trail at all times.
The Icelandic Sea Monster Museum
The last stop on day two of this Iceland Westfjords Itinerary is the Icelandic Sea Monster Museum.
It's located in Bíldudalur village which is just over an hour's drive from Dynjandi.
Sea monsters play an important role in Icelandic folk culture and have done for centuries. This museum offers you the chance to get to know them through images, texts, and multimedia displays.
It's believed there are four different types of sea monsters around Iceland; the shore laddie, merman, shell monster, and the sea horse.
Not only will you get to learn all about these magical creatures, but there's an interactive table at this museum where you can try and find them for yourself!
The Icelandic Sea Monster Museum is only open from June 1st – August 31st, although it does open upon request at other times of the year.
Day 3 in the Westfjords
Go on a Kayaking Tour
If you're feeling adventurous, then we recommend heading out on a kayaking tour from Patreksfjörður.
This way, you'll really get to appreciate the area's beauty. Not only that, but you'll get a unique view of the village and its surrounding fjord.
For kayaking tours, your best bet is to check out Westfjords Adventures.
This company offers easy 2-hour tours and these run all year round. Better yet, you can often request the time of departure to suit your itinerary.
On this kayaking tour, a rain suit, life vest, and shoes are included. However, you'll still want to dress up warm (you know, because of Iceland's unpredictable weather).
After you've been given the basics, you'll head out in the kayaks. These sit-on-top kayaks are suitable for tandem and single travelers.
Have Lunch in Patreksfjörður
After spending the morning kayaking, we're sure you'll be hungry after all that exercise. Luckily, Patreksfjörður has a few cozy eateries to choose from, but be aware that there aren't too many options.
What's great about the restaurants here is that many of them overlook the surrounding fjord so the views are breathtaking.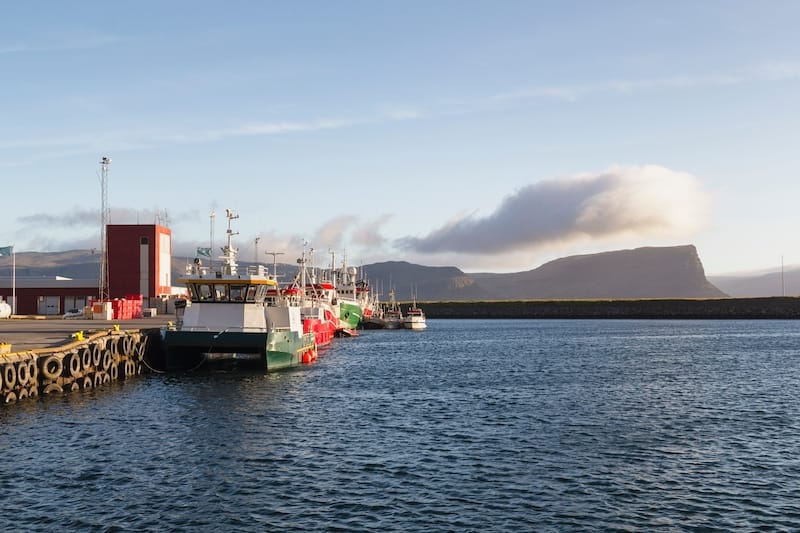 Some of the eateries also offer both indoor and outdoor dining so you can appreciate the vistas no matter the weather.
Not only that, but Patreksfjörður is a great place for trying typical Icelandic dishes.
Here are some great restaurant options:
Látrabjarg Cliffs
Now this place is a must for your Iceland Westfjords Itinerary! These towering sea cliffs stretch for 14 km (8.6 miles) and reach impressive heights of up to 441 meters (1,447 feet).
Látrabjarg Cliffs are undoubtedly the most popular attraction in the Westfjord Region.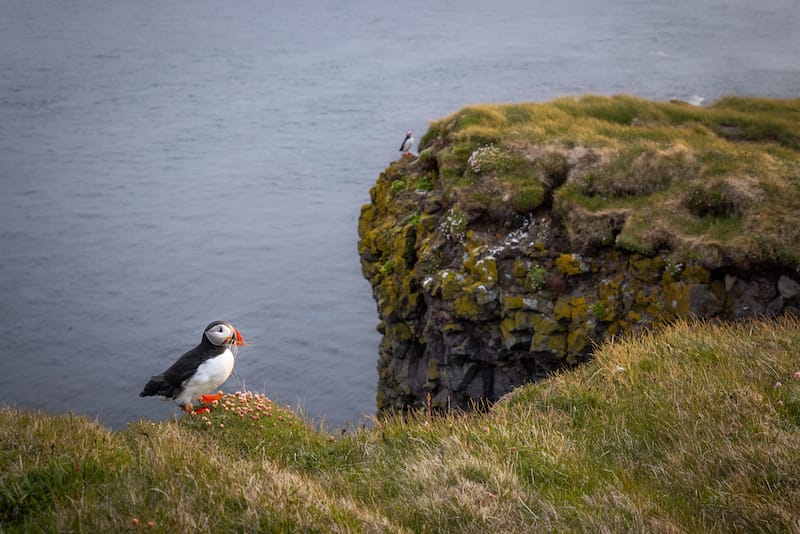 The dramatic landscapes here are enough to convince anyone to visit, but there's even more of a reason to go!
Látrabjarg is home to an insane number of seabirds, making it the country's largest seabird cliff. In fact, it's one of the largest seabird cliffs in all of Europe.
🇮🇸 GOOD TO KNOW: Don't head to the Iceland just any time to see puffins. These beautiful birds are residents of Látrabjarg only from May-August each year. Plan accordingly!
Although a variety of birds can be spotted here, the puffins are the main attraction.
You'll find that many of them aren't afraid to get relatively close to humans either, making it the perfect spot for keen wildlife photographers!
Rauðisandur Beach
After marveling at Iceland's birdlife, it's time to visit Rauðisandur Beach, which is just over an hour's drive from Látrabjarg Cliffs.
Thanks to its beauty and location, this 10-km (6-mile) beach attracts plenty of travelers who are exploring the region.
Iceland is renowned for its black sand beaches, but Rauðisandur offers a unique combination of golden and red sands.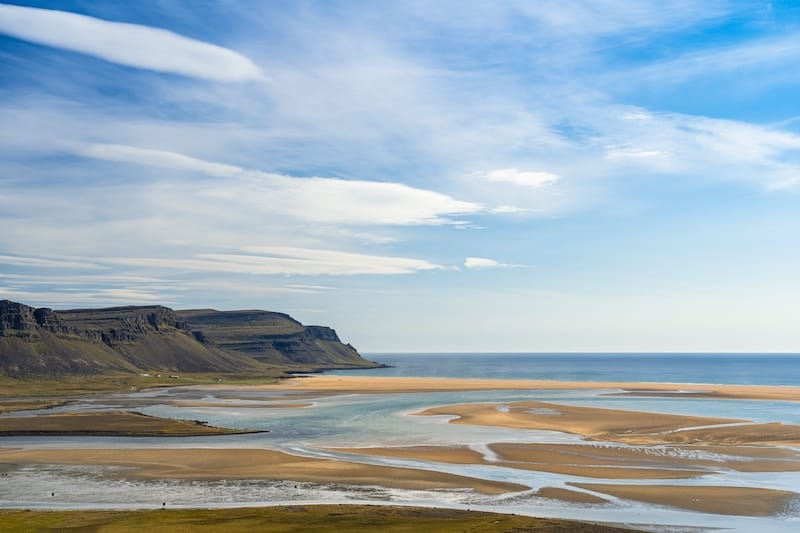 During the summer, these colors are even more impressive, making the beach look somewhat tropical!
Although the beauty of Rauðisandur Beach is unparalleled, this place also offers a great opportunity to spot seals, as you can see them bobbing about off the shoreline. A lucky few may even get to spot whales from here.
Due to the beach's location near Látrabjarg, you'll find that a variety of seabirds frequent Rauðisandur too.
Hellulaug
There's no better way to end your Westfjords trip than by relaxing in a hot spring.
You'll find several of these in the region, but Hellulaug is under an hour's drive from Rauðisandur Beach so is in a great location.
Located in the tiny village of Flókalundur, this hot spring boasts a remote location and can't be spotted from the road, so you'll often find it empty (a huge bonus!).
There's a small parking lot nearby too so it's easily accessible.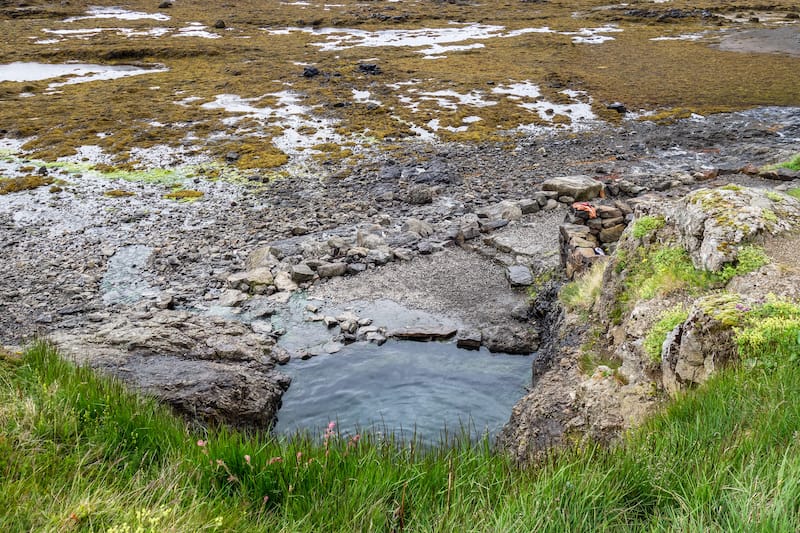 Hellulaug is heated by geothermal waters with the temperature usually being around 38°C (100°F) all year round. Not only is the water temperature bliss but you'll be treated to stunning coastal views too.
There are no changing facilities here but many people choose to just get changed in their cars! Keep in mind that there aren't any showers either.
More Than 3 Days in the Westfjords Region?
Hornstrandir Nature Reserve
In our opinion, the Hornstrandir Nature Reserve is a must for any Westfjords itinerary.
However, due to its remote location, it requires at least a full day (if not more), which is why it's not really suitable for a three-day trip.
Considered to be one of the last wilderness areas in Europe, Hornstrandir can only be accessed by boat from Norðurfjörður and some other villages or on a tour.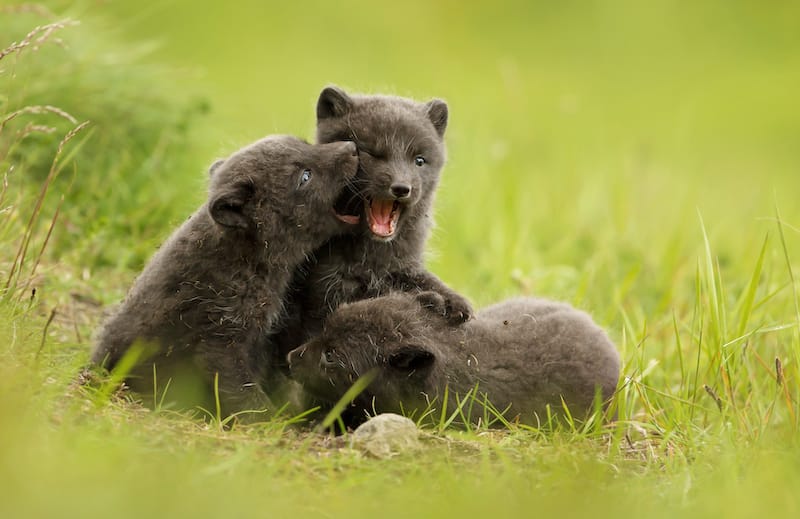 Arguably one of Iceland's most scenic landscapes, this nature reserve is also one of the best places in the world for spotting arctic foxes.
This is partly due to the bird-packed cliffs found in this area, which surround the bay of Hornvík.
Aside from the wildlife-watching opportunities, Hornstrandir Nature Reserve is also a fantastic location for hiking. Just make sure you don't forget your camera!
Flatey Island
If you have more than 3 days in the Westfjords, then why not head out to Flatey Island?
This remote island is the only inhabited island within Breiðafjörður Bay and is known for its diverse birdlife, history, and natural landscapes.
Not only will you get to appreciate typical 19th-century Icelandic architecture, but you'll also want to see the 'Book of Flatey'; a medieval manuscript.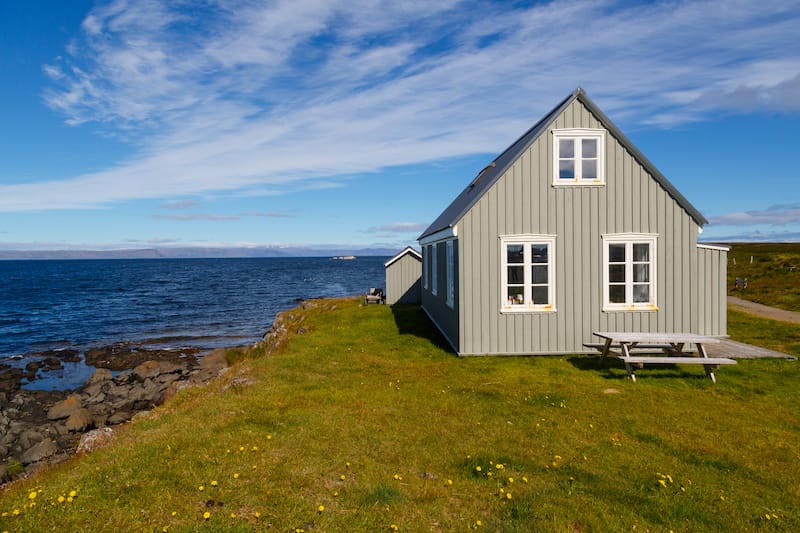 Birdwatching is another popular activity on Flatey, and if you're lucky, you might get to spot white-tailed eagles!
To access Flatey Island you'll need to drive to either Brjánslækur or Stykkishólmur. From there, you can take the ferry over which takes between 1-1.5 hours.
However, no cars are allowed on the island, so you'll need to leave your vehicle on the mainland.
Garðar BA 64
Garðar BA 64 is a fascinating shipwreck that's located along a beach, just a 17-minute drive from Patreksfjörður.
This whaling ship was launched in 1912 making it Iceland's oldest steel ship and is a popular attraction within the region.
Originally known as Globe IV, the ship was built in Norway, and then eventually sailed to Iceland after WWII.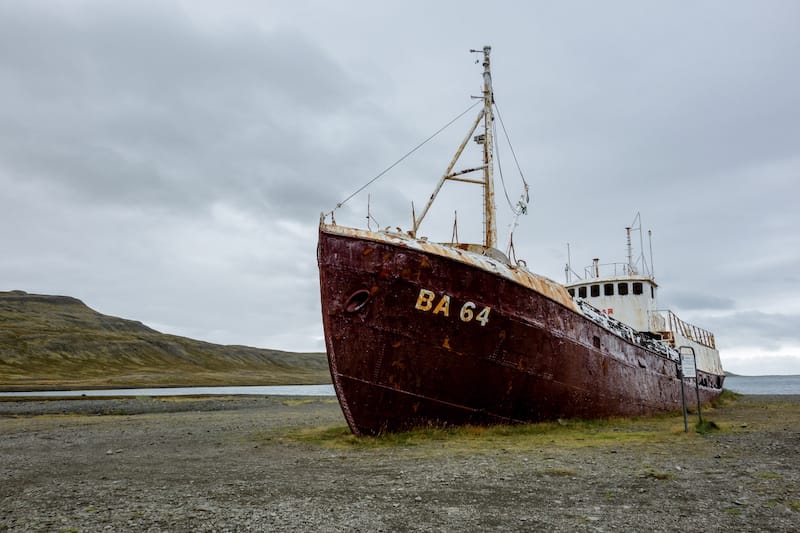 After being declared unsafe in 1981, Garðar BA 64 was run aground rather than being scrapped. Safe to say, tourists are certainly happy with this decision as it's become a popular photography spot.
Although the ship is rusted and rugged, it's still an imposing sight to be sure.
Not to mention, you'll be getting a glimpse into the country's history, as Garðar BA 64 was also used as a fishing boat after restrictions on whaling increased (thankfully).
Hnjótur Museum
The Hnjótur Museum is around a 25-minute drive from Garðar BA 64 so you can always combine a visit to both if you find yourself with more time.
Often referred to as the Egill Olafsson Museum, this awesome place is home to a variety of unusual items.
All of these have been collected by Egill Olafsson, who was a local farmer.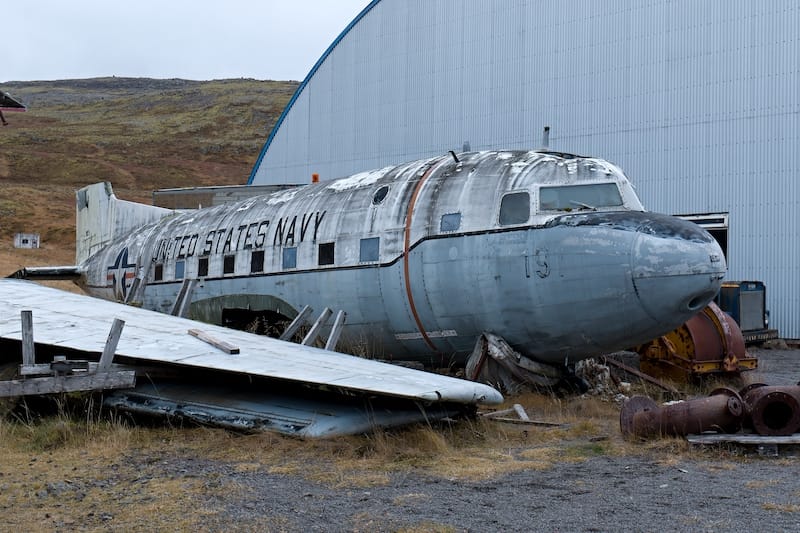 His collection was mainly related to Iceland's aviation and fishing history, so as you can imagine, there are some interesting objects here.
One of these is a Russian airplane that became stranded in the country in 1993!
The Hnjótur Museum is also home to an exhibition about the British trawler Dhoon, which had to be rescued in 1947 after becoming stranded! Honestly, this place is such a cool spot.
Go Whale Watching with Láki Tours
Lastly, if you're a nature lover, then you'll want to head out on a responsible whale-watching tour.
The Westfjord region is a fantastic area for spotting whales, and with over 20 species calling these waters home, it's a great activity to do.
If you're planning to go on a whale-watching tour in this region then we'd suggest checking out Láki Tours.
They offer a 2-hour tour that departs from Hólmavík, and these tours typically run from June to mid-October.
The most common species of whale found in the Westfjords Region is the Humpback whale, which is known for its breaching and tail-slapping behaviors!
However, other species such as blue whales and orcas have also been spotted in the area.
This tour offers an almost 100% sighting guarantee, and will even give you a rescheduled ticket if you don't see any whales.
Did we miss anything on this Iceland Westfjords itinerary? Let us know your thoughts in the comments!
More Iceland Travel Guides
Pin this Iceland Westfjords Road Trip Itinerary