Have you ever wanted to take an ATV tour in Iceland?
This Iceland ATV tour booked through Manawa with Arcanum Adventure Tours guided me to the Sólheimasandur plane crash and gave me an adventure throughout the entire experience!
Are you planning your trip to Iceland last minute?
If youʻre booking your trip to Iceland last minute, we have you covered. Below are some of the top tours, hotels, and more!
🇮🇸 Adventure activities on the South Coast (and nearby):
🛌 Top places to stay in Reykjavik (+ Vik!):
Sand Hotel (Reykjavik boutique hotel on Laugavegur)
Hotel Kria (best hotel in Vik – hands down!)
Center Hotels Arnarhvoll (stylish w/ Reykjavik harbor views)
✈️ Want to get from the airport to Reykjavik hassle-free? Find the best airport transfer option here!
🚗 Looking for the best way to get around Iceland? Click here to check rental car rates for Iceland!
This post will recap my ATV tour experience to Sólheimasandur as well as inform you how you can book the same tour (and have one of the most memorable experiences of your life)!
Please let me know if you have any questions or are looking for additional information about the best ATV tour in Iceland. I am happy to help! Thanks!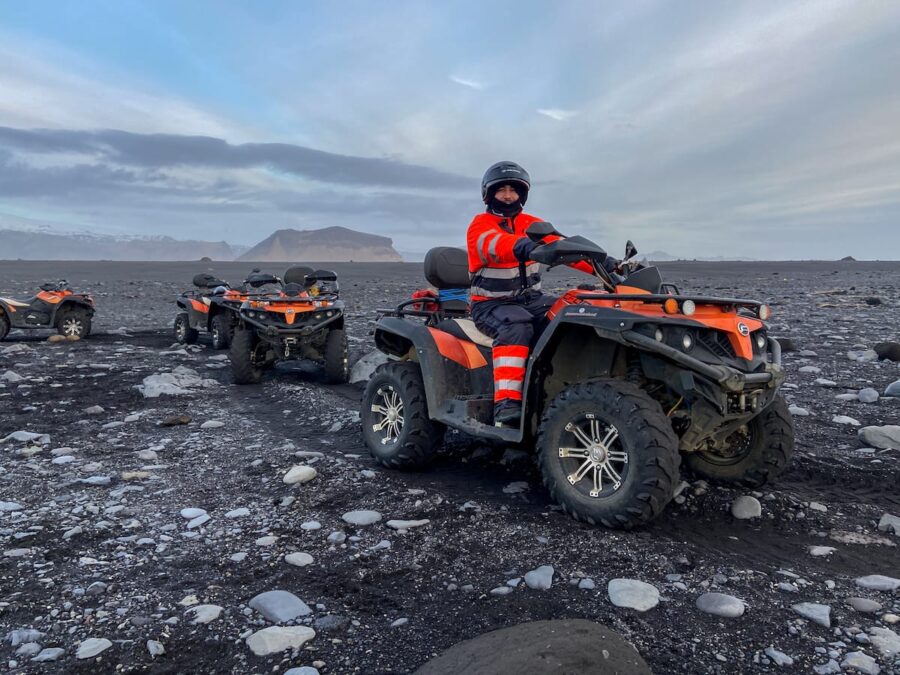 What is the Sólheimasandur Plane Crash?
The famous black sand beach plane crash in Iceland is one of the top places to visit in the country when on a trip there. The US Navy DC plane crashed here in 1973 after running out of fuel. All passengers survived, thankfully!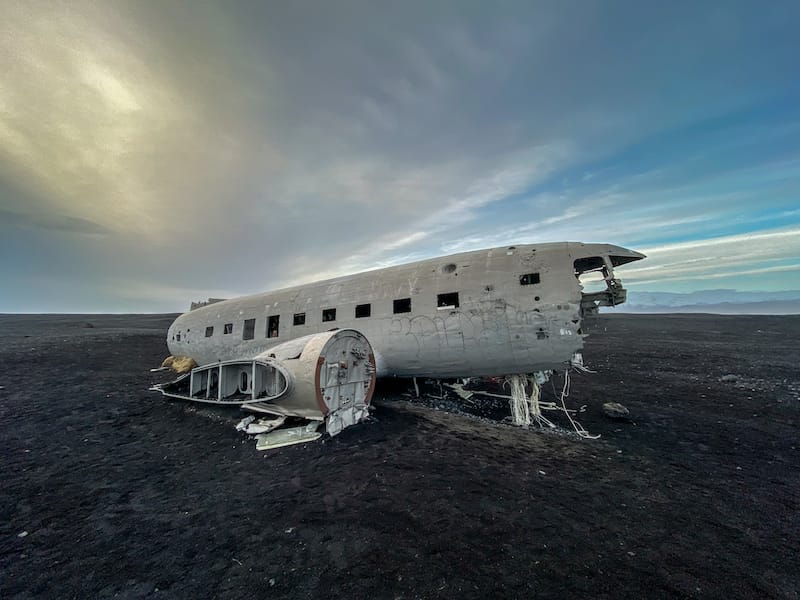 The crash site is still able to be visited on a black sand beach on Iceland's south coast. One of the top reasons to visit the crash site is the surrounding scenery! It looks like you're on Mars and paired with epic sunsets (or sunrises), it is unspeakably beautiful.
Should You Visit the Sólheimasandur Plane Crash by ATV?
To be honest, you can visit the Sólheimasandur plane crash in Iceland independently… but it may not be an easy feat depending on the weather and how capable you are of walking the distance to it.
It actually takes one hour (one way!) to walk there. You are no longer permitted to drive there, either. Needless to say, this may not be the best activity for seniors visiting Iceland.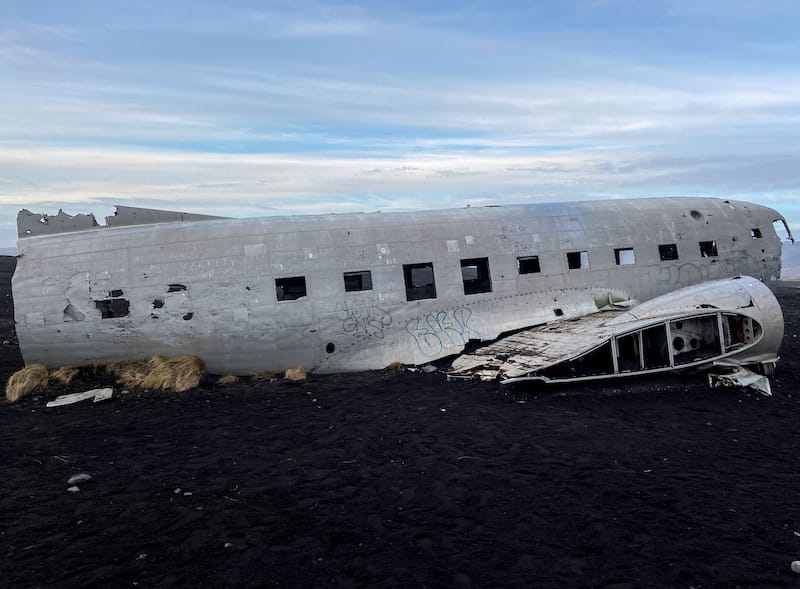 However, visiting by ATV allows you to have an entirely different adventure to see it with your own eyes and it was a blast to cruise along black sand beaches in order to do so.
You will also be with a guide who knows its precise location so you won't have to scramble around to find it.
Best ATV Tour in Iceland – My Experience
One tour I was really looking forward to taking in Iceland was an ATV tour on black sand beaches on the South Coast.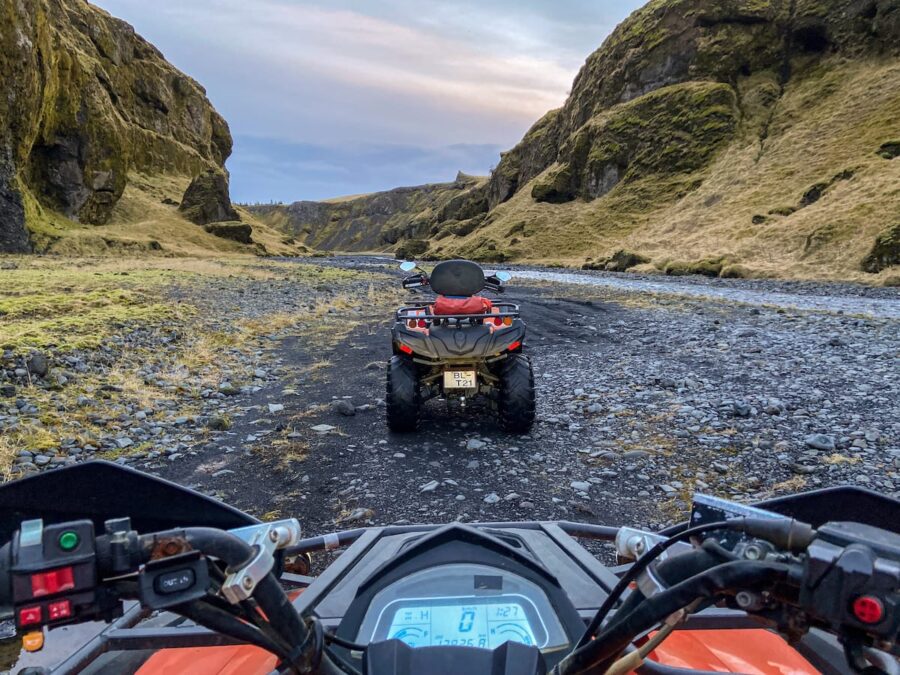 Quad biking in Iceland is somewhat popular in places that are hard to access (or really off the beaten path) so I was excited to test out my skills on one!
A lot of people will think that is just a motorbike ride but I can assure you that an ATV tour on black sand beaches in Iceland is a completely different experience (and one that is well worth it!)
The adventure is a mixture of pure adrenaline mixed with wonderful views of the ocean, the volcanic beaches, the surrounding dramatic hills, and the sound of the sprinting ATV under you.
In this guide, I will tell you about my adventure and fun experience of driving an ATV in Iceland along the world's most beautiful beaches (and more)!
Good to know: ATVs (or quad bikes) are quite fast and they can perform in difficult driving areas like rocky hills, rivers, and on sandy surfaces. So, even though ATVs are relatively safe, due to the Icelandic terrain and the speed of the vehicle, it is imperative to follow your tour guide's instructions in order to stay safe.
How to Book Your Iceland ATV Tour
The best way to book your tour is to do so online before you head there to ensure you get a space! If you're visiting in the low season, you can likely book on the spot, but I wouldn't count on it.
Booking your Iceland ATV tour with Manawa is the best bet, to be honest. They have great cancellation policies (in case your trip gets canceled) and they work closely with their partners to ensure high-quality and unforgettable experiences for travelers.
My ATV tour was with Arcanum Adventure Tours and they offer tours to various other places (including amazing snowmobile tours to the glaciers). You can see what other tours Arcanum offers here.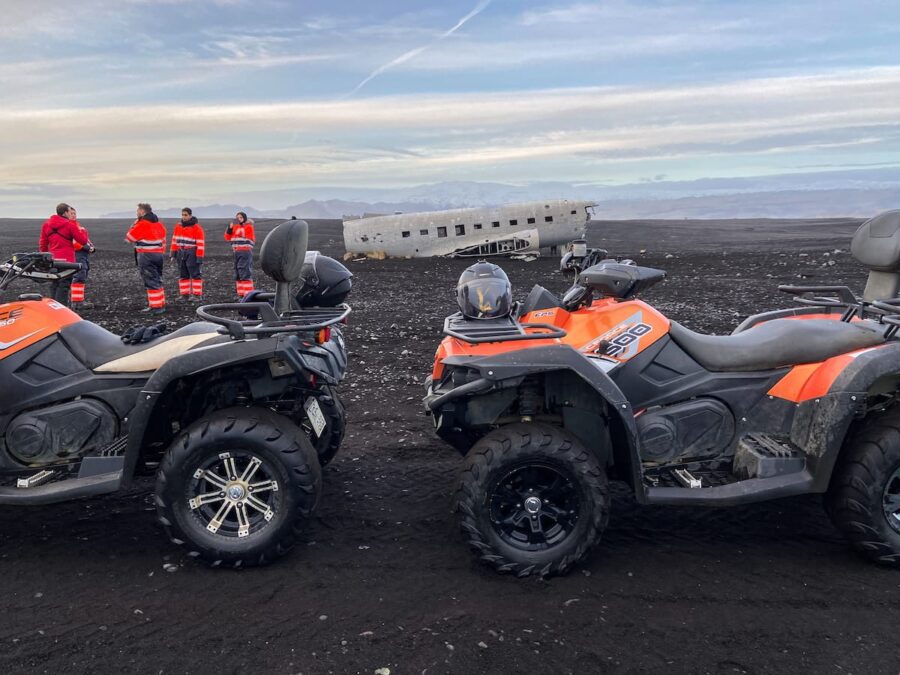 After booking your ATV or quad biking adventure on the black sand beaches of South Iceland, you will get a confirmation with electronic tickets that will explain where your meeting point is.
Please take in mind that just like many other tours in Iceland, you need to get to the starting point of the tour by yourself. Double-check beforehand that you're able to get to the starting point on your own.
>> Click here to book your Iceland ATV tour now! <<
So, the best thing to do is to also have a rental car booked prior to coming to Iceland to ensure availability (and low rates)!
Rental cars are somewhat limited in Iceland and they skyrocket in price when demand is up! To see Iceland, it really is best to have your own rental car.
Getting Ready for the Tour (Gear & More)
My journey started at the foothills of the Mýrdalsjökull Glacier which is an amazing 600-square-kilometer, ice-covered Icelandic glacier located on the south part of the island.
At the meeting point, you will meet your tour guide and he or she will dress you up with special water and cold resistant clothing (insulated cover-all), a snowmobile balaclava face mask, a helmet, and appropriate shoes.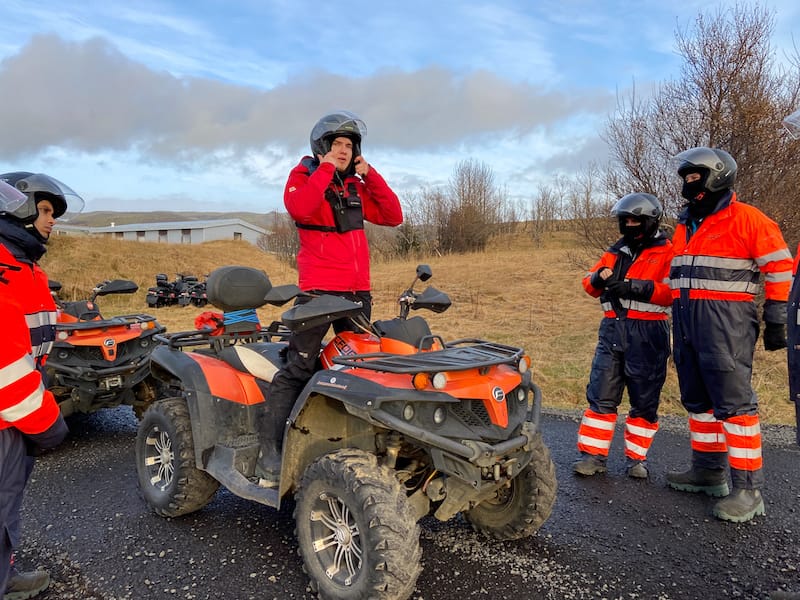 After finishing getting properly dressed, our tour guide and frontman driver of the first ATV explained in detail how your ATV will work, how to start it, how to change the gear (which is only once because it's automatic), how to keep the distance, and how to stop.
Insider tip: You can leave your heavy parkas and clothing in the dressing room if you wish as they may not fit under clothing. However, it was cold the day I went out, so some people kept theirs on while I just wore a heavy Nordic sweater and opted to leave my parka behind.
Iceland ATV Tour Highlights
The first thing you will see when you are already sitting on the ATV is the surrounding nature and a lot of impatience as you prepare to set off to the black sand beaches, dramatic hills, and through glacier-fed streams.
Crossing the River
Our first mission was to cross a small river which flows from the still-active Katla volcano. It was located near the highway through a man-made water tunnel in order to reach the picturesque black sand beach.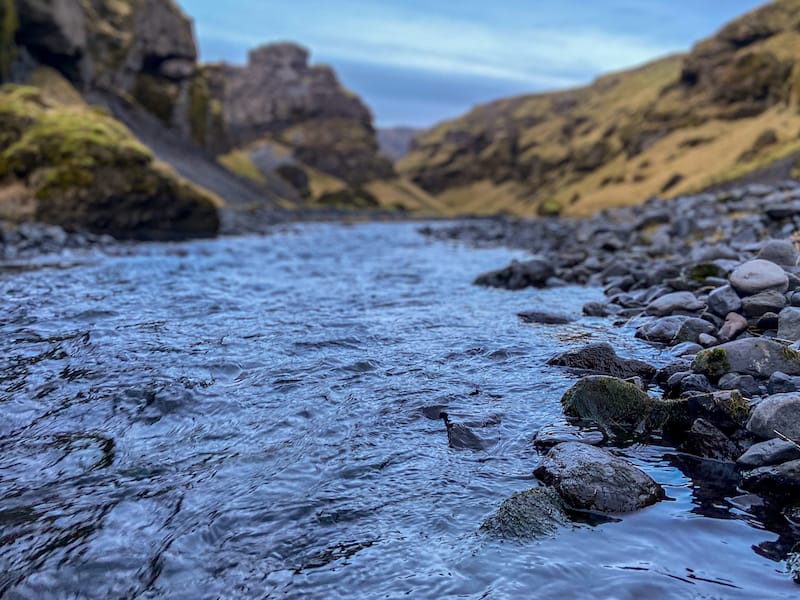 Don't feel scared that you will get wet because your gear won't allow it. We were crossing the river and even driving in it and while it's a great feeling when your feet touch the river, they won't get cold or wet in the slightest.
Magical Black Sand Beaches
After sprinting on the field, we reached the large black sand beach but before we rode across it, our guide made a stop next to a huge whalebone carcass that was brought ashore by the waves years ago.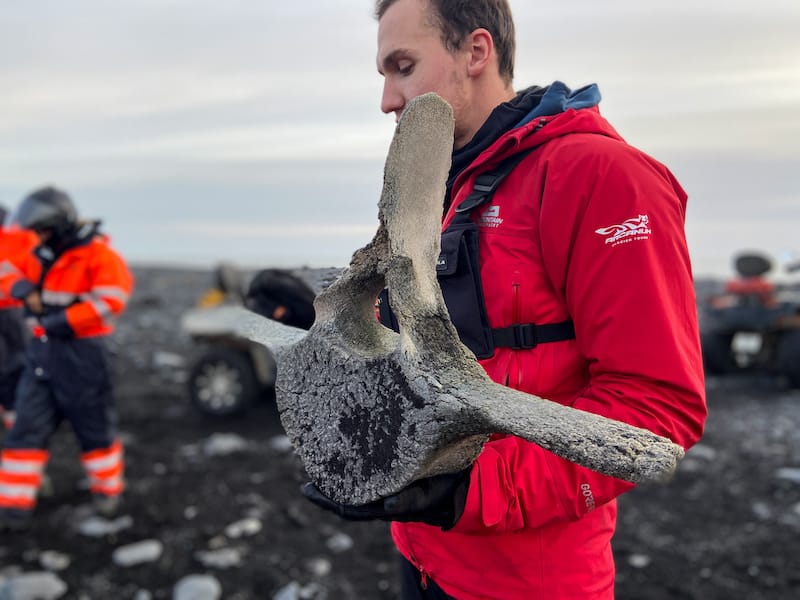 He also explained a bit about the story of the Katla volcano, the area surrounding us, and more.
Driving on the black sand beach was definitely one of the coolest parts of this ATV tour and was even one of the highlights of my entire trip!
You were able to hear the waves crashing as well as the sound of the ATV atop the fine black sand… it really just felt surreal and is an experience I can hardly put into words.
If you're experienced on an ATV, do try drifting on the beach (but if not, ask the instructor about it first).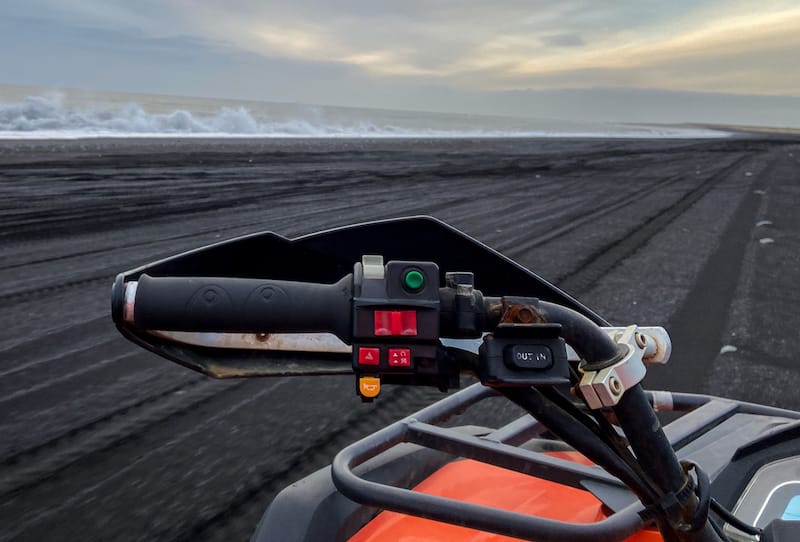 Driving on the Sand Dunes
Through the black sand beach, our drive also passed through dunes where you could feel like you were in the movie chase as you maneuver on the hills quickly and feel the adrenaline rush.
The dune driving required a focus and some driving skills but it is exciting to do it at a fast pace. However, if it scares you, can you just slowly drive and relax and enjoy yourself that way.
Sólheimasandur DC Plane Crash
Another cool place to visit on this tour, and is perhaps the biggest highlight for most, is the Sólheimasandur DC plane crash from 1973.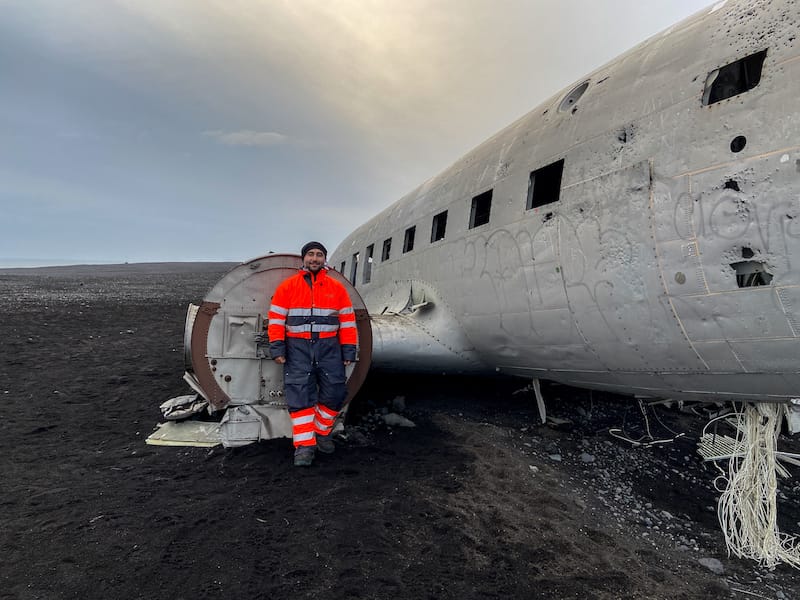 The US Navy Plane crash was made very popular largely in part to a Justin Bieber music video and visiting via an ATV tour is the way to go!
We stopped there to take photographs and even enter the skeleton of the plane. Unfortunately, there is nothing left from the inside but the experience was great, especially when you get to view the beautiful Mýrdalsjökull Glacier in the background.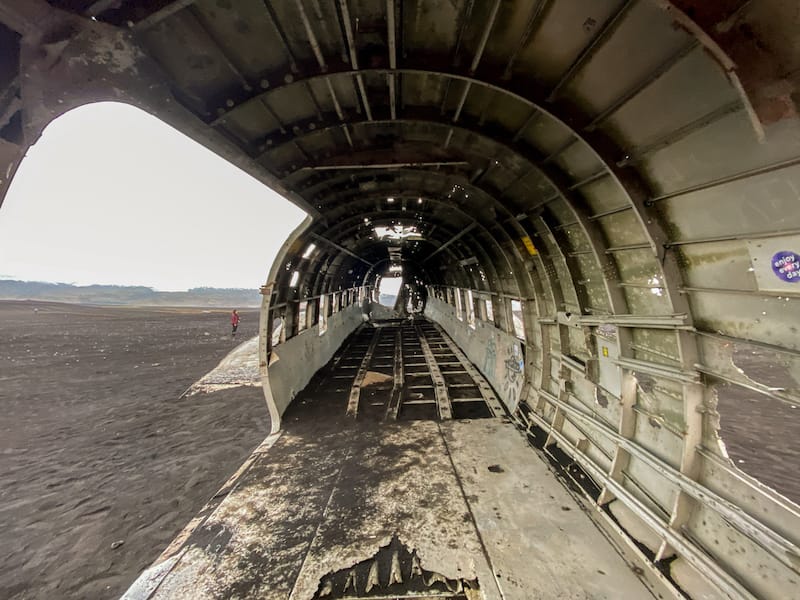 The Foot of Mt. Heiðarhorn
After seeing the plane crash, you will take a longer, more scenic ride to reach the foot of Mt. Heiðarhorn. This time, you will cross (and even drive-in) the Jökulsá river.
>> Click here to book your Iceland ATV tour now! <<
The drive will pass through a small forest where you'll get to enjoy the green hills and trees from your ATV. You'll also go by another river.
Once you arrive, you will have the chance to photograph, relax, and enjoy the silence of this completely untouched spot.
The Drive Back to Basecamp
Even the drive back was fun and beautiful because you will have a chance to pass Kálfaskógur, Skógarmannsgil, and the Hólsá river before returning to the meeting point where hot coffee and tea are waiting for you!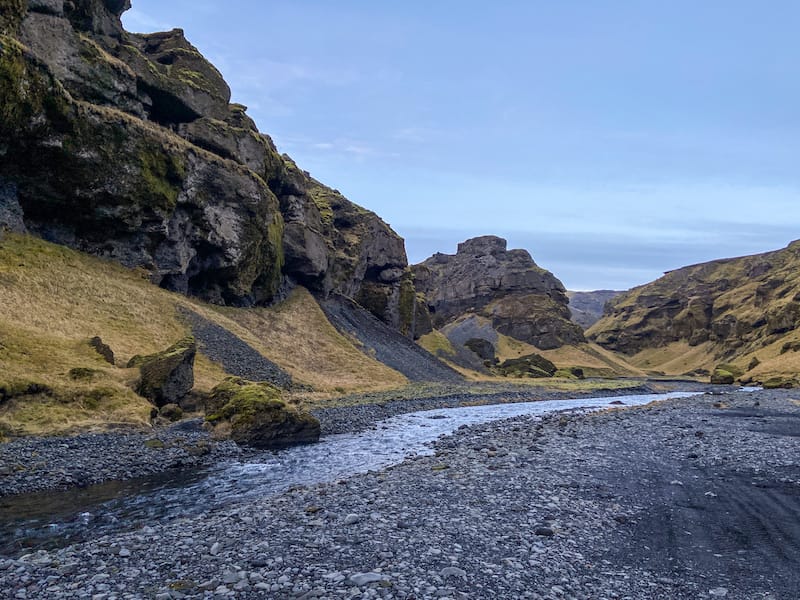 My Thoughts about My Black Sand Beach ATV Tour
If you love speed and adrenaline, are not scared of driving fast, and in general, love adventure, you need to book an ATV tour in Iceland because I can guarantee you, it's fun and worth it.
Everything was made fairly easy and the gear helped me stay warm and dry.
It truly offered a unique way to see the famous Iceland plane crash as well as to get to enjoy black sand beaches that are actually not permitted to be driven on by unauthorized vehicles.
It was so nice to escape the touristy crowds and feel like I had a place to myself with my tour group. It was also a perfect combo tour to do with a snorkeling in Silfra experience (if you're looking to pair together multiple tours on your vacation)!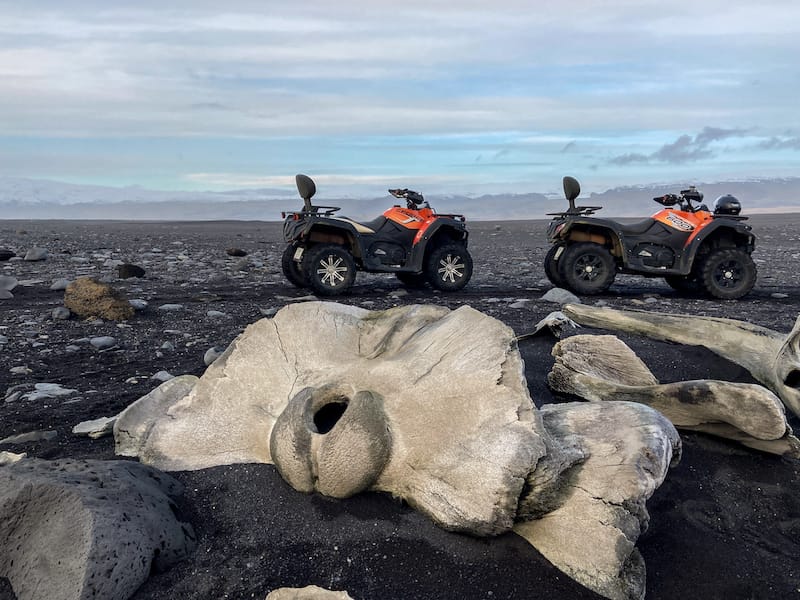 What to Know Before You Go
Before heading on an ATV tour in Iceland, there are a few things that you should know:
You need to have a valid driver's license (if not, you can be a passenger).
Do not drink beforehand (I wouldn't suggest doing this with a hangover, either).
If you are claustrophobic, you may have an issue wearing the gear (Megan did and was unable to do the tour)
Please arrive 30 minutes prior. Always factor in weather when driving in Iceland as it can turn at a moment's notice!
It's possible to drive with two people on an ATV.
It is not easy to take photos throughout the journey, so be sure to mount a GoPro on you if you're looking to capture the full experience with ease. There are a few photo stops, however.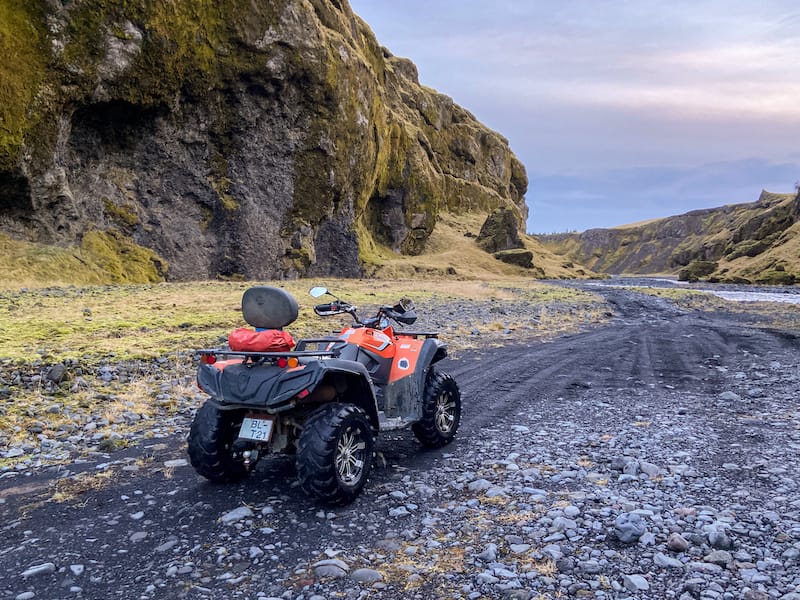 Have you ever taken an ATV tour in Iceland? Let us know your top tips and Iceland ATV tours in the comments. Thanks!
Other Iceland Adventure Tours You Might Like
Additional Iceland Travel Guides
Pin this Iceland Quad Biking Guide