If you are planning a trip to Lapland, there is a very probable chance that seeing the northern lights in Rovaniemi is high on your list. It was on mine!
Are you planning your trip to Rovaniemi last minute?
If youʻre booking your trip to Lapland last minute, we have you covered. Below are some of the top tours, hotels, and more!
🇫🇮 Top Activities and Tours in Rovaniemi:
🛌 Top Hotels and Lodging in Rovaniemi:
Arctic TreeHouse Hotel (famous place by Santa Claus Village)
Hostel Koti (a budget option w/ private rooms)
Apukka Resort (glass igloos in a remote location)
Arctic Light Hotel (top-rated in Rovaniemi)
🚗 Looking to travel around Lapland independently? Click here to check Finland rental car rates!
This guide will walk you through the best Rovaniemi northern lights tours, how to see them, when to see them, and more!
Have you witnessed the northern lights in Lapland? Please share your experience in the comments with any additional tips you may have.
Northern Lights Rovaniemi Travel Guide
Sitting almost right on the Arctic Circle, Rovaniemi is the Finnish gateway to the Arctic and is famed for being the home to Santa Claus.
Nearly completely destroyed during WWII, the city grew out of the ashes to become an incredible winter holiday destination.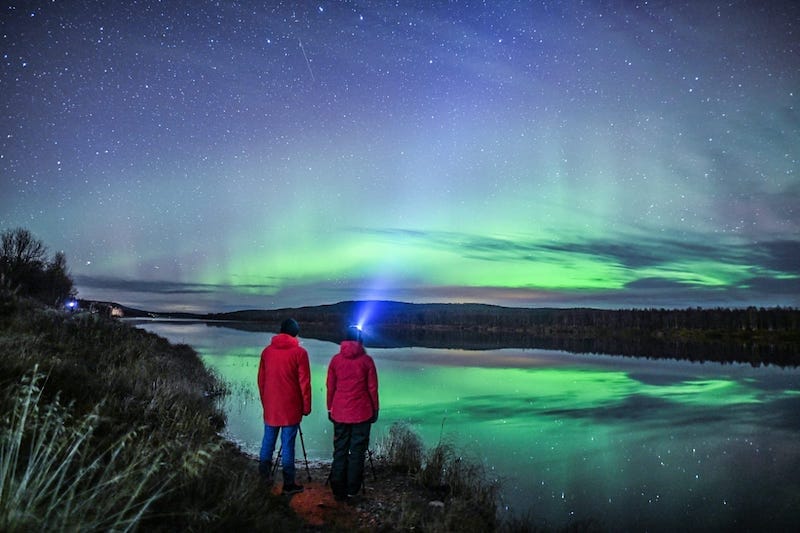 While many tourists head to the city to visit Santa Claus and his fun-filled village, some of the best activities can be found outside of the city, deeper into the Arctic Circle.
During the day, the more adventurous visitors enjoy snowmobiling through the Arctic or guiding a team of huskies on a dog sledding experience that will pump up their adrenaline.
However, at night, the real magic of the Arctic comes alive with the Aurora Borealis.
Rovaniemi is known for being one of the best places in Finland to see the northern lights.
This guide will take you through everything you need to know about witnessing the natural phenomenon and some of the best Rovaniemi tours to do so.
Can You See the Northern Lights in Rovaniemi?
Yes! The northern lights are often visible from Rovaniemi, although it is entirely dependent on weather and solar activity.
On average, there is a 40% chance of seeing the northern lights in Rovaniemi (and nearby) when there is clear weather; some years there have been up to 150 displays!
From the city center, however, it is very rare to see them unless it's a particularly strong occurrence, mainly due to light pollution.
This is similar if you're viewing the northern lights in Tromso, or somewhere else that is a city.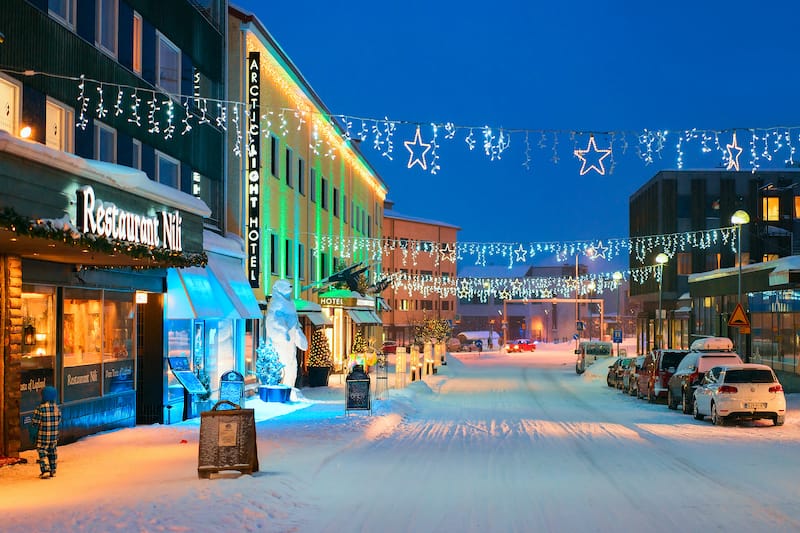 Best Time to Visit Rovaniemi to See the Northern Lights
The northern lights tend to be visible any time from late August to mid-April. While there is a common misconception that the northern lights are best seen in the dead of winter, there is a higher chance of seeing the lights in autumn.
Just read my guide to visiting Rovaniemi in autumn for more!
There are a number of factors that play into fall being the best time to see the northern lights in Rovaniemi.
First of all, the nights are long and dark, although not as cold as in the winter.
Secondly, weather conditions in early to mid-fall tend to be more stable and clearer. Finally, there is less snow on the ground.
Snow on the ground reflects any light in the area, including the moonlight, which makes the nights a little brighter and the northern lights a little harder to see.
After the first snowfall, the snow tends to keep up and from that point onwards the chance of the weather conditions being bad is far greater.
During the middle of winter in Rovaniemi, there is still a relatively decent chance that you will be able to see the lights, especially if you are willing to travel out into the wilderness to find clear skies.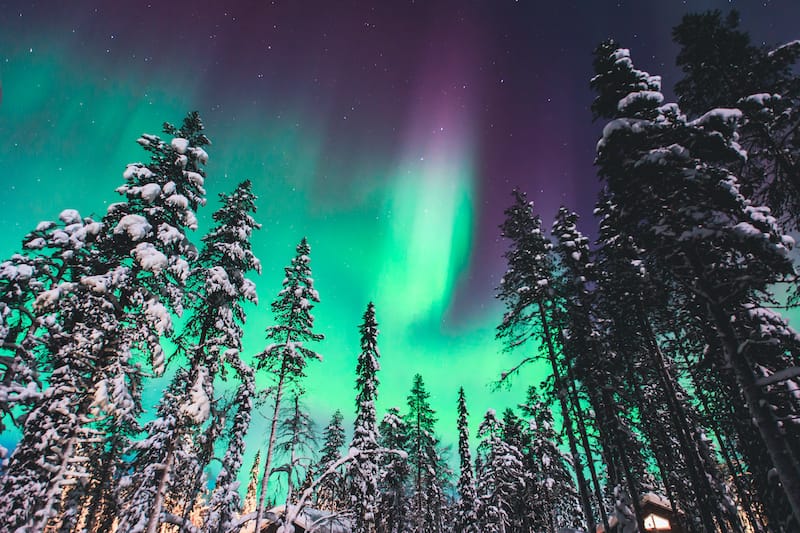 As winter starts to fade and spring slowly emerges from the perpetual darkness, the displays become harder to see.
By mid-April, it is almost impossible to see the lights due to the lack of darkness.
Timewise, the northern lights tend to be most visible between the hours of 5 pm and 2 am, when the night is at is darkest.
Is There Daylight During Winter in Rovaniemi?
Yes, while winter nights are incredibly long and dark, Rovaniemi does experience a few hours of 'daylight' each day.
Given Rovaniemi's location on the edge of the Arctic Circle, the polar nights are not so drastic, and even during December, there will be a little bit of daylight.
However, daylight is only fleeting and the night quickly returns, along with the chance for you to see the northern lights.
Do You Need to Book a Tour to See the Northern Lights in Rovaniemi?
Booking a tour will definitely increase your chances of seeing the aurora in Rovaniemi. Tour operators tend to know the best spots where there is a decent chance of seeing the lights.
They also tend to have a network of lookouts who inform the tour guides if the lights have come out to play or not.
Some tours couple with other Arctic activities, such as snowmobiling or ice floating, which helps soften the blow if the lights do not come out and put on a show.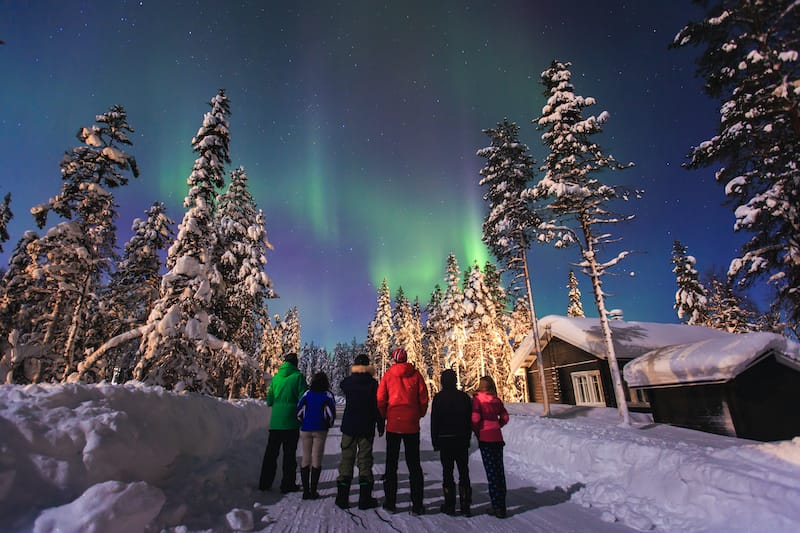 While tours give you a greater chance of seeing the lights, there is still no guarantee that they will be visible, especially if there is bad weather.
During the high season, the tours are very busy and I highly recommend booking your Rovaniemi northern lights tour well in advance.
Best Rovaniemi Northern Lights Tours
1. Northern Lights Hunting With Lappish BBQ in Rovaniemi
Duration: 3 hours
🌟 Book It Here
Head to one of Lapland's many beautiful lakes, where you will spend an evening trying to spot the northern lights dancing high above the Finnish countryside.
After being picked up, you will head out of Rovaniemi and away from any light pollution to a secluded lake and cabin where you will hopefully see the lights while enjoying a delicious Lappish BBQ.
The tour includes hotel pick up and drop off from accommodation around Rovaniemi. Food is included in the price as well as delicious blueberry tea. Additional winter clothing will be provided by the tour operator too.
>> Click here for tour rates and availability
2. Northern Lights Sledge Ride Pulled by Snowmobile
Duration: 2 hours
🌟 Book It Here
Race through Lapland in a sleigh being pulled by a snowmobile as you hunt for the northern lights. Departing from Santa Claus Village, you will head out into the wilds of Lapland with the hope of seeing the elusive lights.
As you sit comfortably in a sleigh covered with blankets, your tour guide will do everything they can to find the lights.
You will cruise through forests to open fields and you will get to enjoy the wintery wonderland that surrounds Rovaniemi.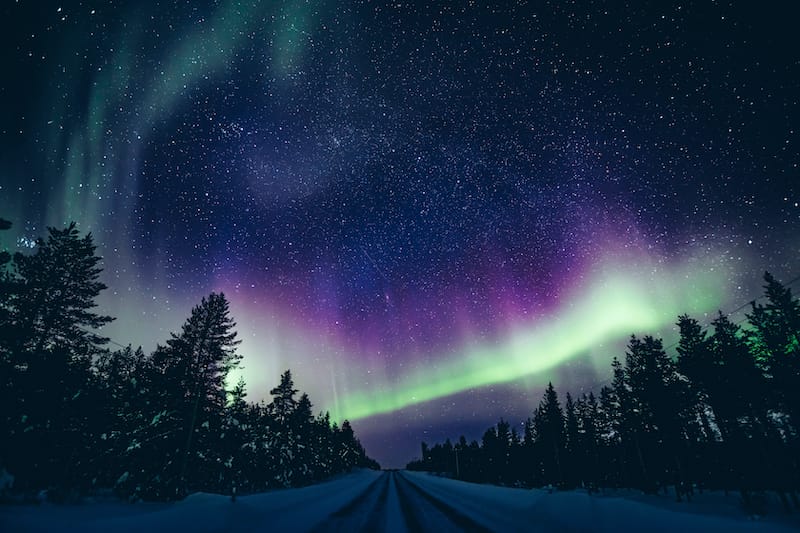 The tour includes hotel pick up and drop off from places in and around Rovaniemi.
You will be supplied with additional winter clothing to keep you warm as you travel through the Arctic.
This activity does not include the chance to drive a snowmobile, so a driving license is not required.
>> Click here for tour rates and availability
3. Northern Lights Hunt and Arctic Circle
Duration: 2 hours
🌟 Book It Here
Drive out into the Arctic countryside to try and find the lights with an expert guide.
The English-speaking tour guide will take you to various spots throughout Lapland where, if the weather conditions are favorable, you will have an amazing chance of seeing the Rovaniemi northern lights.
Once the lights have been found, you will get to spend time taking photos under the expert guidance of the tour guide.
This northern lights tour in Rovaniemi includes hotel pick-up and drop-off from hotels in and around the city.
You will need to dress up warmly for the excursion as winter clothes are not provided.
>> Click here for tour rates and availability
4. Aurora Borealis Snowmobile Safari & Campfire BBQ
Duration: 4 hours
🌟 Book It Here
Mix the thrill of seeing the northern lights with the exhilarating fun of riding a snowmobile.
Set off from Rovaniemi by snowmobile into the Arctic, where you will race through trees and fields to try to catch a glimpse of the beautiful aurora.
Your knowledgeable guide will take you to some of the best spots for the northern lights in Rovaniemi before stopping for a delicious BBQ.
Warming up around the campfire, you will enjoy delicious sausages and warm drinks before heading back to Rovaniemi.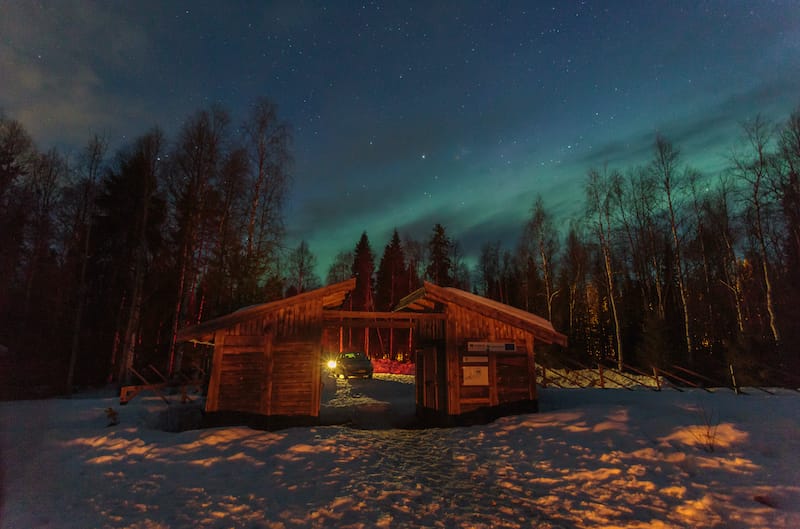 The tour includes hotel pick up and drop off from Rovaniemi.
You will need a full driving license in order to drive a snowmobile- those without will be able to be a passenger on the back.
If you have any dietary requirements or are vegetarian/vegan, you will need to inform the tour operator during the booking process.
>> Click here for tour rates and availability
5. Ice Floating in Lapland With Northern Lights
Duration: 4 hours
🌟 Book It Here
Spend the evening floating in an Arctic lake as the northern lights dance and shimmer above.
Before heading into the water, you will don a warm, waterproof survival suit that will keep you afloat in the water.
As you relax in the water, music will be played underwater, adding to the experience. After floating in the water enjoy some tasty blueberry tea and gingerbread.
The tour includes hotel pick-up and drop from a 10km radius around Rovaniemi.
The tour operator will provide you with winter clothing and survival suits. Hot drinks and gingerbread are also included in the price of the tour.
>> Click here for tour rates and availability
Sleep Under the Rovaniemi Northern Lights
If you are a bit more of an experienced northern lights chaser, you can opt to sleep under the northern lights at Santa Claus Village in Rovaniemi! Find out more below:
Santa's Igloos Arctic Circle
One of the best ways to view the northern lights in Rovaniemi is by staying in one of the amazing glass igloos at Santa's Igloos Arctic Circle Hotel.
As you lay in bed, you will be able to look up into the night sky and watch the lights dancing above you.
This is the perfect experience for those wanting to see the lights in the comfort of their own room and if they have prior knowledge of photographing the beauty of the Aurora Borealis (you will need to know what they look like to know they are present!).
Each Igloo comes with a comfortable bed, along with other modern conveniences, such as flat-screen TVs and wifi.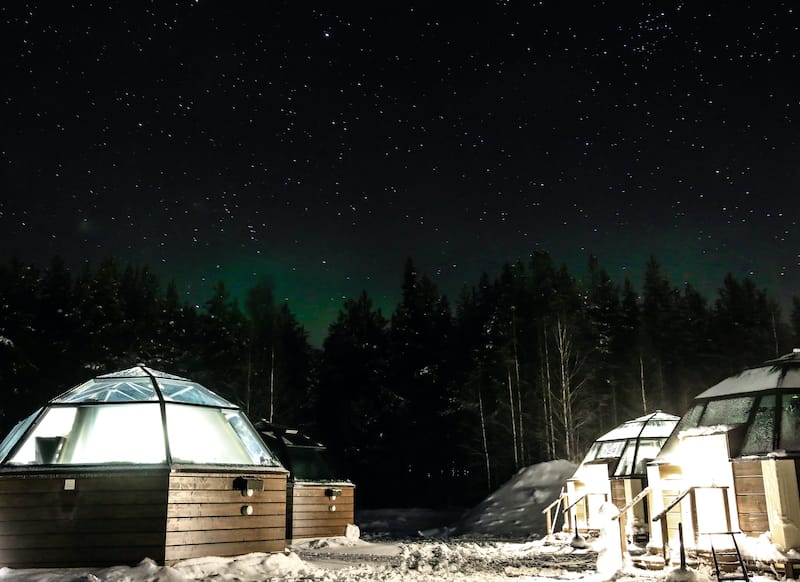 There is a beautiful ensuite bathroom for each igloo. A tablet is available in each room where you can contact reception for any needs.
Via the tablet, you can also set up Rovaniemi northern lights alerts so you do not miss a single display.
The Igloos are located close to Santa Claus Village, which is just 600m away. Rovaniemi city center is around 5 miles away.
>> Check rates and availability for Santa's Igloos Arctic Circle Hotel
How to Photograph the Northern Lights in Lapland
Photography is one of the best ways to accentuate the beauty of this natural phenomenon.
Weaker displays often look like a thin white cloud high in the stratosphere and it's only with a camera that you can pull out the true colors of the northern lights.
Cameras work by absorbing light and processing the color, uniquely able to paint in the colors that are not visible to the naked eye. Capturing the lights is a challenge and you will need some basic equipment and knowledge in order to be successful in capturing the Lapland aurora.
When it comes to equipment, I took the following camera gear with me to Rovaniemi:
Camera: I use a Canon EOS Rebel T7, it is an entry-level camera and perfect for those looking to purchase their first DSLR.
Lenses: When I photographed the northern lights in Rovaniemi, I used either a wide-angle lens or a 24mm "pancake" lens. The latter was my preferred lens.
Tripod: A decent and sturdy tripod is a must, as the camera needs to be perfectly still, I use a Manfrotto Tripod when I travel to the Arctic.
Remote: Using a camera remote enables you to keep the camera as still as possible while shooting the lights.
While many cameras have apps that double up as a remote, I find that Arctic winters are too cold for this and deplete phone batteries very quickly. I take a Canon compatible remote with me that I can use with gloves.
Spare Batteries: The freezing temperatures of the Arctic are incredibly hard on batteries and they can run out quicker than usual.
I always carry a couple of spare batteries with me that I store on the inside of my jacket to help preserve power.
Photographing the Northern Lights in Finland
The first step to shooting the Finland northern lights is having your equipment set up properly.
You will want to use either a wide-angle or 24mm lens, as these will give you a large view of the sky.
Personally, I prefer to use a 24mm lens as I found my pictures turned out to be crisper. Attach your camera to the tripod and plug in the remote and then position camera to shoot the lights.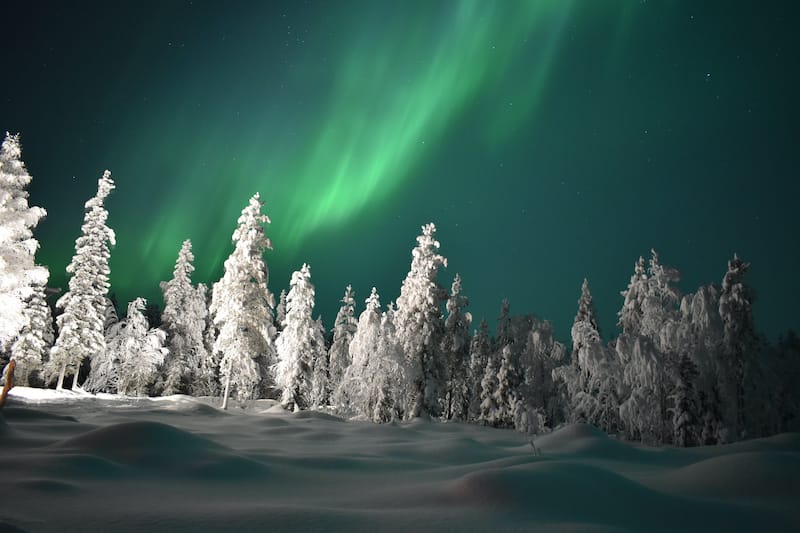 While shooting the lights, you will need to refrain from touching the camera as much as possible.
I found that photographing the lights without a remote and using the time made things slightly harder as the slightest touch to the camera could cause the picture to be out of focus.
Once you have your equipment set up, you will need to configure your camera settings in order to capture the perfect image.
The camera will need to be in full manual mode, as you will need to configure the following settings:
ISO: Determines how much light is let into the camera.
Shutter Speed: Sets the length the camera shutter is open for- the longer the shutter is open for the more light is let in.
F Stop: Configures how wide the lens is open.
To start with, you will need to set your F Stop as low as it will go since this will give the camera a wide focal point and stop it from focusing in on a smaller area.
Once the F Stop is set, you will need to find the balance between ISO and shutter speed.
The higher the ISO the more you risk your pictures appearing slightly grainier, especially if you are using a cheaper model. A lower ISO can be counteracted with a lengthy shutter speed, which will allow more light in.
Both shutter speed and ISO will most likely need to be adjusted as you photograph, as it really is a case of trial and error.
I personally try and shoot with an ISO of around 800 and a 15-second shutter speed.
The final and hardest part is configuring the lens. The lens will need to be switched to manual focus and adjusted over several shots to try and get a clear and concise shot.
Good to know: If you sign up for one of the tours below, the guide will completely help you with settings so you don't need to stress!
For those wishing to have a picture of themselves with the northern lights in the background, you will need to have help from an additional person and use a flashlight.
You will need to stand in front of the camera and have someone take the photo. They will need to flash the light on you during this process.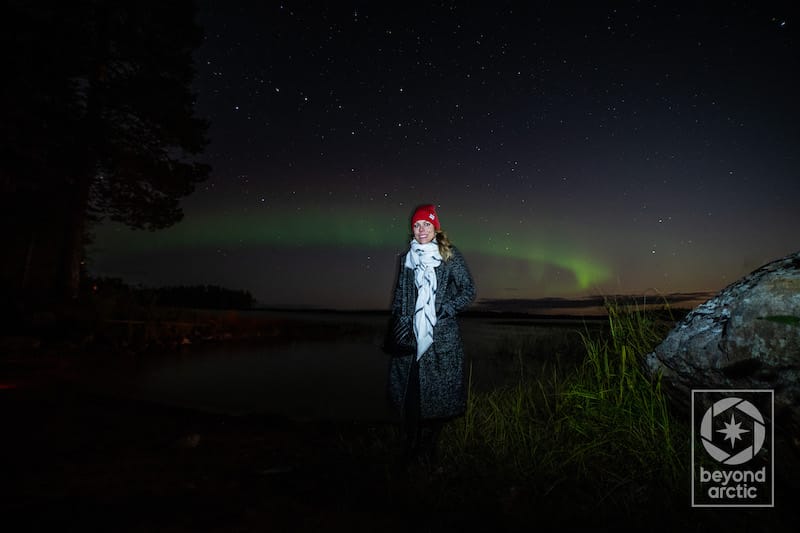 The flashlight will effectively paint you into the picture and only need to be done briefly and not for the entire duration of the shutter is open, but should be shined on all parts of the body or they will fade into the darkness.
Good to know: If you are on a tour, they will likely take a photo of you with their own, high-quality equipment and send it after the tour for you to keep as a souvenir.
Where to Stay in Rovaniemi
If you're seeking the best places to stay in Rovaniemi for your trip, we have some fantastic recommendations below (including the famous Arctic TreeHouse Hotel!).
These options are great for any budget and they are all located in the city center or Santa Claus Village which is where the tours all pick up from.
Should You Book a Northern Lights Tour in Lapland?
If you're not an expert at viewing and photographing the northern lights, you definitely should book a tour!
I still book them and I have seen them before, just for the ease of transportation and photography assistance.
Booking a tour will also give you the best chance to witness the lights as you put the hunt in expert hands (and they do this daily!)
We hope that this guide on how to see the northern lights in Rovaniemi will help you plan an epic trip for one of the most memorable experiences you'll ever have!
More Lapland Winter Guides
Pin This Rovaniemi Aurora Guide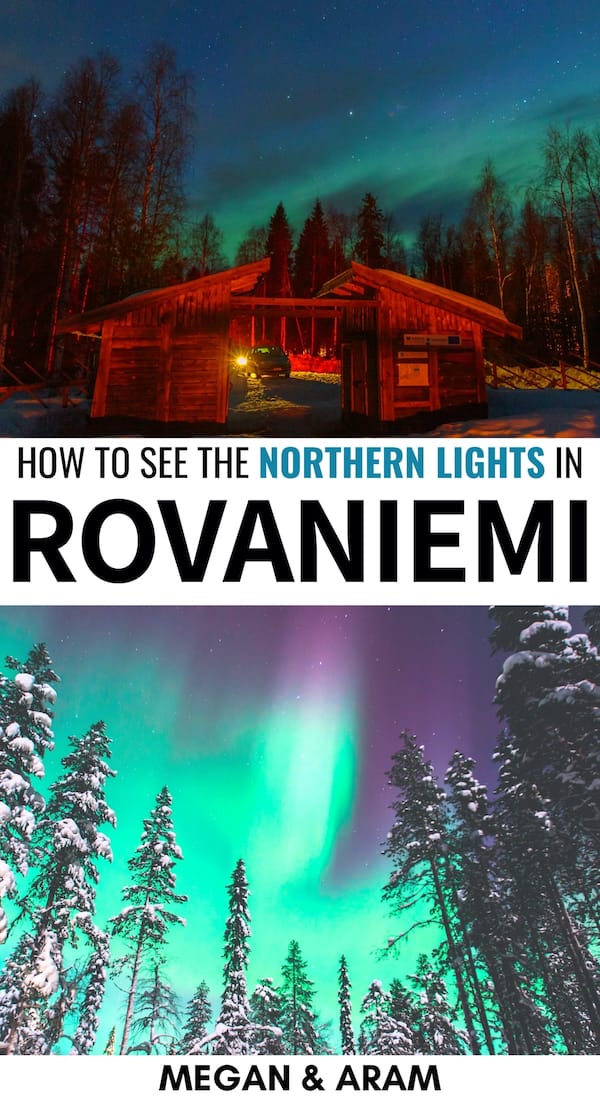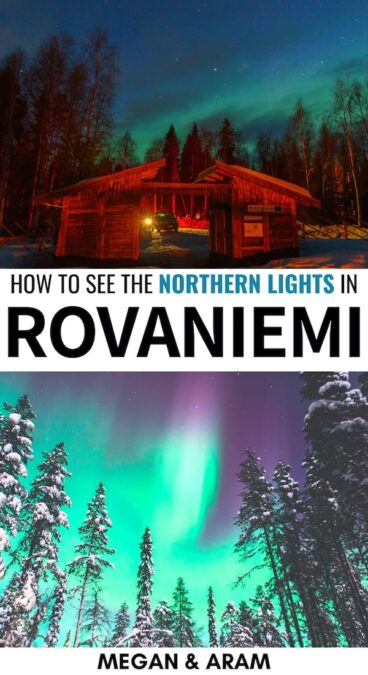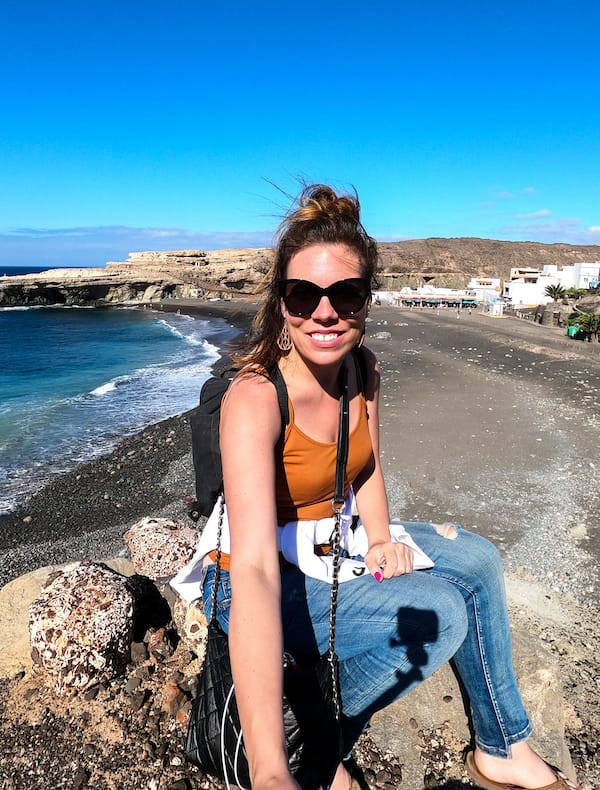 Megan is a travel blogger and writer with a background in digital marketing. Originally from Richmond, VA, she now splits her time between Frankfurt, Germany and Arctic Finland after also living in Norway, Armenia, and Kazakhstan. She has a passion for winter travel, as well as the Nordic countries, but you can also find her eating her way through Italy, perusing perfume stores in Paris, or taking road trips through the USA. Megan has written for or been featured by National Geographic, Forbes, Lonely Planet, the New York Times, and more. She co-authored Fodor's Travel 'Essential Norway' and has visited 45 US states and 100+ countries.