Are you looking for the best things to do in Corralejo, Fuerteventura? Keep reading – we've got you sorted!
Corralejo is one of my favorite places I have traveled to. I don't know why I loved it so much – maybe it was the views or perhaps it was the hippie, laid-back vibe… but I just fell in love instantly!
This guide will cover what to do in Corralejo for first-time visitors, including the best Corralejo attractions, landmarks, and more!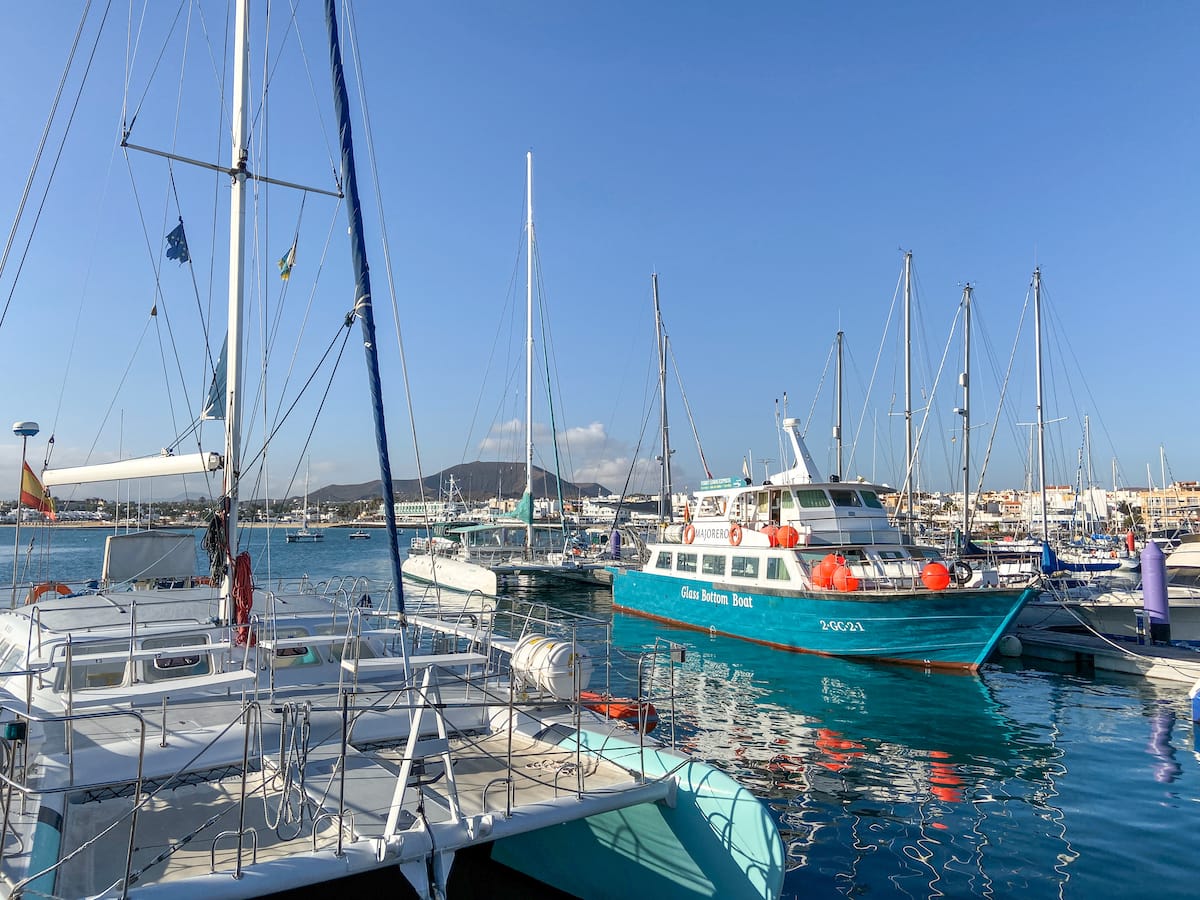 Did we miss any of the top places to visit in Corralejo? Let us know below!
Best Things to Do in Corralejo
1. Go on a Catamaran Journey to Lobos Island
Enjoy a fantastic excursion to Lobos Island aboard a luxurious catamaran. The excursion will take nearly 4 hours with a live instructor on site who speaks Spanish, Italian, English, and French.
From Corralejo's port, set out on a catamaran cruise to Lobos Island while taking in the breathtaking coastal scenery.
On board, savor a lunch of mixed paella and fresh fruit as well as wine, beer, and soft drinks the entire journey.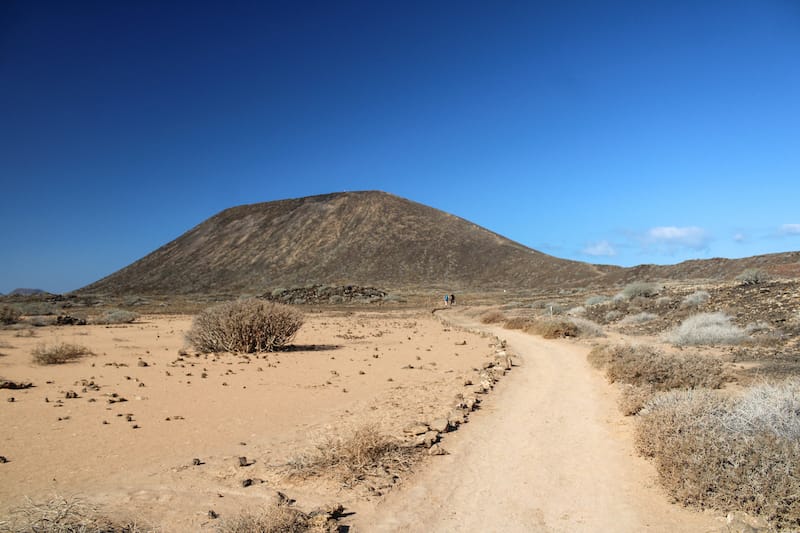 Go swimming in the blue waters and snorkel to discover the mesmerizing underwater world. Water sports lovers can also paddleboard across the waves or kayak.
In addition, you can go snorkeling to discover the natural beauty of this area. If you just want to relax, you can sunbathe on the deck and enjoy the picturesque view. This is one of the essential things to do on Fuerteventura!
>> Click here to check tour rates and availability
2. Take on the Sand Dunes on a Quad in Corralejo
This fantastic excursion will send you zooming over the fascinating volcanic landscape on a quad or buggy.
You'll start out on the north volcanic chain, where you'll drive down paths to the panoramic viewpoint at Villaverde.
Here you'll be able to get a breathtaking look over the ocean, coastline, and sand dunes.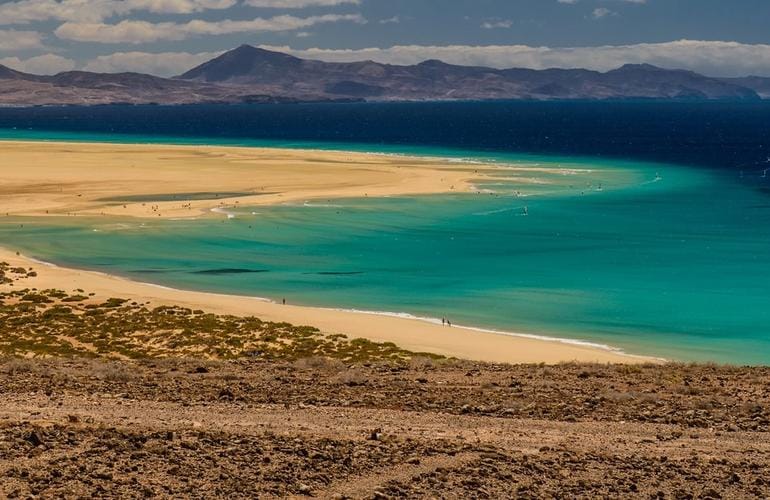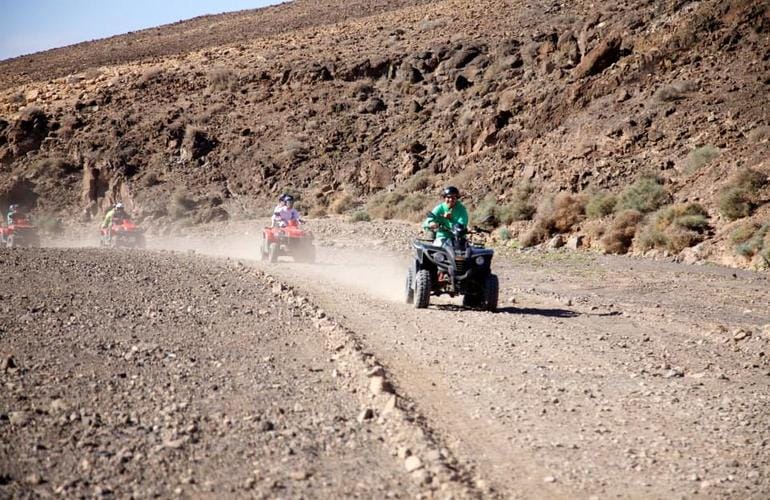 You'll then head to Parque Holandes where you can take a break and get a refreshment at the Don Pepe restaurant.
Your last stop will be driving through the stunning Corralejo Sand Dunes Natural Park, where you'll get a little time to explore the dunes on foot.
Also, if you are two people on the buggy, you are able to switch off drivers so both get a chance to drive.
>> Click here to check quad rates and availability
3. Take a Beginner Surfing Course in Corralejo
Corralejo has some fantastic surfing spots, so what better place to try this thrilling sport?
With this activity package, you can choose four-hour instructional sessions for one, two, or three days!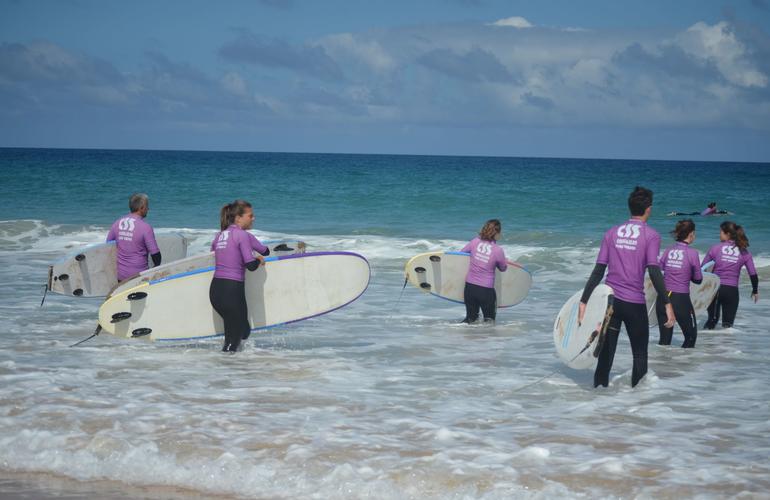 You don't need any previous experience, as your expert instructor will teach you how to understand the sea, the currents, safety, the rules of surfing, the techniques of surfing, and how to respect other surfers and the environment.
Once you go over all the teaching points, it's time to get into the water to practice! The longer tour you choose, the more opportunity you'll have to work with your guide on your technique.
With the knowledge you gain from this instruction, you can start surfing all over the world!
>> Click here for surfing lesson rates and availability
4. Discover the Tapas Trail
The Tapas Trail at night is an amazing way to get to meet some new people from all around the world and enjoy a fun evening of Tapas and Drinks.
You will take a stroll through the town of Corralejo, Fuerteventura, and meanwhile, visit 4 diverse restaurants both beachfront and in the historic town.
At each venue, you will stay approximately 45 minutes to an hour. Included in the price are 1 Tapas and either 1 wine or 1 beer in each restaurant.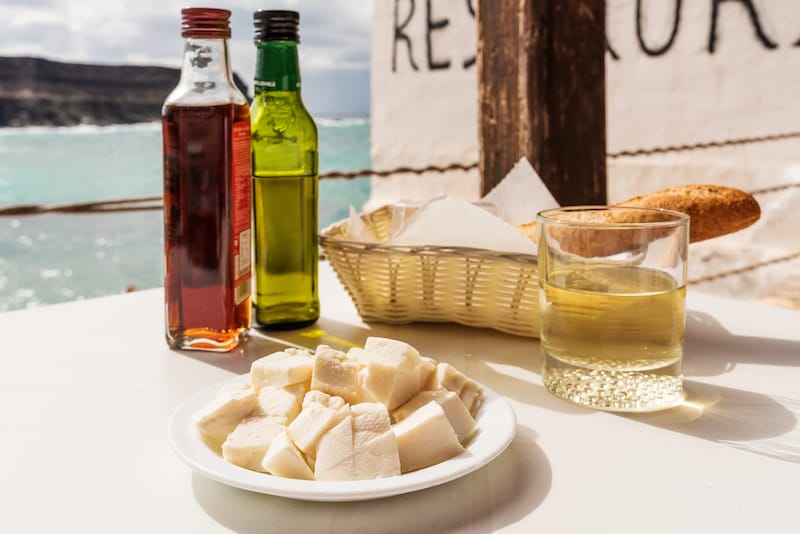 The host that will be present during the evening will help you with some recommendations on the must-visit spots and what to do in the town to get the most out of your trip.
At the end of the day, you will gain some new friends that you have met during the day and enjoy the delicacies that Fuerteventura offers.
>> Click here to check tour rates and availability
5. Hike at Calderon Hondo Volcano
Hiking enthusiasts should head north of the island where the isolated part of La Oliva hides the silhouette of the volcano known as Calderon Hondo.
There are many other volcanic cones here that together form the Bayuyo alignment.
Over 50,000 years ago, these volcanoes concurrently erupted, and the lava from them caused Fuerteventura's surface area to expand northward, putting it closer to the neighboring island of Lanzarote.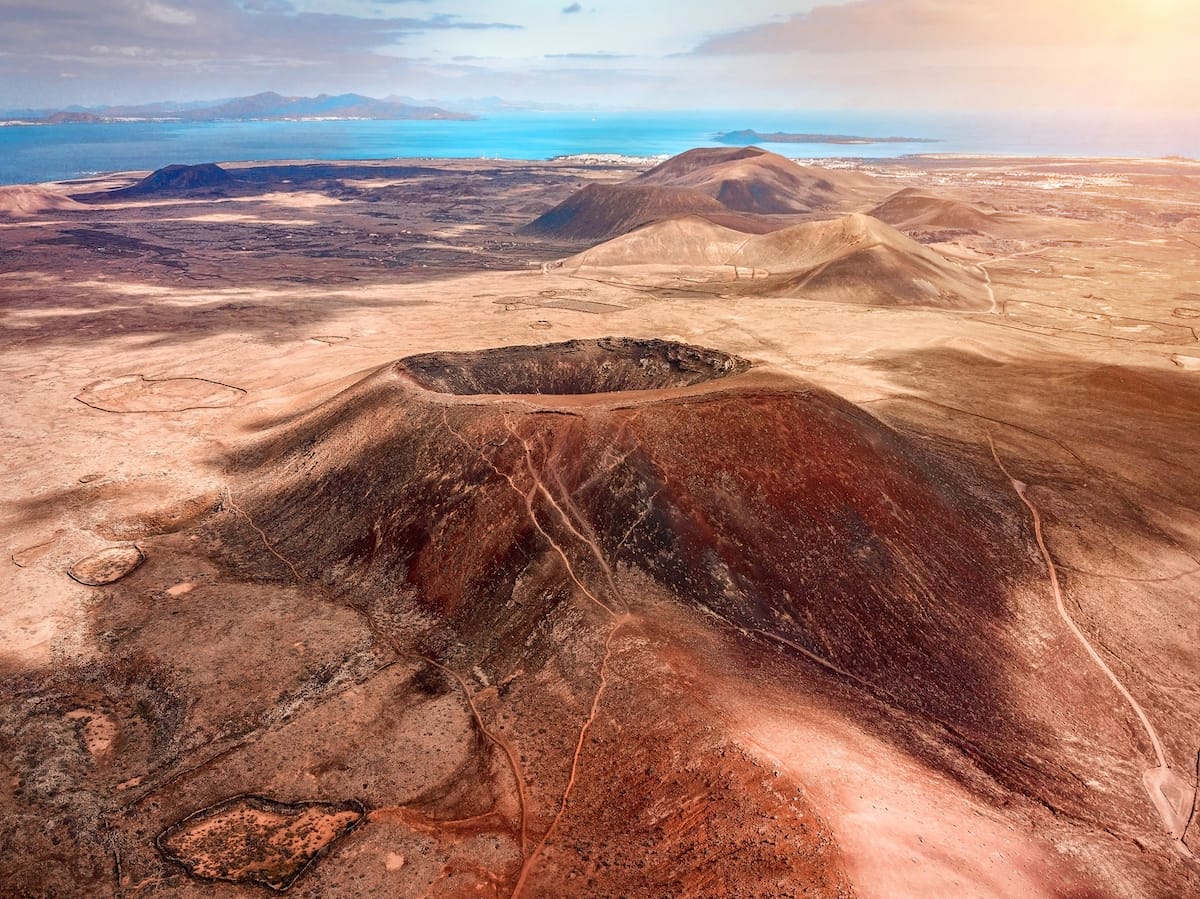 Access to Calderón Hondo is absolutely straightforward, and the ascent is one of the simplest on the island due to the numerous paths that lead there and the modest grade.
Furthermore, the location makes it easy for visitors to enjoy the major touristic spots on the north of the island, such as the Dunas de Corralejo Natural Park and the fishing village of Majanicho.
Just beneath the summit of Calderon Hondo, the climb gets a little steeper.
However, once you reach the top, you will soon realize that all your hard work and exhaustion have not been fruitless.
The view from the 278-meter-high volcano is truly astonishing and it allows you to see several gorgeous places on Fuerteventura!
>> Click here to check tour rates and availability
6. Go On a Lanzarote Volcano and Wine Region Tour
Don't miss out on this tour of Lanzarote's volcanoes and wine regions. When you get picked up from your resort in Fuerteventura, you'll travel to the port in Corralejo.
There, you'll board an express ferry to sail to the neighboring island of Lanzarote. On the ferry, you'll be on top of the ship, so you will feel the sea breeze.
The duration of the tour is approximately 6.5 to 7 hours with a live guide on site. Upon arrival, you will be greeted by your guide and drive to Timanfaya National Park, one of the most famous places to visit on Lanzarote.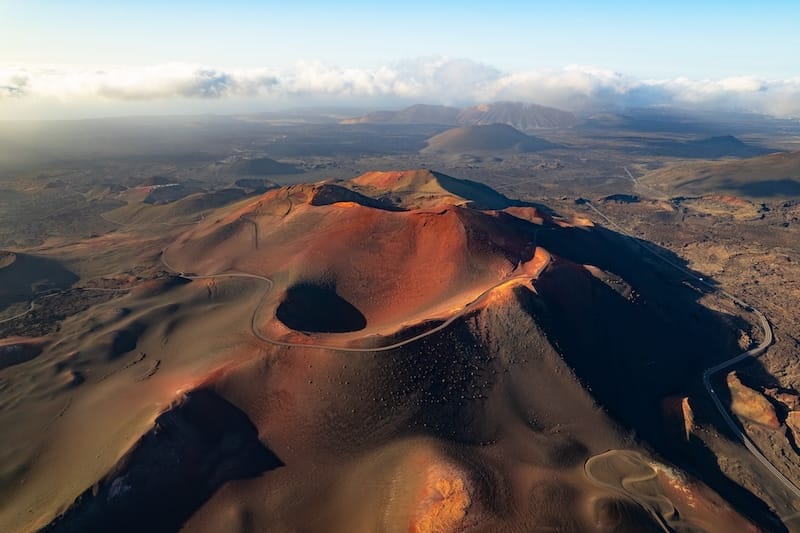 Visit the southwest side of the island to explore the volcanic landscape of Lanzarote and see the inactive volcano. There are other interesting geothermal attractions here, too.
In addition, you will travel to the wine region of La Geria and visit the unique circular vineyards and sample some of the local wines.
Afterward, you will go to an aloe vera museum to learn more about the plant's health benefits.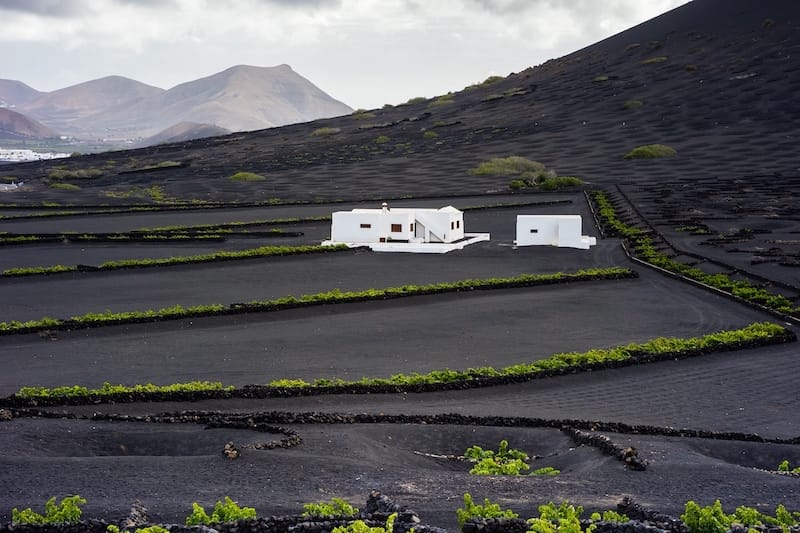 Next, drive to see the green lagoon of Charco de los Clicos and the majestic cliffs nearby. Finally, spend some time in the city's downtown area and explore some of the best things to do in Lanzarote.
You will need to go back to Playa Blanca to catch the return boat to Corralejo. After that, you'll have the option to transfer back to your resort as planned.
>> Click here to check tour rates and availability
7. Wander Through the Corralejo Old Town
Corralejo is a town located north of Fuerteventura and it is located around 40 minutes from the airport, making it a must-visit spot for tourists.
It is known for being a lively resort with many cafes, bars, and restaurants. Corralejo's Old Town is found near the port at the northern end of the resort.
Shopaholics would enjoy the destination since the resort shopping street begins there, the Avenida de Nuestra Señora del Carmen.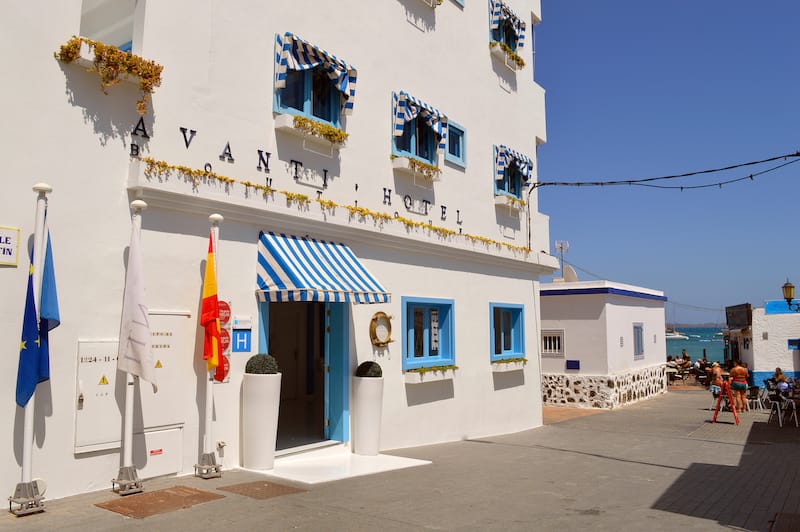 Tourists will find many modern shops, but the spot lacks the charm of the Old Town with its numerous bars, cafes, and restaurants.
Visitors can also visit the beaches that are located to the south and east of the port, which eventually lead to the dunes.
Wandering around is one of the most relaxing things to do in Corralejo.
The little streets with their pastel homes create the perfect atmosphere to stroll around, snap some photos, and get a feel of how the town must have been when it was just a little fishing port.
8. Visit the Church of Our Lady of Carmen
The Church of Nuestra Senora del Carmen (Our Lady of Carmen) is one of Corralejo's oddest-looking structures.
The church is located in the town of Tindaya, close to the popular Tindaya Mountain in the La Olive Region.
Its main purpose was to serve as a place of worship for the population of the small inland town.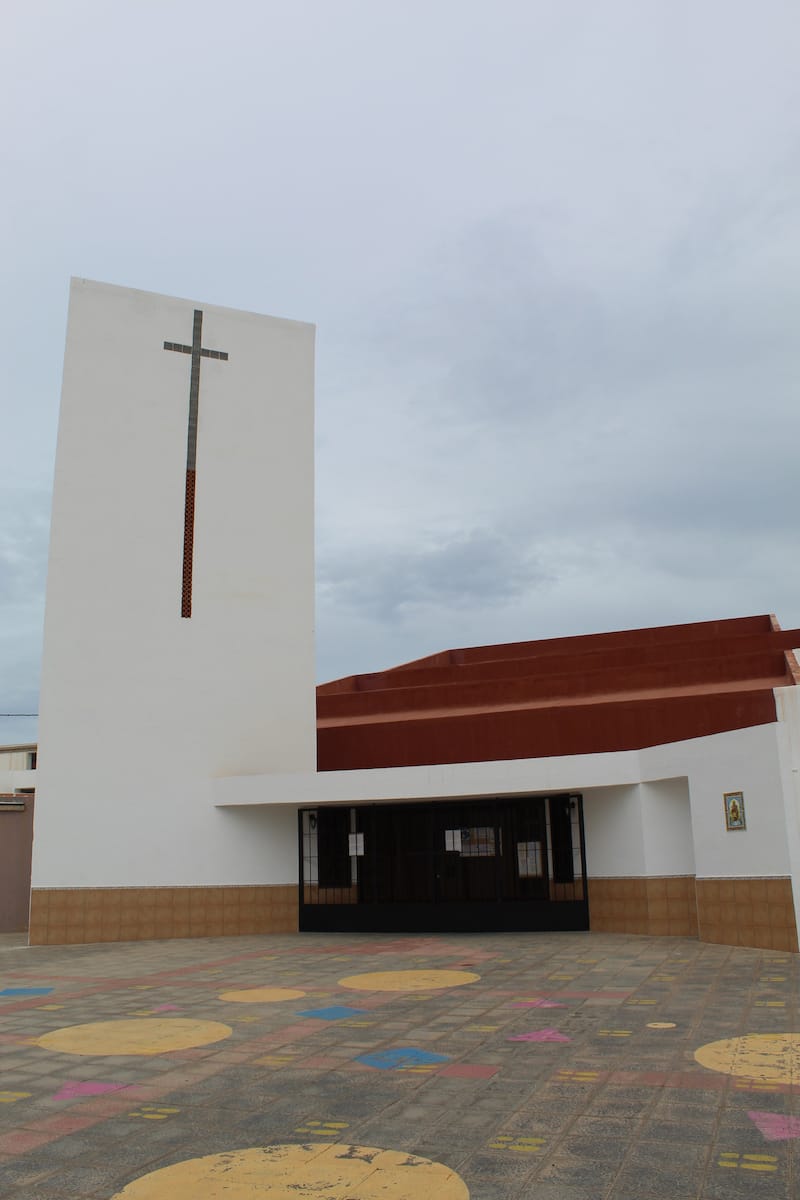 It is deemed to be a hidden treasure under a sacred mountain. The chapel is well-known for its size, elegance, and humbleness.
The 18th-century chapel's exterior is mainly dominated by the color white and by dark wood on the sides.
The ecclesiastical building is an impressive feat of modern architecture.
The old altar has traditional Christian images, with Our Lady of Mount Carmel and Our Lady of the Rosary on the sides.
Address: Calle Iglesia, 35660 Corralejo
9. Learn to Stand-up Paddleboard
If you want to be out on the water but don't want to do as sporty an activity as surfing or kitesurfing, stand-up paddle boarding is the perfect balance between a chill and athletic activity.
It requires some effort but is not too strenuous.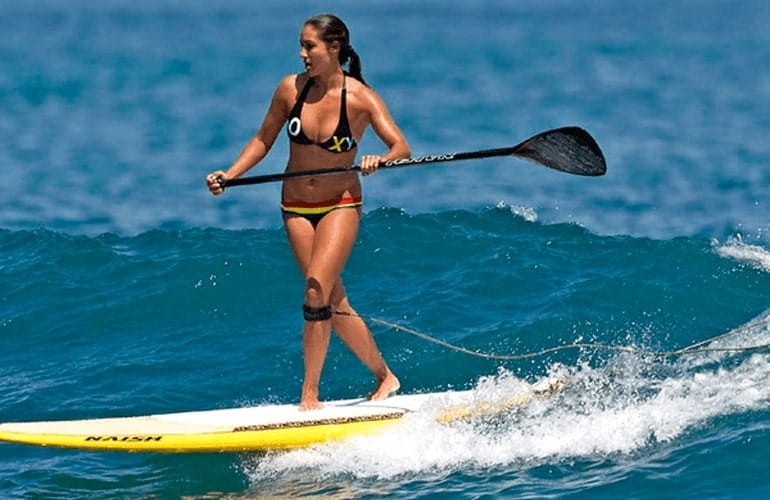 This lesson, as either a 2-, 4-, or 6-hour session, gives you all the instructions necessary to teach you how to guide your large board and propel yourself across the water and over waves with your paddle.
This fantastic activity is easy to learn and great for all fitness levels, so everyone in your group can enjoy a day on the water.
>> Click here for SUP lesson rates and availability
10. Check Out Corralejo Natural Park
Lose yourself in a desert paradise and experience an adventure in a unique space where the intense blue of the sea contrasts with the golden sand at Corralejo Natural Park.
The coastal zone measures 2.5 by 10.5 km and is located in the northeast of the island. In the north alongside the enormous tourist resort of Corralejo is the greatest dune spread in the whole of the Canary Islands.
Here, you can find white sands bathed by the blue waters of the ocean. To the south, a volcanic landscape can be found.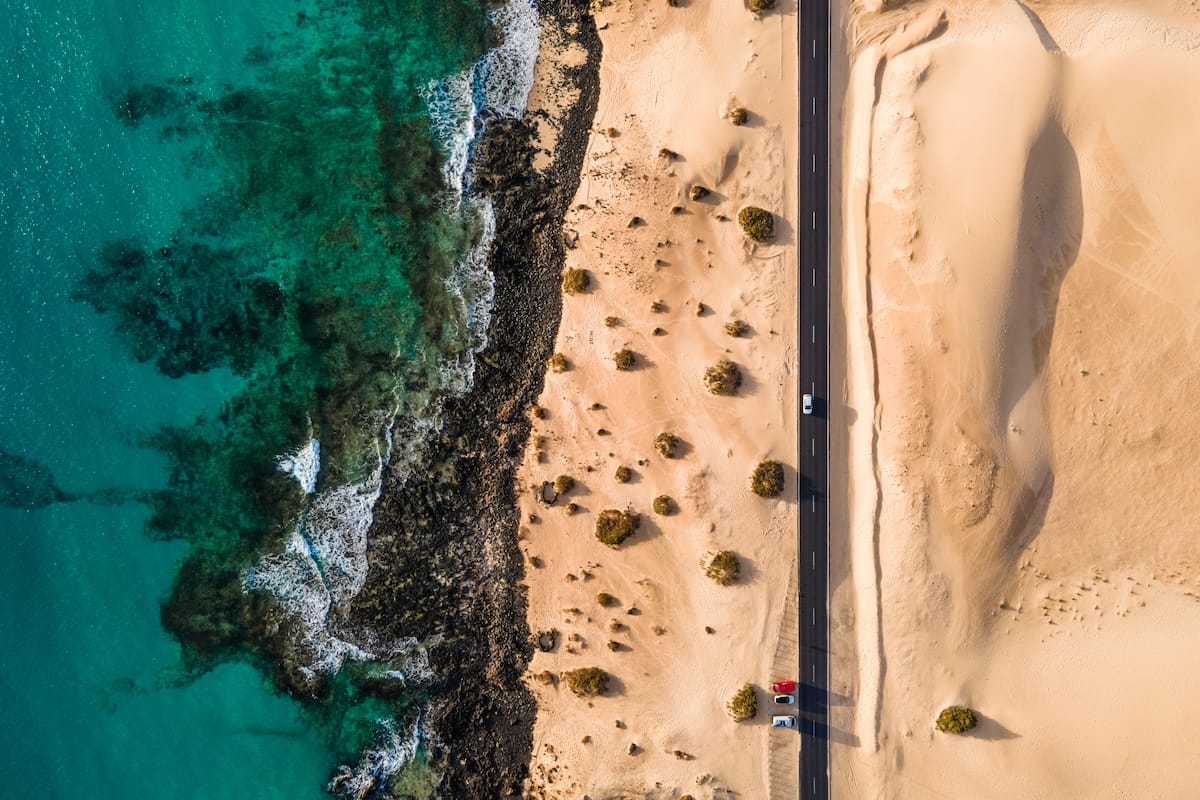 It is challenging to meet people on this beach because it is so big. In actuality, it is one of the island's most significant and least populated tourist hotspots.
Visitors will need to bring some towels, drinking water, sun cream, and a bathing suit to enjoy the beaches to the fullest.
To visit the volcanic landscape, bring walking boots to climb 300 meters up Red Mountain where you will be welcomed by the beautiful view of La Gaciosa across the water.
The park is also home to a variety of birds. Along with the islet of Lobos, it has been known as a special protection area for birds.
11. Bask in the Sun at Corralejo Grandes Playas
Located in the northeast of Fuerteventura, is the wonderful place of "Grandes Playas," the Big Beaches of Corralejo.
It is a paradise where you will find turquoise waters covered by fine white sand that is formed naturally from the erosion of sea shells.
Corralejo Grandes Playas is located outside of Corralejo and you can get there by taxi, bus, or even by walking.
For family-friendly beaches, travel northwards, such as to Burro Beach.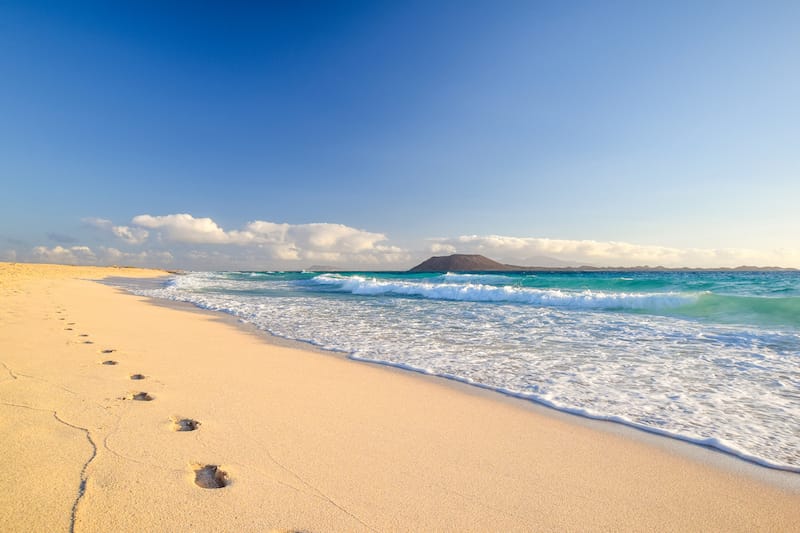 They offer services such as lifeguards. In front of Riu hotels, tourists can also find the Bajo Negro, which offers sunbeds and parasols.
Furthermore, there is Flag Beach, which is a must-visit place for water sports enthusiasts.
There they can kiteboard and windsurf. Even if you are not into water sports, you can sunbathe, relax, and enjoy the picturesque view of Lobos Island.
For less crowded beaches, visit El Medano and El Viejo.
Since the beaches are so large, even though it is a popular destination, the beaches seem less crowded than others.
12. Take a Snorkeling Minicruise to Lobos Island
Take a mini cruise on the crystal waters of Fuerteventura. Starting in Corralejo, you'll venture out to Lobos Island, docking at El Puertito (the harbor).
You'll also be able to see the underwater world as you cruise to and from the island with some clear floor panels on the boat.
At the island, you'll get a chance to snorkel off the white sand beaches and enjoy the wide variety of underwater flora and fauna.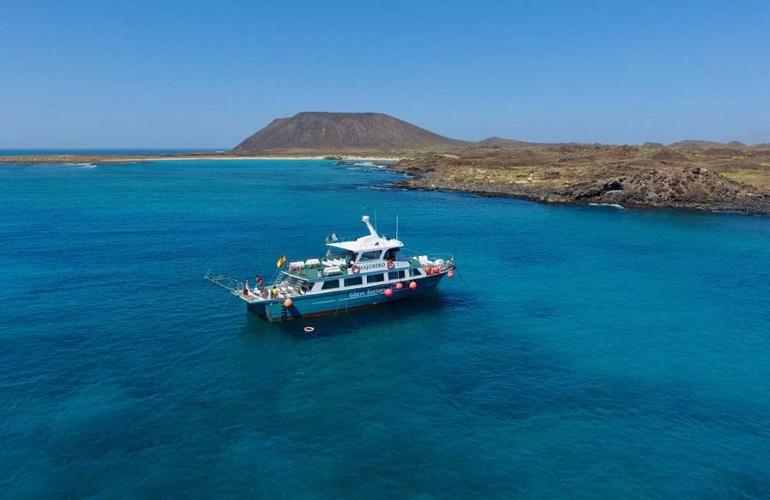 If you don't feel like snorkeling, you can enjoy that time by exploring Lobos Island on foot. All snorkel equipment is provided, as well as drink refreshments.
The minimum age for this four-hour cruise is three years old.
>> Click here for snorkeling rates and availability
13. Explore the Port of Corralejo
Throughout the day, ferries from Lanzarote arrive at Corralejo's lively harbor.
Many day trips to the neighboring island of Lobos depart from the port, which takes less than 15 minutes.
This 25-square-kilometer island is a protected natural area full of native plants and birds, as well as endangered species.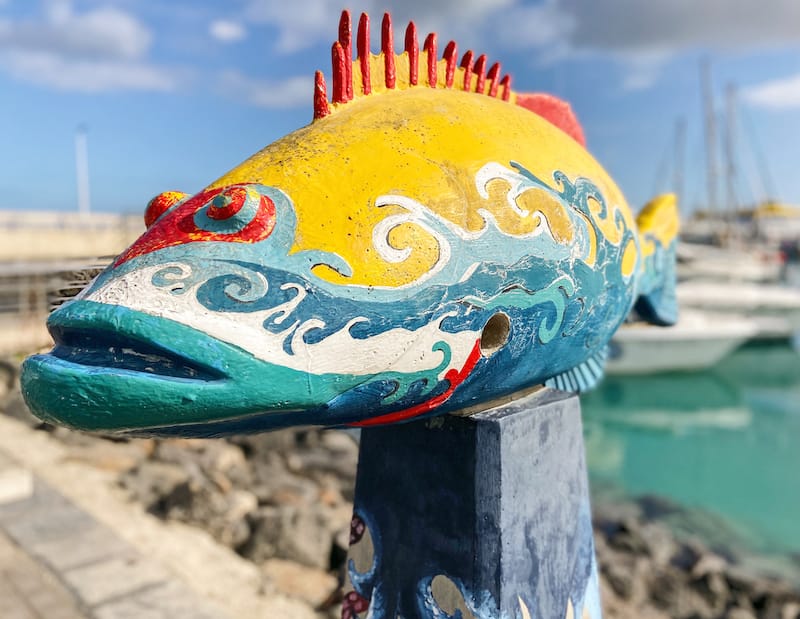 The amazing climate allows for year-round sailing and sunshine.
If you are visiting the port with kids, one of the most entertaining features is all of the fish sculptures that have been painted in colors and patterns that resemble local fish.
The best places to get a drink as the sun sets are the cafes and restaurants that line the waterfront from the port toward the center of Corralejo.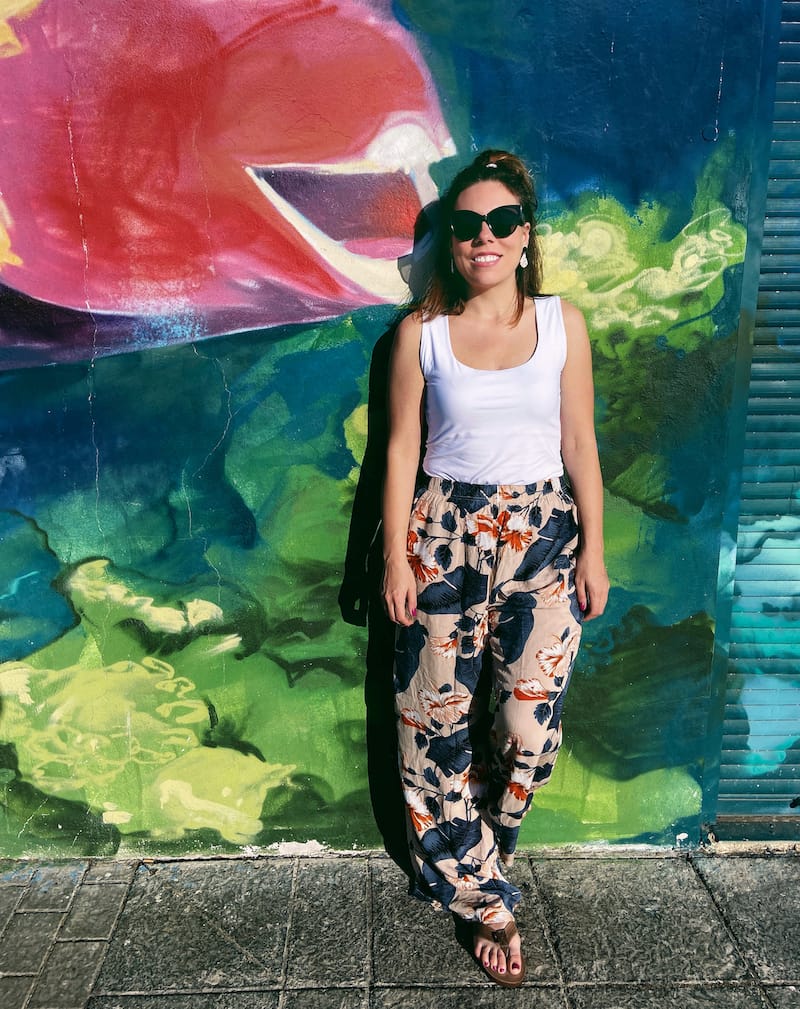 The Natural Park of Dunes of Corralejo, which is a unique location made up of enormous white dunes, can also be reached from the port by taking the Paseo Maritimo, a lovely boulevard with many eateries.
14. Visit the Market in El Campanario (on Thursdays and Sundays)
For some gifts and souvenir shopping, visit the traditional market at El Campanario in Corralejo.
El Campanario shopping center is a true Canarian village built with colonial architecture, cobbled streets, and a great mix of shops running alongside them.
The market offers all you need such as local products, jewelry, aloe vera products, and other types of souvenirs and items of clothing.
Live music can also be heard, so grab a drink and sit on the terrace to listen to the music and watch the crowd.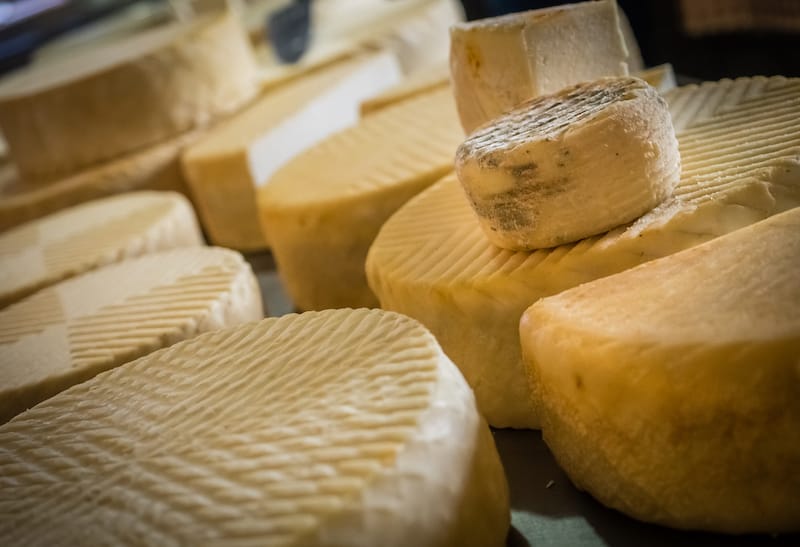 Craft items can also be found there which are made by local artisans.
From the top, you can enjoy the best views of Corralejo, Lobos Island, and even Lanzarote in the background.
In addition, various cultural events such as concerts and markets are organized every day in the beautiful square of the shopping center.
The market is open on Thursdays and Sundays from 9 am to 2 pm.
15. Splash Around at Acua Water Park
Visit the only water park in Fuerteventura, the Acua Water Park.
With over 25,000 m2 of unlimited fun, the park has more than 14 attractions suitable for all ages.
You will have the chance to slide down a course of more than 100 meters long, full of ramps and curves, while on a float.
You can also try racing your friends and family on the 6-lane Soft Tracks. You glide down at full speed to cover a 70 meters distance in less than 6 seconds.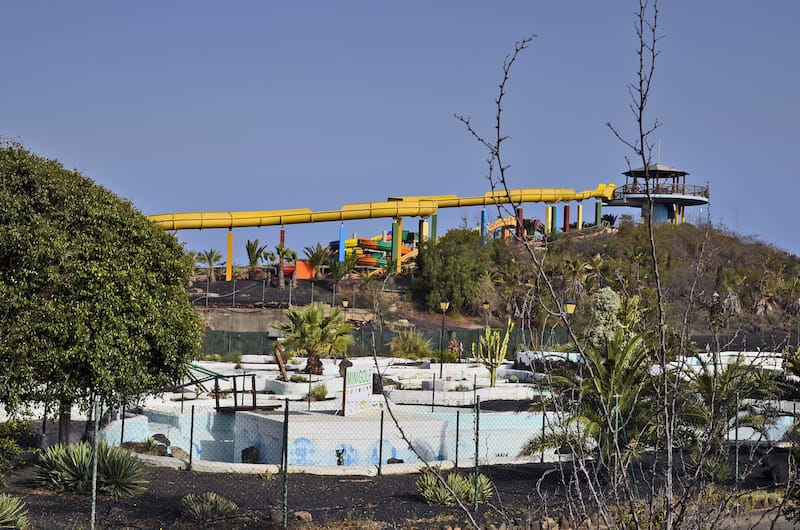 If you want a sea-like experience, the electric system generates waves of different intensities, so you will move towards the shore.
This will make you feel like you are swimming in the sea.
The water park also offers an area designed for the little ones where they can stay safe while parents who wish to take a break can enjoy the attractions.
In this area, park staff will be in charge of the little ones, offering them an extensive program with activities like face painting, board games, choreographies, etc.
Address: Av. Ntra. Sra. del Carmen, 41, 35660 Corralejo
16. Have Dinner at Land of Freedom Restaurant and Tapas Bar
Visit the Land of Freedom Restaurant and Tapas Bar, where the menu is full of Italian and Spanish favorites. The restaurant is suitable both for families with children and couples.
Enjoy delectable Spanish tapas, Italian pasta, and garlic prawns.
They make sure you will feel good and eat as well as drink while enjoying good music.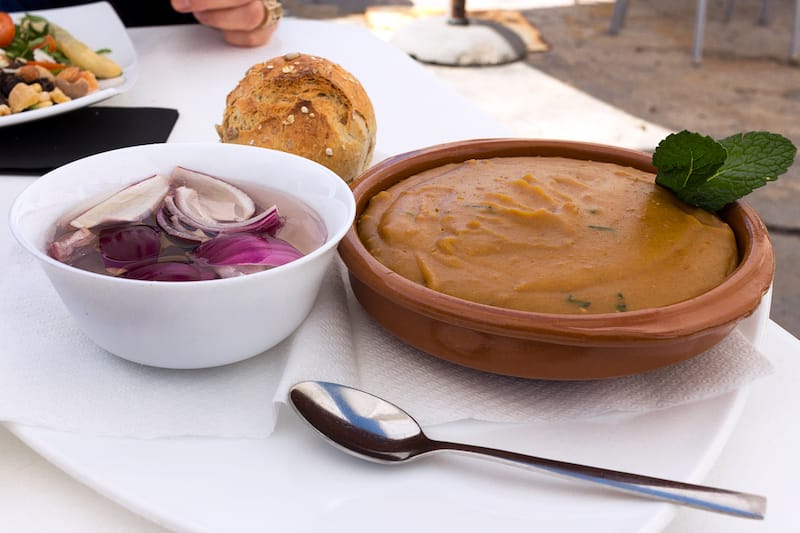 Each course is also paired with a wine or a soft drink. Inspired by the philosophy of slow food, the Land of Freedom is unique in offering a tasting platter with 5 plates and 5 matching wines.
You can choose the "tray tapas" (in Spanish style) between tray land tapas, sea tapas, pasta, vegetarian tapas, tapas for children, and tray sweets.
Address: Av. Ntra. Sra. del Carmen, 35660 Corralejo
17. Take a Kitesurfing Lesson (Intermediates Only!)
This intermediate kitesurfing activity is a great way to improve your technique and hone your skills.
Geared towards people that have previous kitesurfing experience, this course (which you can choose to be 5, 8, 11, or 14 hours) will go over both theory and practical application.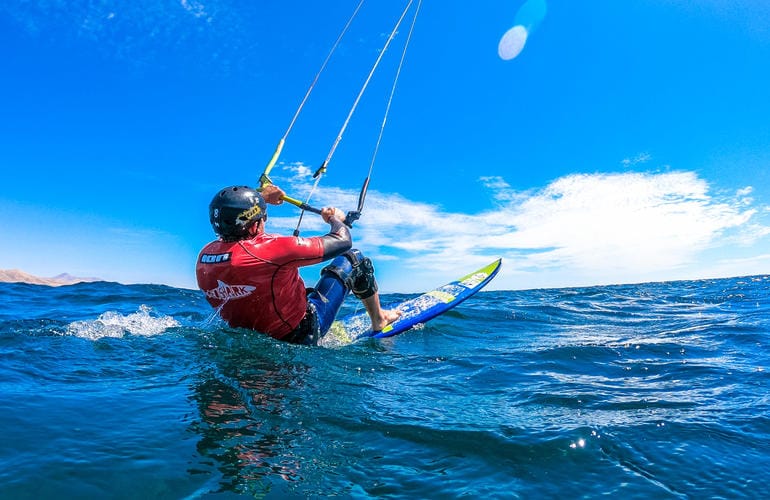 You'll start on land, refamiliarizing yourself with the equipment and reviewing safety procedures. You'll then head out to the water to practice waterstarting, riding waves, and changing directions.
Your lessons will generally take place on the north side of the island, but depending on the wind conditions, it may happen on the east or west coasts.
Fuerteventura is a great place to practice kitesurfing, with its steady winds that allow kitesurfing for about 90% of the year.
>> Click here to check kitesurfing rates and availability
18. Try Goat Stew (a Local Specialty)
The best chefs are working to rediscover and spread the cuisine of the Canary Islands by reimagining time-honored dishes.
Canarian goat meat is one of those dishes. It is very popular on all the islands, especially in Fuerteventura, Tenerife, and La Palma.
It is a delectable meal with flavorful and fresh ingredients that stand out for its authenticity, making it a must-try meal for every visitor.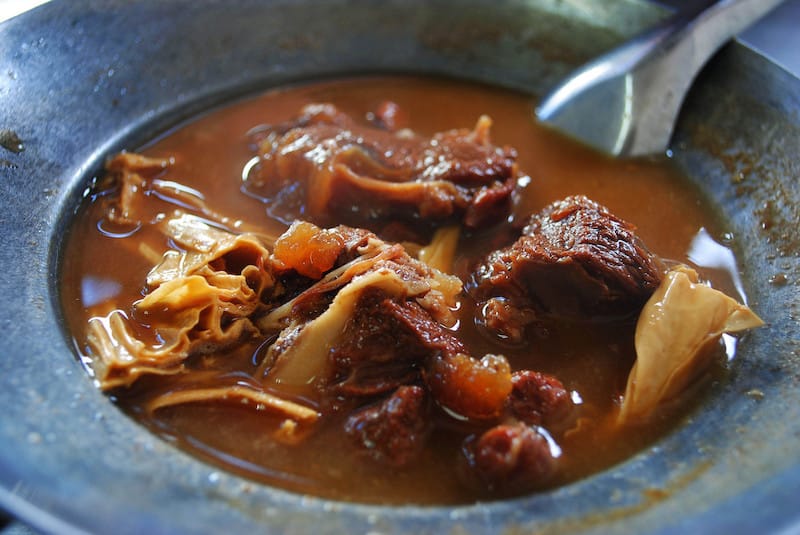 The island has a long history of fishing and also produces premium meats like veal, rabbit, local pork, and of course, goat meat, which are typically roasted or cooked in stews.
Despite having significantly less fat and a very high nutritional value than beef, it is a very tasty lean meat. Its flavor is characterized as intense and earthy by all experts.
19. Chill in Music Square
Although vibrant, Corralejo's nightlife is not as wild as that of some Spanish resorts. Near the bottom of the main street, Music Square is crowded at night.
There are a ton of eateries and bars there, and the main stage area hosts everything from fire dancers to local rock bands.
The square has restaurants and bars that create a good atmosphere for evening entertainment, usually with very talented musicians playing from the stage.
You can find discos, lively bars, and, of course, Tapas bars. if you have never tried Tapas, now is your chance.
20. Spend Time at Popcorn Beach (Playa El Hierro)
Popcorn Beach (Playa El Hierro) is a must-visit place on Fuerteventura for beach lovers (and those into interesting geology)!
You can get to the beach on foot from Corralejo, taking a 1-hour hiking trail. It is a famous beach on the island of Fuerteventura.
It is an extraordinary beach that is covered in small white algae fossils that look exactly like popcorn instead of rocks, pebbles, or sand.
The fossils were originally red, but they turned white over time.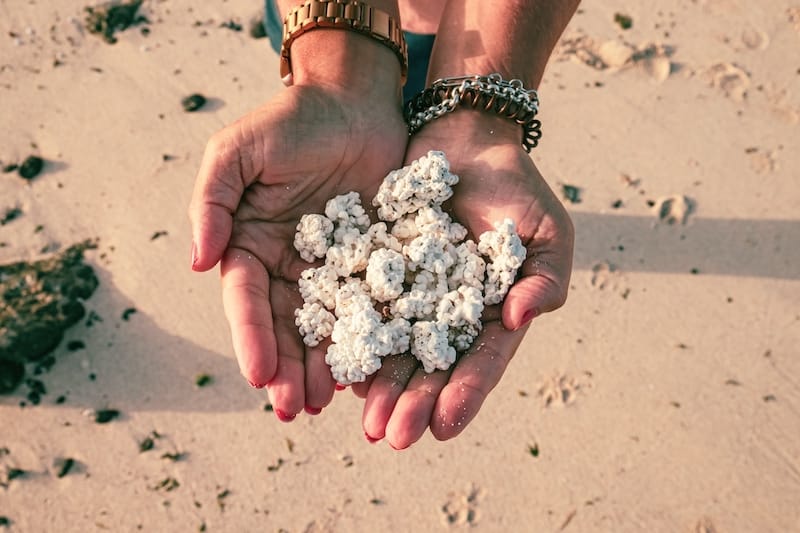 Their distinctive shape is also a result of how the waves forced them onto the shore.
Although Popcorn Beach in Fuerteventura is among the most impressive, this natural phenomenon can also be seen on other beaches.
We advise you to wear sturdy, adherent footwear so you can safely walk on the rhodolith fossils at Popcorn Beach in Fuerteventura!
Where to Stay in Corralejo
If you're looking for the top places to stay in Corralejo – these are some of our top picks!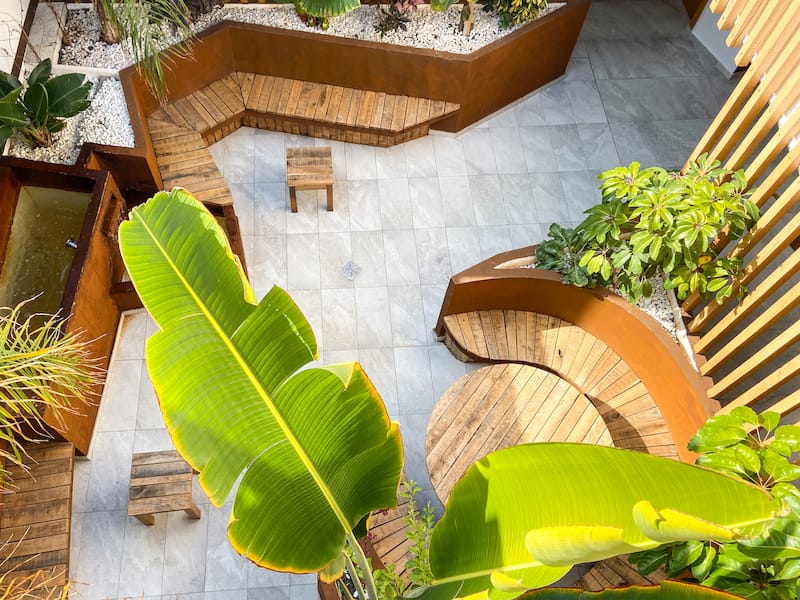 Did we miss any of the best things to do in Corralejo?
Let us know your favorite Corralejo activities, attractions, and more in the comments!
More Canary Islands and Fuerteventura Travel Guides
Pin this Corralejo Things to Do Guide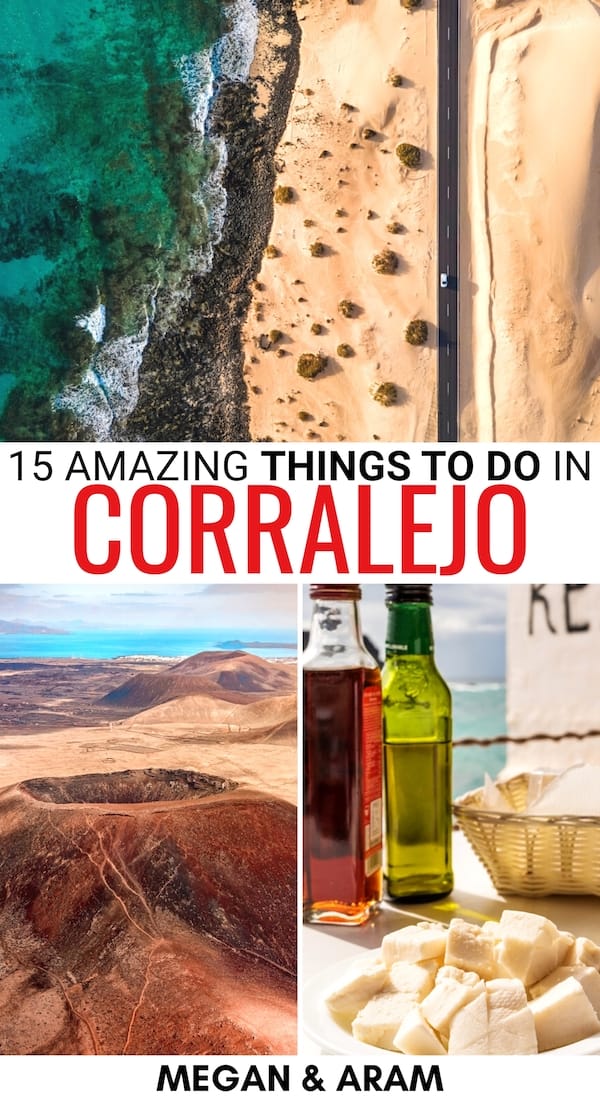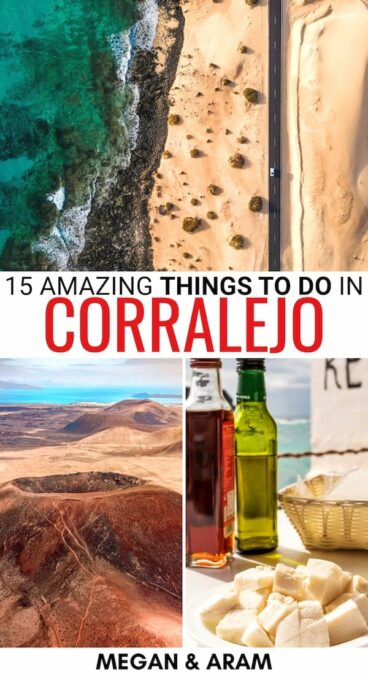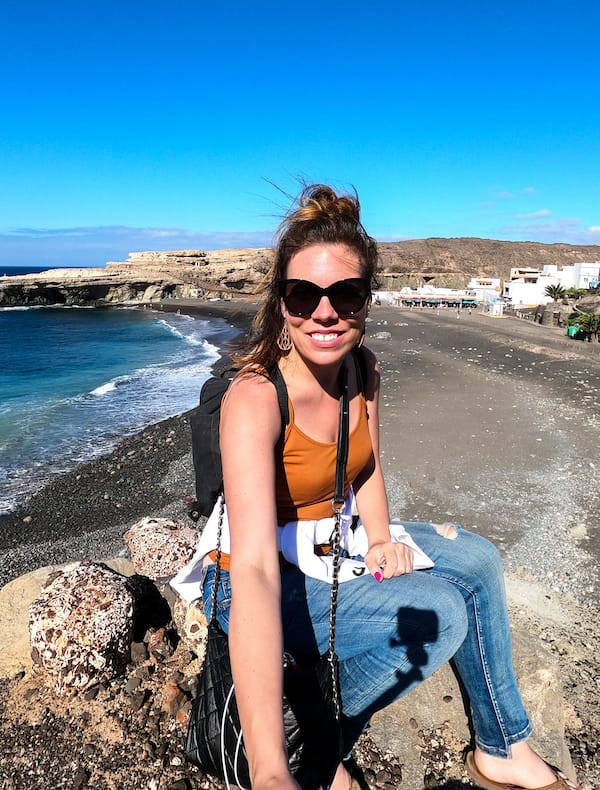 Megan is a travel blogger and writer with a background in digital marketing. Originally from Richmond, VA, she now splits her time between Frankfurt, Germany and Arctic Finland after also living in Norway, Armenia, and Kazakhstan. She has a passion for winter travel, as well as the Nordic countries, but you can also find her eating her way through Italy, perusing perfume stores in Paris, or taking road trips through the USA. Megan has written for or been featured by National Geographic, Forbes, Lonely Planet, the New York Times, and more. She co-authored Fodor's Travel 'Essential Norway' and has visited 45 US states and 100+ countries.